Looking for stunning beach birthday photoshoot ideas for adults? Check this post for the best tips to get perfect birthday pictures at the beach, and 30+ aesthetic photo ideas for your birthday!
If you are looking for some inspiration for a beach birthday photoshoot, then you have come to the right place!
Women everywhere know that birthdays are moments of celebration, and what better way to commemorate your special day than by capturing memories in a stunning beach photoshoot?
Whether you're looking for an outdoor setting with natural beauty or an exotic tropical destination shoot, there are plenty of ideas to consider.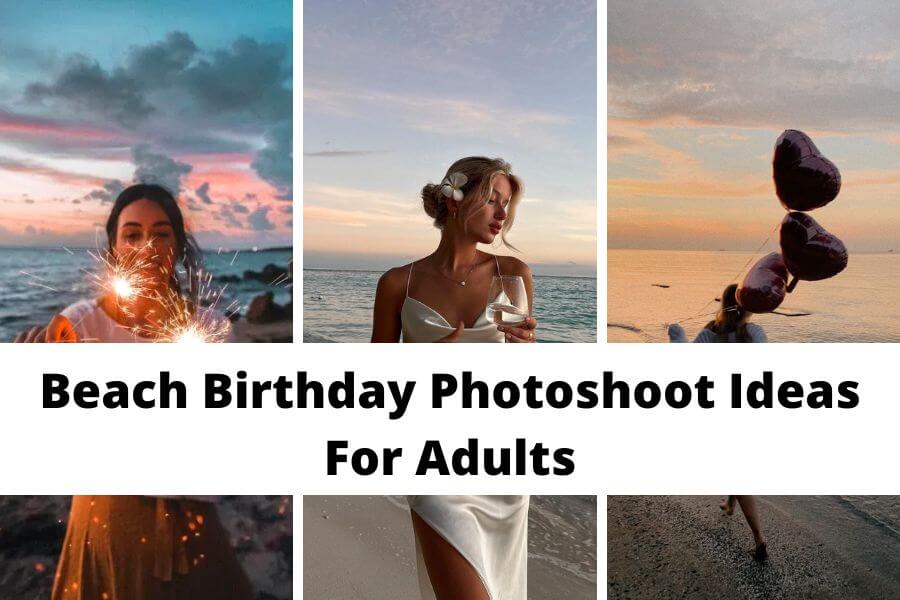 This post may contain affiliate links, which means I'll receive a commission if you purchase through my link, at no extra cost to you. Please read the full disclosure here.
This post is all about beach birthday photoshoot ideas for adults.
What to Wear for a Birthday Beach Photoshoot For Women?
If you're planning to have a birthday beach photoshoot for yourself or a friend, the most important factor is deciding what to wear!
A beach photoshoot requires careful consideration when it comes to clothing, as you want your outfit to complement the natural beauty of the shoreline.
Here are some tips on how to dress and accessorize for a festive birthday beach photoshoot.
Start by selecting light and airy fabrics such as cotton or linen that will flow naturally in the ocean breeze.
Choose bright colors like yellow, pink, and blue that will pop against the sand or sea behind you.
To add an extra touch of whimsy, incorporate fun patterns like stripes or florals into your look.
Opt for strapless dresses or off-the-shoulder tops so you can showcase your favorite jewelry pieces like necklaces and earrings too!
What colors to choose for a beach photoshoot?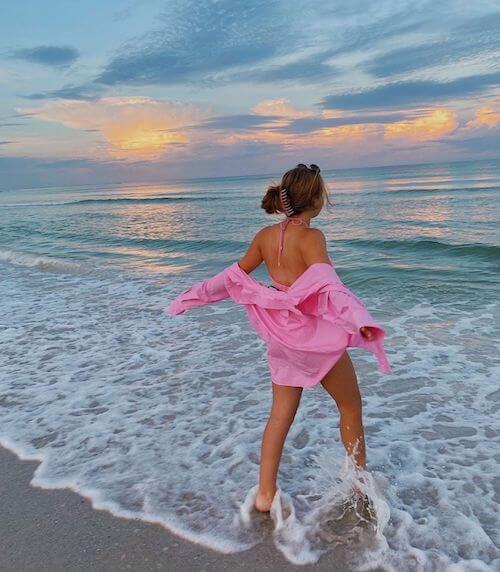 @martinamanca
Whether you're looking for a dramatic sunset shot or something more casual on the shoreline, choosing the right colors will ensure an eye-catching photo.
When it comes to selecting the perfect look, keep in mind that earthy tones are most flattering against sandy beaches; think whites, beiges and pastel blues.
Soft hues like lilac and pale pink also pair nicely with ocean blues.
For an extra touch of glamour, consider adding metallics such as gold or silver accessories to your outfit — these bold shades can help make your photo even more vibrant!
Whatever color scheme you choose, remember that layering different fabrics will add texture for an overall stunning effect.
How do you pose for a birthday shot at the beach?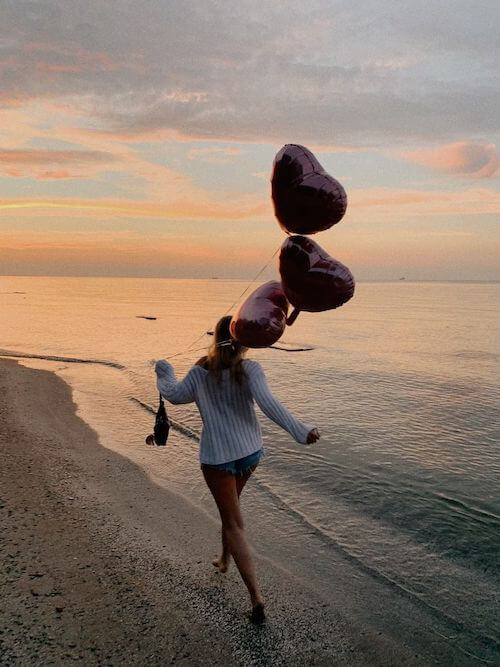 via weheartit
There are some tried and true poses that you should consider for your beach photoshoots.
First, wearing a flowy dress or skirt is always a great option for windy days when the fabric can dance around you as you move gracefully through each pose.
Second, having your back against the camera and looking out over the horizon conveys peace and tranquility while still showing off your silhouette.
Third, laying on the sand with your arms above your head gives off an effortless vibe with just enough attitude.
Fourth, walking along the shoreline barefoot provides an air of elegance with motion-blurred waves crashing against your feet.
Want more inspiration? Scroll on to check our favorite beach birthday photoshoot ideas.
Aesthetic Beach Birthday Photoshoot Ideas For Adults
With Your Birthday Balloons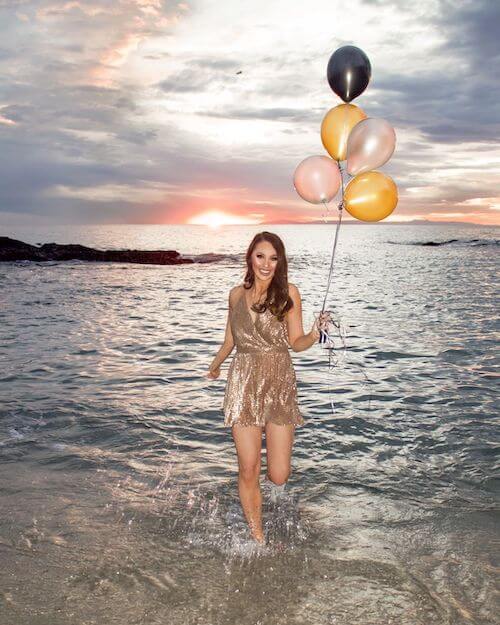 @mystyledlife
Birthdays are all about celebrating in style, and what better way to do that than by taking photos with balloons?
They come in all shapes and sizes, plus every color imaginable so you can really let your imagination run wild.
You'll have plenty of photo opportunities when you bring these festive decorations to the beach.
Whether they're tied up around poles or held up high in each hand, balloons make for great props for those one-of-a-kind birthday photos.
Chic Beach Birthday Outfit Ideas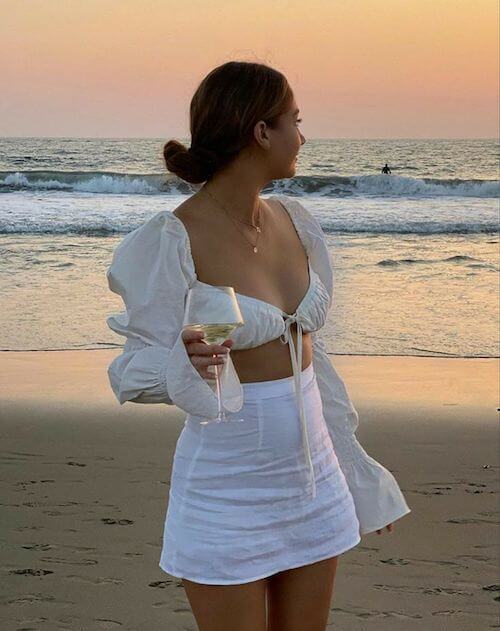 via weheartit
From intricate boho-inspired maxi dresses to stylish coverups, there's something for every woman to rock on your special day.
For a classic beach vibe, opt for a breezy cotton sundress paired with flat sandals and layered necklaces.
Keep it fun and flirty with light and airy fabrics like chiffon or lace that move with the wind.
Add some glamour by accessorizing with statement earrings and a clutch bag – perfect for keeping all your essentials safe while you dance the night away!
Romantic Beach Birthday Ideas For Women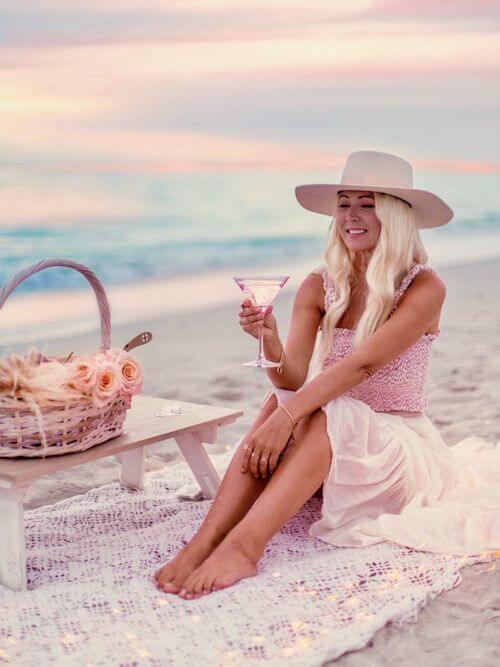 via weheartit
Romantic beach birthdays are a great way to celebrate the big day.
Whether it's your 18th or 80th, a romantic beach birthday will make it a day you won't forget. Here are some tips on how to make your day extra special.
Start by creating the perfect picnic setting.
Set up an area with blankets and pillows for lounging, complete with decorations and string lights for an enchanted feel.
Bring some delicious snacks and drinks so that you can toast!
Include some of your favorite foods as well as some light refreshments like fruit and cheese.
Setting up a romantic atmosphere is sure to make you feel special on this momentous occasion!
30th Birthday Photoshoot Ideas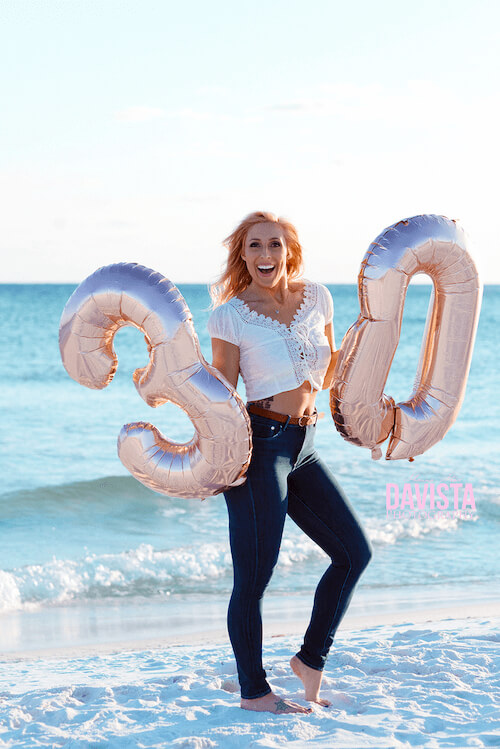 via Davista Photography
Celebrating a milestone birthday is the perfect time to capture beautiful memories.
A beach photoshoot is an exceptional way to commemorate turning 30.
Whether you want classic, fun or unique shots, here are some exciting 30th birthday photoshoot ideas for women at the beach that will help create lasting memories of this special occasion.
Start off with a classic portrait by posing in front of a picturesque ocean backdrop as the sun sets.
Celebrate your newfound adulthood with fun props like giant balloons, sparklers, and confetti poppers.
Have your photographer take action shots from different angles while you and your friends play beach volleyball or run around with colorful parasols in hand.
Open umbrellas up against the backdrop of a sunset sky for creative shots that will look amazingly framed on any wall.
For something different, incorporate sea creatures into your photos!
Cute 18th Birthday Photo Shot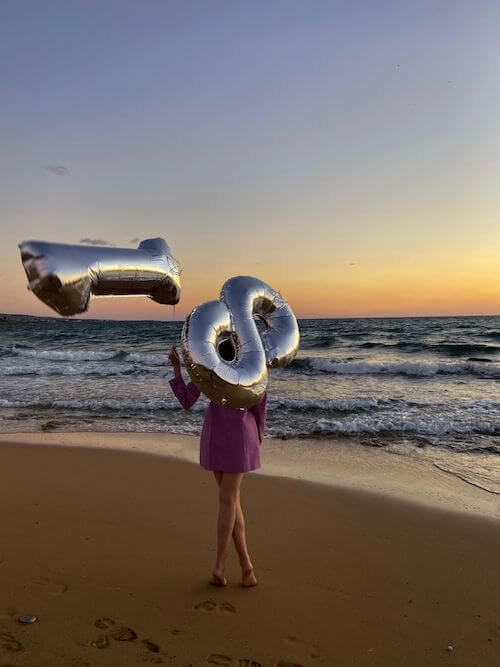 via tumblr
The 18th birthday is one of the most special moments in a girl's life.
An unforgettable way to celebrate this milestone is with a stunning photo shoot on the beach!
From romantic sunsets to gorgeous ocean views, a beach photo shoot is a perfect way to capture all those special memories while making you feel like royalty.
Be sure to dress in your best and let your personality shine through with accessories that reflect who you really are.
Add some props like balloons or flowers for extra fun and make sure you take lots of pictures so you can remember this momentous day forever.
And don't forget — it doesn't have to be posed!
Run around and just enjoy being 18 years old in front of the camera.
21st Birthday Photoshoot At The Beach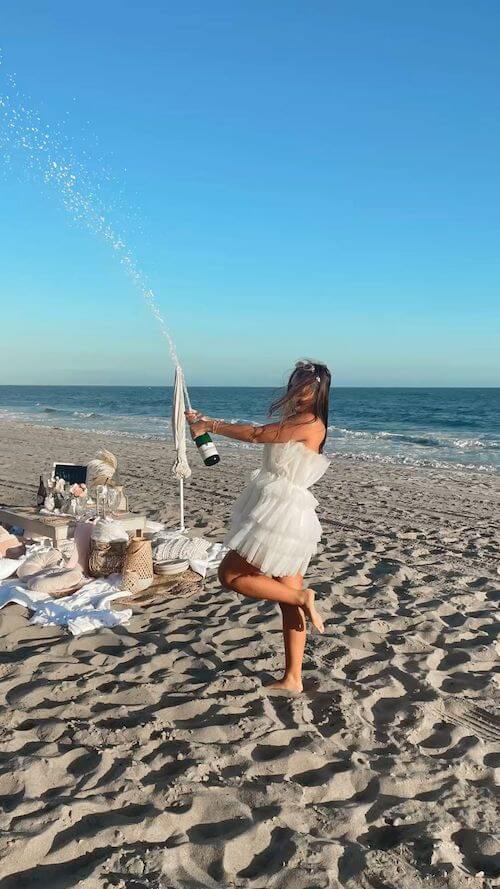 @audreyatienza
With no location more beautiful than the shore, women can pose in front of waves that symbolize new beginnings, explore rocky coves to capture photos full of emotion, or simply play in the sand for fun shots.
Whether you prefer to stand tall and proud, have your hair blowing in the wind, or take some time out to relax on the beach – there are plenty of unique ways to capture this special day.
With A Cute Beach Umbrella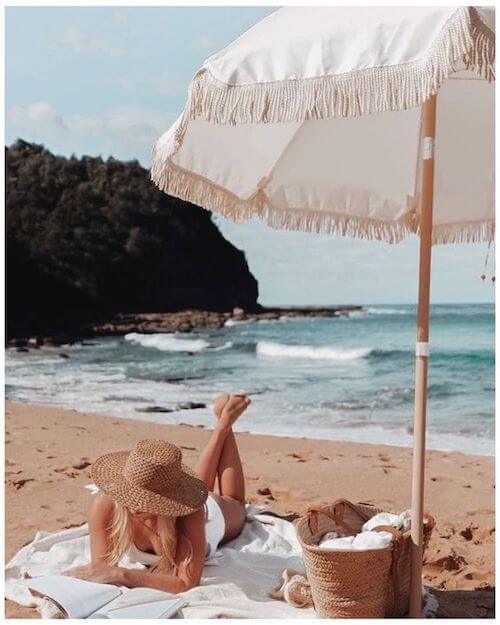 via tumblr
Are you looking to make your beach photos stand out?
Try adding a cute beach umbrella to your shots!
This classic prop can help you capture beautiful memories while on vacation.
Whether you're aiming for a serious or humorous look, these tips will help you get the perfect shot with an eye-catching beach umbrella.
Begin by finding the right style of umbrella that matches your personality and outfit.
Brightly-colored umbrellas can bring out happy vibes, while pale ones create a more elegant atmosphere.
Position the umbrella in front of a scenic background, such as sanddunes or shoreline.
Additionally, consider taking some close-up shots of yourself holding the frame or standing or lying beneath it with friends and family.
Don't forget to explore different angles – try shooting from directly above for unique perspectives!
Held Your Birthday Cake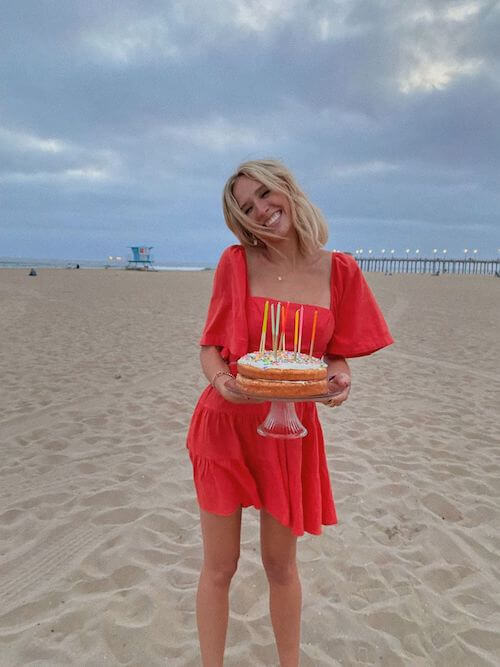 @laurenaveryholmes
Bringing a cake to the beach may seem like a logistical nightmare, but with the right preparation, it's totally doable!
To ensure that your experience is both stress-free and enjoyable, here are some tips on how to transport and serve your yummy cake.
Firstly, you'll want to choose a flavor that will travel well – such as fruit cakes or mousse cakes – as they hold up better in warm temperatures than cream-based cakes.
Once you've brought your cake safely to its destination, be sure to set it up near soft sand or grass so that it doesn't get damaged during photo ops.
Simple And Relaxed Adult Birthday Party Ideas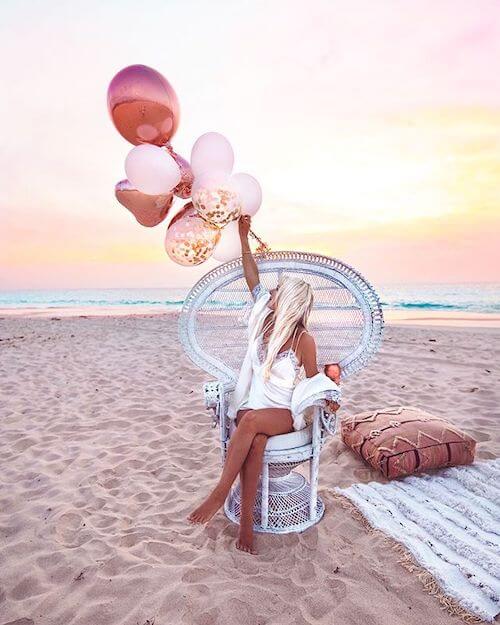 @helen_jannesonbense
The beach provides a perfect backdrop for any special occasion, and an adult birthday party is no exception.
With the right setup and planning, you can easily turn this outdoor environment into a beautiful scene suitable for celebrating the day and taking birthday photos!
Start by making sure to secure your event space with chairs and tables that are appropriate for the area.
This will allow guests to move around freely while enjoying the ocean views.
To dress it up, decorate with tropical-themed items like string lights across tent poles.
For an added touch of elegance, hang colorful banners near seating areas.
You can also add flowers or plants to bring more life into the setting.
A Happy Birthday Message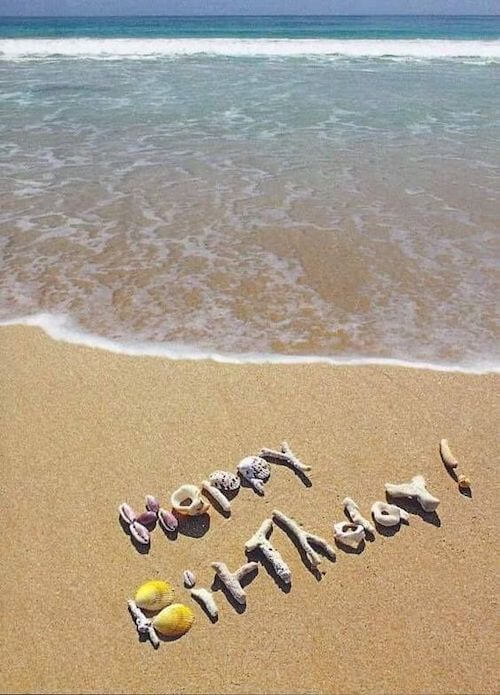 via tumblr
Here are some tips and tricks to make your beach birthday message photo stand out from the crowd and make it a truly special moment.
First and foremost, take advantage of the natural beauty around you by finding an area with unique scenery.
If possible, try to pick a spot where there's low tide so that your backdrop includes more shoreline than ocean waves.
Also, be sure to check the forecast before heading out; cloudy days can create interesting light patterns while sunny days can bring warmth and vibrancy into your photos.
More Chic & Unique Birthday Photo Shoot Ideas At The Beach
Want more inspiration? Scroll on to check out more photo ideas for your beach birthday.
via weheartit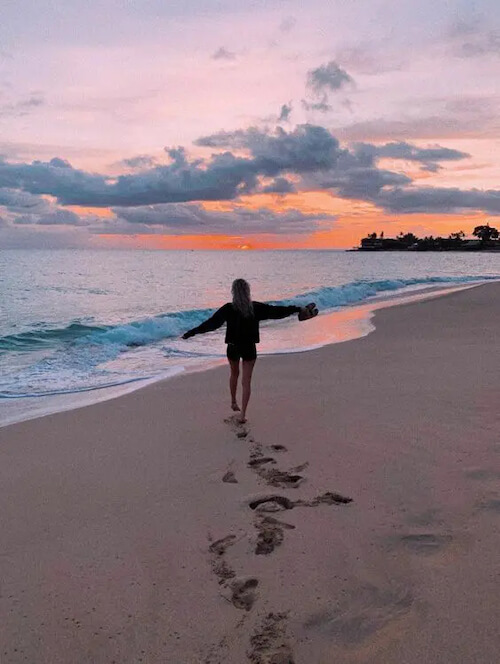 via weheartit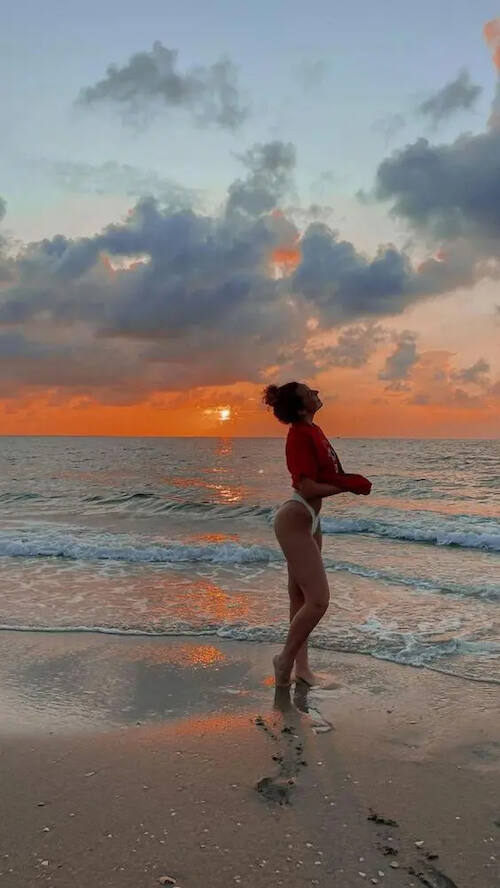 via tumblr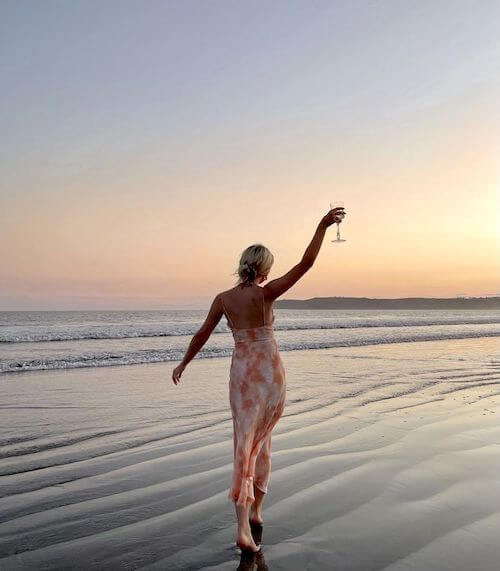 via Pinterest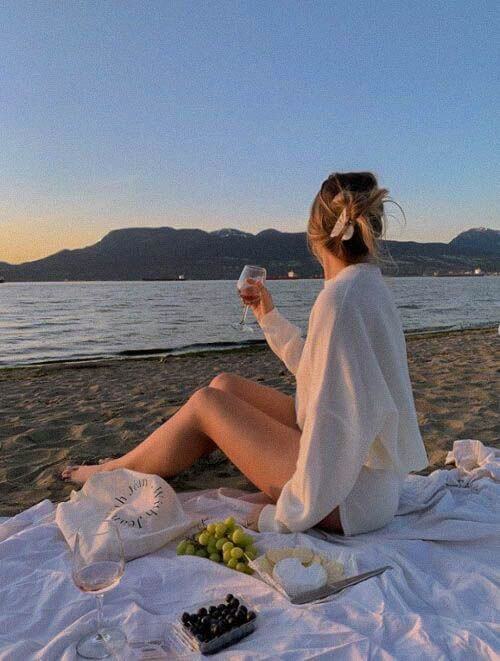 via pinterest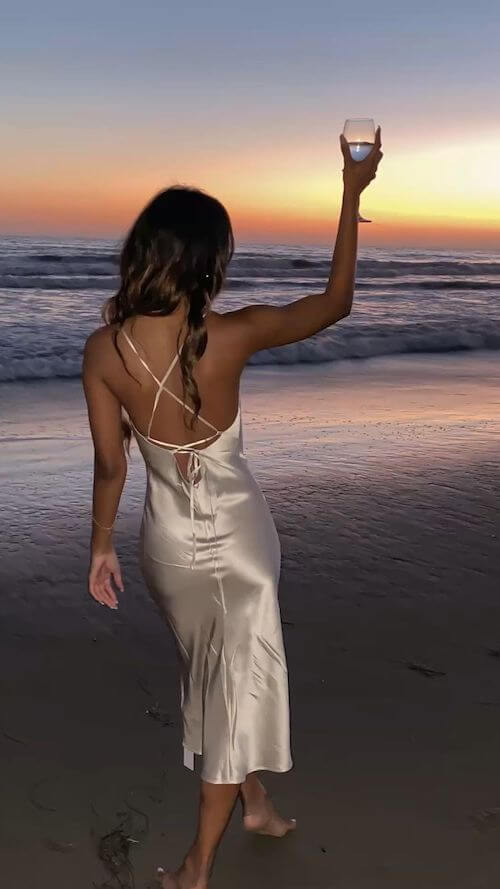 via Pinterest
via weheartit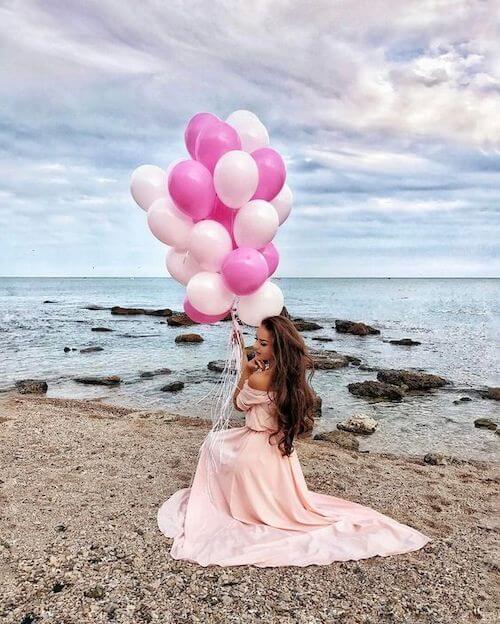 via Pinterest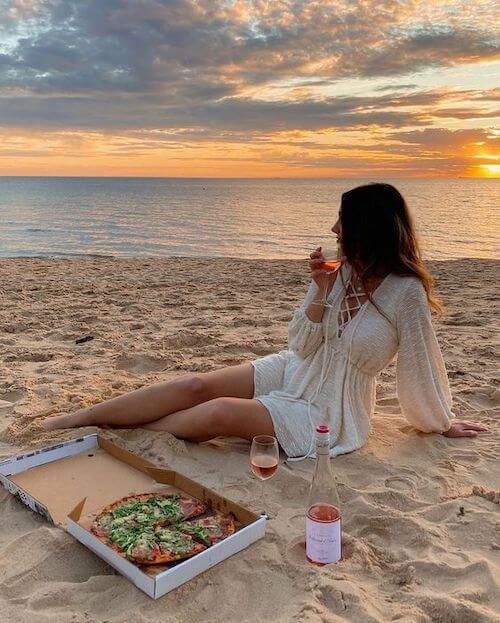 via tumblr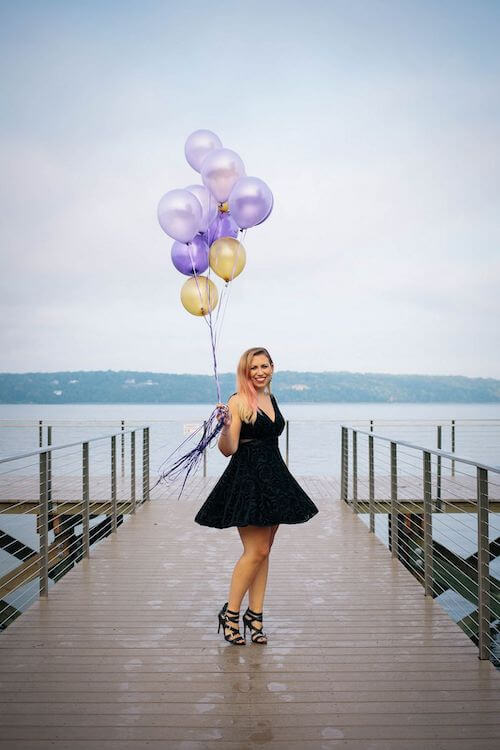 via Pinterest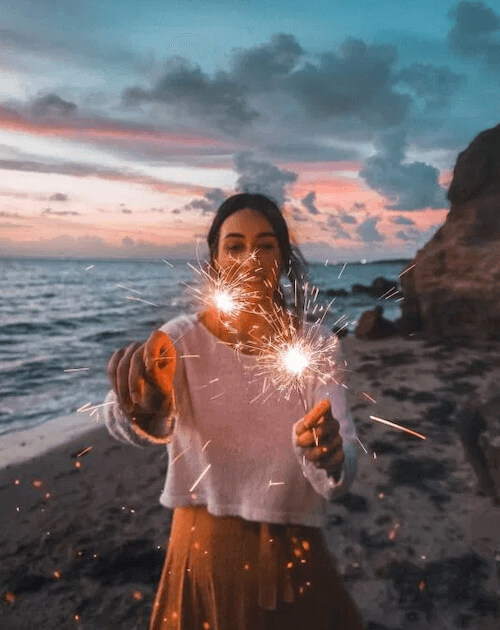 via tumblr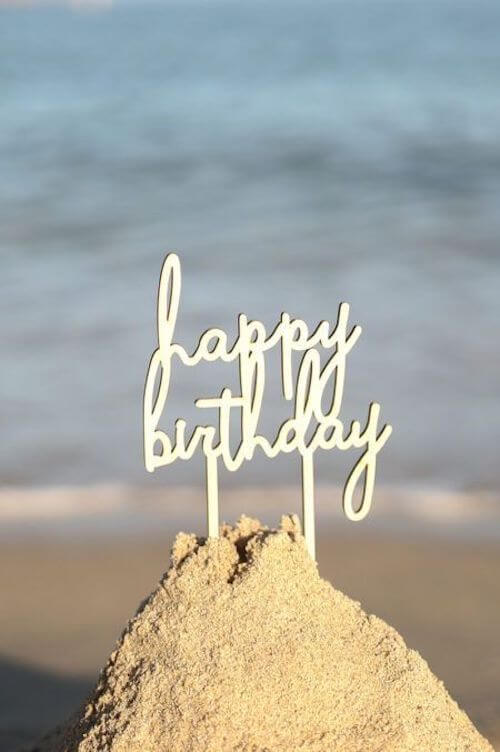 via tumblr
via weheartit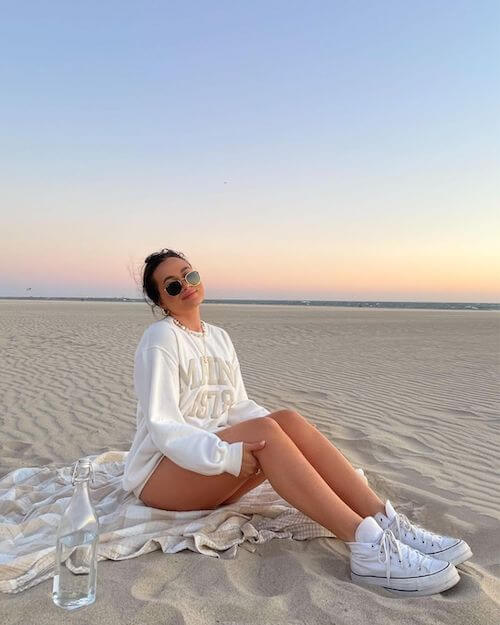 via Pinterest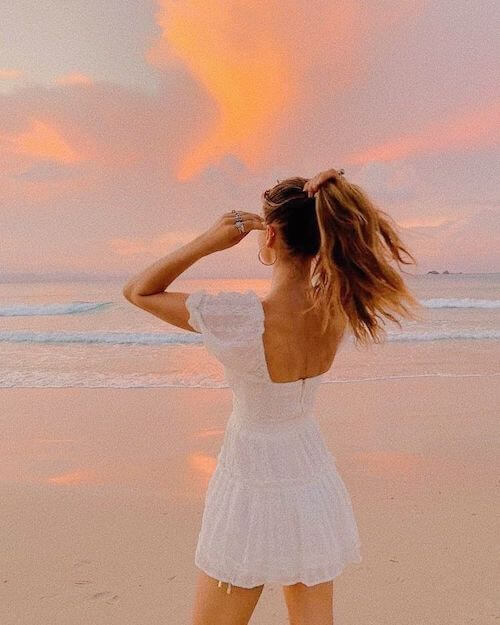 @hanniyahaziz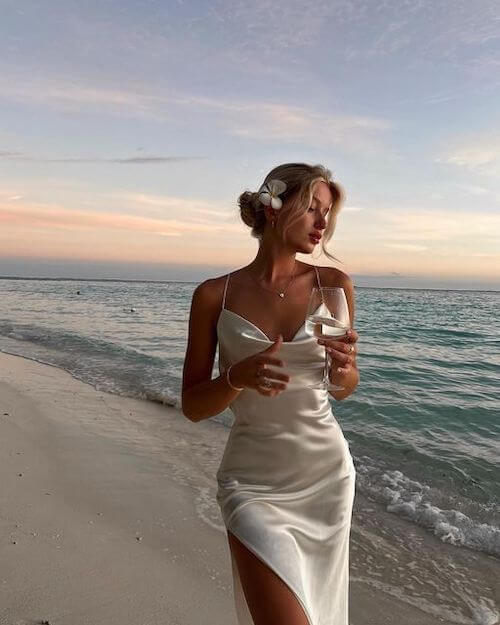 @alina_toto_
via pinterest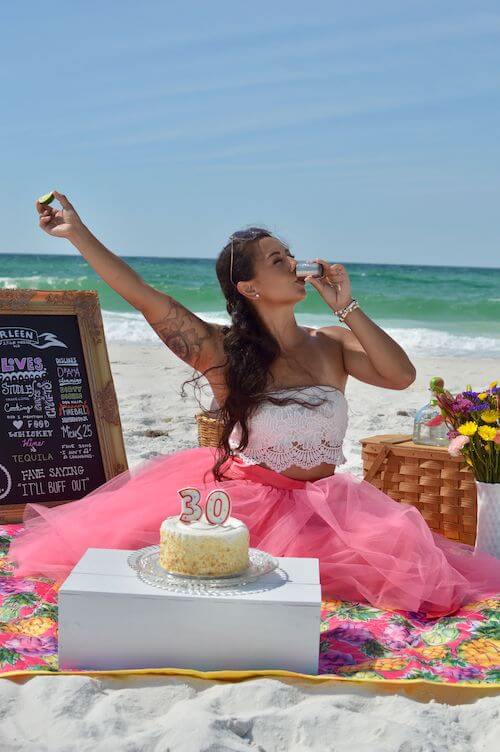 via pinterest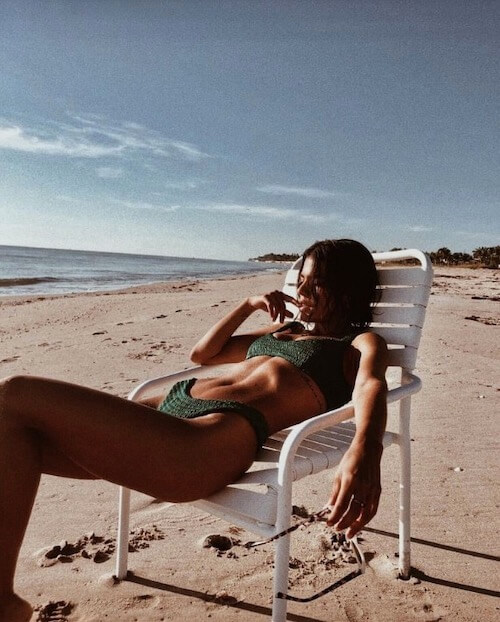 via weheartit
via weheartit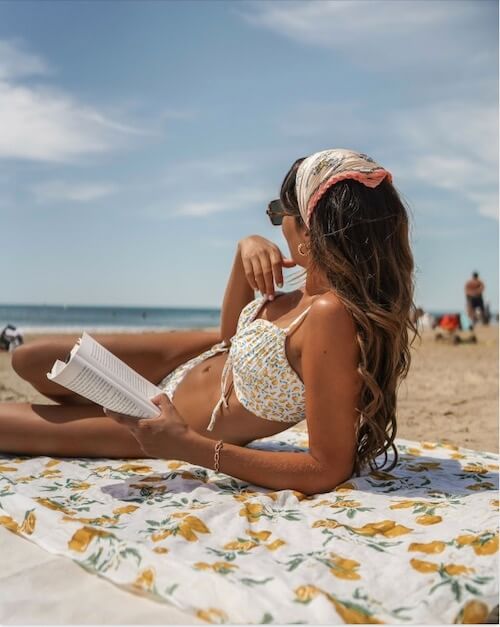 via weheartit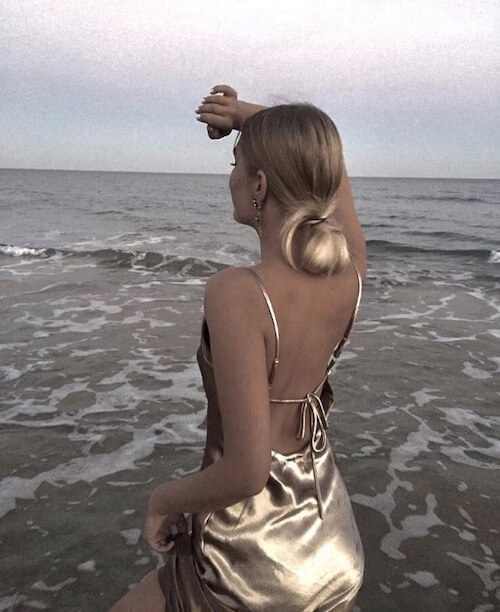 @glamxy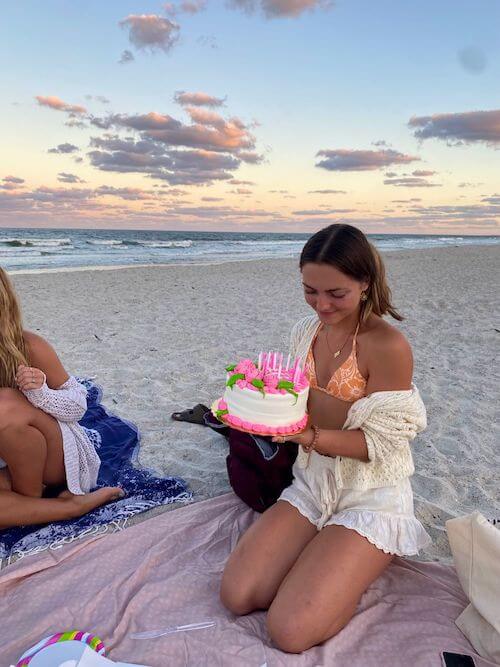 @lindseyywood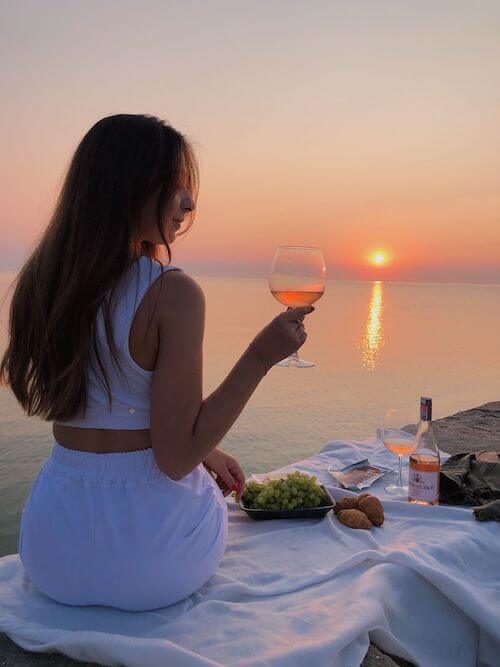 via Pinterest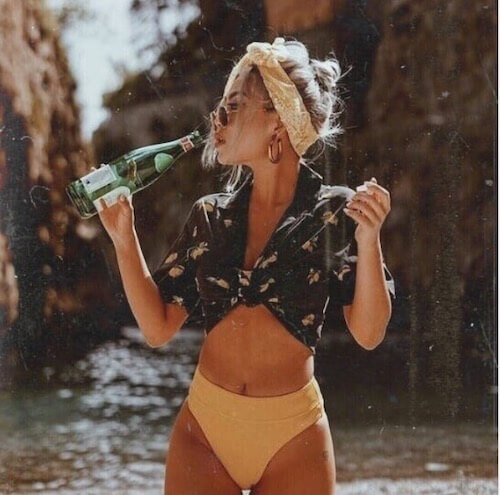 @ellenvlora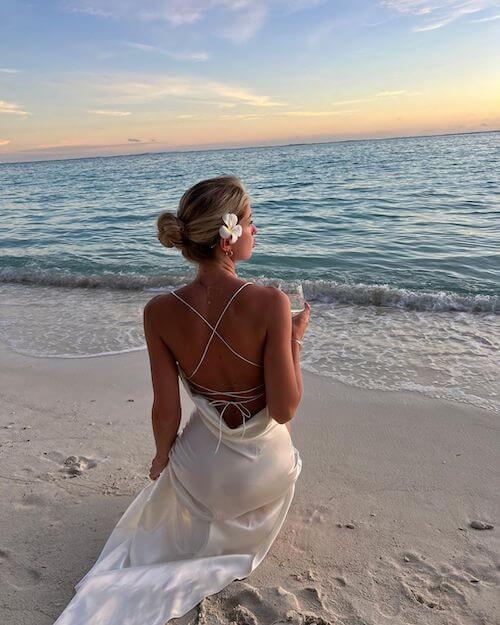 @alina_toto_
What shoes to bring for a beach photoshoot?
When it comes to beach photoshoots, what shoes you bring can make or break your look.
The right pair of shoes can help to create an aesthetic that is both fashionable and functional for the environment.
Therefore, if you are planning for a beach photoshoot as a woman, here are some types of shoes that would be most suitable:
Sandals with thick straps provide good stability and comfort when walking in sand.
Leather or rubber-soled sandals are ideal because they provide arch support and grip on wet surfaces.
A pair of chunky wedges also offer great balance in addition to adding height without compromising on stability or comfort.
If you want to add a playful edge to your outfit, opt for something more eye-catching like embellished heeled sandals or metallic gladiator flats.
This post was all about beach birthday photoshoot ideas for adults.
Related Posts: