Looking for chic beach outfits? Check this post for tips on what to wear to the beach, and cute & chic beach outfit ideas for your next stylish getaway! From boho chic beach outfit ideas to casual beach vacation outfits, we've got you covered!
As the warm weather of summer approaches, it is time to start planning your wardrobe for the beach season.
Whether you're spending your days lounging in the sun or exploring the coastal towns near you, having a few chic and stylish beach outfits ready is key for enjoying yourself in style.
From breezy maxi dresses to lightweight jumpsuits, there are plenty of different looks that will make you look and feel incredible on your sunny vacation.
This post may contain affiliate links, which means I'll receive a commission if you purchase through my link, at no extra cost to you. Please read the full disclosure here.
This post is all about chic beach outfits.
What to Wear to the Beach
The beach is a great place to relax and have fun in the sun, but figuring out what to wear can be tricky.
Beach fashion for women has come a long way from just bikinis and cover-ups, so don't be afraid to express your personal style.
Whether you are looking for something simple and classic or want to stand out with an eye-catching look, here are some tips on what to wear when hitting the beach this summer.
When choosing what to wear on the beach, comfort should be your main priority.
Lightweight fabrics like cotton or linen are perfect for staying cool in the heat while still looking stylish.
Flowy dresses, skirts, jumpsuits and shorts all make great options as they allow you to move freely and won't stick against your skin when wet.
What can I wear to the beach instead of a swimsuit?
For some women, the thought of wearing a swimsuit to the beach can be intimidating.
In today's world, there are so many other stylish and comfortable options that make it easy to enjoy a day at the beach without having to don a traditional swimsuit.
Here are just a few of the top choices for what women can wear instead of a swimsuit when they head to the shoreline.
The first option is shorts and a tank top or t-shirt.
This classic look is perfect for any woman who wants to remain covered up but still feel cool and comfortable in warm weather.
Denim shorts also offer more coverage than typical swimsuits and often have built-in pockets for keys or other small items.
Additionally, adding an open cardigan or flowy blouse over this basic look provides additional coverage while still keeping things lightweight and breezy by the sea.
How do you look classy on the beach?
Looking classy on the beach isn't as impossible as it may seem.
Whether you're going for a formal or casual look, there are ways for women to look their best while enjoying a day of sun and sand.
The key is knowing what pieces will work together to give an elegant yet relaxed vibe.
Try starting with the basics – a flowy dress or skirt paired with a simple top can make all the difference.
Add in some sandals, sunglasses, and a wide-brimmed hat to complete the look. Accessories like necklaces and bracelets can also add an extra touch of class if desired.
For those seeking something more formal, opt for maxi dresses or jumpsuits that are lightweight and breathable enough to keep you cool during your beach day.
What should you not wear to the beach?
For women, certain clothing choices are not suitable for the beach.
The wrong outfit can make a woman feel uncomfortable and out of place.
From heavy denim to high heels, here's what a woman should avoid wearing when she visits the beach.
The most important thing to remember is that the beach is all about comfort and convenience.
Avoid wearing anything too tight or revealing which could be uncomfortable in the sand and sun.
Heavy materials such as denim can become hot and sticky, making it difficult to enjoy your day at the beach.
Instead, opt for light fabrics like cotton or linen which will keep you cool while you soak up some rays.
Choose wisely when it comes to footwear too – nothing screams 'uncomfortable' louder than strappy stilettos on hot sand!
What colors should you not wear to the beach?
Bright neons and fluorescent hues can be blinding in the sunlight, making them difficult and uncomfortable to wear for long periods of time.
Similarly, darker shades such as black or navy blue tend to absorb more heat from the sun which can create an uncomfortably warm experience at the beach.
Chic Beach Outfits
Summer is the perfect time to show off your style and express yourself with fashion.
With beach days here, it's important for women to be sure their wardrobe includes chic beach outfits that are comfortable and stylish.
Whether spending a day lounging on the sand or taking a dip in the ocean, these looks will keep you looking your best no matter what activity you choose.
From bikinis and one-pieces to flowy maxi dresses and jumpsuits, there are so many options when creating a look for the beach.
Bright floral prints bring out your inner bohemian while bold stripes add a nautical feel.
Accessorize with oversized hats, sunnies, straw bags and espadrilles to complete the look of effortless chic.
Don't forget to add sunscreen or protective clothing like rash guards if spending long hours in direct sunlight!
How To Put Together A Cute Beach Outfit For Your Beach Day
Heading to the beach? Don't forget your cute beach outfit!
From a breezy sundress to a pretty swimsuit, putting together an outfit for your day at the beach doesn't have to be difficult.
All you need is a few key items and you can have the perfect look in no time!
Start with picking out a comfortable and stylish swimsuit that fits well and flatters your figure.
Whether it's a tankini or one-piece, make sure it has UPF protection from the sun's harsh rays.
A light hat, sunglasses, and sandals will complete your look for time spent lounging on the sand.
If you're planning on strolling along the boardwalk, change into a sundress or skirt paired with a tank top and cardigan.
Boho Beach Day Outfit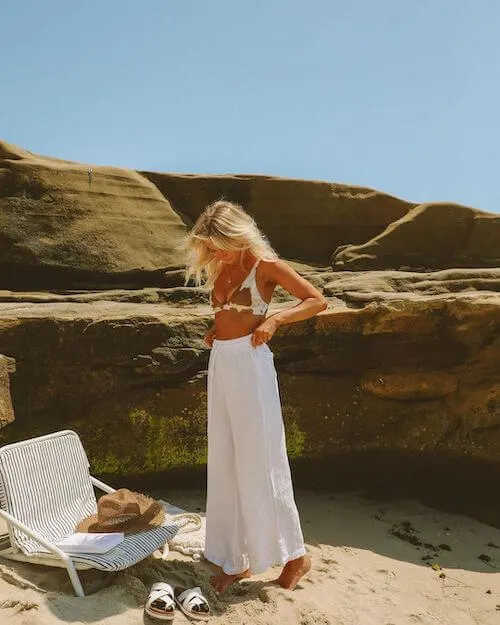 @jamielynkane
On-Trend Dressy Beach Outfit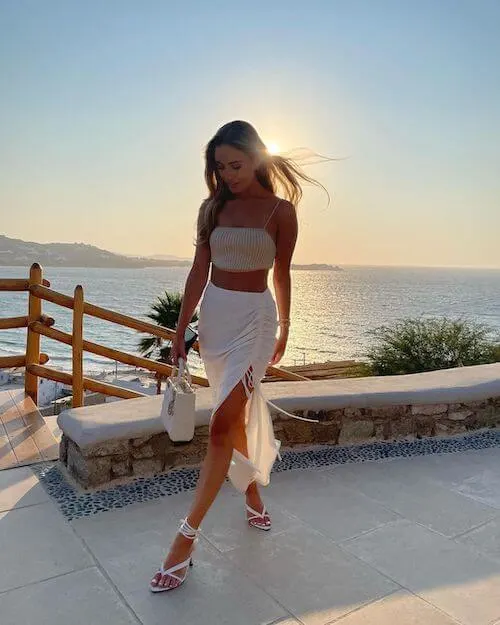 @kateehutchins
All White Beach Look With Summer Vibes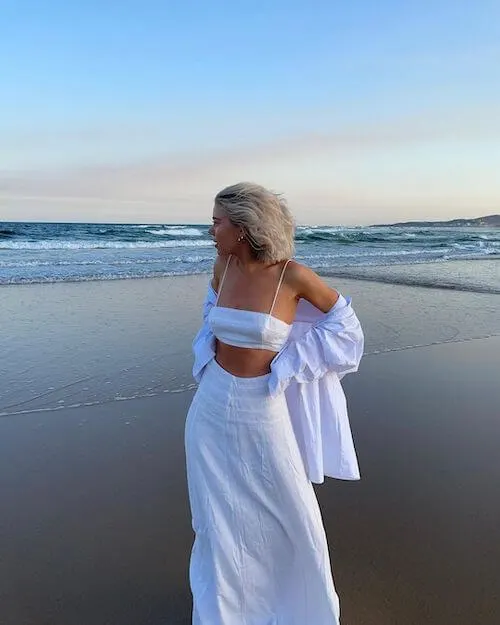 @laurajadestone
Cute Beach Outfits For Summer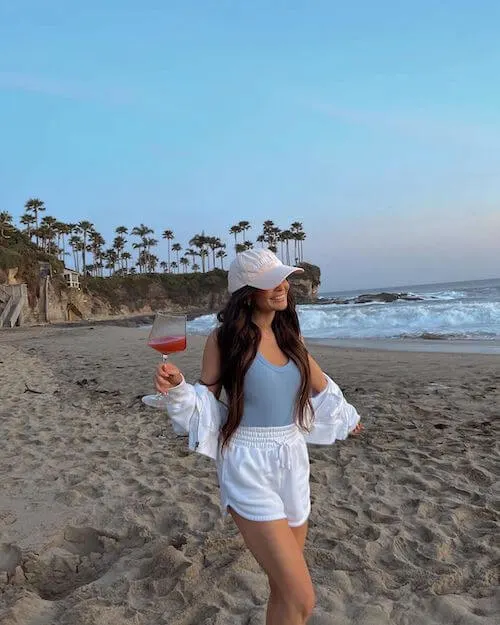 @maxieelise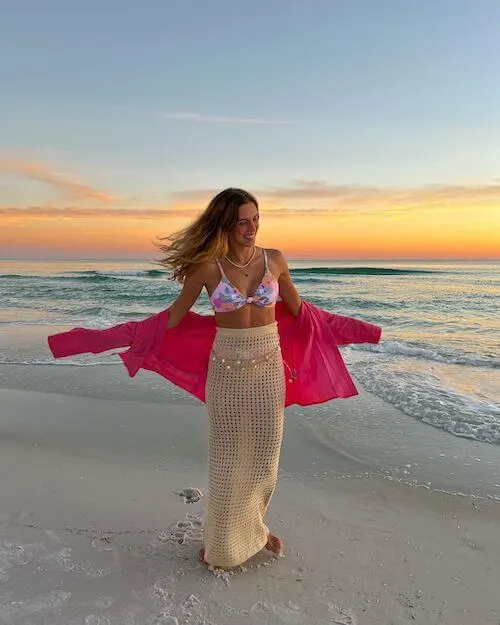 @marymargaretboud
Classy Beach Outfits For Women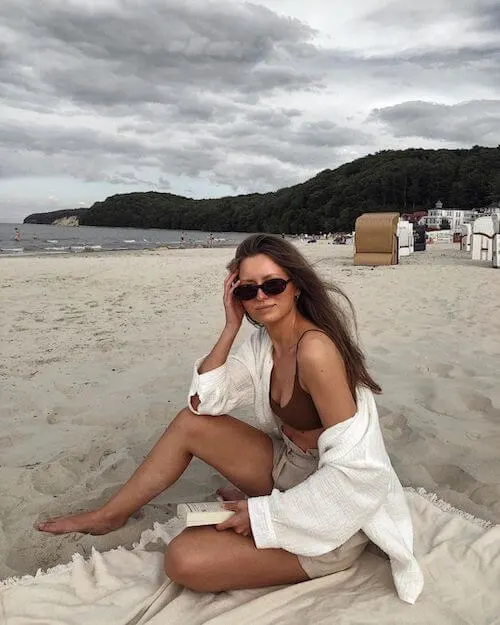 @livia_auer
Perfect Summer Stylish Beach Outfit Ideas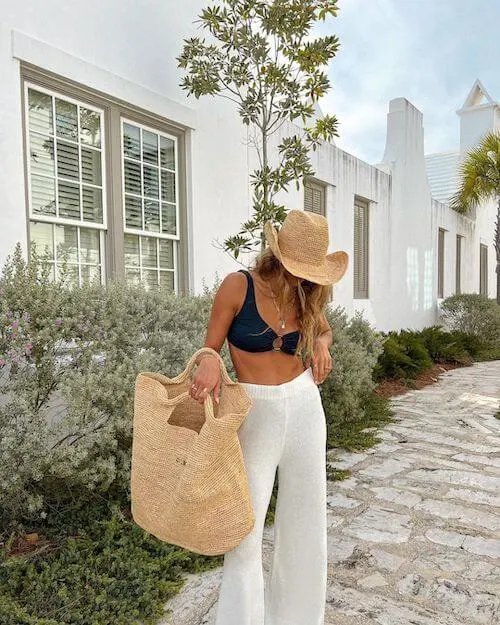 @marymargaretboud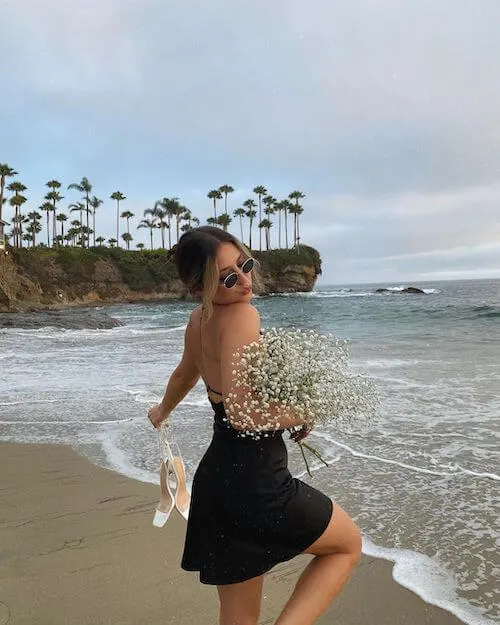 @ daniellee_esther
Simple Beach Wear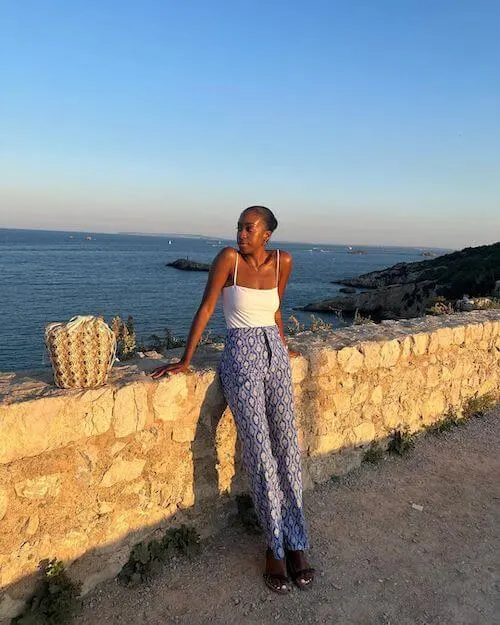 @chrissyford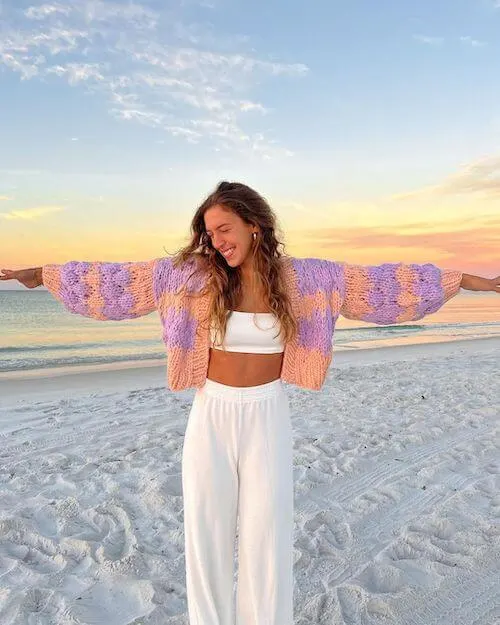 @marymargaretboud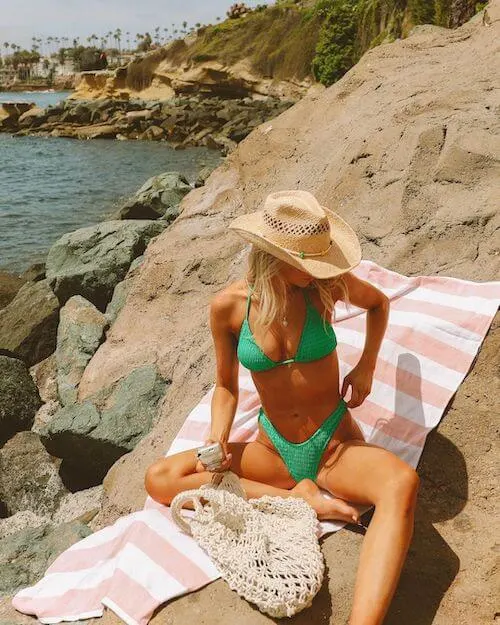 @jamielynkane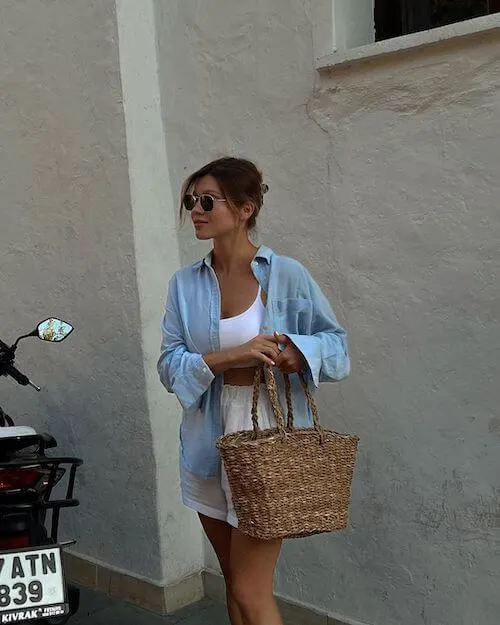 @marie_sinitsina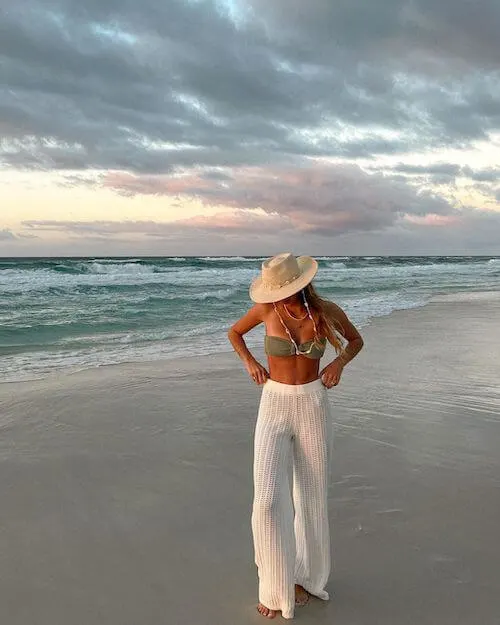 @marymargaretboud
Casual Beachwear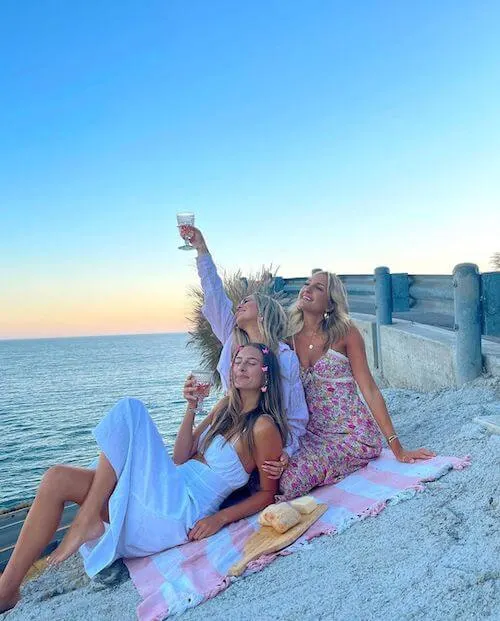 @styledbymckenz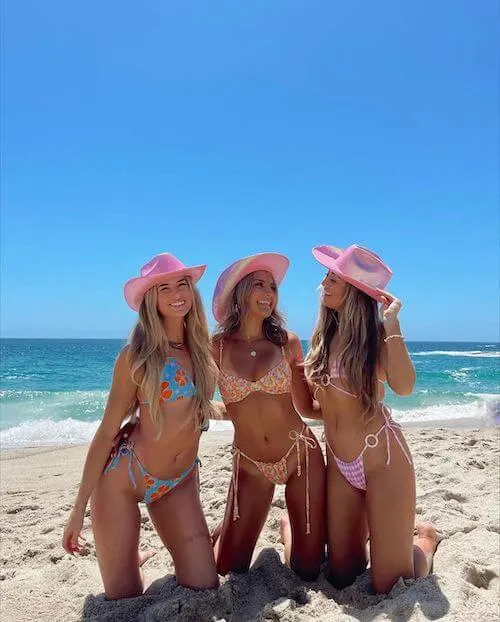 @styledbymckenz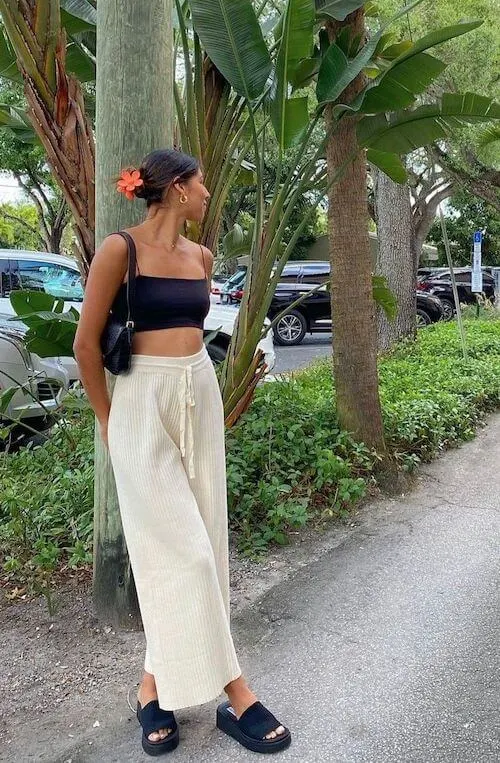 via Pinterest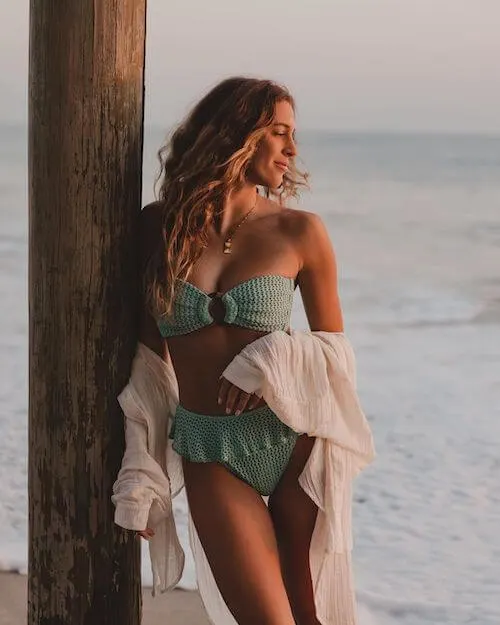 @marymargaretboud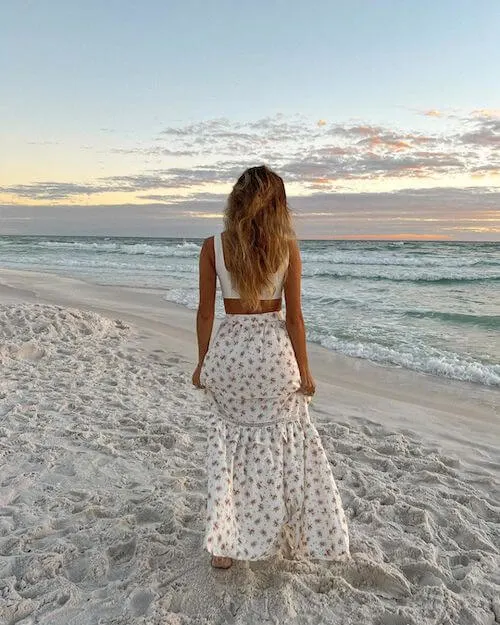 @marymargaretboud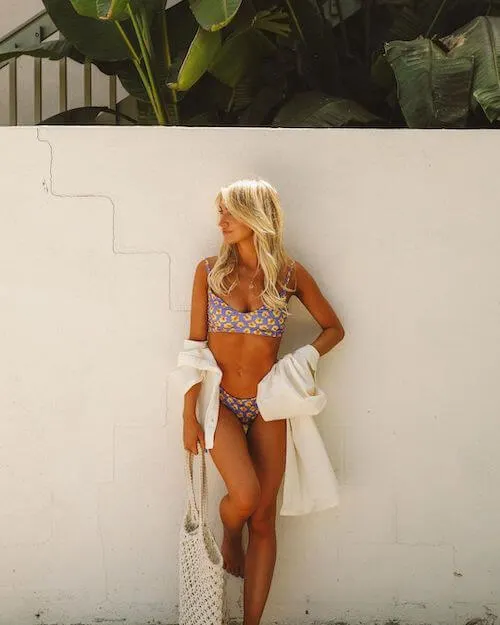 @jamielynkane
Elevated Summer Outfits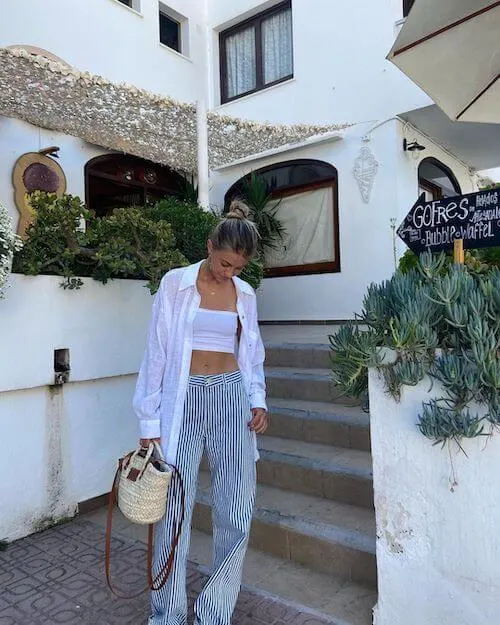 @luucastee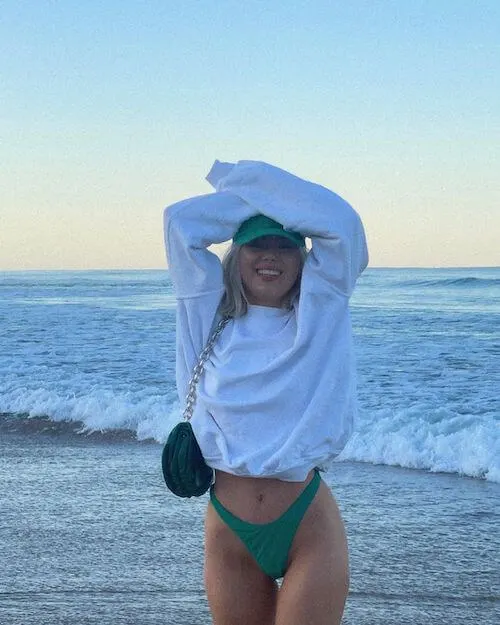 @laurajadestone
Stylish Evening Look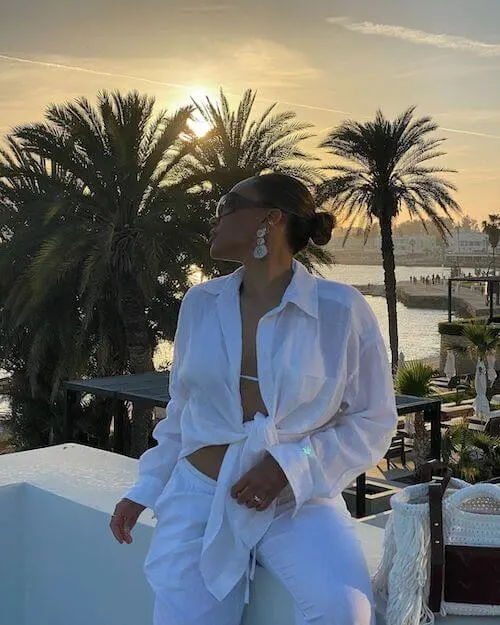 @bygigivassall
What To Wear To A Beach Cocktail Gathering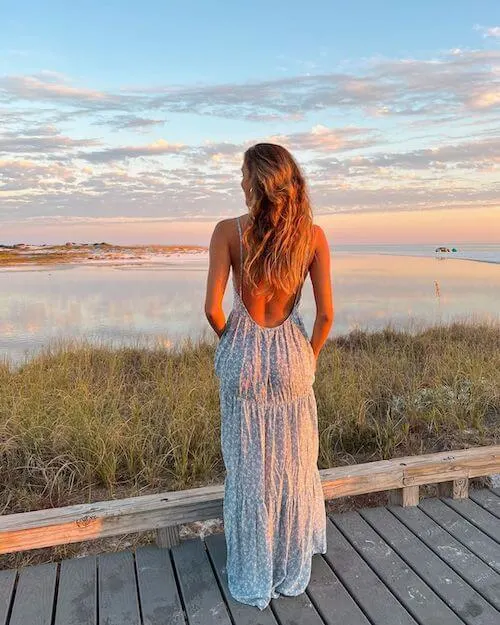 @marymargaretboud
Beach cocktail gatherings are the perfect opportunity to dress up in a fun, beachy way.
Whether you're headed to a sunset soiree or a chic poolside party, there are plenty of stylish options that will keep you cool and looking great.
In order to stand out from the crowd at your next beach gathering, follow these tips on what to wear.
A breezy maxi dress is an ideal choice for any beach affair.
Choose one with tiers of ruffles that catches the wind just right, or opt for an elegant wrap style for an airy look.
To add a touch of glamour, accessorize with gold jewelry and metallic sandals – both will give off a summery shine in the sunshine!
For men, lightweight linen trousers paired with a crisp white shirt or bright-colored polo is always classic and effortless.
What To Wear To Girls Brunch at Beach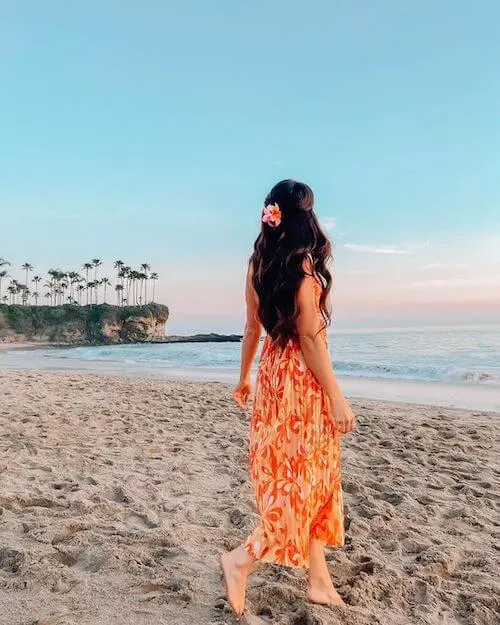 @maxieelise
Heading to a beach brunch with your girl-friends?
You don't need to stress about what to wear!
Whether its a morning affair or an afternoon get together, we've got you covered with some great outfit ideas. Show up looking fashion-forward in one of these cute ensembles.
A lightweight sundress is perfect for any time of day.
Choose something airy and flowy in soft pastel colors and complete the look with a pair of neutral sandals and a straw clutch.
If you want more coverage, try pairing cropped jeans with a light blouse and accessorize it with statement earrings to show off your personal style!
Add on some heeled espadrilles for extra height and you're ready for brunch at the seaside.
Incredibly Stylish Beach Outfits For Beach Date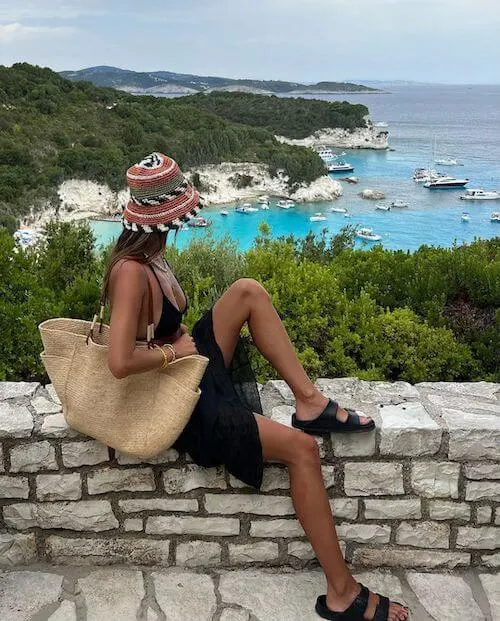 @andicsinger
A beach date is a perfect opportunity to show off your playful side and let your romantic side shine.
Whether it's a first date or you're celebrating an anniversary, dressing for the occasion is essential.
Knowing what to wear to a beach date can be challenging, but with the right outfit you can look stunning and feel confident.
For ladies, opting for comfortable clothing that still looks stylish is key.
A maxi dress with light or neutral colors will keep you cool while exuding effortless elegance.
A white sundress with light embellishments pairs perfectly with sandals or wedges for a look that's both flirty and refined.
To make sure you stay sun-safe, add on a stylish hat and some statement shades before heading out onto the sand.
Winter Beach Outfits
When choosing what to wear to the beach in winter, there are a few key things to consider.
A woman should focus on staying warm and being comfortable while still looking stylish.
Layering is essential in cold climates—a good combination is a tank top paired with a long-sleeved shirt, such as a flannel or turtleneck sweater.
If it's especially chilly outside, opt for an insulated jacket and some leggings under your jeans.
To complete the look, don't forget accessories like scarves, hats and gloves.
Footwear should be chosen carefully as well; sandals are too cold for winter weather but regular shoes can get wet from the ocean spray.
The perfect solution is waterproof boots that are both practical and fashionable—they will keep you dry while still looking great!
More Beach Vacation Clothing Ideas
Women planning a beach vacation should consider the climate and their individual sense of style when deciding what to wear.
It's important to choose comfortable clothing that won't inhibit activities such as swimming, walking, and sunbathing.
Lightweight fabrics like cotton and linen are ideal for hot climates since they allow air circulation and won't stick to the skin in humid weather.
Bikinis, tankinis, one-piece swimsuits, shorts with cute tops or kaftans are some excellent choices for days spent at the beach.
For outdoor activities such as snorkeling or kayaking it is advisable to wear a rash guard to protect from scratches from tree branches or coral reefs.
For evenings out during the vacation it can be fun to incorporate elegant pieces into beach outfits like maxi dresses paired with sandals or wedges for an effortless chic look.
Bikini Bottoms + Sweatshirt + Bucket Hat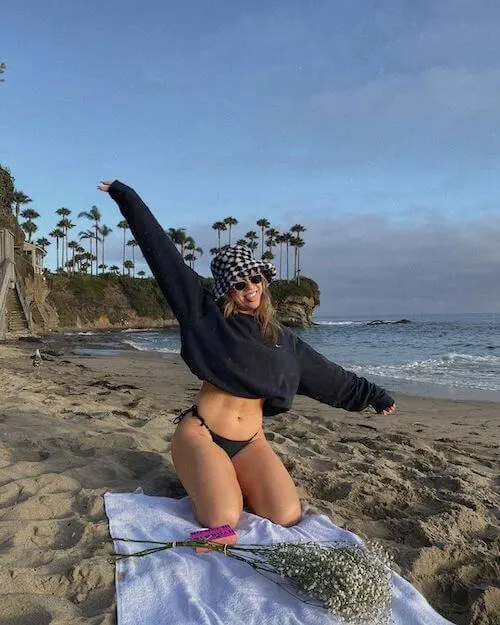 @ daniellee_esther
Bikini Top + Mini Skirt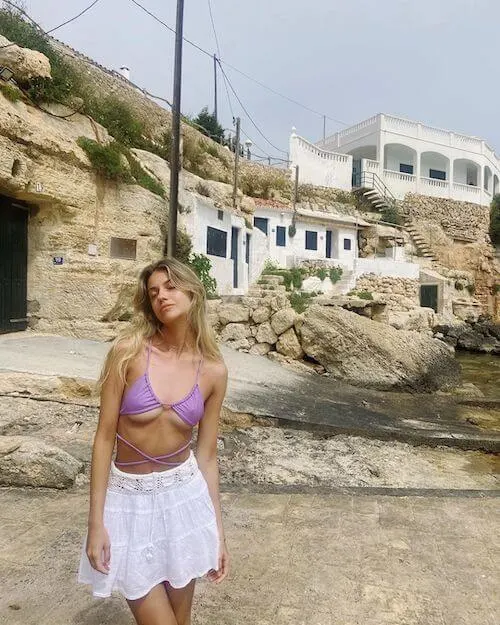 @luucastee
One-Piece Swimsuit + Straw Hat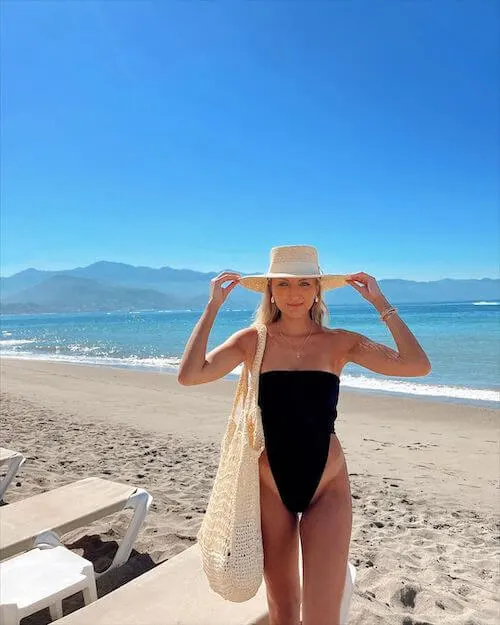 @styledbymckenz
White Tee + Denim Jacket + Slides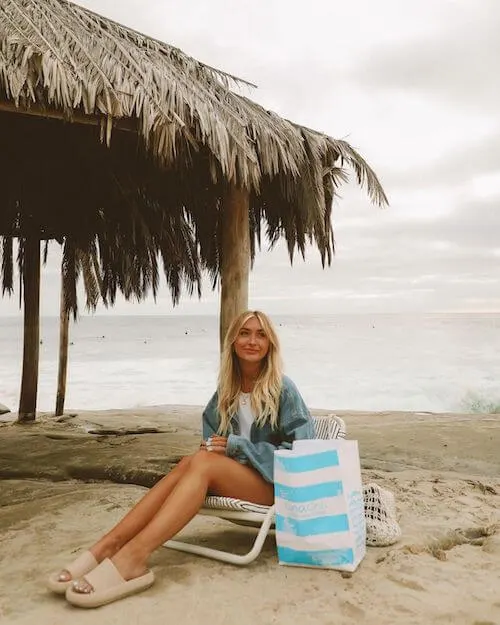 @jamielynkane
White Tank Top + Maxi Skirt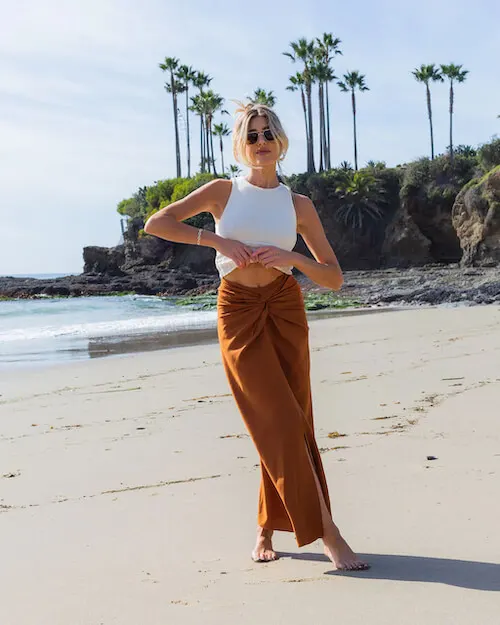 Crop Top + High-Waist Trousers + Hoops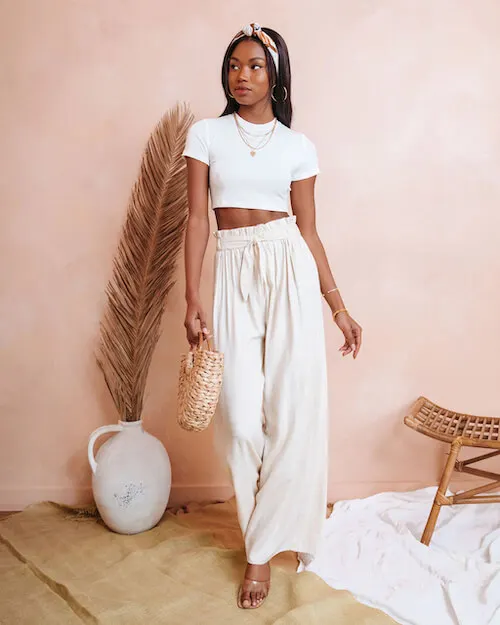 Floral Cute Dress + Slide-on Sandals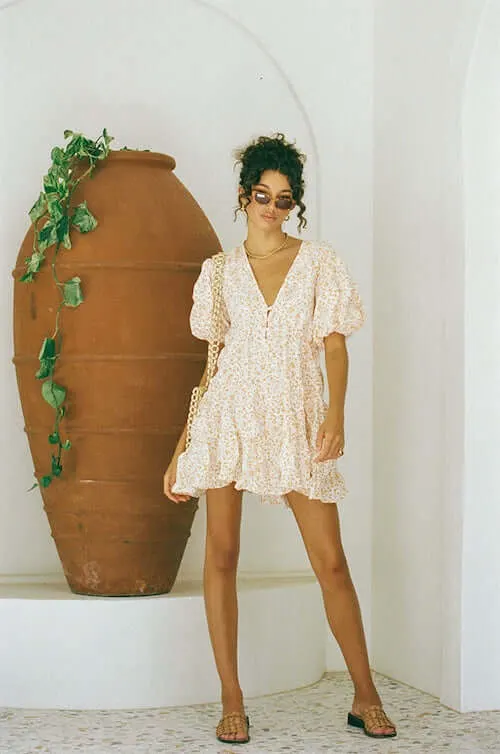 Cute Top + Crochet Shorts + Sun Hat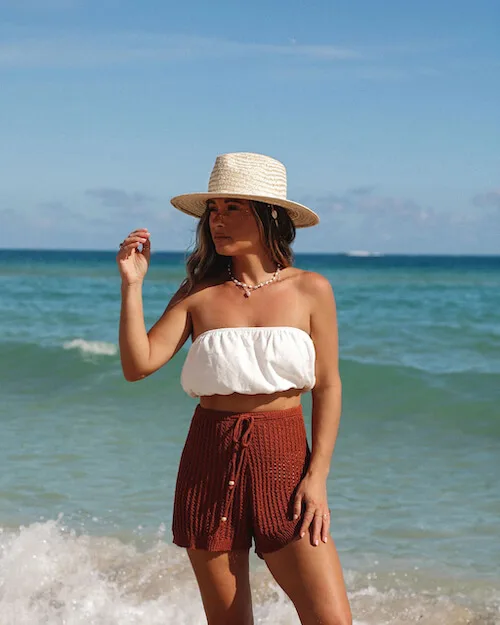 White Cut-Out Midi Dress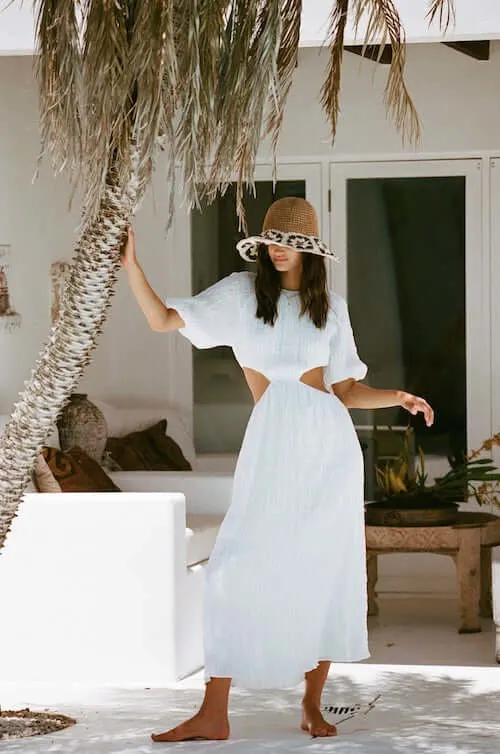 Button-Down + High-Waisted Shorts + Cute Sandals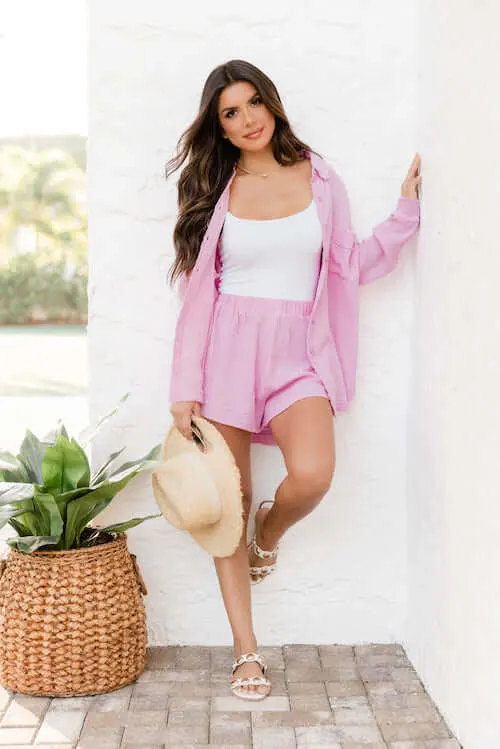 Flowy Maxi Beach Dress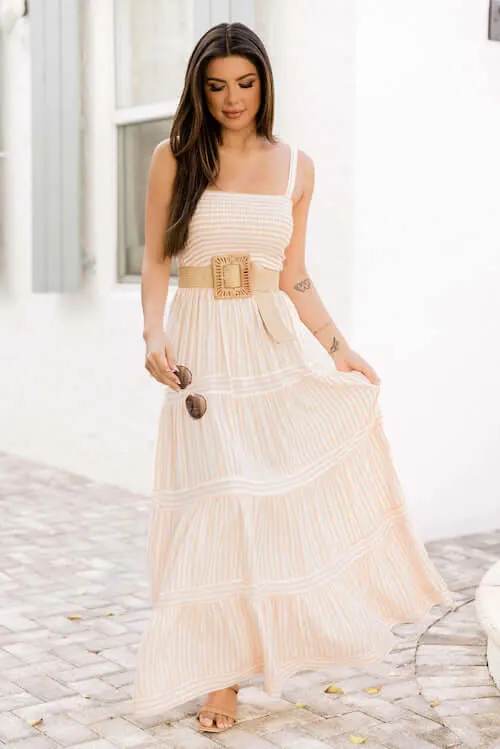 Beachy Crochet Top + Wide Leg Pants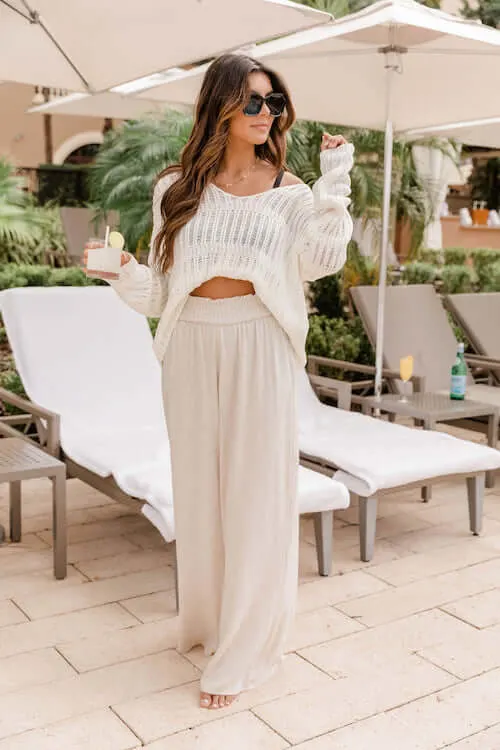 Beige Basic Cover-Up Dress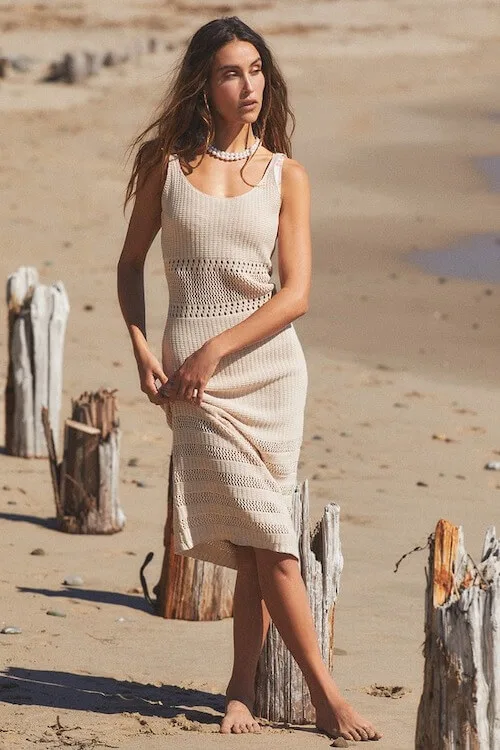 Beautiful Beach Cover-up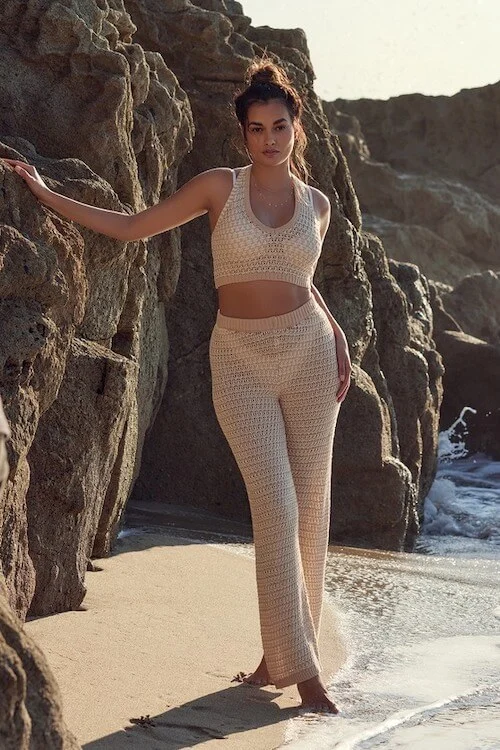 Button-Down + Shorts Set + Straw Beach Bag
Cute Coverups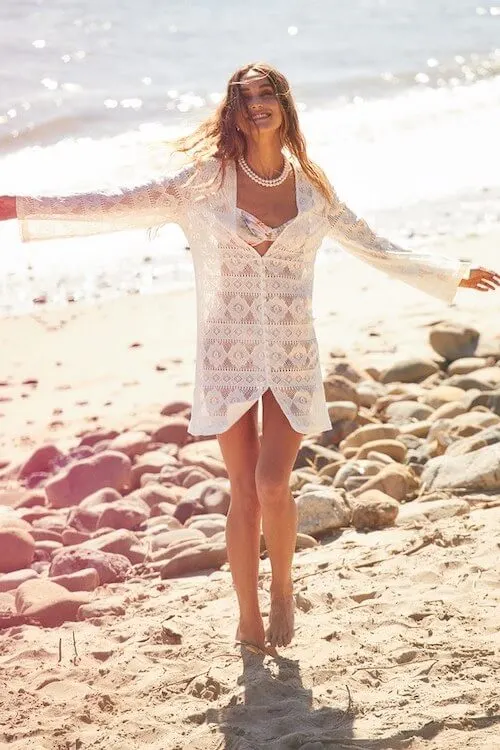 Pants Set + Canvas Tote + Flat Sandals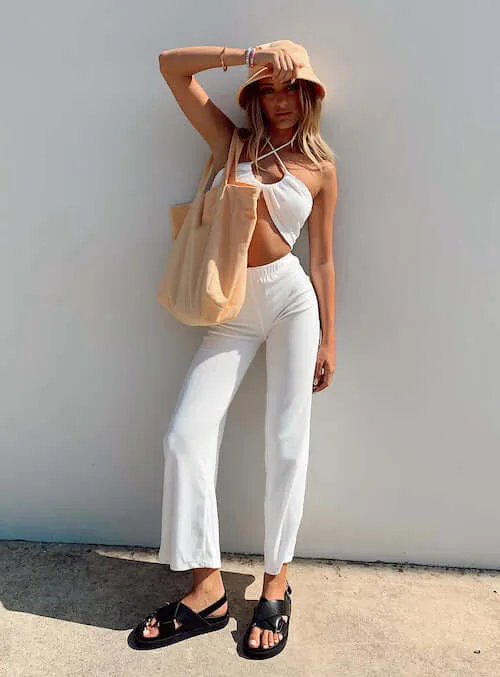 Crochet Beach Top + Skirt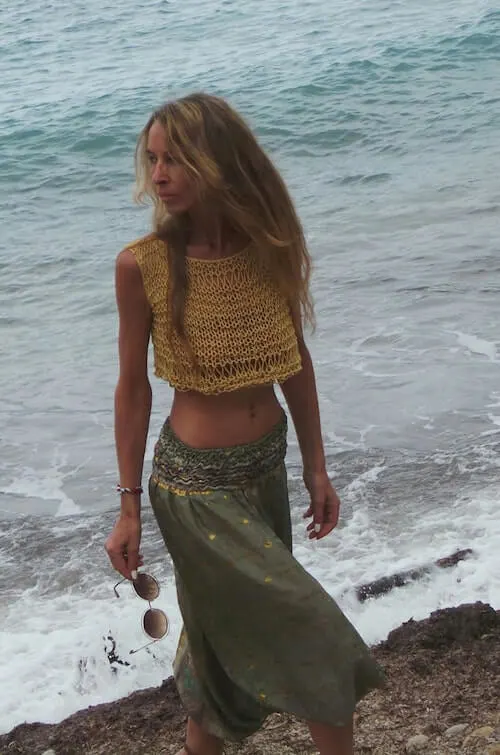 Sexy Mini Dress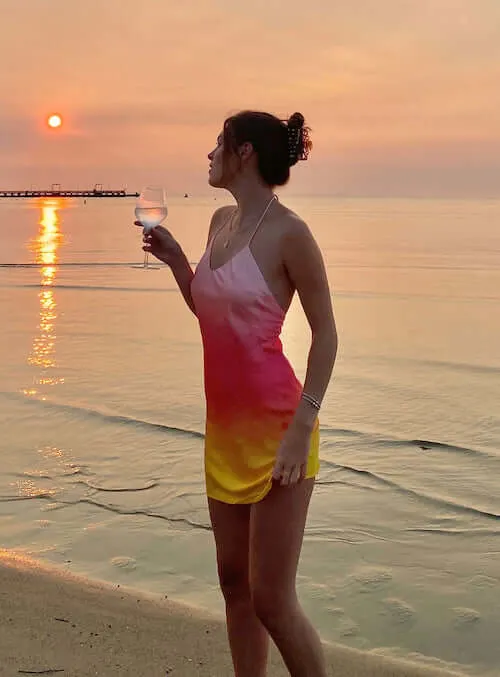 Backless Dress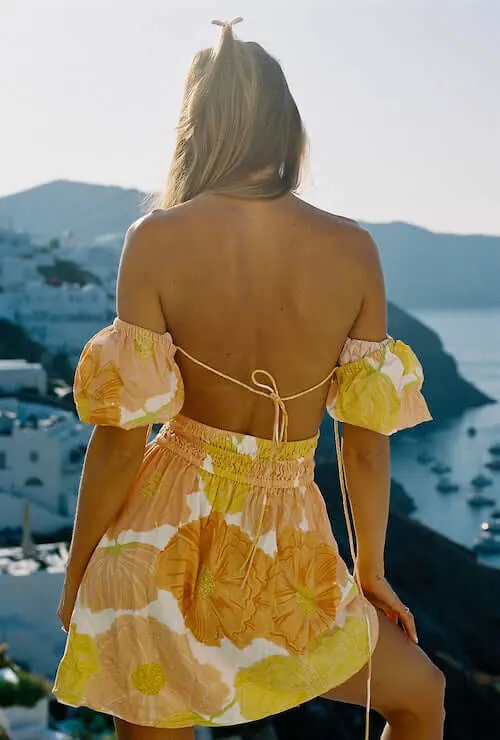 Long Sleeve Mini Dress + Beach Tote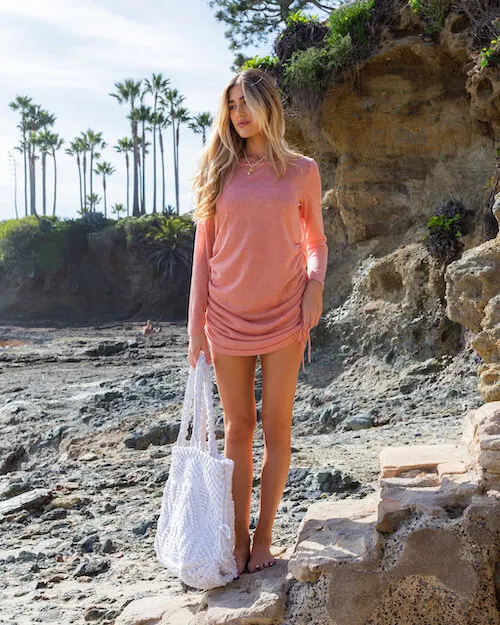 Bikini Top + Sarong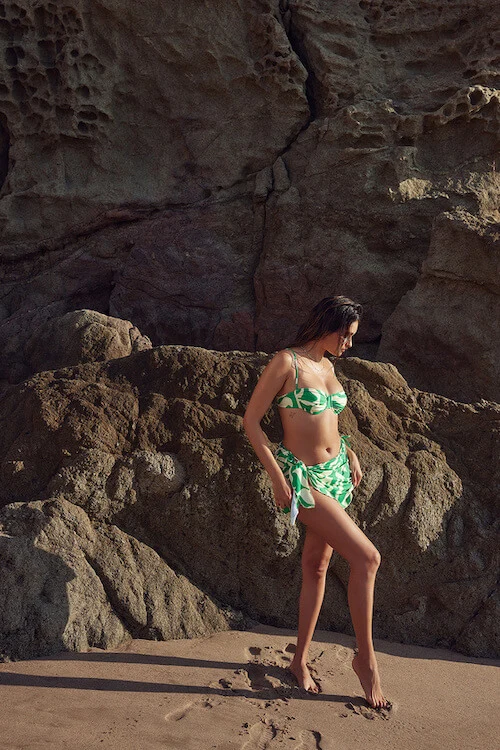 Kimono + Bikini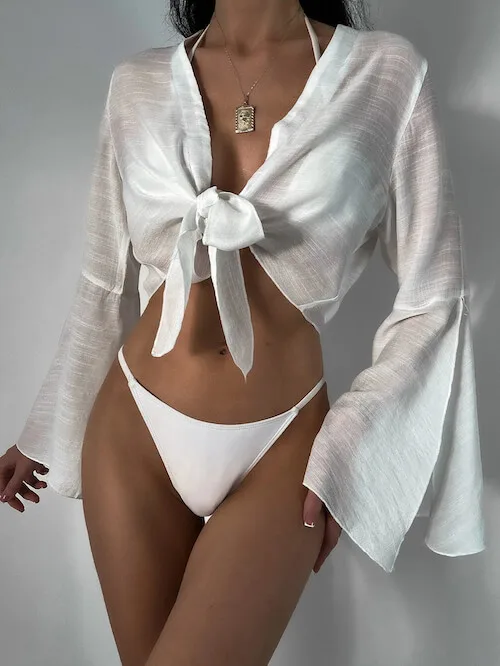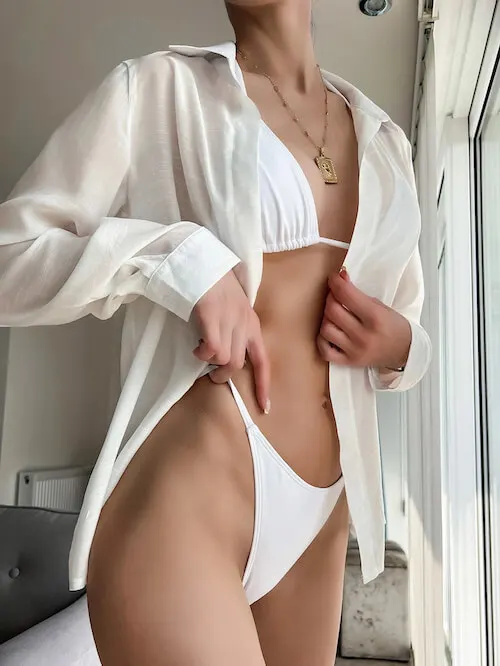 Breezy Jumpsuit + Sunnies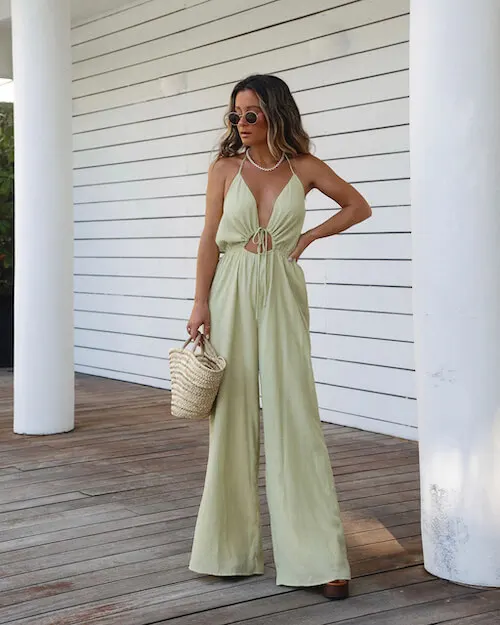 This post was all about chic beach outfits.
About The Author
Tracy is an experienced personal stylist, shopping expert, and fashion & lifestyle blogger. She has been featured on Time Magazine, Bustle, Best Life, Glam, The Zoe Report, Mic, and GOBankingRates, for her insights on fashion, beauty, home decor, and lifestyle. Read More
Related Posts: