Looking for the best elegant birthday photoshoot ideas? Check this post for expert birthday photography tips and our favorite birthday picture ideas for your next birthday!
Taking birthday photos is an excellent way to celebrate the past year and a fun way to record your special day.
The best thing is, you don't always need to hire a professional photographer or spend too much money for your birthday pictures to get the best results! Taking photos by yourself, friends, one of your family members is also so much fun.
If you are looking for the best inspirations and tips, you've come to the right places.
The secrets for perfect elegant birthday photos are the scenes (color schemes, filters, etc), outfits, and poses. In today's article, I am sharing all the proven tips and different ways I love to help you get WOW classy birthday photos even by yourself at home.
At the end of the article, I am also sharing the best places to buy your birthday photoshoot outfits and our favorite picks to shop directly.
So scroll down to check the birthday photo shoot ideas and don't hesitate to pin the ideas to your Pinterest board. Happy Birthday!
This post may contain affiliate links, which means I'll receive a commission if you purchase through my link, at no extra cost to you. Please read the full disclosure here.
This post is all about elegant birthday photoshoot ideas.
Elegant Birthday Photoshoot Ideas
Sequin Dress + Rose Gold Number Balloons
A sequin outfit goes well with gold decor and rose gold balloons. It is one of the easiest ways to get an elegant and luxury feeling birthday photo.
And I love this pose idea. Sit anywhere you like at home to find your next ideal pose!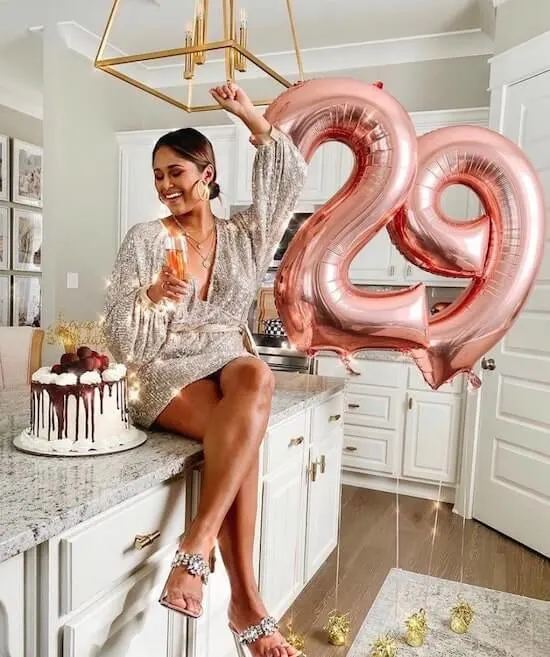 Take The Balloons Outside
This is a great idea! Don't waste the beautiful blue sea outside for your birthday. Wear black swimwear to make it perfectly blended into the scene.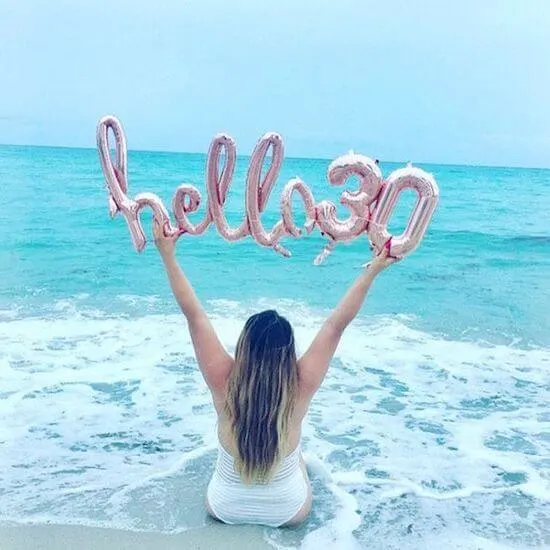 The Beautiful Flower Shadows
A great way to take gentle and elegant birthday photos is to shoot the shadows.
If you don't know how to pose, copy this pose. You don't have to look at the camera every single time.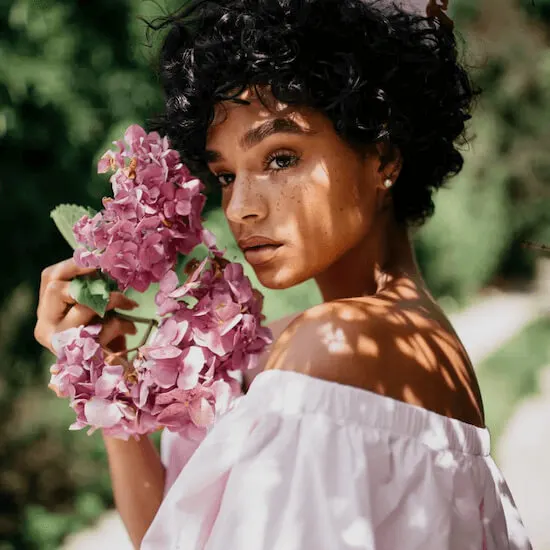 Make Use Of The Background Color
This is a good idea to get great birthday portraits.
Is there any place where you can find the exact same color with your outfit? Have your birthday photo session there!
You don't need to cost much but your photo is absolutely Instagram worthy!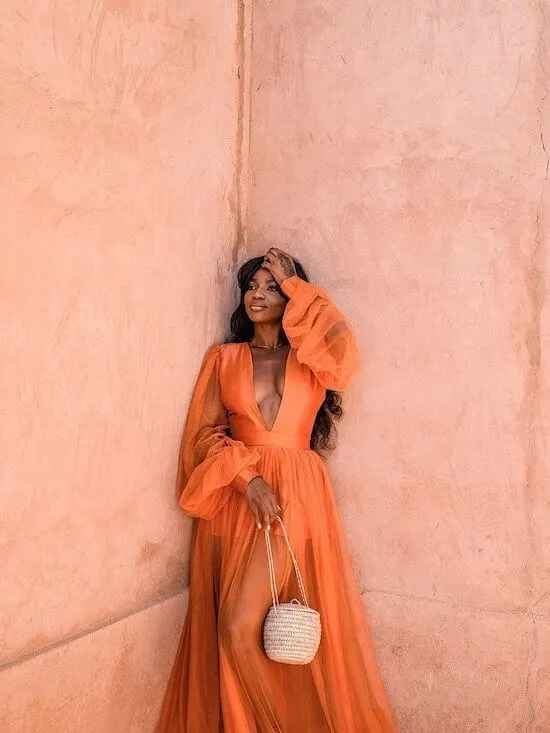 In The Flower Fields
Flower fields are always my favorite to take beautiful photos. Wear simple colors to avoid disturbing the beautiful field.
This pose is also easy-to-copy to make your look more elegant.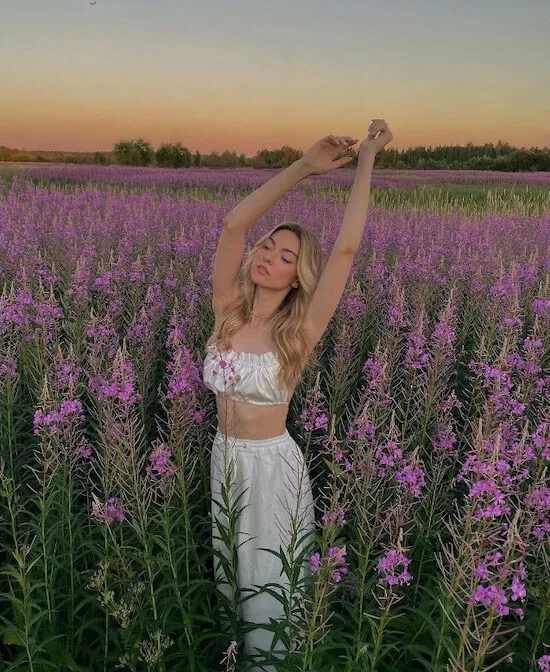 Shoot The Silhouette
One of the simplest ways to get a special birthday photo.
The silhouette at sunset looks so moving. I recommend standing with your feet crossed in a pose that shows off your waist and thighs nicely.
If you are worried that your legs don't look long enough, you can also just shoot the part above the knees.
Also, pull your hair up with both hands to make you look seductive.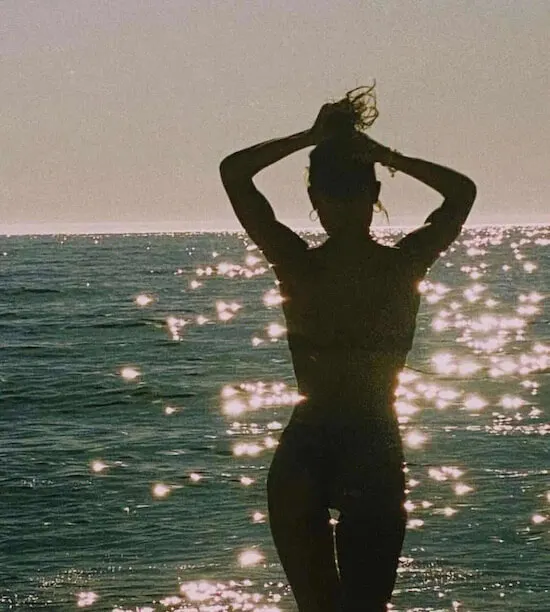 Against The Flower Wall
Choose a wall of flowers for your birthday photo shoot. To make the photo look more advanced, choose an outfit in the same color as the flowers.
If you don't have the exact flower color outfit, a solid white dress is also perfect.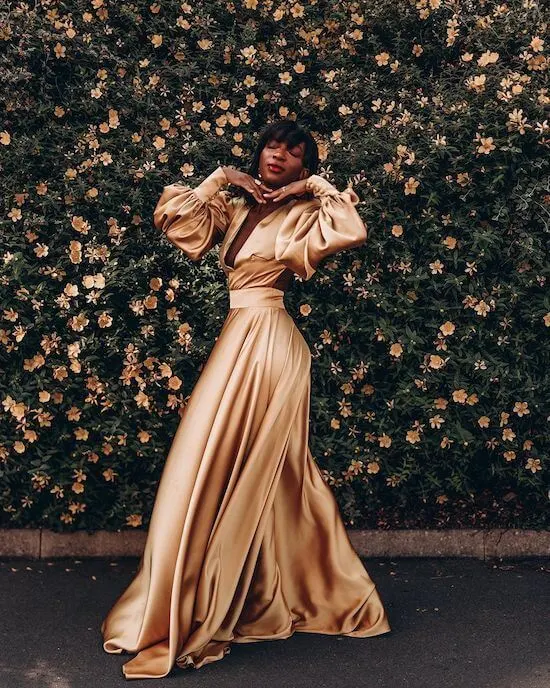 Stand By The LED Lights
The LED number lights are perfect to set the mood of a birthday party.
And by simply standing by the lights, you can get the most suitable photoshooting lights for making your face look soft and beautiful.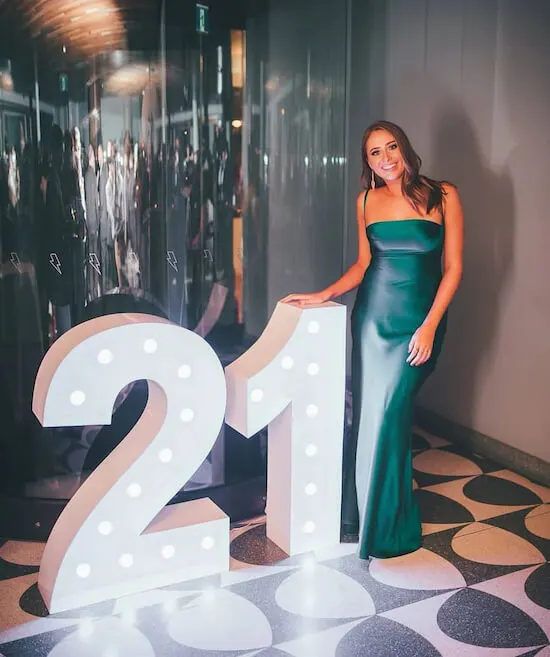 The Beautiful Red Dress
It is like standing in a white picture frame. You look like a charming piece of art.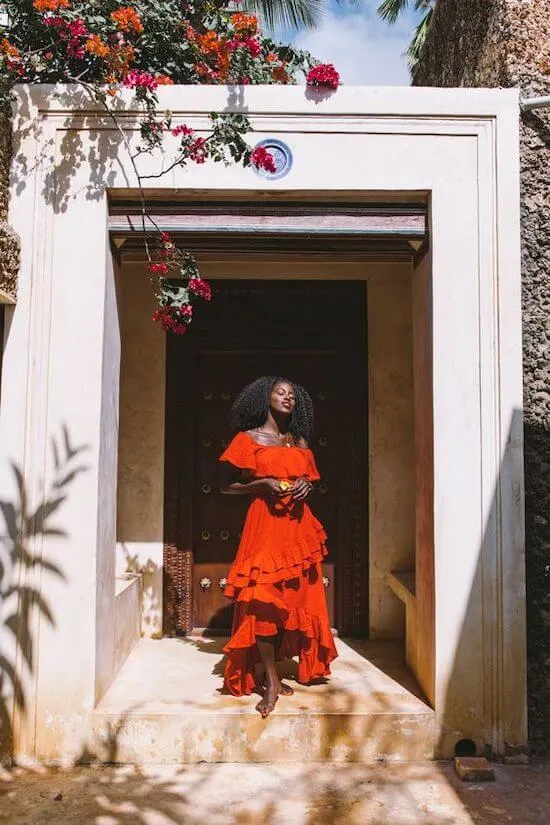 Casual Birthday Celebrations With Your Best Friend
Take a birthday photo with your best friend in a symmetrical pose. Remember to wear a similar style of clothing and colors.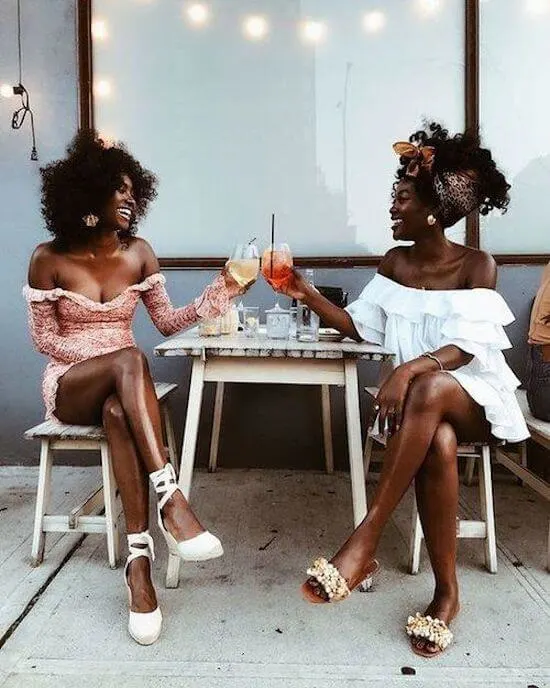 Pink Tulle Skirt And Pink Balloons
This outfit reminds me of Carrie Bradshaw and the whole color scheme on the photo is lovely.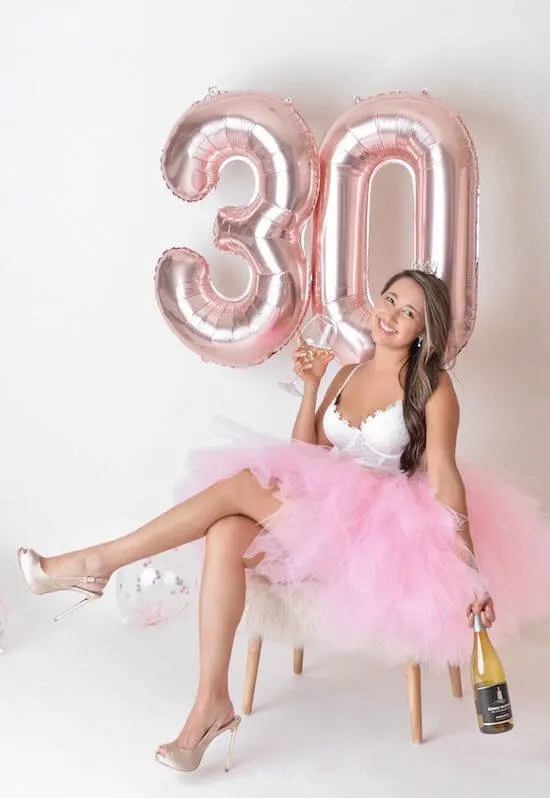 Flowers And The Bed
Take the balloons and flowers to your all-white bedroom to take this stunning photo.
The tip is to use simple colors to decorate your bedroom to make your beddings and room look more luxurious.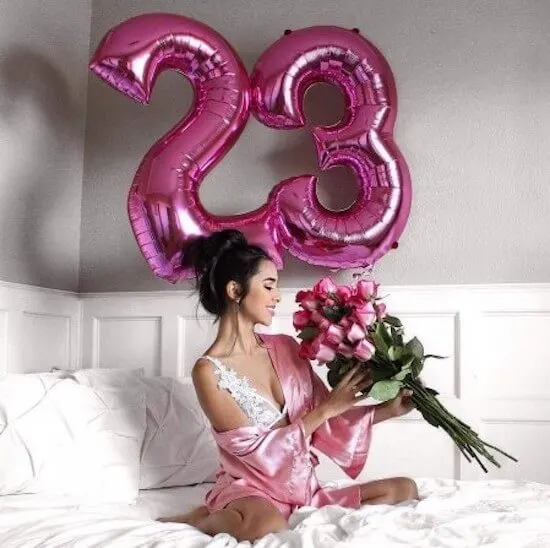 Classic Movie Theme
A unique birthday photoshoot idea to get tons of compliments from social media! Place your favorite bags or shoes on the floor and mute the lights down.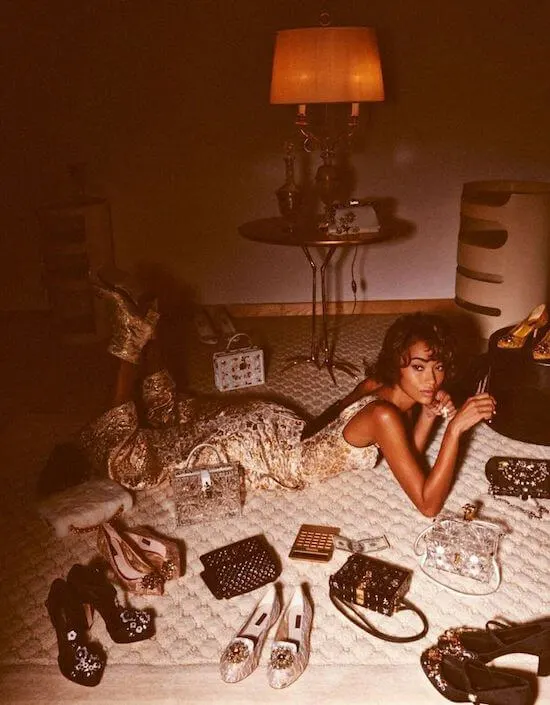 An Elegant Retro Style
Have your birthday photo in your favorite corner at home. Ideally, you can take the photos in the golden hours to get the best effect.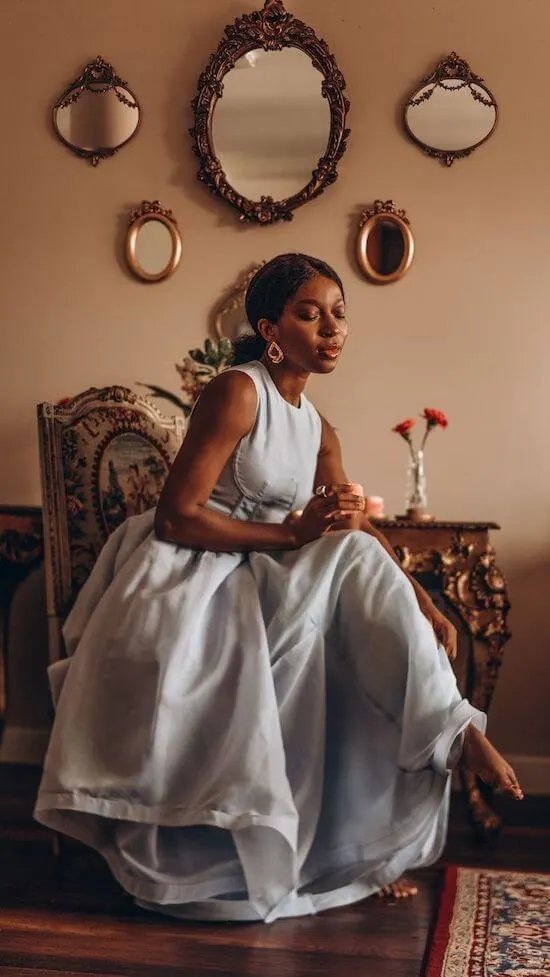 Tube Top Made Of Real Flowers
A sexy yet highly elegant birthday picture idea. You don't need to show your whole face but you still look so charming!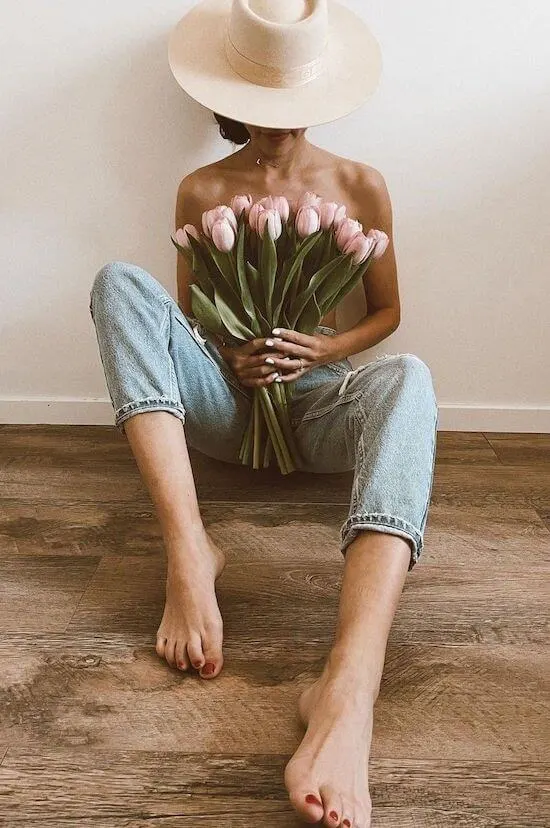 Flower Crowns And Bath Photography
Making use of your bathroom is an easy way to get your own home studio quickly.
Flowers frowns are one of the best props for your bath photography. Move the plants and flowers in your bathroom. Use the bright colors to lighten up your room and your big day!
Even the simplest poses can make you look great.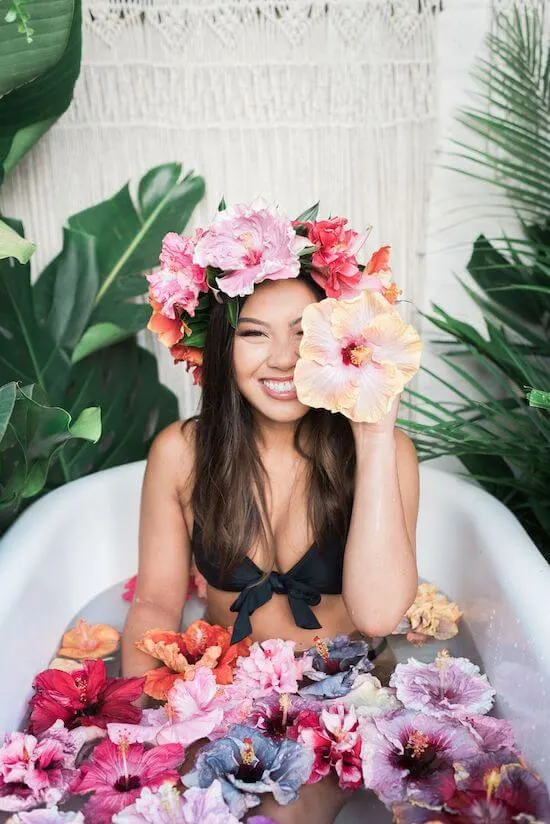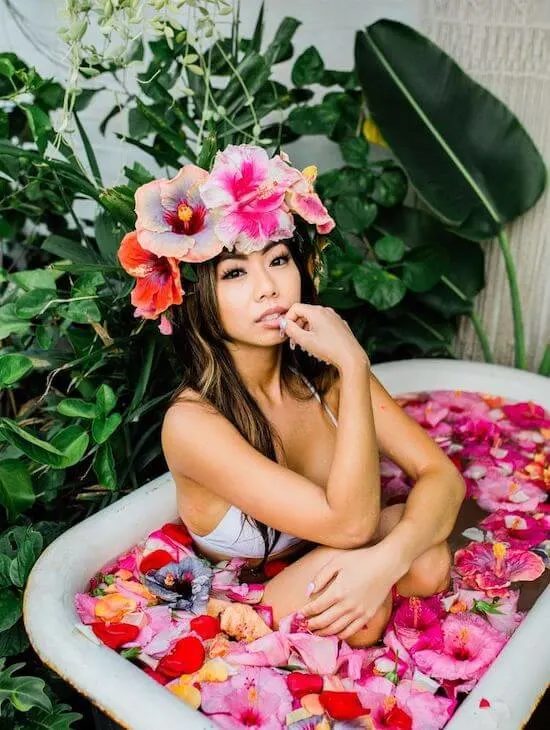 Simple Silver Backdrop
Add a simple backdrop to make your birthday photos professional. You don't actually need a professional photographer. Wear an elegant dress to complete the shot.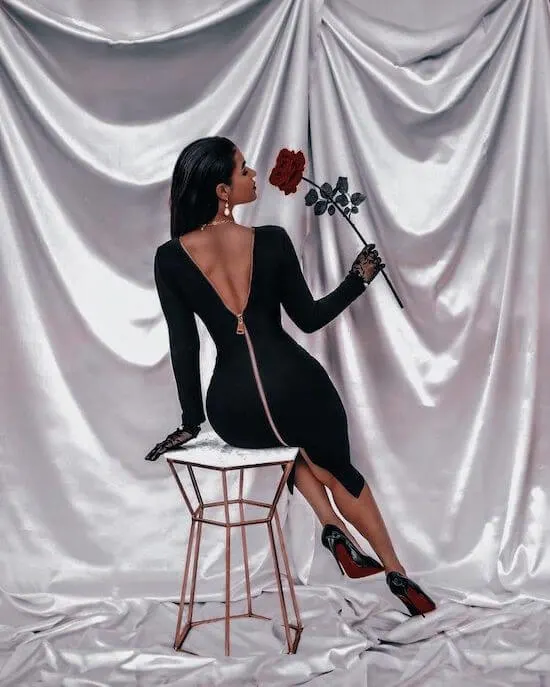 Gold And Black Color Scheme
The black tutu skirt is most suitable for shooting elegant and a little retro-style photos.
The addition of gold balloons gives the picture both a birthday celebration and a perfect blend with black, making this birthday photo look a little luxurious and with a good sense of style.
Plus, the pose isn't that hard, is it?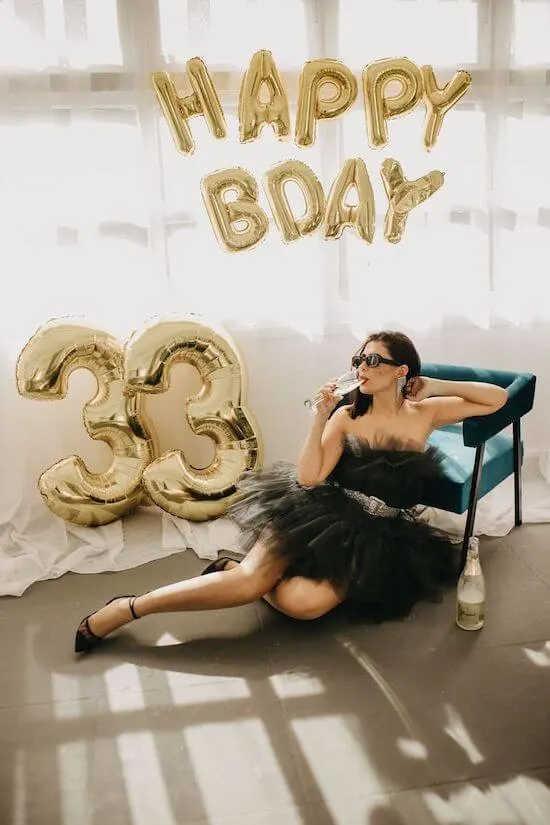 Balloon Birthday Banners For Your Milestone Birthday
Remember this classic pose, perfect for any elegant photo.
Black and pink make you look both elegant and lovely.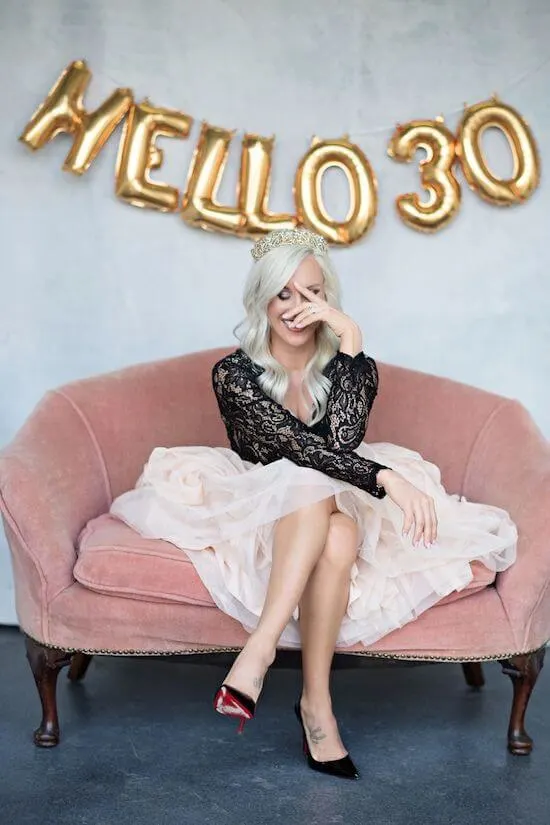 A Little Gold In The Blush Theme 30th Birthday
Very simple color tones, full of a dreamy and romantic vibe.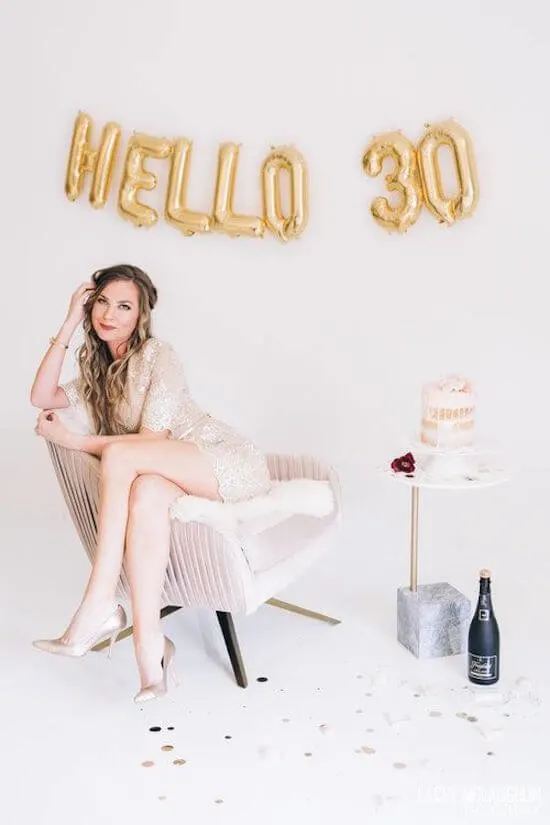 Celebration Drink In Your Bathroom
A simple yet luxurious bathroom photo to enjoy your great time. The sparkling pair of statement earrings is a good idea!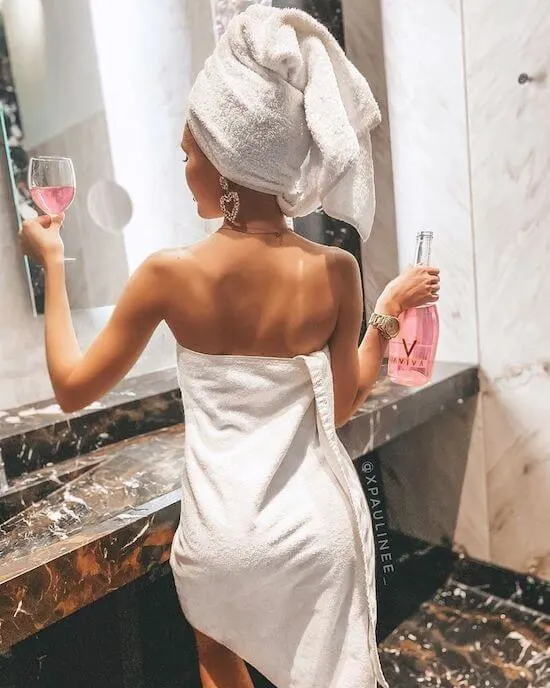 Your Cute Bedroom
Moving the balloon to your bedroom for a photo shoot is a great idea.
If you don't know how to pose, a kneeling position like this is great! Hold the balloons in your hand to avoid the embarrassment of not knowing where to put your hand.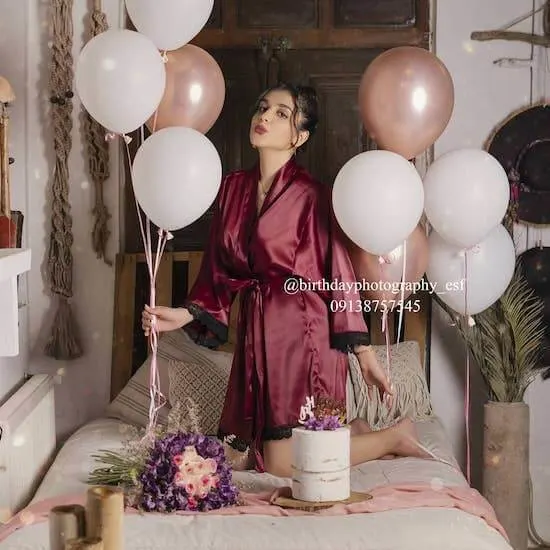 Let The Balloon Fly
This is a creative idea and makes your birthday photo so lively.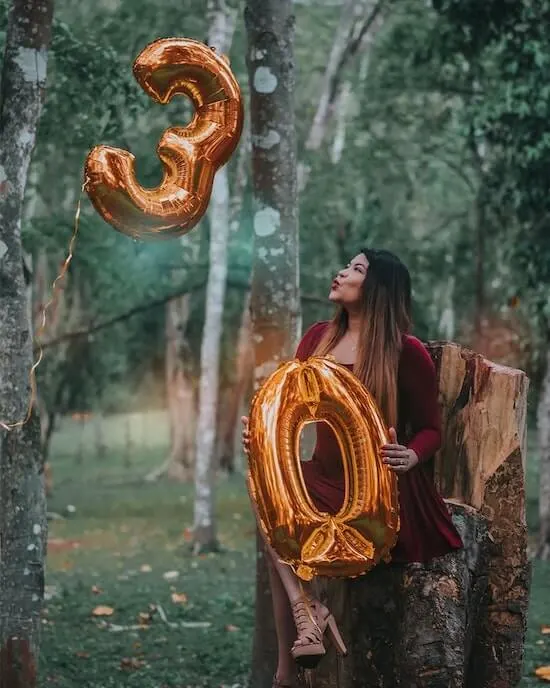 Sit On The Floor With The 21st Birthday Balloons
Have you found that? The less the colors, the more elegant the photo looks.
Use different shades of the same color for your next birthday photo!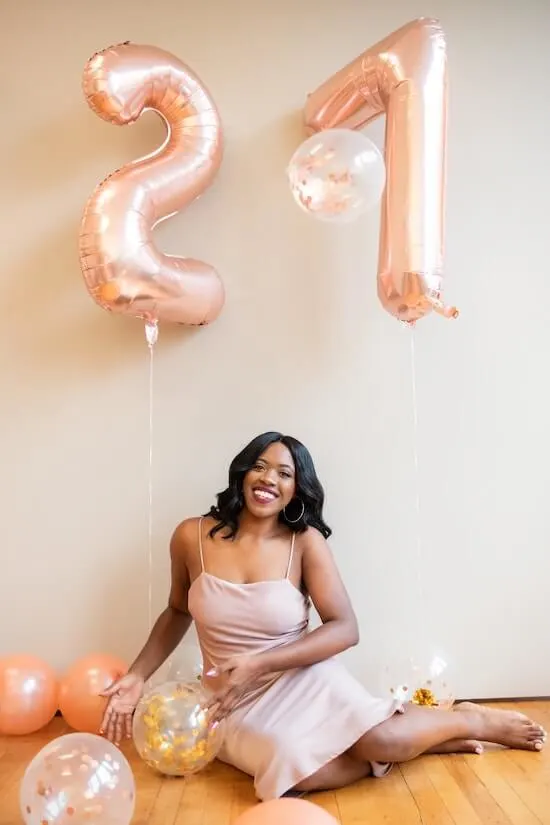 Enjoy Sunshine Outside With Your Retro Style
Retro style is very popular right now, so why not give it a try? A simple top and retro style sunglasses will make you look like a noblewoman on vacation.
Candid Shots On The Beach
Don't forget the stunning sunshine on the beach, it will give you the most beautiful skin.
The simple colors of blue and yellow make the photo look elegant and chic.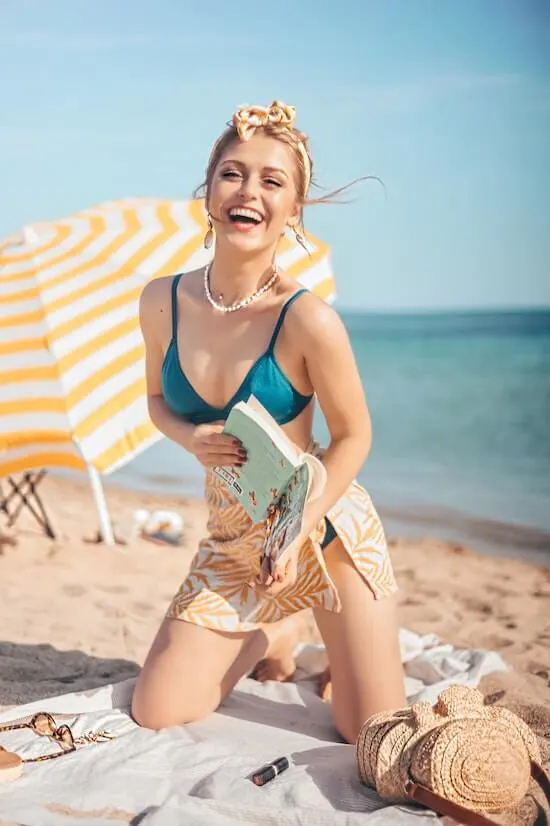 Burgundy And Denim Blue
A simple colored but very stylish photo. This photo idea is especially suitable for the fall and winter birthday photos.
Also, remember to open your shoulders and straighten your back, and this pose will make you look more elegant.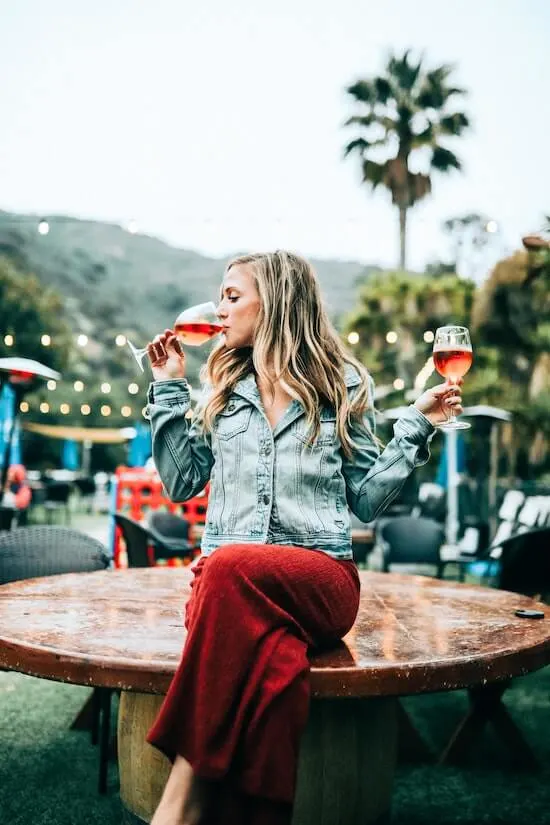 Enjoy The Sea Sunset
Wear a loose-fitting outfit to take a charming birthday photo on the beach at sunset.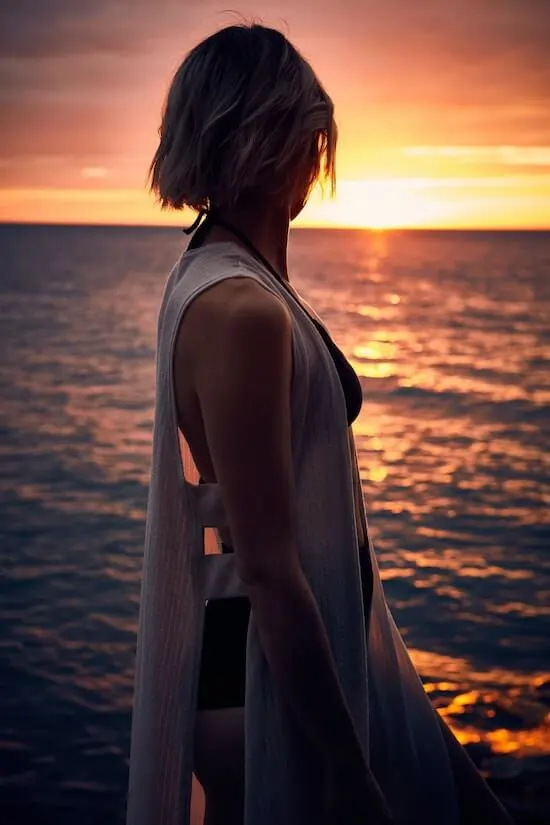 Sit On The Stairs
This pose is very sexy but elegant, remember to show your waistline.
Another secret is the addition of a hat, which enhances the chicness of the outfit.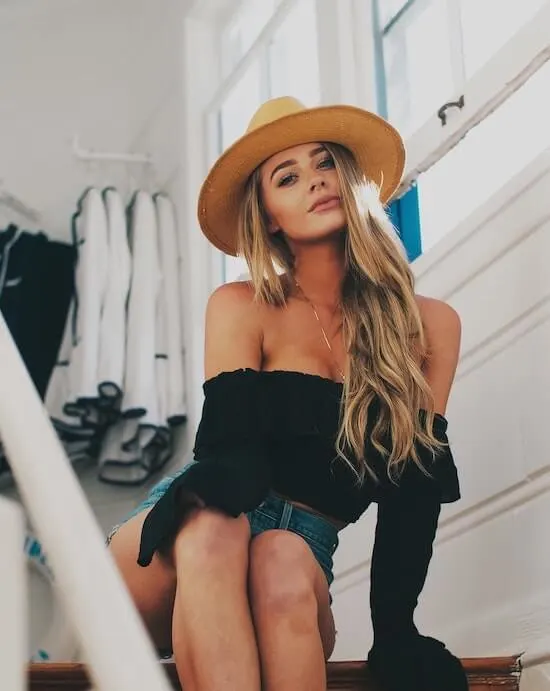 Try Different Angles In The Golden Hour
Golden hours is a perfect time to take pictures. With the natural light of golden hours, you can capture the softest skin tone.
But don't forget to try a variety of angles, you will successfully get unexpected surprises.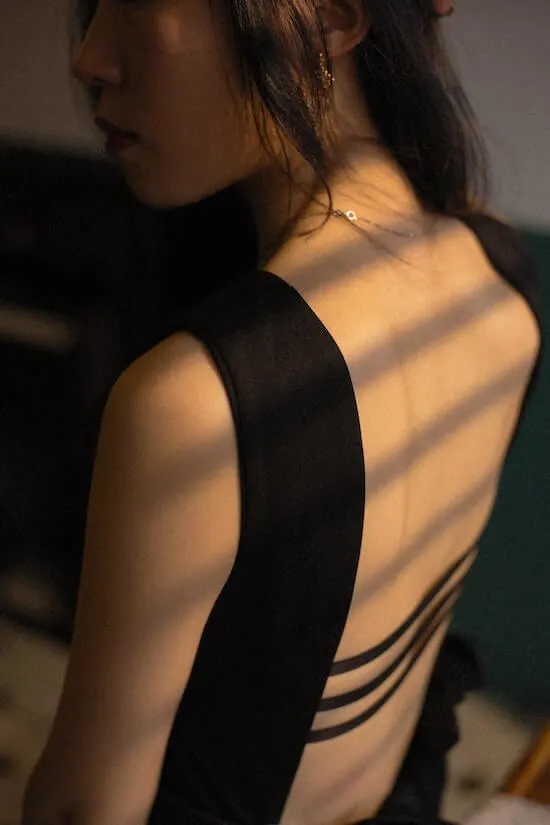 A Beautiful Fall Outside Photo
This is one of my favorite birthday outfits for fall. A little bit western style but really elegant.
Pair your denim blue jacket with white jeans.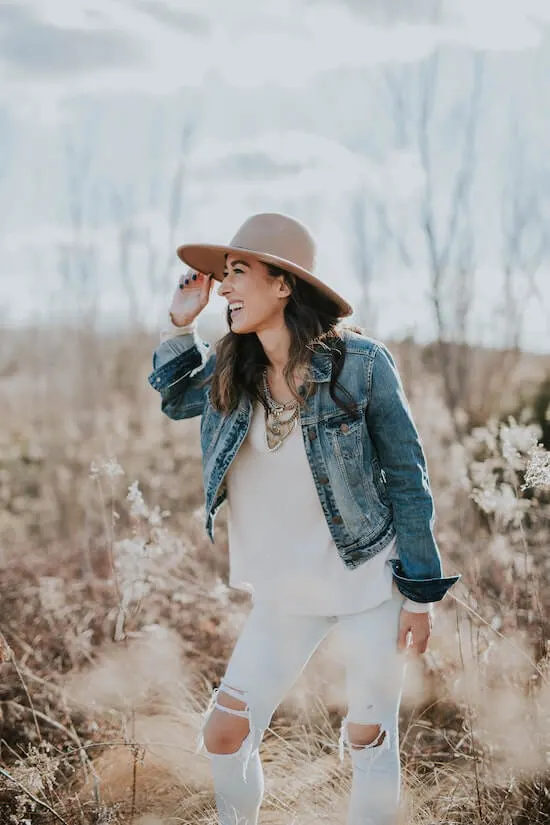 Fantastic Time With Your Closest Friends
The slightly different poses for you and your best friends make the picture look coordinated and lively.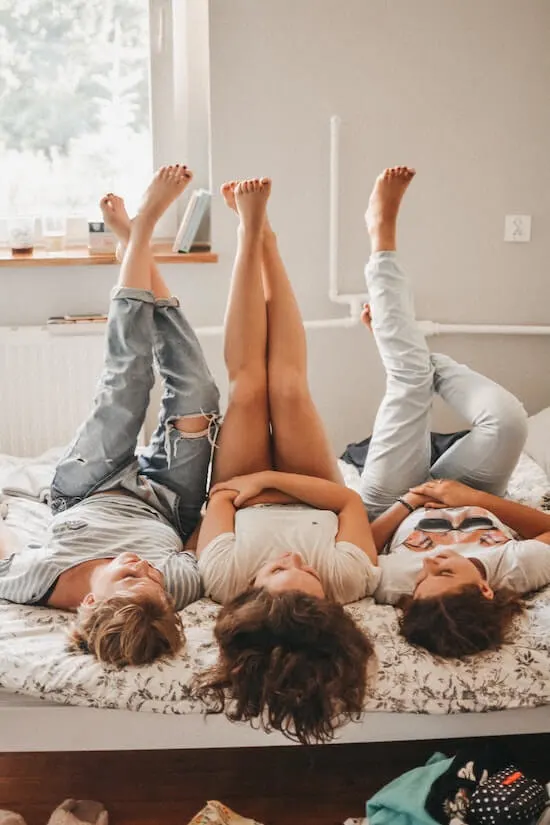 A Cute Birthday Cake
Turn off the surrounding lights and use just one candle to light your face, which will give you a more perfect facial line.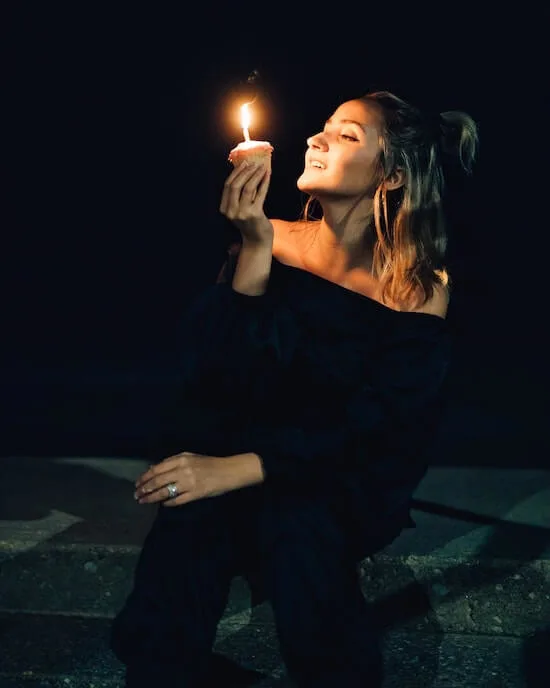 All Red
This photo idea is bold, sexy and glamorous.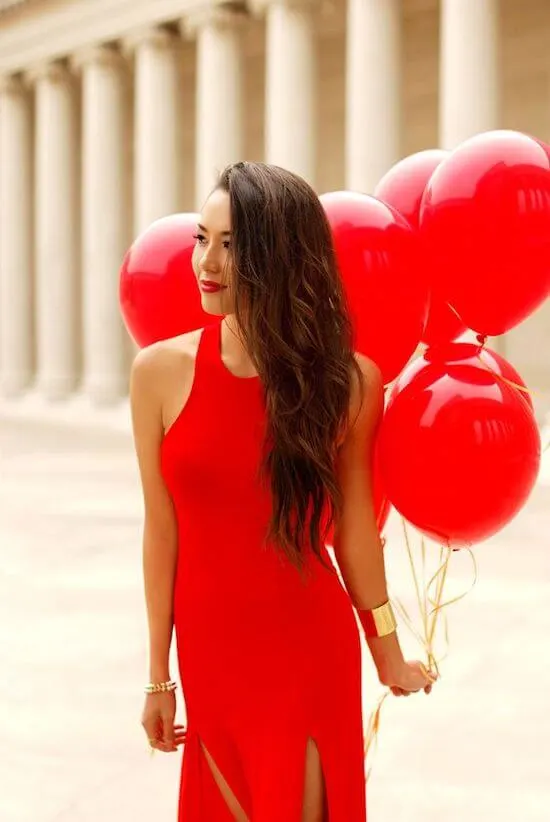 Cute Hat And Denim
Cover most of your face with a hat and hair, and light up the whole picture with your red lips and bare legs.
Make sure to straighten your back to make your body lines more perfect.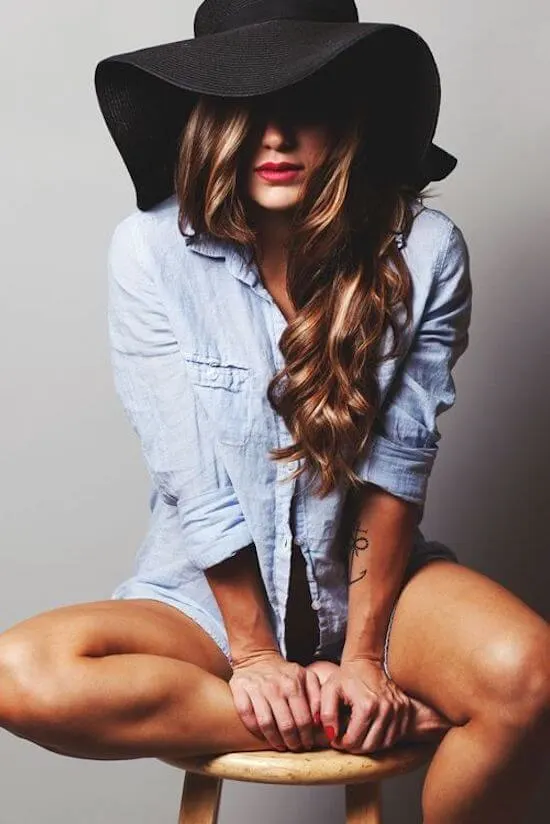 A Cute Cupcake
You don't have to be the subject of all your birthday photos.
Focus your camera on a cute cupcake or one birthday gift, and then you sit relaxed behind it for a very creative birthday photo.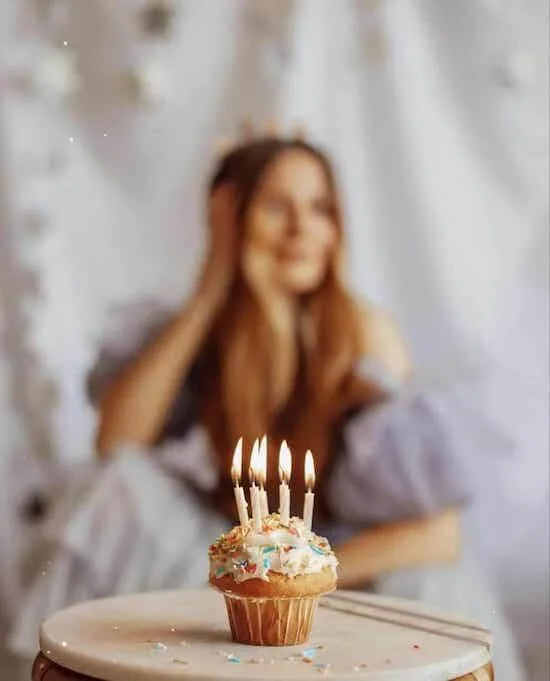 Flowers And Friends
Having friends and flowers around is having the sweetest birthday time.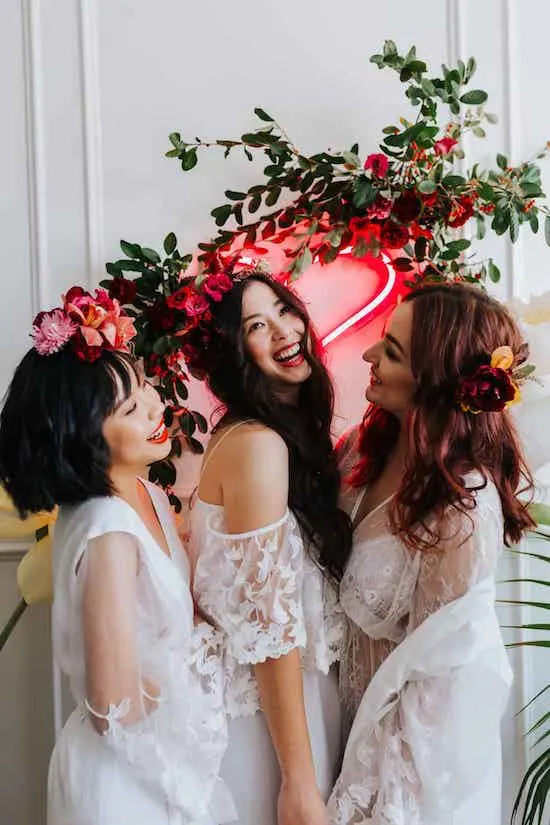 Open A Bottle Of Champagne In The Bathroom
Turning your bathroom into a gorgeous birthday photo shoot place is a perfect way to make your photos so much cuter!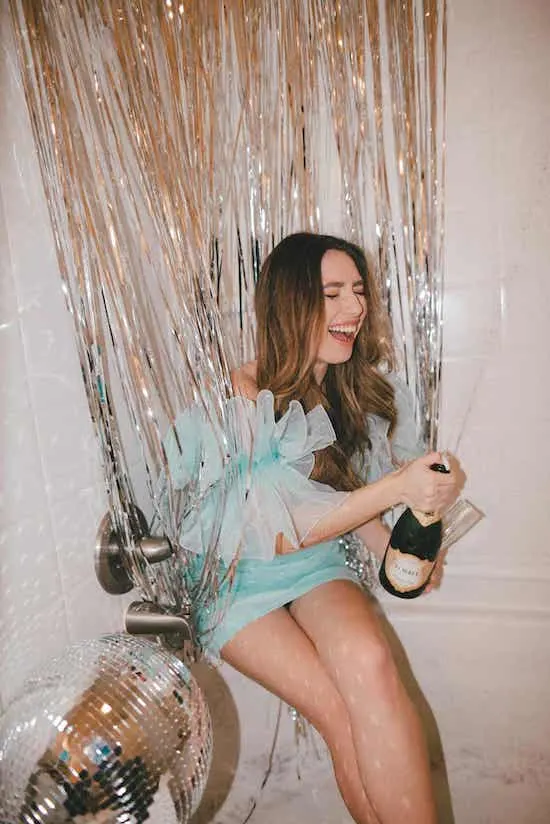 Birthday Confetti
It can be a little tricky to clean up afterward, but it is one best idea and well worth a try.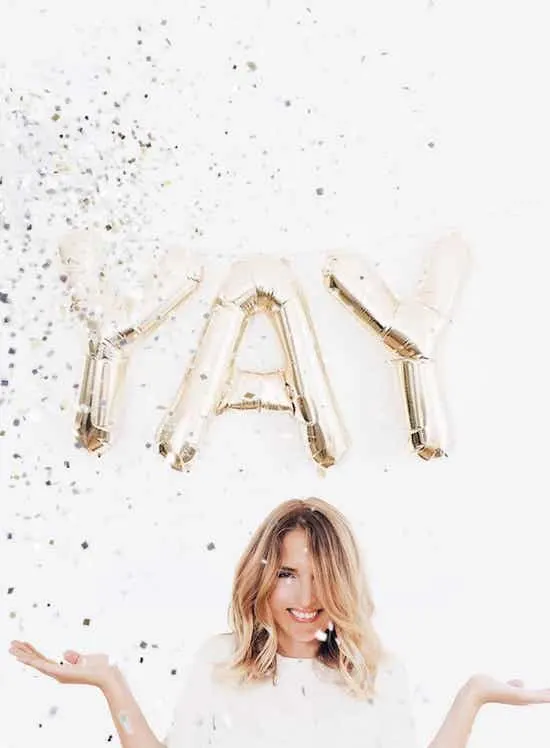 Sit In Front Of The Camera
This pose is suitable for any age to have the best shots! And the simple hoop earrings and nail polish all make your outfit look more expensive.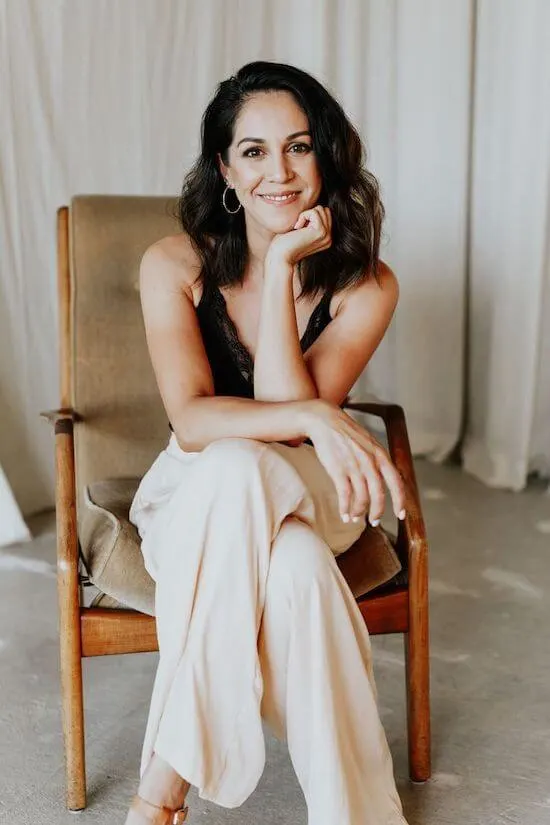 Classy Girl Boss With High Heels
Try a different outfit for your birthday shot.
Yes, there are times when you don't need to look into the camera. A slight sideways glance gives you a more perfect facial line with an attractive mystery.
A pair of high heels also make your legs look more perfect.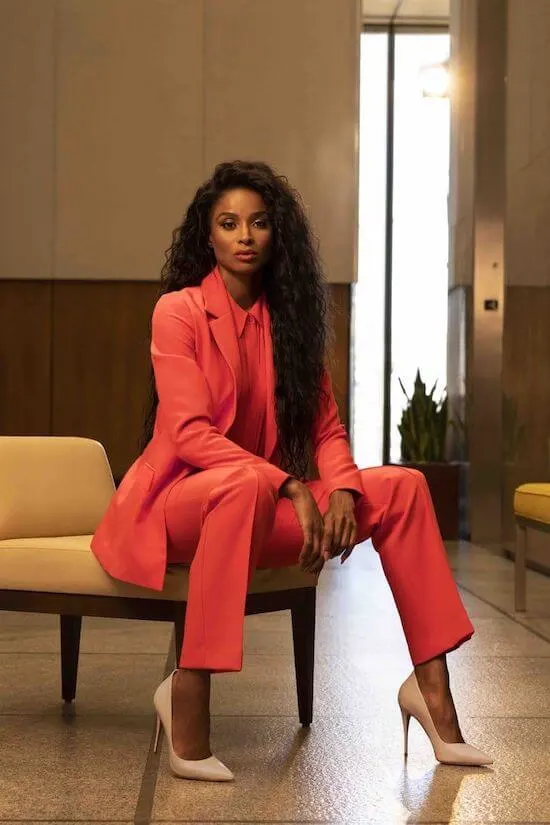 Look Back
Have your friend or family member film you moving and choose the best poses.
Speed up the shutter speed to avoid blurring the image.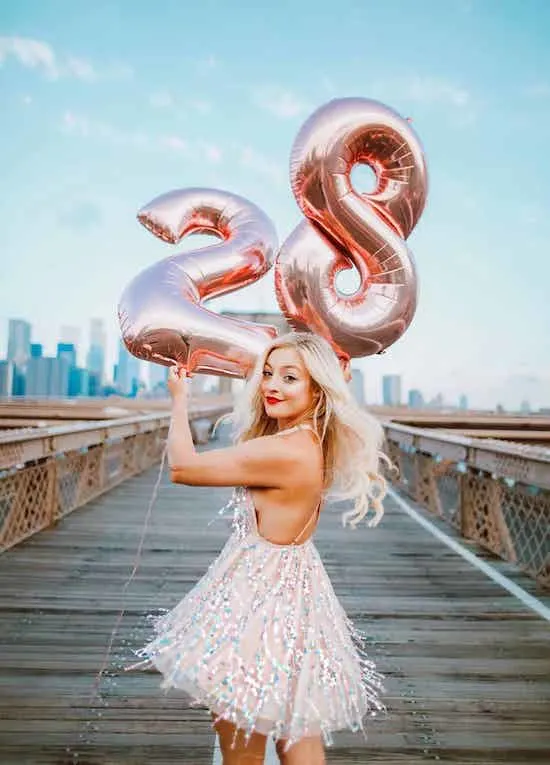 Retro Style Birthday Photoshoot Idea
Want to try different themes? Choosing a retro-glam scene for your birthday photo shoot is one of the easiest ways to get elegant birthday photos.
Remember to wear a simple body dress and retro-style jewelry to enhance the vibe of your photos.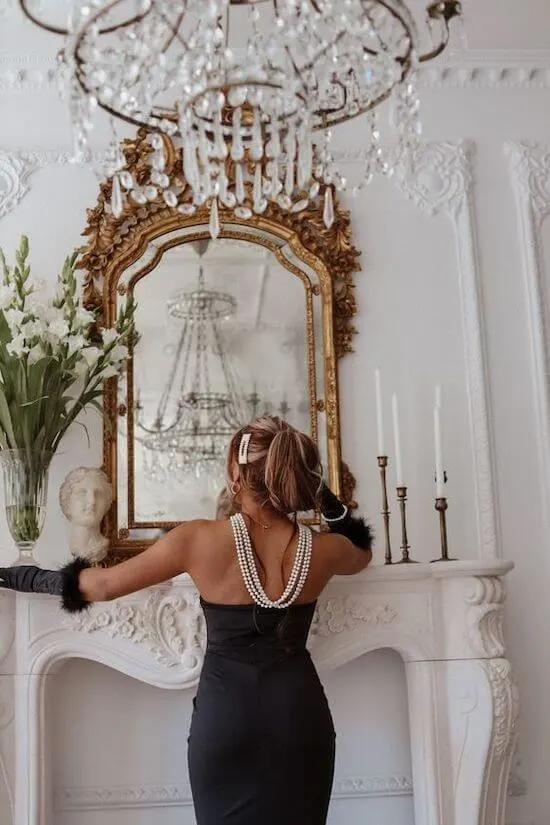 Stunning Dress
A-line skirt hemline can make your photo have one of the most perfect picture compositions.
The appropriate bare skin on the upper half of the body breaks the dullness of the dark colors of the photo.
Even without the crown and any jewelry, you look just like a princess.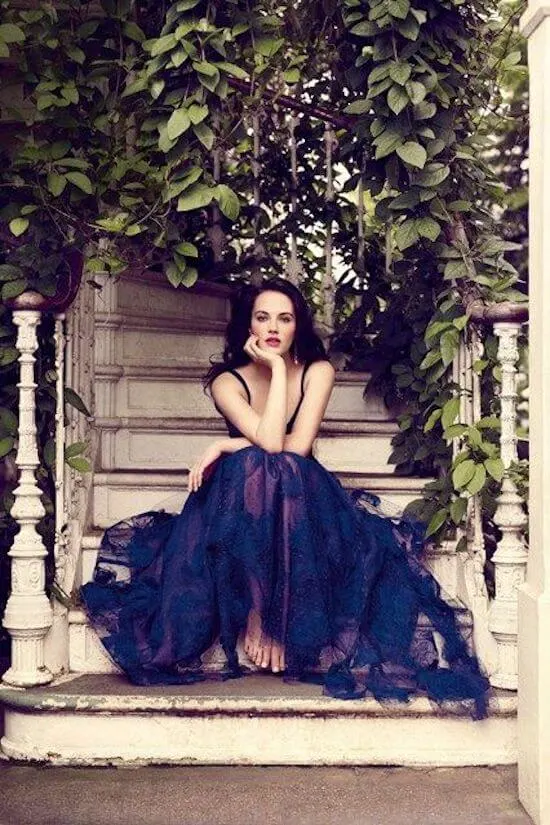 Enjoy The Natural Light
The outdoor greenery makes your birthday photos look vibrant.
The white and green combo looks fresh and charming together.
Don't know what kind of photo pose to choose? Try some creative ways. Bring a chair and sit on it!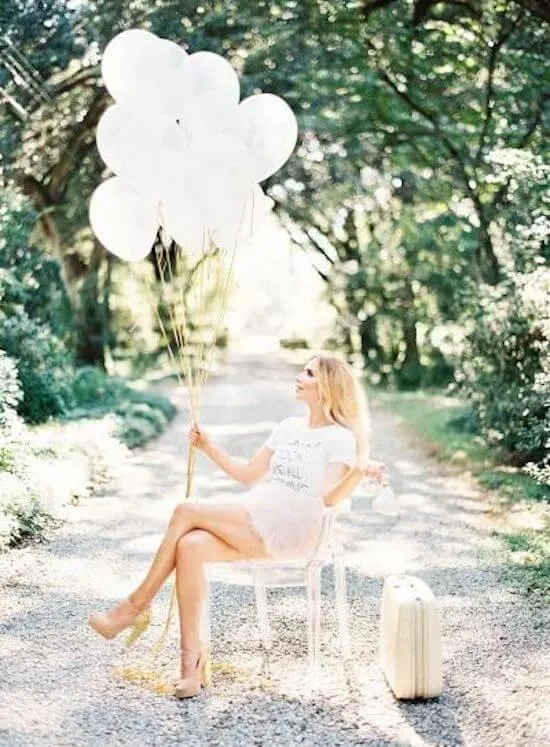 Pastel Colors
What a romantic birthday photo.
The sunlight coming in through the windows makes you look as good as a fairy.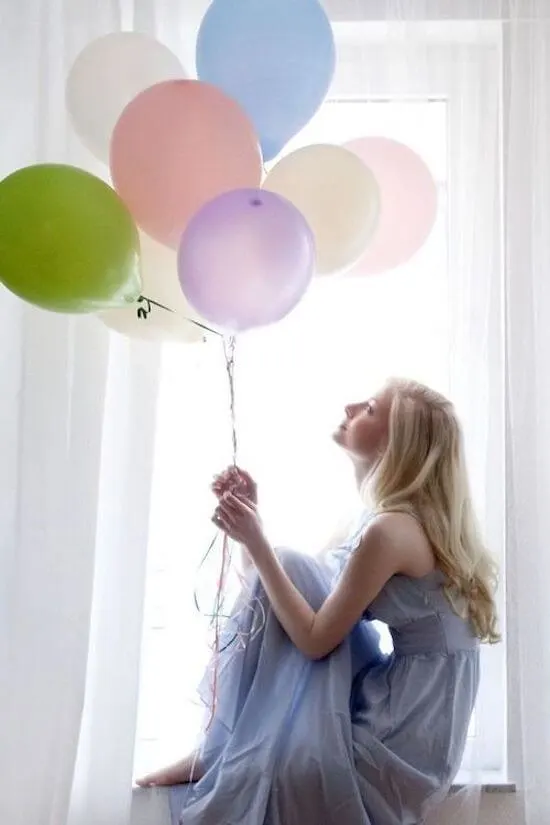 Red And White
Just replace the ordinary small balloons with larger balloons to make a huge difference!
Have your photographer move the angle so that the balloons take up half of the picture, and your photo looks professional and fun.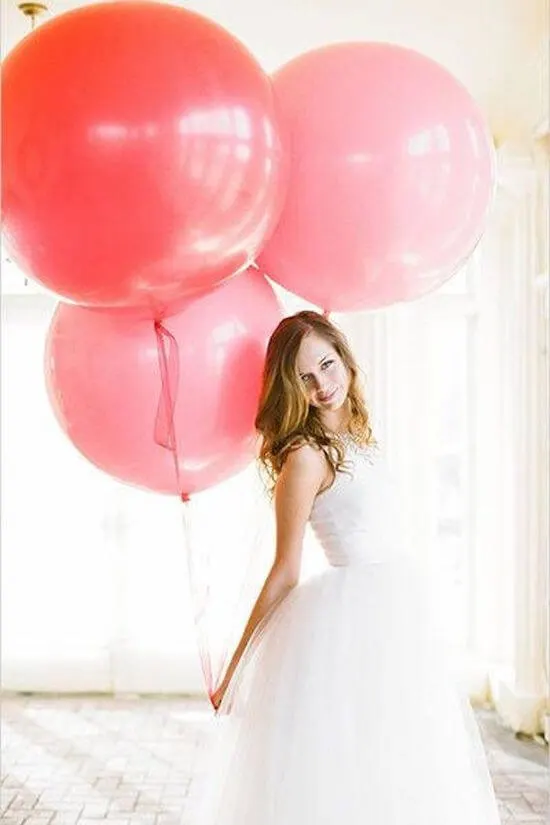 White Dress And White Balloons
The use of props is one of the keys to having successful elegant birthday photos.
Choose clothes and props in the same colors as the venue and you'll look just like a fashion model for a high-end brand!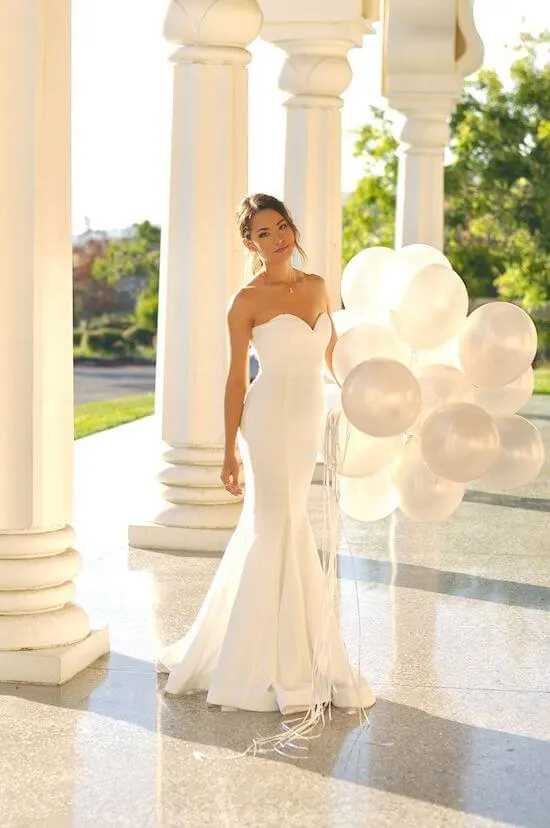 Pink Swimming Pool Birthday Party Group Photos
A swimming pool theme is a good theme for your birthday.
Want to take the most elegant swimming pool birthday photo? Remind your guests to wear the same color as the party decorations.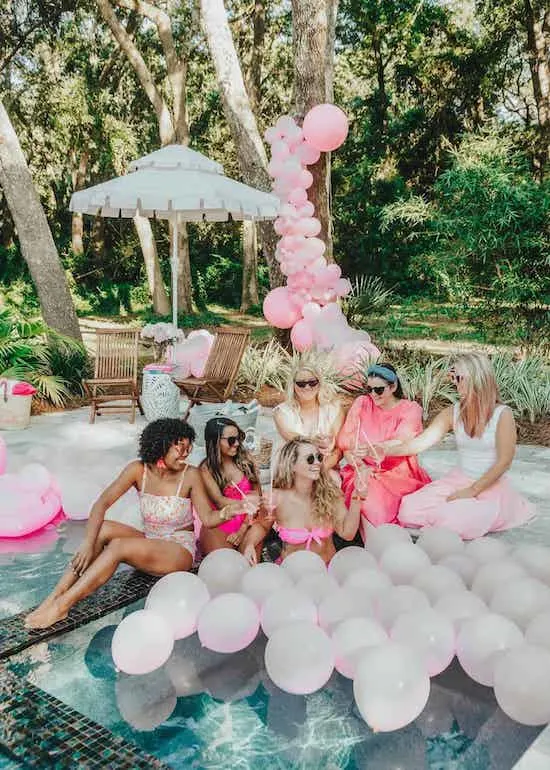 A Cute Pose With Flowers
An easy-to-copy pose, isn't it?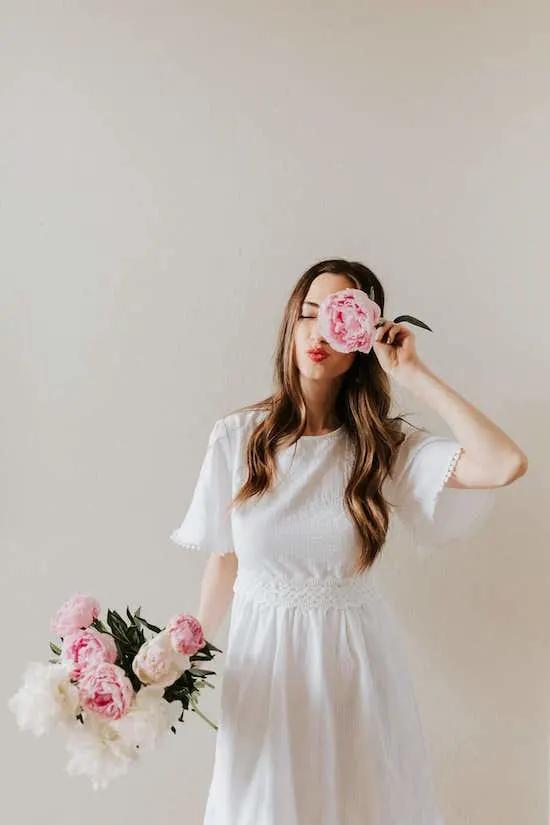 Different Shades Of Blue
A very elegant birthday photo. Natural light is always a light source that we should try.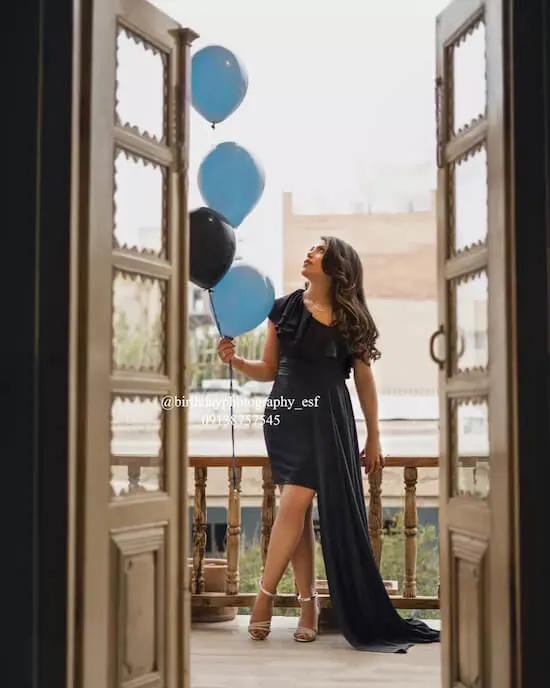 The Muted Color Palette
An adorable way to make your birthday photo unique. Choose your favorite filter or white balance setting to get this effect.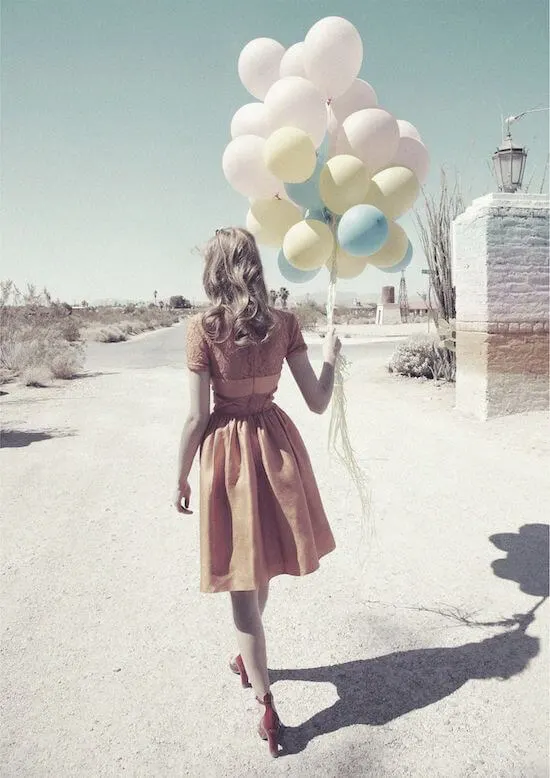 Navy Blue Dress
A navy blue dress makes you look mature and elegant.
But as we mentioned before, exposing some skin is key in order to make the picture look less dark.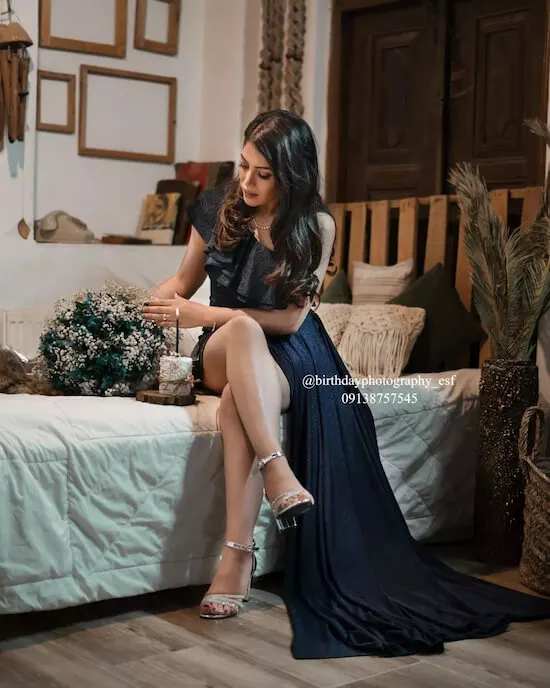 Bright Colors And Silver
Can you add bright colors to your elegant birthday photos? Yes. But keep the photo colors as less as possible.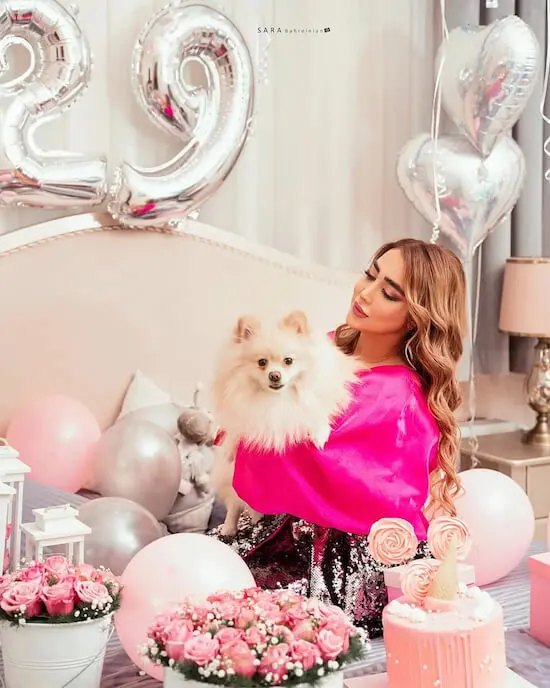 Teal Blue Green Balloons And Dress
One of the best birthday photoshoot poses you should try. And this color scheme looks amazing.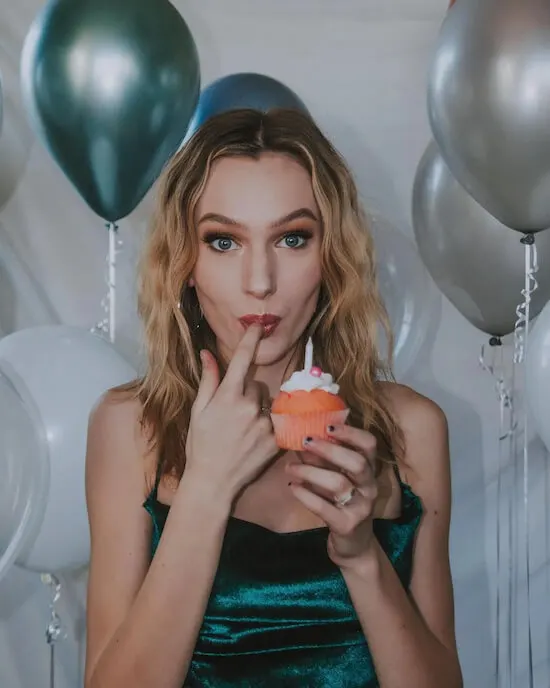 Set The Birthday Parties Decors As A Photo Frame
This photo uses a lot of props, but it doesn't look cluttered at all.
Why? It is because it uses a black background, and all the party decorations and props around the birthday person, forming an effect similar to a photo frame.
At the same time, the person's outfit chooses one of the colors of the props, so that the person and the environment are perfectly combined together, so the effect of the photo is very good!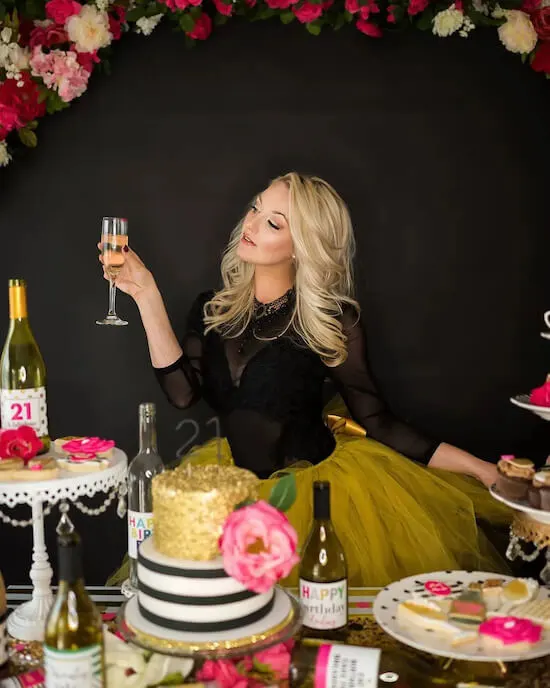 Where To Shop Elegant Chic Birthday Photoshoot Outfits
I personally love to shop affordable and elegant birthday photoshoot outfits from Lulus, Hello Molly, ChicWish, Baltic Born.
If you want an extra luxury feeling, you can check Net-A-Porter for stunning designer pieces, or Rent The Runway to get the best dresses for a reasonable rental fee.
And I recommend a pair of high heels, and simple makeup emphasizing your eyes and lips for the photos. And make sure your hairs are clean and shining.
Click To Shop Our Favorite Birthday Photoshoot Outfits:

This post was all about elegant birthday photoshoot ideas.
About The Author
Tracy is an experienced personal stylist, shopping expert, and fashion & lifestyle blogger. She has been featured on Time Magazine, Bustle, Best Life, Glam, The Zoe Report, Mic, and GOBankingRates, for her insights on fashion, beauty, home decor, and lifestyle. Read More
Related Posts: