Looking for the best 30th birthday photoshoot ideas? Check this post for the most eye-catching photoshoot ideas for your 30th birthday to celebrate your big day!
You're about to turn 30 years old. It's time to celebrate! But what should you do? We've got some great tips on how to plan a memorable 30th birthday shoot!
In today's article, from photoshoot outfit ideas to poses, from photoshoot locations to tips for group photos, you can find the best inspiration for your birthday photo session.
At the end of this article, I am sharing my favorite places to shop the 30th birthday photoshoot outfits, and our picks to shop directly.
So scroll down to check these tips and ideas, and don't hesitate to pin the ideas you like to your Pinterest board, and share them on social media. Happy Birthday!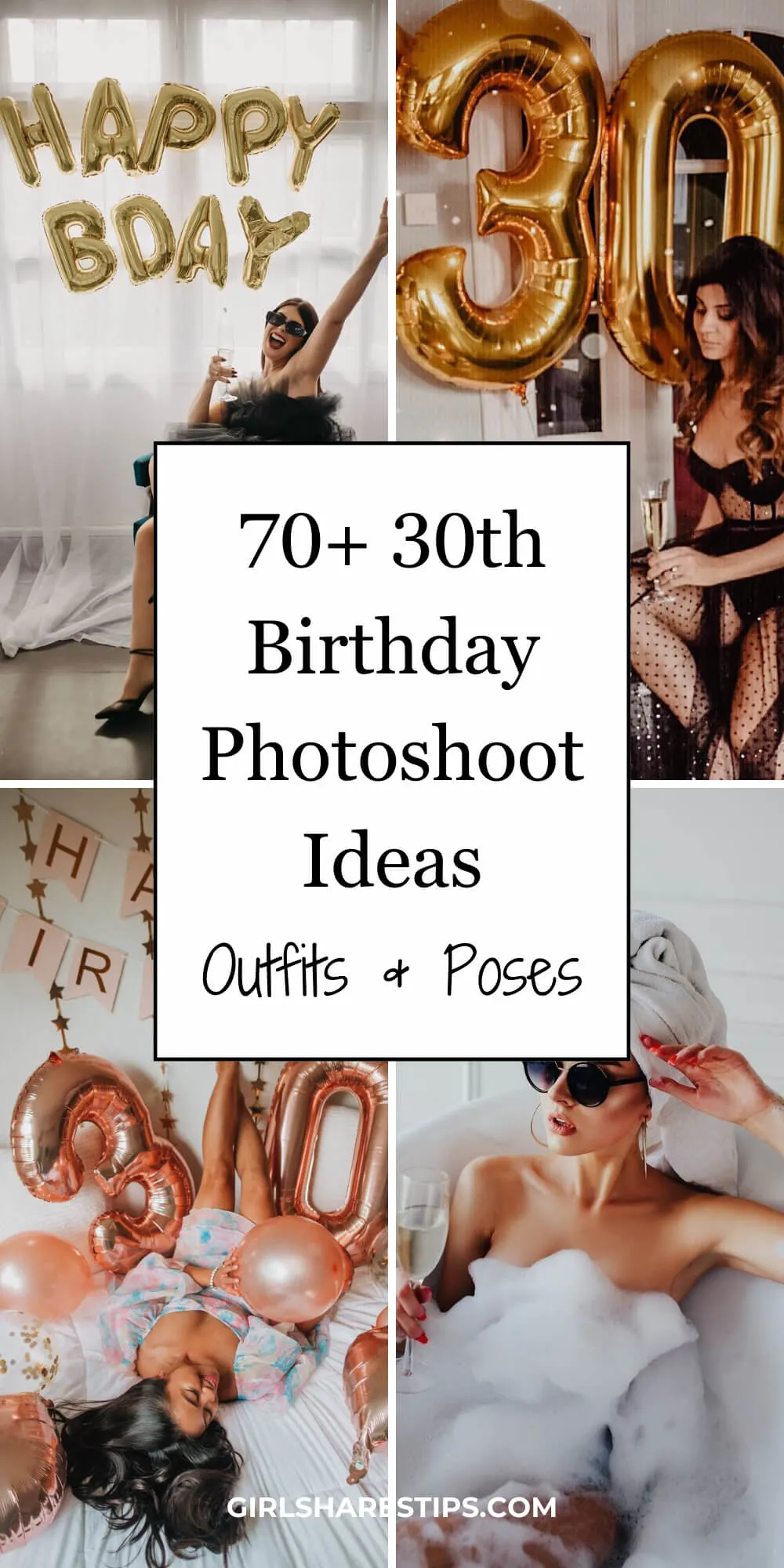 This post may contain affiliate links, which means I'll receive a commission if you purchase through my link, at no extra cost to you. Please read the full disclosure here.
This post is all about 30th birthday photoshoot ideas.
Expert Tips for the 30th Birthday Shoot
Planning for your 30th birthday photoshoot session can be stressful. Here are the best tips that will help you to have the best shots!
Start Planning Early.
Plan early so you can make sure everything goes smoothly, especially if you are thinking of hiring a professional photographer.
If you wait until the last minute, you might not have enough time to find a photographer who fits your needs. Also, try to choose a date that works with your schedule.
Find a Location That Suits Your Style.
A location that suits your style will help you feel comfortable during your shoot. It is the first thing that I suggest you do for your birthday photo session.
Think carefully about where you'd like to take photos.
Do you prefer natural light or artificial lighting? Are you more interested in candid shots or posed portraits? What kind of background would work best for you?
Choose a Theme.
Once you decide on a theme, think about what type of photos you'd like to capture.
Is there something special for the past year? Or maybe you just want to document your life. Whatever the reason, choose a theme that speaks to you.
Create an Inspiring Concept.
If you're planning a photo shoot, start by creating an inspiring concept.
What will your photos say about who you are today? How will they reflect your past experiences? And what will they tell people about your future plans?
Think about what kind of images you want to portray. Are you looking to showcase your family? A milestone event? An adventurous trip?
Set a Budget.
Once you've decided on a theme, think about how much money you'd like to spend.
Remember that you'll need to pay for professional photographers, makeup artists, hair stylists, wardrobe, props, and more.
Best 30th Birthday photoshoot Ideas
Want more inspiration? From the perfect location to the best props, we've got everything covered on this list of the best 30th birthday photoshoot ideas for you.
Holding Birthday Balloons Outside
I like the color scheme of this photo so that even if you don't do too complicated poses, you can make the photo look very colorful.
It is a good idea to choose a simple and clean background to highlight your outfit and the beautiful balloons.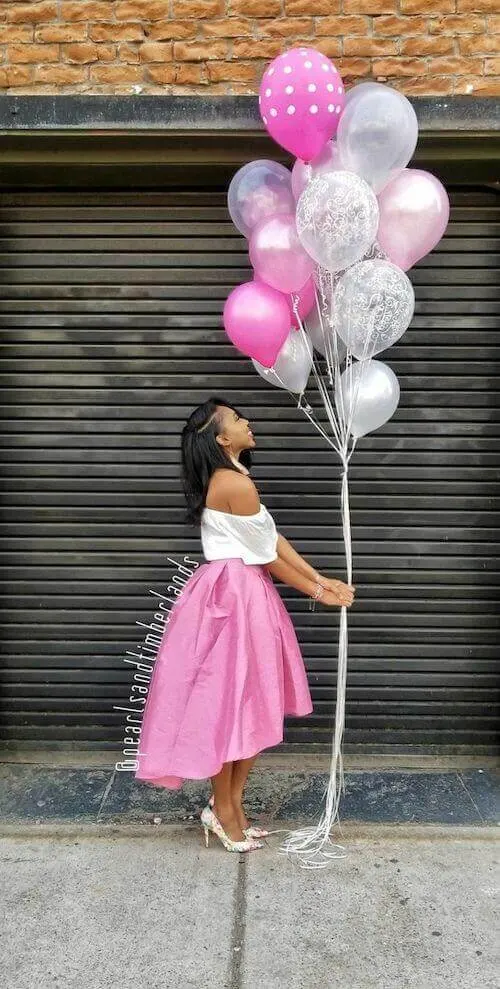 With Your Birthday Cake
You can not only take pictures with your birthday cake while blowing out the candles, but you can also take beautiful pictures with natural light.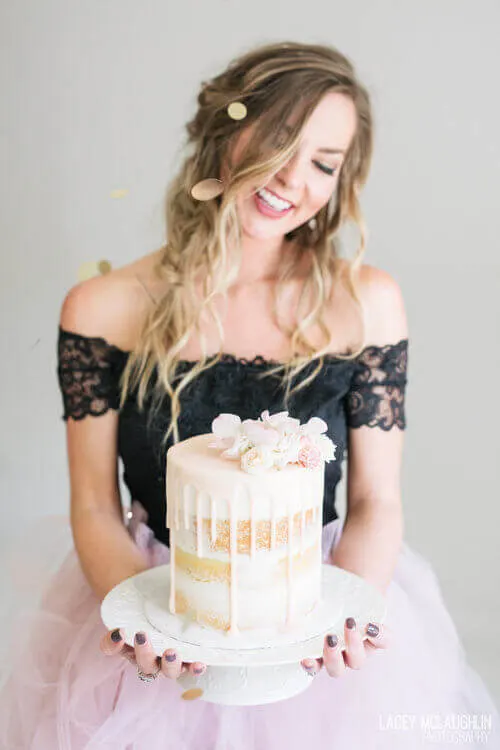 Rose Gold Setting For your Birthday Shoot
Rose gold is one of the most popular colors for birthday photos. Choose different shades to give the amazing pictures a more layered look.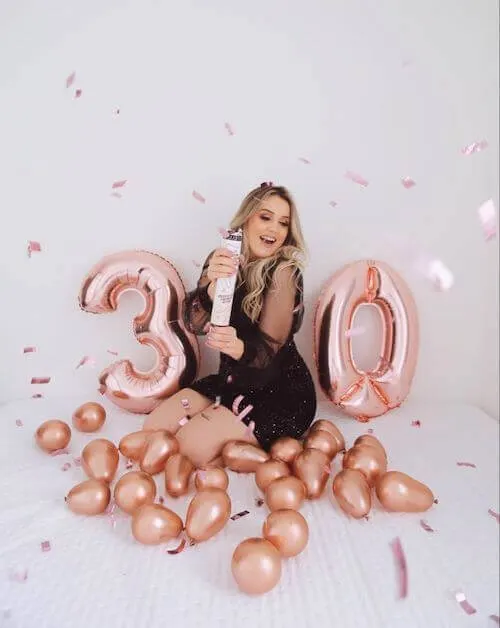 Dreamy Special Day
The same color decorations and your white bedroom form the most romantic atmosphere.
The best thing is, you don't need a professional photographer to complete this pretty photo!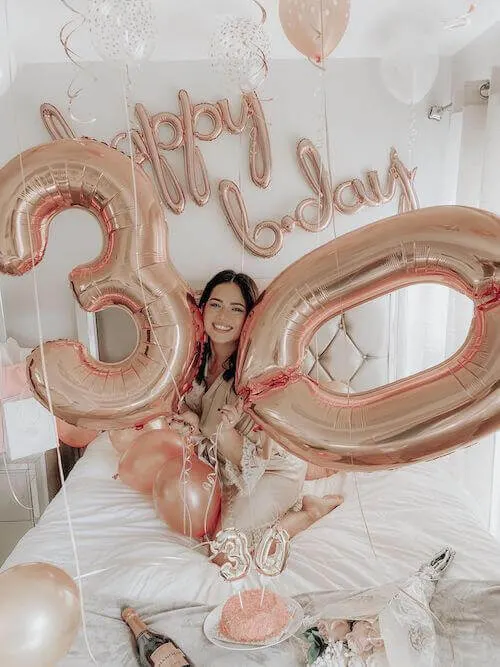 Pink Balloons And Pink Tulle Skirt
A easy but super cute pose. Also choose the same color balloon as your outfit, plus a little yellow pop up to make the picture more vivid.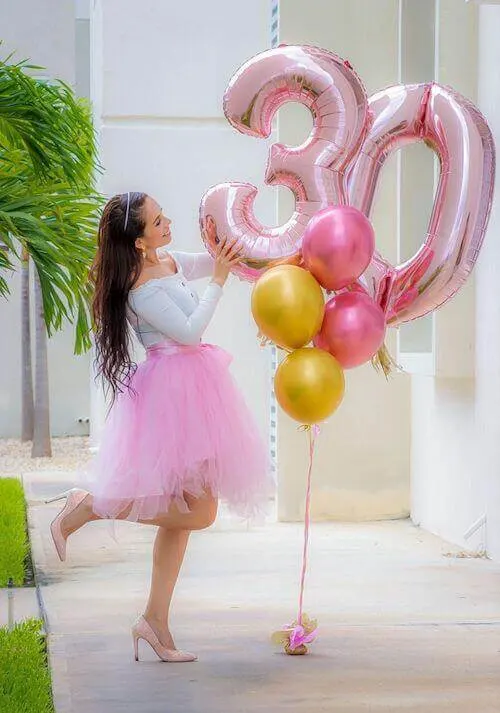 Excellent Pink And Black Color Scheme
This photo looks very chic.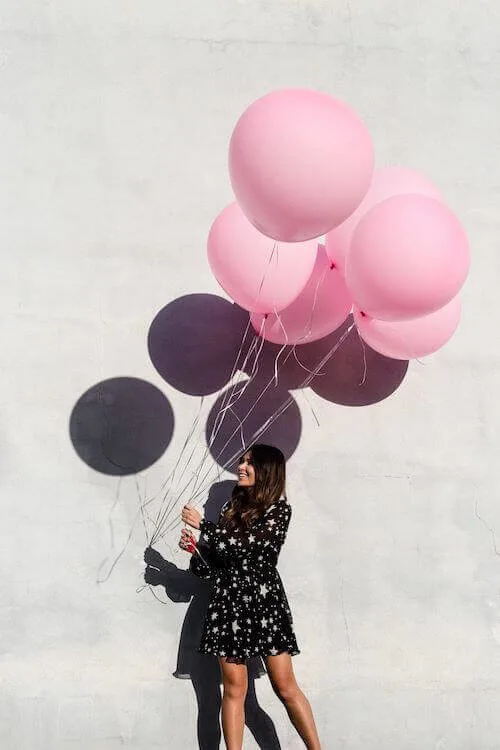 All Red In Front Of The Camera
Be bold and try a sexy all red outfit on your birthday, and have a good time.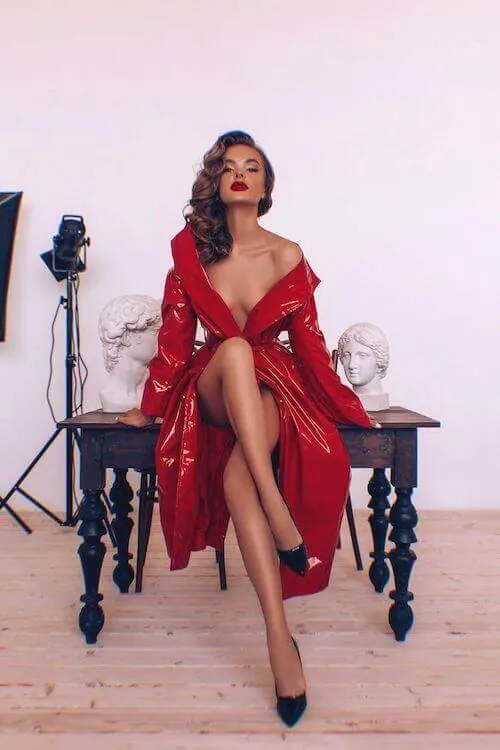 30th Birthday Suit
A very special outfit idea, with a lot of gold backdrop to create a very charming retro look.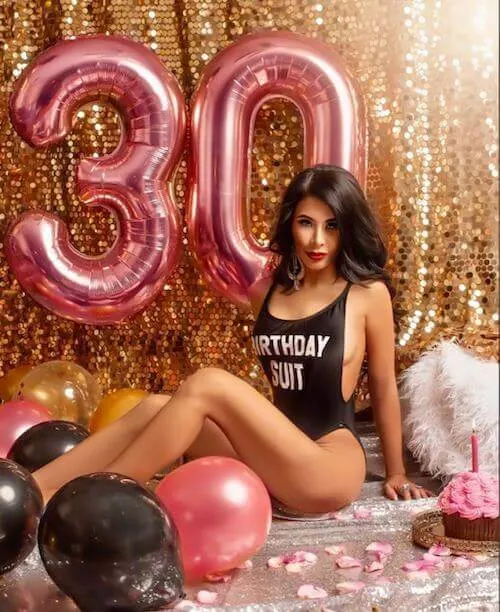 Unique Purple And Black Color Scheme
Purple is not very common, but it will give your photos a futuristic and refreshingly technological look.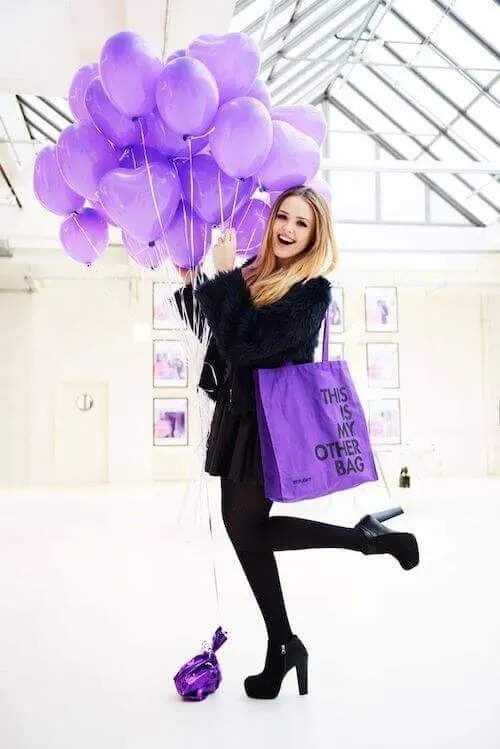 Funeral For Youth
Wearing a vintage and delicate long dress, this great idea is especially suitable for birthday photos in fall and winter.
A Red Pop Up
Through the bright colors of the sofa with gray tones of the props, you will be able to achieve professional studio photos at home.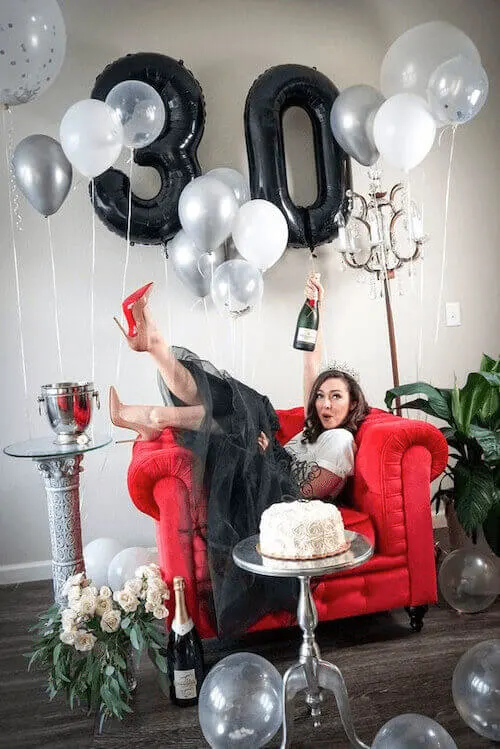 Bright Pink For Your Milestone Birthday
I fall in love with this bright tone.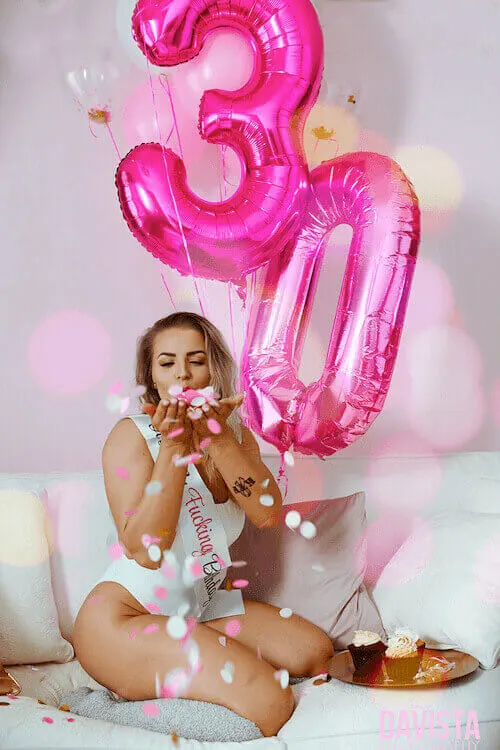 Laugh At The Swimming Pool
This is an amazing idea!
The pool birthday party is warm and romantic, don't forget to record your bright laugh!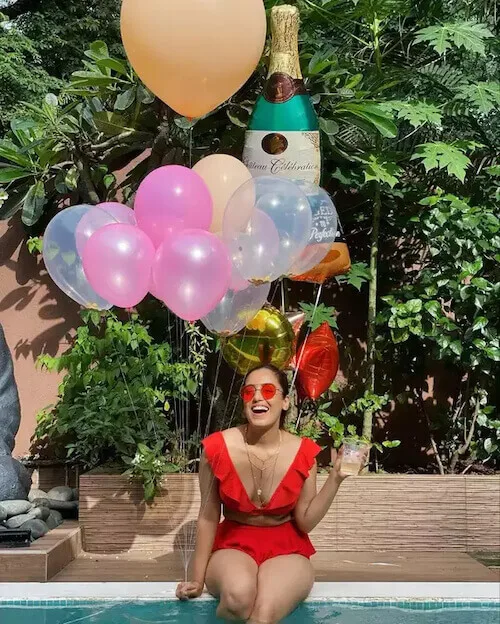 Outdoor Chic White And Black Outfit
Want to look sophisticated and elegant? A black and white outfit like this can also help you.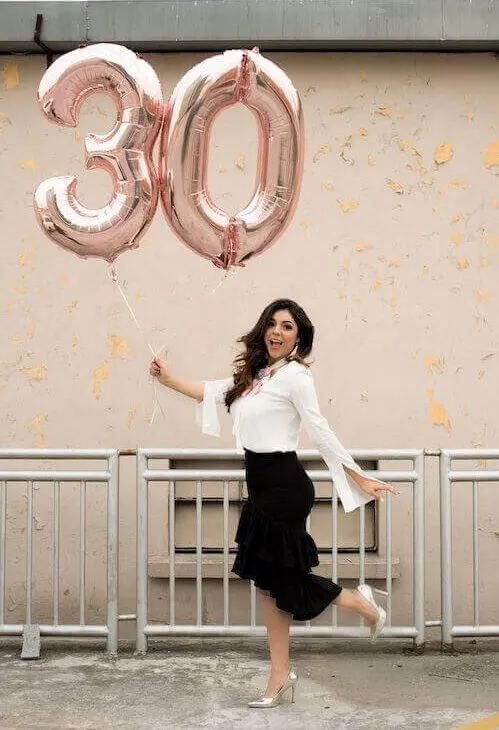 Make Use Of Plenty Of Natural Light
If you're looking for something more romantic for your birthday photography, consider going out for a walk at sunset. This will give you plenty of time to capture some beautiful images.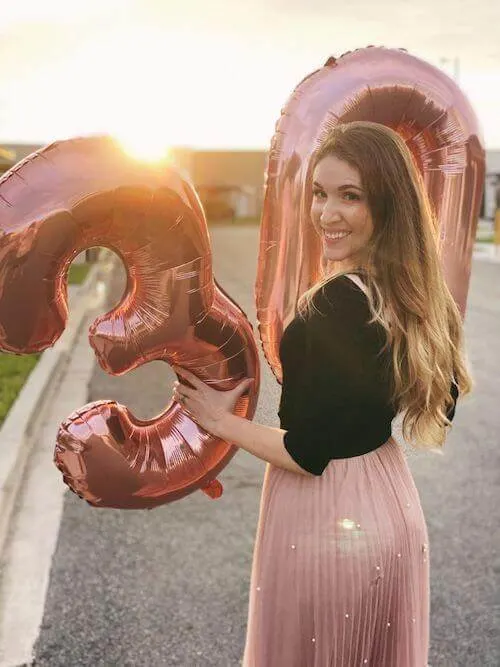 Make Use Of Props Outside
You can also take advantage of the natural light by setting up a shoot outside and have a great time.
It's easy to find a spot with a nice view, and you'll be able to capture some amazing photos without having to worry about artificial lighting.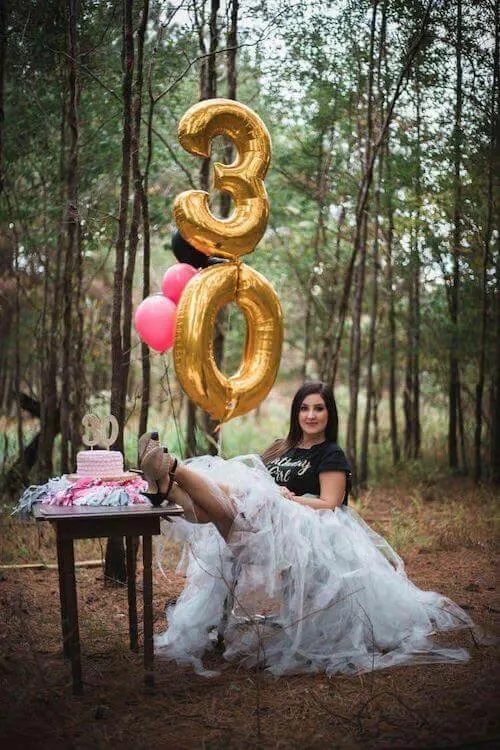 A Cute Pose In Front Of A Camera
Another pose directly facing the camera, and the leg adds interest to the photo.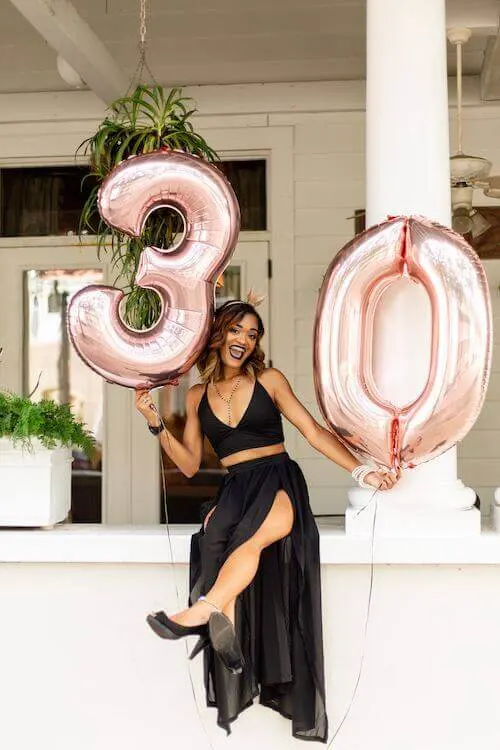 Elegant All Black Photoshoot Look
An elegant outfit and an elegant pose form this photo with excellent fashion taste.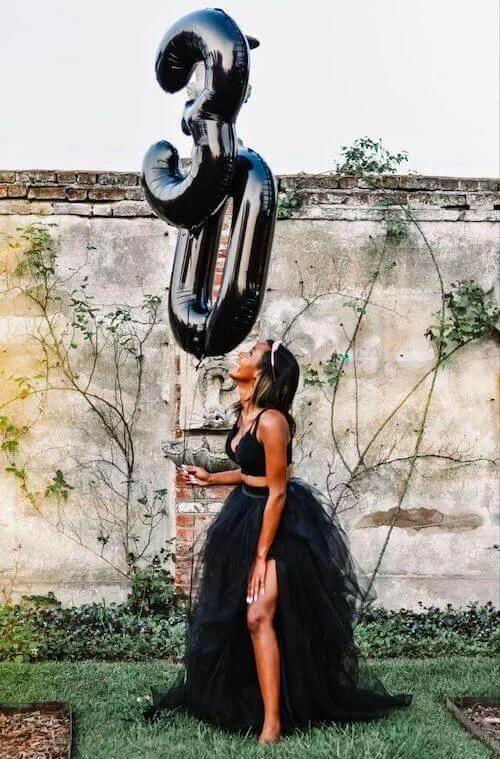 Look Back
Simple, isn't it? Try it for your next birthday photo.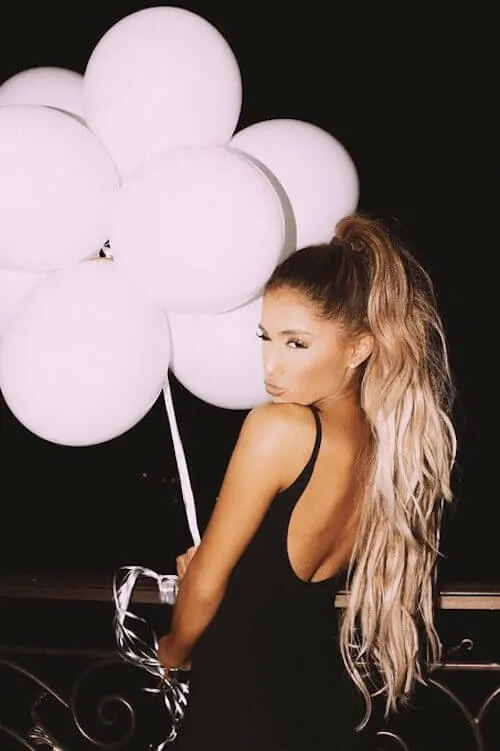 Bathroom Birthday Celebration
Decorate your bedroom with biodegradable paper confetti to make your bedroom look as high class and glamorous as a five-star hotel.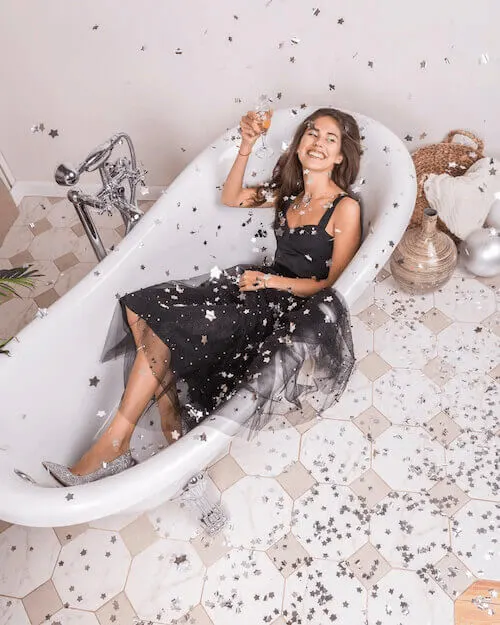 Birthday Banners In Your Bedroom
Move all your favorite birthday decorations and props into your bedroom, gather them together and set up the cutest photo corner.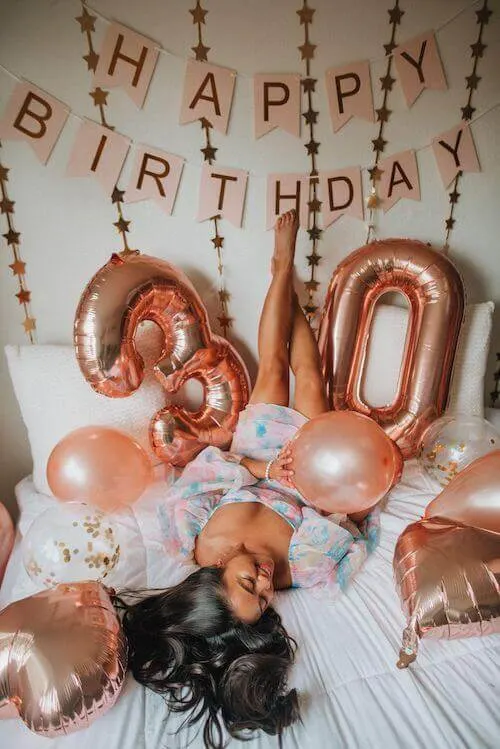 Red Pink Color Shades
A cute idea, right? The gifts you received can also become very good birthday photo props. It is best to choose the same color to make the picture look more beautiful.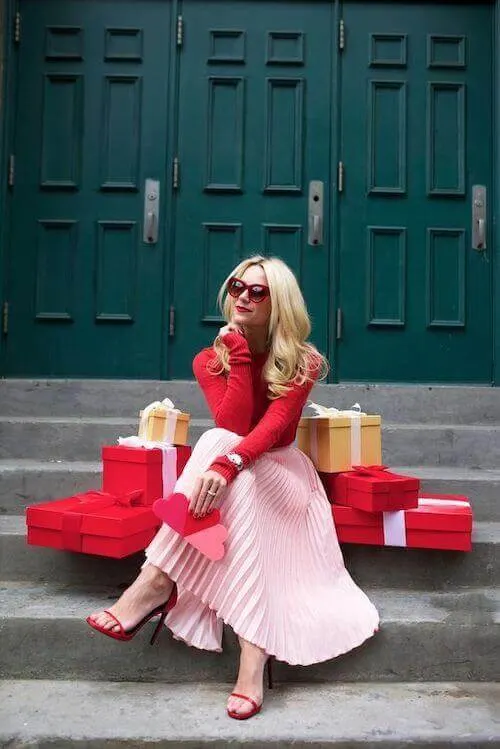 Refreshed White And Lemon Yellow In The Morning
A fresh and charming photoshoot idea to evoke your new year.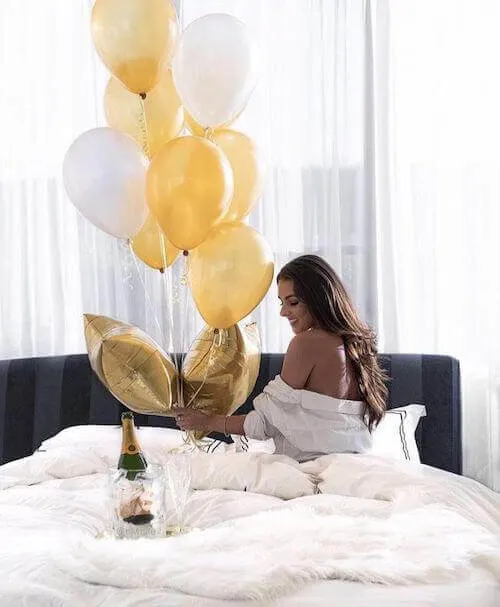 Natural Makeup Look For Your Birthday Morning
Choose light makeup to take such a birthday photo like a fashion magazine cover.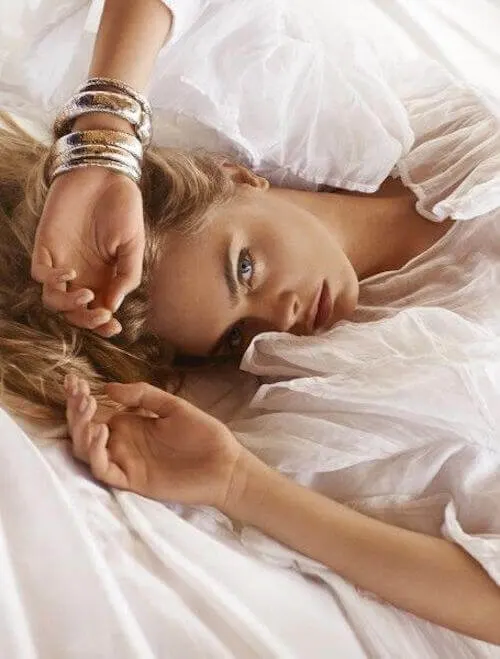 A Natural Look For Your Birthday
In this photo, the hair is the key. The fluffy and slightly messy hair makes you look lazy and sexy.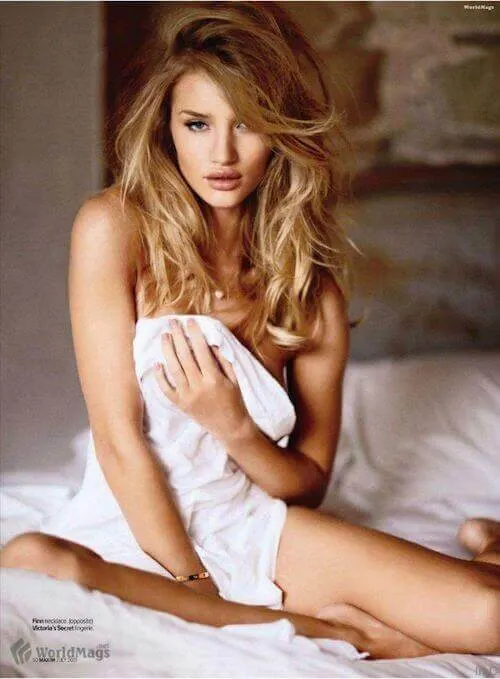 Record The Present Time Of Your Life
Try different lighting options. Darken the image to make you look seductive and mysterious and have the amazing shots!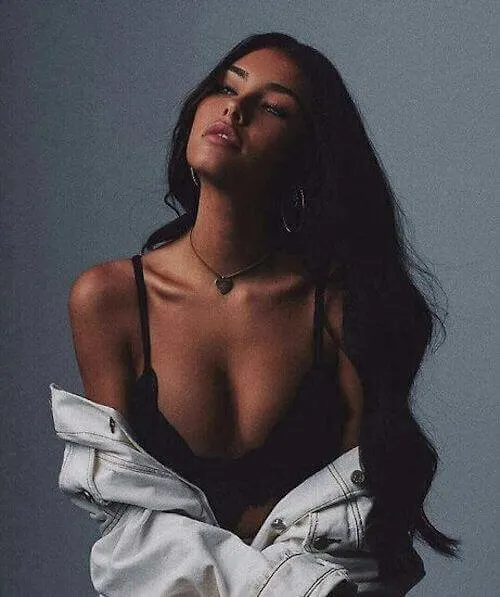 Silver Large Metallic Number Balloons
The silver and pink colors give you a good mood all day long.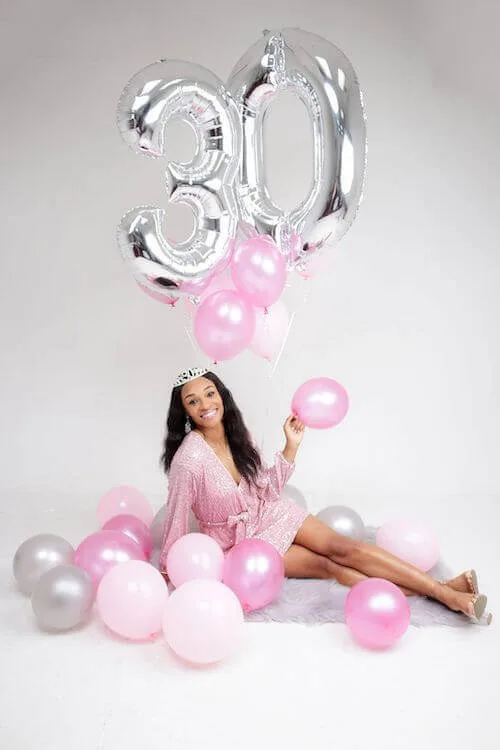 Holding The Birthday Banner
The pose is simple, isn't it? Crossing your feet makes you look taller.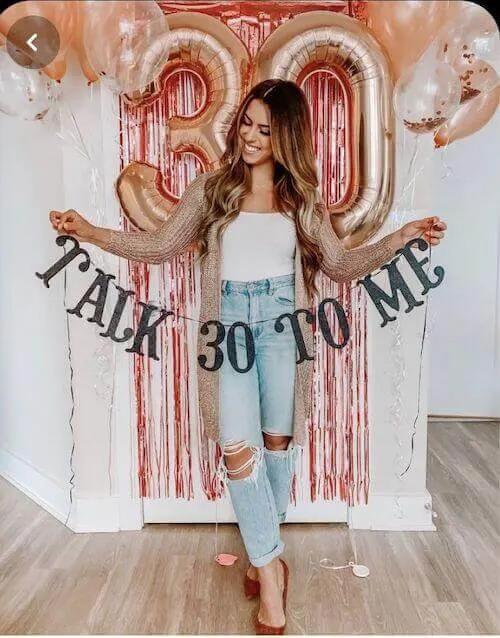 A Cute Birthday Photo On The Tracks
Think carefully about whether there are some interesting scenes around your home and include them in your photo plan.
Taste Your Birthday Cake On The Grass
Do the unexpected in a normal scene, then your photo wins!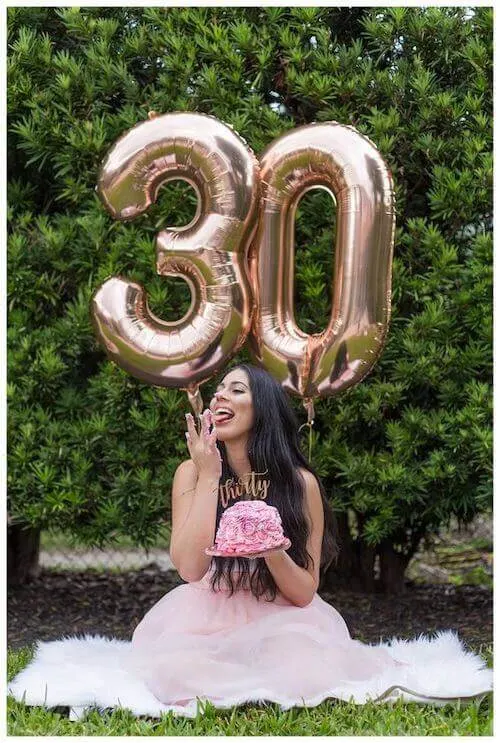 A Chic Bedroom
If your shooting scene is dark, in addition to artificial light to increase the brightness, the choice of white beddings and white outfit can make the photo look brighter.
Remember to focus on the face of the person to make the expression of the person more vivid and beautiful.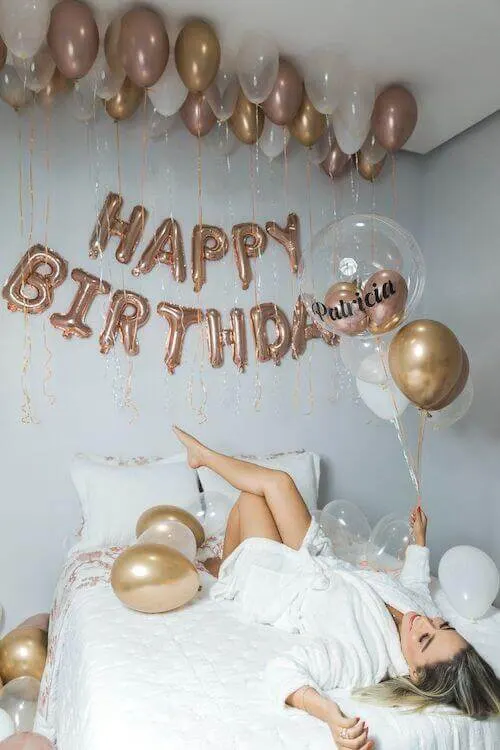 A Luxury Hotel Room Like Setting
Balloons and real flowers can help you create a luxurious shooting scene.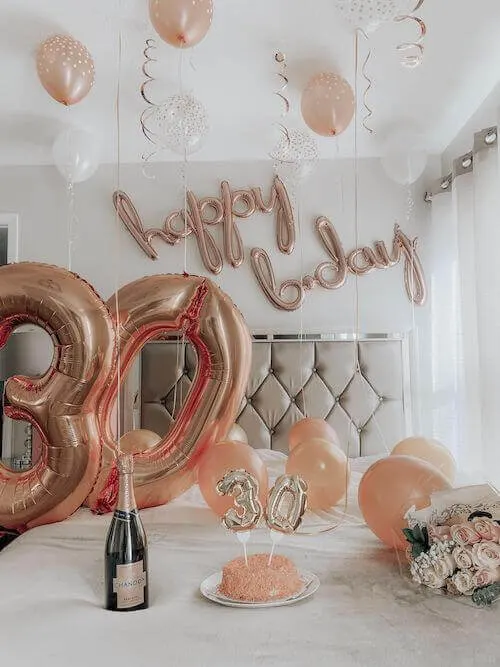 Biodegradable Confetti For Your Birthday Photos
Choose biodegradable confetti to make your birthday photoshoot different.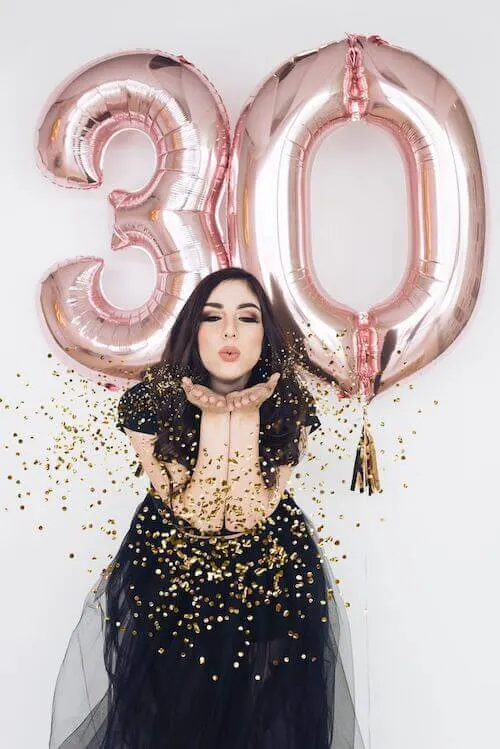 Lovely Bright Colors To Have A Fantastic Time
A cute birthday photoshoot outfit for your 30th birthday. I love how she matches her sandals with her pink shirt.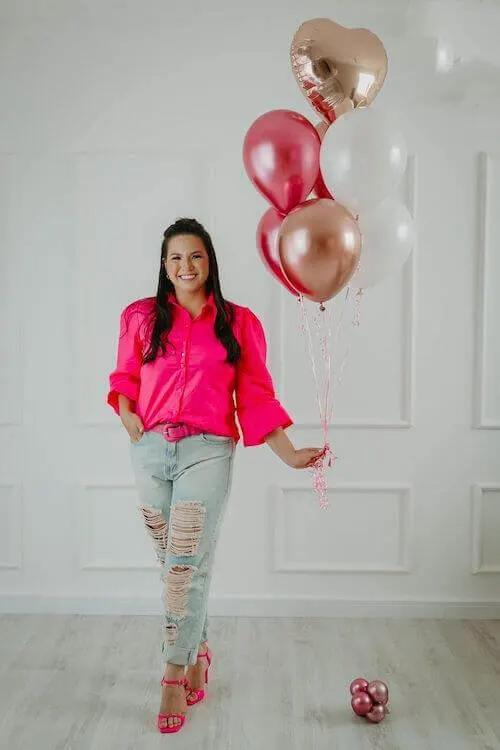 Being Makeup Artist To Embrace Your Birthday
Photographing real scenes from your birthday can make your photos look more real and full of stories.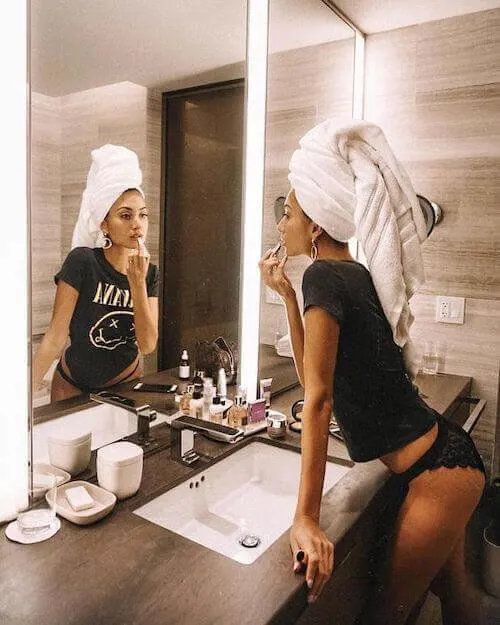 Make Use Props For Chic Color Shades
Imagine you are playing in a playground you like, this will allow you to capture more vivid expressions and poses.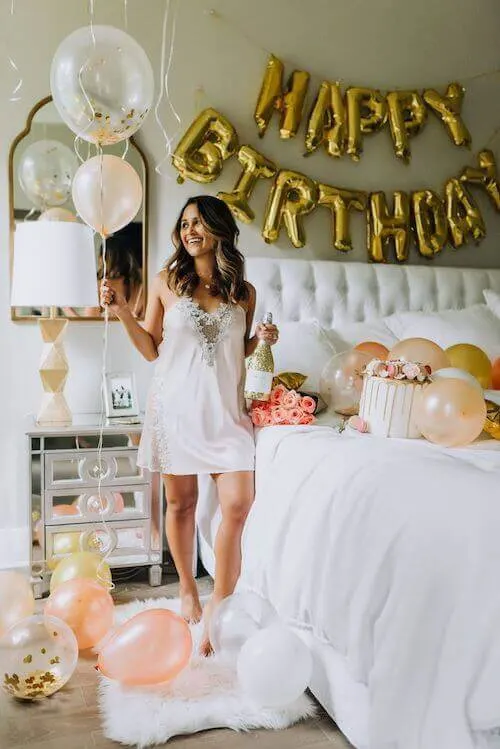 Casual Drink To Farewell The Youth
A cute all black outfit idea.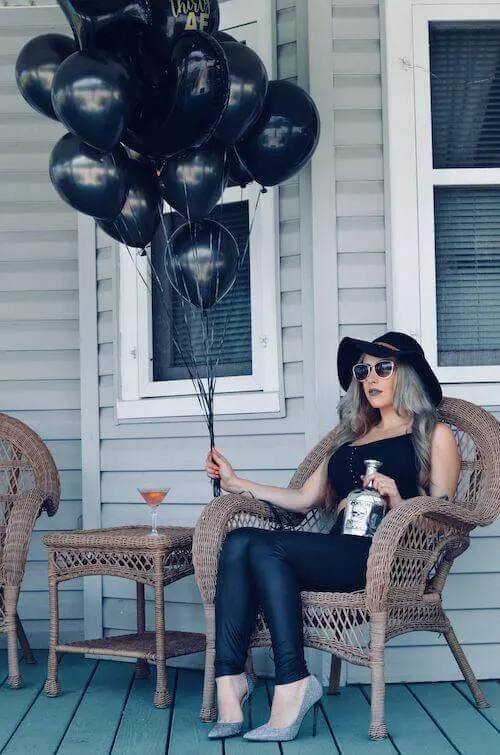 A Lazy Back Drink Night
No need to show your face, create a charming aura with the light, your hair and outfit.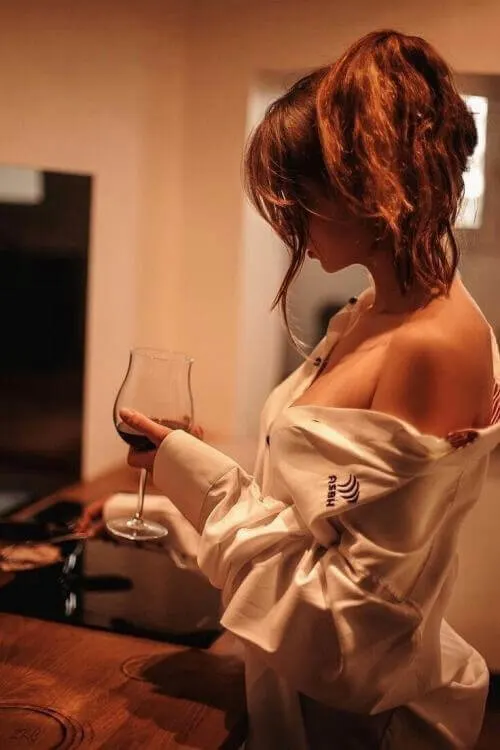 Candid Photos At Your Birthday Parties
I especially like these candid shots, which you'll still remember years later as a fun time at a birthday party.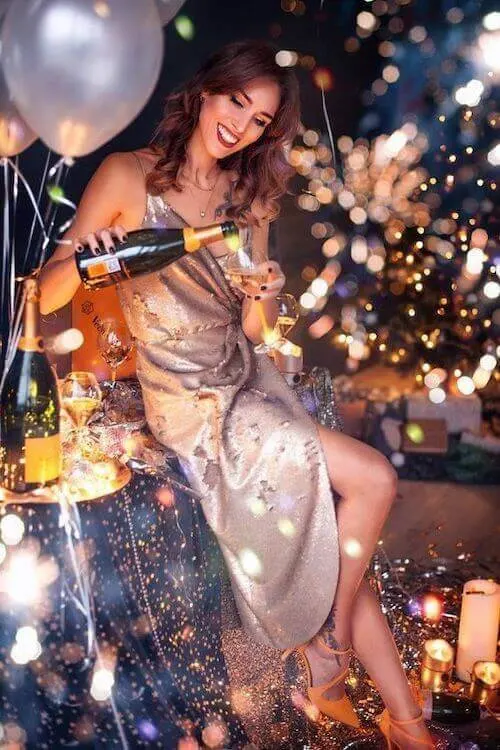 A Pretty Hot Pink Outfit
Add a color pop up to your photos.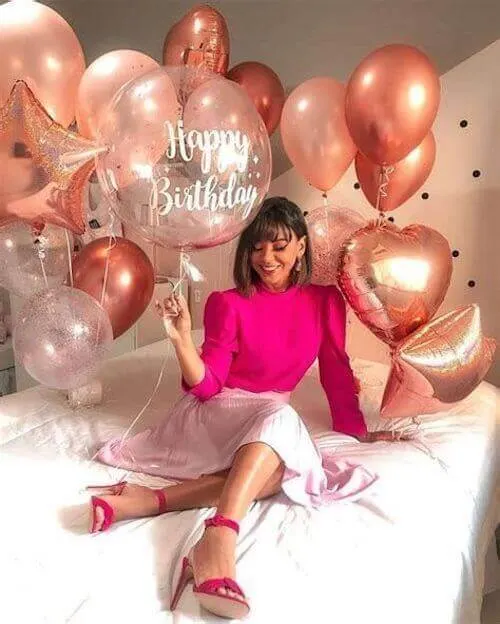 A Polaroid Photo For A Dramatic Effect
Your birthday photo session can't be all about carefully conceived poses, such shots can make your photos dramatic, very creative, and they are very easy to recreate!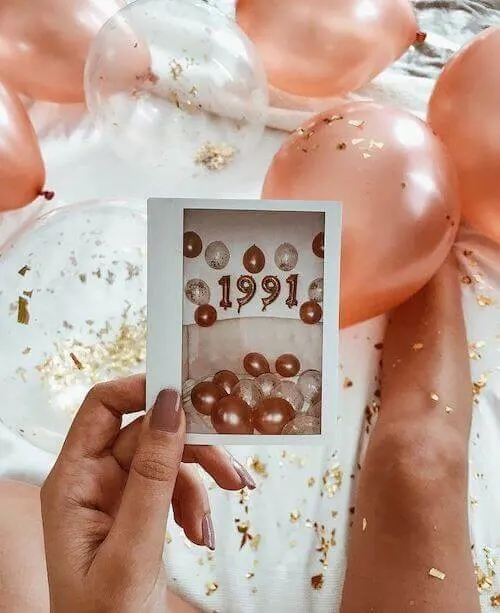 Have A Nice Pink Hairstyle For Your Birthday
What better way to celebrate your birthday than with a new hairdo?
So if it's been awhile since you've done anything new to your hair, why not try out this lovely pink hairstyle?
Whether it's just for one day or forever, let everyone know how proud you are of yourself on this special day.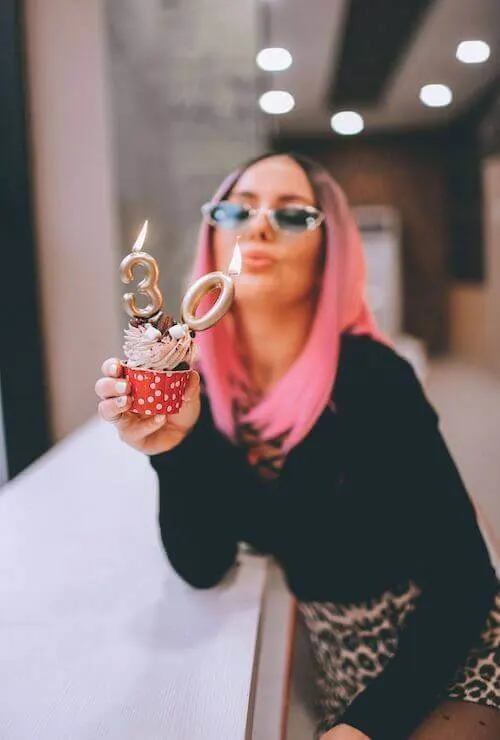 A Beautiful Photo Of Your Birthday Prop With The Sunset
When you're looking for ways to make your birthday photos more visually appealing, consider capturing the natural beauty of the world around us.
A sunset photo with birthday props can be a great way to show off your personality.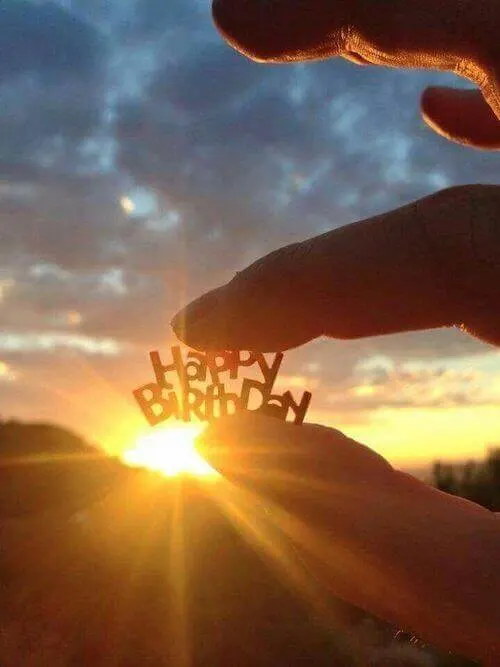 Decorate Your White Wall With Blush Pink And Silver
Adding a pop of color to a white wall can really brighten up a space, and there's no better way to do that than with blush pink and silver.
These two colors are complementary, and when used together they create a stylish and elegant look.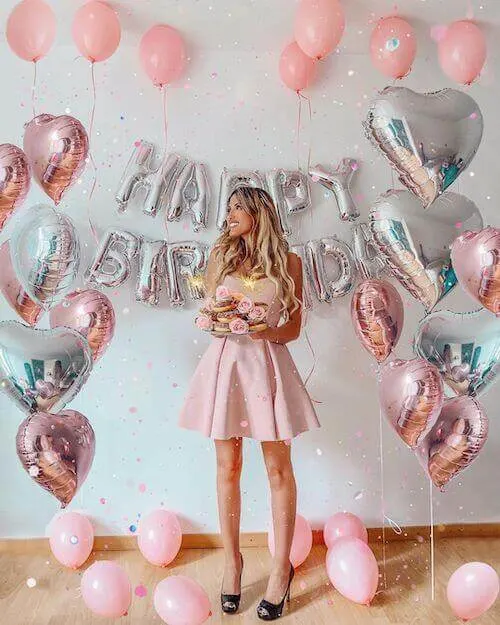 Flower Crown At The Beach
The beach is one of the perfect places for capturing photos of your birthday celebration.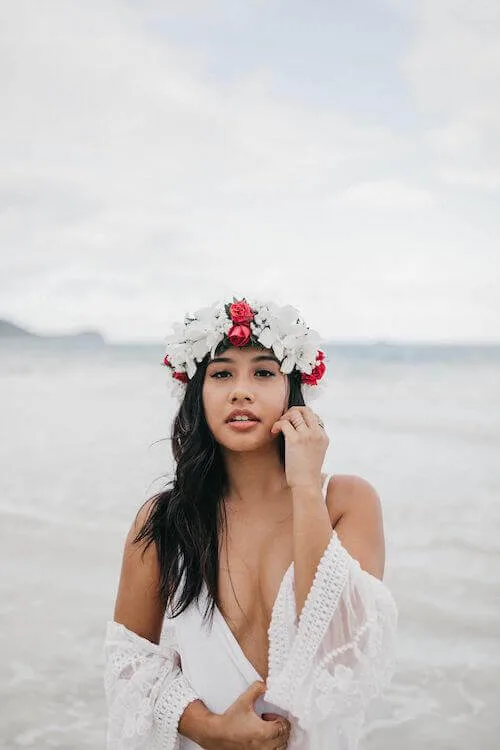 Old Newspapers Retro Style
If you're looking for something different, try a backdrop of old newspapers. This will give your photo an interesting retro feel.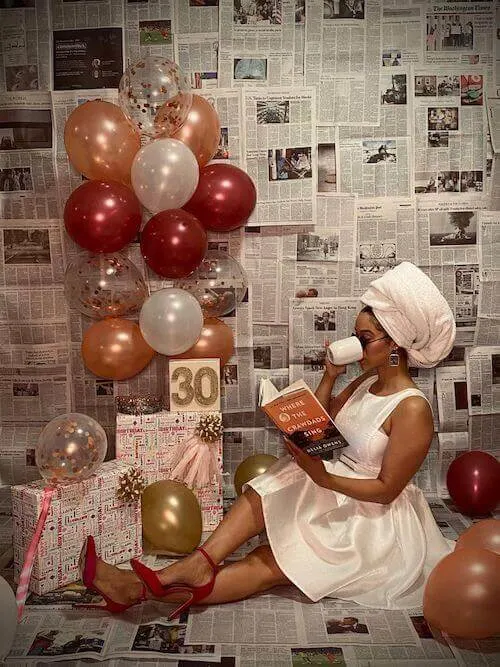 White Jumbo Balloons With Tassels
If you're looking for something really unique, why not try white jumbo balloons with tassels?
Not only will they make a big statement, but they'll also add a touch of elegance to your party, and they are excellent for your 30th birthday party photos!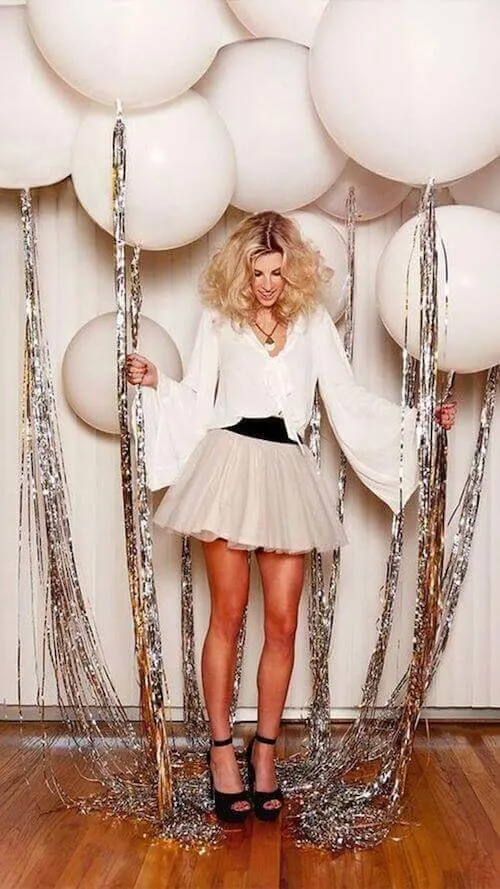 Enjoy Your Birthday Morning With Various Shapes Of Balloons
You can order various shaped balloons. You can enjoy with these colorful and attractive balloons. These balloons will make your day more special and memorable.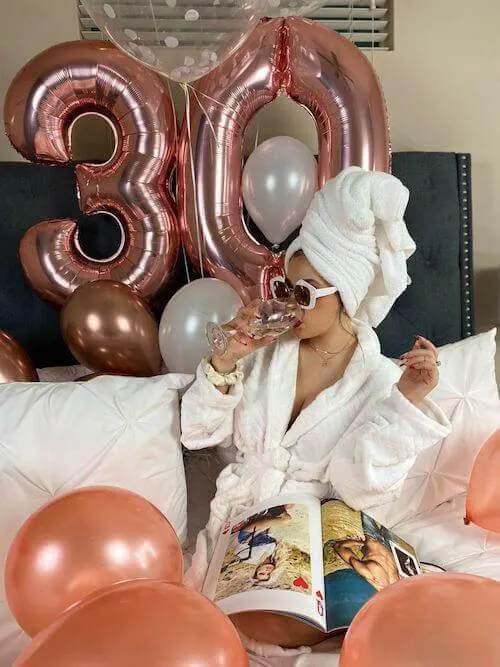 An Easy-To-Copy Pose Outside
Be creative by just putting the large numbers on the road.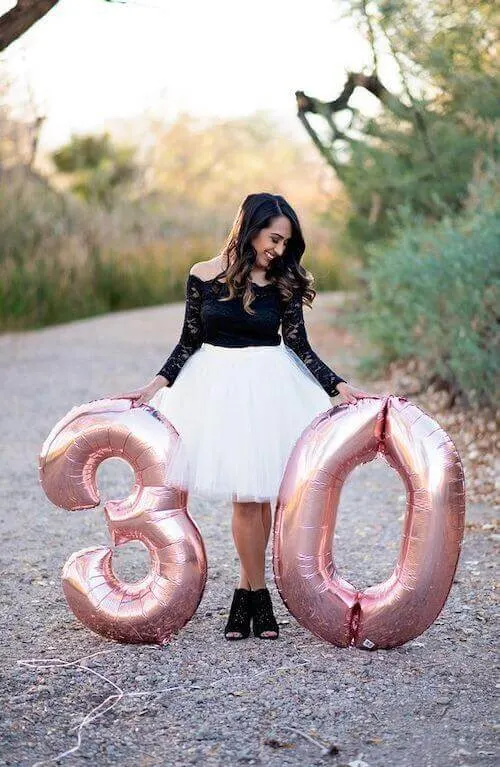 Your First Solo Trip
If you're thinking of traveling solo, I highly recommend it. Step out of your comfort zone on your birthday! It is one of the best birthday photoshoot ideas for your 30th birthday!
It's a great way to learn about yourself and see the world in a new way.
Focus On The Person
When you take a picture, don't focus on the thing in the center of the picture. Instead, use the portrait mode and focus on the person. This will make your pictures look more personal.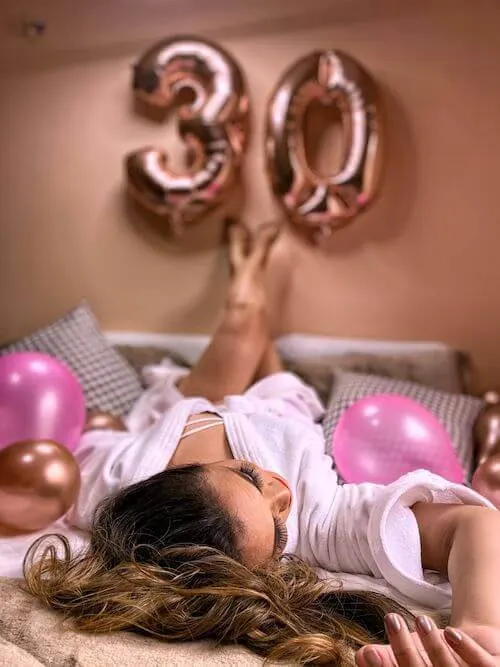 A Mix Of Red, Pink And Gold
Sit on the floor and enjoy your cake.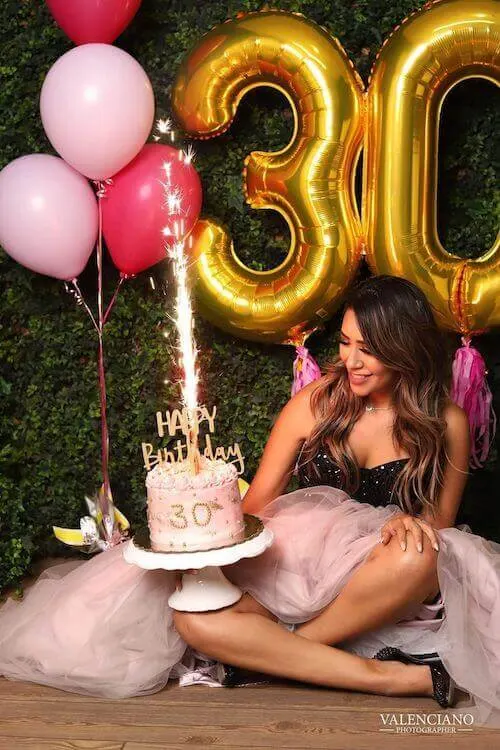 A Small Happy 30th Birthday Celebration
Can't think of a new photo pose? Cover your eyes. You look so cute.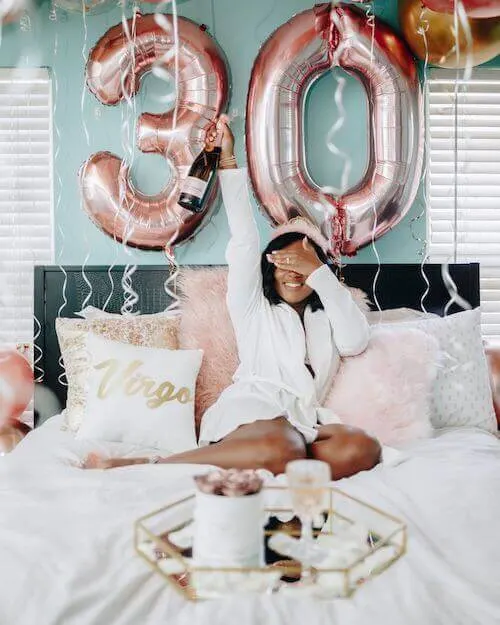 Gentle Light Pink In The Bedroom
A white bedroom is really best for taking pictures. Such a pastel color looks very dreamy. Take more photos to capture the best results.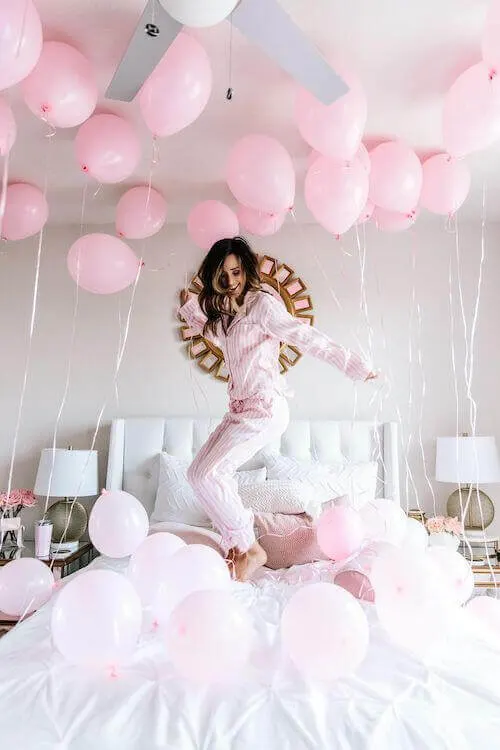 A Casual Fit For Your Birthday Shoot
Want mature and glamorous photos? Try this idea.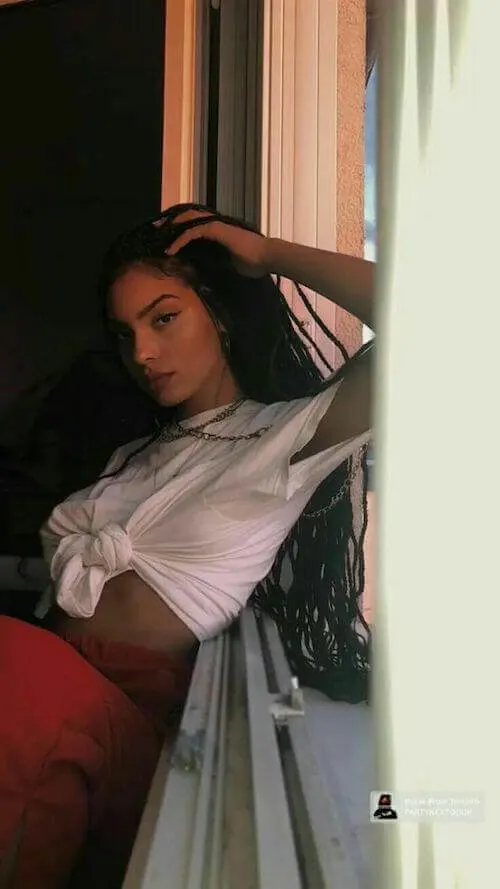 A Birthday Queen In Your Bathroom
A little bit of gorgeous makeup is more suitable for this kind of photo idea and add so much fun.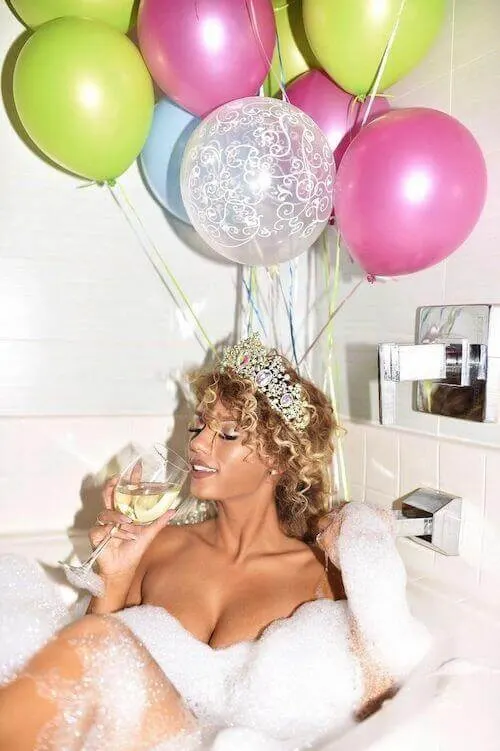 A Stylish Bathroom Shot
Again, the bathroom is a perfect choice to take your birthday photos.
With a slightly retro-toned filter, you'll look like a birthday beauty right out of a classic Hollywood movie!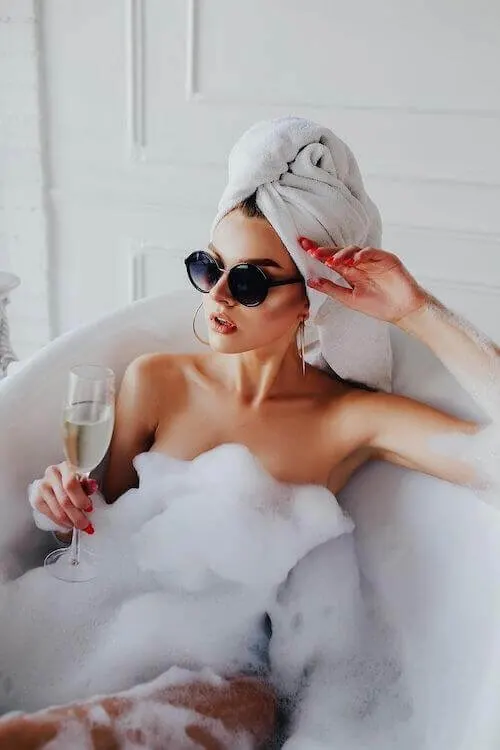 Gold Balloons And Black Tulle Dress
A tulle dress or a tulle skirt is one of my favorite birthday photoshoot outfits to get a perfect picture.
They balance the innocent cuteness of a little girl with the sensuality of a mature woman, perfect for a 30th birthday photo.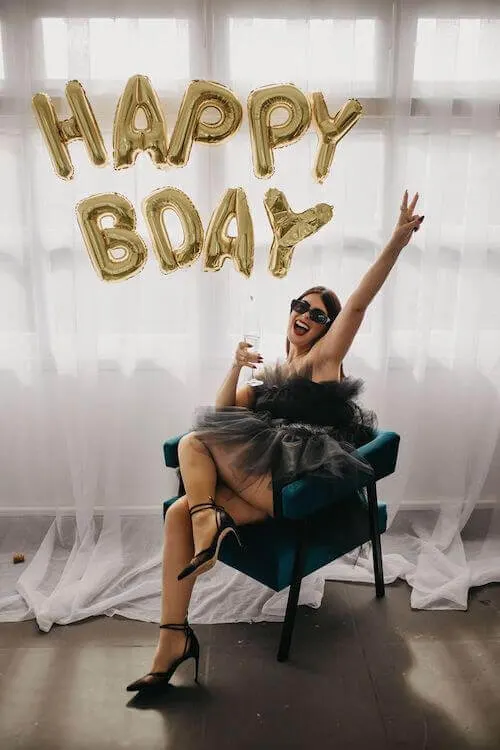 Pajamas And Lovely Birthday Balloons
Whether you're having a pajama birthday party or just having fun on a lazy birthday morning, this cute pajama photo idea is sure to be a hit!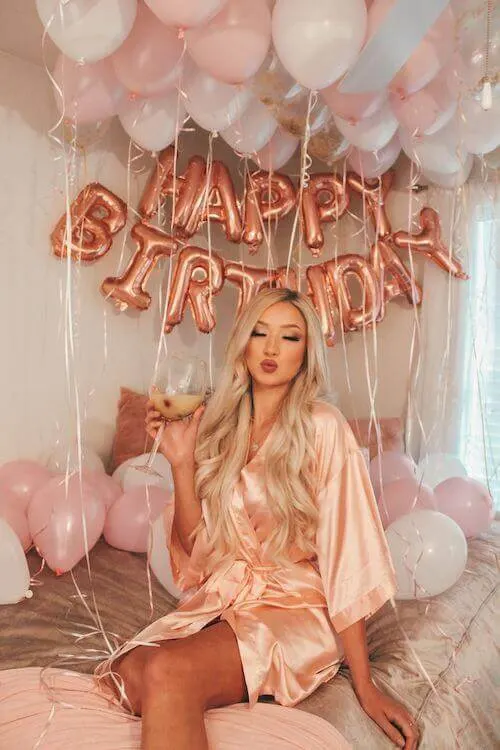 Sexy Outfit And Gold Balloons
Try some sexy outfit for your 30th birthday photoshoot and the gold decors are stunning.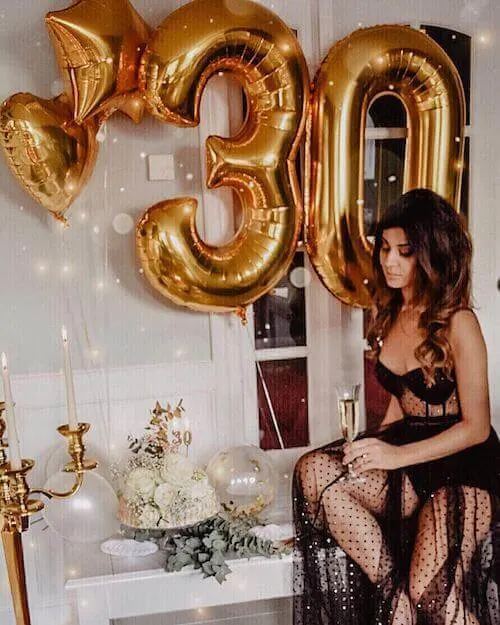 A Simple Cute Bedroom Setting
Or a simple yet super cute setting? Set the decors and props casually to add a lazy personal style.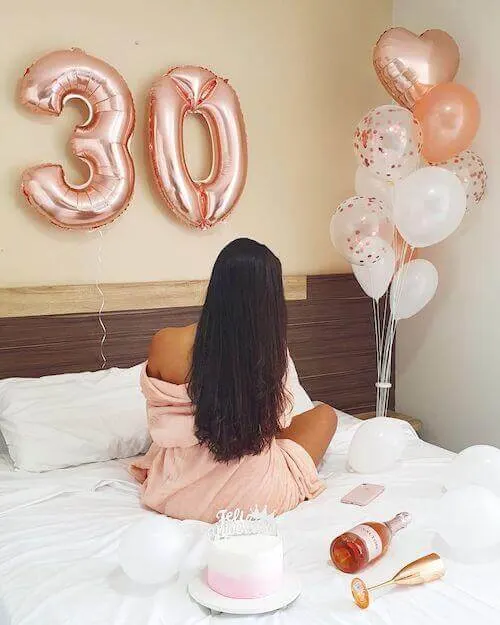 Lying In the Middle Of The Props
One of my favorite birthday photo shoot ideas.
Lying in the middle of decorations and props, you get one of the most memorable birthday photos.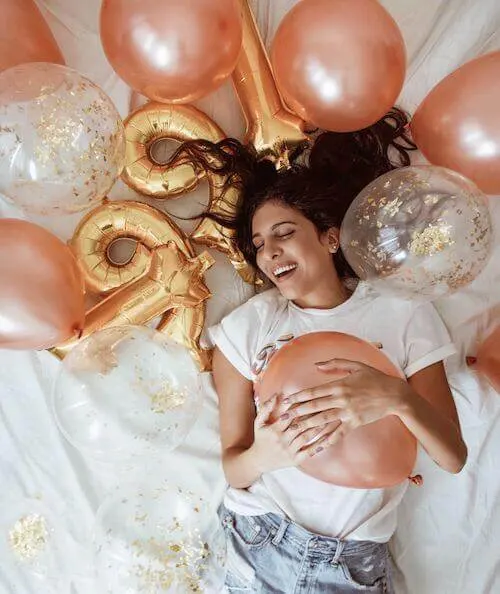 A Birthday Shot With Dark Background
Mysterious and fascinating. Dim all the lights and illuminate just your face. Try different camera settings to get the effects you like the most.
Remember to keep your back straight so that your body proportion looks its best.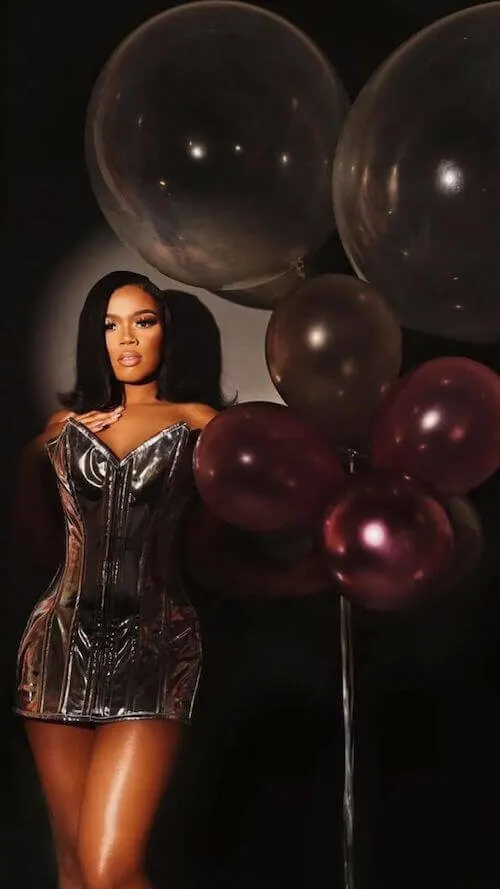 Different Shades Of Pink
Add a little light yellow to all the pink props to add a sense of vividness. Also the zebra print shoes add a mature and sexy feel to the photo.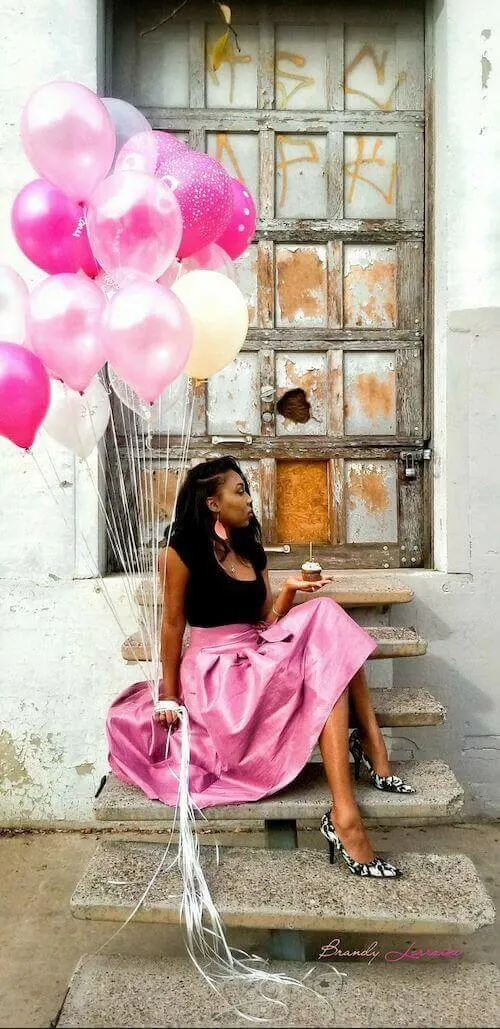 Simple White Background With Pink Pop Ups
The design of this photo and the previous photo share a common idea, which is to add a small amount of gold and black in the same color of pink props, so that the picture has more interesting details.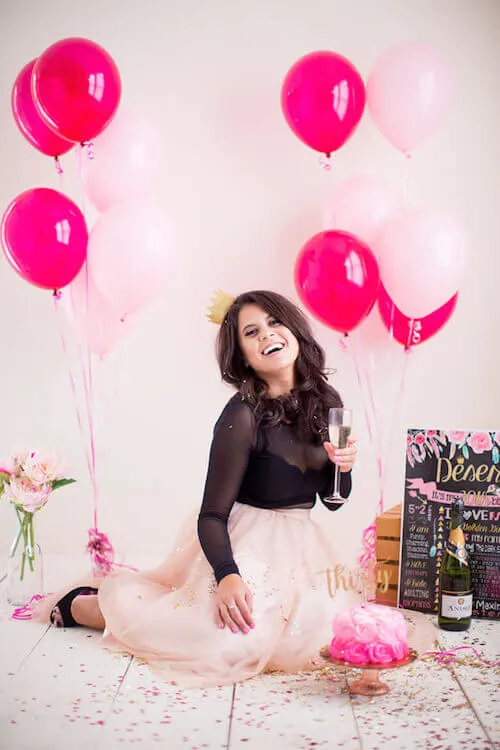 Cute Group Photos For Your Birthday
Here are a few birthday group photos with best friends I really like. They look so funky, don't they?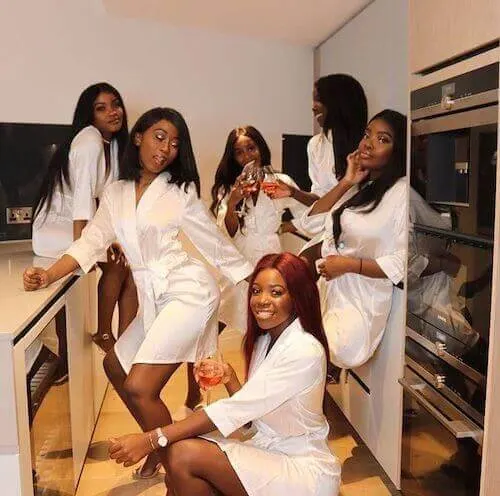 Enjoy Your Birthday With Your Closest Friends
When using similar poses with your friends, be careful to make your positions slightly different.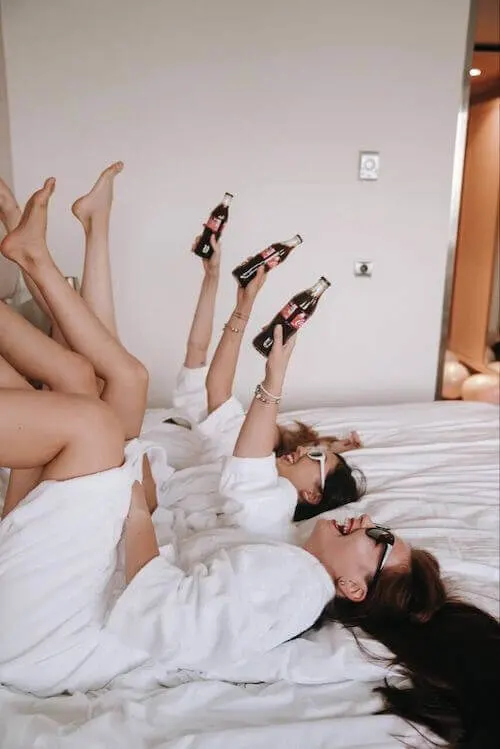 Best Friends Gathering Photo
The composition of this photo is a bit difficult but worth a try, very creative to create a vacation style.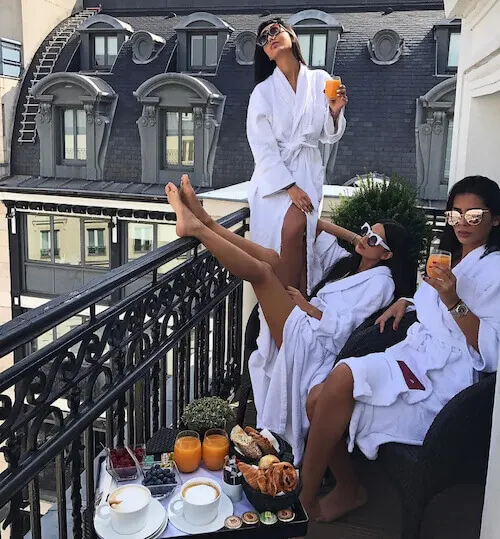 Best Places To Buy 30th Birthday Photoshoot Outfits
My favorite places to shop 30th birthday photoshoot outfits are Lulus (for dresses, skirts, jumpsuits), Hello Molly (for romantic dresses especially sequin dresses), and ChicWish (for cute tops and skirts).
If you want an extra luxury design, check Net-A-Porter for stunning designer pieces, or Rent The Runway to get the best outfits for a reasonable rental fee.
Click To Shop 30th Birthday Photoshoot Outfits
↓ Save This Post To Pinterest ↓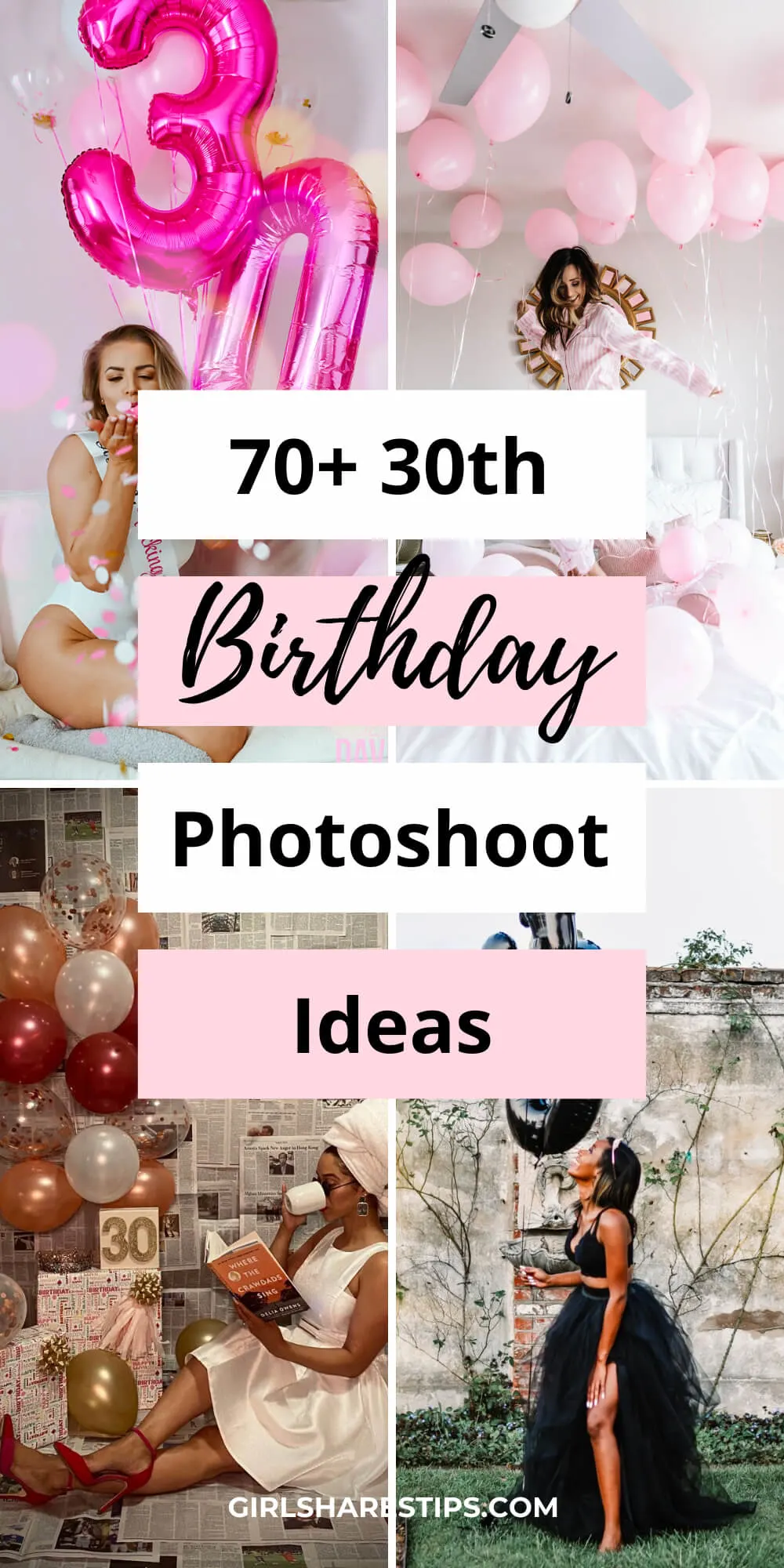 This post was all about 30th birthday photoshoot ideas.
About The Author
Tracy is an experienced personal stylist, shopping expert, and fashion & lifestyle blogger. She has been featured on Time Magazine, Bustle, Best Life, Glam, The Zoe Report, Mic, and GOBankingRates, for her insights on fashion, beauty, home decor, and lifestyle. Read More
Related Posts: