Looking for the best beach family photoshoot outfits ideas? Check this post for 50+ best family beach photo outfits and color schemes for inspiration!
I especially love taking pictures of the whole family at the beach. Whether you hire professional family photographers or take pictures of each other as a family, taking pictures of the whole family's beautiful faces by the beach is a very fun and meaningful thing to do.
After all, the beautiful beach, the smell of the sea at different times of the year, and the smiles of the family are some of the most unforgettable memories.
So, how to arrange the right outfits for your family beach photo shoot next time? What great colors you can choose for your family outfits? Have you already shot several times and still want to see what creative outfit ideas there are?
In today's post, I'll share with you my favorite family beach photo outfit ideas, easy-to-follow tips to get great photos, as well as the beautiful beach outfits for photos that I've picked from my favorite retailers.
So scroll down to check the family photoshoot outfit ideas for different styles and different seasons, and don't hesitate to pin the ideas you like to your Pinterest board or share them on social media.
This post may contain affiliate links, which means I'll receive a commission if you purchase through my link, at no extra cost to you. Please read the full disclosure here.
This post is all about beach family photoshoot outfits.
Cute Family Photo Session Outfits For Beach
You can never go wrong with a simple style in solid colors! Especially if it's your first time going to the beach with the whole family for a photo shoot, I highly recommend starting with a simple, solid-colored outfit. It's a great idea.
Choose lighter solid colors for hot weather and warmer solid colors for the cooler seasons.
If you're worried that this style is too boring, you can wear resort-style or bohemian earrings.
Or you can have your child wear a bolder pattern or color. Your child occupies a smaller area of the picture, so the whole picture will be easier to control the balance.
To take it a step further, you can also add stripe pattern outfits to level up the whole style. The blue and white striped pattern is a great choice, looking casual and chic.
White Shirt + White Dress + Beige Dresses For The Little Girls

@aliciacaitlynphotography
Light Blues + Soft Pinks + Khaki

via chloemoorephotography.com
Different Shades Of Blue + Khaki Shorts + Neutral Color

Cool Tones

via Pinterest
Dark Colors & Different Textures

via wildesparrow.com
Neutral Colors In Style For A Long Time

Navy Blue And Denim Blue

Solid Colors Will Never Be Wrong

Combine Light Shades And Dark Colors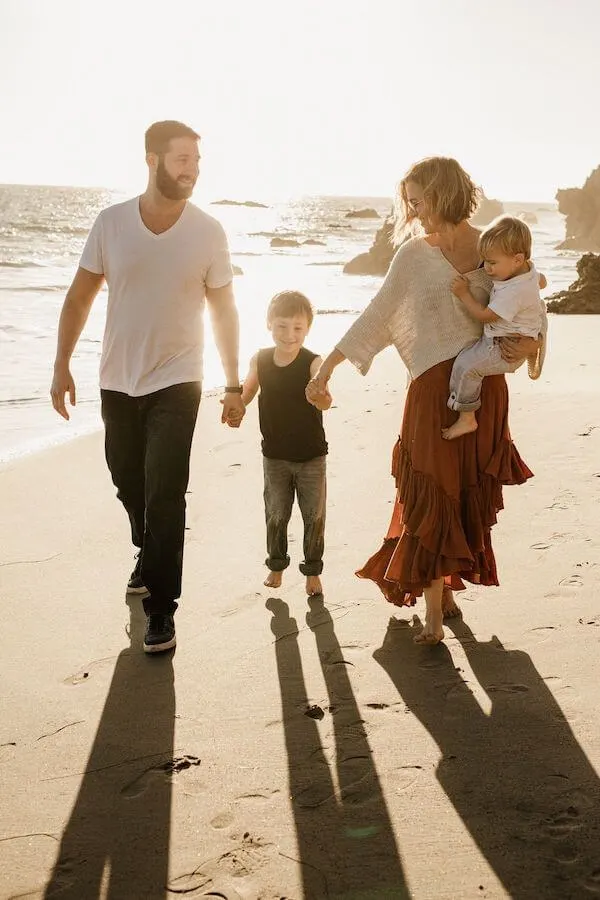 Perfect Outfits For Family Beach Photos
If you are looking for the perfect color schemes for family beach photos, you can start with neutral tones. They match well with the sand colors.
Make sure you include white, like white polo shirts, white Tees, or white dresses, in your neutral color palette. It is a great way to make your images will look cleaner.
If you don't have white, then adding skin exposure by going barefoot, or rolling up sleeves or pant legs will also give the image a lighter and more lively airy feel.
Then, you can gradually try to add blue. Blue is one of the great options for family beach photoshoot clothing choices. It represents the blue sky and the sea, one of the most representative colors for a beach vacation. Adding blue can make the people in the picture look brighter.
Choose Lighter Colors

White Is One Of The Best Colors

White T-Shirt And Little Black Dress

The Darker Colors Scheme

Simple Comfortable Clothing

via unsplash
Bold Colors: Purple, Red, And Navy Blue

via pexels
Flowy Dress And Shades Of Blue Look

by ti_adoro_studios
Perfect White Look

by ti_adoro_studios
Soft Colors Of The Sand & Blue

via Photos by Kiri
Trendy Outfit Ideas For Family Beach Pictures
I am fascinated by the following family pictures, some of which use the same colors perfectly, and some of which use bold colors to make family photos look vivid and alive.
One tip for using creative colors is to start with your favorite color! You can be totally bold and choose your favorite color, like royal blue, or a rich green, or a bohemian resort-inspired floral print.
Then, you can find colors or accessories for the rest of your family that match your outfit style.
And yes, don't forget the accessories! Accessories work wonderfully to quickly unite the styles of different colors and styles of clothing. They look pretty much perfect!
Khaki Shorts And Bright Beautiful Blues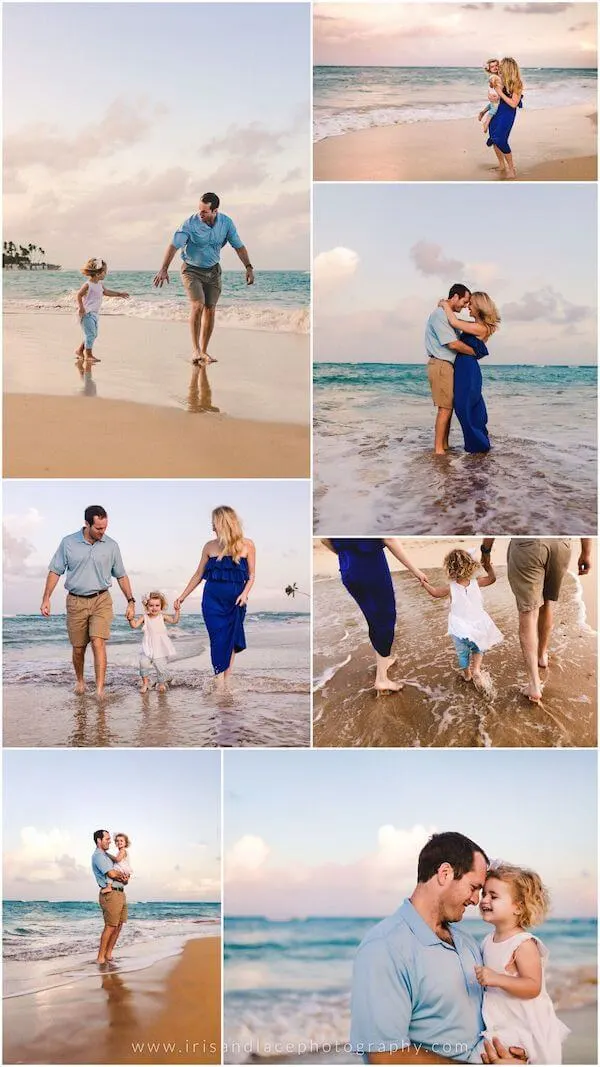 via irisandlacephotography.com
Try Different Patterns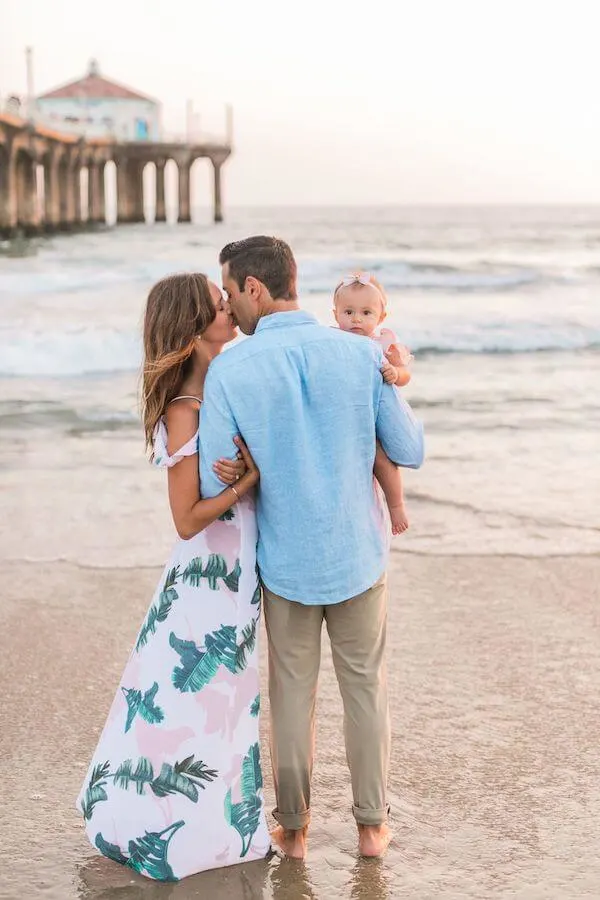 via Chloe Moore Photography
Choose The Lighter Shades Of The Sand Colors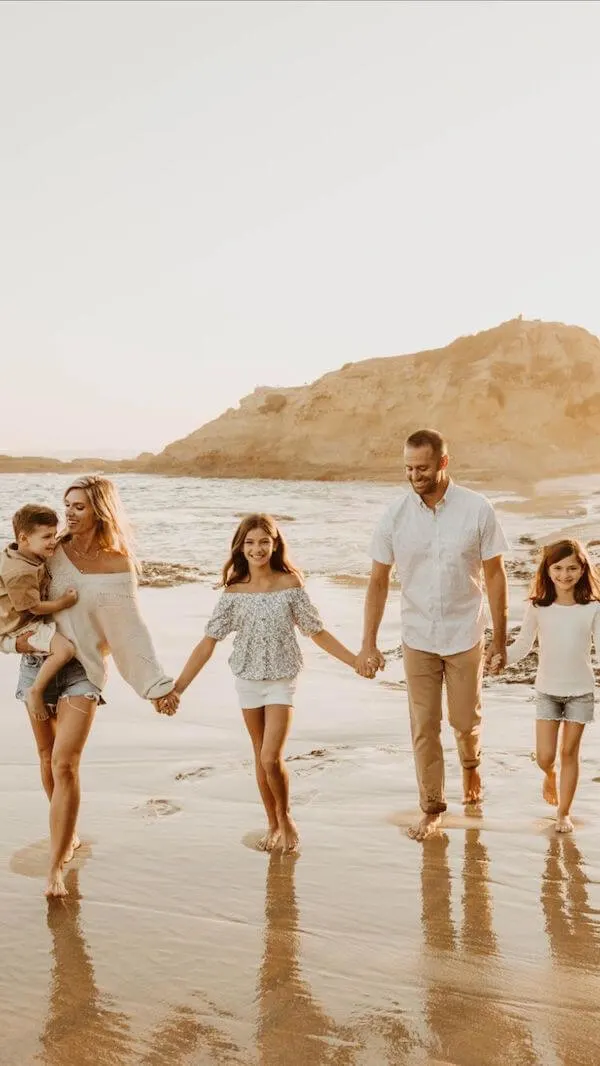 via Pinterest
Perfect With The White Sand
Mix Different Patterns And Textures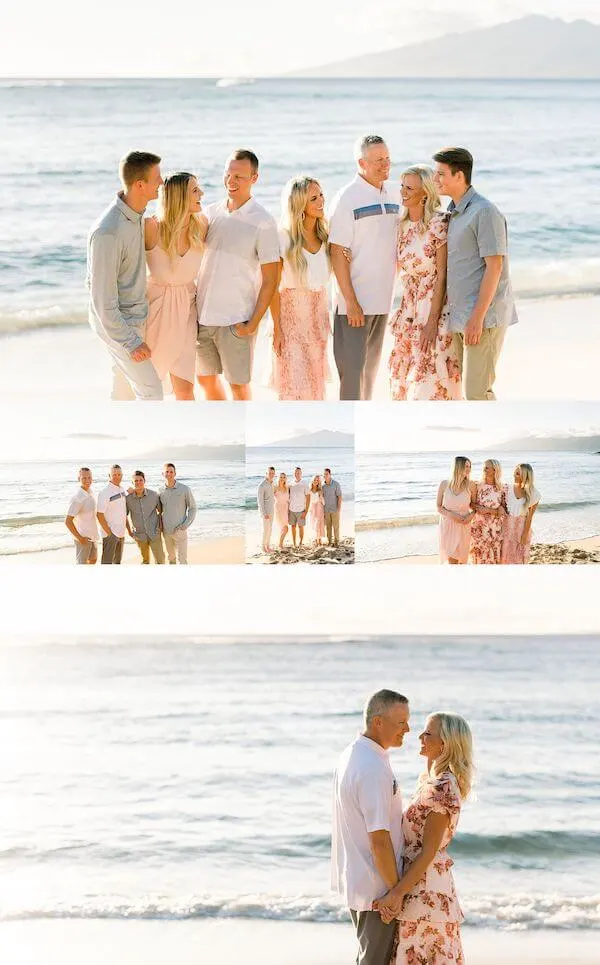 Beautiful Sand Tones And White Clothing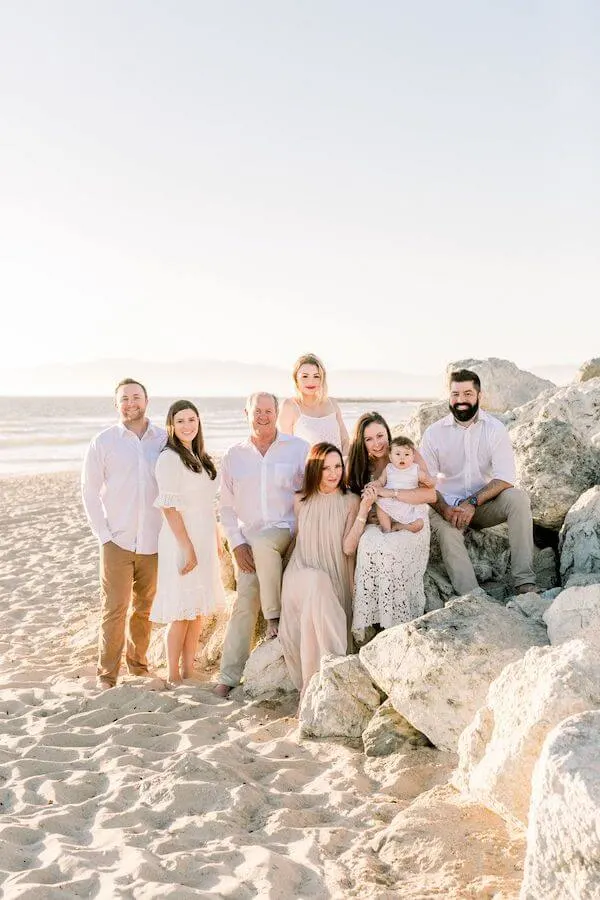 Bolder Colors For Your Beach Sessions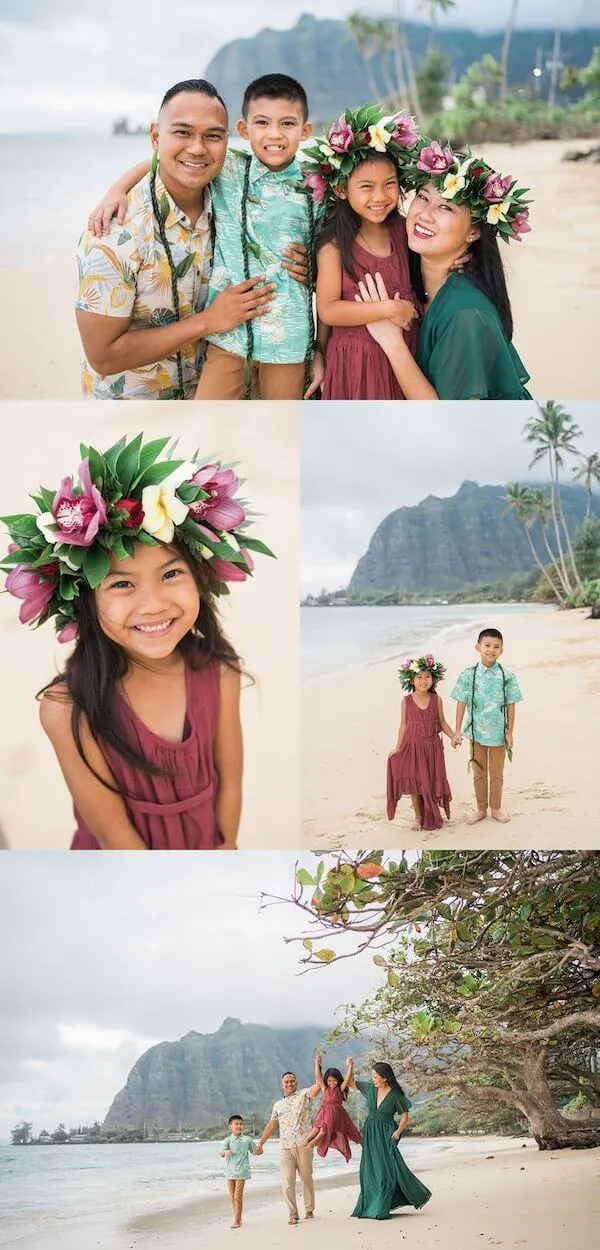 by Rae Marshall Photography
Soft Beiges For Your Family Outfits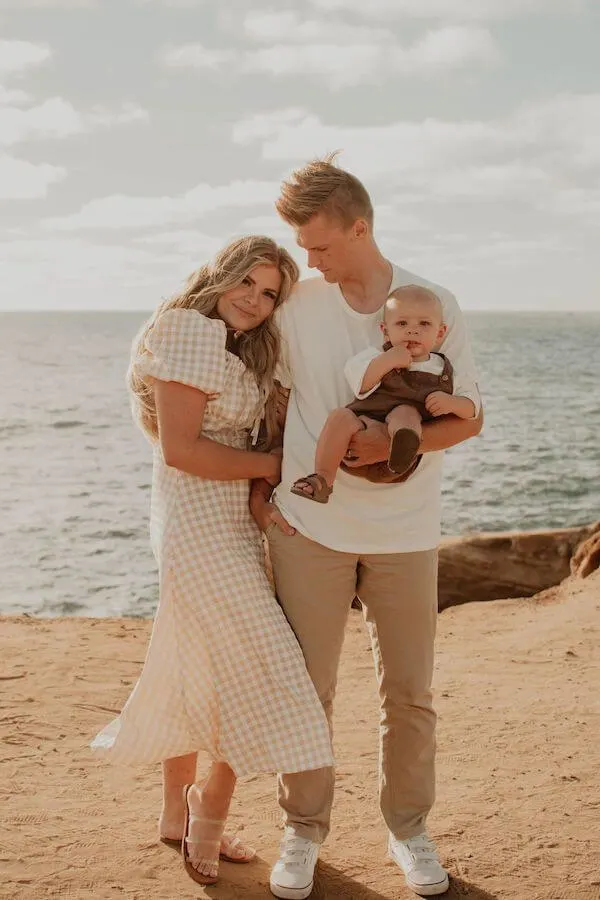 Blue Shades And Nude Color For The Whole Family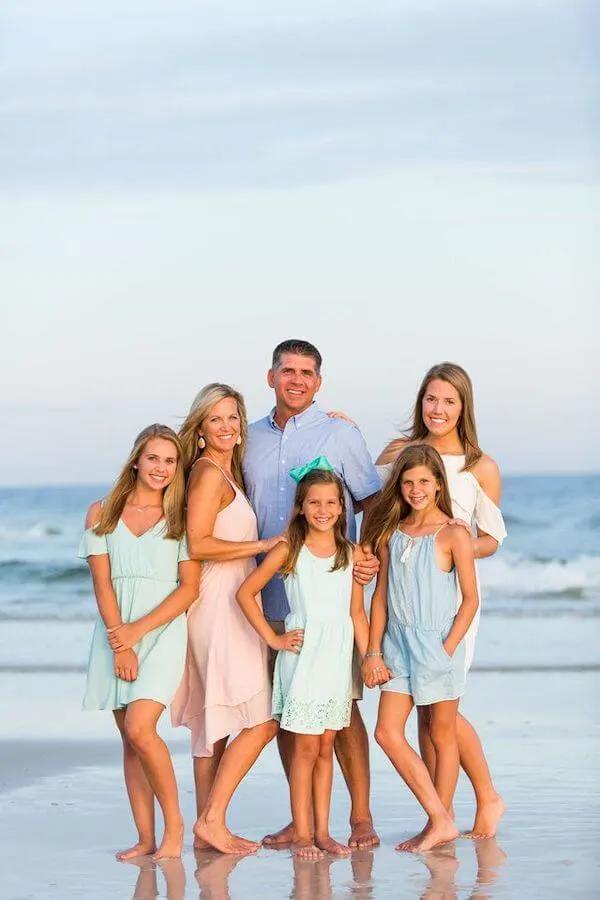 via Pinterest
Simple Family Portraits Outfits For Family Beach Session
It's not easy to choose clothing for a large family photo shoot. So go with white and blue is one of the easiest ideas. After all, these two colors can be found in most people's closets.
Another quick way to make the color of the photo look nice is to first determine what shade you like. For example, whether it is a bright color, or a light color. As long as everyone is wearing bright colors, or all light colors, it will be very easy to coordinate the look.
These photos below can give you good inspiration.
White And Blue For The Extended Family

via lauraandrachel.com
Pink Shirt And White Dress

White And Colors Of The Sand

by Sand dune family photoshoot
Contrast Colors Of Your Clothes

via sunsetimagesphotography.com
Different Blue Patterns

via Pinterest
Enjoy The Bare Feet

via mandyford.com
Cozy Outfits For Fall And Winter

White, Denim Blue, And Black

via heatherbeermanco.com
Loose Top And Loose Dress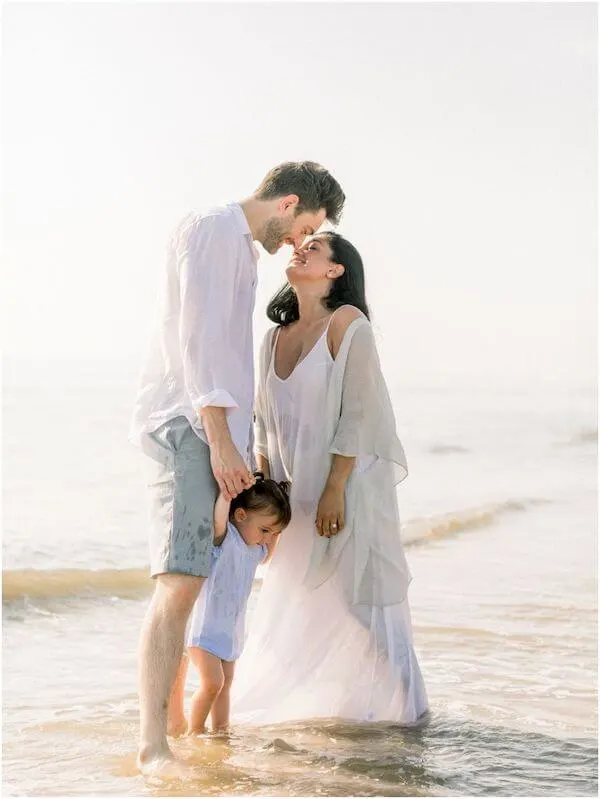 Casual Family Photoshoot Outfit Ideas For Beach Vacation
Ladies wearing maxi dresses with resort style is a great way to make the picture look great. Choose a beautiful long dress with delicate lace and patterns, and wear unique statement jewelry, so that the perfect family photo outfits are halfway done.
If you prefer shorts, choose white shorts or denim shorts to bring out the overall relaxed and happy feeling of the photo.
At this time, remember to choose a looser style of top, so that under the sea breeze, the top is gently blown up, which can facilitate the photographer to capture romantic and charming photos.
Mommy And Me White Dresses
A Pop Of Color
Light And Dark Blues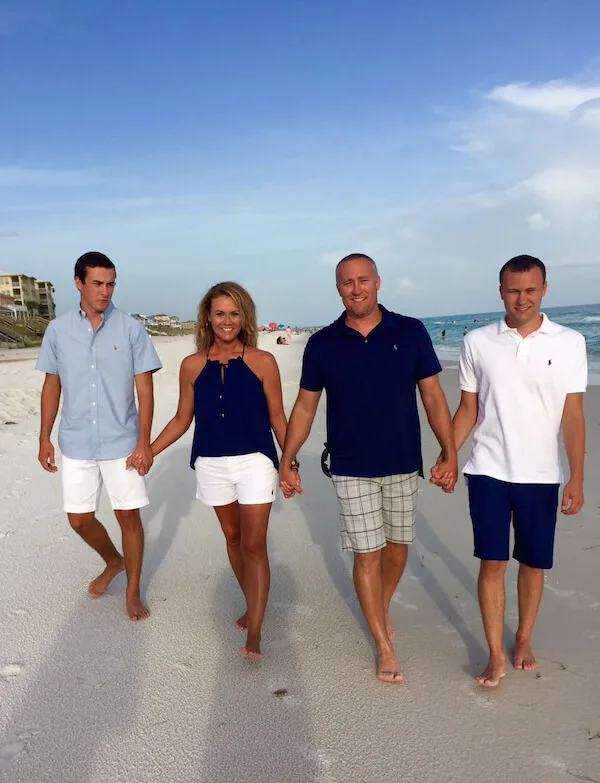 White And Light Denim Blues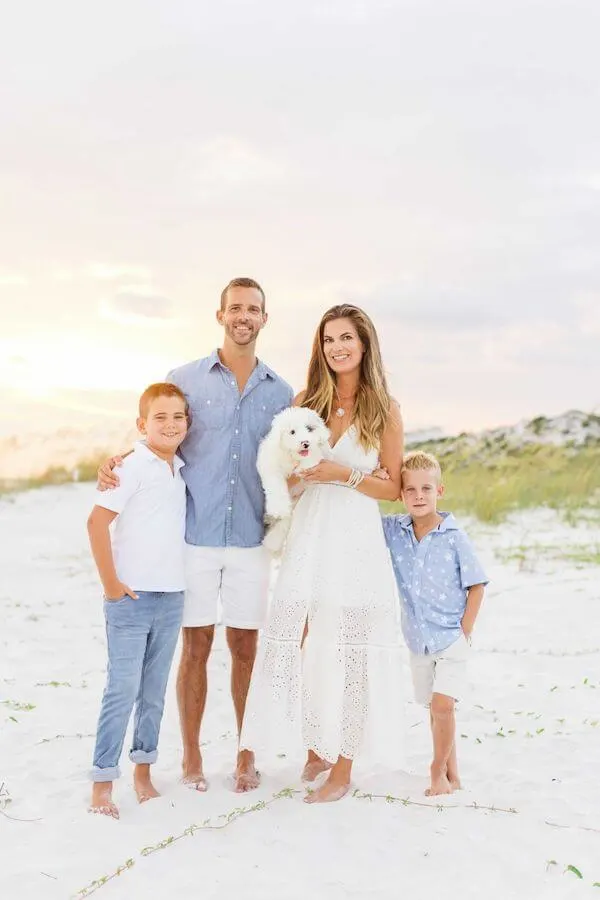 A Creative Family Beach Look With Bright White Pops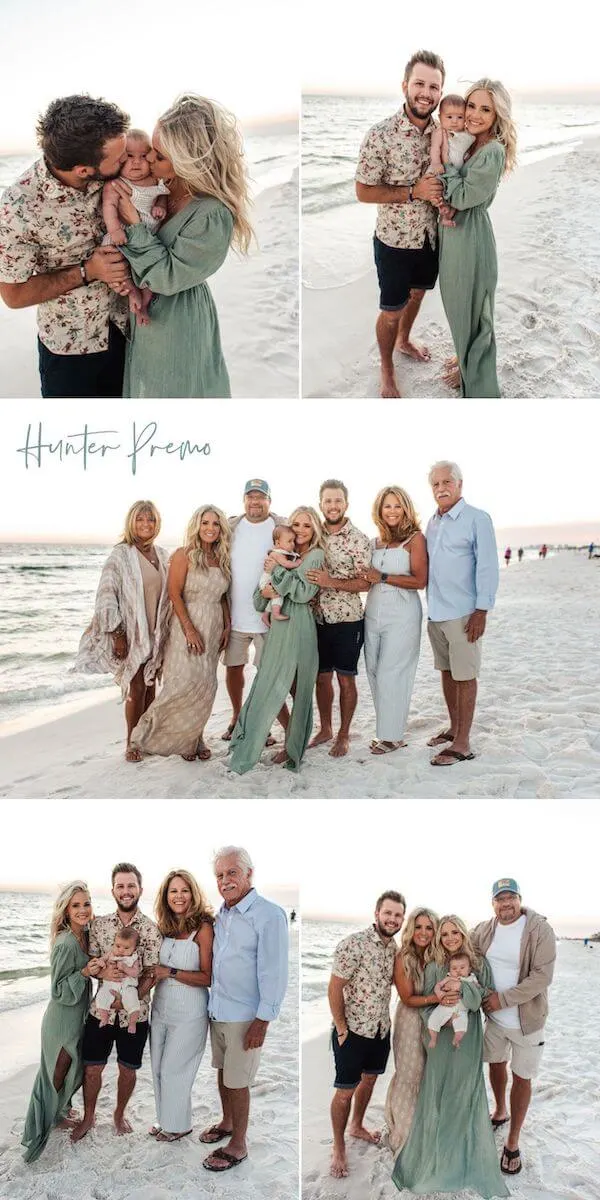 Simple Beach Outfits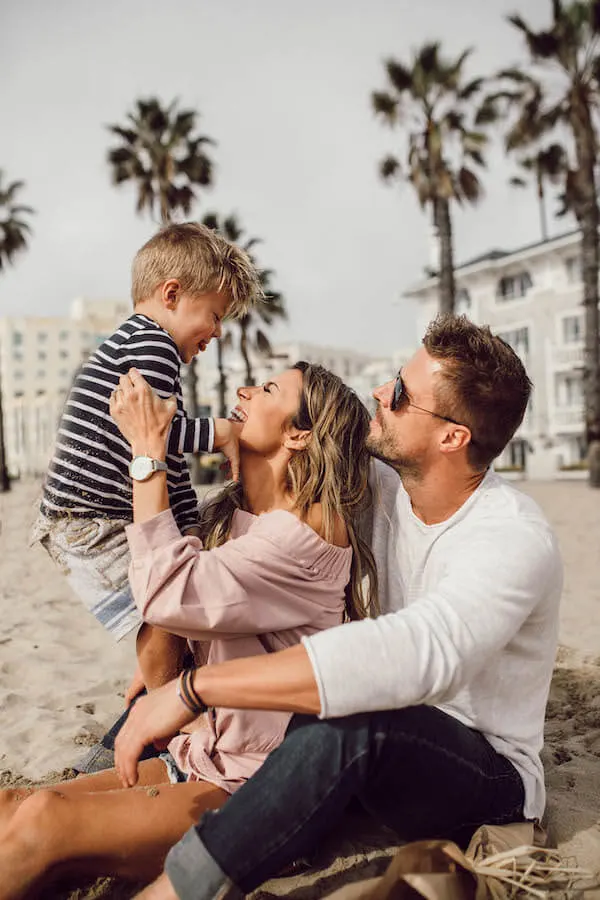 Bright Colors And Dark Blue
via Pinterest
Girls Wearing Yellow Dresses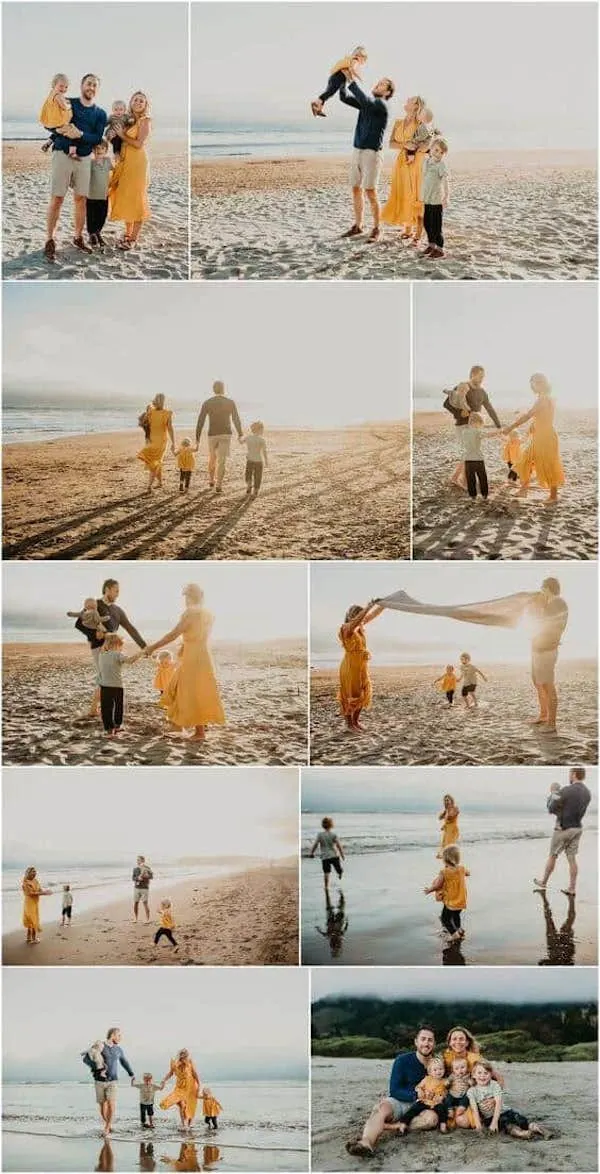 Same Shirts For The Boys In The Large Group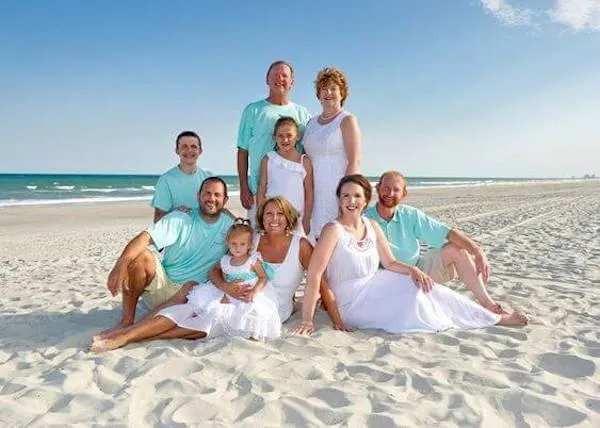 via Pinterest
Excellent Bright Color Scheme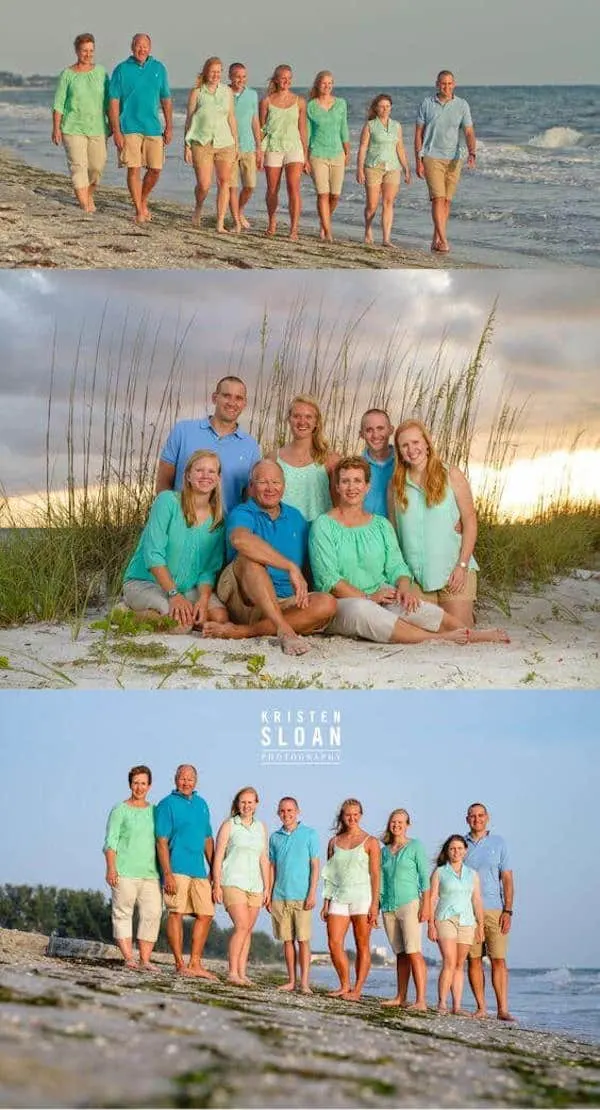 via Kristen Sloan Photography
Perfect Boho Style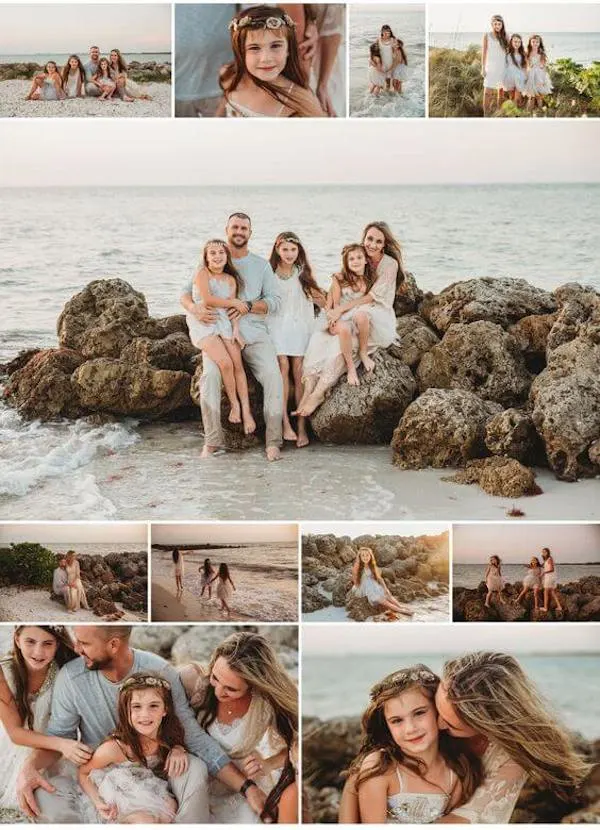 via Pinterest
Stylish Family Beach Portraits Outfits
The following beautiful family photos are very stylish, but not difficult to copy.
An easy way to make your photos better is that, in addition to the location you and your photographer have discussed, you also need to consider the specific time and the natural light.
For example, if shooting in the evening, choosing warm-toned clothes that reflect the pink sky and sea can make the picture look more dynamic.
And if you especially like to capture the blue water in your photos, don't forget to have at least one of your family members wearing blue. Against the blue water, the blue clothes become beautiful and unusual, so the overall picture looks quite perfect.
Another important thing to make your photos look more fashionable is not to forget to choose fashionable clothing items, such as your favorite dresses or tube tops. these fashionable elements will win a lot of compliments!
A Lovely Color Palette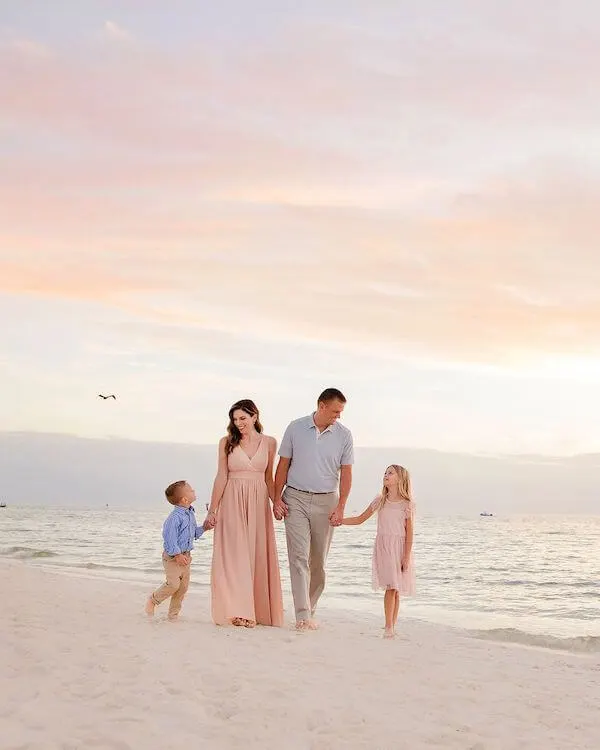 by Naples Beaches Photography
Dreamy Outfits For The Beach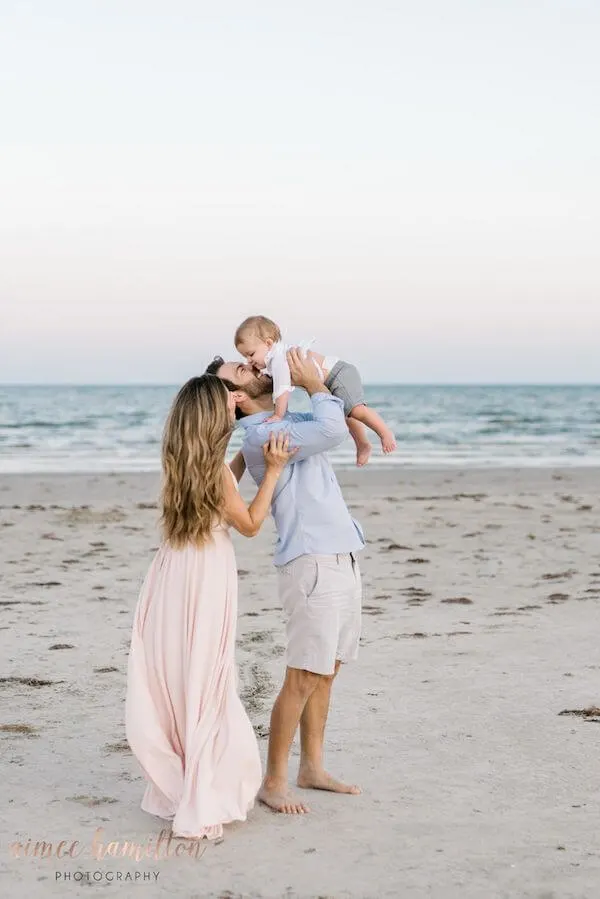 by Aimee Hamilton Photography
Denim Blue And White Is A Timeless Look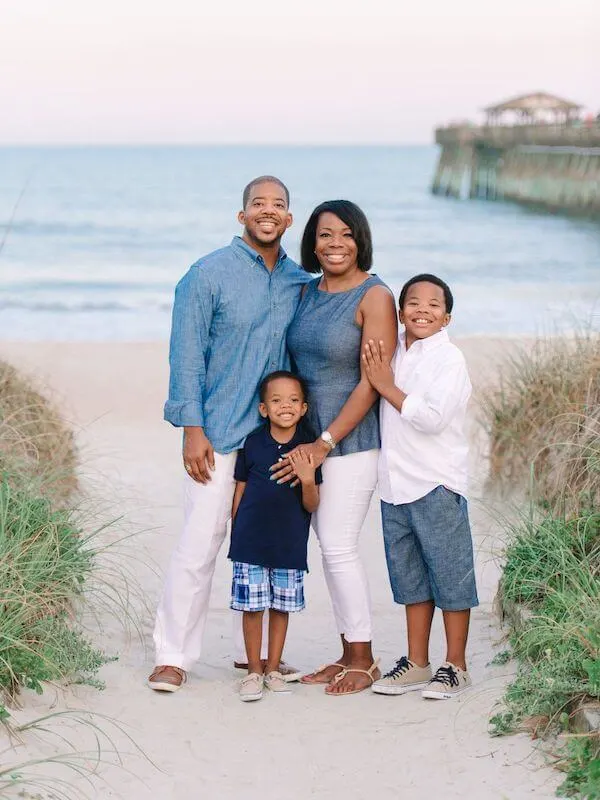 A Tropical Vacation Style Classic Look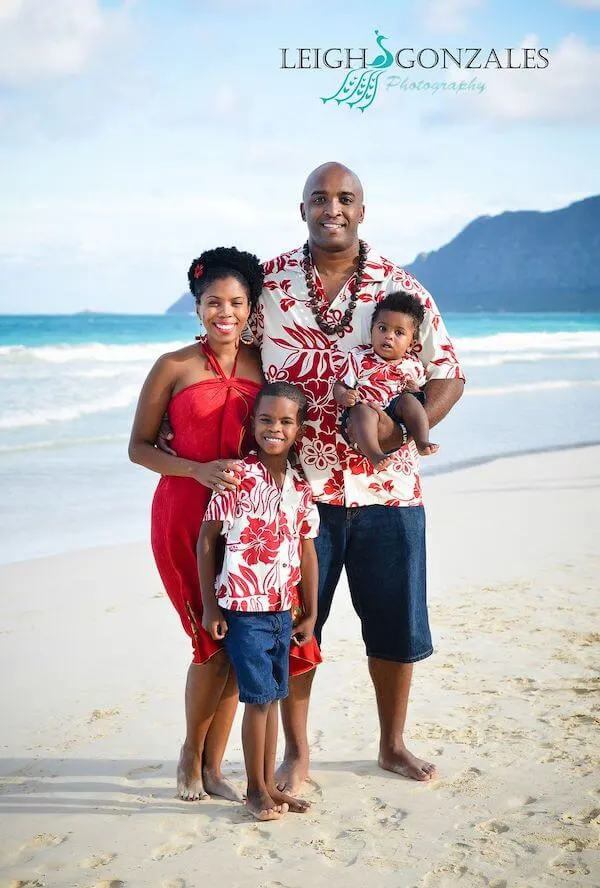 Beautiful Beach Sunset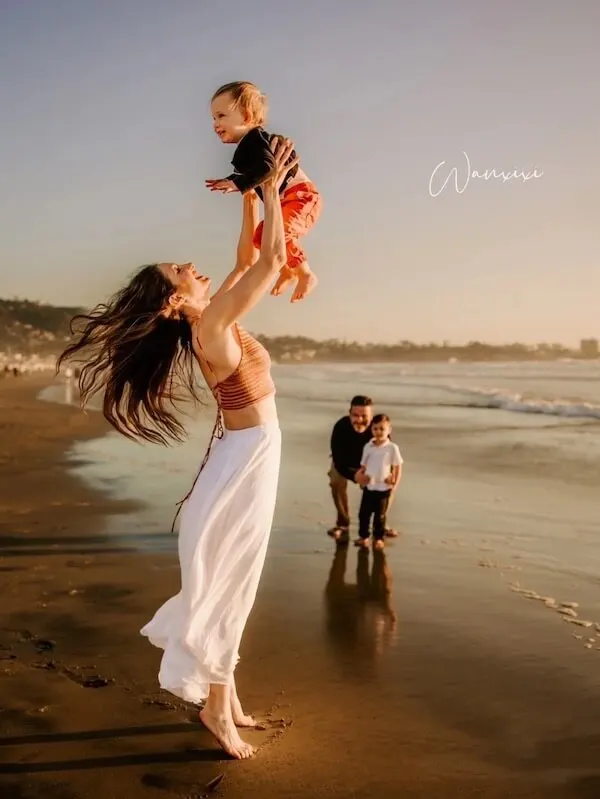 via Pinterest
Add Blue Plaids In The Color Scheme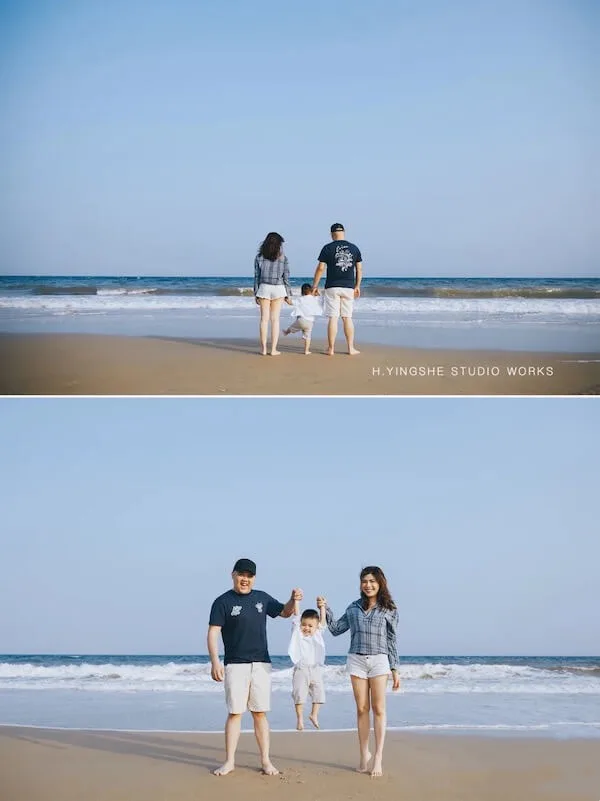 via H.Yingshe Studio
Pretty Dress For Mom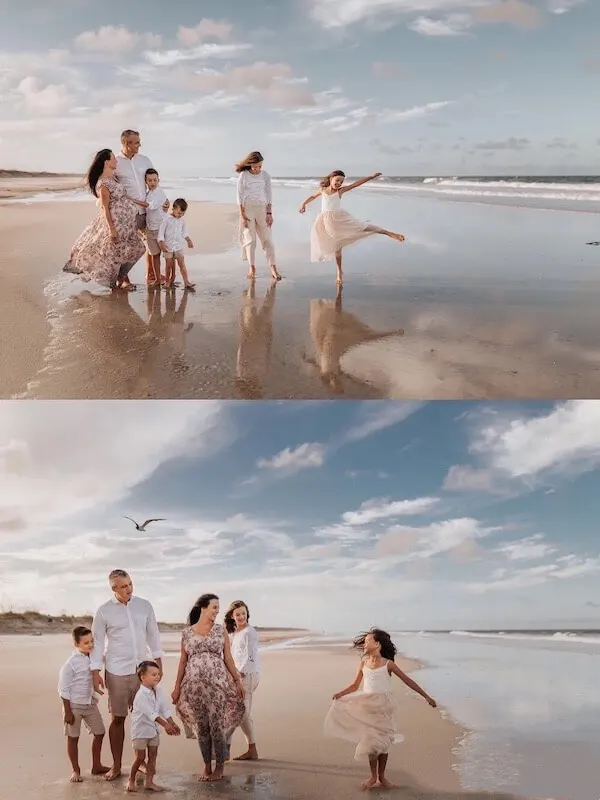 via Pinterest
Pure White And A Little Beige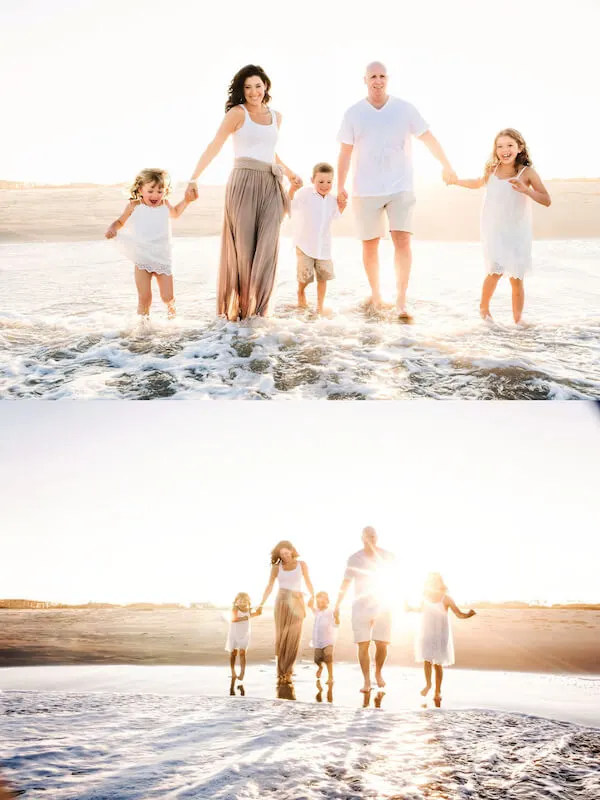 Simple Colours Of Your Clothes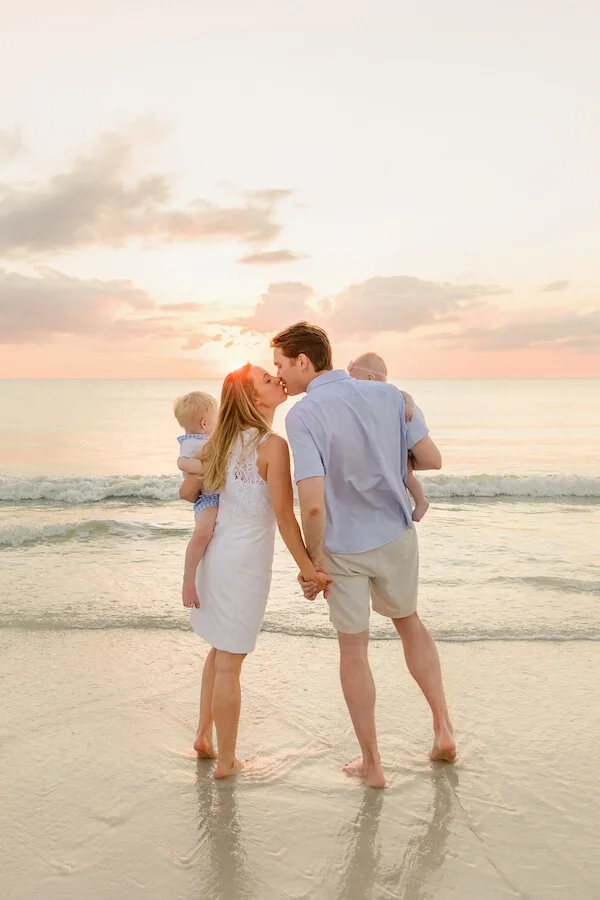 Great Places To Buy Beach Family Photoshoot Outfits
H&M is a great place for affordable and stylish beach outfits for men and women, and kids. I
love their simple but chic cut and in-style patterns that suitable for any family beach vacations. From perfect neutral shades to bold tropical colors, you can find almost anything there!
Banana Republic has one of the best linen collections this year. From dresses to shorts to jumpsuits to two-pieces-set, they have the beautiful options for you to choose from this summer. And their kids' collection is lovely, too!
It has everything, and is our favorite place to shop beach outfits, especially designer summer outfits for the beach. If you are looking for the best designer options for your family members, check Nordstrom.
One of our go-to stores for cute Mommy & Me Outfits! And I love their vacation collection where you can find some unique bright color designs for you and your mini to make your photos eye-catching!
And their designs have full-range sizes, if you are looking for cute plus-size options, check them!
Perfect place for boho style beach outfits. They have a gorgeous white dress collection this year where you can find the beautiful designs that you can't find anywhere else!
And they have a small collection for kids, where you can find pretty cute designs for your little girls or boys!
Old Navy is a great place to find ideal family beach outfits for all your family members!
Their vacation collection is surprisingly cute this year, and you can find affordable but stylish designs including shorts, shirts, skirts, and of course dresses, for a large range of color shades!
For almost all the outfit ideas we mentioned in this post, you can find the similar or exact options in Old Navy. So do check them out!
A great place to find chic designs for you and your man.
If you are looking for perfect linen shirts for the guys, check their website!
Perfect place for find affordable cute family beach outfits. They provide a large number of options for women, men, and kids, for any style.
Check their stunning vacation outfit designs, beach jumpsuits, and men's outfits, as well kids designs for your next perfect beach photos.
If you are looking for vacation accessories, they have many pretty designs, too. Check their collection or check out SHEIN earrings reviews and picks.
Click to shop Our Favorite Beach Dresses:

This post was all about beach family photoshoot outfits.
About The Author
Tracy is an experienced personal stylist, shopping expert, and fashion & lifestyle blogger. She has been featured on Bustle, Best Life, Glam, The Zoe Report, Mic, and GoBankingRates, for her insights on fashion, beauty, home decor, and lifestyle. Read More
Related Posts: