Looking for the best graduation dresses for college this year? Check this post for the 40+ cute and affordable choices you can shop for right now!
The graduation season is coming! Can't wait to prepare the best graduation dresses for your big day? Maybe you are tired of the dress styles for your high school graduation, and we have prepared the best list for you to choose from for this special day for any style.
Though the white graduation dresses are still the most popular choices, we also encourage you to check the other formal color options, like navy blue, baby blue, black, green, and purple, or you can try the other best colors like yellow and blush, which are so trending for the graduation day right now.
Bold prints floral dresses are also insanely cute for the spring-summer graduation season. They help you look stunning in the graduation photos!
On this list, from cute white dresses for classy dresses with different colors, from sexy bodycon dresses to pretty flare dresses, from minimalist silky dresses to off the shoulder dresses perfect for the graduation gown, you can find the perfect dress suitable for your body type, style, and the little detail make you unique and amazing on this special occasion! Wear a simple black watch, neutral color high heels, and a pair of your favorite hoops to complete the look.
So scroll down to check the graduation dresses we have selected for you. The best part is, they are all available now from our favorite retailers at affordable prices with many five-star ratings! Many of them have a wide range of size choices for a petite size girl or plus size girl. And they are also perfect for all your future formal or semi-formal events.
And don't hesitate to pin the dresses you like!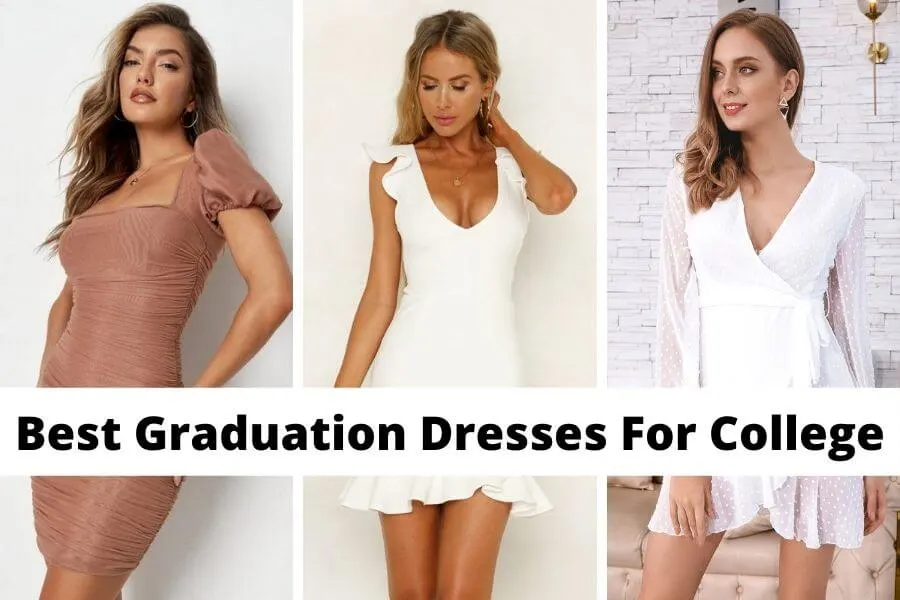 This post may contain affiliate links, which means I'll receive a commission if you purchase through my link, at no extra cost to you. Please read the full disclosure here.
This post is all about the best graduation dresses for college.
Best Graduation Day Dresses For College
Verdusa Women's Sexy Ruched Side Asymmetrical V Neck Bodycon Cami Dress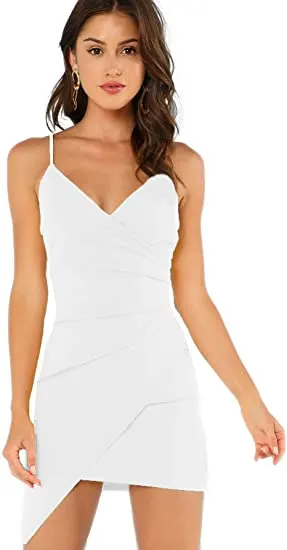 Catch the latest trends with the above this knee length, asymmetrical, bodycon cocktail party dress.
Sexy Spaghetti Strap Dress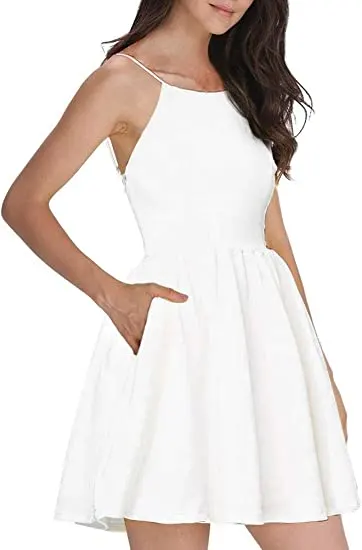 This simple white dress helps you remain comfortable under your graduation robe, and the waist design and the a-line skirt make sure your body proportion perfect.
Love Galore Navy Blue Color Skater Dress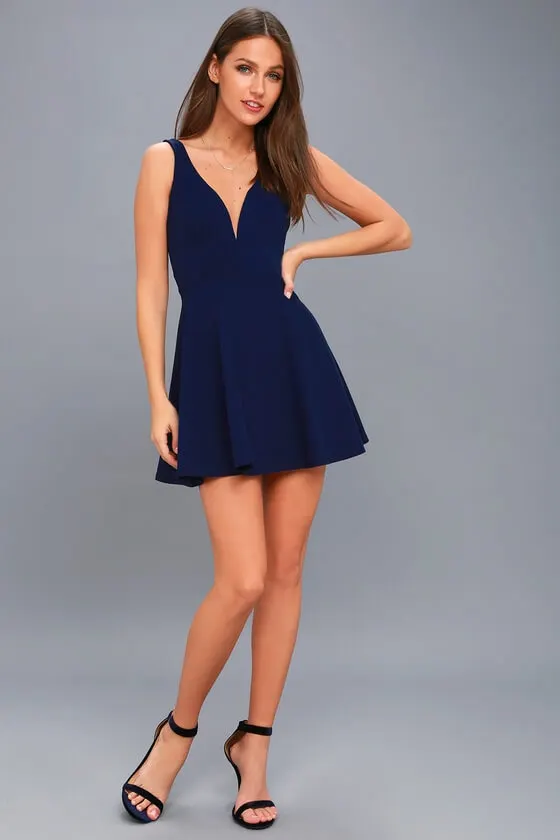 This thick stretch knit dress has a fitted bodice with princess seams, a deep V-neckline (with hidden V bar), plus a flirty skater skirt.
Delicate Darling Beige and Ivory Lace Bodycon Dress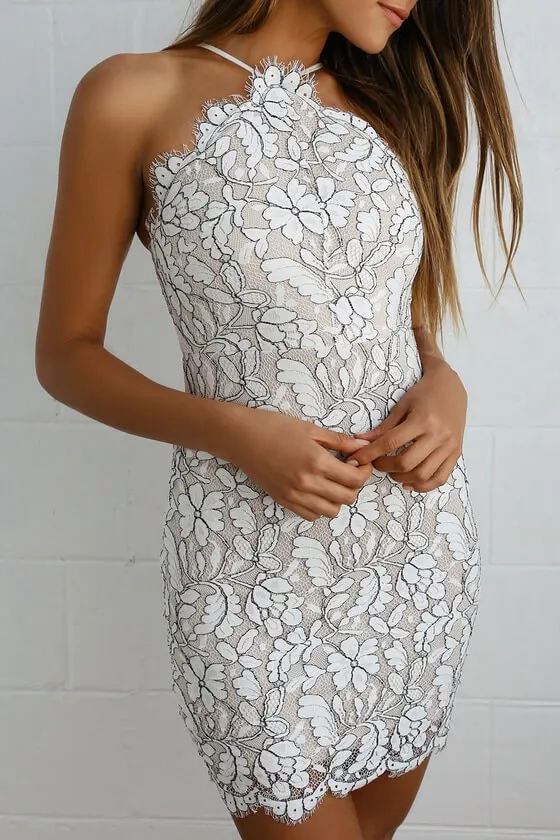 This is a beautiful graduation dress full of amazing small details that you will love! A bodycon fit takes shape below an eyelash lace halter bodice (with darting) that overlays a beige lining. Skirt has a scalloped hem. Adjustable straps.
Take The Reigns Dress White
This style features a v neckline, ruffled sleeve details and a corset tie up feature in the back! It also features a flirty ruffled hem and an invisible back zip for ease of wear.
Best Dresses For College Graduation Ceremony
Scallop Edge Floral Print Colorful Dress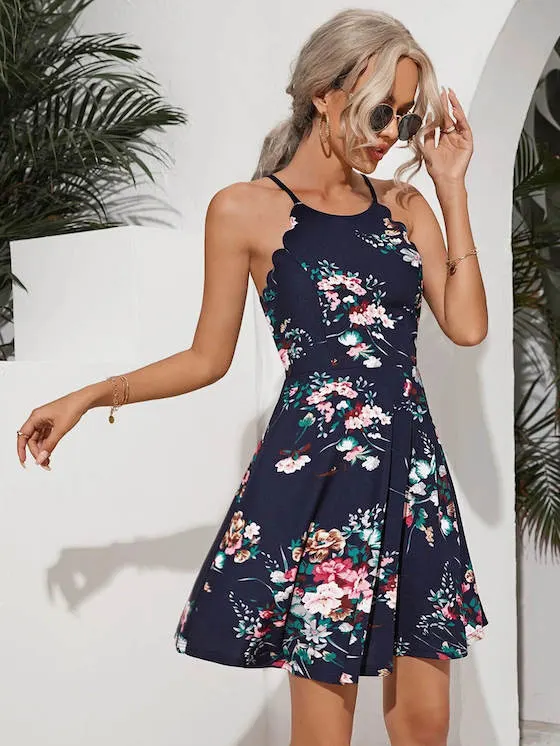 Want some different? The best thing is, navy floral print dresses are also an ideal option for the graduation day now. They look beautiful under the gown and make you stand out from the group photos!
Remarkable White Lace Dress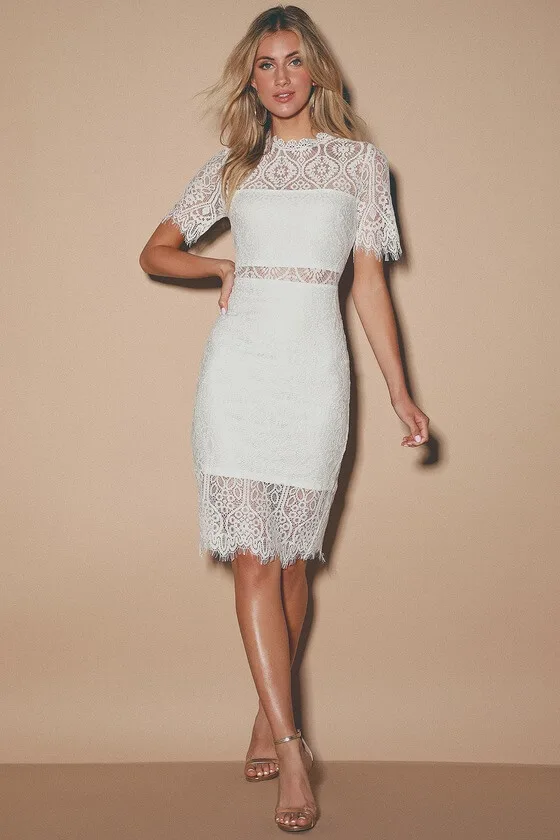 If you stick to the classic color but also want from unique style, one of the first things you can try is the white lace design.
This white lace dress is the perfect frock for any occasion! White lining creates a cool two-piece look beneath sheer lace as it forms a rounded, scalloped neckline, short sleeves, and a darted, sheath silhouette. It is also a great dress for many future important occasions.
Westwood White Half Sleeve Sheath Dress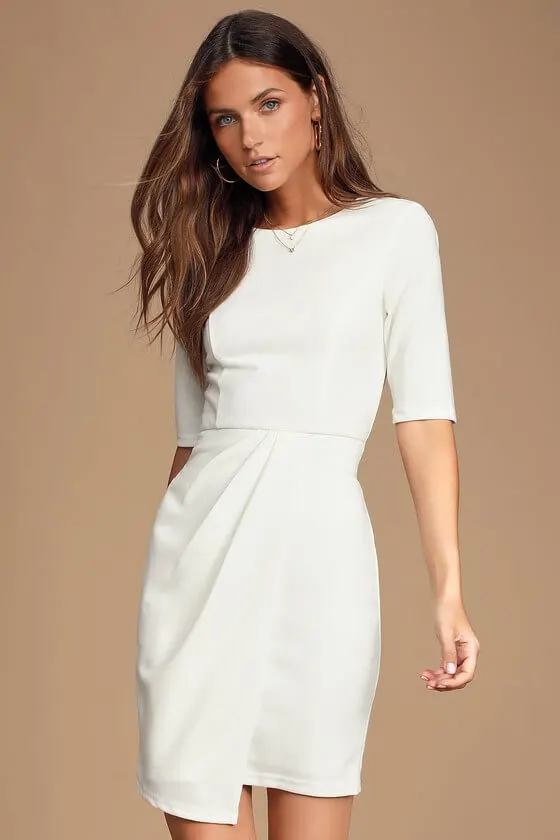 Stretch knit shapes this perfect semi-formal dress with half sleeves, crew neckline, and princess-seamed bodice. Fitted waist tops a flattering sheath skirt with front pleats and overlapping hem.
Dinah White One-Shoulder Dress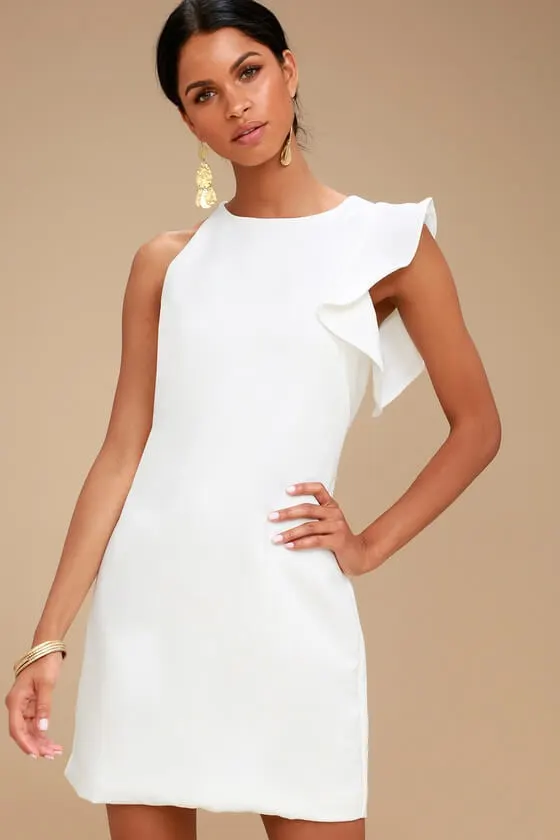 Medium-weight, woven fabric creates a one-shoulder, rounded neckline, and a chic, ruffled short sleeve. Darted bodice and mini sheath skirt.
So Flirty Burgundy One-Shoulder Cutout Asymmetrical Dress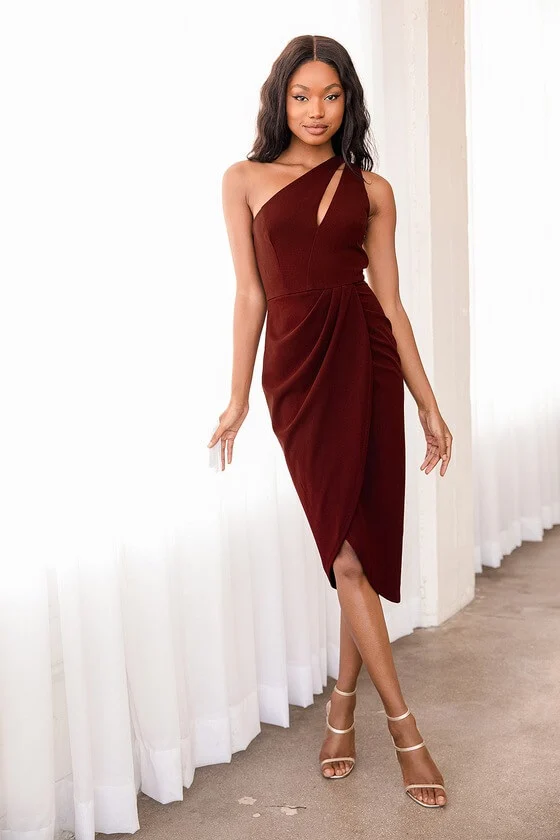 Burgundy is also a perfect dress color for college graduation.
Stretchy crepe knit shapes this dress that has a wide cutout strap, one-shoulder neckline, and a princess-seamed bodice. Light gathering accents the waist before flowing into an overlapping midi skirt with an asymmetrical hem.
Best Graduation Dresses For College
All of My Heart White Lace Skater Dress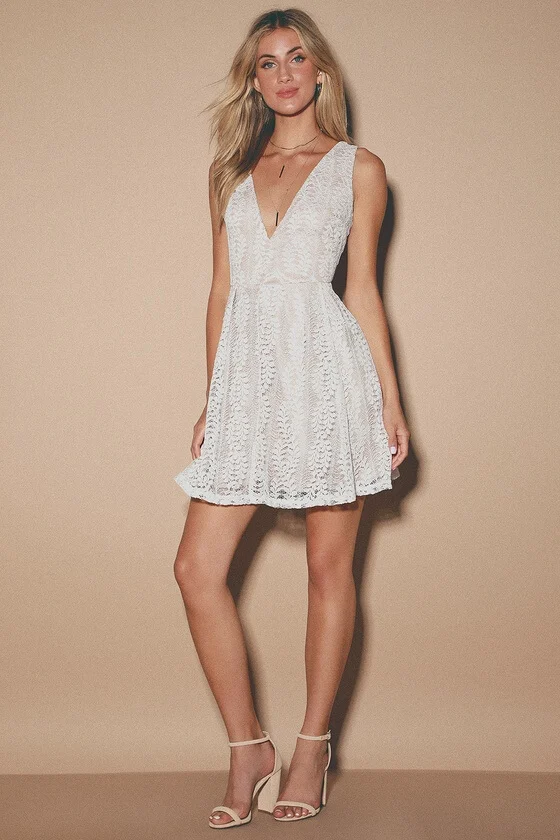 Lovely sheer lace, over nude knit lining, falls from tank straps, into a plunging V-neckline, with hidden V-bar, and darted bodice. The fitted waist sits above a flaring, full skater skirt.
Mock-Neck Embroidery Mesh Sleeveless Dress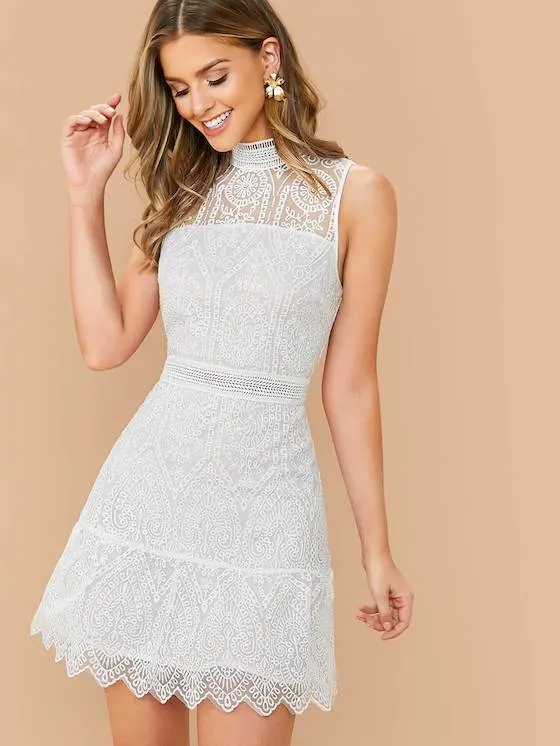 This dress has a gorgeous balance of cuteness and elegance. You will look stunning even with a pair of simple canvas shoes!
Asymmetrical Neck Backless Split Thigh Dress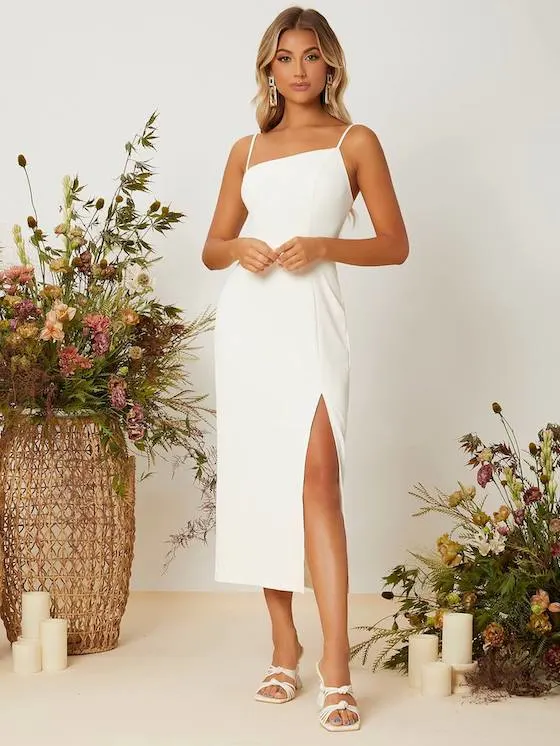 Asymmetrical Neck Puff Sleeves Dress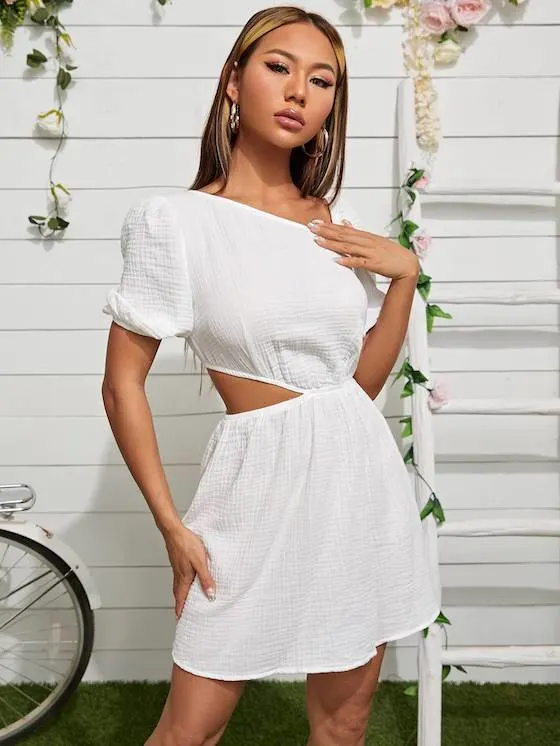 A stylish design with breathable fabric makes you comfortable all day in the hot weather!
Ruffle Hem Lace Cami Dress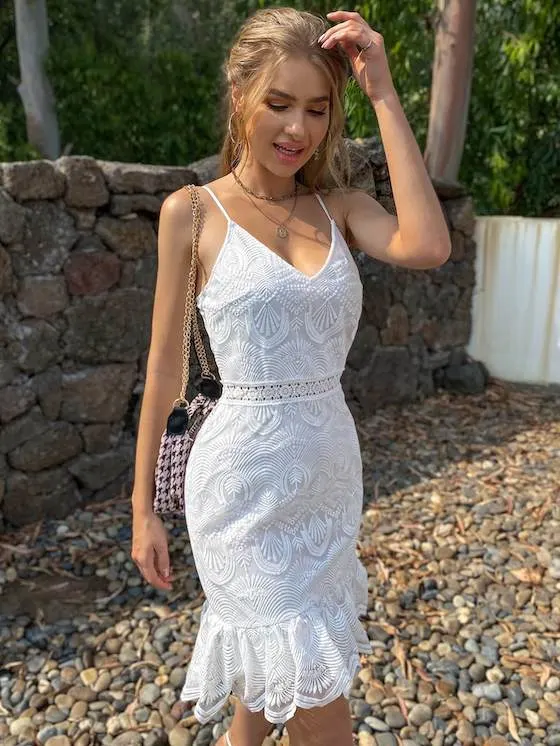 Get ready for compliments with all the worthy details on the dress! Show your beauty to celebrate your achievements through all your hard work!
Cute Graduation Outfit Ideas
Backless Guipure Lace Cami Dress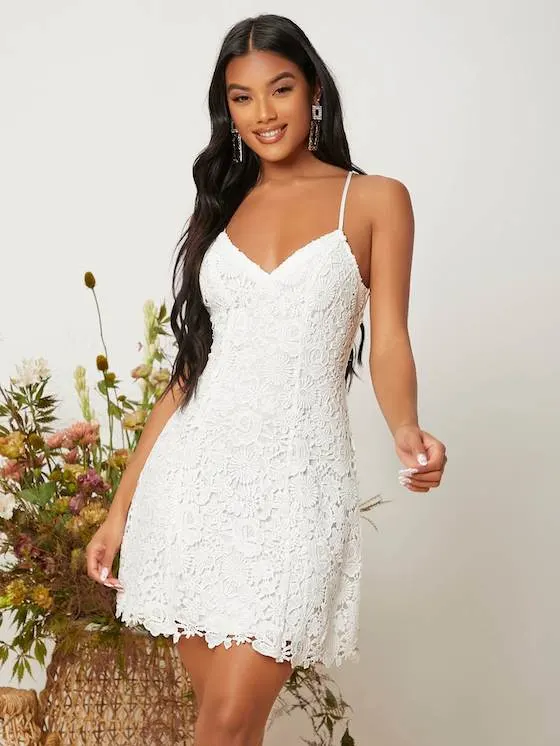 A cami dress fan, and have a hard time looking for the best cami dress? Why not have this cute white lace cami dress? It is simple enough to be dressed up or down easily, but still highly trendy and unique!
Off Shoulder Guipure Lace Knee-Length Dress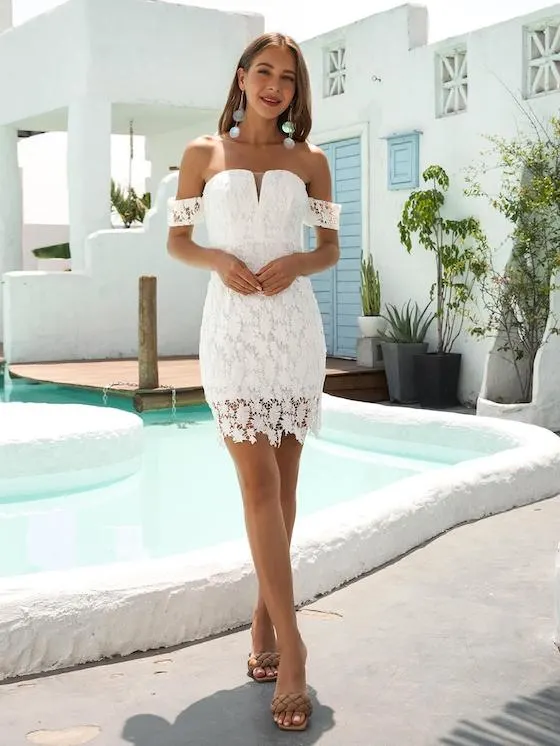 Want to have a kind of formal look but worried to be boring? Try this dress with a classic shape but expensive looking and trendy details!
Believe It or Knot Rose Pink Long Sleeve Tie-Front Skater Dress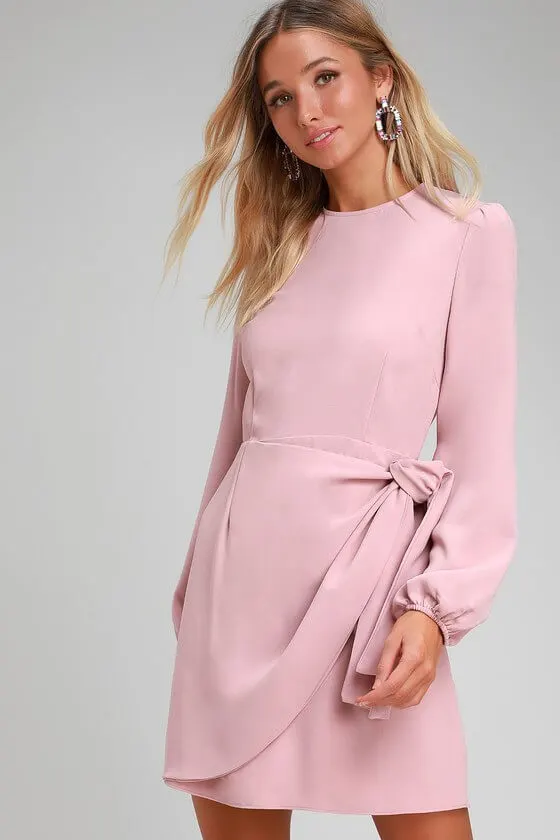 This is a stylish graduation dress for a young woman!
Lightweight, woven fabric shapes a high rounded neckline, a darted bodice, and long sleeves with elastic cuffs and shoulder ruching. A cute tying detail at the mini skirt lends a wrap look.
Rise to the Occasion White Midi Wrap Dress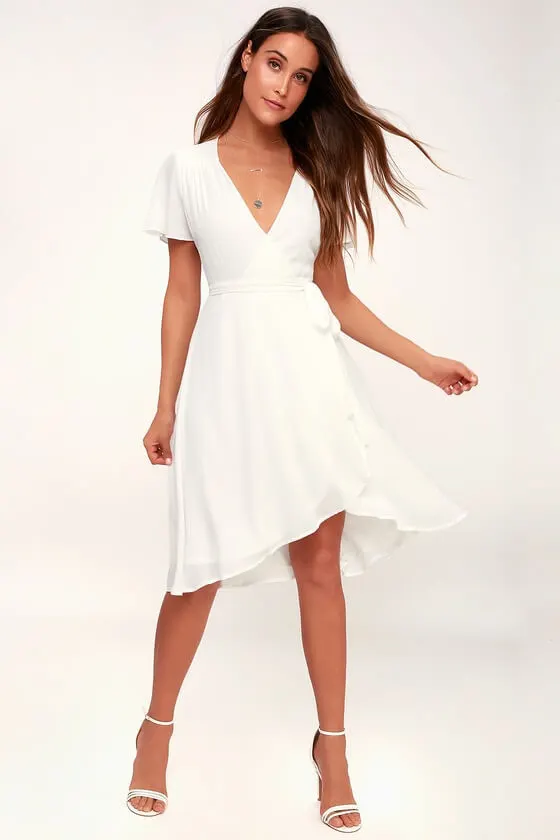 A flattering wrap silhouette starts at a surplice bodice, framed by fluttering short sleeves, then carries into a sweeping midi skirt, composed of sleek woven fabric. Adjustable waist sash creates a perfect fit.
Catch Me There Black Sequin Halter Bodycon Mini Dress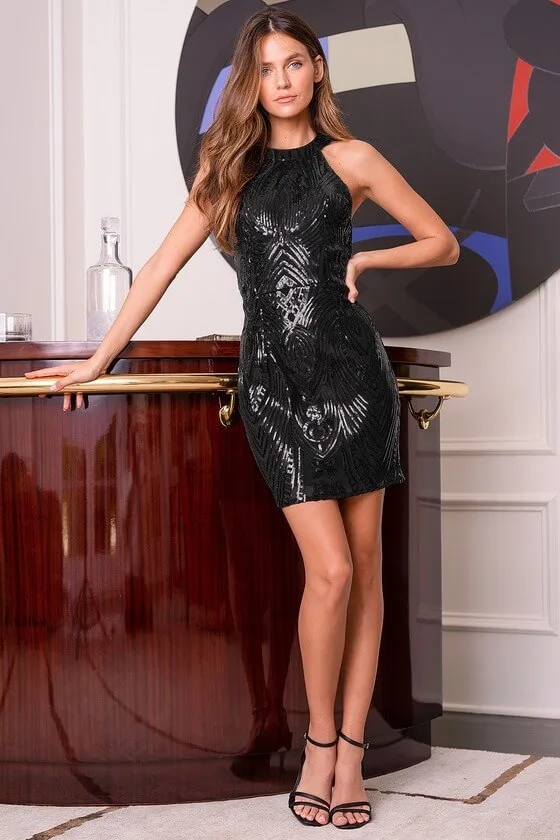 A sheer mesh overlay, embellished with shiny sequins throughout, atop a knit lining forms a halter neckline and a sleeveless darted bodice. A high, fitted waist continues to a figure-hugging silhouette before ending at a mini hem.
Best Graduation Dress Ideas
Frilled To Be Here White Lace Ruched Mini Dress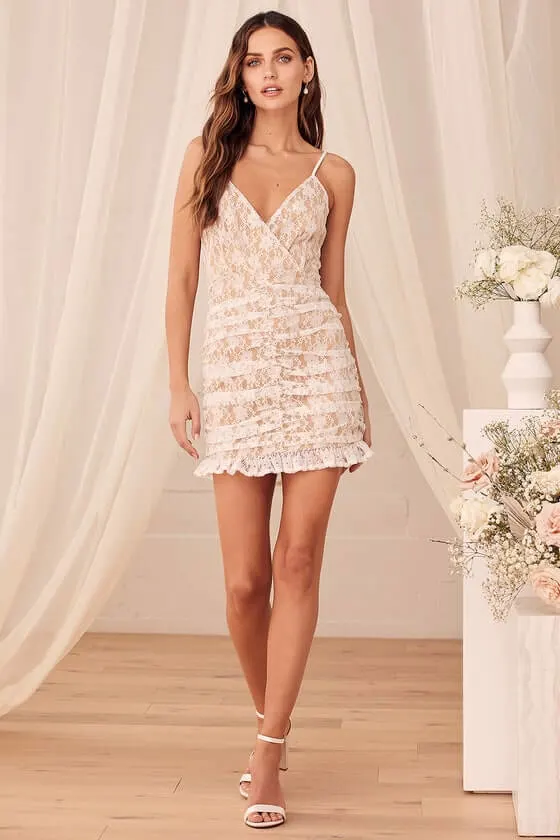 Gorgeous floral lace, atop a medium nude liner, shapes this dress that has adjustable spaghetti straps, a surplice neckline, and a fitted bodice. A high waist tops a ruched skirt with a ruffled mini hem.
Reason to Celebrate Ivory Bodycon Mini Off-the-Shoulder Dress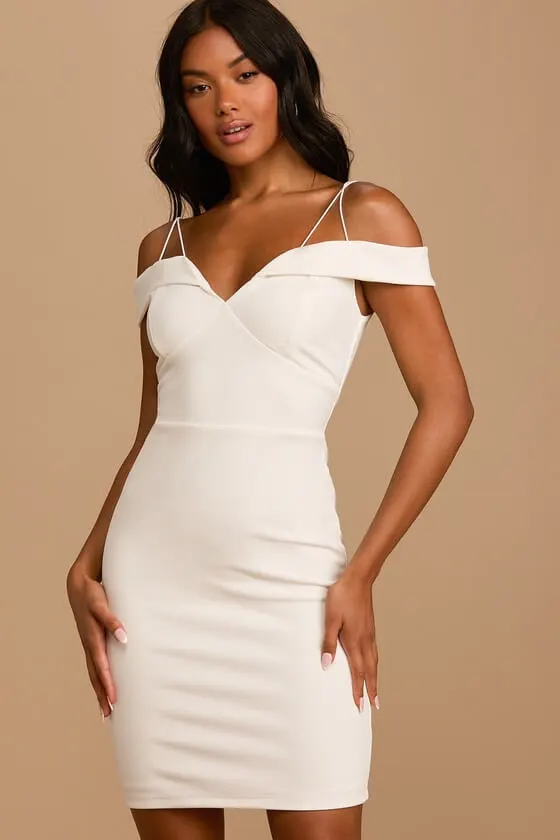 Stretchy crepe knit fabric shapes this perfect choice that has a pair of dual elastic straps that supports a sweetheart neckline and off-the-shoulder straps. A seamed bodice tops a set-in waist and a figure-hugging bodycon mini skirt.
Total Appeal Black Ruched One-Shoulder Bodycon Midi Dress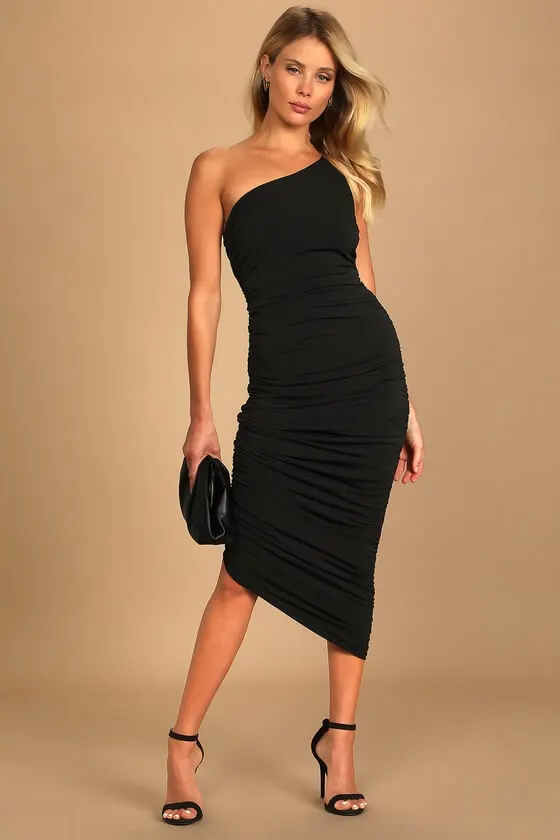 Slinky jersey knit sweeps across a one-shoulder neckline and a single tank strap, and into a figure-skimming bodice. The curve-hugging fit continues down to the asymmetrical hem, while ultra-sexy ruching adds a little something extra to the sides.
Meant to Be Together Baby Blue Satin One-Shoulder Mini Dress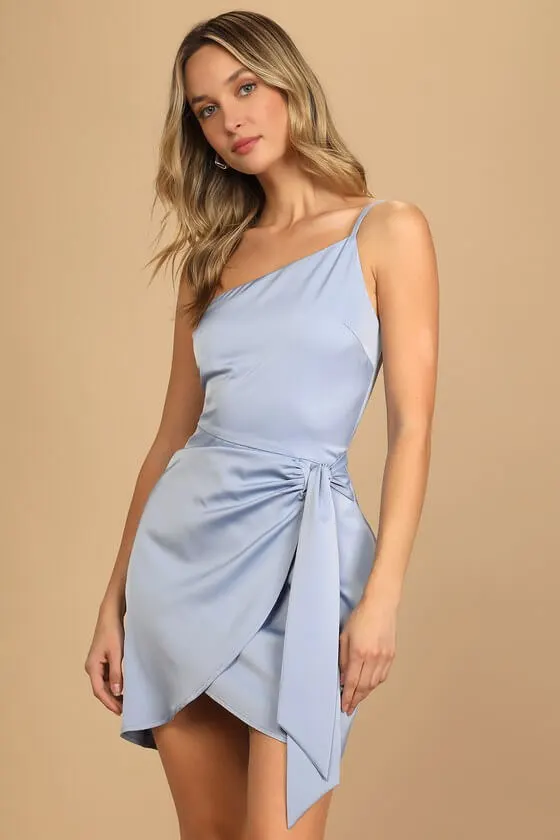 A baby blue dress has become one of the best options for college graduation outfits.
This sleek woven satin dress has a one-shoulder neckline, a single adjustable spaghetti strap, and a darted bodice. Overlapping tulip skirt ties at the waist to create a faux wrap look.
Love is Life Navy Blue Satin Wrap Floral Dress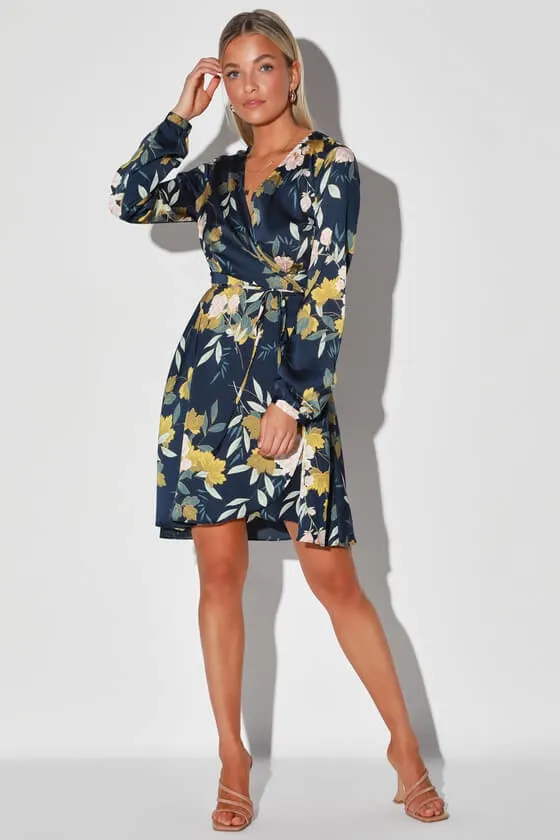 Woven satiny fabric, in a vibrant green, white, and blush pink floral print, shapes an event-ready wrap dress with long sleeves (plus buttoning cuffs), a surplice neckline, and a fitted waist atop a self-tying wrap skirt.
Perfect Graduation Dress Ideas
Rooftop Party Purple Satin Halter Mini A-line Dress
Sleek woven satin shapes this dress with adjustable spaghetti straps that form a modified halter neckline and crisscross in the back. The darted bodice tops an A-line silhouette with a mini hem that's giving us some major '90s vibes! It looks cute for the graduation party, too!
Love Poem Yellow Lace Short Dress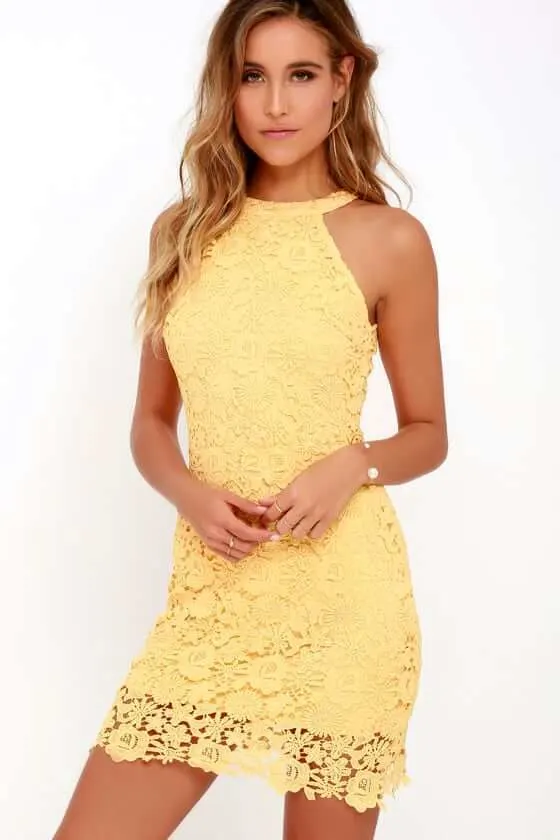 A lively pattern of non-stretch crochet floral lace creates an eye-catching overlay atop knit fabric lining. Halter neckline and darted sleeveless bodice transition into a chic, sheath skirt with a mini.
Drinks On Me White Sleeveless Pleated Bodycon Dress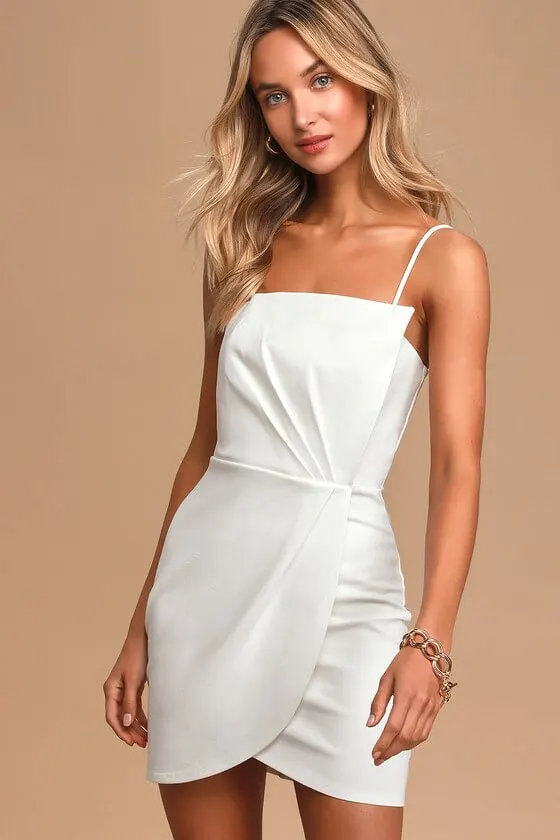 Medium-weight stretch knit forms this sexy little dress that features a square neckline and adjustable spaghetti straps. The fitted silhouette boasts pleating from the waist and an asymmetrical fabric overlay that creates a faux-wrap look. Bodycon mini skirt ends in an overlapping tulip hem.
Sultry Moments Blush Pink Sleeveless Mini Dress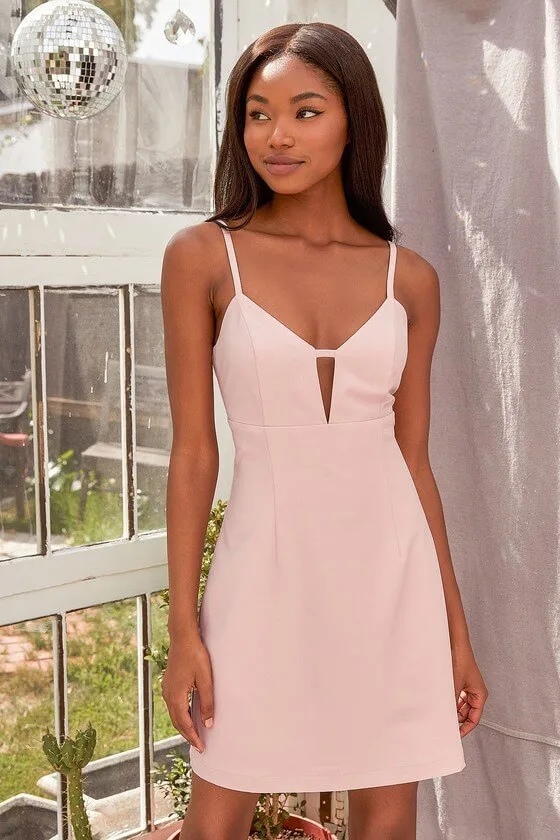 This blush dress is such a great choice!
Lightweight flat woven fabric creates a princess-seamed bodice and a plunging V-neckline with a strappy, cutout accent. The sheath silhouette has tailored seaming along the high waist and ends with a mini hem. Adjustable spaghetti straps.
Only the Good Times White Sleeveless Cutout Midi Dress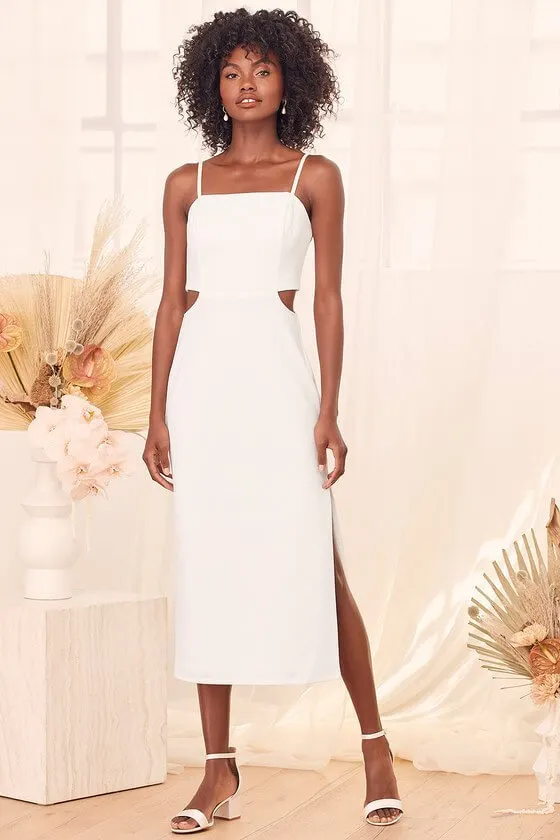 Love long or maxi grad dresses? How about this dress?
It features a straight neckline (with hidden no-slip strips) and a princess-seamed bodice (with hidden side and back boning), supported by adjustable spaghetti straps. Two side cutouts at the waist top an A-line silhouette before ending at a skirt with a sexy thigh-high side slit.
Pretty Dress Ideas For College Graduation
Love Poem Light Blue Lace Mini Dress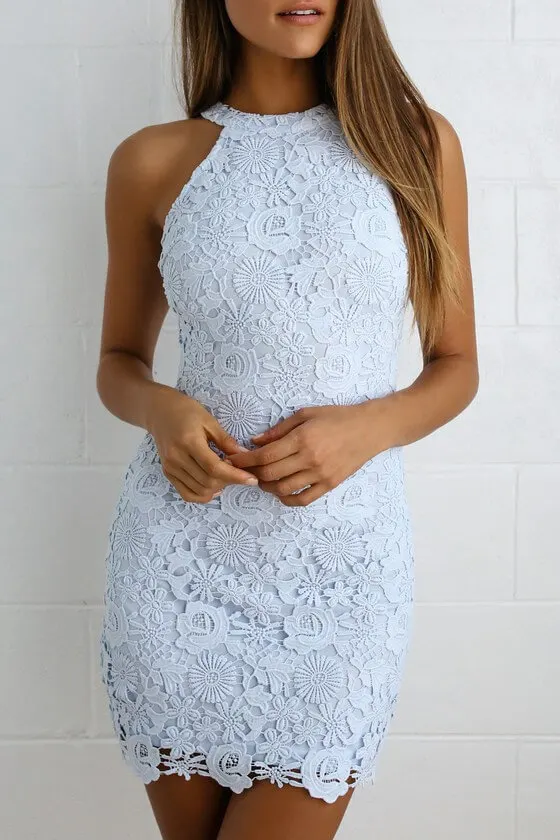 Wear this delicate and unbelievable stunning white graduation dress for this big event.
How to Stun Lavender Floral Jacquard Strapless Mini Dress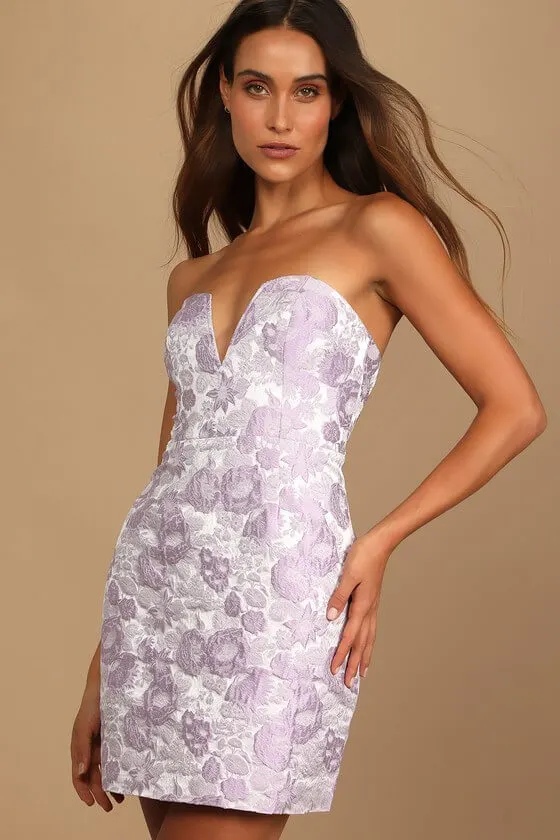 Lightweight woven fabric boasts a purple floral jacquard pattern throughout this perfect outfit that shapes a plunging V-neckline with hidden no-slip strips and a hidden V-bar and a princess-seamed bodice with hidden front boning. Darted, high waist continues to a figure-hugging silhouette before ending at a flirty mini hem.
Seeing Chic Blue and Ivory Print Skater Dress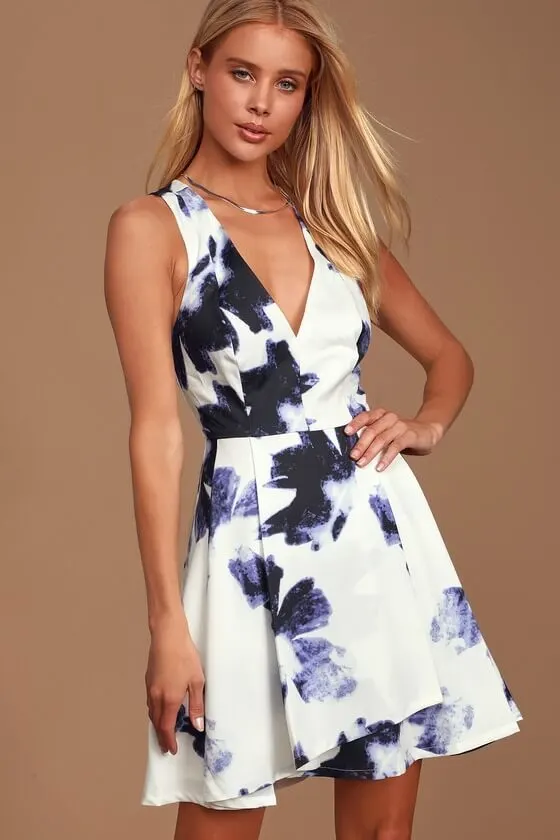 Ivory woven fabric (with a blue abstract print) forms a sleeveless bodice with princess seams and a V-neckline. The tulip skirt is finished with lovely pleats. Modified racerback.
Days of Beauty Mustard Yellow Burnout Floral Skater Dress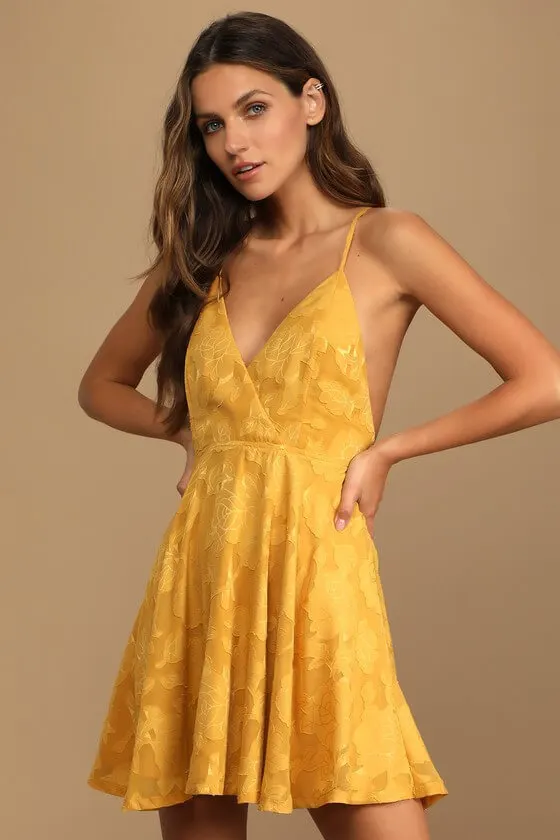 Lightweight woven chiffon features a burnout floral design throughout as it shapes a surplice neckline, a seamed bodice, and adjustable spaghetti straps that crisscross at the open back. The high waist sits above a lightly flared mini skirt.
Wheel Of Fortune Dress Forest Green Flare Dress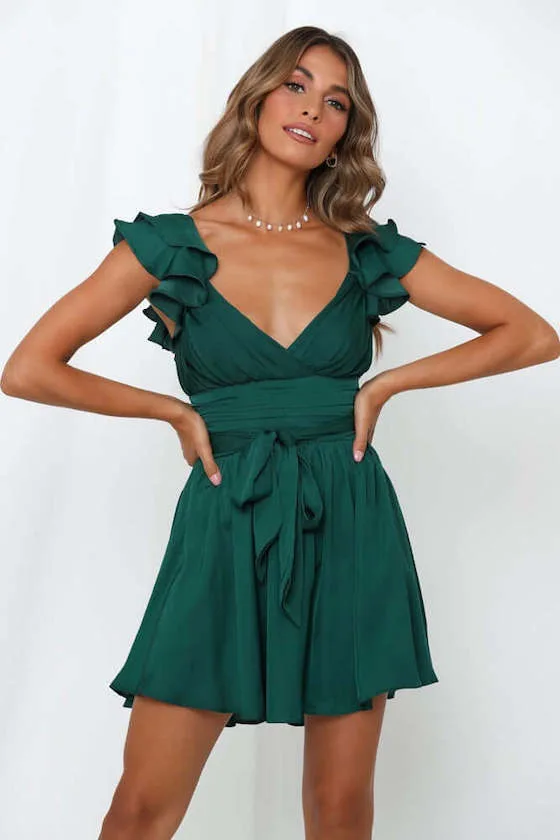 If you want a dark color dress for your upcoming graduation, this dark green fuss-free dress features all your femme and fierce fashion trends.
Supported on ruffled shoulder straps, this backless style offers a vintage ruched wrap neckline, a cinch pleat waist, and a complementing flare skirt.
Best Graduation Outfits For College: Dresses
Cream Satin Drape Asymmetric Strap Midi Dress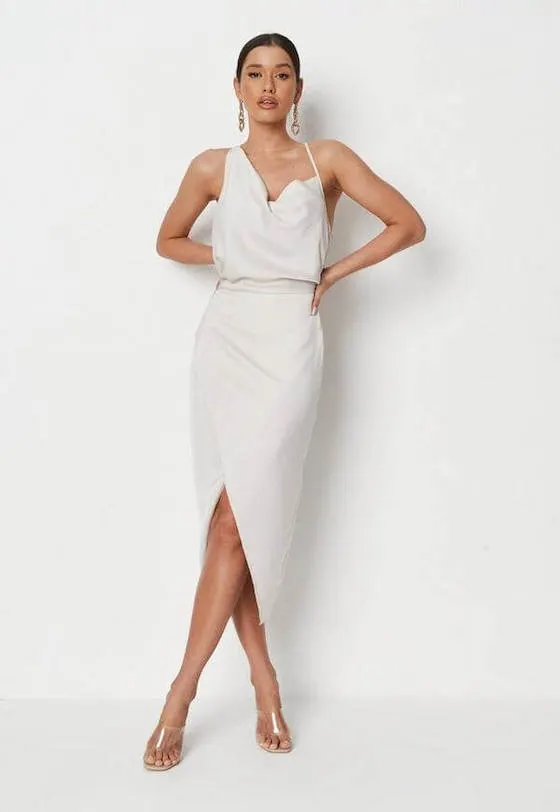 Enjoy all the fond memories with this satin asymmetric drape midi dress featuring a cowl neckline and a side zip fastening.
Taupe Mesh Ruched Puffy Sleeves Mini Dress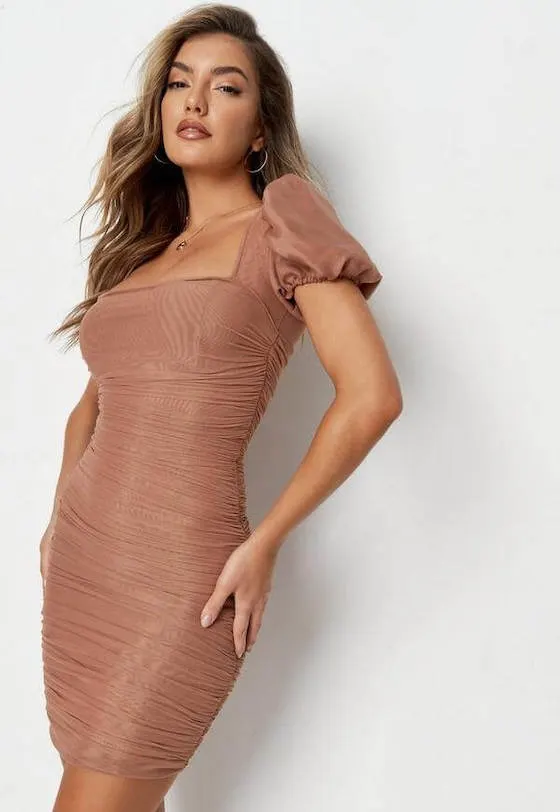 Looking for the most stylish designs for formal occasions? Check this out! This is a mesh fully lined mini dress with all over ruched detail, featuring organza puff sleeves and built in underwired lining at the bust.
Solid Layered Ruffle Hem Schiffy Cami Dress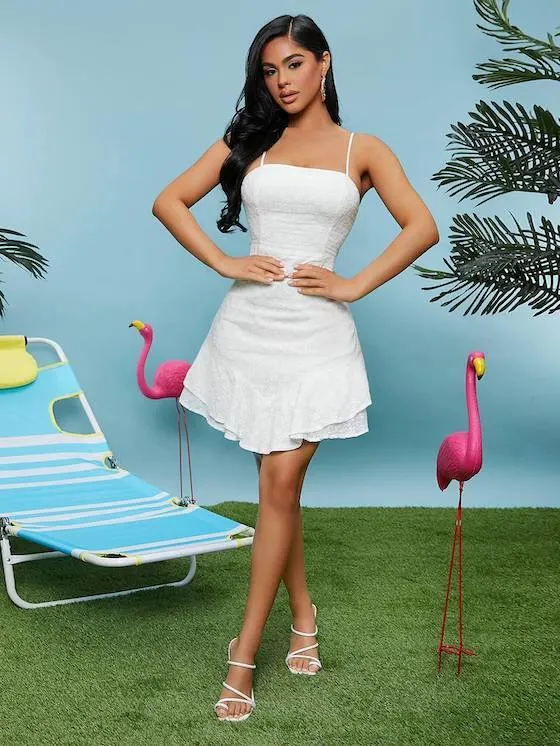 Ruffle Hem Wrap Belted Slip Dress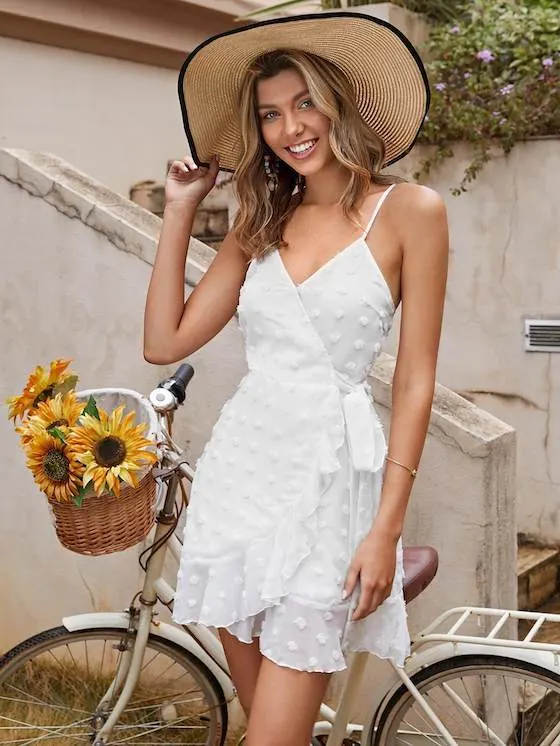 Embrace the fancy details on cute little white dress and be the cutest girl on the graduation day!
Wrap Belted Swiss Dot Dress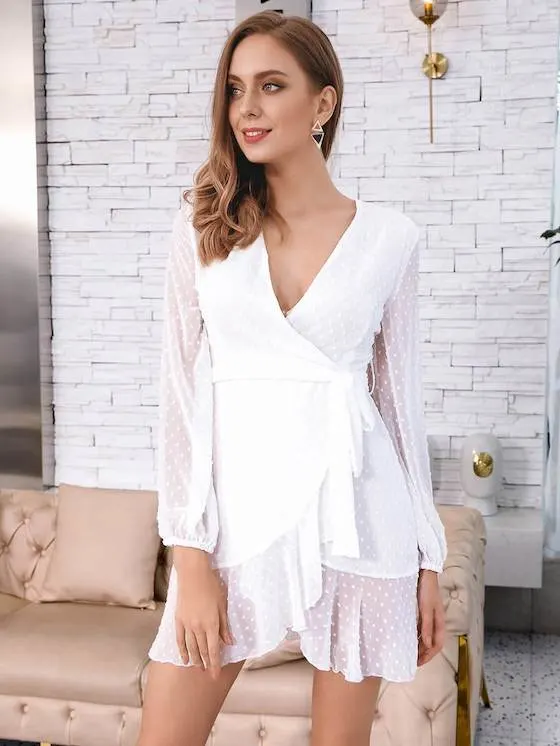 Want a long sleeve but breathable dress? You need to check this one!
Cute College Graduation Dresses
Floral Print Square Neck Fitted Dress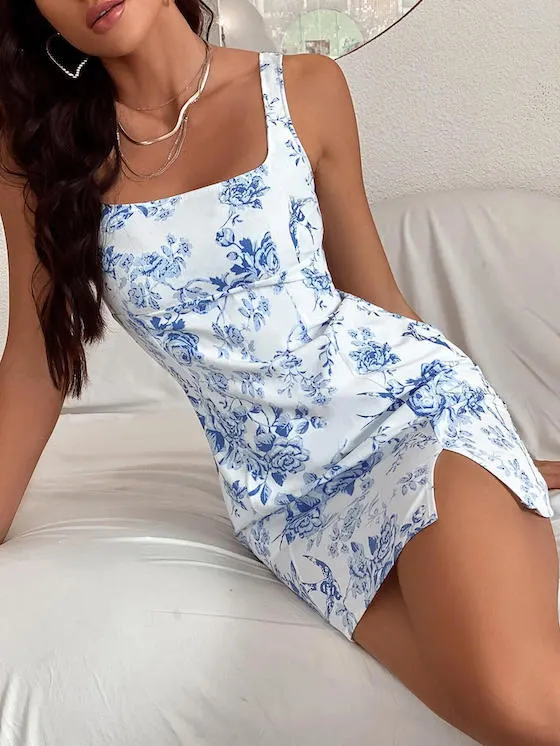 Floral Print Surplice Front Belted Cami Dress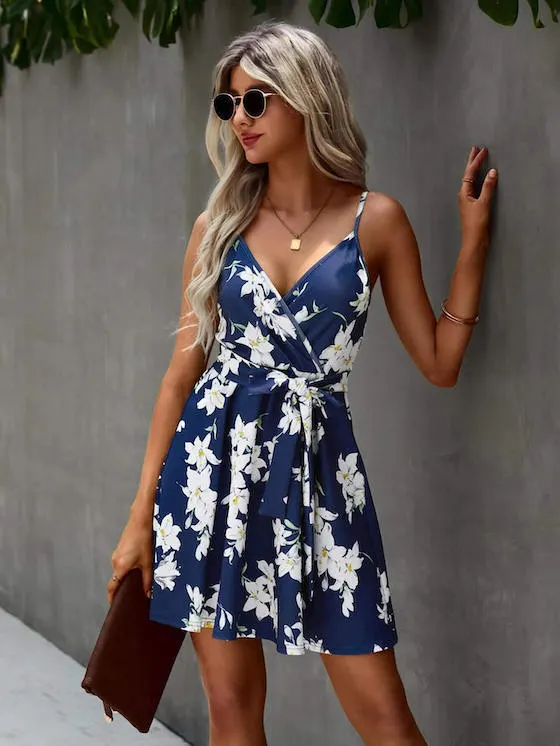 Make your statement through the two beautifully print floral dresses above.
Match Me Dress Champagne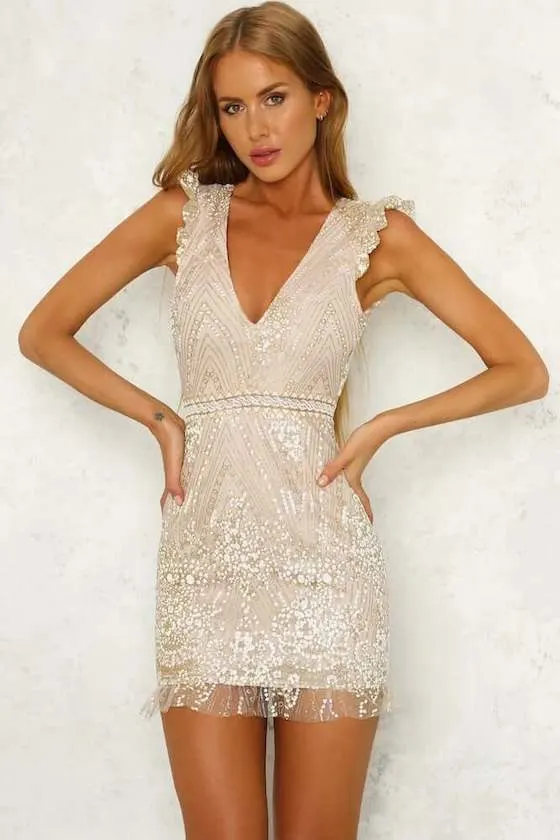 This style has a V neckline, frill detail on the shoulders and it has a cut out back that's secured by a button closure. It also has an invisible back zip and a cute frill hem.
Scorpio Season Dress Blush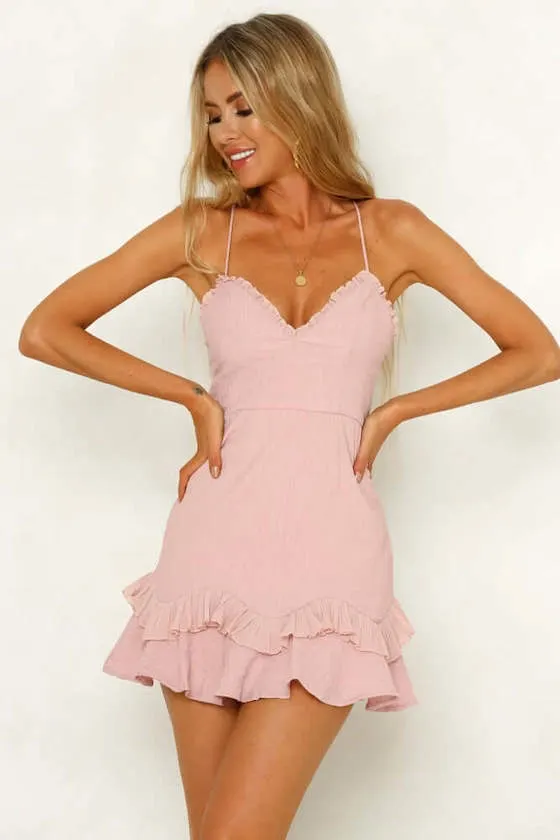 It has non-adjustable spaghetti straps, an invisible side zip with a metal clasp and it has gorgeous frill detailing.
Glitzy And Gorgeous Glitter Knit Skater Dress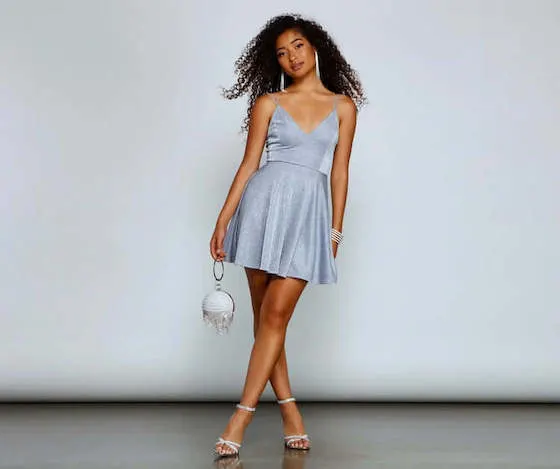 You'll look oh-so-glitzy and gorgeous in this flirty glitter knit skater dress! It features a sleeveless V-neckline, dual spaghetti straps that lead to a cross-back strap design, and a short skater skirt with a fit and flare silhouette.
Wrapped In Stylish Crepe Mini Dress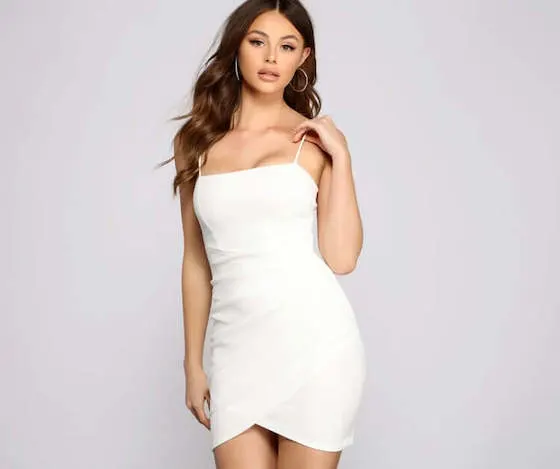 The dress features a sleeveless square neckline, spaghetti straps, and a ruched wrap silhouette that hugs curves in all the right places.
This post was all about the best graduation dresses for college.
About The Author
Tracy is an experienced personal stylist, shopping expert, and fashion & lifestyle blogger. She has been featured on Time Magazine, Bustle, Best Life, Glam, The Zoe Report, Mic, and GOBankingRates, for her insights on fashion, beauty, home decor, and lifestyle. Read More
Related Posts: