Looking for graduation party ideas? Congratulations that you found us! Below we listed the 75+ best cute graduation party ideas that you can copy on a budget!
Holding a graduation party is not as hard as you think.
We prepare the best list you can find below, where you will find graduation party decoration ideas, graduation party supplies, graduation party food ideas, graduation party ideas for high school, graduation party ideas for college, and even outdoor graduation party ideas!
And we also list easy DIY graduation party ideas, and affordable cute graduation party items to make your party unforgettable.
So check them out today and start planning your dream party! And don't hesitate to pin the ideas you like!
This post may contain affiliate links, which means I'll receive a commission if you purchase through my link, at no extra cost to you. Please read the full disclosure here.
This post is all about graduation party ideas.
Best Graduation Party Decoration Ideas You Can Copy On A Budget
1. Use Candy Bar Labels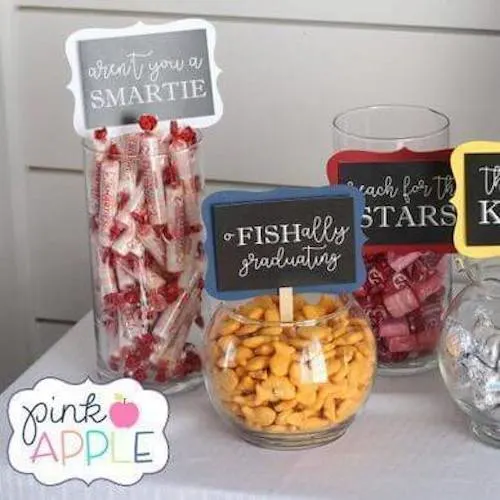 Candy bar labels can add a fun and personalized touch to any graduation party.
Consider creating custom labels with the graduate's name or school colors to display on candy jars or favor bags.
You can also use candy bars as table centerpieces by wrapping them in matching paper and adding a label with the graduate's name and graduation year.
Another idea is to create a candy bar buffet with different types of candies labeled with fun names that relate to graduation, such as "Smarties" for academic excellence or "Diploma Drops" for celebrating the end of school.
Copy This Idea: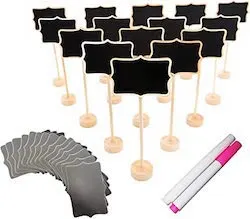 2. Get A Themed Table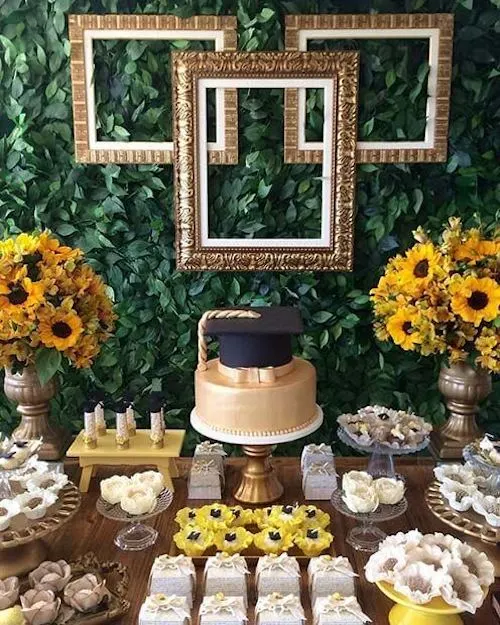 One of the best ways to set the tone for your graduation party is by creating a themed table.
This could be a dessert table, a snack table, or even a beverage station, all decorated with items that tie into your chosen theme.
For example, if you're going for a beachy vibe, consider using seashells, sand dollars and starfish as decorations alongside blue and white accents.
Another great idea is to use customized decorations that showcase the graduate's achievements and personality.
You could have posters or photo collages featuring pictures from throughout their school career alongside mementos from sports teams they were on or clubs they participated in.
Adding personal touches like these can really make your graduation party stand out and show off just how special this milestone event truly is.
And don't forget about the snacks! A themed table should also include plenty of delicious treats that match the overall aesthetic of your party.
From cupcakes topped with graduation caps to cookies decorated with school colors or mascots, there are endless options when it comes to incorporating food into your theme.
Copy This Idea: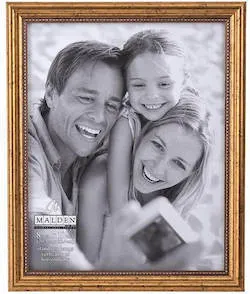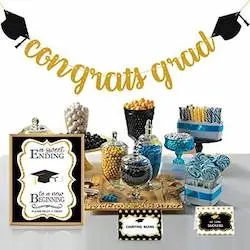 3. Themed Centerpieces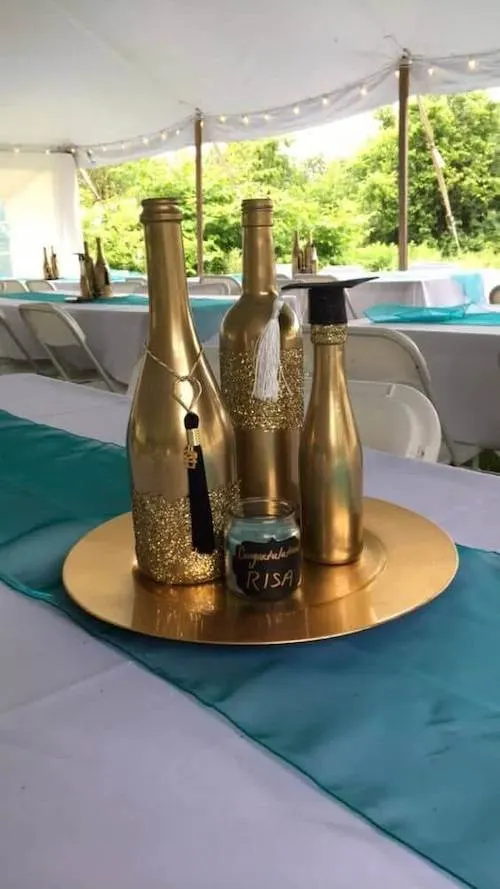 Graduation parties are a great way to celebrate the hard work of graduates and decorate drink bottles with personalized messages can add a special touch to the event.
One idea is to use chalkboard paint on the bottles and write inspiring graduation quotes or encouraging words for the future.
This will not only make for great decor, but also doubles as a keepsake for guests.
Another fun way to decorate drink bottles at a graduation party is by using custom labels.
You can design labels that match the theme of the party or incorporate school colors, mascot or logo.
Personalized labels with each graduate's name and major can also be used, adding an extra sense of pride and accomplishment.
In addition, you could try incorporating confetti or glitter into your bottle designs.
Take some clear glue and mix it with glitter before painting it onto your bottle.
Alternatively, you could simply fill empty glass bottles with different colored confetti before placing them around your venue which creates visual interest even when guests aren't drinking from them!
Copy This Idea: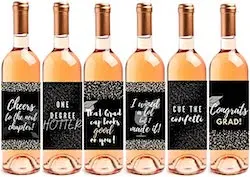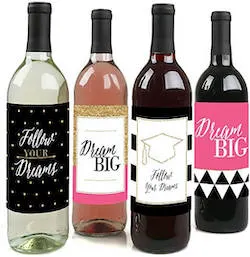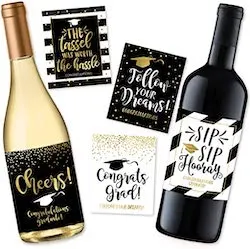 4. Have A Photo Booth And Decorate It With Letter Balloons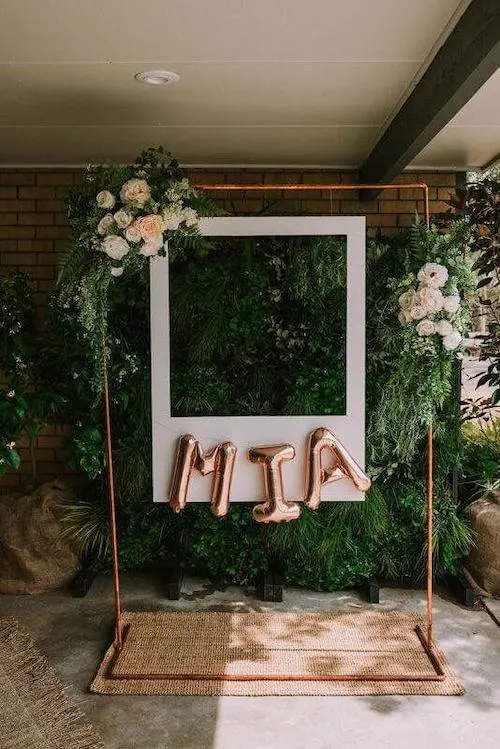 A photo booth is a must-have for any party, including graduation celebrations.
It gives guests the opportunity to create memories and have fun taking pictures with their friends and family.
To make your photo booth stand out, consider decorating it with letter balloons that spell out a message related to graduation or the graduate's name.
You can also incorporate props that are relevant to the theme of your party, such as graduation caps, diplomas or banners.
Provide a sign with instructions on how to use the photo booth and encourage guests to take as many pictures as they want.
You can even set up a hashtag specific to your event so that everyone can share their photos on social media.
Copy This Idea: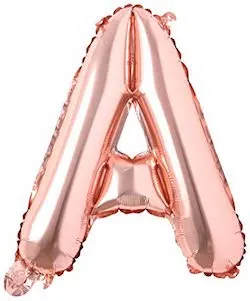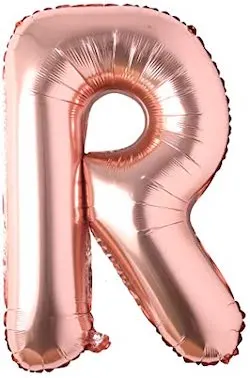 5. Display Memories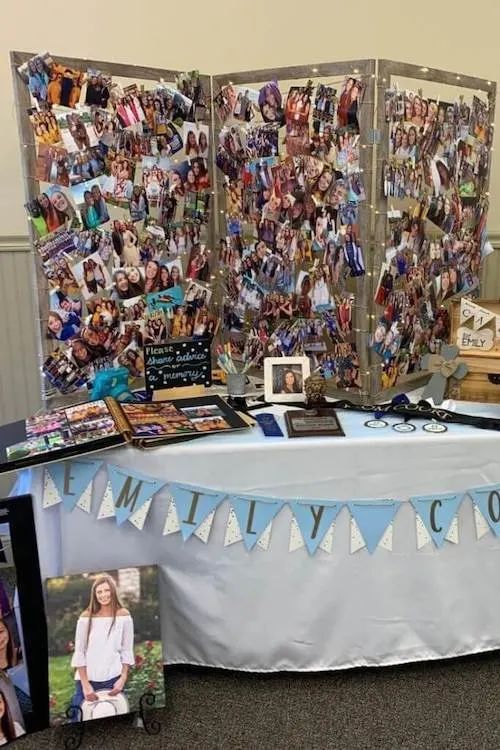 Displaying memories is a great way to add a personal touch to any graduation party.
One fun idea is to create a memory board with pictures of the graduate throughout their school years.
This can be done by printing out photos and attaching them to a large poster board, or by using a digital frame that rotates through different pictures.
Alternatively, consider using personalized items such as custom photo books or photo albums as centerpieces for tables.
These items not only add decoration but also provide the opportunity for guests to flip through and reminisce about past memories with the graduate.
Copy This Idea: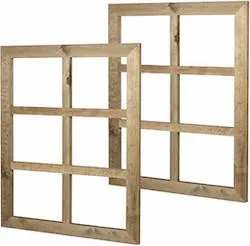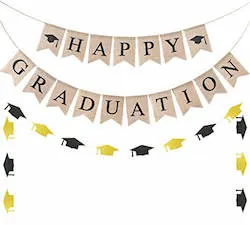 6. Let's Take The Photos Outside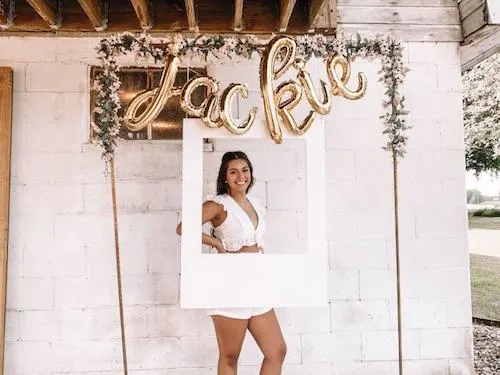 Taking graduation party photos outside is a great idea to capture the essence of the moment.
Natural lighting adds a special touch to the pictures and makes them look more vibrant and lively.
You can choose any location that matches your theme, such as a park, beach, or even your backyard.
Additionally, outdoor photoshoots provide plenty of space for group shots and candid moments.
To make your outdoor photo session more interesting, you can add props that complement your theme.
For instance, if you have a nautical-themed party, adding some boats or anchors in the background will enhance the overall look of the photo.
The best part about taking photos outside is that it allows you to experiment with different angles and poses that are not possible indoors.
Lastly, taking pictures outside provides an opportunity to create lasting memories with loved ones.
You can take advantage of this moment by snapping shots with family, friends and classmates in attendance at your graduation party.
These photographs will serve as cherished mementos for years to come and remind everyone how much fun they had during this special occasion!
7. Show Your Old Photos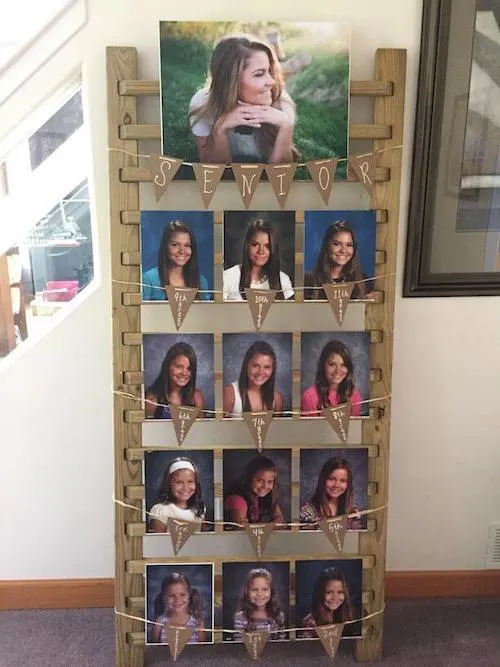 One of the best ways to take a trip down memory lane and celebrate your journey so far is by displaying old photos at your graduation party.
You can put up pictures from your childhood, elementary school years, middle school days, and even high school memories.
This not only adds a personal touch to your party but also invites guests to reminisce with you.
To make the display more interesting, you could create a photo collage or use string lights and clips to hang up photos in a creative way.
Copy This Idea: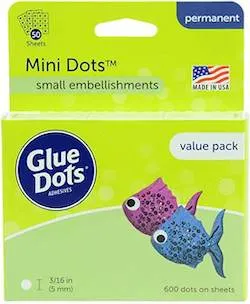 8. Invite The Guests To Share Words Of Wisdom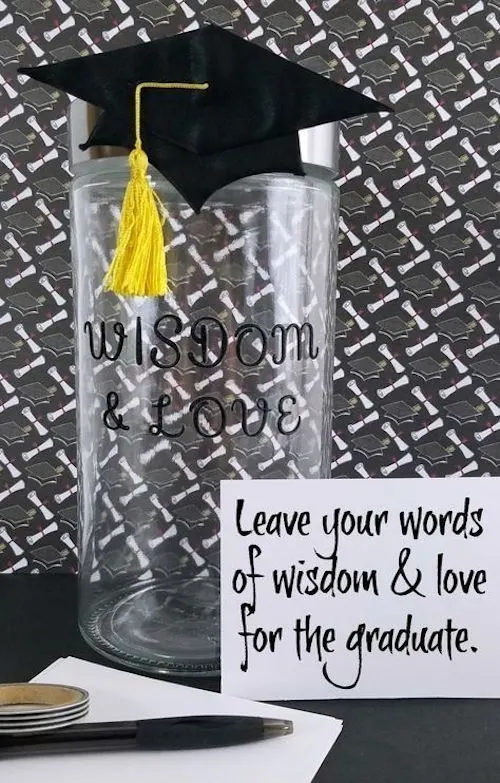 You can create a special moment by inviting guests to share words of wisdom with the graduates.
This is a great opportunity for family members or close friends to offer some final advice before the graduate embarks on their next chapter in life.
You can set up a designated area where guests can record their messages or have someone take turns speaking in front of everyone.
Another option is to have guests write down their words of wisdom on cards that will be compiled into a scrapbook or memory book for the graduate to look back on in years to come.
Copy This Idea: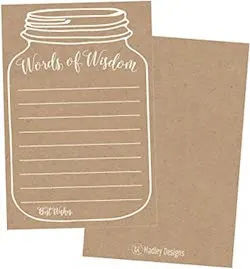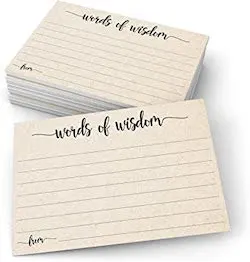 9. Have A TV Friends-Themed Photo Booth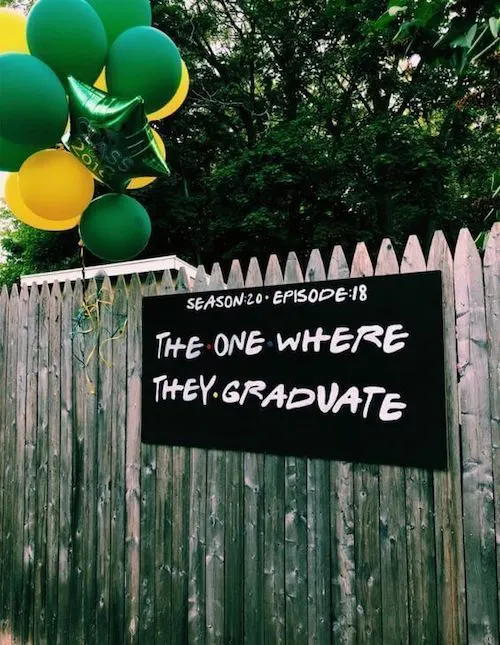 via Pinterest
A TV Friends-themed photo booth is a great way to add some fun and excitement to your graduation party.
This theme is perfect for those who love the classic sitcom Friends.
To create this photo booth, you can use a backdrop that resembles Central Perk or Monica's apartment.
You can also add props such as coffee mugs, umbrellas, the famous orange couch, and even a picture frame just like in the show's opening credits.
Incorporating this kind of photo booth will definitely bring out laughter and smiles among your guests while celebrating your graduation day together with close friends and family.
Copy This Idea: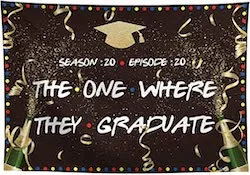 10. Have A Sofa Outside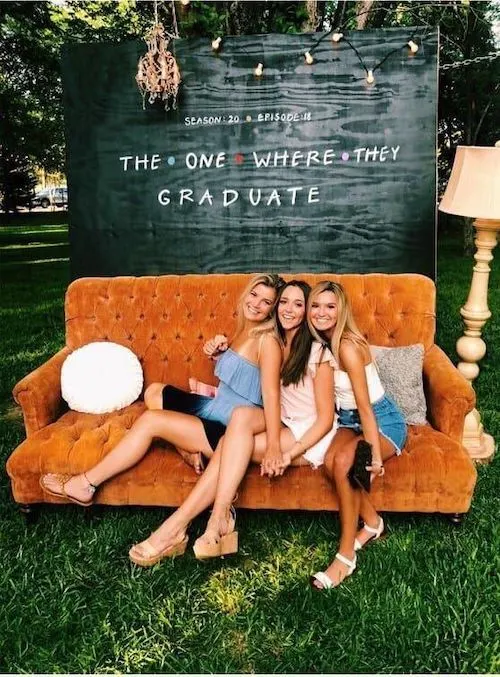 Copy This Idea: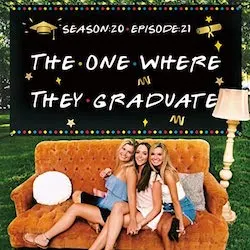 11. Have A Donut Board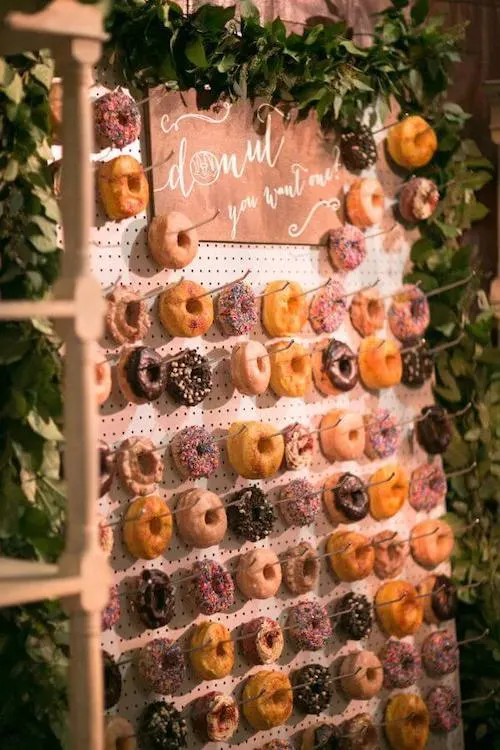 A donut board is a creative and delicious addition to any graduation party.
This unique display allows guests to choose their favorite flavors and toppings while also serving as a fun decoration piece.
To create a donut board, start by selecting your favorite donuts from a local bakery or grocery store.
Next, arrange them on a large wooden board or platter.
Consider adding different types of glazes, sprinkles, and other toppings for guests to customize their treats.
You can even label each type of donut with quirky names such as "Straight A's" or "Future CEO."
A donut board is not only easy to set up but also affordable and enjoyable for all ages.
To take your donut board to the next level, consider pairing it with other dessert options such as a milkshake bar or candy buffet.
Don't forget the coffee! Having hot brewed coffee on hand will complement the sweet flavors of the donuts perfectly.
Your guests will love this fun and interactive way to enjoy dessert at your graduation party!
Copy This Idea:
12. Use trees to display the photos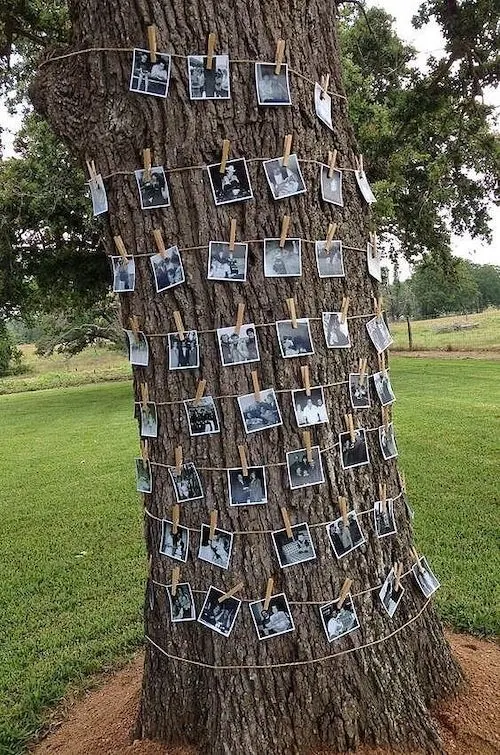 If you're looking for a unique way to display photos at your graduation party, why not use trees?
Trees can serve as a natural and beautiful backdrop for your pictures.
You could hang photos from tree branches using twine or string.
Alternatively, you could attach photos directly to the trunks of trees using clips or adhesive tape.
To make the most of this idea, choose trees that are already in your party area or add some potted plants and small trees around the space.
Use different sizes and types of frames to create visual interest and variety.
You could also incorporate other natural elements like flowers or leaves into the display.
Copy This Idea: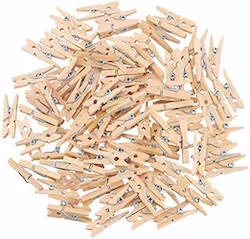 13. Graduation Cap Water Bottles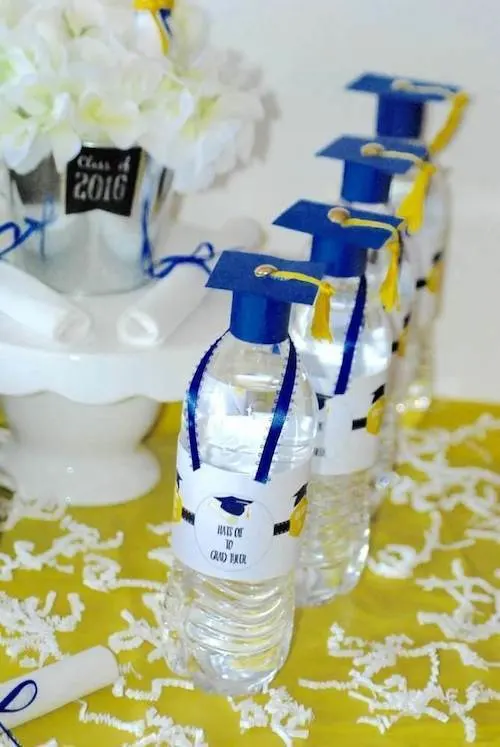 These unique water bottles come in the shape of graduation caps, complete with tassels hanging from the top.
They can be filled with cold water or any other beverage of your choice, making them perfect for outdoor parties or events.
You can personalize them by adding names, graduation dates, or even school logos to make them more special.
They can also be used as centerpieces or decorations on party tables, adding a touch of whimsy to your celebration.
Copy This Idea: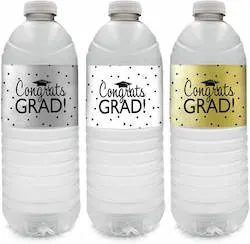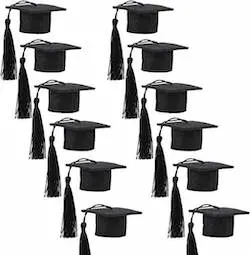 14. Have a Polaroid by your guest book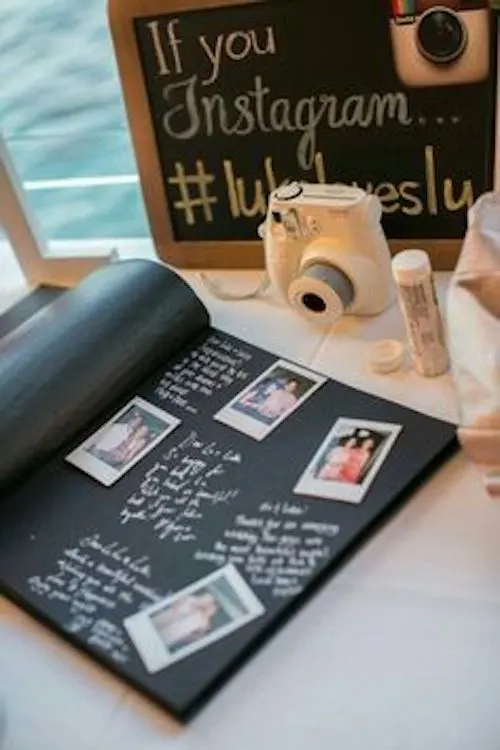 Having a Polaroid by your guest book is a great way to capture memories that will last beyond the graduation party.
Guests can take selfies or group photos and stick them on the guestbook pages along with their messages.
Not only does this make for a fun activity at the party, but it also creates a personalized keepsake for the graduate to cherish.
To make it even more special, consider setting up a photo booth area with props and accessories like hats, glasses, and signs with funny phrases.
This will encourage guests to take creative photos that will add some personality to the guestbook pages.
If you don't have access to a Polaroid camera, you can always provide disposable cameras or ask guests to use their own phones and print out the photos later.
Copy This Idea: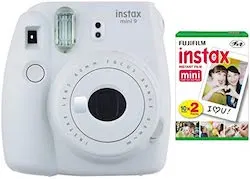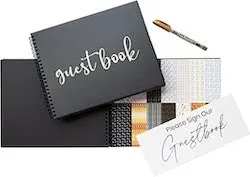 15. Graduation Cap Candy Boxes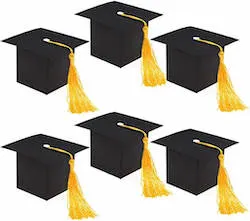 Graduation Cap Candy Boxes are an adorable way to thank your guests for attending your graduation party.
These cute little boxes can be filled with any kind of candy or treats that you like and make a perfect parting gift.
You can even personalize them by adding the graduate's name, graduation date, or school colors on the cap.
These candy boxes are not only a great party favor but also serve as table decorations.
They can add a pop of color to your dessert table or be placed on each guest's plate as a place card holder.
If you're feeling crafty, you can easily make these boxes yourself using cardstock paper and some glue.
There are also many online stores where you can purchase pre-made boxes in various designs and colors.
16. Invite The Guests To Share Their Keys To Success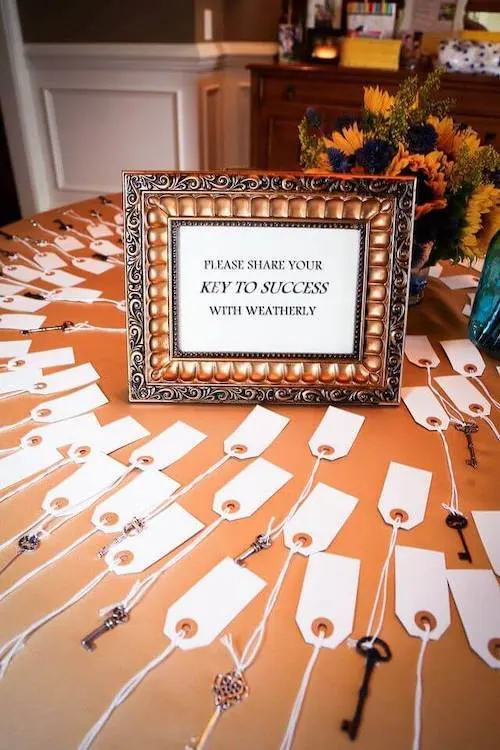 One great way to make a graduation party memorable is by inviting guests to share their keys to success.
This can be done in a number of ways, such as having a designated area where guests can write down their tips on cards or paper and hang them up for others to read.
Another option could be setting up a video booth or recording station where guests can share their words of wisdom on camera.
Not only will this activity provide inspiration and motivation for the graduates, but it also allows guests to feel more involved and valued at the party.
Family members, friends, teachers, and mentors all have unique experiences and insights that could prove invaluable for those about to embark on new journeys after graduation.
Encouraging them to share their advice and stories not only adds an extra element of fun to the celebration but also helps create lasting memories for everyone involved.
Copy This Idea: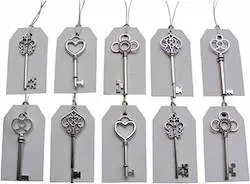 17. Have A Graduation Card Box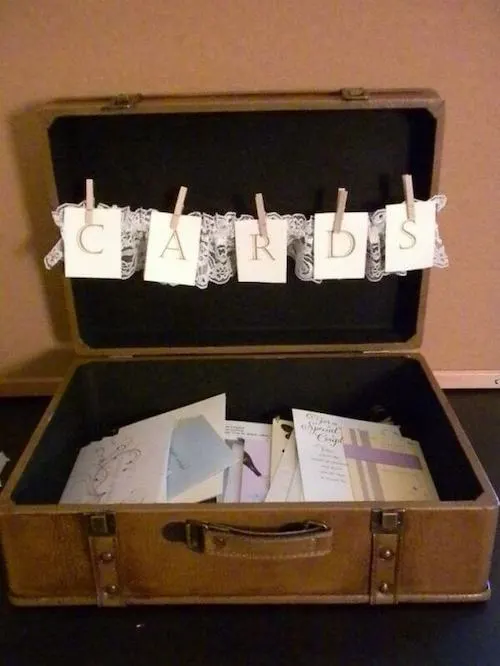 via Pinterest
18. A Friends Inspired Photos Display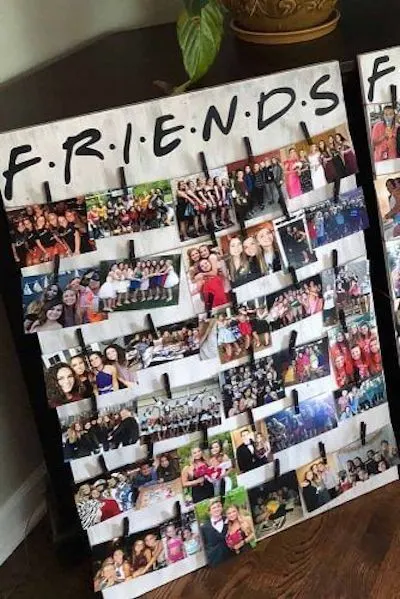 A Friends-inspired photo display is perfect for a graduation party.
It's a fun and creative way to celebrate the graduate's achievement while showcasing their favorite moments with friends and family.
To make this display, you'll need some black and white photos, twine, mini clothespins, and cardboard letters spelling out "Friends."
Start by printing out your favorite photos from the past four years of high school or college.
Next, cut out each photo into a Polaroid-style shape using scissors or a paper cutter.
Then tie the twine onto two points in the room where you want to hang your display, making sure it's tight enough so that it won't sag in the middle.
Finally, attach each photo to the twine using mini clothespins.
To complete this Friends-inspired display, add DIY cardboard letters spelling "Friends" above or below the photos.
You can paint them in bright colors or decorate them with glitter for added pizzazz! Your guests will love taking selfies next to this Instagram-worthy backdrop!
19. A Cute Pink Bar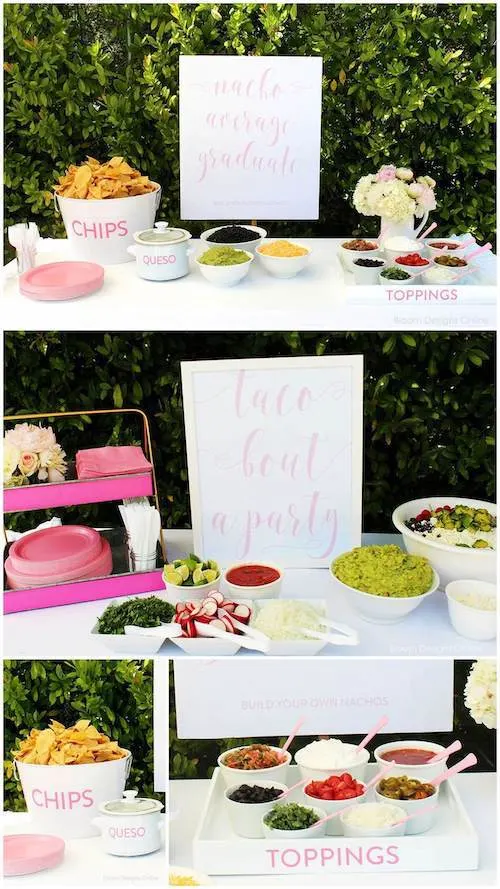 A cute pink bar is a perfect addition to any graduation party.
Whether you're serving alcoholic or non-alcoholic drinks, having a designated area for beverages can make your guests feel at home.
The color pink adds a touch of femininity and elegance to any party theme, making it an excellent choice for a graduation celebration.
To create the perfect pink bar, start by covering the surface with pink cloth or paper.
You can also add some decorative elements such as balloons, flowers, or lights to enhance the ambiance further.
Set up your drink station with various types of drinks such as cocktails, mocktails, sodas, and juices in clear glasses or jars labeled with fun graduation-related names like "Diploma Daiquiri."
Finally, don't forget to stock up on ice and garnishes like fresh fruit slices and mint leaves to take your drinks up a notch.
Copy This Idea: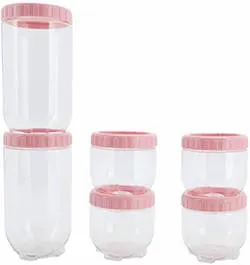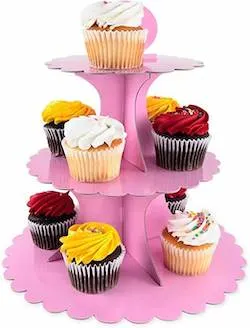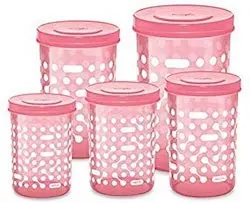 20. Have A Chalkboard Sign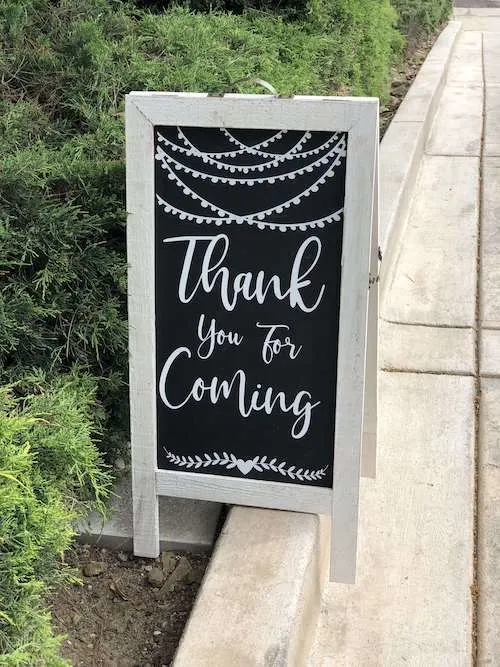 A chalkboard welcome sign is a great way to add a personal touch to your graduation party.
It can be used to greet your guests and set the tone for the event. You can write a message that reflects your personality or use it as an opportunity to showcase your creativity.
One of the benefits of using a chalkboard sign is that it's easy to customize.
You can change the message as many times as you like, making it perfect for last-minute updates or changes in plans.
Additionally, you don't need any special skills or tools to create one yourself, making it an affordable decoration option.
If you're looking for inspiration on what to write on your chalkboard sign, consider adding some humor or incorporating fun puns related to graduation.
You could also include inspirational quotes that will motivate and inspire your guests as they celebrate this milestone achievement with you.
Copy This Idea: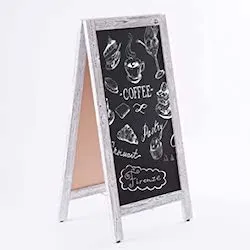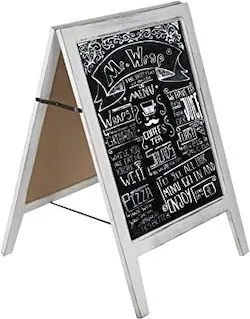 21. Mix Blush And Gold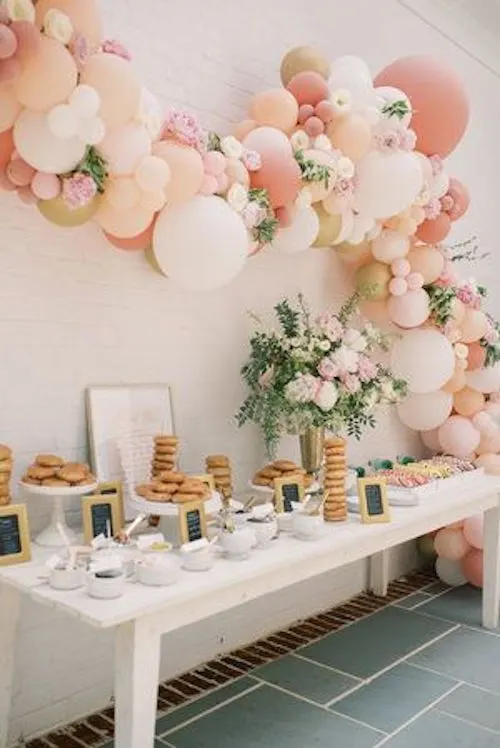 Blush and gold is a timeless color combination that can be used to create a chic and sophisticated look for your graduation party.
Whether you're planning a large celebration or an intimate gathering, this color scheme will add elegance and glamour to your decor.
To incorporate blush and gold into your graduation party, start by selecting tablecloths, napkins, and centerpieces in these colors.
You can also use balloons, streamers, and confetti in shades of blush and gold to create a festive atmosphere.
When it comes to food and drinks, consider serving champagne or other sparkling beverages in gold-rimmed glasses or flutes.
Miniature cupcakes with blush-colored frosting or macarons with edible gold accents are also great options for dessert.
Copy This Idea: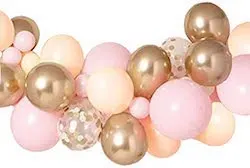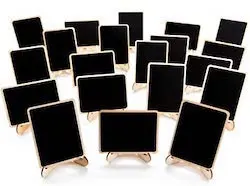 22. Set Up A Balloon Garland And Congratulations Balloons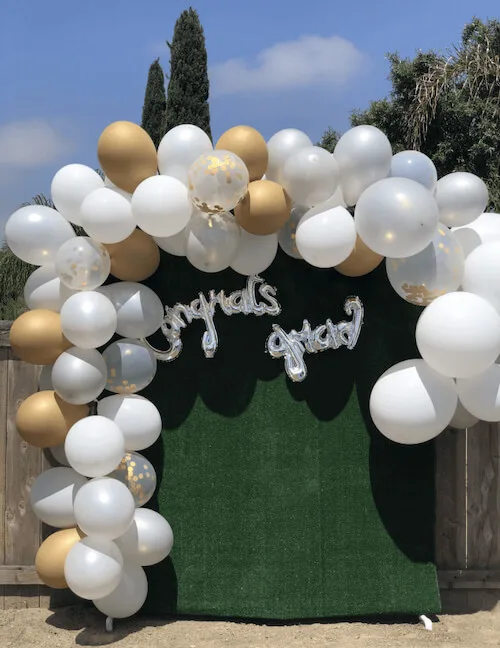 Balloons are a staple decoration for any celebration, and graduation parties are no exception.
A balloon garland is an easy DIY project that can add a festive touch to your party's decor.
To set up a balloon garland, you will need balloons in various sizes, clear fishing line or string, and tape.
Start by inflating the balloons and tying them together with the fishing line or string in different color combinations.
Then twist and bend the balloon clusters to create a garland shape before securing them to your desired location with tape.
In addition to a balloon garland, congratulations balloons can also be added to your party decor to honor the graduate's achievements.
These balloons are available in various colors, shapes, and sizes at party supply stores or online retailers.
You can choose from foil or latex options that say "congrats," "you did it," or feature graduation caps and diplomas.
Copy This Idea: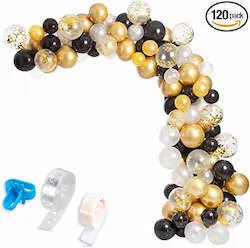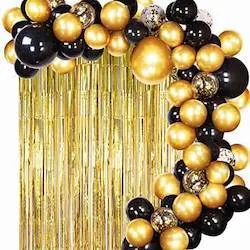 23. Themed Balloons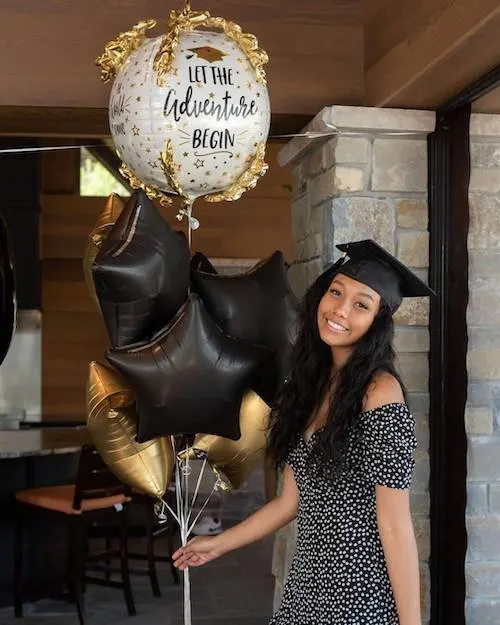 Copy This Idea: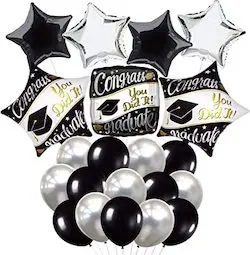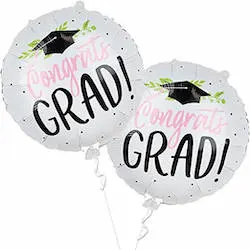 24. Congratulations Balloons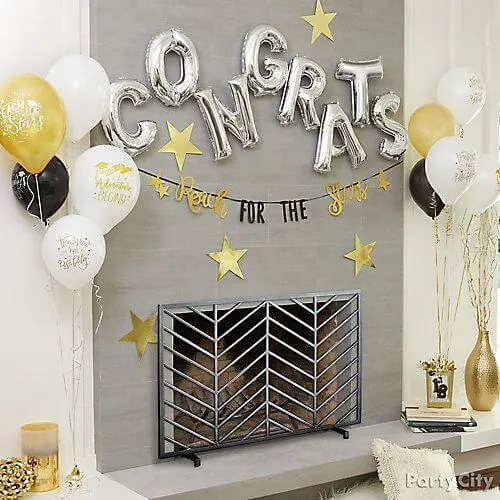 Copy This Idea: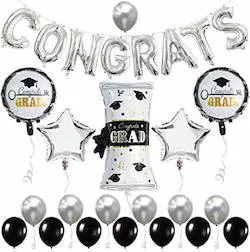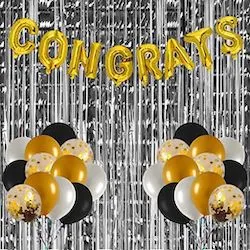 25. Have A Themed Cake Topper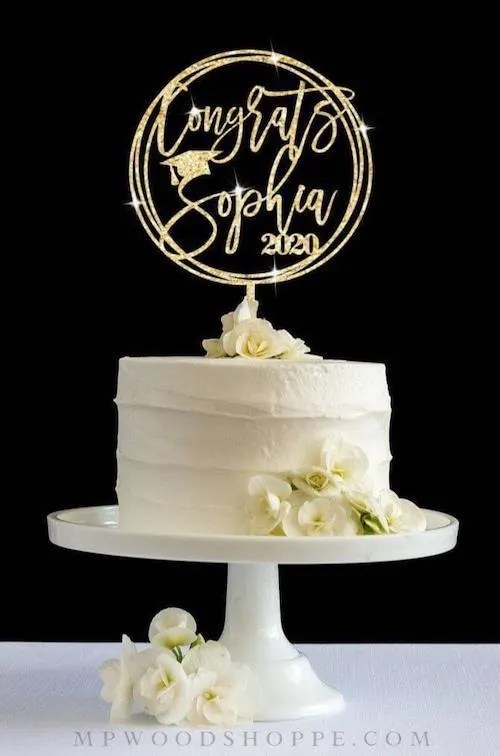 Fancy cake toppers can elevate any graduation party.
Instead of going for a generic or standard cake, one can opt for a themed cake and add an appropriate cake topper that complements the theme.
For instance, if the graduate is fond of music, a guitar-shaped cake with a music note-themed topper would be perfect.
Similarly, if the graduate loves traveling, one can go for a globe-shaped cake topped with miniature airplanes and luggage.
Themed cake toppers are not only visually appealing but also serve as conversation starters at any party.
Graduation parties can be made more fun and memorable by incorporating personalized touches like customized cake toppers that reflect the interests of the graduate.
Copy This Idea: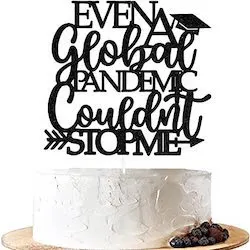 26. Set Up A Popcorn Bar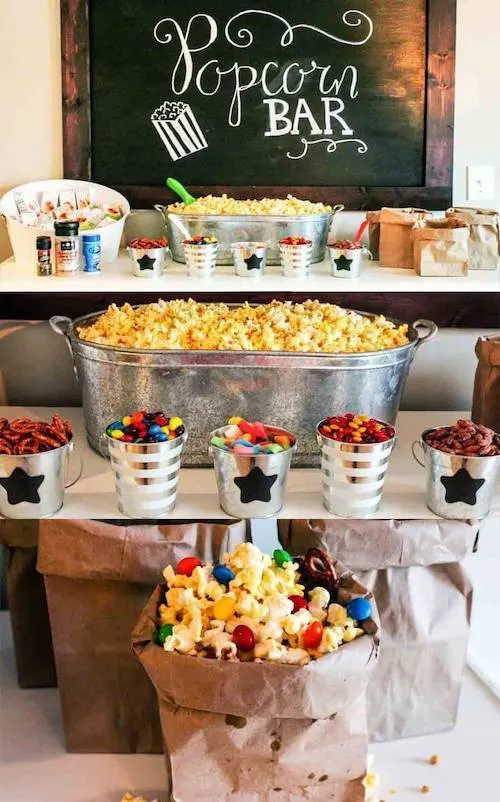 A popcorn bar is an excellent addition to any graduation party, especially if you have a lot of guests.
It is easy to set up and can be customized to suit different tastes.
Start by choosing your popcorn flavors; you can go for traditional butter or try out more unique options like caramel, cheese, or even jalapeno.
If you want to get creative, consider adding toppings like candy pieces, chocolate chips, nuts, or sprinkles.
Next, choose the containers for the popcorn; these could be small paper bags or larger bowls that guests can fill up themselves.
You should also include serving utensils such as scoops and tongs so that guests don't have to use their hands when handling the food.
Finally, add some decorative touches such as balloons or banners with messages congratulating the graduates.
Copy This Idea: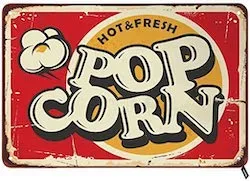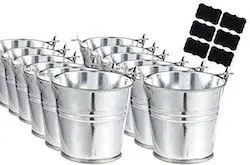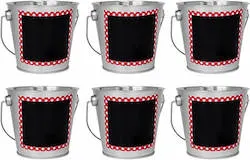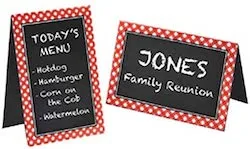 27. Set Up A Garden Party Beverage Station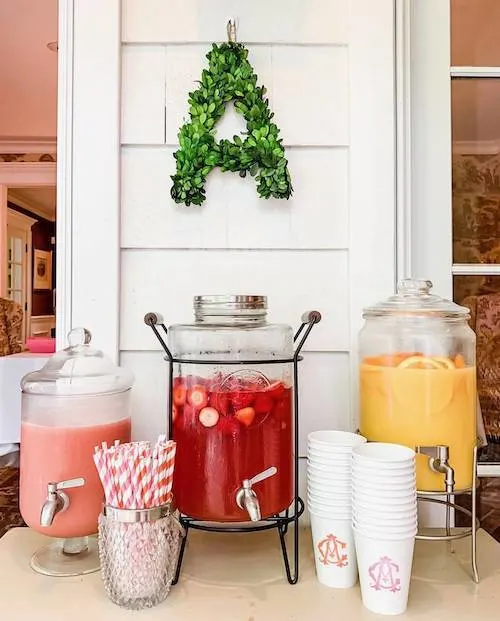 A garden party is incomplete without a refreshing beverage station.
You can set up a DIY bar with a variety of drinks, including mocktails, cocktails, and lemonades.
Arrange the beverages on ice-filled buckets to keep them cool and fresh for your guests.
You can also add some decorative elements such as colorful straws, fruit slices or edible flowers to make the presentation more attractive.
If you want to take it up a notch, create a signature cocktail that reflects the theme of your graduation party.
For example, if you are hosting an outdoor celebration in the summer season, consider serving tropical-themed cocktails like piña coladas or margaritas.
Don't forget to offer non-alcoholic options as well so everyone can enjoy themselves safely.
Lastly, make sure that your beverage station is easily accessible for your guests and is situated in a shaded area if possible.
This way they won't have to go far for refreshments when they need them most during your graduation party!
Copy This Idea: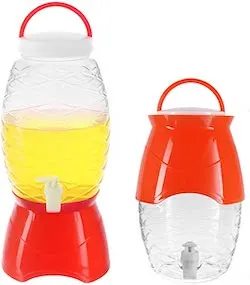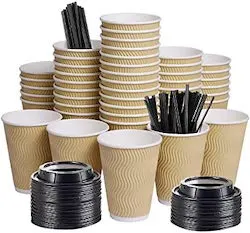 28. Customize A Letter Banner
Customizing a letter banner is an affordable and creative way to add personal touches to any graduation party.
With just a few simple materials and tools, you can create a unique banner that showcases the graduate's name, accomplishments or even their future plans.
Start by choosing the letters that spell out the message you want to convey – this could be anything from "congratulations" to "class of 2023".
Next, select your materials. You can use pre-cut paper letters in various colors and patterns, or opt for crafting your own with cardstock or foam sheets.
Once you have your letters ready, it's time to string them together using twine or ribbon – this will make it easy to hang up wherever you want!
You can also add embellishments like glitter, stickers or tassels for an extra special touch.
Finally, decide on placement – whether you want it as a backdrop for photos or hanging above the food table.
Copy This Idea: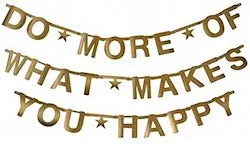 29. Prepare Games For The Guests
Don't forget to prepare games for your guests!
Don't know what games to prepare for?
Don't worry! We have found the most popular graduation party games on Amazon for you.
Click on the product link and check the details.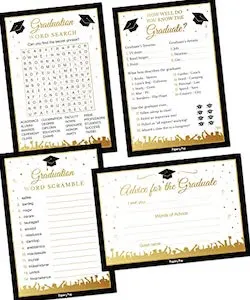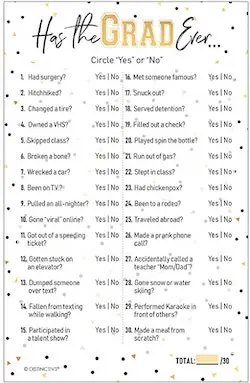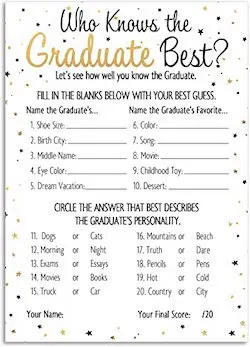 30. Hang Tassels And Paper Fans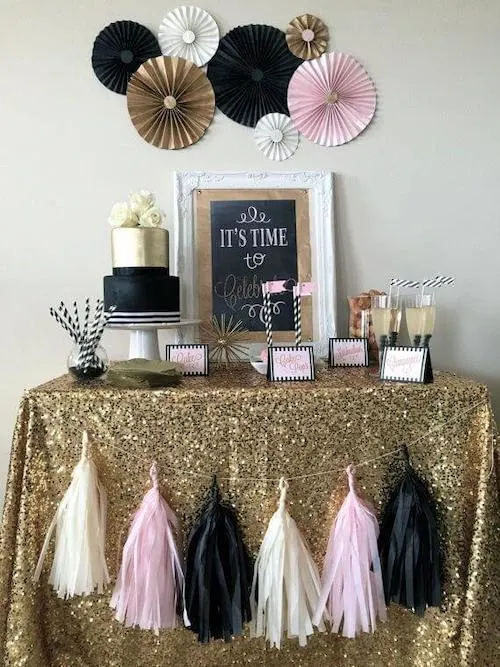 Hang tassels and paper fans for a fun and festive decoration at your graduation party.
These decorations are easy to make or purchase, and they can be hung from the ceiling or walls to add some color and texture to your space.
Tassels can be made from tissue paper or ribbon, while paper fans come in a variety of colors and patterns.
Mix and match different colors to create a playful look that will brighten up your party.
To make your own tassels, start by cutting strips of paper or ribbon into equal lengths.
Fold each strip in half, then tie another piece of ribbon around the folded end to create a loop for hanging.
Finally, cut the ends of the folded strips to create fringes that will form the tassel shape.
For paper fans, simply fold accordion-style back-and-forth until you have a small stack then staple it in the middle before fanning it out on both sides.
Whether you choose one or both options for decorating with tassels and paper fans, these decorations will give your graduation party an added touch of excitement that guests will love.
They are perfect for any theme you might have such as boho chic, garden-inspired parties, colorful fiestas or whimsical wonderlands!
Copy This Idea: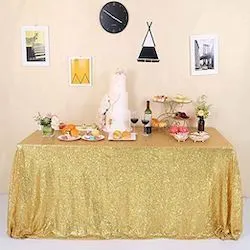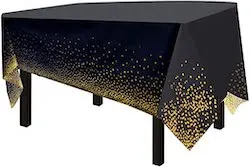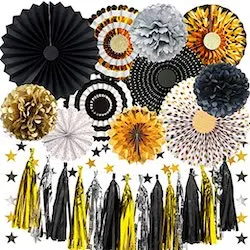 31. Use A Unique Chalkboard Sign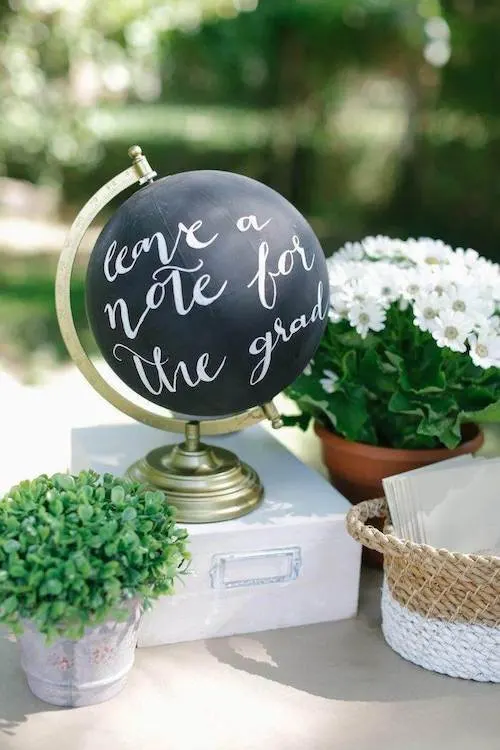 When it comes to graduation parties, having a unique chalkboard sign can add a personal touch and make your party stand out.
You can use the chalkboard sign to display the graduate's name, the date of their graduation, and any other important details about the party.
You can also use it to direct guests to different areas of the party or display fun quotes related to graduation.
The great thing about using a chalkboard sign is that you can easily customize it to fit your party theme and colors.
For example, if you're going for a rustic look, you can use a wooden frame for your chalkboard sign and decorate it with twine or burlap.
If you prefer something more modern, consider using metallic markers or paint for your design.
In addition to being customizable, a chalkboard sign also serves as a fun activity for guests during the party.
Set up an area where guests can write their own messages or draw pictures on the board.
This not only adds an interactive element but also creates lasting memories that everyone will cherish.
Copy This Idea: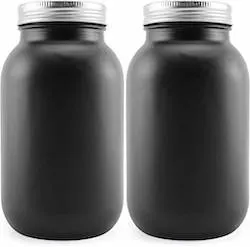 Scroll on to check more graduation party ideas!
BEST GRADUATION PARTY FOOD IDEAS
32. Graduation Candy Buffet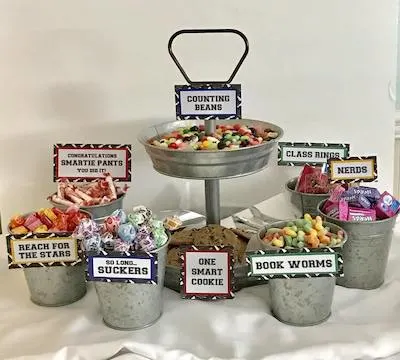 33. Diploma Cookies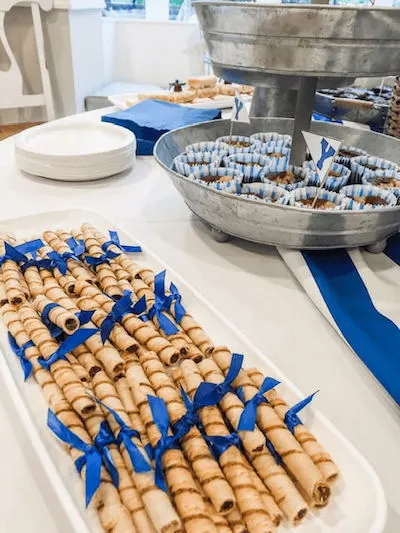 34. Graduation Popcorn Bags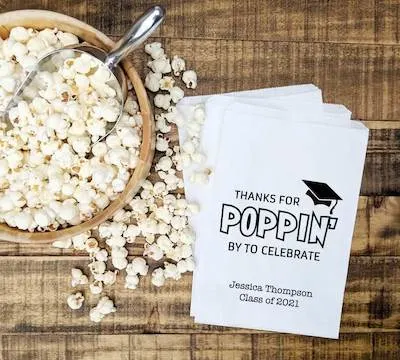 35. Graduation Commence-Mints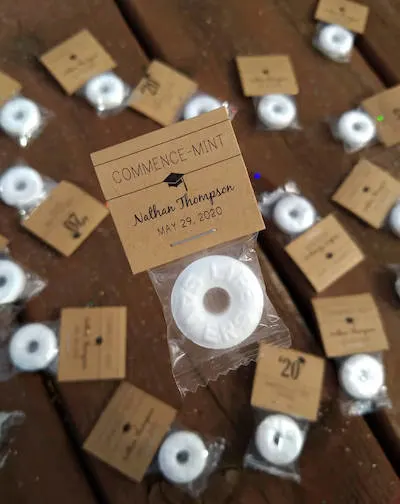 37. Graduation Cap Cookies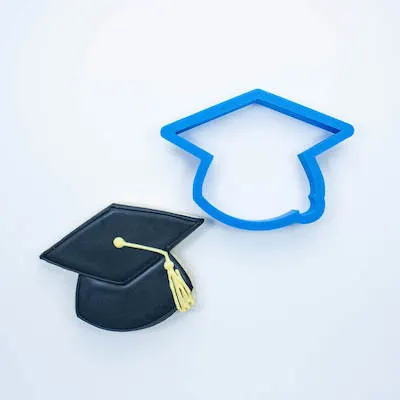 BEST OUTDOOR BACKYARD GRADUATION PARTY IDEAS
38. A Chalk Board Inspired Photo Backdrop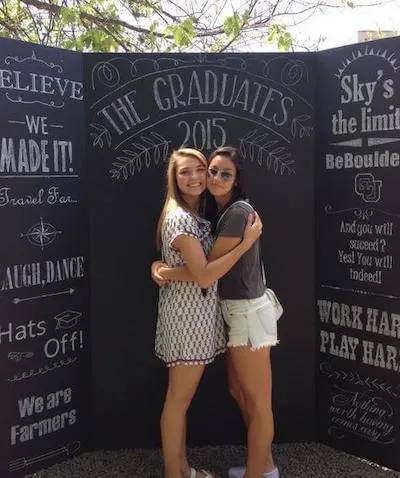 39. Put their School Colors Or College Flags Out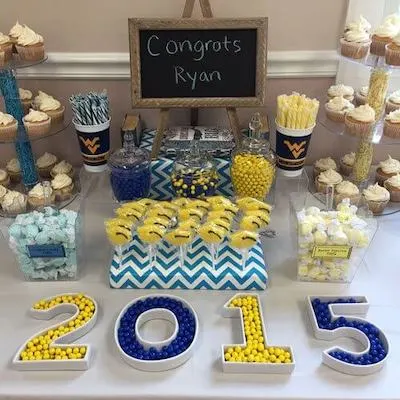 40. Graduation Inspired Quotes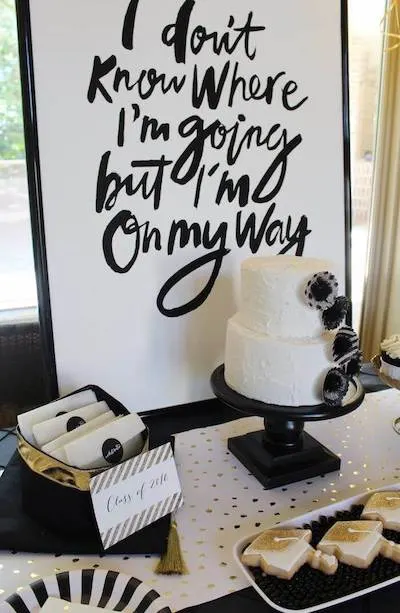 41. Beautiful String Lights
42. Use A Ladder To Display Graduation Decorations

43. Photos On The Driveway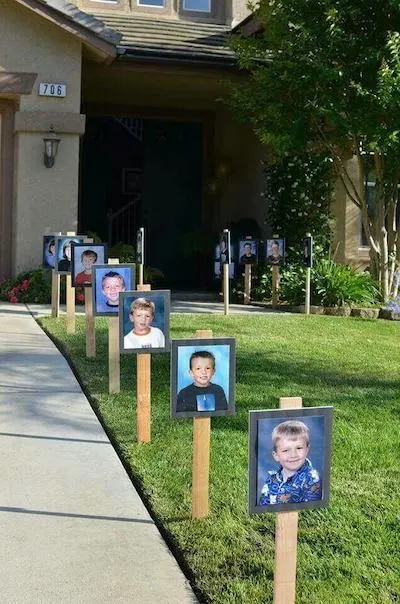 44. Large Graduation Sign Lights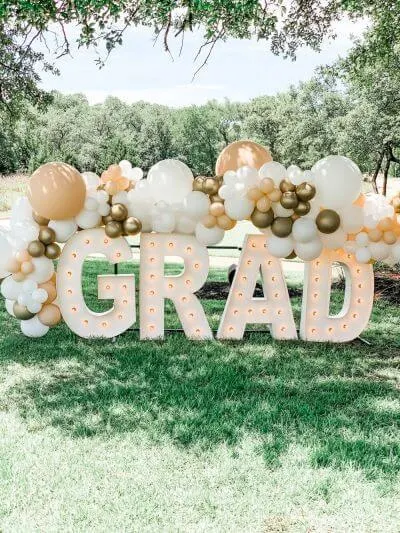 45. A Graduation Themed Photo Memories Board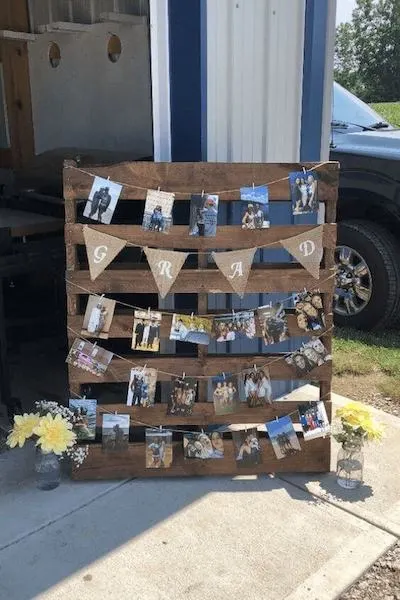 46. Beautiful Outdoor Guest Desk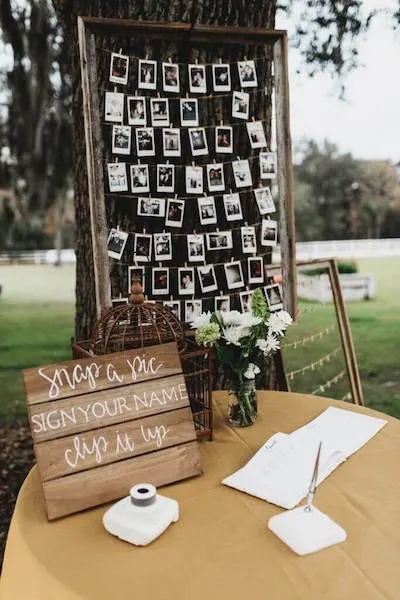 CREATIVE GRADUATION PARTY IDEAS
47. A Donut Bar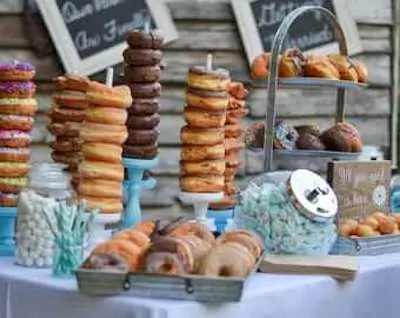 48. A Polaroid Photo Booth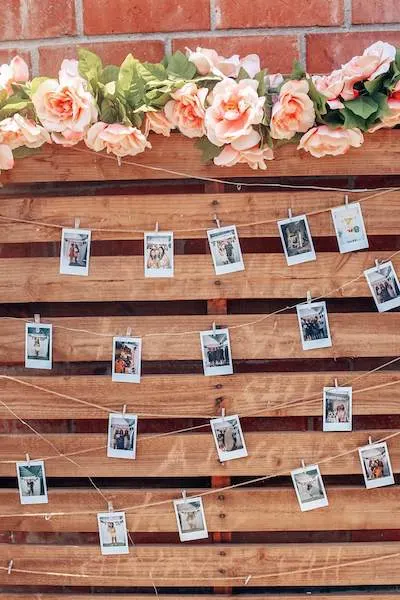 49. A Rose Gold Party
50. Graduation Themed Napkins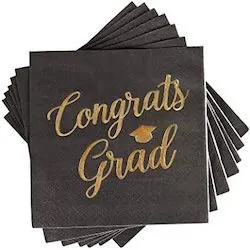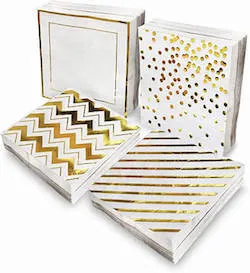 51. DIY Gift Bags For Guests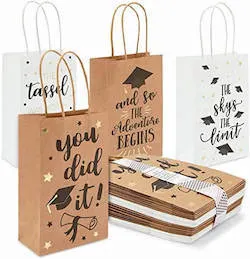 52. Donut You Forget About Me
53. A Beautiful Graduation Welcome Sign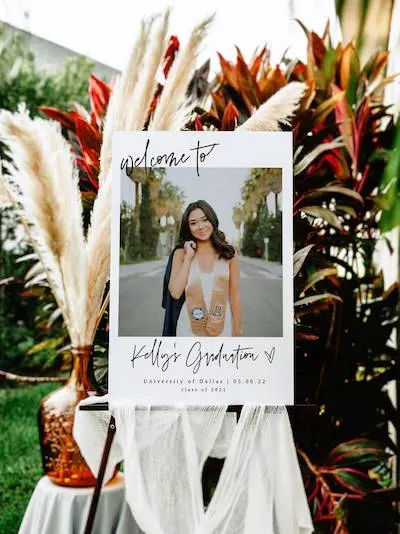 54. Customized Graduation Party Centerpiece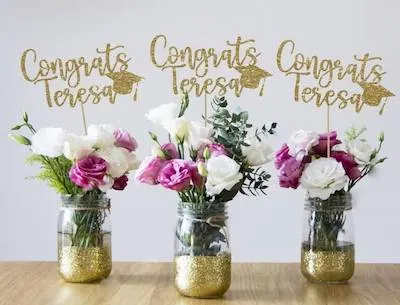 55. Cute Graduation Banner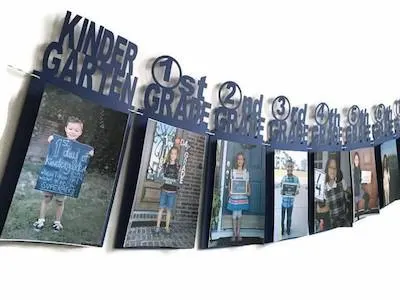 56. Pretty Candy And Donut Bar
BEST GRADUATION PARTY IDEAS FOR GUYS
57.
Put Drinks In A Metal Bin With Ice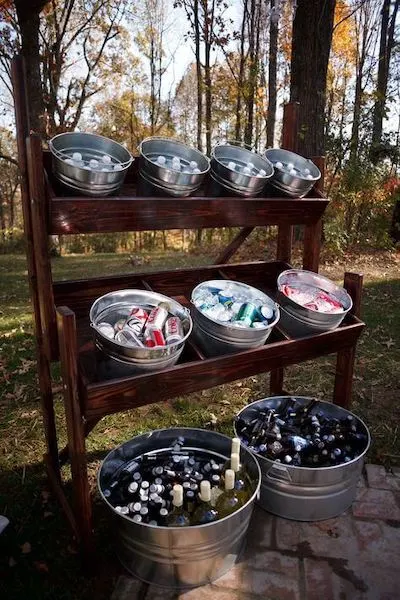 58. Display The Graduation Year With Cupcakes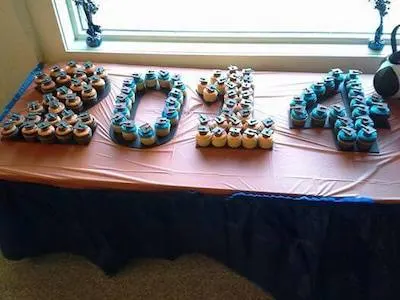 59. An Easy Cute Crafty Centerpiece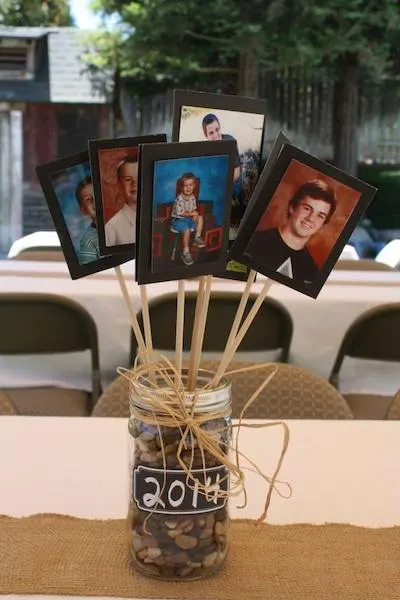 60. Display Your Yearbook Pictures Or All The Photos You love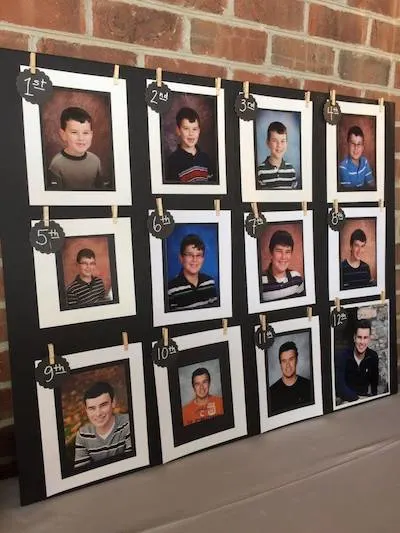 61.
We Are So Proud Of Your Banner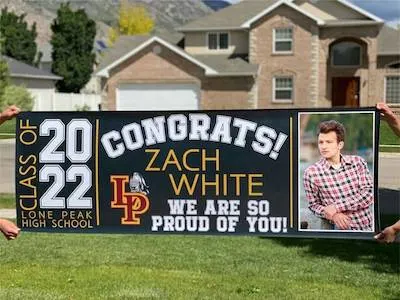 62. Graduation Party Hershey Kiss Stickers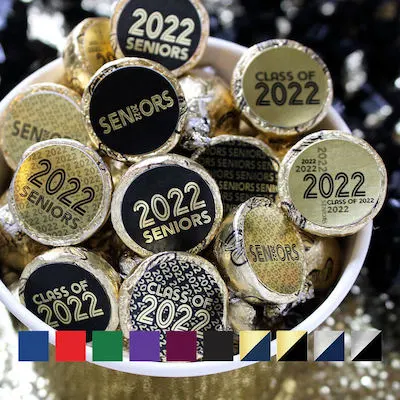 MORE GRADUATION PARTY IDEAS
63. Make Fun Ice Cubes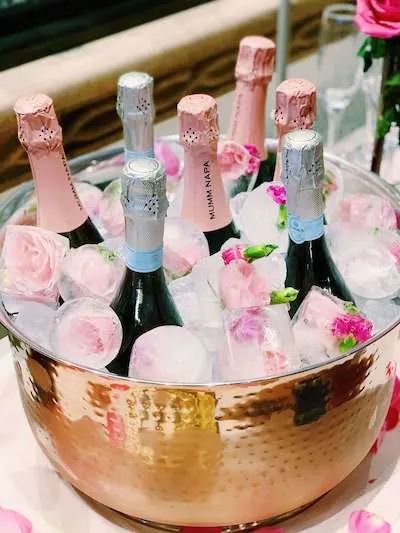 64. Graduation Mason Jar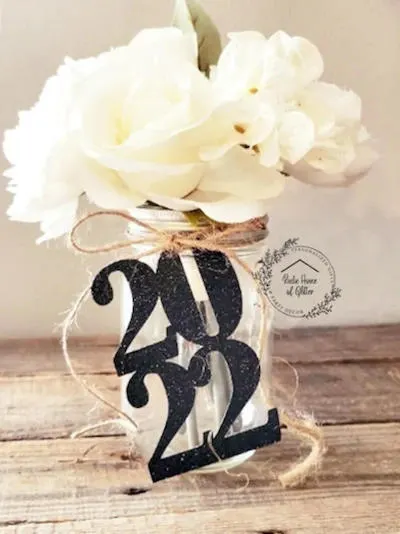 65. Confetti Graduation Balloons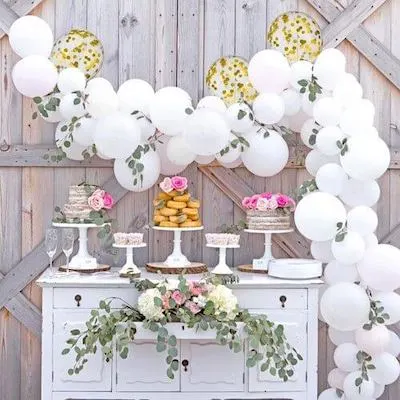 66. DIY Graduation Favors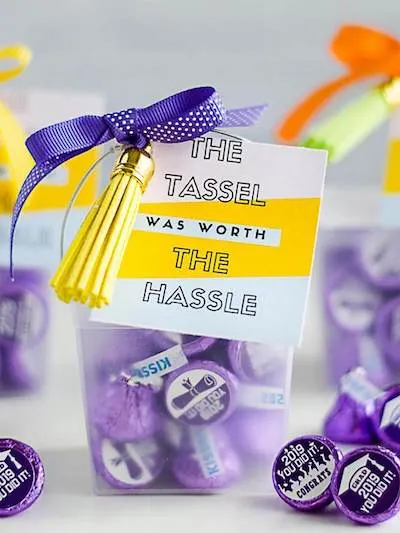 67. Cute Paper Straws To Decorate Drinks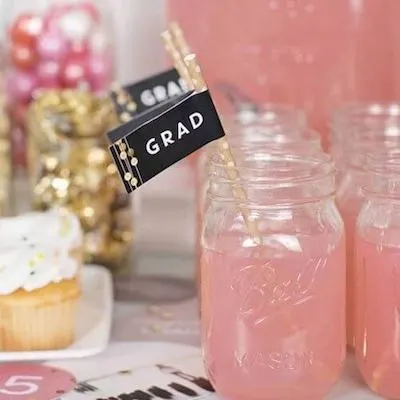 69.
A Cute Graduation Dessert Table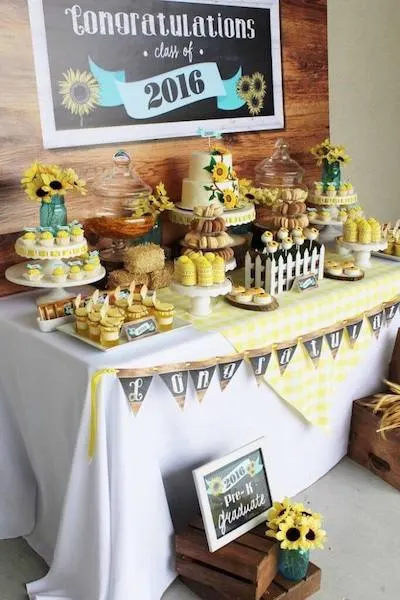 70. DIY Inspirational Quotes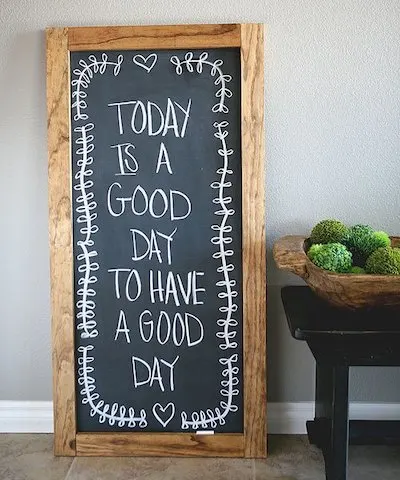 71.
Have A Popcorn Machine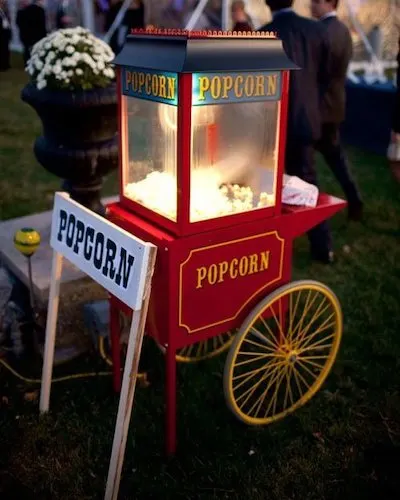 72. Party Hashtag Frame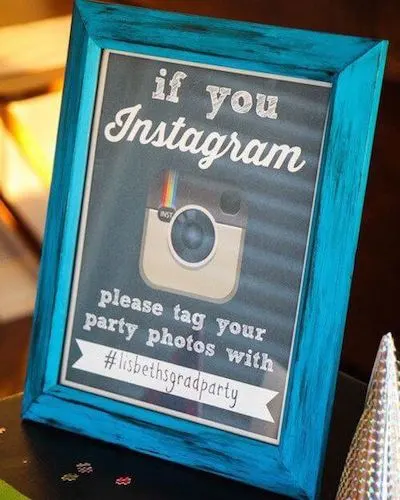 73. Graduation Wreaths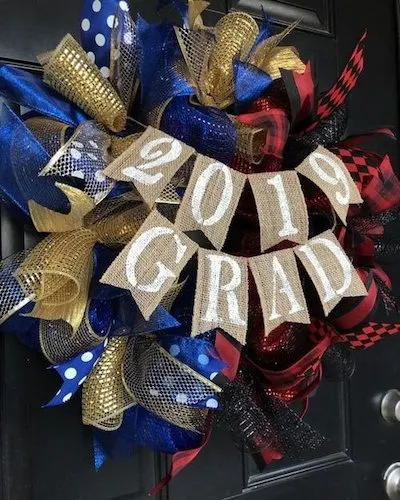 74. Sports Theme Graduation Decoration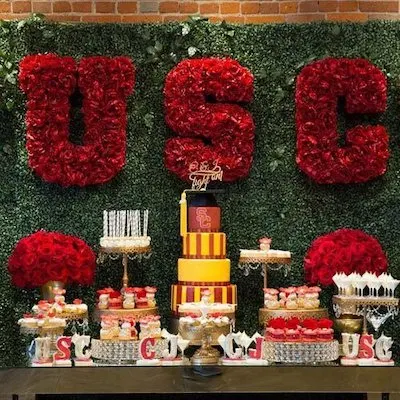 75. A Tropical Island Party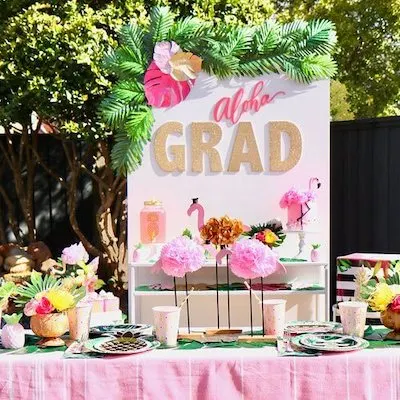 This post was all about graduation party ideas.
About The Author
Tracy is an experienced personal stylist, shopping expert, and fashion & lifestyle blogger. She has been featured on Time Magazine, Bustle, Best Life, Glam, The Zoe Report, Mic, and GOBankingRates, for her insights on fashion, beauty, home decor, and lifestyle. Read More
Other Posts On Graduation You May Like: