Want to know what kind of tops to wear with long skirts? Check this post for the 40+ best top picks and style tips to copy directly.
No matter how the fashion industry changes, long skirts will always have a place in our wardrobe.
The good news is, Even the most simple plain long skirt is so versatile that it can easily show different styles with different tops, giving us so many great surprises for any body type.
If you are looking for the right top to wear with your long skirts, you've come to the right place.
In today's article, I am sharing with you the best 40+ tops to wear with a long skirt, the best long skirt outfits to shop directly from our favorite retailers, and the best style tips to choose the right shirt for your long skirt for different occasion.
So stroll down to check these different ways to style long skirts, and don't hesitate to pin your favorite long skirt outfit ideas to your Pinterest board, and share them on social media sites.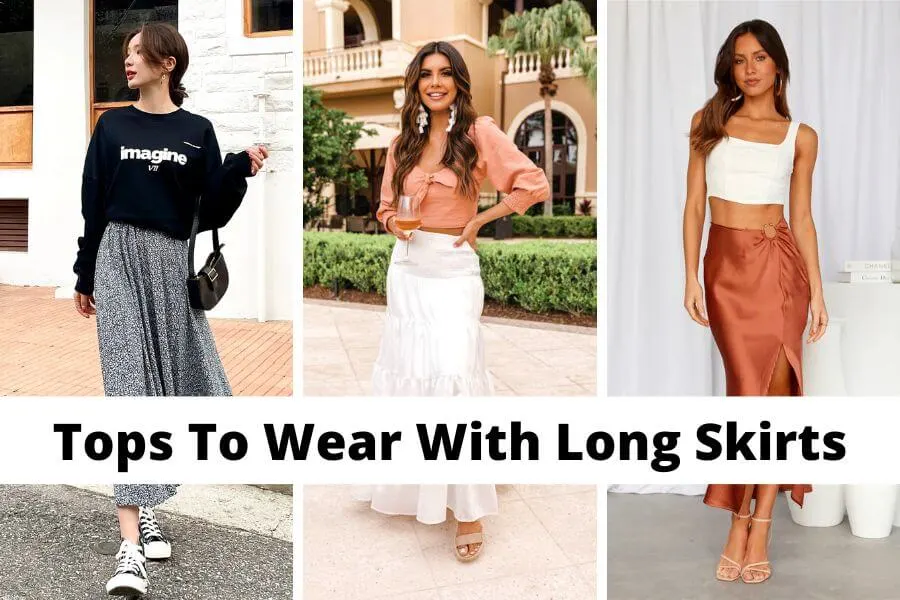 This post may contain affiliate links, which means I'll receive a commission if you purchase through my link, at no extra cost to you. Please read the full disclosure here.
This post is all about what kind of tops to wear with long skirts.
Crop Top
For long skirts, especially high-waisted long skirts, the trending crop tops are one of the best top choices. This combo can make you look tall and attractive.
You can choose simple plain tight-fitting crop tops to highlight the romantic softness of your long skirt, or you can choose crop tops with lovely details to add a personal touch to your neutral-colored long skirt.
In addition, you can choose crop tops in the same color as long skirts to optimize your body advantage and make you look more light and beautiful.
White Long Skirt Outfits: White Long Skirt + Crop Top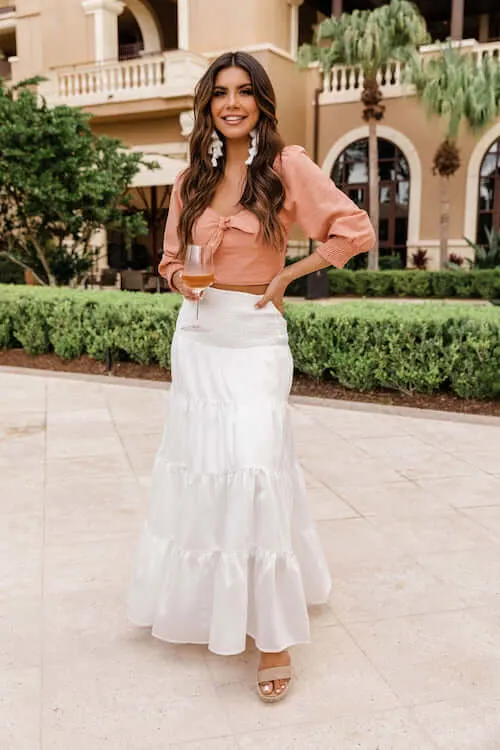 Bright Colors Crop Top + Bright Colors Maxi Skirt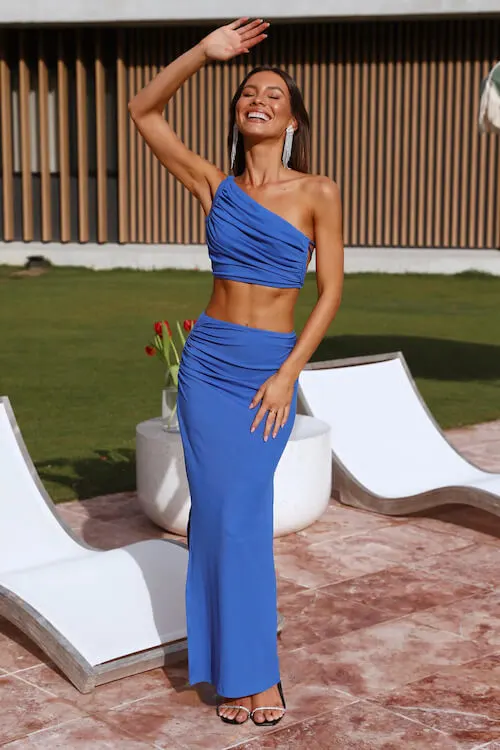 Vacation Maxi Skirt Outfits: Lemon Maxi Skirt + Lemon Crop Top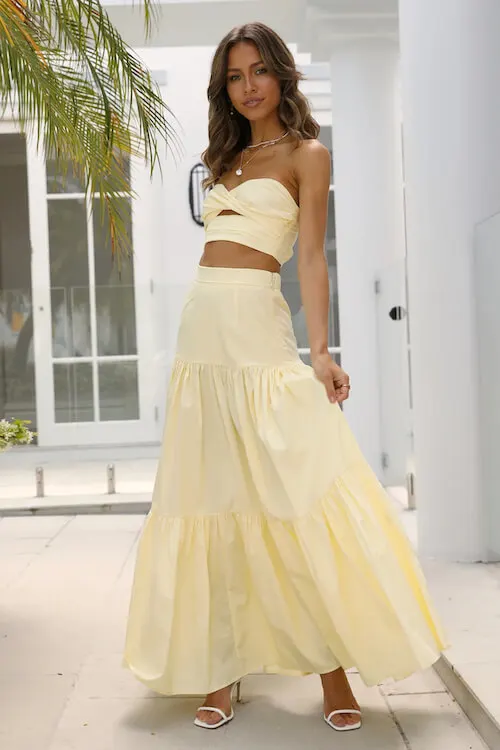 Tank Tops
A great idea to have the most elegant long skirt outfit is to wear a simple tank top. This simple style of tops gives you an effortlessly chic look and can be adapted to different styles.
They are suitable for both romantic dates and relaxed vacations in the summer months, and you can create the look you want by simply adding the right style of accessories.
White Maxi Skirt + White Crop Tank Top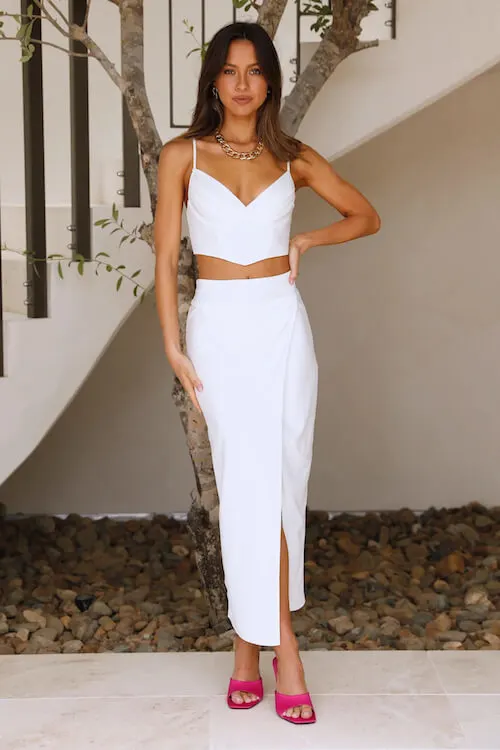 Grey and White Striped Wrap Maxi Skirt + Simple White Tank Top
Satin Maxi Skirt + Plain Tank Top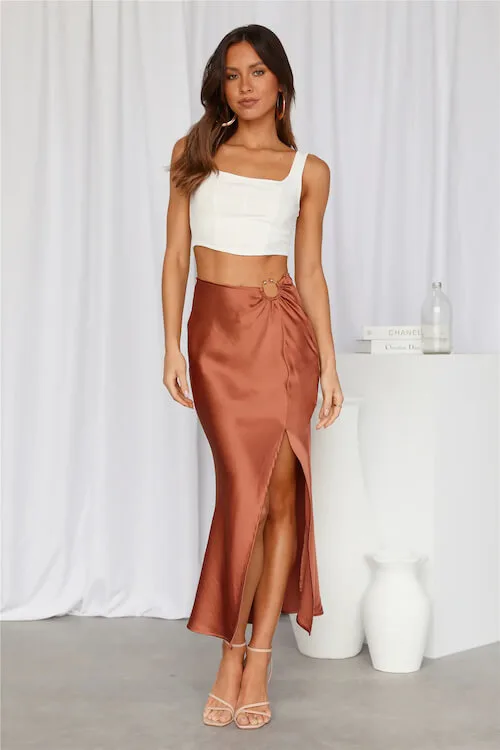 Leopard Print Fringe Detail Maxi Skirt + Lace Tank Top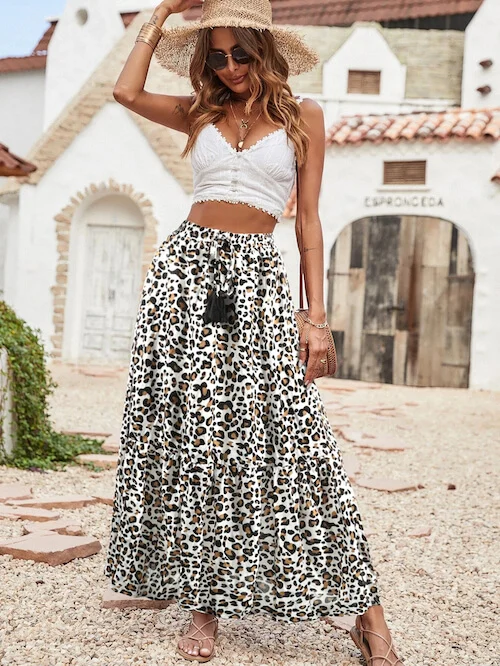 Navy Gingham Long Skirt + Smocked Crop Tank Top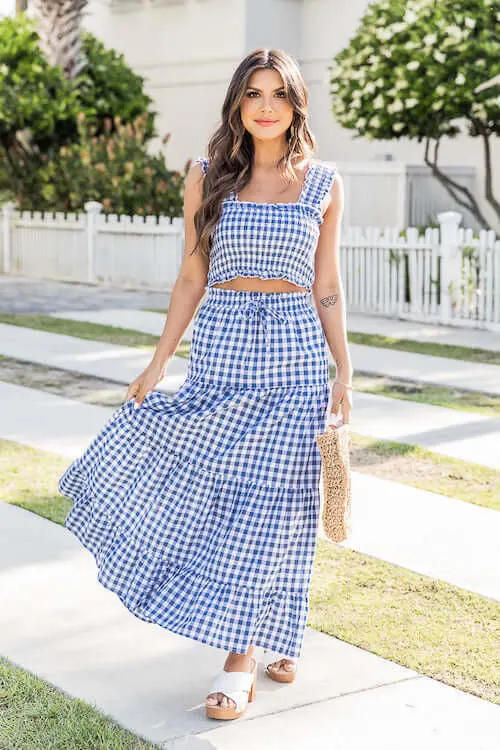 Denim Jacket
When the weather is cooler, a denim jacket or denim shirt that never goes out of style is a great companion to your long skirts.
I especially like the combination of denim top and black long skirt, the style is elegant and retro style.
And if you want to be more personal, you can wear a sexy top underneath the denim jacket or a pair of style shoes, such as chunky shoes.
Black Maxi Skirt + Dark Wash Denim Jacket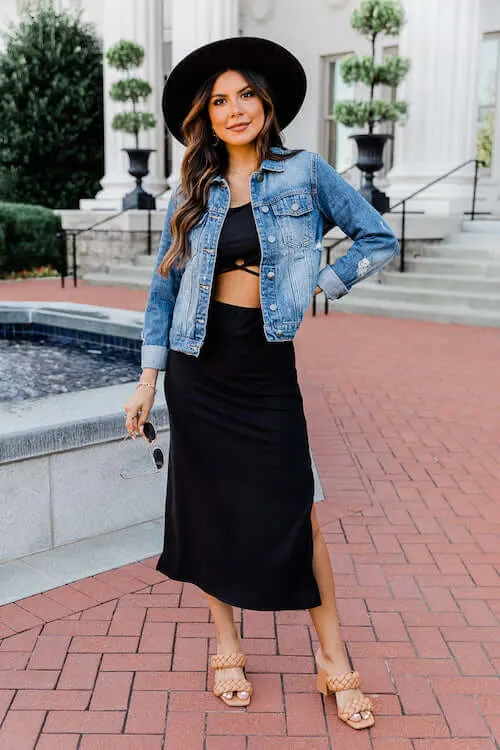 Denim Shirt
Solid Long Flare Skirt + Denim Shacket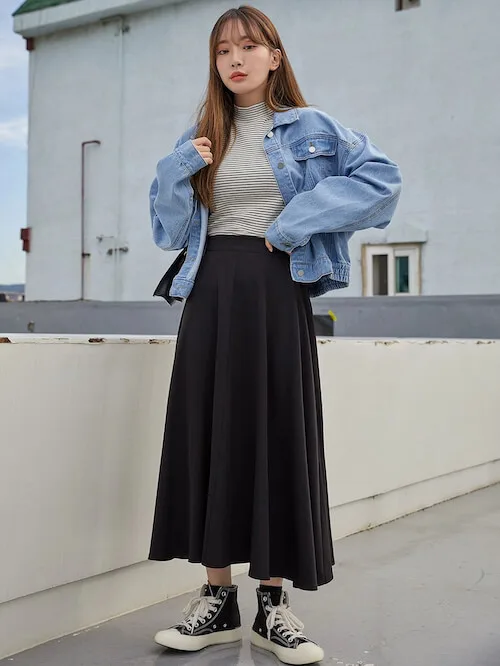 White Shirt
The trending oversized white button-down shirt is our wardrobe staple now, so you can certainly match it with your long skirts.
No matter what color or style of a long skirt, it will fit perfectly.
It is also a great choice when you are wearing long skirts on vacation.
Taupe Colorblock Knit Midi Skirt + White Button Down Shirt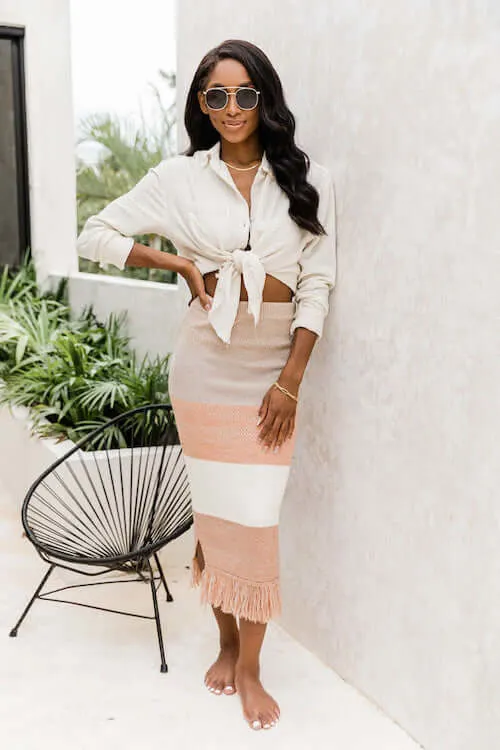 Fringed Crochet-Knit Skirt / Sheer Maxi Skirt + Long Sleeves White Shirt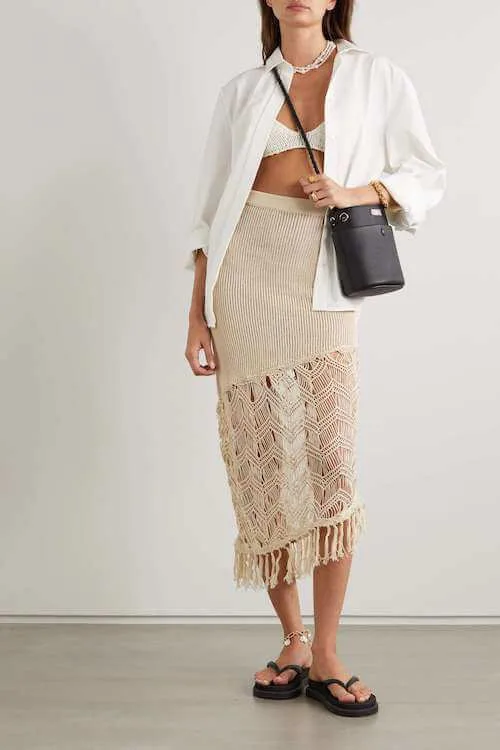 Plain Top
Looking for an easy outfit with a long skirt? Just wear a plain top and add simple or statement accessories like a statement necklace to complete the look.
Dalmatian Print Tie Side Wrap Skirt + White Plain Top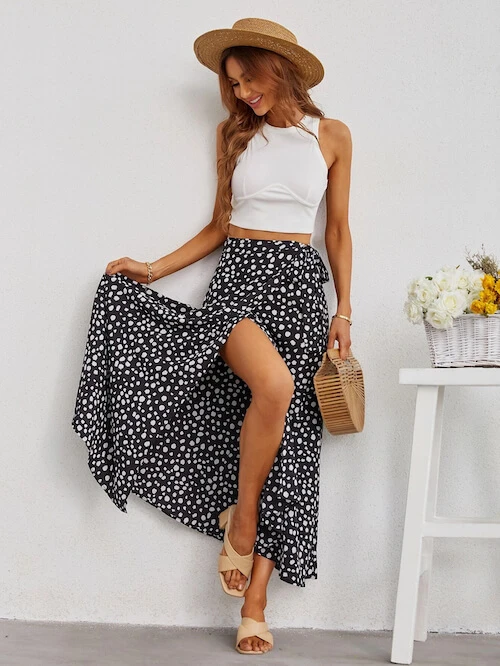 Neutral Color Top
Almost any simple top in neutral colors in your closet will be a good match for your maxi skirts.
A pro tip, wearing shoes that are similar in color to your top can create a more fashionable look.
Floral Maxi Skirt + Neutral Color Top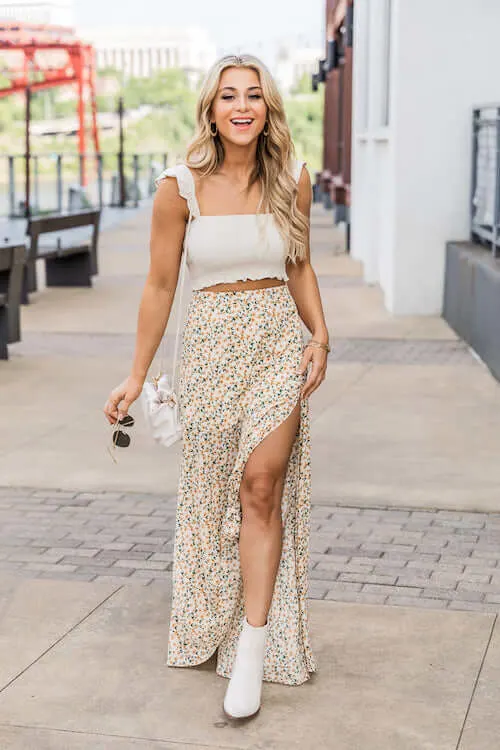 Black Top
Black is one of the most common colors to add an appropriate personal touch, and this is also true for long skirt wear.
I recommend trying different cuts, lengths, and styles of black tops.
You will find that such a combo can help create different looks, either an easy everyday wear or a super sexy look for different occasions which is amazing!
Ditsy Floral Prints Flared Skirt + Black Sweatshirt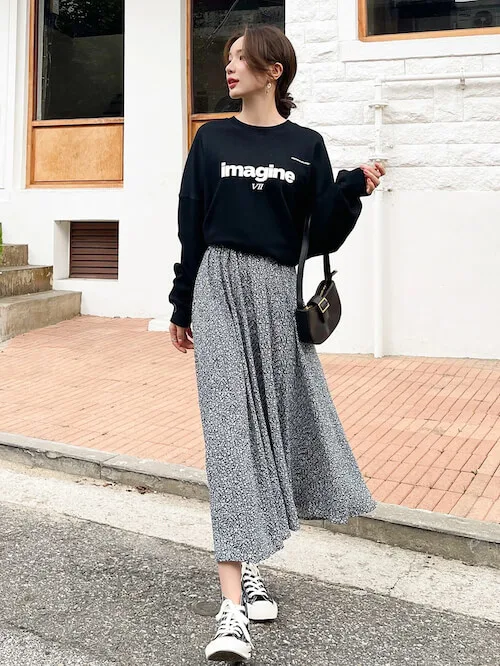 Black Floral Skirts + Black Cami Top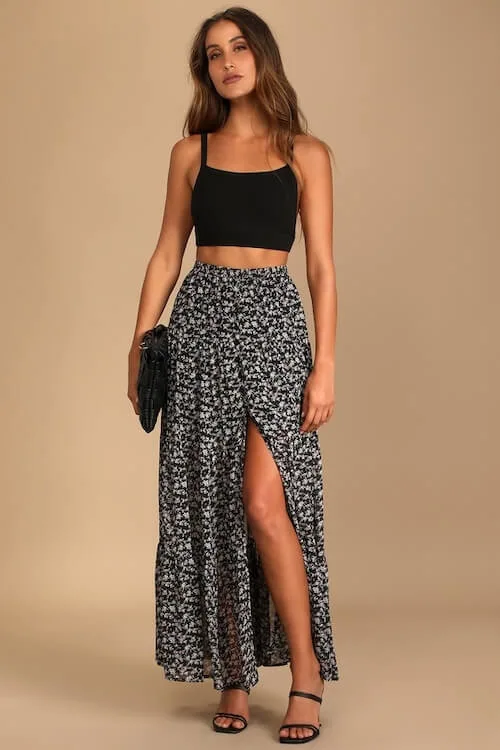 White Blouse
For summer wear, I recommend you wear a short-sleeved white blouse to match your long skirt and instantly create the most charming vacation look.
The cute white blouses are simply made for romantic long skirts. Complete your look with a pair of strappy sandals or flat sandals.
Solid Wrap Hem Tie Side Skirt + White Short Sleeves Blouse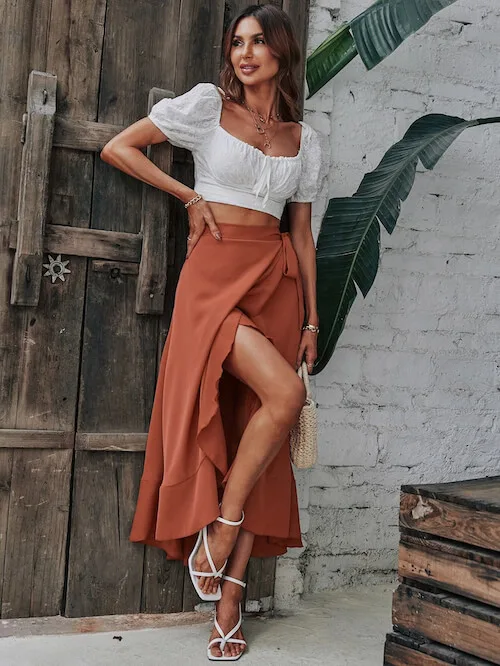 Ditsy Floral Ruffle Hem Skirt + White Crop Blouse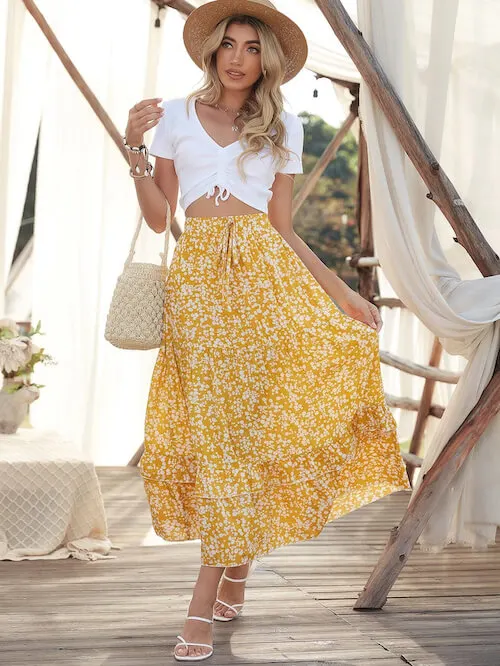 Lace Top
For a more slim-fitting long skirt, you can wear a lace top with it.
You don't have to worry about lace tops and long skirts being tacky together. As long as the shape of the skirt is not overly feminine, a simple straight long skirt is the perfect match for lace tops.
This combo allows both pieces to enhance their own style and blend perfectly at the same time.
Cream Satin Skirt + White Lace Top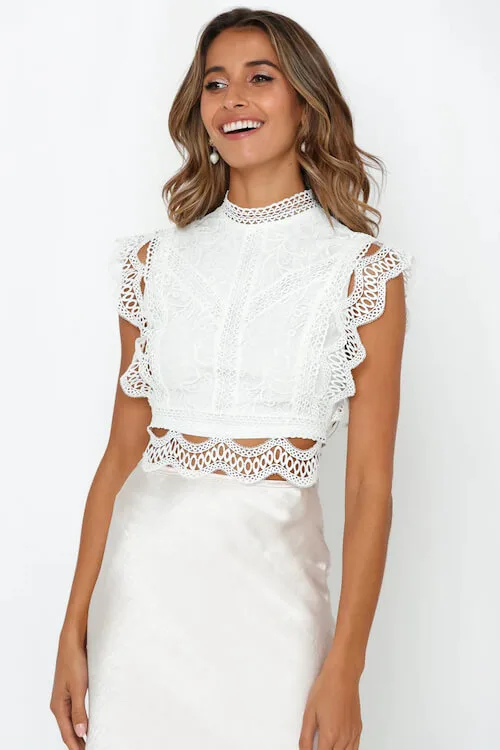 Abstract Printed Satin Bias Cut Maxi Skirt + Black Lace Cami Top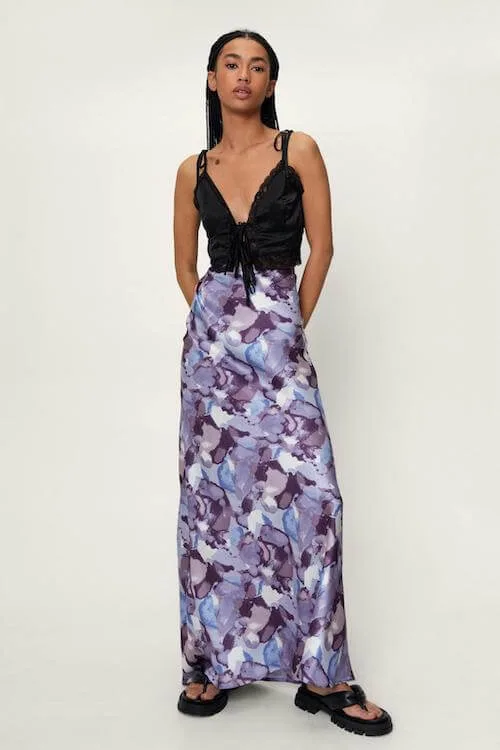 Black Leather Jacket
This is a combo I've been obsessed with now.
I highly recommend trying an oversized black leather jacket with your maxi skirt and a pair of platform shoes for an effortlessly chic look.
If you are wearing a regular black leather jacket, then I suggest you wear a retro-style graphic t-shirt inside the jacket to add a bit of funky street style.
Black Plain Long Skirt / Black Pencil Skirt + Black Leather Jacket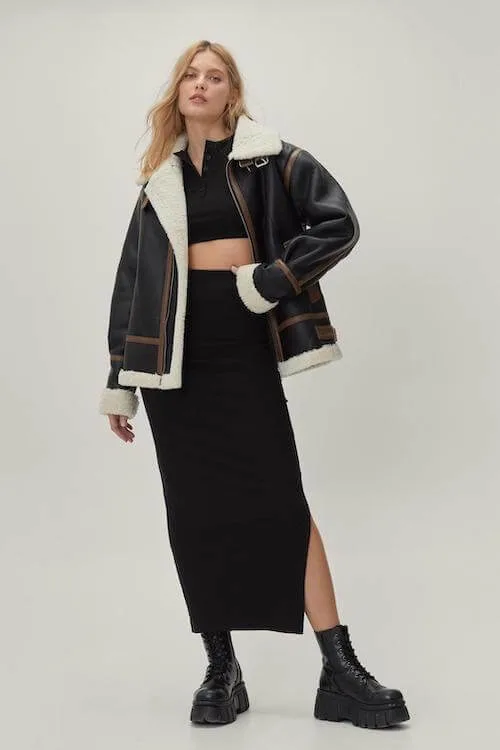 Textured And Pleated Maxi Skirt + Graphic Tee + Black Leather Jacket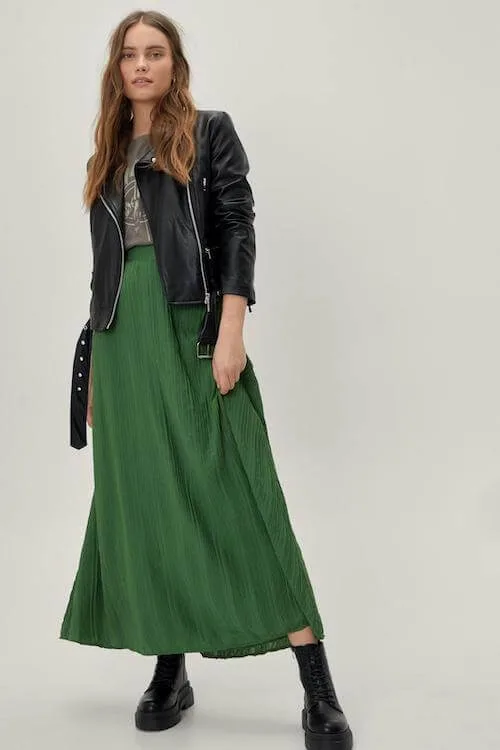 Tie Dye Bias Cut Split Maxi Skirt + Black Bra Top + Black Leather Jacket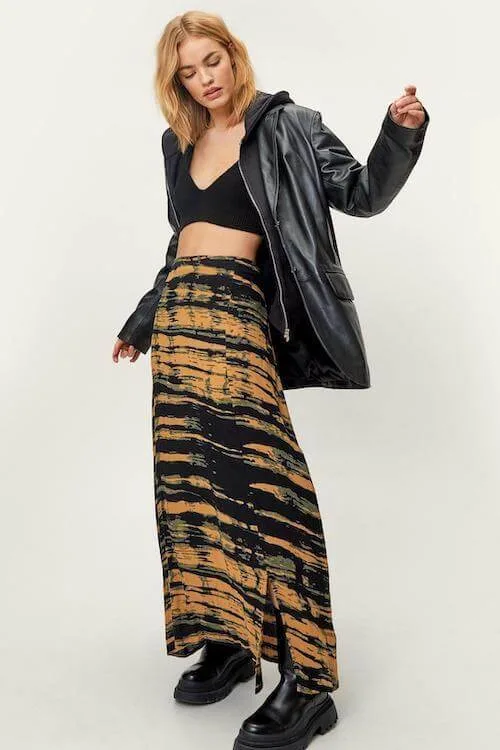 Basic Tees: White Tee / Graphic Tee
Didn't expect it, did you? The simplest tee will be one great option when you don't know what to wear with your long skirt. This combo is full of the trending retro style.
Especially, when you are looking for the best top for your plain solid color long skirt, a simple tee is a better option for a more stylish look.
Ribbed Side Split Long Maxi Skirt + White Graphic Tee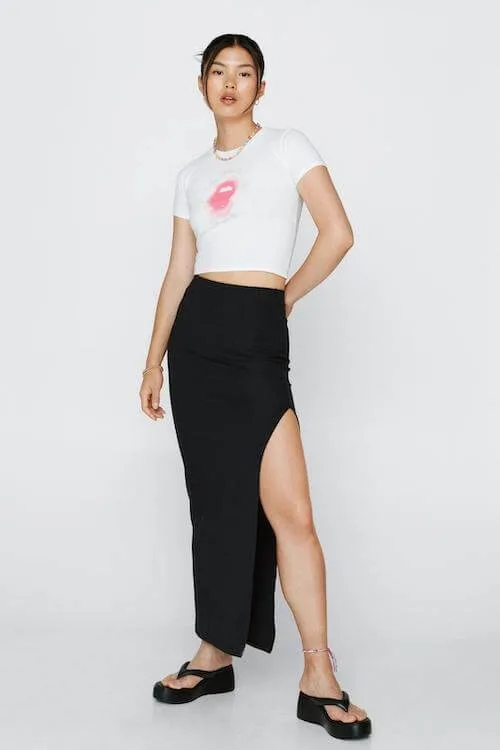 Tight Top
A tight top would probably be the first option and the most classic combination that comes to mind when wearing a long skirt. Indeed, such a tight top is the one best option to help you have a very good body proportion.
If you want to take your style to the next level, one perfect way is to choose a solid color but with design details such as a crop tight top, off-the-shoulder tight top, or tight tops with the trending cut-out designs.
Additionally, a simple tight top is a great choice for low-waisted long skirts.
Low-rise long skirts already have a very strong style of their own, so a simple top is a great way to further help highlight the retro style of the low-waisted design.
Flowy Skirts + White Tight Top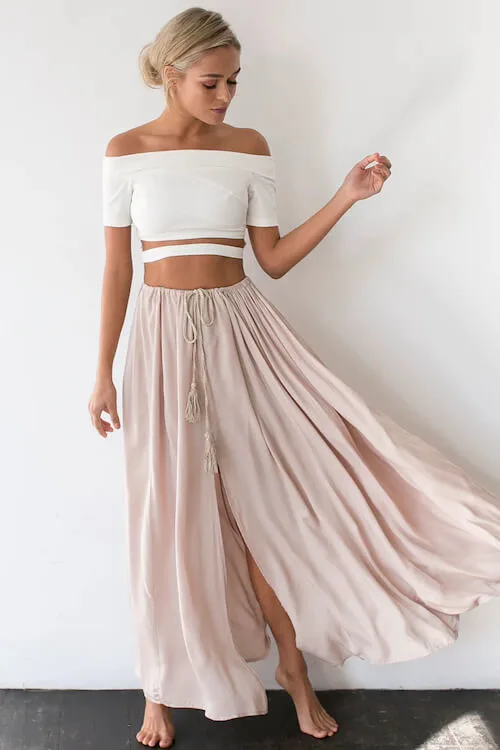 A-Line Skirts + Long Sleeves Tight Top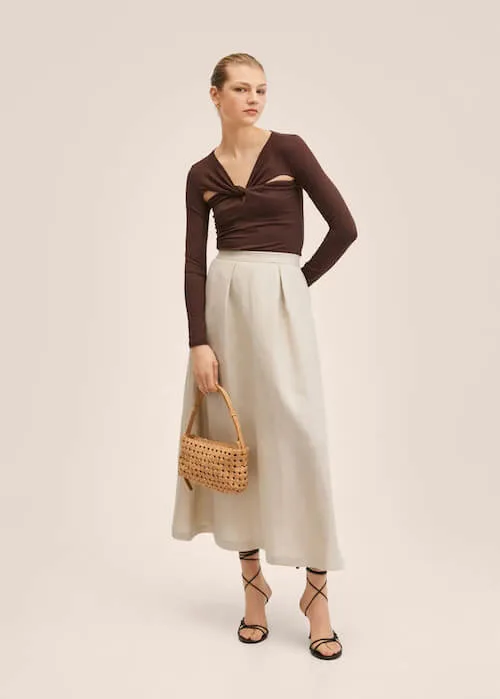 Chocolate Maxi Skirt + Chocolate Fight Top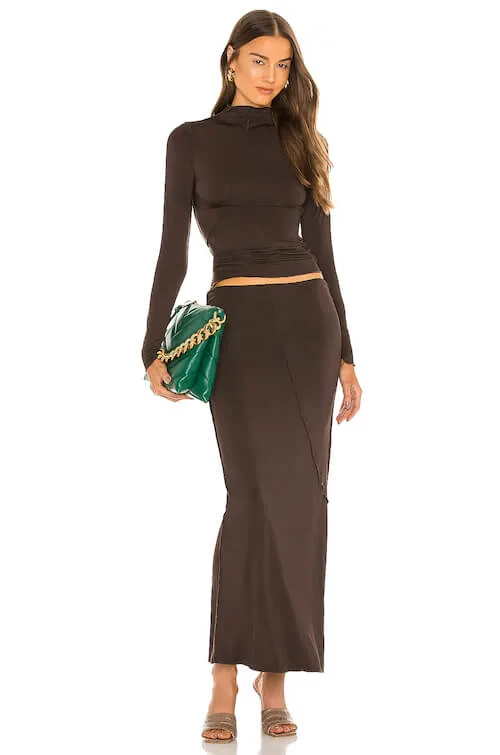 Body Suit
Bodysuits' fit look is a good option for your maxi skirt outfit ideas.
Striped Maxi Skirt + Tan Cutout Bodysuit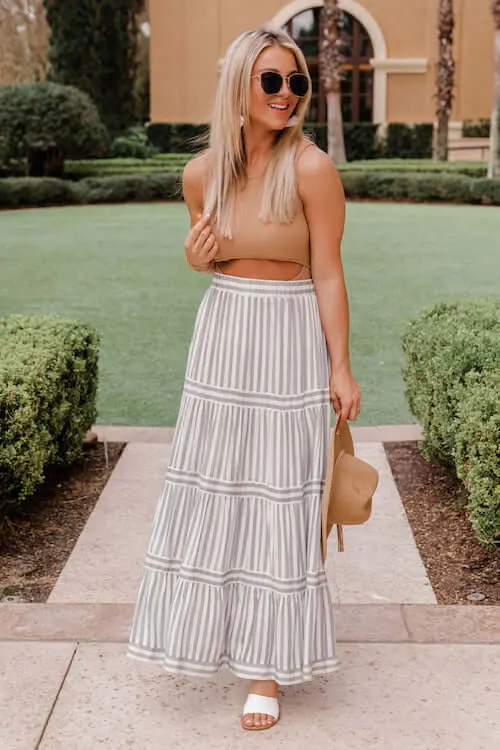 Animal Print Maxi Skirt + Black Lace Sleeveless Bustier Bodysuit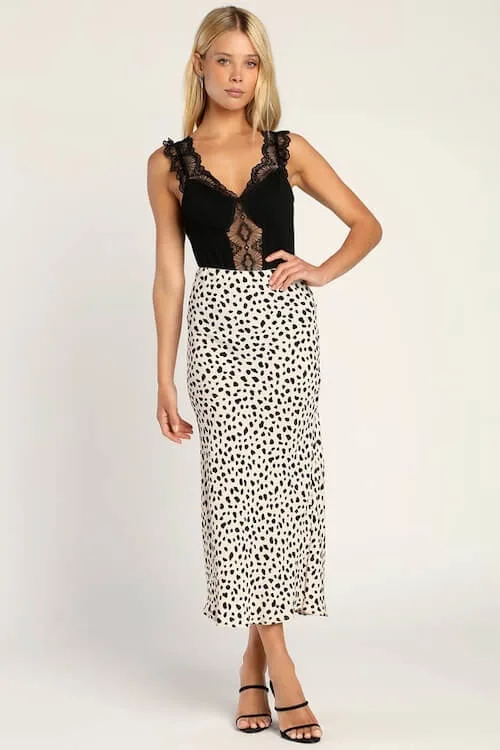 Corset
This is my favorite maxi skirt style for a romantic date night. This combo of a simple satin long skirt with great quality and a sexy corset will make you look great.
I recommend you invest in a good satin long skirt and believe me, it would be your favorite maxi skirt for any romantic night.
All you need are simple accessories to show your good fashion taste.
Satin High Waisted Maxi Skirt + Black Lace Corset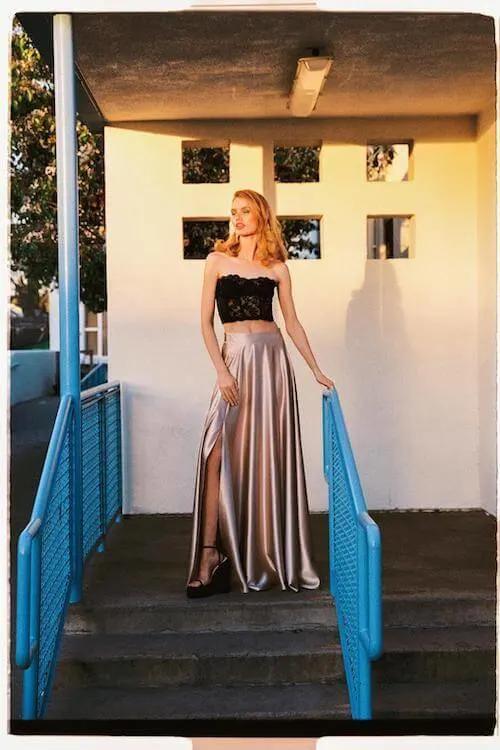 Oversized Sweater
In autumn and winter, the combo of a cozy oversized sweater and a long skirt is the right way to bring you warmth in a chic way.
You can choose different colors to match the top and bottom, or simply choose the same color look, easily becoming the focus of the crowd.
High Waisted Skirt + Oversized Sweater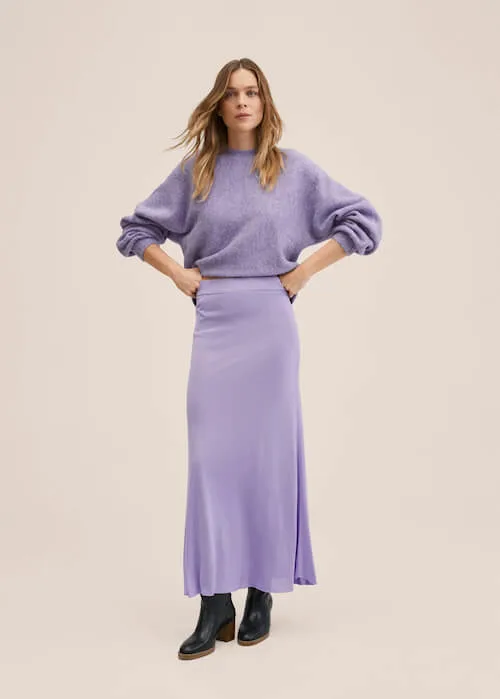 Floral Maxi skirt + Oversized Sweater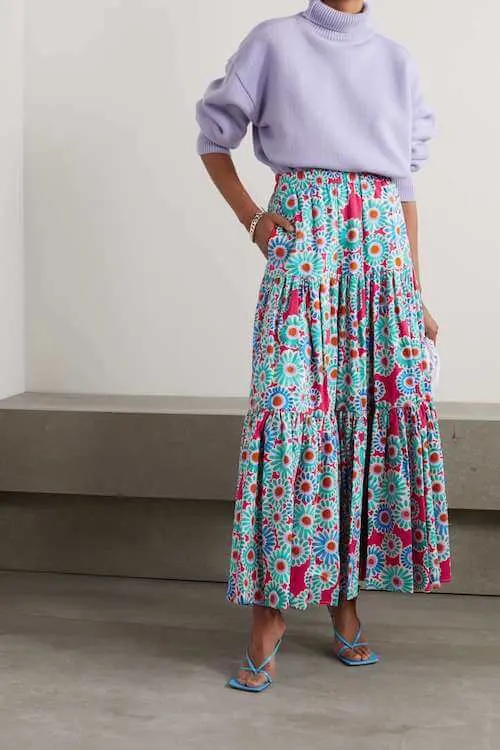 Long Sleeves Knit Top
A lighter, slimmer long sleeves knit top is also a good choice for long skirt outfits.
The lighter material allows you to tuck in the hem of the skirt, or you can use a belt to have a flattering look.
Cotton Long Skirt + Long Sleeves Thin Knit Top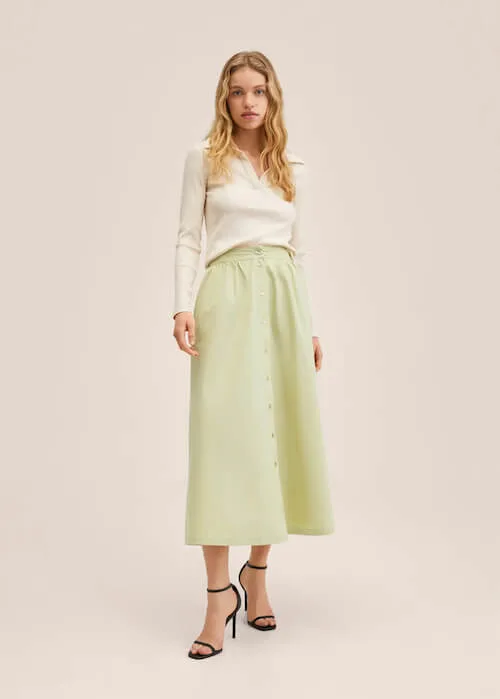 Black Skirt + Gray Long Sleeved Knit Top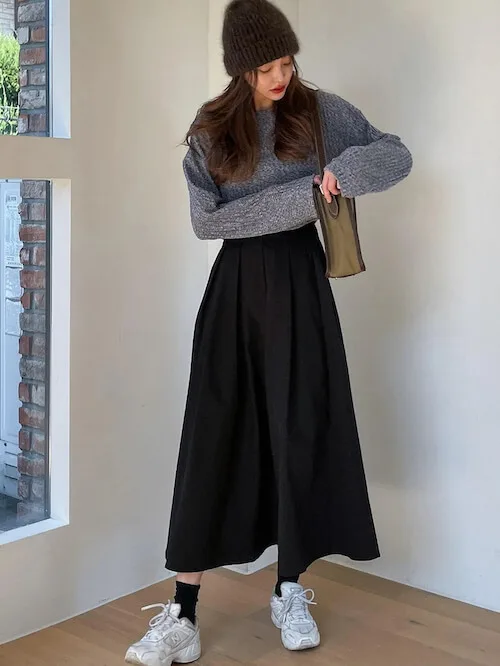 Leopard Print Knot Front Skirt + Slim Fit Black Long Sleeves Top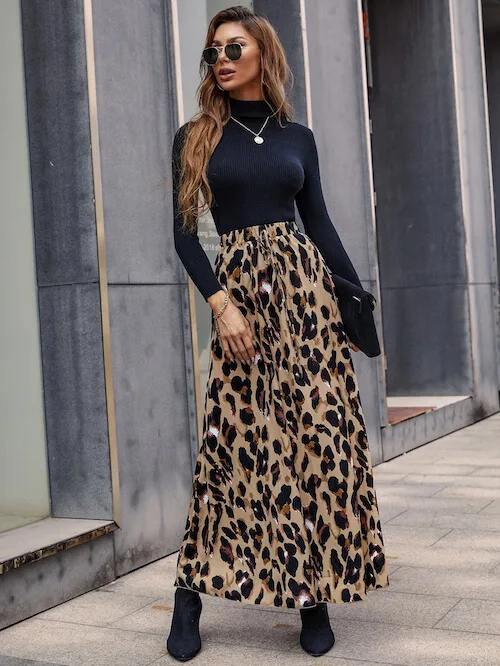 Button Down Shirt
A button-down shirt and a long, draped skirt make for the perfect work or formal wear look.
And I recommend a nice satin button-down shirt or a silk button-down shirt. You don't even need fine jewelry to be classy and elegant for special occasions.
Satin Pleated Skirt + Satin Button Down Shirt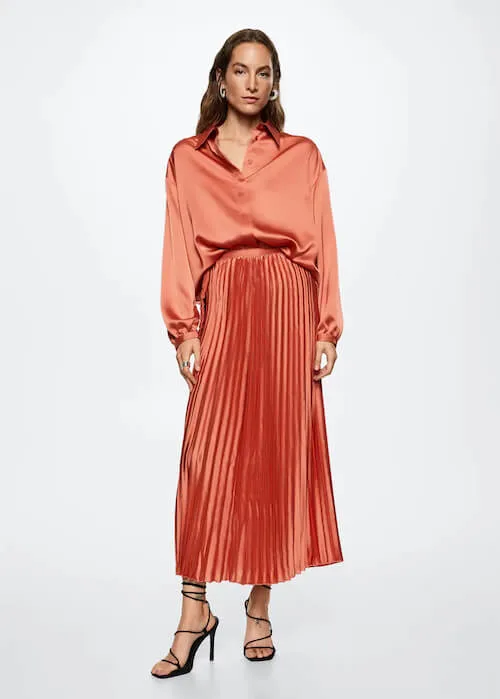 Belted Blazer
If you really like a very distinctive long skirt but are worried that it will be too casual for some more important occasions, this time, all you need is a black belted blazer!
This amazing piece can really make your long skirt achieve a perfect style transformation.
Colored Skirt + Black Belted Blazer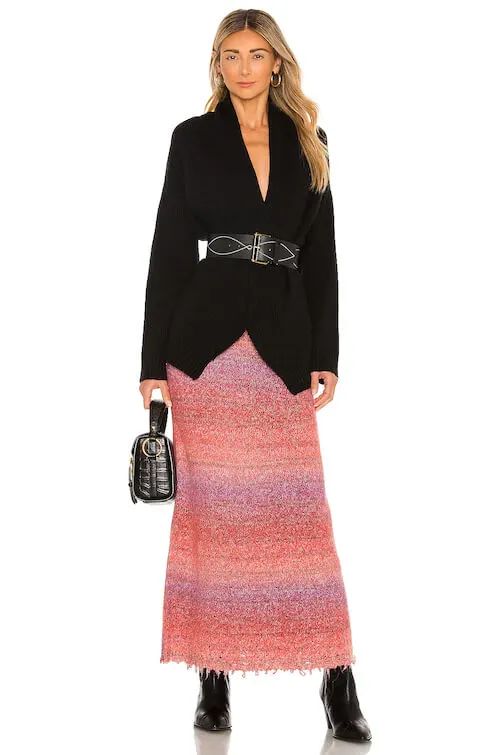 Off The Shoulder Top
When it comes to resort-style long skirt outfits, one of the best ways is the combo of an off-the-shoulder top and a flowy long skirt.
Blue Printed Maxi Skirt + Blue Printed Off-The-Shoulder Top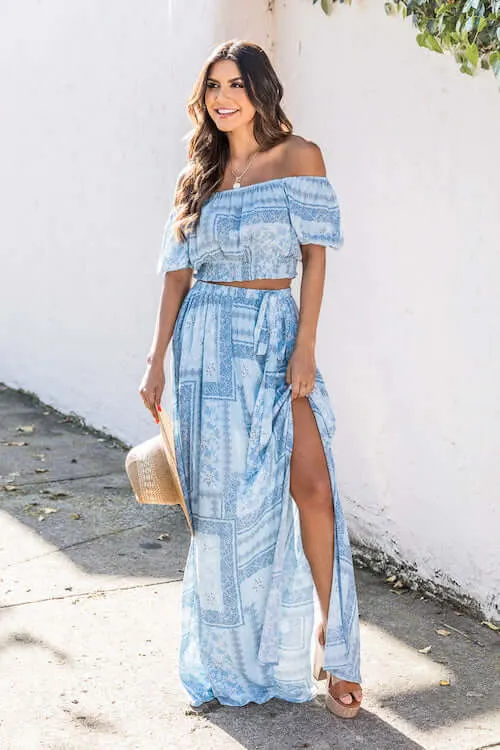 Tube Top
Want to add a touch of elegance to your favorite tube top without being tacky? Try pairing it with a satin long skirt.
Even the most exaggerated tube tops can be matched with a satin long skirt perfectly.
Satin Strappy Design Cut Out Maxi Skirt + Feather Tube Top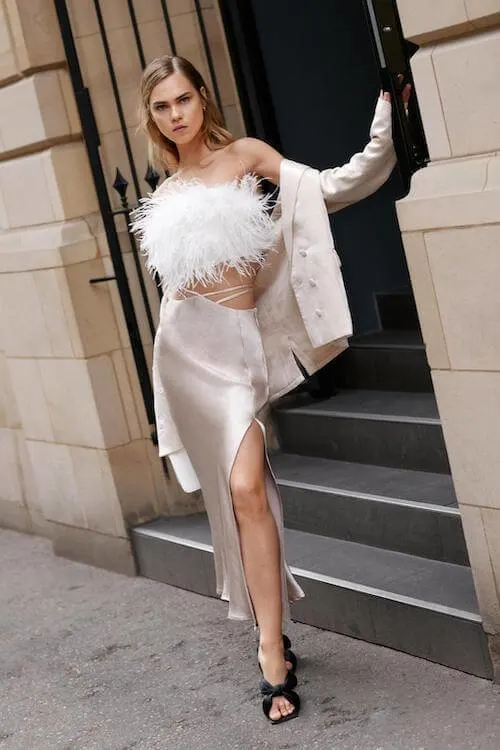 Slim Cardigan
This is a great casual work outfit that you can try during cooler months.
This time you can try a little less feminine shoes, such as loafers or simple ankle boots, which can make you look more elegant and fashionable with a perfect balance.
Pleated Long Skirt + Short Slim Cardigan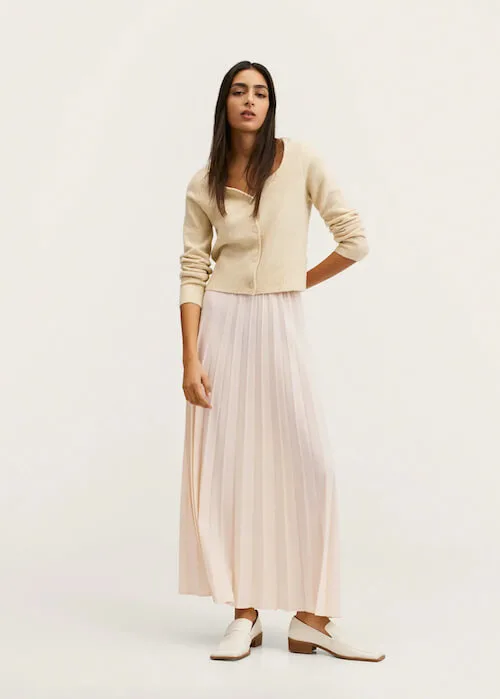 FAQ:
What Tops To Wear With Long Skirts For A Casual Look?
Crop tops, cute tank tops, and graphic tees are the best tops to wear with long skirts for a trendy casual look.
You can choose tops that are the same color or pattern as your long skirt. But the safest way is to choose a neutral-colored top. Especially, if your skirt is edgier or has a special pattern, a black casual top will allow you to highlight the strong style of your skirt and make you look very fashionable.
What Tops To Wear With Long Skirts For Formal Events?
For formal events, choosing slim or even tighter shorter tops can give you the best body shape. This time, the cut of the top should make your waist look slimmer.
So I would recommend good quality lace cami tops, satin cami tops, or off-the-shoulder tight tops, all of which will perfect your body proportions.
Wear elegant high heels and simple fine jewelry to complete the whole great look.
What Tops To Wear With Long Skirts For Warm Weather?
Lightweight and cool white shirts, basic tees, or cute tank tops are all great choices for warmer weather.
If you're on a summer vacation, I especially recommend white button-down shirts, which you can tie up at the hem of the shirt, or you can simply put the hem of the shirt on the outside of the skirt for a chic and cool look.
What Tops To Wear With Long Skirts For Cold Weather?
When it's cold, you can choose slim-fitting long-sleeved knit tops, or oversized tops to match your maxi skirt, both of which will make you look chic.
If it's even colder, you can add an oversized blazer or denim or leather jacket for a perfect layer.
What Are The Best Shirts To Wear With Long Skirts For Work Wear?
When you go to work, you can choose to wear a satin button-down shirt, a slim blazer, or a slim long sleeve knit top for a more polished look.
Choose neutral color tops to make your whole work outfit looks more expensive.
This post was all about what kind of tops to wear with long skirts.
About The Author
Tracy is an experienced personal stylist, shopping expert, and fashion & lifestyle blogger. She has been featured on Time Magazine, Bustle, Best Life, Glam, The Zoe Report, Mic, and GOBankingRates, for her insights on fashion, beauty, home decor, and lifestyle. Read More
Related Posts: