Looking for the latest grad party ideas? Check this post for the best ideas we rounded up for you to create your own great graduation party!
Graduation parties are a way to recognize and celebrate the hard work and dedication of your recent graduate.
A successful grad party requires careful planning, but with a few creative ideas, you can make it a memorable event for all involved.
Food, decorations and centerpieces are three essential elements to any celebration, so here are some tips to help you put together the perfect grad party.
From delicious snacks to beautiful decorations, these ideas will have your graduation party looking amazing and tasting even better!
This post may contain affiliate links, which means I'll receive a commission if you purchase through my link, at no extra cost to you. Please read the full disclosure here.
This post is all about grad party ideas.
CUTEST GRAD PARTY IDEAS
1. Graduation Candy Box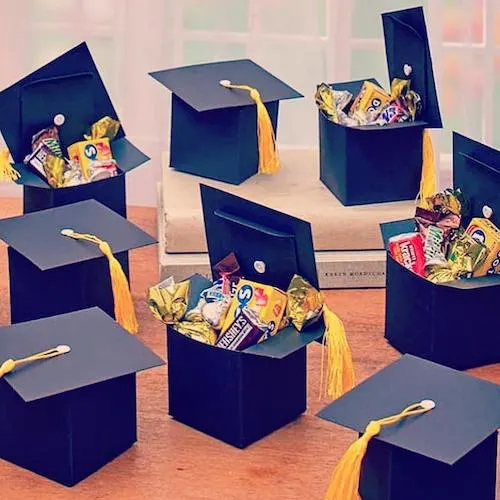 @eventbox_uae
A graduation candy box makes for the perfect party favor that your guests will love.
You can choose to purchase pre-made candy boxes or create your own DIY version using small cardboard boxes, colorful tissue paper, and ribbon.
Fill them with an assortment of candies such as chocolates, gummy bears, lollipops, and mints.
To make them even more personal, consider adding a custom label with the graduate's name and graduation year.
Another fun way to incorporate a candy box into your graduation party is by setting up a candy buffet table.
Use glass jars of various sizes to display different types of candies in different colors.
Provide scoops and tongs for guests to fill up their own personalized candy box or bag to take home as a party favor.
This not only serves as a delicious treat but also adds an eye-catching visual element to your party decor that everyone will enjoy.
Copy This Idea:
2. Decorate A Graduation Car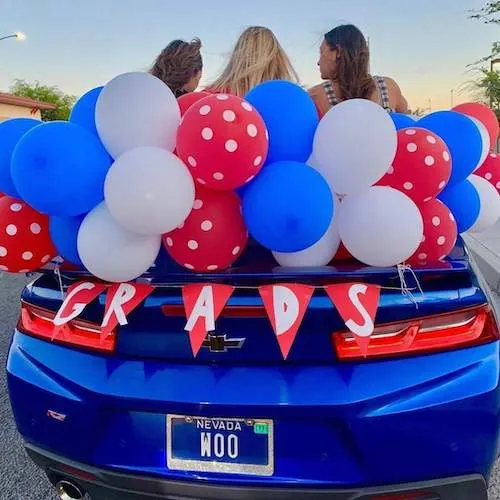 @celebrationsbykarly
To start, you can cover your car in balloons, streamers, and banners that say congratulations or feature your school colors.
Consider also adding some personal touches like photos or memorable moments from your time in high school or college.
Another fun way to decorate a graduation car is by incorporating themes related to your future plans.
For example, if you're going on to study medicine, you could add a stethoscope or medical symbols like crosses and snakes onto the decorations.
Alternatively, if you've got plans for traveling after graduation, you could create an around-the-world theme with travel-themed decorations like maps and suitcases.
Whatever direction you choose when decorating your graduation car be sure not to go overboard!
Keep it tasteful but still fun and celebratory as this will be one of the most photographed moments of the day!
Copy This Idea:
3. Have A Donut Board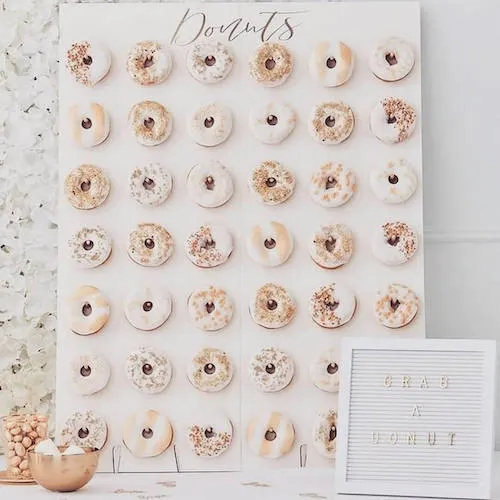 @eventbox_uae
Donuts are a popular dessert choice at any party or event. Having a donut board is not only practical for serving but also adds to the decor of the party.
A donut board can be made with pegboards or wooden boards and can hold multiple tiers of donuts.
One way to make a donut board stand out is by adding decorations such as flowers, balloons or signage that complements the theme of the graduation party.
Additionally, offering a variety of flavors and toppings will give guests more options to choose from when indulging in their sweet treat.
Donut boards can also serve as a fun activity for guests by allowing them to decorate their own donuts with an assortment of toppings such as sprinkles, chocolate chips, or icing.
This interactive element adds an extra layer of excitement to the party and allows guests to personalize their dessert experience.
Overall, having a donut board at your graduation party is sure to satisfy everyone's sweet tooth while also being aesthetically pleasing.
Copy This Idea:
4. A Blue And White Theme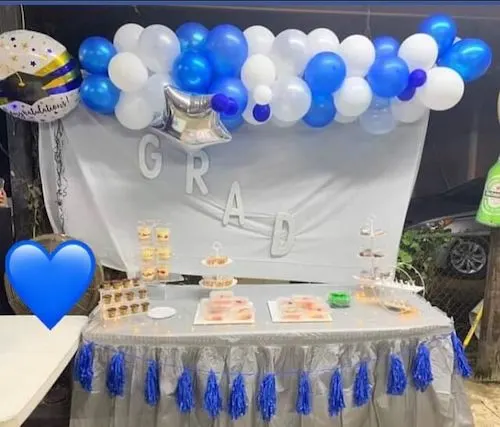 @htown_balloons
A blue and white theme is a classic color combination that never goes out of style.
It's versatile, timeless, and perfect for any celebration.
Whether it's for a graduation party or any other event, the blue and white theme can be easily incorporated into your decor, food, and drinks.
Start by choosing your shades of blue – whether it's navy or sky blue – mix them with white to create a cohesive look.
You can use blue tablecloths, white plates, and napkins with blue accents to bring the theme together.
Adding some silver or gold accents will also make the colors pop.
When it comes to food and drinks, you can serve blue-colored cocktails like Blue Hawaiian or Blue Lagoon in elegant glasses adorned with silver or gold rims.
For desserts, you could make vanilla cupcakes topped with blue frosting or macarons decorated in shades of blues and whites.
Overall, a blue and white themed party is an easy way to add sophistication to any celebration while still keeping things fun!
Copy This Idea:
5. Creative Graduation Box Decorations
6. Gold And Green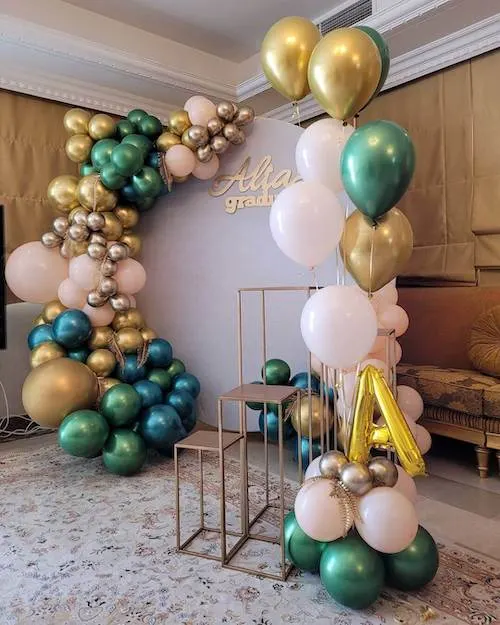 @balloonupdubai
A gold and green theme is a perfect party idea for those who want to add a touch of sophistication and elegance to their graduation party.
This theme can be achieved by using gold and green decorations, such as balloons, streamers, tablecloths, and centerpieces.
Incorporating metallic elements like gold silverware or a golden backdrop will elevate the overall look of the party.
To add some extra sparkle to the celebration, consider using glittery accents throughout the decor.
For example, you could sprinkle gold glitter on tables or incorporate sparkly green leaves into floral arrangements.
Additionally, you could use gold calligraphy in place cards or signage for an extra personalized touch that ties in with the overall theme.
Copy This Idea:
7. "Watch Out World" Sign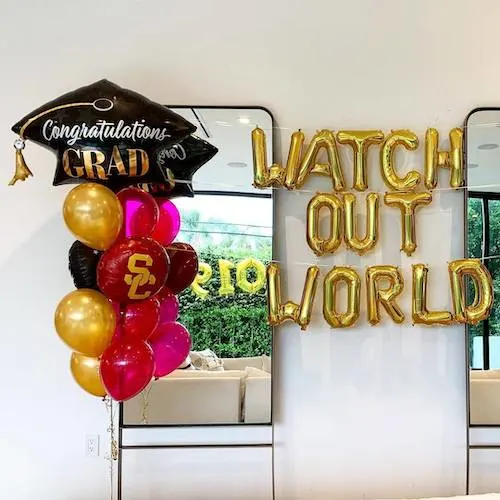 @streamersnballoons
A "Watch Out World" sign is the perfect addition to any graduation party.
This bold statement piece can be easily made with cardboard, paint, and some creativity.
Hang it up on a wall or use it as a backdrop for photos to show off your graduate's confidence and determination.
Not only is this sign visually striking, but it also sends a positive message to all who see it.
It serves as a reminder that the future holds limitless possibilities for those who are willing to work hard and pursue their dreams.
Encourage your graduate to take their next steps with enthusiasm and optimism by displaying this empowering message at their graduation party!
Copy This Idea:
8. Silver And Blush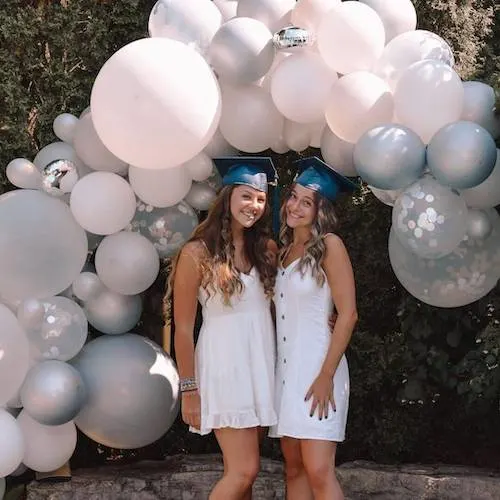 @streamersnballoons
Silver and blush decorations are a popular choice for graduations, as they add a touch of elegance and sophistication to any celebration.
These colors complement each other perfectly, with silver adding a metallic shimmer that contrasts beautifully against the soft pink of blush.
To incorporate this color scheme into your graduation party, consider using silver and blush balloons, streamers, and tablecloths.
You can also add subtle touches of these colors through floral arrangements or place settings.
For a more dramatic effect, use silver confetti or glitter to decorate the tables or sprinkle on the floor.
Another way to incorporate silver and blush into your graduation party is through dessert displays.
Cupcakes with silver frosting or edible glitter accents can be displayed on pink cake stands for an eye-catching addition to your dessert table.
Copy This Idea:
9. A Mini Popcorn Bar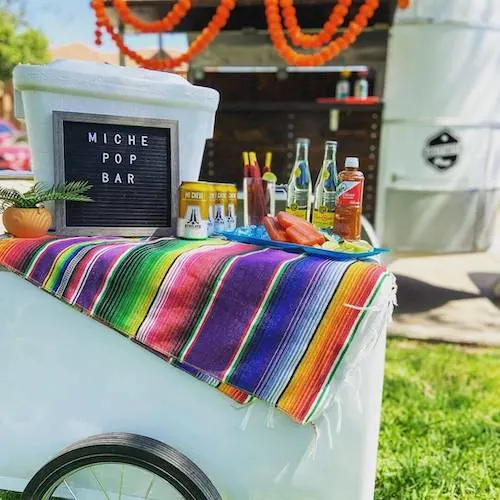 @southern_pour
A mini popcorn bar is a perfect addition to any graduation party.
Guests can create their own personalized snacks by choosing from a variety of popcorn flavors and toppings.
To set up the bar, start with plain popped popcorn and provide different seasoning options such as salt, butter, and cheese.
For those who prefer sweet treats, include toppings like caramel drizzle, chocolate chips, or even M&M's.
Don't forget to also offer savory options such as bacon bits or ranch seasoning for a unique twist on classic popcorn flavors.
To make this mini popcorn bar even more interactive, consider providing guests with small paper bags or containers so they can mix and match their favorite flavors and take them home as a party favor.
This fun snack station is easy to set up and will definitely be a hit amongst your guests!
Copy This Idea:
10. Have Graduation Party Games
If you're planning a graduation party, incorporating games into the celebration is an excellent way to keep guests engaged and entertained.
There are several fun and engaging games that you can choose from depending on your preferences and resources.
For example, classic party games like charades, Pictionary, or trivia can be played with a graduation twist by incorporating questions related to the students' majors or academic achievements.
Another popular party game is "Never Have I Ever," where participants take turns sharing something they've never done before (such as "never have I ever stayed up all night studying for an exam") and those who have done it must take a sip of their drink.
You can also set up backyard games like cornhole or giant Jenga that will keep guests active while enjoying the outdoors.
Overall, including games at your graduation party is an excellent way to create lasting memories with friends and family.
Just make sure to choose activities that are appropriate for all ages attending the event!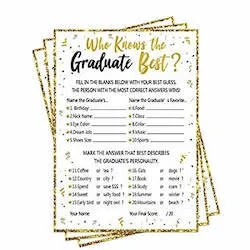 11. A Sweet Success Candy Bar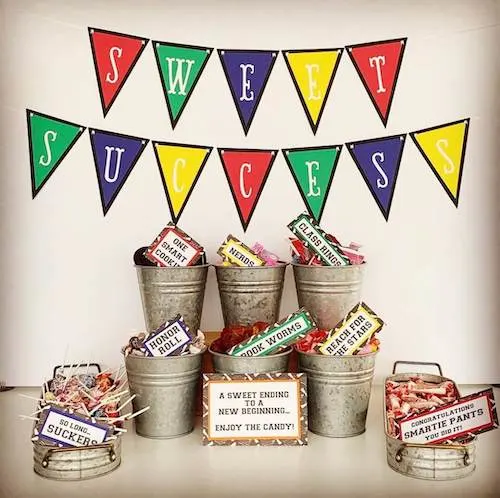 @kdoccasions
The Sweet Success Candy Bar is a delightful addition to any graduation party.
With its colorful array of candies and treats, this candy bar will surely satisfy your guests' sweet tooth.
The setup is simple yet eye-catching as it includes a variety of jars filled with different types of candies such as gummy bears, chocolate-covered pretzels, M&Ms, and more.
To make the candy bar even more special, you can add customized labels that feature the graduate's name or initials.
You can also include small bags or boxes for guests to take home their favorite treats from the candy bar.
This personalized touch adds a sentimental value to the party and makes it memorable for everyone involved.
Copy This Idea: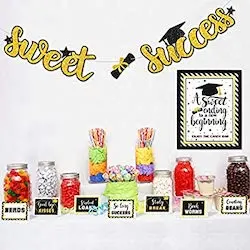 12. Glam Grad Backdrop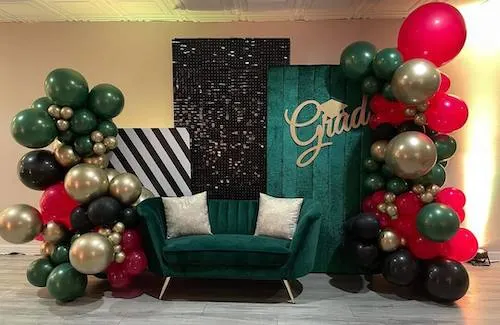 @lriliece_events
When selecting a color scheme for your glam grad backdrop, consider using metallic colors like silver or gold.
You could also incorporate black and white patterns such as stripes or polka dots to create a classic look.
Additionally, you can add balloons, tassels, and streamers in coordinating colors to create an unforgettable ambiance.
Finally, don't forget about adding personalized touches such as banners with the graduate's name or quotes relevant to their academic journey.
You can use these elements to tie together all of the different components of your glam grad backdrop into one cohesive theme.
By taking these steps, you'll have created a stunning visual display that encapsulates all of the hard work and effort put into achieving this milestone moment in life!
Copy This Idea:
13. Fruit Salad or Veggies In A Cup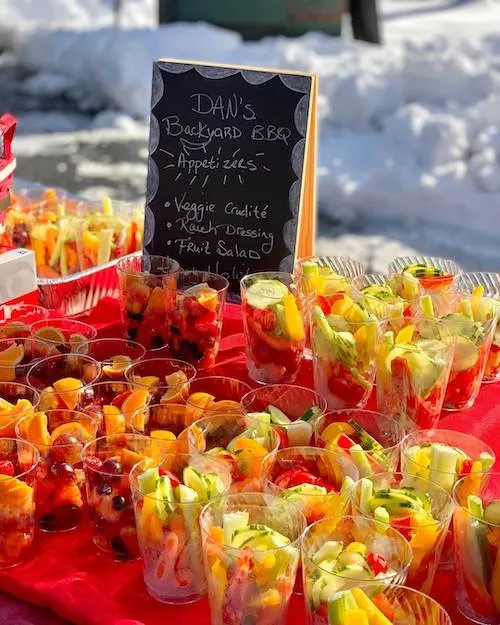 @dansbackyardbbqllc
Fruit salad and veggies in a cup can be a fresh and healthy addition to any graduation party.
Not only is it easy to prepare, but it also provides a colorful and eye-catching display that your guests will surely love.
You can use clear plastic cups or mason jars for this idea, making them perfect for outdoor events where glassware may not be allowed.
To create fruit salad cups, you can mix different types of seasonal fruits such as strawberries, blueberries, kiwi slices, grapes, and mangoes.
For the veggie cups, you can combine sliced cherry tomatoes, cucumber sticks, carrot sticks, celery sticks, or other favorites like bell peppers or broccoli florets.
You can also add some dip on the side such as ranch dressing or hummus to enhance the flavors.
Aside from being aesthetically pleasing and deliciously healthy at the same time – serving fruit salad or veggies in a cup is also an eco-friendly option compared to big bowls of mixed greens that often go uneaten at parties.
So make sure to include this simple yet delightful idea in your grad party menu!
Copy This Idea:
14. Hang A Graduation Banner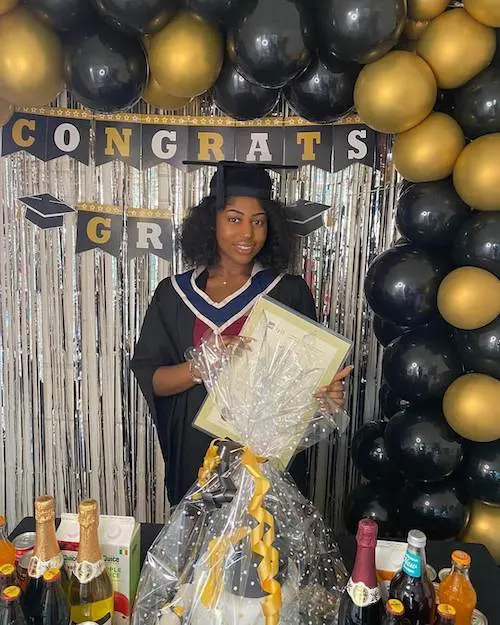 @mmexcellentevents
A graduation banner is a great way to celebrate the achievements of a graduate.
Not only does it make for an excellent backdrop for photos, but it also serves as a focal point for the party.
There are several ways to hang a graduation banner, depending on your preference and party venue.
One option is to use string or ribbon to hang the banner from the ceiling or walls.
This works well if you have high ceilings or ample space to display the banner.
Another option is using adhesive hooks or tape to attach the banner directly onto a wall or door.
This method is ideal if you have limited space and want to maximize visibility.
No matter how you choose to hang your graduation banner, be sure it's in a prominent location where everyone can see and admire it.
With so many cute ideas available, such as personalized banners with photos and custom messages, your graduate will surely feel special on their big day!
Copy This Idea: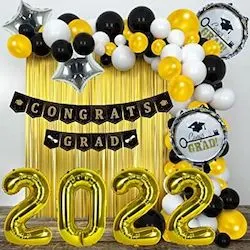 15. Have A Joint Graduation Party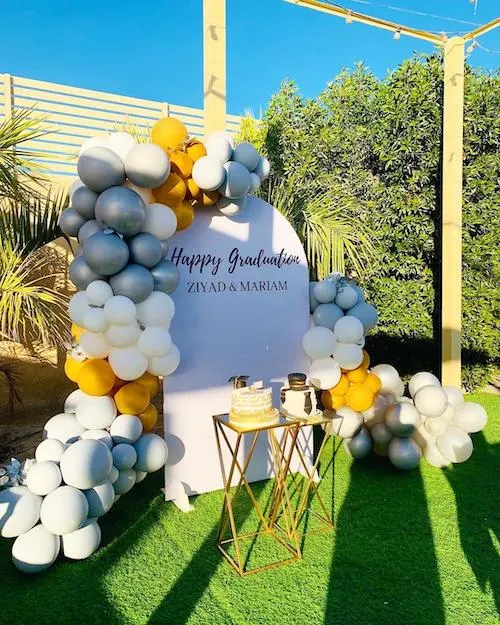 @creativedge_oman
If you're graduating with friends or have a sibling that's graduating at the same time as you, it might be worth considering having a joint graduation party.
This will not only save money, but also allow for a bigger and more exciting celebration.
You could split the costs of decorations, food and entertainment to make it affordable for everyone involved.
A joint graduation party also means that you'll have more people to celebrate with.
This can make the occasion even more special as you share the excitement of reaching this milestone together.
Plus, there's nothing quite like reminiscing over old memories with childhood friends or family members.
When planning a joint graduation party, communication is key.
Make sure everyone is on board with the idea and agrees on important details such as location, date and guest list.
With proper planning and organization, your joint graduation party is sure to be an unforgettable event that will be talked about for years to come.
16. Use Graduation Cupcake Toppers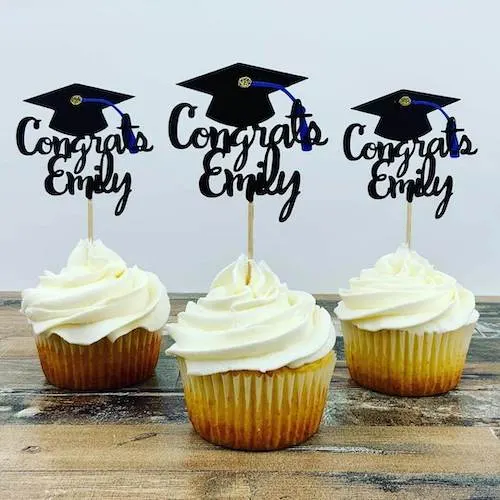 @cupcake toppers
Graduation cupcake toppers come in a variety of designs, including traditional caps and diplomas, as well as more fun and creative options like graduation caps with tassels made from edible glitter.
Not only do they add a festive touch to the dessert table, but they also make for great photo opportunities.
Copy This Idea:
17. DIY Graduation Centerpieces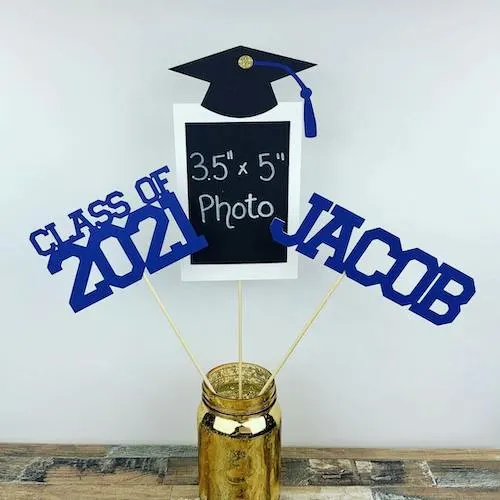 @ourpapernest
Graduation season is upon us, and what better way to celebrate than with some DIY centerpieces?
Not only are they budget-friendly, but they also add a personal touch to your graduation party.
There are countless ways to create unique and memorable centerpieces that will leave your guests impressed.
One idea is to use mason jars filled with flowers or candy in your school colors.
You can personalize them further by adding custom labels with the graduate's name or graduation year.
Another option is to create photo centerpieces using pictures of the graduate throughout their school years.
These can be displayed in frames or even on balloons for a fun twist.
Copy This Idea:
18. Have A Unique Reception Desk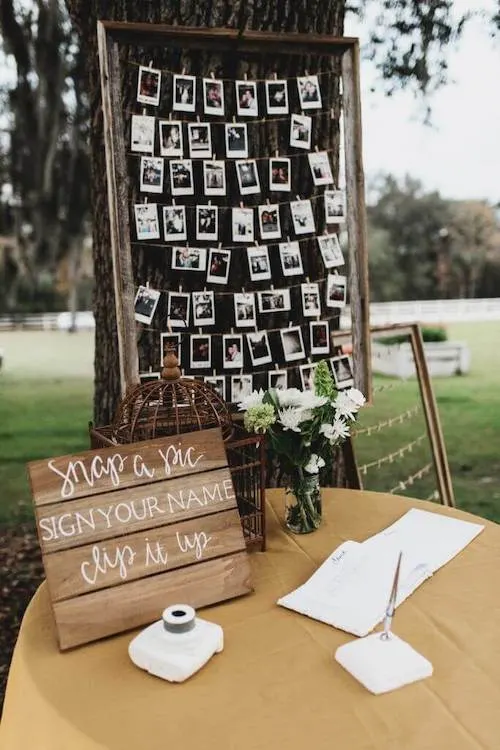 @ourpapernest
Having a unique reception desk at your graduation party can create a memorable experience for your guests.
One idea to make the reception desk stand out is by having a Polaroid camera available for guests to take pictures with.
This not only serves as entertainment but also allows guests to have a physical keepsake of the event.
To execute this idea, set up a designated area with the Polaroid camera and have someone designated to take pictures or allow guests to take their own.
Then display the instant photos on the reception desk so that everyone can see them as they arrive or wait in line.
This is an excellent way to break the ice and start conversations among guests who may not know each other.
In addition, you can personalize your reception desk by adding decorations that reflect your personality, such as balloons in your school colors or banners with graduation quotes.
The possibilities are endless when it comes to creating a unique and fun reception desk that will leave a lasting impression on your guests!
Copy This Idea:
19. "She leaves a little sparkle wherever she goes"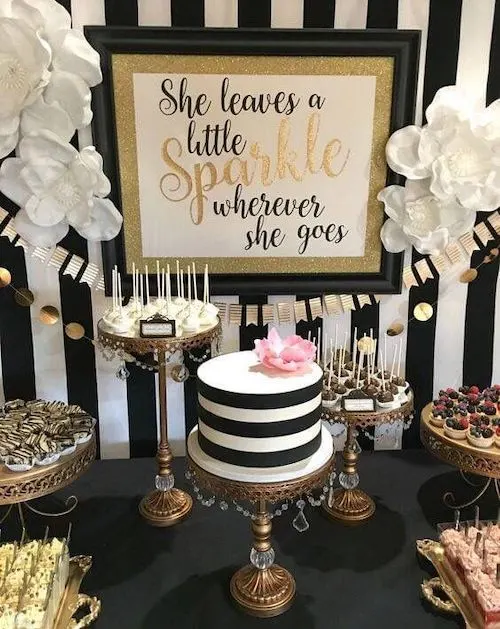 Source: Pinterest
Copy This Idea:
20. GRAD Lights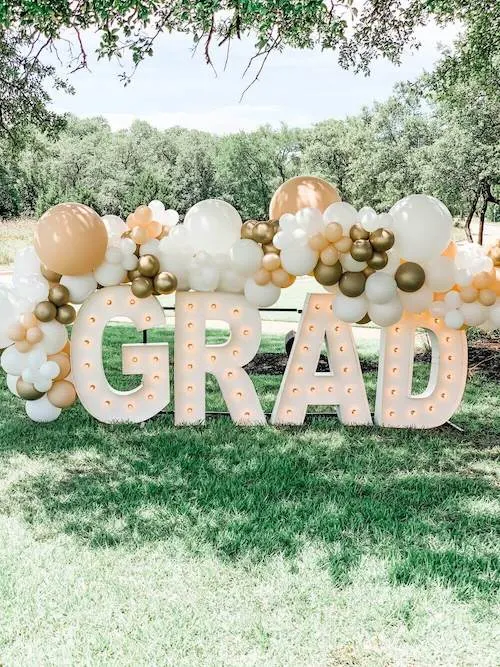 Source: Pinterest
Copy This Idea:
21. A Mini Donut Bar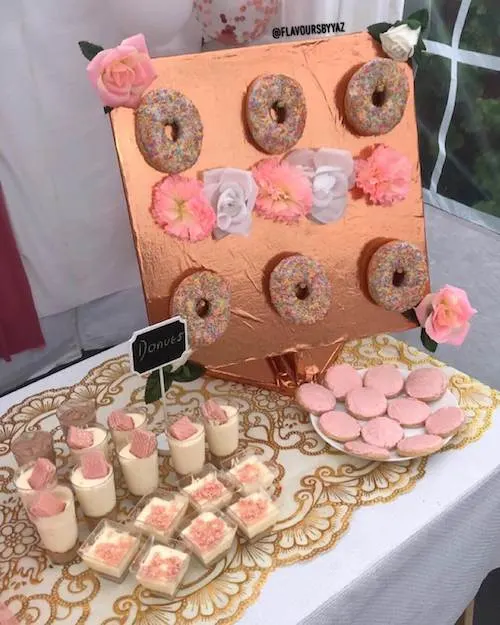 @flavoursbyyaz
Setting up the mini donut bar is quite simple.
All you need are freshly made donuts (or store-bought if you're short on time), some glazes or icings, and an array of toppings such as sprinkles, coconut flakes, chopped nuts, chocolate chips, and more.
You can even offer some unique flavors such as maple bacon or matcha green tea for those feeling adventurous.
One great way to display the mini donut bar is to use tiered trays or stands that showcase the different flavor options.
Alternatively, you can set up several smaller stations throughout the party area so guests can grab a fresh treat whenever they want.
Copy This Idea:
22. Set Up A Glam Table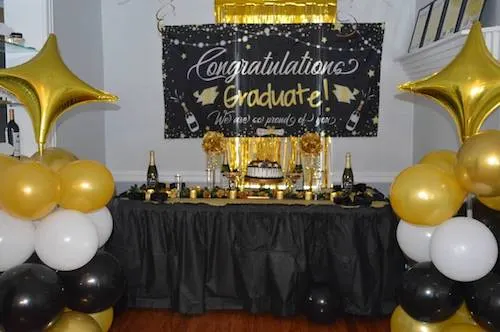 @bluedovepostit
Copy This Idea:
23. Have Graduation Bottles And Glitter Centerpieces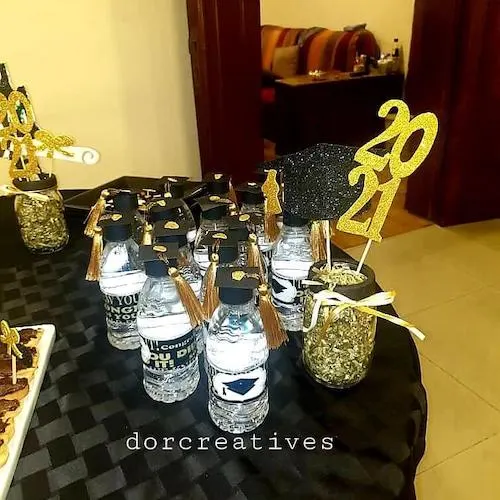 @dorcreatives
Copy This Idea:
24. A Black And Gold Backdrop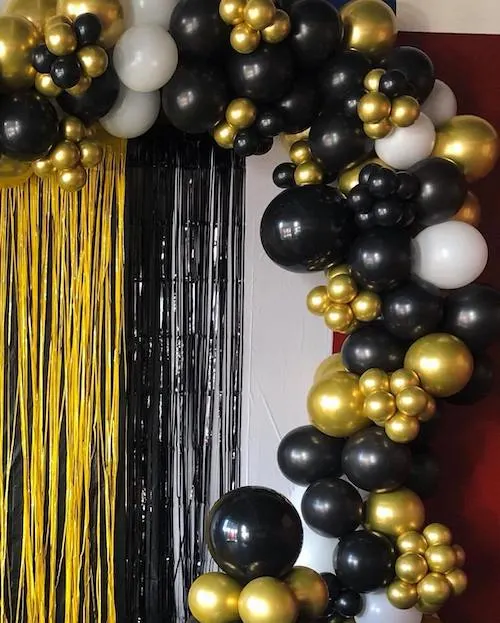 @pumpnpopballoon
Copy This Idea:
25. A Pretty Orange And Pink Bar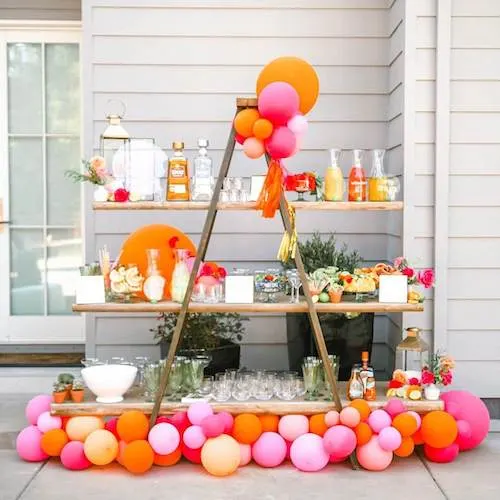 @eventsbypinsandpetals
Copy This Idea:
26. Themed Balloons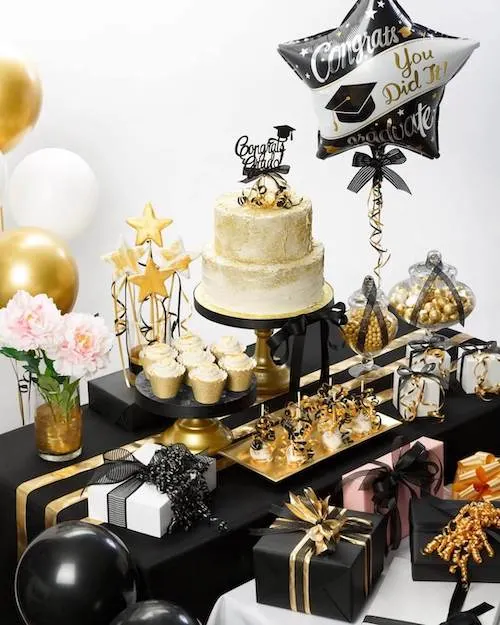 @lionribbon
Themed balloons are a fun and creative way to add some personality and flair to your graduation party.
Whether you want to celebrate your academic achievements, showcase your favorite hobbies, or simply set the tone for a memorable event, themed balloons can help you achieve all of these goals and more.
To take your themed balloons to the next level, consider incorporating them into other aspects of your party decor.
You might use them as centerpieces on tables, create balloon arches or garlands that serve as backdrops for photos, or even attach individual balloons with personalized messages or photos to each guest's chair.
With a little creativity and planning, themed balloons can truly elevate any graduation party!
Copy This Idea:
27. A Cute Backyard Graduation Party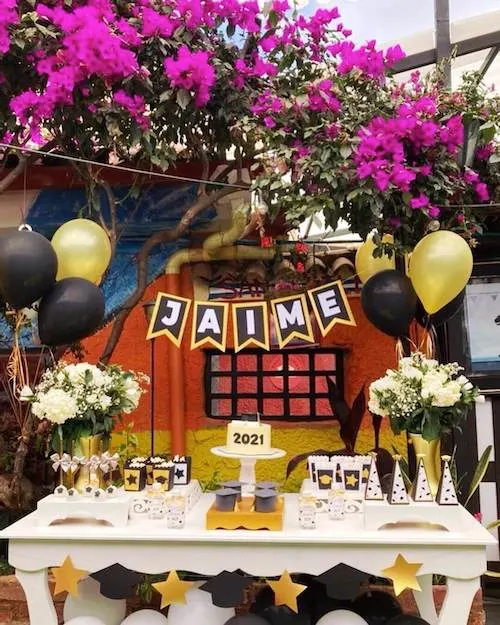 @lets_party_eventos
If you're looking to throw a memorable graduation party, why not consider hosting it in your own backyard?
Not only is this an affordable option, but it also allows for a more intimate gathering with friends and family.
To create the perfect backyard graduation party, start by selecting a theme that reflects the graduate's personality and interests.
Once you have a theme in mind, start planning the decorations.
Balloons, banners, and centerpieces are all great options.
You can even incorporate some DIY elements like photo backdrops or personalized photo frames to add a personal touch.
In terms of food and drinks, consider setting up a buffet table with easy-to-eat finger foods like sliders, mini quiches, and fruit skewers.
For beverages, offer both alcoholic and non-alcoholic options like lemonade or iced tea for those who prefer not to drink.
Don't forget to provide plenty of seating areas – think cozy outdoor sofas or picnic tables – so guests can relax and enjoy each other's company!
Copy This Idea:
28. Display Your Achievements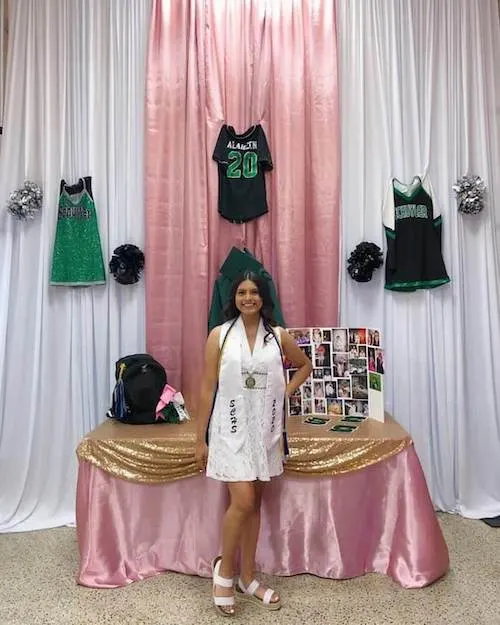 @j.rochadecor.design
One way to add a personal touch to your graduation party is to display your achievements.
This can include diplomas, awards, certificates and any other recognition you have received throughout your academic journey.
A great idea is to create a photo collage using pictures of yourself from various stages of your education with these documents displayed around the edges.
Another creative way to showcase your accomplishments is by setting up a "brag board".
This can be a corkboard or even just a section of wall where you can pin or tape up all of the certificates and awards that you are proud of.
You can also include photos and memorabilia from significant moments in your academic career such as team photos, musical performances or theater productions.
It's important to celebrate these accomplishments with family and friends so don't be afraid to show off what you've accomplished!
Copy This Idea:
29. A Feminine Party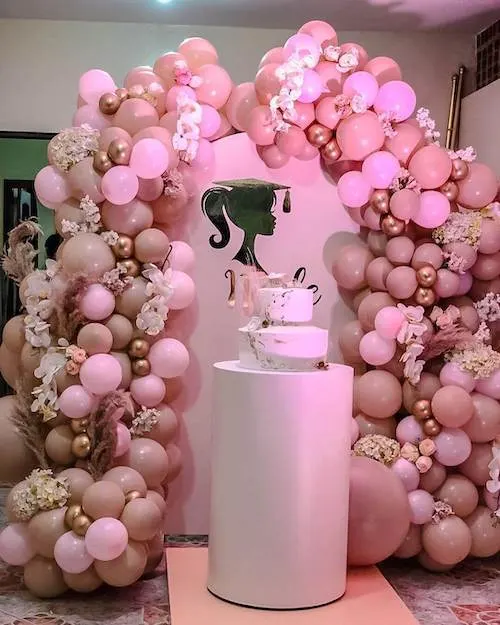 @portofiesta
This theme is all about embracing femininity and showcasing it through decor, food, and attire.
To start off, the color scheme should revolve around shades of pink and white.
Balloons, streamers, and floral arrangements can be used to create a beautiful atmosphere.
When it comes to food and drinks, pink-themed treats are a must-have.
Think rose-colored macarons, strawberry lemonade cocktails, and raspberry-filled cupcakes.
Guests can also dress up in pink attire or accessories for a cohesive look.
This type of party is perfect for anyone who loves all things girly and wants to celebrate their accomplishments in style.
Whether it's a high school or college graduation or simply an excuse for a fun gathering with friends, hosting a pink feminine party will surely leave lasting memories.
Copy This Idea:
30. Set Up Yard Signs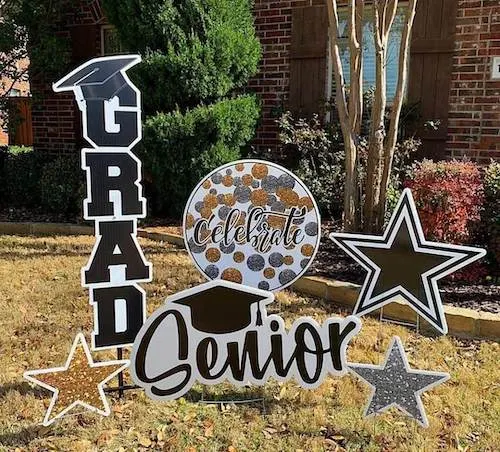 @cincinnatisigndreamers
Setting up yard signs is a great way to let people know about your upcoming graduation party.
Yard signs can be customized with personal messages and colors that are perfect for the occasion.
These signs can be placed in various locations, such as front yards, driveways, or even on the side of the road leading up to your house.
When setting up yard signs, it is important to keep them simple and easy to read.
Use bold fonts and bright colors that stand out from the background.
You may also want to include directional arrows pointing towards your home so guests know exactly where they should go.
Copy This Idea:
31. A Cute Display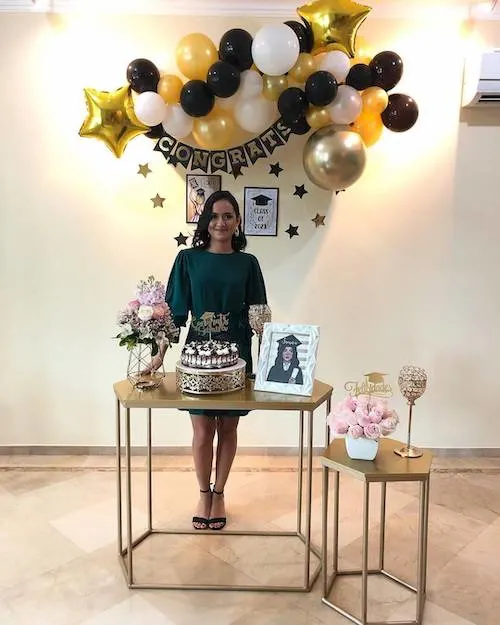 @lovelyeventos_ec
Copy This Idea:
Scroll on to check out more cute graduation party ideas!
Insanely Cute Graduation Party Ideas You Will Love
A Gold And Black Theme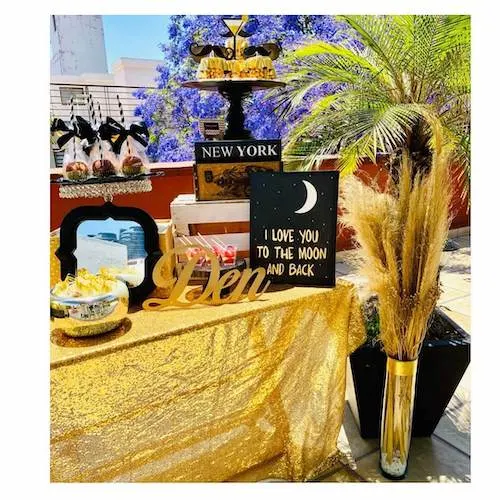 A Tropical Theme Grad Party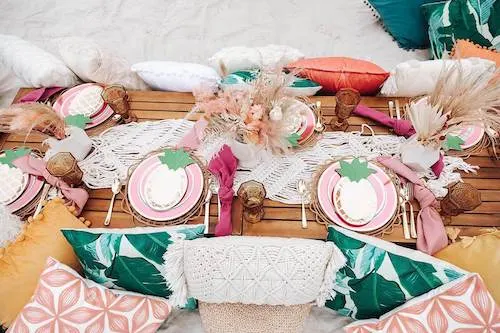 Go Change The World!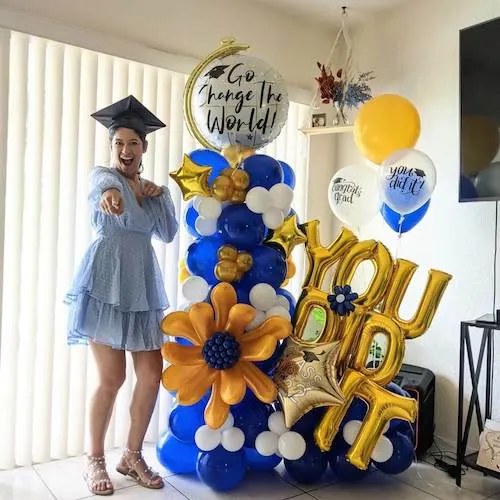 Rose Gold Graduation Party Decoration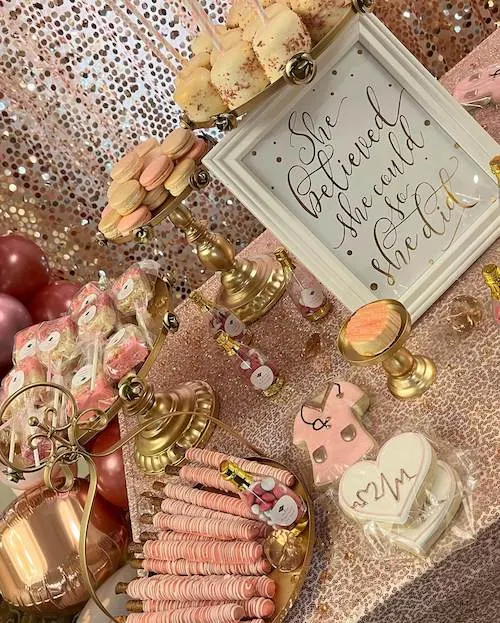 Bright Color Graduation Party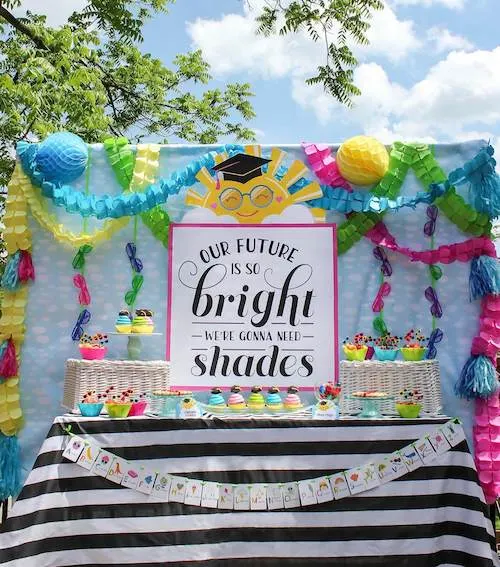 A Sweet Ending To A New Beginning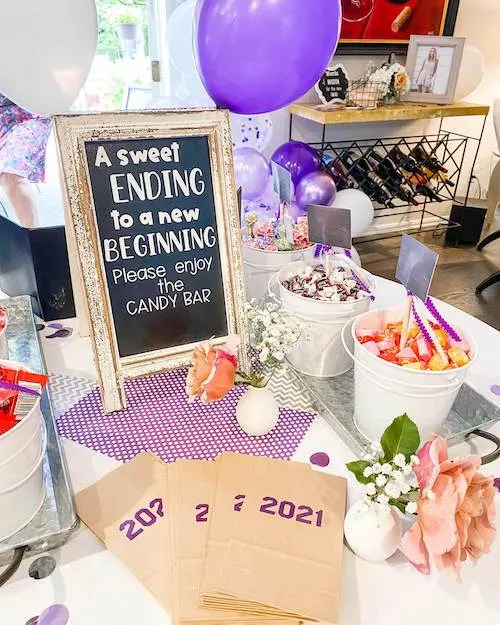 Diploma Cookies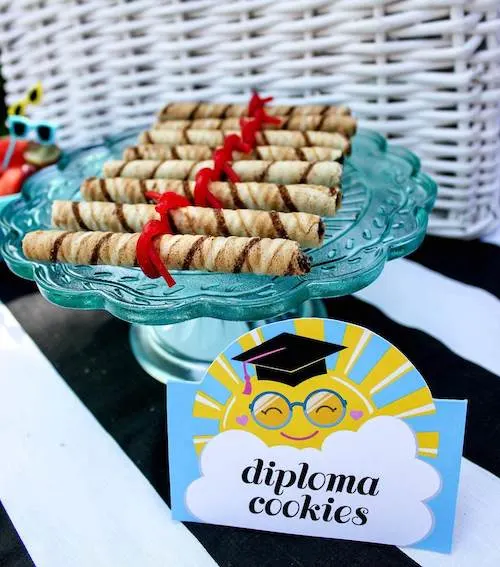 Donut Stop Believing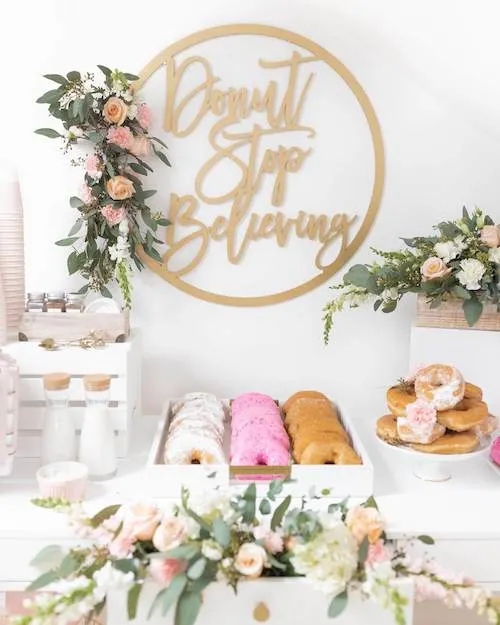 Summer Graduation Party Drinks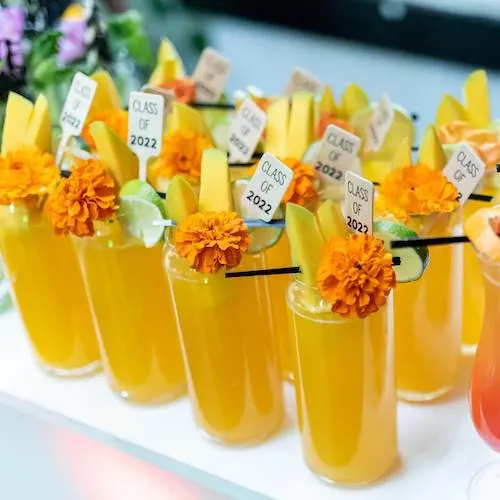 Bright Pink Grad Party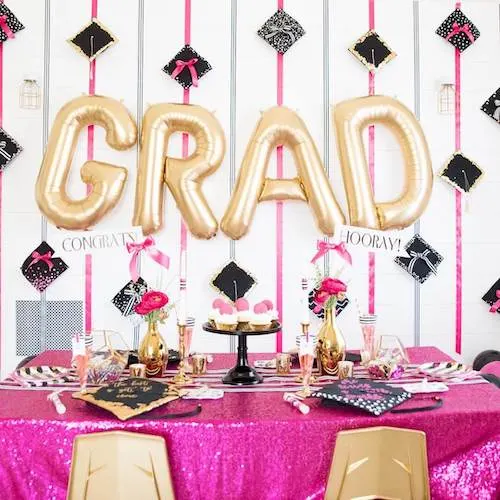 Cute DIY Centerpieces For Grad Party
Memory Jar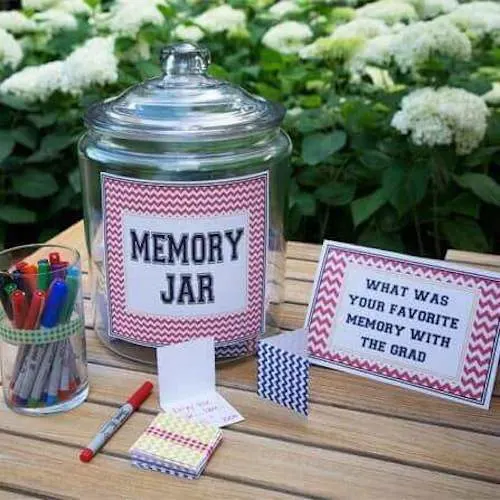 Your School Colors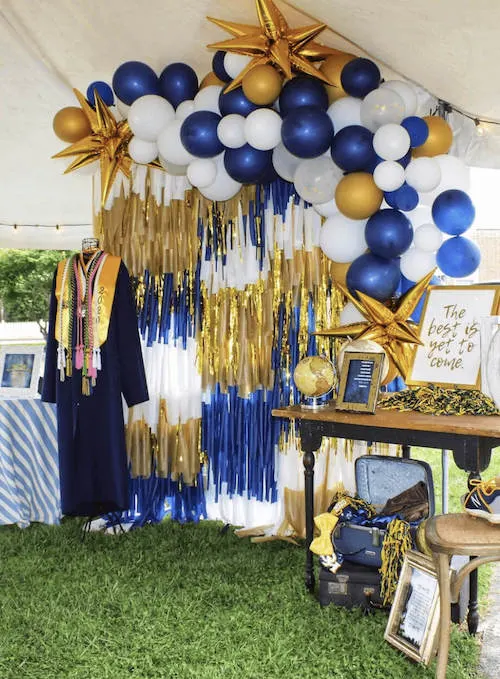 Simple DIY Centerpiece For Your Party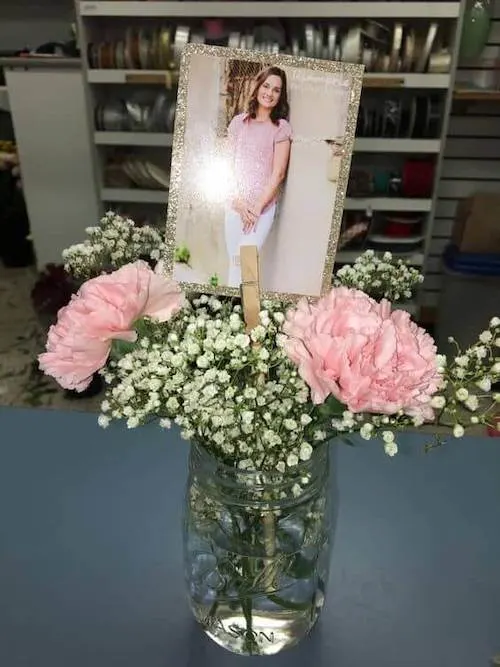 Boho Theme Grad Party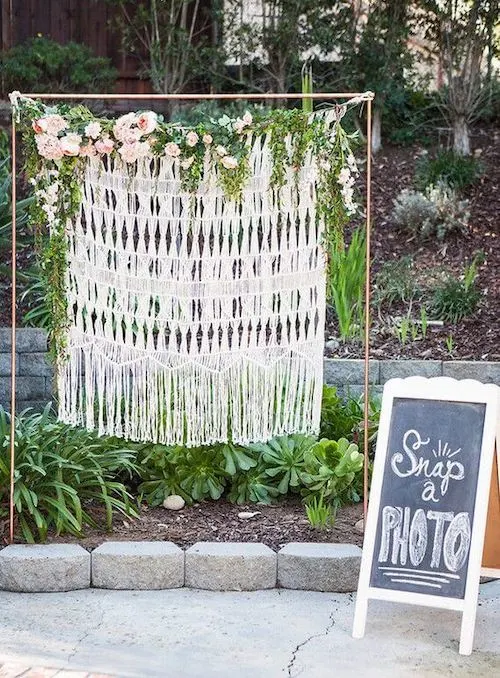 Smart Cookie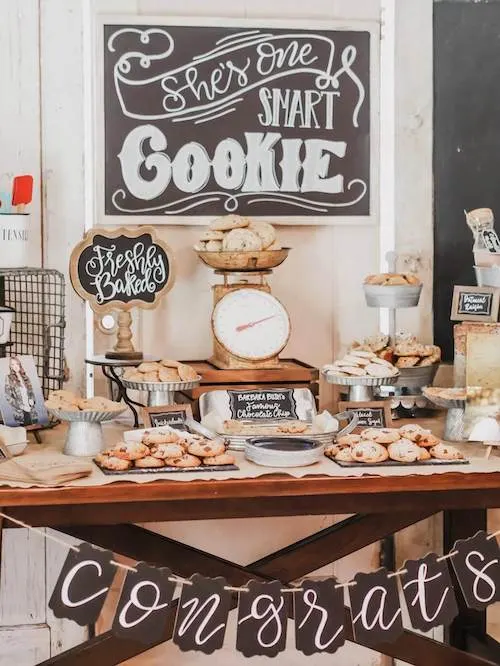 Cute Guest Table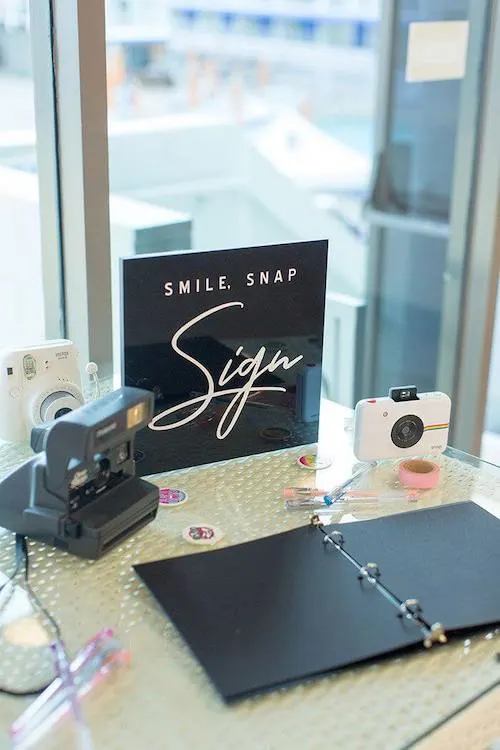 Memory Board For Grad Parties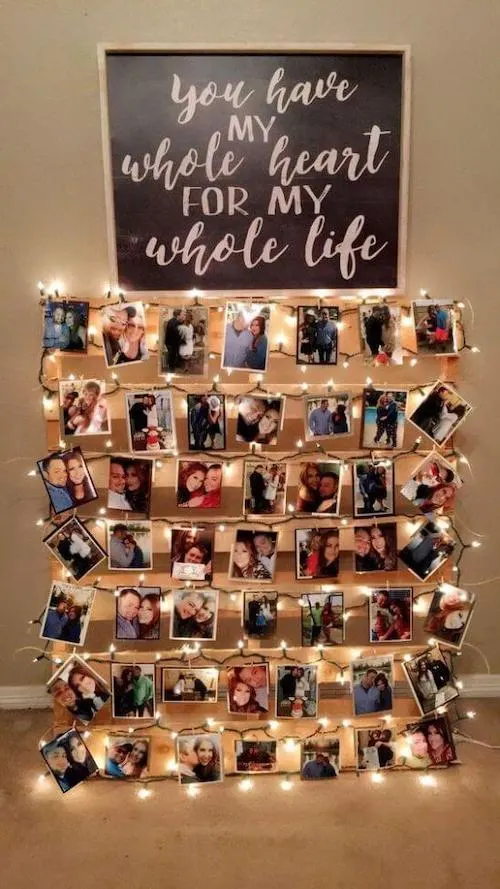 Neo Sign

Graduation Foam Letters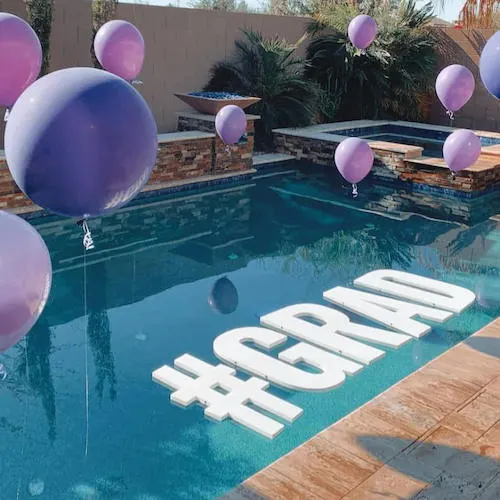 Graduation Printable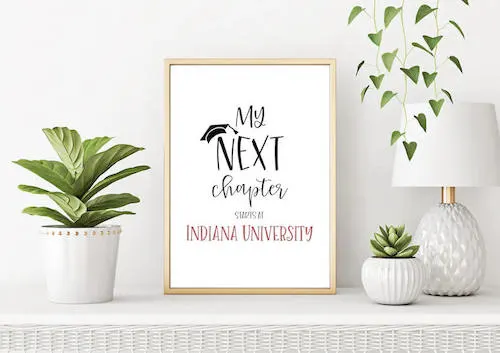 Graduation Party Customized Cups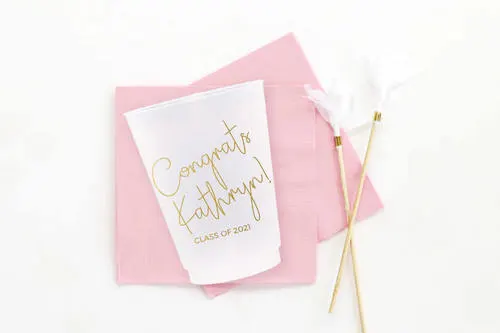 Outdoor Graduation Sign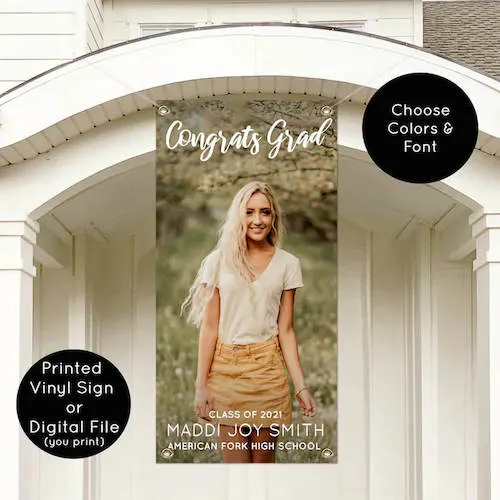 Rose Gold Graduation Party Invitation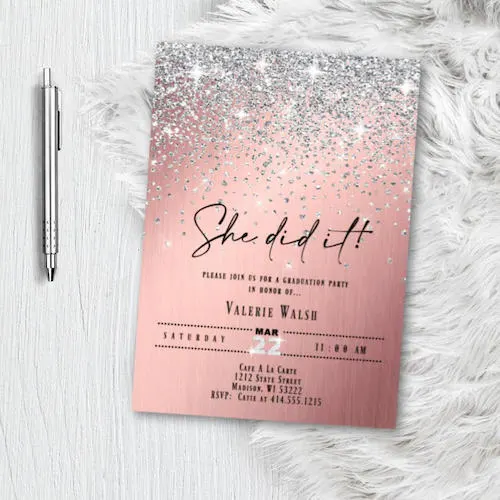 Graduation customized centerpiece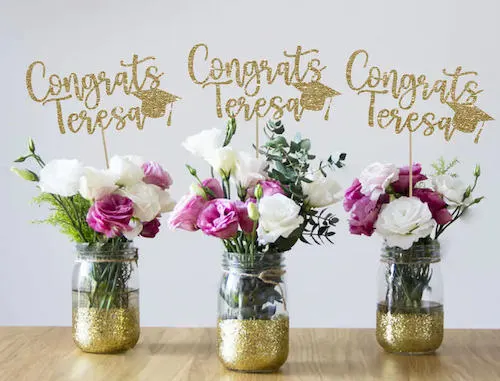 Personalized Graduation Party Favor Bags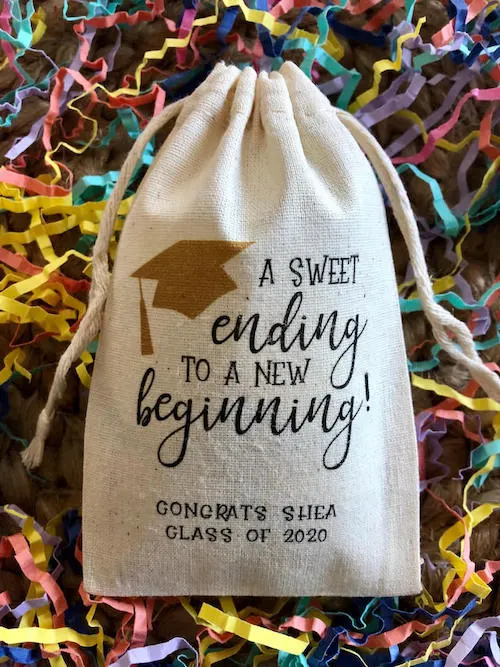 Graduation Party Cups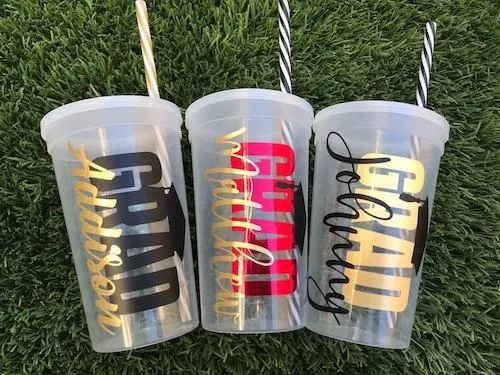 Backyard Graduation Party Ideas
Cute Tropical Theme Graduation Party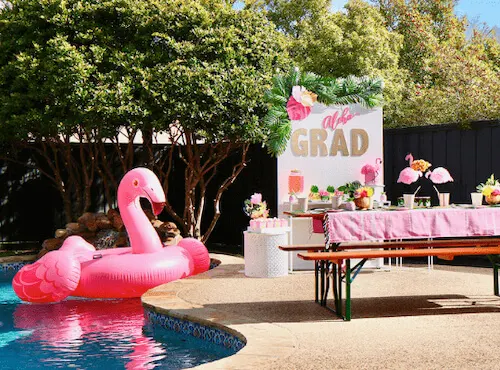 Graduation Party Card Box
Beautiful Balloon Decors For Grad Party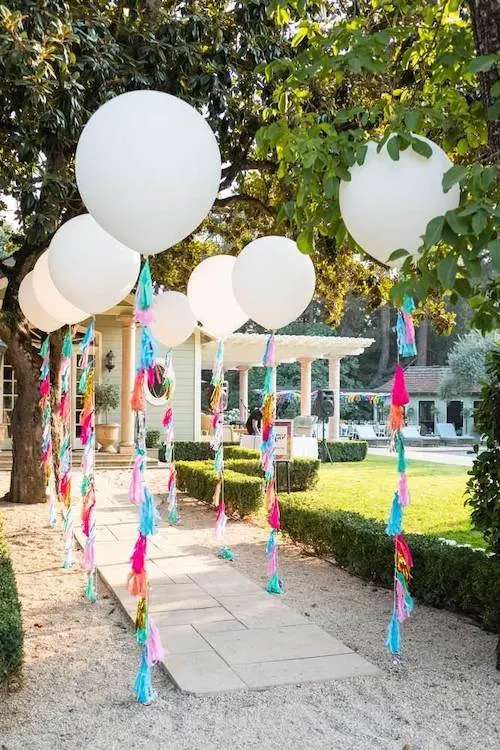 Cute Backyard Graduation Party Decor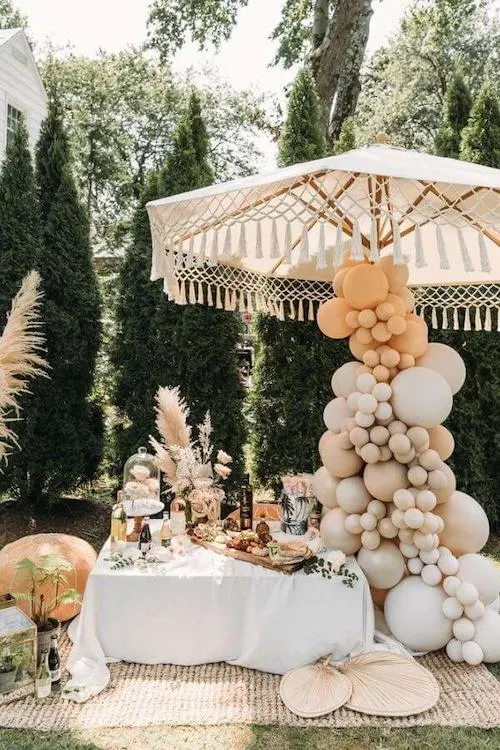 Blush Backyard Graduation Party Ideas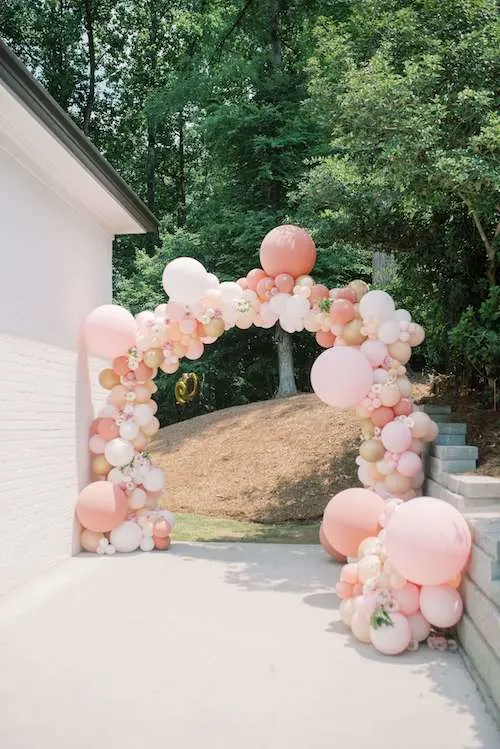 Adventure Awaits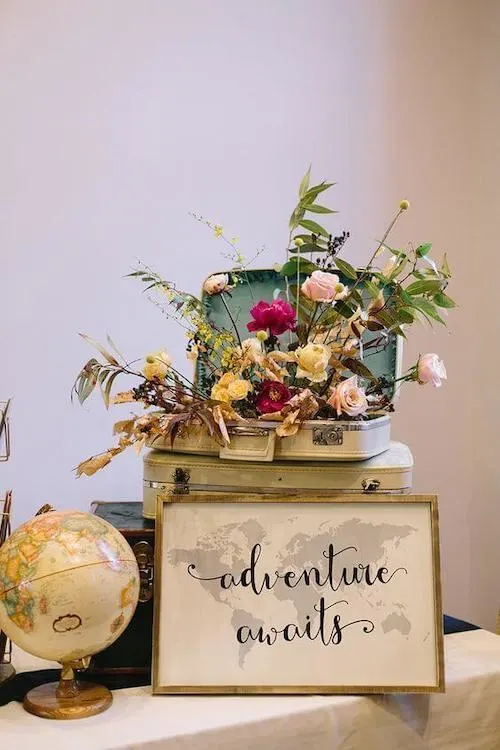 Creative Graduation Party Decoration Ideas
Graduation Decoration Doll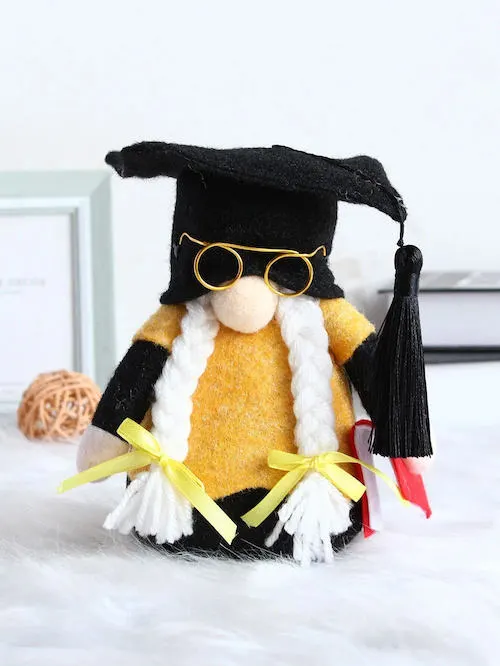 Butterfly Print Decoration Balloon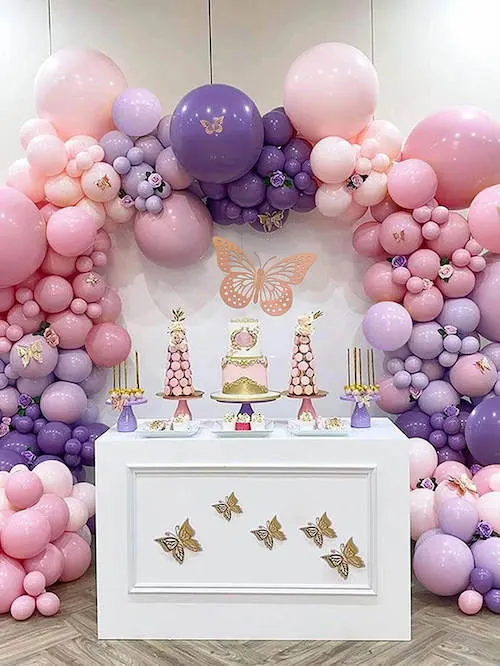 Bobo Balloon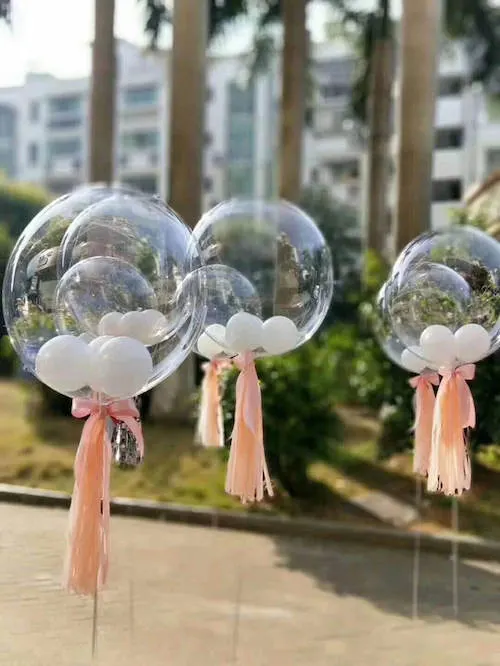 Black White Gold Graduation Party Garland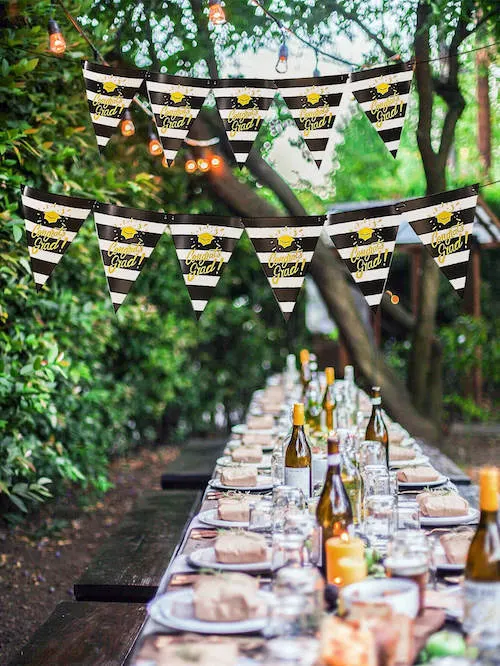 Graduation Cap Gift Box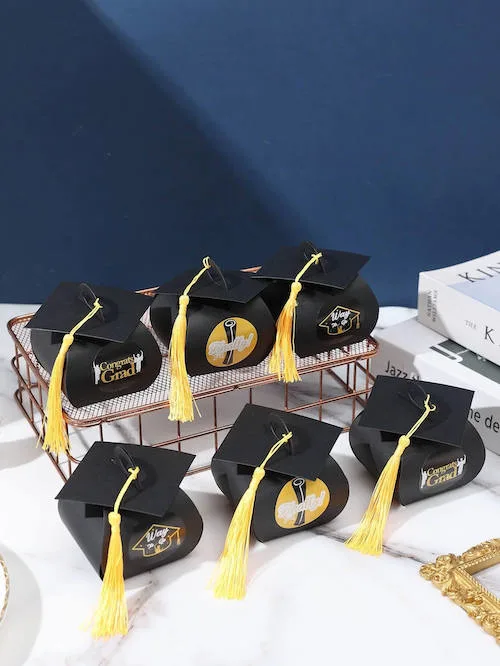 Grad Party Napkins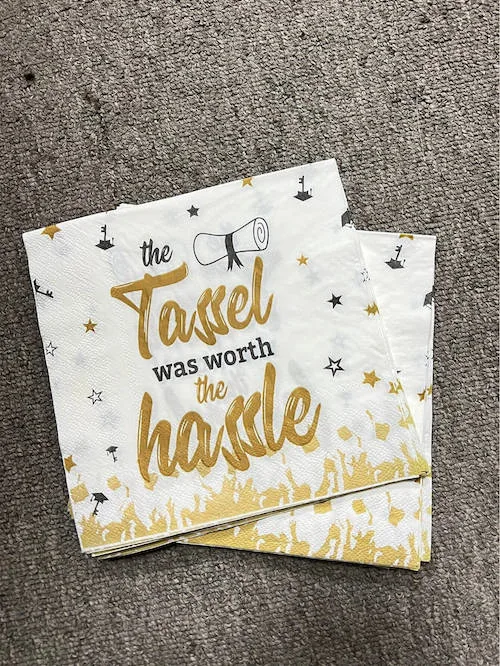 Pink Graduation Party Banner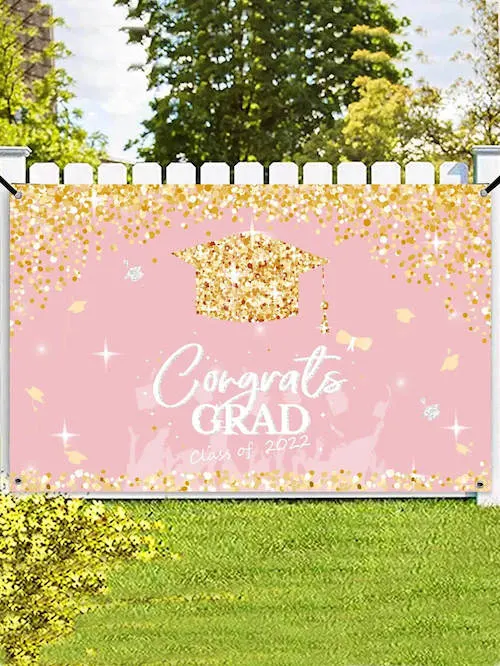 Graduation Party Balloon Set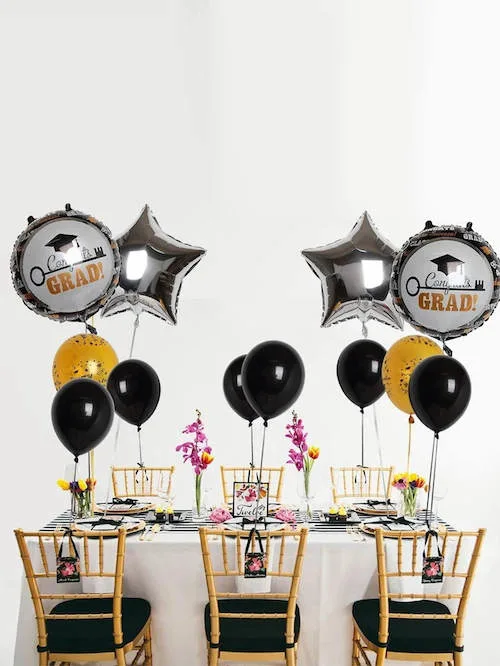 Tissue Paper Pom Pom Party Decor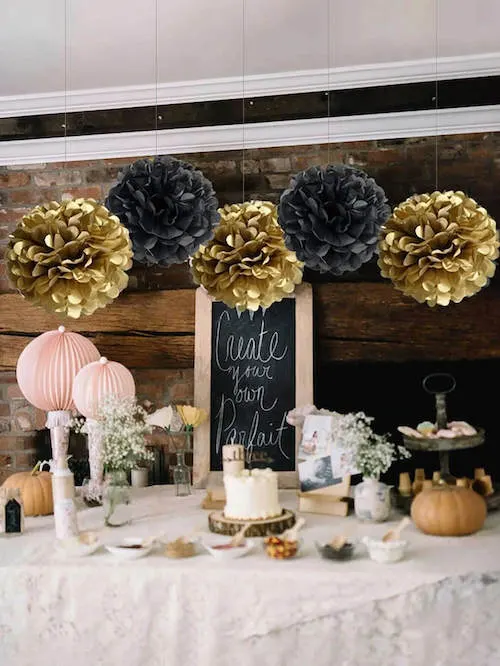 This post was all about grad party ideas.
About The Author
Tracy is an experienced personal stylist, shopping expert, and fashion & lifestyle blogger. She has been featured on Time Magazine, Bustle, Best Life, Glam, The Zoe Report, Mic, and GOBankingRates, for her insights on fashion, beauty, home decor, and lifestyle. Read More
Other Graduation Posts You May Like: