Looking for the best minimalist Christmas decor on a budget? Check this post for the +70 easy-to-copy minimalist decor ideas for Christmas and the cutest decorations to shop for directly. From neutral Christmas decor ideas for living room, to minimalist Christmas decor ideas for bedroom, we've got you covered!
Are you tired of the usual Christmas decorations that clutter your home and drain your wallet?
Well, it's time to embrace minimalism this holiday season!
In this article, we have curated the 70+ best minimalist Christmas decor ideas that won't break the bank.
From simple yet elegant wreaths to DIY ornaments made from recycled materials, these budget-friendly suggestions will help you create a serene and stylish ambiance in your home.
Get ready to discover how less can truly be more when it comes to decking the halls!
This post may contain affiliate links, which means I'll receive a commission if you purchase through my link, at no extra cost to you. Please read the full disclosure here.
This post is all about minimalist Christmas decor on a budget.
How Do Minimalists Decorate For Christmas?
Select a timeless and sophisticated color scheme
Start by selecting a color scheme that is elegant yet understated – think whites, greys, and natural elements such as wood or greenery.
These neutral hues will create a timeless and sophisticated ambiance in your home.
Decorate a simple Christmas tree
When decorating your Christmas tree, keep it simple with only a few carefully chosen ornaments.
Opt for handmade or unique pieces that hold sentimental value rather than filling the branches with an excess of generic baubles.
Choose meaningful items
Instead of overwhelming their living spaces with excessive ornaments and decorations, opt for a minimalist aesthetic that highlights the beauty of clean lines and uncluttered spaces.
To achieve this look, choose a few key decor items that are meaningful to them, such as a small potted Christmas tree or handmade ornaments.
Incorporating natural elements
Incorporating natural elements is also crucial for minimalist Christmas decor.
From simple greenery arrangements to wooden accents, embrace the beauty of nature by bringing it indoors.
This can be done by incorporating fresh evergreen branches in vases or making use of wood slices as coasters or table centerpieces.
Soft and ambient lighting options
When it comes to lighting, minimalists prefer soft and ambient lighting options over bright and flashy displays.
Simple strand lights hung strategically around the room or candlelight create a cozy ambiance without overpowering the space.
Rather than going all-out with colorful lights that may clash with the minimalist aesthetic, choose warm white lights that add just enough sparkle to enhance the festive mood.
Best Minimalist Christmas Decor Ideas For The Living Room
The living room is often the focal point of holiday festivities, and minimalist Christmas decor can bring a touch of elegance and simplicity to this space.
One idea that stands out is using a monochromatic color scheme, such as all-white or silver, for your Christmas decorations. This creates a clean and cohesive look while still adding festive cheer.
Incorporate elements like white stockings with silver thread, snowflake-shaped ornaments, and frosted glass candleholders to enhance the minimalist aesthetic.
Another fantastic idea for a minimalist living room is to use natural materials in your Christmas decor.
For instance, instead of opting for traditional plastic or metallic garlands, consider using greenery like eucalyptus branches or dried wheat stalks.
These earthy elements not only add a rustic charm but also provide an eco-friendly alternative to synthetic decorations.
Combine them with simple wooden ornaments or burlap ribbons for a warm and inviting holiday atmosphere that aligns with minimalistic principles.
An Elegant Garland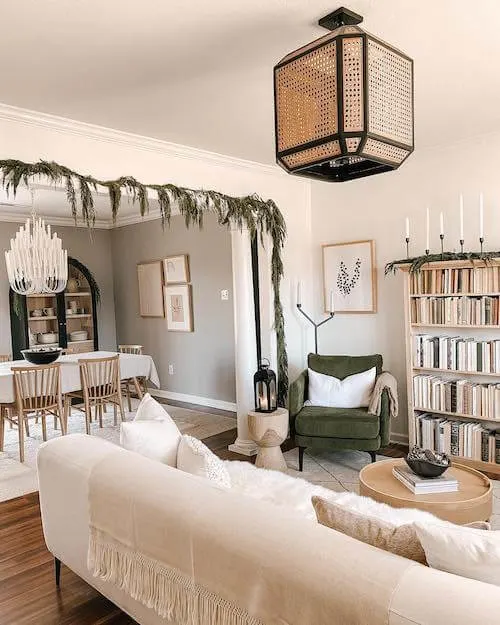 Small Christmas Tree Under The Stairs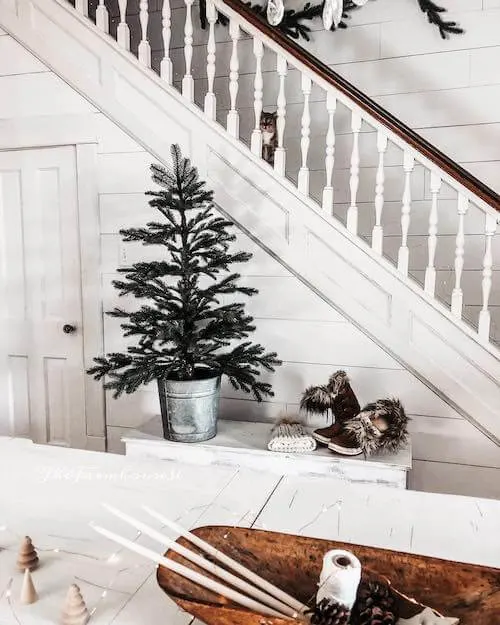 via weheartit
A Simple DIY Christmas Tree Skirt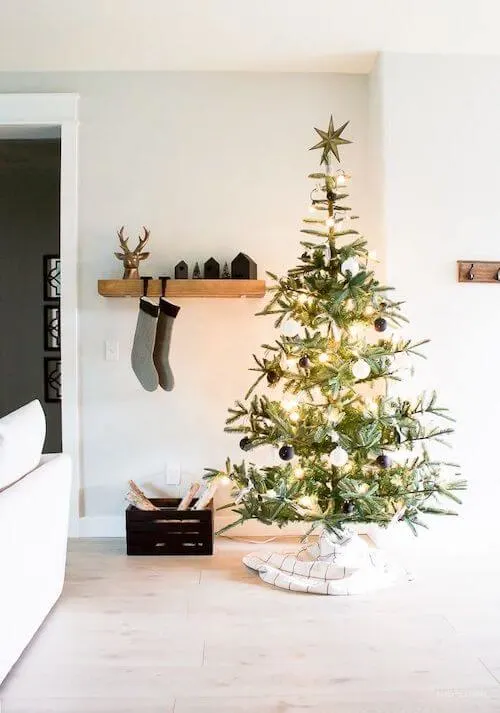 Choose Smaller Size Decorations For The Coffee Table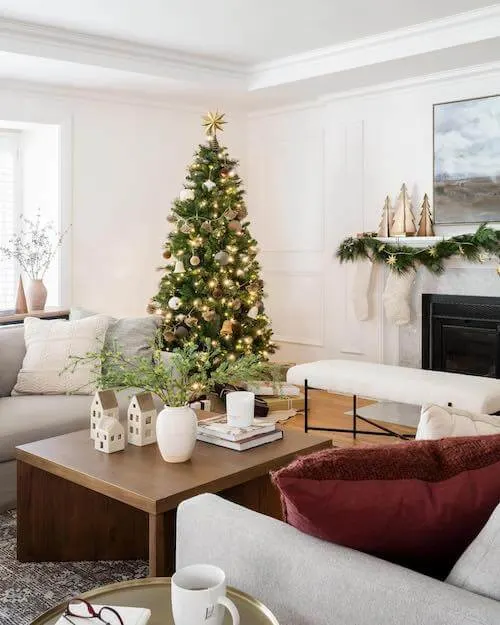 IG@studiomcgee
Decorate The Stairs With Natural Elements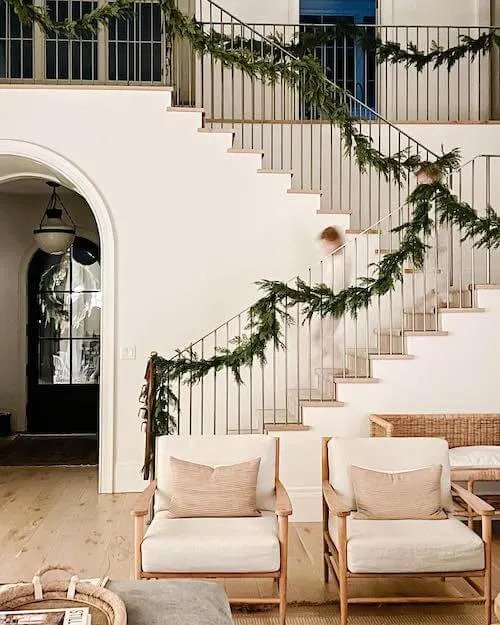 IG@studiomcgee
Use Big White Pot For A Minimalist Holiday Style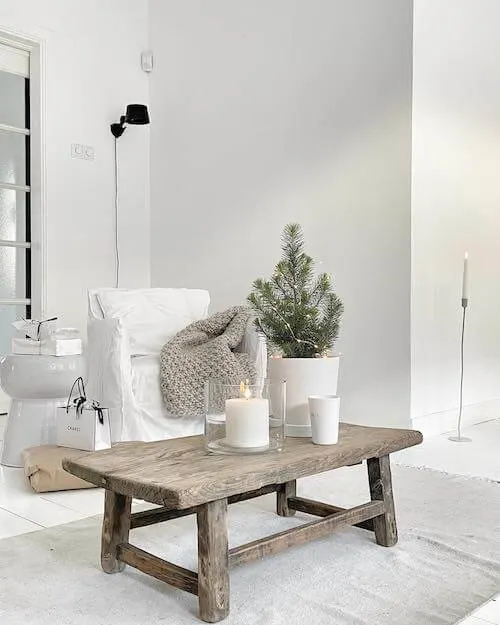 IG@anjawillemsen
White And Light Gray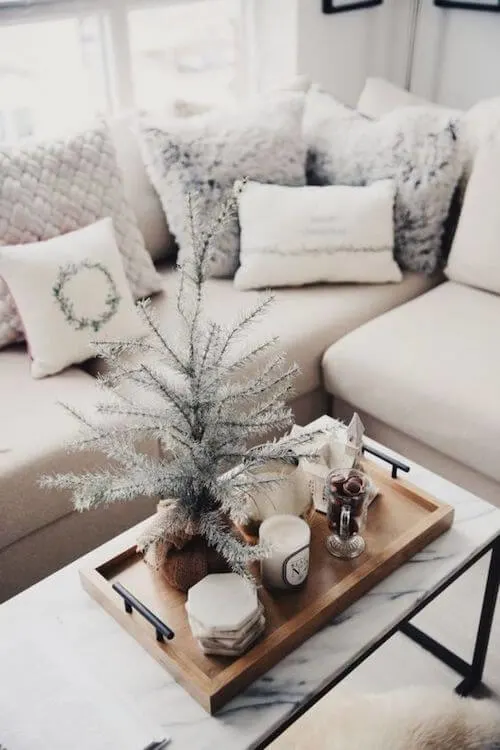 A Little Pop of Color For Holiday Cheer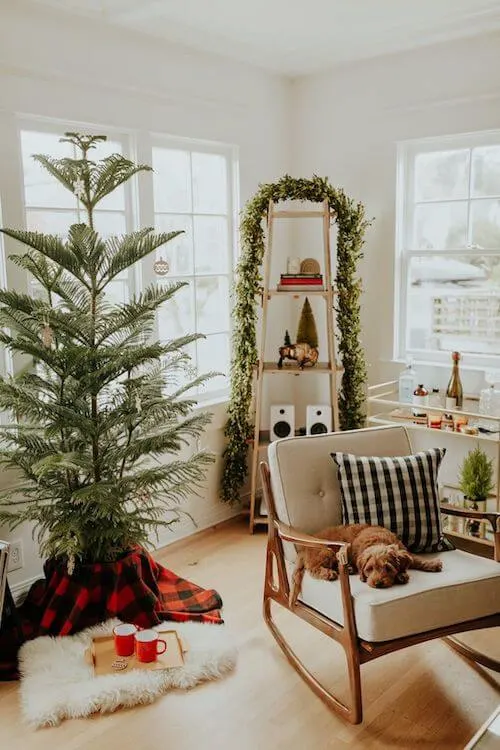 via Pinterest
Stick To Monochrome Palettes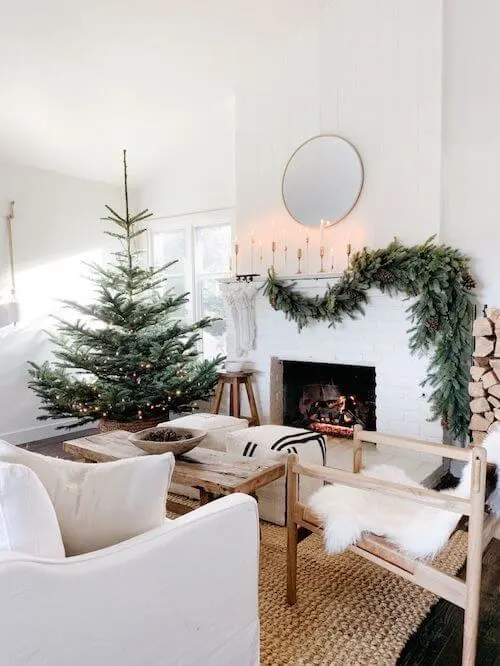 Festive White Shades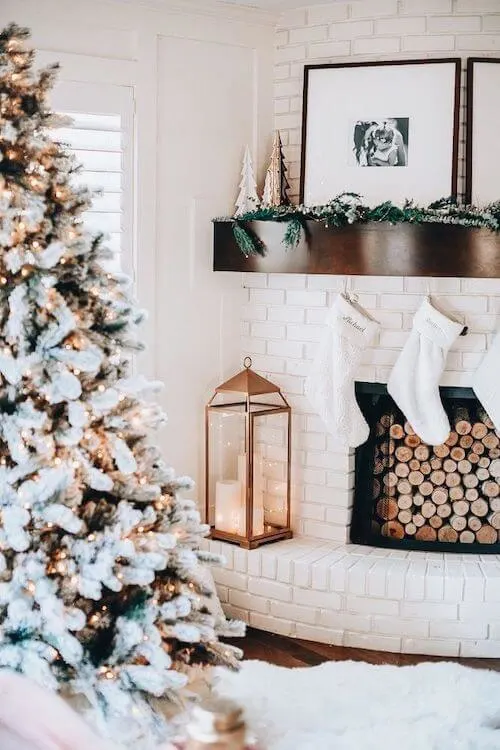 Cute Minimalist Christmas Tree Ideas
If you're a fan of the minimalist lifestyle and want to extend that aesthetic to your Christmas decor, then a cute minimalist Christmas tree is the perfect choice for you.
These trees are simple, elegant, and can be easily customized to fit any space or style.
One idea is to opt for a wall-mounted Christmas tree made from copper or wood dowel rods.
This unique and modern take on a traditional holiday decoration allows you to save precious floor space while still making a statement.
Another adorable option is the ladder Christmas tree. All you need is a sturdy wooden ladder and some string lights.
Start by leaning the ladder against the wall, then layer it with twinkling lights from top to bottom in an uneven pattern.
You can also hang small ornaments from the steps or add touches of greenery for an extra festive touch.
With this creative approach, you'll have an eye-catching and fun Christmas centerpiece without overwhelming your minimalist aesthetic.
Simple White Ornaments
Choose White And Black Decorations For The Big Tree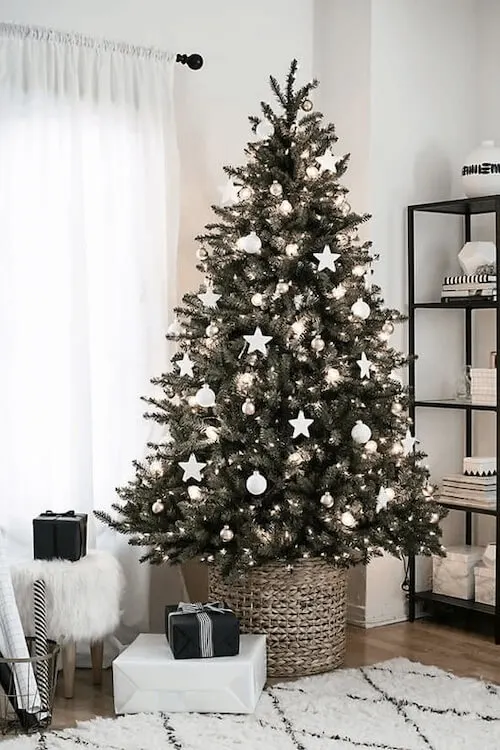 Use the Same Color Scheme Kraft Paper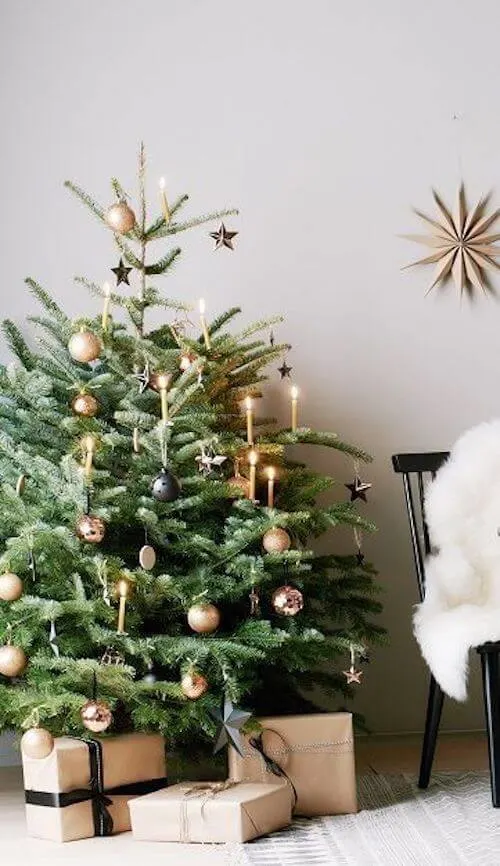 Decorate With String Lights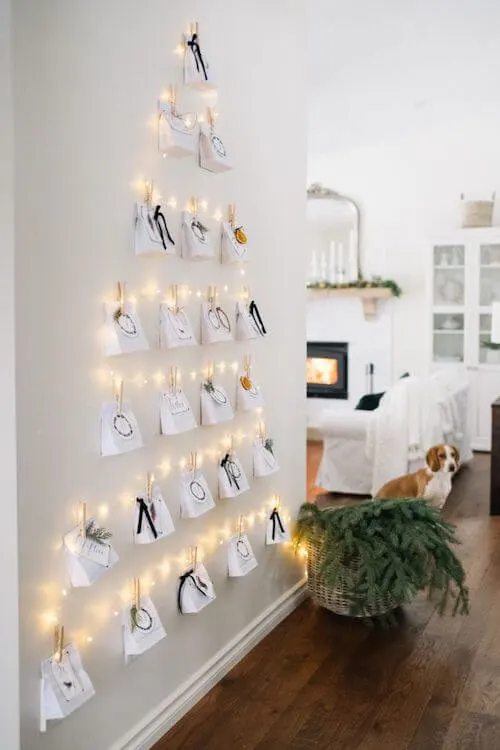 Gold And Silver Shades DIY Hanging Christmas Tree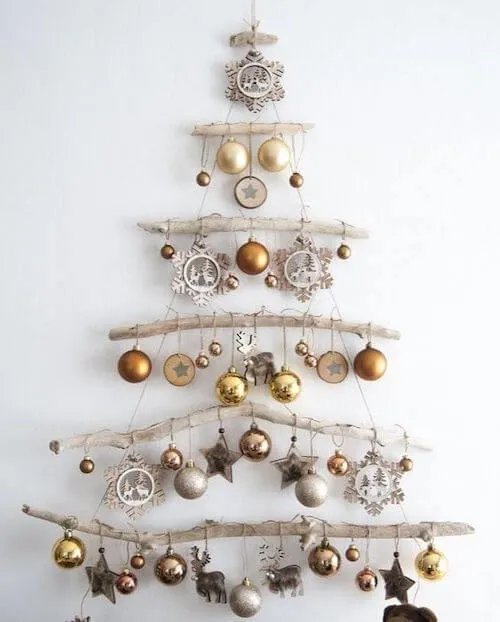 One of the most unique and eye-catching ways to decorate for Christmas is by creating a DIY hanging Christmas tree.
Instead of the traditional tree that takes up precious floor space, a hanging Christmas tree allows you to utilize vertical space in your home and create an enchanting display that will have everyone talking.
Not only does a hanging Christmas tree add a touch of whimsy and creativity to your décor, but it also saves you money on purchasing a real or artificial tree.
To create your own DIY hanging Christmas tree, start by finding a sturdy branch or wooden dowel that is long enough to hang from the ceiling.
Attach hooks or strings at varying lengths along the branch, making sure they are strong enough to hold ornaments and other decorations.
Then, gather an assortment of ornaments in different sizes, colors, and materials – this is where you can really let your creativity shine!
Hang each ornament from a hook or string on the branch, arranging them in cascading layers to create depth and visual interest.
Stick To Gold Colors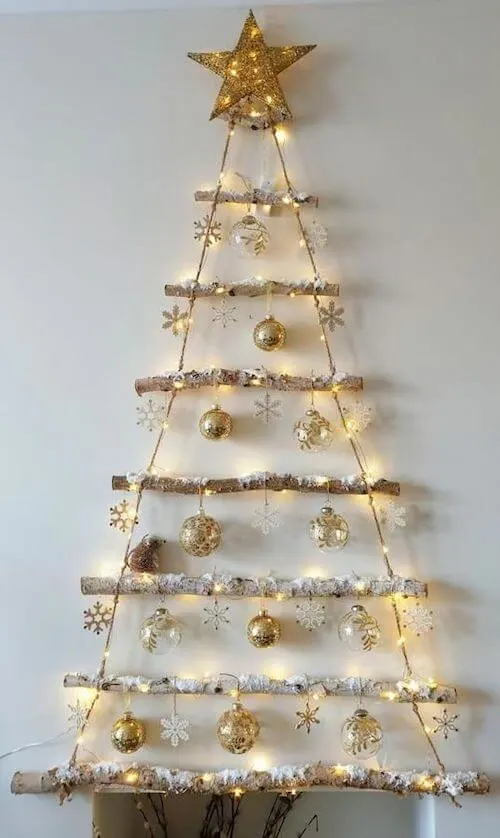 Best Minimalist Christmas Fireplace Mantle Decor Ideas
One of the most captivating ways to embrace minimalism during the Christmas season is by decorating your fireplace mantle with a clean and simple aesthetic.
Start by choosing a color scheme that complements your existing decor.
Opt for neutral tones like whites, grays, and creams to create a serene and calming atmosphere.
When it comes to ornaments, less is truly more.
Select a few carefully curated pieces such as matte ceramic baubles or wooden Scandinavian-style decorations.
Hang them on a long vertical garland made from natural materials like pine branches or eucalyptus for an elegant touch.
To add depth and texture to your mantle, place tall pillar candles at varying heights along with some rustic lanterns.
The flickering glow will instantly create warmth and charm without overpowering the minimalistic vibe.
Highlight The Beautiful Mirror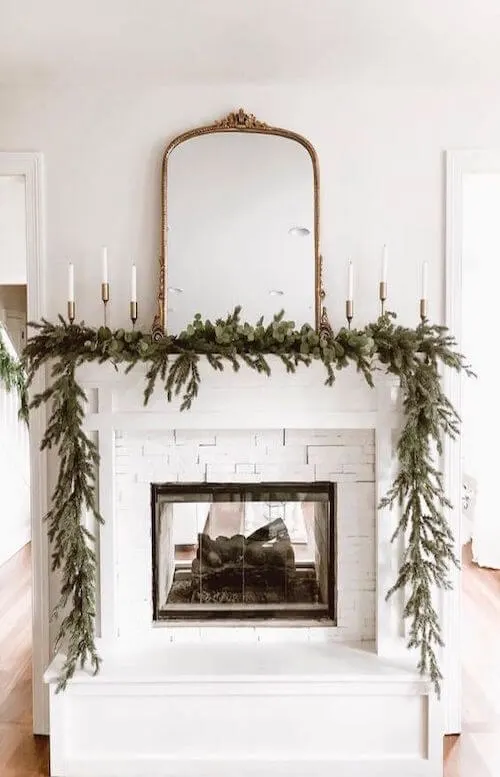 Neutral Colors Christmas Stockings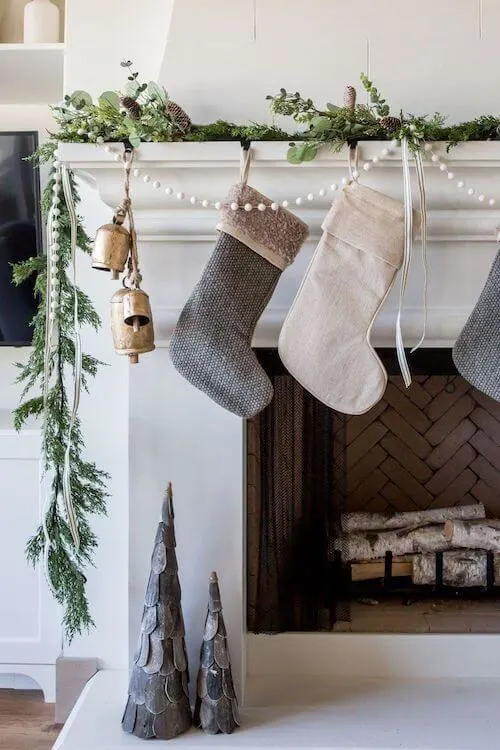 Lovely Wooden Beads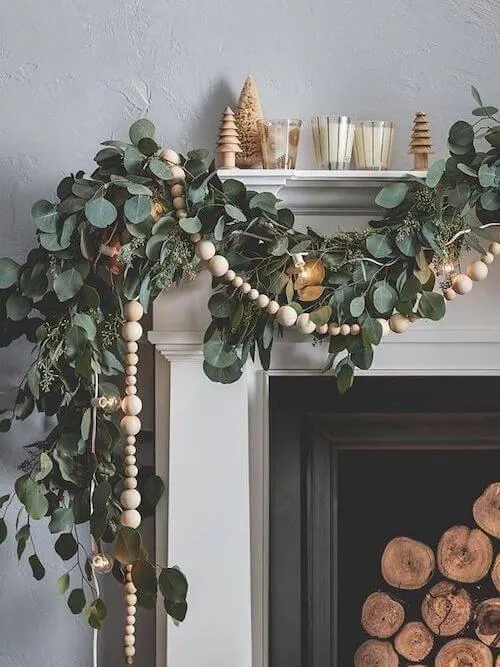 Decor Only Half A Circle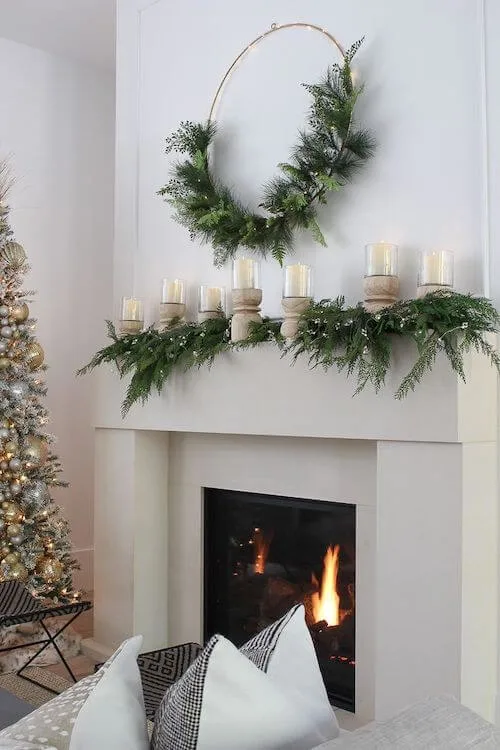 Best Minimalist Christmas Decor Ideas For Your Dining Table
When it comes to decorating a minimalist Christmas dining table, less is definitely more.
The key is to focus on simple yet elegant elements that create a beautiful and inviting atmosphere.
Start by choosing a neutral color palette, such as whites, grays, and blacks, which will give the table a clean and modern look.
Incorporate natural materials like wood and greenery for added texture and warmth.
Instead of using traditional Christmas tablecloths or runners, opt for a sleek white linen or burlap fabric to keep things minimalistic.
Place a few small glass vases filled with fresh eucalyptus branches in the center of the table for a subtle touch of greenery.
For an extra festive feel, add some twinkle lights intertwined with the branches.
To complete the minimalist look, choose simple and chic dinnerware in solid colors like white or black.
Instead of elaborate centerpieces, consider placing individual place settings with personalized name cards for each guest.
This not only adds a personal touch but also keeps the table clutter-free.
Simple Evergreen Holiday Decor Ideas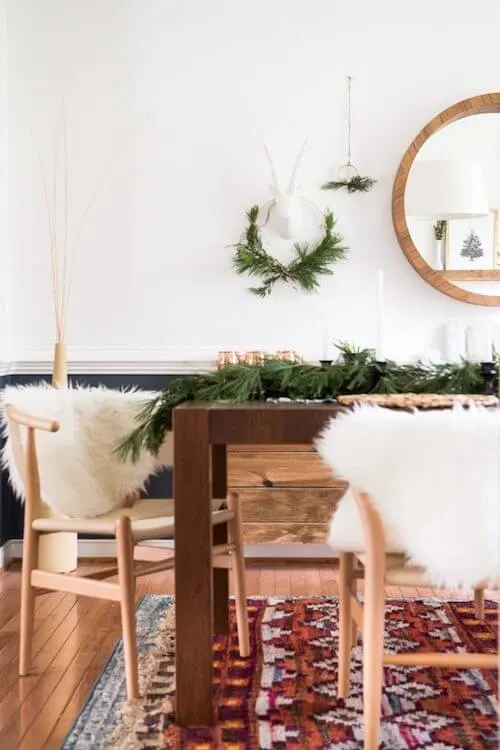 IG@place_ofmy_taste
DIY Evergreen Decorations In The Dining Room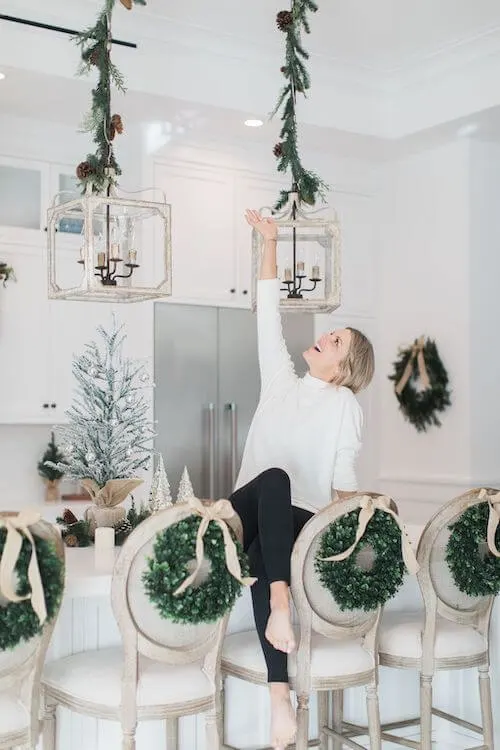 Simple Candle Holders For The Dining Table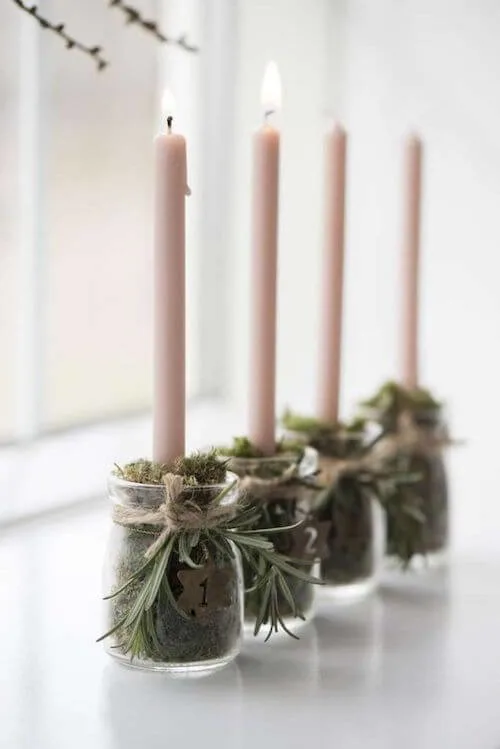 Candles And Wreath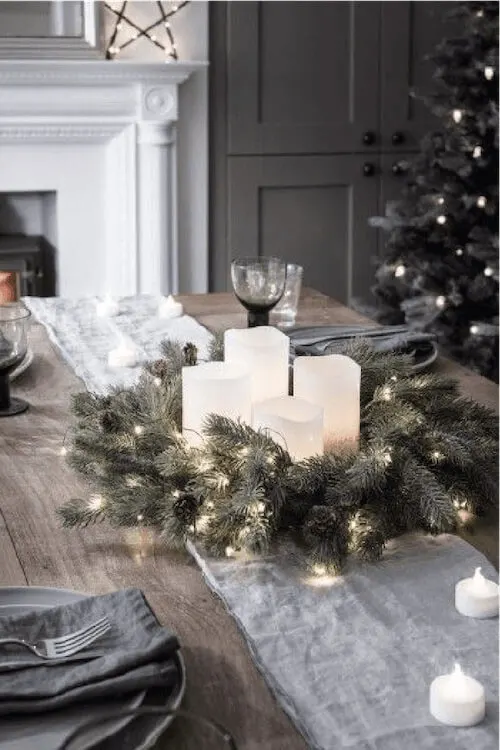 Minimalist Wreath Hangings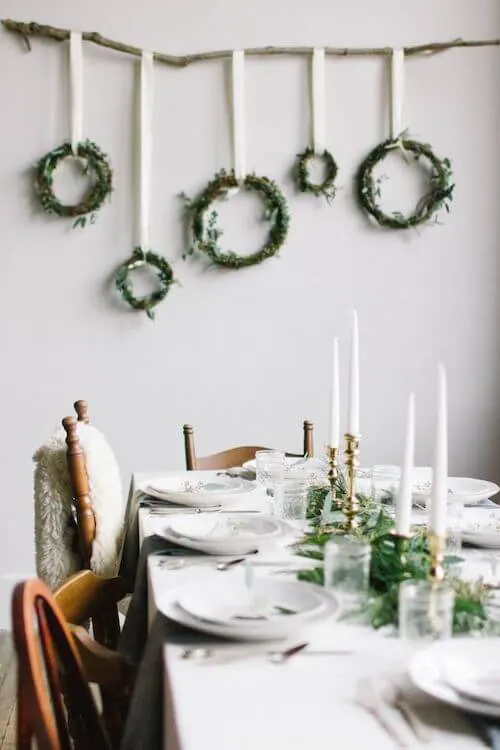 Scandinavian Minimalist Christmas Decoration Ideas
Scandinavian minimalism has taken the interior design world by storm, and it's no wonder why.
This style embraces simplicity, clean lines, and a focus on natural elements.
When it comes to Christmas decorations, Scandinavian minimalism offers a refreshing departure from the traditional cluttered look.
One key aspect of Scandinavian minimalist Christmas decoration is the use of neutral colors like white, gray, and beige.
These colors create a serene and calming atmosphere while maintaining a sense of elegance.
Instead of flashy ornaments and excessive tinsel, opt for simple yet high-quality decorations like wooden beads or straw stars.
Another hallmark of Scandinavian minimalism is the emphasis on nature-inspired elements.
Bring in the beauty of nature by incorporating pinecones, branches, or dried flowers into your Christmas decor.
Adorn your tree with handmade paper ornaments or hang delicate snowflakes made out of twigs from your local forest.
By using organic materials that showcase the beauty of nature itself, you can achieve an understated yet stunning festive look in your home.
Decor With Natural Materials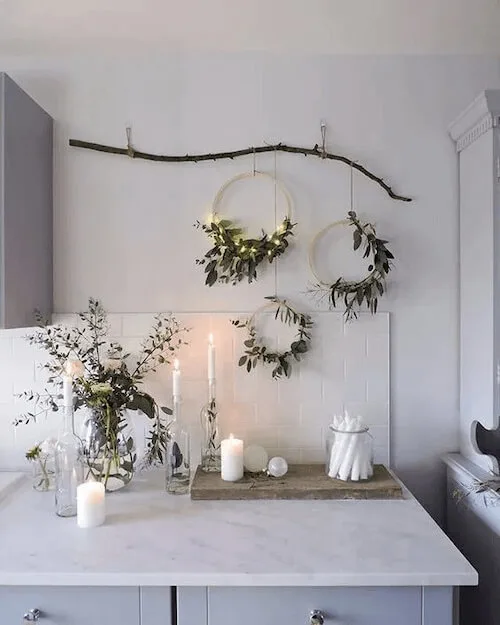 Small Christmas Tree And White Lights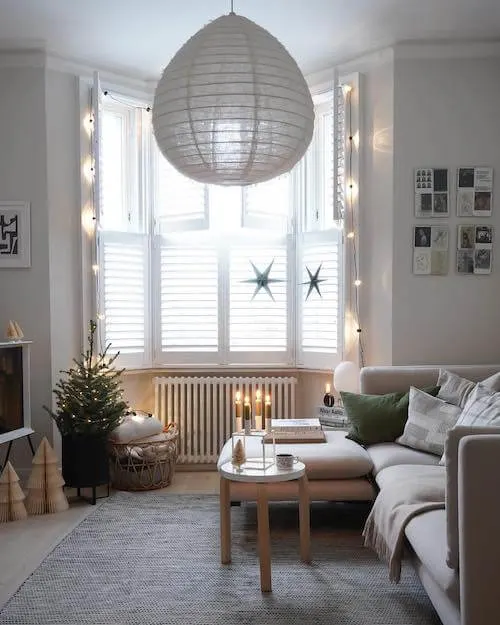 IG@catesthill
Beautiful Star Light Festive Decoration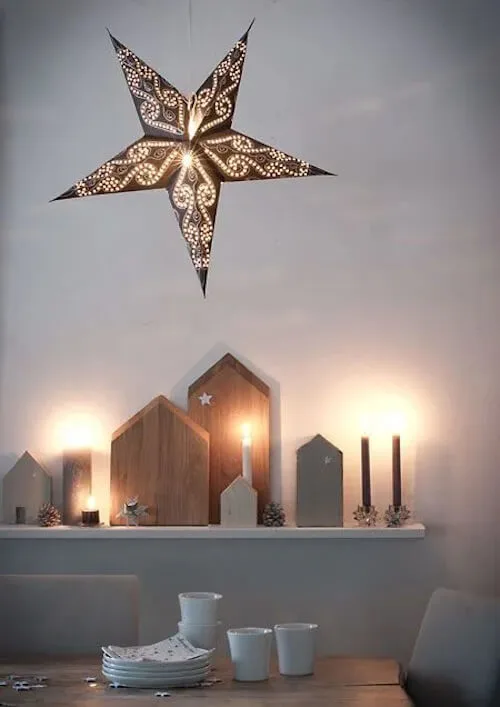 Embrace The Natural Look of Wood Decorations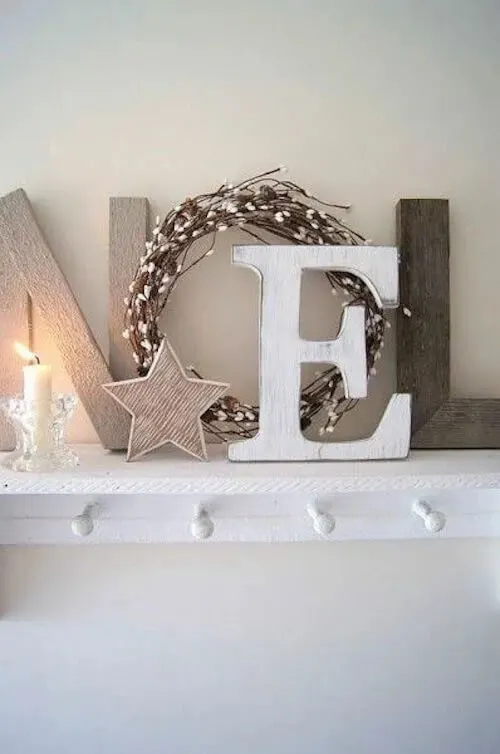 via Pinterest
Classy Minimalist Christmas Decoration Ideas
When it comes to decorating a classy and minimalist Christmas home, simplicity is key.
Embrace clean lines and neutral colors while incorporating small touches of holiday cheer.
Opt for a subdued color palette such as white, gold, or silver, which instantly adds an elegant touch to any space.
Use simple and timeless ornaments like glass baubles or metallic geometric shapes to adorn the Christmas tree.
To create a cozy atmosphere without overwhelming the space, focus on texture rather than excessive decorations.
Incorporate faux furs, chunky knit blankets, and velvet cushions in neutral tones to add warmth and depth.
Consider using natural elements like wooden accents or fresh greenery to bring the outdoors in.
A single wreath made from eucalyptus leaves can be used as a focal point on the door or above the fireplace.
Lastly, don't overlook the power of lighting.
Soft fairy lights woven through garlands or placed in glass jars instantly create an intimate ambiance.
Opt for warm white bulbs instead of bright colors for a more refined look.
Place candles strategically around the home for added warmth and elegance during those long winter evenings.
Mix Pure White Christmas Decorations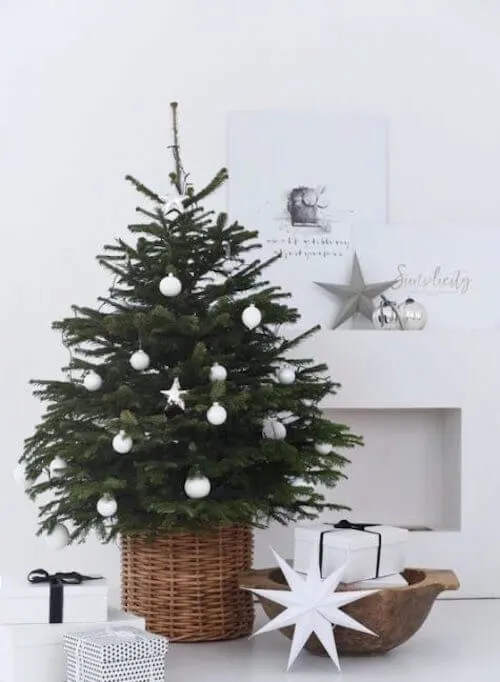 via Pinterest
Add Holiday Cozy Vibe With Blankets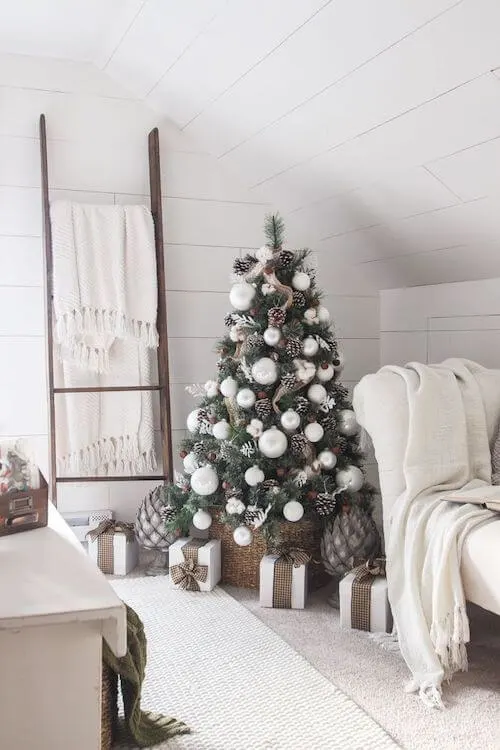 via Pinterest
Sweet Small White Christmas Decorations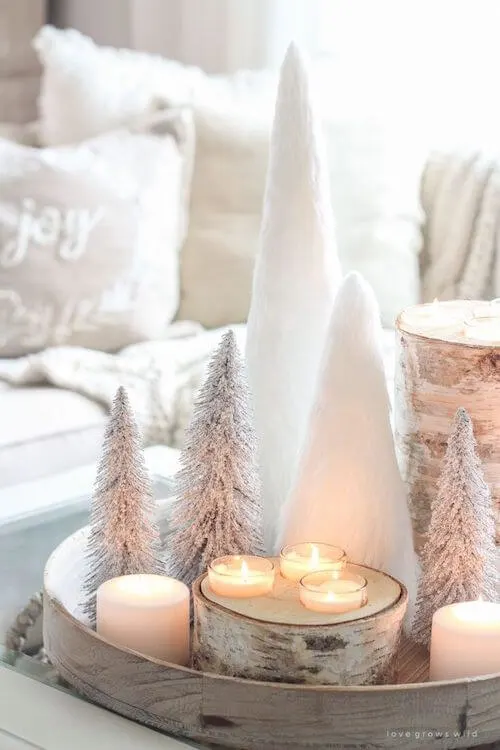 Light Up The Holidays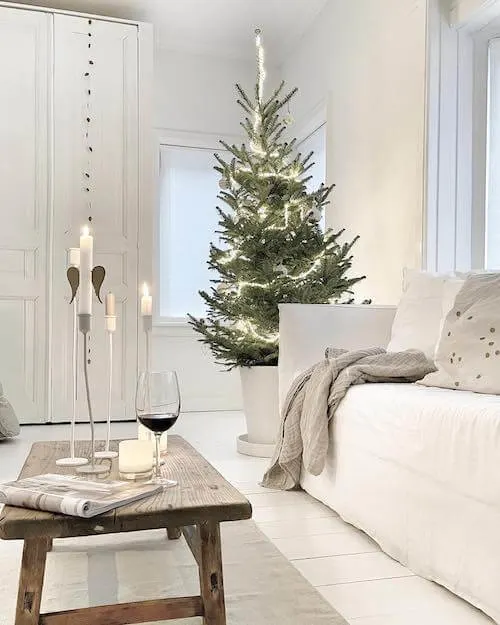 IG@anjawillemsen
Use Minimalist Christmas Gifts Wrapping Ideas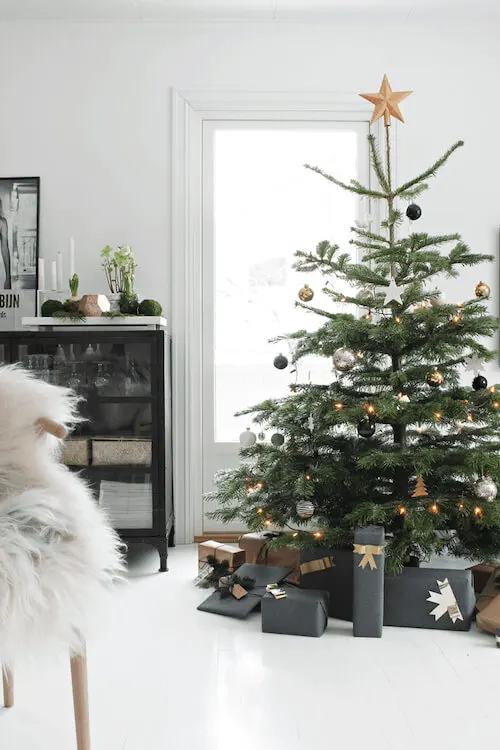 Rustic Minimalist Christmas Décor Ideas
When it comes to decorating a rustic and minimalist Christmas home, embrace the simplicity of this style by using natural elements such as pinecones, twigs, and evergreen branches to create an earthy ambiance.
Opt for neutral color palettes with touches of warm tones like burnt orange or deep red to achieve that cozy holiday feel.
For the main focal point of your space, consider using a reclaimed wood table or a vintage-inspired console adorned with simple yet elegant holiday decorations.
Add texture with chunky knit blankets or woven baskets filled with fluffy pillows.
Incorporate subtle metallic accents in silver or copper through candle holders or small decorative items for a touch of elegance without overpowering the overall aesthetic.
To complete the rustic and minimalist look, keep your Christmas tree decoration minimalistic and organic.
Choose handmade ornaments that showcase craftsmanship or meaningful symbols instead of overwhelming the tree with too many baubles.
Simple string lights will add warmth and create an inviting atmosphere without distracting from the natural beauty of your décor.
Remember, in a rustic and minimalist Christmas home, every element should have purpose and meaning while blending seamlessly together to create a harmonious celebration of winter's beauty.
DIY Christmas Garland To The Window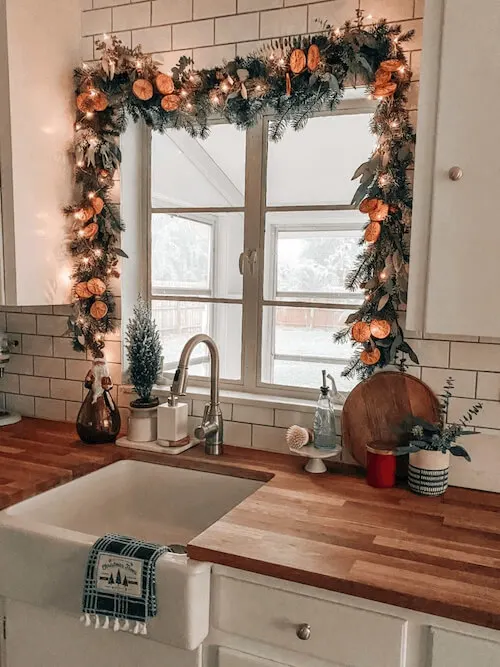 IG@blushingbungalow
Minimalist Christmas Paper Garland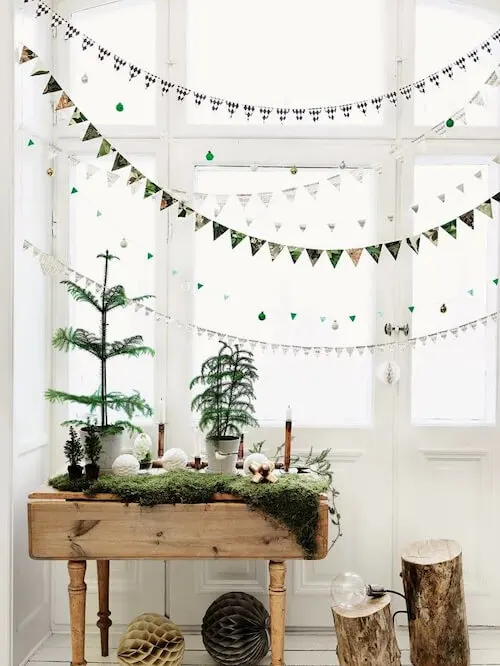 Simple Word By String Lights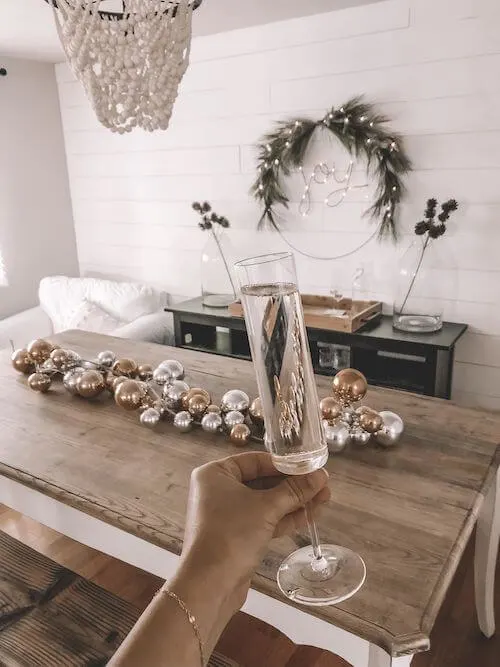 via Pinterest
Rustic Wall Art With Holiday Spirit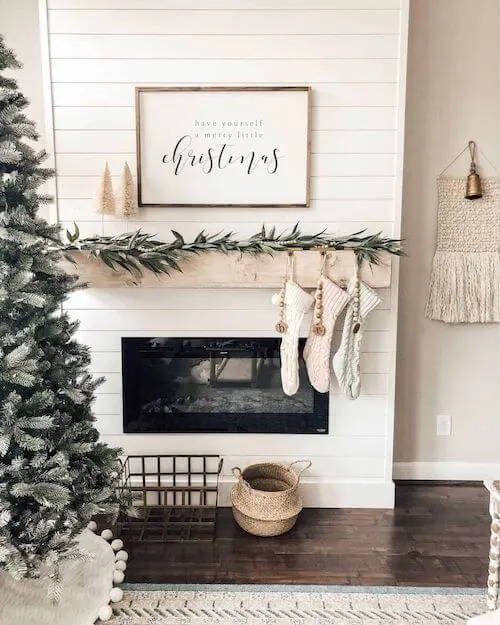 Easy-To-Copy DIY Simple Christmas Decorations On A Budget
Looking for some creative and budget-friendly Christmas decorations to spruce up your home this holiday season?
Look no further! We've gathered a list of easy-to-copy DIY simple Christmas decorations that will add a touch of festive charm without breaking the bank.
First up, let's talk about homemade wreaths.
Instead of spending money on store-bought wreaths, why not make your own using materials you already have at home?
One idea is to repurpose old book pages or sheet music by folding them into origami-like shapes and forming them into a wreath shape.
Add some glitter or metallic spray paint for an extra festive touch.
Another simple and inexpensive decoration idea is to create a winter wonderland centerpiece using glass jars or mason jars.
Fill these jars with fake snow, pinecones, and small ornaments or fairy lights for a whimsical touch.
You can also tie ribbons around the jars to give them a more polished look.
Not only are these centerpieces beautiful, but they also make great gifts that won't break the bank.
Incorporating these easy-to-copy DIY simple Christmas decorations into your holiday decor will not only save you money but also add a personal touch to your home this season.
So gather your crafting supplies and get ready to spread holiday cheer without emptying your wallet!
Cute Dry Orange Christmas Garland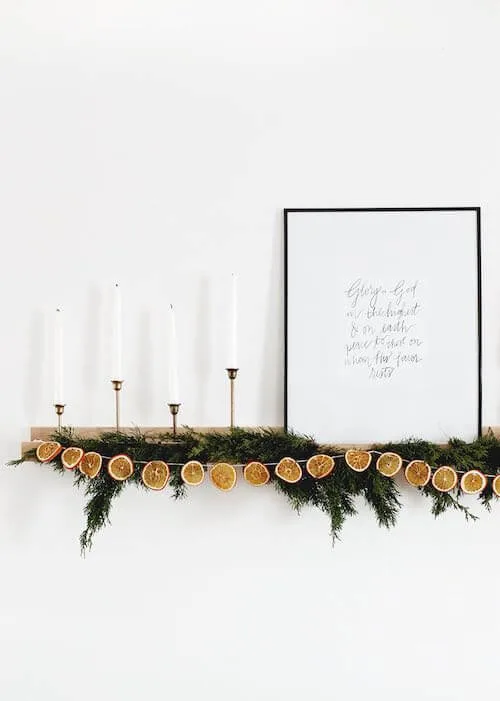 via Pinterest
Small White Christmas Trees And Pine Cones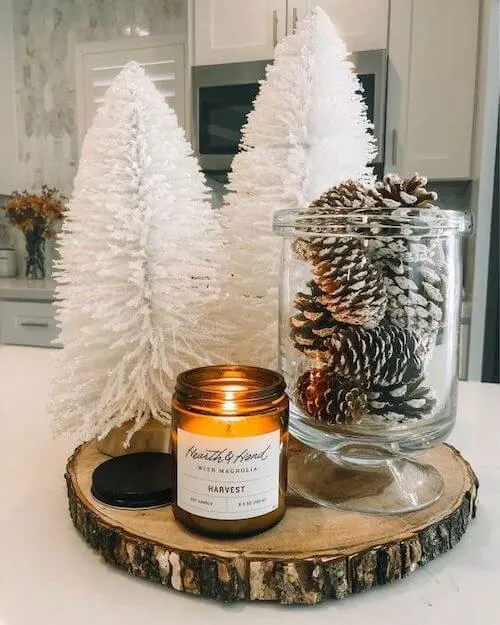 DIY Fresh Greenery Wall Decor
Tie Small Bells On The Wreath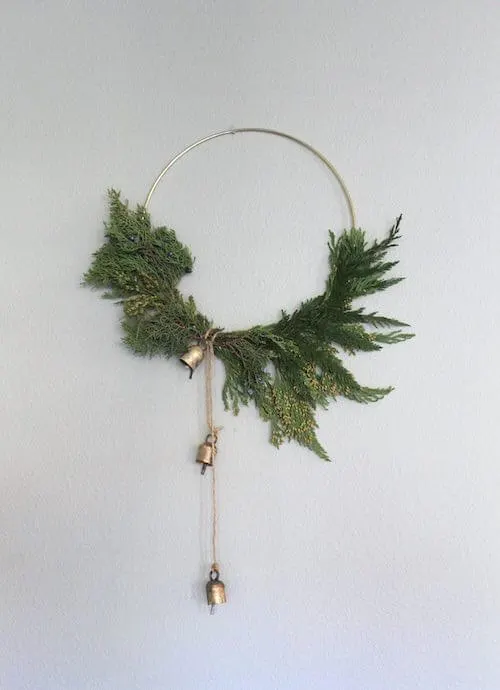 IG@allisajacobs
A Natural Wood Christmas Lights Star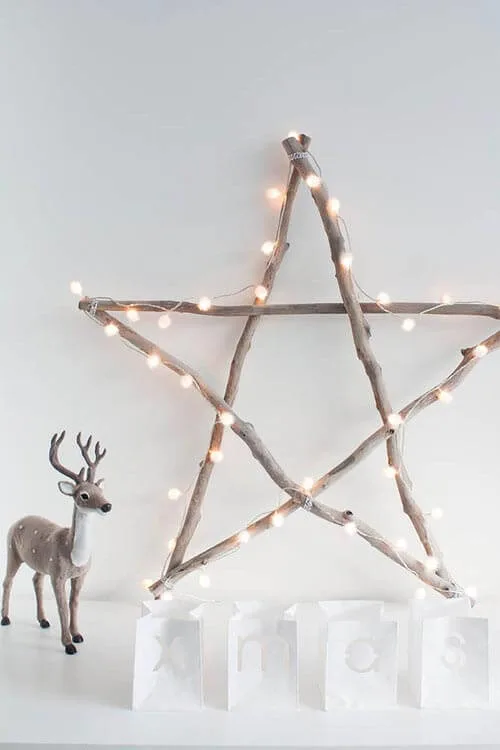 via Pinterest
Mix Letters And Greens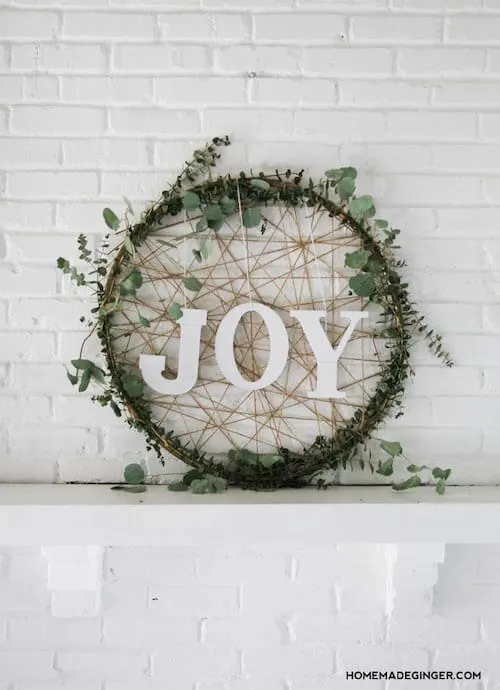 via homemadeginger.com
Easy To Copy DIY Holiday Candle Holders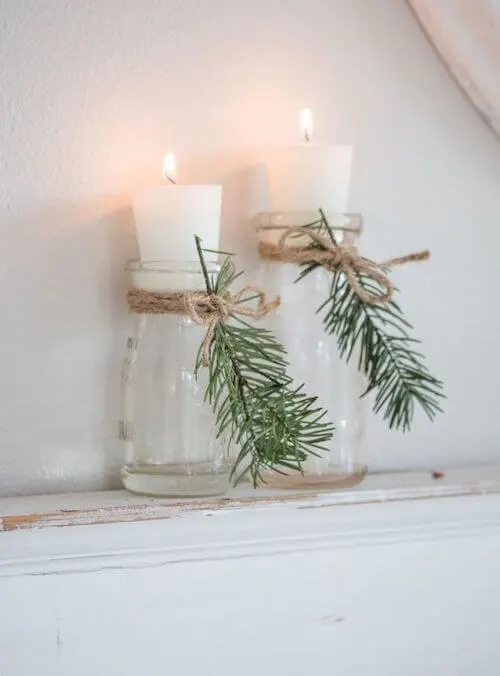 Minimalist Wall Hanging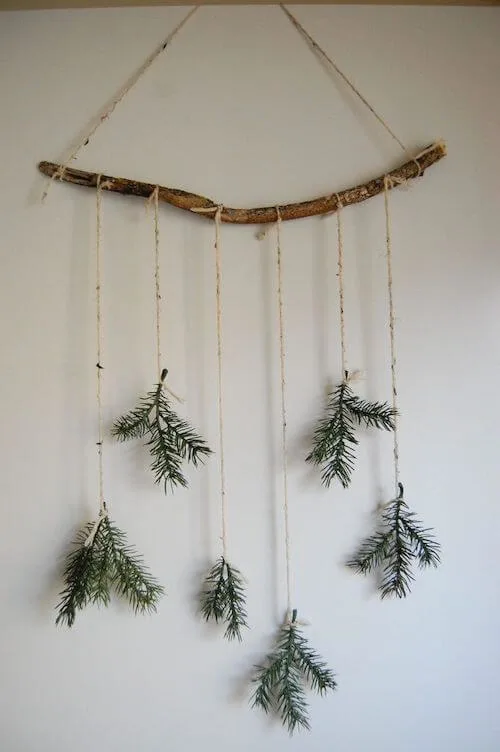 Use Dry Orange To Decor Your Small Tree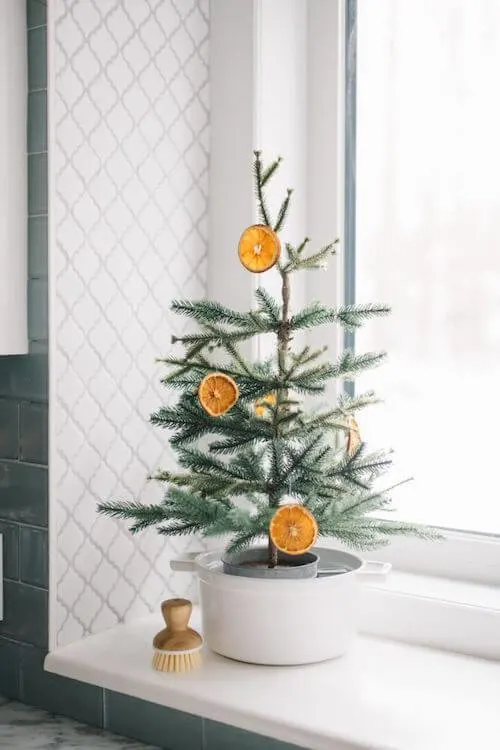 via Pinterest
Add A Personal Touch To The Wreath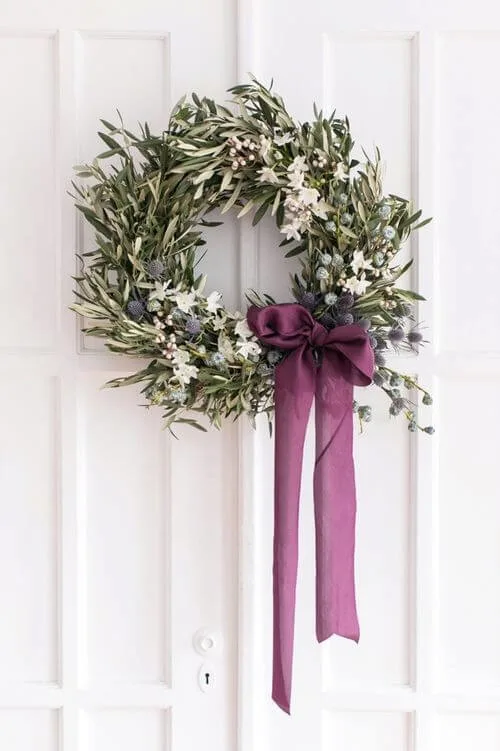 Elegant Candle Holder
IG@carolapojer
White Ribbon And Bells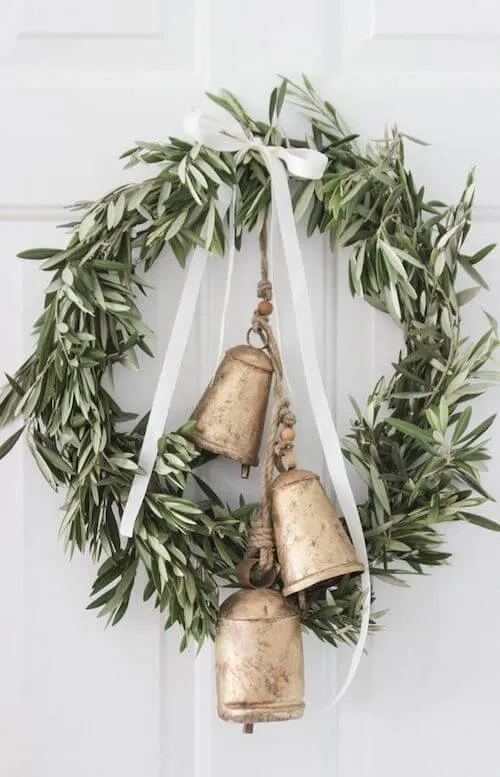 A Tree Branches Advent Calendar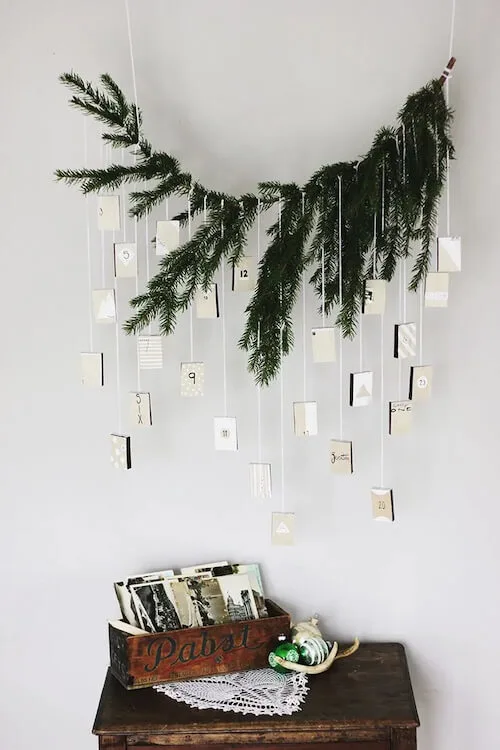 Tie The Leaves Outside The Candles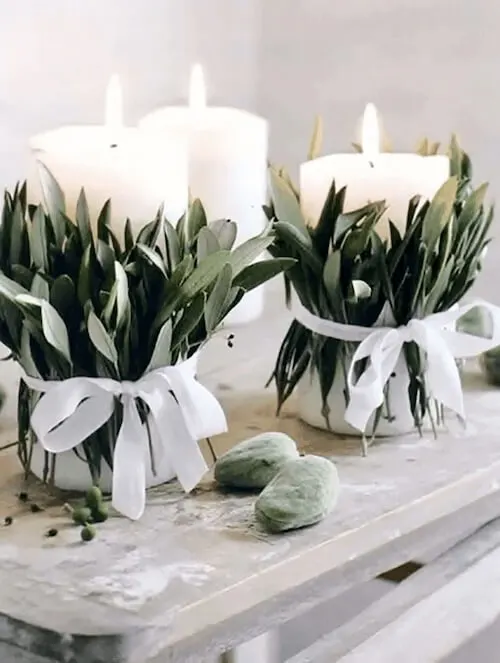 A Cute Forest of Artificial Trees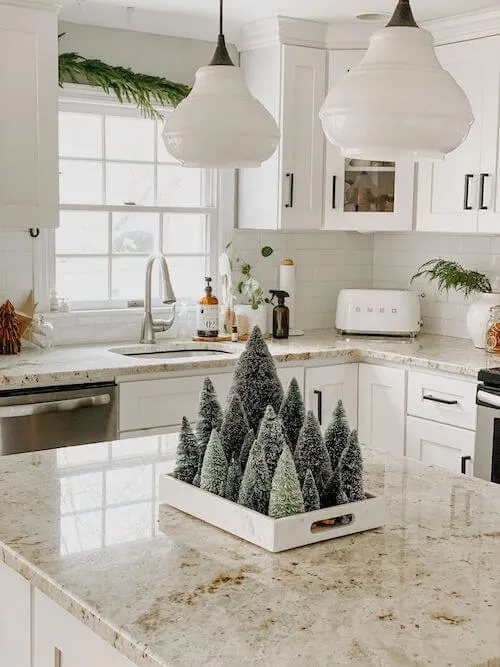 IG@careyushome
Best Minimalist Christmas Decoration Ideas For Small Space
Minimalist Christmas decorations are perfect for those with limited space.
They allow you to create a festive atmosphere without overwhelming your small living area.
One of the best ideas for minimalistic Christmas decor in a small space is to focus on simple and clean designs.
Consider using just a few key pieces, such as a small tabletop tree adorned with white lights and natural ornaments.
This will add a touch of elegance and holiday spirit to your space without overcrowding it.
Another great idea for minimalist Christmas decorations in small spaces is to incorporate neutral colors into your decor scheme.
Opt for classic white, silver, or gold ornaments that can be easily mixed and matched with any existing color palette in your home.
You can also use monochromatic garlands or minimalist wreaths made from branches or dried flowers to add subtle yet impactful touches of festivity throughout your space.
By keeping the color palette streamlined, you can give your holiday decor a cohesive look while maintaining an uncluttered environment.
In addition to utilizing simple designs and neutral colors, consider incorporating natural elements into your minimalist Christmas decor for small spaces.
This not only adds an organic feel but also helps bring the outdoors inside during the winter months.
Use pinecones as table centerpieces or hang them as ornaments on your tree.
Incorporate fresh greenery such as eucalyptus branches or sprigs of holly into wreaths or arrangements around your home.
These elements add texture and warmth to the overall aesthetic while remaining true to the minimalist style.
Gather The Decorations In One Corner
Mini Christmas Tree And Smaller Size Decorations
Use The Windows For Decoration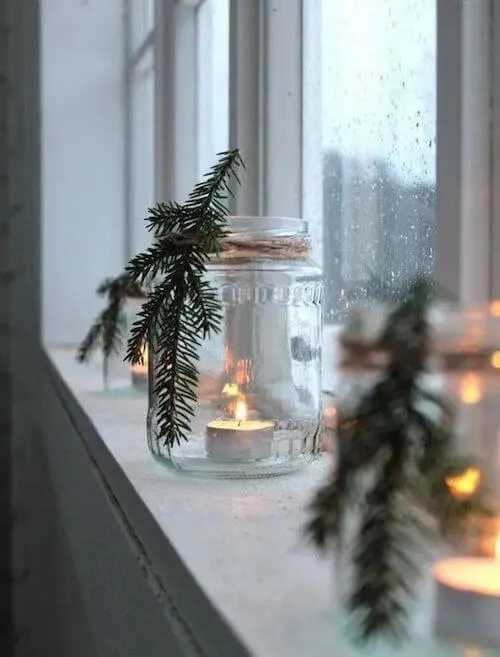 Decor The Walls of The Tiny Space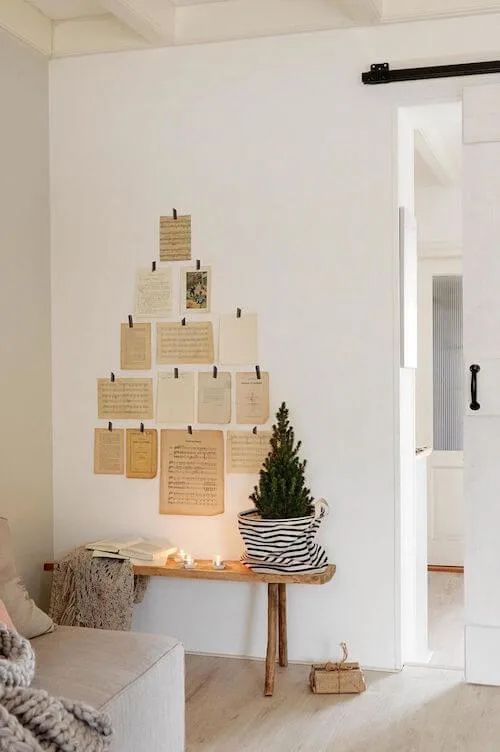 Increase The Cozy Vibe Around The Small Christmas Tree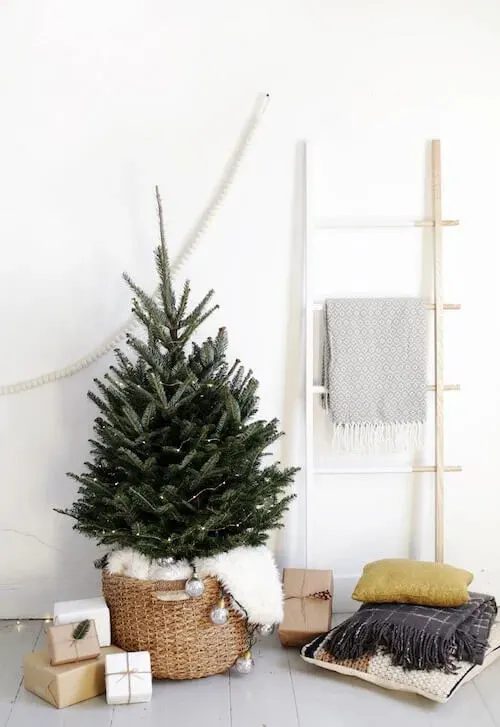 Decor Your Bedroom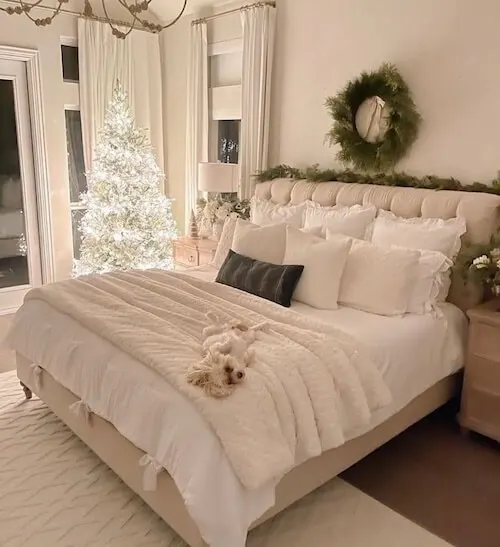 via Weheartit
Mix Different Sizes of Throw Pillows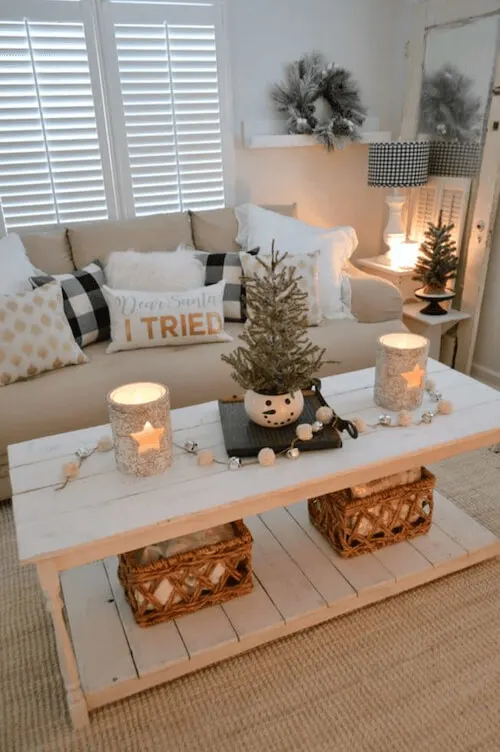 Minimalist Outdoor Christmas Decor Ideas
When it comes to Christmas decor, you don't have to go all out to create a festive and inviting outdoor space.
In fact, embracing a minimalist approach can be just as striking and impactful.
One way to achieve this is by using nature-inspired elements such as pinecones, branches, and evergreen foliage.
Arrange them in simple yet elegant arrangements on your porch or entryway for an understated touch of holiday cheer.
Another minimalist outdoor Christmas decor idea is to focus on lighting.
Instead of hanging excessive strings of lights or over-the-top light displays, opt for subtle and energy-efficient options like LED candles or fairy lights.
These small touches will create a warm and cozy ambiance while still keeping the overall aesthetic clean and minimalistic.
Additionally, consider incorporating Scandinavian design principles into your outdoor holiday decor.
This style embraces simplicity, functionality, and natural materials.
Use neutral colors like whites and grays along with wooden accents for a timeless look that exudes Scandinavian charm.
Place White Christmas Trees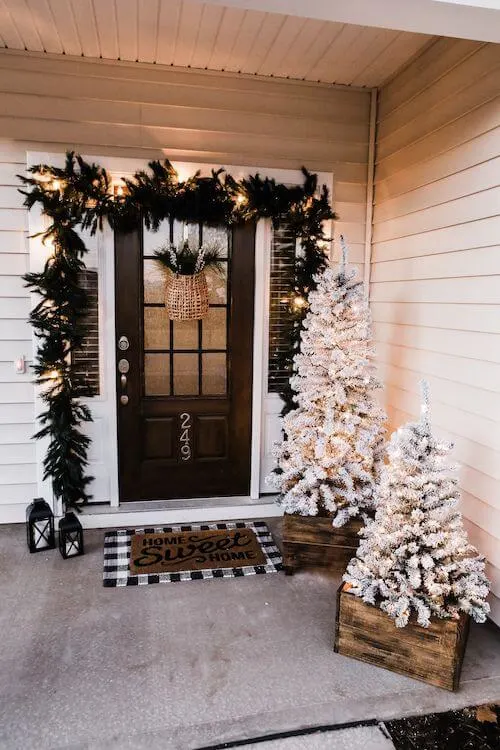 Light Up Your Front Door With Christmas Lights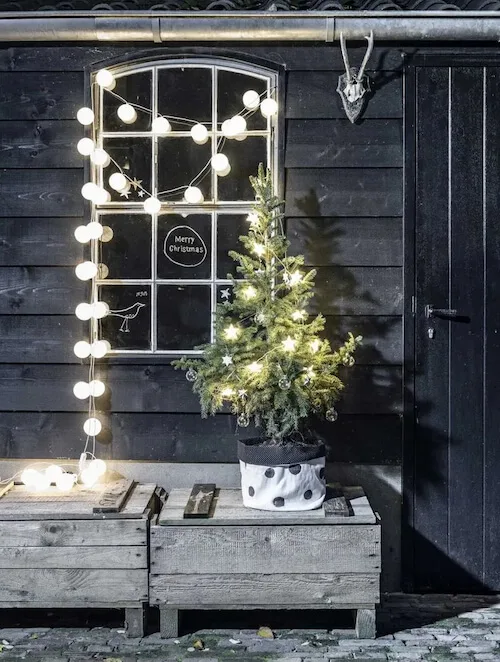 Best Minimalist Christmas Decorations To Shop For
Want more inspiration? Check the below cute minimalist Christmas decorations to shop for directly from our favorite retailers.
Best Places To Shop For Minimalist Christmas Decorations on a budget
If you are looking for cheap minimalist Christmas decorations, below are our favorite stores:
Ahead please find our picks of minimalist Christmas decorations:
Modern Black & White Christmas Tree Printable Wall Art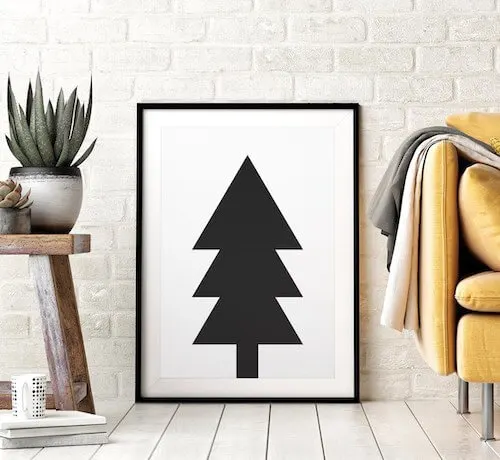 Winter Deer Advent Calendar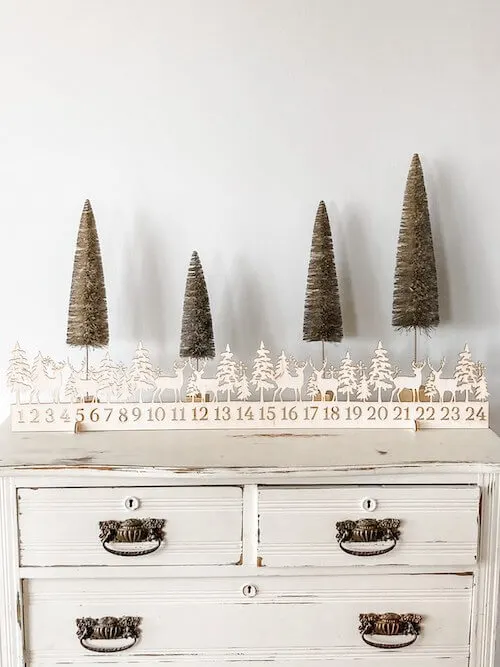 Merry Christmas Prints Set of 3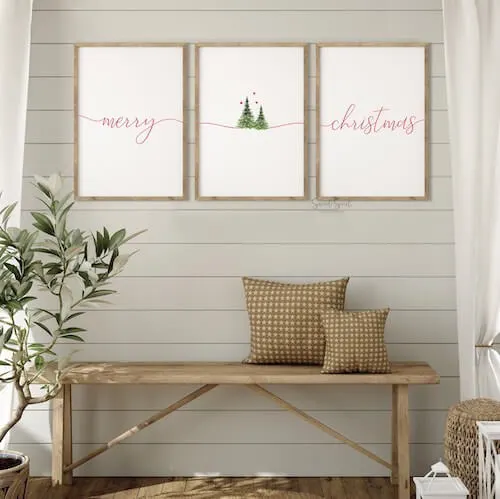 Christmas Garland Ivory Cotton Star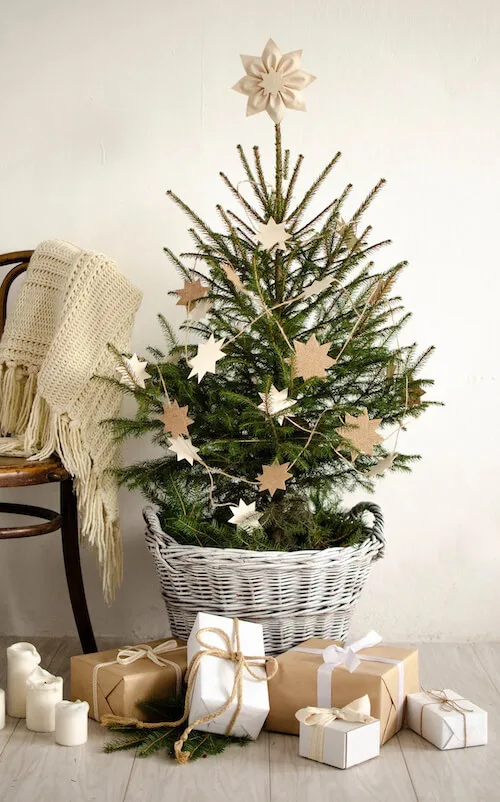 Concrete Tree Decor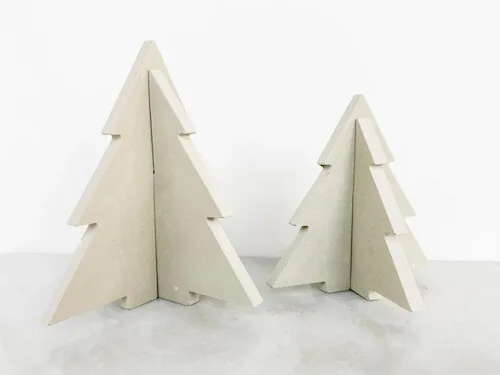 White Cotton Scandinavian Christmas Tree Topper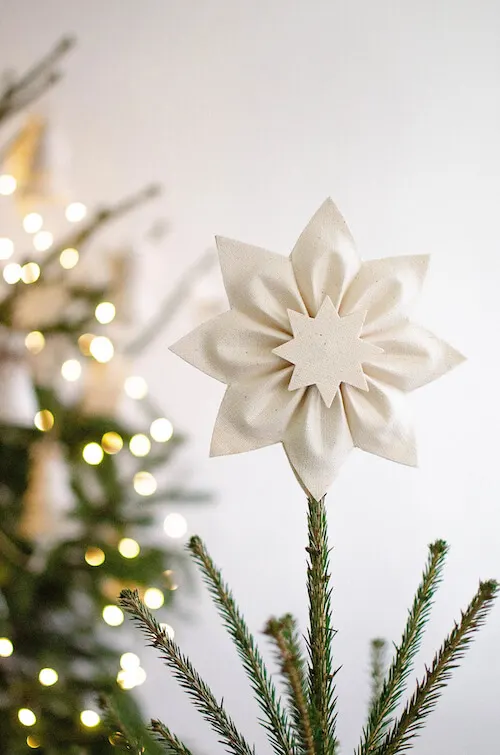 White Felt Ball Garland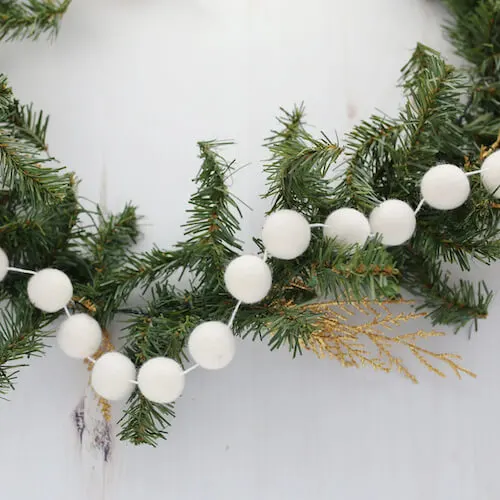 Hanging Christmas Geometric Ornaments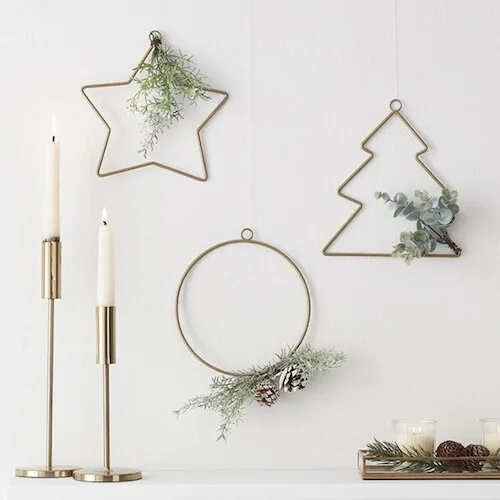 Rustic Christmas Sign
White Christmas Wreath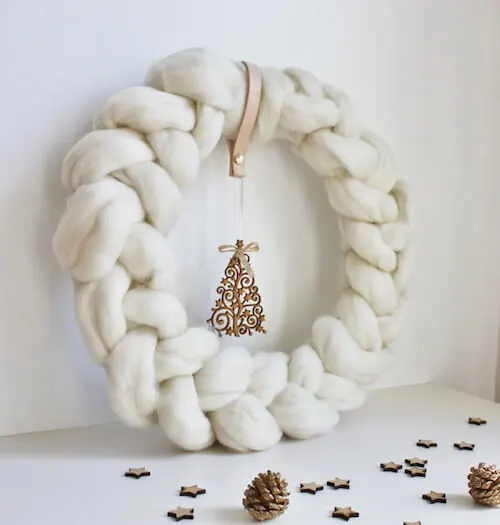 Minimalistic Green Christmas Decor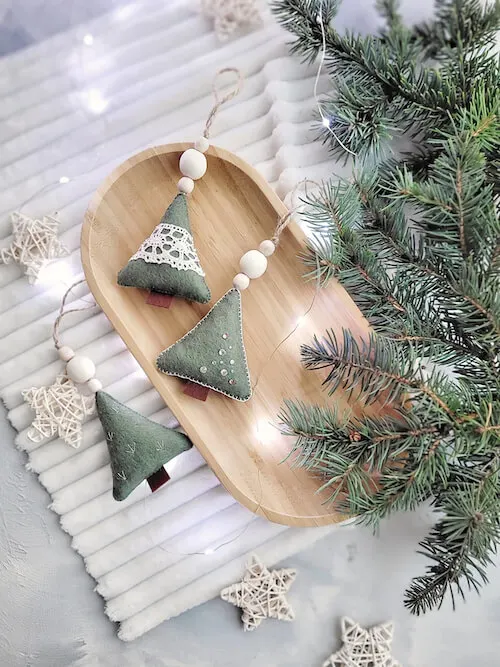 This post was all about minimalist Christmas decor on a budget.
About The Author
Tracy is an experienced personal stylist, shopping expert, and fashion & lifestyle blogger. She has been featured on Time Magazine, Bustle, Best Life, Glam, The Zoe Report, Mic, and GOBankingRates, for her insights on fashion, beauty, home decor, and lifestyle. Read More
Related Posts: