Looking for the best minimalist Christmas decor on a budget? Check this post for the +70 easy-to-copy minimalist decor ideas for Christmas and the cutest decorations to shop for directly.
Christmas time always brings the best wishes and the most touching hopes from the heart.
For me, decorating my rooms for Christmas is the best part of the holiday season.
I can't wait to turn my expectations for the new year into my favorite holiday decorations to accompany us through these wonderful festive days.
If you love the minimalist lifestyle and want to decorate your holiday season in a minimalist way this year, you've come to the right place.
In today's article, I am sharing with you the best minimalist Christmas decor ideas on a budget that you can easily copy for any room, including cute DIY projects for Christmas.
And we also curated lovely minimalist Christmas decorations to shop directly from our favorite retailers.
So scroll down to check these different ideas for minimalist Christmas decorations and don't hesitate to pin them to your Pinterest board, and share them on social media sites.
This post may contain affiliate links, which means I'll receive a commission if you purchase through my link, at no extra cost to you. Please read the full disclosure here.
This post is all about minimalist Christmas decor on a budget.
How Do Minimalists Decorate For Christmas?
If you're a follower of the minimalist style, here are our suggestions for Christmas decorations.
Focus on one or two corners.
Fully browse your space and then choose the corners you need to focus on decorating.
Think outside the box.
While the Christmas tree is an important holiday decoration, you can absolutely also decorate your space with just Christmas wreaths, Christmas lights, etc.
Reuse and DIY decorations.
Don't forget the holiday decorations you used last year, as well as seasonal decorations.
Keep it simple.
In particular, you need to choose one or two, and no more than three colors at most, to decorate your space.
Use small decorations carefully.
While smaller decorations can often make your space a larger space feel and are better suited to a minimalist style, too many unorganized placements of small decorations can look cluttered.
Therefore, you can use shelves, trays, etc. to arrange your decorations or keep your space tidy by placing only a portion at a time.
Add a festive cozy feeling.
White or beige fabrics and fur products make your winter holiday nights feel cozy and sweet.
Best Minimalist Christmas Decor Ideas For The Living Room
The Christmas decoration in the living room is the main event, where the essential thing is the right size Christmas tree or evergreen ornaments.
To create a minimalist look, you can use a lot of different white decorations to bring out the lushness of the green and add warmth to the space in the winter.
Meanwhile, a small amount of wood, beige, gold, and brown colors can add more interesting details.
Carpets, throw pillows, sofas, etc. are all textiles that will delight you.
I suggest you choose similar colors for them, which can give you a visually larger living room, and can make your living room decoration look more luxurious with a very small budget.
An Elegant Garland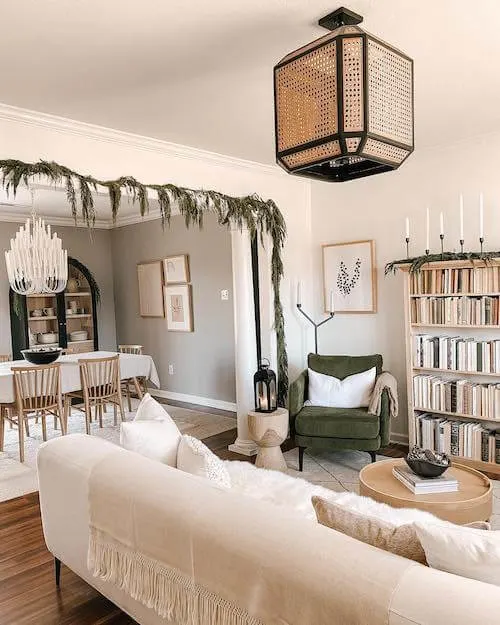 Small Christmas Tree Under The Stairs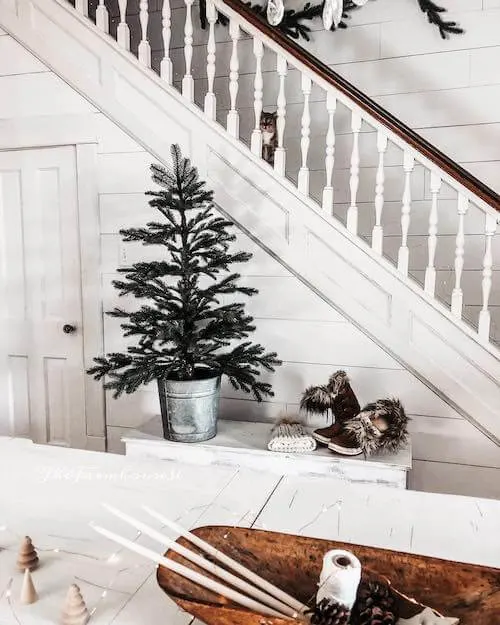 via weheartit
A Simple DIY Christmas Tree Skirt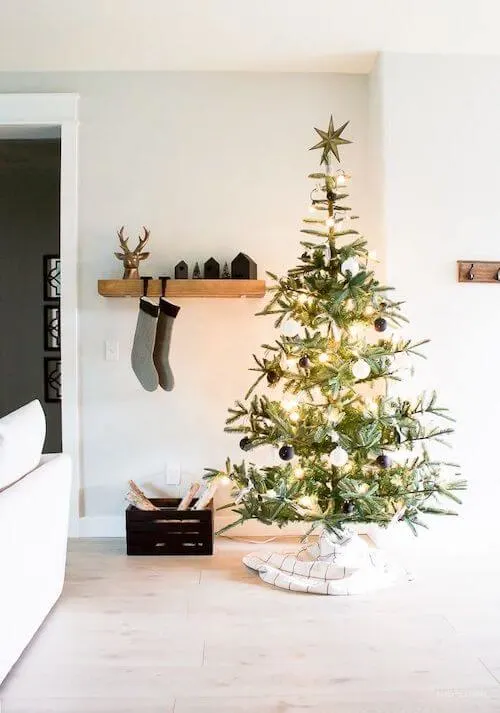 Choose Smaller Size Decorations For The Coffee Table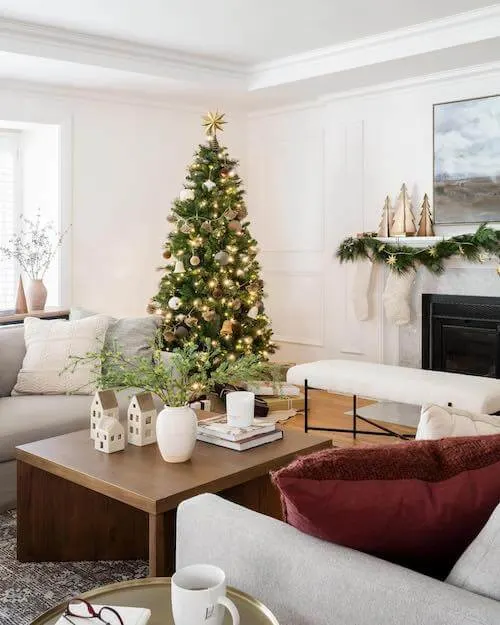 Decorate The Stairs With Natural Elements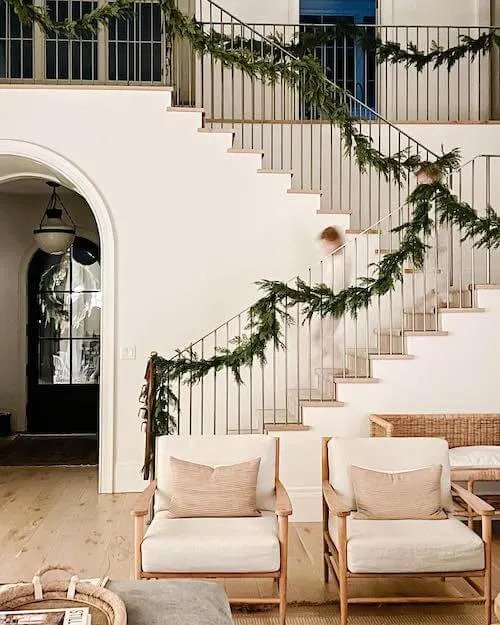 Use Big White Pot For A Minimalist Holiday Style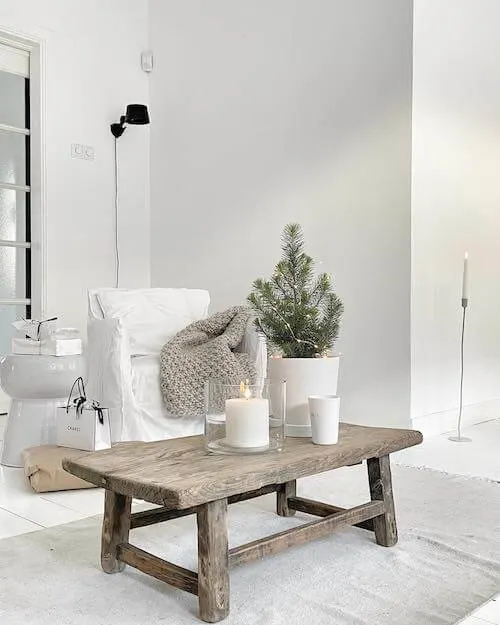 White And Light Gray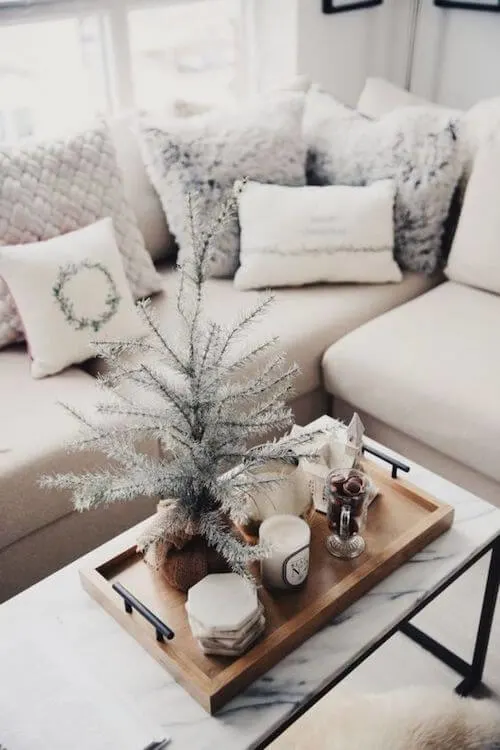 A Little Pop of Color For Holiday Cheer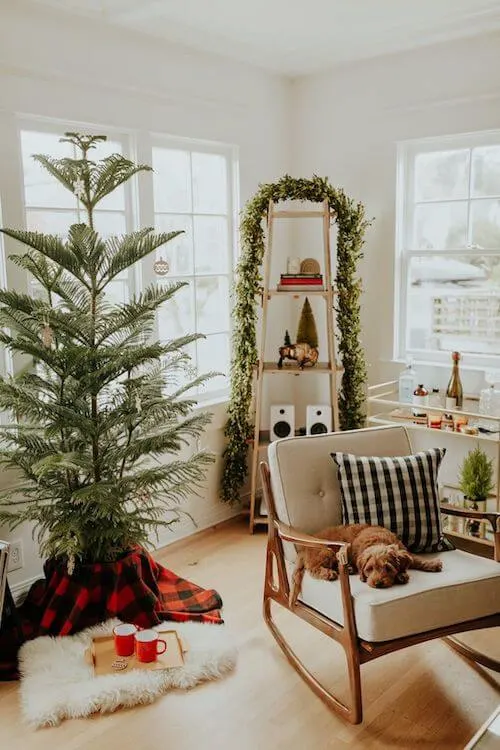 via Pinterest
Stick To Monochrome Palettes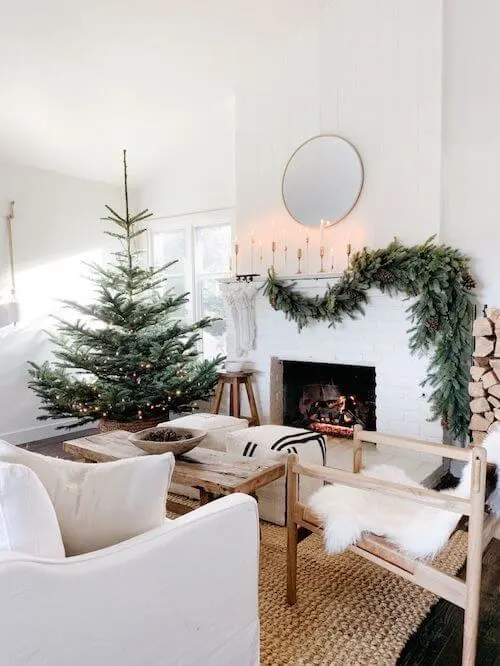 Festive White Shades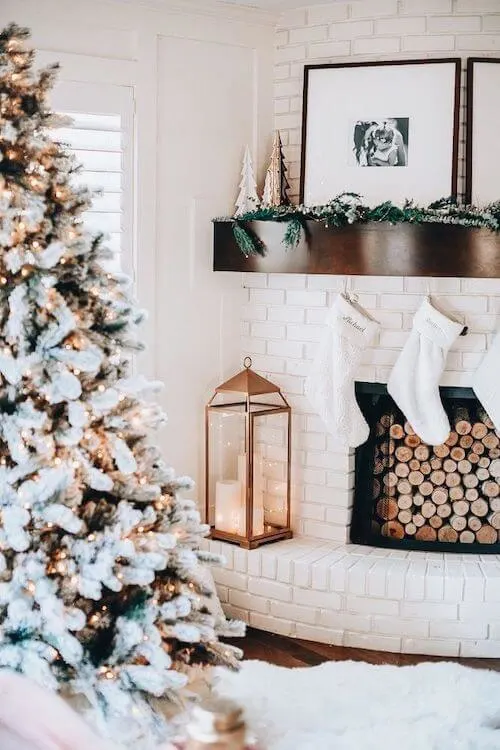 Cute Minimalist Christmas Tree Ideas On A Budget
When it comes to Christmas trees, you can choose a large Christmas tree, a small beautiful tree, or even a miniature size depending on the size of your space and budget.
The living room is of course the most common place to put a Christmas tree.
But there are so many more creative ways for you to pick from.
For example, put a small Christmas tree on your favorite cabinet, or make your own DIY Christmas tree to hang on the wall.
These fantastic holiday lights, twinkling Christmas decorations, and your favorite words of blessing can help you create the warmest Christmas holiday vibe as well.
If you like the minimalist style, then when choosing the Christmas tree skirt and the gift wrapping paper under the tree, I suggest you choose neutral colors such as dark gray, beige, and white.
All of these colors will blend well with your overall neutral style environment.
Simple White Ornaments
Choose White And Black Decorations For The Big Tree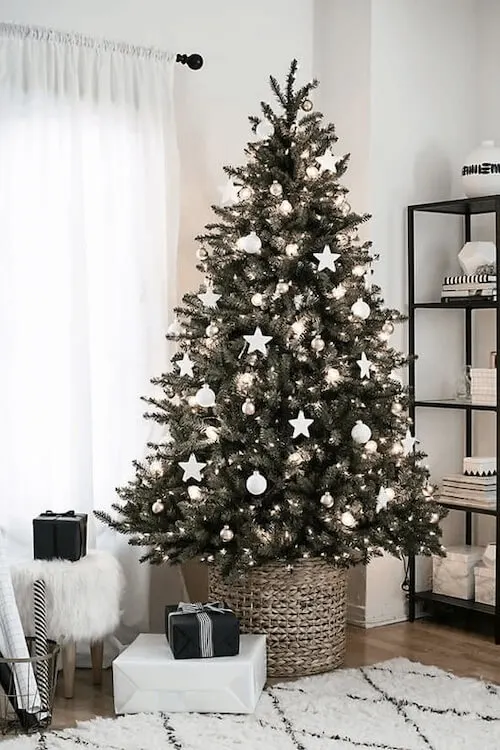 Use the Same Color Scheme Kraft Paper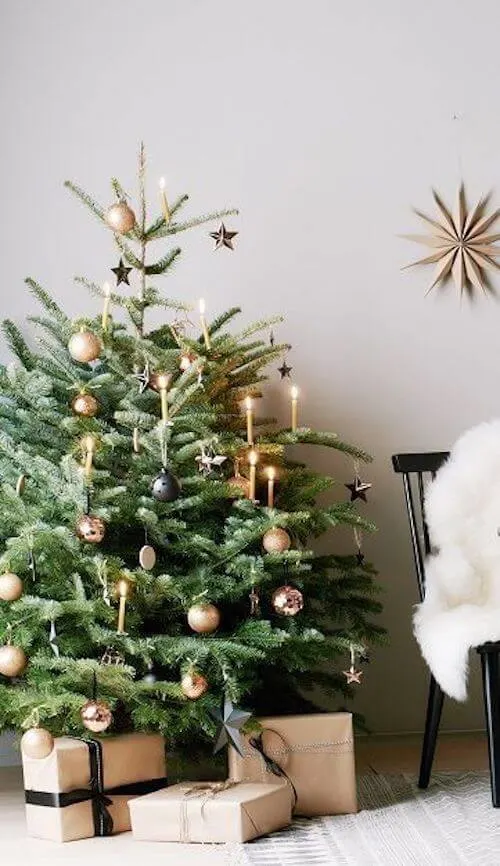 Decorate With String Lights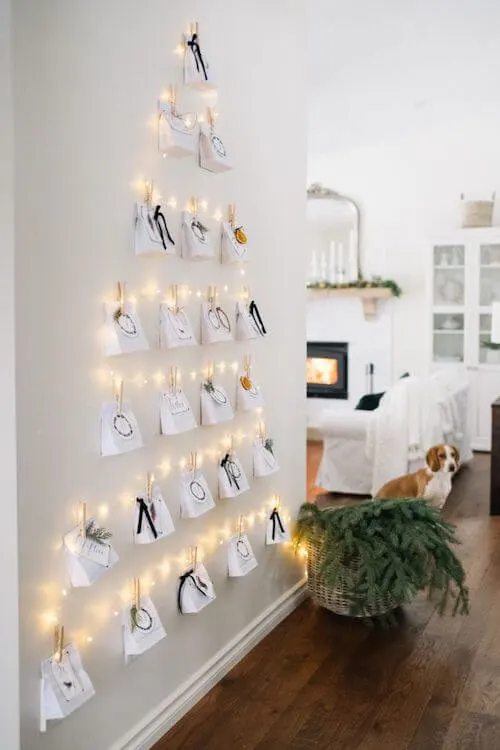 Muted Gold And Silver Shades
For many of you who don't have enough room for a traditional Christmas tree, but want to decorate it with your own hands, a hanging Christmas tree is the best choice and an easy way to decorate your own home.
Compared to the traditional Christmas tree, this easy project can be decorated on any blank wall.
You can choose the hangings and small string lights, and the wood tone is simple and versatile, so you can never go wrong.
After the festive season, roll it up and you can easily store it away.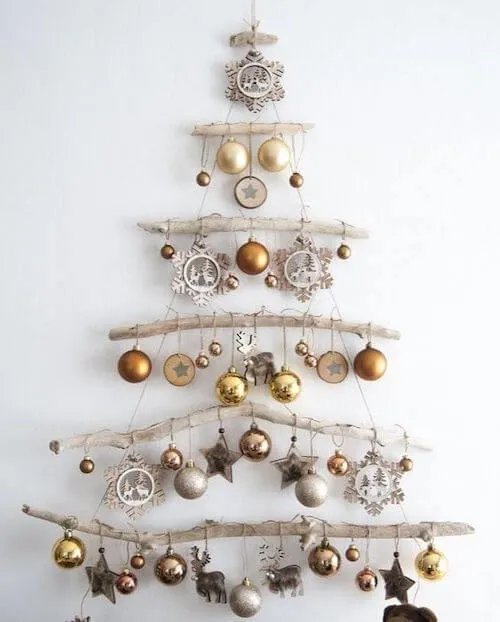 Stick To Gold Colors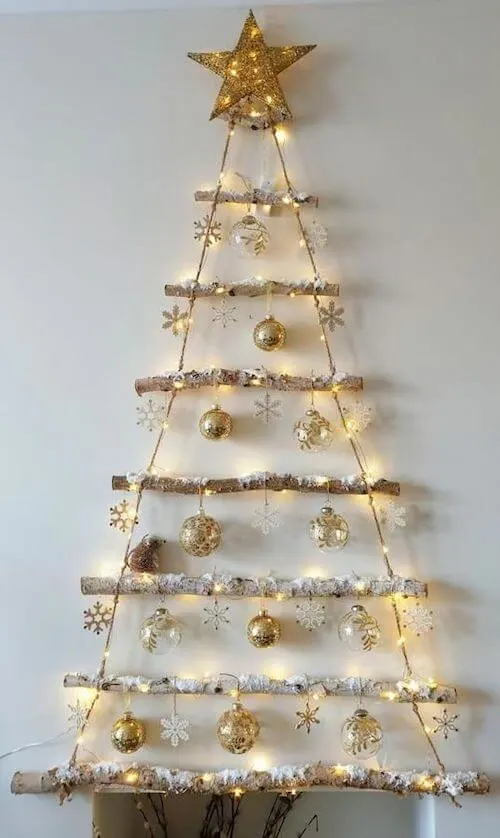 Best Minimalist Christmas Fireplace Mantle Decor Ideas
Make your fireplace look a little artistic in its simplicity with a vintage-inspired mirror and candles, or show off the charming gentleness of nature with wood beads and greenery.
When you arrange your favorite decorations on the fireplace, remember to leave white space around it so that your space can look fully breathing and not overwhelming and cluttered.
Highlight The Beautiful Mirror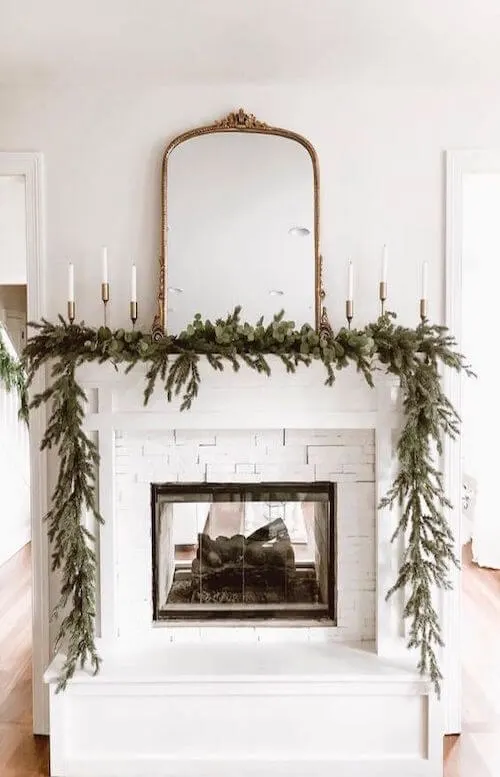 Neutral Colors Christmas Stockings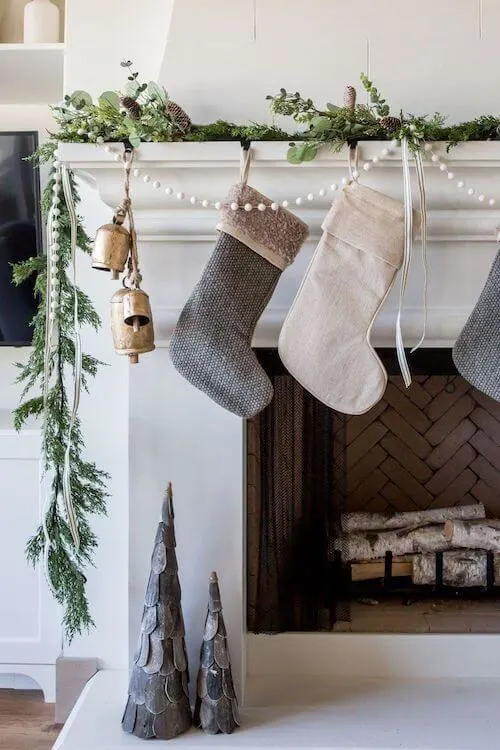 Lovely Wooden Beads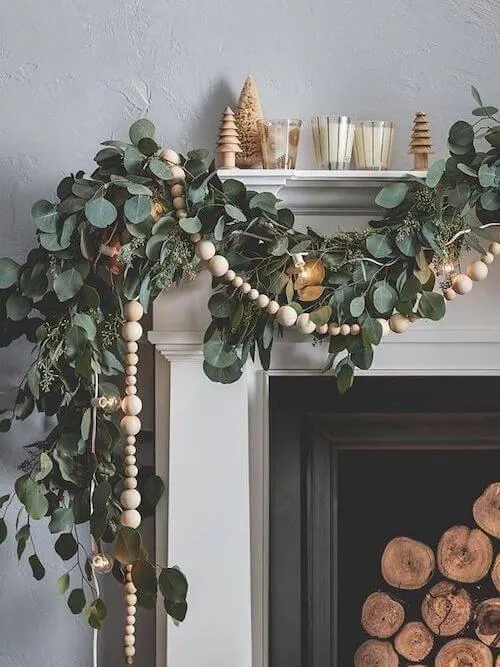 Decor Only Half A Circle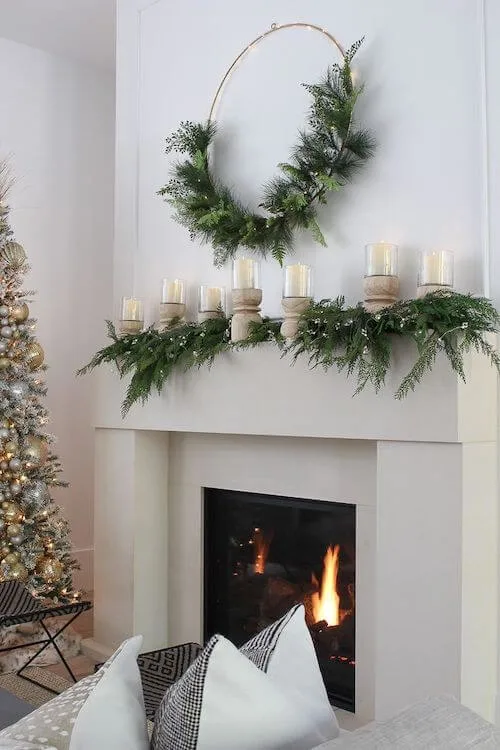 Best Minimalist Christmas Decor Ideas For Your Dining Table
The color of evergreens is the most Christmassy hue, so put them on the dining room table and spread them in the middle like a table flag, and the festive atmosphere will appear.
Don't forget that the wall around the table is also a great place to decorate.
Just hang a few simple greenery garlands, and this is a great way to make your dining room look different immediately.
Finally, remember to set the candles.
This inexpensive way is amazing to light up your holiday.
When the candles are lit, it is the beginning of a happy ceremony, and a warm and romantic feeling will permeate the tables.
Simple Evergreen Holiday Decor Ideas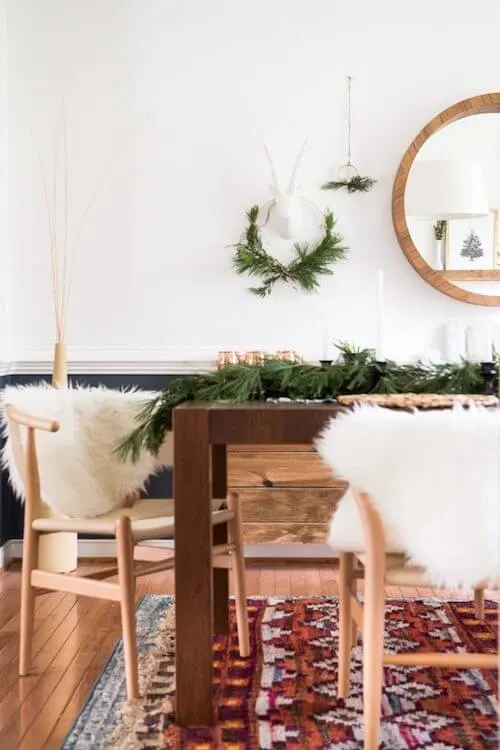 [email protected]_ofmy_taste
DIY Evergreen Decorations In The Dining Room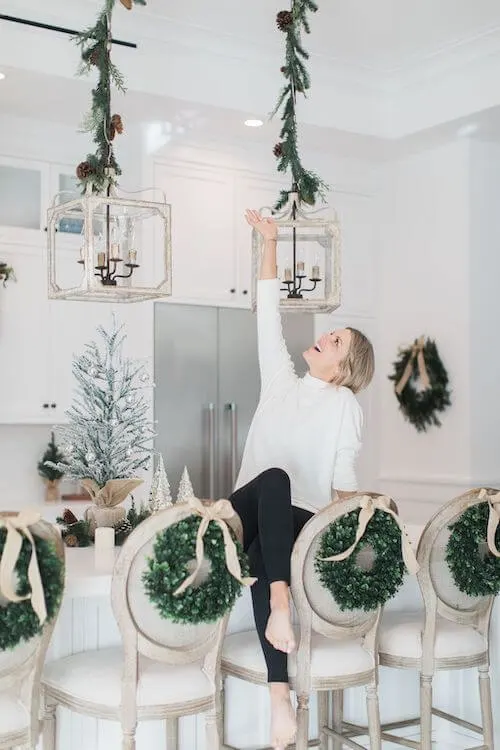 Simple Candle Holders For The Dining Table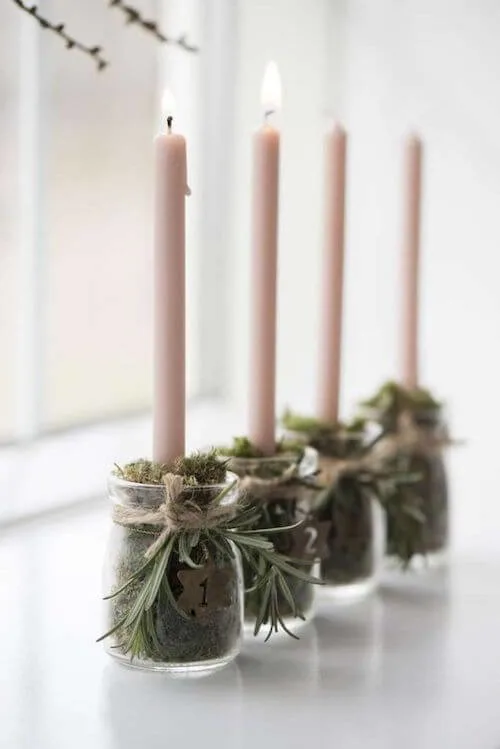 Candles And Wreath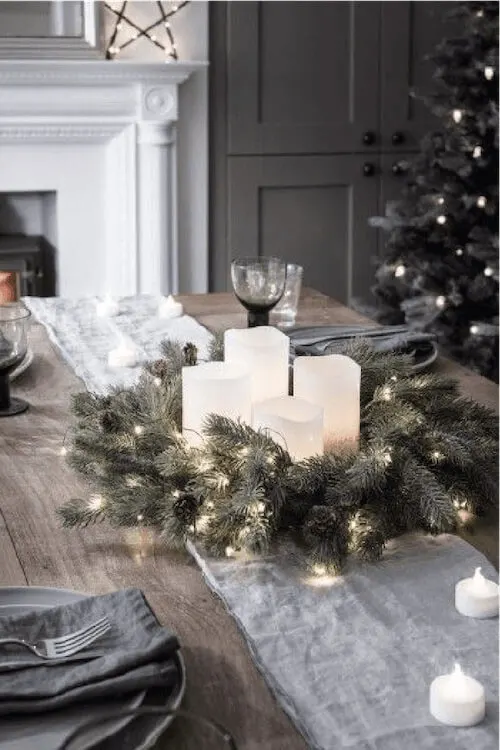 Minimalist Wreath Hangings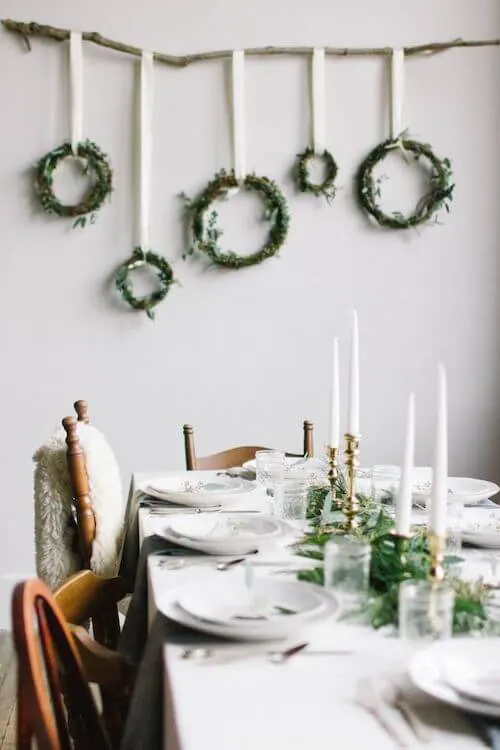 Scandinavian Minimalist Christmas Decoration Ideas
Scandinavian style is minimalist, fresh, and natural, and naturally so are the Christmas decorations in this region.
In a Scandinavian home, the most gorgeous accessories you can find are metallic elements, and the extensive use of gray and white décor is like a blank canvas for you to decorate as you wish.
The great thing about the Scandinavian holiday style is that it is a simple way to save money.
Find some evergreen branches to make garlands, decorate Christmas trees with handmade origami, and use faux white fur to imitate snow …… Get your creative juices flowing for Scandinavian decor ideas!
Decor With Natural Materials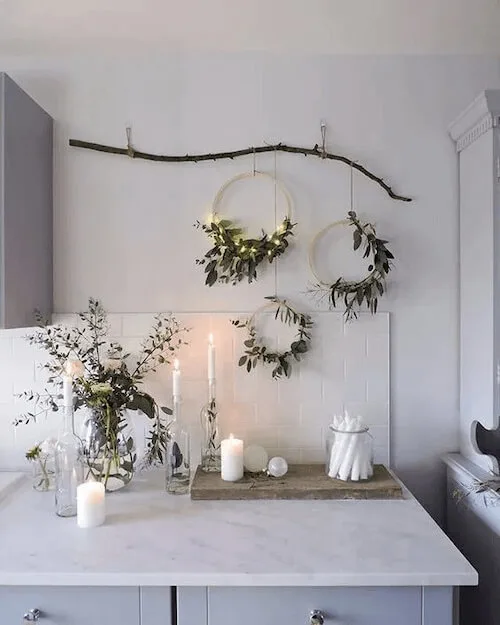 Small Christmas Tree And White Lights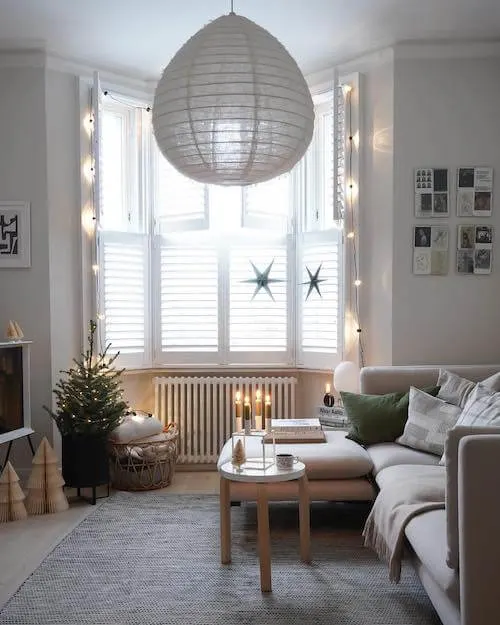 Beautiful Star Light Festive Decoration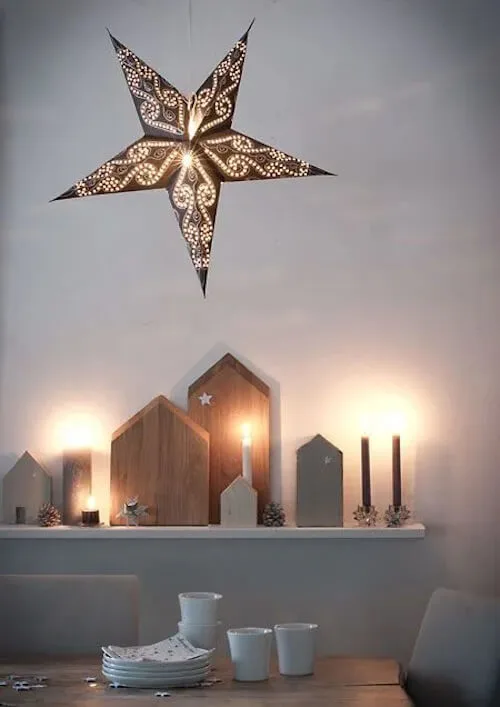 Embrace The Natural Look of Wood Decorations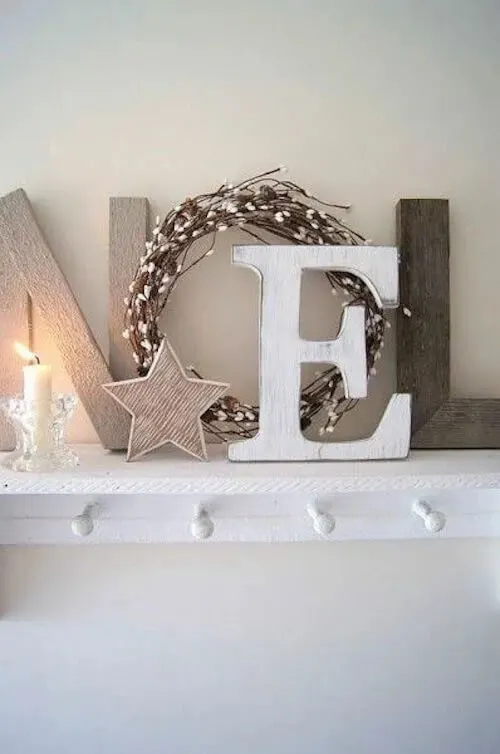 via Pinterest
Classy Minimalist Christmas Decoration Ideas
In recent years, elegant Christmas styles are becoming popular. One of the year's biggest design trends is the white Christmas style.
This year, why not also try all-white Christmas tree decorations instead of the traditional colors?
You can put together your favorite white Christmas-style decorations to create a dreamy fairy tale world.
To add a bit of glitz and glamour to the Christmas season, you can use a small amount of gold or silver decorations, and they look even more sparkling and charming against the large white decorations and holiday lights.
Mix Pure White Christmas Decorations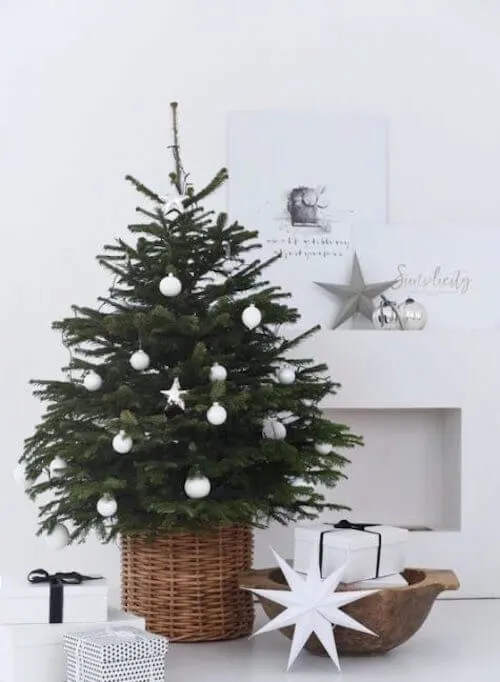 via Pinterest
Add Holiday Cozy Vibe With Blankets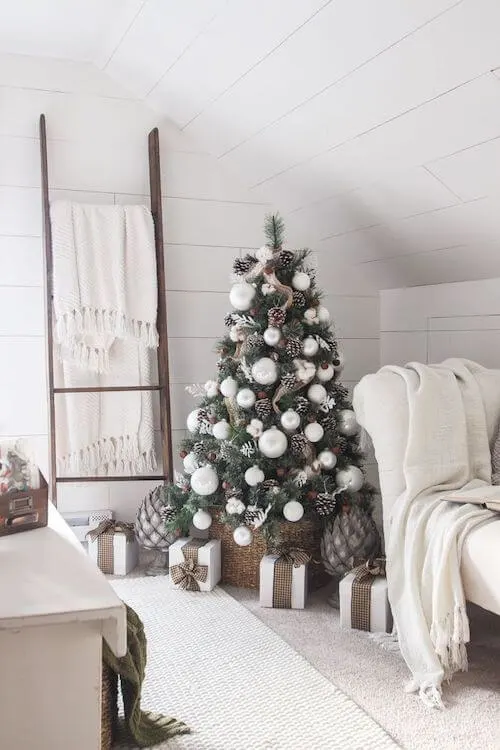 via Pinterest
Sweet Small White Christmas Decorations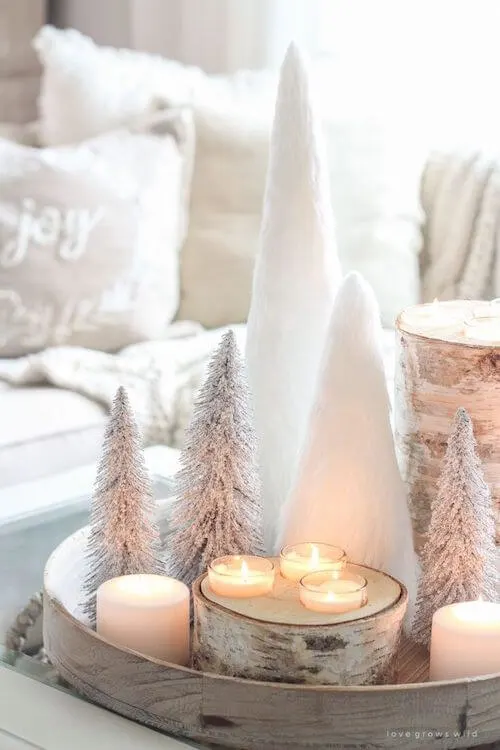 Light Up The Holidays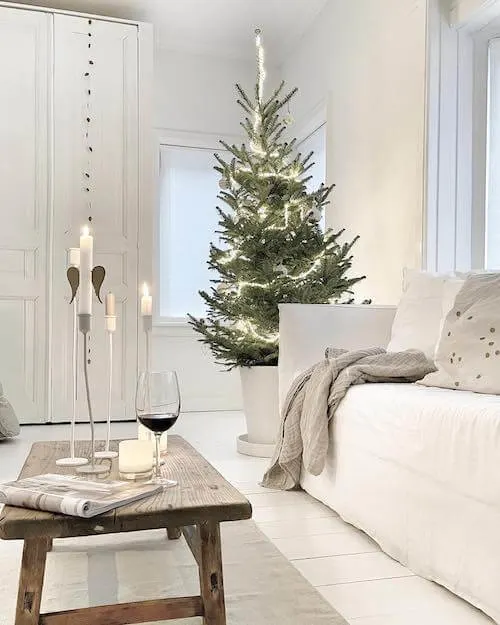 Use Minimalist Christmas Gifts Wrapping Ideas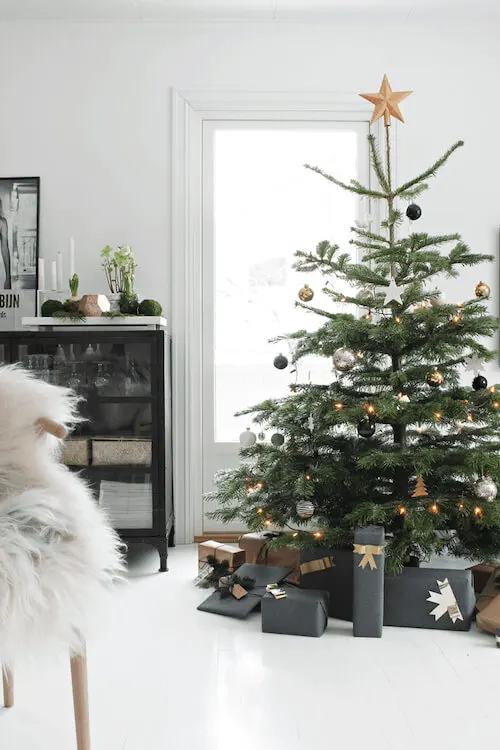 Rustic Minimalist Christmas Décor Ideas
The rustic style is perfect for embracing the Christmas vibe!
You can try string lights, branches, candles, vintage lamps, original wooden tables and chairs, furs, etc.
Try to combine them to create a warm holiday picture.
DIY Christmas Garland To The Window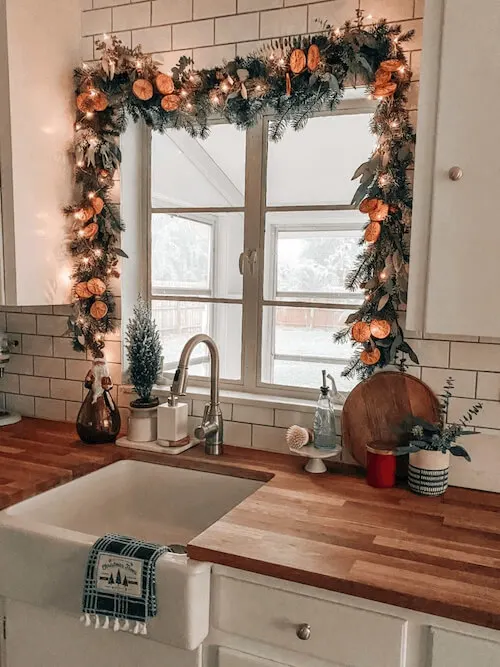 Minimalist Christmas Paper Garland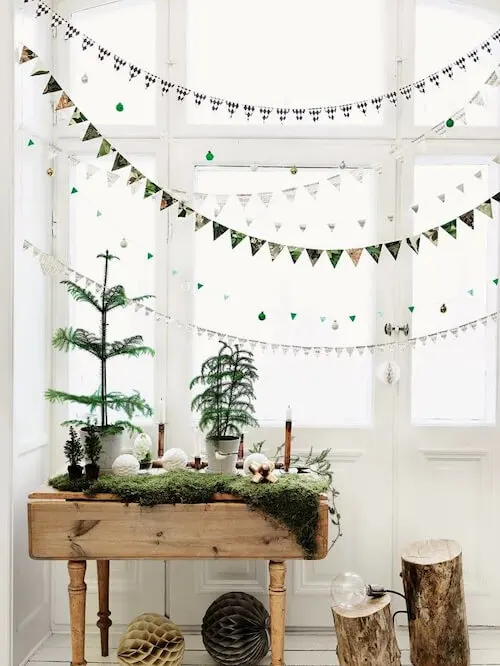 Simple Word By String Lights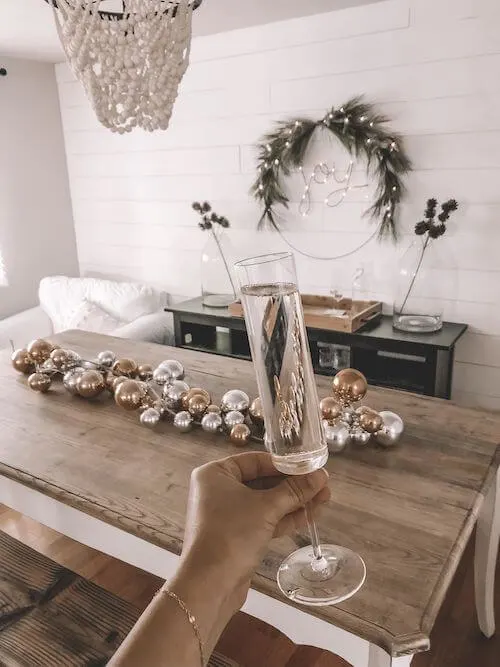 via Pinterest
Rustic Wall Art With Holiday Spirit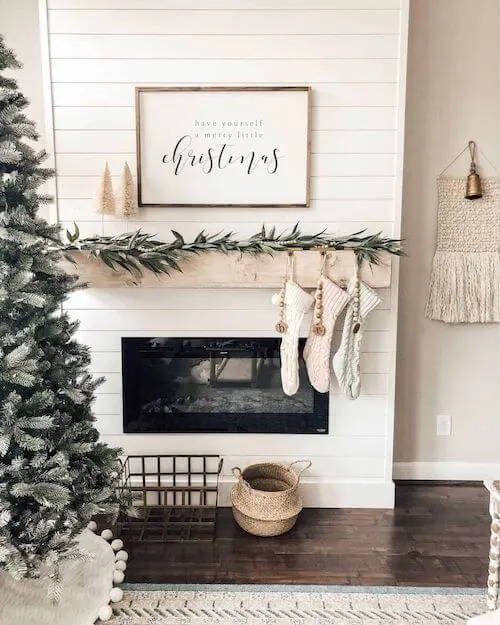 Easy-To-Copy DIY Simple Christmas Decorations On A Budget
While you have free time on the weekend, go buy some materials and make some Christmas ornaments by yourself, so that the Christmas ornaments are no longer the same as others, but the entire process is more interesting because they are made by yourself.
When friends and relatives visit your home for a Christmas party, they will be impressed because your home is decorated differently from others.
If you are on a tight budget, nature's gifts, leftover wrapping paper and ribbons, and beautiful decorations collected from thrift stores or flea markets can also be used for DIY Christmas decorations.
You will be amazed that how these simple things can turn out to be great holiday decorations.
Cute Dry Orange Christmas Garland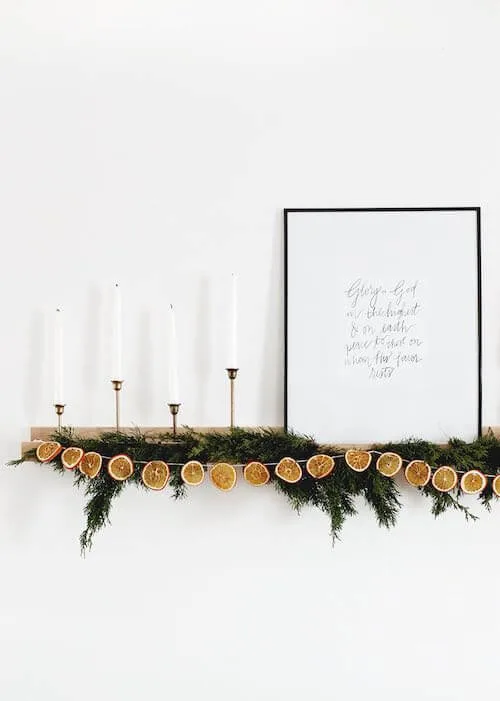 via Pinterest
Small White Christmas Trees And Pine Cones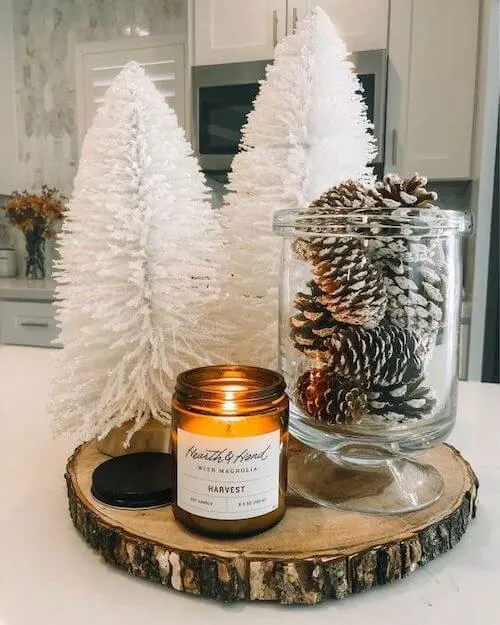 DIY Fresh Greenery Wall Decor
Tie Small Bells On The Wreath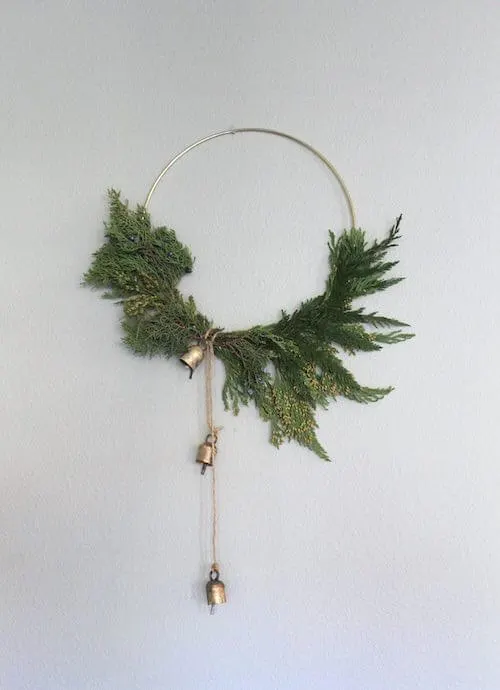 A Natural Wood Christmas Lights Star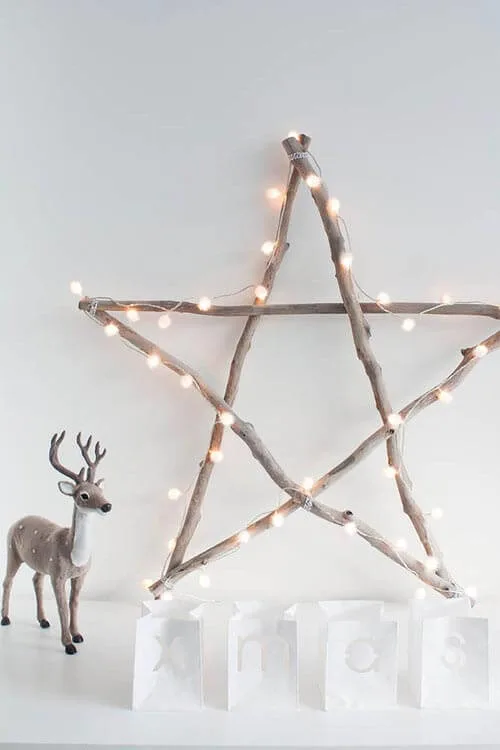 via Pinterest
Mix Letters And Greens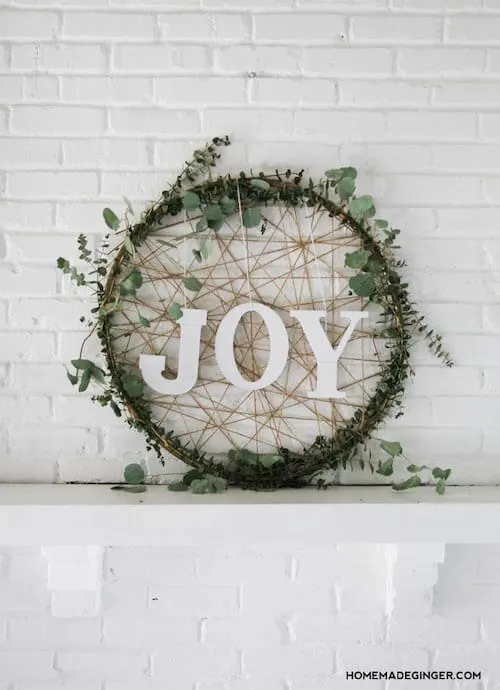 via homemadeginger.com
Easy To Copy DIY Holiday Candle Holders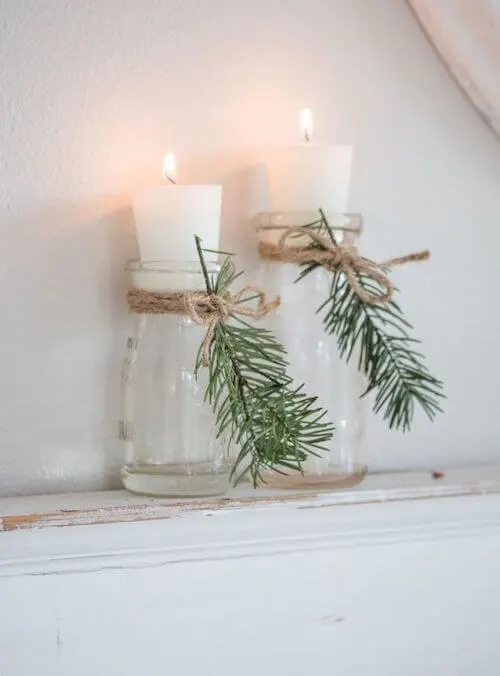 Minimalist Wall Hanging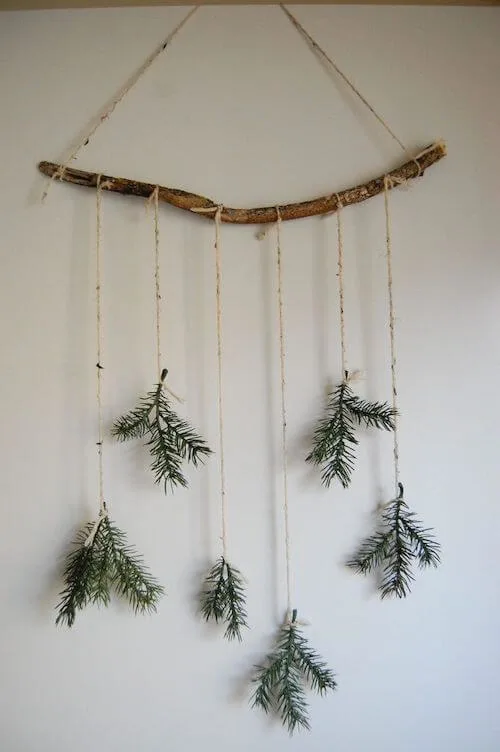 Use Dry Orange To Decor Your Small Tree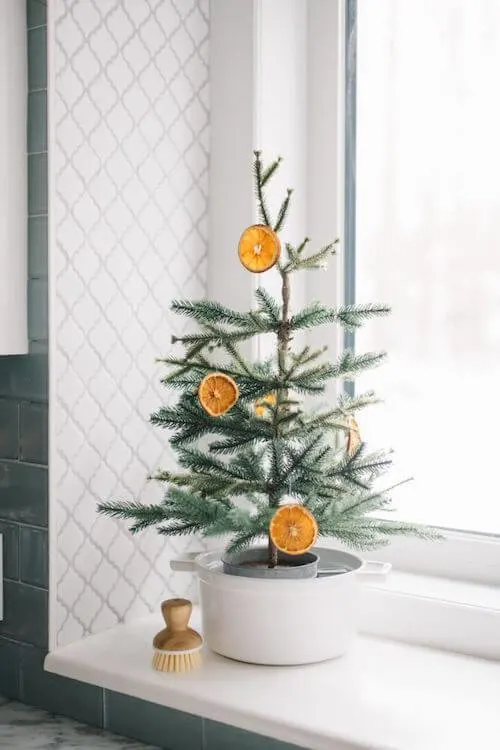 via Pinterest
Add A Personal Touch To The Wreath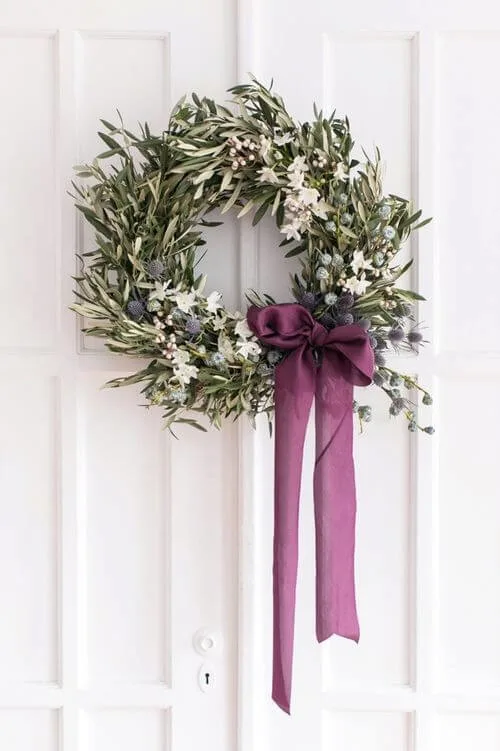 Elegant Candle Holder
White Ribbon And Bells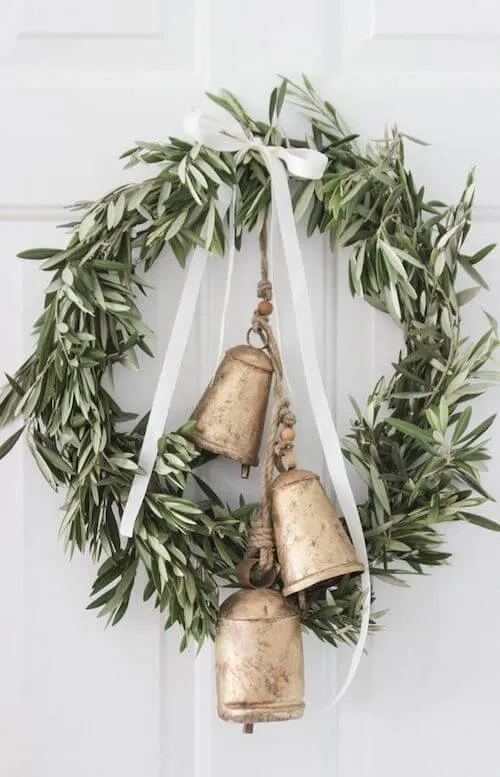 A Tree Branches Advent Calendar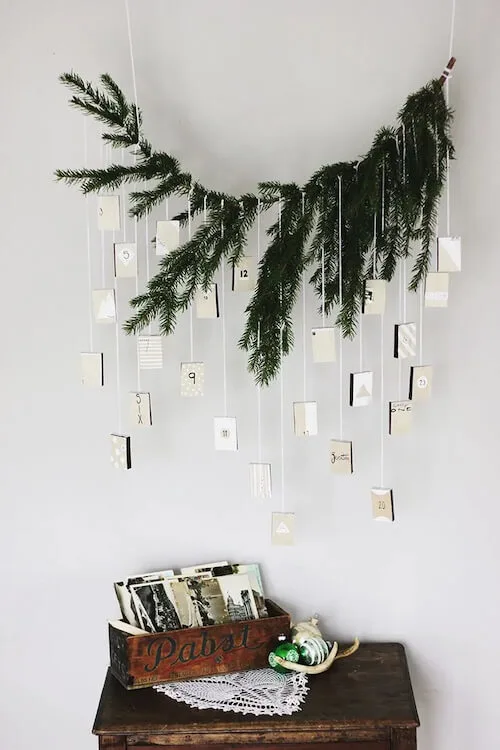 Tie The Leaves Outside The Candles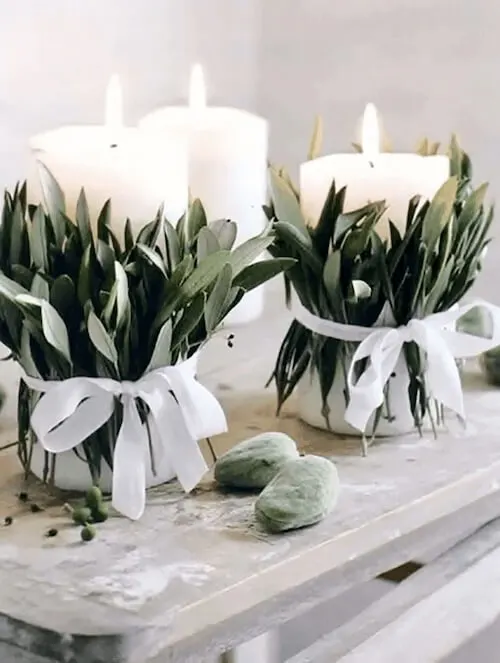 A Cute Forest of Artificial Trees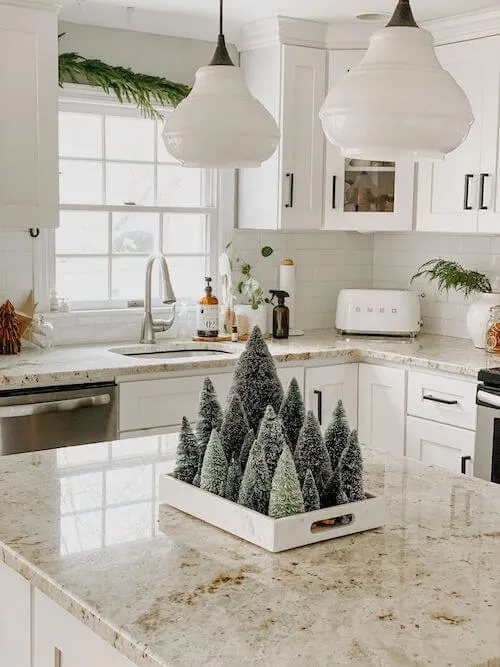 Best Minimalist Christmas Decoration Ideas For Small Space
For small spaces, you can focus on just one Christmas decoration corner to give your space both a festive atmosphere and a very neat look.
In addition, not only are the very large all-green trees with a lot of decorations called Christmas trees but some smaller Christmas trees are most suitable for small spaces.
They are small and cute, convenient for you to place in any small corner of your home.
Gather The Decorations In One Corner
Mini Christmas Tree And Smaller Size Decorations
Use The Windows For Decoration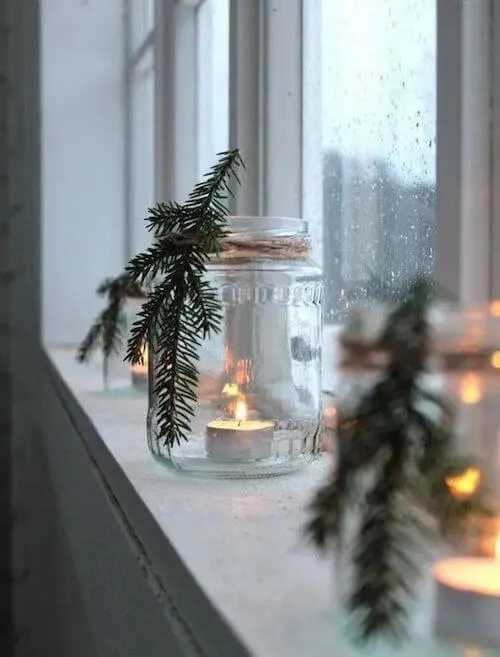 Decor The Walls of The Tiny Space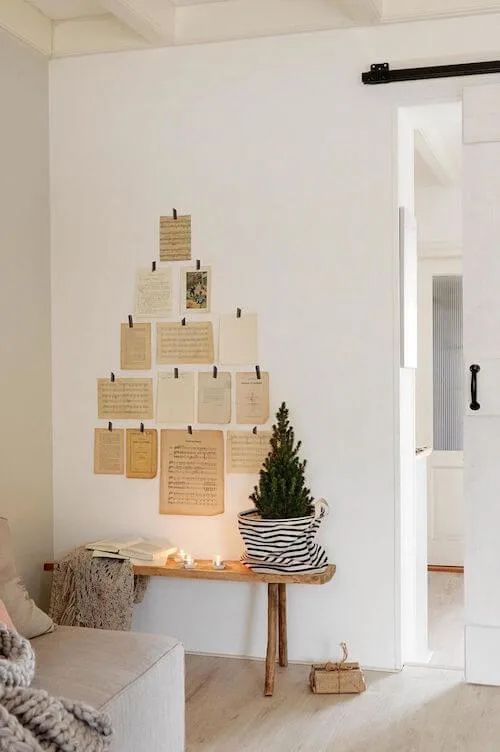 Increase The Cozy Vibe Around The Small Christmas Tree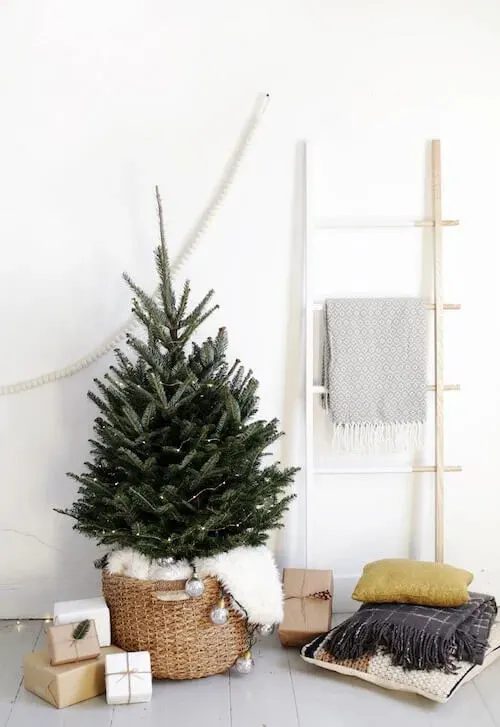 Decor Your Bedroom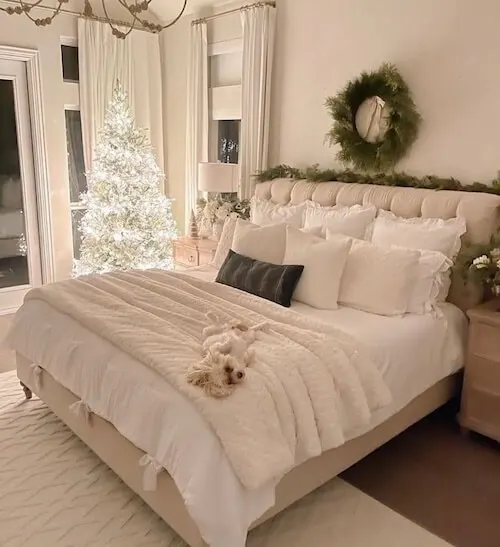 via Weheartit
Mix Different Sizes of Throw Pillows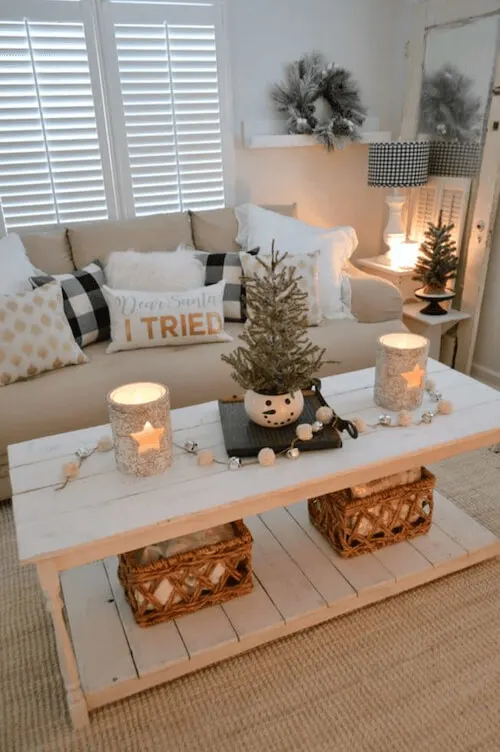 Minimalist Outdoor Christmas Decor Ideas
Don't forget to decorate the entrance of your home for Christmas.
The easiest thing to do is to choose the right Christmas string lights and let them light up every night in a good mood.
Place White Christmas Trees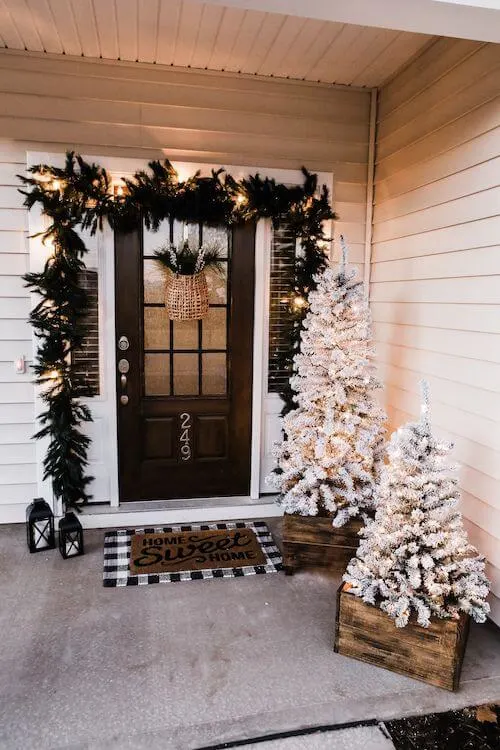 Light Up Your Front Door With Christmas Lights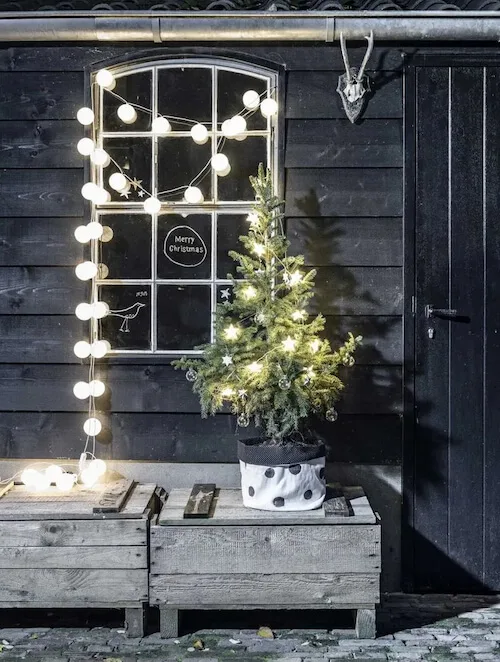 Best Minimalist Christmas Decorations To Shop For
Want more inspiration? Check the below cute minimalist Christmas decorations to shop for directly from our favorite retailers.
Best Places To Shop For Minimalist Christmas Decorations on a budget
If you are looking for cheap minimalist Christmas decorations, below are our favorite stores:
Ahead please find our picks of minimalist Christmas decorations:
Modern Black & White Christmas Tree Printable Wall Art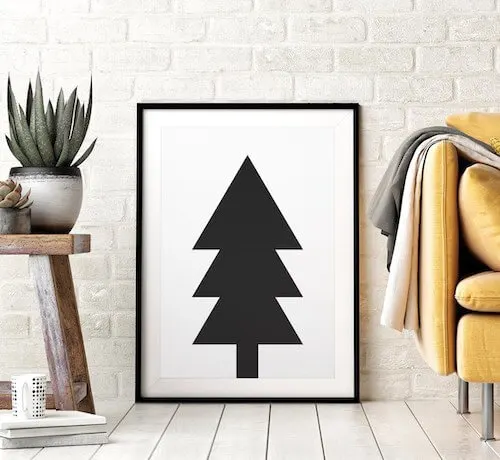 Winter Deer Advent Calendar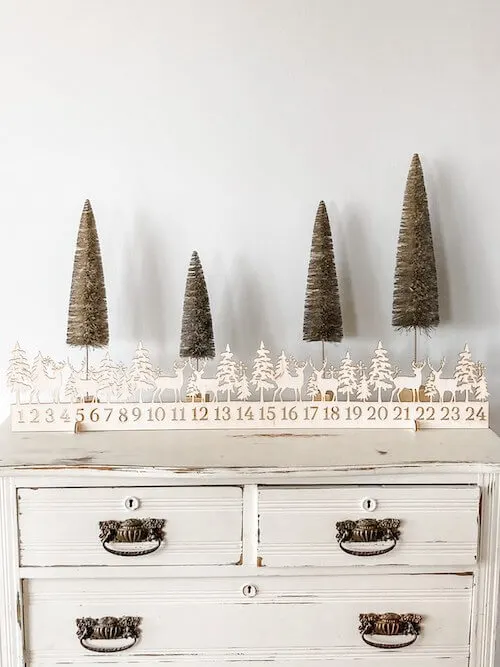 Merry Christmas Prints Set of 3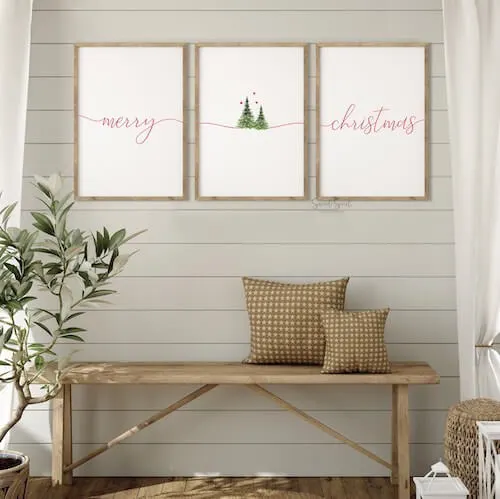 Christmas Garland Ivory Cotton Star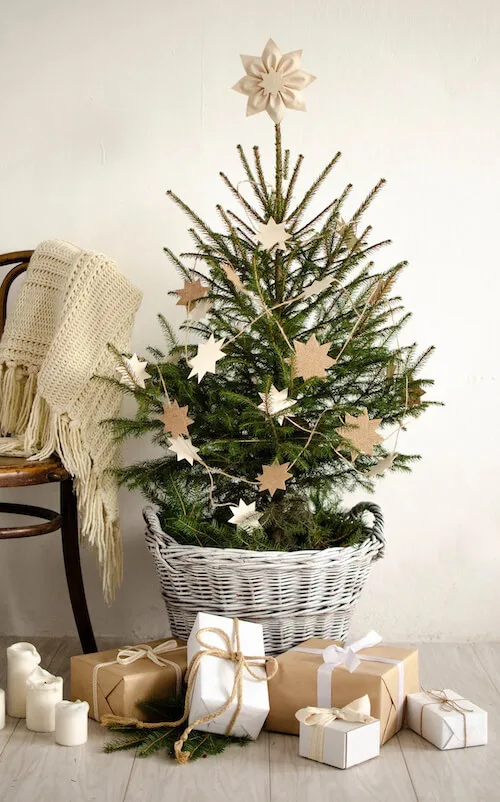 Concrete Tree Decor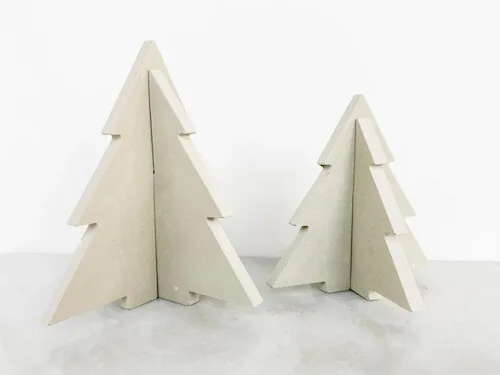 White Cotton Scandinavian Christmas Tree Topper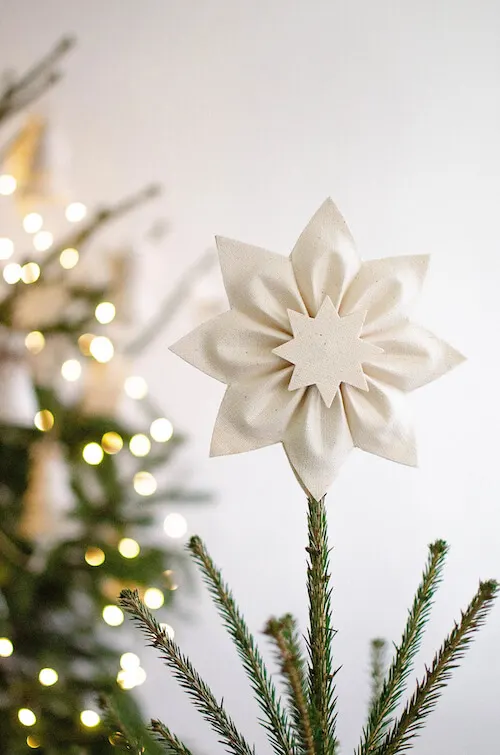 White Felt Ball Garland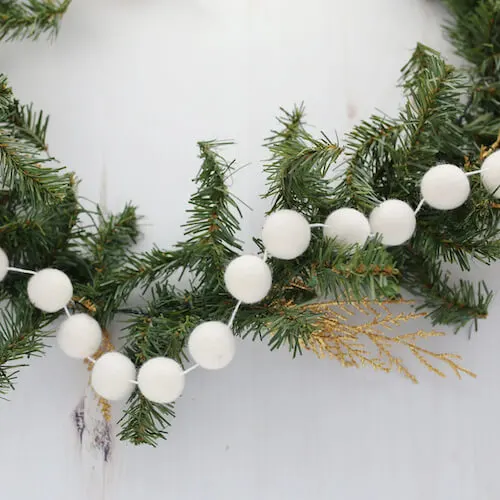 Hanging Christmas Geometric Ornaments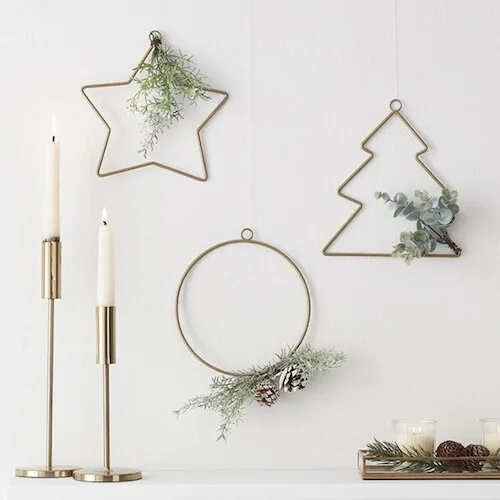 Rustic Christmas Sign
White Christmas Wreath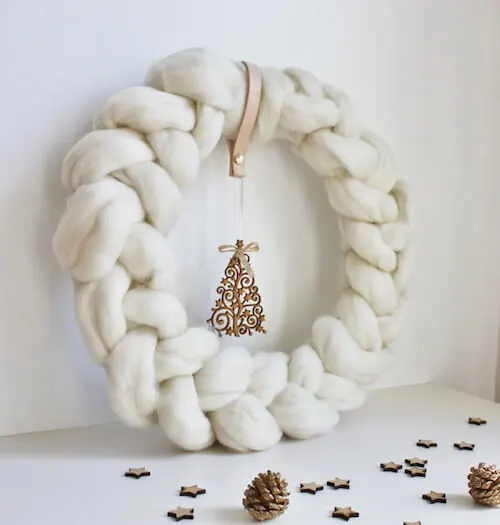 Minimalistic Green Christmas Decor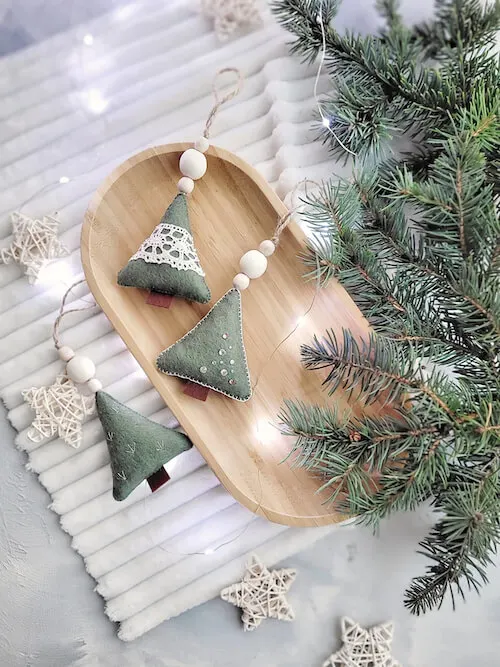 This post was all about minimalist Christmas decor on a budget.
About The Author
Tracy is an experienced personal stylist, shopping expert, and fashion & lifestyle blogger. She has been featured on Bustle, Best Life, Glam, The Zoe Report, Mic, and GoBankingRates, for her insights on fashion, beauty, home decor, and lifestyle. Read More
Related Posts: