Looking for the best Christmas tree decor ideas? Check this post for 60 fantastic ideas that we can't wait to try this year!
Christmas is my favorite holiday, and decorating the Christmas tree is one of my favorite activities throughout the whole year!
But even though I love the process of choosing the ornaments, designing the ribbons, shopping for the stars and tree skirts, I always find it challenging to create a unique and pretty Christmas tree that stands out.
And I am so amazed that there are tons of different Christmas tree decorations styles out there! White Christmas tree decor ideas, simple Christmas tree decor ideas, traditional Christmas tree decor ideas, elegant Christmas tree decor ideas… and so many more! Only browsing the creative and cute decoration ideas can make me delighted and so excited, and I can't wait to celebrate this beautiful season!
So today, we will share with you the 60 best Christmas tree decorating ideas that we can't wait to copy this year! This list includes all the trending ideas to decorate the lovely trees that are suitable for different styles.
And you can also find adorable DIY ideas that you can recreate for your home to make it even more fun!
So scroll down to check this list, and don't hesitate to pin the ideas you like!
This post may contain affiliate links, which means I'll receive a commission if you purchase through my link, at no extra cost to you. Please read the full disclosure here.
This post is all about Christmas tree decor ideas.
White Christmas Tree Decor Ideas
White Christmas tree decor ideas are so trending now. They look luxurious and elegant, especially when paired with other cute colors, including blue, silver, and rose gold.
When decorating a white Christmas tree, it is recommended to add some other cute white room decor in the room to level up the whole cozy and festive vibes.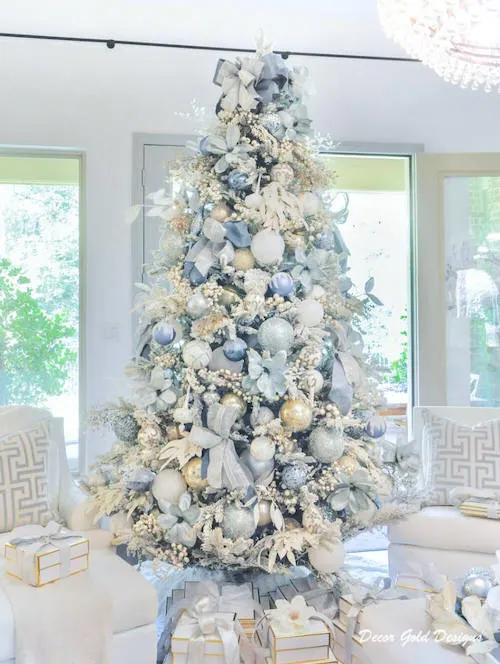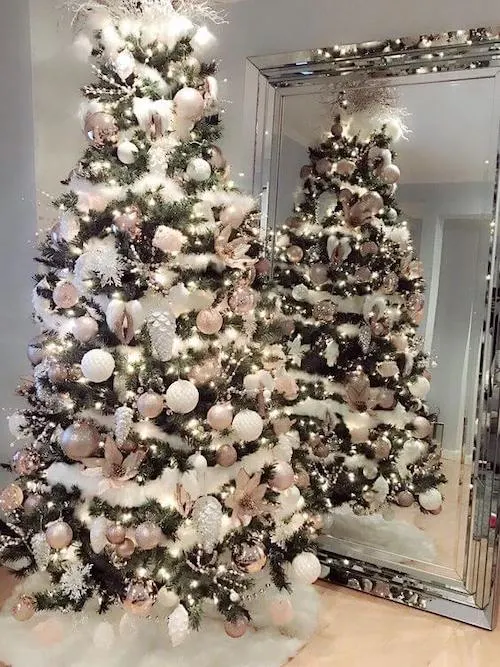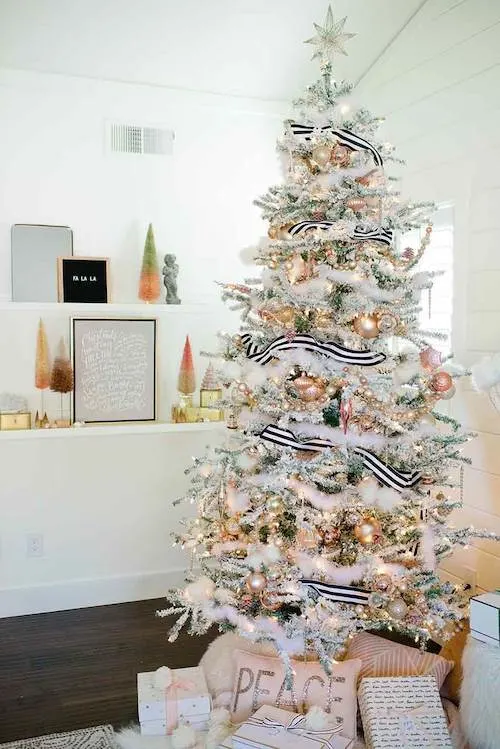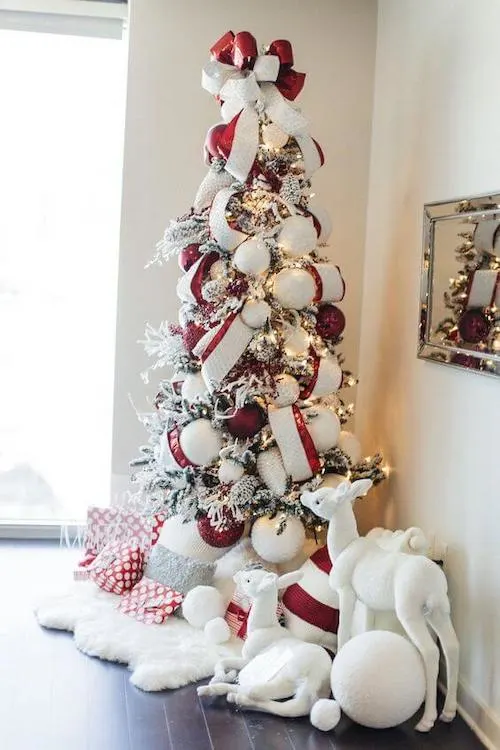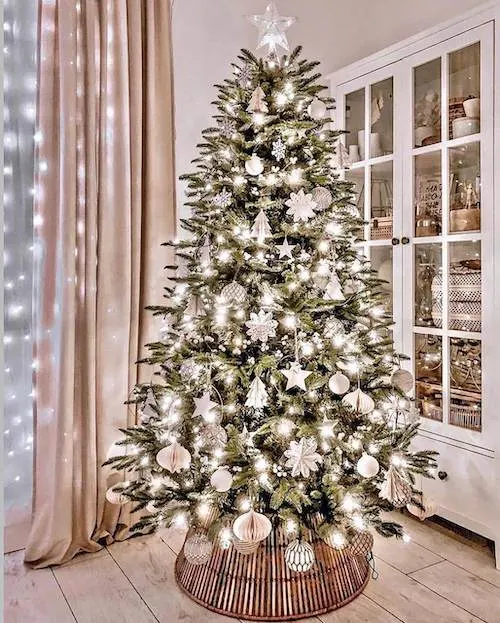 Silver Christmas Tree Decor Ideas
The silver color is another attractive choice when decorating a chic-looking Christmas tree. And it is also excellent if you want a luxury feeling in your room.
The best decorations to go with this Christmas tree decoration style include faux fur rugs and rose gold or gold ribbons. They will look very charming under the lights.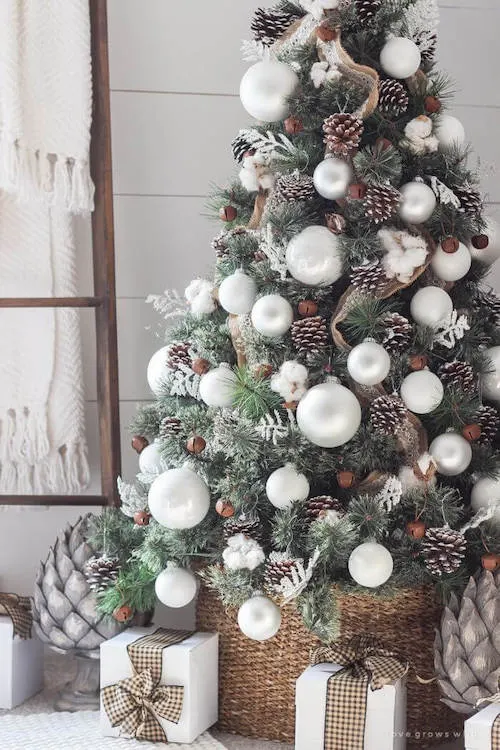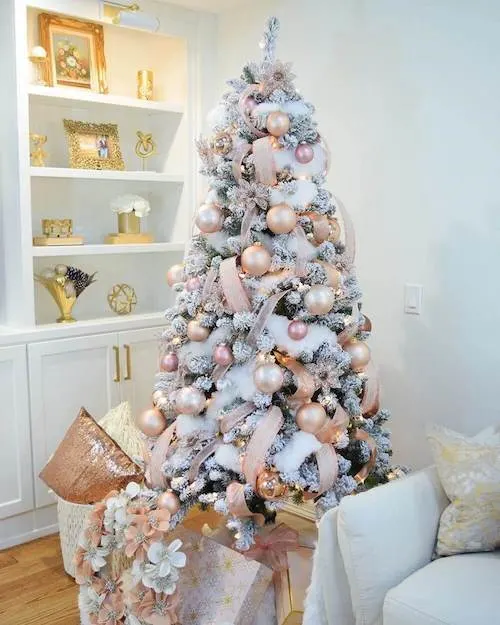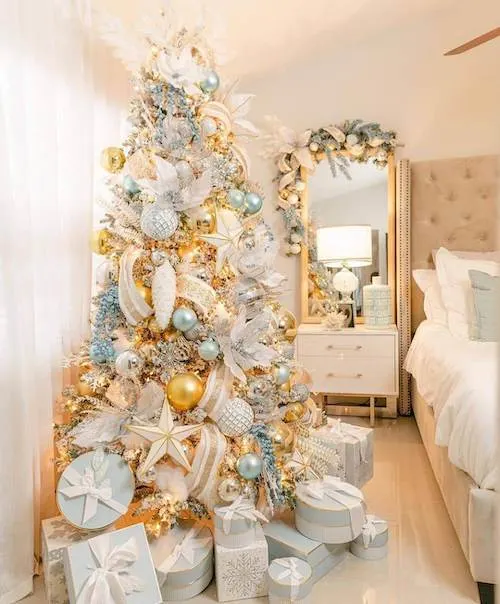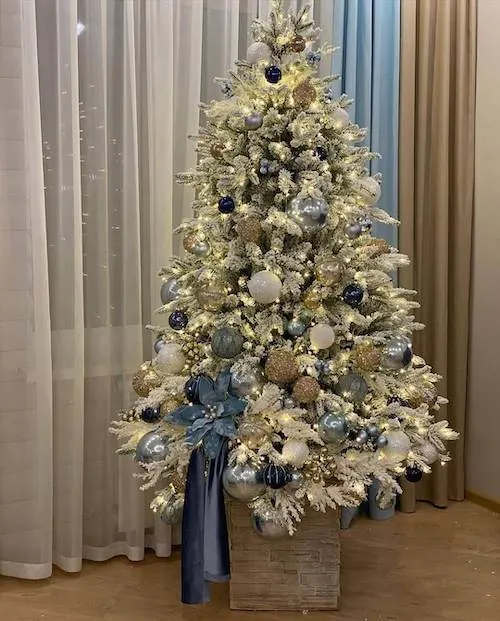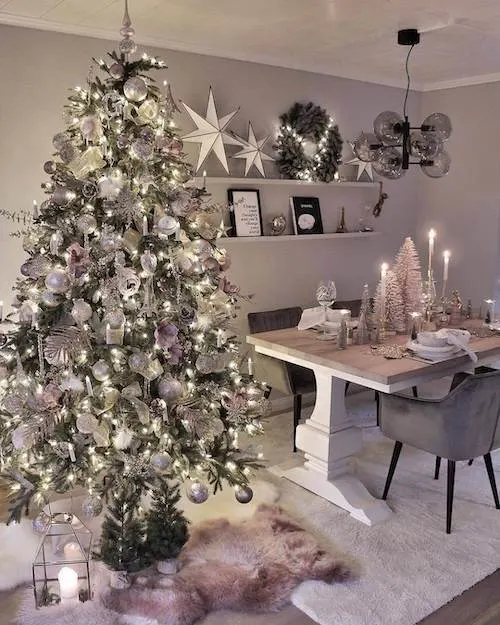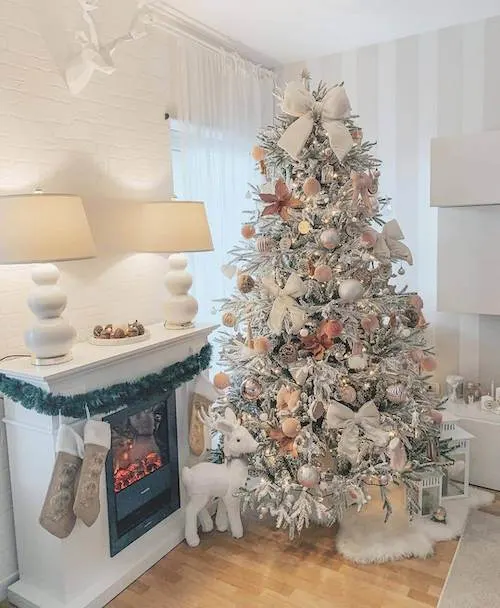 DIY Christmas Tree Decor Ideas
I always like to try DIY ideas for part of the tree decorations or a small Christmas tree in a corner.
Photos, things from your hobbies or favorite places, and all the little things you love can all be excellent ornaments.
Want to make them look cuter? Hang string lights around or place a chunky knit blanket under the tree as a tree skirt!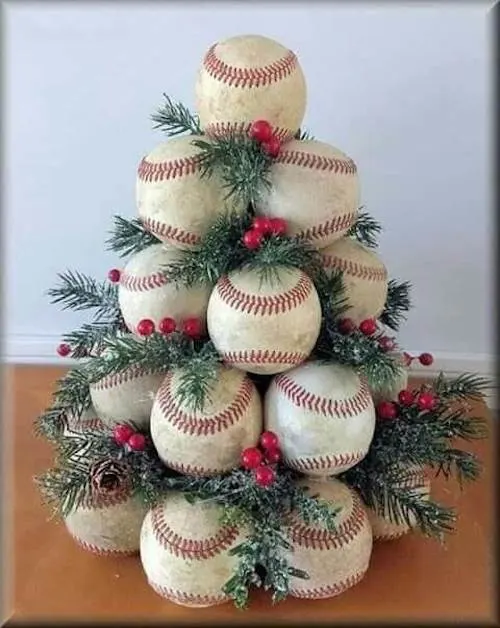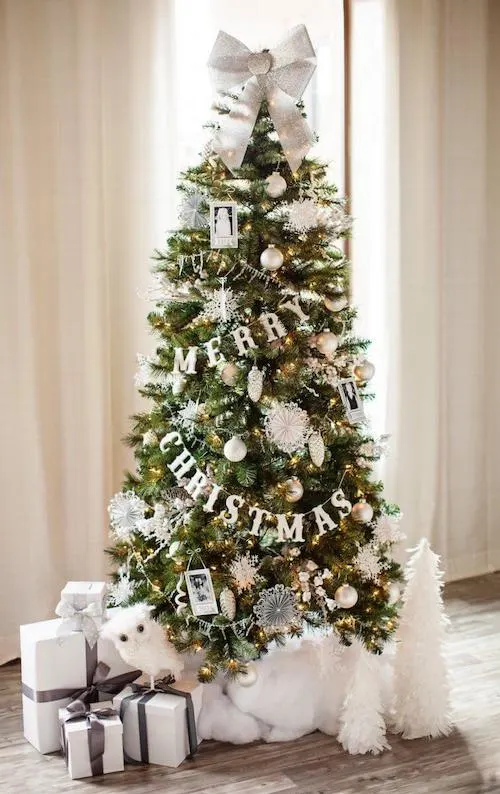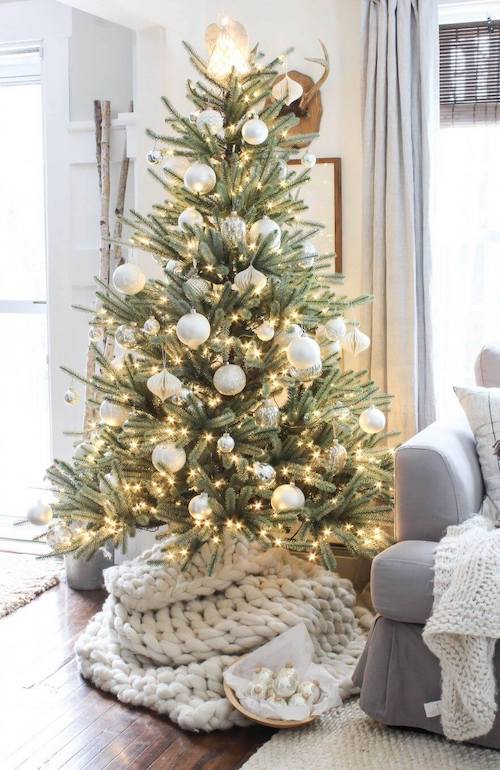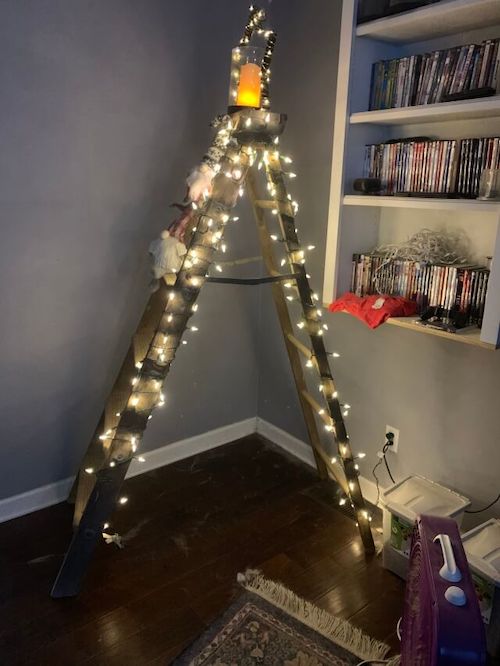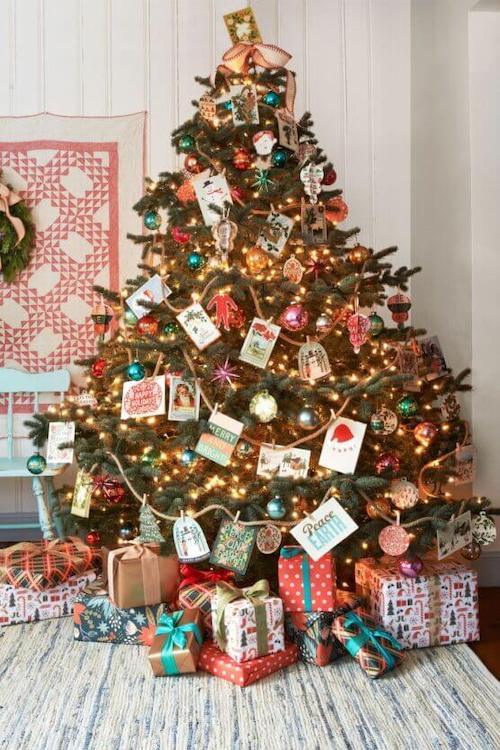 Simple Christmas Tree Decor Ideas
If you don't have much time or budget for your Christmas tree, you can design simple decoration ideas.
Small ornaments are always easier to use than bigger ornaments. And we suggest going with a simple color scheme similar to the other decorations in your room to make the whole tree more stunning.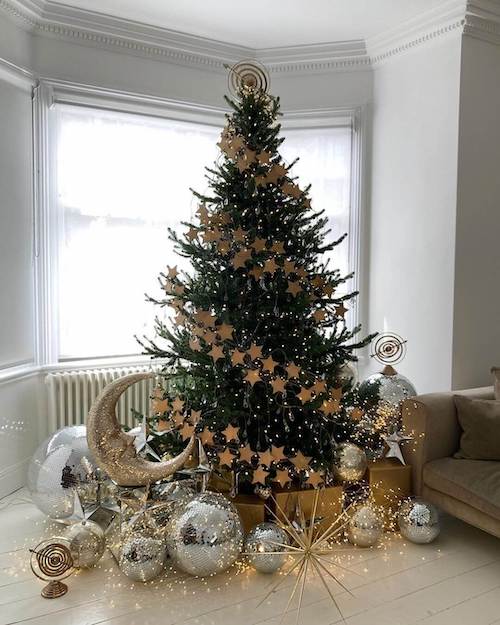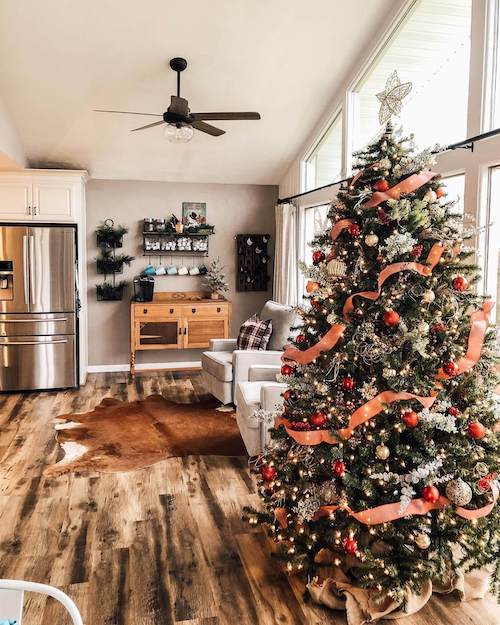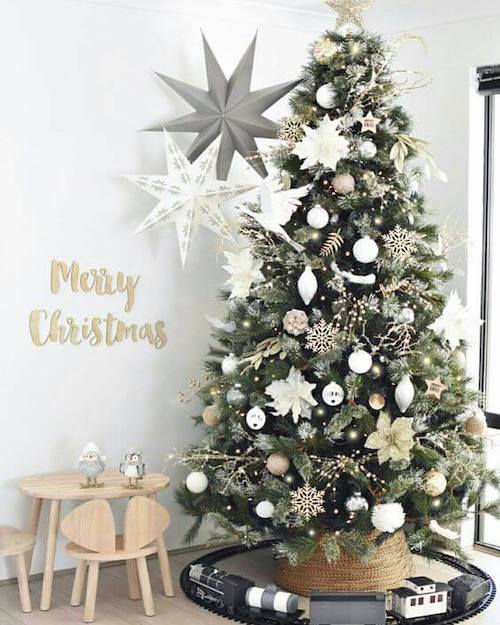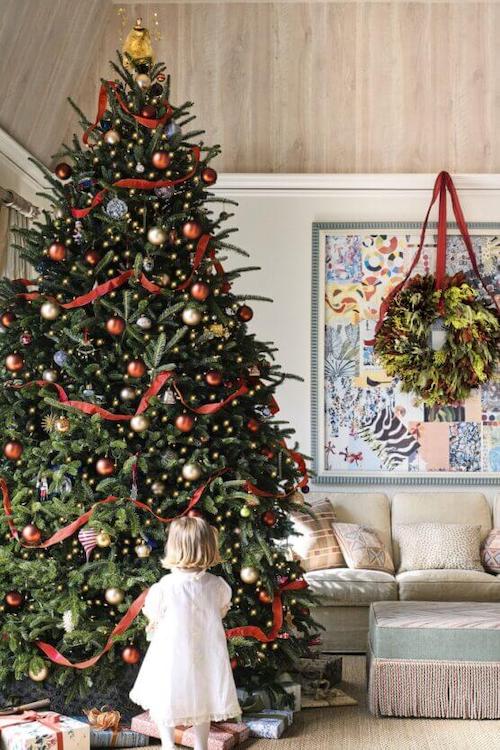 Modern Christmas Tree Decor Ideas
The easiest way is to choose one or two colors among the traditional Christmas tree decoration colors and change them into other colors. For example, the traditional red color can be replaced by purple. The traditional green is replaced by blue. In this way, your Christmas tree immediately has a modern style.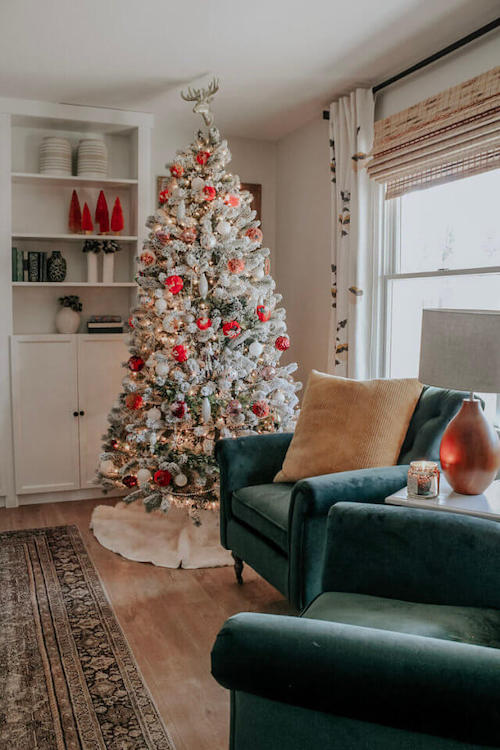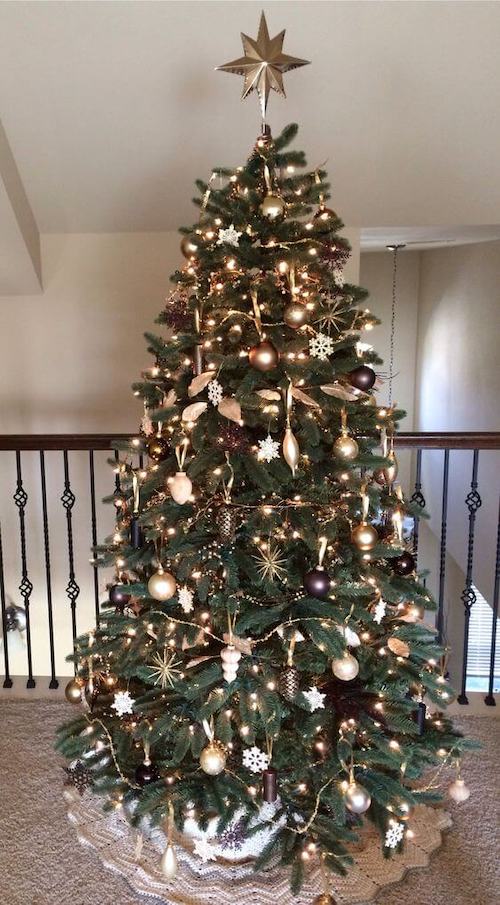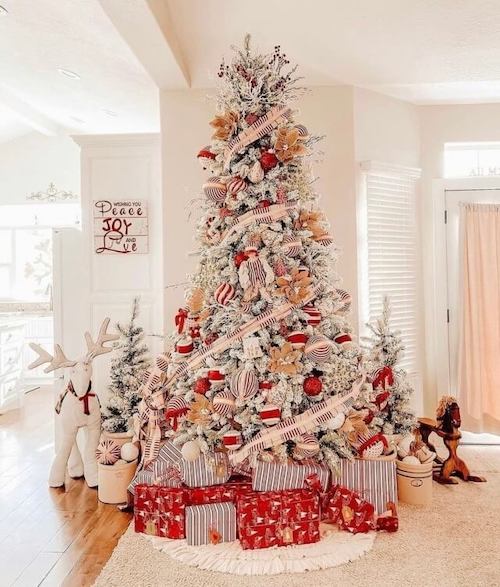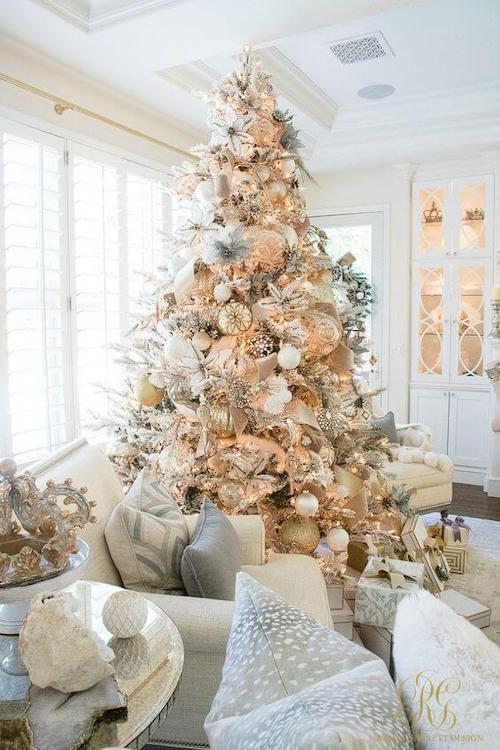 Elegant Christmas Tree Decor Ideas
Elegant style is difficult to define, but the easiest way is to use as few colors as possible, and the colors must blend in with the surrounding environment of the Christmas tree.
In addition, if you want to make the elegant style of your Christmas tree more vivid, remember to hang as many small string lights as possible. Under the illumination of these dreamy lights, everything seems to be extraordinarily elegant and moving as if with a filter.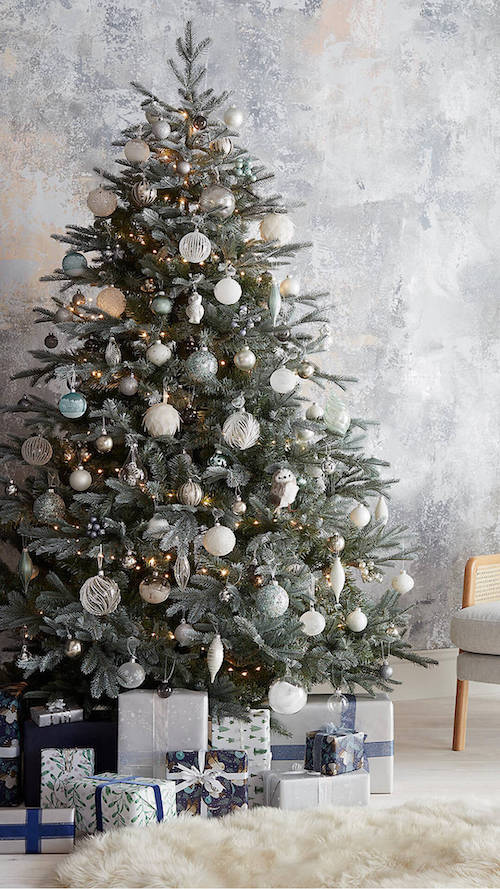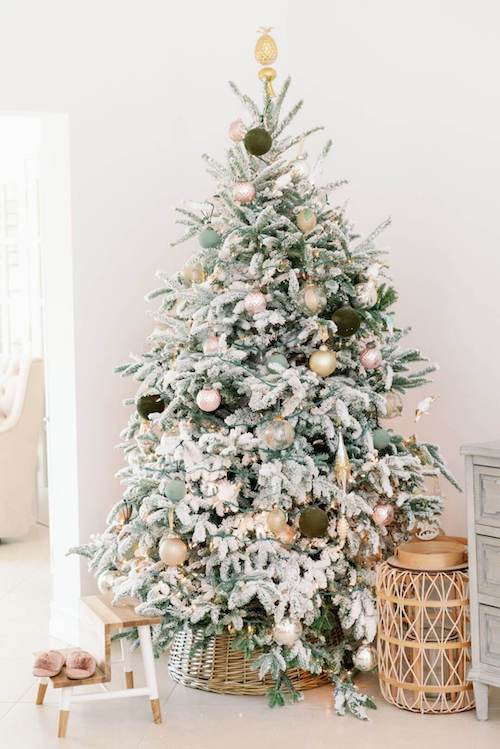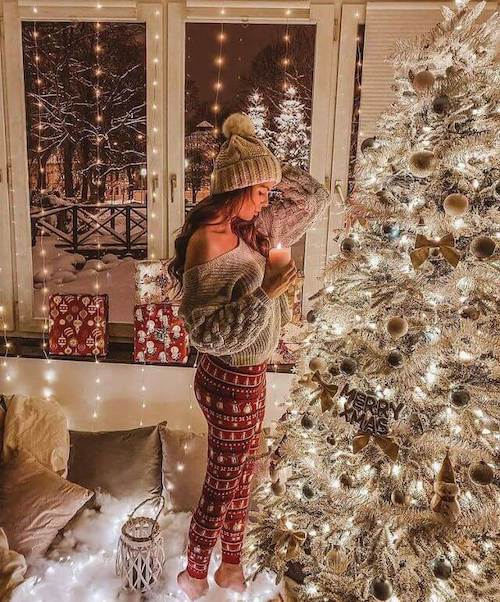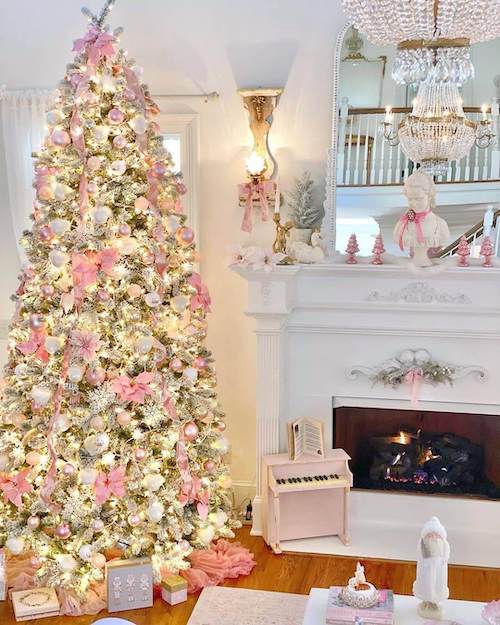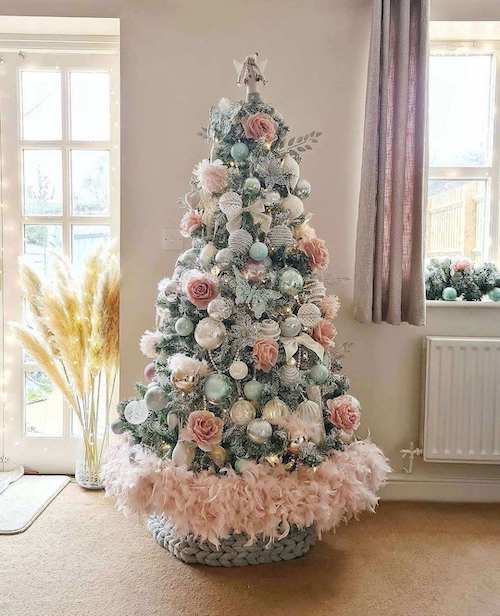 Unique Christmas Tree Decor Ideas
To create unique Christmas tree decorations, you can start with colors or start with decorations. Choosing a theme, such as fairy tales or Harry Potter, to decorate your Christmas tree is a great idea.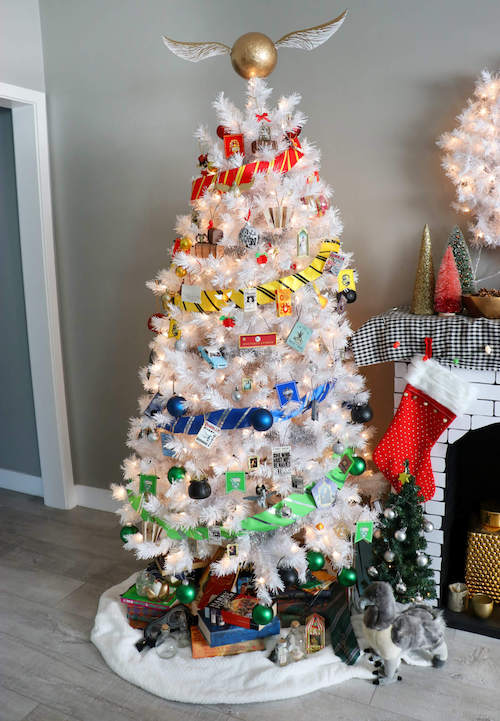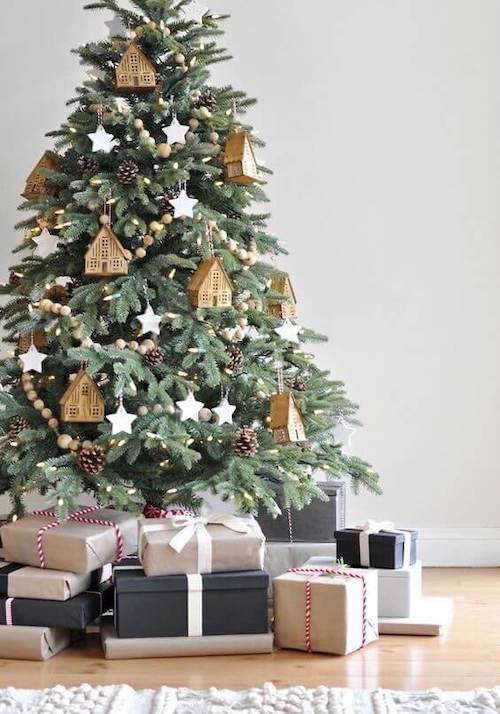 Classic And Traditional Christmas Tree Decor Ideas
Finally, we have to talk about traditional Christmas tree decorations. Although many people, including myself, have been exploring and experimenting with unique non-traditional decorations, I have to admit that in many cases, traditional Christmas tree decorations can always bring people's home warmth and a sense of security.
In addition, we can always find inexhaustible inspiration from traditional Christmas tree decorations.
Let's take a look at the following traditional and cute Christmas tree decorations now.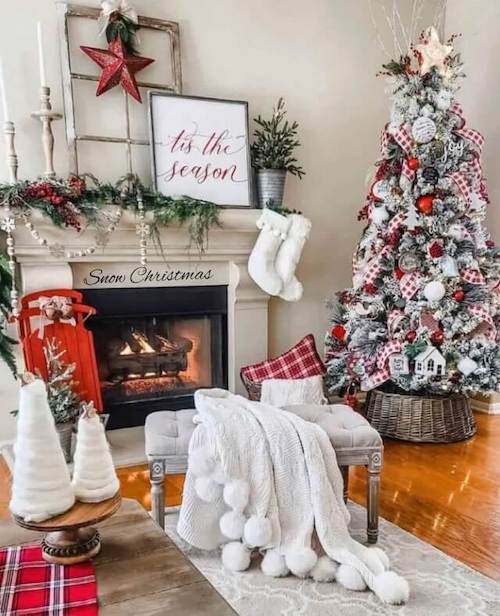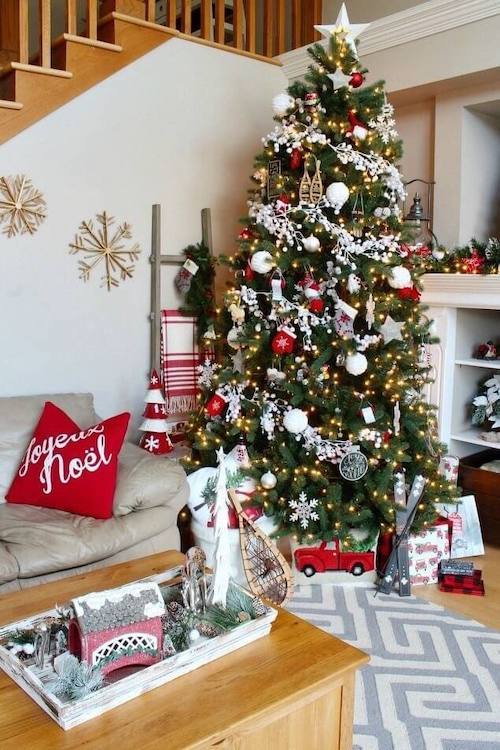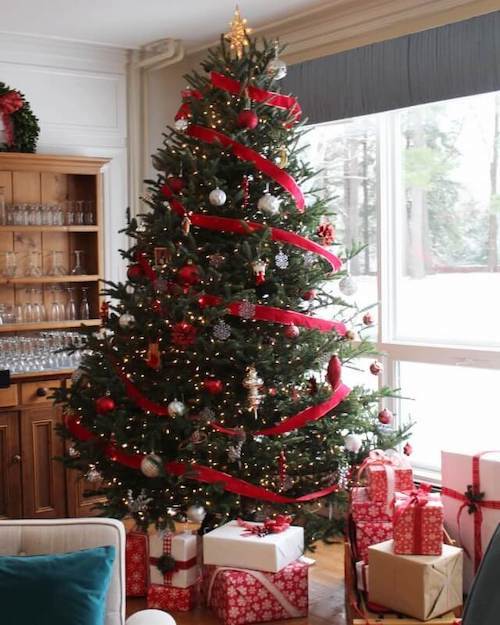 This post was all about Christmas tree decor ideas.
About The Author
Tracy is an experienced personal stylist, shopping expert, and fashion & lifestyle blogger. She has been featured on Bustle, Best Life, Glam, The Zoe Report, Mic, and GoBankingRates, for her insights on fashion, beauty, home decor, and lifestyle. Read More
Related Posts: