Looking for the best Christmas tree decor ideas? Check this post for 60 fantastic ideas that we can't wait to try this year!
Tired of the same old Christmas tree decor? Looking for something fresh, unique, and undeniably adorable?
Look no further! In this article, we have gathered an incredible collection of 60+ cute and modern Christmas tree ideas that are guaranteed to bring a festive spirit into your home.
Whether you're a fan of unconventional color schemes or love experimenting with different textures and materials, these innovative designs will surely ignite your creativity and help you create a holiday display that stands out from the rest.
This post is all about cute and modern Christmas tree ideas.
How to Decorate a Modern Christmas Tree
Incorporating Minimalist Design in Christmas Decor
via davidlawsondesign.co.uk
In a season defined by excess and opulence, it's refreshing to opt for a minimalist approach when decorating for Christmas.
Embracing simplicity not only enhances the overall aesthetic of your home, but it also allows you to focus on what truly matters during the holidays – spending time with loved ones.
Incorporating minimalist design in your Christmas decor can be achieved through various ways.
For instance, you can choose a monochromatic color palette with touches of natural elements like pine cones or dried oranges for an organic feel.
Another way to infuse minimalism into your holiday decor is by choosing ornaments and decorations that have clean lines and simple shapes.
Avoiding overly ornate designs will create a sleek and contemporary look that exudes elegance without being overwhelming or cluttered.
Consider opting for geometric-shaped ornaments in metallic tones or plain white, keeping the focus on their simplicity rather than elaborate details.
Choosing the Perfect Christmas Tree Decoration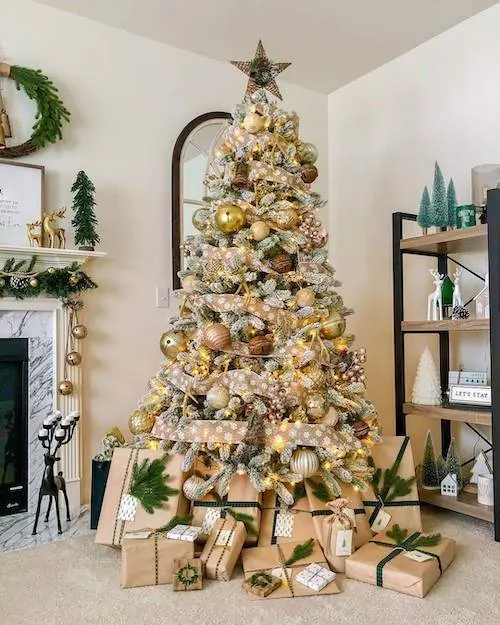 @katrinaaa.11
When it comes to choosing the perfect Christmas tree decoration, there are countless options to consider.
From traditional ornaments and sparkling lights to unique DIY pieces, the possibilities are endless.
One fresh approach is to go for a themed tree that reflects your personal style or interests.
Whether you're passionate about travel, animals, or even specific color schemes, a themed Christmas tree can be a fun way to showcase your personality and create a unique holiday display.
Another novel idea for decorating your Christmas tree is to incorporate natural elements into the design.
Think pinecones, dried fruits, or even small branches sprayed with glitter for an added touch of glamour.
These nature-inspired decorations not only add texture and depth but also bring a rustic charm to your tree that truly captures the essence of winter holidays.
Plus, they are readily available and budget-friendly options that will make you feel closer to nature during this festive season.
Adding Ornaments and Garland for a Festive Look
via DIYdecorcrafts.com
Adding ornaments and garland to your Christmas tree is a surefire way to create a festive look that will dazzle all your guests.
Ornaments are like tiny pieces of art that can add personality and charm to your tree.
From traditional round bulbs in classic colors to unique handmade creations, there are endless options to choose from.
Consider incorporating different shapes, sizes, and textures for an eclectic feel or stick with a specific theme for a more cohesive look.
Garland is another essential element to take your tree decor up a notch.
Gone are the days when garlands were just plain tinsel strands; now you have countless choices ranging from natural foliage like pine or eucalyptus garlands to glittering strands of beads or ribbons.
Create depth and interest by layering different types of garlands together, intertwining them with lights or draping them in a cascading manner.
Remember, the key is not just in selecting the perfect ornaments and garland but also in arranging them strategically on your tree.
Start by placing larger ornaments evenly around the tree, then fill in gaps with smaller decorations.
Hang delicate glass balls closer to the top where they won't be easily bumped into, while sturdier items like wooden or fabric ornaments can find their place lower down on the branches.
Creating a Stunning Tree Topper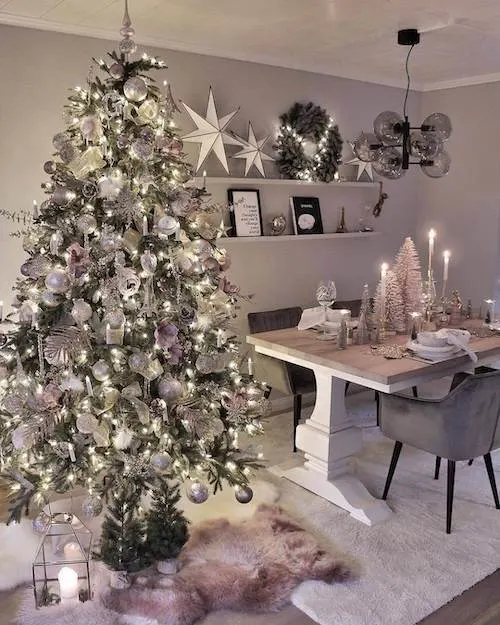 When it comes to decorating your Christmas tree, the crowning glory is undoubtedly the tree topper.
This final touch adds a touch of magic and elegance to your holiday display.
Instead of opting for a traditional star or angel, why not get creative and create a stunning tree topper that truly stands out?
One unique idea is to use oversized ornaments as your tree's focal point.
Choose a theme for your ornaments, such as vintage glass balls or shimmering metallic spheres, and arrange them strategically at the top of the tree.
This unconventional approach will catch everyone's eye and give your tree an unexpected twist.
If you're feeling crafty, consider making your own custom-made tree topper using natural materials like pinecones, twigs, or branches.
Spray paint them in festive colors like gold or silver, add some glitter or fake snow for extra sparkle, and secure them together with hot glue or wire.
Not only will this DIY project save you money but it will also ensure that your tree feels truly one-of-a-kind.
Modern Christmas Tree Decoration Ideas
Classic Christmas Tree Decor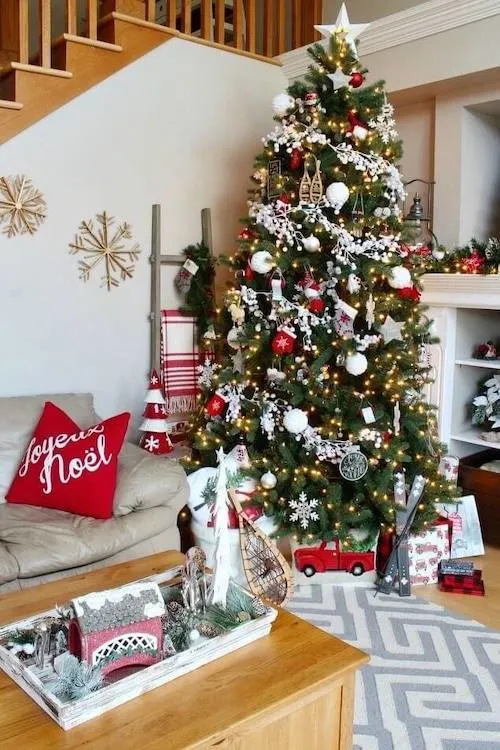 via cleanandscentsible.com
via honeywerehome.com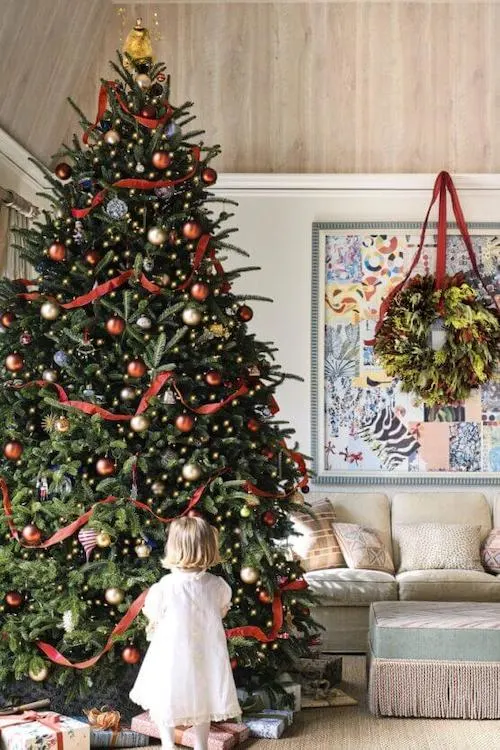 When it comes to Christmas tree decor, there is something timeless and enchanting about classic decorations.
Traditional ornaments like shiny glass balls, delicate angels, and cotton snowflakes can instantly transport you back in time to your childhood Christmases.
Classic colors like red, gold, and green can create a warm and cozy atmosphere in your home during the holiday season.
To fully embody the spirit of a classic Christmas tree, consider adding popcorn garlands or cranberry strings for that extra touch of nostalgia.
These simple yet beautiful additions bring an old-fashioned charm to your tree while also allowing you to showcase your DIY skills.
Moreover, don't forget about the star or angel at the top of the tree as they are essential elements of the traditional look.
White Christmas Tree Ideas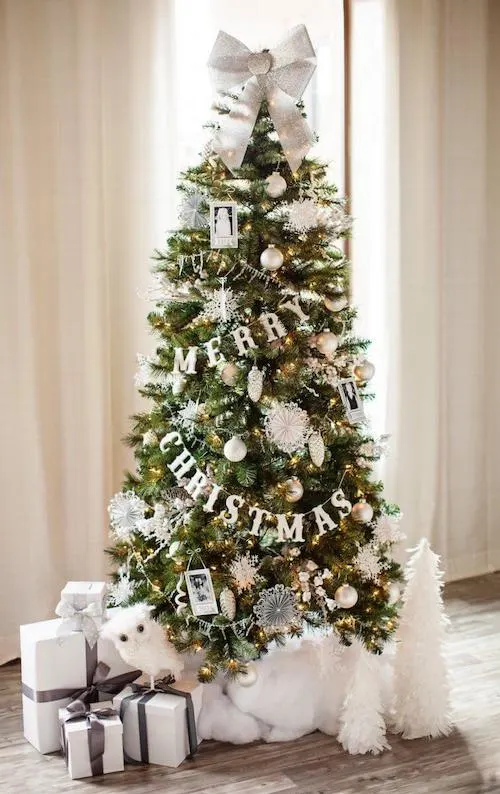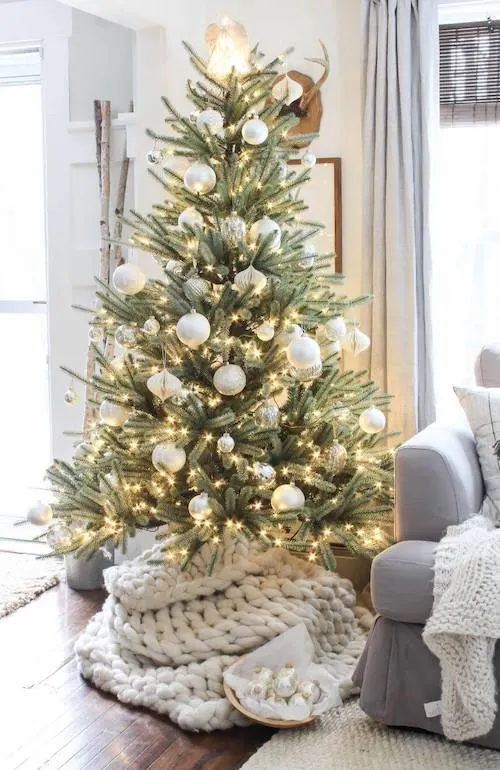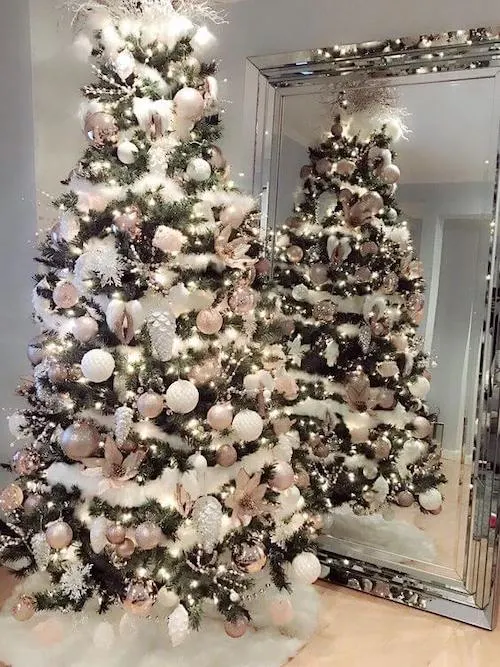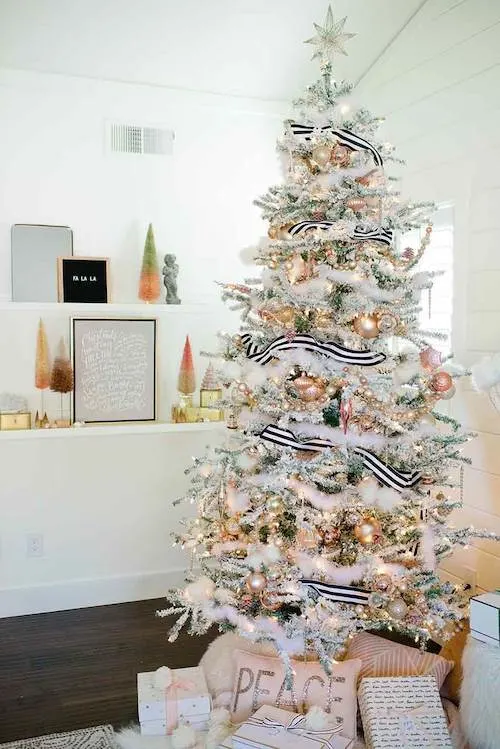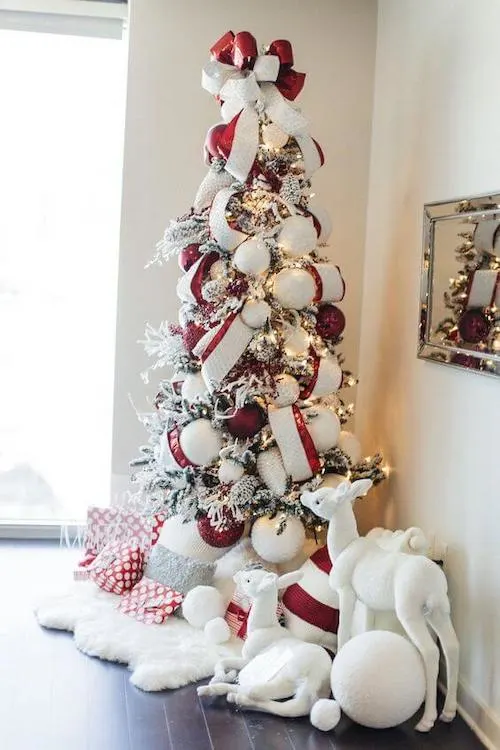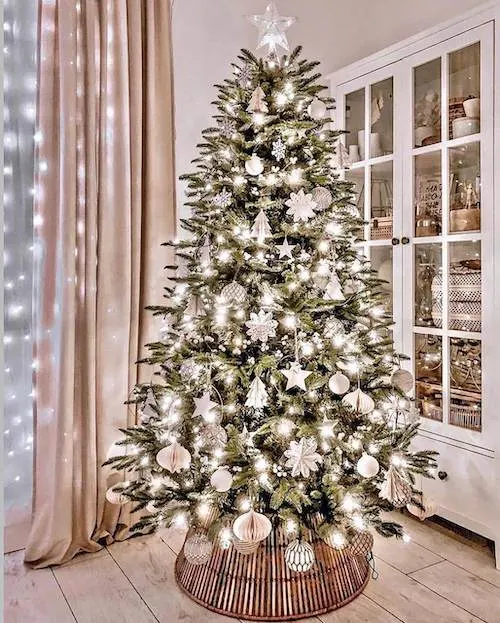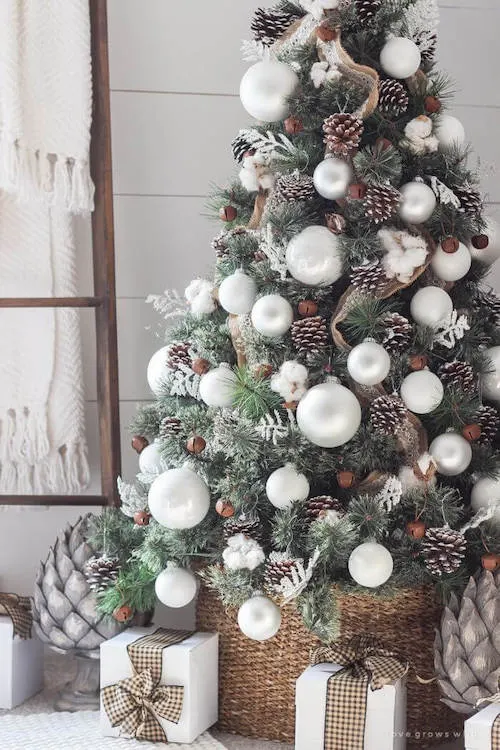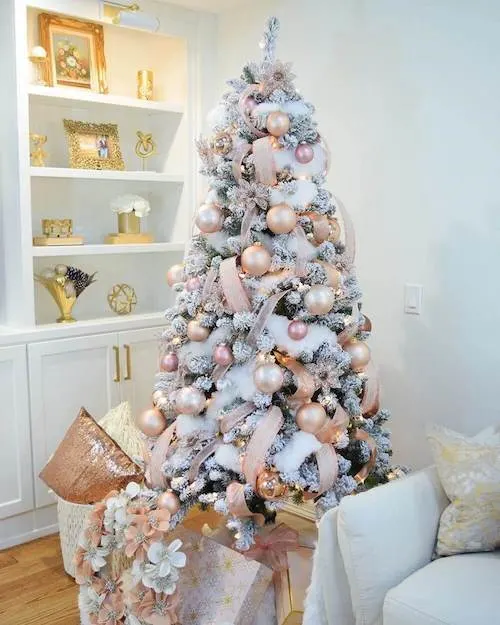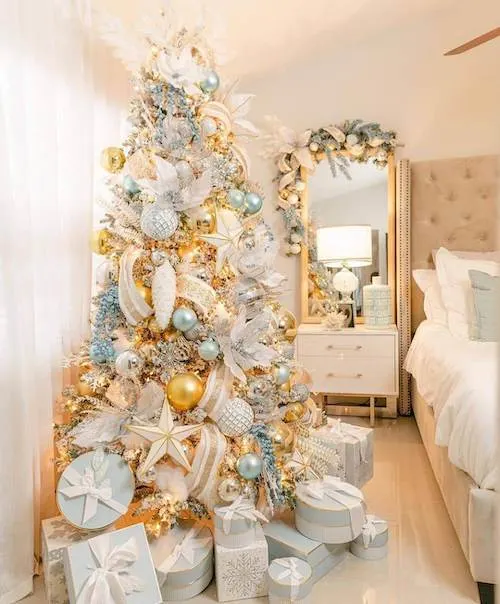 If you're looking to switch up your Christmas tree game this year, why not consider going with a white Christmas tree?
While classic green trees hold a special place in our hearts, a white tree can add an unexpected touch of sophistication and elegance to your holiday decor.
Not only does it provide a clean and modern look, but it also serves as the perfect canvas for any color palette or theme you want to explore.
To make your white Christmas tree really stand out, opt for ornaments that pop against the snowy backdrop.
Bold hues like red, royal blue, or emerald green will create a stunning contrast that is sure to catch the eye.
Add some shimmer by incorporating metallic accents like silver or gold baubles.
You can even experiment with using different textures such as feathers or faux fur to give your tree a unique and luxurious feel.
Another exciting aspect of decorating a white Christmas tree is the endless possibilities for themed decorations.
Embrace a winter wonderland theme by adorning your tree with snowflake ornaments and icy blue ribbons.
Or go for a more whimsical look by hanging colorful peacock feathers and bright rainbow lights on branches.
Vintage-Inspired Christmas Tree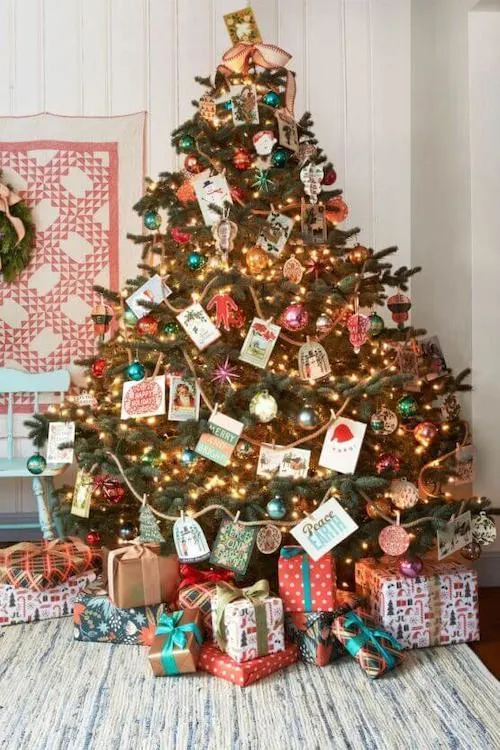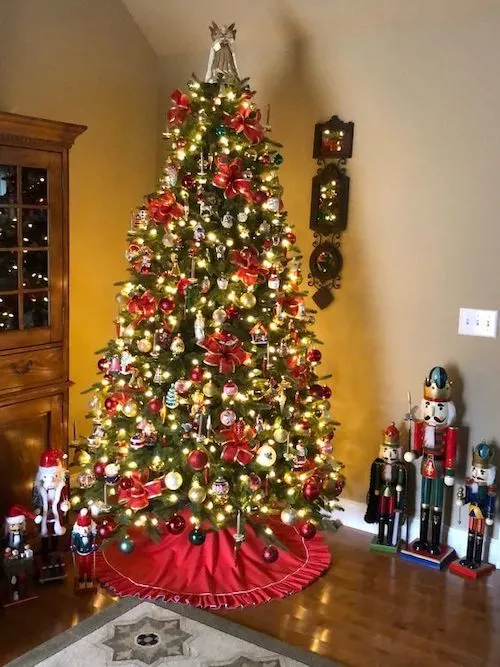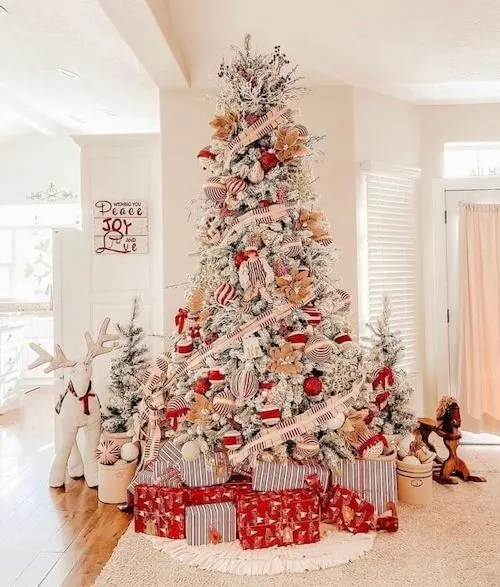 One timeless and nostalgic trend that seems to make a comeback every year is the vintage-inspired Christmas tree.
With its classic charm and retro vibes, a vintage-inspired Christmas tree adds a touch of old-world elegance to any home during the holiday season.
From using antique ornaments to incorporating vintage-style lights, this style of Christmas tree allows you to bring back the warmth and simplicity of yesteryears.
The key to achieving a stunning vintage-inspired look lies in carefully selecting the right decorations.
Opt for delicate glass ornaments with intricate designs reminiscent of bygone eras.
Look for classic colors like gold, silver, and deep reds that evoke a sense of nostalgia.
Vintage-style fairy lights or Edison bulbs can be used for added authenticity while draped tinsel or garlands made from popcorn or cranberries offer a quaint touch straight out of your grandmother's era.
Another fun aspect of creating a vintage-inspired Christmas tree is including heirlooms or family treasures with sentimental value.
Consider adding handmade ornaments passed down through generations or antique baubles collected over time.
This not only adds personal meaning but gives your tree an authentic feel that cannot be replicated with store-bought decorations alone.
Blue Christmas Tree Inspiration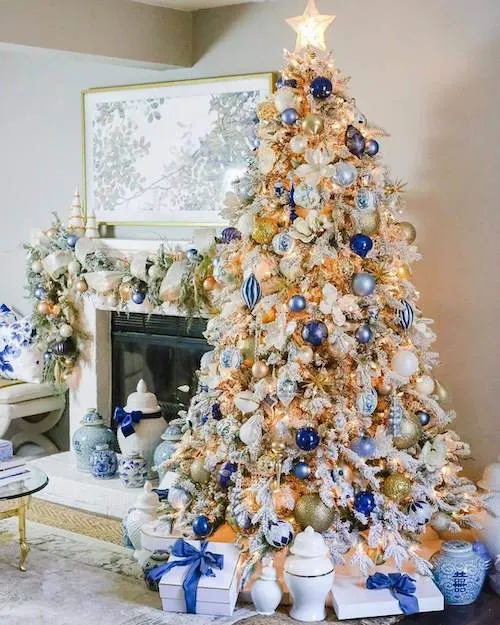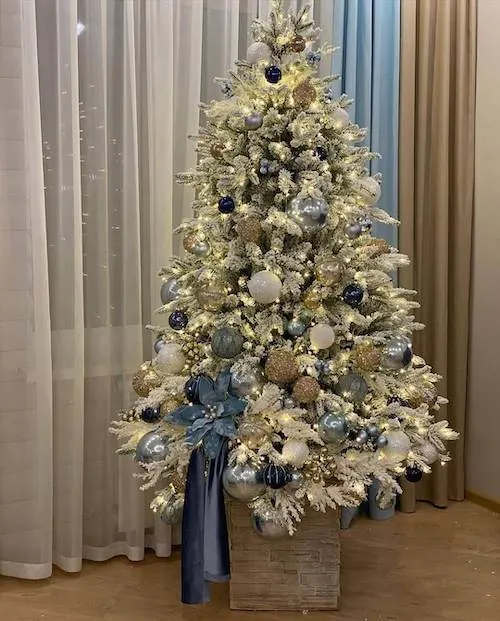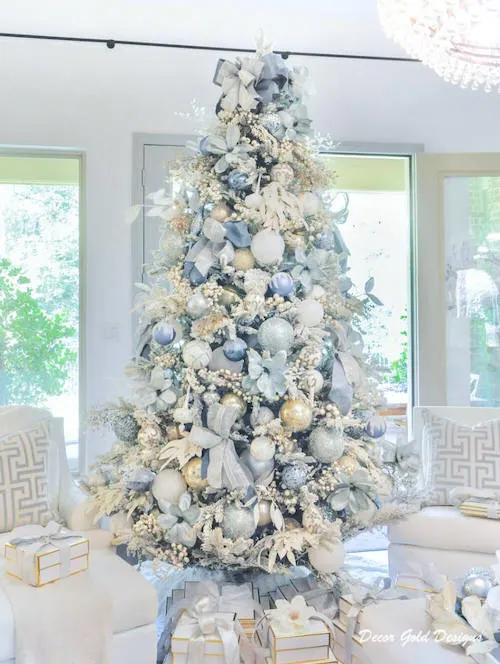 If you're someone who loves unconventional holiday decorations, then a blue Christmas tree might just be the perfect choice for you this year.
While traditional green trees are always beautiful, a blue tree adds a unique and modern twist that is sure to make your festive decor stand out from the rest.
The cool and calming hue of a blue Christmas tree brings an air of elegance and sophistication to any space.
One way to style a blue Christmas tree is by using silver and white ornaments.
These colors complement the blue tones perfectly and create a winter wonderland feel in your home.
Consider adding touches of shimmer and sparkle with metallic accents such as silver tinsel or glittery snowflakes.
Another idea is to go for an ocean-themed look by incorporating seashells, starfish, and other aquatic-inspired ornaments into your blue tree decor.
This theme works especially well if you live in coastal areas or simply want to bring the beach vibes indoors during the holiday season.
Neutral Christmas Tree Ideas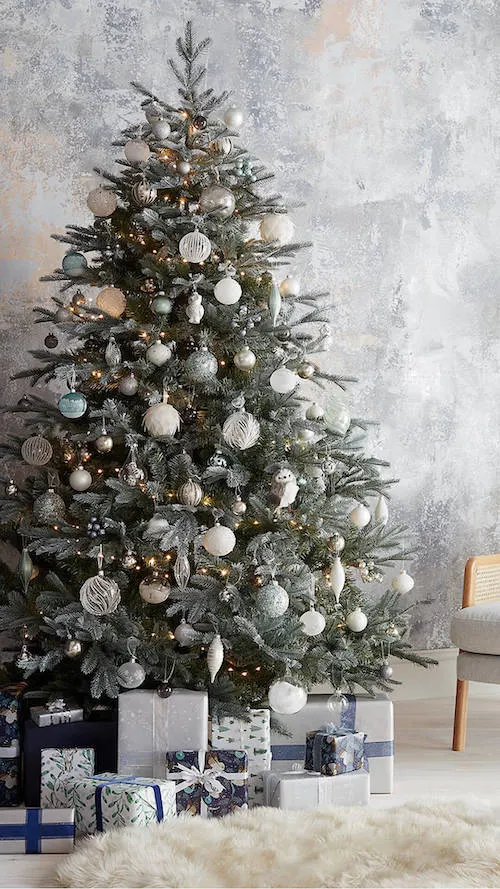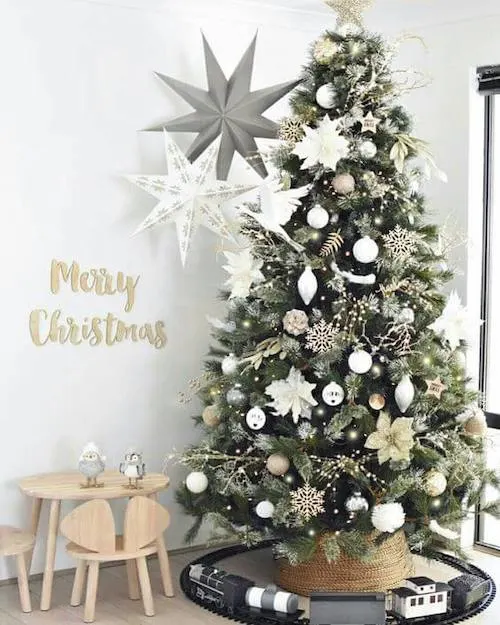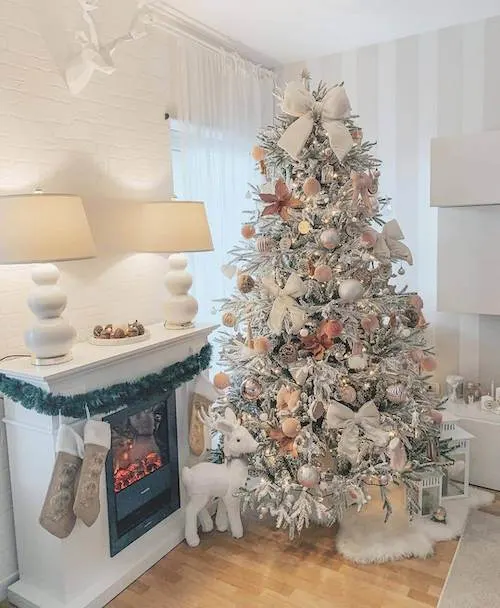 When it comes to Christmas tree decorations, many people opt for traditional colors and themes.
However, if you're looking for a fresh and modern approach, consider going neutral with your Christmas tree this year.
Neutral colors like whites, creams, and browns can create a sophisticated and elegant look that will stand out in any space.
One idea is to go for an all-white Christmas tree. This monochromatic look adds a touch of elegance to any room.
You can decorate it with white lights and ornaments in different textures like feathers or metallics to add depth and interest.
Another option is to go for a natural look by using brown hues in your tree decorations. Incorporate elements like pinecones, wooden ornaments, and burlap ribbon to bring the outdoors inside while keeping the color palette warm and inviting.
Rainbow Christmas Tree Decorating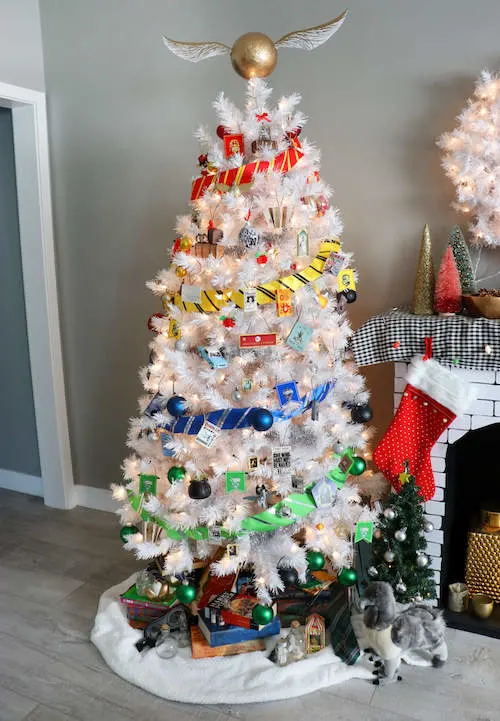 One modern and eye-catching way to decorate your Christmas tree is by embracing the trend of a rainbow color scheme.
Instead of sticking to traditional red, green, and gold ornaments, why not mix it up with a spectrum of vibrant hues?
From bright pinks and purples to cheerful yellows and blues, adding a range of colors will instantly make your tree stand out.
To achieve this festive look, start by selecting ornaments in different shades from each color family.
Arrange them on the tree in a gradient pattern, starting with one color at the top and transitioning smoothly into the next as you move down.
This will create a striking ombré effect that guests won't be able to take their eyes off.
Another unique idea for a rainbow-themed Christmas tree is to use multicolored lights.
Opt for strings of LED lights that change colors or alternate between different hues.
As they twinkle and shift throughout the night, these vibrant lights will bring added dimension to your already colorful tree.
Mini Christmas Tree Decorating Ideas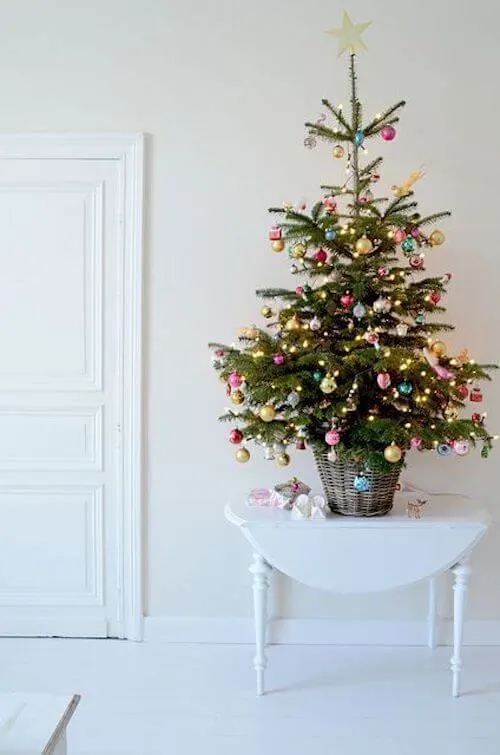 Mini Christmas trees are the perfect way to bring holiday cheer to small spaces or add festive touches to various areas of your home.
And just because they're smaller in size doesn't mean they can't pack a big decorative punch!
When it comes to mini Christmas tree decorating ideas, there's no shortage of possibilities.
Consider embracing a theme for your mini tree, such as a winter wonderland adorned with silver and white ornaments and frosted pinecones.
Another unique idea is to go for a rustic look by using burlap ribbons and miniature wooden ornaments paired with tiny string lights.
For a modern twist, try using metallic or neon-colored accents along with garlands made from pom-poms or tinsel.
Remember, the key is to let your creativity shine through and make your mini tree reflect your personal style and holiday spirit.
Unique Christmas Tree Themes
With so many creative options available, there's no need to stick to traditional Christmas tree themes anymore.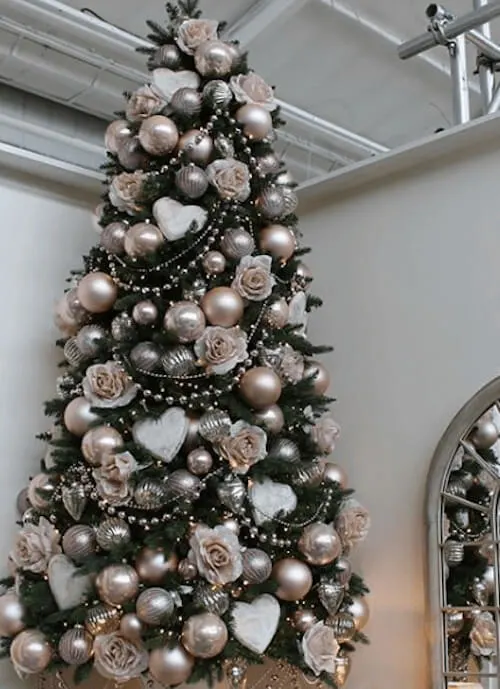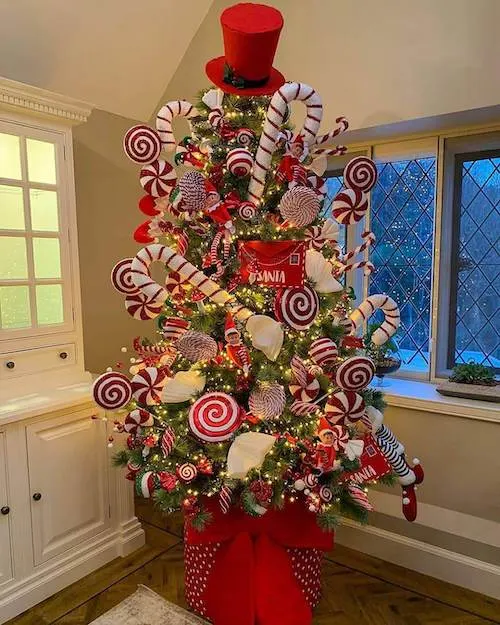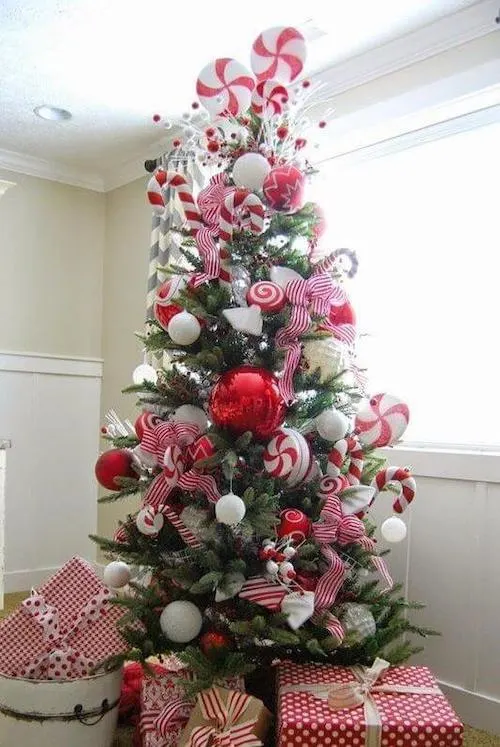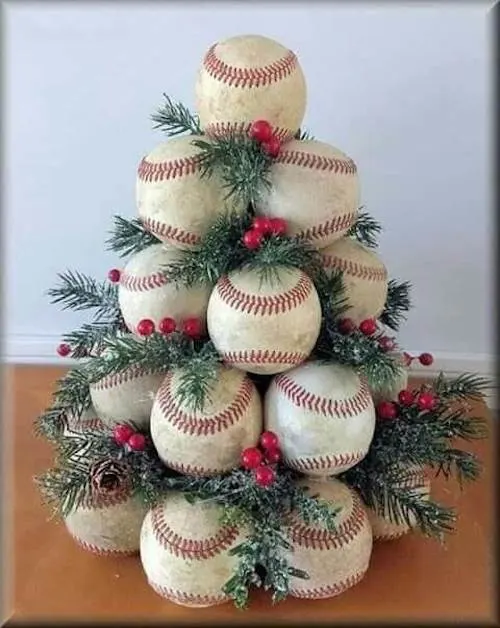 Minimalist Christmas Tree Ideas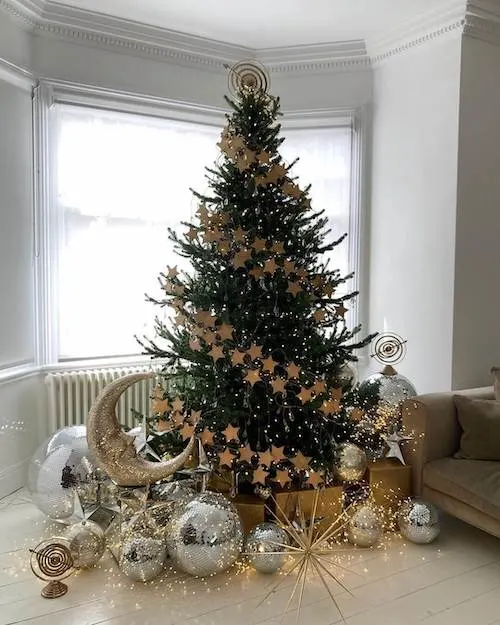 One popular trend during the holiday season is the minimalist Christmas tree.
Instead of an extravagant and heavily decorated tree, minimalist Christmas trees focus on simplicity and a more contemporary aesthetic.
These trees usually feature clean lines, neutral colors, and fewer ornaments, allowing for a sense of calmness in the midst of the holiday chaos.
One idea for a minimalist Christmas tree is to use only one or two colors in your decorations.
This can create a sleek and cohesive look that adds elegance to any space.
Another idea is to incorporate natural elements into your tree decorations such as pinecones, twigs, or dried oranges.
Not only does this give your tree an organic feel, but it also brings in elements of nature which can be comforting during the cold winter months.
For those who want to push the boundaries even further with their minimalist Christmas tree, consider forgoing traditional greenery altogether.
Instead, opt for a metal or wooden frame that mimics the shape of a classic Christmas tree but without any foliage.
With this approach, you can decorate with bold and metallic ornaments or hang delicate lights from various points on the frame to create an eye-catching display that is truly unique.
Flocked Christmas Tree Inspiration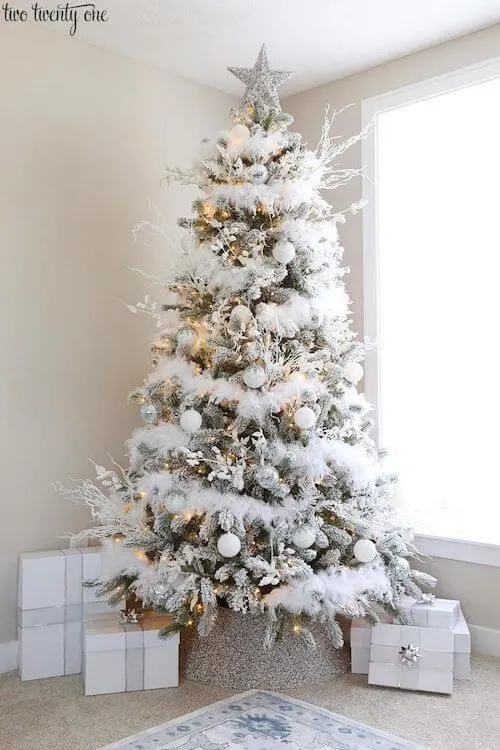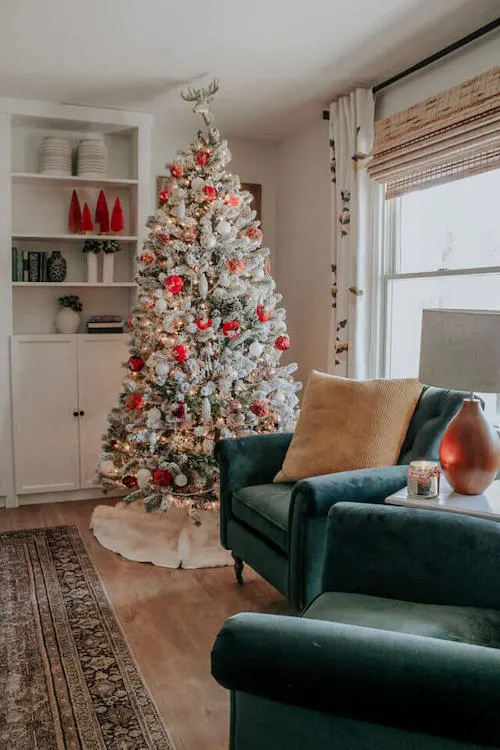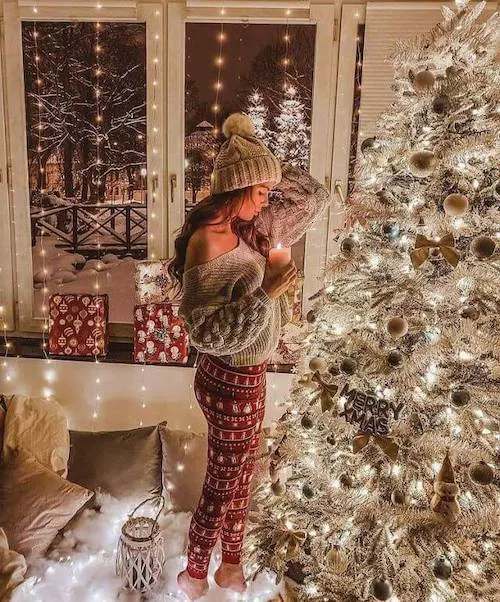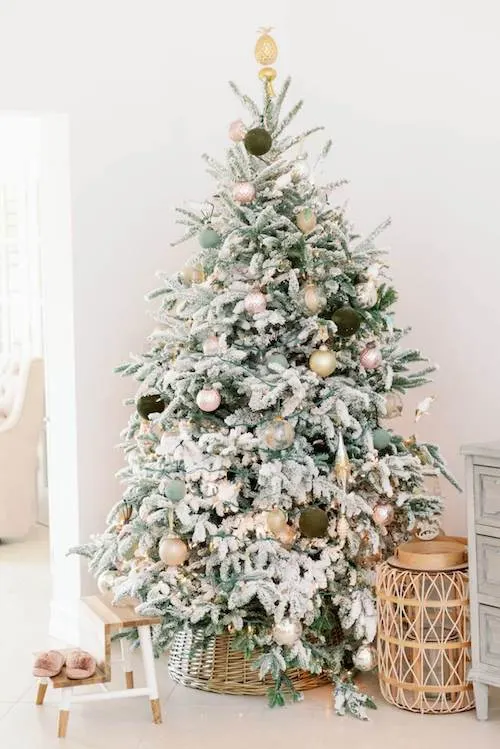 One of the hottest trends in Christmas tree decor this year is the flocked tree.
This fluffy, snow-covered look adds a touch of winter wonderland to any home and instantly creates a cozy and magical atmosphere.
Whether you prefer a traditional green flocked tree or opt for something more unique like a silver or pink flocked tree, there are endless possibilities for creating a stunning holiday display.
If you're looking for some inspiration to decorate your flocked Christmas tree this year, consider going minimalist.
Embrace simplicity by using only white lights and sticking to one or two colors for ornaments.
This monochromatic look can be both elegant and modern, making a bold statement without overwhelming the space.
Another fun idea is to embrace the natural theme with your flocked tree.
Add pinecones, wooden accents, and burlap ribbons to give your tree a rustic feel.
You can also incorporate small animal figurines like deer or birds into your design to bring an element of wildlife into your holiday decor.
More Cute and Modern Aesthetic Christmas Tree Decorating Ideas
Modern Christmas Decorations
In conclusion, there are countless ways to create a cute and modern Christmas tree that will bring joy and beauty to your holiday season.
From unique color schemes, to creative DIY ornaments, to whimsical themes, the possibilities are endless.
Whether you prefer a minimalist approach or love to go all out with decorations, there is sure to be an idea that suits your style.
So why not try something new this year and make your Christmas tree a standout centerpiece in your home?
Get inspired by the ideas shared in this article and let your creativity shine. Happy decorating!
This post was all about Christmas tree decor ideas.
About The Author
Tracy is an experienced personal stylist, shopping expert, and fashion & lifestyle blogger. She has been featured on Time Magazine, Bustle, Best Life, Glam, The Zoe Report, Mic, and GOBankingRates, for her insights on fashion, beauty, home decor, and lifestyle. Read More
Related Posts: