Looking for the best chic neutral outfits to style up your wardrobe? Check this post for the trendy neutral color outfit ideas for different seasons (spring, summer, fall and winter) and different occasions (including work, date night, party, club, vacation) that you want to copy this year.
Neutral colors are always a great choice for creating effortless and chic outfits.
Whether you're looking for something to wear for the office, an evening out or just running errands, neutrals can be combined in endless ways to create fashionable and timeless looks.
With the right pieces, you can take a few neutral items and build an entire wardrobe around them.
This article will show you how to wear neutral pieces in different ways to create stylish outfits that fit any occasion.
From classic ivory whites and beiges to contemporary shades of olive and sand, there are plenty of ways to style neutrals in flattering fashion.
So scroll down to check these stylish chic neutral outfit ideas, and don't hesitate to pin them to your Pinterest board, and share them on social media sites.
This post may contain affiliate links, which means I'll receive a commission if you purchase through my link, at no extra cost to you. Please read the full disclosure here.
This post is all about chic neutral outfits.
What Are Neutral Colors in Clothing?
Neutral colors in clothing are a great way to create a timeless wardrobe.
Neutral colors offer versatility, allowing you to mix and match pieces for various occasions.
Neutral hues like black, white, gray, and navy are some of the most popular shades because they can easily transition from day to night, formal to casual.
Additionally, denim blue or sage green is often treated as a neutral color to create an elevated casual style.
When it comes to choosing neutral colored clothing for your wardrobe, there is more than just black and white available.
Consider adding beige tones such as taupe or cream into your collection of neutrals.
Brown is another classic hue that pairs well with almost any other color, while khaki and olive greens can add depth to an outfit without being too loud or garish.
Navy blue is also a classic neutral tone that looks great on all skin tones; pair it with bolder accessories for an eye-catching look!
What is neutral chic?
Neutral chic is a type of fashion trend that pairs elegant and effortless pieces together to create a timeless look.
Neutral colors such as white, gray and beige act as the base for the classic aesthetic, allowing for subtle flair with standout accessories.
No matter what your occasion is, neutral chic allows you to create a timeless outfit while incorporating unique accessories such as sun hats or statement jewelry pieces to add individuality to your style.
Are neutral tones the new black?
Neutral tones are quickly becoming the go-to choice in fashion.
The new trend of muted earthy hues can be seen everywhere from runways to streetwear.
Whether you're a fashionista or just looking for a timeless wardrobe staple, neutral tones are an easy way to look stylish and stay on top of the latest trends.
Stylish neutrals come in many shades – think camel, taupe, navy and cream.
These muted colors offer an effortless chicness that looks great with everything from denim to florals and even bright prints.
For those who want something more versatile than traditional black, switching up your wardrobe with neutral tones is a great alternative that's both modern and timeless.
Neutral tones don't have to be boring either – they can also create impact when paired with bolder pieces like statement jewelry or vibrant accessories.
How do you dress in neutrals without being boring?
Dressing neutrally can be a great choice if you want to look fashionable while keeping your outfit minimal and sophisticated.
However, it's easy to end up looking plain or boring when wearing these colors.
Here's how you can use neutrals in your wardrobe without having to worry about coming off as too mundane:
Mix and match textures and fabrics. Adding different materials like silk, velvet and wool will give depth and dimension to an otherwise flat look.
Combine multiple neutral shades together for a more interesting effect; a combination of browns and grays is especially effective here.
Accessorize with statement pieces such as bold jewelry or patterned scarves can also help add some visual interest to your ensemble.
Effortlessly Chic Neutral Outfits
Chic Neutral Outfits for Spring
Beige Oversized Blazer + Maxi Dress + White Boots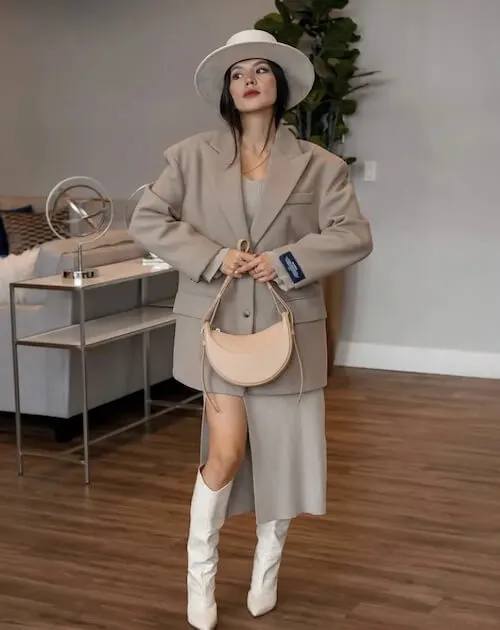 IG@aneka_aitimova
Forget about bright colors and loud prints; this spring is all about chic neutral outfits!
Neutral pieces can be paired to create a range of looks that will work for any occasion from brunch with friends to date night.
A blazer is the perfect wardrobe staple for creating an effortlessly stylish look.
Choose a light color such as cream, beige or pale grey and pair it with dark denim jeans or white trousers.
Finish off the outfit with some eye-catching white boots and you'll have an effortless chic style that works day or night.
For warmer days, opt for a maxi dress in muted shades such as light gray, camel or light brown.
Neutral Shades Summer Outfits
Beige Tank Top + Beige Satin Skirt + Brown Sandals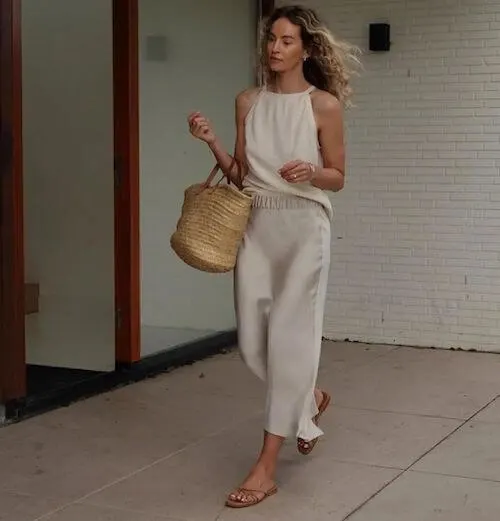 IG@anoukyve
Summer is the perfect time to experiment with fashion and switch up your wardrobe.
This season, take a cue from the runway and opt for neutral shades when putting together your outfits.
A classic combo for summer is a tank top paired with a flowy satin skirt.
Choose an ivory, beige, or tan tank that flatters your skin tone, then pick out a matching skirt in the same hue.
For extra style points, add some accessories like fun drop earrings and a straw bag.
This look can be dressed up or down depending on where you're headed – it's perfect for both daytime shopping trips and evening dinner dates!
Fall Neutral Outfits
Trench Coat + Jeans + Brown Accessories + Nude Ballet Flats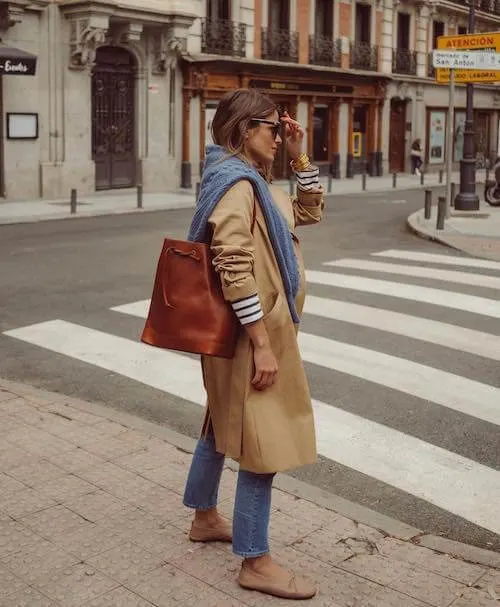 IG@jessiekass
The trench coat is a must-have item for any fall wardrobe.
It's lightweight and easy to layer over any outfit, making it perfect for chilly days.
Pair it with a classic pair of jeans and brown bag for an effortless yet chic look.
You can also accessorize with statement jewelry or scarves in bold colors to add a touch of personality.
And don't forget about your shoes!
Ankle boots or loafers or ballet flats are great options that will complete this classic neutral outfit perfectly.
Casual Neutral Winter Outfits
Cream Coat + Black Pants + Black Pumps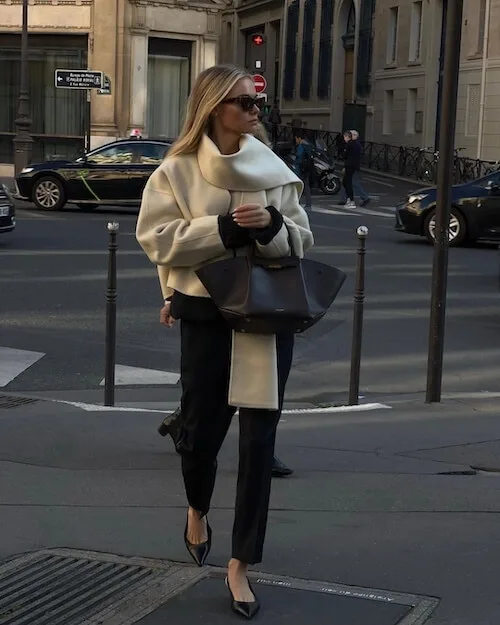 IG@clairerose
Put aside the bright colors and prints, because this season calls for neutral winter outfits.
The key is to stick with classic pieces that can transition from day to night.
A go-to look includes a timeless coat paired with slim black pants and black pumps.
Not only does this look make your ensemble more sophisticated, but also helps you stay warm without weighing you down.
In addition to these staples, accessorize your outfit with gloves, a scarf or a hat.
These items can add texture and depth while adding warmth in the colder months.
To keep things simple, choose accessories in shades of black or beige – they will match any neutral outfit perfectly!
Chic Neutral Outfit For Date Night
Tan Blazer + Beige Midi Skirt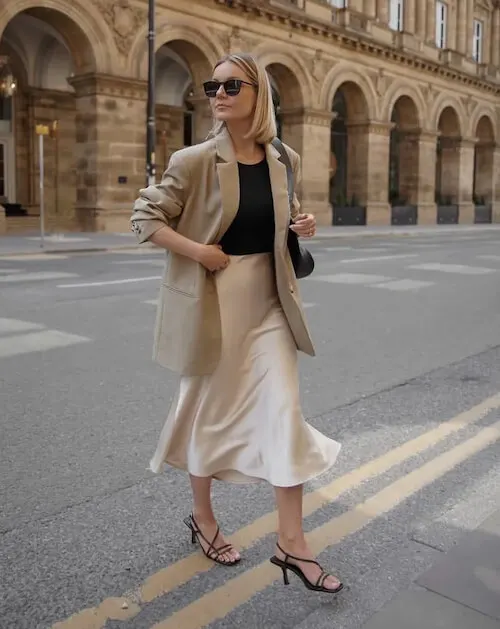 IG@ninaleacaine
Are you looking to kick up your date night style? Look no further than the chic neutral outfit!
Featuring a fashionable blazer and midi skirt, this classic look has been updated for modern day fashion.
This outfit starts with a timeless blazer in cream, beige or another neutral shade.
Choose one that flatters your figure and adds structure to your silhouette.
For the bottom half, opt for a coordinating midi skirt in silk or lightweight fabric that falls just above the ankles.
Finish off with some gold-tone jewelry and strappy sandals or pointed toe pumps to complete the look.
Chic Neutral Outfit For Club
Black Cami + White Pants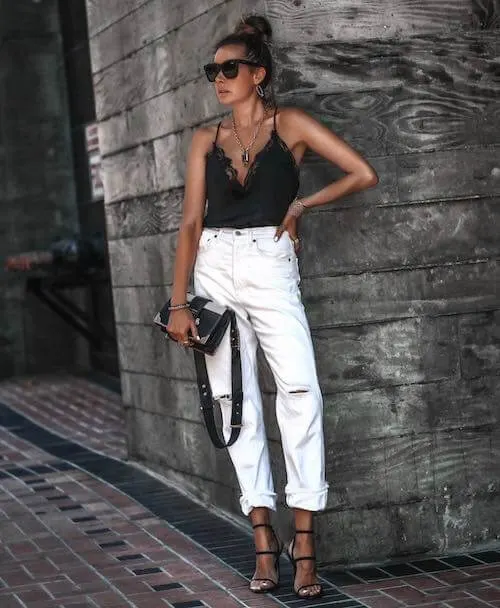 IG@fashionedchicstyling
Adding a touch of chicness to your wardrobe doesn't have to be difficult.
Neutral colors can give you the perfect balance of sophistication and glamour, making them great for clubbing.
This versatile outfit featuring a cami top and white pants is sure to turn heads on the dance floor and beyond.
The thin straps make it ideal for pairing with jewelry like sparkly earrings or layered necklaces that add just the right amount of sparkle.
Then, complete the look with some crisp white pants made from lightweight fabric allowing you to stay cool throughout the night.
Classy Neutral Outfit For Work
Black Blazer + White Pants + Black Heels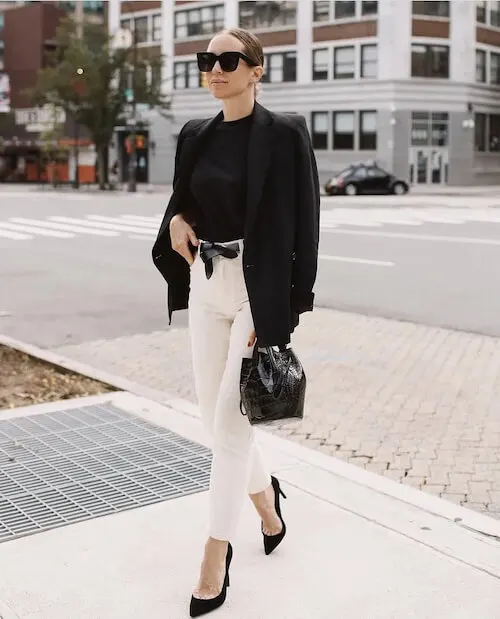 IG@lilyisabellaclark
Neutral colors are often seen as the perfect choice for a work outfit.
If you're looking for a timeless and classy outfit to wear to the office, try this sophisticated combination of black blazer, white pants and black heels.
The classic black blazer will instantly give your look an elevated touch.
Paired with the crisp white trousers, it will create an effortlessly elegant style while still remaining comfortable enough to wear all day long.
To bring it all together, add a pair of sleek black heels which will help complete the look in a polished way that's appropriate for any office environment.
Chic Neutral Outfit For Party
Tan Jacket + Cream Maxi Dress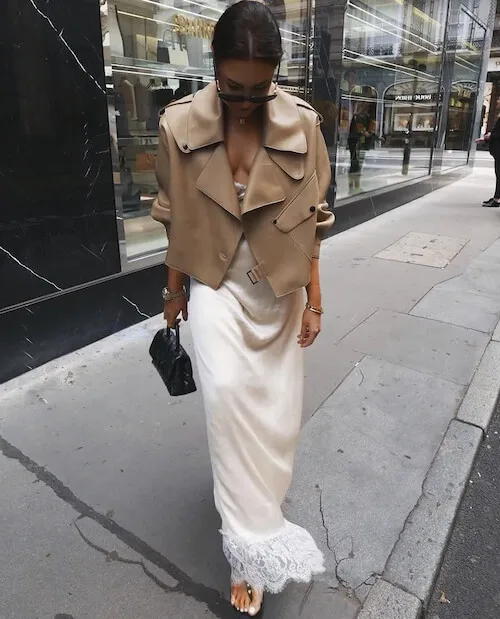 IG@lornaluxe
Maxi dresses are the perfect go-to item when it comes to planning a chic neutral outfit for a party.
Adding an extra classy touch to your look, maxi dresses can be dressed up or down depending on the occasion.
This makes them the ideal clothing piece for any event, from formal dinners to birthday celebrations.
For a neutral look, opt for a classic black or white maxi dress; you can easily accessorize these with statement jewelry and stylish shoes to make an unforgettable impression.
Alternatively, choose something more daring like a gray or beige maxi dress – this will give your overall look an air of sophistication while still keeping things subtle and timelessly elegant.
Stylish Neutral Outfit Ideas for Vacation
Black Top + Linen White Pants + White Hat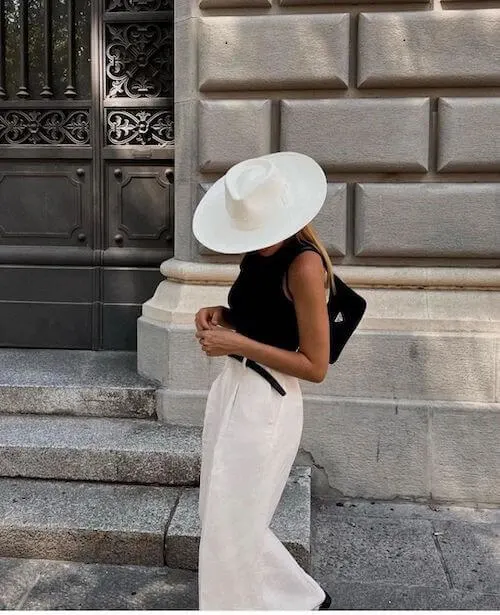 IG@natali_nata_
Whether you're headed to a tropical beach or bustling city, having a few stylish neutral outfit ideas up your sleeve can help make packing for vacation much easier.
A great starting point? Linen pants and a sun hat!
Not only are these pieces incredibly comfortable for hot summer days, but they also provide an easy way to mix-and-match different items from your wardrobe so you can create multiple put-together looks.
For example, pair some light linen trousers with a tank top and sandals for an effortless daytime look that's perfect for exploring the local sights.
Add some fun accessories like hoop earrings and layered necklaces to elevate the ensemble even further
Or if you want something dressier for evenings out on the town, try tucking in a classic white button down shirt into the pants and topping them off with wedges or heeled mules.
More Neutral Color Palette Ideas and Outfit Combinations
Want more inspiration? Scroll on to check more chic neutral fashion ideas to copy.
Gray Sweater + White Tee + Gray Pants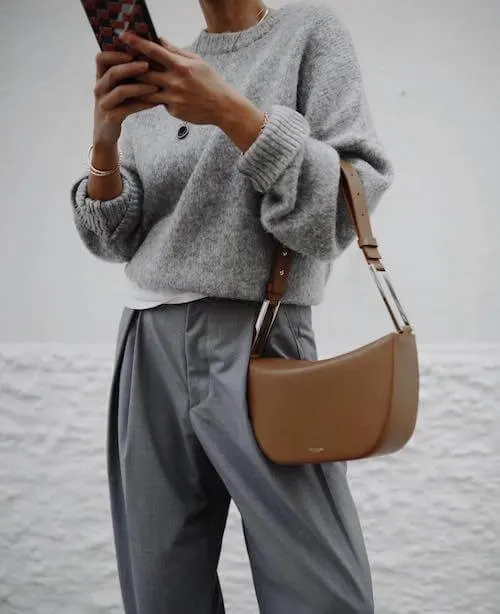 IG@andicsinger
Brown Coat + Tan Shirt + White Pants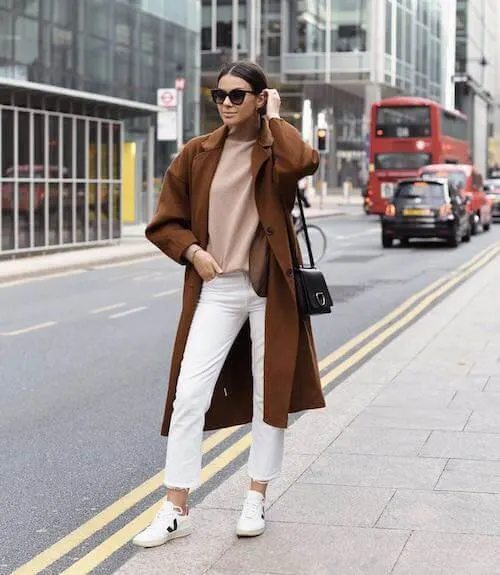 IG@julialundinblog
Beige Cable Knit Sweater + Beige Pants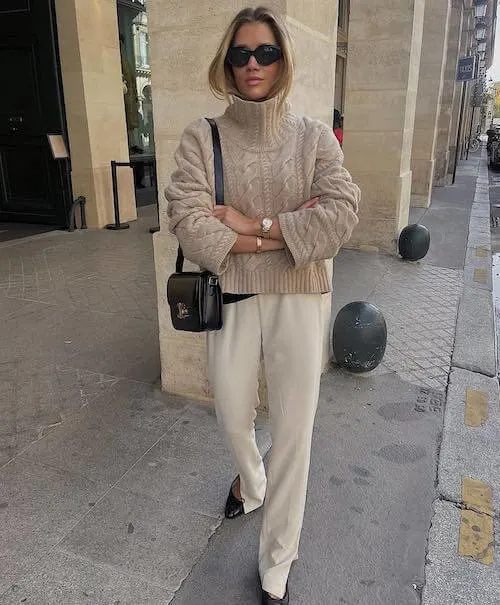 IG@lovisabarkman
White Oversized Sweater + White Midi Skirt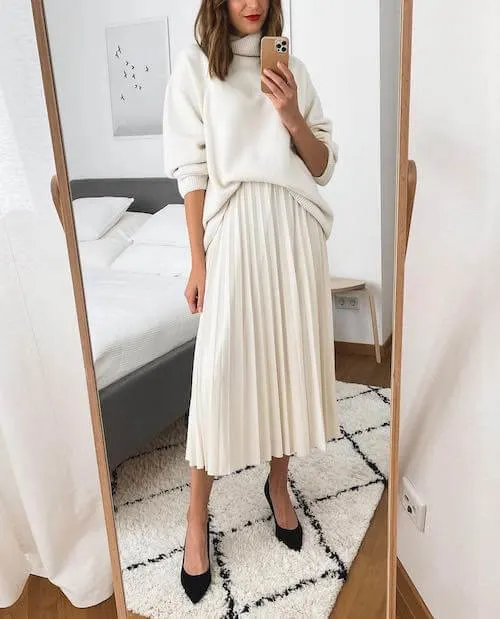 IG@ewelinakanty
Black Coat + Blue Jeans + Camel Scarf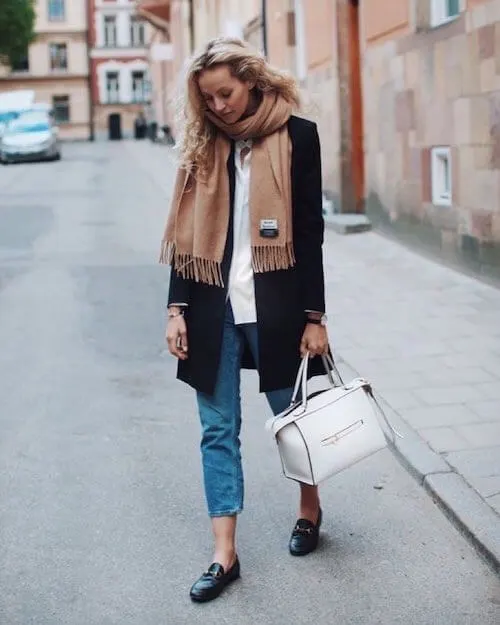 IG@anoukyve
Trench Coat + Striped Sweater + Jeans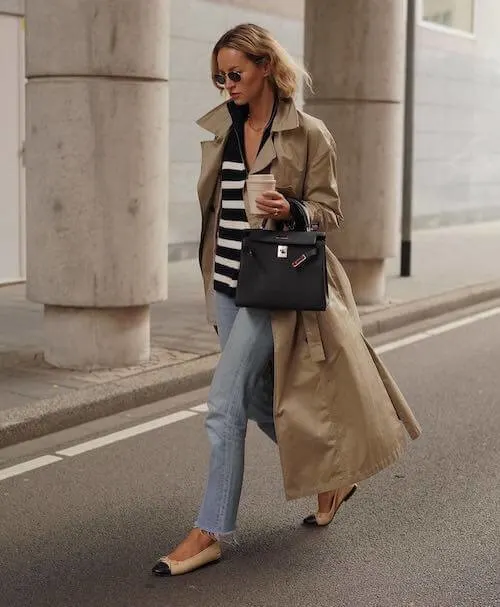 IG@anoukyve
Denim Jacket + White Top + White Jeans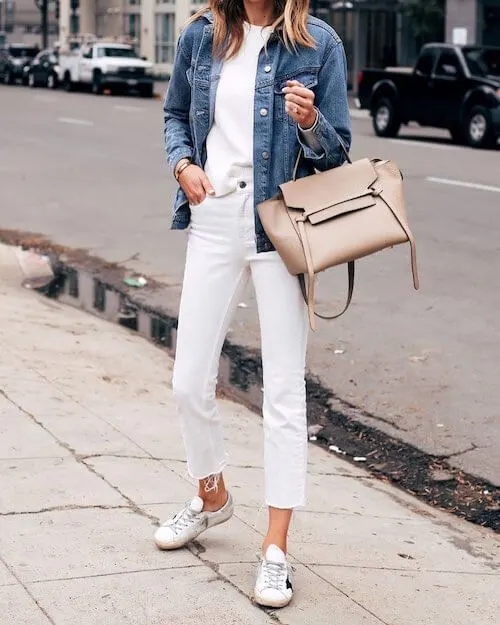 IG@fashion_jackson
Beige Oversized Blazer + White Sneakers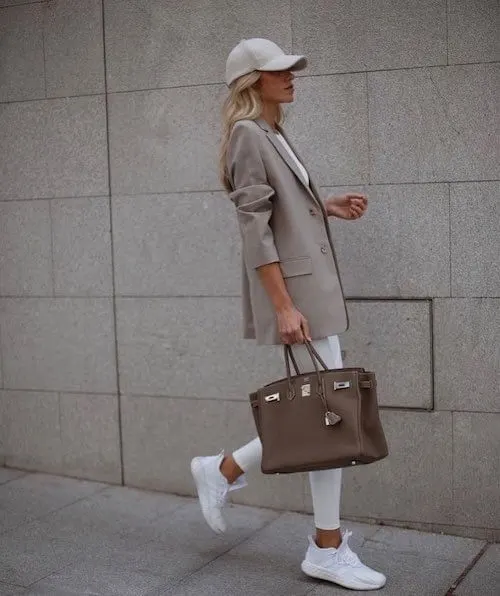 IG@carlahinojosar
Cream Sweater + White Pants + Brown Boots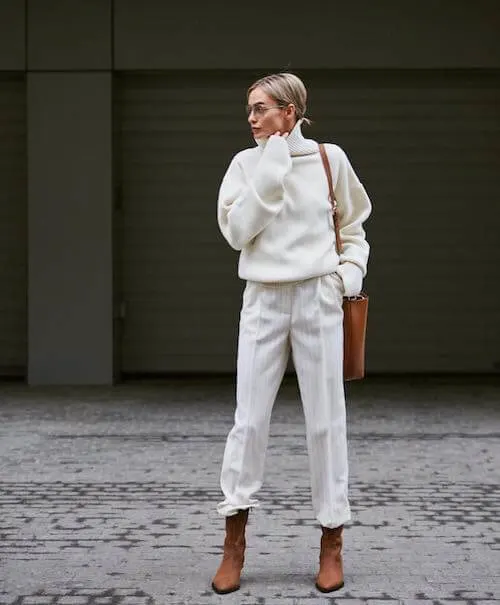 IG@yuliawave
Black Coat + Gray Knit Top + White Jeans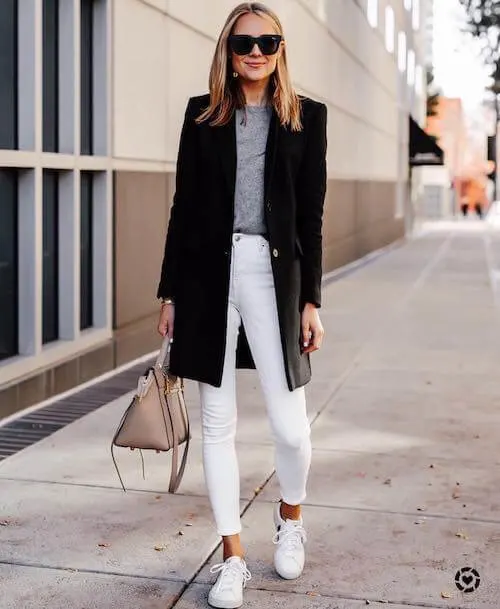 IG@fashion_jackson
Gray Long Coat + Black Leggings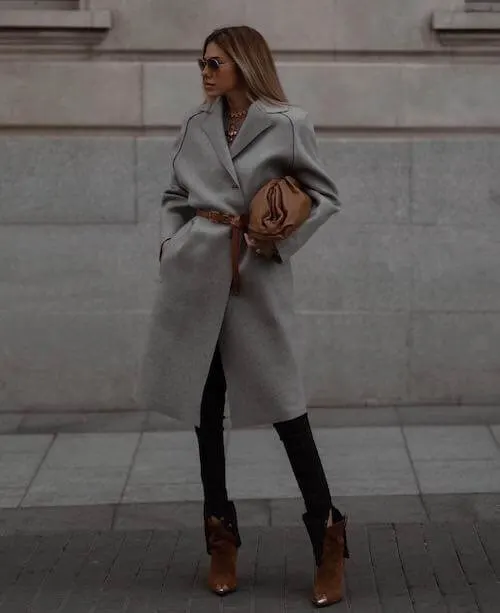 IG@carlahinojosar
Black And White Crop Top + White Pants + Nude Sandals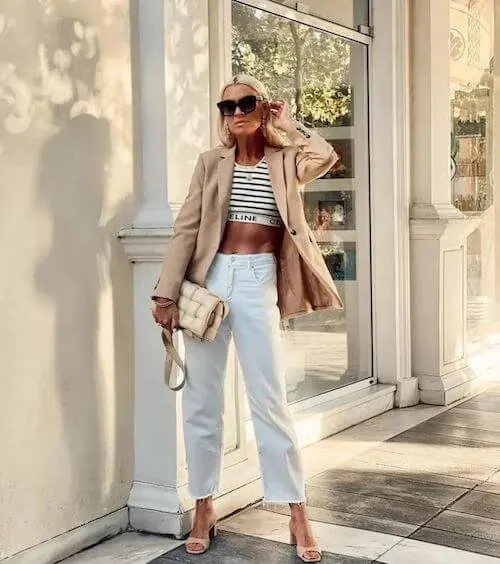 IG@annamavridis
Brown Tank Top + White Wide Leg Pants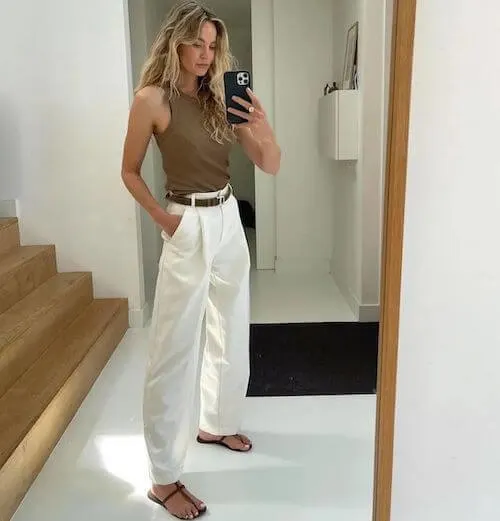 IG@anoukyve
White Turtleneck Sweater + Cream Dress + White Boots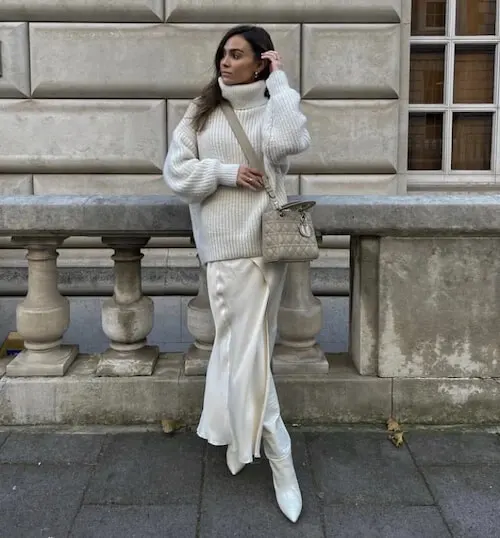 IG@felicitymbird
White Bucket Hat + White Oversized Sweater + White Boots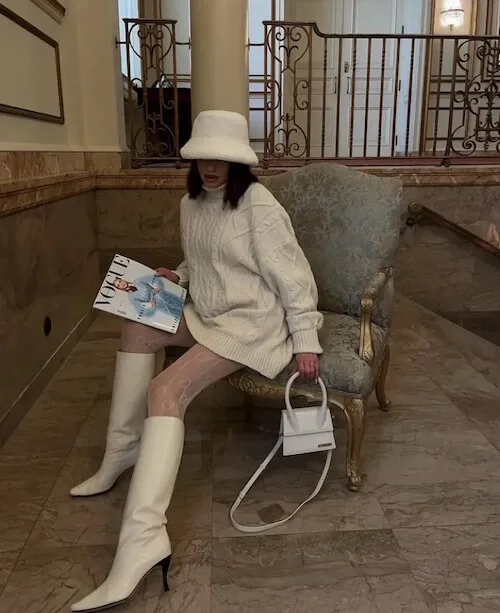 IG@vitaliia
Black Long Sleeves + Black Trousers + Flats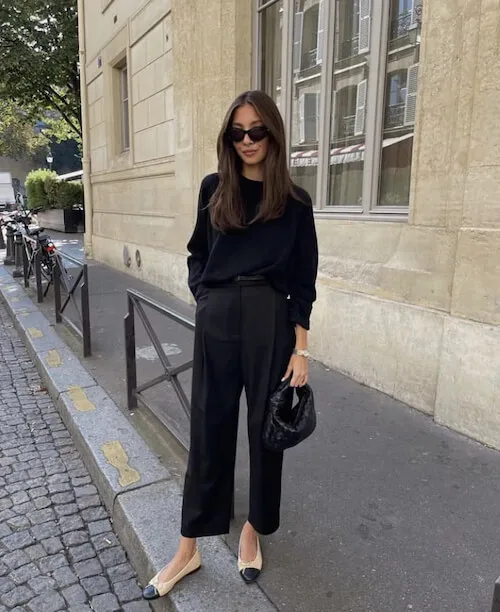 IG@fakerstrom
Tan Coat + Striped Sweater + Black Pants + Canvas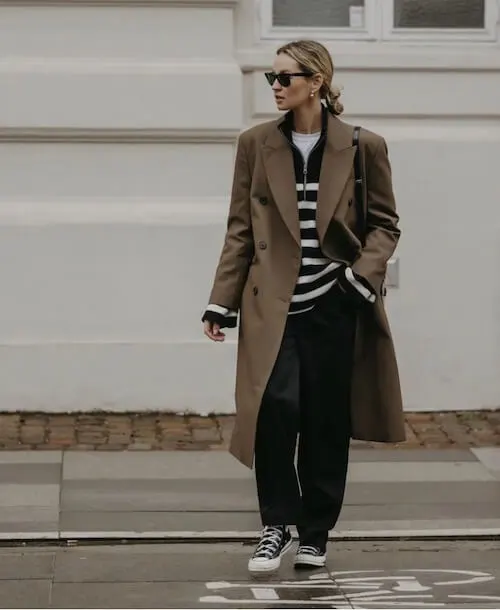 IG@anoukyve
Beige Vest + Beige Blazer + Black Pants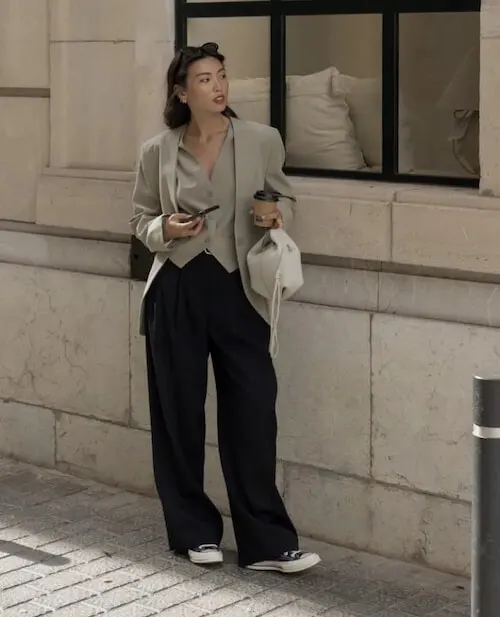 Beige Half-Zip Sweater + Black Boots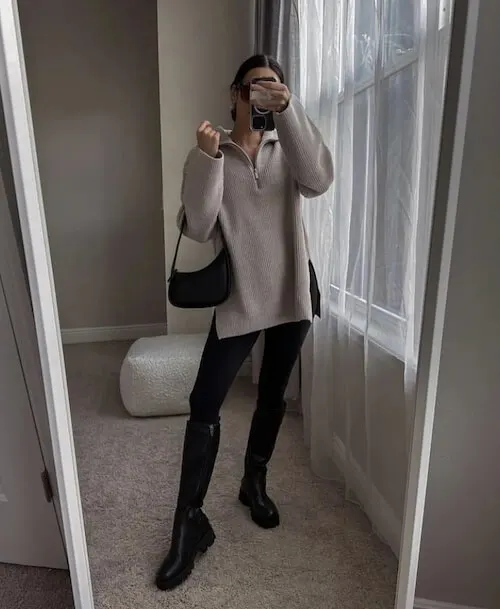 IG@modeetchien
Black Blazer + Gray Sweater + Leggings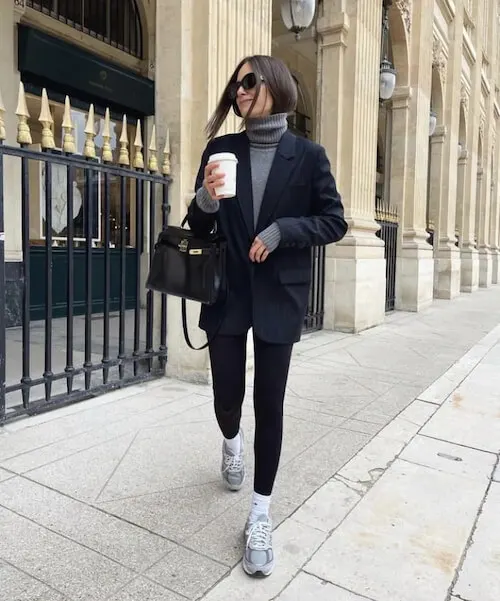 IG@lglora
White Beanie + Striped Sweater + Black Leggings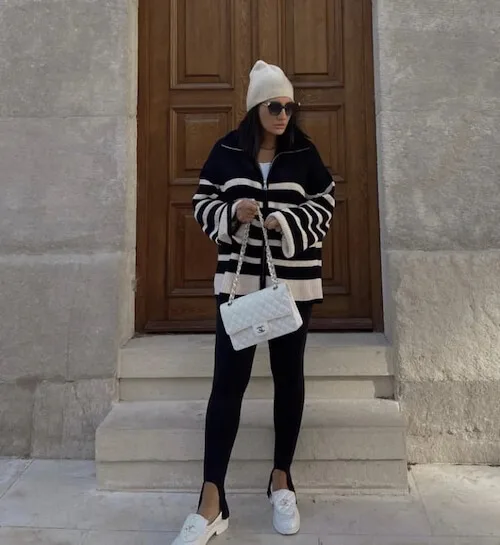 IG@gokceseymabulut
Black Leather Jacket + White Hoodie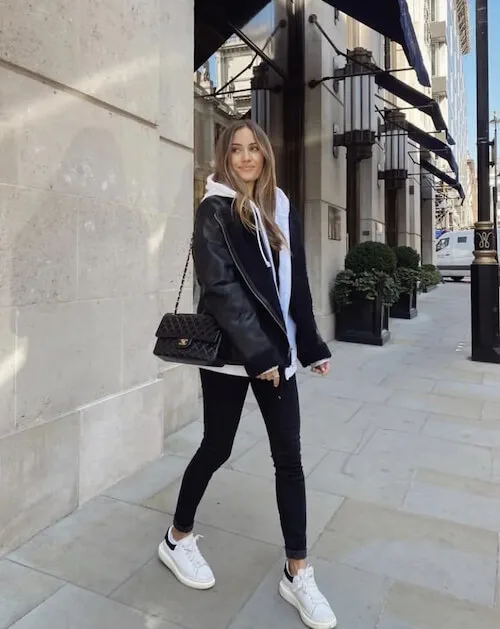 IG@nadiaanya_
Beige Hoodie + Gray Coat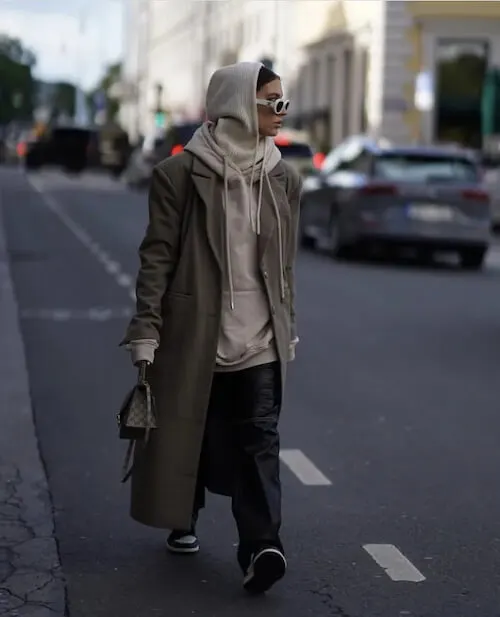 IG@nadinetosun
Black Blazer + Mini Skirt + Black Knee High Boots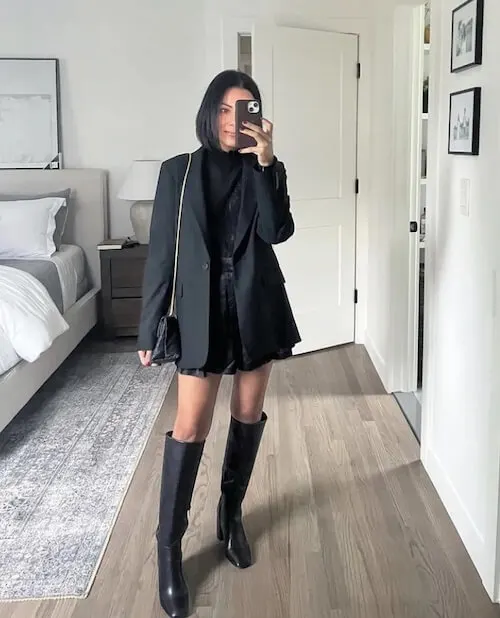 IG@_fashionessa
Camel Coat + Jeans + Black Boots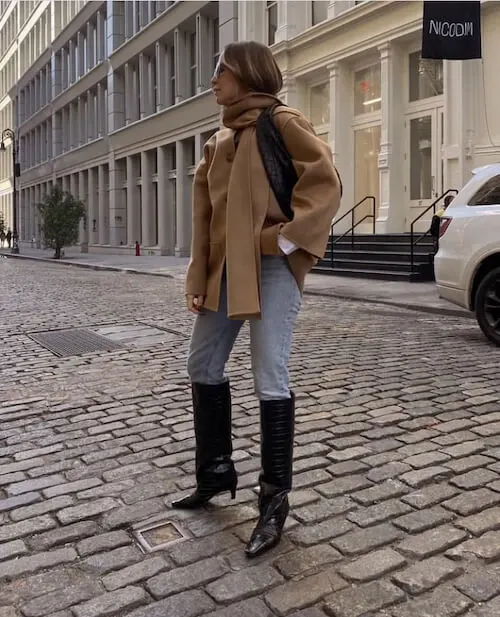 IG@brooklynblonde
Black Leather Jacket + White Shirt + Black Long Skirt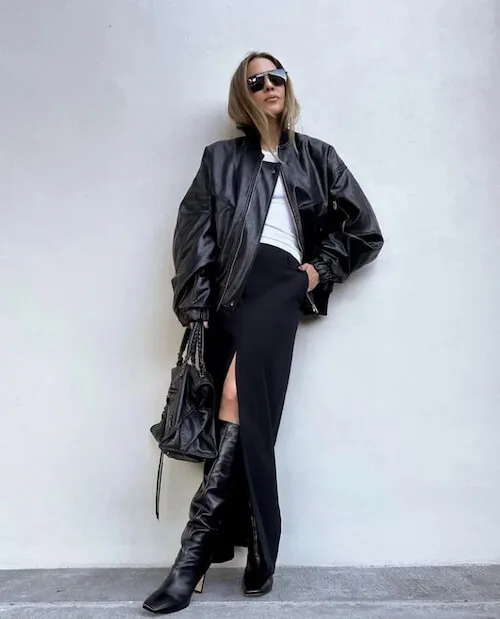 IG@lolariostyle
Neutral T-Shirt + Long Skirt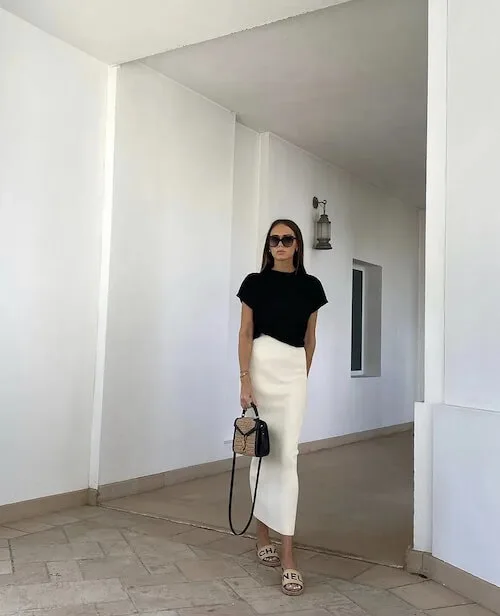 IG@zozoewitherspoon
Black Tank Top + Black Trousers + Black Slides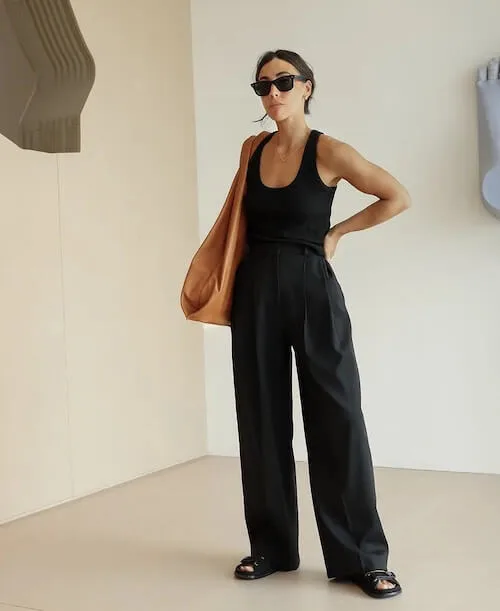 IG@emswells
Black Blazer + Black Shorts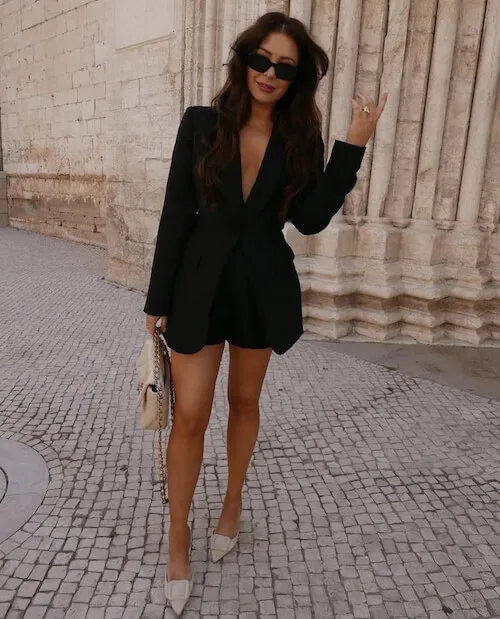 IG@lornaluxe
Black Crop Top + Black Long Skirt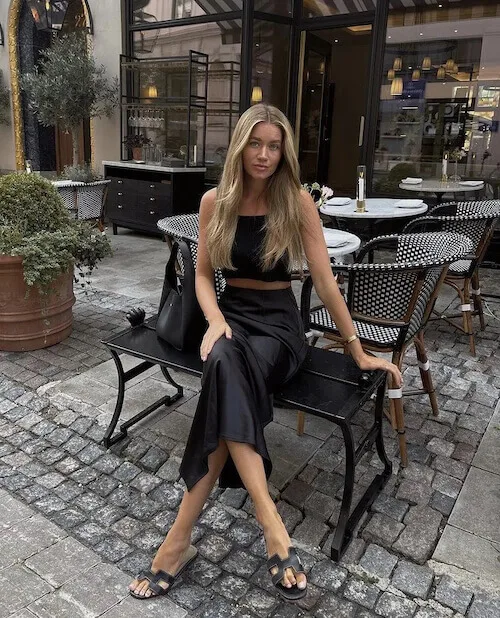 IG@lovisabarkman
Beige Top + Black Jeans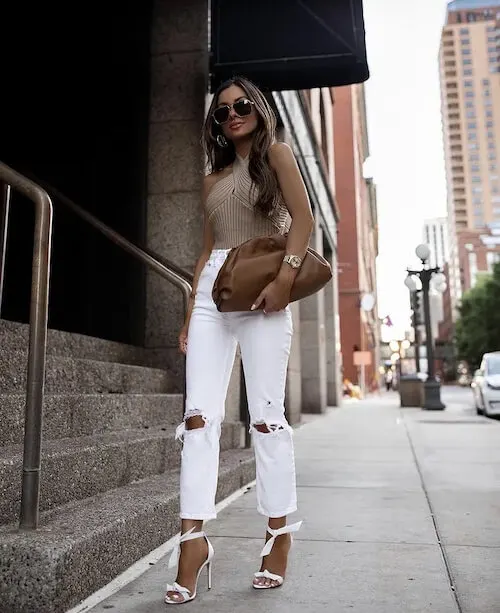 IG@miamiamine
White Button Down Shirt + White Shorts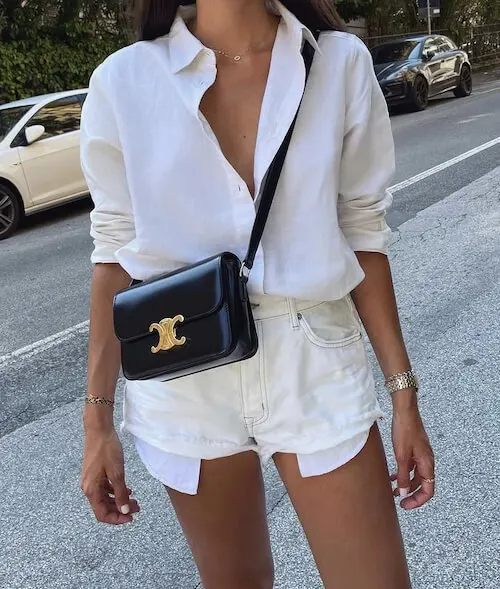 IG@lglora
Black Tank Top + Cream Trousers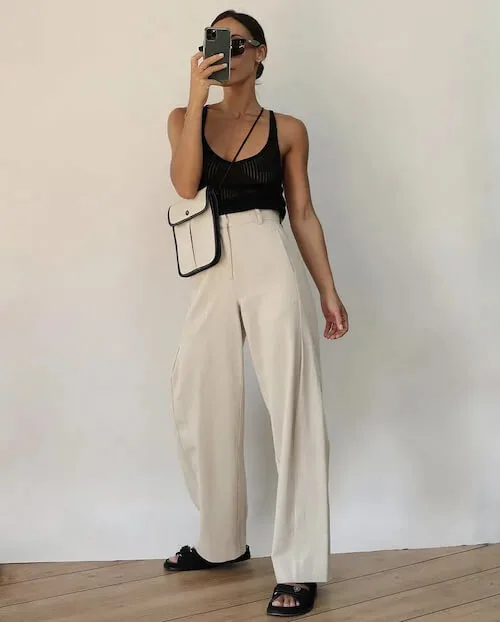 IG@emswells
White Oversized Blazer + Belt + White Tall Boots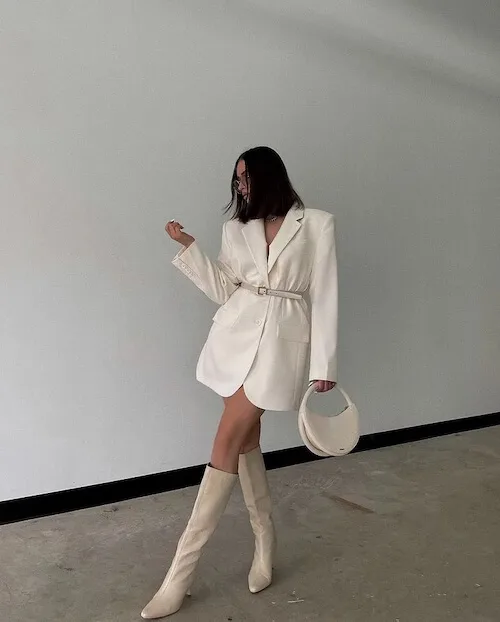 IG@vitaliia
White Blazer + Black Mini Dress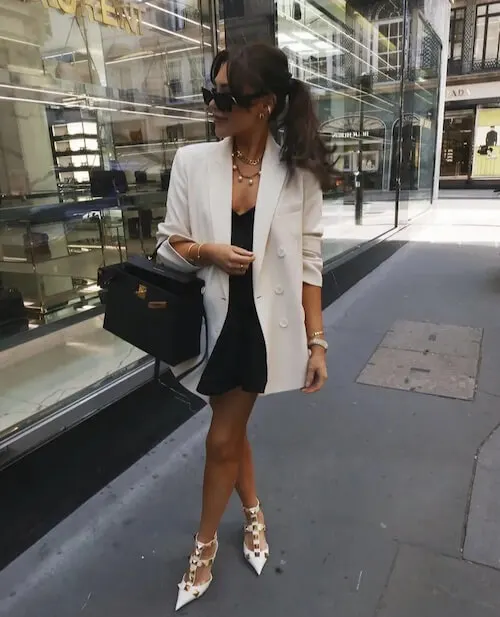 IG@lornaluxe
White Blazer + White Pants + Straw Bag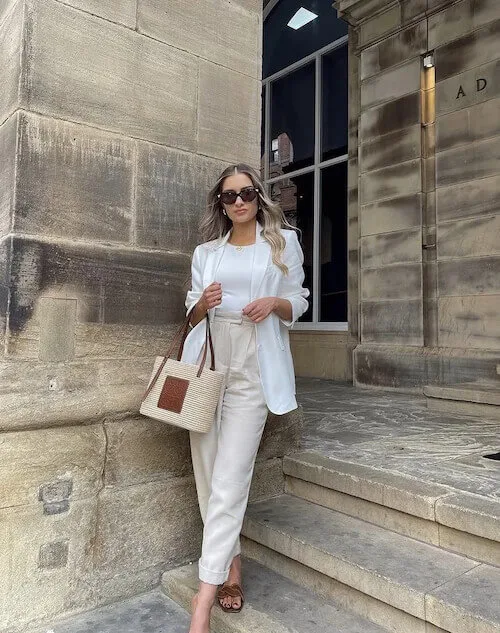 IG@lilyisabellaclark
Beige Trench Coat + Beige Long Dress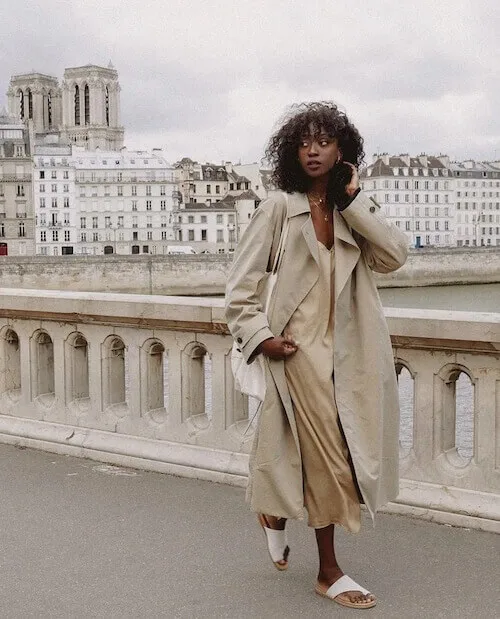 IG@emmanuellek_
Cream or White Knit Dress + Beige Blazer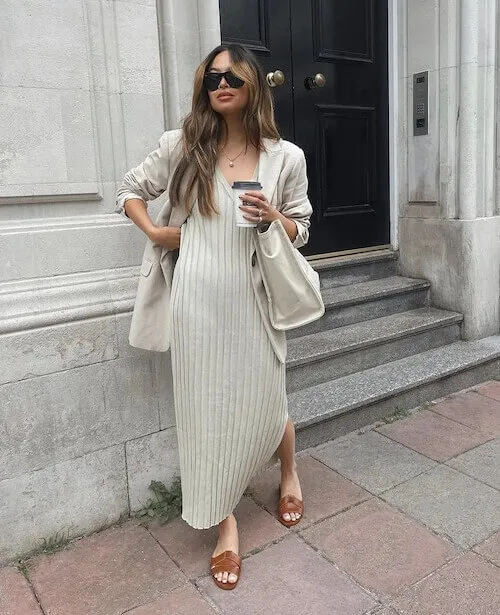 IG@vanessaroseblair
Linen White Button Up + Beige Wide Leg Pants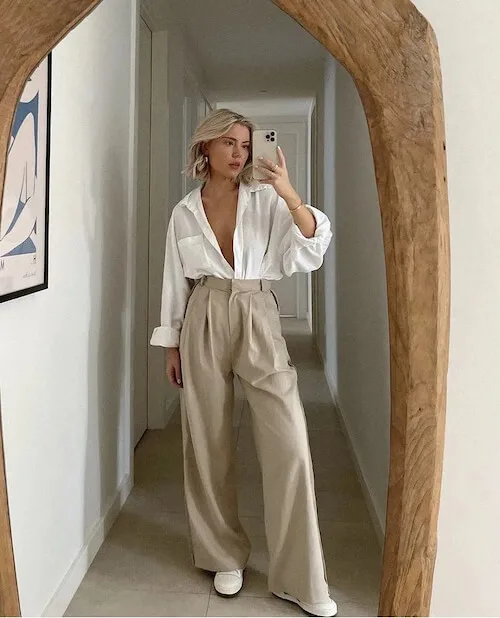 IG@laurajadestone
Beige Blazer + Black Dress + Black Sandals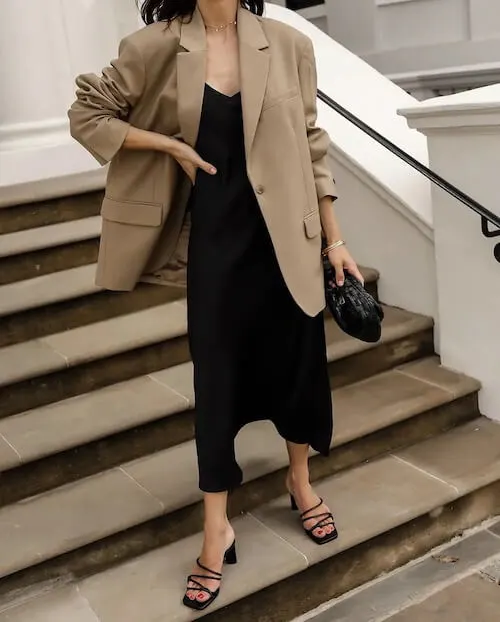 IG@_jessicaskye
Camel Blazer + Ivory Outfit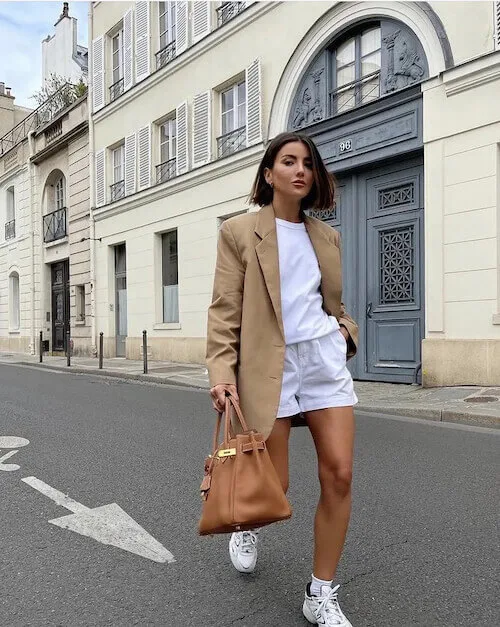 IG@alexandrapereira
Camel Blazer + Black Leather Leggings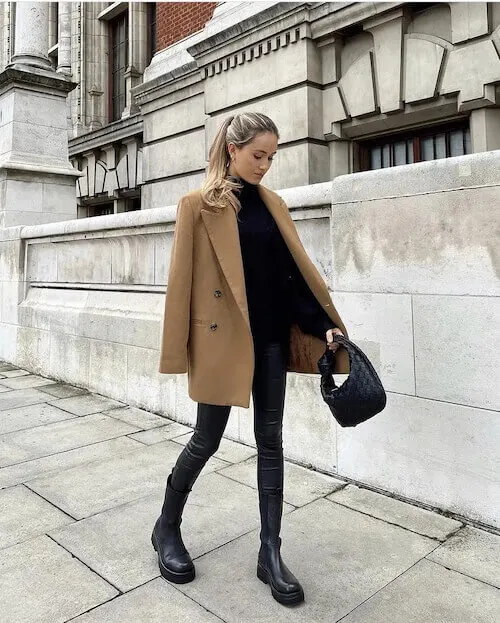 IG@kateehutchins
Beige Blazer + Brown Belt + Black Pants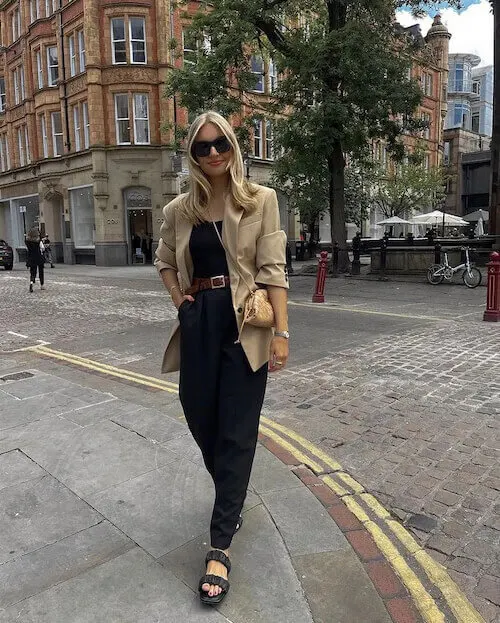 IG@lydiajanetomlinson
Tan Blazer + White Blouse + Black Belt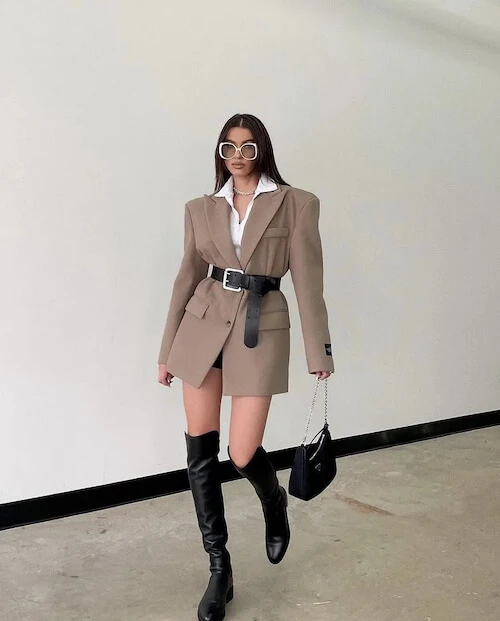 IG@vitaliia
Black Blazer + Sage Green Pants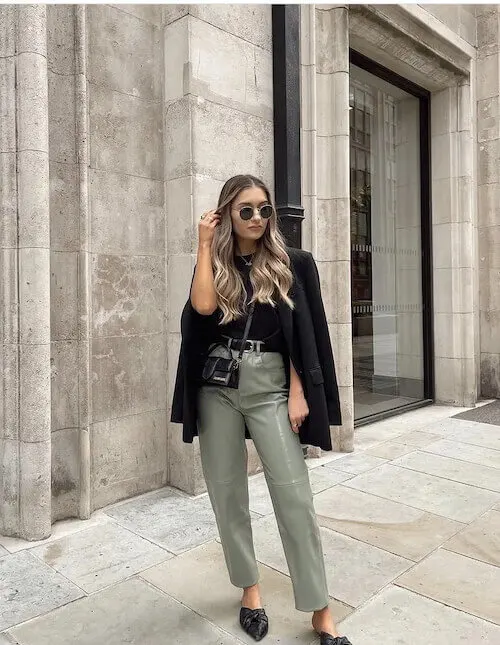 IG@lilyisabellaclark
Beige Coat + White Corset Top + White Jeans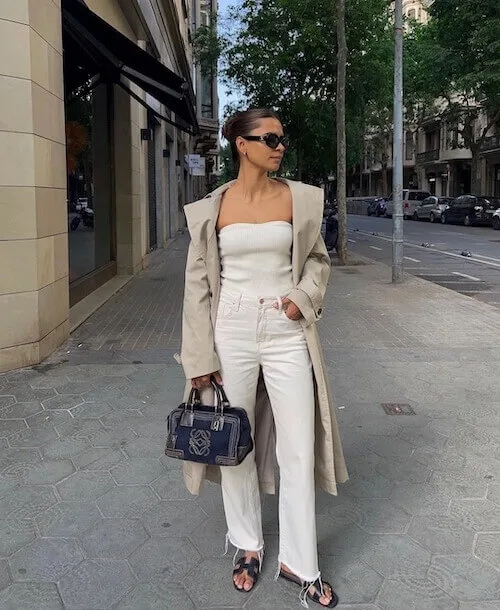 IG@emitaz
Dark Gray Cardigan + Striped Shirt + Jean Shorts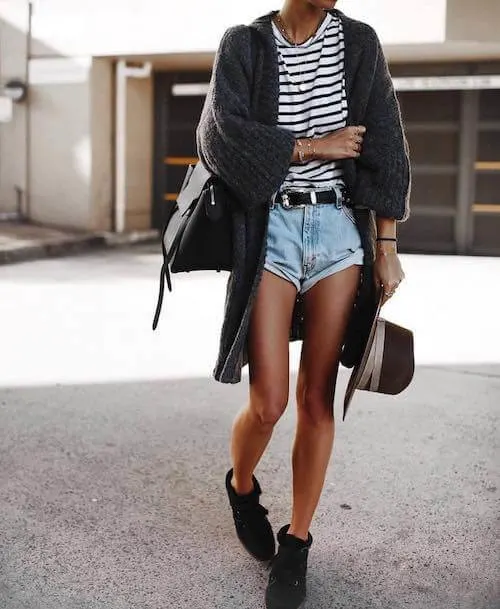 IG@andicsinger
Sweater Vest + Gray Pants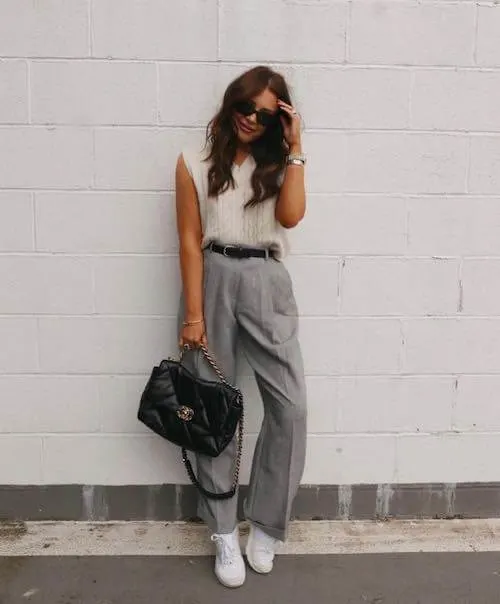 IG@lornaluxe
How do you build a neutral capsule wardrobe?
A capsule wardrobe is a simple collection of timeless pieces that can be worn interchangeably and styled for any occasion.
Neutral colors are especially popular when it comes to creating a capsule wardrobe, as they create a sophisticated and versatile look.
Building your own neutral capsule wardrobe can seem daunting and overwhelming, but it doesn't have to be! Here are some tips on how to get started:
First, start with the basics.
Choose items that fit comfortably like shirts and blouses, trousers or jeans, skirts or dresses for the warmer months.
These items form the foundation of your look and can be paired with any other piece you add later on.
When selecting these basic pieces make sure to pay attention to the quality; investing in classic staples will help them last longer and still look great after multiple wears.
Next, add pieces that are made from high quality fabrics.
For example, a pair of black leather pants will last longer than a pair of cotton pants and can look just as dressy as the cotton ones.
When selecting accessories and shoes, go for quality over quantity.
For example, a good pair of leather shoes will hold up much better than a pair of cheap rubber-soled ones.
What shoes do you wear with neutrals?
If you're looking for an elegant but understated style, try pairing your neutral outfit with metallic shoes like silver or gold stilettos or loafers.
This will bring out the warm tones of your outfit while adding some extra shine.
For evening events, dress up your neutral ensembles with ankle-strap sandals or strappy heels in shades such as burgundy, navy blue and black – perfect for making a statement without being too flashy!
For casual days out, opt for canvas sneakers in bright colors like pink or red.
How to wear chic neutral outfits for holidays?
The holidays are a great time to experiment with different outfit options and try something new.
Neutral tones are the perfect way to make a stylish statement, no matter what the occasion.
Whether it's Christmas, Thanksgiving, or New Year's Eve, here are some chic ways to incorporate neutral outfits into your holiday wardrobe this season.
Start off with timeless basics like a white blouse and black trousers or a skirt for an easy look that never goes out of style.
For extra flair add a festive touch by adding bold accessories such as chunky gold jewelry or bright pumps for an added pop of color.
If you're looking for something more relaxed but still dressed up, try layering beige sweaters over light-wash jeans and accessorize with neutral-colored scarves and booties for added warmth on colder nights.
Conclusion: How To Wear Neutral Colors
Neutral colors are a great way to create an effortless and stylish look.
With the right combination of garments and accessories, you can create a fantastic look that is both timeless and modern. Here are some tips on how to wear neutral colors:
Start by selecting one or two key pieces in neutral hues such as beige, ivory, tan and camel.
Then build your outfit around these items with other neutrals like blacks, greys and whites.
When done correctly, this will create a cohesive look without it being too matchy-matchy.
To add texture to your outfit incorporate materials like suede and corduroy for visual interest without overpowering the rest of your look.
Accessorize with jewelry featuring metals such as silver or gold for extra flair that won't detract from the overall feel of the ensemble.
This post was all about chic neutral outfits.
About The Author
Tracy is an experienced personal stylist, shopping expert, and fashion & lifestyle blogger. She has been featured on Time Magazine, Bustle, Best Life, Glam, The Zoe Report, Mic, and GOBankingRates, for her insights on fashion, beauty, home decor, and lifestyle. Read More
Related Posts: