Looking for elegant Christmas decor ideas? Check this post for 67 amazing ideas that we love to make your rooms cozy and stylish this year!
Christmas is around the corner and we can't wait to decor our rooms for the beautiful season!
While there are many Christmas decor styles, the elegant style is so trending these days. These festive decorating ideas feature white Christmas decorations, silver and white Christmas decor ideas, grey and white Christmas decor ideas, minimalist Christmas decor ideas, and eye-catching luxury decor ideas that bring in amazing holiday vibes but also show your taste and personalities.
Today we are sharing 67 elegant Christmas decor ideas, including ideas for the living room, bedrooms, stairs, small spaces, Christmas trees, kitchen and the dining rooms. And we also share the decor tips and recommended products to recreate these ideas.
So scroll down to check these decor ideas and don't hesitate to pin the ideas you like.
This post may contain affiliate links, which means I'll receive a commission if you purchase through my link, at no extra cost to you. Please read the full disclosure here.
This post is all about Christmas decor ideas.
Elegant Christmas Decor Ideas For Living Rooms
To decorate an elegant Christmas room, the first thing to do is to choose your color scheme, and then choose the same color for all decorations as much as possible. This color scheme can be determined according to the original main color of your room, such as the wall color of the largest area, the color of the floor, and the main color of the furniture.
Keeping the colors simple can make the room look tasteful and make your decorations look more expensive.
In this style, white decorations are the most commonly used. You can choose white decorations of different materials and combine them. In addition to white kitted pillowcases and white star lanterns, white faux fur rugs or blankets are also very excellent.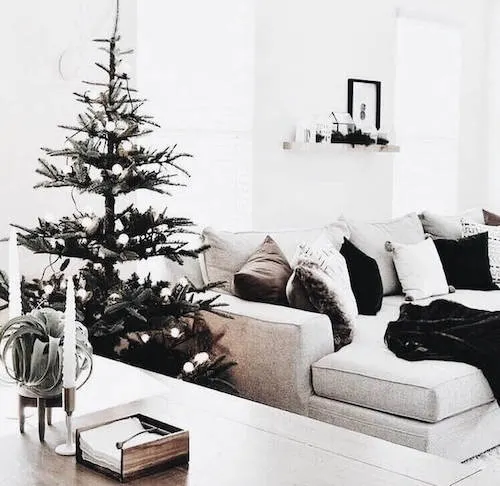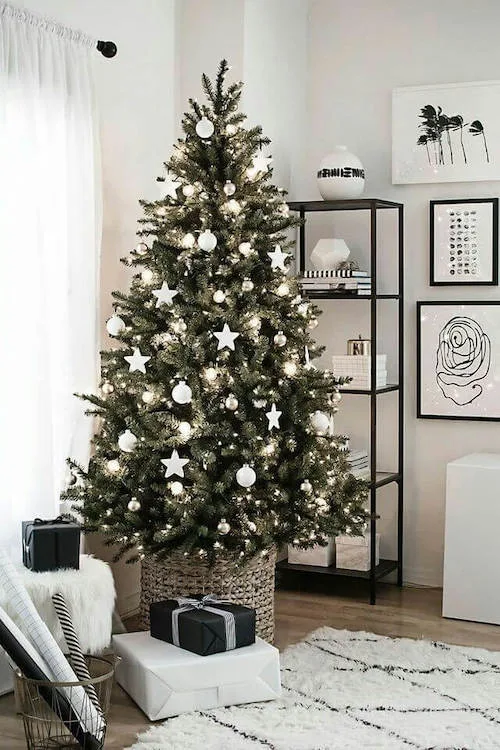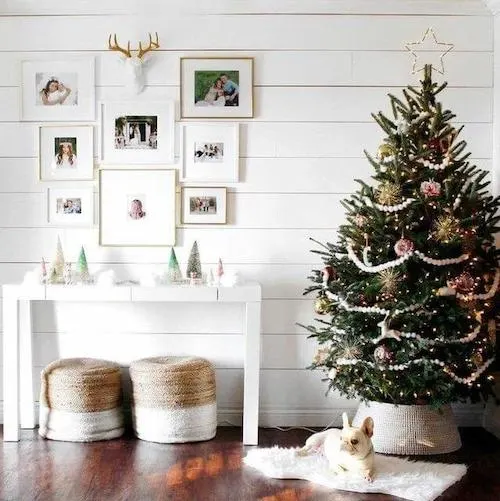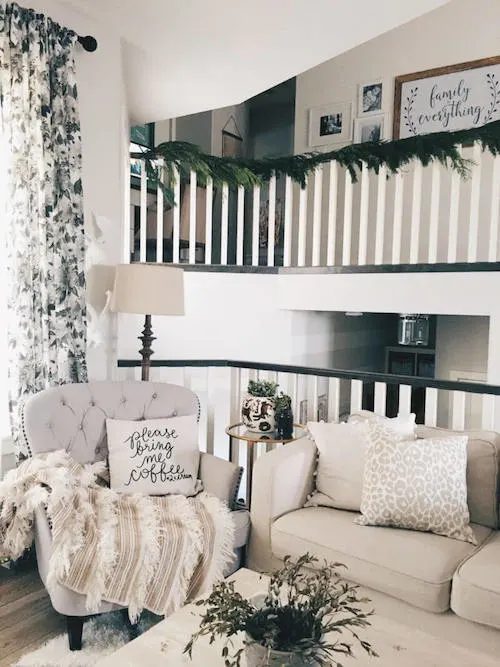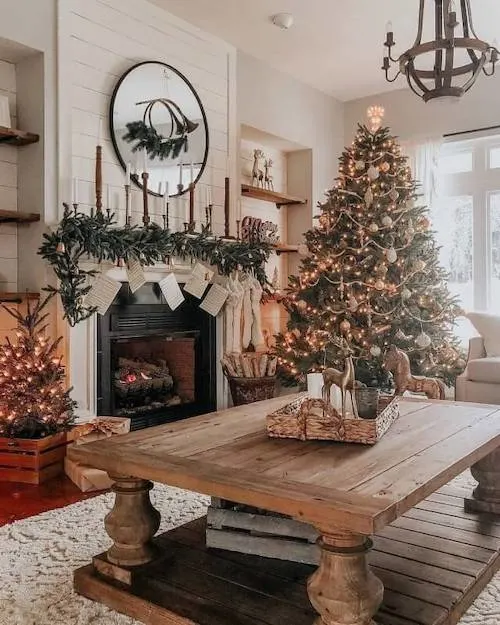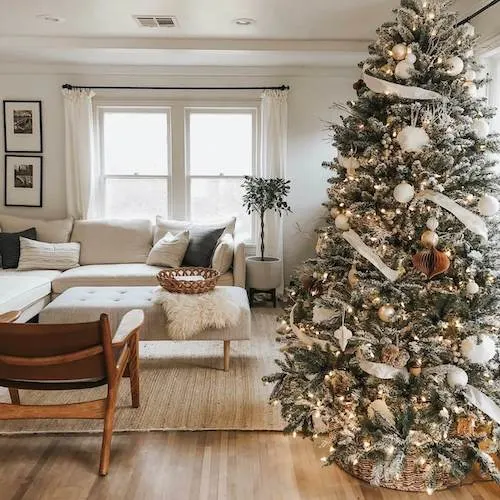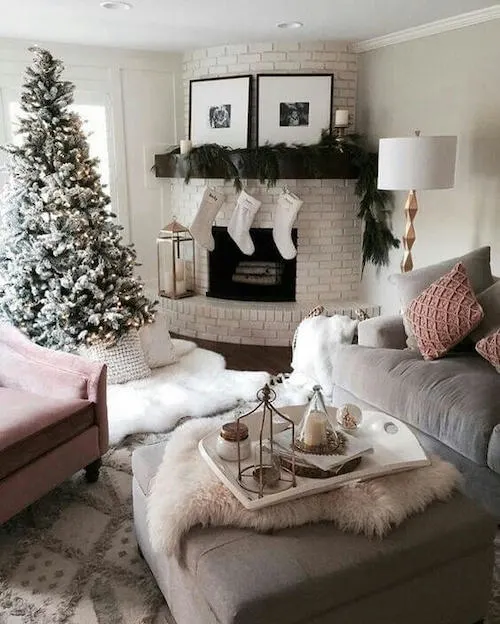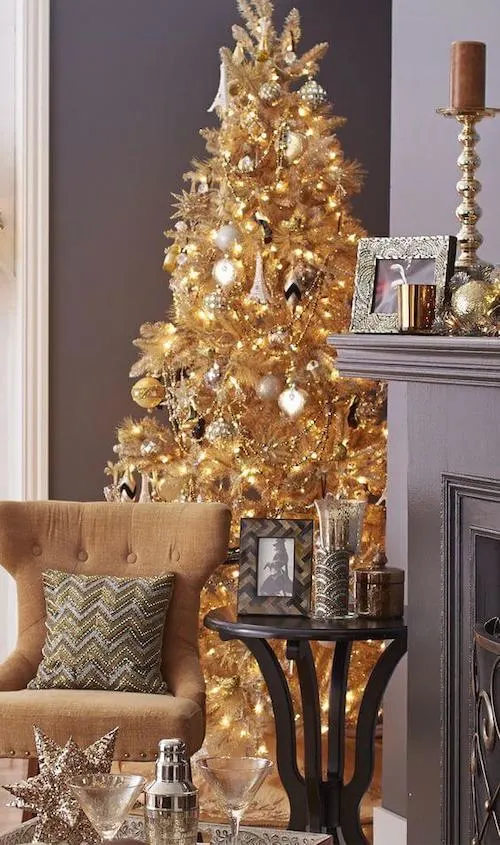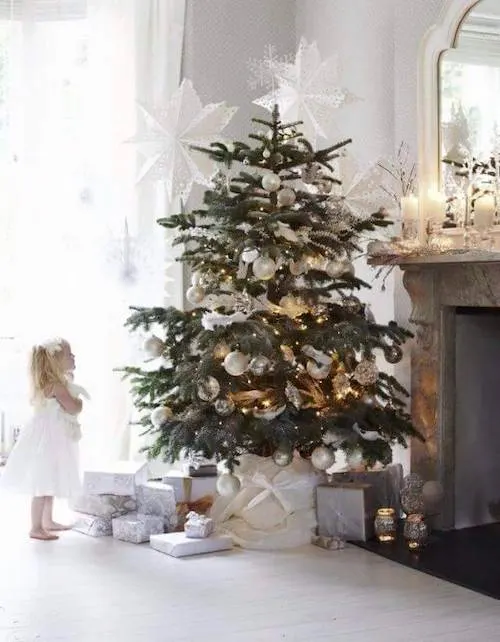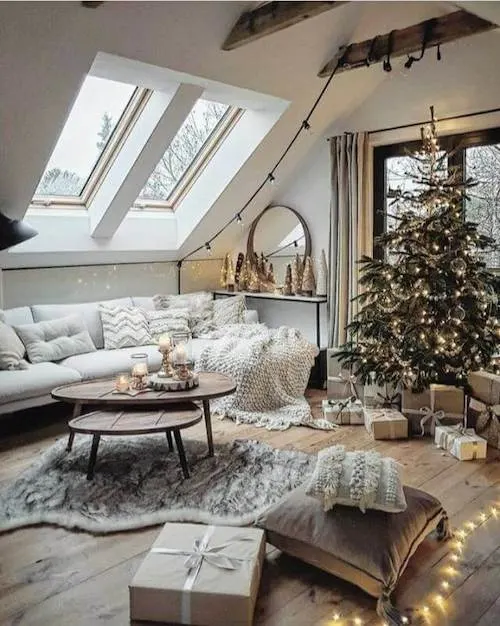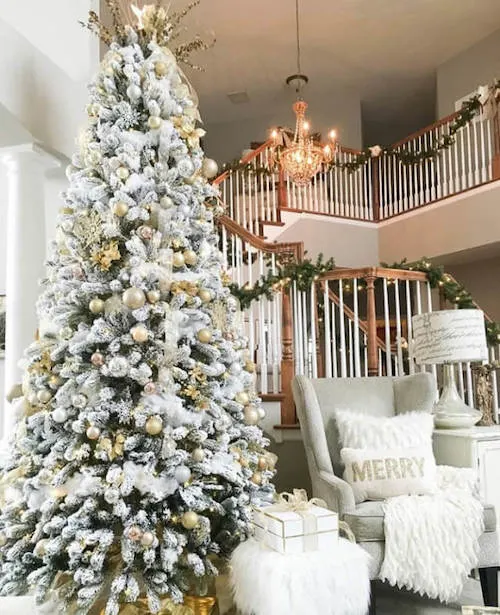 Christmas Decor Ideas For Stairs
When decorating the stairs, you need to consider that the decorations on the stairs should be consistent with the decorations near the stairs, such as the decorations in the living room. This way the whole room looks larger more beautiful.
At the same time, you can also add a basket that integrates decoration and storage functions on the side of the stairs, or hang cute lanterns around, to enrich the layering of the overall decoration design.




Christmas Decor Ideas For Bedrooms
No matter your bedroom is big or small, you can always add the right size Christmas decorations in your bedroom to celebrate the season.
Cozy and beautiful chunky knit blankets or pom pom blankets are the must haves to increase the holiday vibes. And we also strongly recommend string lights to make your room homey and dreamy.
You don't have to place the string lights or the other decorations carefully. A more casual and free style is actually more suitable for your lovely bedrooms in these relaxed days and bring more personal touches.







Luxury Christmas Decor Ideas
The luxury Christmas decor style is becoming more and more popular. But to avoid making your room tacky, stick to with a few colors. Either white or blush is a good choice.
Meanwhile, if you are on a budget, spend your money smartly on one centerpiece of your ornaments, a high quality Christmas tree, a tasteful feather lamp, a beautiful mirror, silver or gold candle lanterns, an artistic rug, or a delicate candle holder. This centerpiece will help you bring the whole decor design into the next level.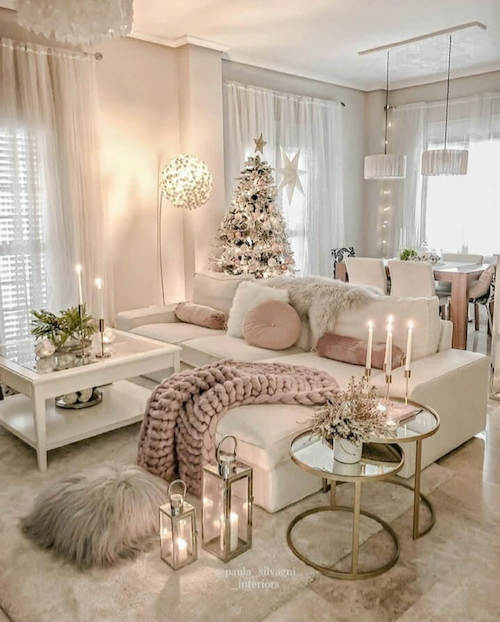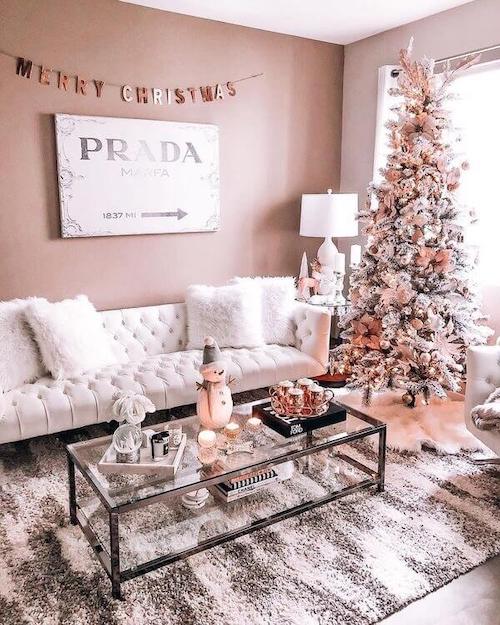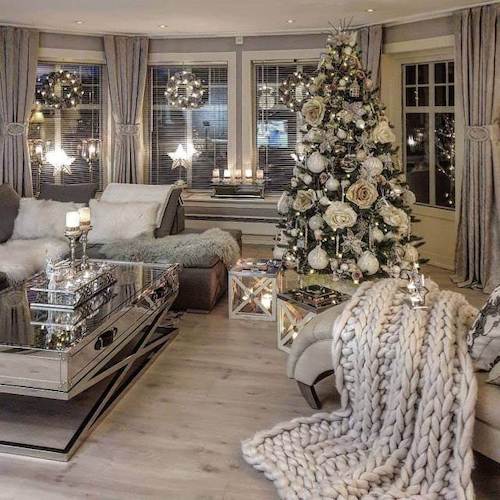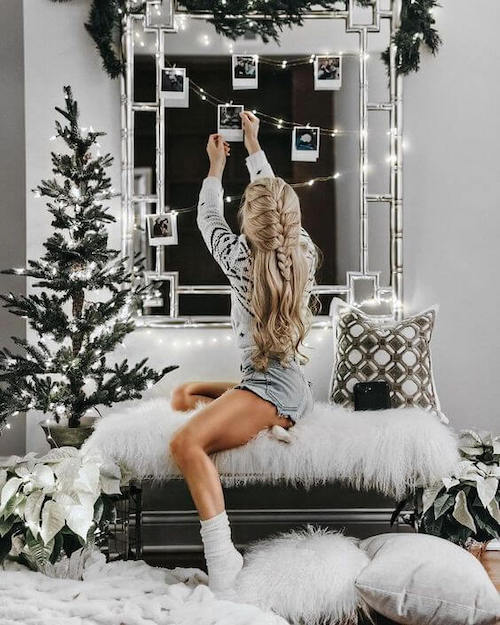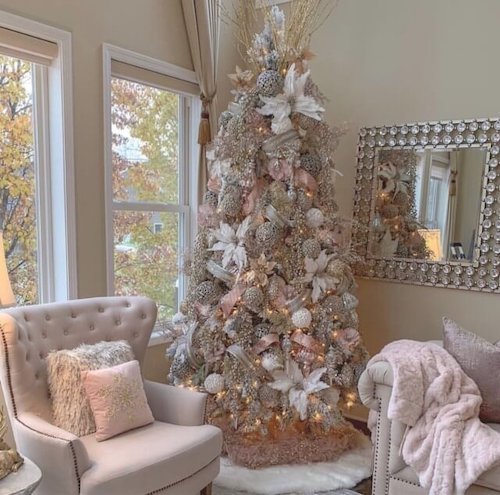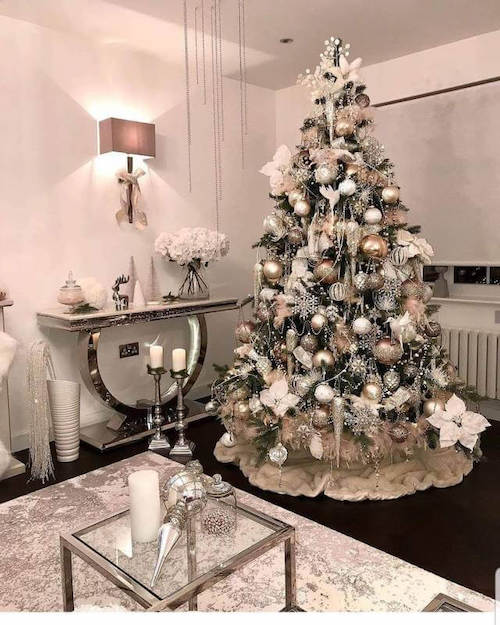 Christmas Decor Ideas For Small Spaces
For small places, showing the personality is the key to create an adorable Christmas room. Cute DIY decors, things that are full of memories, gifts, can all be displayed to create your most beautiful holiday home yet.









Stylish Christmas Tree Decor Ideas
The best way to decorate a cute Christmas tree is to set a holiday scene in your room.
Coordinate all of your decor around a single color makes for a cohesive look, and it is also much easier to decorate the room.
Put a faux fur rug or cozy blanket or a tree skirt around it is also a cute idea to evoke the cheer and warmth the glittering metallic ornaments bring to the room.







Outdoor Christmas Decor Ideas
The below idea is cute and easy to copy. Choosing smaller ornaments can give you more room to add your personal touch.

Stunning Christmas Decor Ideas For The Kitchen And The Dining Room
Candles and pine cones would be versatile decorations for your dining room. And you can put your Christmas tree in the dining room to create a look that feels right at home.
In addition, you can also add some exaggerated luxury effect placemats, napkins, etc. on your table to create a more festive atmosphere.






This post was all about Christmas decor ideas.
About The Author
Tracy is an experienced personal stylist, shopping expert, and fashion & lifestyle blogger. She has been featured on Bustle, Best Life, Glam, The Zoe Report, Mic, and GoBankingRates, for her insights on fashion, beauty, home decor, and lifestyle. Read More
Related Posts: