Elevate your holiday celebrations with these beautiful white Christmas decor ideas that will bring a touch of magic to your home.
Dreaming of a white Christmas?
Look no further than this post of 60+ festive and chic white Christmas decor ideas that will bring an air of elegance and sophistication to your holiday celebrations.
With timeless classics like snowflake-inspired wreaths and frosty tablescapes, as well as contemporary touches such as minimalist tree decorations and sleek monochromatic mantel displays, there's no shortage of inspiration here.
Get ready to deck the halls in style with these stunning ideas that are sure to make your home feel like a winter wonderland.
This post may contain affiliate links, which means I'll receive a commission if you purchase through my link, at no extra cost to you. Please read the full disclosure here.
This post is all about white Christmas decor ideas.
Best White Christmas Decor Ideas
White Christmas Tree Decorations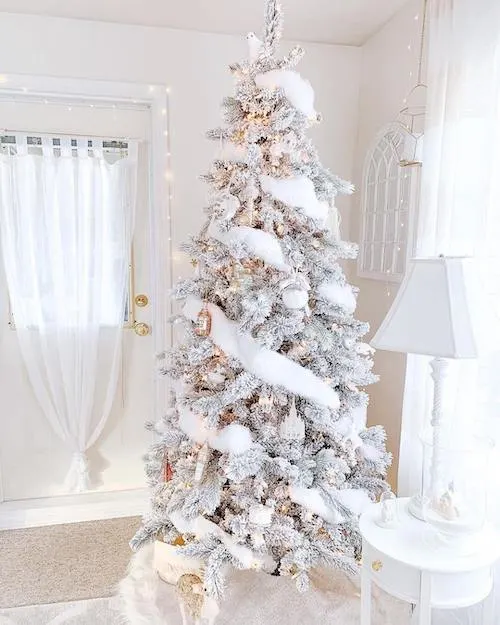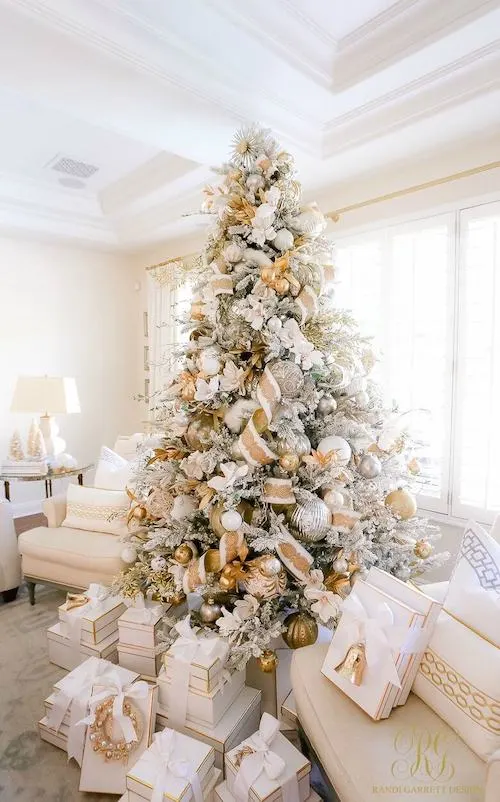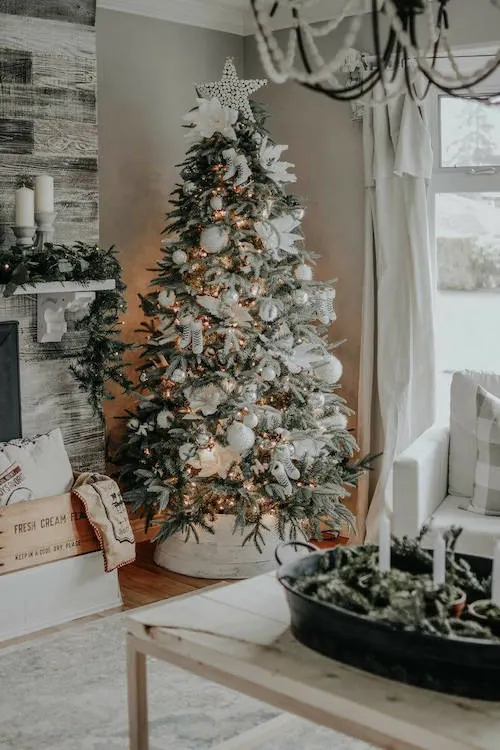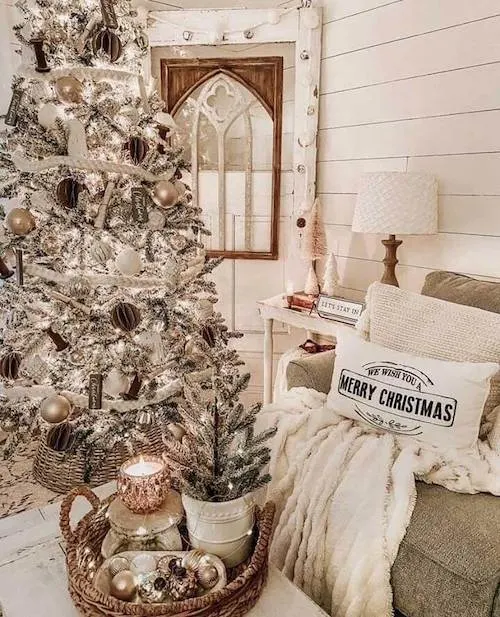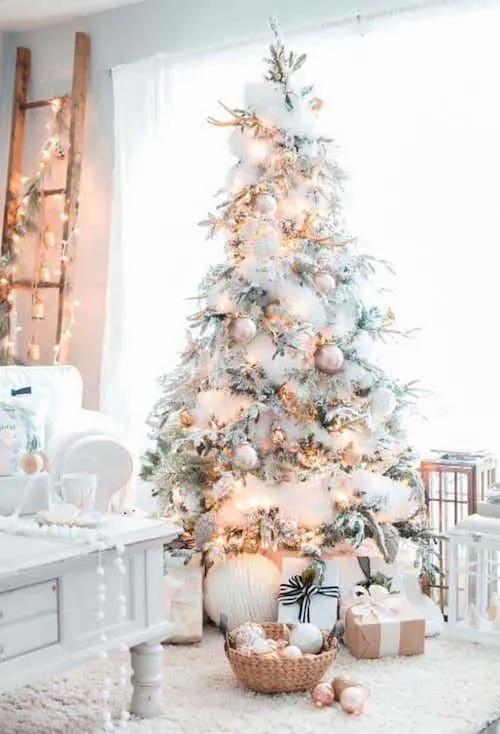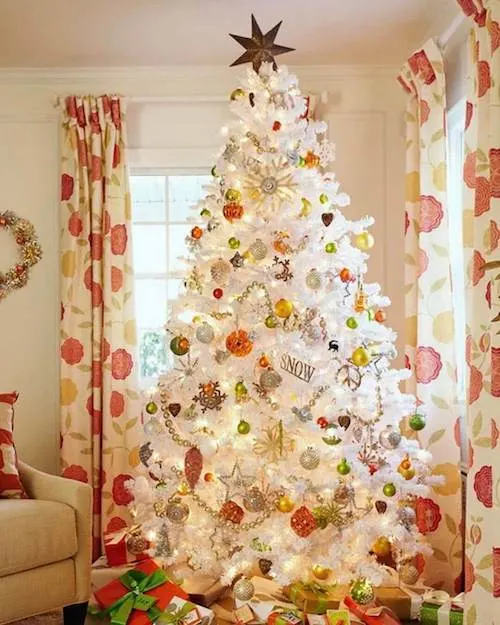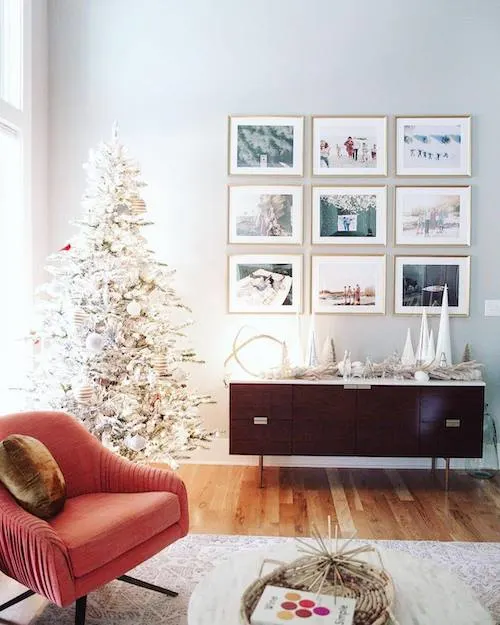 White Christmas tree decorations bring an elegant and sophisticated touch to your holiday decor.
While traditional green trees have their charm, a white Christmas tree allows you to create a completely different look that is both modern and chic.
It serves as the perfect canvas for showcasing a wide range of decorative accents and ornaments.
One popular approach is to embrace the simplicity of an all-white theme, using varying shades of white and cream ornaments, along with touches of silver or gold for added opulence.
This monochromatic aesthetic creates a calming and peaceful atmosphere while still maintaining a luxurious feel.
Alternatively, you can opt for a more whimsical look by incorporating pops of color with vibrant ornaments or garlands in contrasting shades like red, blue, or pink.
This bold contrast between the white tree and colorful decorations instantly adds excitement and drama to your Christmas display.
White Christmas trees also offer versatility when it comes to selecting ornament materials.
You can mix different textures such as glass, porcelain, or even feathers to add depth and visual interest to your tree.
Additionally, consider utilizing unique shapes like snowflakes or icicles that capture the essence of a winter wonderland dreamscape.
White Christmas Ornaments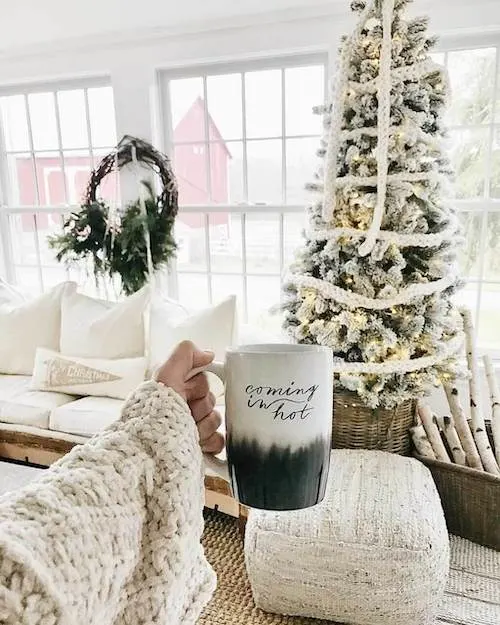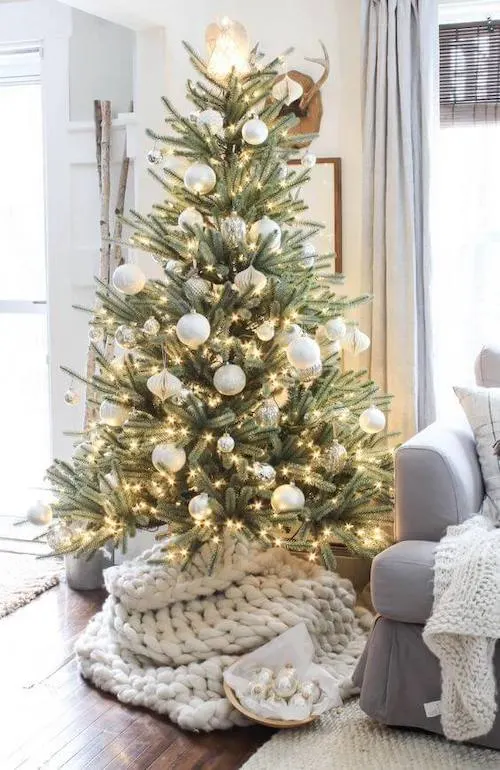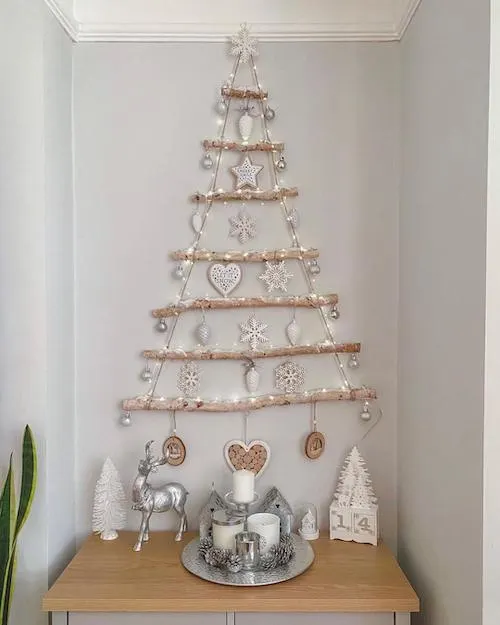 One of the most timeless and elegant choices for Christmas decor is white ornaments.
Their crisp and clean appearance adds a touch of sophistication to any holiday display.
Whether it's hanging on a tree or adorning a mantel, white Christmas ornaments create a sense of winter wonderland magic.
Not only do white ornaments blend seamlessly with any color scheme, but they also reflect light beautifully, enhancing the overall sparkle and ambiance of your holiday decorations.
They can be used in combination with other colors to create contrast and visual interest or on their own to achieve a monochromatic look that exudes sheer elegance.
White Christmas Garland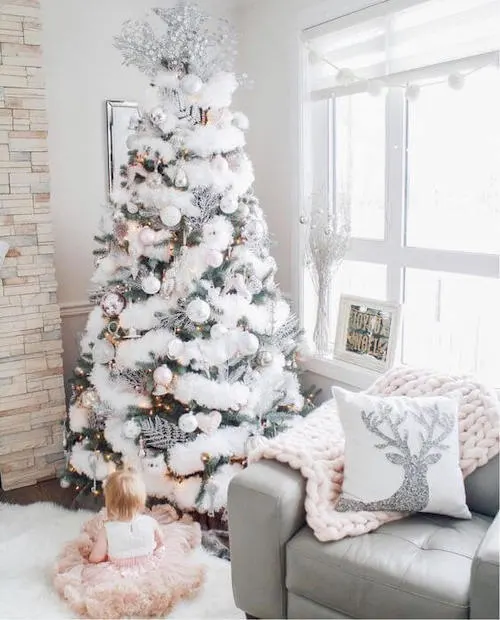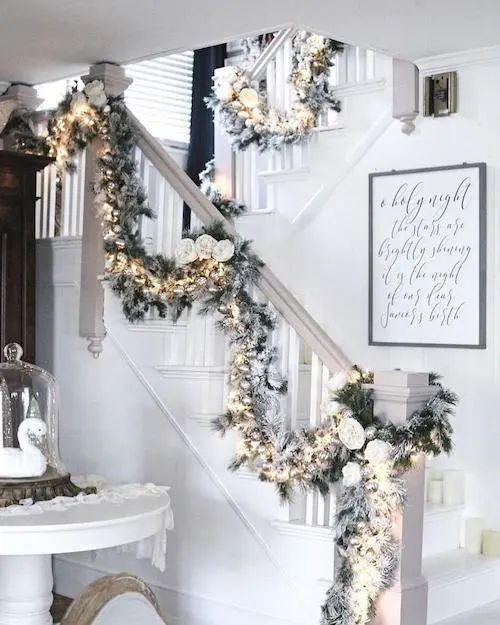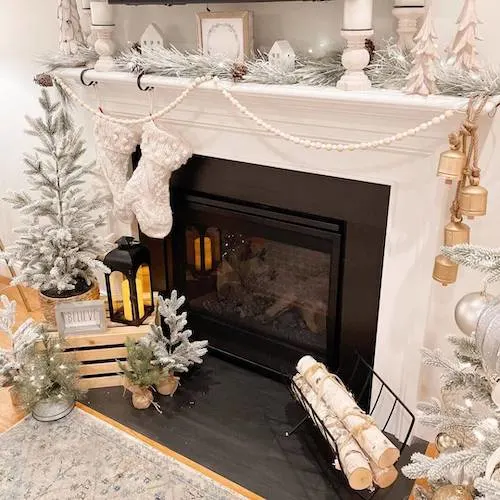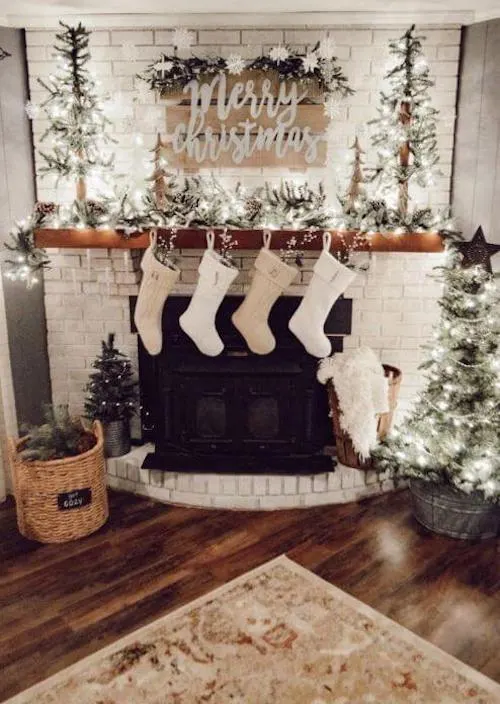 One of the most charming and elegant additions to your Christmas décor is a white Christmas garland.
Its simplicity and purity can instantly transform any space into a winter wonderland.
Whether you choose to use it as a centerpiece on your dining table or drape it along the staircase railing, a white Christmas garland evokes sophistication and timeless beauty.
White Christmas Wreaths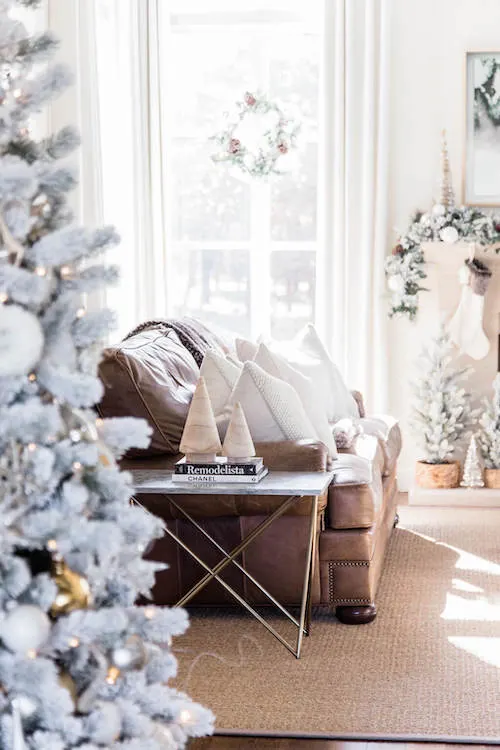 White Christmas wreaths are a timeless symbol of holiday cheer and elegance.
While traditional wreaths often feature green foliage and red accents, opting for a white Christmas wreath can create a stunning, icy aesthetic that is both modern and chic.
These snow-inspired wreaths provide a refreshing twist on the classic holiday decoration.
Red and White Christmas Decor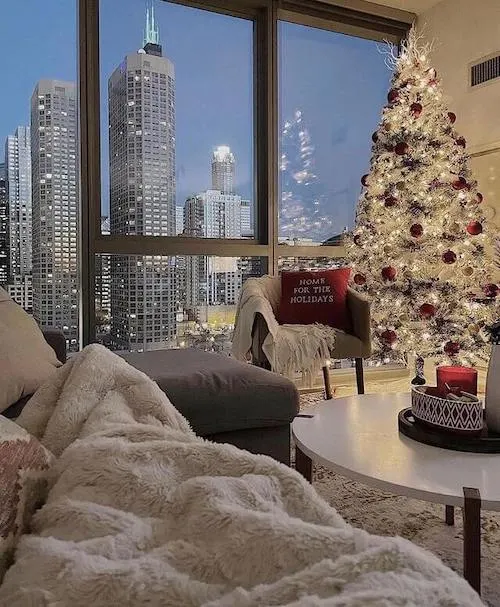 One of the most classic and beloved color schemes for Christmas decor is red and white.
These two colors instantly evoke feelings of warmth, tradition, and holiday spirit.
A red and white Christmas theme can be both festive and chic, creating a stunning look that will impress all your guests.
When it comes to incorporating red and white into your holiday decor, there are endless possibilities.
You can start with a base of crisp white decorations like snowflakes, ornaments, or string lights, then add pops of red with ribbons, berries, or floral arrangements.
Another idea is to go for a bold statement by using a red Christmas tree as the focal point of your display while surrounding it with elegant white accents.
Blue and White Christmas Decor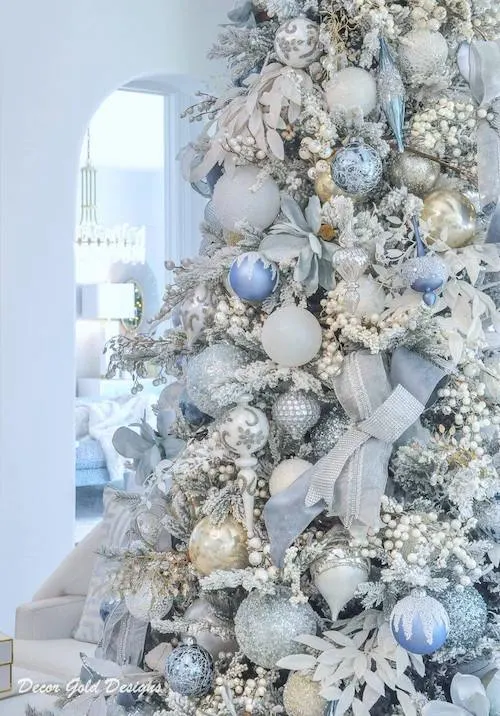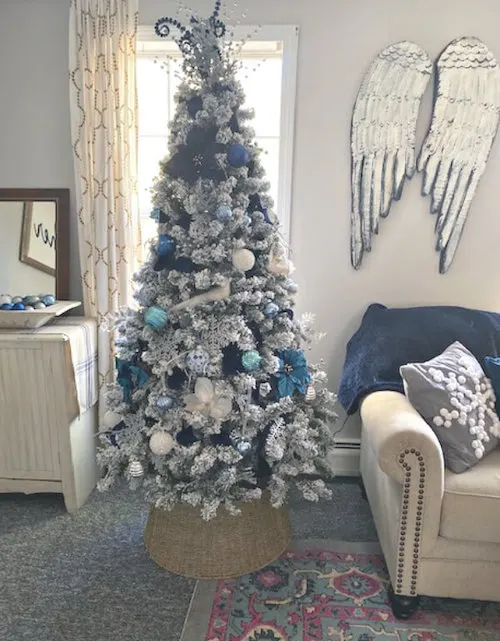 One popular and timeless color scheme for Christmas decor is blue and white.
This delightful combination brings a sense of tranquility and elegance to any space.
When it comes to incorporating blue and white into your holiday decor, the possibilities are endless.
To achieve a chic blue and white look, consider using crisp white ornaments paired with delicate blue ribbons on your Christmas tree.
Add some shimmer by incorporating silver or gold accents throughout the room.
For a more subtle approach, try using white fairy lights against a backdrop of pale blue curtains or drapes.
Another way to incorporate this color scheme is by dressing up your dining table with blue and white china or table linens.
Accentuate the setting with snowflake-themed decorations like napkin rings or place card holders.
Complete the look by using fresh flowers in shades of blue as centerpieces.
Black and White Christmas Decorations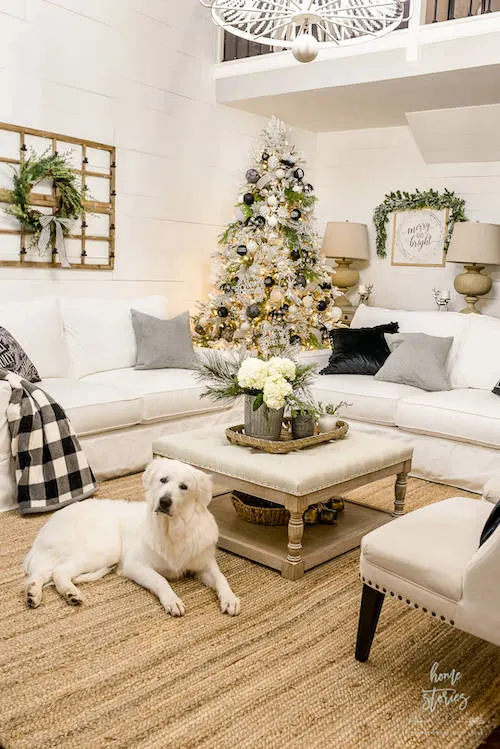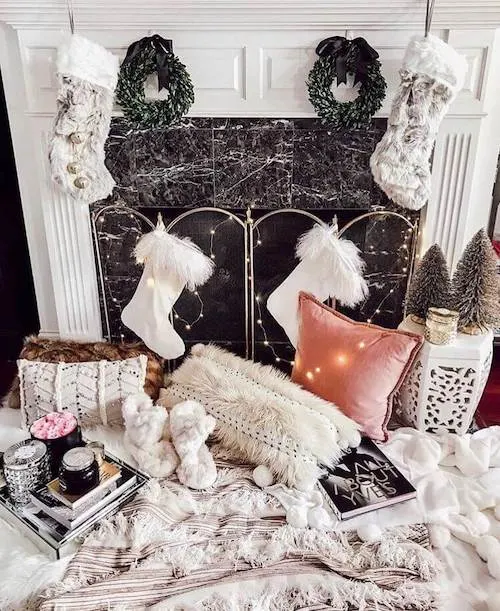 Black and white Christmas decorations offer a modern and sophisticated twist to the traditional holiday color palette.
The contrasting tones create a visually striking display that captures attention and adds an air of elegance to any space.
From black and white striped ribbons adorning the Christmas tree to white ornaments with delicate black designs, these monochromatic decor elements bring a sense of refinement while maintaining the festive spirit.
White and Gold Winter Wonderland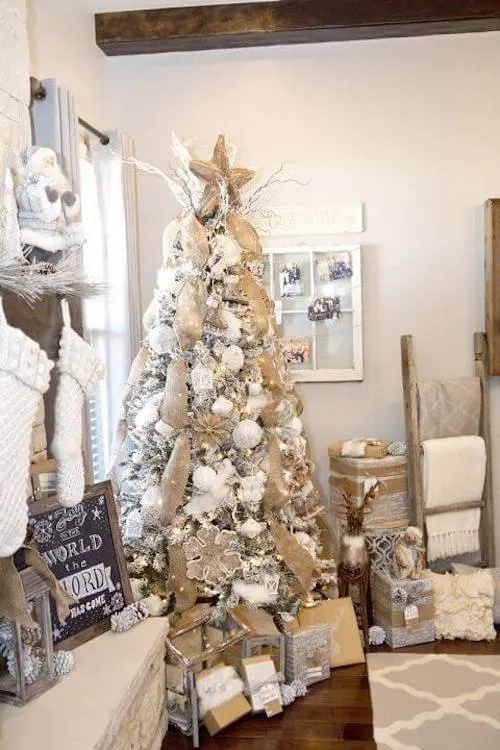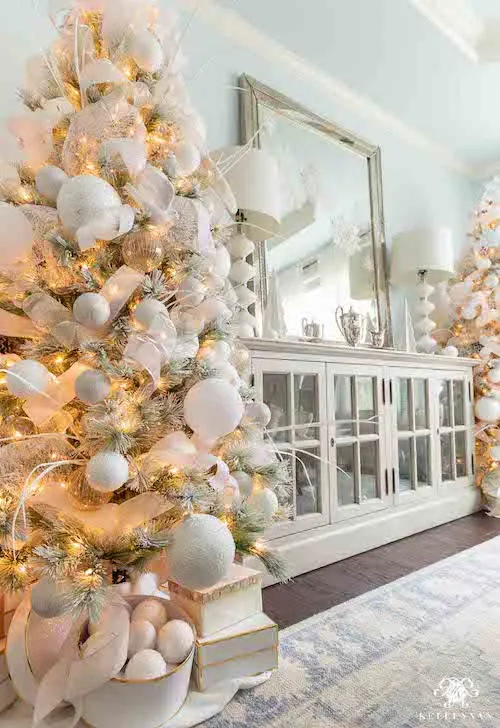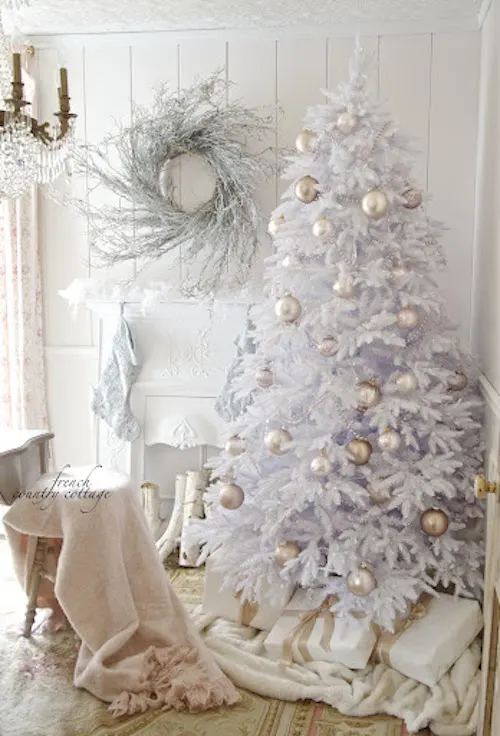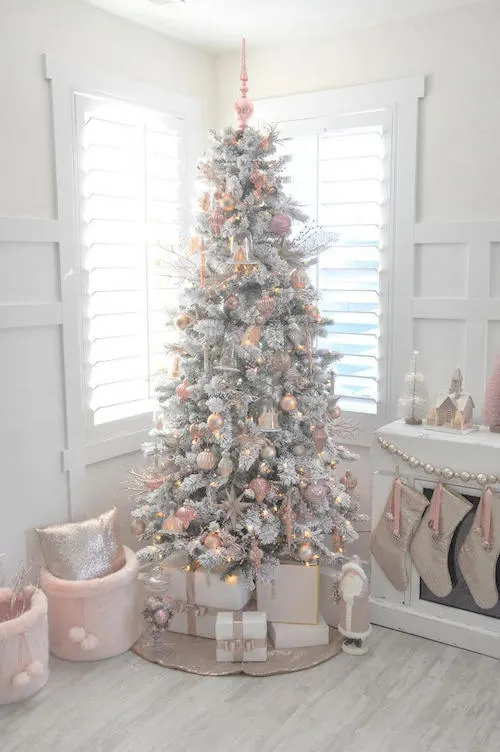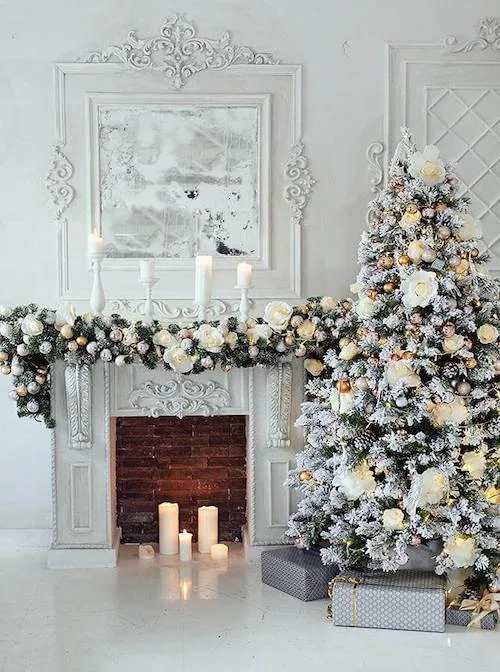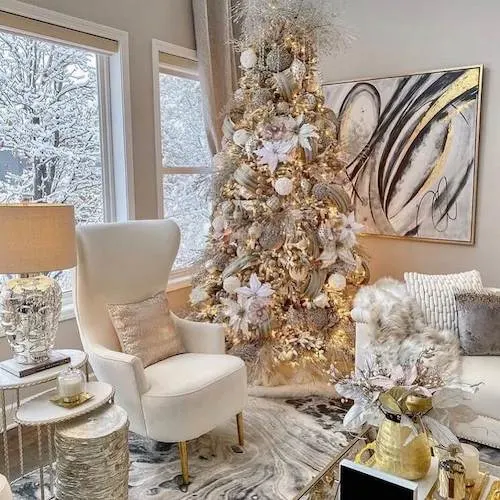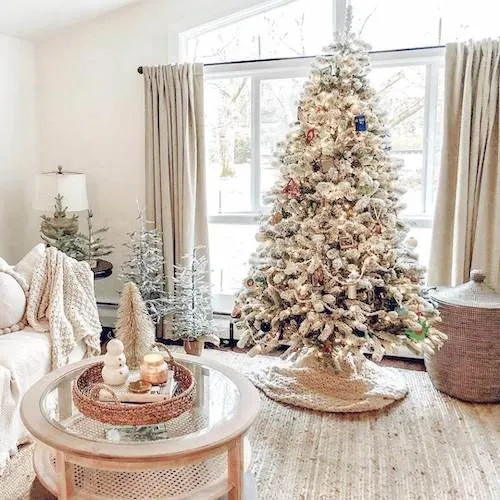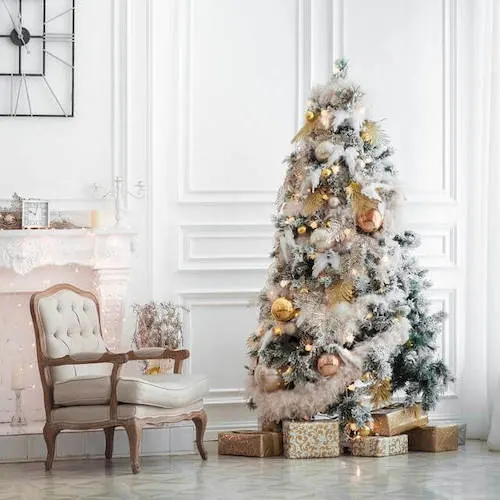 Transform your home into a magical white and gold winter wonderland this holiday season.
The combination of white and gold decor creates a chic and sophisticated atmosphere that will definitely impress your guests.
Start by adorning your Christmas tree with white and gold ornaments, twinkling lights, and luxurious ribbons.
Add some sparkle to the room by placing golden candle holders on your mantel or using gold accents in table settings.
Don't forget to bring in some natural elements like pine cones or fresh white flowers to add freshness to the overall look.
To create a truly enchanting ambiance, consider adding some snowy accents throughout your home.
Hang delicate snowflake garlands from doorways or windows for an extra touch of elegance.
You can also sprinkle artificial snow on surfaces like tables or shelves for a whimsical effect.
Incorporate cozy faux fur throws and pillows in shades of white and cream to create an inviting space where you can curl up during those cold winter nights.
Complete the look with subtle pops of metallic gold through accessories like vases, decorative objects, or even napkin rings in your dining area.
White and Silver Holiday Decor Ideas For Christmas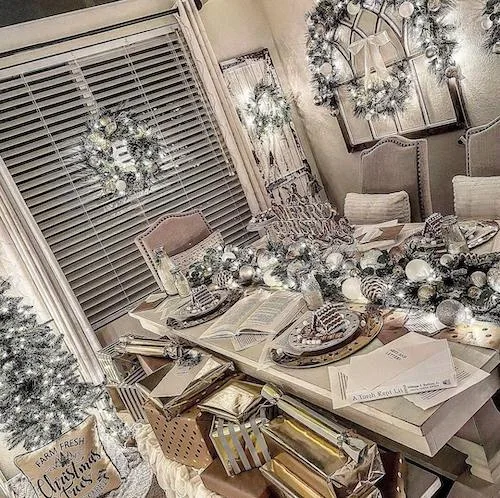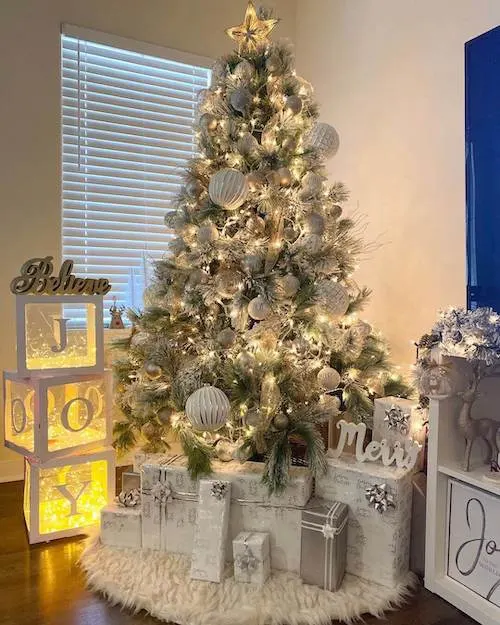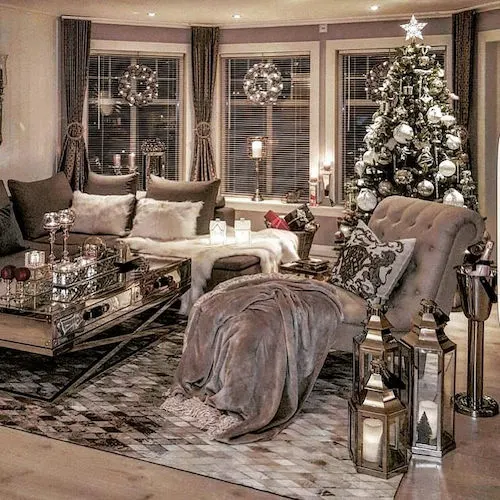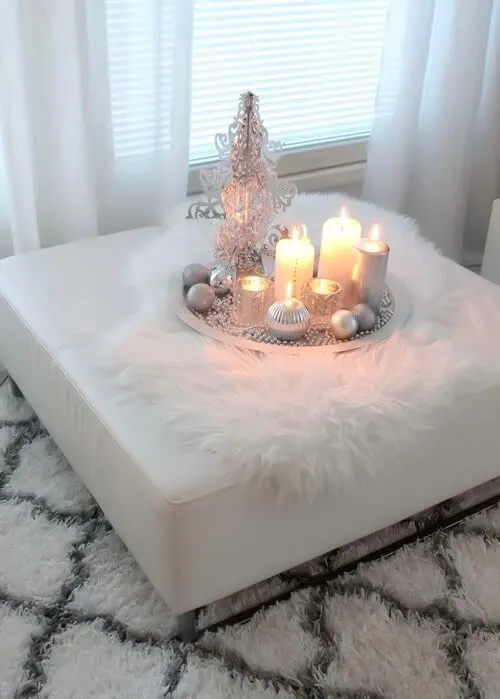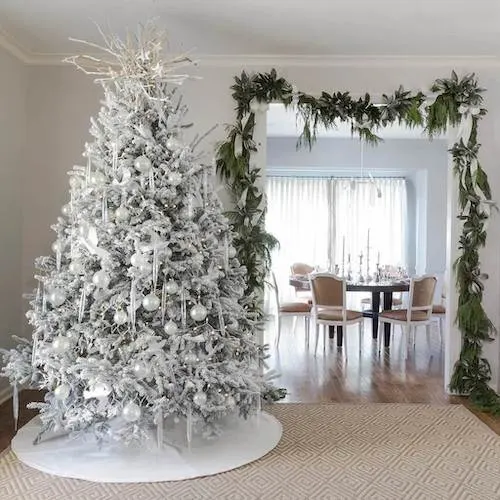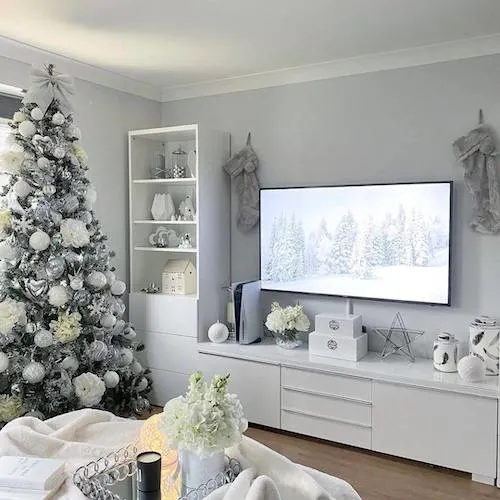 White and silver holiday decor ideas for Christmas are the epitome of elegance and sophistication.
The combination of these two colors creates a luxurious atmosphere that is perfect for celebrating the festive season in style.
One way to incorporate white and silver into your holiday decor is by using them as the dominant colors in your Christmas tree.
Opt for white or silver ornaments, ribbons, and lights to create a stunning centerpiece for your living room.
In addition to a beautiful tree, you can also use white and silver accents throughout your home to create a cohesive look.
Consider adorning your mantel with silver candle holders, white stockings, and garland made from metallic baubles.
For an extra touch of glamour, hang sparkling silver snowflakes from the ceiling or chandeliers.
Don't forget about the dining table – place settings featuring white plates, silver cutlery, and shimmering snowflake-shaped place card holders will elevate any holiday meal.
White Christmas Decorating Ideas For Bedroom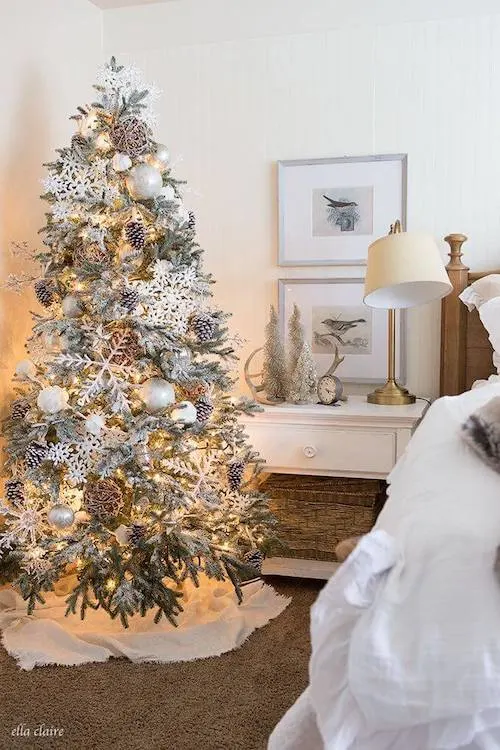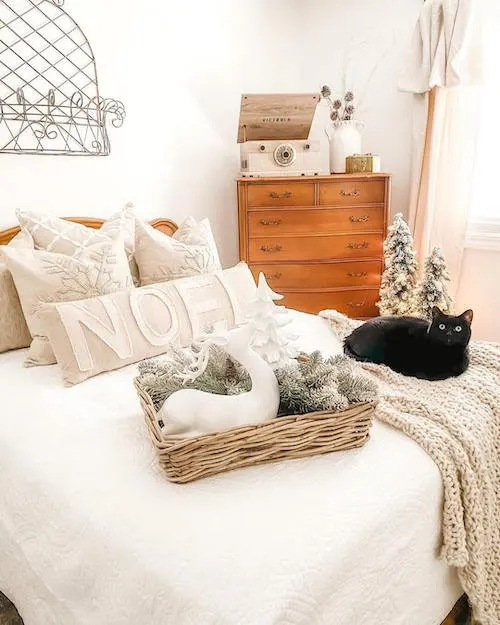 When it comes to the holiday season, there's something undeniably magical about a white Christmas.
The serene beauty and crispness of freshly fallen snow can be effortlessly translated into your bedroom decor.
To achieve a cozy yet chic white Christmas look, opt for soft, fluffy white bedding adorned with silver or gold accents.
Add texture and warmth with faux fur pillows or blankets in shades of ivory or champagne, creating an inviting atmosphere to snuggle up in on those cold winter nights.
Don't forget about the power of lighting when it comes to creating an enchanting white Christmas bedroom.
Twinkle lights are an absolute must-have!
Hang them around your bed frame or drape them across your headboard for a dreamy effect that mimics the stars twinkling overhead on a snowy night.
You could even hang sheer curtains behind your bed and string lights through them to create a whimsical canopy that will make you feel like you're sleeping in a winter wonderland.
White Christmas Home Decor Ideas For Living Room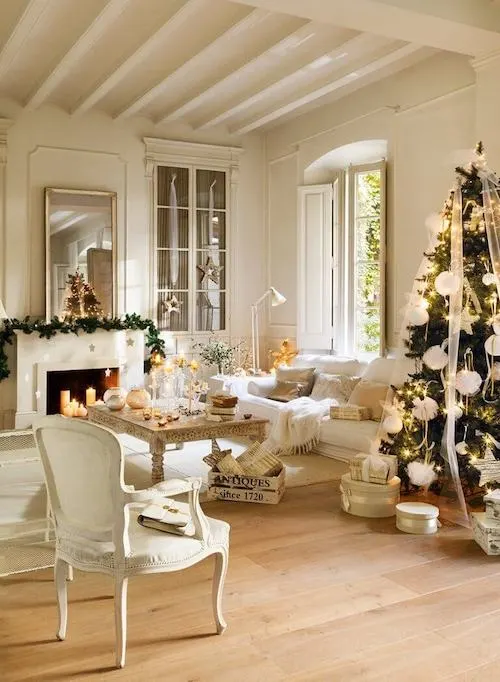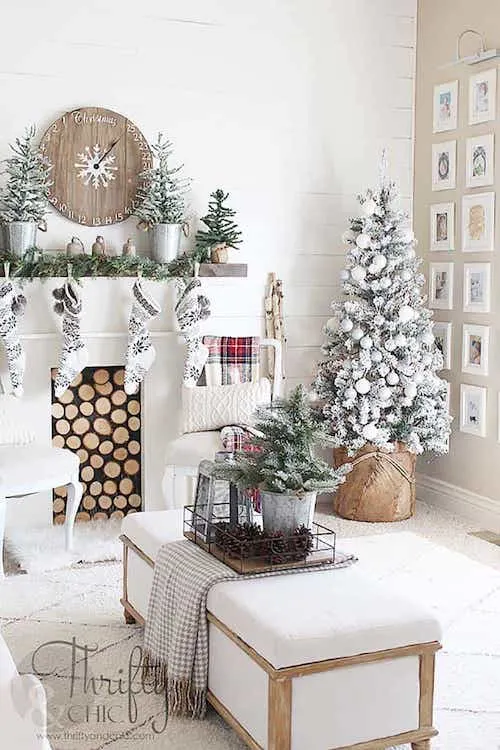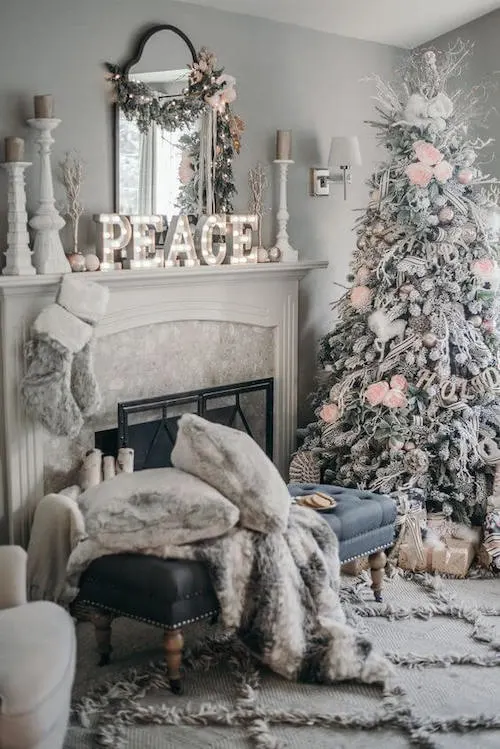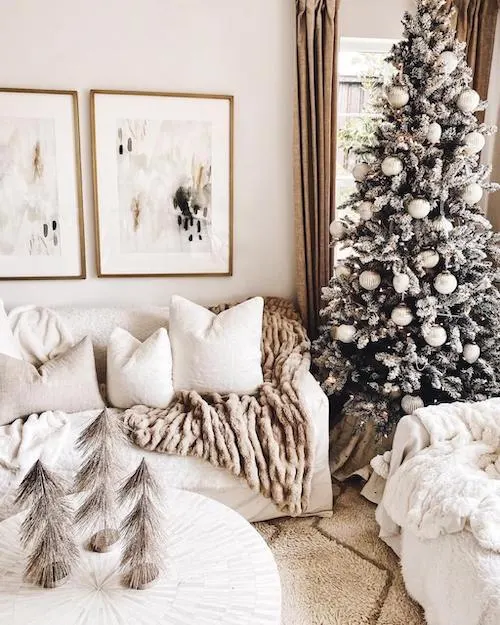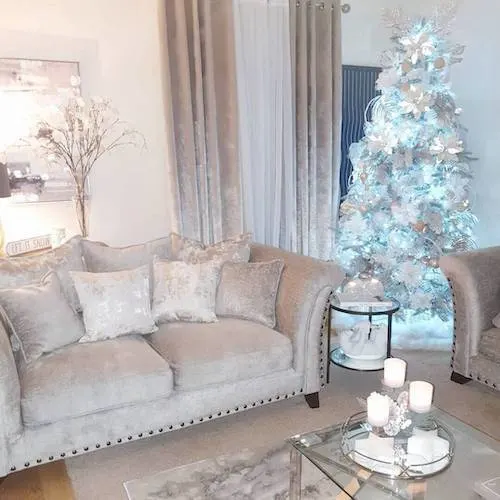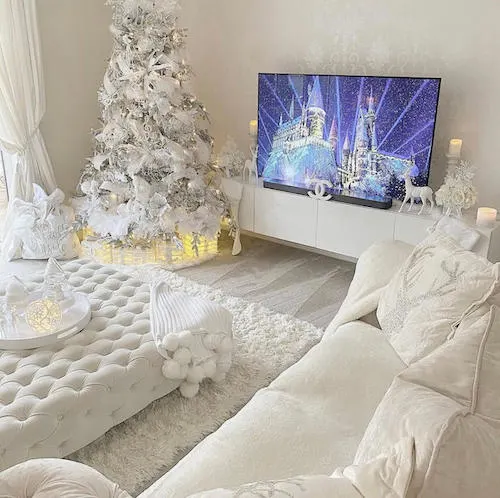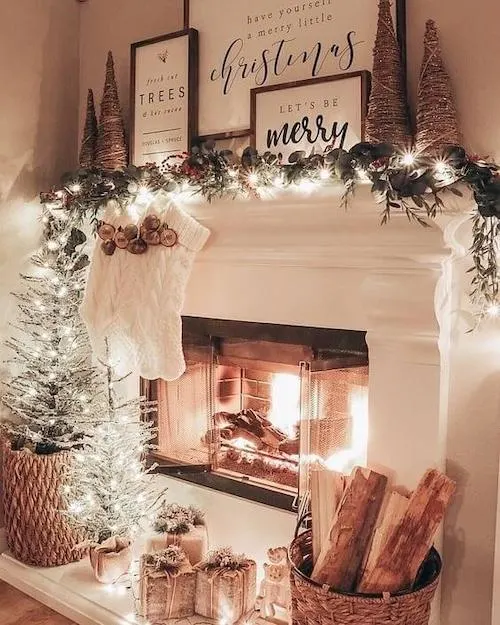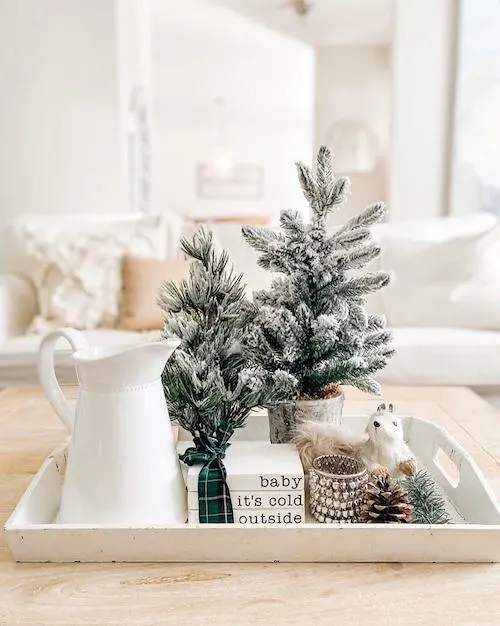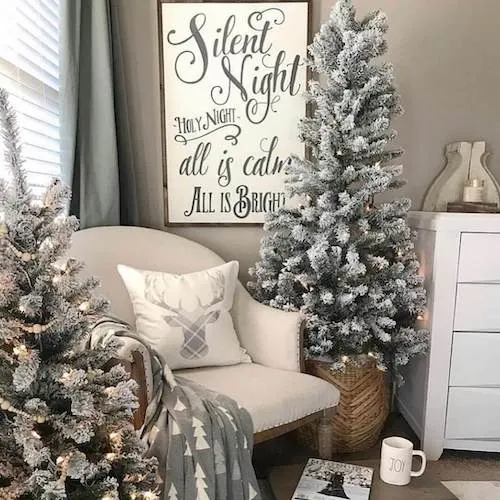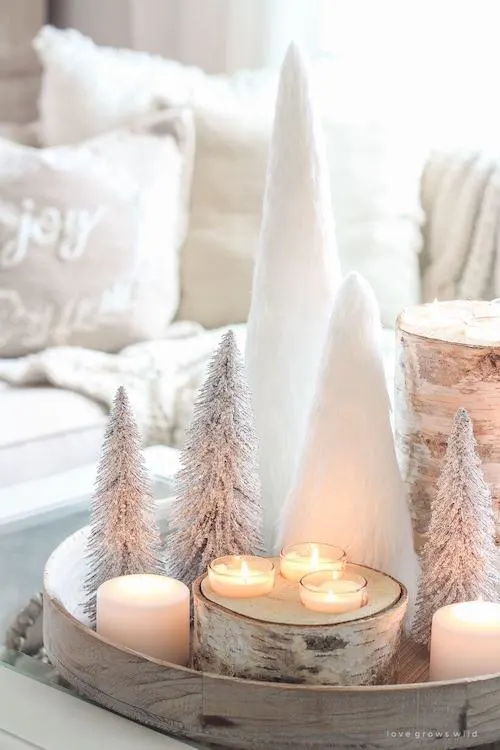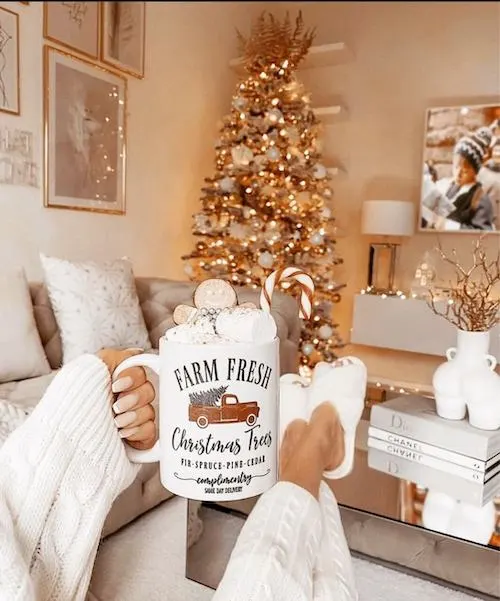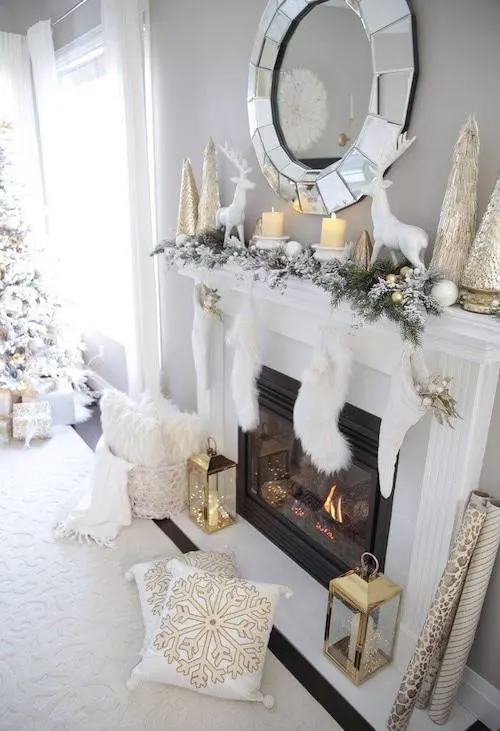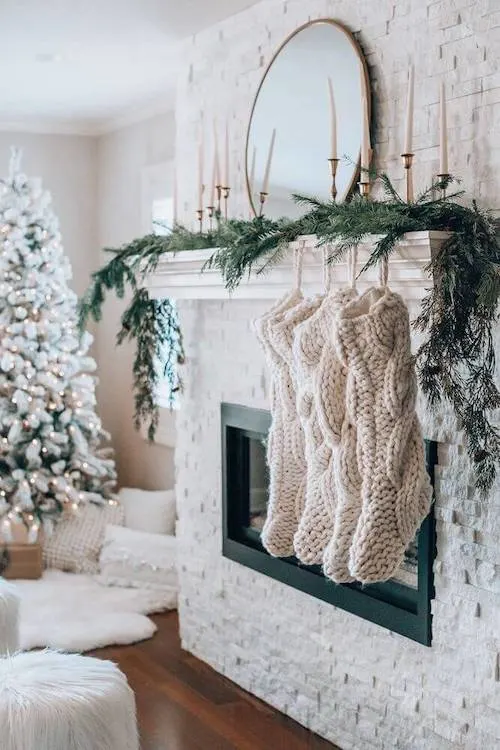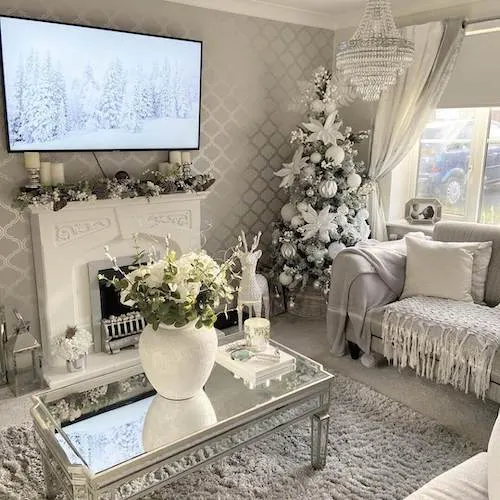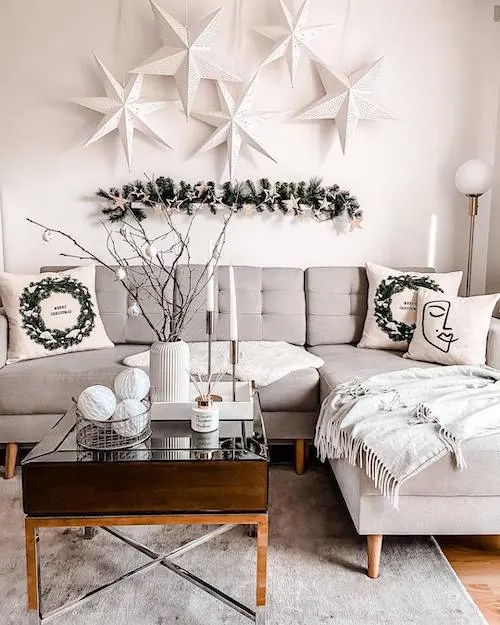 The living room is the heart of any home during the holidays, and with a white Christmas theme, you can create a winter wonderland that will leave your guests in awe.
Start by adorning your fireplace mantel with white stockings and silver or gold accents.
Hang a wreath made of frosted pinecones above the mantel for an added touch of elegance.
Next, focus on the centerpiece of your Christmas living room – the Christmas tree.
Opt for a flocked or artificial tree to get that perfect snowy look.
Decorate it with all-white ornaments like snowflakes, stars, and glittery baubles to add sparkle and sophistication.
Tinsel garlands in shimmering silver or delicate ice blue can be draped around the branches for an extra touch of glamour.
Don't forget about lighting!
Strategically place white fairy lights around your living room to create a warm and inviting ambiance.
Consider adding large pillar candles in elegant silver candleholders as well – they not only provide beautiful illumination but also give off a cozy scent.
White Christmas Decor Ideas For Table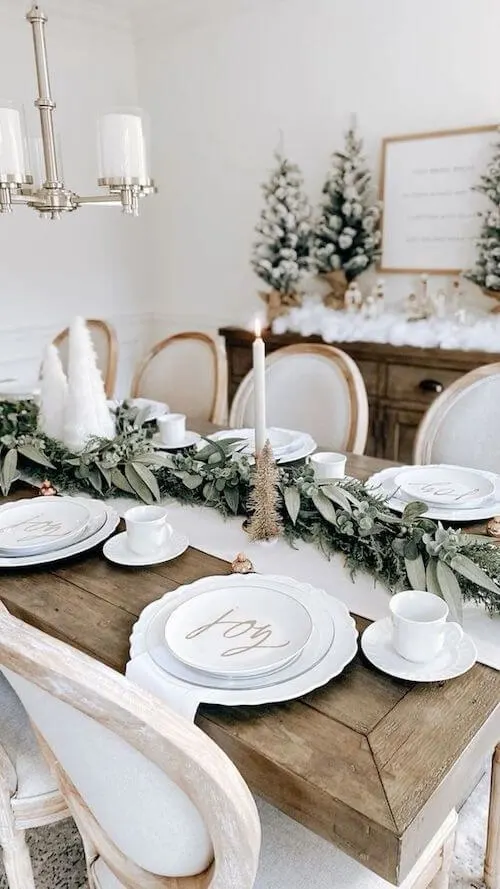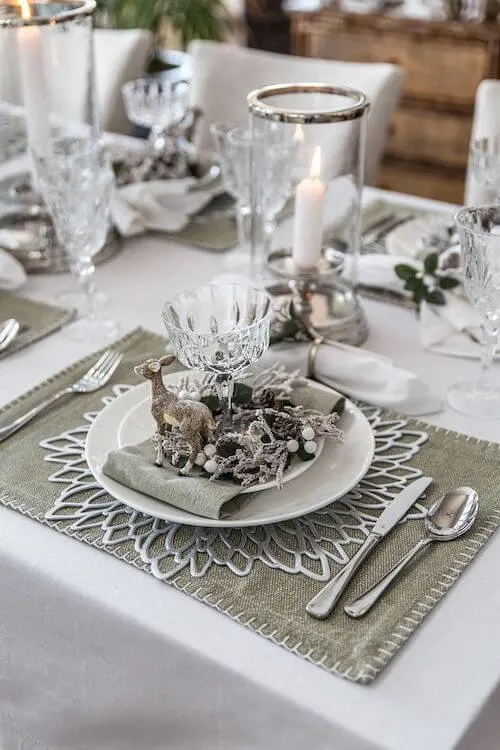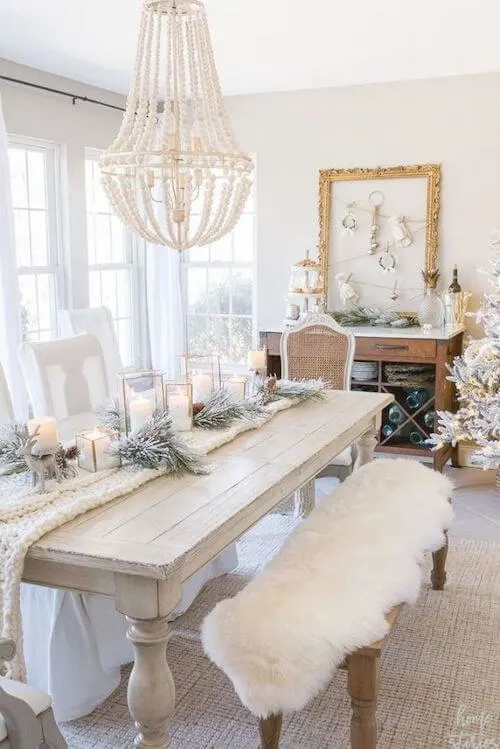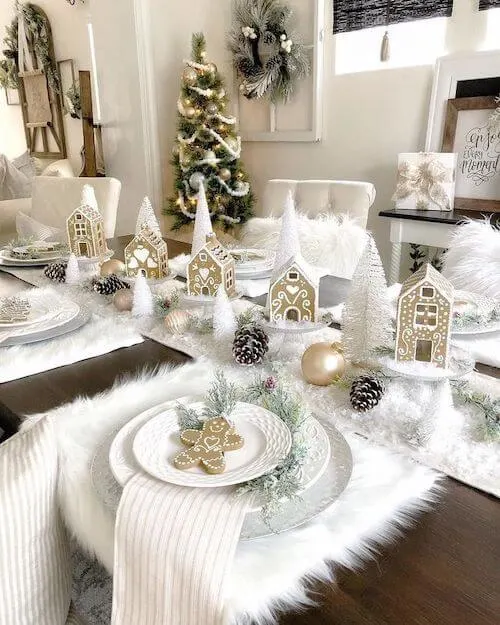 When it comes to creating a chic and elegant Christmas tablescape, white is always a timeless choice.
The purity and simplicity of white Christmas color instantly create a sophisticated atmosphere, perfect for celebrating the holiday season in style.
One idea to incorporate white into your table decor is to use white linens as the base.
Opt for crisp white tablecloths or runners, and layer them with delicate lace doilies or embroidered napkins for added texture.
To add some sparkle and glamour to your white Christmas tablescape, consider incorporating silver accents.
Silver candle holders can instantly elevate the overall look and create a sense of luxury.
A touch of greenery will also bring life to an all-white setup.
Try adding small evergreen branches or eucalyptus leaves as natural accents on each place setting or in a wreath centerpiece.
For those looking for a modern twist on the traditional white Christmas decor, consider adding pops of color to your table design.
Incorporate vibrant red berries or deep green foliage into a predominantly white arrangement for contrast and visual interest.
You could also experiment with different shades of white – ivory, pearl, snow – to create depth within your table decor.
This post was all about white Christmas decor ideas.
About The Author
Tracy is an experienced personal stylist, shopping expert, and fashion & lifestyle blogger. She has been featured on Time Magazine, Bustle, Best Life, Glam, The Zoe Report, Mic, and GOBankingRates, for her insights on fashion, beauty, home decor, and lifestyle. Read More
Related Posts: