Looking for the best fall couple photoshoot ideas? Check this post for expert tips, poses, color schemes, and outfit ideas for your coming fall couple session!
Are you ready to capture the essence of autumn with your significant other?
Fall is the perfect season for cozy sweaters, colorful foliage, and romantic moments.
Whether you're looking to update your social media profiles or create lasting memories together, we've got you covered with our list of the 80+ best fall couple photoshoot ideas!
From picturesque pumpkin patches to dreamy apple orchards, this article will inspire you to embrace the beauty of the season and create stunning images that will make everyone swoon.
Get ready to snuggle up, strike a pose, and let love shine through in every frame.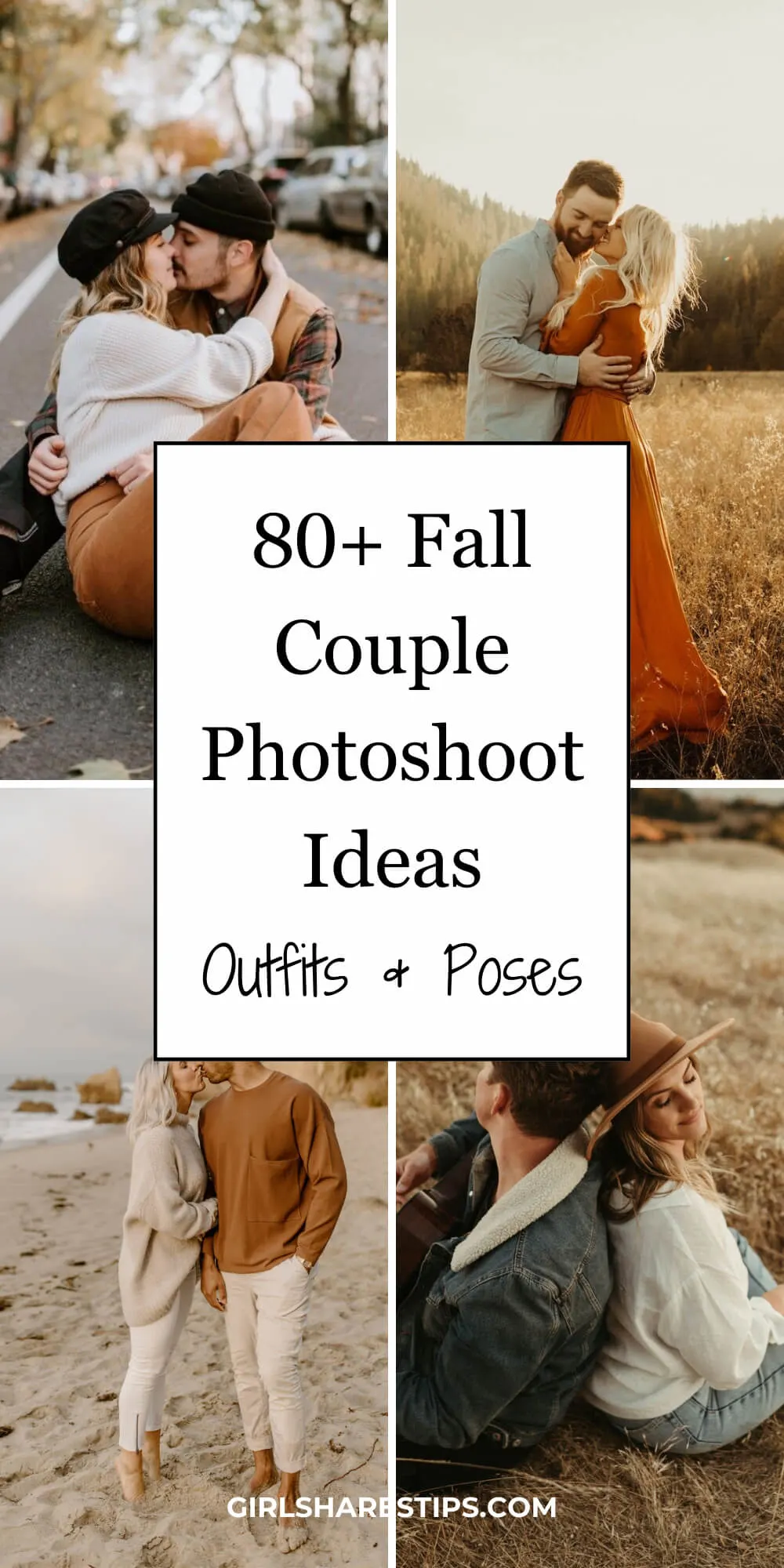 This post may contain affiliate links, which means I'll receive a commission if you purchase through my link, at no extra cost to you. Please read the full disclosure here.
This post is all about fall couple photoshoot ideas.
Best Tips For Fall Engagement Photoshoots
Chat with your professional photographers
Choosing a professional photographer for your fall couple photoshoot is an important decision and can greatly impact the outcome of your photos.
To ensure a successful collaboration, take some time to chat with your photographer before the shoot.
This conversation will not only allow you to get more familiar with them but also provide an opportunity for you to express your vision and expectations for the session.
By establishing clear communication and understanding, you can work together seamlessly and create stunning images that truly reflect your unique love story.
When chatting with your photographer, don't be afraid to ask questions about their experience and style.
Understanding their background and approach will give you insight into what to expect during the photoshoot.
Additionally, discussing any specific ideas or concepts you have in mind will help them tailor their creativity to match your vision.
Remember, professional photographers are artists who can bring their expertise and artistic eye to make your fall couple photoshoot memorable.
By having conversations with potential photographers beforehand, you can also build trust and rapport with them.
Feeling comfortable around each other is crucial in order to capture authentic moments during the shoot.
Share details about yourselves as a couple, such as hobbies or interests that could inspire creative shots or locations.
Remember that a great photographer isn't just someone who knows how to operate a camera; it's someone who understands how chemistry between couples translates into beautiful visuals.
Engage naturally with your significant other
When it comes to capturing beautiful moments with your significant other during a fall photoshoot, it's important to let your love shine through naturally.
The key is to engage with each other in a way that feels authentic and reflects the unique bond you share.
Instead of stiff poses and forced smiles, focus on genuine interactions and emotions that will bring depth and meaning to your photographs.
One way to achieve this is by creating a cozy atmosphere.
Find a picturesque location such as a park or autumn-filled trail, where you can snuggle up together under warm blankets or sip hot cider.
The intimate setting will help you both relax and be in the moment, resulting in more natural expressions of love and affection.
Another idea is to incorporate shared activities into your photoshoot.
Whether it's going for a romantic walk hand-in-hand, playing with fallen leaves, or enjoying a fun picnic together – engaging in an activity that you both enjoy will not only make the experience more enjoyable but also enhance the authenticity of the photographs.
Remember, the key is to capture those candid moments where your love for one another truly shines through.
So embrace each other's company, have fun together, and let your natural chemistry be the star of the show during your fall couple photoshoot.
Beautiful Place Ideas For Fall Couple Photoshoot
Fall Park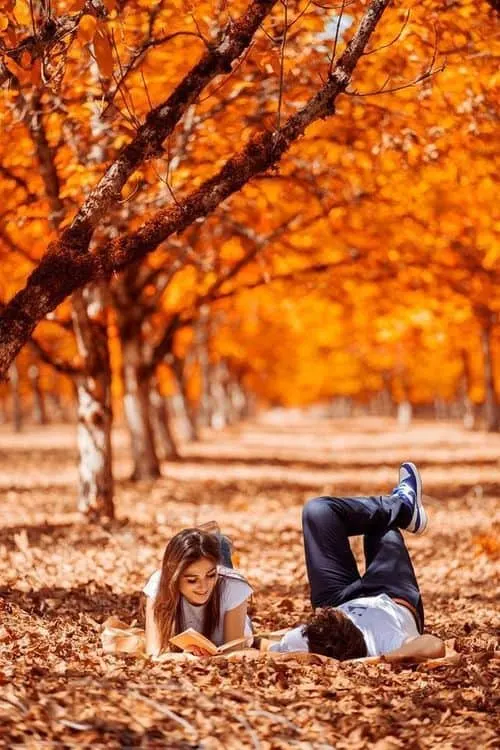 via Pinterest
Fall Park is the ultimate backdrop for a romantic and enchanting couple photoshoot during the autumn season.
As the leaves change their colors, creating a vibrant tapestry of reds, oranges, and yellows, the park transforms into a magical wonderland that sets the stage for unforgettable moments captured on camera.
From strolling along tree-lined paths hand in hand to playfully throwing fallen leaves at each other, Fall Park offers endless opportunities for couples to embrace nature's beauty and showcase their love.
Woods
The crisp autumn air fills the woods, creating a magical setting for a fall couple photoshoot.
As you stroll hand in hand through a maze of towering trees and fallen leaves, the vibrant hues of red, orange, and gold surround you, creating an enchanting backdrop for your love story.
The woods provide a sense of tranquility and serenity, allowing you to escape from the chaos of daily life and immerse yourselves in nature's beauty.
Field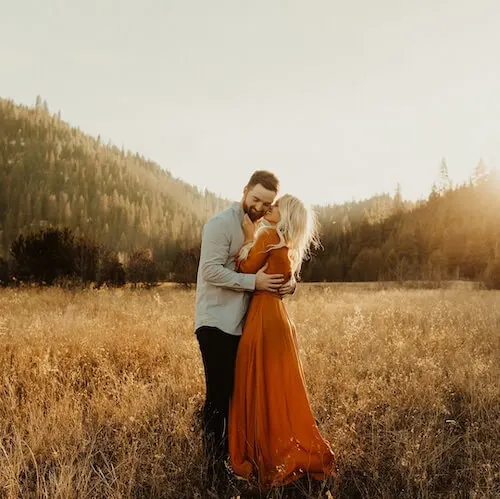 As couples plan their fall photoshoots, a picturesque field emerges as the ultimate backdrop for capturing their love in its purest form.
Surrounded by swaying grasses and colorful autumn foliage, there is an undeniable magic that a field brings to these tender moments shared between two souls.
The open expanse of the field symbolizes unlimited possibilities and the vastness of their love story.
The Place Where You Had Your First Date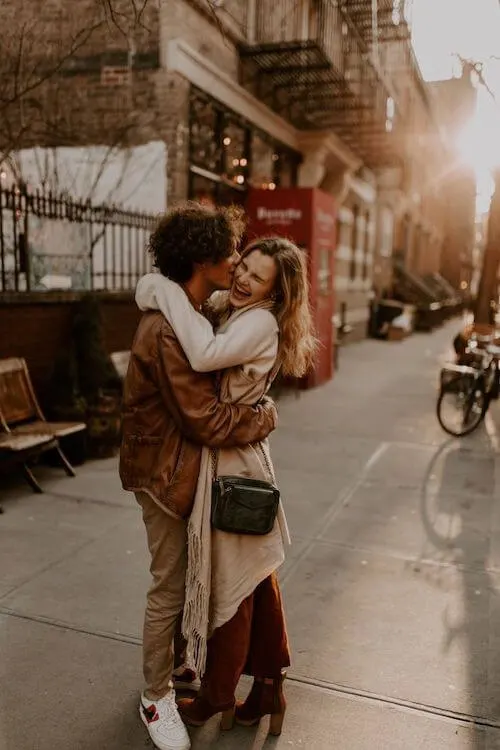 One of the most romantic settings to shoot your fall couple photos is at the place where you had your first date.
This location holds a special significance for both of you and captures the essence of where your love story began.
Whether it's a cozy café, a beautiful park, or a charming street, returning to this spot can evoke a sense of nostalgia and create an intimate atmosphere for your photos.
Rooftop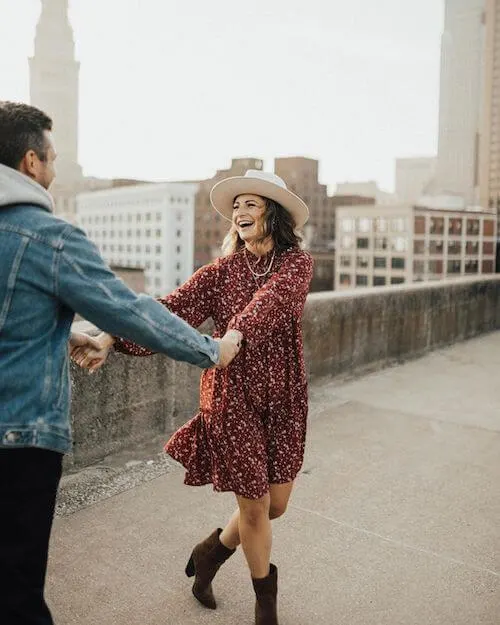 When it comes to finding unique and captivating locations for a fall couple photoshoot, don't overlook the rooftop.
While many photographers opt for picturesque outdoor settings or cozy indoor spaces, the rooftop offers a different kind of charm and intrigue.
Imagine capturing the love between two people against the backdrop of a stunning city skyline or under a blanket of twinkling stars.
Coffee Shop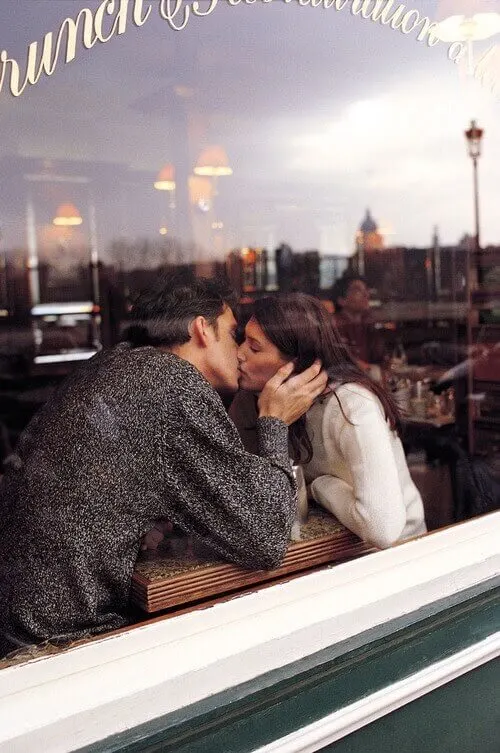 Nestled in a cozy corner of the town, the vibrant coffee shop becomes a setting straight out of a romantic novel during the fall season.
Warm lights twinkle through the windows as lovebirds sip on their steaming cups of aromatic brew, creating an atmosphere that is both dreamy and inviting.
The earthy hues of autumn serve as the perfect backdrop for couples looking to capture intimate moments while enjoying the comforting aroma filling the air.
Pumpkin Patch
Pumpkin patches have become a quintessential fall activity for couples everywhere.
But beyond just picking out the perfect pumpkin for carving or decorating, these patches offer endless possibilities for adorable and romantic moments.
Imagine walking hand in hand through rows upon rows of vibrant orange pumpkins, with the crisp autumn air filling your lungs and a sense of excitement permeating the atmosphere.
Apple Orchard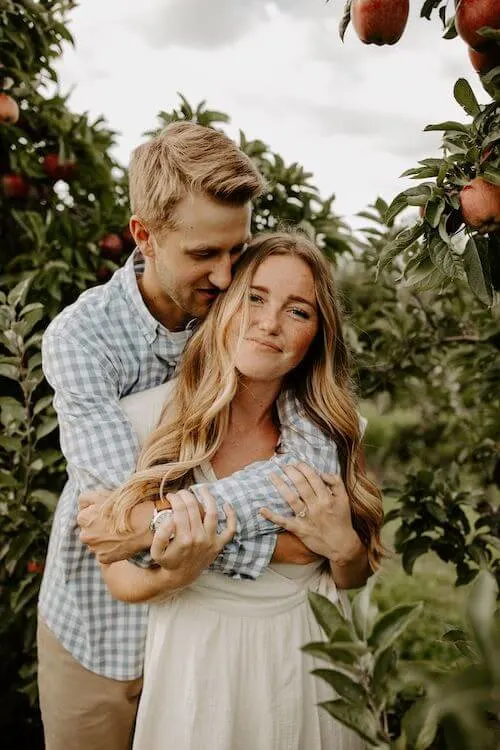 One of the most romantic and scenic locations for a fall couple photoshoot is undoubtedly an apple orchard.
The vibrant colors of the apple trees, the crisp autumn air, and the abundance of delicious fruit create a magical backdrop that can't be replicated.
As you stroll hand in hand through the rows of trees, you'll be enveloped in the sweet scent of apples, with leaves crunching under your feet.
It's a sensory experience that amplifies all your emotions and allows you to truly savor this special time together.
Your Home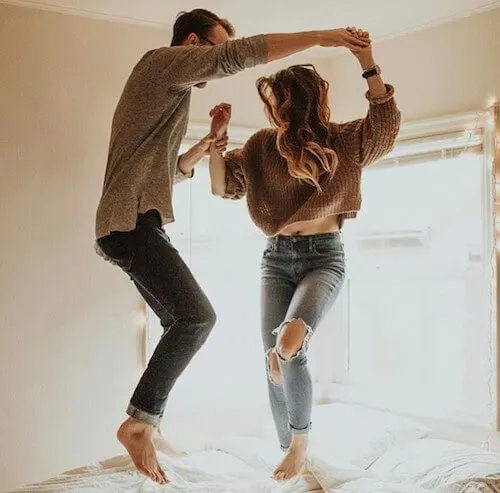 Capture those intimate moments in your fall couple photoshoot by incorporating your home as the backdrop.
Linger in bed with messy sheets and steamy mugs of coffee, capturing the warmth and love that fills each morning shared together.
Don't forget about those quiet corners where you retreat for deep conversations or stolen kisses – these private spaces tell tales of trust and vulnerability within a relationship.
Plus, using your own home as a setting adds an authentic touch that can't be replicated elsewhere.
Train Tracks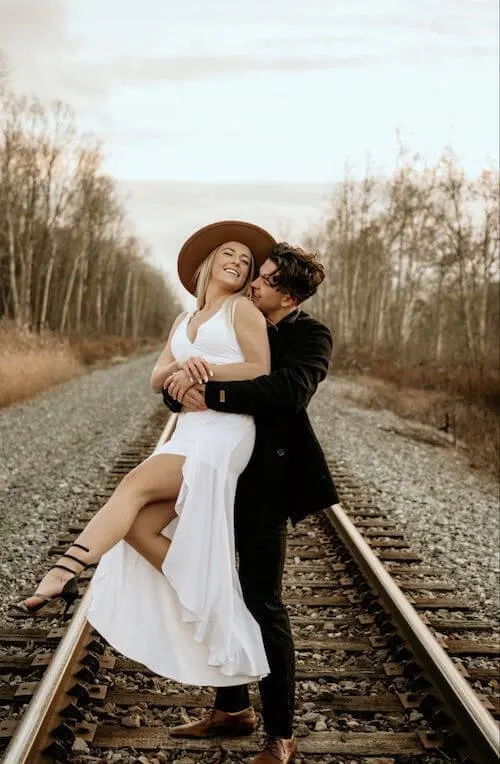 Train tracks can add a touch of nostalgia and adventure to any fall couples photoshoot.
The rustic charm of the metal rails against the backdrop of colorful autumn leaves creates a perfect contrast, elevating the romantic atmosphere.
Photographers can play with different angles and perspectives, capturing the couple walking hand in hand along the tracks or sharing an intimate moment while sitting on one of the railties.
Quiet Street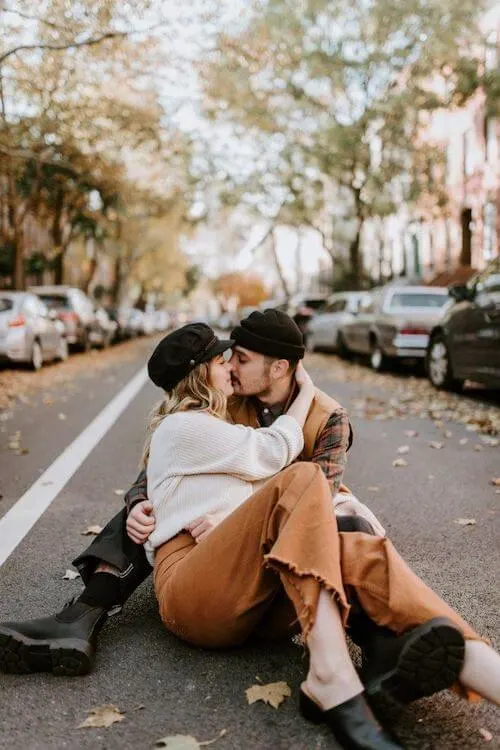 The quiet street is a hidden gem perfect for capturing those intimate moments between couples.
Nestled amidst the bustling city, this quiet street offers a serene backdrop that adds a touch of romance to any photoshoot.
The cobblestone pathway and quaint lampposts set the scene for an enchanting autumnal feel, with leaves gently falling from surrounding trees to create a picturesque atmosphere.
Beach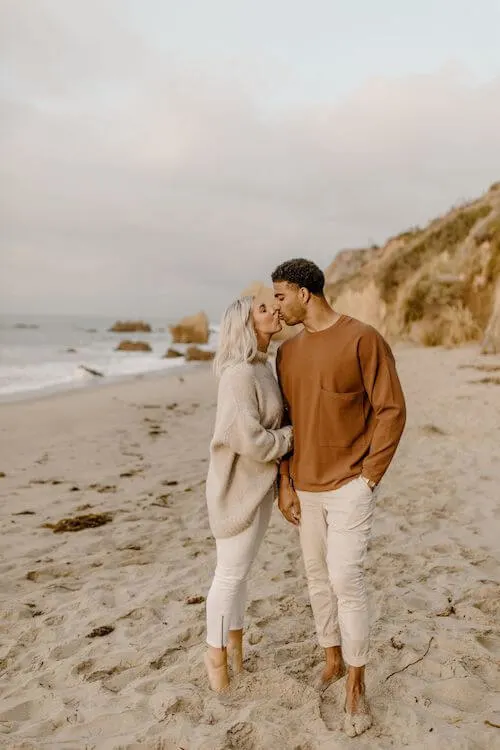 The beach is not just for summer vacations; it can also be the perfect setting for a romantic fall couple photoshoot.
As the warm sun casts its golden glow on the sand, and the gentle breeze tousles your hair, the beach offers endless possibilities for capturing those intimate moments with your loved one.
Whether you choose to walk hand in hand along the shoreline, playfully splash in the waves, or cuddle up under a cozy blanket as you watch the sunset, the beach provides a natural and breathtaking backdrop for creating beautiful memories.
Creative Couple Fall Photoshoot Ideas: Poses, Props, Set Up
When it comes to creative fall photoshoot ideas for couples, there are endless possibilities.
One idea that never fails to impress is using the natural backdrop of autumn hues.
Find a picturesque spot with colorful leaves and let nature do its work as you cuddle close and strike candid poses that showcase your love against this breathtaking backdrop.
In addition to the vibrant colors of fall, incorporating props can add an extra touch of creativity and depth to your photoshoot.
Consider embracing cozy elements like plaid blankets, pumpkins, or even a hot cup of apple cider in your hands as you walk through an orchard together.
These simple additions not only enhance the overall theme but also invite interaction between you and your partner, resulting in organic moments that truly capture your connection.
Another charming option is setting up different scenes that reflect the essence of fall.
A rustic picnic with warm blankets on the ground amidst colorful foliage will create an intimate atmosphere, showcasing both romance and comfort at once.
Alternatively, head to a local farm where hay bales or cornfields can serve as unique props for playful poses or romantic embraces under sunset skies.
The key is to choose settings that resonate with you both and allow your genuine personalities to shine through in every shot.
Ahead, please check out the best fall photography ideas for couples, including our favorite cute couple poses that you can copy for your next photoshoot directly.
Find A Colorful Pumpkin Wall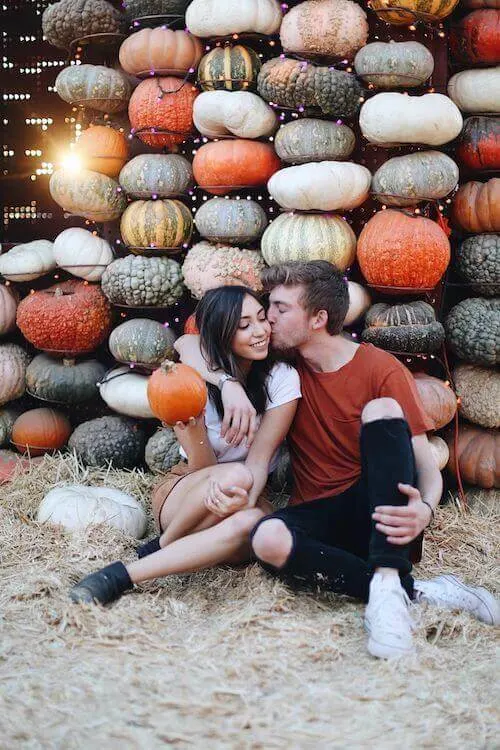 Close Your Eyes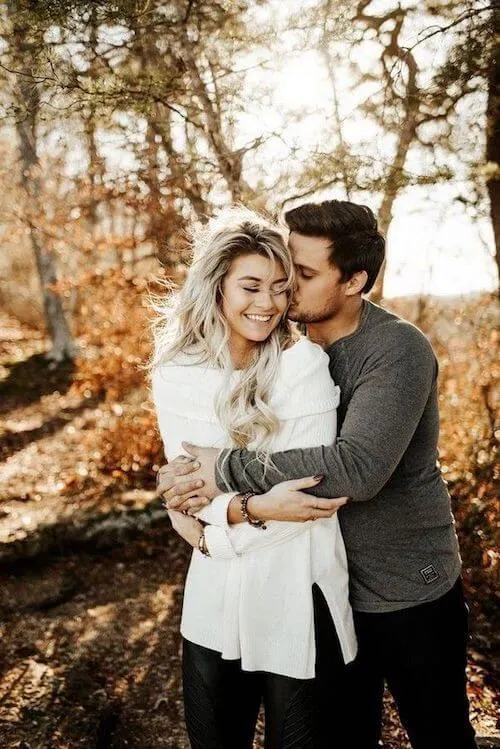 Skateboarding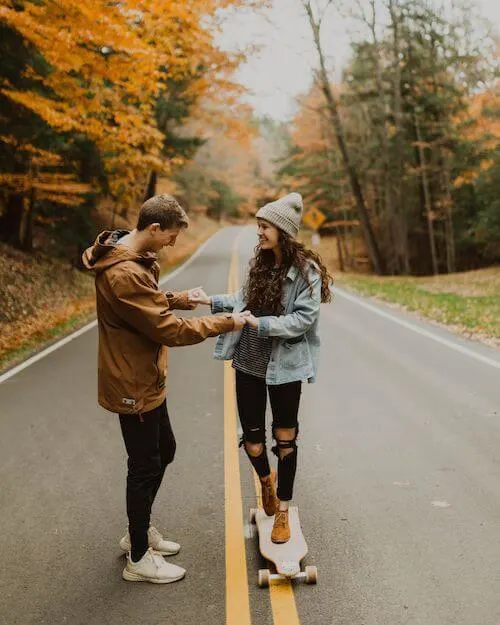 Hold The Pumpkins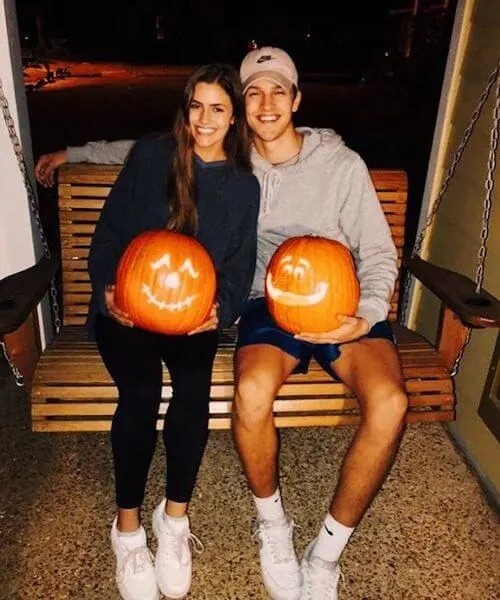 via Weheartit
Casual Cute Laugh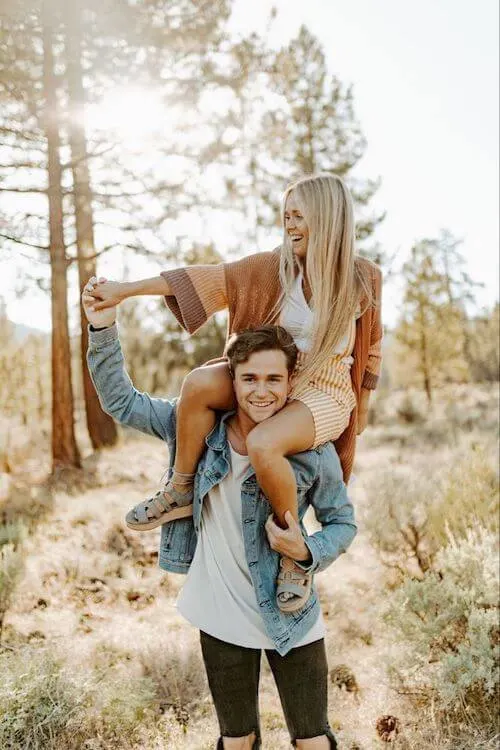 via Pinterest
Lovely Fall Colors
@Emily DeKoster Photography
Pumpkin Patch Hug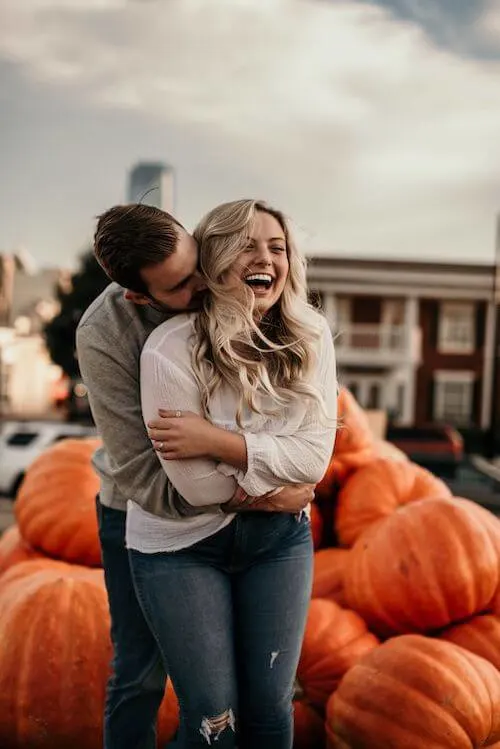 via Pinterest
Enjoy The Golden Hour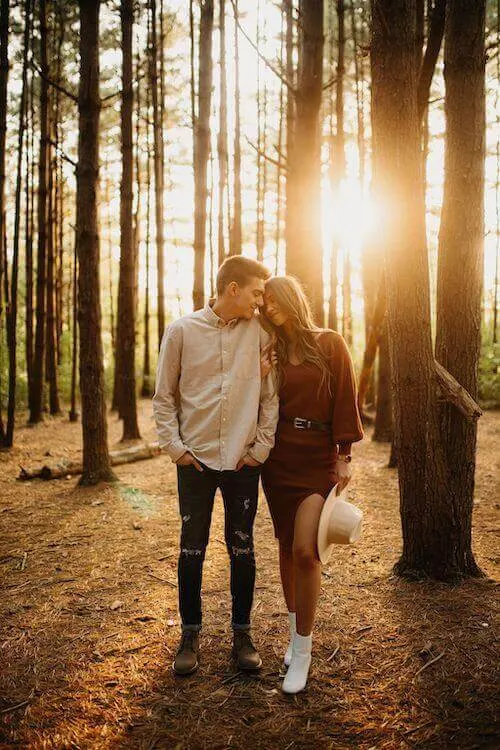 Against The Tree
via Pinterest
Flying In The Beautiful Warm Tones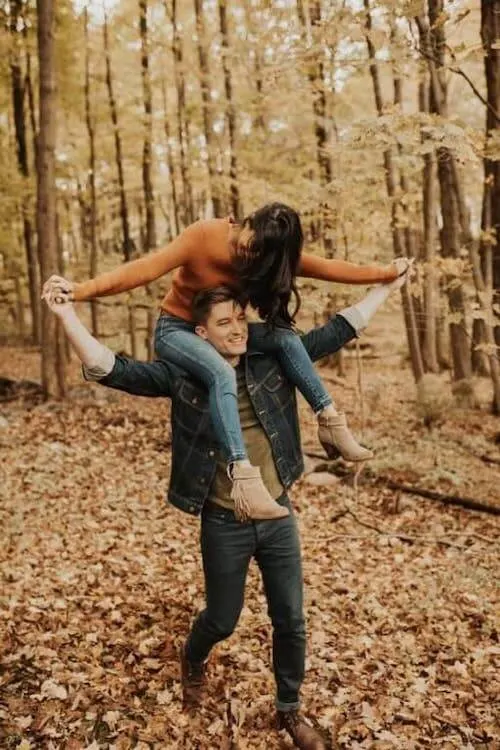 Smoke Bomb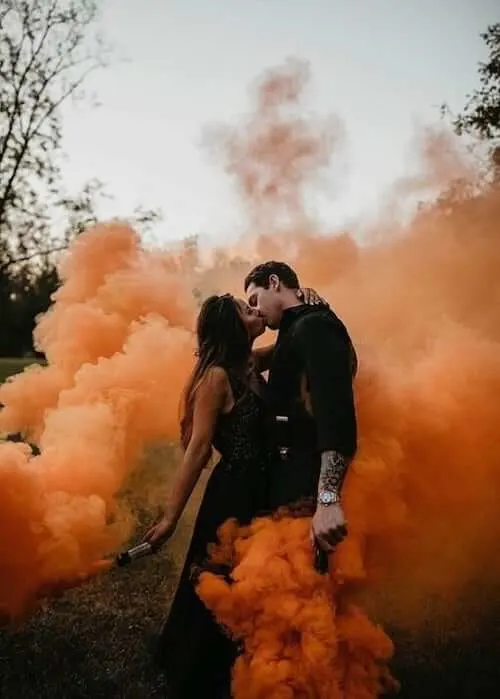 Lying In The Fall Leaves
via Pinterest
Hide Your Kiss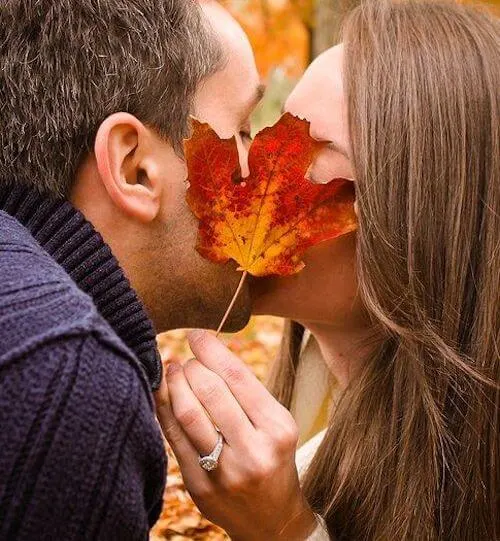 via Pinterest
The Rainy Days
A Romantic Kiss In The Warm Golden Light
A Champagne Session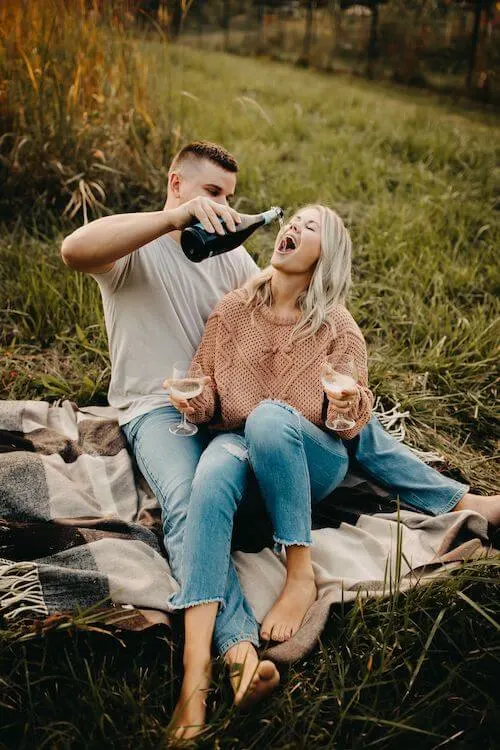 Play In Front Of The Camera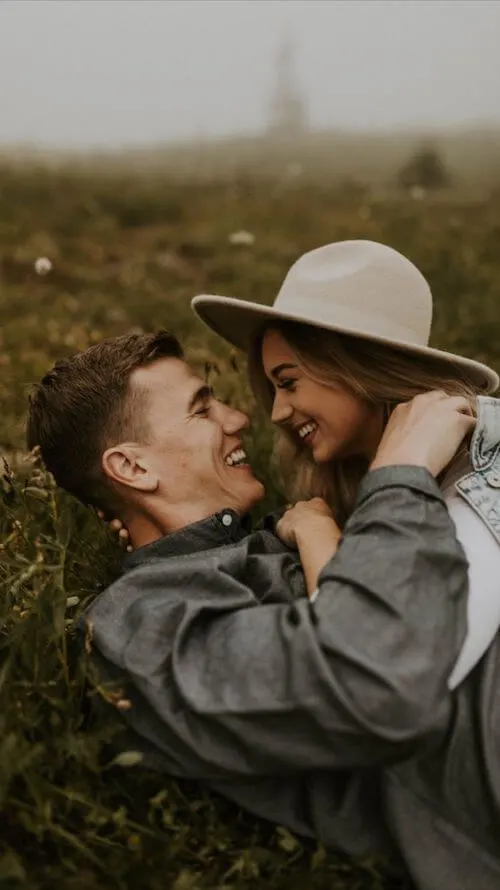 via Pinterest
Whispering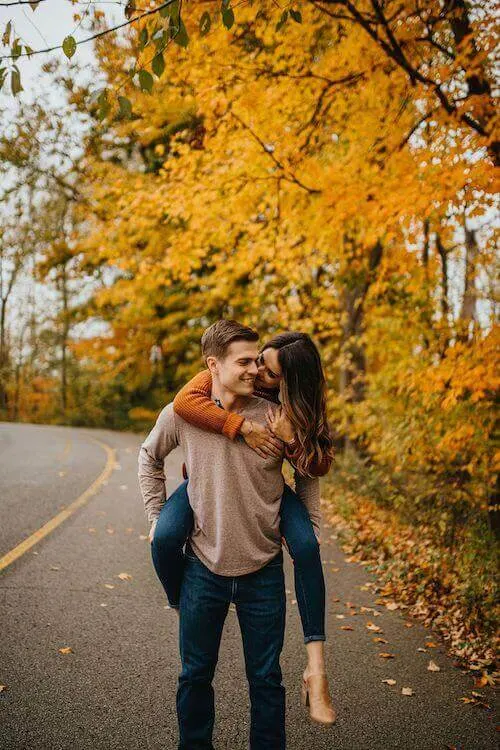 Look Back At You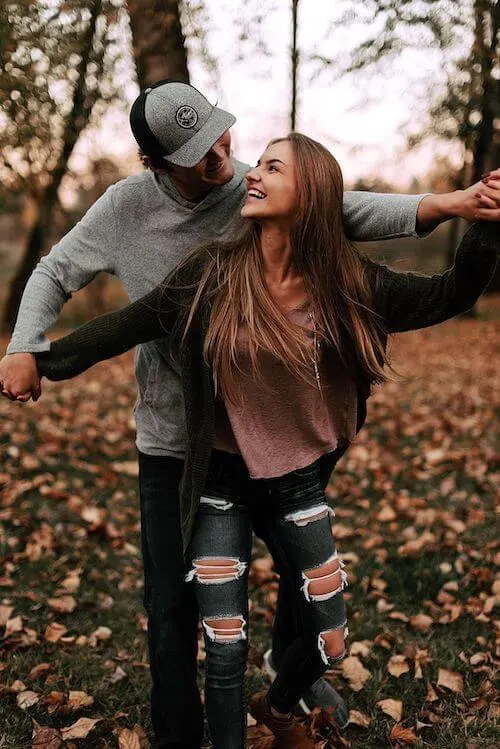 Fall Foliage
via Pinterest
A Heart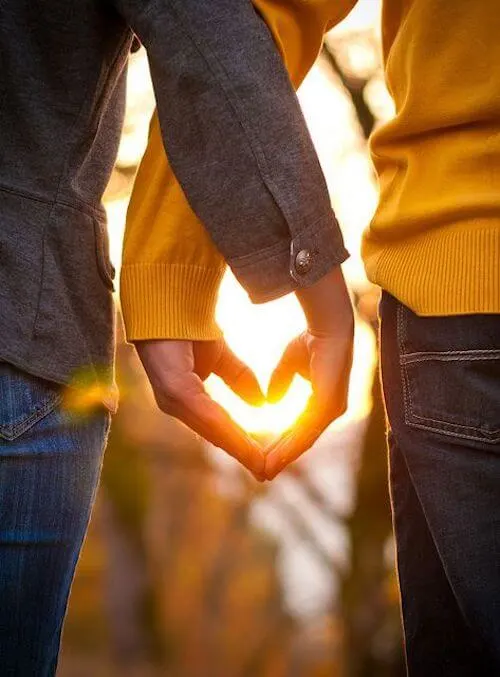 via Pinterest
Cozy Fall Drinks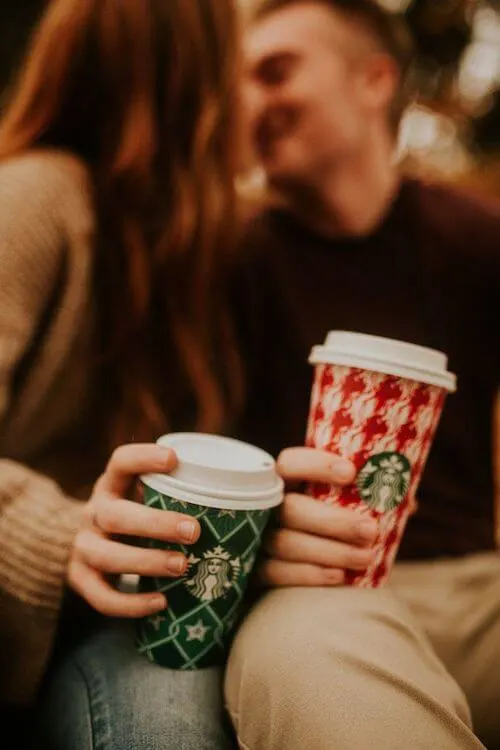 via Pinterest
Raise Your Legs
via Pinterest
Head To Head
via Pinterest
Back To Back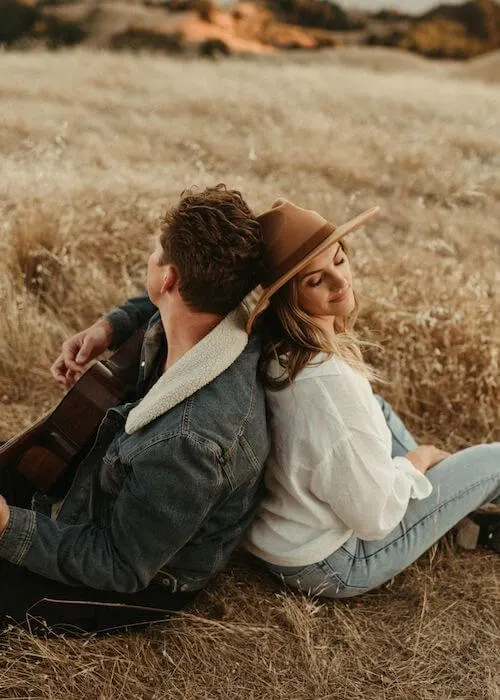 via Pinterest
Sit On The Stairs
A Fall Picnic Date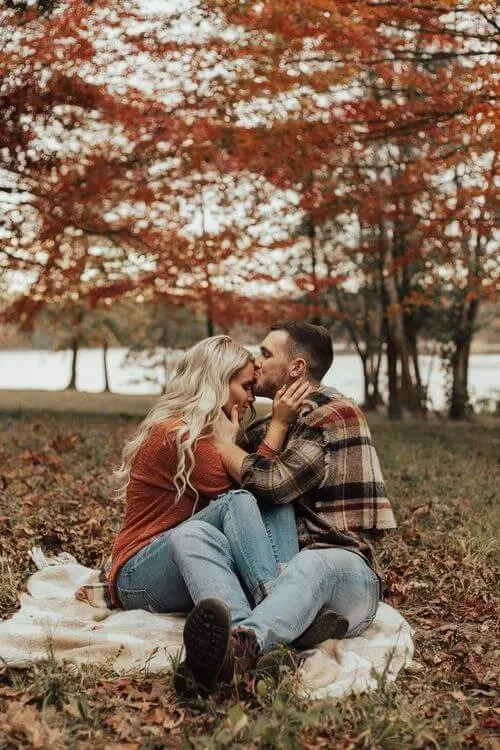 Throw Colorful Leaves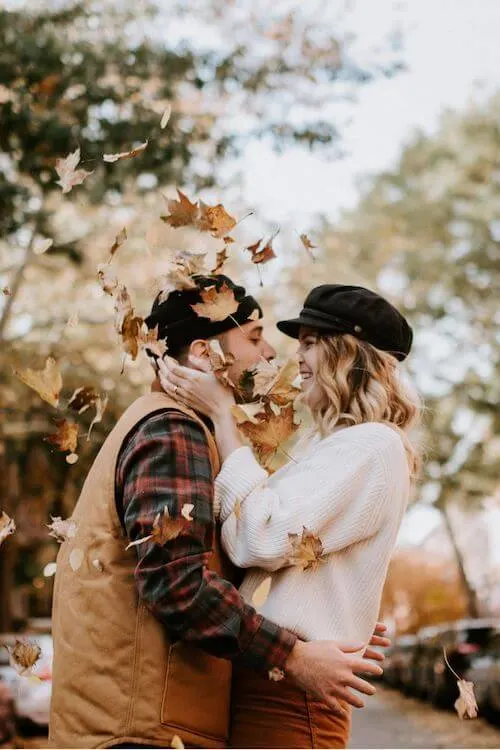 Raise Your Arms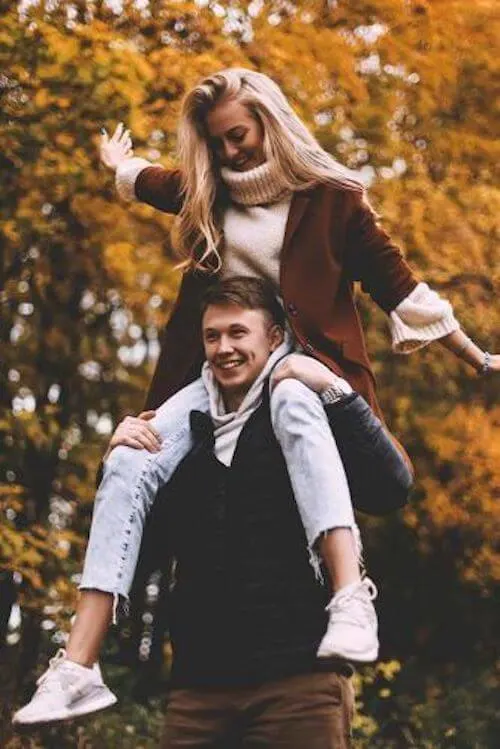 via Pinterest
Spread The Shawl On The Ground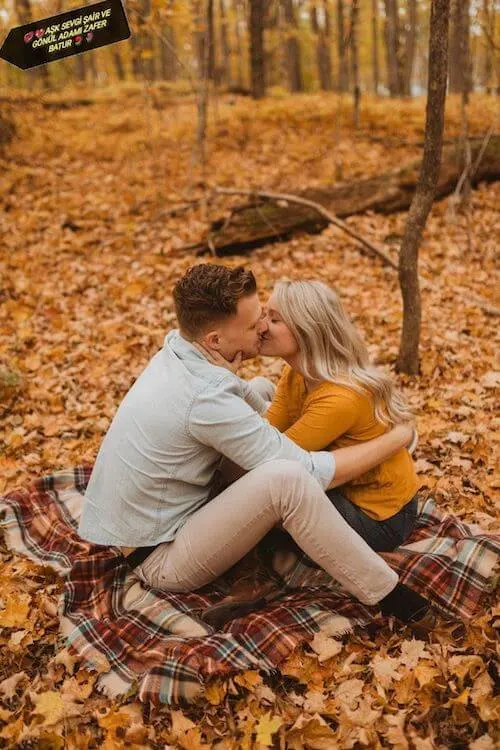 via Pinterest
Add A Cute Hat
via Pinterest
Love Story Full Of Fall Vibes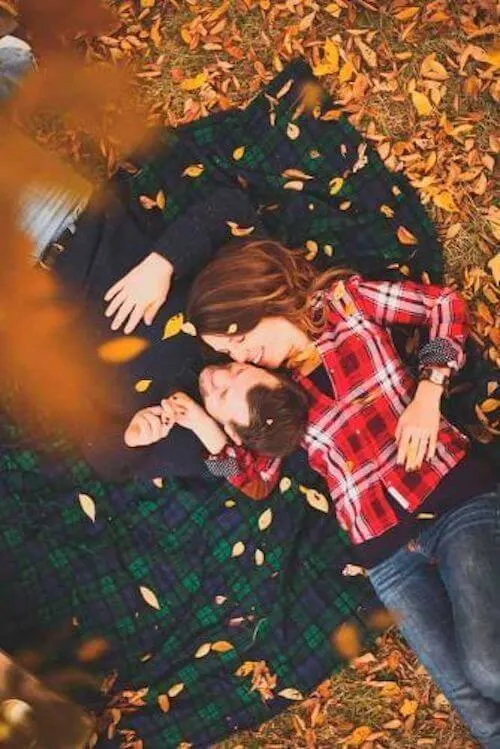 via Pinterest
Use The Hat To Hide Your Faces
via Pinterest
A Heart And High Heels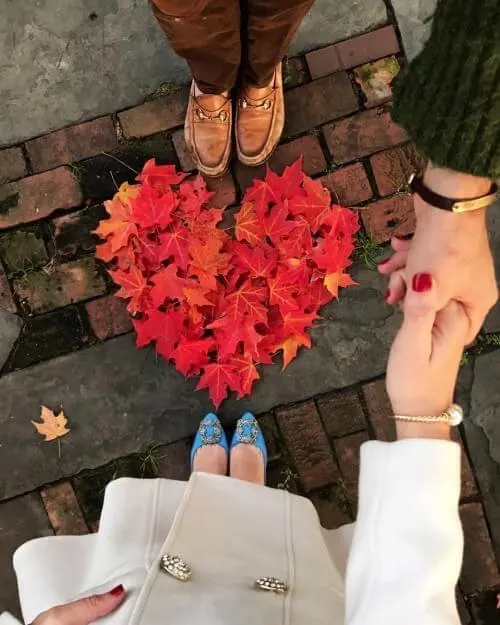 Announcement Of The Big Day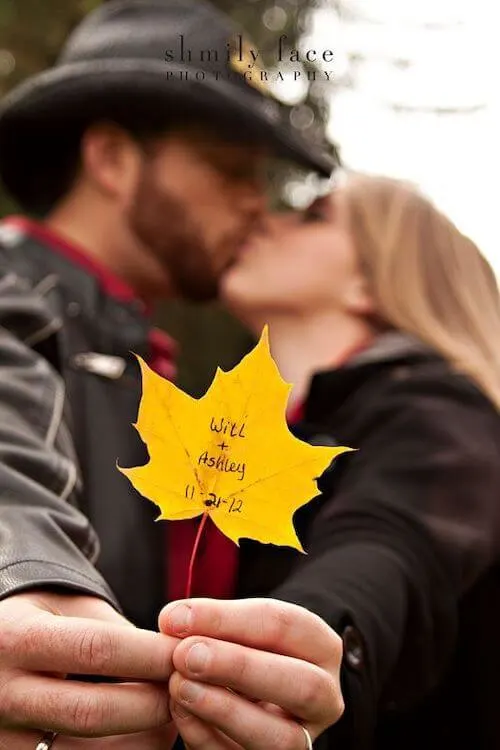 via Pinterest
Touch Your Hand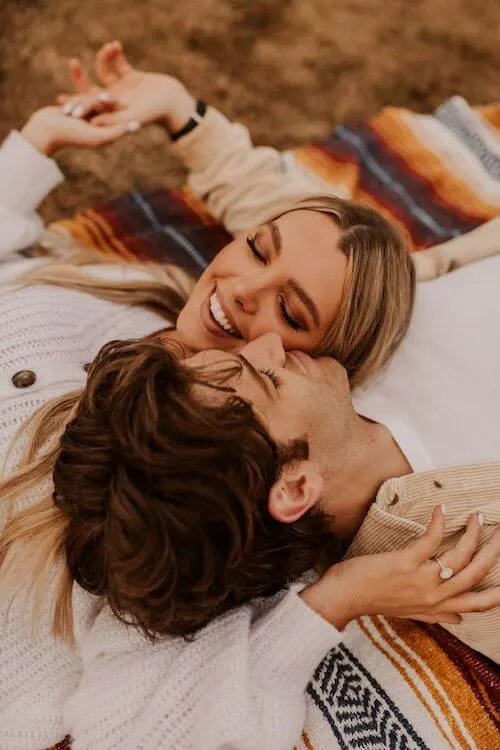 via Pinterest
Kiss With Changing Leaves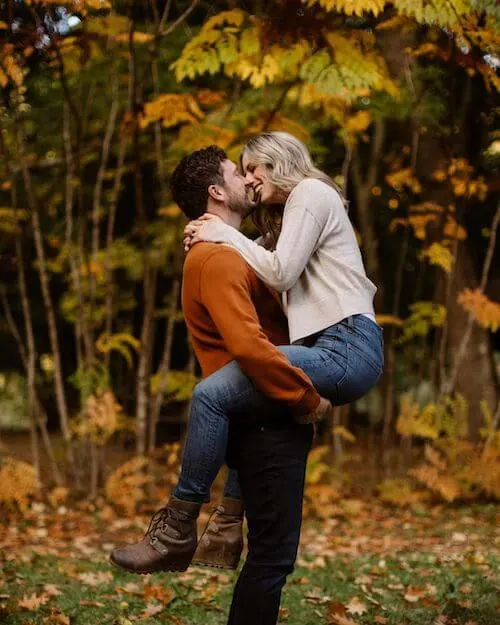 Beautiful Natural Light
A Kiss In The Lovely Field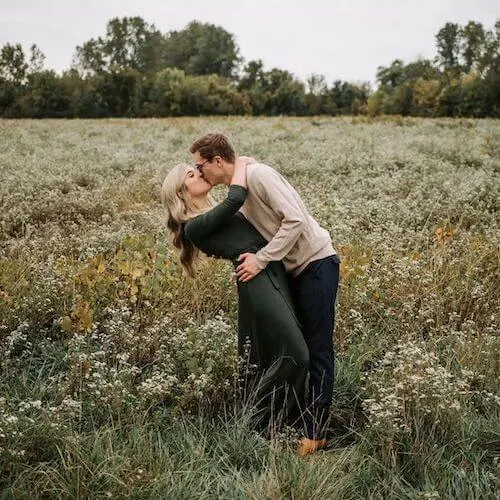 Casually Lie Down In The Field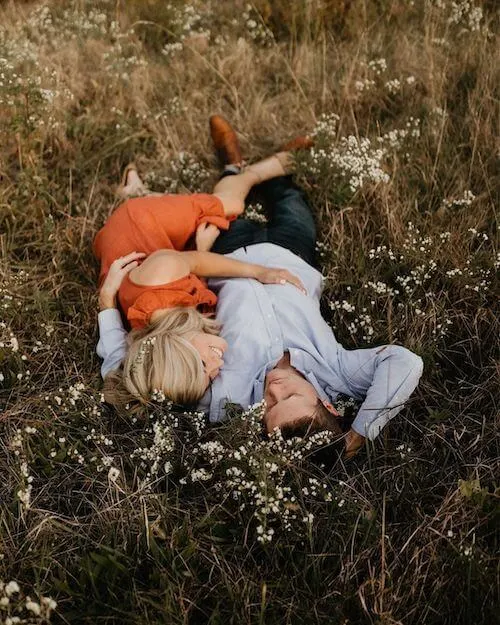 A Close Hug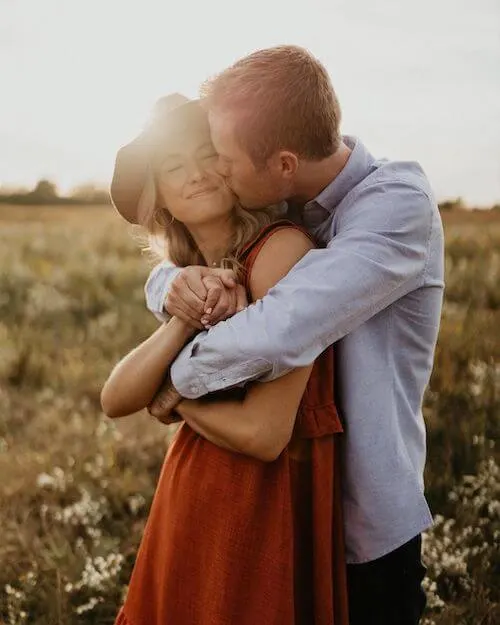 Having So Much Fun Together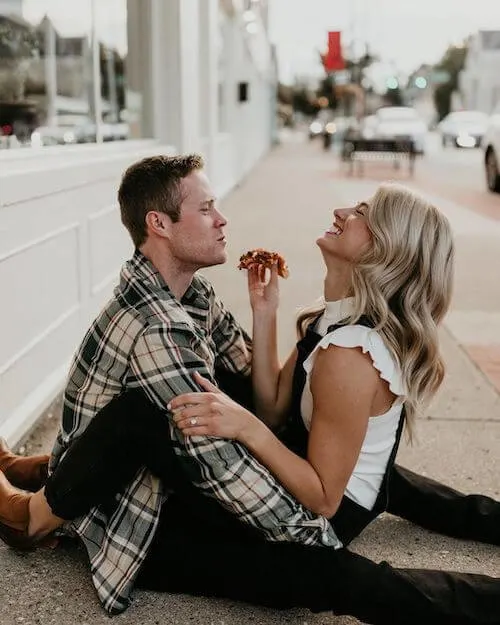 Eye To Eye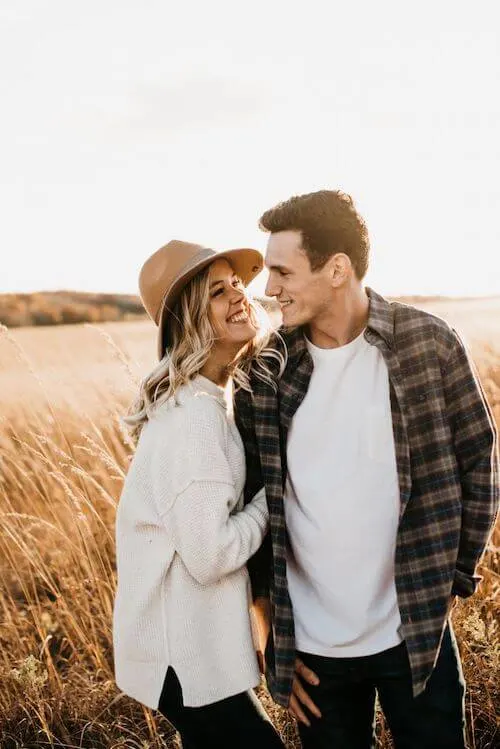 A Close Hug In The Woods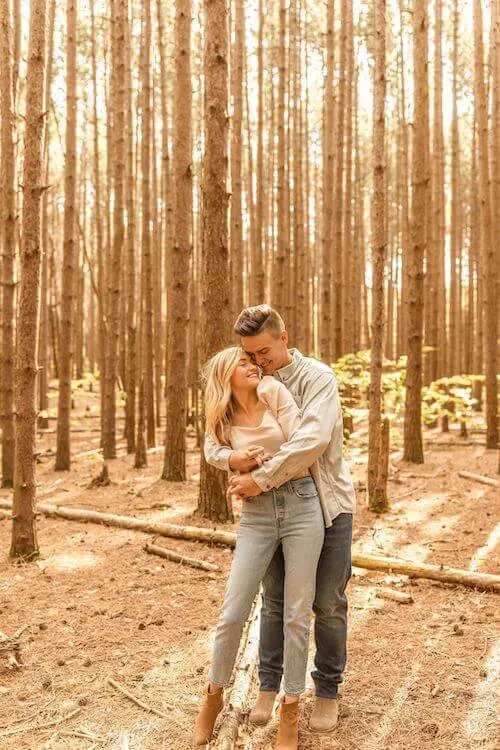 A Kiss On The Rooftop
via Weheartit
A Big Laugh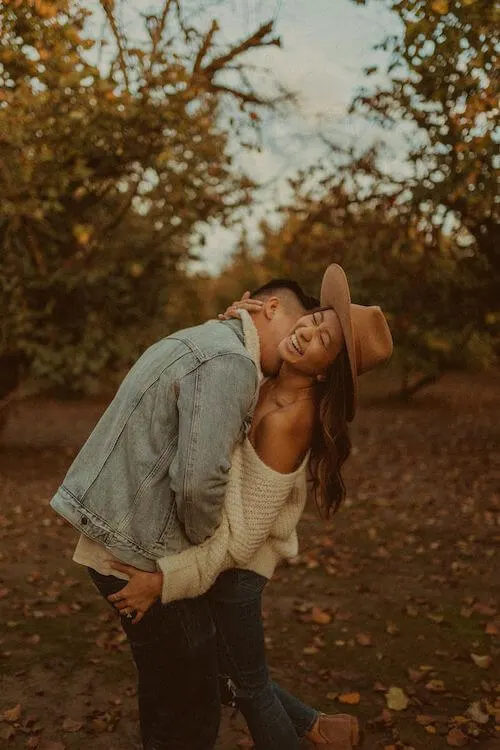 An Apple Picking Date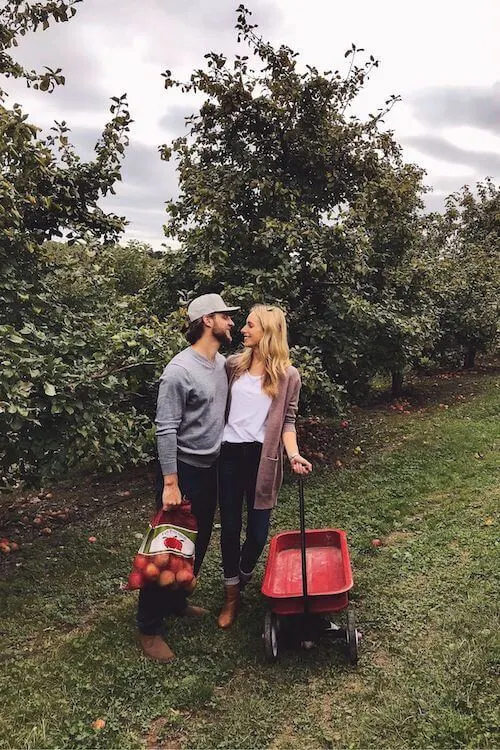 A Fall Escape
via Pinterest
Hug At Home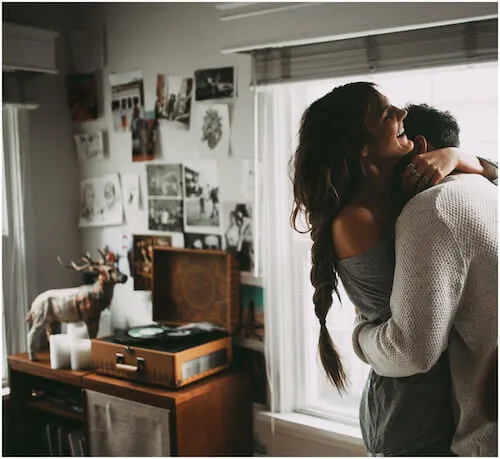 via Weheartit
The Shadows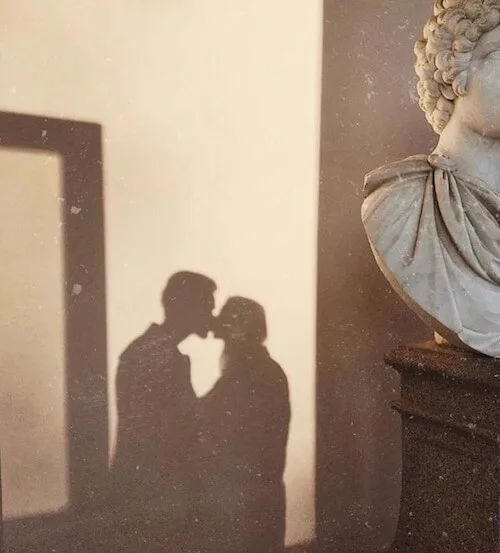 via Weheartit
Visit The Pumpkin Patches And A Pumpkin Patch Kiss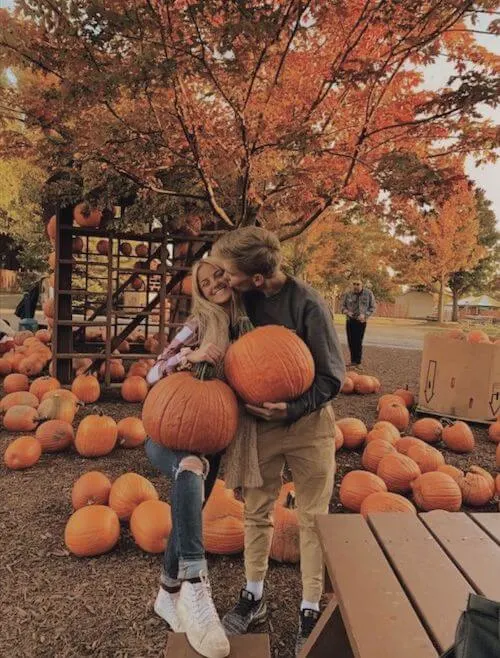 via Weheartit
On The Bridge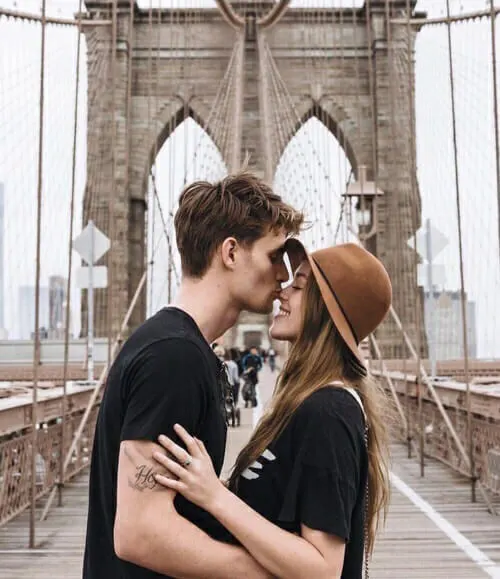 via Weheartit
Gray And Plaids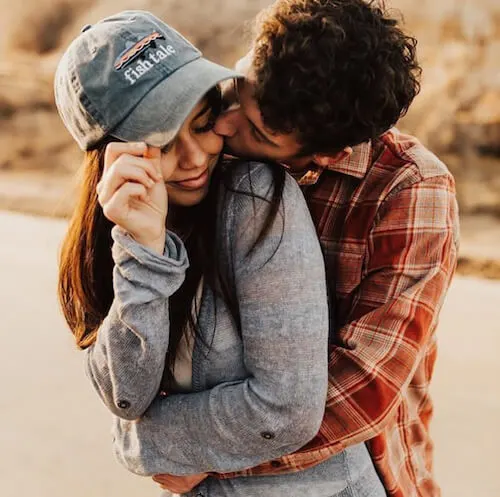 via Weheartit
On The Bench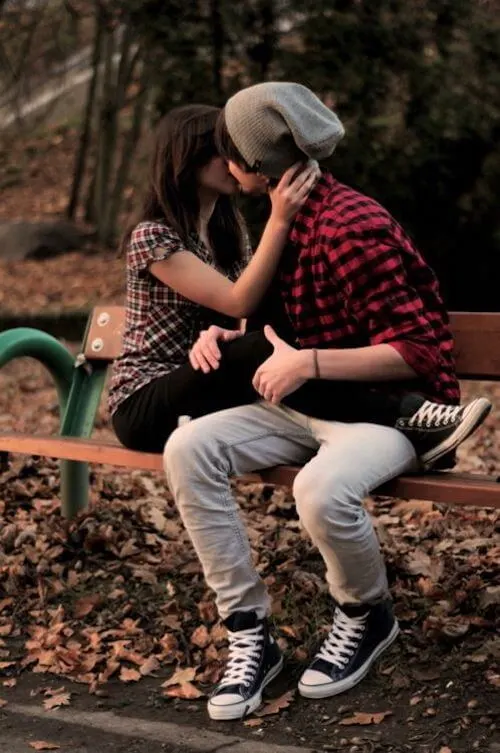 via Weheartit
Fall Engagement Photo Outfits And Color Schemes
Let us share some expert tips to help you nail your fall couple photoshoot outfits.
First and foremost, embrace the rich hues of the season.
Think warm earth tones like burgundy, mustard yellow, and olive green.
These colors will not only complement the fall foliage but also add depth and warmth to your photos.
Don't shy away from patterns either; plaids, stripes, or even florals can create visual interest and showcase your unique style.
Next, consider layering up with cozy textures.
Fall weather can be volatile, so incorporating layers not only adds dimension to your ensemble but also ensures that you're prepared for any temperature changes during the shoot.
Sweaters paired with scarves or cardigans over a dress are great options for women while men can opt for flannel shirts layered over t-shirts or denim jackets over button-downs.
Remember that comfort is paramount when choosing outfits for a photoshoot; if you're uncomfortable in what you're wearing it'll show through in the pictures.
Lastly, accessorize thoughtfully – hats and beanies can bring an element of fun while adding a pop of color.
Burnt Orange Sweater
via Pinterest
The burnt orange sweater is the epitome of fall fashion, and it's the perfect choice for a couple photoshoot against a backdrop of fiery leaves.
This rich color adds warmth and depth to any photo, creating a cozy and intimate atmosphere.
Whether you're strolling hand in hand through an apple orchard or snuggled up together on a hay bale, the burnt orange sweater will make you stand out in nature's vibrant palette.
But what makes this sweater truly special is its versatility.
It can be paired with various styles and colors to create different looks for your couple photoshoot.
For a rustic vibe, try combining it with earthy tones like deep browns or olive greens.
Or for a more modern twist, contrast the burnt orange sweater with shades of gray or navy blue that will enhance its warm undertones.
By experimenting with different combinations, you'll discover how this simple piece can effortlessly transform your fall photos into works of art.
Burnt Orange Maxi Dress
The burnt orange maxi dress is the epitome of fall romance.
Its rich hue captures the essence of the changing leaves and creates a warm and inviting atmosphere for your couple photoshoot.
This dress not only complements the autumn scenery but also adds a unique touch to your photos.
Paired with a denim jacket or chunky cardigan, it exudes a cozy and stylish vibe that will make you look effortlessly chic.
What sets the burnt orange maxi dress apart is its versatility.
Whether you're posing in front of an old barn or amidst a field of golden wheat, this dress blends seamlessly with any backdrop.
Brown And Plaids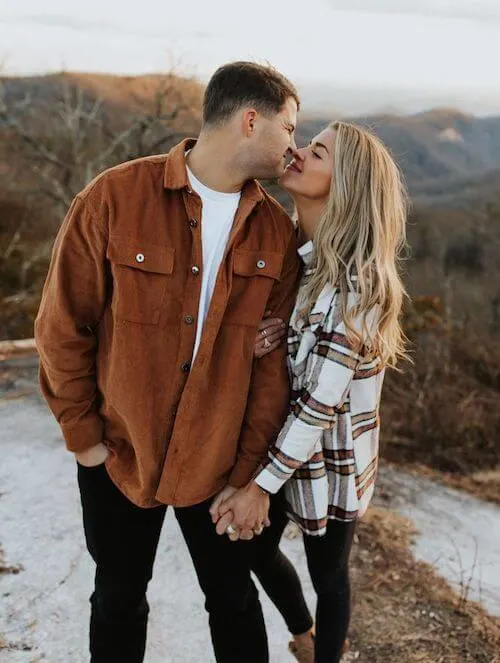 Wear brown and plaids for a fall couple photoshoot to capture the essence of the season in your pictures.
Brown is often associated with warmth and earthiness, making it a perfect color choice for autumn-themed shoots.
It can be incorporated into your outfits through clothing items like sweaters, jackets, or pants.
Plaid patterns, on the other hand, add a rustic charm that complements the fall foliage and creates a cozy atmosphere.
When choosing plaids for your photoshoot, opt for colors like mustard yellow or deep red to bring out the autumnal vibe even more.
Consider coordinating your outfits so that one partner wears a plaid piece while the other incorporates brown into their ensemble.
This creates visual cohesion in your pictures without being overly matchy-matchy.
White And Beige
Fall is a season synonymous with warm hues and cozy vibes, but that doesn't mean you can't rock white and beige in your couple photoshoots.
In fact, opting for these neutral tones can add an elegant and minimalistic touch to your fall shoot.
Picture yourselves strolling hand in hand through a picturesque park, with the golden leaves acting as the perfect backdrop to your crisp white outfits.
The contrast between nature's autumnal palette and the simplicity of your clothing will create a stunning visual impact that is sure to make heads turn.
Brown And Light Gray
For a timeless and effortlessly coordinated look, consider outfitting yourselves in shades of brown and light gray.
Brown is often associated with stability and reliability, while light gray evokes tranquility and sophistication – a beautiful combination that mirrors the seasonal ambiance.
Incorporating these colors into your outfits can be as simple as opting for brown sweaters or jackets paired with light gray trousers or skirts.
The earthy tones will not only blend harmoniously with nature's autumnal hues but also create a visual unity between you and your partner.
Accessorizing with elements like scarves, hats, or belts in coordinating shades can add depth and interest to your ensemble while allowing both individuals' personalities to shine through.
Red Skirt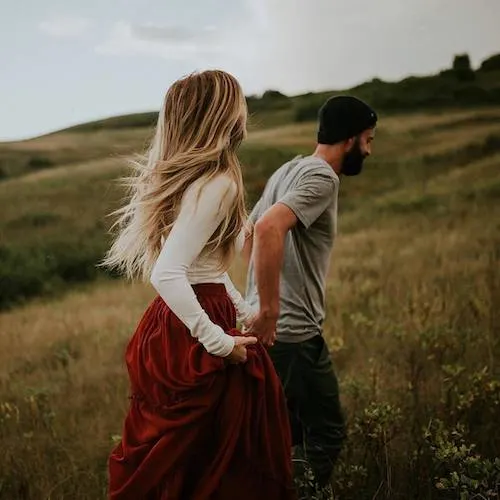 Fall is the perfect time to spice up your couple's photoshoot with a splash of color, and what better way to do that than by wearing a striking red skirt?
The vibrant hue contrasts beautifully with the warm tones of autumn, creating an eye-catching and memorable look.
Whether you're twirling through fields of fallen leaves or strolling hand in hand through a pumpkin patch, the red skirt adds an extra element of romance and energy to your images.
Denim Jackets
Denim jackets are a versatile staple that can instantly elevate any outfit, adding a touch of cool and casual style.
Plus, they provide just the right amount of warmth without overheating during those chilly fall days.
Whether you're going for a rustic country look or a more urban vibe, denim jackets can effortlessly tie your ensemble together.
For an outdoorsy feel, pair your jacket with plaid flannel shirts and jeans or opt for flowy maxi dresses and ankle boots for a laid-back boho-chic aesthetic.
The key is to play with different textures and colors to create dimension in your photos.
Cozy Clothes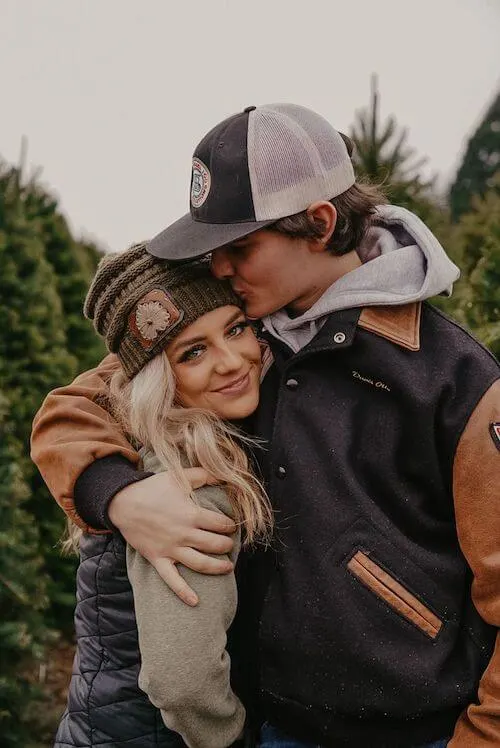 One of the best options for fall couple photoshoot attire is layering.
Opt for chunky knit sweaters, flannel shirts, or wool coats that can be easily mixed and matched.
Not only will this create visual interest in your photos, but it will also keep you both warm during chillier autumn days.
Don't be afraid to play with different textures and colors – think warm earthy tones like burgundy, mustard yellow, or forest green to complement the fall foliage.
Another great choice for cozy attire is incorporating accessories like scarves or hats into your outfits.
These small details can add an extra touch of style while also providing some practicality against the cool fall breeze.
Blue And Red
Why not stray from the norm and add a pop of boldness to your pictures this season?
Opting for blue and red outfits can take your fall couple photoshoot to a whole new level.
The juxtaposition of these two powerful colors creates a striking visual contrast that instantly captures attention.
Picture yourselves amidst a vibrant sea of autumn leaves or against the backdrop of a rustic barn painted in hues reminiscent of these colors.
Light Wash Denim And Dark Gray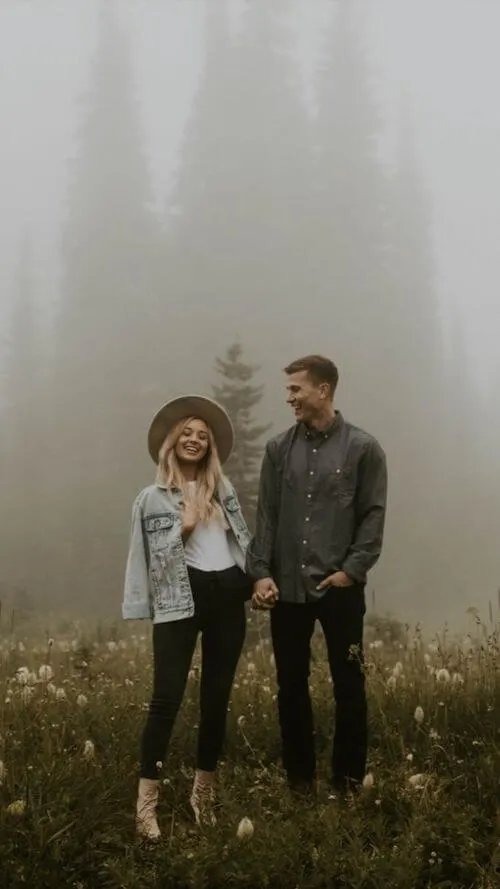 via Pinterest
Wearing light wash denim and dark gray for a fall couple photoshoot is a clever choice that effortlessly captures the essence of the season.
The combination of these two contrasting colors creates a visually appealing dynamic, perfect for showcasing your love against the backdrop of autumn hues.
Light wash denim exudes a sense of ease and relaxation, making it an ideal choice for capturing casual and intimate moments between you and your partner.
Pairing it with dark gray acts as a grounding force, adding depth and sophistication to your photos.
Together, these colors create a harmonious balance that reflects both the carefree spirit of fall and the timeless bond you share.
Yellow Mini Dress And Denim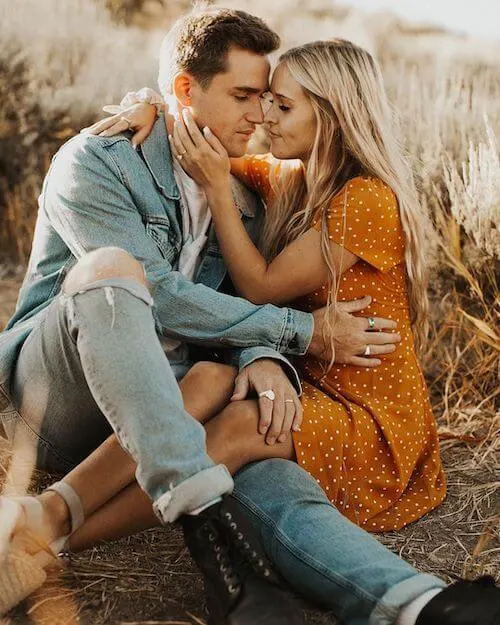 The key to pulling off this look is to balance out the boldness of the yellow with the timeless appeal of denim.
Opt for a light wash or distressed denim jacket to add texture and depth to the ensemble.
The juxtaposition between the softness of the dress and the ruggedness of denim creates an interesting visual contrast that can make your photos truly captivating.
Cozy Cardigan And Plaid Shirt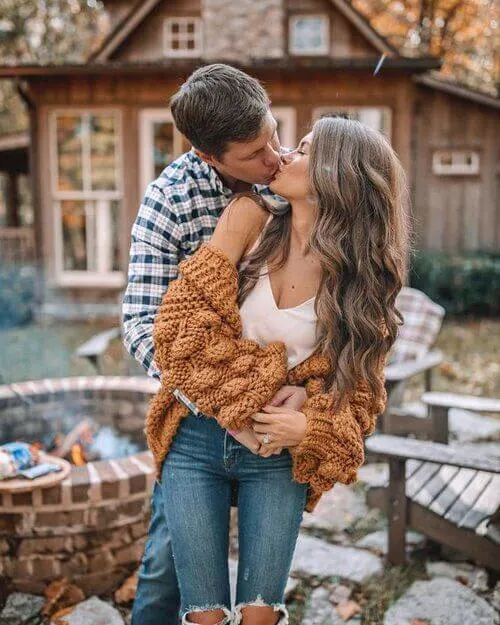 This classic combination not only creates a timeless look but also adds a touch of warmth and comfort to your photoshoot.
Whether you're strolling through colorful autumn leaves or snuggling up by a crackling fire, these outfits will make you feel at ease while looking effortlessly chic.
A cozy cardigan can be the ultimate fall fashion statement.
Opt for neutral colors like beige or gray for a simple yet sophisticated look, or choose bold shades like burgundy or mustard to add a pop of color to your photos.
Pair it with a plaid shirt in complementary hues for an added dose of rustic charm.
The combination of the softness from the cardigan and the structure from the plaid shirt creates an interesting contrast that will make your photos stand out.
Cute Floral Top
via Pinterest
While floral prints may be associated more with spring and summer, incorporating them into your fall wardrobe can create a stunning visual contrast against the changing leaves and cooler temperatures.
Opt for tops with rich, autumnal colors such as deep reds, burnt oranges, or olive greens to add depth and warmth to your photos.
The Purple To Show Your Personal Style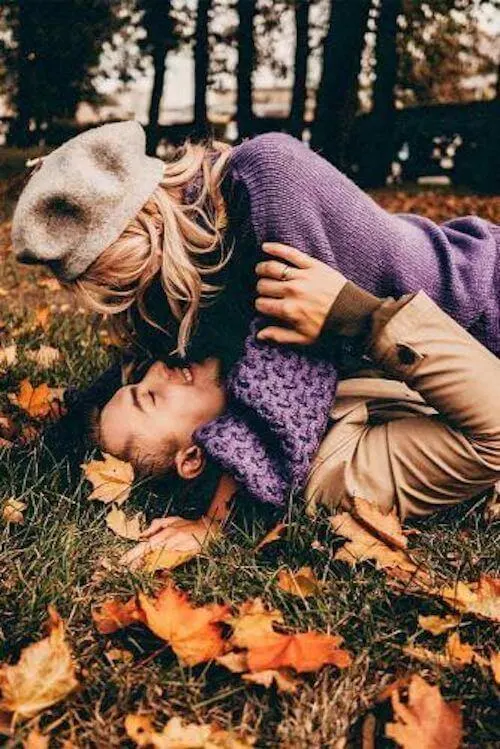 via Weheartit
Incorporating purple into your wardrobe can elevate your photos to a whole new level of sophistication.
Whether you choose muted lavender tones or bold violet hues, wearing purple during a fall photoshoot can create a visually striking contrast against the warm autumn backdrop.
Chic Off-Shoulder Top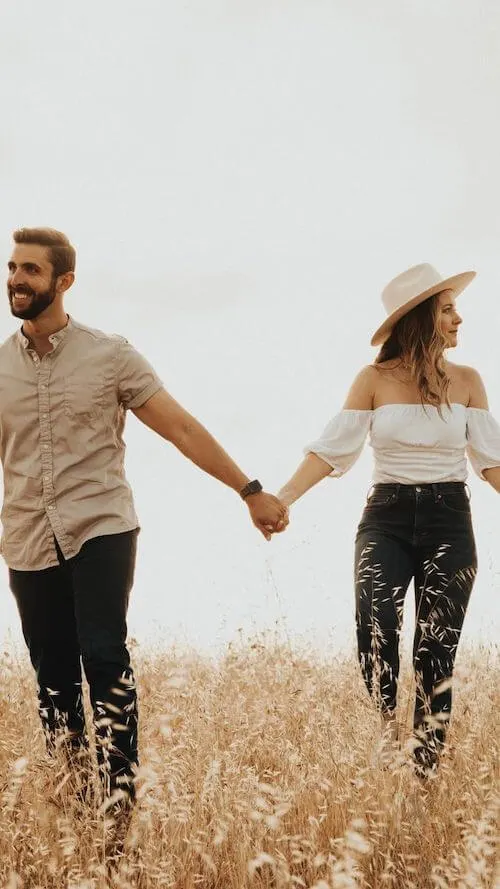 For a fall couple photoshoot that exudes effortless style and romance, consider opting for an off-shoulder top.
This chic wardrobe choice adds a touch of playfulness while showcasing the beauty of your collarbone and shoulders.
The off-shoulder trend is versatile enough to be dressed up or down, making it perfect for capturing both casual and formal moments during your shoot.
Pair your off-shoulder top with trendy denim jeans or a flowy skirt to create a romantic yet modern look.
To add warmth and texture for the fall season, experiment with layering by adding a cozy cardigan or a stylish leather jacket.
Consider choosing neutral colors like white, beige, olive green, or burgundy to complement the autumn scenery and bring out the rich tones of the season.
↓ Save This Post To Pinterest ↓
This post was all about fall couple photoshoot ideas.
About The Author
Tracy is an experienced personal stylist, shopping expert, and fashion & lifestyle blogger. She has been featured on Time Magazine, Bustle, Best Life, Glam, The Zoe Report, Mic, and GOBankingRates, for her insights on fashion, beauty, home decor, and lifestyle. Read More
Related Posts: