Looking for the best fall couple photoshoot ideas? Check this post for expert tips, poses, color schemes, and outfit ideas for your coming fall couple session!
Fall is the perfect season for couples to take pictures. Fall leaves, apples, and pumpkin lights are lovely and full of charming colors and props.
In the enchanting fall scenery, your eyes, faces, hair, and clothes are rendered with a layer of charming colors in the engagement photo session. And during your photo shoot, your love story will slowly flow and be told in these photos one by one, which will become one of your most unforgettable memories.
Are you going to have your engagement shoot taken soon this fall? Are you looking for the best fall engagement photo ideas? Then look no further. You've come to the right place.
In today's article, I am sharing the best tips for a fall engagement session, best fall couple photoshoot ideas, and how to choose the perfect couple photo outfits for your coming session.
So scroll down to check these tips and ideas, and don't hesitate to share your favorite ideas to your Pinterest board and social media sites.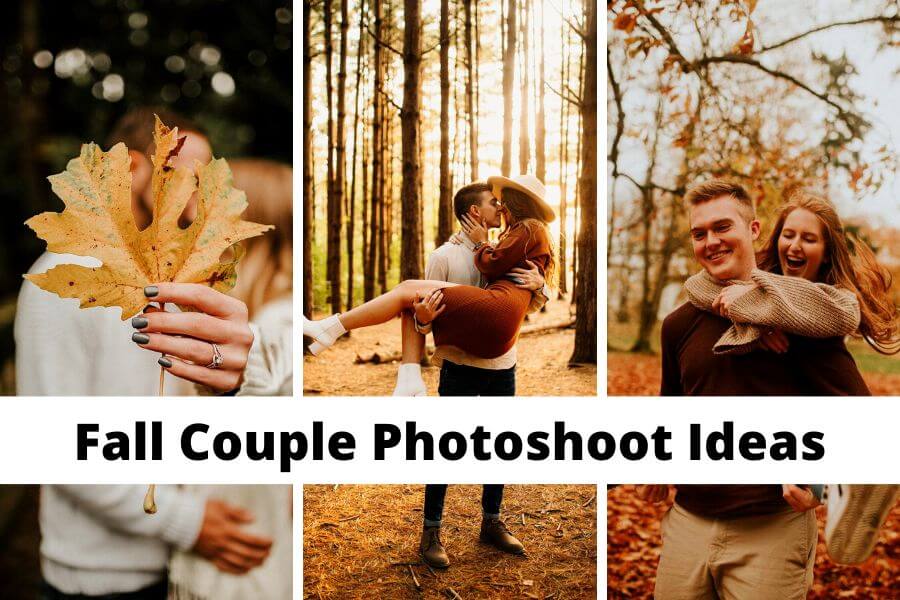 This post may contain affiliate links, which means I'll receive a commission if you purchase through my link, at no extra cost to you. Please read the full disclosure here.
This post is all about fall couple photoshoot ideas.
Best Tips For Fall Engagement Photoshoots
Chat with your professional photographers, and get more familiar with them
Accept the professional photographer from the bottom of your heart, so that you do not feel constrained in front of them, only then can you let the most real face to show in front of them.
Otherwise, you may be very nervous when facing the camera, it is difficult to pose for yourself, not to mention the intimate hugs and contacts, and in the end you may only get an awkward gesture.
There is no need to rush to take pictures, you can talk to the photographer first, and make friends with each other first, so anything will be much more natural.
Engage naturally with your significant other
While eye contact is important, a couple photo without physical contact is not complete.
It doesn't have to be a hug or a kiss to be intimate, in fact, sometimes a subtle touch can convey strong feelings.
Sometimes you can dance
Sometimes the two of you facing the camera may really do not know how to pose, then it is better to dance.
Of course the premise is that you have communicated with the photographer, so that the photographer can help you capture the best photos.
Introducing some movement can be a good complement to those static poses, you can just hold hands to dance casually.
If you can not dance, holding hands and running can also be nice. As long as there is interaction, as long as there is movement, there will always be a good picture.
Beautiful Place Ideas For Fall Couple Photoshoot
Fall Park
The park is always so charming in the fall season. You can choose this perfect time of year to go to the park to take pictures.
This time of year the whole park is wrapped in beautiful autumn colors, and you will complete a beautiful romantic picture wherever you are.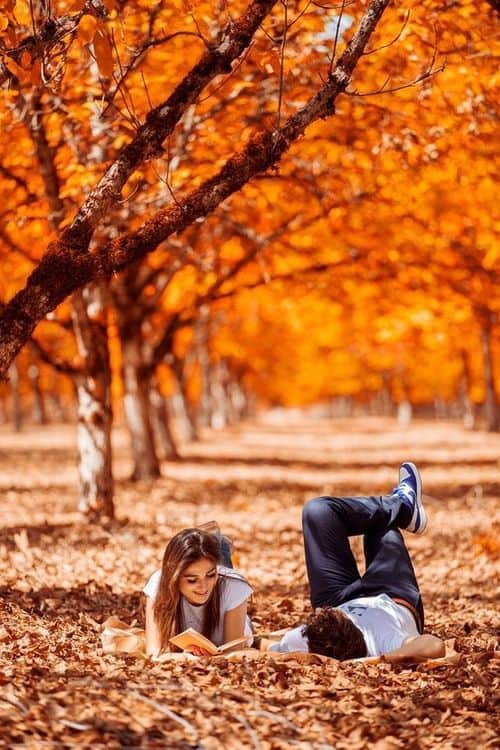 via Pinterest
The Woods
The leaves have fallen in the woods in fall. It is the best time to take photos, isn't it?
The ground is thick with fallen leaves, and beside you and overhead is the sunlight falling on you through the sparse branches in the beautiful weather.
The two of you will embrace and kiss in the fall woods and write a rosy love song together.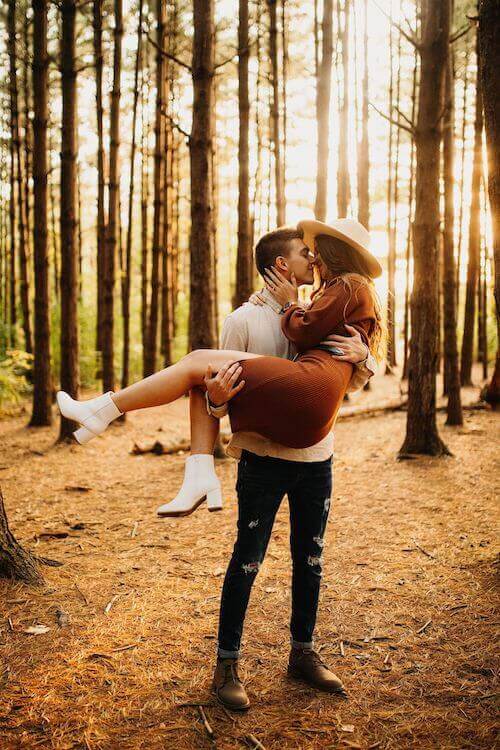 The Field
Go out into the fall wilderness when the light is soft to have your romantic couple photos!
At the great time, the air seems to be filled with the sweet scent of fall flavor, the light becomes mimic, and you and your loved one will gaze at each other and remember this moment forever.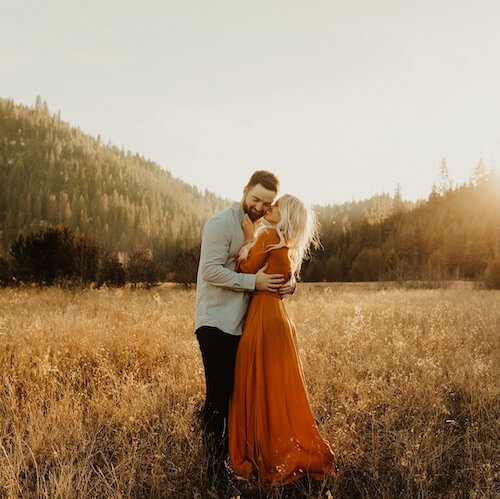 Your First Date Place
It must be fun to take this great opportunity to recall your first date together.
You can wear the outfits you wore when you dated the first time or make a cute couple pose together to let the portrait photographers record the moment of your love again.
The Roof
Spend a quality time there to laugh and dance freely, and you must be an enviable love couple.
A Coffee Shop
The chill of fall is getting stronger, but the cozy coffee shop is still sweet and warm.
Taking photos at the coffee shop is a great way to have cute fall engagement photos. You can chat with each other here, and the photos will be very natural and cute.
The Pumpkin Patch
The pumpkin patch in the fall is full of shooting props and it is a perfect place for your fall couple photos!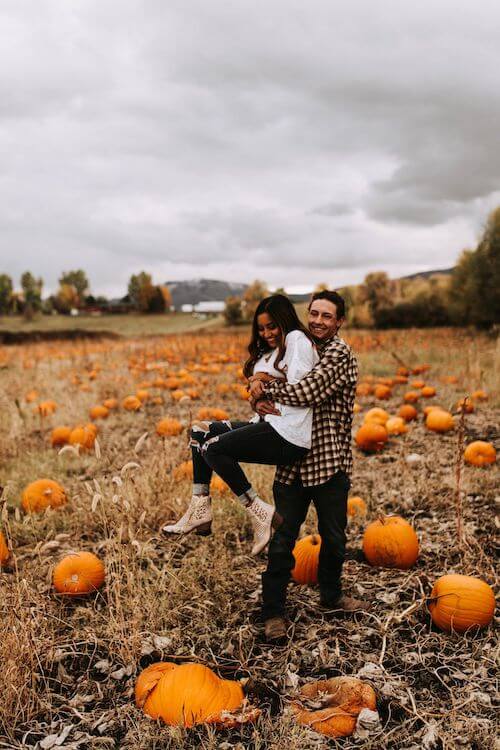 The Apple Orchard
How can I not go to the apple orchard to pick apples and drink apple cider? It would be your favorite place. Wearing fall colors or this gingham print is perfect.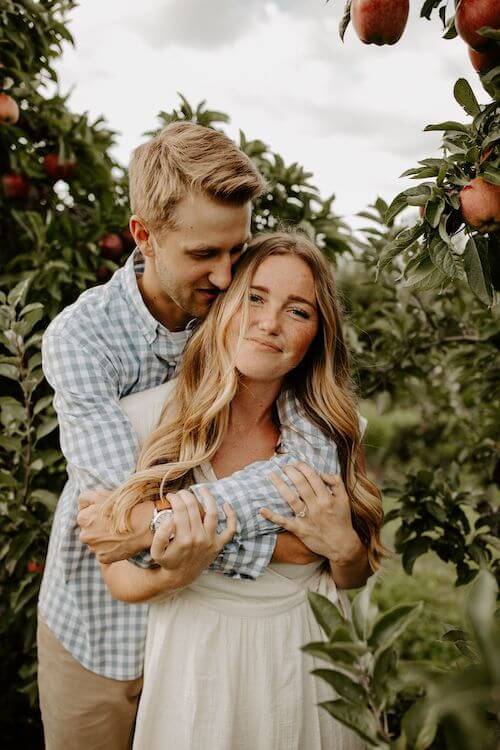 Your Home
Yes, it's very romantic to take pictures in your own home in the fall! And it is a better place for some shy couples.
Choose clothing with softer colors to make the picture look sweeter. Let the outdoor light penetrate a little bit, so that your figures are enveloped in the pulse of warmth.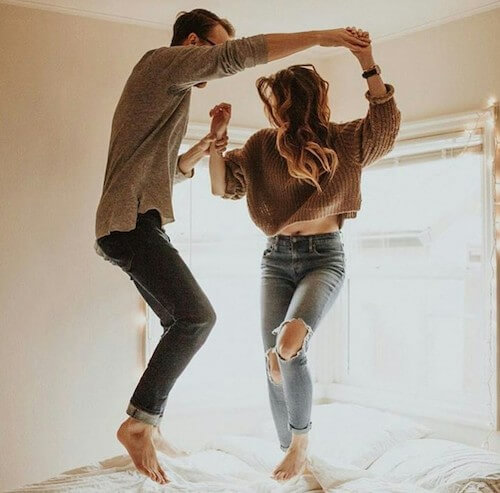 Train Tracks
Perhaps it's the colors of fall that make faraway places fantastical, so the train tracks in fall are also perfect for couples to take pictures.
The white dress in the photo below lights up the whole picture and makes for a great fall outfit idea for a couple's shoot!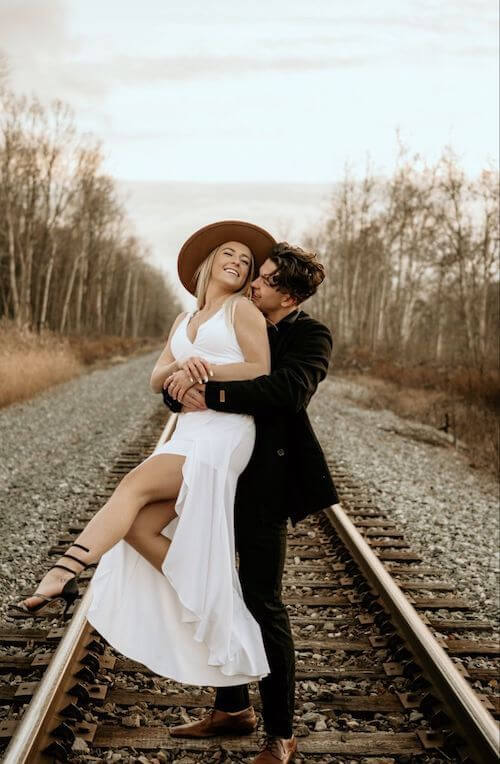 Silent Street
The silent streets are immersed in endless poetry in fall.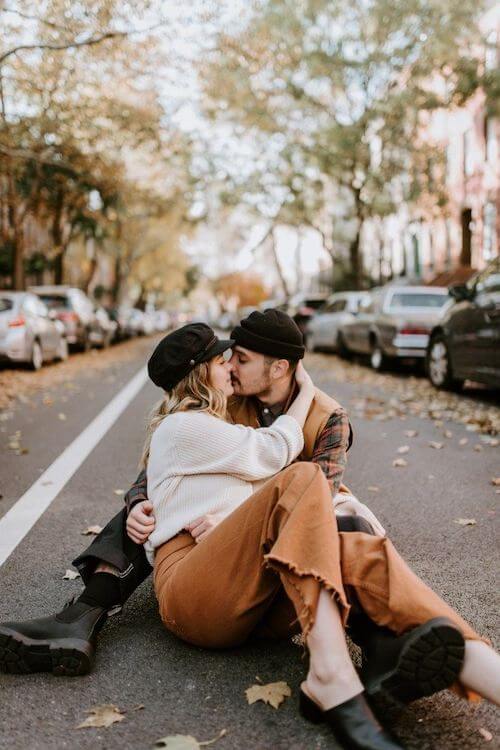 Beach
Take advantage of the natural elements of a beach shoot, and add warm vibes to your engagement session with this gorgeous location.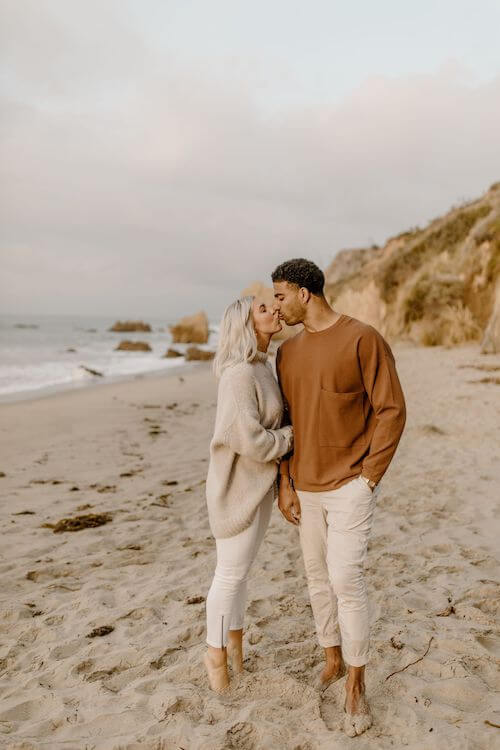 Creative Couple Fall Photoshoot Ideas: Poses, Props, Set Up
The core of couple photography is to capture the emotions that burst forth at the moment, and these emotions must flow naturally rather than being deliberately styled.
No form of photography can be static, and there are endless possibilities to extend each image, so no pose is absolutely perfect.
The most important thing is that you both should feel comfortable and natural, like friends facing the photographer and the camera, so as not to show too much embarrassment while expressing your feelings.
Even for some of the more shy couples, you can both not look at the camera, there is a feeling of being immersed in their own world, very suitable for people who are not good at making expressions and poses.
Looking for creative fall photoshoot ideas?
Ahead, please check the best fall photography ideas for couples, including our favorite cute couple poses that you can copy for your next photoshoot directly.
Find A Colorful Pumpkin Wall
Close Your Eyes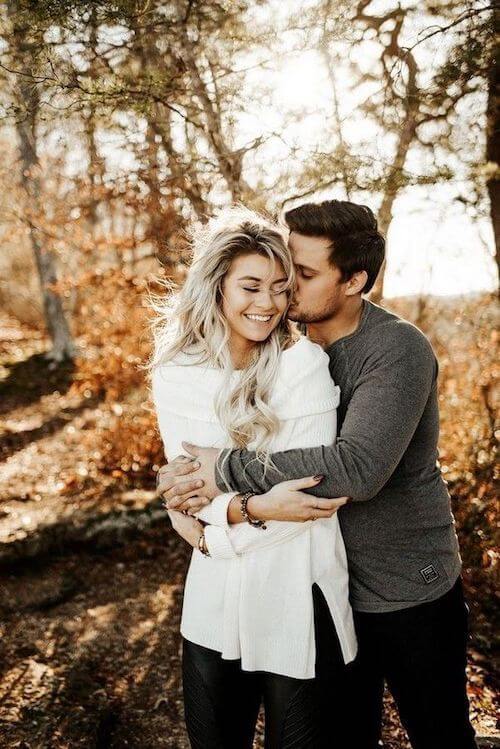 Skateboarding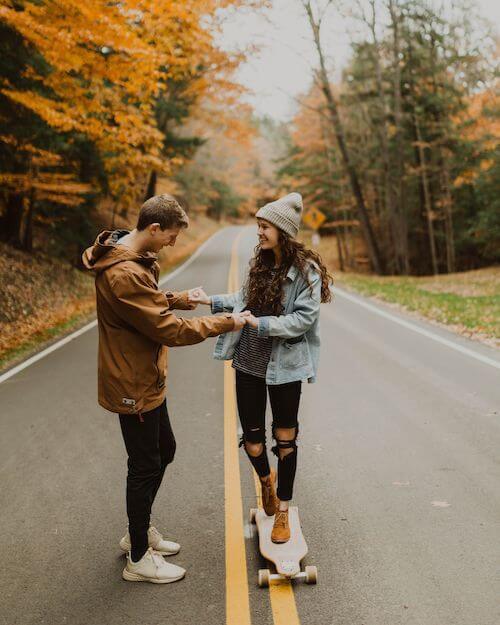 Hold The Pumpkins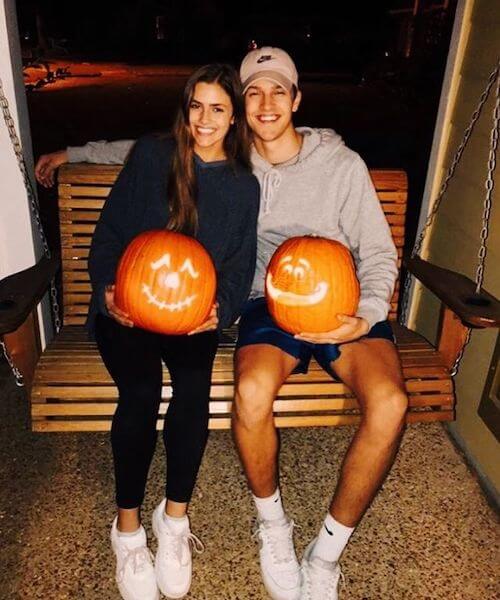 via Weheartit
Casual Cute Laugh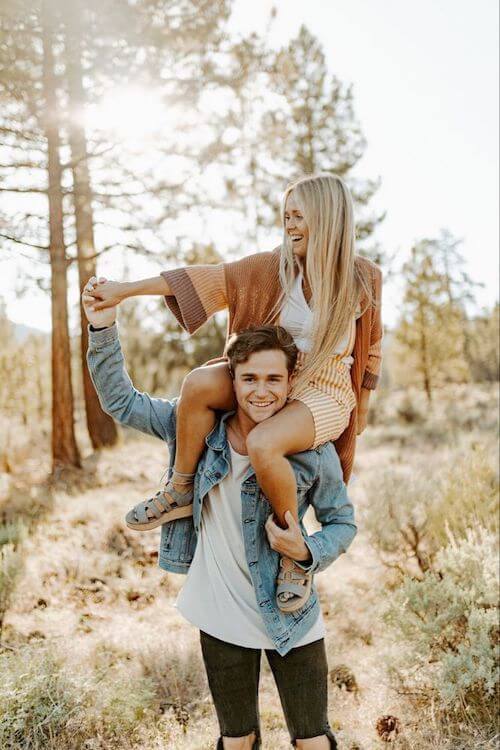 via Pinterest
Lovely Fall Colors
@Emily DeKoster Photography
Pumpkin Patch Hug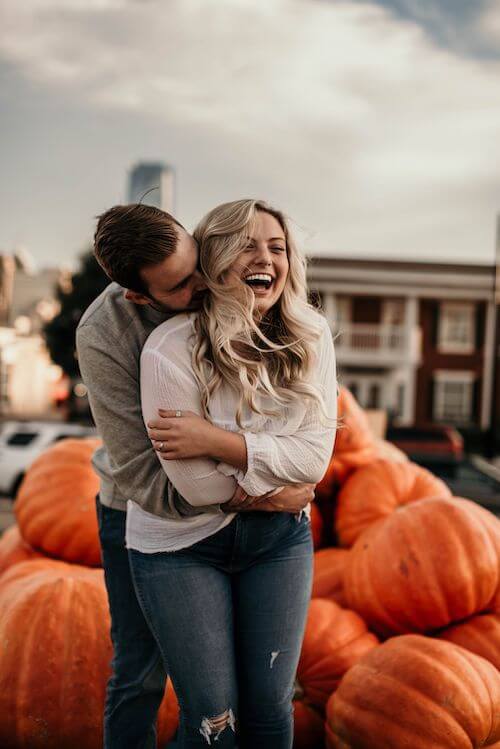 via Pinterest
Enjoy The Golden Hour
Golden hour is a popular time for a couple photoshoot. This is a simple yet romantic photoshoot idea.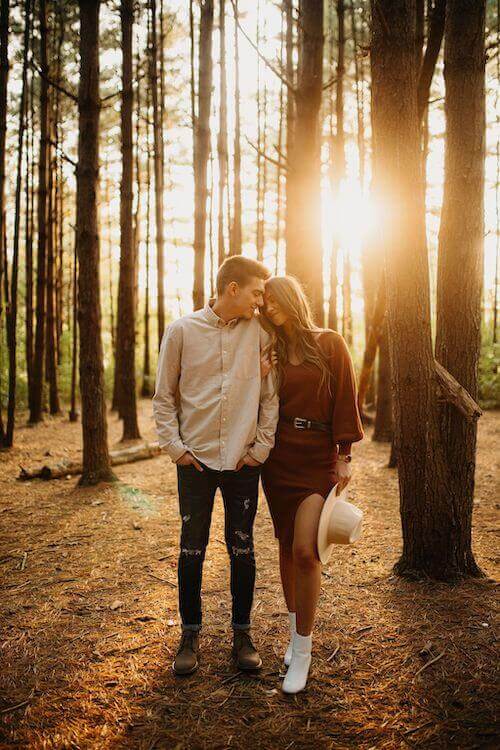 Raise One Leg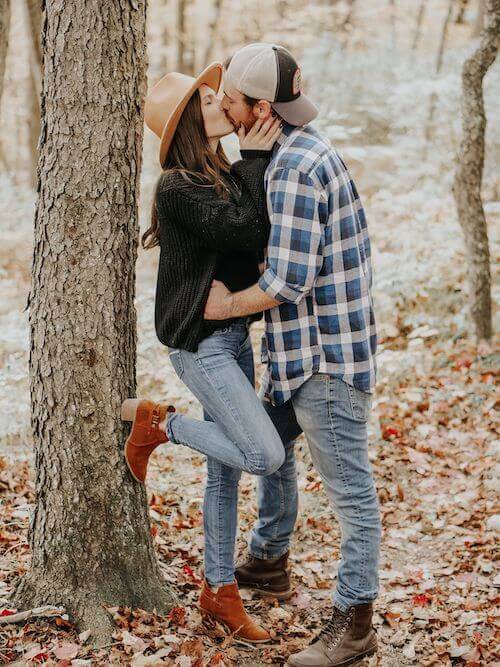 via Pinterest
Flying In The Beautiful Warm Tones
Smoke Bomb
What a great idea!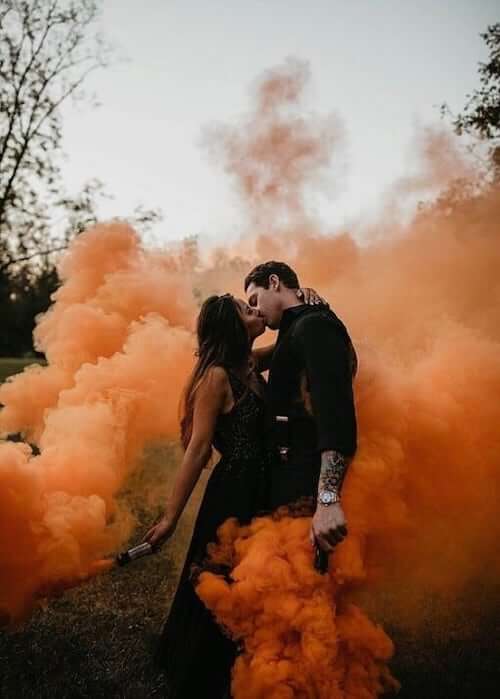 Lying In The Fall Leaves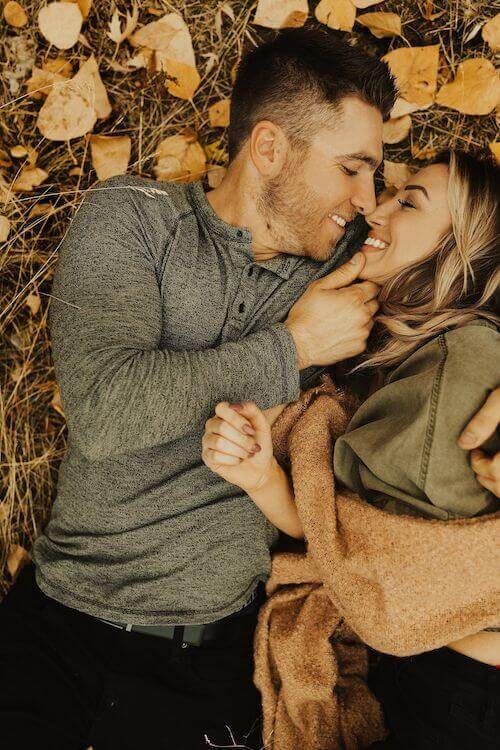 via Pinterest
Hide Your Kiss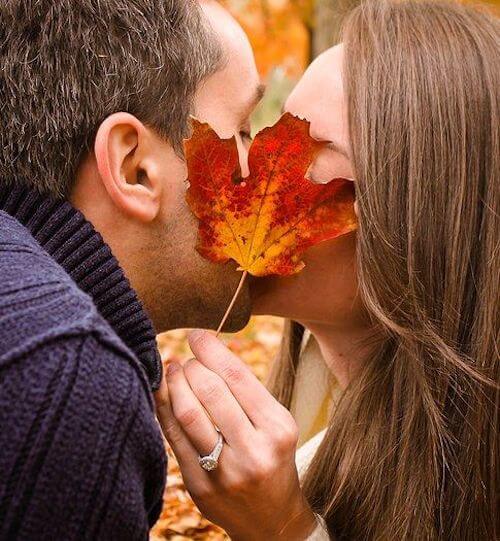 via Pinterest
The Rainy Days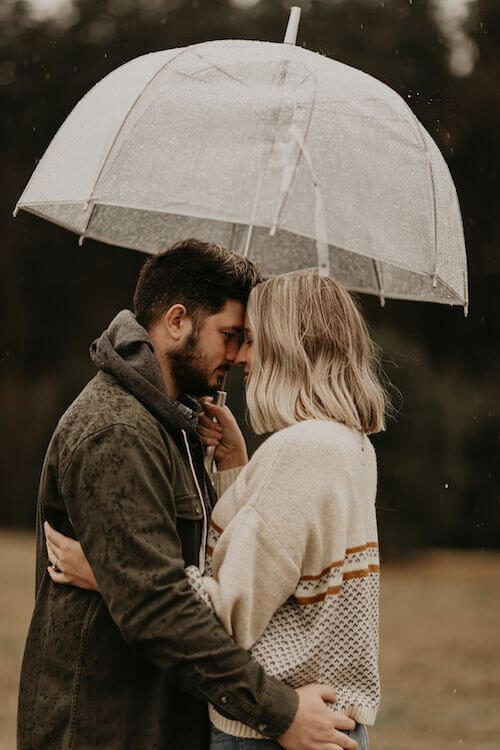 A Romantic Kiss In The Warm Golden Light
A Champagne Session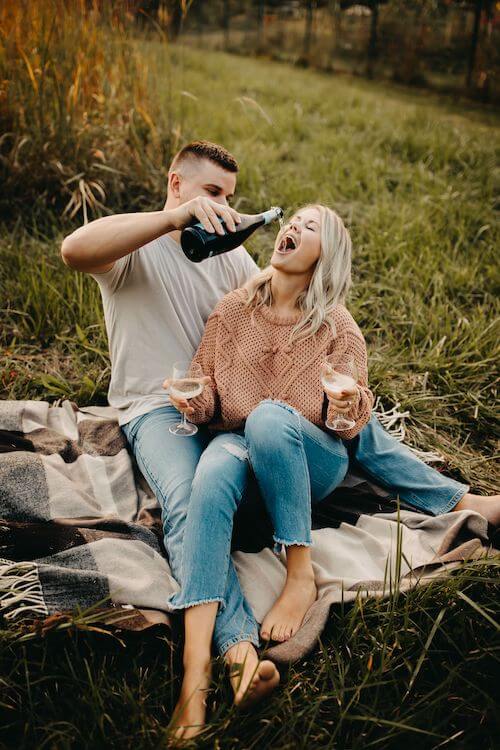 Play In Front Of The Camera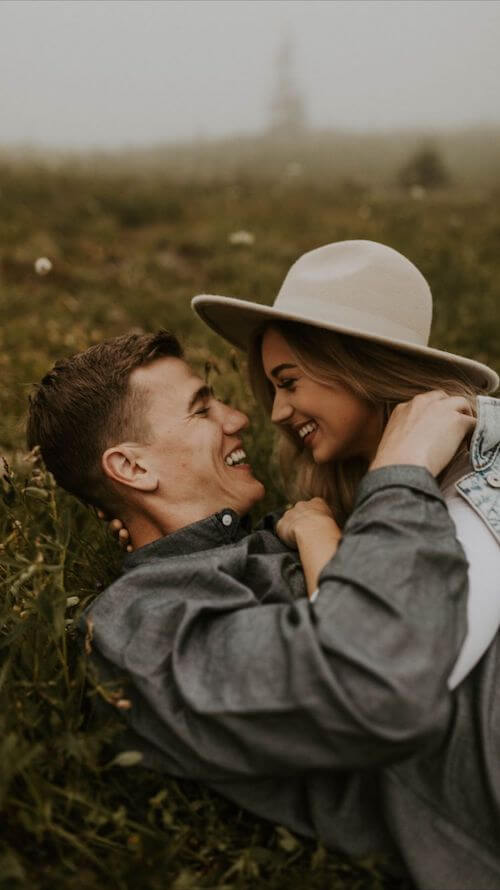 via Pinterest
Whispering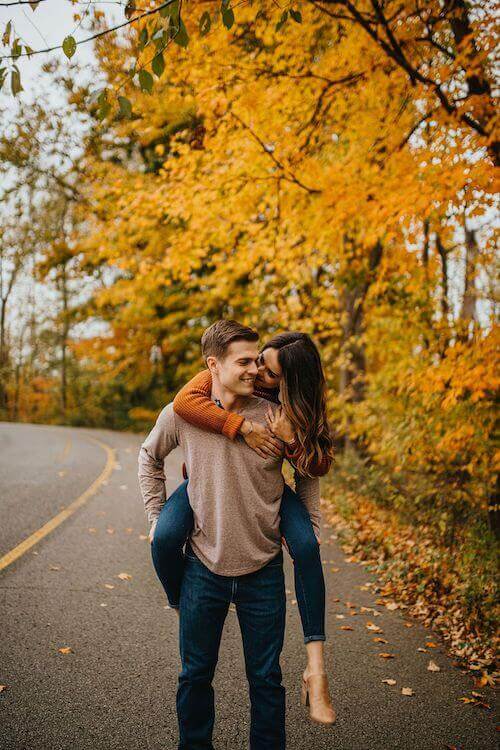 Look Back At You
Fall Foliage
via Pinterest
A Heart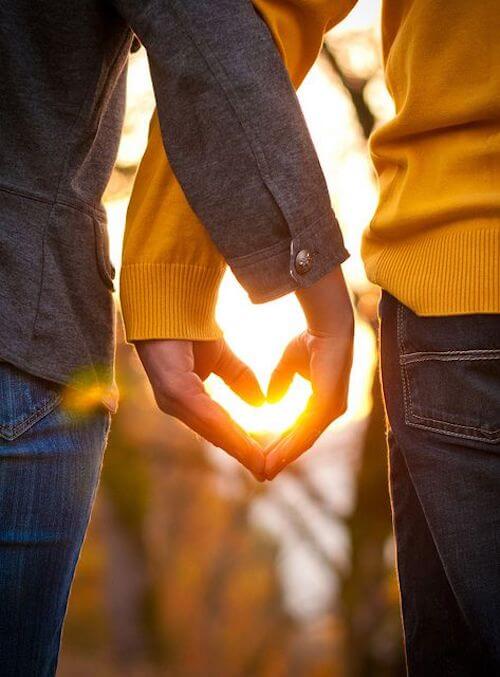 via Pinterest
Cozy Fall Drinks
via Pinterest
Raise Your Legs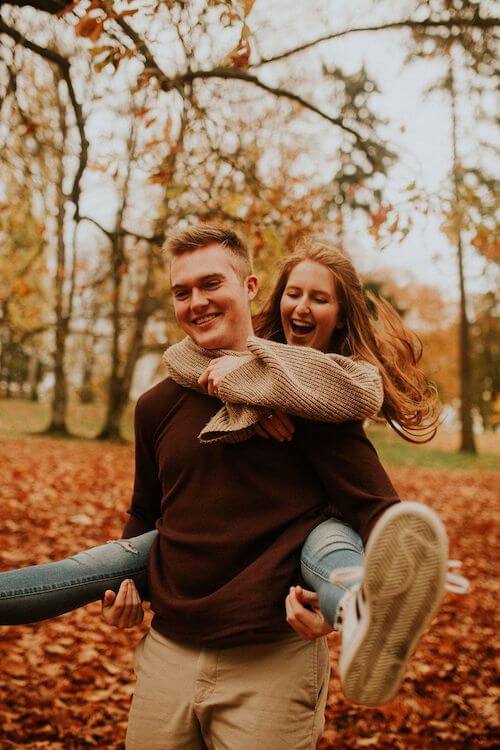 via Pinterest
Head To Head
via Pinterest
Back To Back
Try different angles.
via Pinterest
Sit On The Stairs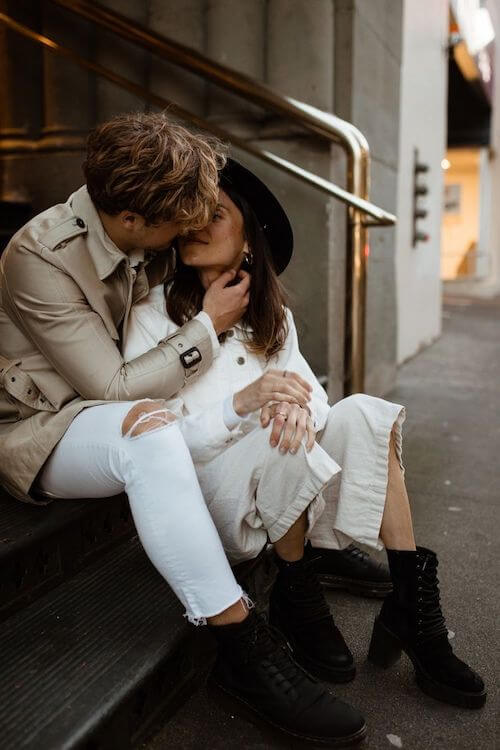 A Fall Picnic Date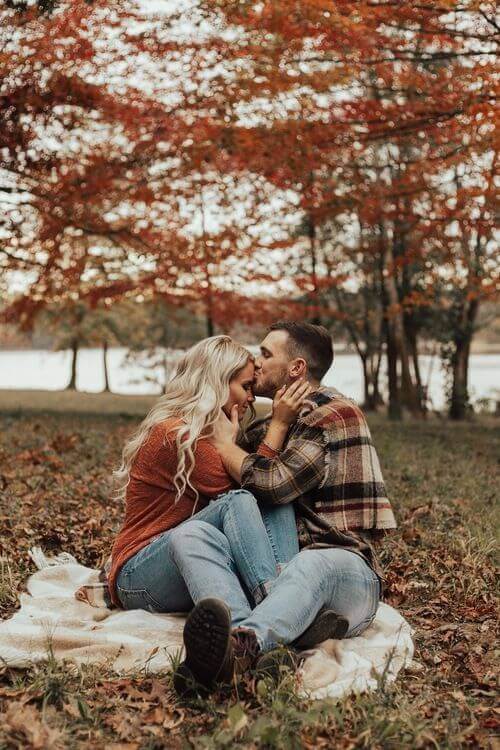 Throw Colorful Leaves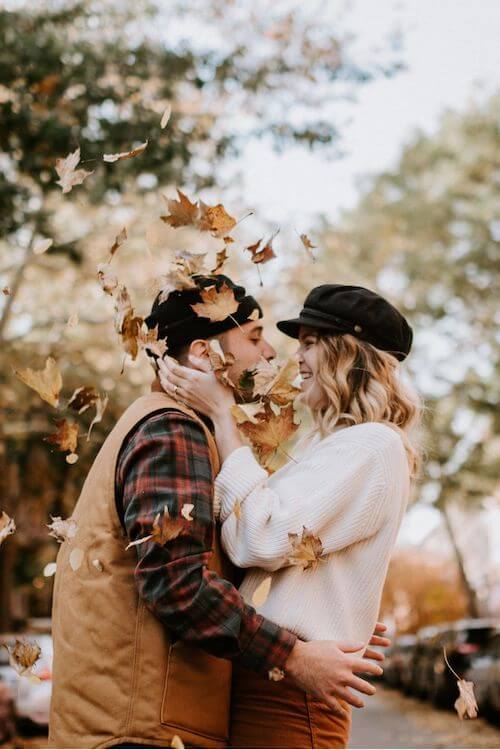 Raise Your Arms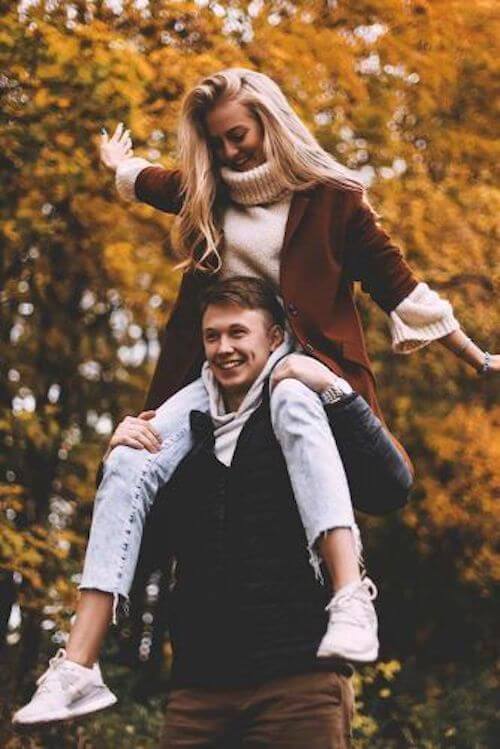 via Pinterest
Spread The Shawl On The Ground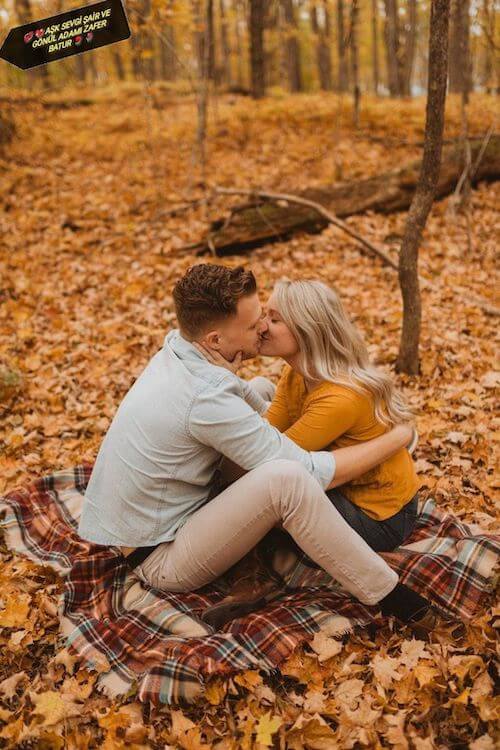 via Pinterest
Add A Cute Hat
via Pinterest
Love Story Full Of Fall Vibes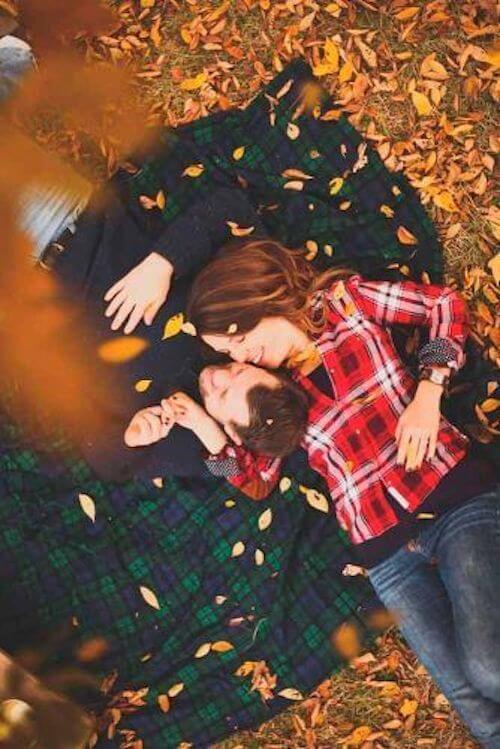 via Pinterest
Use The Hat To Hide Your Faces
via Pinterest
A Leaf Heart And High Heels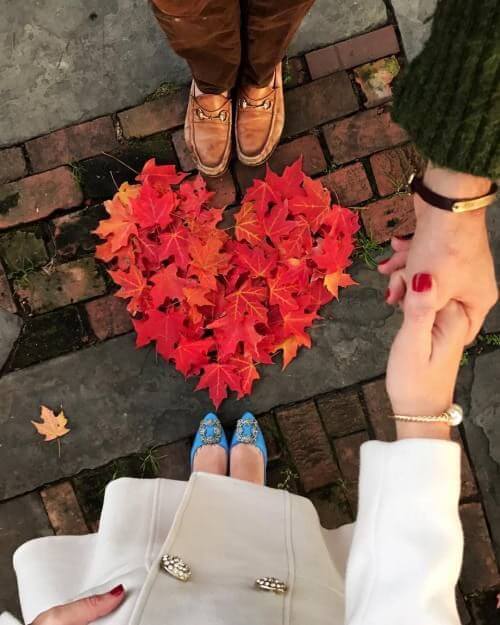 Announcement Of The Big Day
via Pinterest
Touch Your Hand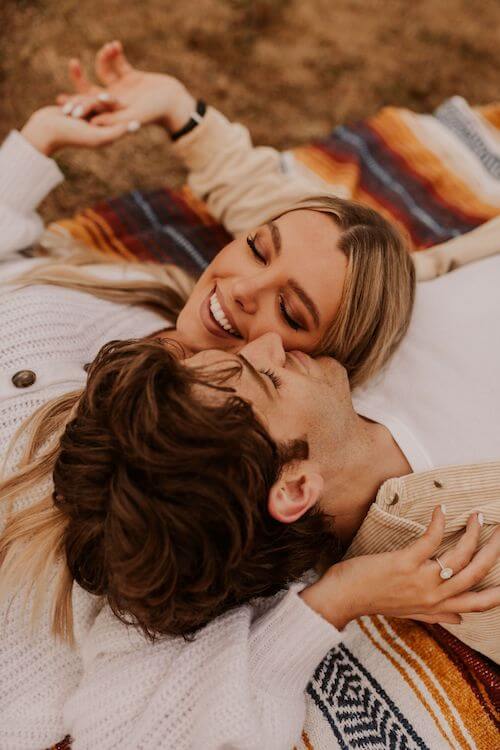 via Pinterest
Lift Up And Kiss With Changing Leaves
Beautiful Natural Light
A Kiss In The Lovely Field
Casually Lie Down In The Field
A Close Hug With The Charm Of A Simple Country Scene
Having So Much Fun Together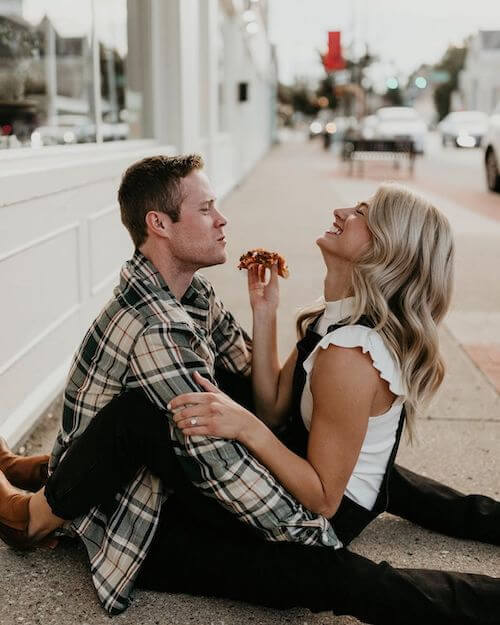 Eye To Eye
The eye to eye idea can make intimacy overflow out of the picture, showing a strong romantic vibe.
When you don't know what poses to make, holding hands and looking at each other is an amazing idea.
A Close Hug In The Woods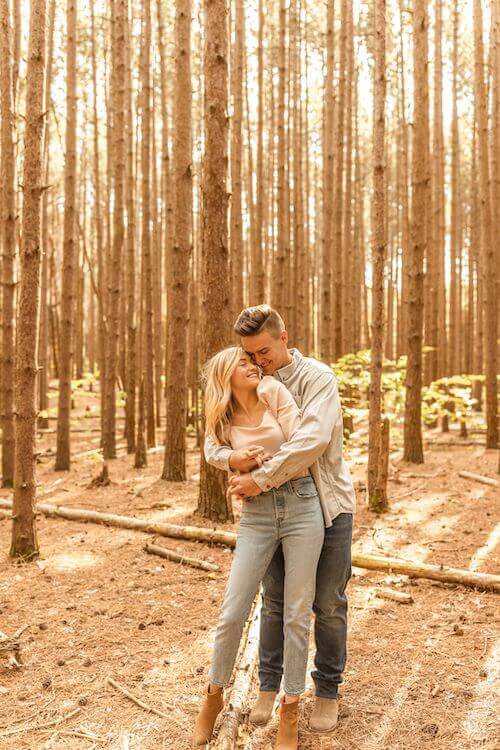 A Kiss On The Roof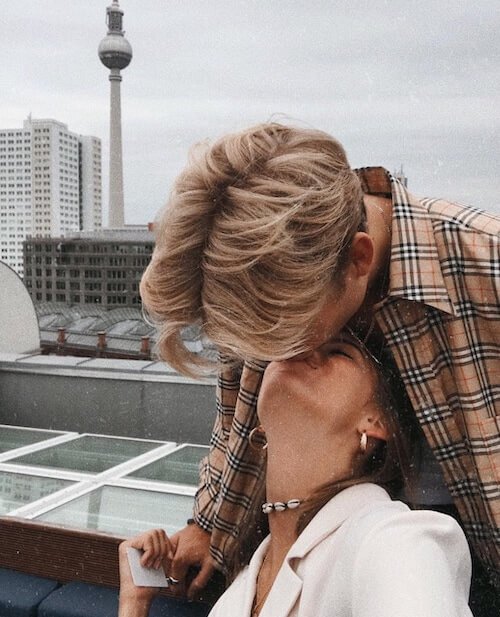 via Weheartit
A Big Laugh
An Apple Picking Date
A Fall Escape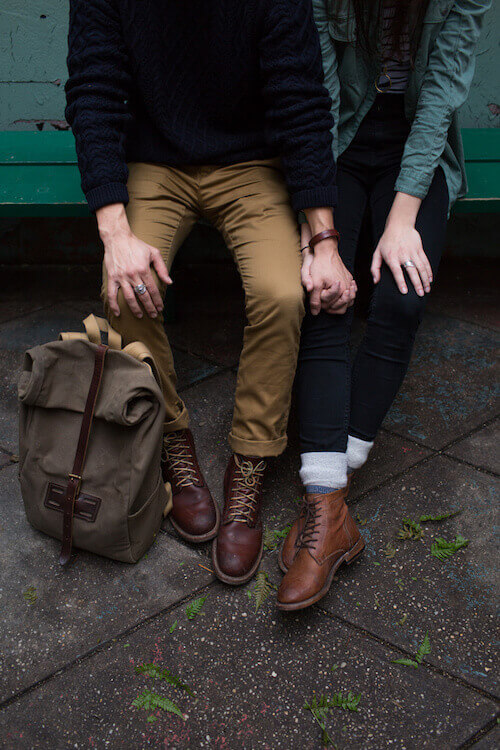 via Pinterest
Hug At Home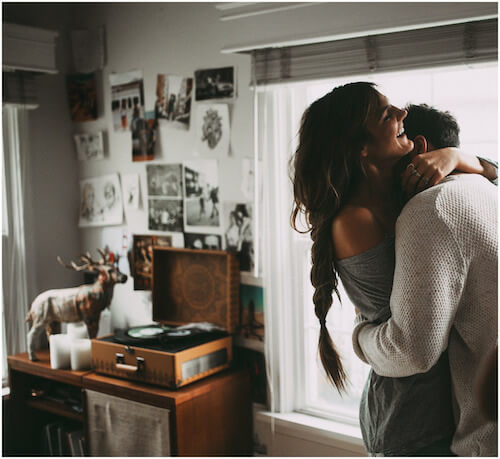 via Weheartit
The Shadows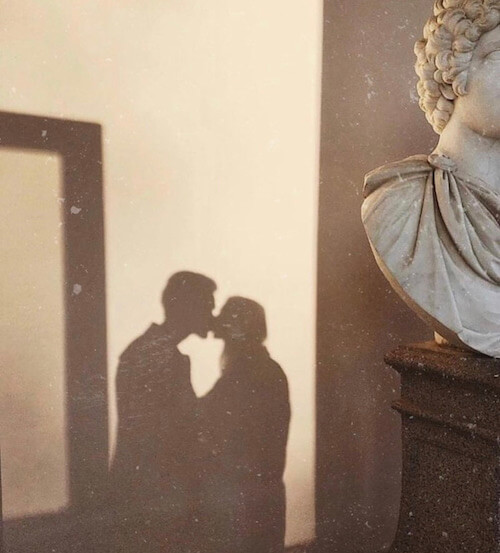 via Weheartit
Visit The Pumpkin Patches And A Pumpkin Patch Kiss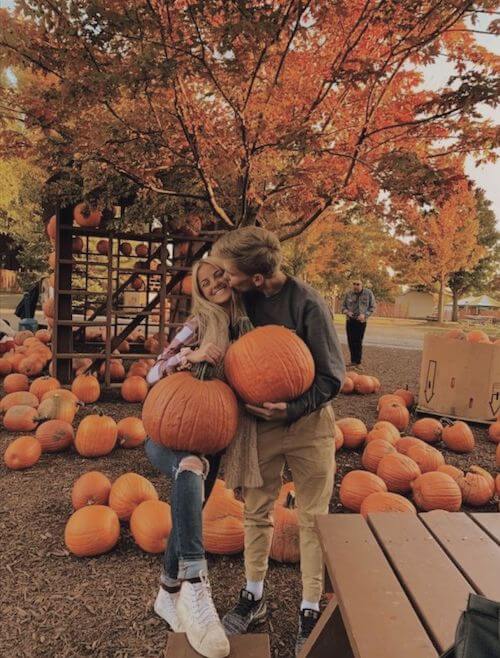 via Weheartit
Sweet Arm Hold On The Bridge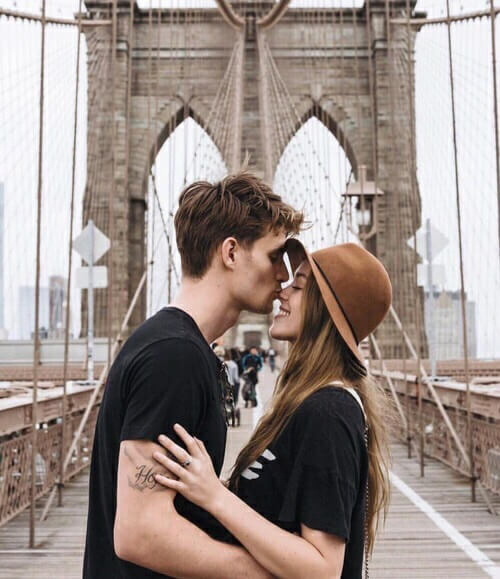 via Weheartit
Gray And Plaids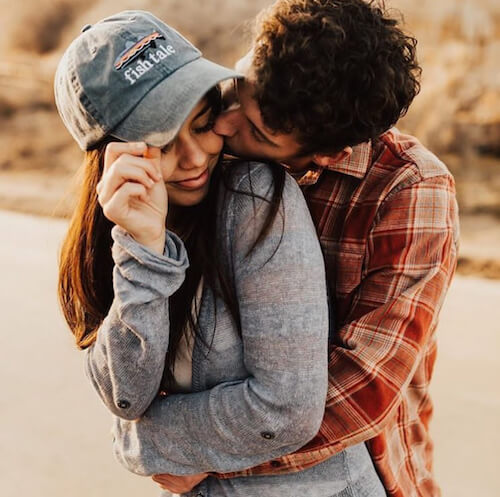 via Weheartit
On The Bench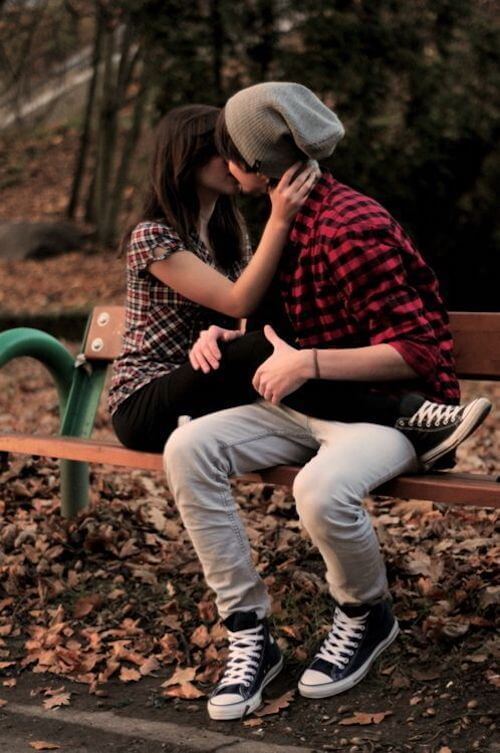 via Weheartit
Fall Engagement Photo Outfits And Color Schemes
What should I wear for a couple's photo shoot in autumn?
First of all, the fall colors are the most popular choice.
I suggest you find out the color of your shooting environment beforehand. Because if the color of your clothing and the shooting environment such as fallen leaves are too close, it will not be conducive to highlighting your two characters.
A slightly darker, or lighter color than the shooting environment would be a great option.
Then otherwise, you can work on accessories. For example, a dark hat, or a light-colored scarf, can add color pops to the photos.
Second, the material of the clothing should be gentle and warm.
For example, cotton, leather, and velvet clothes are good choices. Avoid using fabrics that are too stiff or smooth.
Finally, choose the woman's outfit first. After all, women's clothing has more styles and colors, so prioritizing women's clothing can set the tone for the overall outfit idea. As for men's clothing, usually choose a plaid jacket, or a denim jacket is perfect.
So scroll down to check our favorite color schemes and fall couple photo outfit ideas.
Burnt Orange Sweater
A beautiful sweater can make the whole fall couple photos perfect. You can be bold and let the beautiful clothes become the main subject and occupy more of the picture.
This time the men's clothes can have some light-colored parts, which can make the picture more vivid and have a certain breathable feeling.
via Pinterest
Burnt Orange Maxi Dress
A long dress is one of the best choices for a lady in an autumn photo shoot.
A long dress is one of the best choices for a lady in an autumn photo shoot. In order to make the photo look chicer, it is recommended to choose a dress with beautiful colors, but a simple style.
Also note that you should not choose a too loose dress, because when you do different poses, a too loose dress will cover up a lot of your movements so that the picture looks bulkier.
Therefore, you need to choose a dress with a slim waist design in order to fully display your figure and make you look more elegant and attractive.
Brown And Plaids
This outfit idea is very simple but looks youthful.
The man is wearing a white shirt inside the jacket, which echoes the white color of the woman's outfit pattern and also makes the people look more energetic.
White And Beige
Two similar colors are together with a layered look. This color scheme never goes out of style.
If you two choose clothes in similar colors, you can choose clothes in different materials to add more chic details to the photo.
Also, when taking couple photos in the fall, it is recommended that women choose monochromatic nail polish. White, red, or dark brown are all great choices.
These colors are easy to match with the colors in the photo while making the outfits look premium.
Brown And Light Gray
If you guys like quiet country-style photos, black, brown, and light gray are a good choice.
But be careful, it is best to choose the background of the picture to have different color shades of transition, such as the following photo of the sky is a brighter color, which will make the picture not too boring.
If you can not find a background full of different color shades, you can put on a white scarf, put on a light-colored hat, to lighten up the picture.
Red Skirt
I'm really totally obsessed with this red skirt below! In addition to dresses, a glamorous skirt is also a good idea to create great photos.
This time, you can wear just the simplest top, while having your man just wear the simplest and most understated colors and styles as well.
Because at this time, all you need to highlight is your red skirt!
Denim Jackets
Being a denim couple is a very cute idea!
You can wear similar denim jackets, but adding some color distinction on the bottom will make you look even cuter.
Of course, don't forget the props!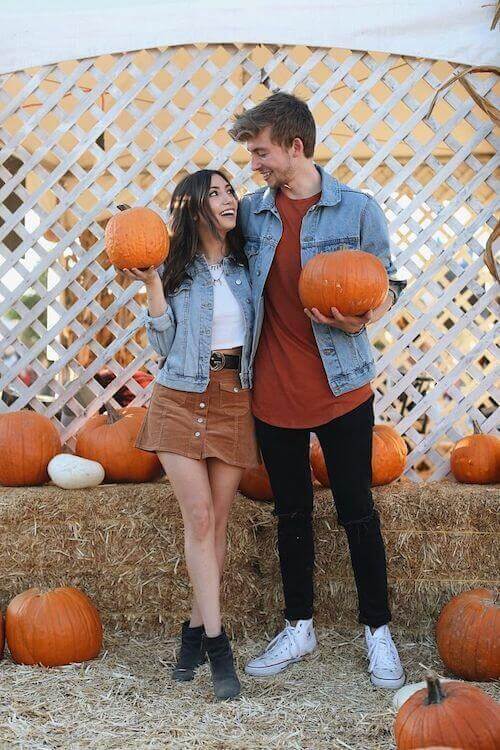 Cozy Clothes
It's also great to choose clothing with similar styles. Especially in late fall, wearing warm clothing for couples' photos is very cozy.
The important thing is, rather than wearing a heavy coat alone, choose several slightly thinner clothing pieces for layering. It will make you look more stylish.
Blue And Red
I love the blue and red color scheme! What a unique bright outfit color idea for fall couple photoshoot!
And adding a black hat makes the whole outfits look more expensive.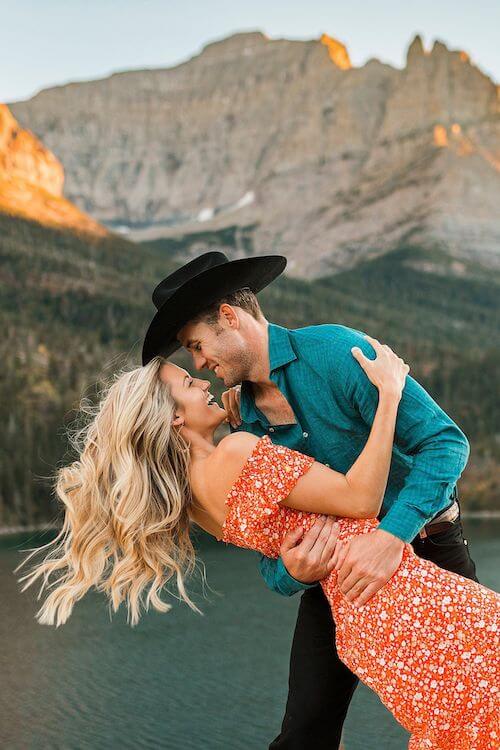 Light Wash Denim And Dark Gray
The enchanting fog in fall makes you feel like you are in a fairy tale world.
At this time, wearing darker neutral colors rather than bright colors or ordinary autumn colors like red and orange can blend perfectly with this misty environment, and fully showcase the natural beauty.
via Pinterest
Yellow Mini Dress And Denim
When the man's top and bottom are of the same color, choose a shorter dress for the woman and increase a bit of skin exposure, which can make the picture more light and lively.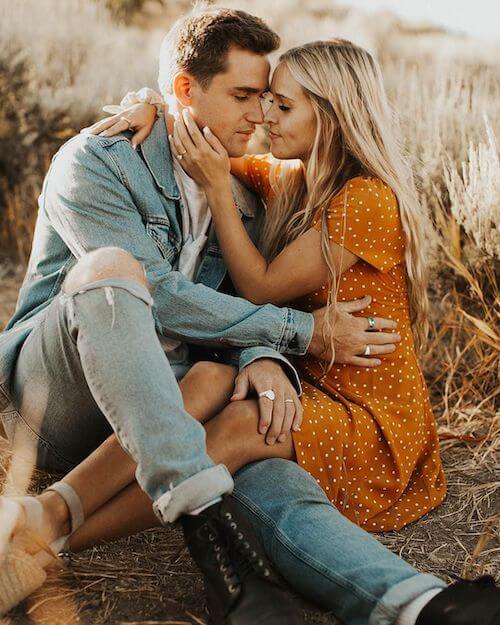 Cozy Cardigan And Plaid Shirt
Knitted items are one of the most lovely and charming outfits for fall photos.
And a knitted cardigan can give your outfits a lot more different possibilities than a regular sweater.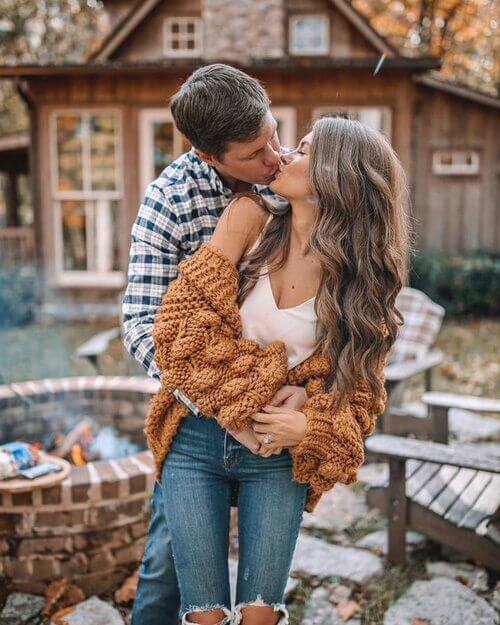 Cute Floral Top
When the man wears a lighter color, the woman wearing a darker color but a lively and cute top will also be great!
via Pinterest
The Purple To Show Your Personal Style
Looking for more creative ideas? This purple one below is a very special color idea, but surprisingly great!
The purple and the color of the fallen leaves look regal and fresh together.
via Weheartit
Chic Off-Shoulder Top
If you like a minimalist style, then a white off-shoulder top is a great choice for you to put on.
This time you can put on a hat to avoid being head-heavy.
I also suggest that you can bring a simple gold thin necklace to add great details.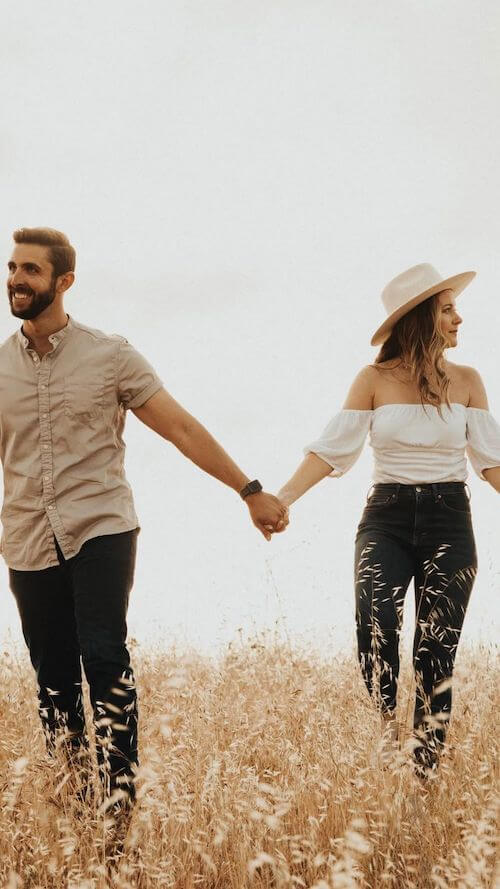 This post was all about fall couple photoshoot ideas.
Related Posts: