Looking for cute summer date outfits? Check this post for 19 super cute casual date outfits for summer for inspiration to make your date successful!
This post may contain affiliate links, which means I'll receive a commission if you purchase through my link, at no extra cost to you. Please read the full disclosure here.
This post is all about summer date outfits.
CASUAL CUTE SUMMER DATE OUTFITS
A Boyfriend Graphic T-shirt
In summer, you may go to various open-air concerts. A simple retro-style T-shirt and leather shorts can create a neat and fashionable style.
@littleblackboots
Copy The Look:
An Off Shoulder Top
An off-shoulder top is always a trendy dating outfit. However, in summer, you can also add various blingy or pearl accessories, or even waist chains, to make the whole look more romantic.
@mari_malibu
Copy The Look: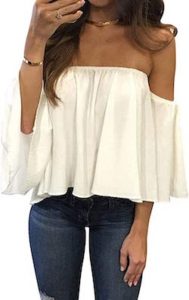 A Tube Top Or Corset
Tub top and simple straight-leg pants can look very sexy and not tacky.
@maryljean
@shanbrii
Copy The Look:
A Backless Top
Backless tops are trendy this year. Whether it is paired with trousers or shorts and skirts, it looks full of vitality and youthfulness.
@danielleebrownn
@danielleebrownn
Copy The Look:
A Crop Tank Top
Crop Tank Top is already sexy enough, so it is recommended that you wear wide-leg jeans with a slightly rough feel to create a strong visual contrast and make the whole outfit very charming.
@abramovskaya
@delaneychilds
Copy The Look:

A Tie Front Top
A tie front top looks not only very romantic and sexy but also very practical. You can wear it alone or use it to match your cami tops or cami dresses.
This is also a perfect beach date outfit.
@marenschia
Copy The Look:
A Bandana Top
How can you not wear it in summer? Sexy and stylish.
@claire_most
Copy The Look: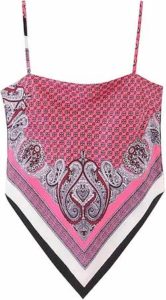 White Shorts
You can't imagine how good a pair of white shorts is in summer. Guys like women to wear white very much because white looks elegant and fashionable. So whether they are paired with canvas shoes or Mules shoes, white shorts are very suitable.
@chloehelenmiles
@chloehelenmiles
Copy The Look:
A Print Wrap Midi Skirt
This magical skirt can make almost any simple top instantly chic and sexy.
It is recommended that you choose a leopard print or a floral print skirt in strong colors in the summer.
@andystyl3
Copy The Look:
A White Dress
As mentioned earlier, guys like women to wear white very much. Especially when dating, a white outfit will make the guy think that this woman attaches great importance to their date.
@littleblackboots
@kristy_mi
Copy The Look:
A Floral Short Cami Dress
A floral short cami dress and black boots will make you stand out from the crowd immediately!
@jourdansloane
Copy The Look:
A Romantic Print Puff Sleeve Dress
A romantic print puff sleeve skirt is suitable for any summer date, and it will make you look very gentle and charming in the eyes of your man.
@chloehelenmiles
Copy The Look:
Add Something Bubble Pink
Bubble pink's accessories have magical powers. They can make a simple dress very fashionable and romantic, suitable for a date that impresses him.
@brit_harvey
Copy The Look:
A Pair Of Chic Black Pants
A pair of simple and chic black pants, paired with a simple cami, is a gorgeous summer date outfit! This summer, I suggest you try flat shoes and enjoy a casual, effortless, and beautiful summer date.
@thanyaw
Copy The Look:
Other Date Outfit Ideas You May Like:
√ 50+ Best Date Night Outfit Ideas For Any Occasion To Copy Directly
√ 17 CUTE AND CASUAL DATE NIGHT OUTFITS IDEAS WE OBSESS OVER THIS YEAR
√ 9 Best First Date Outfits Guys Love (With First Date Tips)
Click To Shop Our Favorite Date Night Outfits:

Liked this post on summer date outfits? We'd love it if you shared this post on Pinterest!