Looking for sexy spring outfits? Check this post for spring fashion trends, and 50+ cute and sexy spring outfit ideas for your casual date, dinner date night, and everyday wear.
With the warmer weather coming, now is the perfect time to start shopping for new, trendy items for your spring wardrobe.
Spring is a season that's all about embracing vibrant colors, flirty patterns, and stylish silhouettes.
This article will provide you with the hottest looks in women's fashion right now so you can look and feel your best this spring.
This post may contain affiliate links, which means I'll receive a commission if you purchase through my link, at no extra cost to you. Please read the full disclosure here.
This post is all about sexy spring outfits.
Spring Fashion Trends 2023
It's 2023 and the spring fashion trends for women are here!
The fashion world is buzzing with excitement as bold, innovative designs take center stage.
Sheer materials, wide-leg pantsuits, and retro sneakers are just a few of the stylish pieces that will be making a splash this season.
Corsets are making a major comeback in 2023; they're being paired with high-waisted pants to create an ultra-feminine look.
Balletcore – a mix of ballet and streetwear – is also trending; think cropped tanks paired with black tights or mini skirts.
And don't forget about pink! This pretty hue is absolutely everywhere right now, from bubblegum-colored dresses to pastel blazers.
What is the best outfit to wear in spring?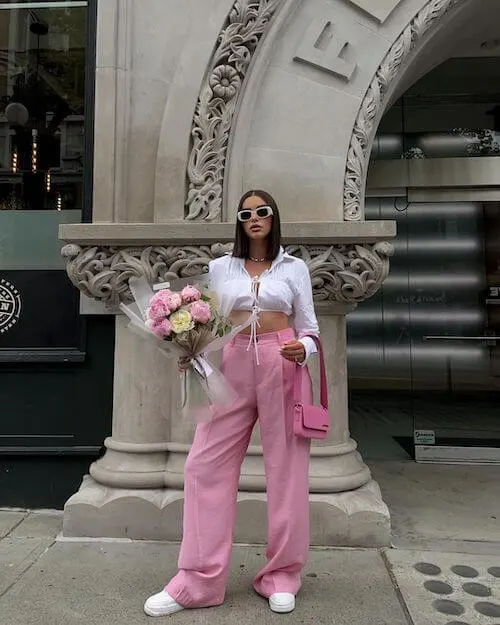 @vitaliia
The answer will depend largely on personal preference; however there are a few key elements that can make any ensemble stand out from the rest.
Lightweight fabrics in neutral colors or pastel hues such as baby-pink, lavender or mint green are ideal for creating a fresh look.
Flowy dresses with asymmetrical necklines paired with strappy sandals or sneakers can also create an effortless yet stylish appearance.
Layering pieces like trench coats and oversized jackets can add interest while providing additional warmth when needed.
Chic & Sexy Spring Outfits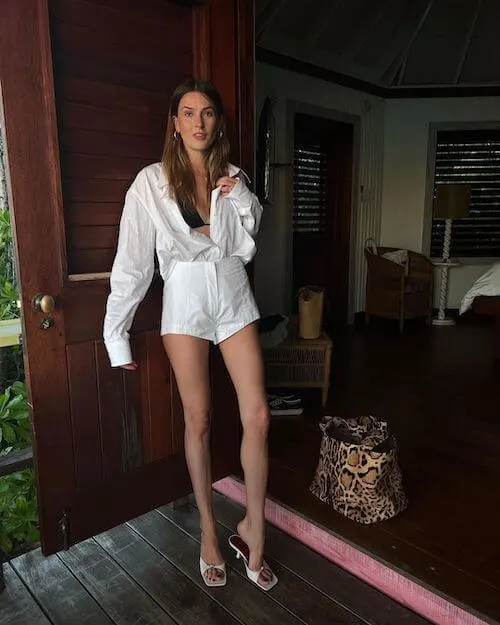 @camillecharriere
This season, update your wardrobe with chic and sexy pieces that will make you feel confident and beautiful.
From playful floral prints to fringed details, this season is all about making a statement.
Whether you prefer classic silhouettes or edgy looks, there are plenty of trends perfect for every style.
If you're looking for a bold look, try adding dramatic elements like vibrant colors and eye-catching textures.
For a more romantic vibe, opt for soft pastels, delicate lace accents and ruffles.
Bring out your inner diva with off-the-shoulder tops paired with mini skirts or high-waisted trousers.
Finish off any look with sleek accessories like strappy sandals and statement jewelry for an extra touch of glamour.
Oversized Blazer + Mini Dress + Strappy Sandals / Heels
This is a look that has been seen on runways and streets alike, making it ideal for those who want to keep up with the latest fashion trends.
The beauty of this look lies in its versatility; you can dress it up with heels for a night out or dress it down with sandals and a pair of sunglasses for a more casual day look.
To get the perfect fit, choose an oversized blazer in a lightweight material like linen or cotton so you stay cool when temperatures heat up.
An A-line or bodycon minidress provides an effortless way to show off your curves while staying comfortable all day long.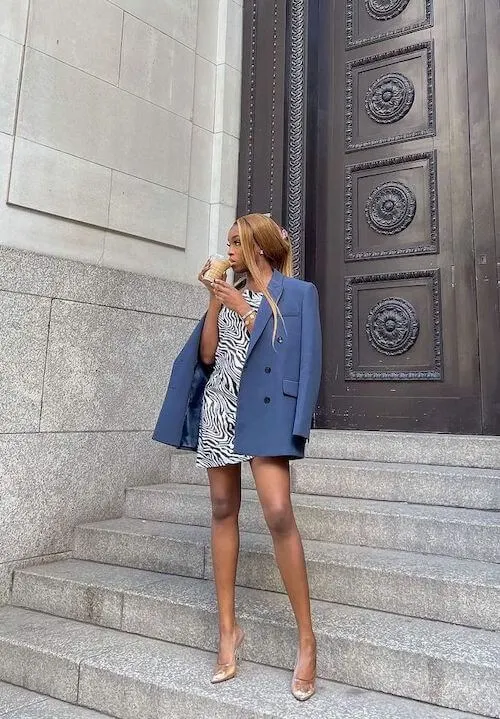 @mistinaax
Crop Top + Long Skirt
The crop top and long skirt combination is an ideal outfit for those wanting to stay cool while still looking stylish.
Women can choose from a variety of colors, patterns, and fabrics to create their own unique look.
A simple white shirt with a vibrant floral maxi skirt will get you through the summer in style while still staying comfortable.
For colder nights, try adding a cardigan or jacket over your ensemble to keep warm without compromising on fashion!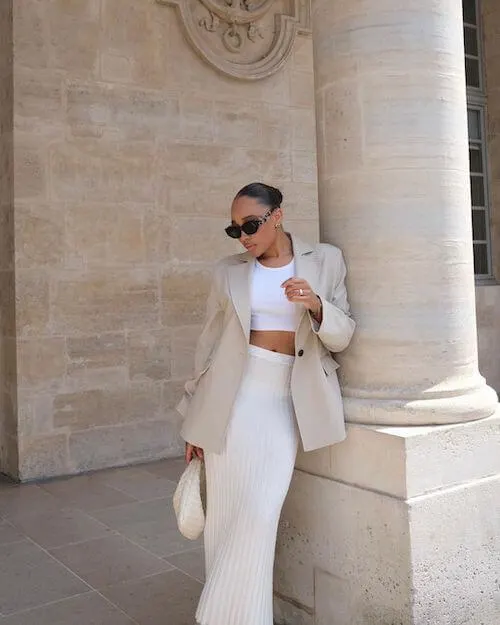 @bygigivassallo
Turtleneck + Mini Skirt
Turtlenecks and mini skirts are a fashion combination that's perfect for the upcoming spring season.
This classic pairing offers women the chance to show off their fashion sense while also staying warm during cooler evenings.
It's an easy look to put together, as long as you're mindful of the colors and fabrics you choose.
Go for muted shades in both your turtleneck and skirt, such as navy blues, mustards, grays or light pinks.
If you want something a bit more daring, try adding a bright pop of color with accessories like printed scarves or berets.
Selecting quality materials is key: opt for heavier wools or cashmere knits to keep out the chill and pair them with lightweight tweed, jacquard or cotton skirts for an airy feel that won't weigh you down.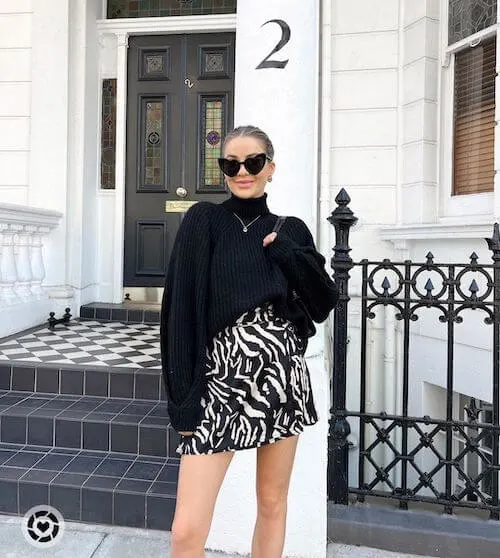 @nadiaanya__
Cardigan + Wide Leg Pants
Women are always looking for the perfect outfit to transition from winter to spring—and cardigan wide-leg pants may be just the thing.
These stylish and versatile pieces of clothing can be styled so many different ways that you'll never want to take them off.
With their long, wide-leg fit, they can create a sophisticated yet relaxed look that is perfect for the office or a casual day out running errands.
Whether you choose a solid color or an interesting pattern, these statement pieces will have you feeling confident about your new look all season long.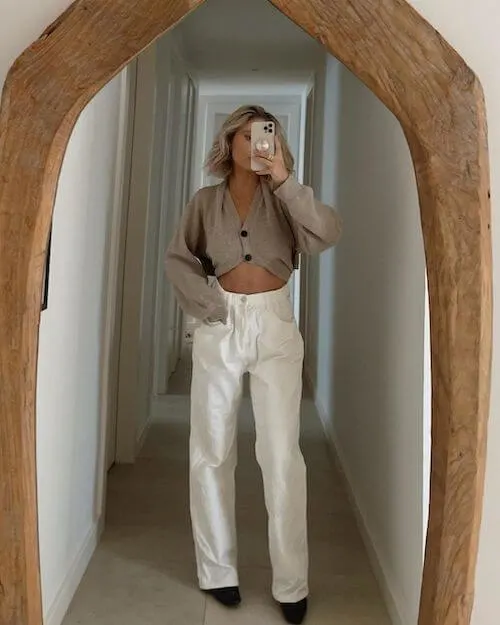 @laurajadestone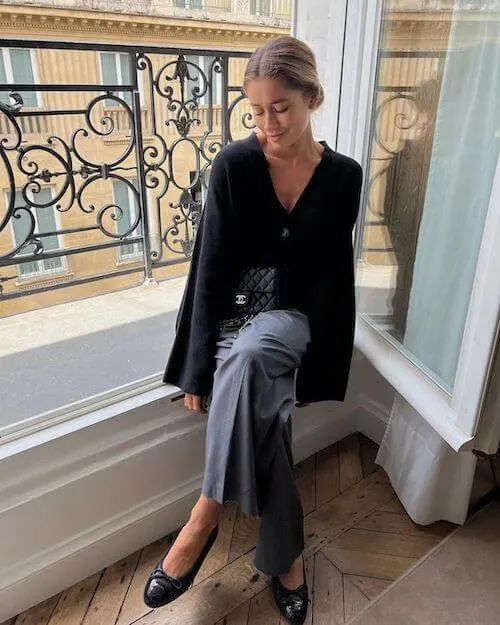 @lovisabarkman
Button-Down + Mini Skirt
This is a perfect combo to add a sense of chic and class to any spring wardrobe.
Not only does it boast a classic and timeless look, but its flattering design offers long legs an extra boost of confidence when walking into any room.
Whether you're hitting up brunch with the girls or heading out for date night, this piece will be your go-to for all occasions.
It's also perfect for layering in cooler temperatures – try adding tights, boots and a leather jacket to complete your look!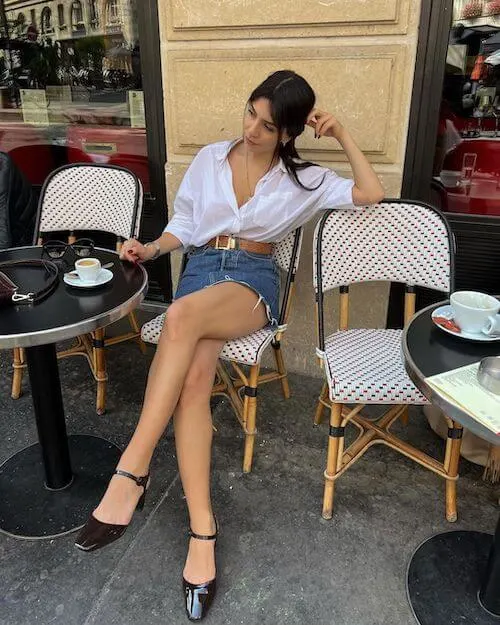 @ani.maar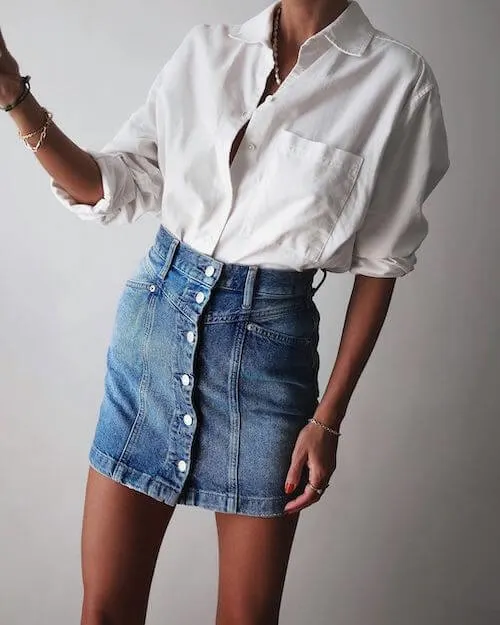 @andicsinger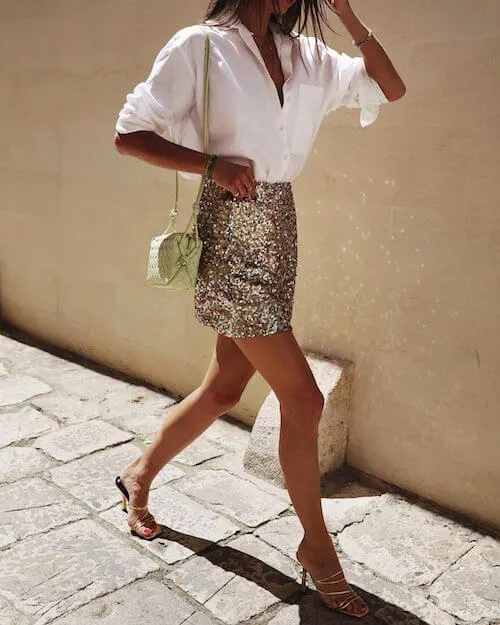 @andicsinger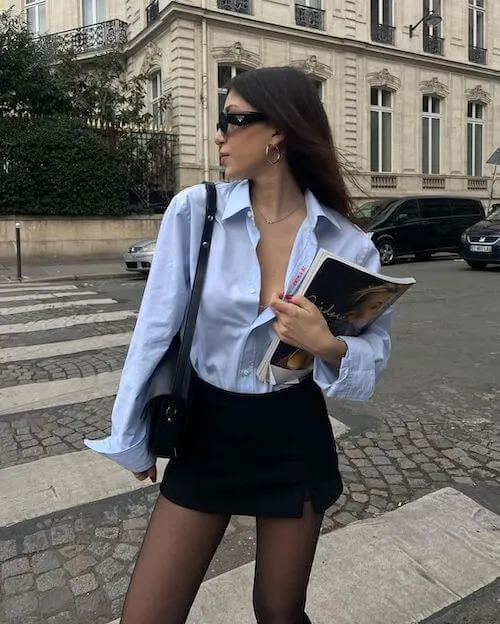 @ani.maar
Oversized Sweatshirt + Denim Shorts + Sneakers
For those women who don't enjoy the more traditional springtime trends, there's a comfortable and stylish option: oversized sweatshirt, denim shorts, and sneakers.
This look combines comfort with effortless style, making it a great choice for any woman looking to stand out in her wardrobe this season.
The oversized sweatshirt offers plenty of room to move around while staying warm throughout the day.
Whether you choose a classic crewneck or something more modern like a hoodie, this piece allows you to express your personality while keeping cozy.
Denim shorts add some edge to the outfit and can be dressed up or down depending on your occasion; pair them with a pair of cute sneakers for an everyday look or dress them up with heels for night outings.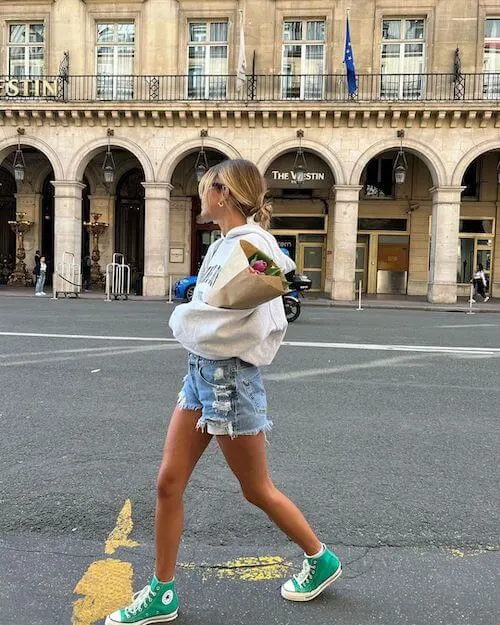 @audreyafs
Corset + Jeans
This spring, the fashion world is welcoming an exciting new trend: corsets and jeans!
The combination of these two classic garments creates a beautiful silhouette that's perfect for flaunting your figure.
Corsets have long been associated with elegance, but now they can also be found in more casual looks too.
Whether you choose to pair them with skinny jeans or mom-style jeans, this look is sure to make any woman stand out from the crowd.
To get the perfect outfit, start by picking a corset in a color or pattern that reflects your personal style.
Then, choose a pair of high-waisted jeans that fit comfortably while still giving you enough room to move around.
Balance out the proportions by pairing your corset with some statement accessories such as chunky jewelry or bold shoes.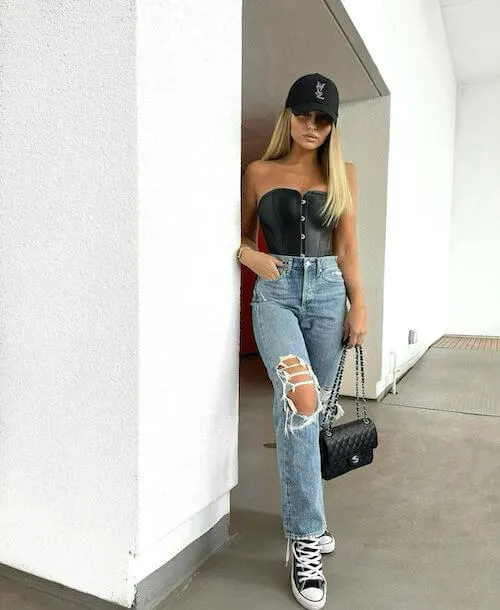 @edenmarihaviv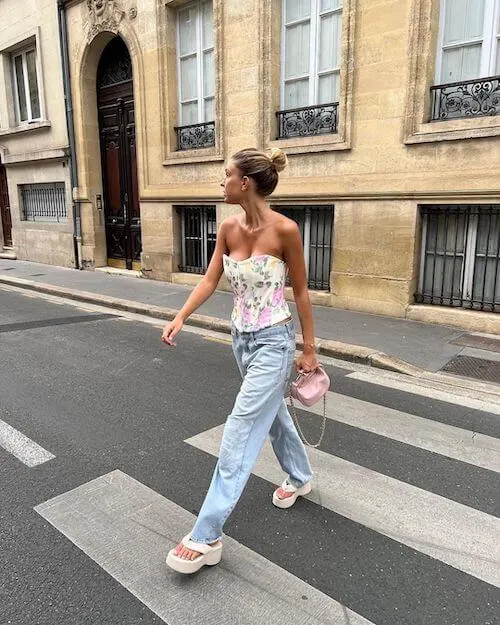 @audreyafs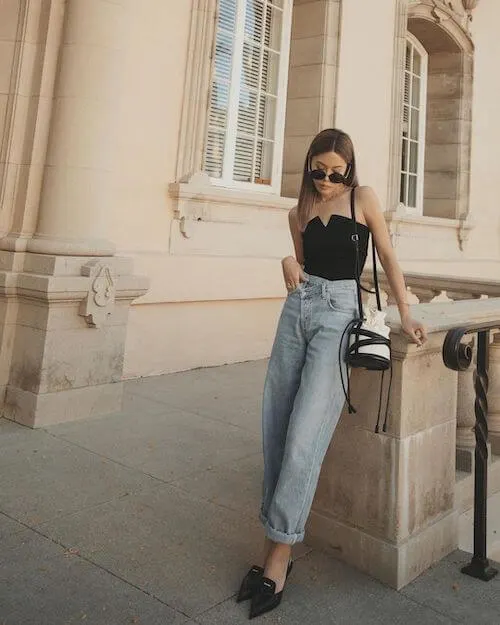 @tsangtastic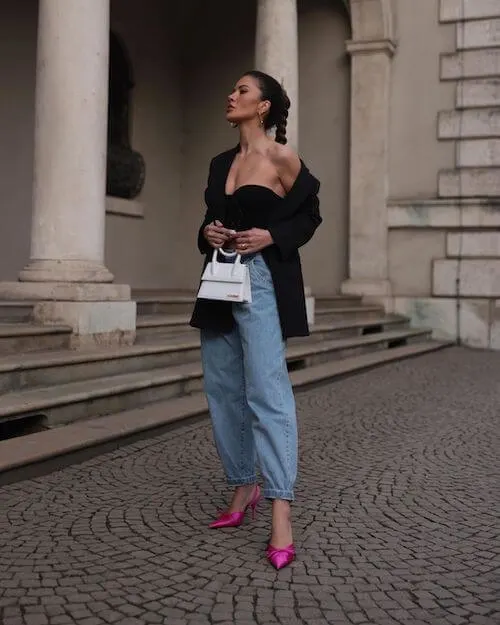 @fusunlindner
Tee + Long Skirt
Women's spring wardrobe is incomplete without a tee and long skirt.
The combination of these two items can help to create an effortless, yet stylish outfit for the season.
Not only does this look flatter all body types, it also provides comfort and flexibility when transitioning from one activity to the next.
The best part about wearing a tee and long skirt in spring is that it allows women to dress up or down depending on their plans for the day.
A basic white t-shirt with a high-waisted skirt can be dressed down with sneakers for running errands or lunching with friends, while switching out the shoes for heels instantly elevates the look for date night or dinner out.
Accessories such as earrings, hats, and bags are perfect additions to add extra style points.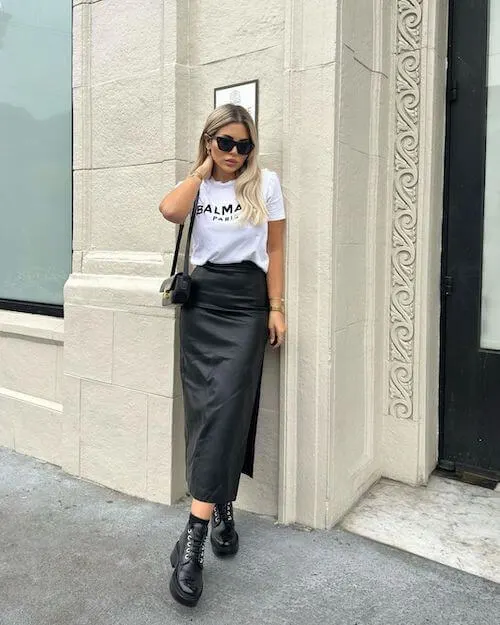 @edenmarihaviv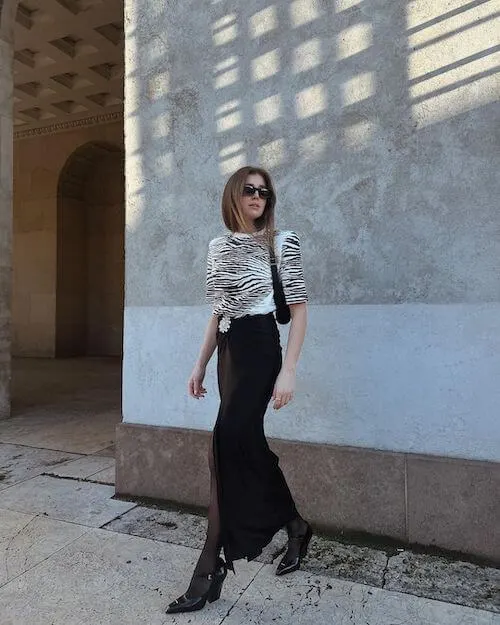 @darjabarannik
White Tee + Beige Pants
The combination of a white tee and high-waisted beige pants is an ideal clothing combo for the season.
Not only is this outfit versatile, but it's also comfortable and flattering on all body types.
White t-shirts can be dressed up or down depending on the occasion and pair exceptionally well with beige bottoms.
A crisp white tee will look great tucked into high-waisted beige pants to create a flattering silhouette that draws attention to your curves while elongating your legs.
To complete this classic look, add a pair of cute sneakers or sandals to enhance the subtle elegance of this style.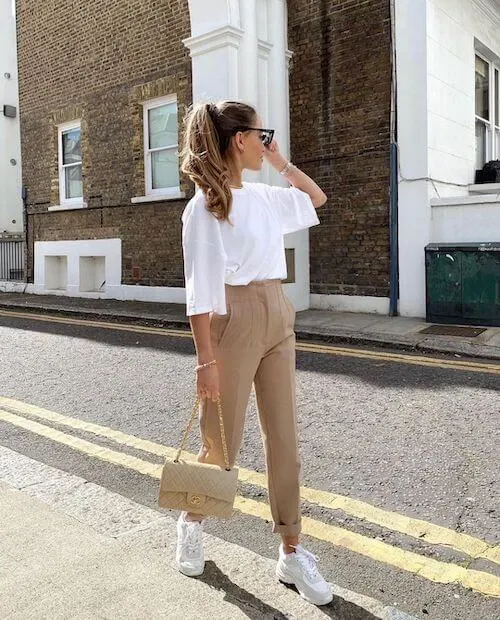 @kateehutchins
Chic Spring Look With Blue Blouse
One of the most essential pieces for any woman's wardrobe is a blue blouse or button-down shirt.
This timeless piece can be dressed up or down, making it versatile enough to fit any occasion.
From pastel blues that perfectly complement warm weather to bright hues that add a fun pop of color, there are many different options available this season.
Whether you prefer a casual T-shirt silhouette or something more structured and professional looking, you're sure to find something that fits your lifestyle in this classic style.
A printed design adds visual interest, while ruffles and other unique details can take your look up a notch for special occasions.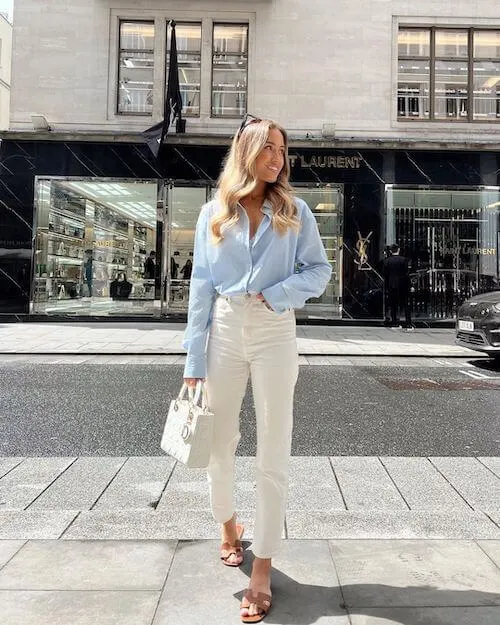 @kateehutchins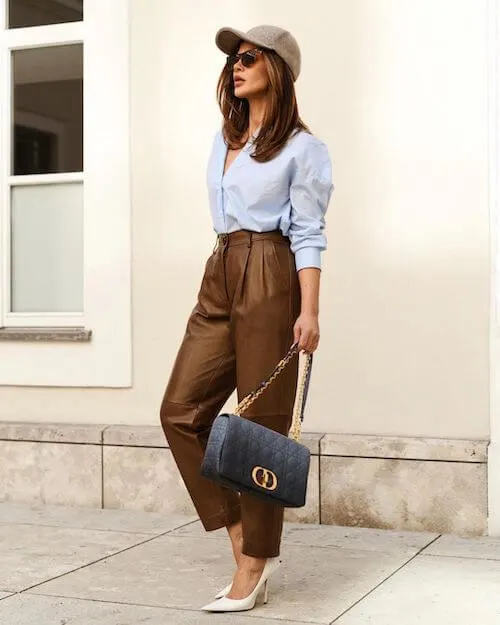 @fusunlindner
Cut-Out Maxi Dress
Women can take advantage of the season's milder temperatures and opt for a stylish cut-out maxi dress.
This look is perfect for both day and night.
For a daytime look, accessorize the dress with a cozy cardigan or blazer to keep warm when the chill sets in.
A pair of sandals or sneakers work perfectly for this casual style.
For a more elevated ensemble, switch out your sandals in favor of a pair of strappy heels and add some jewelry pieces like hoop earrings and layered necklaces to complete your look.
On date night, you can elevate your outfit even more by layering a button-down shirt over the dress for an unexpected twist on traditional evening wear.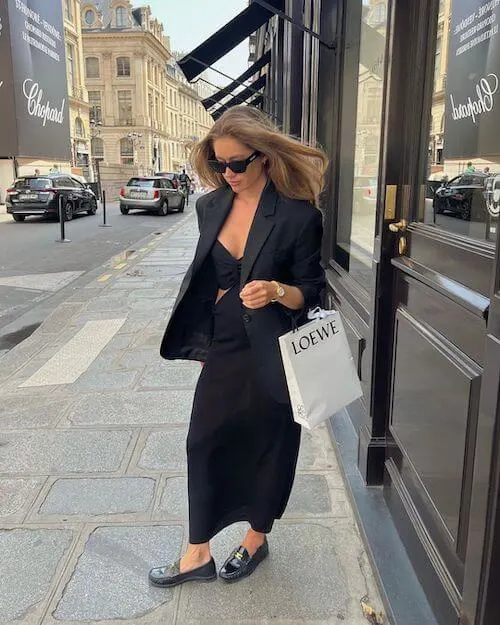 @lovisabarkman
Tube Top + Wide Leg Pants
One look that is sure to turn heads this season is the combination of a tube top and wide-leg pants.
This stylish look is perfect for casual days spent out with friends or romantic date nights.
For those who want something more subtle, a solid color works well while more daring fashionistas may opt for a printed option.
Either way, it pairs perfectly with wide-leg pants that come in all shapes and sizes – from high-waisted cropped styles to lightweight linen trousers – giving you plenty of room to express your sense of style.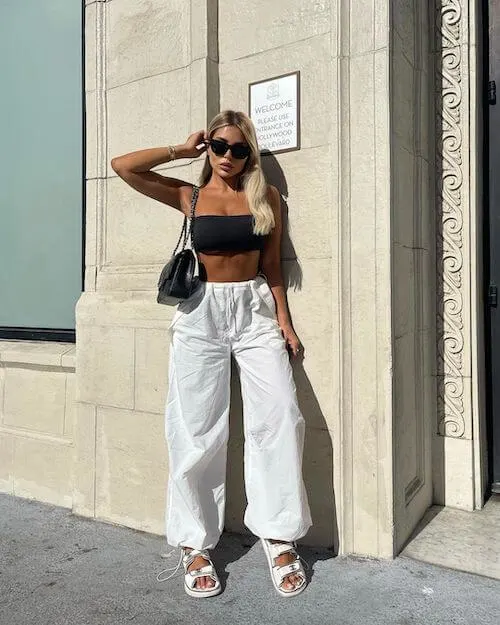 @edenmarihaviv
@charlottebridgeman
Long Flirty Spring Dresses + Trench Coat / Blazer
A long flirty spring dress is a great way to show off your style without being too flashy.
Whether you choose a color-blocked maxi dress or a floral midi dress, this fun, fashionable pieces are perfect for transitioning from winter into warmer weather.
To complete the look, pair your flirty spring dress with a classic trench coat or blazer.
Trench coats are an essential piece of any woman's wardrobe as they can be dressed up or down depending on the occasion.
This timeless piece has become even more stylish in recent years with new colors and textures available – like leather and velvet – that will take your outfit to the next level.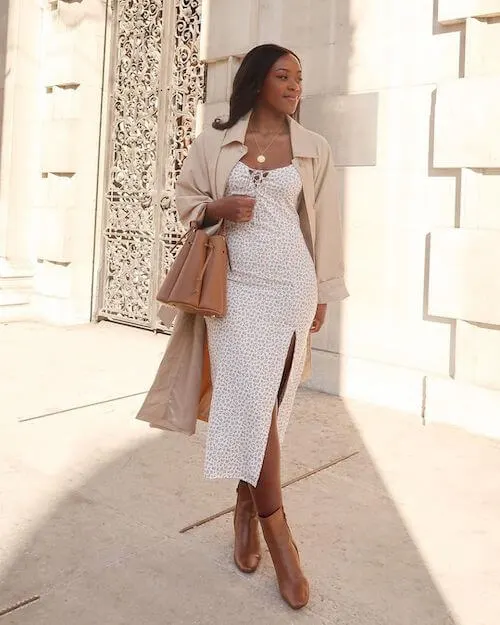 @josephineslooks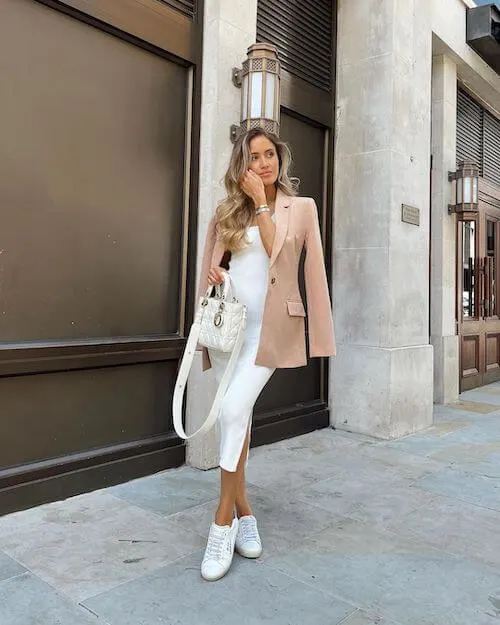 @kateehutchins
Biker Shorts + Denim Jacket
This look gives off confident vibes while also being comfortable and stylish.
Biker shorts are perfect for those warmer days when you want something lightweight yet still fashionable.
Look for high-waisted styles with ties or detailing at the waistband for an extra touch of style.
Denim jackets can add texture and contrast to any outfit and instantly elevate your look with their classic style.
Whether you go for a cropped design or oversized fit, there's sure to be one out there that will suit your style perfectly.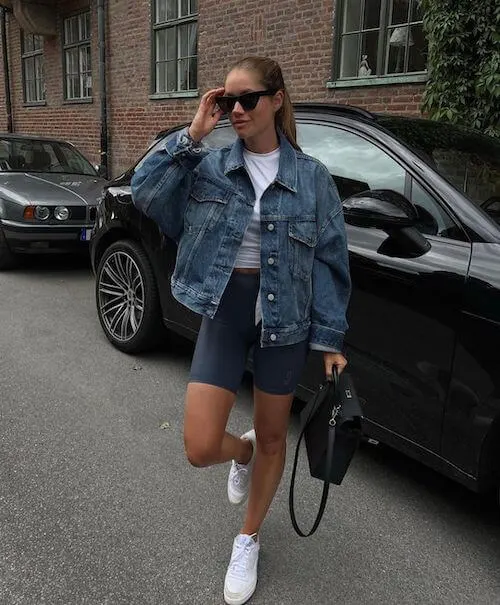 @lovisabarkman
White Shorts + Oversized Sweater
White shorts are easy to find.
Choose from high-waisted styles for a more polished look, or ripped denim if you're going for something more laid back.
To complete your outfit, add an oversized sweater in any color that suits your preference.
Whether it's a neutral color, pastel pink, baby blue, or a bold yellow hue, the baggier fit will help to balance out the fitted shorts while also providing warmth on chillier days when needed.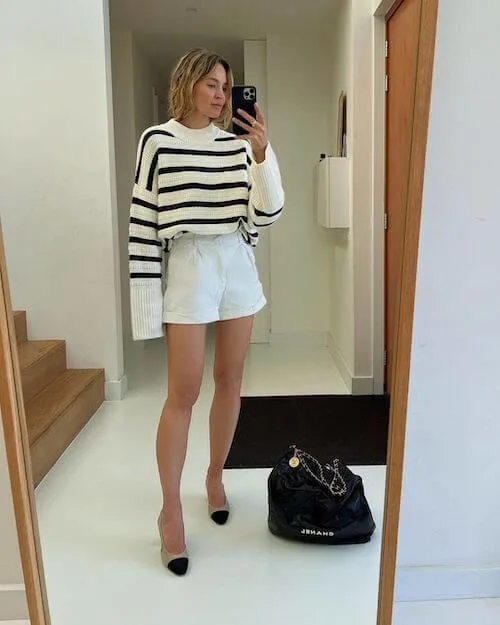 @anoukyve
Stylish White Jeans Outfits
White denim can also be surprisingly versatile and flattering when worn correctly.
A simple pair of skinny white jeans can easily transition from day to night with just a few switches including adding a lightweight blazer or scarf for evening events.
For those looking for something more casual, boyfriend-style or flared jeans are perfect for weekend brunch dates and running errands around town.
The great thing about white denim is that it complements almost all colors making it easy to create endless outfit combinations!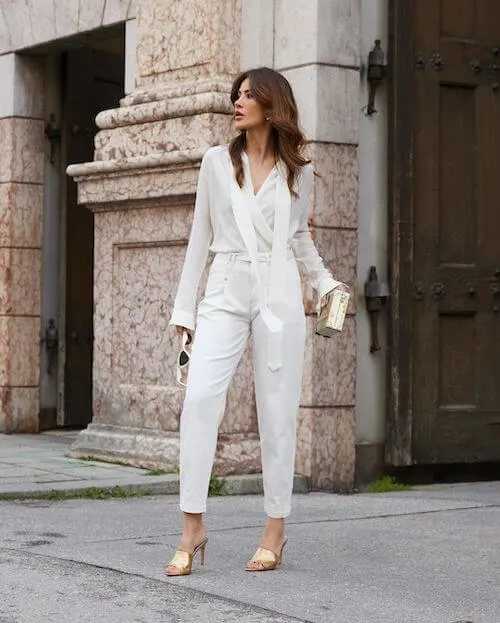 @fusunlindner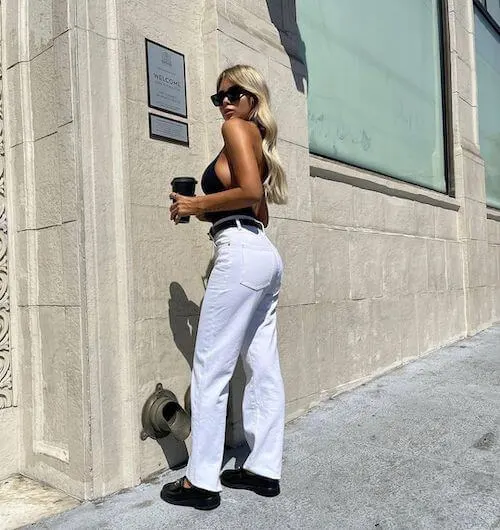 @edenmarihaviv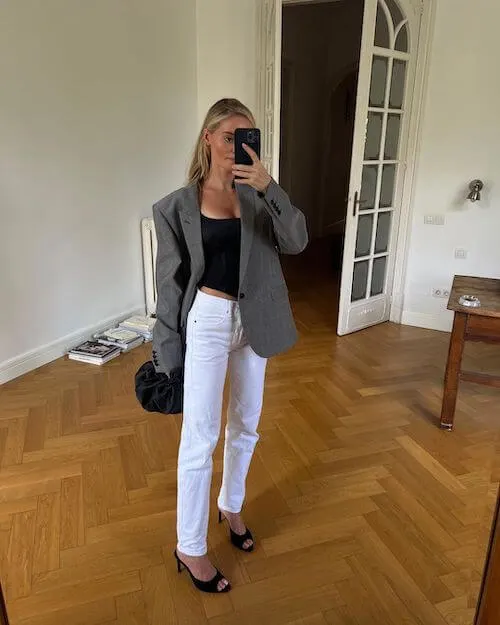 @clairerose
Midi Dresses and Skirts
Spring is the perfect time for women to take advantage of the midi dress and midi skirt trend.
This style of dress and skirt creates an effortlessly chic look that flatters every body type.
From flowy feminine designs to bold prints, there's something for everyone in this versatile trend.
A midi-length dress or skirt typically falls just above or below the knee, making it a sophisticated option for everyday wear.
It's also a great seasonal transition piece because it can be worn with sandals as well as boots once the weather gets cooler again.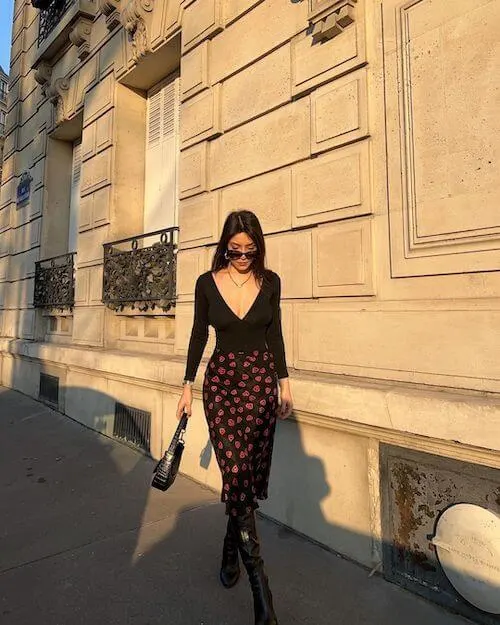 @ani.maar
More Casual & Sexy Outfit Ideas For Women Perfect For Spring Weather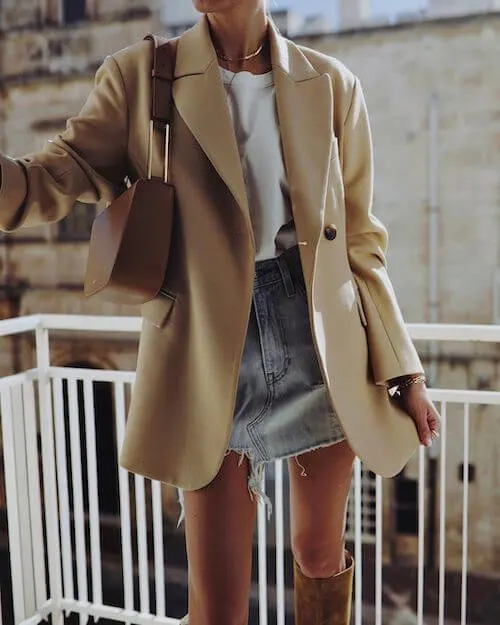 @andicsinger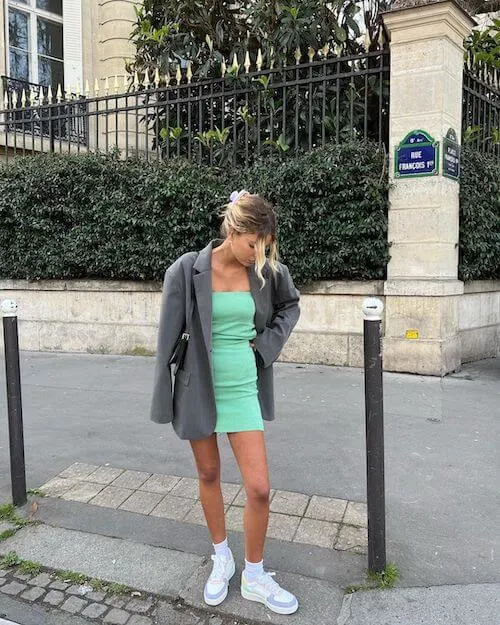 @audreyafs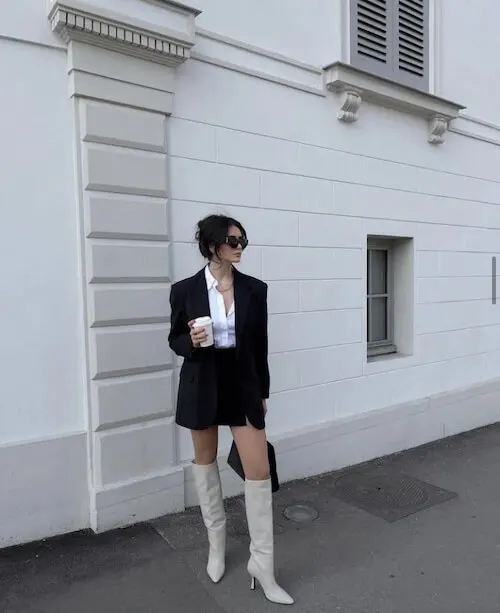 @alixystories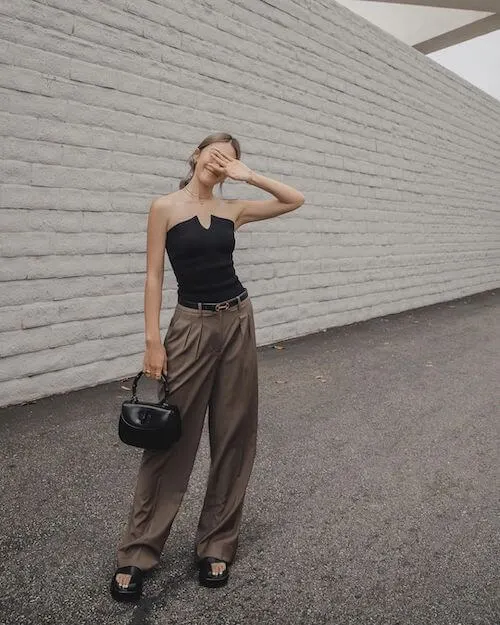 @tsangtastic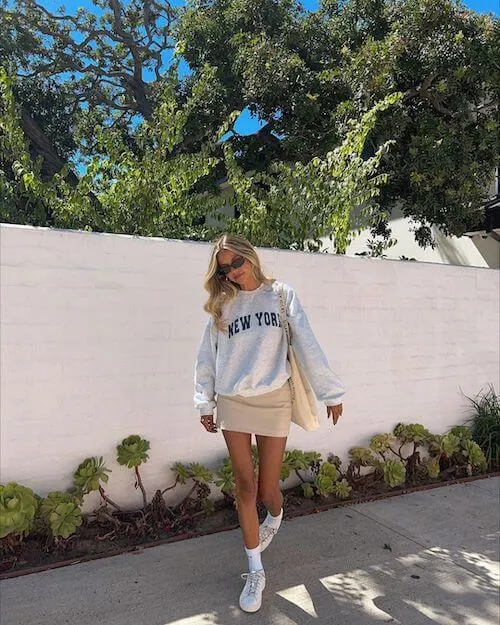 @brit_harvey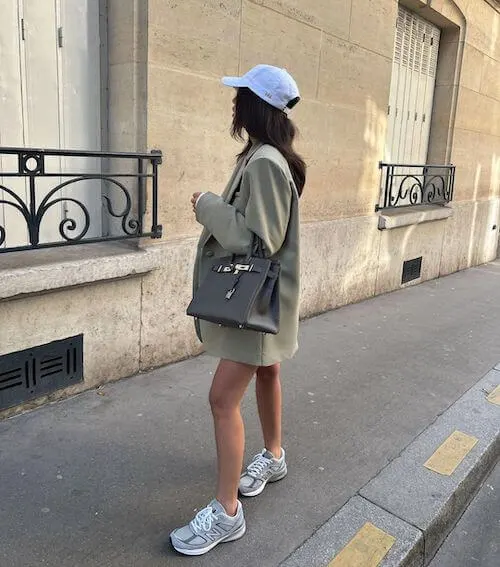 @mimiarr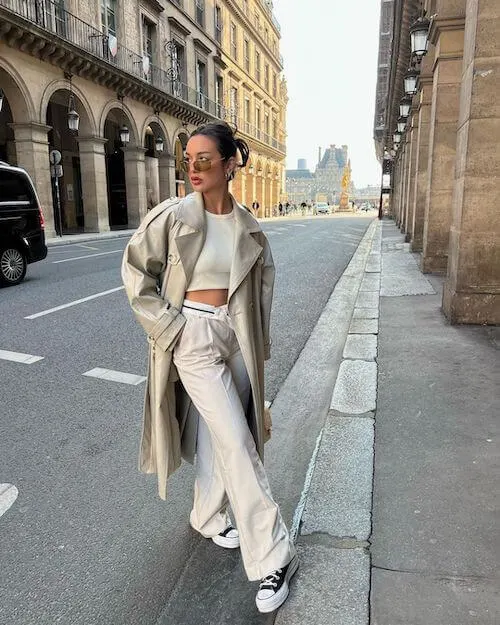 @mimiarr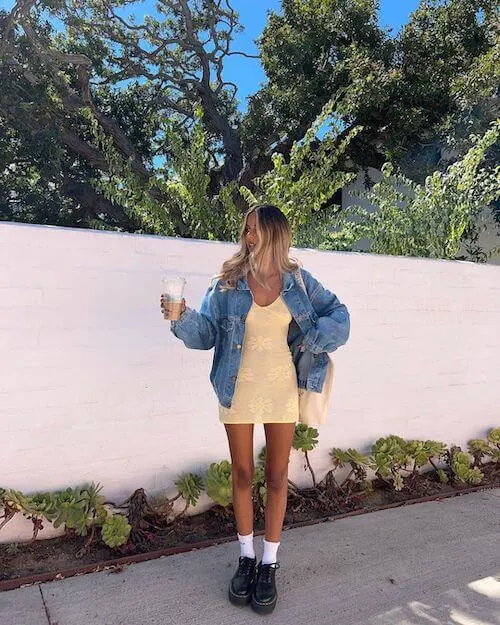 @brit_harvey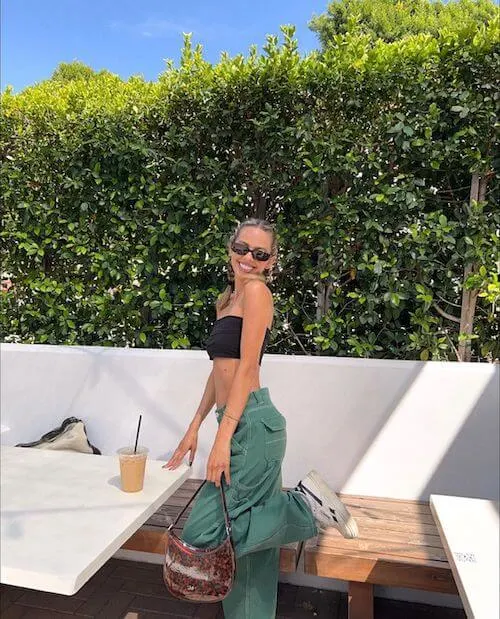 @brit_harvey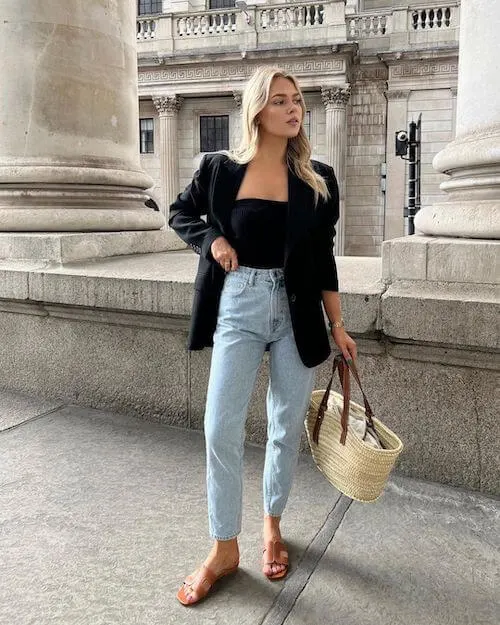 @mildagud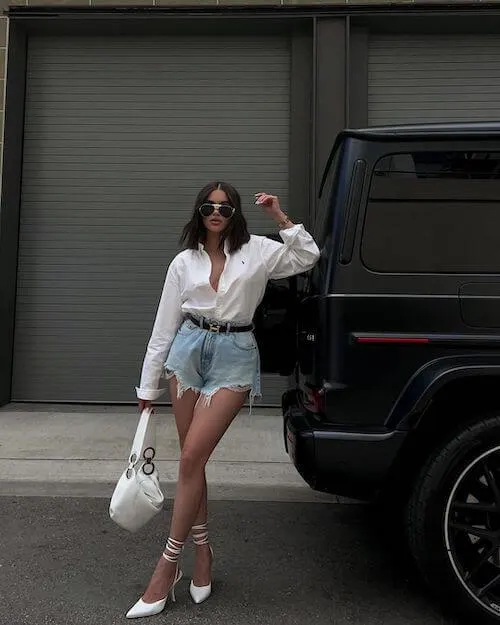 @vitaliia
Cute & Seductive Spring Date Outfit Ideas
What To Wear On Spring Date?
Whether you're going for a romantic dinner or a leisurely stroll, selecting the right outfit is key to feeling confident and looking your best.
To help make the decision easier, here are some stylish tips on what to wear on a spring date for women.
Lightweight fabrics and breezy silhouettes will be your first go-to when styling an appropriate look.
Opting for midi dresses or cute skirts with classic neutral colors, or soft florals and muted tones will instantly give off a chic, effortless vibe.
If you want something more casual, try pairing high-waisted jeans with an off-the-shoulder blouse in light colors or vibrant hues like mint green and coral pink.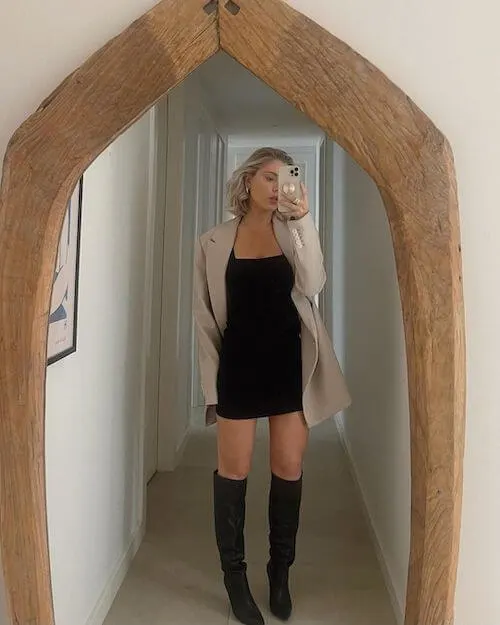 @laurajadestone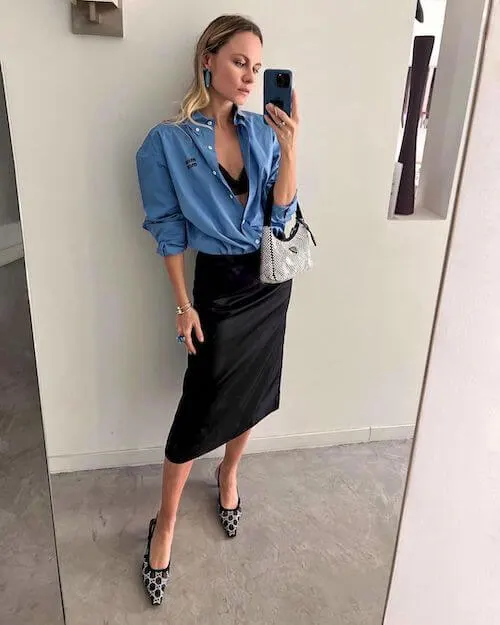 @katya_gousset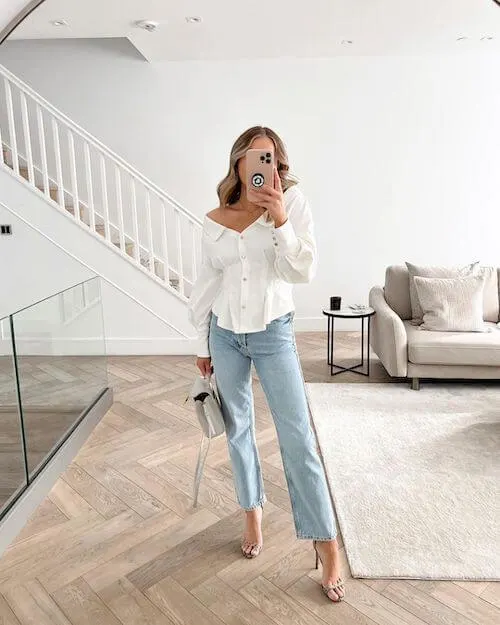 @nadiaanya__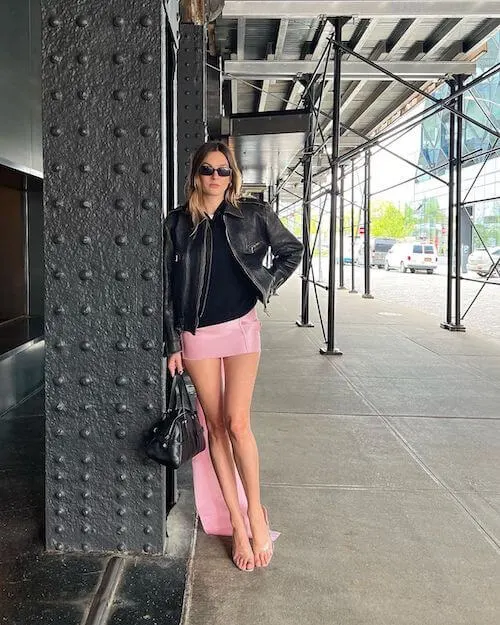 @camillecharriere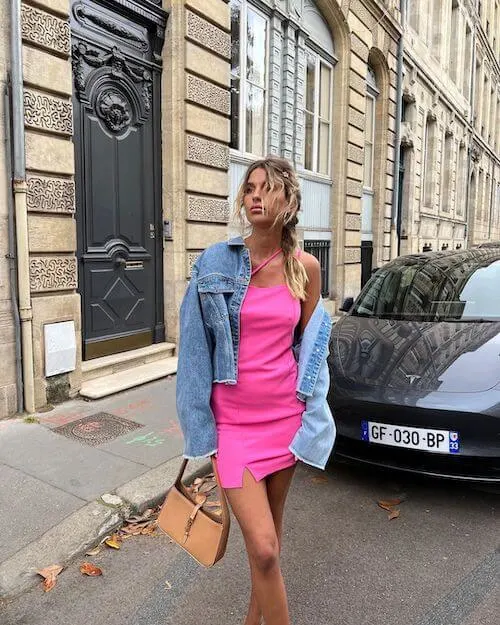 @audreyafs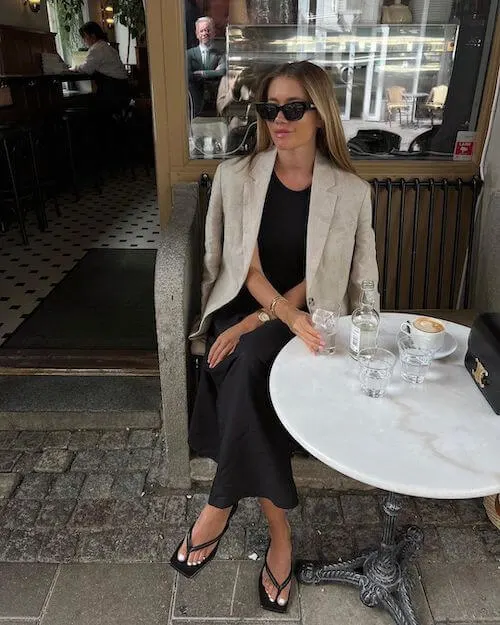 @lovisabarkman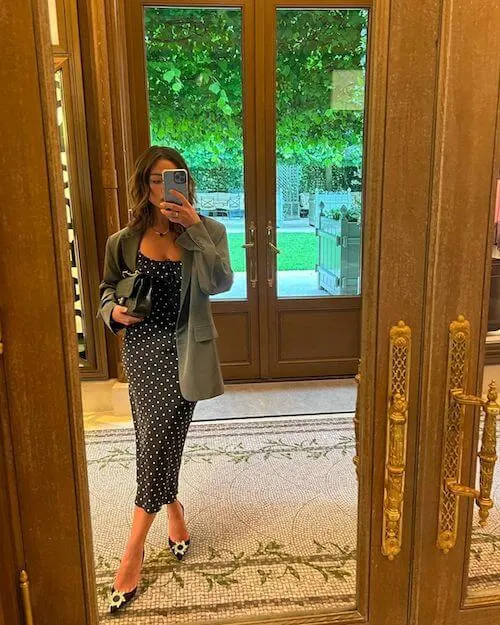 @mimiarr
What should I wear to look seductive in spring?
Incorporate sheer fabrics with bold silhouettes, such as a pair of high-waisted trousers with a cute top.
Or opt for something more daring – like a flirty mini skirt paired with an eye-catching v-neck bodysuit or crop top.
If your outfit is too risque, layer it up with some statement jewelry or add some height with strappy heels.
This will instantly transform your look while still keeping it super sexy.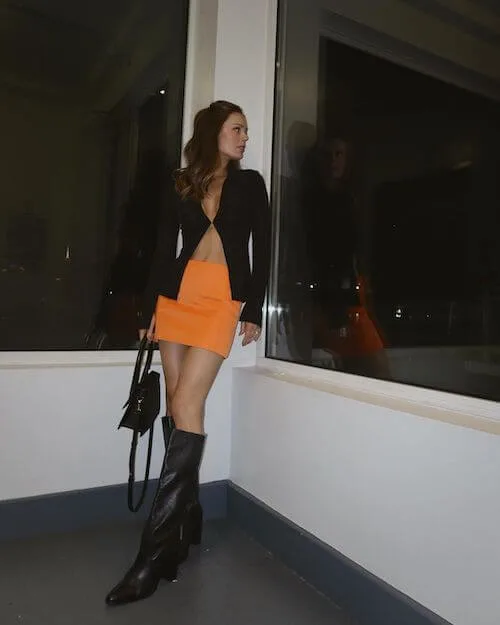 @charlottebridgeman
Creating Sexy Spring Outfit Ideas
In conclusion, sexy spring outfits for women provide an opportunity to embrace the season with confidence and glamour.
From bold floral prints to neutral colors, there are a variety of options to choose from that will help you look and feel your best.
Don't be afraid to try something unconventional or out of your comfort zone; it may just be exactly what you need to spice up the season.
Most importantly, wear what makes you feel beautiful and confident.
This post was all about sexy spring outfits.
About The Author
Tracy is an experienced personal stylist, shopping expert, and fashion & lifestyle blogger. She has been featured on Time Magazine, Bustle, Best Life, Glam, The Zoe Report, Mic, and GOBankingRates, for her insights on fashion, beauty, home decor, and lifestyle. Read More
Related Posts: