Looking for romantic and cute date night dresses? Check this post for 40+ stunning date night dresses that you will love so much!
Dresses are one of the best date night outfit ideas that seem never to go wrong! They are perfect for the first date, a formal dinner date right after the business days, or a romantic fancy dinner on Valentine's Day, etc.
If you are looking for the perfect outfit for your next date, choose a little black dress or a cute dress to show your best assets, and pair it with your favorite hoop earrings or statement earrings, strappy black heels, and a chic handbag, and you are sure to impress!
Want more inspiration for casual date night outfits? Instead of white tops or jeans, why not try casual dresses? These flirting and bold prints are not only perfect for apple orchards, but they are also charming for date night too! Change the black high heels to white sneakers or flats, and finish the whole look with a hint of red lipstick.
You can also play with the elegant satin dresses in a more fashionable way. Add moto jackets or any other faux leather jackets to level up their style and make them perfect for transit times.
In this post, we are sharing the best date night dresses we found from our favorite retailers for your date night collection. You can find the perfect black dresses, white dresses, pink dresses, red dresses, and many romantic date night dresses that you can't wait to get for your next date night. We also include plus-size clothing picks.
So scroll down to check these cute date night outfits and don't hesitate to check their prices or pin the dresses you like!
This post may contain affiliate links, which means I'll receive a commission if you purchase through my link, at no extra cost to you. Please read the full disclosure here.
This post is all about date night dresses.
Eden Midi Dress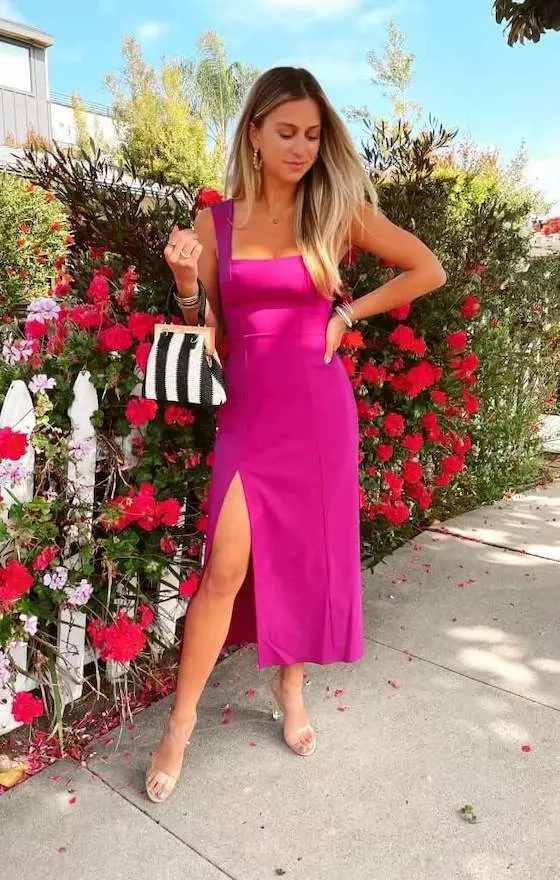 This fitted midi dress is as flattering as it is comfortable. Soft dark pink stretchy fabric holds in all the right places, punctuated with a side slit.
Gaia Floral Midi Dress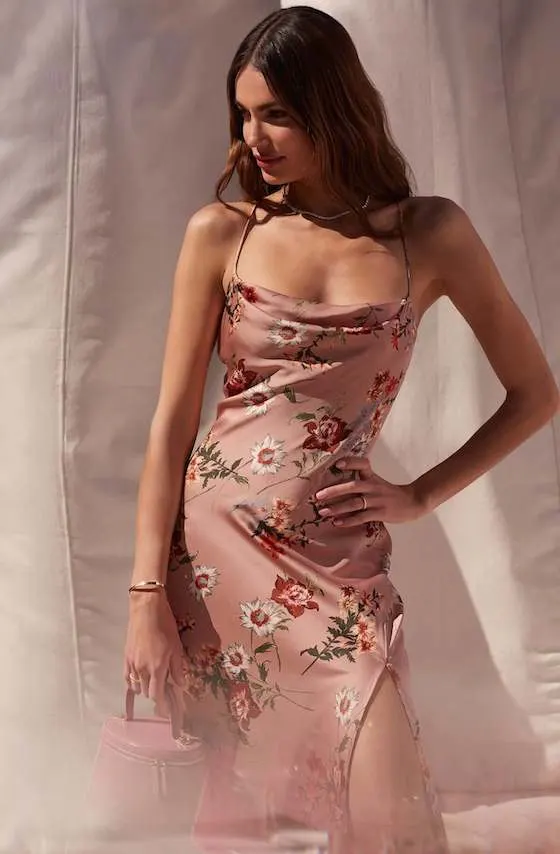 Slip into sexy. This dreamy silk midi dress is everything you need for long summer nights. Cowl neckline accentuates the bust and is supported by skinny shoulder straps. Vintage-inspired floral print decorates this style.
Gaia Midi Dress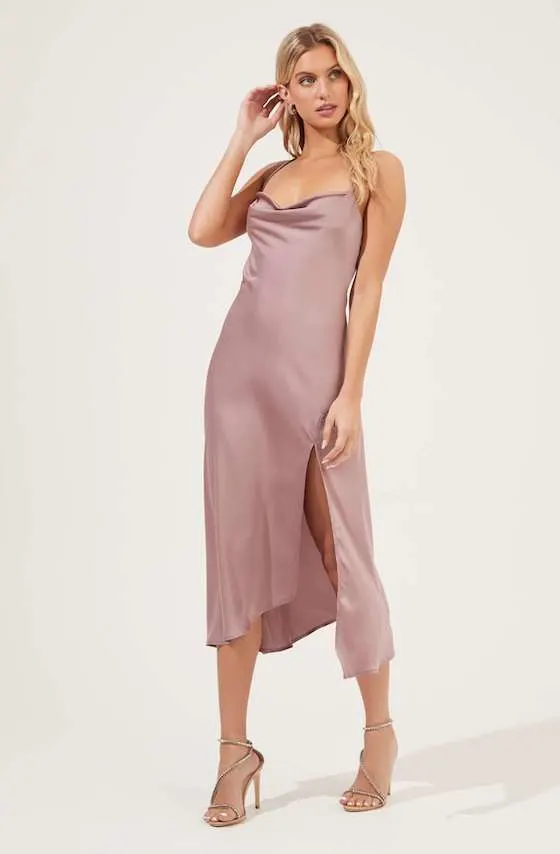 Make your special occasion memorable with the Gaia Midi. Starting with a sexy cowl neckline, this silhouette continues down to a relaxed bodice and asymmetrical skirt.
Danielle Dress
A puff sleeve and smocked back ensure the perfect fit, while a self tie waist cinches the whole look together and lets you control the tightness.
Cocktails On The Reg Dress Black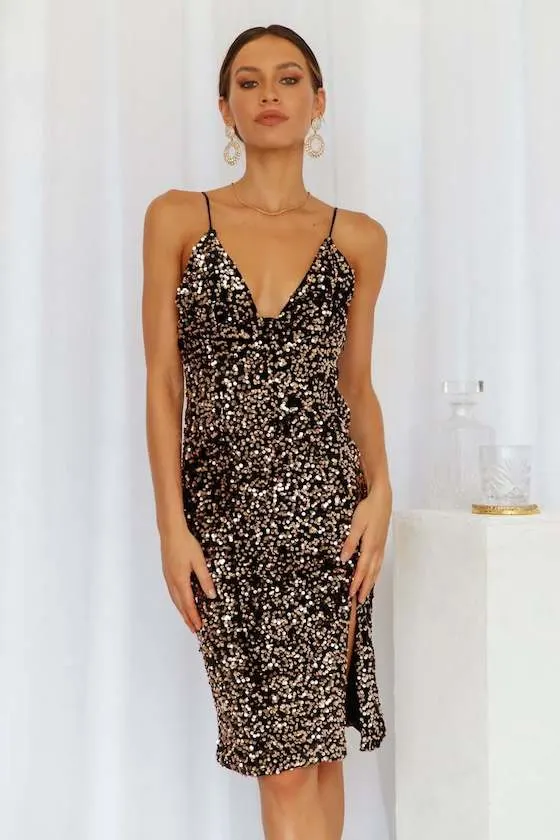 Get ready to be the centre of attention and life of the party with this striking multi-coloured, sequinned mini.
Polly Bubble Sleeve Cutout Mini Dress
The Polly Dress features a V neckline that leads to a defined waist and mini skirt with a ruffle trim. Cutout back with a back zip closure.
Rosebud Dress Champagne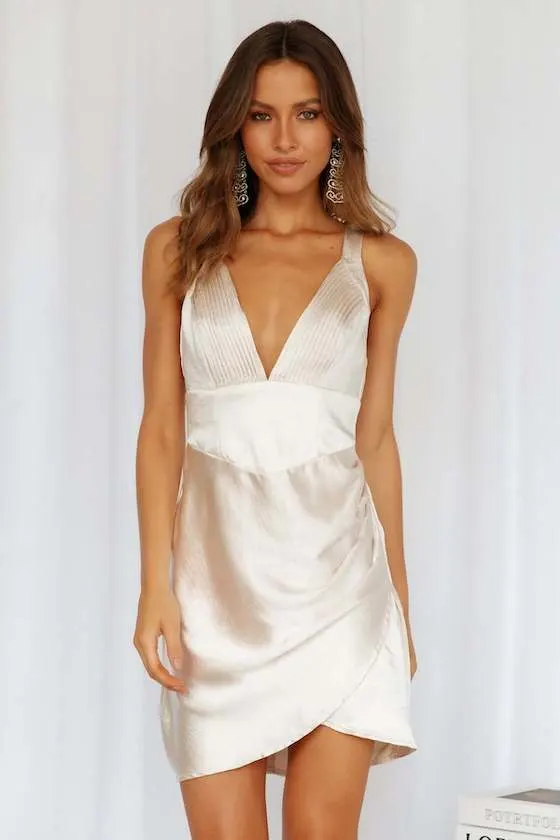 Be the sexiest thing around in the Rosebud Mini. Which features thick shoulder straps with a plunge neckline and a bodycon fit. You're on fire babe!
High Profile Dress Pink
Cue the Insta envy with this booty-popping mini's ruched detailing and incandescent sequins throughout. It also features fitted sleeves, a deep wrap v-neckline, and a split back for the babes who love to make a statement.
Misty Fountains Dress Red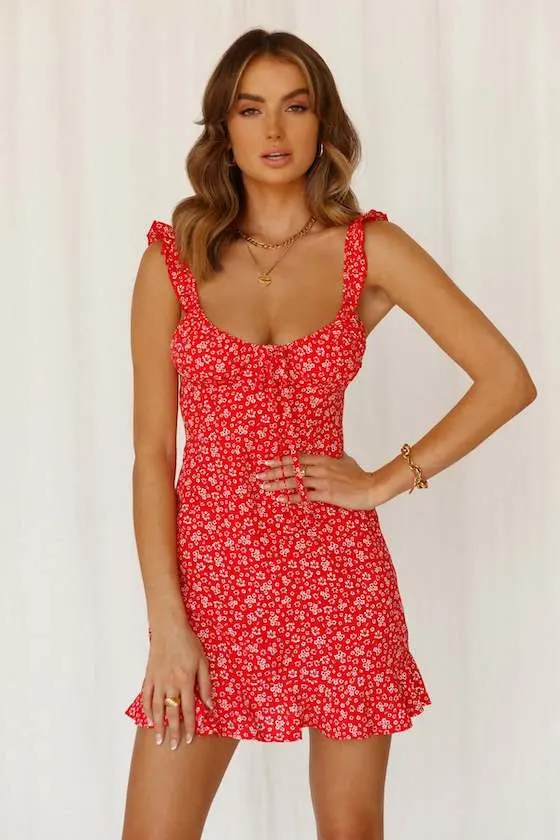 This dress is a burst of colour with its vibrant floral print, featuring ruffled shoulder straps, a sweetheart neckline and bust along with a stretchy, shirred back.
Happy Honeymoon Midi Dress Tan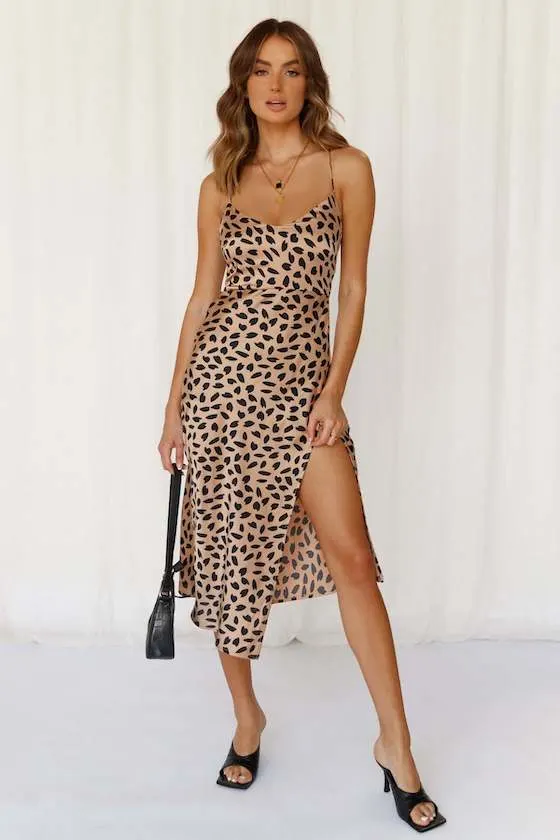 This dress features pared-back slip silhouette and babein' heart print throughout, cheeky wrap-style thigh vent!
Athens Burnout Ruched Midi Dress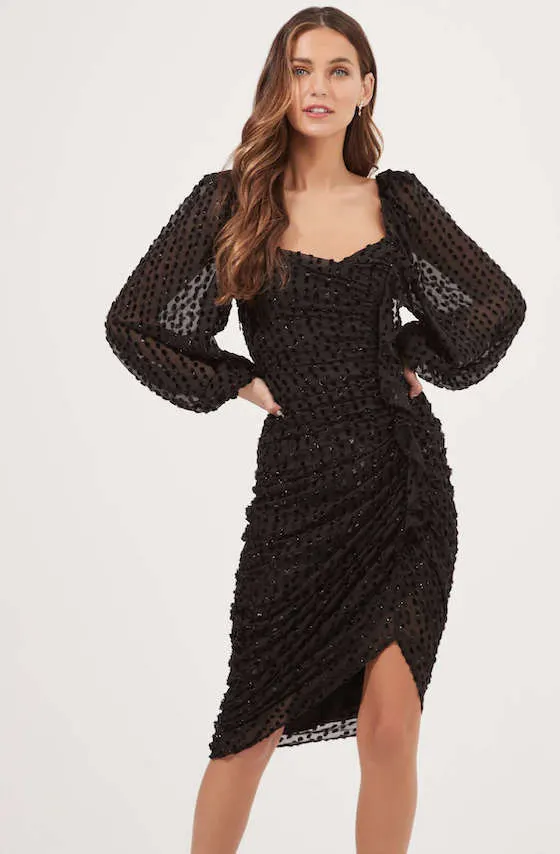 The Athens Dress features a sweetheart neckline that descends to a ruched bodice with a ruffle trim accent along the side.
Life In The Spotlight Dress Blush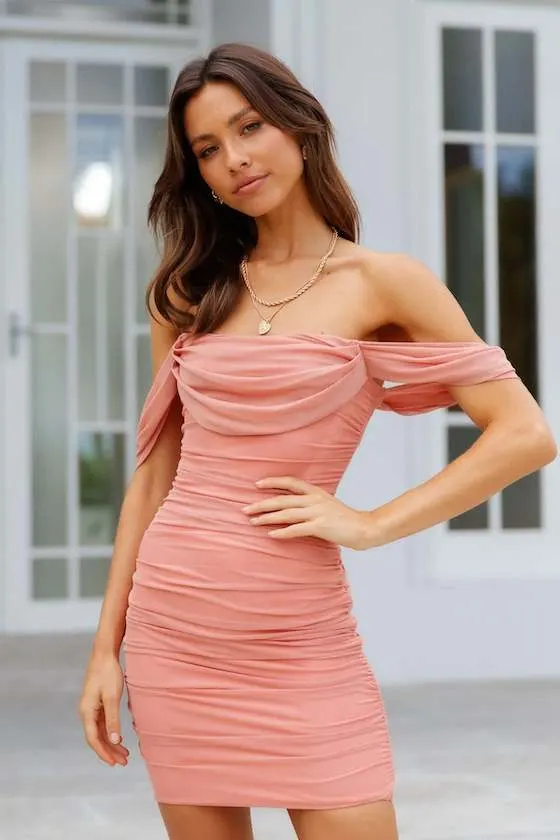 Featuring an off the shoulder detail with ruching ALL the way down. Style yours with heels and curls.
Alva Sweetheart Midi Dress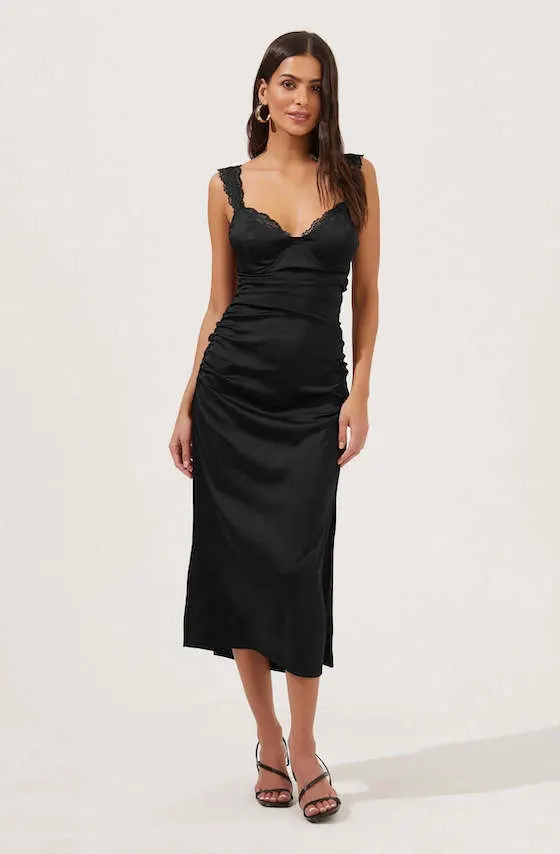 This sexy number features a sweetheart neckline with a lace trim along the bust and shoulder straps. Fitted bodices descends to ruched detailing at the hips.
Plus Multi Leopard Print Satin Ruffle Skater Dress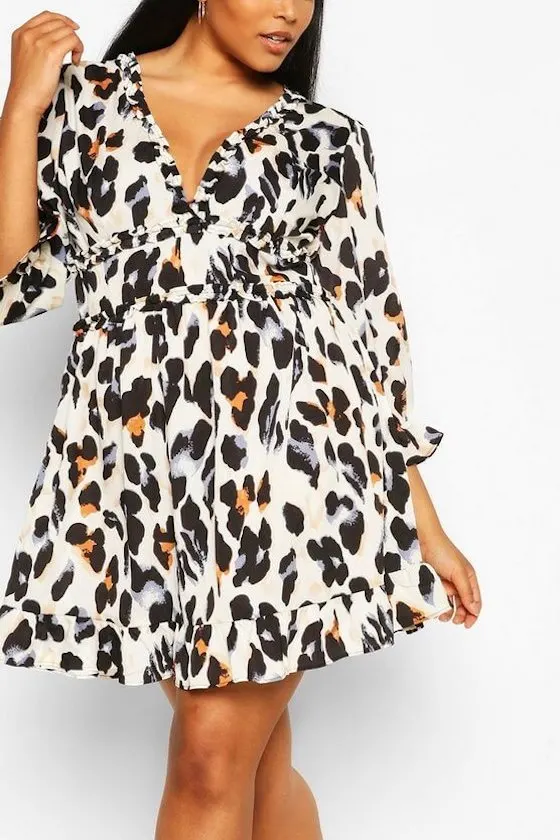 It's time to make a big, bold statement with this figure-flattering, curve-enhancing number that's all about highlighting your assets.
Proud Friend Dress Wine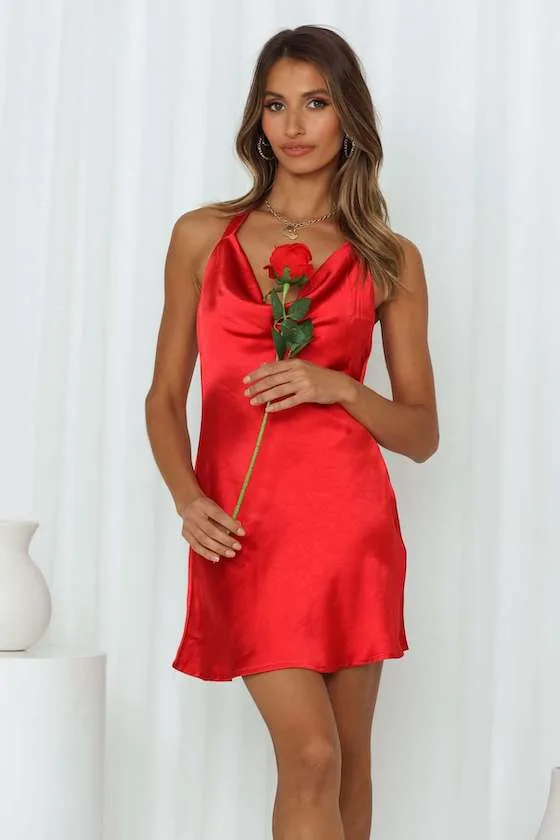 The Proud Friend dress has our jaws dropping with all its stunning features. This halter neck slip style features a cowl neck and low back feature.
Boutique Lace Plunge Skater Dress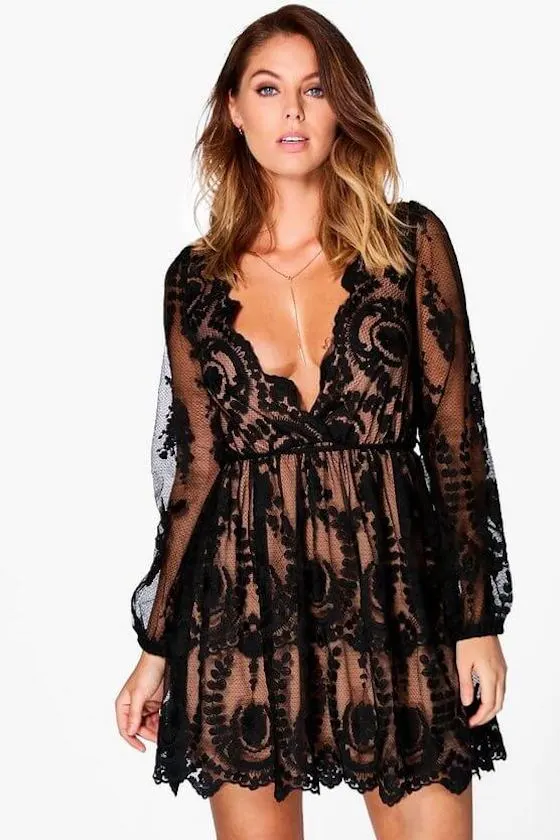 Make a statement and stand out from the crowd.
Wild Rose Midi Dress Navy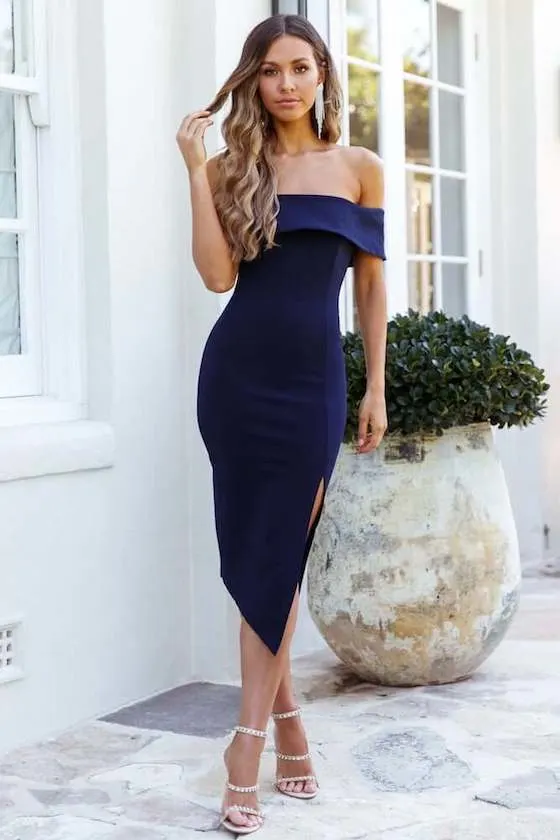 Made from a stretchy fabric to perfectly contour your body, this bodycon dress is designed to flatter from every angle imaginable. A flirty off-the-shoulder look combined with a feminine leg split on an asymmetrical hemline is secured by an invisible zipper at the back.
Heartfelt Confession Midi Dress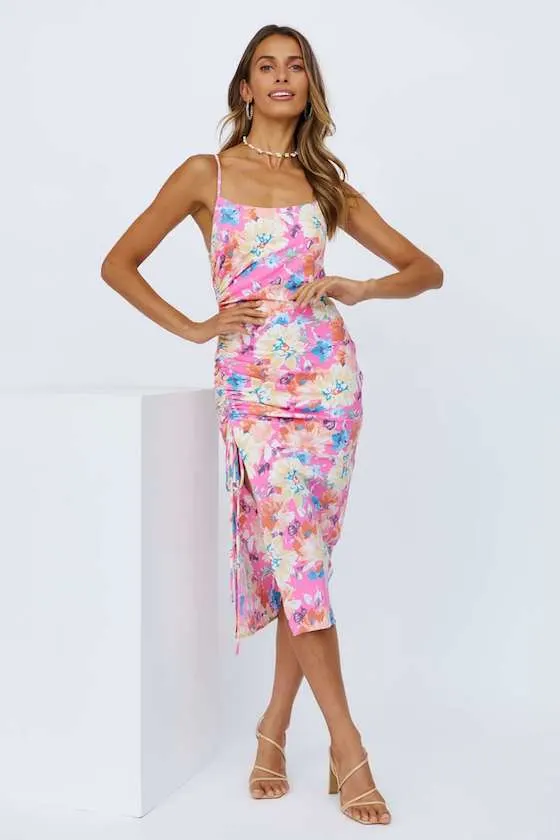 Try out the Heartfelt Confession Midi Dress and we guarantee your crush will say YES!
Cheers to This Black Off-the-Shoulder Bodycon Dress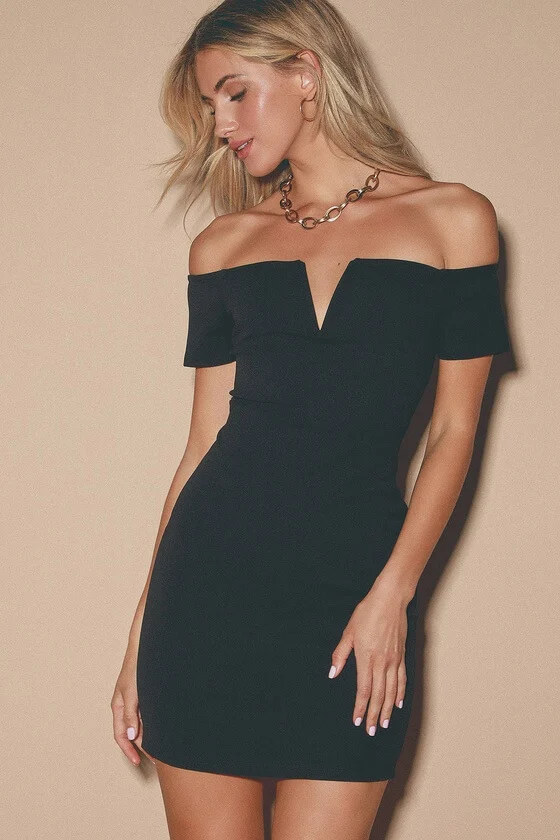 Medium-weight stretch knit shapes this sexy, off-the-shoulder number, with a notched neckline (plus hidden V-bar and no-slip strips).
Lovely Limelight Dress Pink
Featuring short puffy sleeves, button up and tie detail at the back with a midriff cut out and a ruffled bottom.
Ready for Festivities Black Multi Floral Jacquard Mini Dress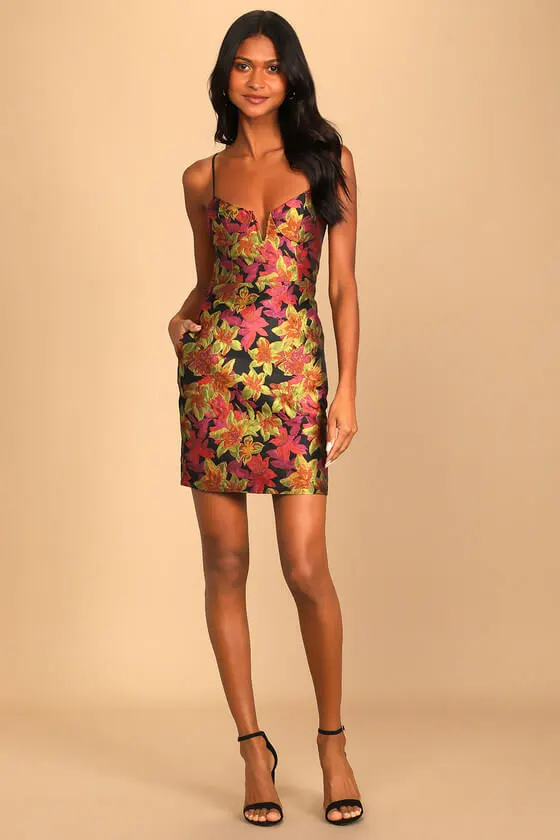 Woven jacquard fabric, with a bold red and green floral design, shapes this dress that has adjustable spaghetti straps and a notched sweetheart neckline (with supportive V-bar). Bustier-inspired cups tops a set-in waist and an A-line mini skirt with side pockets.
Double Date Wine Red Two-Piece Square Neck Bodycon Mini Dress
This thick and stretchy scuba knit bodycon dress is split into two gorgeous pieces, beginning with a square neck crop top with tank straps and a hidden side zipper.
Party for Two Hot Pink Asymmetrical Bodycon Mini Dress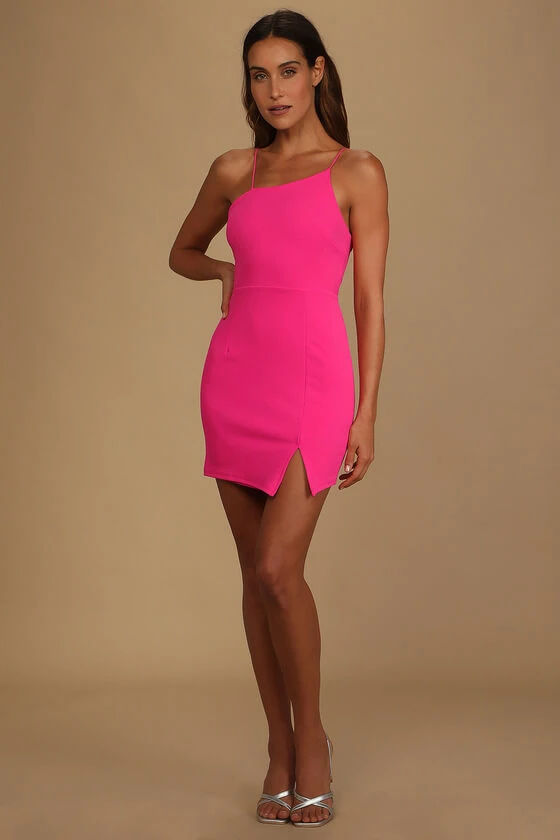 Make your date night extra flirty with the Party for Two Hot Pink Asymmetrical Bodycon Mini Dress! Crepe stretch knit fabric shapes this dress that has rounded elastic straps, a unique asymmetrical neckline, and a darted bodice.
Gimme the Twist Black Twist-Front Bodycon Mini Dress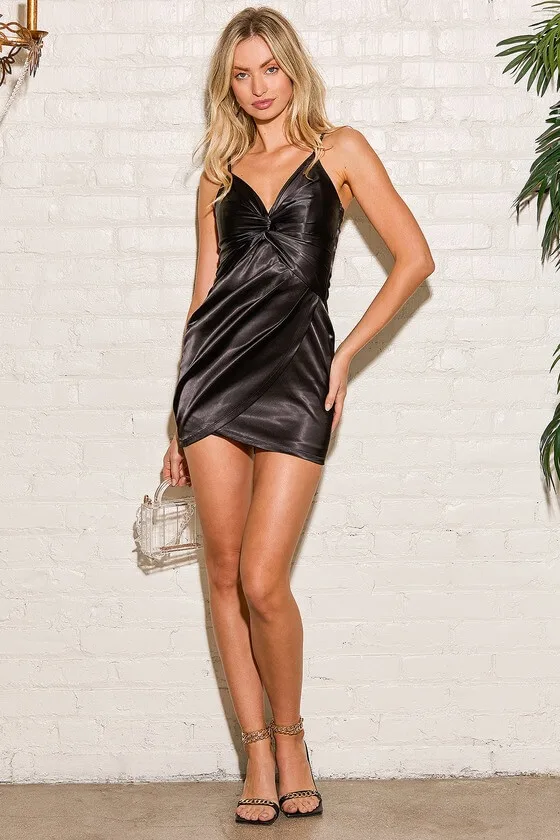 Medium-weight stretch woven fabric, with a high shine sheen, shapes this sexy dress with a V-neckline and trendy twist-front bodice, supported by adjustable spaghetti straps. Figure-hugging bodycon silhouette ends in an overlapping, mini hem.
Best Babe Black Ribbed Two-Piece Midi Dress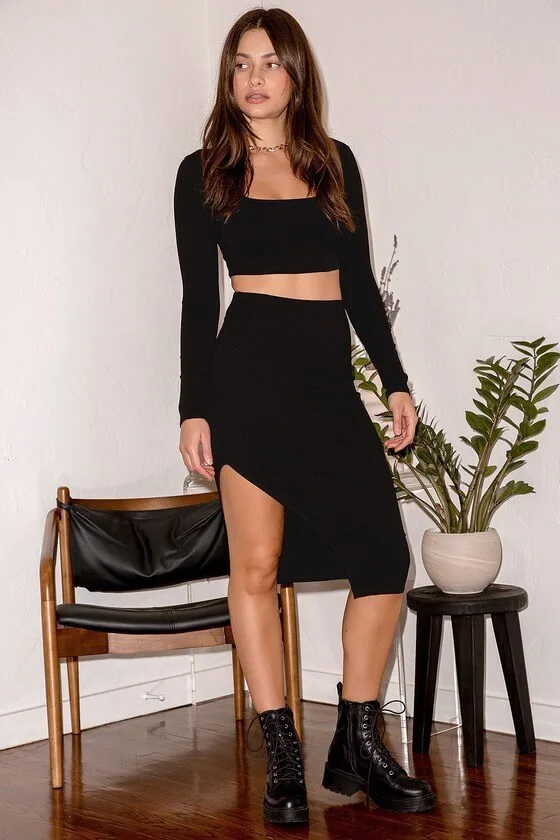 Be looking your best in no time with the simple yet chic look of the Lulus Best Babe Black Ribbed Two-Piece Midi Dress!
So Flirty Burgundy One-Shoulder Cutout Asymmetrical Dress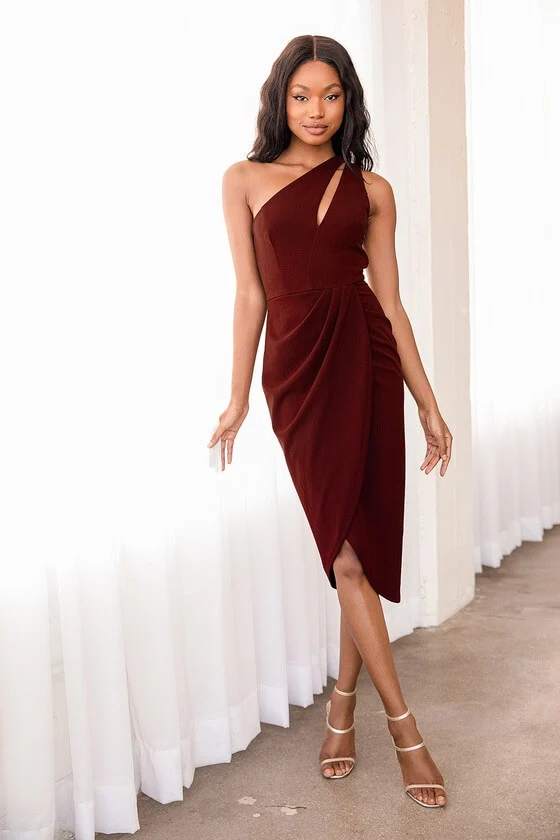 Stretchy crepe knit shapes this evening-out dress that has a wide cutout strap, one-shoulder neckline, and a princess-seamed bodice. Light gathering accents the waist before flowing into an overlapping midi skirt with an asymmetrical hem.
Bandage Frill Hem Midi Dress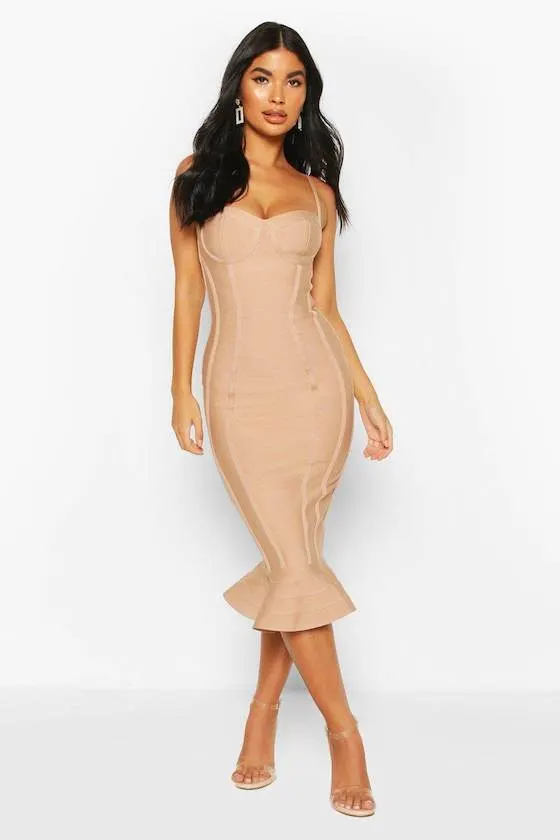 Elegant and sexy. Don't miss this dress.
Classic Glam Burgundy Off-the-Shoulder Bodycon Dress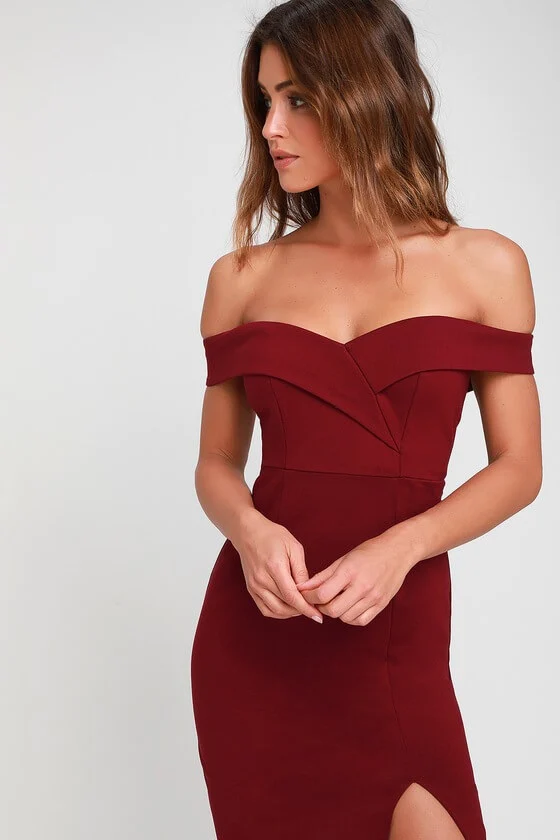 Medium-weight stretch-woven fabric creates an overlapping, off-the-shoulder neckline (with hidden no-slip strips), short sleeves, and princess-seamed bodice. Fitted waist tops a sexy bodycon skirt with side slit.
Lace Up Your Sleeve Black Lace Long Sleeve Bodycon Dress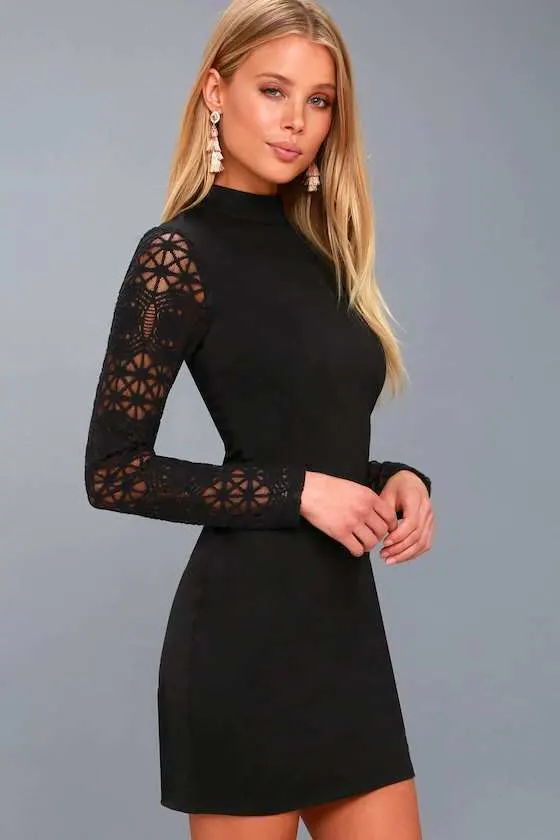 Sheer lace, with a cool geometric pattern, steals the show across fitted long sleeves, while stretch knit creates a bodycon fit from a mock neck, down a darted bodice and mini skirt.
Queen of the City White Strapless Bodycon Dress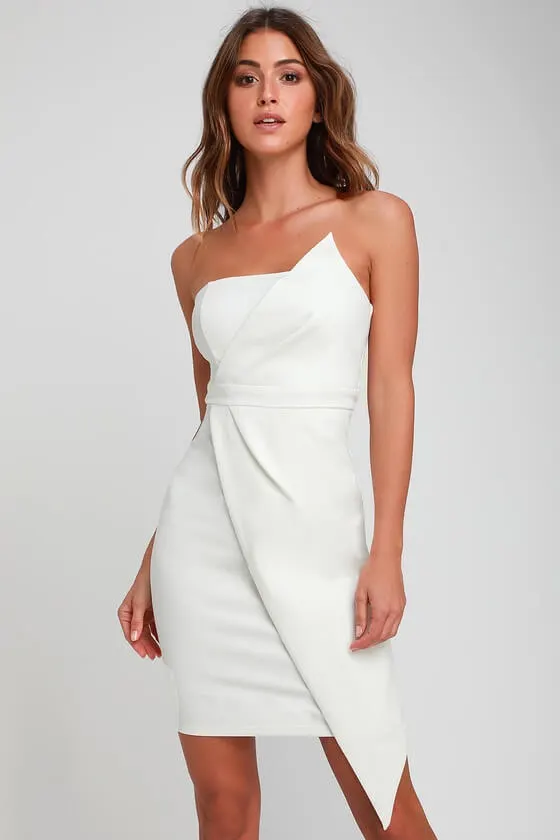 An angular, overlapping bodice tops off this strapless dress (with no-slip strips), formed from figure-flattering medium-weight stretch knit. A banded waist tops the bodycon skirt with a knee-grazing, envelope hem.
Floral Ruched Wrap Dress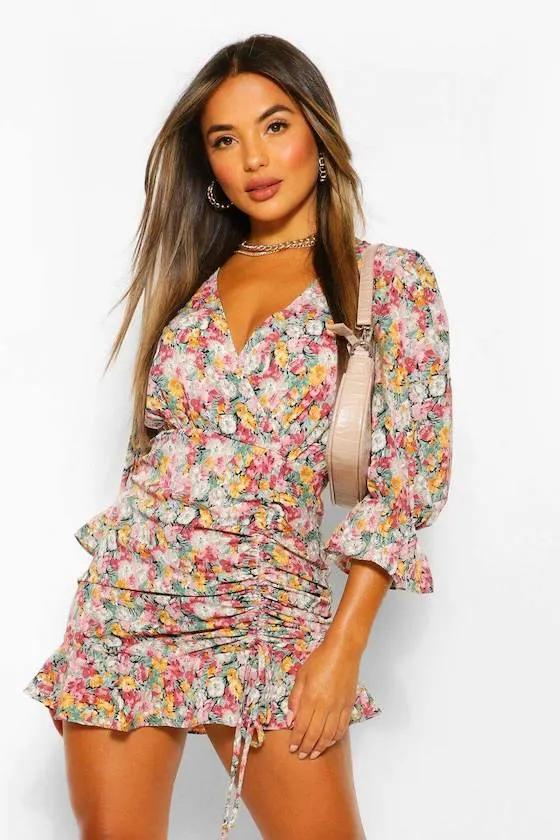 Vivid and cute floral print. Can be dress up or down perfectly.
Date Night Done Right Black Tie-Strap Bodycon Midi Dress
Medium-weight stretch knit shapes this dress that has tying straps, a plunging V-neckline, and a princess-seamed bodice. A set-in waist tops a bodycon midi skirt with a kick pleat at the back.
Tall Dobby Mesh Ruched Off The Shoulder Midi Dress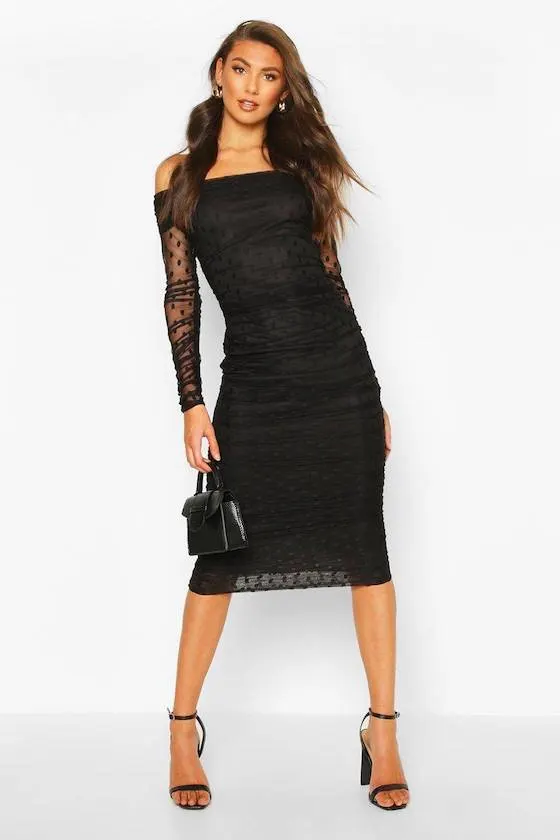 Uniquely designed and beautiful lace dress. Perfect even for heading to a romantic date night directly from your office.
Frida Sequin Ruffle Strapless Minidress
Rock a flawless night-out look in this dazzling sequined mini styled in a shoulder-baring silhouette with a swingy ruffled bodice.
Summer Cinderella Midi Dress Chocolate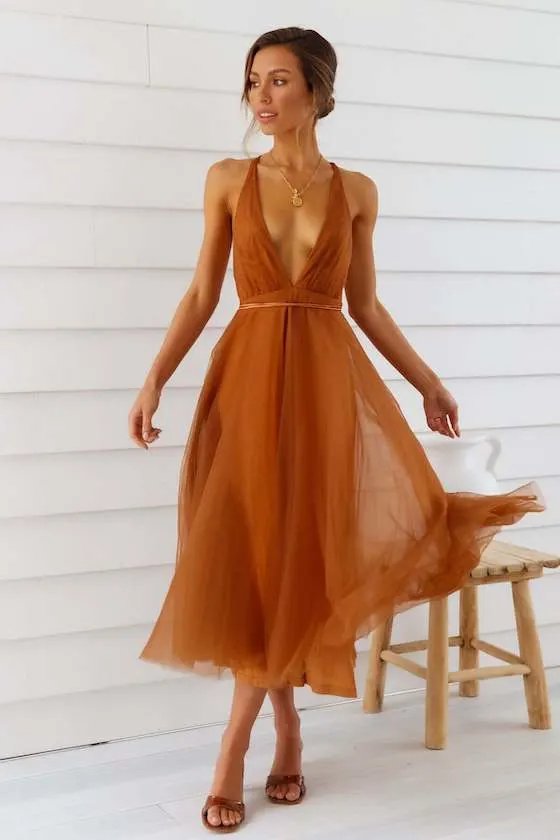 The dress has a sexy halterneck detail which has been coupled with the beautiful tulle bottom to make sure that you feel like a modern-day princess.
Hollywood Sequin Cowl Neck Midi Dress
You're a movie star in the Hollywood Dress! It features a textured sequin finish throughout.
Claudina Rhinestone Embellished Satin Long Sleeve Midi Dress
Dress to impress with the Claudina Dress featuring a square neckline with statement rhinestone embellished straps, a twist front detail, ruched bodice, asymmetrical hemline, and statement shoulders.
Sweet Win Midi Dress Red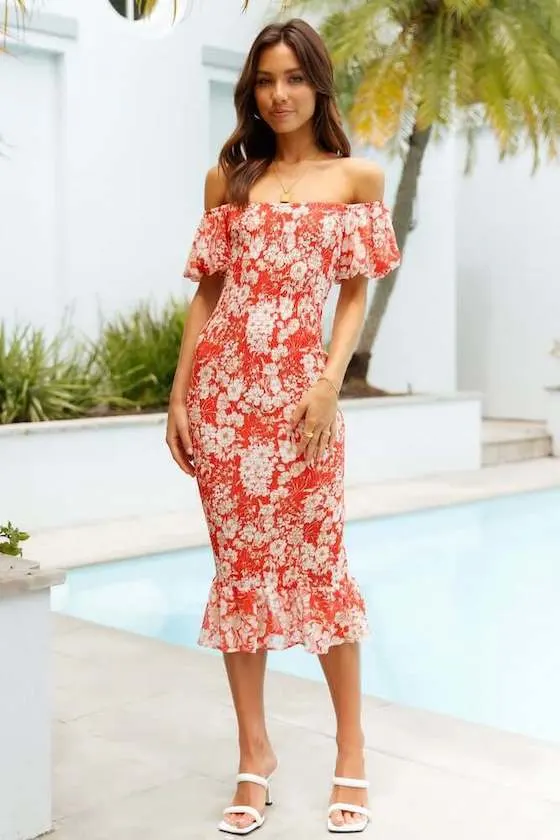 This style features floral print, an off the shoulder design, a ruched bodycon and a ruffled hem.
Twist Front Satin Midi Dress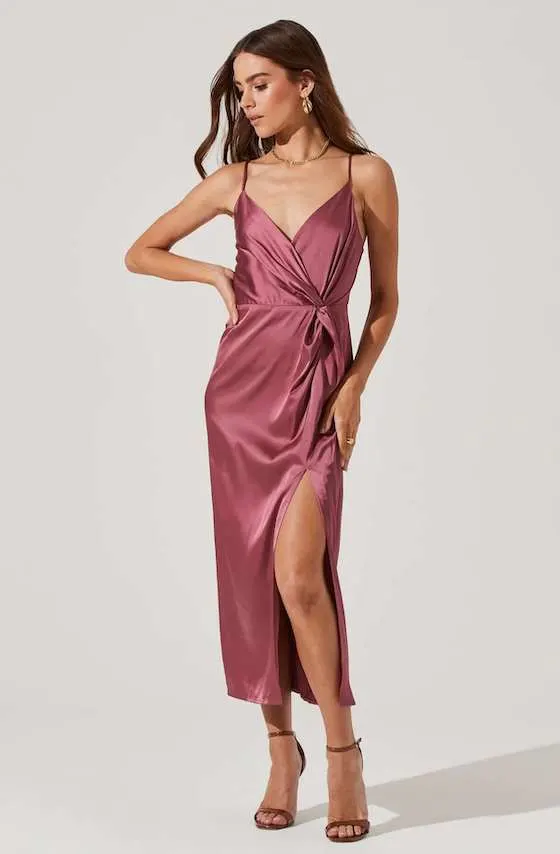 This dress features a V neckline that leads to a twist front bodice and midi skirt with a side slit accent.
Roaring 20s Dress Bronze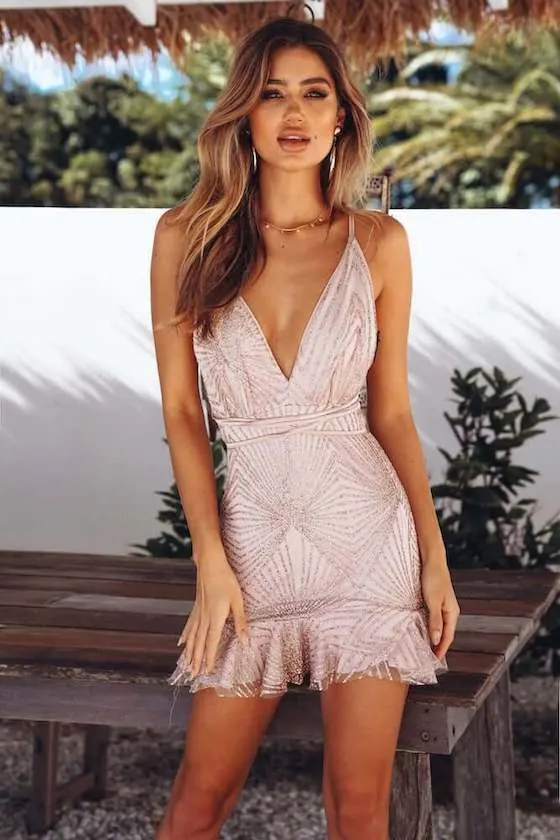 This stunning dress features a V neckline, has crossover shoulder straps and it has an invisible back zip. It also has a cute frill hem for added fun factor.
This post was all about date night dresses.
About The Author
Tracy is an experienced personal stylist, shopping expert, and fashion & lifestyle blogger. She has been featured on Time Magazine, Bustle, Best Life, Glam, The Zoe Report, Mic, and GOBankingRates, for her insights on fashion, beauty, home decor, and lifestyle. Read More
Related Posts: