Looking for fancy date night outfits and dresses for your next romantic night? Check this post for the 60+ best date night outfits and dresses ideas to be sexy and romantic.
If you are a little bit tired of choosing a little black dress as your perfect date night outfit, you've come to the right place.
In this post, we round up our favorite date night outfits that will impress! From a cute dress for a romantic dinner to a nice top paired with a uniquely beautiful skirt, from a fancy outfit for the hot summer night, to effortless cute oversized tops for your casual date, you will definitely find the ideal ideas for you to copy directly.
Besides, all the outfits here are shippable from our favorite retailers. So scroll down to check these fancy ideas, check more details via the " Shop The Look" link below each image, and don't hesitate to pin the ideas you like!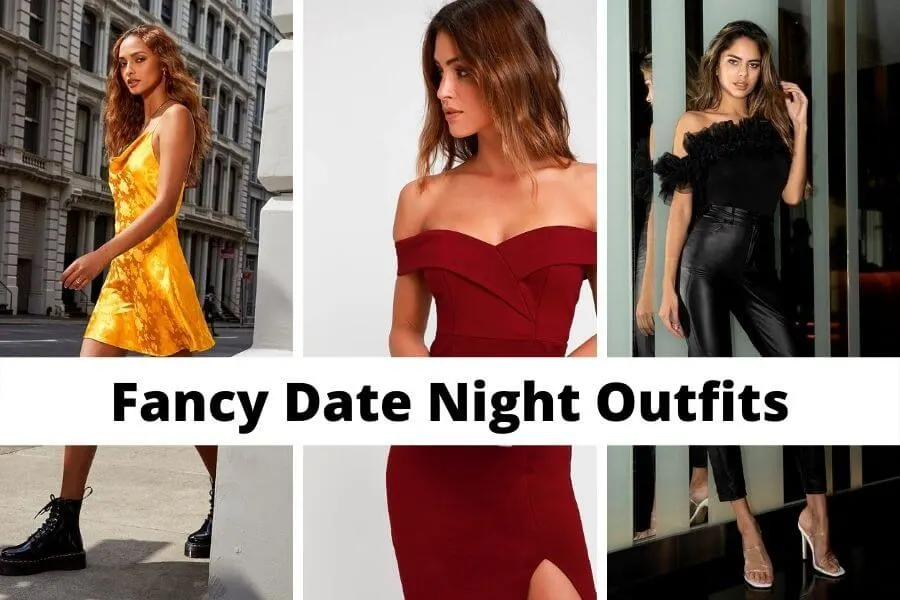 This post may contain affiliate links, which means I'll receive a commission if you purchase through my link, at no extra cost to you. Please read the full disclosure here.
This post is all about fancy date night outfits and dresses.
Fancy Cute Date Night Outfits
Choose an extra cute top for your fancy date night. They can level up almost every wardrobe basic bottoms to a cute date night outfit immediately.
We recommend the off shoulder design, one shoulder design, and crop design, which are full of fashion trends, show your beautiful necklines and shoulder lines and look stunning with simple chic hoop earrings.
Add a leather moto jacket or denim jacket over the outfit to make it perfect for the cold weather. For a romantic home date, you can change the outerwear to a cozy cardigan.
Space Dye Wrap Sweater + Black Leather Skirt + Knee Boots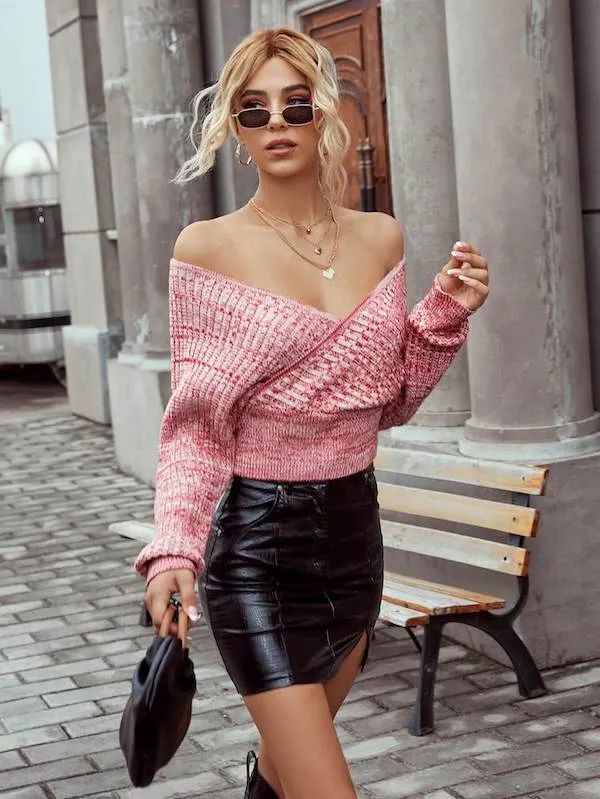 Floral Print One Shoulder Top + Leather Shorts
Ruffle Trim Solid Tube Top + Leather Pants + Black Combat Boots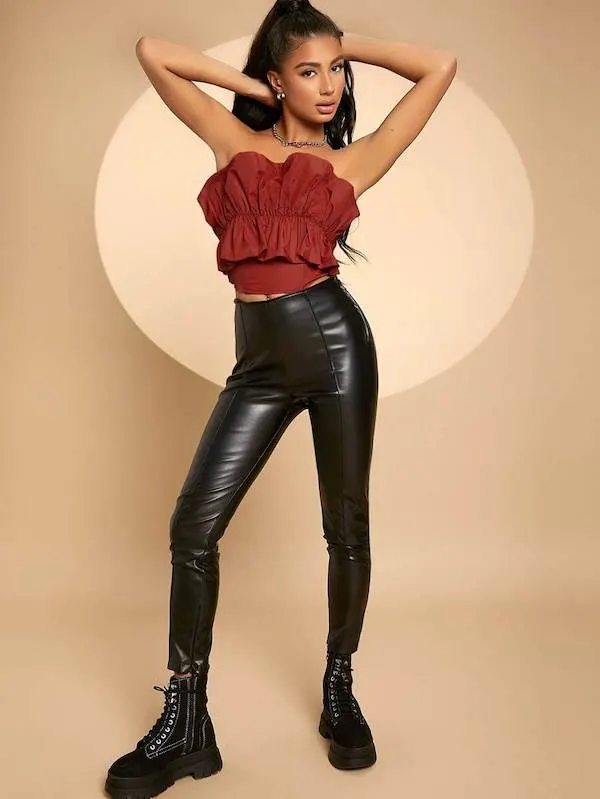 Beige Satin Lace Cami Top + Leather Skirt + Cardigan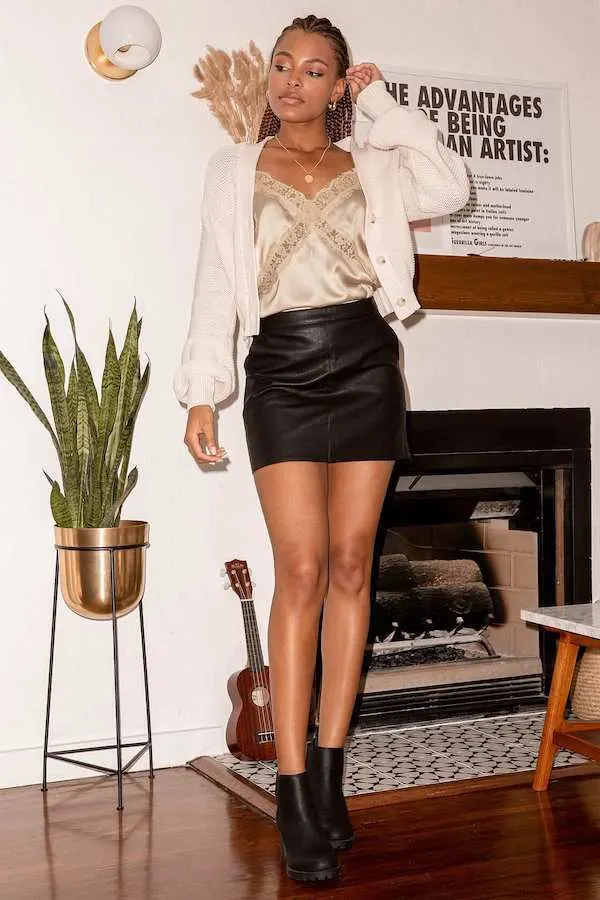 Velvet Single Sleeve Bodysuit + Mini Skirt
Long Sleeves Body Suit + Pink Mini Skirt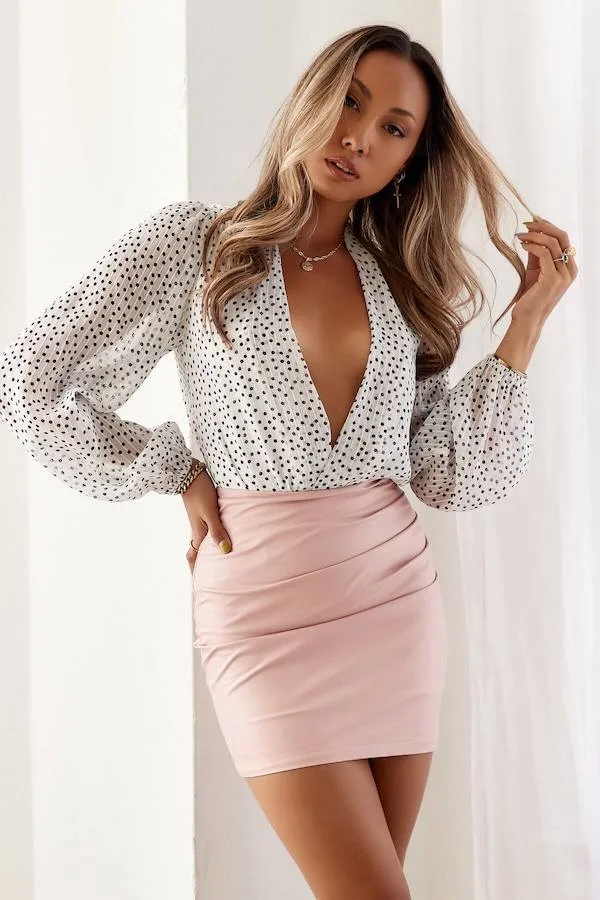 Black Satin Rhinestone Two-Piece Mini Dress
Rust Red Floral Print Ruched Midi Skirt + Crop Top + Strappy Sandals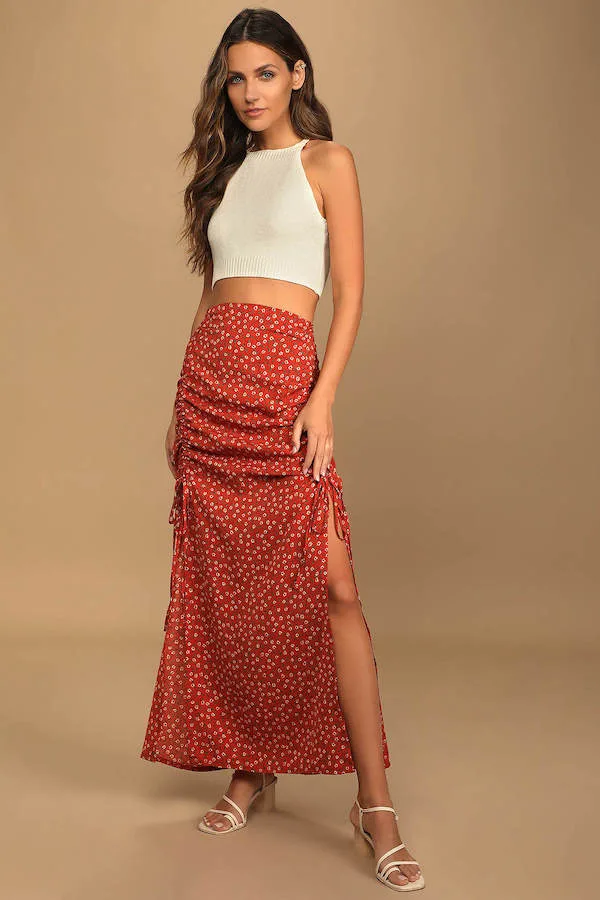 Brown Satin Halter Crop Top + Wide Leg Pants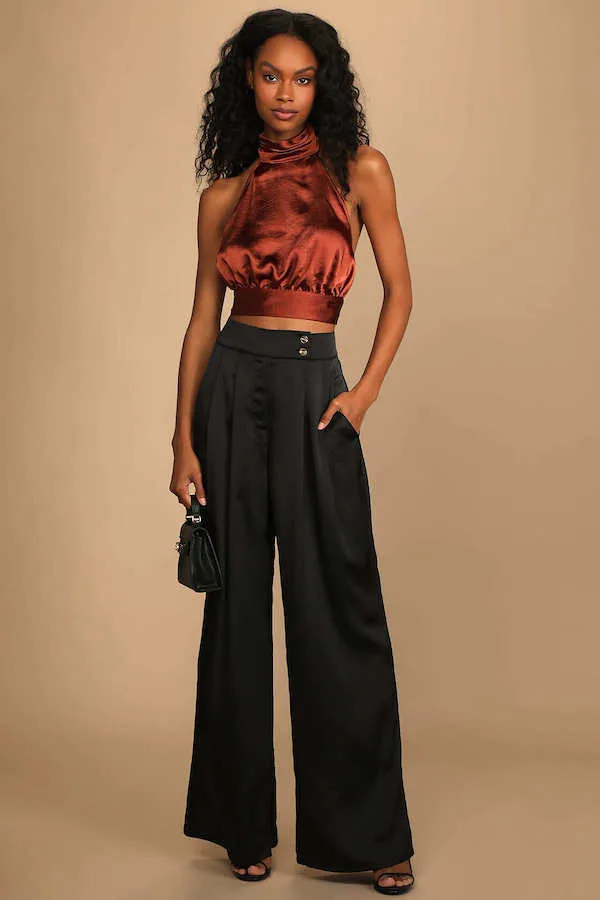 Black Floral Print Sheer Ruffled Wrap Top + Darker Wash Skinny Jeans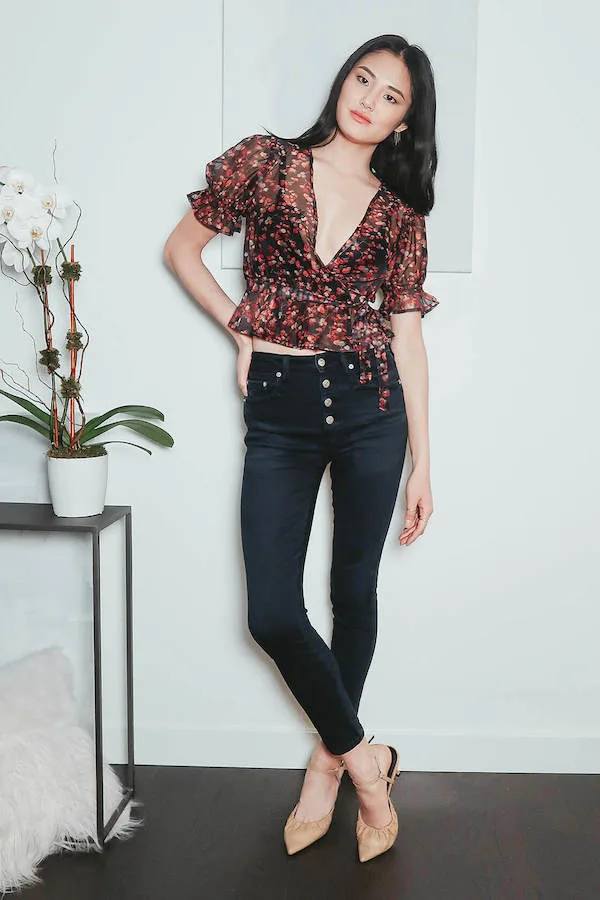 Fancy Date Night Outfit Ideas
Browse below what we've found for you. We recommend you to have moderate exaggerations with different pieces of playful items to make you stand out from the crowd with perfect fashion taste.
You will surely get lots of compliments with the ruffles, lace patterns, sexy tie fronts, and dazzling sequin details.
Complete the look with a pair of dangling earrings, chain belts, a small purse, and a nice pair of heels.
Layered Mesh Ruffle Trim Bardot Top + Black Leather Pants + Strappy Heels
Lace-Up Lace Black Bodysuit + Cropped Straight Leg Jeans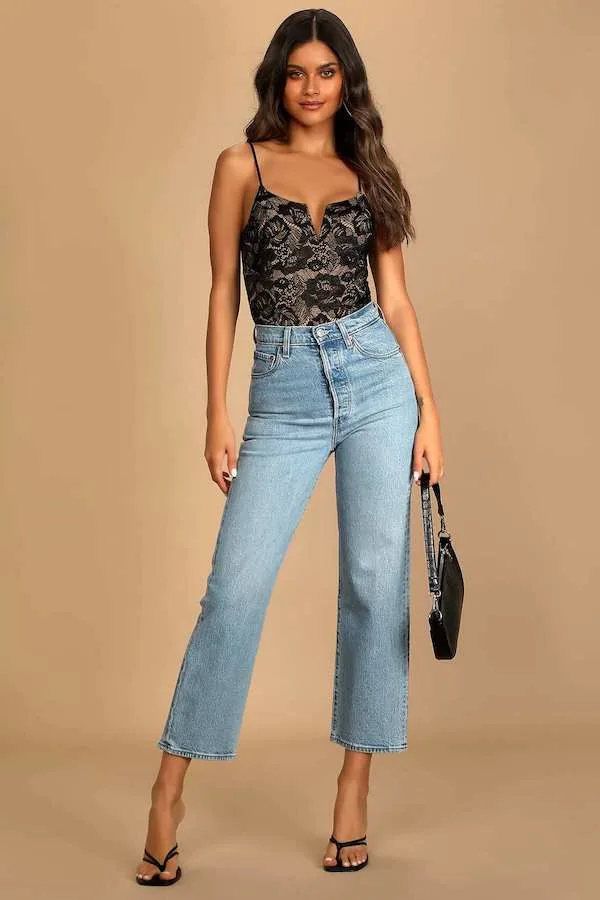 Black and Gold Sequin Mini Skirt + Black Top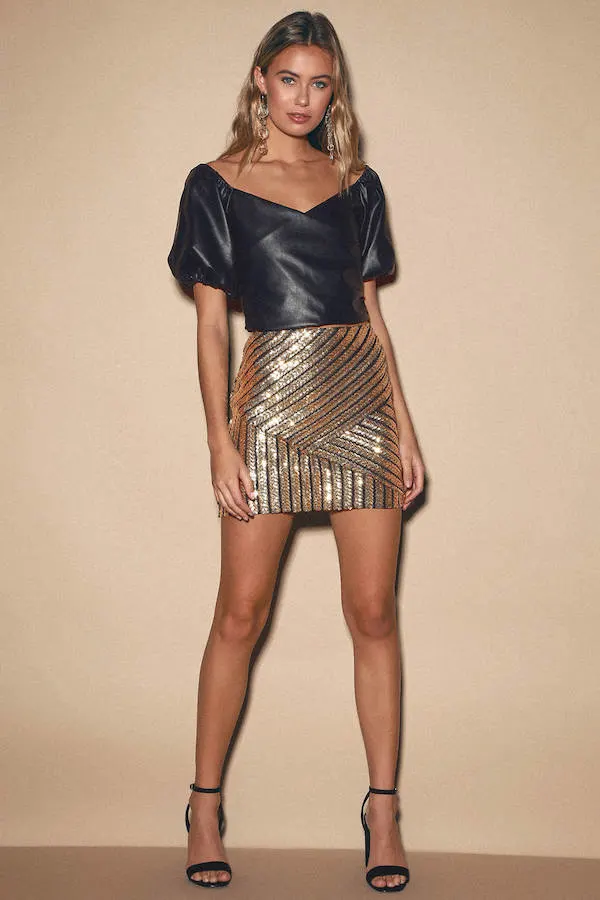 Wine Red Satin Jacquard Tie-Front Crop Top
Shawl Collar Dual Pocket Blazer + Slip Dress
Black Lace Long Sleeve Bodysuit + Leather Shorts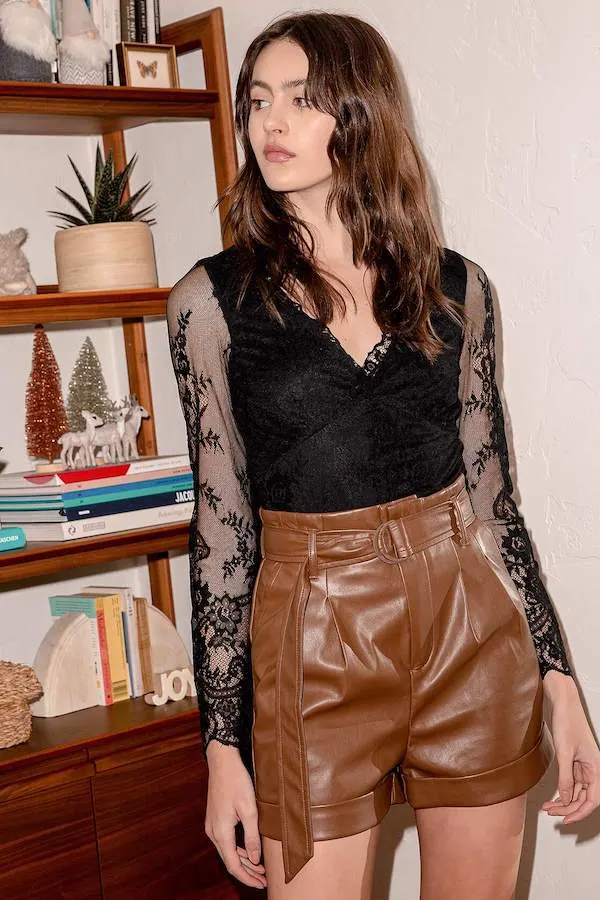 Rust Orange Tie-Front Long Sleeve Top + Black Midi Skirt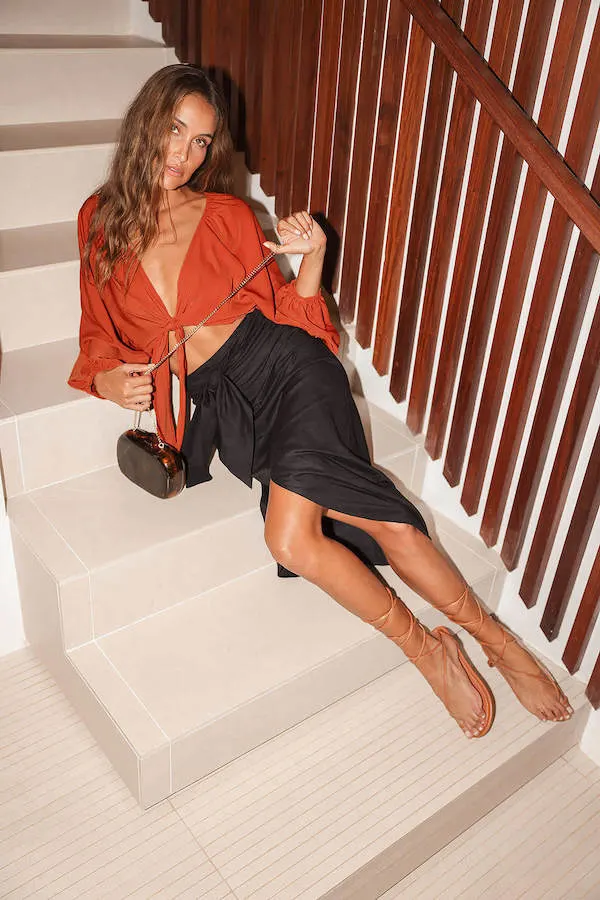 Off Shoulder Flounce Sleeve Ruched Knot Peplum Top
White Lace Bodysuit + White Pants
One Shoulder Bodysuit + Floral Midi Skirt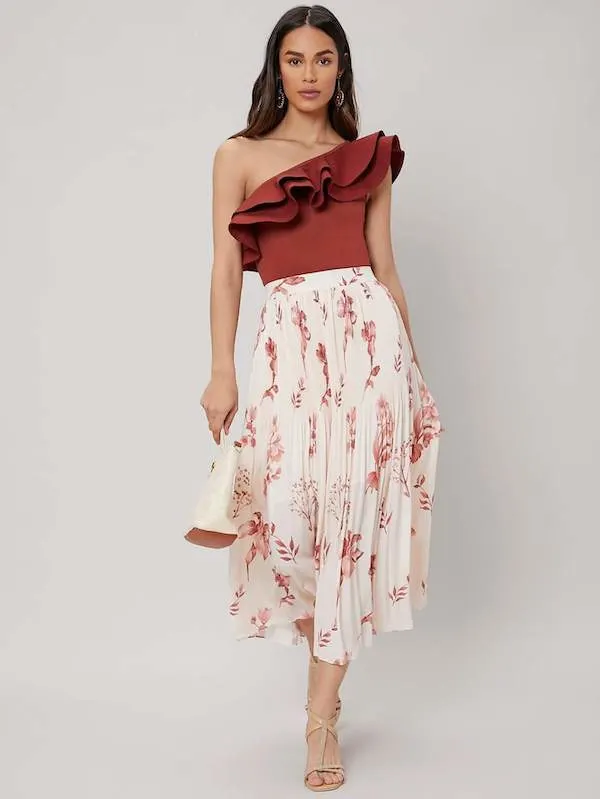 Rose Gold Sequin Pleated Midi Skirt + Oversized Sweater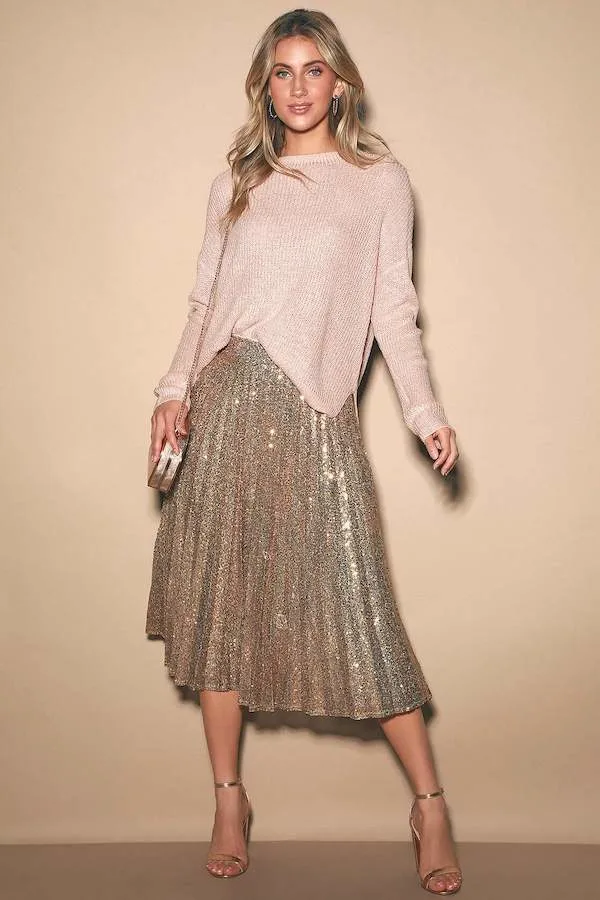 Best Casual Date Night Outfits
You can play with a unique and chic design or a luxury feel satin material to make your easy date-night outfits more impressive. Enhance the waistline and show your long legs to modify your body shape.
Choose solid color pieces to easily get the right balance between fashion trends and your personal style.
Twist Front Asymmetrical Hem Bardot Top + Skinny Jeans
Champagne Crop Long Sleeves Tip + Jeans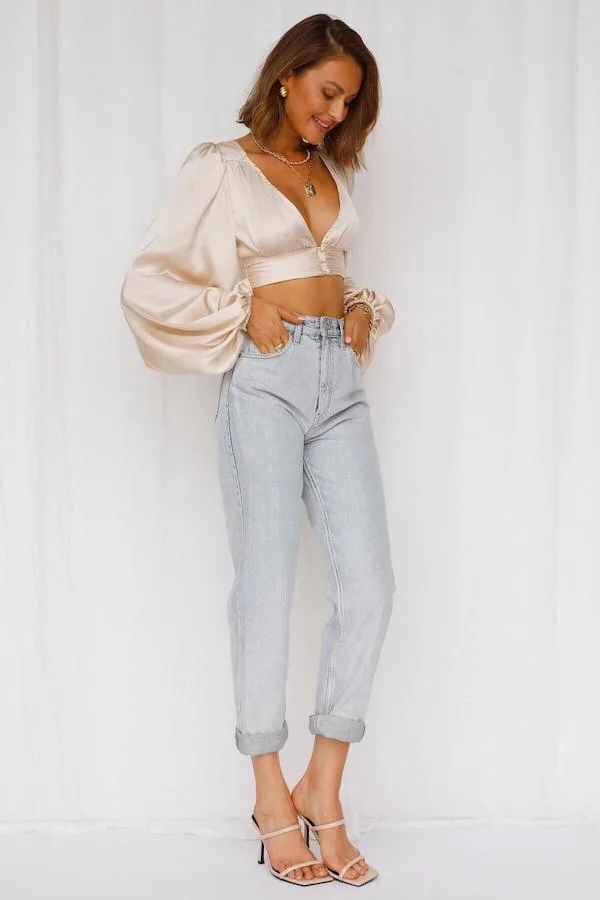 Plum Purple Satin Twist-Back Tank Top + Black Wide Leg Pants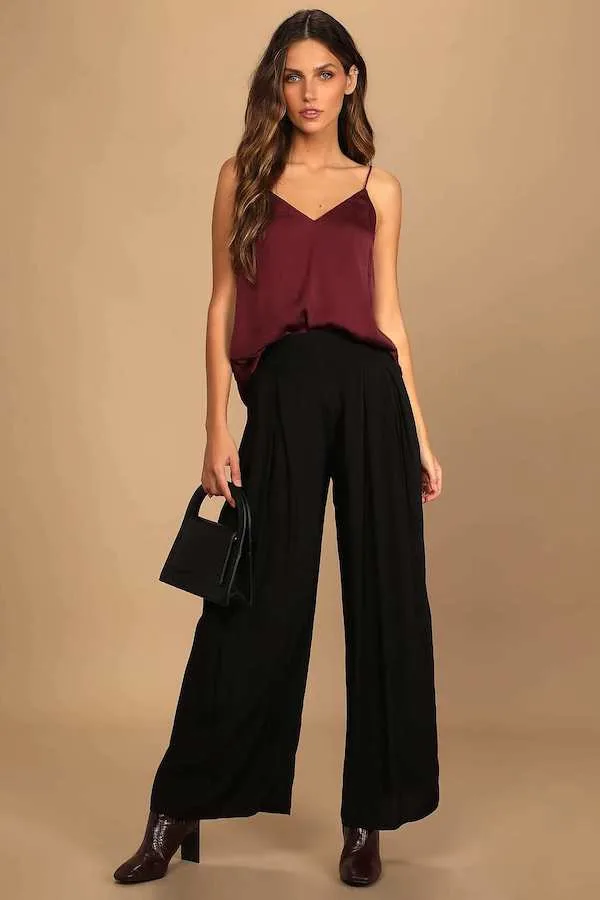 Cute Summer Date Night Outfits
A cute summer dress is one of the best choices for a summer date night look. Wear a pair of unique statement earrings to give the outfit a personal touch.
We also recommend the trending two-piece set or a floral print jumpsuit for your romantic summer night.
Boldly try feathers, ruffles, and laces to create an exotic hot style in a perfect way with a little imagination. They are showing beautiful vacation vibes and romantic feelings and will add more sparks to your date night.
Polka Dot Knot Side Wrap A-line Dress
Floral Crop Cami + Pants Set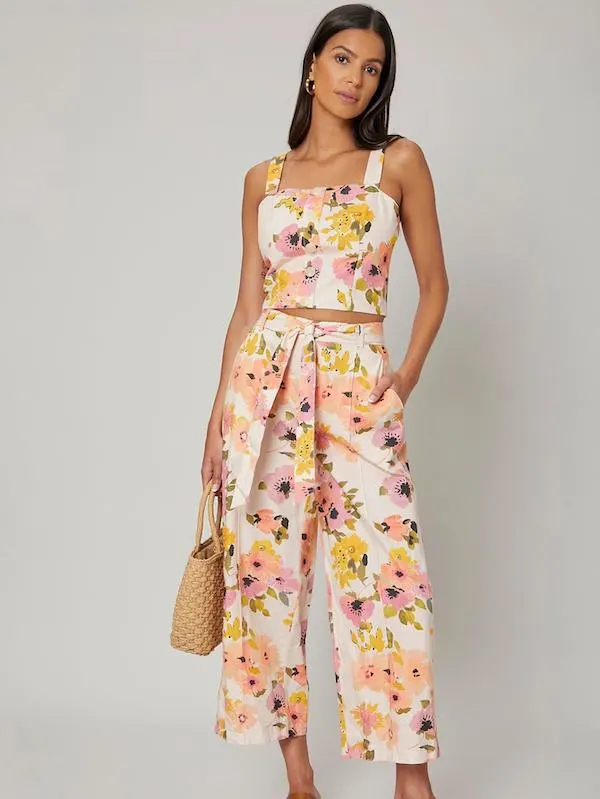 Wine Red Jacquard Ruched Mini Skirt + Black Cami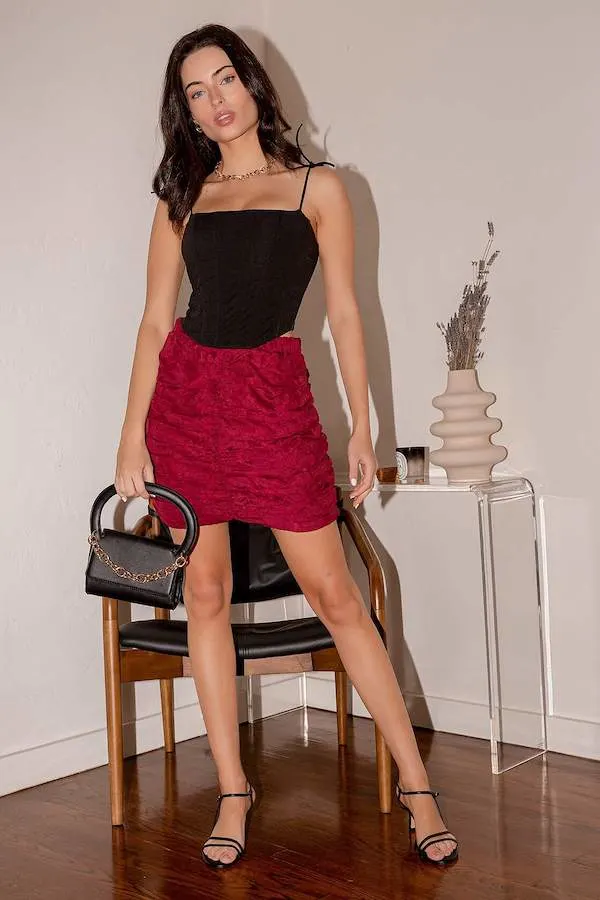 Golden Yellow Satin Jacquard Cowl Slip Dress + Combat Boots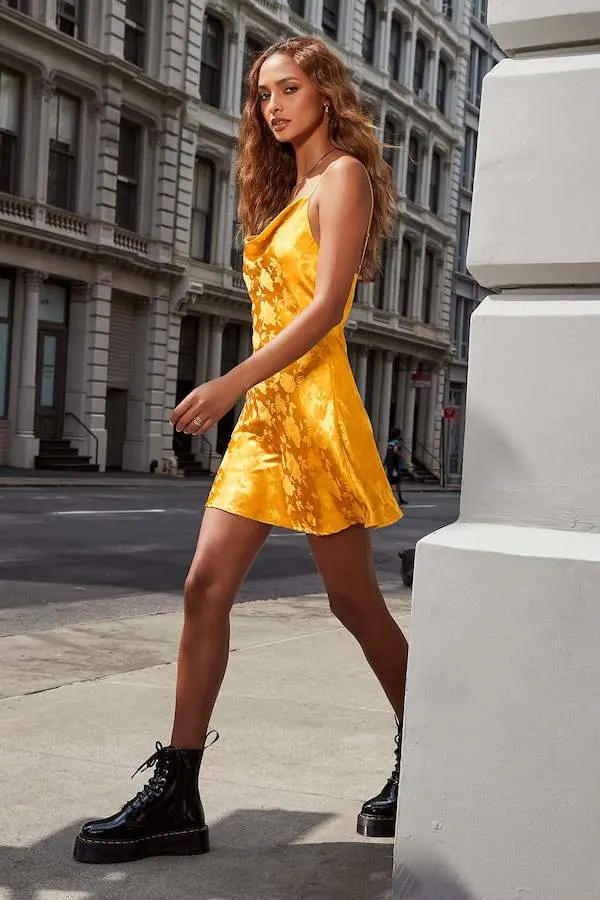 Satin Crop White Top + Mermaid Skirt Set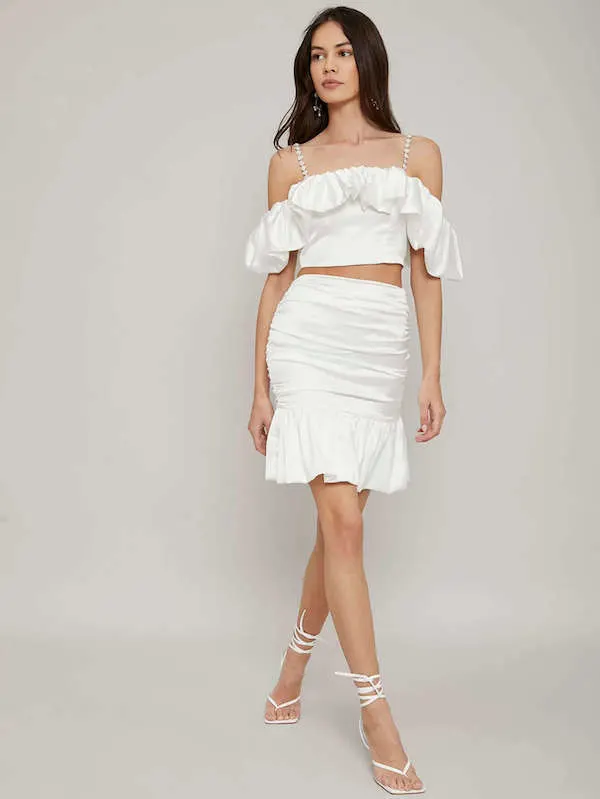 White Burnout Floral Ruffled Strapless Mini Dress
Wine Red Satin Faux Wrap Midi Skirt + Black Cami Top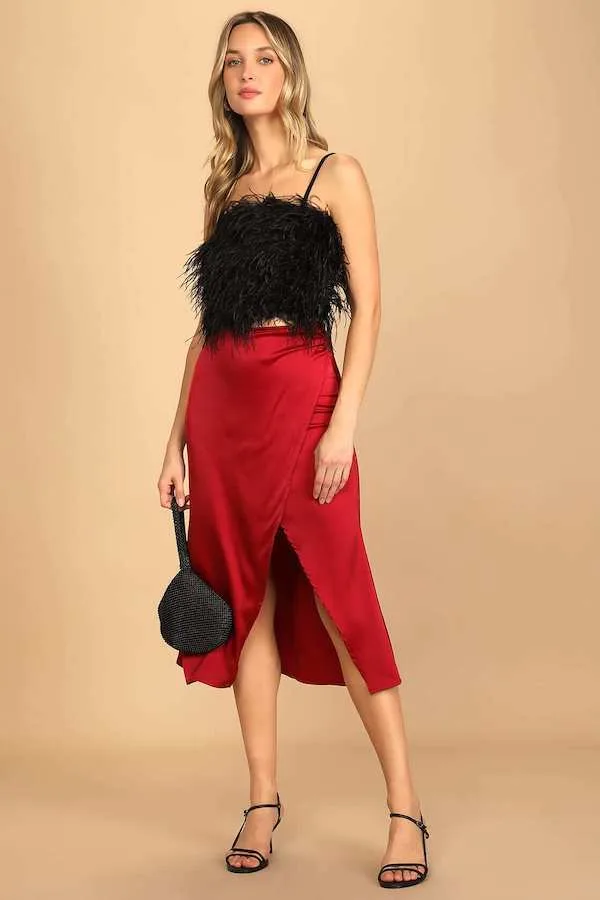 Blush Animal Prints Romper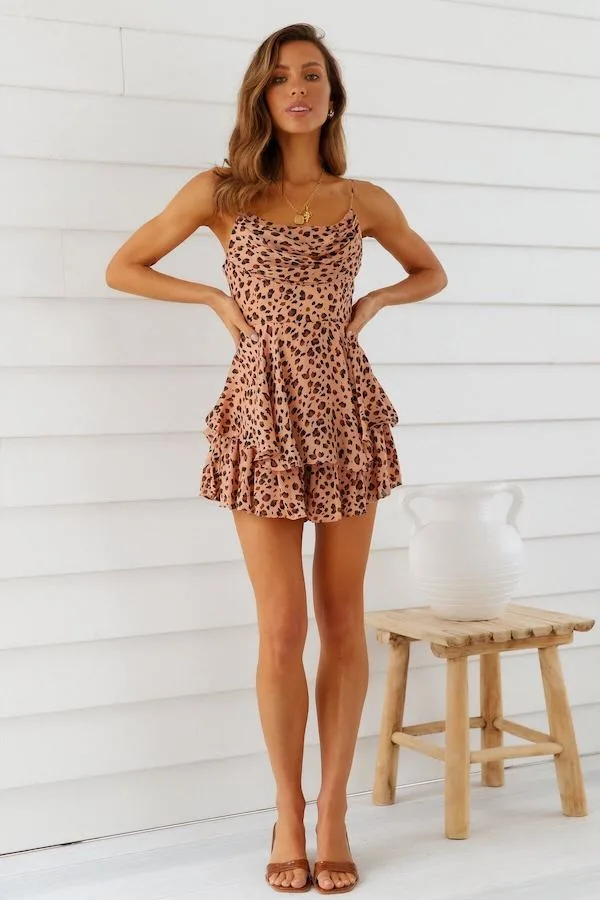 Date Night Dresses
Show your elegance and confidence with a stunning date night dress. A beautiful and sexy date night dress is one easy and great option to make your next date night look.
Pair your satin dresses, lace dresses, or romantic floral print dresses with dazzling statement earrings and strappy heels or other fancy heels that go with your dress patterns and colors.
Nude, gold, and silver color shoes are the best choices to pair with your dress. They look great with almost any color and add the right touch of luxury feel to your whole look.
If you are going to a casual dinner or a casual date night, you can dress down a little bit with a pair of comfortable shoes and simple accessories to complete the look. Don't forget to wear simple makeup to make you look refreshed and romantic.
Champagne Satin Cropped Tank Top + Midi Skirt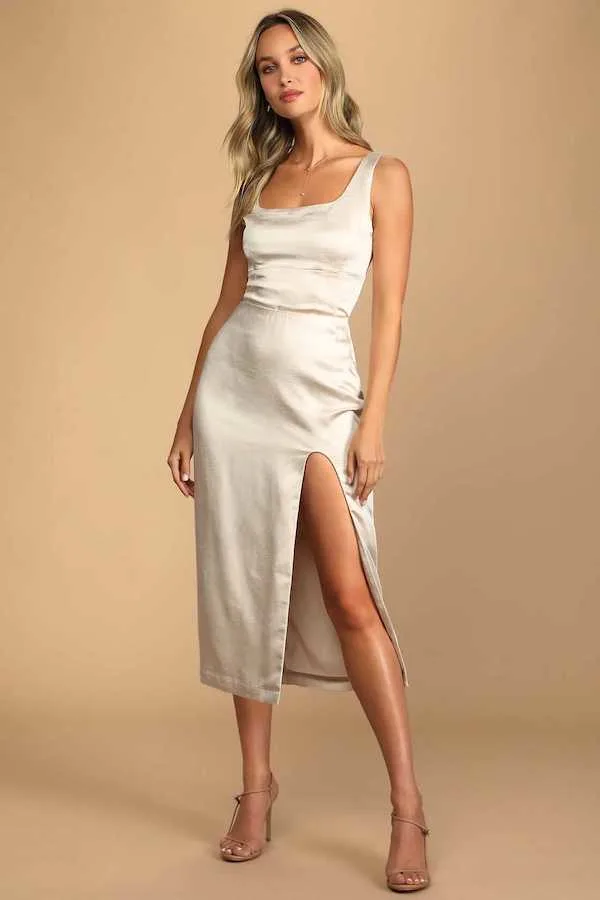 Blush Pink Floral Print Satin Maxi Dress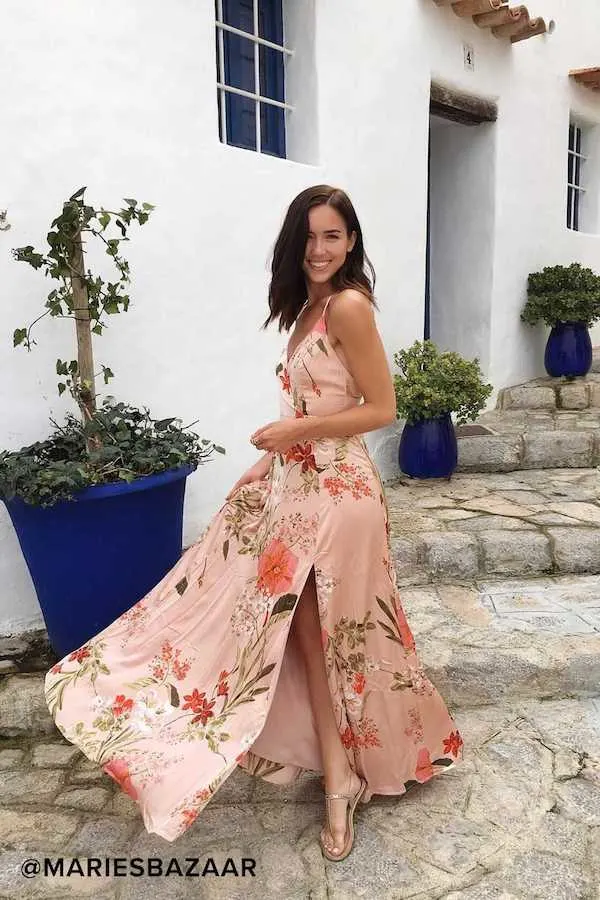 Bronze Satin Surplice Faux-Wrap Dress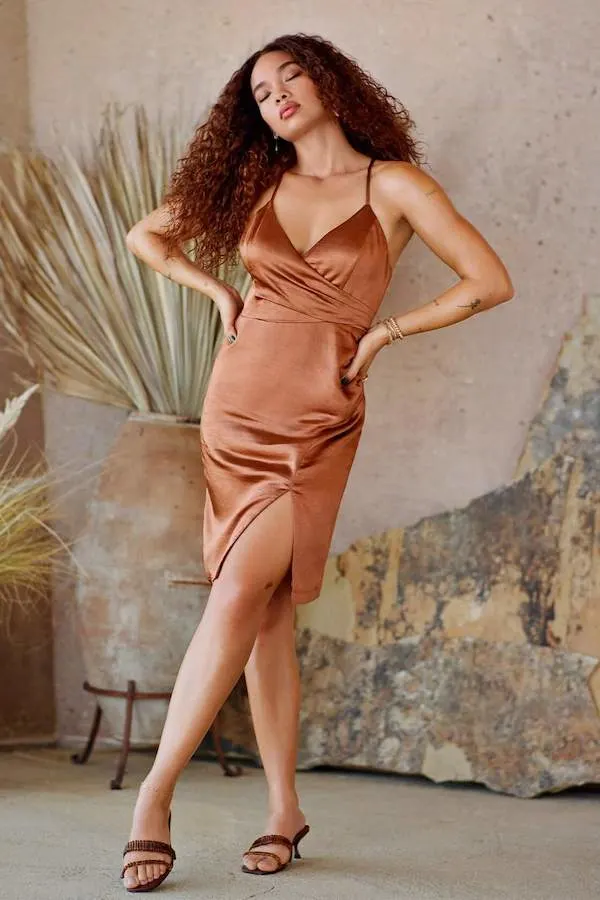 Burgundy Off-the-Shoulder Bodycon Dress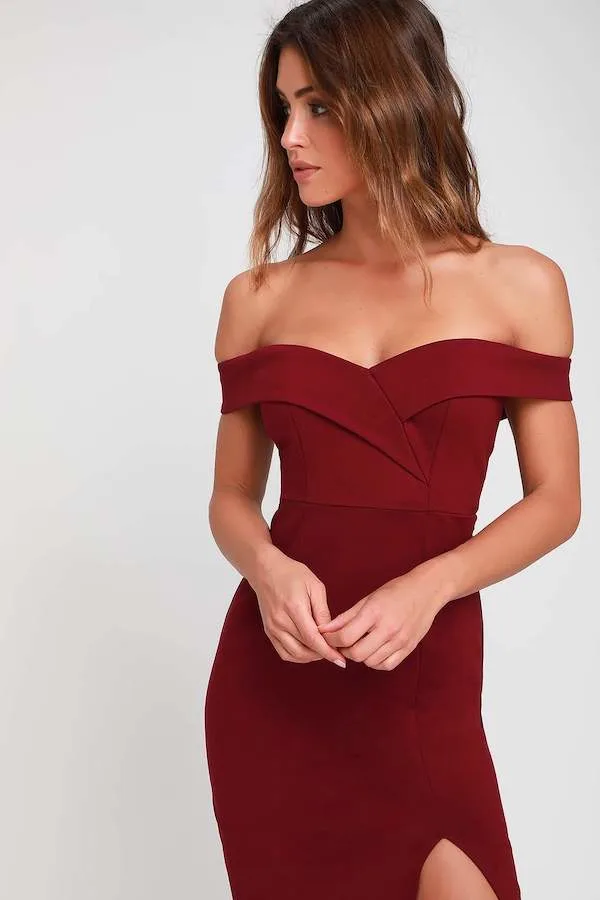 Metallic Bronze Cutout Long Sleeve Midi Dress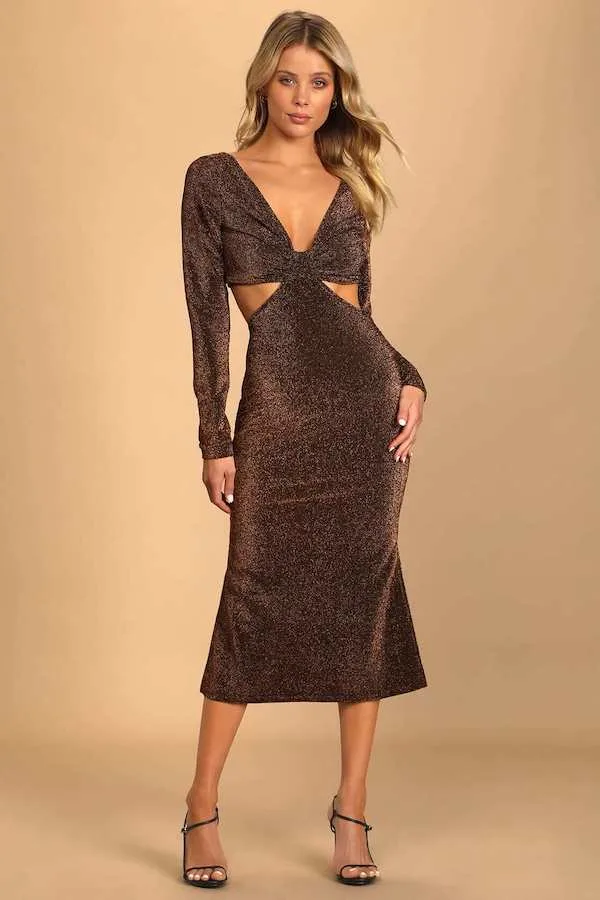 Black Backless Lace Dress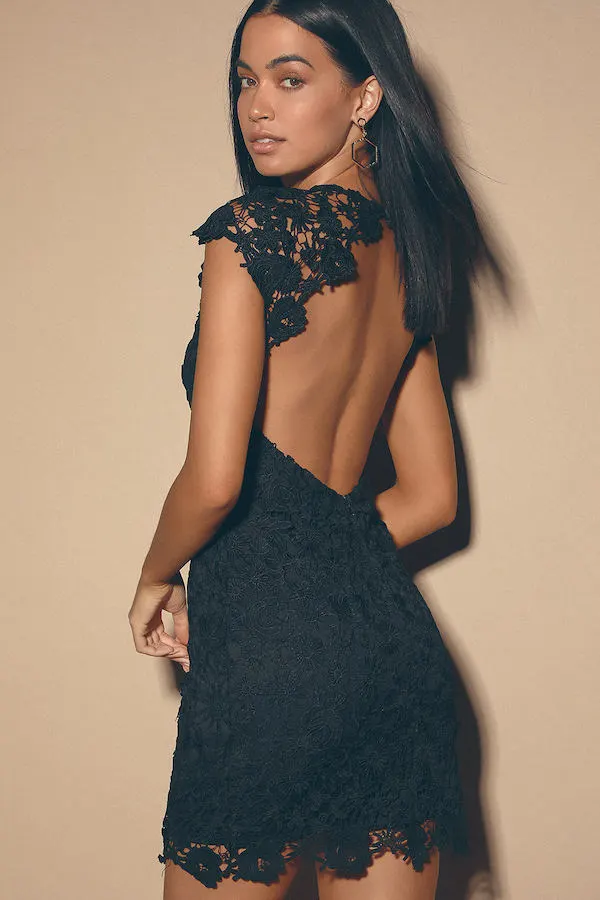 Plum Purple Satin Tie-Back Tiered Mini Dress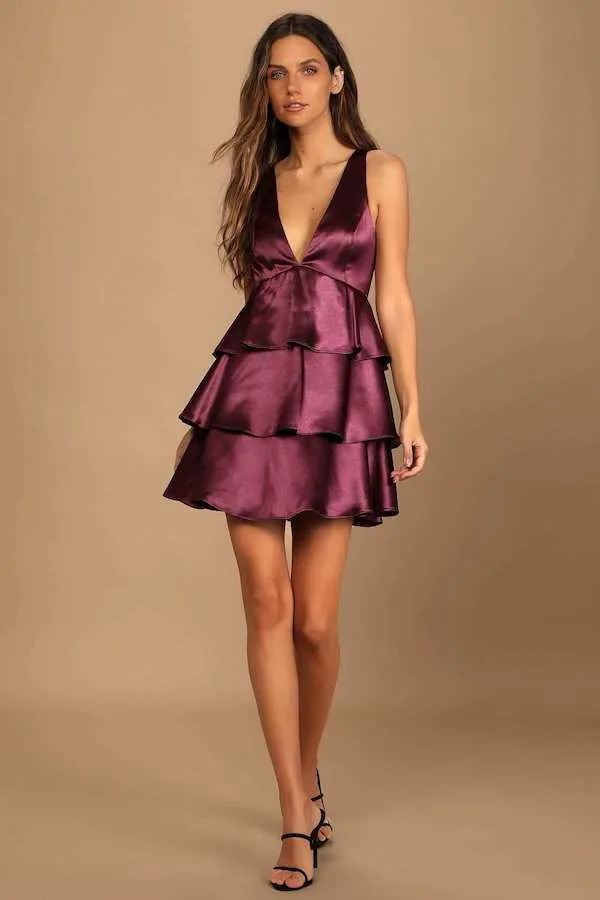 Pink and Gold Dotted Mesh Tiered Mini Dress
Orange Cut Out Midi Dress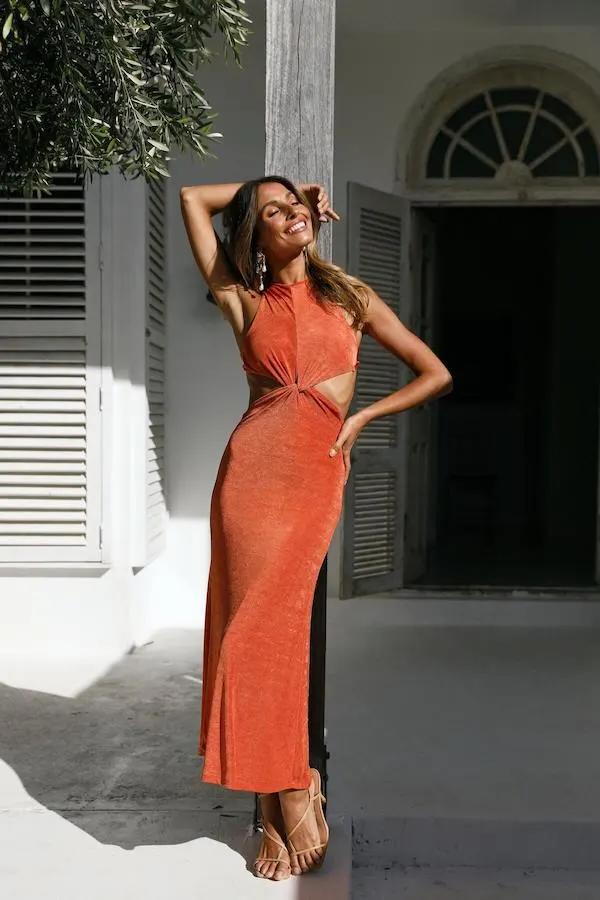 Pink Black Rose Bodycon Dress
Black Mermaid Bodycon Dress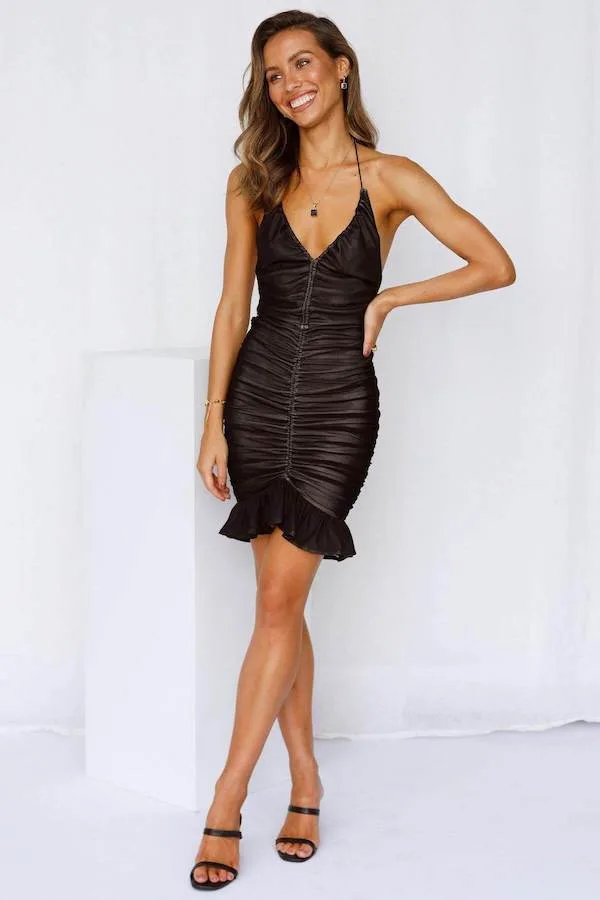 Mauve Satin Asymmetrical Dress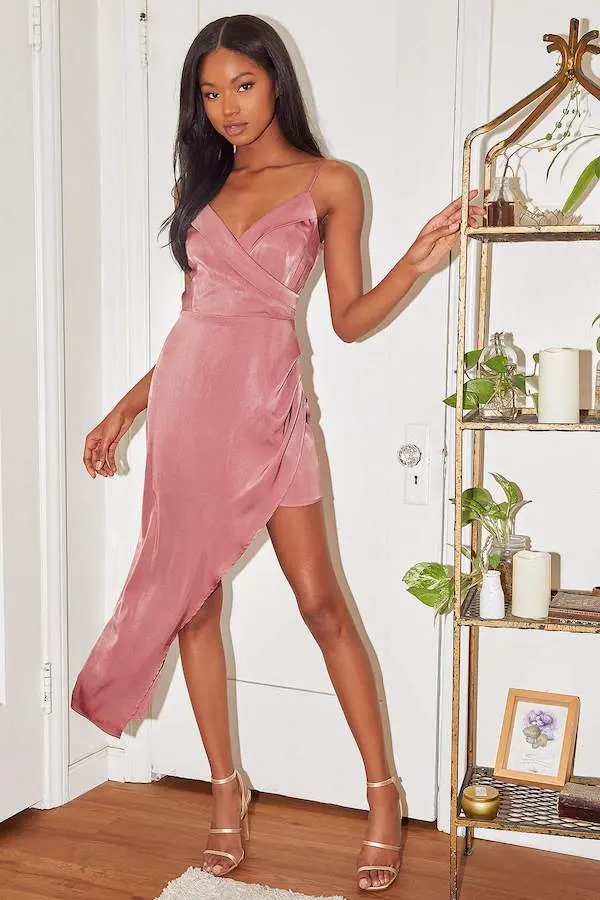 Pink Midi Dress
Yellow Satin Midi Dress
Leopard Print Mini Dress
Red Long Sleeves Dress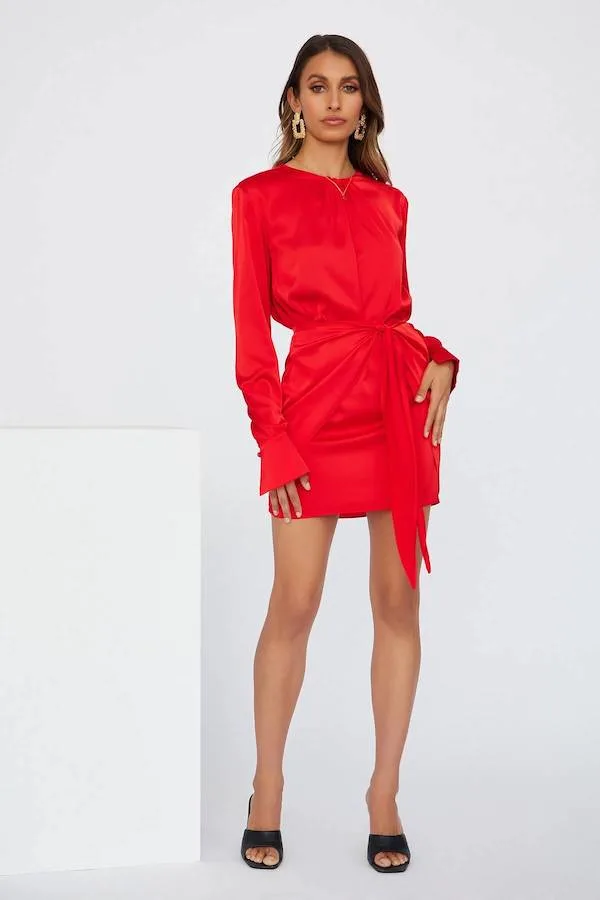 Pink Mini Dress
Off Shoulder Split Dress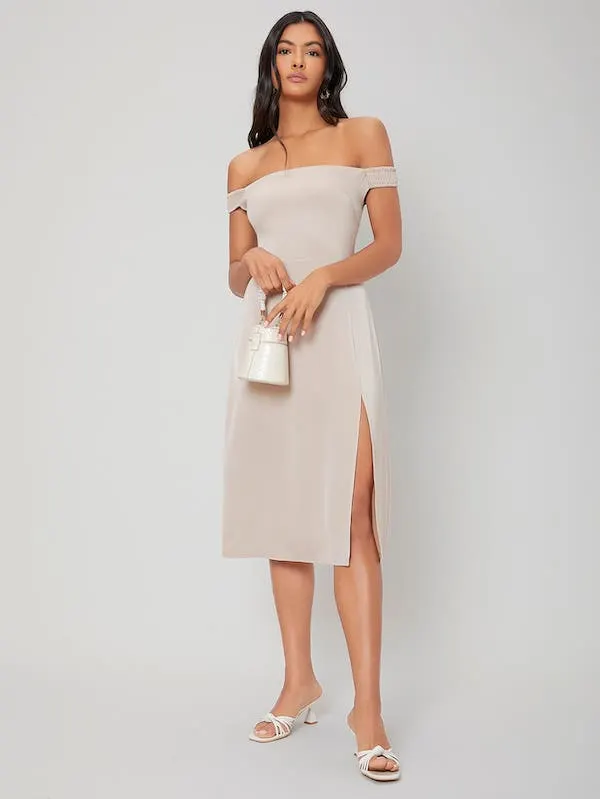 Feather Detail Cami Dress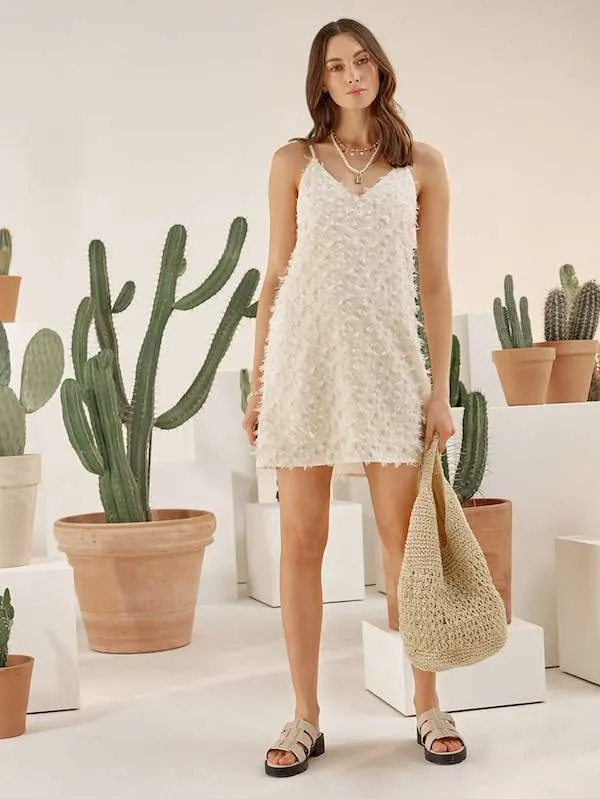 Gathered Cami Dress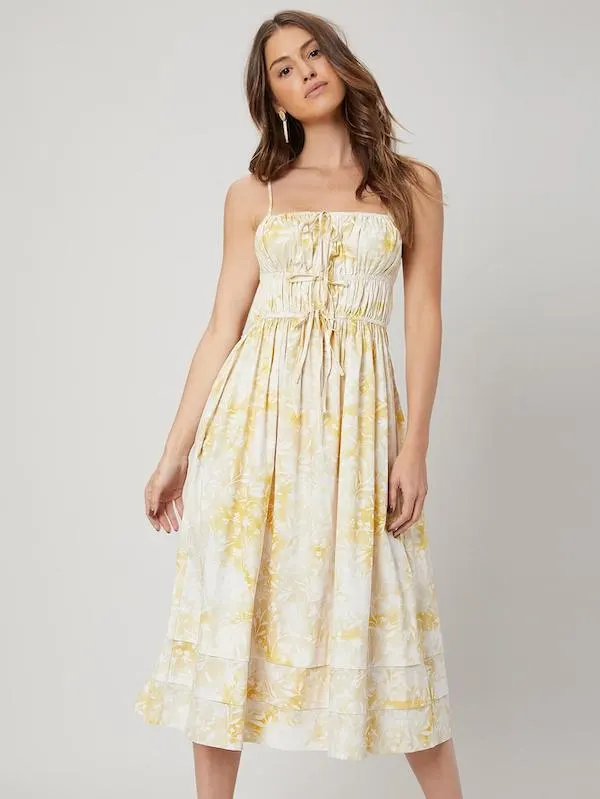 Fitted Gathered Dress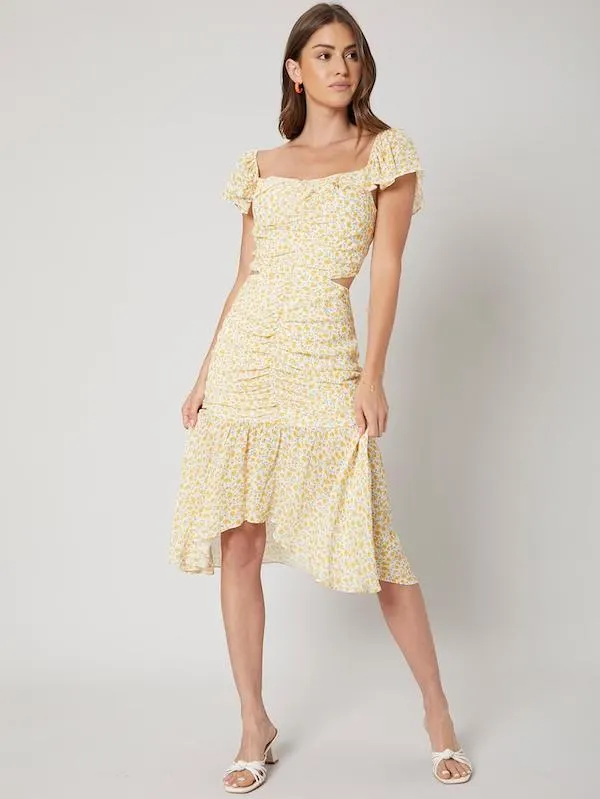 Asymmetrical One Shoulder Dress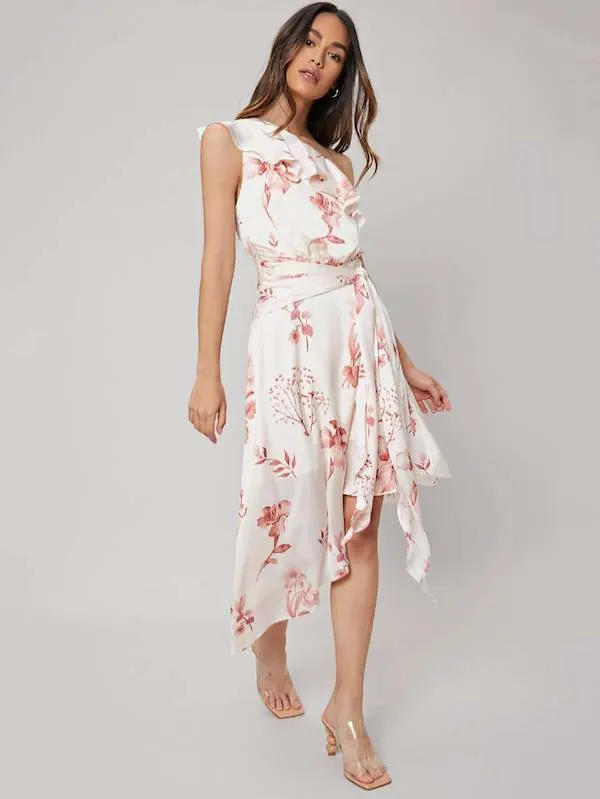 Fancy Dinner Date Outfits
Embrace bright and energetic colors to make your night more unforgettable. These hot colors make even the simplest designs romantic and sexy instantly and look amazing under candlelight.
Leather pants and leather skirts are our staples to create a fancy dinner date look. But if you are looking for a more casual and cozy dinner date look, the easy formula is a soft sweater + statement midi skirt or long skirt. This outfit makes you look taller and slimmer, and the beautiful skirt hems make the vibe even more romantic! They also look fantastic underneath a long coat in the winter.
Red Satin Jacquard Twist-Front Top + Black Leather Pants
Layered Ruffle One Shoulder Bodysuit + Black Leather Skirt + High Heels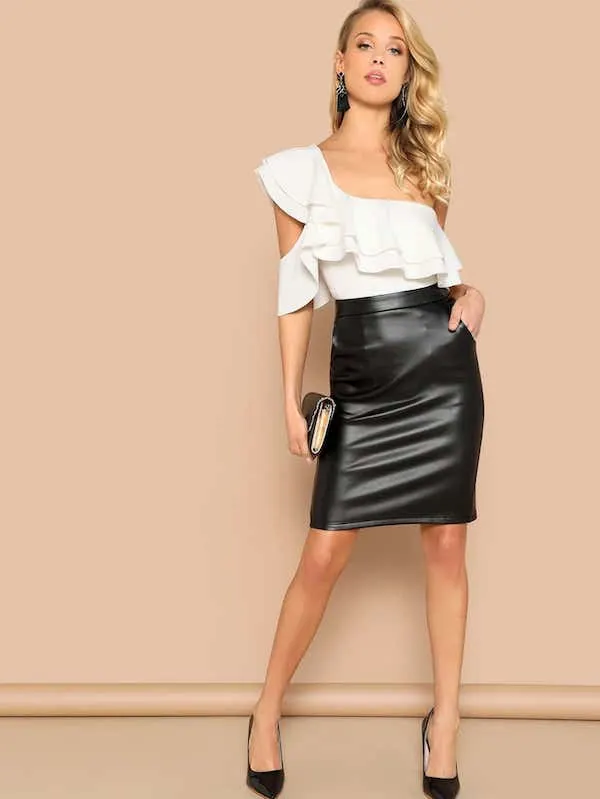 Black Sweater + Rust Brown Satin Pleated Midi Skirt + Black Ankle Boots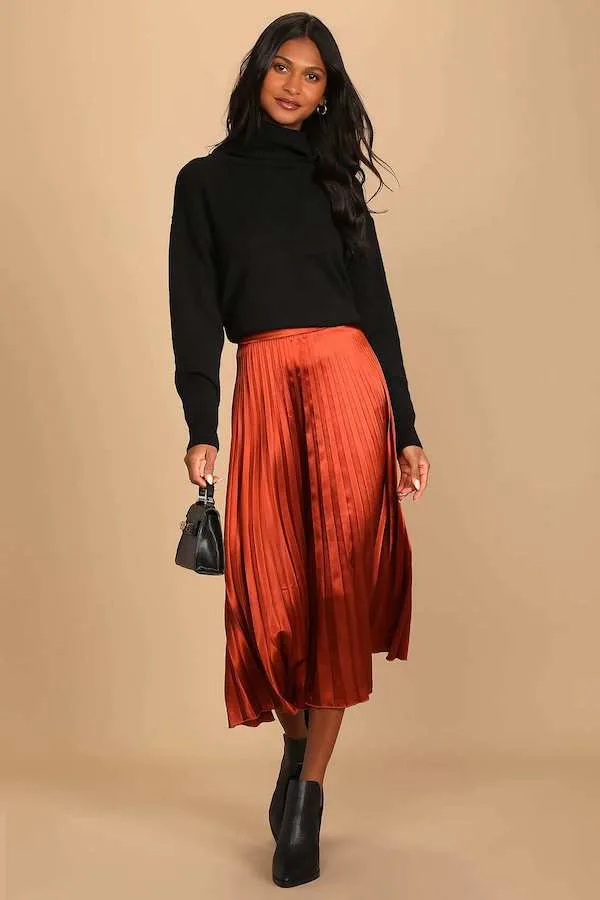 Satin Wrap Solid Blouse + Mini Skirt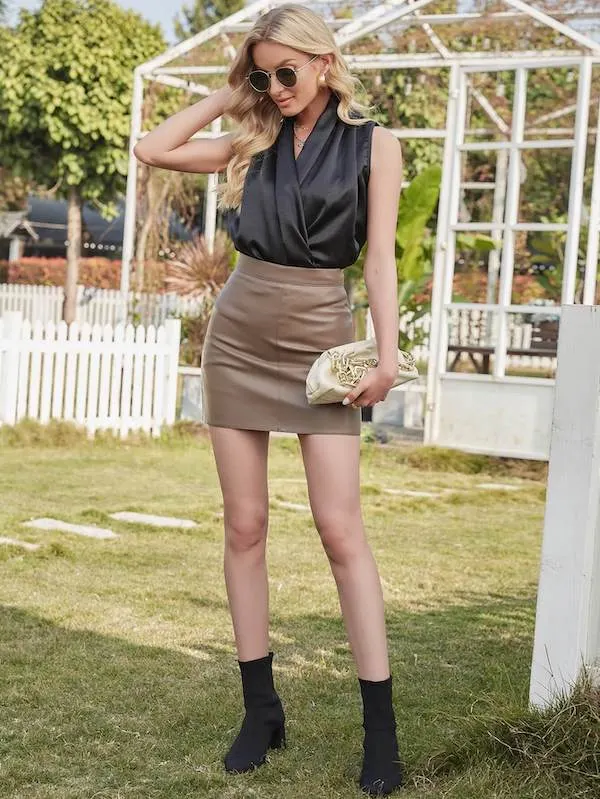 Lantern Sleeve Wrap Belted Peplum Blouse + Black Pants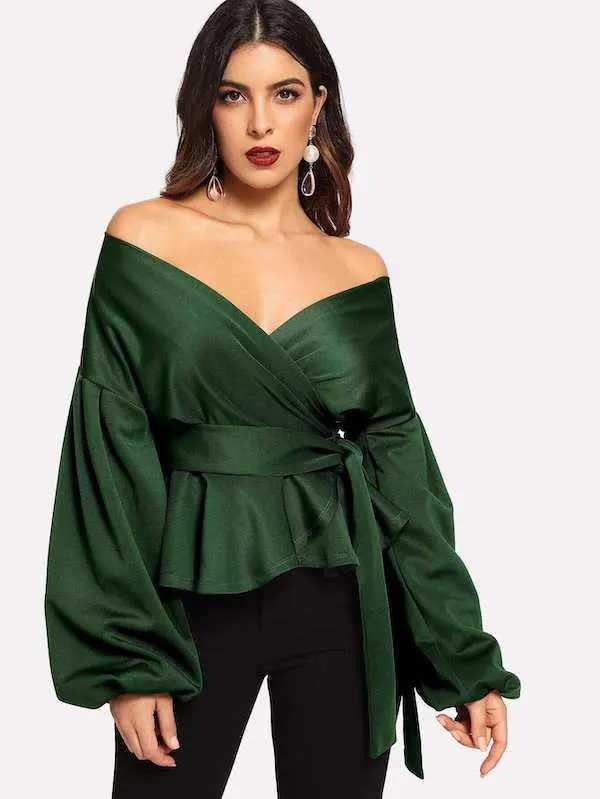 Mesh Overlay A-line Skirt + Beige Top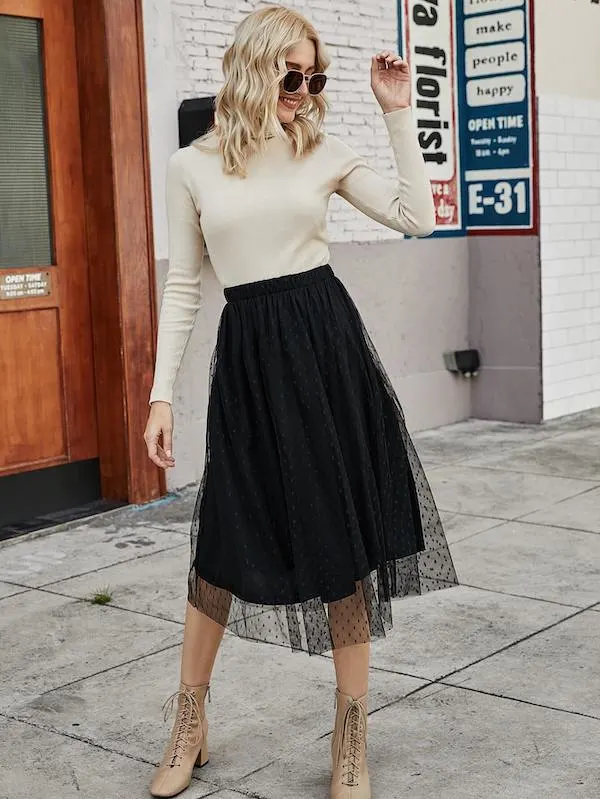 Cowl Neck Flounce Sleeve Blouse + Leather Pants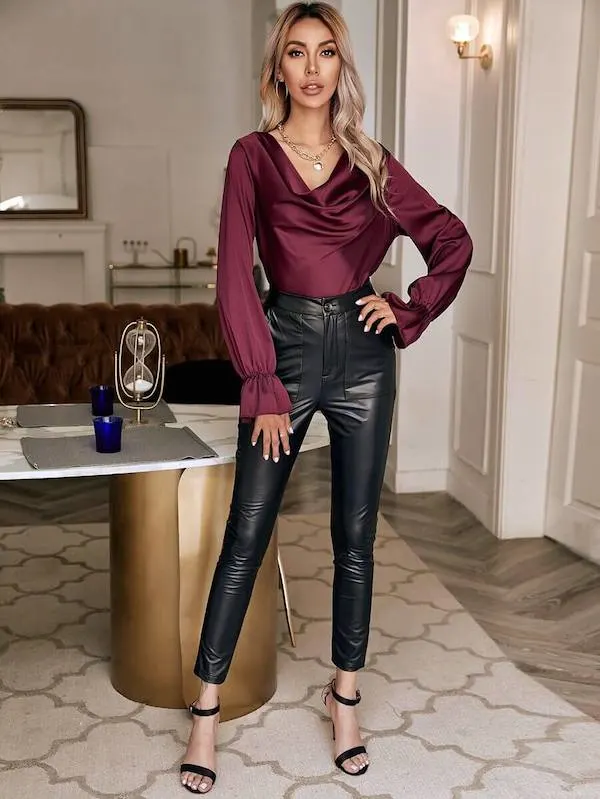 Romantic First Date Outfit Ideas
Add the right romantic mood to your first date outfit next time. Change your normal black top or black dress look to a brighter and lighter color to live an indelible impress.
Please choose the simple cut and simple designs. They make you look chic and more expensive.
Cowl Neck Ribbon Sleeveless Blouse + Black Skirt
Satin Tie Front Crop Top + White Wide Leg Pants
Blush Pink Long Sleeve Midi Sweater Dress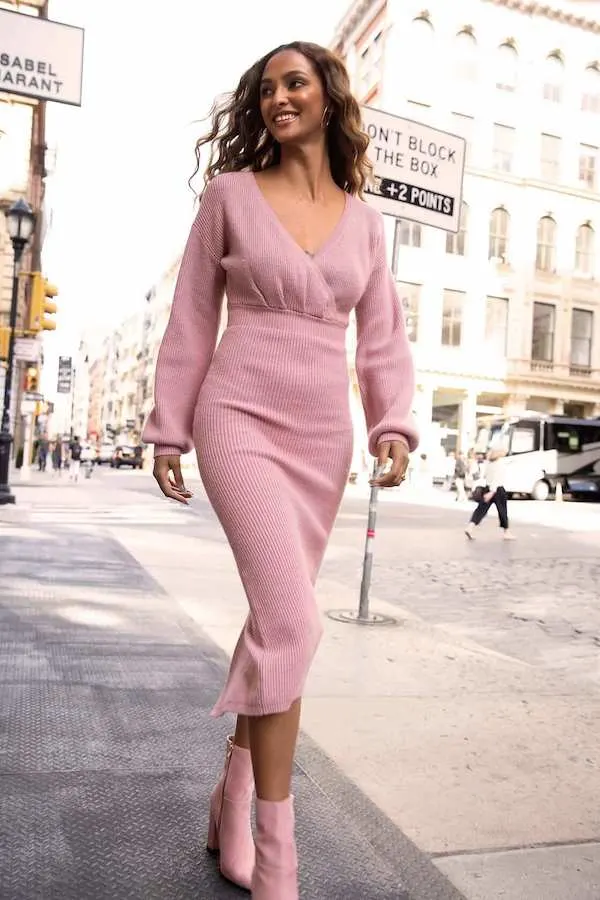 Bright Red Satin Pleated Maxi Skirt + Black Cami Top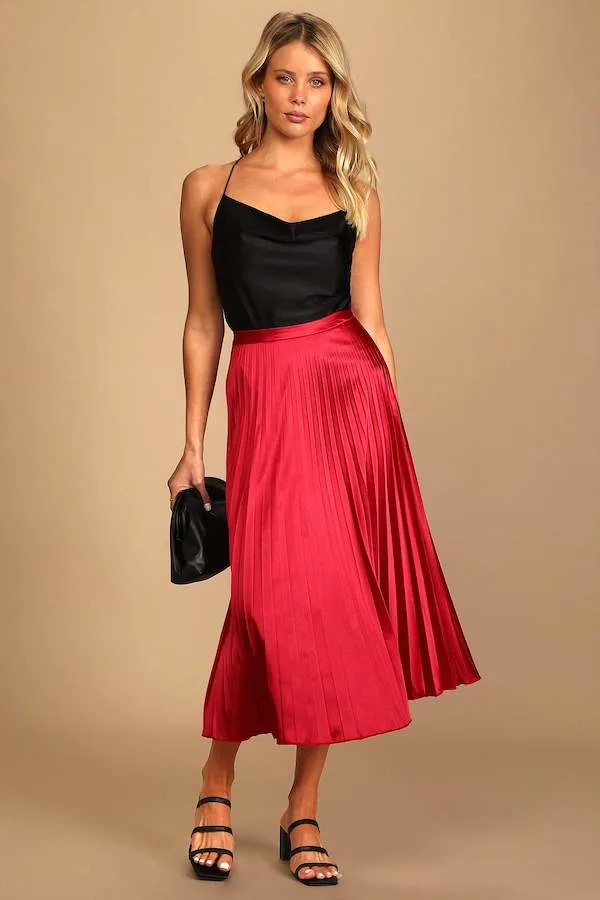 Best Movie Date Outfit Ideas
Add a little edgy style to your movie date outfit. One easy tip is to wear some animal prints pieces to make you look stylish and sexy. A black leather jacket or a black faux fur short jacket adds much fun to the look.
You can also wear a cozy sweater underneath for a romantic date in the cold weather.
Leopard Print Satin Pleated Midi Skirt + Black Leather Jacket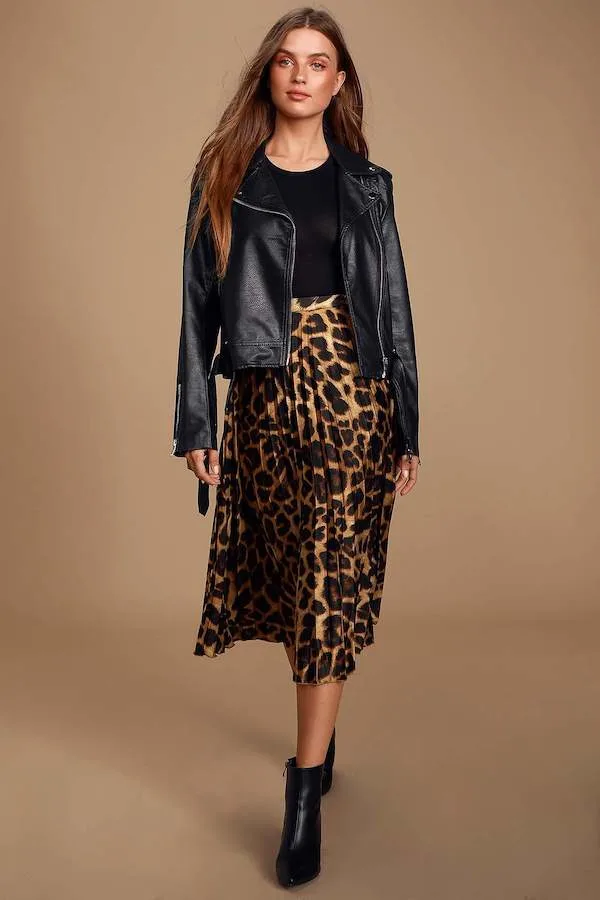 Leopard Print Ruffle Hem Skirt + Black Top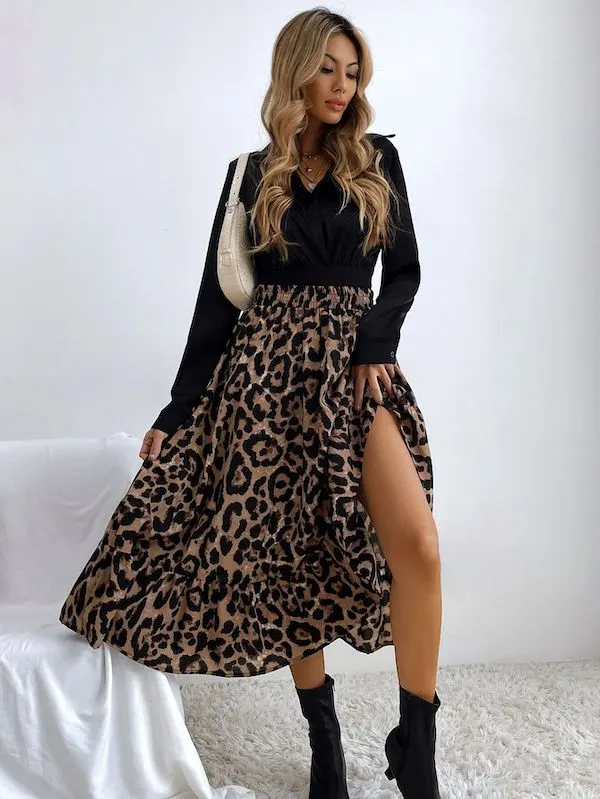 Suede Moto Jacket + Denim Shorts + Black Thigh High Boots
This post was all about fancy date night outfits and dresses.
About The Author
Tracy is an experienced personal stylist, shopping expert, and fashion & lifestyle blogger. She has been featured on Time Magazine, Bustle, Best Life, Glam, The Zoe Report, Mic, and GOBankingRates, for her insights on fashion, beauty, home decor, and lifestyle. Read More
Related Posts: