What to wear with long skirts? You've come to the right place. Check this post for the 80+ best long skirt outfits and the best ways to style a maxi skirt to copy directly.
I've been obsessed with long skirts lately and I can't get over it. I previously thought maxi dresses were only for vacations (and of course they are perfect for that), but after I've taken a closer look at how to wear them, I've found that they've become the my wardrobe staple and you can have so many different ways to style them!
They are really versatile, from spring summer wear to winter season, from casual occasions to important date nights, they can make a huge statement.
In fact, once you find a long skirt that suits your style, you'll find that many of the pieces you already have in your closet will already work well with them!
Yes, you don't need to spend a lot of money to level up your entire closet with long maxi skirts!
So scroll down to check the best long skirt outfit ideas and style tips on what to wear with long and maxi skirts, and don't hesitate to pin them to your Pinterest board, or share them on social media sites!
This post may contain affiliate links, which means I'll receive a commission if you purchase through my link, at no extra cost to you. Please read the full disclosure here.
This post is all about what to wear with long skirts.
What To Wear With Long Skirts: Best Tops And Shoes
Besides the trendy mini skirts and the common midi skirts, I fell in love with long skirts and was looking for the most fashionable maxi skirt outfits until I came across the following ones. Now I'm sharing them with you.
Black Top
A simple black top is one best option to make your maxi skirt elegant and moving.
The simplicity black color of this kind of tops can show the beauty of the skirt itself to the maximum. So choose simple style accessories, or accessories with understated color, so that only skirt is the focus of your whole outfit, which will make you look more fashionable.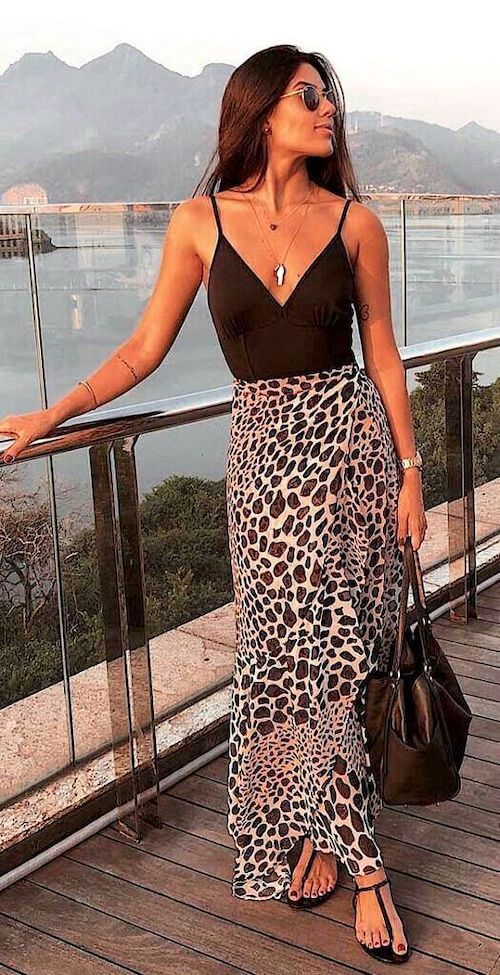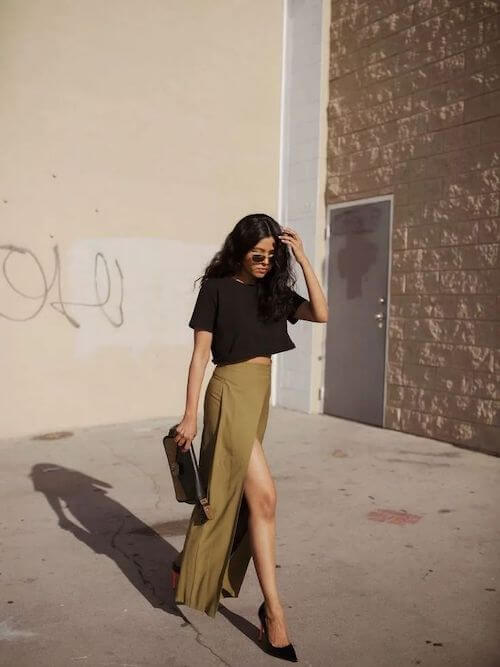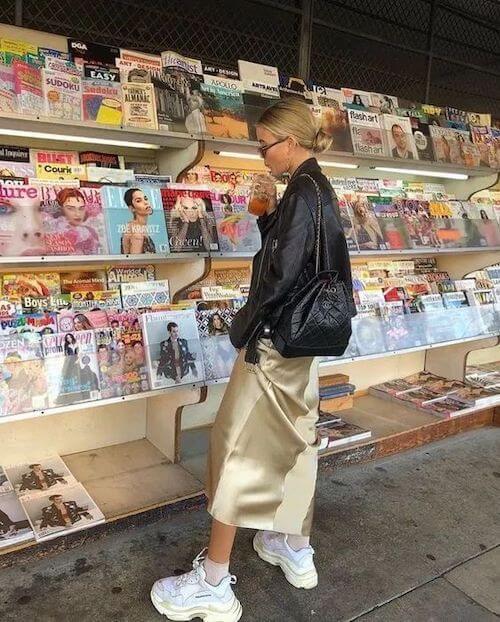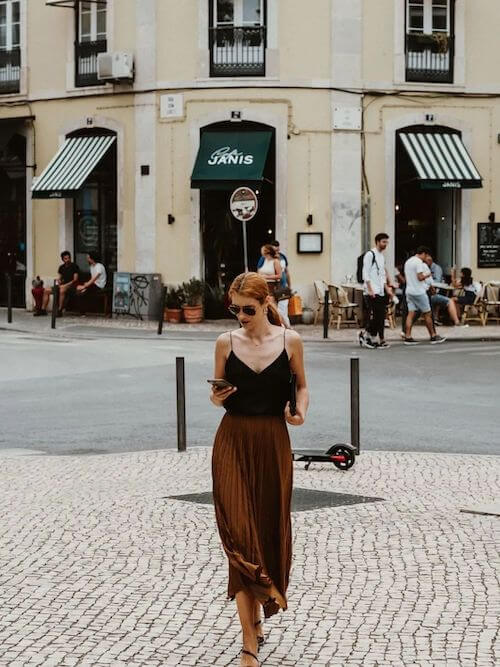 White Tops
White ff shoulder tops or white crop tops provide a right balance of femininity and cuteness for hot summer months.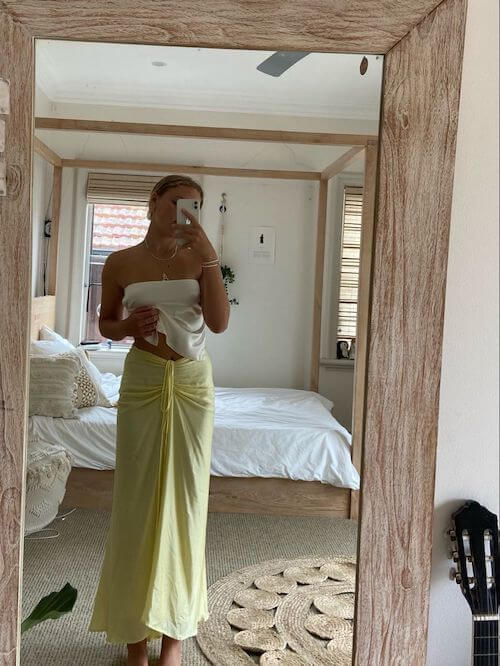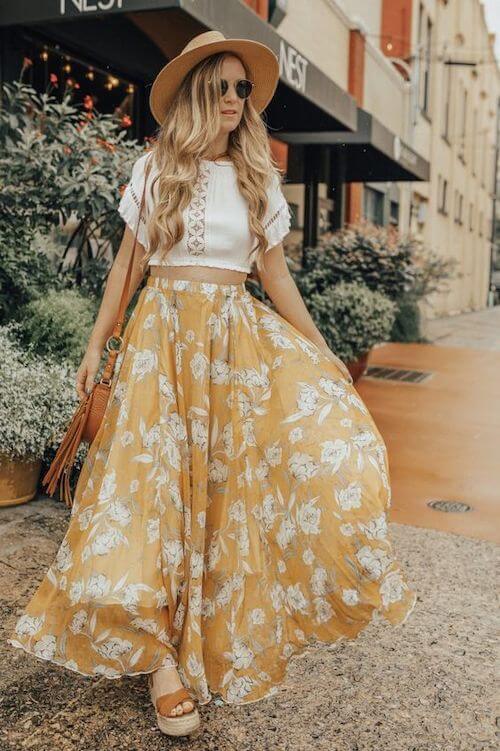 Plain Tank Top Or Simple White Tank Top
White tank tops are very popular this year. You should definitely try pairing them with a gorgeous long skirt. If you can, you can wear a simple gold necklace for a better effect.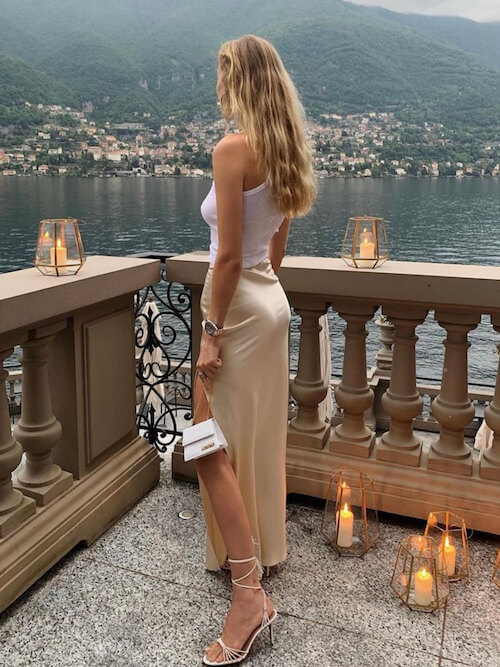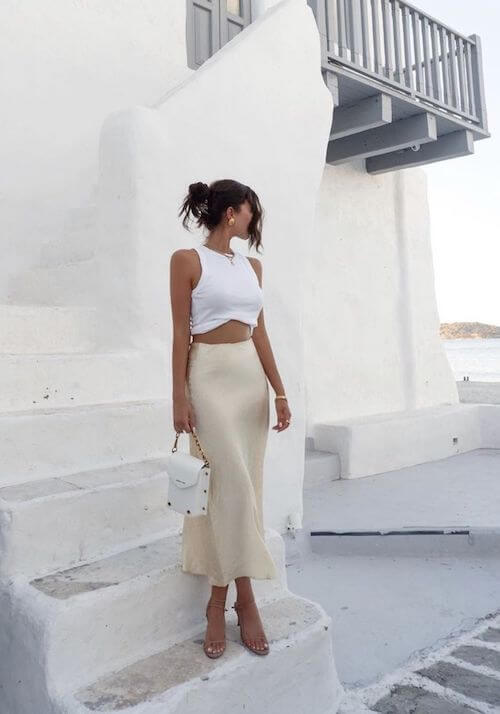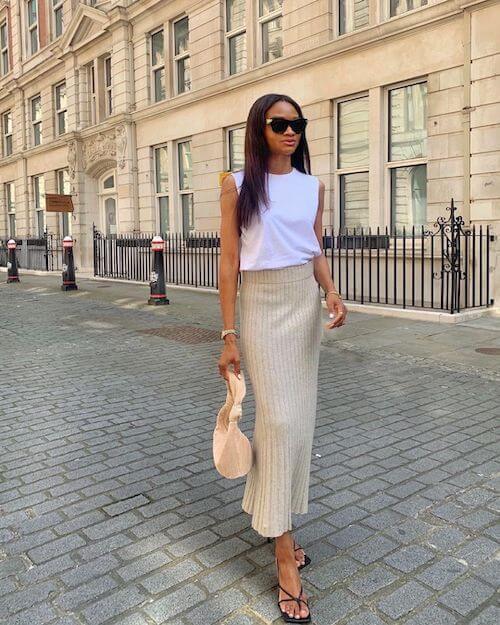 Graphic Tee
If your maxi skirt is relatively simple, such as a white plain skirt or a black plain skirt, then you can choose a more retro exaggerated graphic T-shirt that will have a 90s fashion style.
If you are looking for an elegant style, then an idea like the one below would be great. The tip is to choose patterns or letters in the same color as the skirt for a trendy look.
I especially like the gray color of this tee, which makes it stand out even more.
White Blouse Or Blue Blouse
How do you turn that button up blouse you always wear to work into a stylish date night outfit? The secret is to add a sexy maxi skirt, and then wear statement earrings or a statement bag to accentuate the whole style.
These two pictures below perfectly illustrate the important role of accessories in enhancing style.
If it's a sexy date night outfit, then choose a pair of high heels and a delicate, small bag. If it is a slightly casual vacation style, then change to flat strappy sandals, as well as a larger tote, then the sense of leisure immediately came out.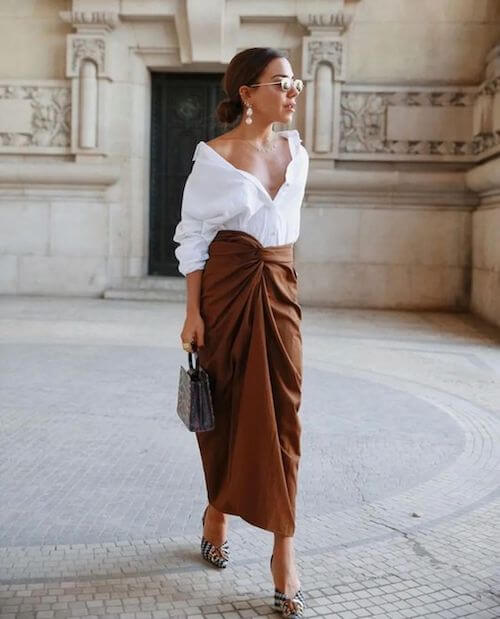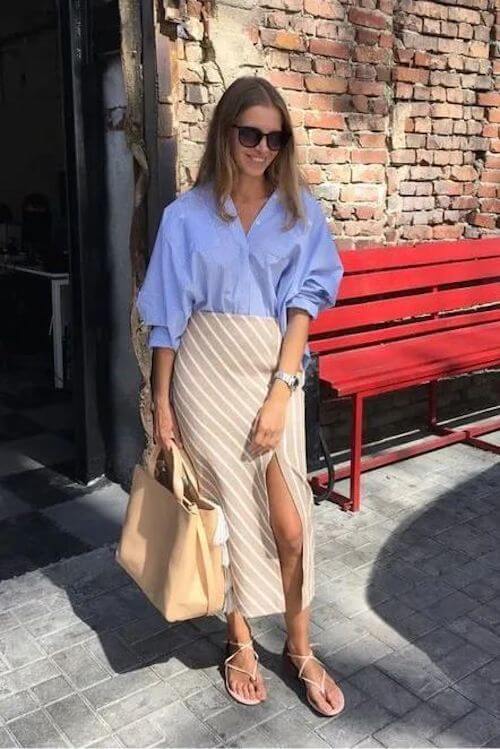 White Shirt
I prefer a white tee with softer fabrics, which look more gentle together with skirts.
In the below idea, she added a delicate necklace to the white T-shirt, which is a great way to make the simplest clothing pieces also suddenly appear expensive.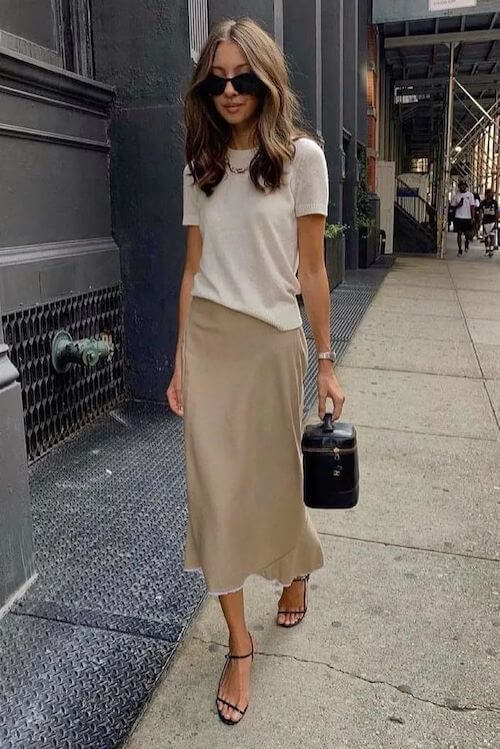 And the combo of a white shirt and a maxi skirt can be dressed up or down easily, perfect for many occasions.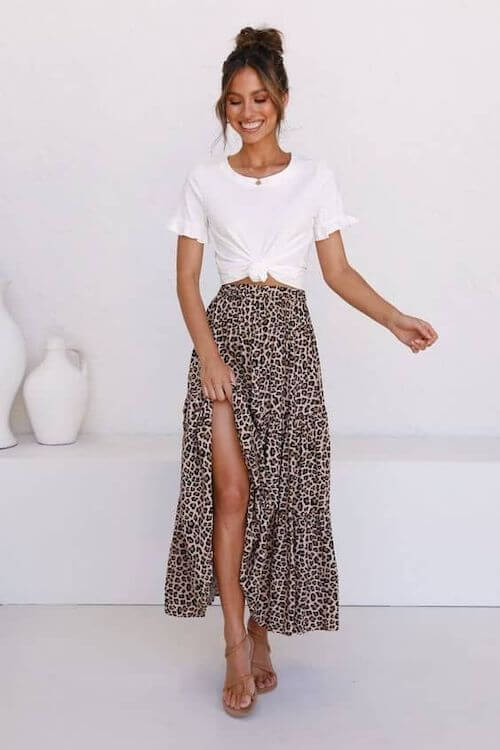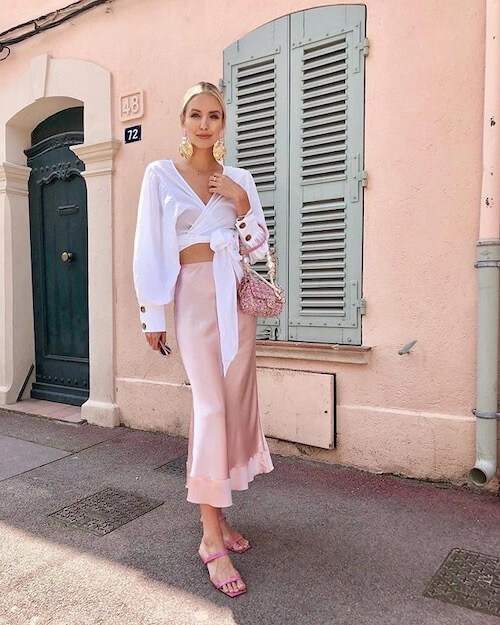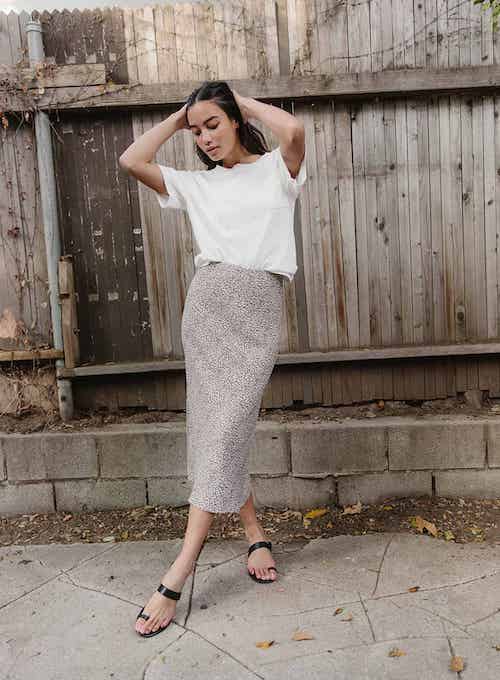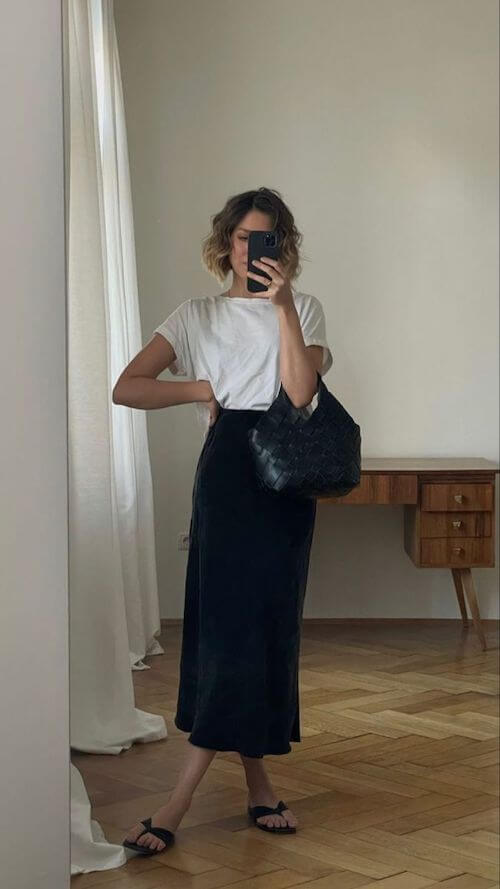 Neutral Color Tops
Neutral colored tops seem to be the most versatile pieces for a modern look.
In particular, I especially recommend choosing a top that matches your neutral colored maxi skirt in the same color scheme, or even a monochromatic outfit, which will make the whole outfit look really too chic and very high class.
Especially in the fall and winter, this is a very elegant and cozy idea.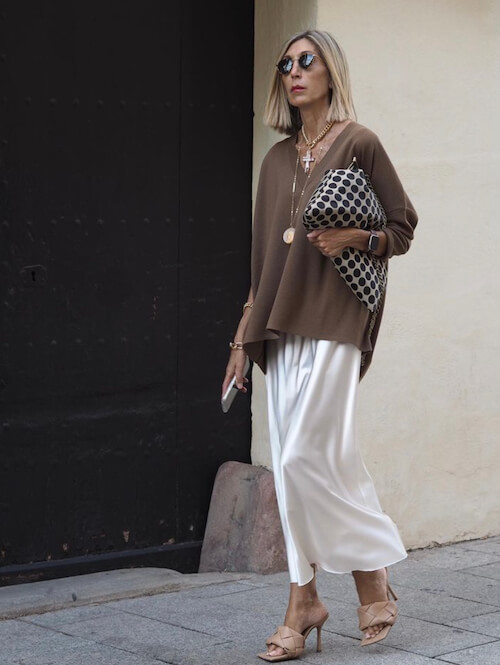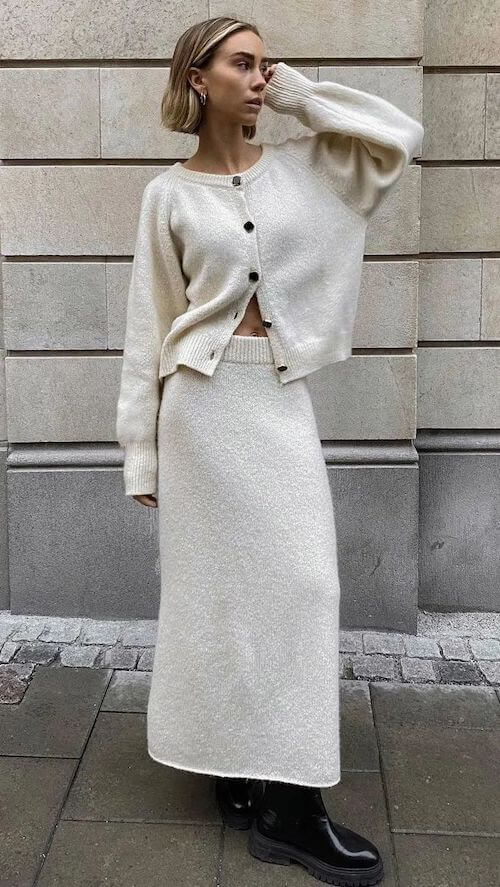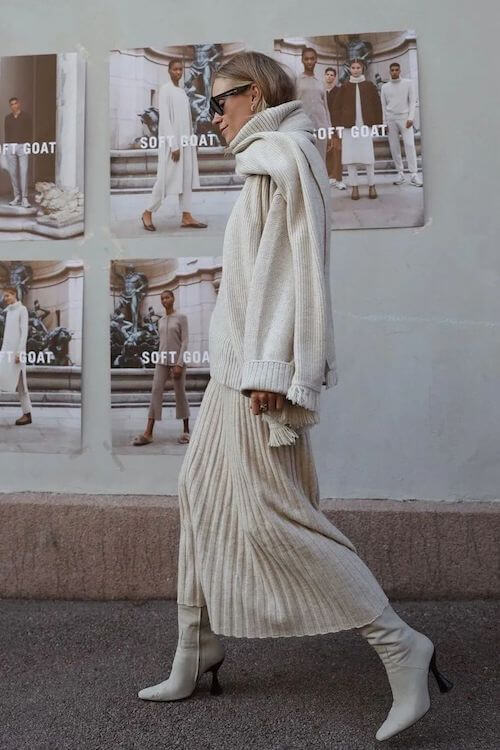 Loose Tops (Oversized Tops including oversized sweaters, oversized sweatshirts)ff
In fall and winter colder months, a loose top seems to be one of the most suitable companions for a sexy maxi skirt.
Loose tops have a casual casual feel that can blend perfectly with the glamour and sexiness of a longer skirt to create an effortlessly chic look.
Both monochrome outfits and contrasting color outfits are perfect.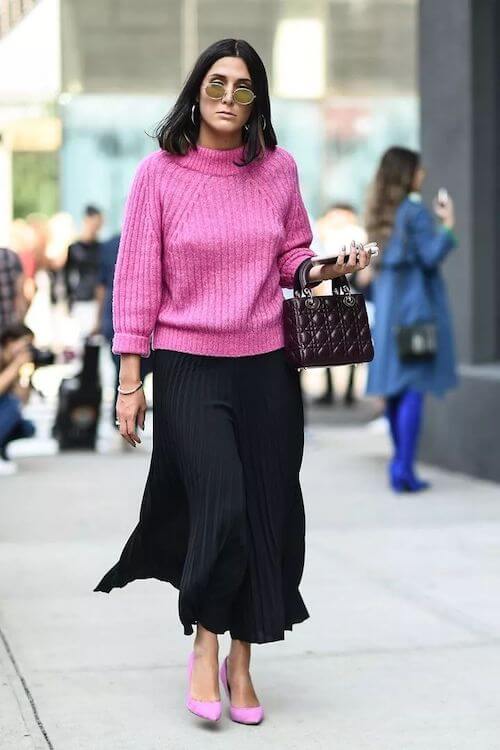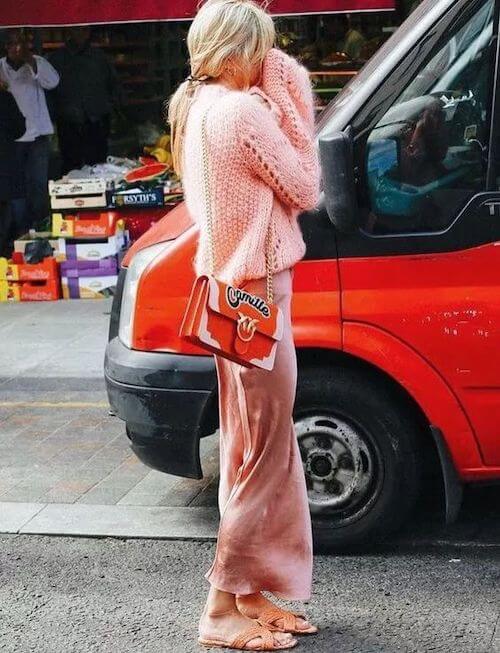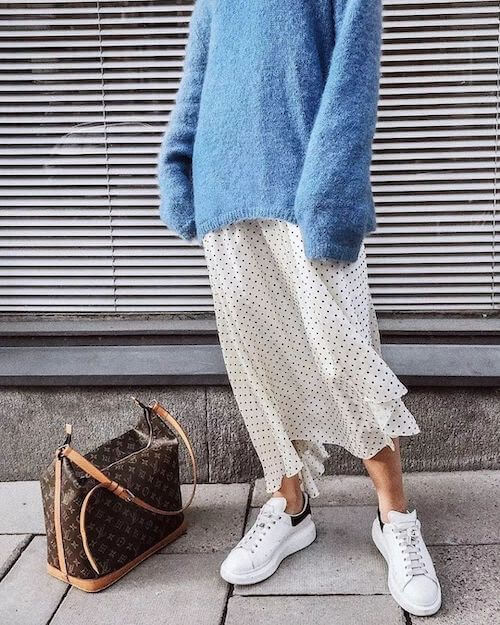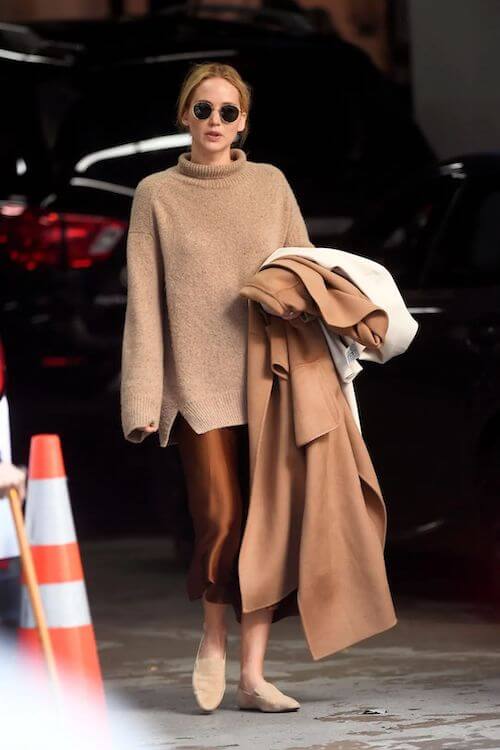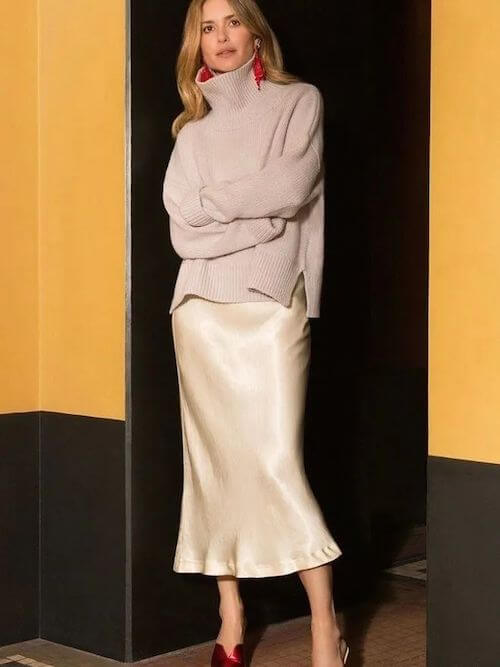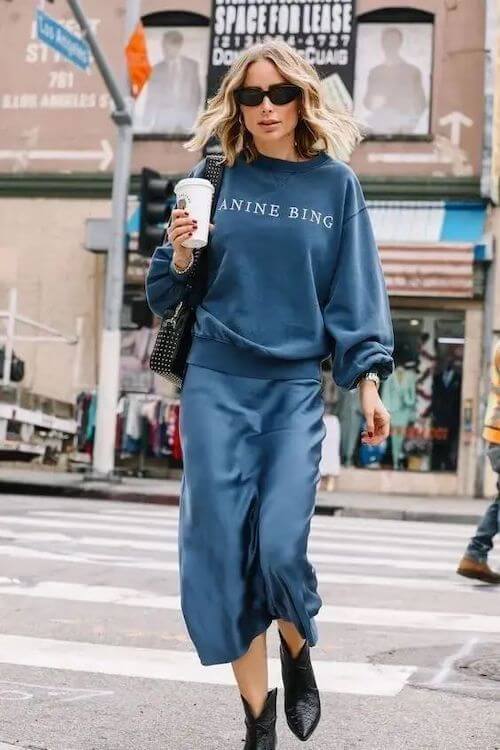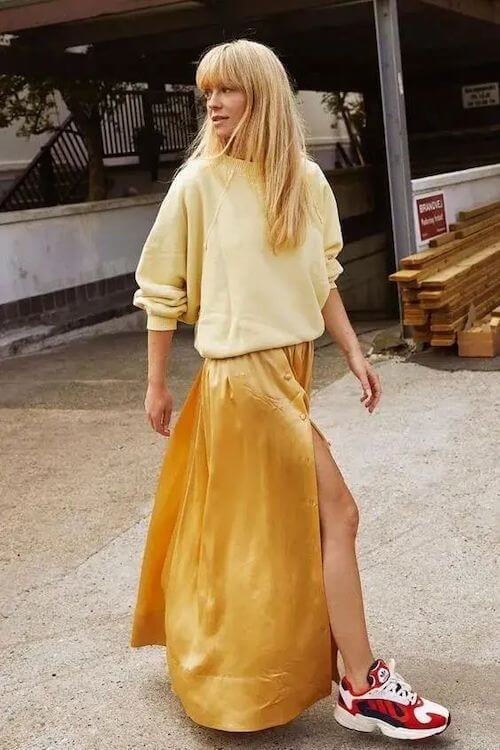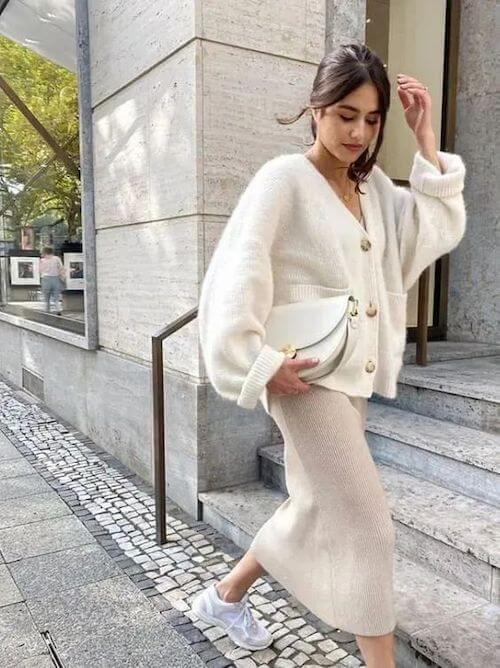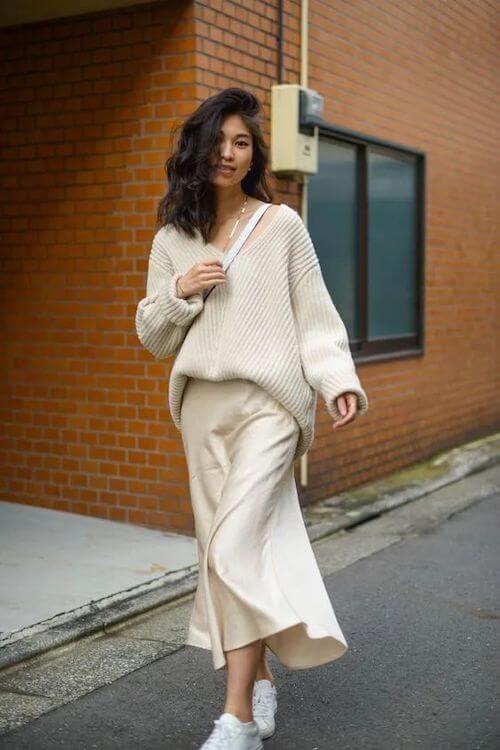 Chic Crop Top
How can you not try a chic crop top? Remember to choose a simple color and style of top to show off your beautiful skirt to the maximum for a stylish look.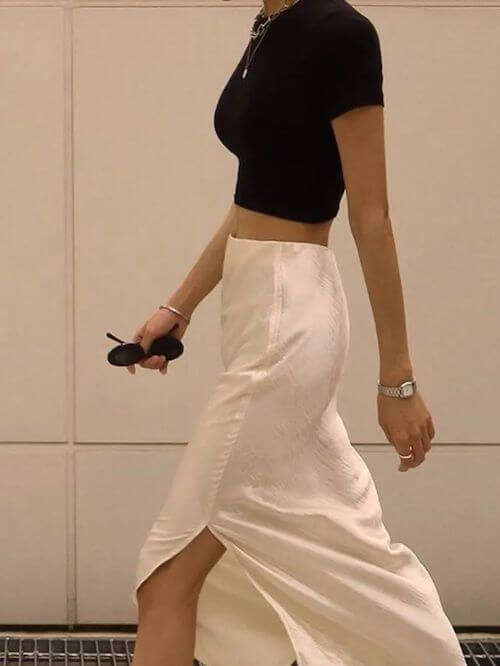 Slim Knit Top
In the cooler months, I also suggest you try this slim knit top to wrap your upper body perfectly for a fashionable look.
Be sure to pair it with sexy high heels this time of year to give your body a more charming look.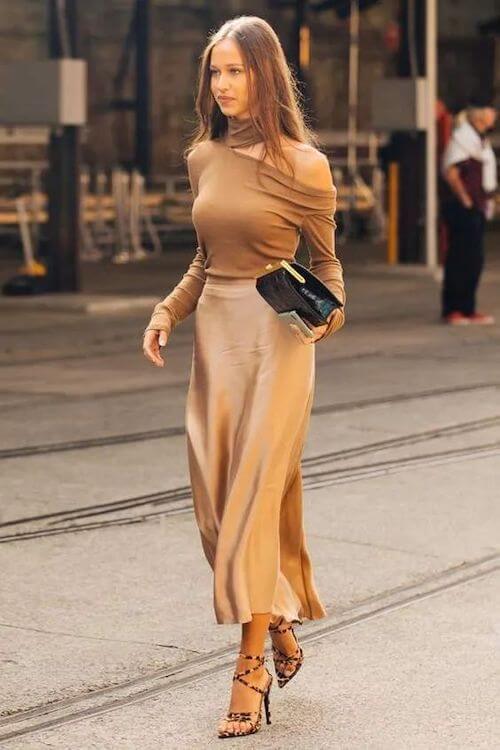 Denim Jacket
One fashion top tip is to put on your denim jacket when you don't know how to match with complex patterned dresses or when you don't know what to do with those special color dresses.
I have always felt that the denim jacket is one of the greatest inventions in the history of human fashion, it makes ordinary clothes fashionable and combines well with almost any style.
The key is that you need to choose a shorter denim jacket so that together with your long skirt, you can create your perfect body proportions.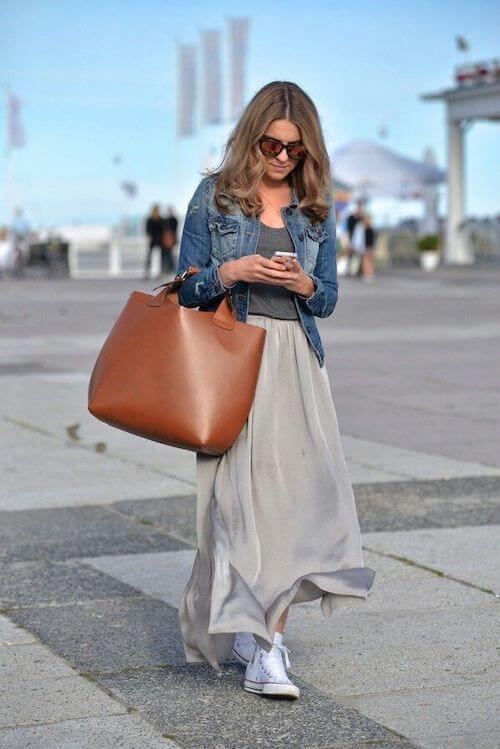 Denim Shirt
Denim shirts also have a similar effect to denim jackets, and denim shirts tend to have more colors than denim jackets. So you can pick your favorite blue color from your maxi skirt and choose a denim shirt with a similar color to it to create a bright and attractive effect.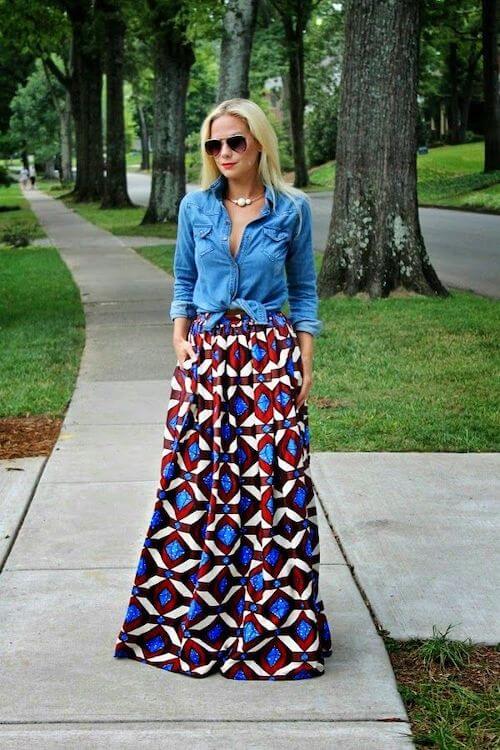 Black Leather Jacket
One versatile jacket is a black leather jacket. Wear it in the cooler months with an extra layer. The following two outfit ideas are two different styles.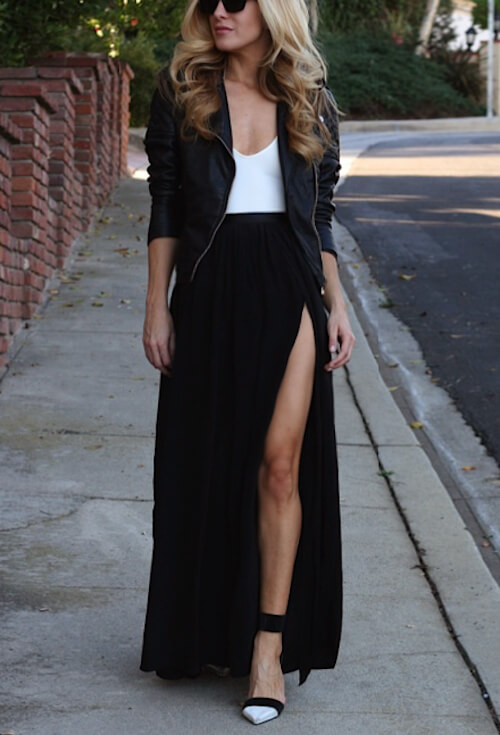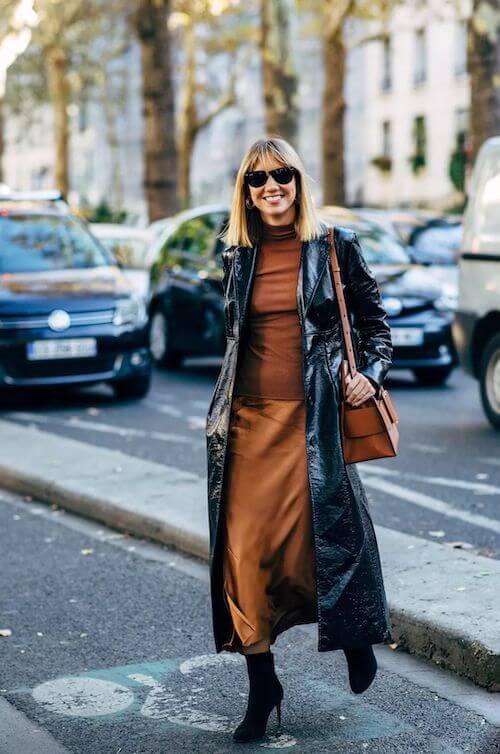 Blazer
These years oversized blazers are very popular. And an oversized blazer is a good match for a maxi skirt.
I suggest you try pairing them with a blazer and maxi skirt and a pair of casual shoes like platform sandals or chunky sneakers for a very chic casual look.
If you want to wear it for formal events, change the shoes to sophisticated heels and even buckle up the blazer, so you've made the perfect transition from casual style to formal wear!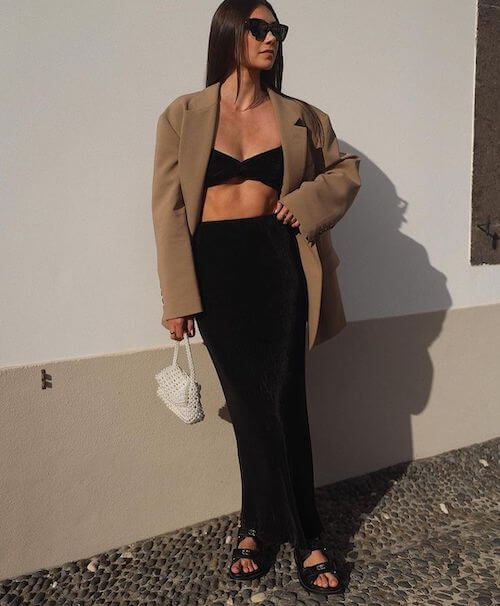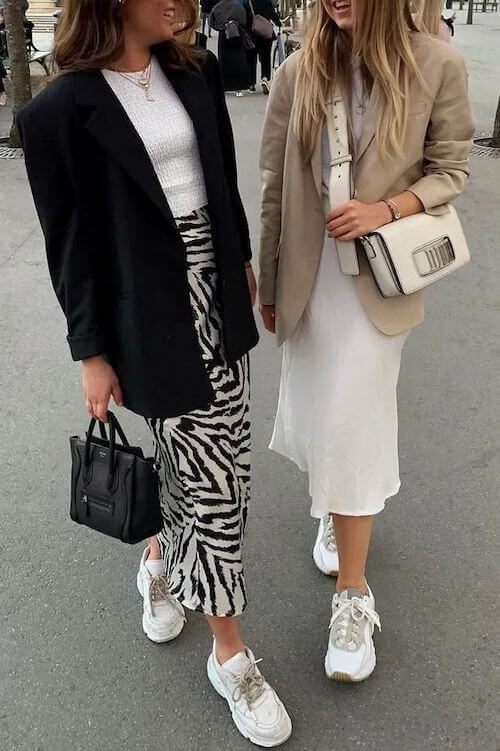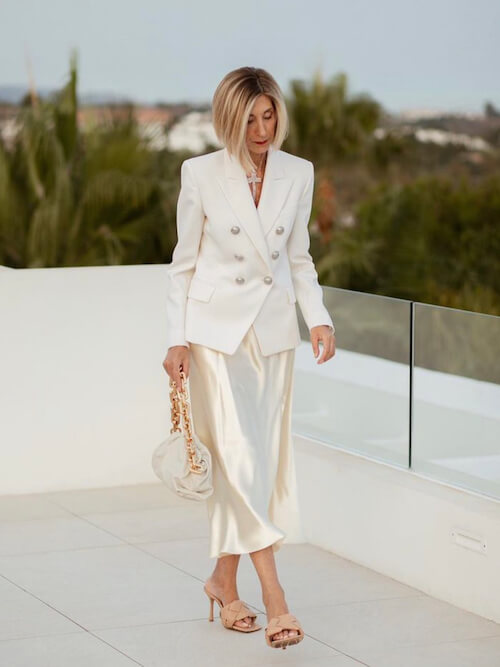 A Pair Of Sandals
Sandals are fantastic for setting the overall outfit style. Especially if you choose a skirt with a simple design, you can easily create a different style with different accessories.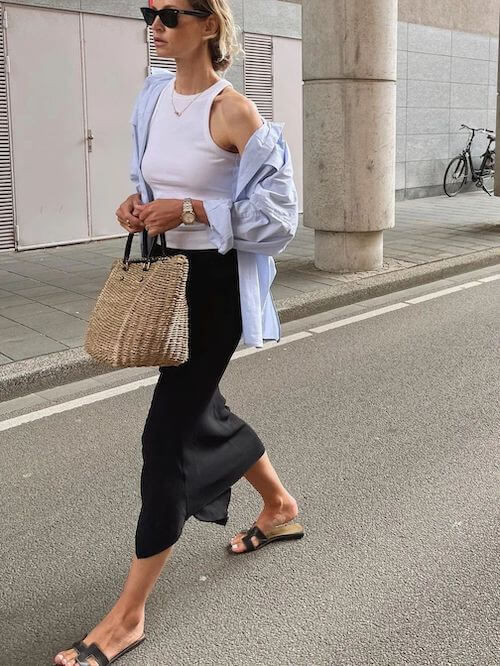 White Trainers, Chunky Sneakers, Or Canvas Shoes
If you haven't tried pairing skirts with your sneakers, you should definitely give it a try this year. The chunkier sneakers you choose, the more fashionable they are. If you want to keep a low profile, a pair of classic black canvas is also great.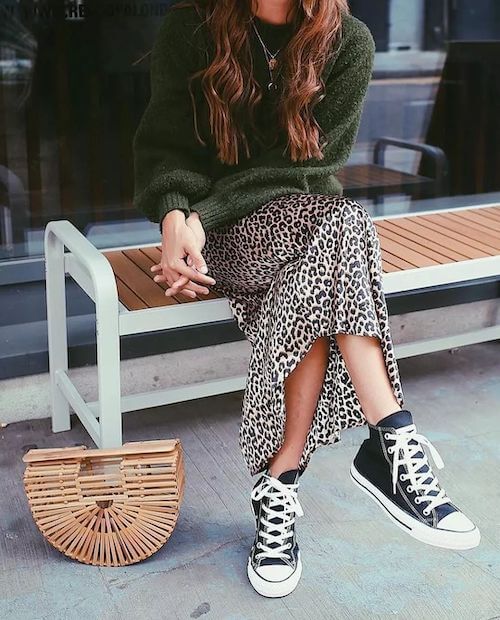 Kitten Heels
On a romantic date night, a swaying maxi skirt with a pair of kitten heel shoes is both elegant and practical, and very easy to walk in.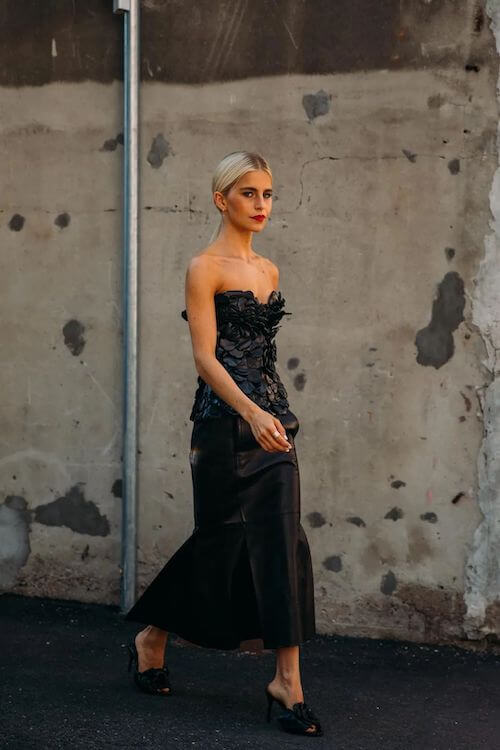 High Heels
When paired with the classic a-line maxi skirt, a pair of simple high heels might be a better option. This outfit below reminds me of Audrey Hepburn's classic movies.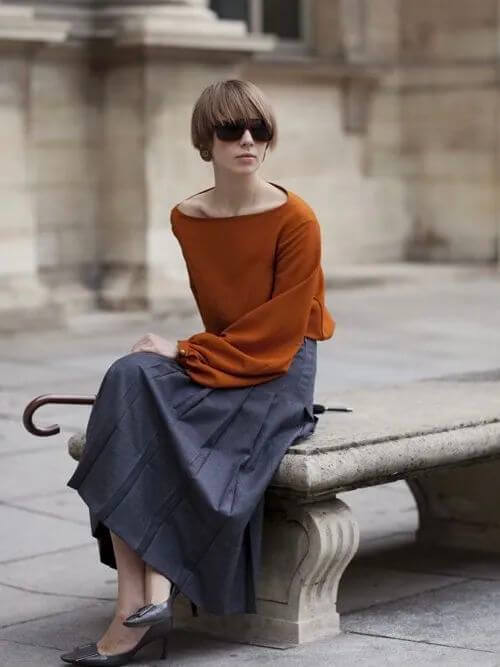 Combat Boots Or Platform Ankle Boots
The most recent academia style is very popular, so you must try to use combat boots or platform ankle boots to match maxi skirts. especially this kind of black thicker plain maxi skirts. What a perfect academia look!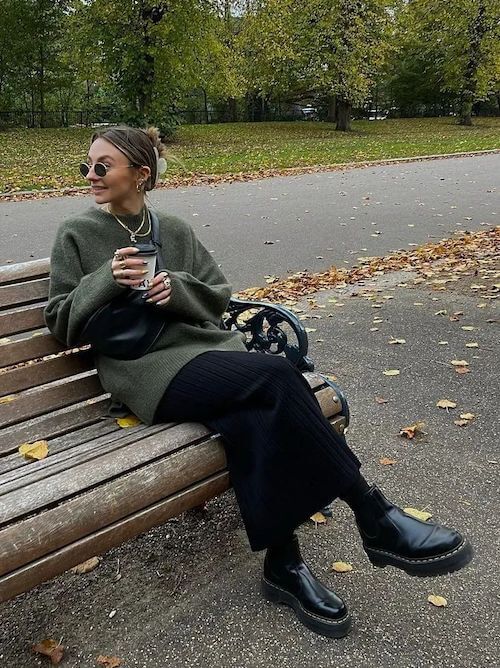 If you don't have ankle boots, this idea of black socks with oxford shoes is also very smart!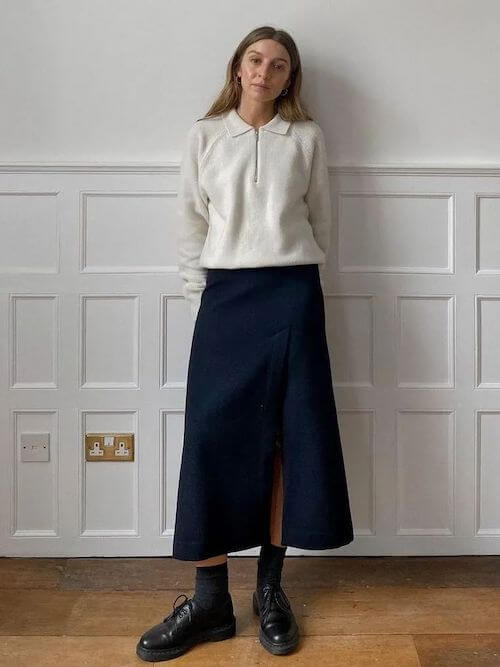 Point Boots
If wearing point high heels in the warmer weather is your preference, then in the cooler months it's time to switch to equally elegant point boots.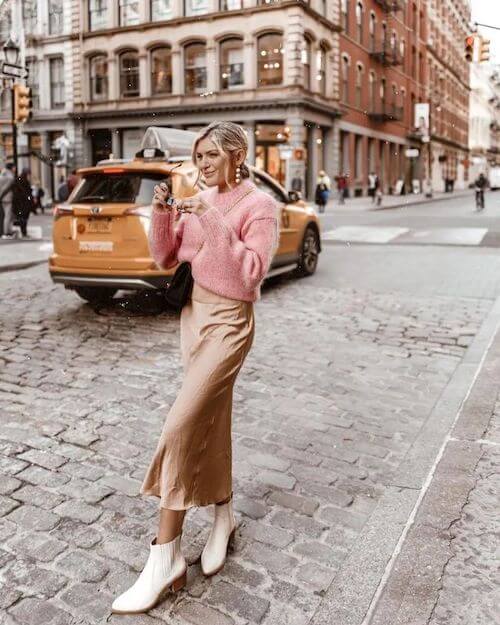 Best Maxi Skirts For Every Woman
What are the best maxi skirt styles to get this year? Scroll down to check our favorites.
A-Line Skirts
The A-line design with maxi length creates the perfect body proportion. In particular, it is recommended that you always wear a minimalist top so as to avoid overloading the upper and lower body at the same time and prevent depressing your height visually.
Black Maxi Skirt
The black skirt is never out of fashion. Whether it is sophisticated and elegant, or relaxed and casual, it will not clash with other clothing pieces.
If your budget allows, it is highly recommended that you invest in one or two black maxi skirts that are of good quality and well-fitted, which can be worn for a long time.
Black Pencil Skirt
Especially this black pencil maxi skirt, it's perfect from the office wear to everyday wear.
Floral Prints
How can a romantic woman's wardrobe not have beautiful floral skirts in it? They are so soulful and elegant.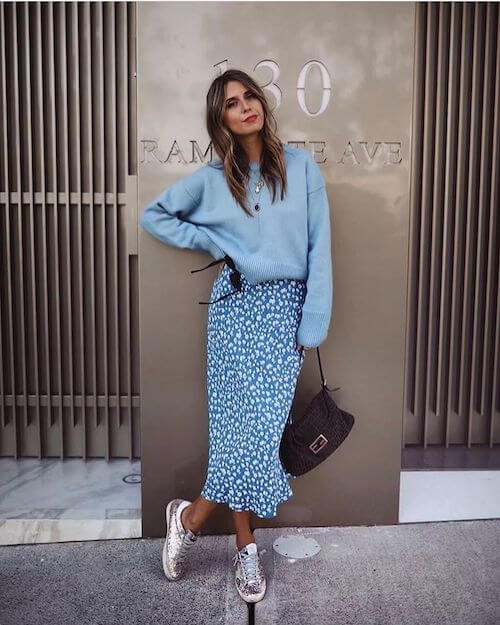 High Waisted Skirt
A high waisted maxi skirt fits most body types.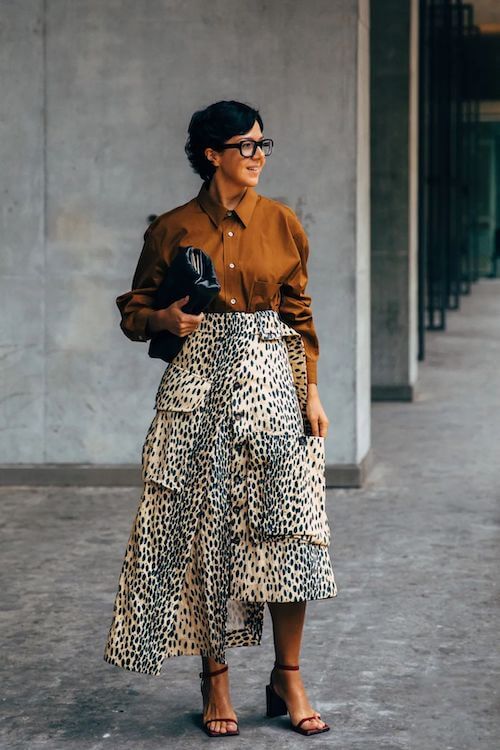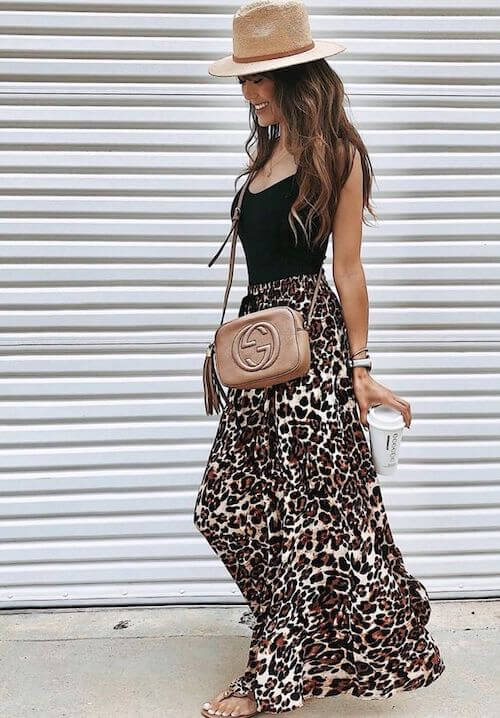 Long Denim Skirt
Long denim skirts are not often seen, but I was really attracted to the two casual outfits below, which are a little bit elegant and a little bit naughty.
If you are worried about the denim skirts looking dull, then choose the long split designs like the ones below, which looks very much lighter.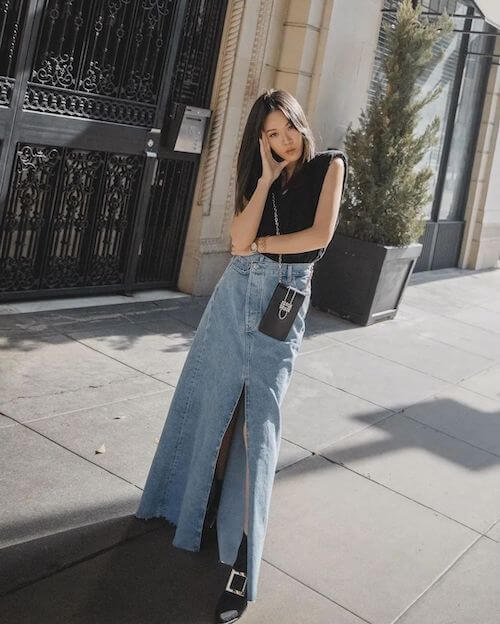 Plain Long Skirt
A good quality plain long skirt will become one of the most practical pieces in your collection.
You can try different fabrics, such as tweed, velvet, silk, and even different colors, which will accompany you through special occasions confidently with a great look.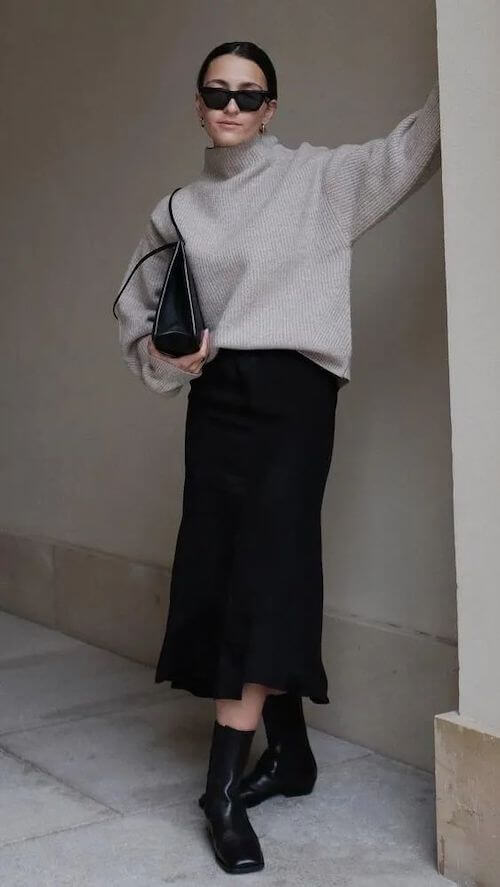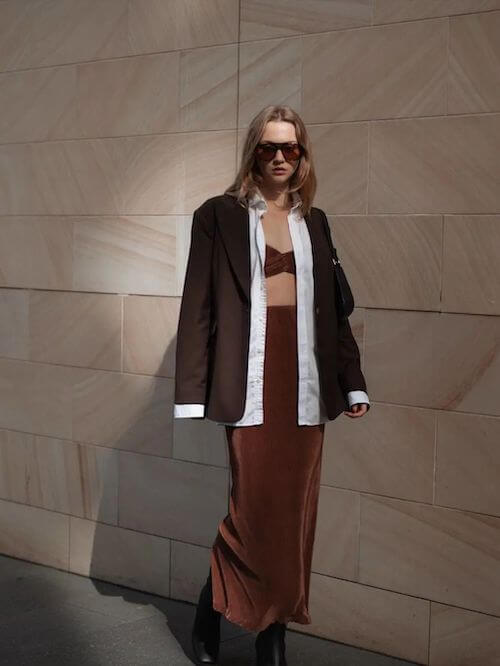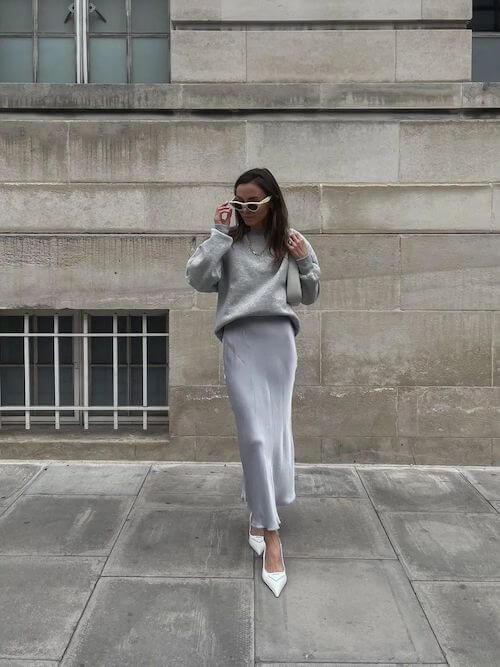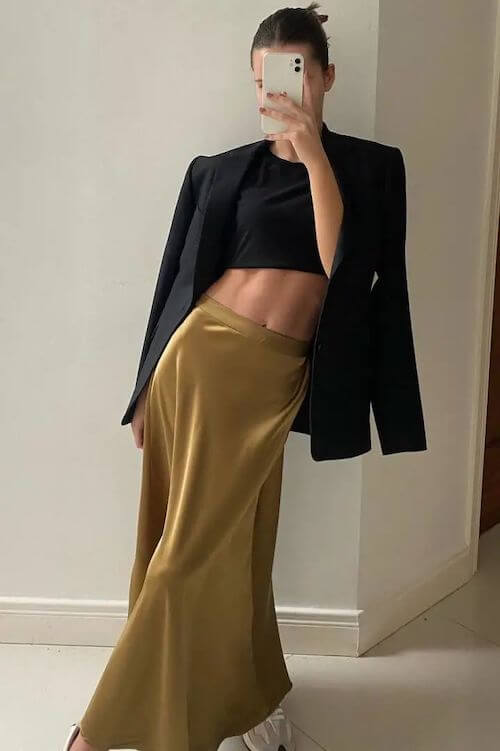 Pleated Skirt
Pleated skirts are also an enduring fashion item.
The narrower the skirt pleats, the more romantic the skirt looks, and the wider the skirt pleats, the stronger the academia and retro style. You can choose the right pleated skirt according to your style preference.
In addition, if your lower body is a little big, especially for pear-shaped women, choosing narrower pleats is not very suitable, then choosing a thicker fabric pleats will be better.
Because the thicker pleats are somewhat with A-line design, it will cover your lower body curve and help you optimize your figure.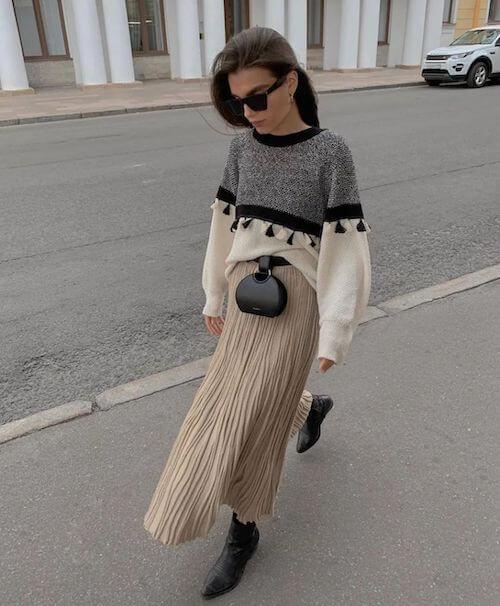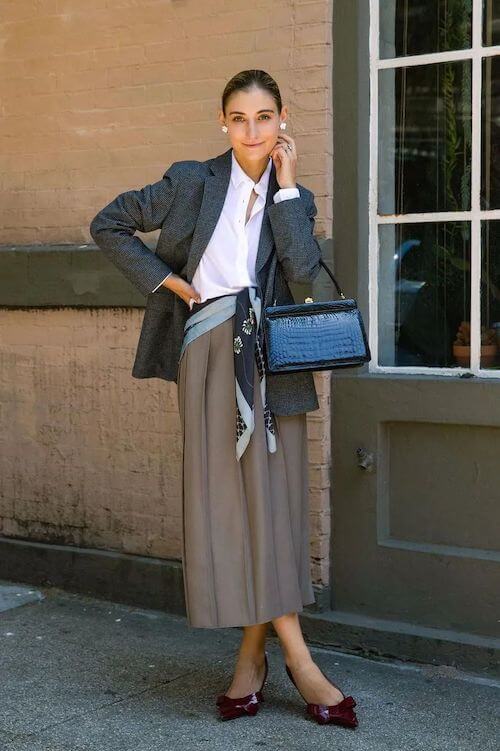 Sheer Maxi Skirt
The sheer fabric is a great option to add a lighter style to maxi skirts, making it a great piece for many seasons.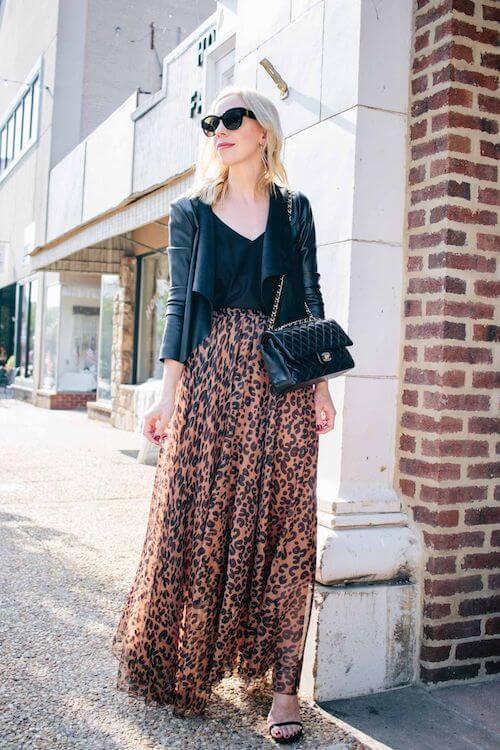 Silk Skirt
If you are a fan of 90s fashion, then you must have a silk maxi skirt for a flattering look. It is so elegant and classic that you don't even need any eye-catching other accessories to stand out.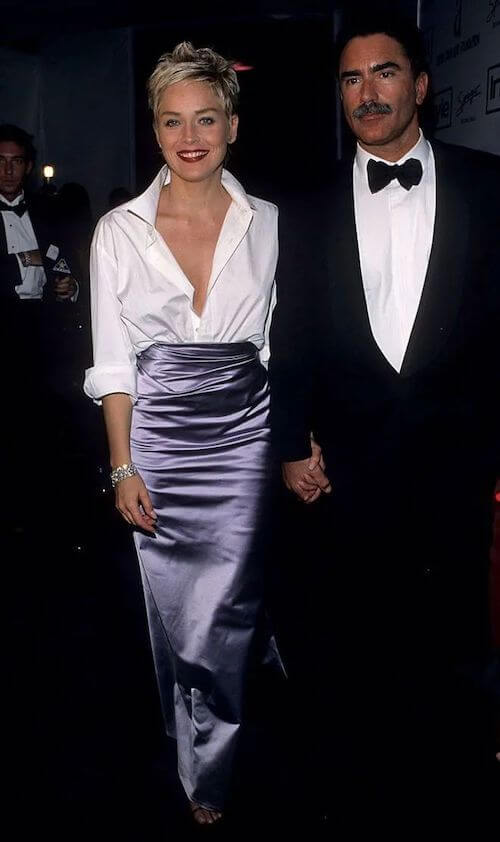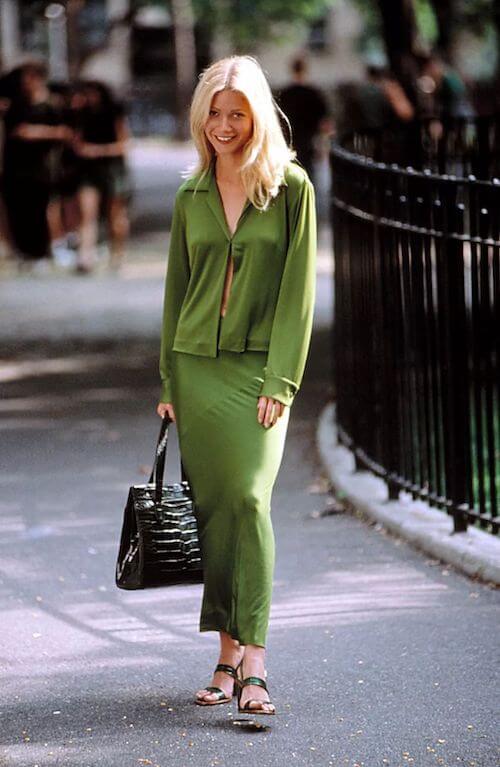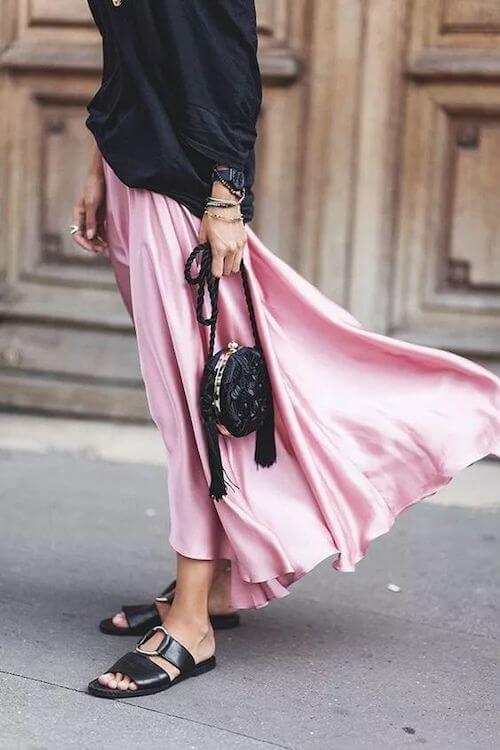 White Maxi Skirt
If you like white but are worried about white skirts looking childish, you can choose a heavier fabric suit maxi skirt, or pleated skirts or silk skirts, which will look much more mature.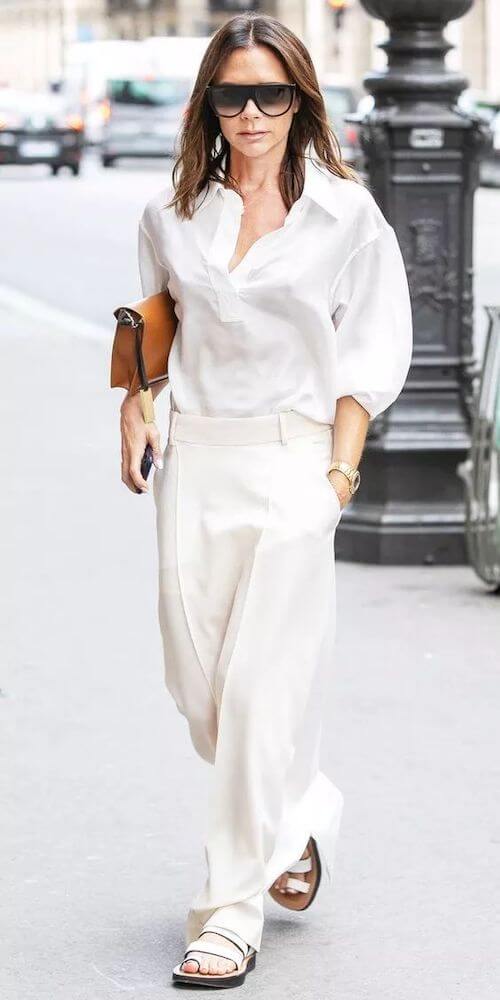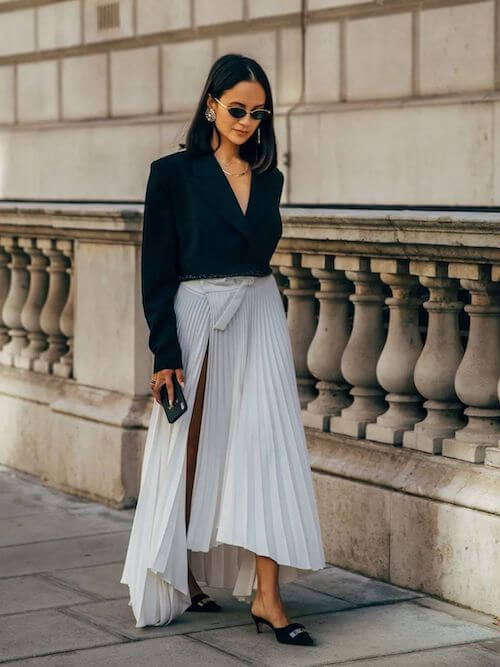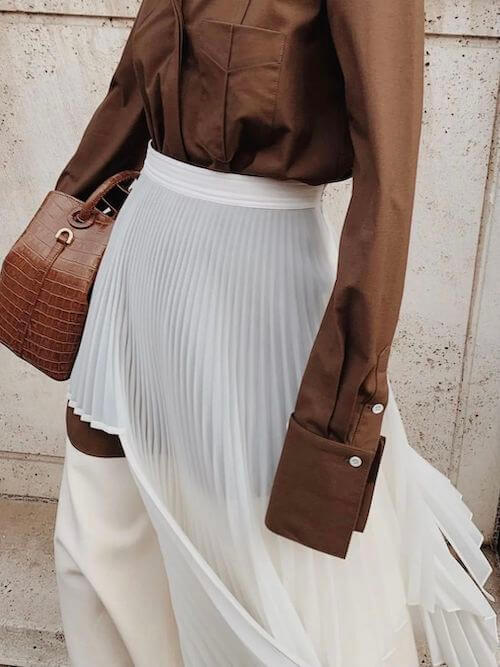 FAQ:
Do maxi skirts look good on everyone?
Maxi skirts are the perfect piece for any age, any season, any style.
To choose the right maxi skirts for you, first pay attention to the fabric. For the thicker body shape, it is not quite suitable to choose a light fabric, a certain degree of drape fabric is more suitable.
At the same time this body type is not very suitable for too-narrow-pleats skirt, it will open pleats, increasing the sense of expansion.
Additionally, the smaller women are not suitable for the design of too complex maxi skirts, because the complex design will increase the skirts' volume sense, making you look shorter.
The most suitable design for most of the body types is a high waisted plain maxi skirt, as long as you pay attention to showcasing the waistline visually, you can have a perfect look.
Another one that suits most women is the split maxi skirt, which is very fashionable with just a simple top and accessories.
Don't worry about your thighs being thick or your hips being wide enough to wear this open skirt, as long as you choose a skirt that fits well, and choose to split it on your slimmer parts, you will be able to wear it beautifully.
How can I wear a long skirt without looking frumpy?
Firstly, choose a right top. The golden rule is, choose fitted slim tops or looser tops and avoid styles that are neither loose nor tight.
Also, the simpler the style of the top, the more chic it is. Using accessories to emphasize the style will look less tacky than using a top to emphasize the style.
Set the style with accessories. If you need an elegant style, choose strappy sandals with heels, high heels, or point boots, and if you need a casual style, choose sneakers especially trending chunky sneakers, and try out the popular platform shoes.
Additionally, compared with bright colors, neutral color maxi skirts are easier to match, especially black, white and beige.
Finally, wearing leggings inside a skirt is a rather outdated way to wear them, so avoid such an idea. If you must wear leggings in the cold weather, use skirts and boots to cover up the leggings.
This post was all about what to wear with long skirts.
Related Posts: