Are you looking for the best summer skirt outfits? Check this post for the expert style tips on how to style a skirt this summer season, and the most stylish summer skirt outfit ideas to copy.
Summer is the season of sunshine, warmth, and colorful fashion trends.
And what better way to embrace the summer vibes than with a stylish skirt?
Skirts are versatile and can be dressed up or down depending on the occasion.
Whether you prefer short, flowing skirts or long, fitted ones, there are countless ways to style them this summer.
In this article, we have curated 50 of the best summer skirt outfits and trends to inspire you to step up your fashion game.
From classic denim skirts to trendy maxi lengths and statement prints, we've got it all covered.
We'll also share tips on how to accessorize your outfit for a complete look that's perfect for any summer event or activity.
This post is all about summer skirt outfits.
What Are The Hottest Skirt Trends This Summer?
Go Maxi
Maxi skirts are a summer staple that never goes out of style.
This year, they are making a comeback with new prints, fabrics and lengths.
A maxi skirt is the perfect way to add some flowy elegance to your summer wardrobe.
You can dress it up with heels or down with sandals for a more casual look.
One trend we're seeing this summer is the silky maxi skirt paired with a simple white tee.
This effortless combination is perfect for a day out in the sun or even running errands.
Another popular option is the floral maxi skirt, which adds a touch of femininity to any outfit.
Pair it with a denim jacket and some sneakers for an edgier look.
Silky Fabrics, Laces and Crochet Skirts
Silky fabrics, laces and crochet skirts are all the rage this summer season.
Not only do they provide a breezy and comfortable feel, but they also add a touch of femininity to your overall look.
Silky fabrics like satin or silk are perfect for dressing up an outfit while still keeping it light and airy.
Pair a silky skirt with a casual t-shirt or tank top for a chic yet effortless look.
Lace skirts are also popular this summer, especially in white or pastel shades.
They can be dressed up with heels and a blouse for special occasions or paired with sandals and a denim jacket for a more casual vibe.
Crochet skirts bring bohemian vibes to any outfit and come in various lengths from mini to maxi.
They can be paired with crop tops, flowy blouses, or even swimsuits for beach days.
Linen Skirts To Balance Comfort And Style
Linen skirts have become a popular choice among fashion enthusiasts for their ability to balance comfort and style.
Made from natural fibers, linen is breathable and lightweight, making it the perfect fabric for summer.
Linen skirts come in various styles, from A-line to wrap-around, and can be dressed up or down depending on the occasion.
One of the advantages of wearing a linen skirt is its versatility.
It can be paired with a simple t-shirt and sneakers for a casual look or dressed up with heels and jewelry for an evening out.
The neutral tones of linen skirts also make them easy to match with other pieces in your wardrobe.
Another benefit of wearing linen skirts is their durability.
With proper care, linen can last for years without losing its shape or fading in color.
Investing in a high-quality linen skirt will not only provide you with comfort and style but also save money in the long run by eliminating the need for constant replacement purchases.
Cargo Skirts For An Edgy Summer Vibe
Cargo skirts are a great option for those who want to add some utilitarian vibe to their summer wardrobe.
One of the great things about cargo skirts is that they are available in different lengths and styles, ranging from mini to midi length and A-line to pencil style.
This means that there's a cargo skirt for everyone, regardless of their body type or personal style preference.
To rock this trend this summer, pair your cargo skirt with a simple crop top or tank top and some chunky sandals or sneakers.
You can also accessorize with a statement belt or bag for an extra pop of style.
Whether you're running errands or lounging on the beach, cargo skirts are versatile enough to be worn on any occasion.
How to style a denim skirt for summer?
A denim skirt is a timeless addition to any wardrobe, and there are plenty of ways to style it for summer.
Here are some ideas to get you started:
Pair it with a white t-shirt and sneakers for a casual look
A denim skirt looks effortlessly cool when paired with a simple white t-shirt and your favorite sneakers.
This combination is perfect for running errands or spending time with friends on a warm summer day.
Dress it up with a silk blouse and heels for a night out
If you're heading out for a summer night on the town, dress up your denim skirt with a silk blouse and your favorite pair of heels.
Add some metallic accessories to complete the look.
Stylish Summer Skirt Outfits To Copy
Black Skirt + Simple Top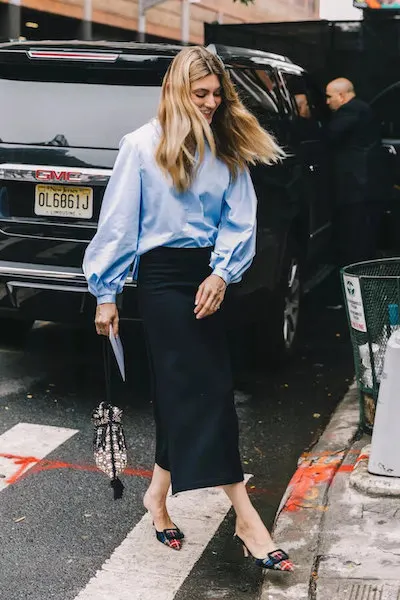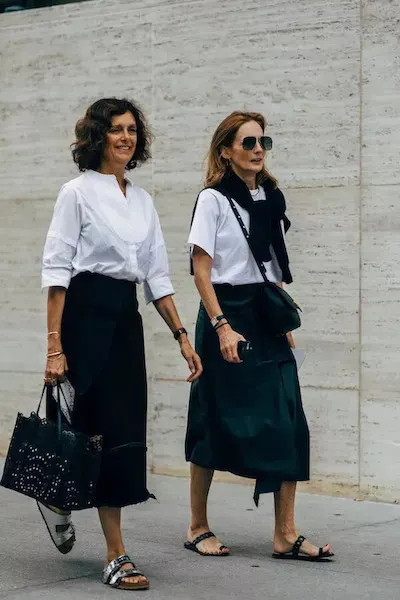 Black skirts are a timeless classic and can be dressed up or down depending on the occasion.
Pairing it with a simple top can create an effortless yet chic look perfect for summer.
A plain white T-shirt, tank top, or even a crop top can all work well with a black skirt.
Blouse + Flowy Long Pleated Skirt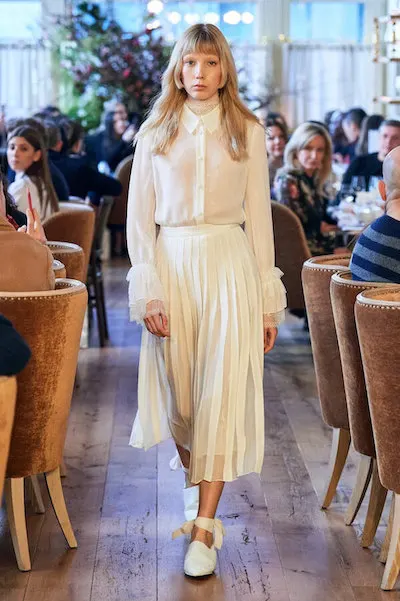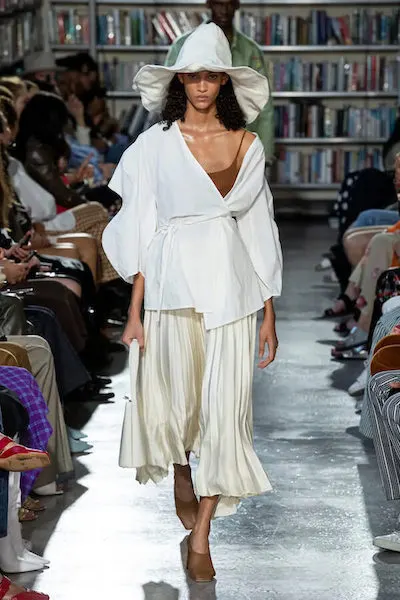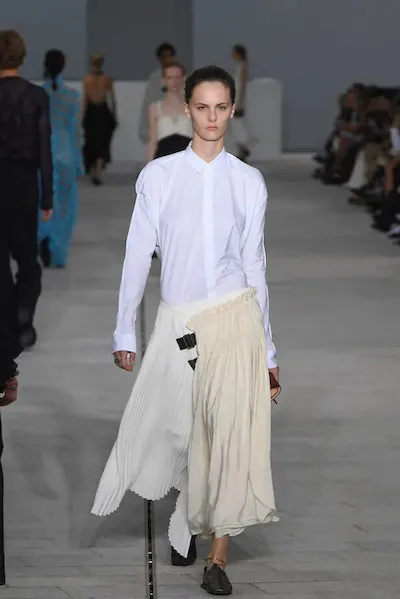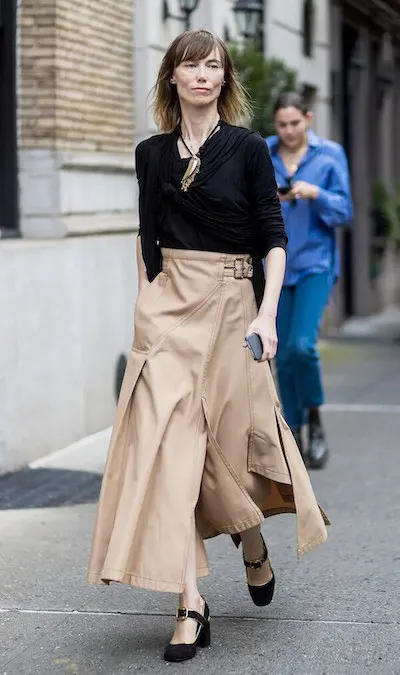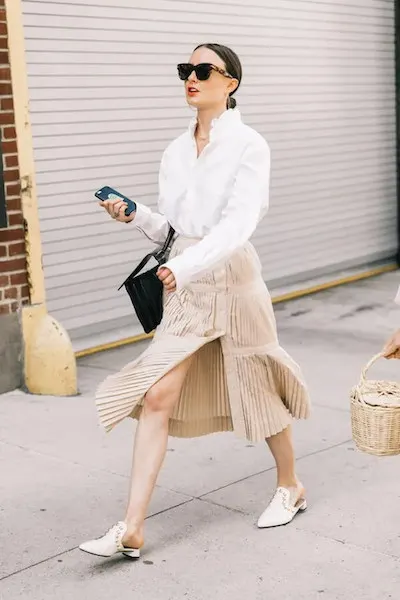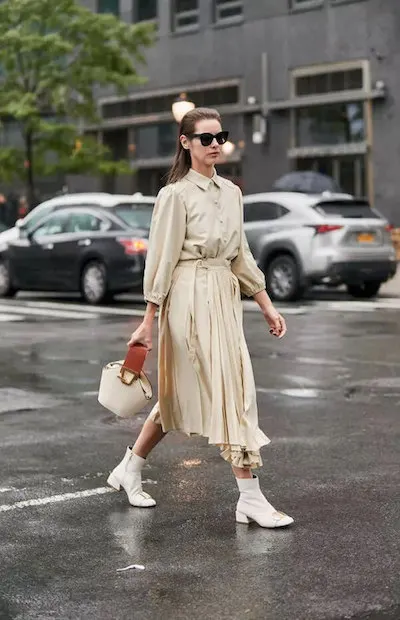 The blouse and flowy long pleated skirt combination is a timeless fashion trend that has been around for decades.
This outfit brings together two different styles, creating a perfect balance of elegance and comfort.
The flowy long pleated skirt provides a breezy feel, while the blouse offers structure to the ensemble.
This summer, try pairing a light-colored blouse with a pastel or floral print flowy long pleated skirt for an effortlessly chic look.
You can accessorize this outfit with strappy sandals or heels and add some statement jewelry for an extra touch of glamour.
Whether you're headed to brunch with friends or attending an outdoor wedding, this outfit is versatile enough to suit any occasion.
Floral Skirt + Plain Top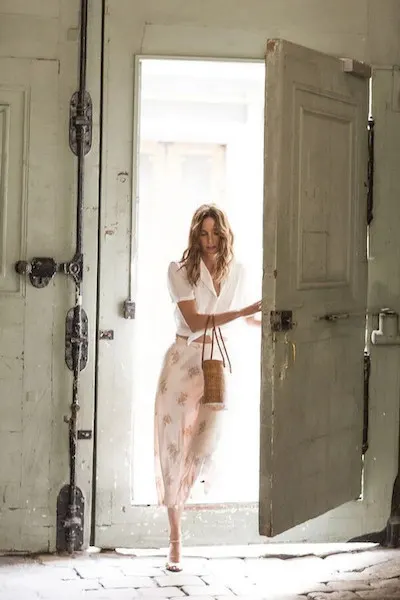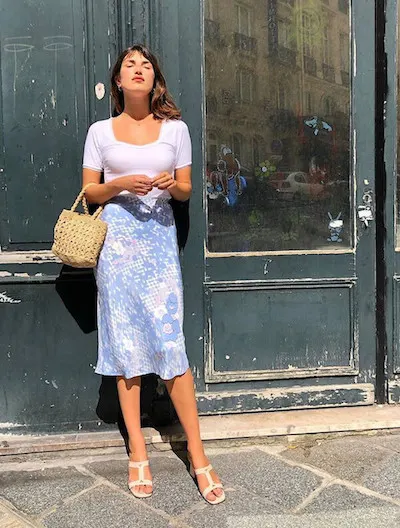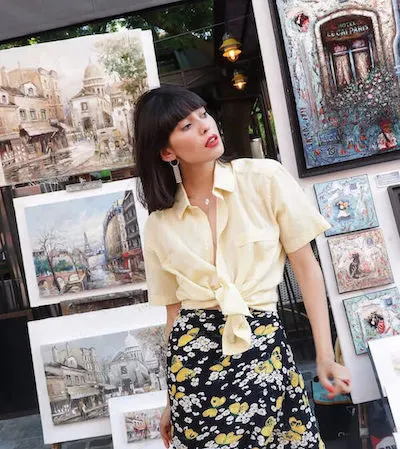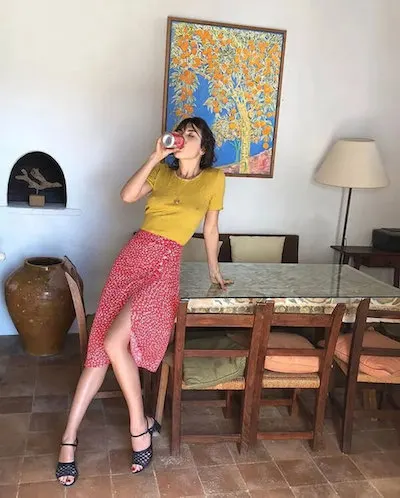 One popular trend this summer is the combination of a floral skirt and a plain top.
This pairing creates a balanced look that is perfect for any occasion, whether it be a casual day out or a more formal event.
The key to pulling off this outfit is to choose a skirt with colors that complement the top.
For those who want to keep things simple, a solid-colored top in white, black, or cream can create an elegant look when paired with a colorful floral skirt.
On the other hand, those who are more daring can opt for a patterned top that complements the colors in the skirt.
To complete the outfit, pair it with some minimalist jewelry and comfortable yet stylish shoes.
Sandals or sneakers work well for casual occasions while heels add sophistication for dressier events.
White Skirt + Black Top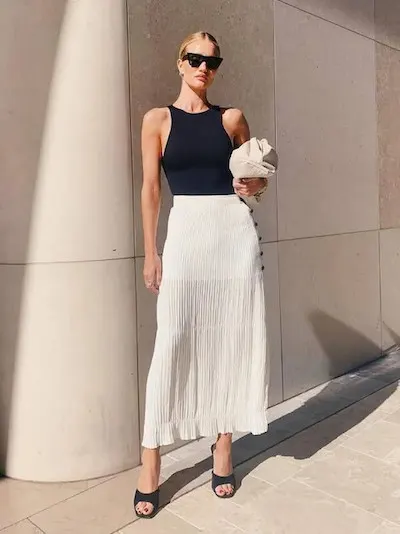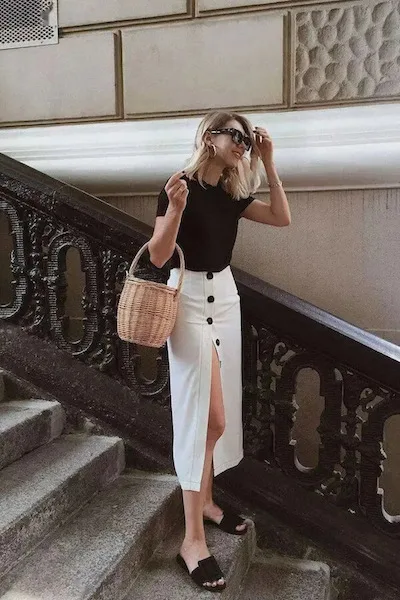 A white skirt and black top is a classic combination that never goes out of style. In fact, it's one of the easiest ways to look polished and put-together no matter the occasion.
Whether you're headed to a summer wedding or just running errands around town, this pairing is effortless yet chic.
To make this look even more interesting, consider playing with textures and patterns.
For example, a flowy white maxi skirt paired with a form-fitting black crop top creates a beautiful contrast in shapes and materials.
Alternatively, try a black and white striped tee tucked into a pleated white midi skirt for an understated yet stylish ensemble.
When accessorizing this outfit, keep it simple with delicate jewelry and neutral shoes.
A pair of strappy black sandals or white sneakers will complete the look without overpowering it.
Elegant Silky Maxi Skirt Outfits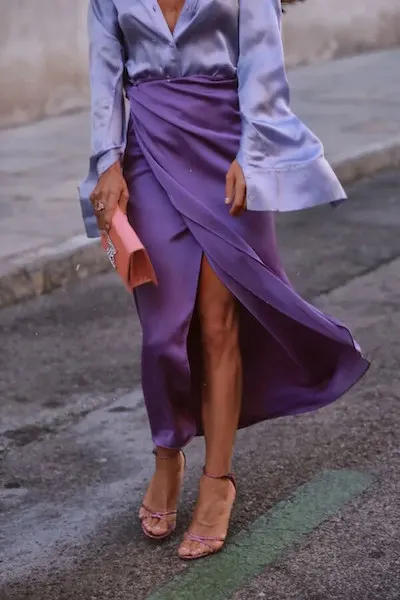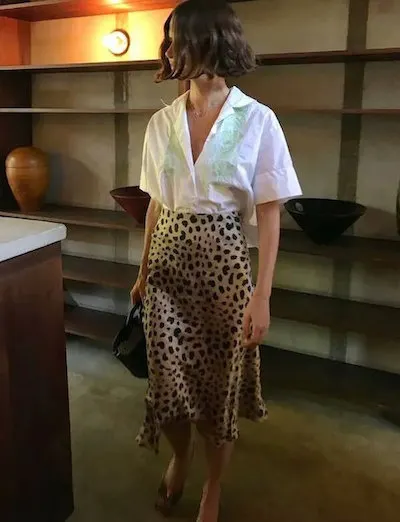 A silky maxi skirt is the perfect addition to any summer wardrobe.
These elegant skirts are comfortable, lightweight and versatile enough to be dressed up or down depending on the occasion.
Pair a flowy, patterned maxi skirt with a simple tank top or t-shirt for a casual day out running errands or enjoying brunch with friends. For a more formal look, choose a solid-colored maxi skirt in a rich fabric like silk or satin and pair it with a fitted blouse and heels.
When styling an elegant silky maxi skirt outfit, accessories are key.
Add some statement jewelry like chunky earrings or layered necklaces to elevate your look and show off your personal style.
A wide-brimmed hat is also a great accessory that not only adds flair but also protects you from the sun's harmful rays during those long summer days.
For footwear options, flat sandals are great for daytime outings while wedges or block heels can add height and sophistication for evenings out.
Matchy-Matchy Long Skirt Outfits
Matchy-matchy long skirt outfits are the perfect way to create a cohesive and stylish look this summer.
The key is to choose a top that complements your skirt, either by matching the color or pattern.
For example, if you have a floral print maxi skirt, pair it with a solid-colored top in one of the colors from the print.
This will tie the outfit together and make it look intentional.
Another option for matchy-matchy long skirt outfits is to choose separates that come as a set.
This could be a crop top and high-waisted maxi skirt or a blouse and flowy midi skirt in coordinating prints or colors.
Not only does this take the guesswork out of putting an outfit together, but it also creates a polished and put-together look.
Crop Top + Long Skirt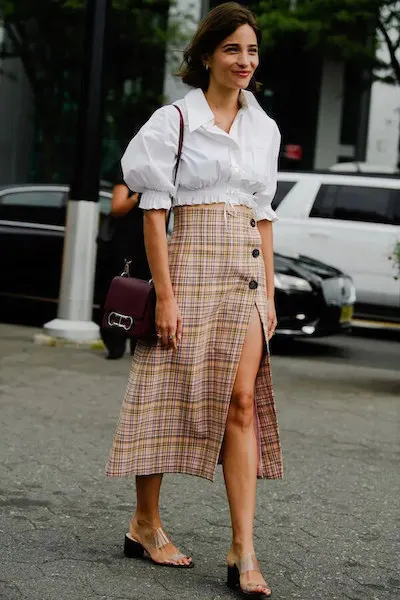 Crop tops and long skirts are a match made in summer fashion heaven.
The combination is perfect for those who want to show off their midriff, but still keep it classy with a flowy maxi skirt.
This trend has been around for a few summers now, but it's not going away anytime soon.
When styling this look, make sure the crop top hits the waistband of the skirt to create a seamless transition between the two pieces.
You can also play with proportions by choosing a high-waisted skirt and pairing it with a shorter crop top.
Complete the look with chunky sandals or sneakers for a casual daytime outfit, or dress it up with heels and statement jewelry for an evening out.
If you're feeling bold, try mixing prints by pairing a patterned crop top with a printed skirt.
Just make sure they share similar colors or patterns to avoid clashing.
Strapless Top + Maxi Skirt
A strapless top and maxi skirt combo is one of the most effortless yet chic summer outfits.
This look is perfect for those hot summer days when you want to stay cool but still look stylish.
The great thing about this combination is that it's versatile and can be dressed up or down depending on the occasion.
When choosing a strapless top, opt for one that fits well and stays in place without slipping down.
A bandeau style top or a fitted crop top works well with a high waisted maxi skirt.
You can also add some accessories like statement earrings or a layered necklace to complete the look.
For the maxi skirt, choose one that complements your body shape and fits comfortably around your waist.
Go for fun prints, bold colors or keep it simple with floral patterns or solid colors.
Pairing your strapless top with a flowy maxi skirt adds elegance to your outfit while keeping you comfortable during those hot summer days.
Whether you're headed to brunch with friends or a night out, this combination will surely turn heads wherever you go!
Chic Pencil Skirt Summer Outfits With Button Downs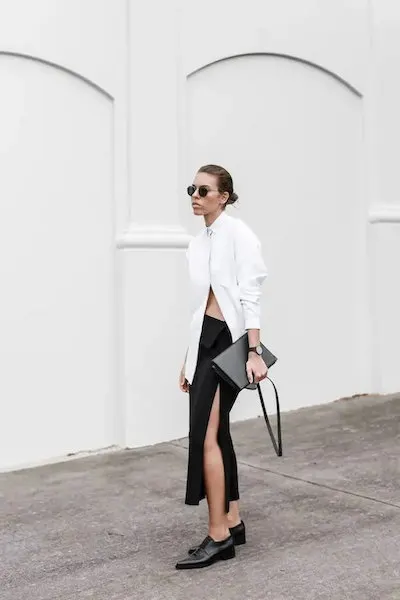 Pencil skirts are perfect for achieving a chic and sophisticated look, especially when paired with button-down shirts.
The combination of these two wardrobe staples creates a timeless outfit that is perfect for the summer season.
When it comes to styling pencil skirts with button-downs, there are endless possibilities.
For a classic and stylish look, opt for a white button-down shirt tucked into a high-waisted pencil skirt in black or navy blue.
This timeless outfit can be dressed up with heels or dressed down with flats and accessorized with statement jewelry or sunglasses
To add some color to your outfit, try pairing a brightly colored button-down shirt with a neutral-colored pencil skirt.
White Tank + White Denim Skirt
A white tank and white denim skirt is a classic summer outfit that never goes out of style.
The combination creates a fresh and clean look that is perfect for any occasion, from running errands to attending a casual lunch with friends.
Plus, the neutral color palette makes it easy to accessorize with bold statement pieces or keep it simple with delicate jewelry.
To make this look more interesting, you can play around with different textures and fabrics.
For example, pairing a ribbed white tank top with a distressed white denim skirt adds dimension and edge to the outfit.
Or, try adding pops of color with bright sandals or patterned accessories for a fun twist on this timeless ensemble.
White Top + Beige Linen Midi Skirt + Heeled Flip Flops
One of the hottest summer skirt trends this year is pairing a white top with a beige linen skirt.
This look is perfect for those hot summer days when you want to feel comfortable yet stylish.
The light and airy fabric of the skirt will keep you cool, while the heeled flip flops add a touch of sophistication to your outfit.
When styling this look, be sure to choose a white top that complements your skin tone and flatters your figure.
A fitted or cropped top works well with this style of skirt, as it accentuates your waist and creates a feminine silhouette.
For accessories, keep it simple with a pair of sunglasses and some delicate jewelry.
Bright Color Mini Skirt + Strappy Sandals
Bright color mini skirts are a great way to add some fun and excitement to your summer wardrobe.
From bold neon hues to pastel shades, there are plenty of options to choose from.
One popular style is the A-line mini skirt in bright yellow or orange, which can be paired with a simple white top for a chic and effortless look.
Another trendy option is the ruffled mini skirt in vibrant pink or blue, perfect for those who want to make a statement.
If you're looking for something more versatile, consider a printed mini skirt in bold colors like red or green.
This style pairs well with neutral tops and can be dressed up with heels or down with sneakers.
For those who prefer a more subtle look, try a monochromatic mini skirt in bright coral or turquoise.
These colors may be less intense but still offer an eye-catching pop of color.
Add A Blazer With Your Summer Skirt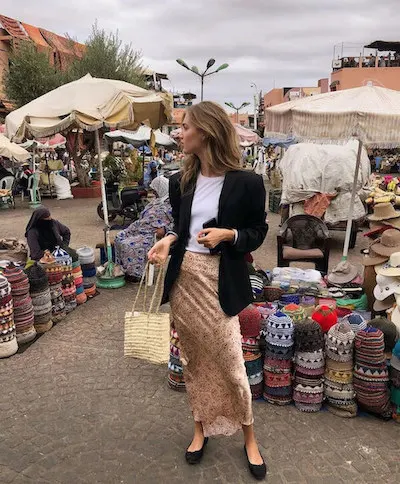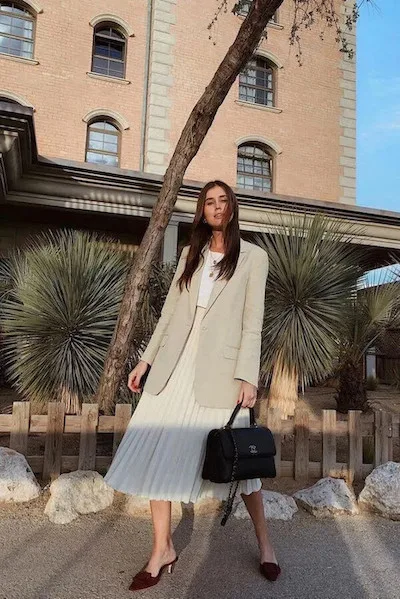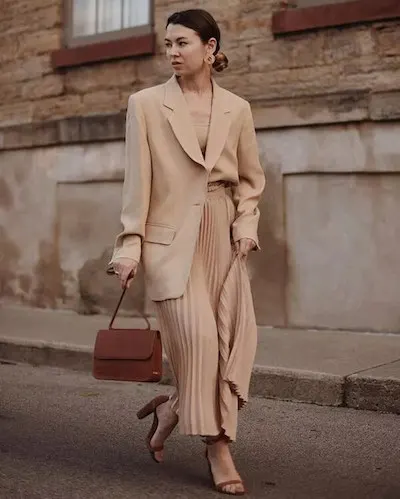 The blazer is a timeless wardrobe staple that can instantly elevate any outfit, including your summer skirt.
Adding a blazer with your summer skirt creates a chic and sophisticated look perfect for work or a dinner date.
Opt for lightweight and breathable fabrics such as linen or cotton to keep cool during the warmer months.
Pairing a blazer with a printed or patterned summer skirt adds visual interest to your outfit while maintaining balance and structure.
For example, if you have a floral skirt, choose a solid color blazer in one of the shades from the print to create cohesion within your outfit.
Add A Belt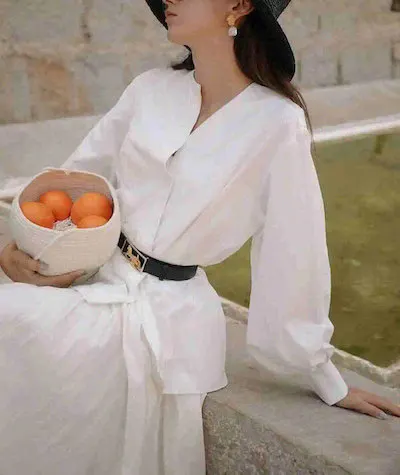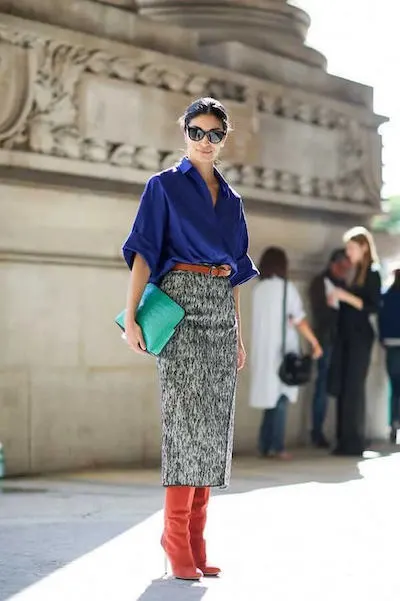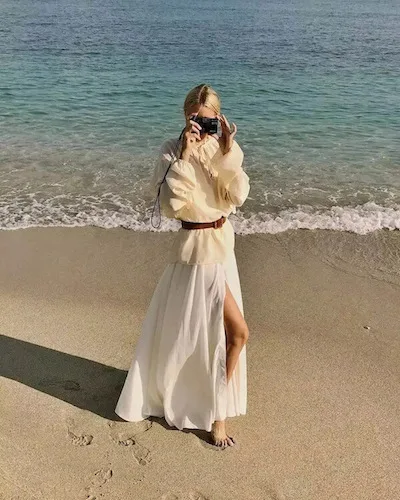 Adding a belt to your summer skirt outfit is an effortless way to elevate the overall look.
Not only does it accentuate your waistline, but it also adds a touch of personality and style to your ensemble.
Depending on the occasion and aesthetic you're going for, there are numerous types of belts that can be paired with skirts.
For a casual daytime look, try adding a woven or braided leather belt to your maxi skirt.
This will give off a bohemian vibe that's perfect for festivals or outdoor picnics.
On the other hand, if you're looking for something more polished and put-together, opt for a sleek skinny belt in black or brown to cinch in at the waist of a pencil skirt
More Cute Summer Skirt Outfit Ideas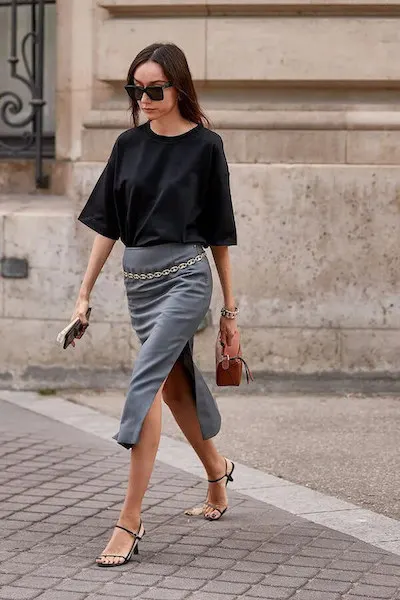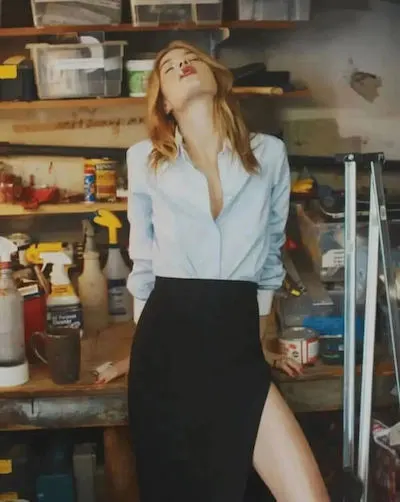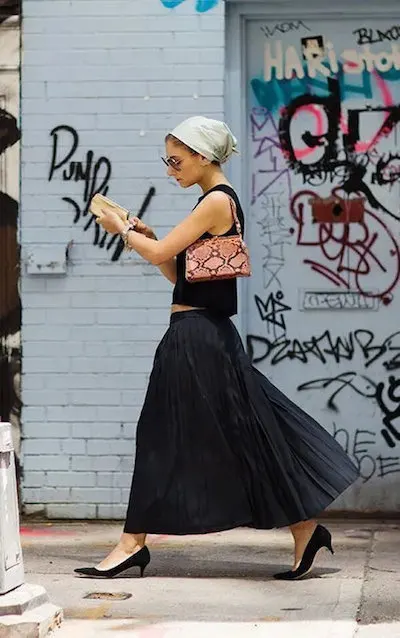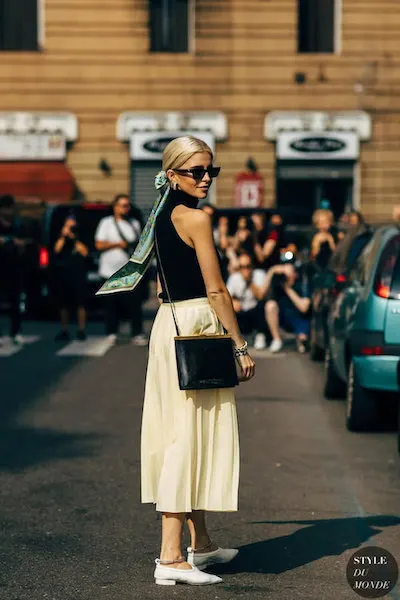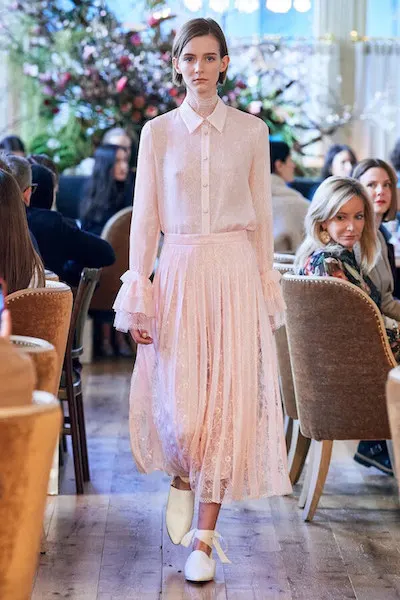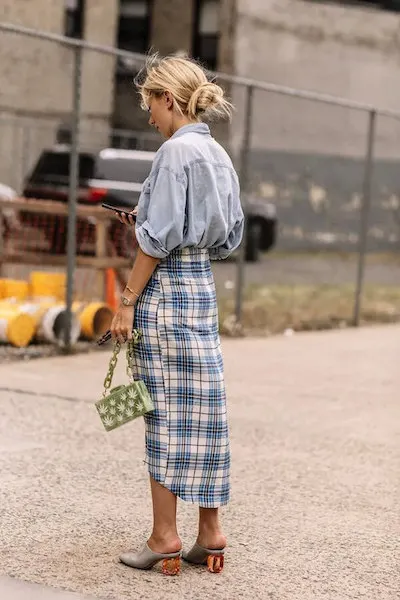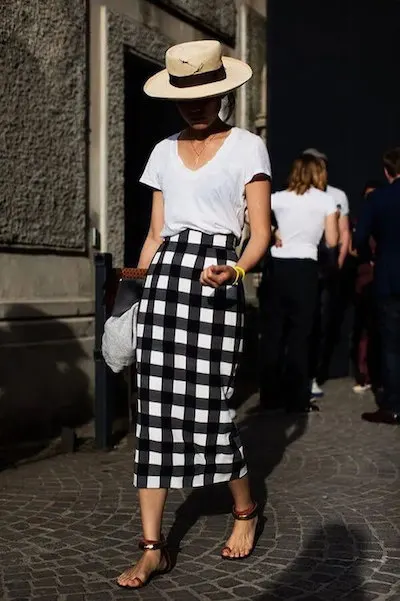 What Shoes To Wear With Summer Skirts
Summer is the perfect time to show off your favorite skirts, but choosing the right shoes can be a tricky task.
Sandals are always a safe bet and can complement any skirt length or style.
Flat sandals with ankle straps look great with midi-length skirts, while strappy heels go well with mini-skirts.
You can also try trending platform sandals for a cute edgy look.
For those who prefer comfort over fashion, sneakers can also be paired with summer skirts.
White sneakers look especially chic when styled with flowy maxi-skirts or denim mini-skirts. If you're looking for something a bit more elevated, espadrilles are another great option that provide both comfort and style.
If you are a fan of the balletcore trend, try a pair of ballet flats to pair with your favorite skirts this summer for an elegant feminine style!
This post was all about summer skirt outfit ideas.
Related Posts: