Looking for summer skirt outfit ideas this year? Check this post for the best skirt outfits for summer to copy directly today.
Compared with dresses, skirts are more flexible. You can create more than one outfit for various occasions using skirts. They are the magical items in our wardrobes.
They can present a balanced visual effect with a tough single product. They can also be matched with soft items to create a gentle and feminine feeling.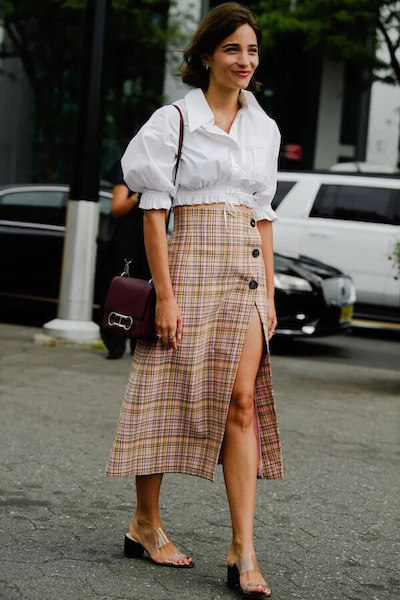 via Pinterest
Especially the midi skirts. They are easy to be matched with other tops and accessories, and they are never out of style.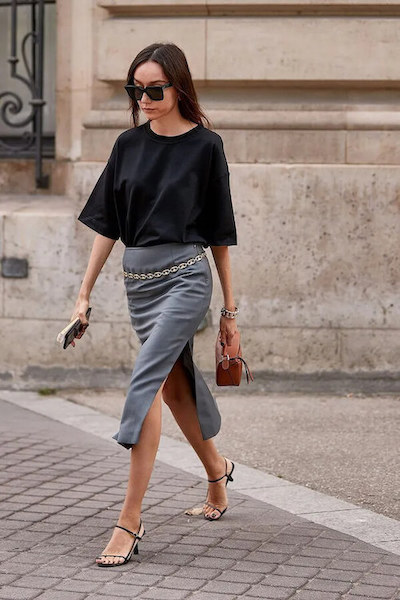 via Pinterest
So, today, we are sharing with you 70+ best skirt outfits for summer. Please scroll down to find your favorite outfit ideas, and don't forget to pin them.
This post may contain affiliate links, which means I'll receive a commission if you purchase through my link, at no extra cost to you. Please read the full disclosure here.
This post is all about summer skirt outfit ideas.
Summer Skirt Outfit Ideas: Split skirt
The split skirts are French women's favorite, and you can see many French bloggers wear them.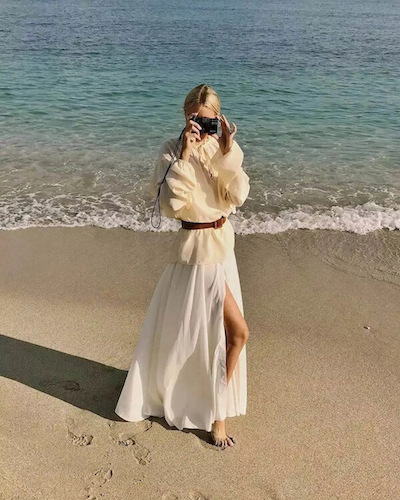 via Pinterest
The biggest advantage of the split skirt is that it is thinner, taller, and longer. So they show your long legs and make your whole looks stylish and sexy.

Jacquemus Runway
T-shirt + Split skirt
The easiest way to wear a split skirt is to match it with a T-shirt and step on a pair of sneakers or slippers, youthful vitality, making you look younger.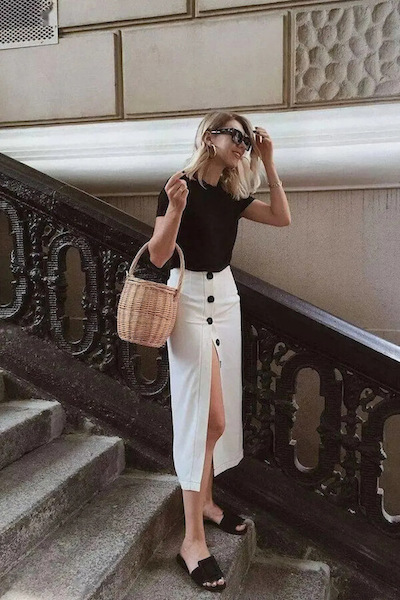 But when you change your shoes to high heels, the whole looks are instantly suitable for work or a date night.
via WeHeartIt
Don't miss the printed skirts in summer. You can match it with a simple T-shirt for daily wear to avoid the whole body being too fancy.
White shirt + Split skirt
Even a basic simple button-up shirt becomes classy and chic when paired with a split skirt.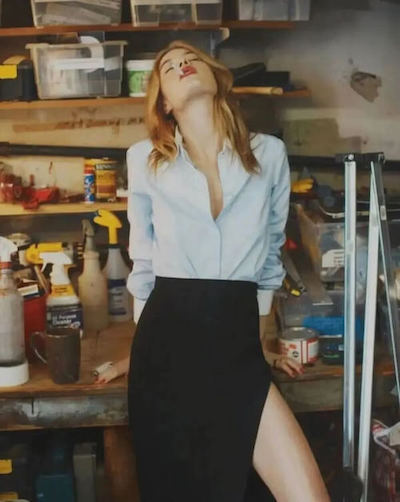 via Pinterest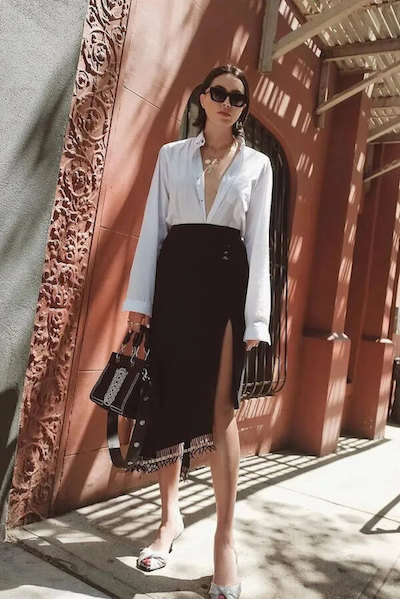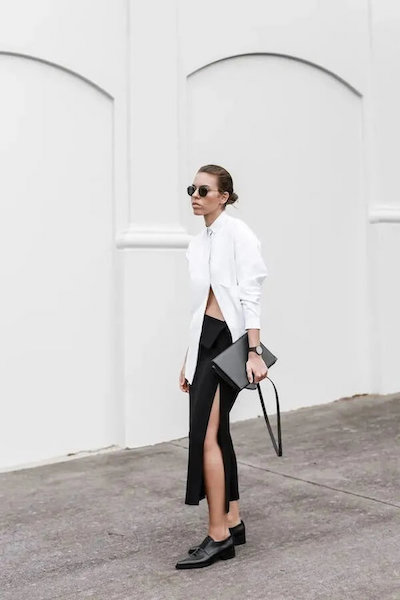 via Pinterest
Summer Skirt Outfit Ideas: Mini A-line Skirt
Many brands have issued A-line skirts, which are full of vitality. The plaid A-line skirts that appeared in the Dior show, matched with a knitted vest and Mary Jane shoes, remind people of the beautiful school days.
Dior Runway
The large A-shaped version emphasizes the waistline, which can cover the hip curve more effectively and is very friendly to the pear-shaped body and the H-shaped body.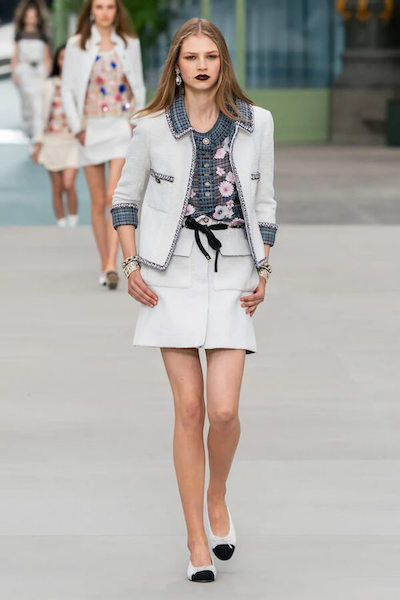 Chanel Resort
T-shirt + Mini A-line skirt
Feel free to match a solid color T-shirt. The whole outfit is full of leisure and looks cute! And the T-shirt with a slim knitted material adds a bit of femininity.
via WeHeartIt
Shirt + Mini A-line skirt
A neat and capable shirt is matched with a short skirt, which can be chic and elegant and playful and cute.
via Pinterest
Loafers + Mini A-line skirt
Shirt + short skirt is already a classic outfit and then put on loafers + stockings to get a proper academic style.
You can also wear a pair of simple boots instead of loafers and stockings.
via WeHeartIt
Summer Skirt Outfit Ideas: Pleated Midi Skirt
Pleated midi skirts have been popular for many years. From the runway of the shows to the daily street style.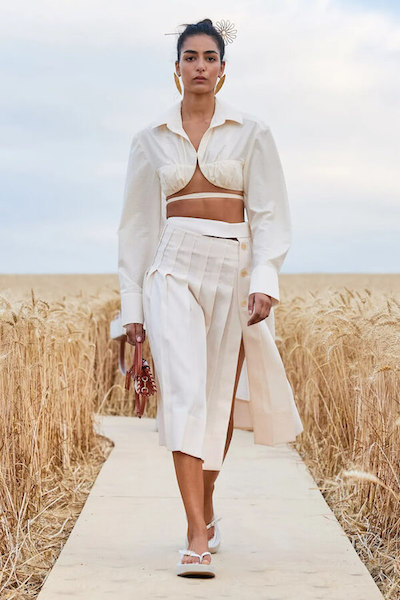 Jacquemus 2021 Spring
Margaret Howell Runway
The beauty of it is that it walks lightly and smartly, elegantly, and charmingly.
I prefer sleek materials and have a certain sense of weight, which can lengthen the visual effect. But, on the other hand, these kinds of skirts are elegant and thin and are very friendly to all types of figures.
In terms of color, it is best to choose a light color with low saturation in summer, which is more refreshing.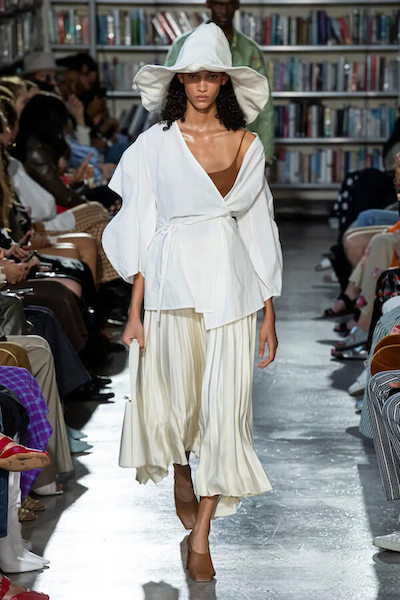 Rejina Pyo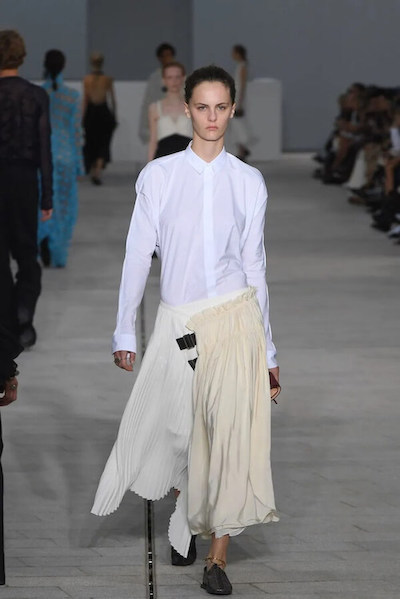 Jil Sander
Among all the skirts, the pleated skirt is the most magical one.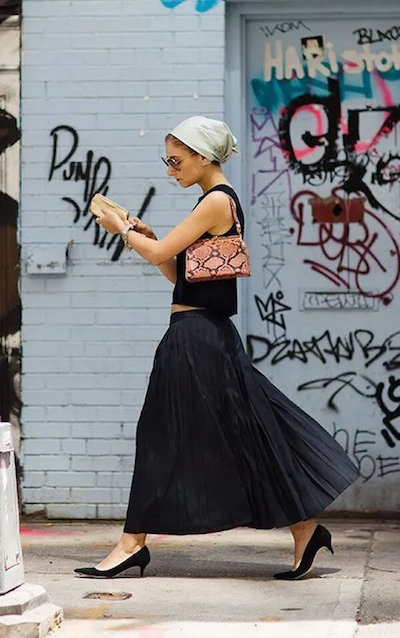 via Pinterest
It fits all the figures, the thin figure is curvaceous because of the folds and fluffy, and the plump figure is carefully hidden because of the wide skirt.
It doesn't choose the height. The gentle ripples and the irregular skirt designs add a more gentle feel to the whole looks.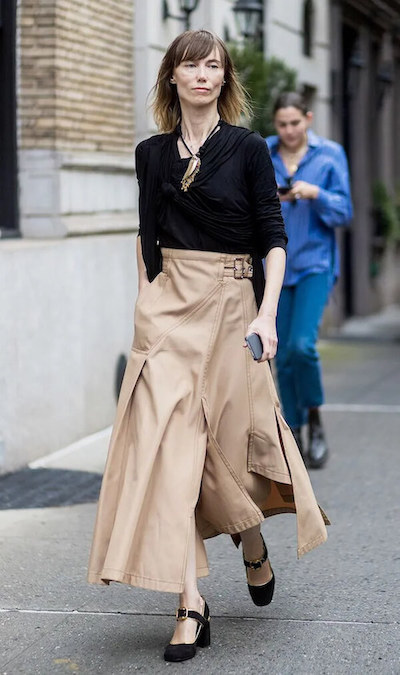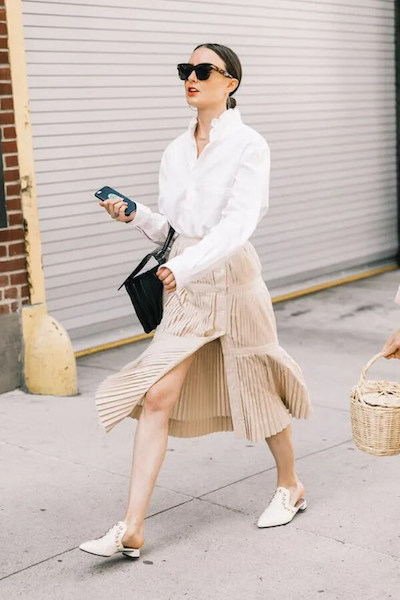 vogue.es
But remember, the pleated skirt is wide enough and needs a slim top to balance it.
As long as you don't choose a too oversized shirt, you can't go wrong.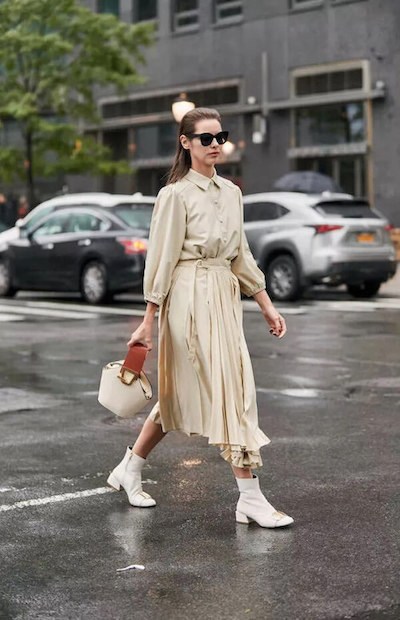 via Pinterest
Recently, fashion bloggers prefer to use it to match a tank top, implementing a loose and tight matching formula, which is both refreshing and cool.
via Pinterest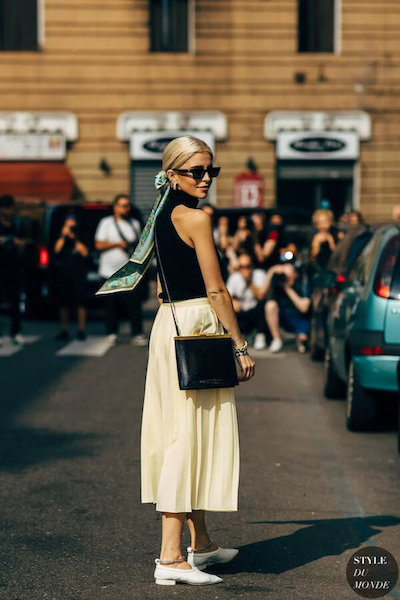 In daily life, shirts and suits are also good friends of pleated skirts. However, solid colors are more suitable for formal occasions, and multiple-colored designs are more suitable for dating and vacations.
Pleated Skirt + Shirt
The same color shirt and pleated skirt outfit look fashionable and expensive!
via Pinterest
The gentle and soft tulle pleated skirt is matched with a shirt of the same texture. These outfits are adorable.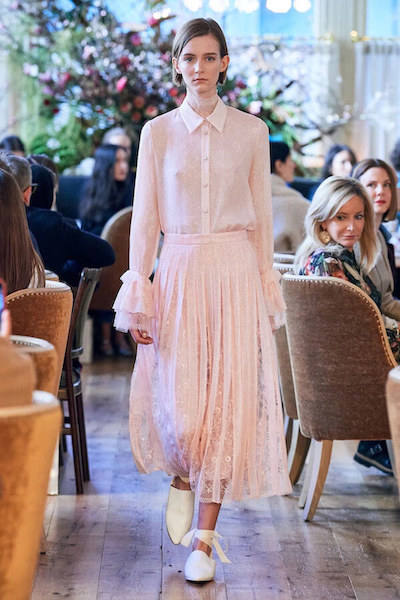 Adam Lippes Runway
Pleated Skirt + Blazer
via WeHeartIt
Using a blazer with an elegant pleated skirt can effectively solve the problem of bloated hips and waist when worn alone, highlighting the femininity and achieving the visual effect of both confidence and softness.
via WeHeartIt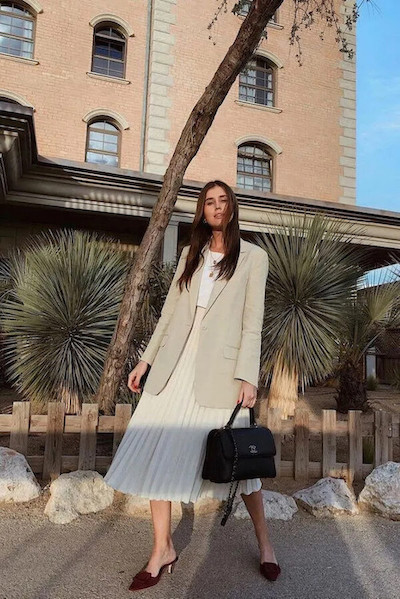 via Pinterest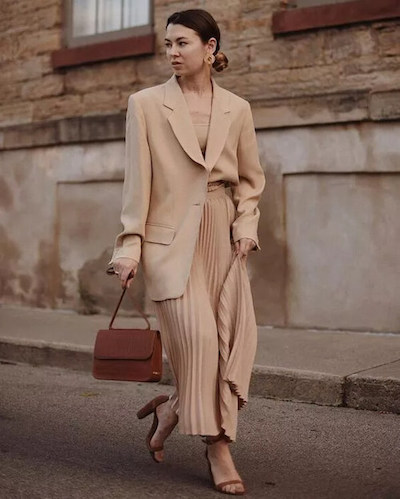 Summer Skirt Outfit Ideas: Straight Skirt / Pencil Skirt
Straight skirts can meet different demands.
A white shirt is both formal and casual. A tailored shirt can create professionalism with a straight skirt of solid color.
Girl bosses like to use such a straightforward combo, which looks neater.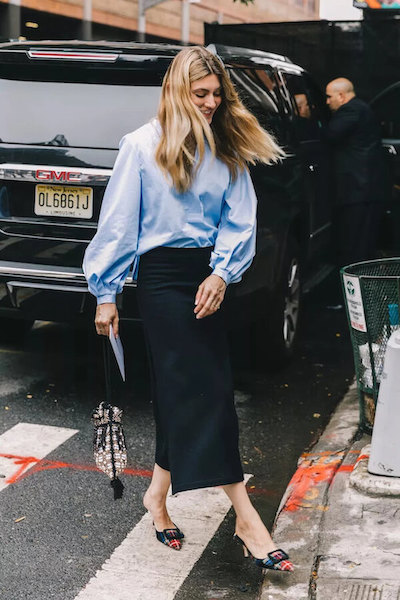 via Pinterest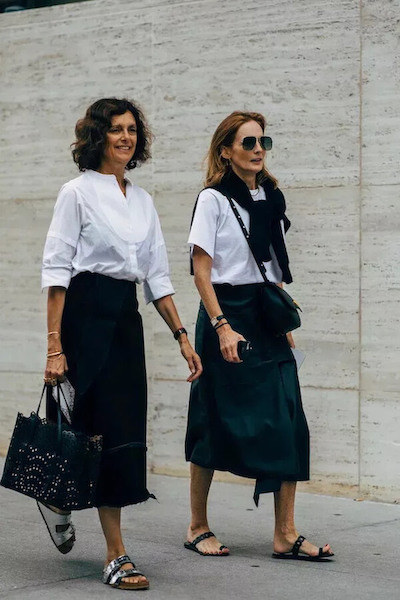 via Pinterest
The combo of a bright-colored shirt and a floral-colored skirt make you stand out from the crowd.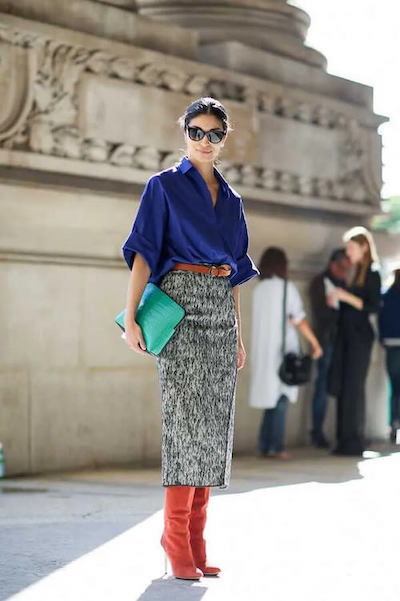 Plaid skirts are still a popular item this year. You only need to choose a shirt or T-shirt of the same color to easily look younger and wear it with a relaxed and casual style.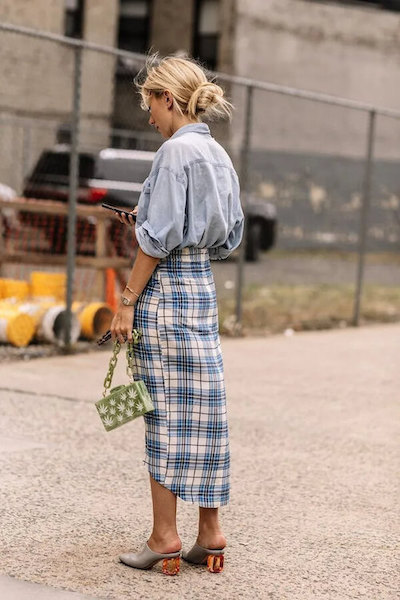 via Pinterest
This combo is particularly recommended to women with a bigger upper body. It will help make you look thinner and taller.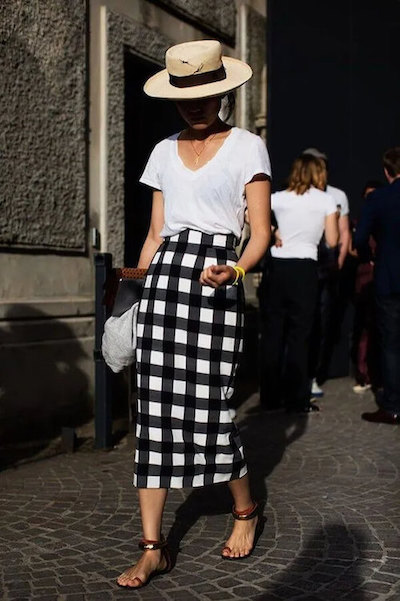 via Pinterest
Summer Skirt Outfit Ideas: Printed Skirt
In summer, we are always attracted to bright colors.
A printed half skirt, romantic and light, is the most so cute in summer.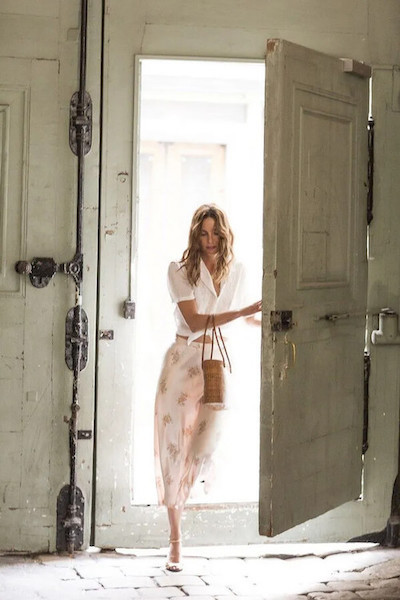 Although the design of shirts in recent years has become more and more innovative, I still recommend you try simple T-shirts with print skirts.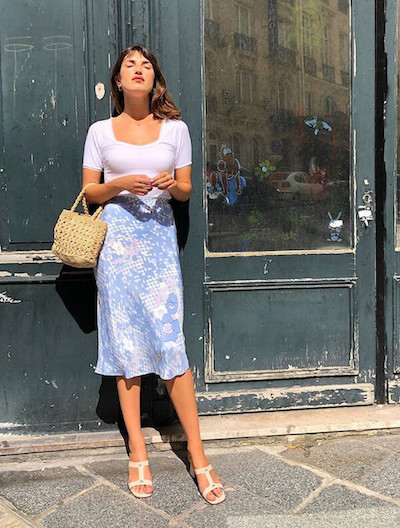 Because the colors of the lower body are rich enough, there is no need to create chaos with complicated tops.
Solid-color tops are good, and you can also try short-sleeved shirts that abandon formality and use soft and light fabrics.
via WeHeartIt
If you want to wear a different style, you only need to change the top a little.
When choosing the color, it is more recommended to choose the main color of the printed skirt or choose a similar color. This is because the consistency of the color will make the outfit more expensive.
via WeHeartIt
When encountering this kind of complete set of floral skirts and tops, don't hesitate to try them in the lovely summer.
via Pinterest
Summer Skirt Outfit Ideas: Satin Skirt
The satin skirts are soft and elegant. They are staples of 90s fashion style and are so popular right now.
via Pinterest
It is recommended to match with a shirt with a gentle color ribbon. This combo is more suitable for fair-skinned and petite figures.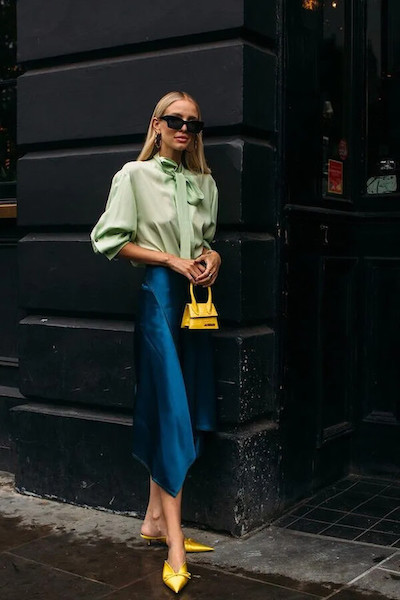 via Pinterest
If you prefer a feeling of personality, you can also choose an animal print satin skirt.
Whether it is matched with a simple white T-shirt or a shirt, it is sexier—an absolutely perfect date night outfit.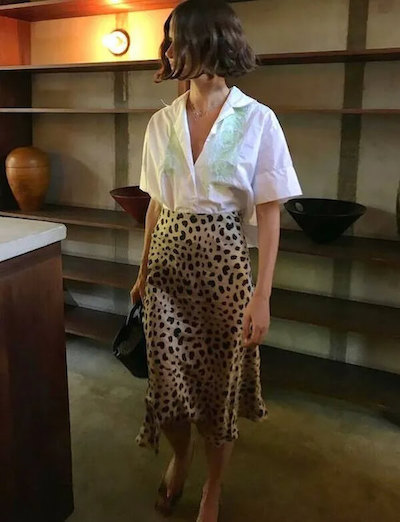 via Pinterest
On the cooler days, you can add a blazer to your outfit. This combo is excellent for work or a casual date.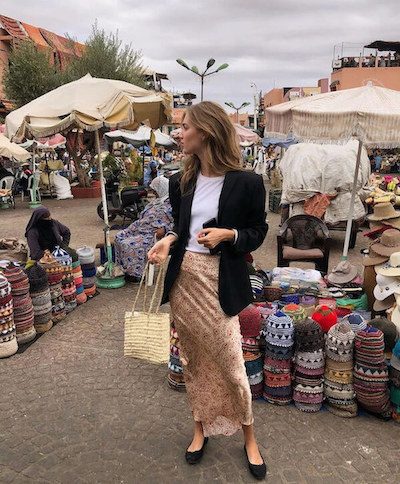 Don't forget to check these Outfit Ideas:
This post was all about summer skirt outfit ideas.
Related Posts: