Want to know what shoes to wear with long dress? Check this post for the best style tips on how to choose the best shoes for a long dress for different occasions, and the 40+ cutest long dress outfits to copy directly.
A beautiful long dress is an essential item in a woman's wardrobe. Whether it's a flowy and romantic holiday dress, an elegant maxi dress for a wedding or other formal occasion, a boho-inspired maxi dress, or a warm woven maxi dress for fall and winter, they work well with many other singles. The combination of products gives us a very good dressing style.
Wondering which shoes to choose to match your beloved long dresses? Don't worry, you've come to the right place.
In this article, I am sharing with you great tips for choosing the best type of shoes to wear with a long dress, the 40+ cutest outfits with different shoes from our favorite online stores, and our favorite shoe picks to shop for.
So scroll down to check these long dresses and different types of shoes, and don't hesitate to pin your favorite long dress outfits with the right shoes to your Pinterest board, and share them on social media sites.
This post may contain affiliate links, which means I'll receive a commission if you purchase through my link, at no extra cost to you. Please read the full disclosure here.
This post is all about what shoes to wear with long dress.
What Footwear Should I Wear With Long Dress?
In addition to considering the suitability of the colors of the shoes and the colors of your dress, the right pair of shoes is a great style statement to adapt to the dress codes of different occasions and add a perfect personal touch to your outfits:
Heels or Pumps: If you are looking for a perfect pair of shoes for your long dress, especially for a romantic date night or formal events, a pair of heels or pumps is the greatest option to elongate your legs and match the length of the dress.
Wedges: If you are attending a summer wedding or summer date night, wedges are the perfect shoes to pair with your long dress for a stylish and comfortable look.
Boots: On the cooler days, boots including ankle boots, knee boots, cowboy boots, and combat boots are all great to wear with a long dress for a cozy and cute layering style.
Sneakers and Flat Shoes: If you need to walk a long way or stand for a long time, especially when traveling, a pair of sneakers or flat shoes are a great choice for your long dress with a chic street style.
Sandals: In spring and summer, cute sandals are the right footwear for long dress outfits adding a lovely vacation vibe.
Best Heels To Wear With Long Dress
Since maxi dresses are longer, one of the best ways to do this is to wear heeled shoes, which elongate your lower body and allow you to move more freely and gracefully when wearing a maxi dress.
Stiletto Heel Strappy Sandals
For romantic elegant long dresses, a pair of stiletto high heels or strappy sandals are the perfect footwear that can enhance the femininity of the overall look and maximize the beautiful design of the dress.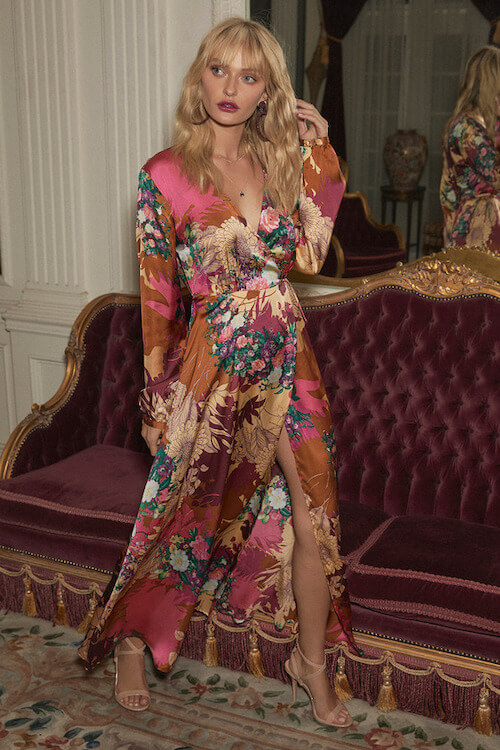 Block Heels Sandals
If you are not used to wearing stiletto heels, a pair of block high heels is a great option. In particular, nude-colored chunky high-heeled shoes are the suitable shoes for many long dresses.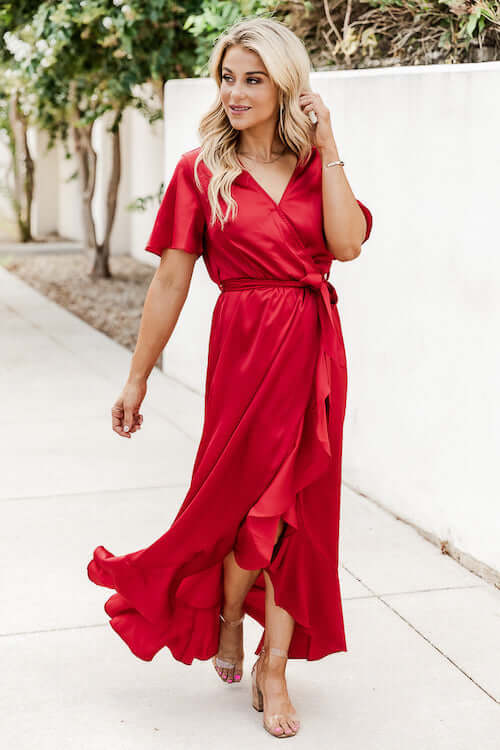 Black Heels
When it comes to high heels, I have to mention the classic black high heels. Black shoes with heels are a good option that allows you to confidently go to dates and parties, and they are also perfect for office wear.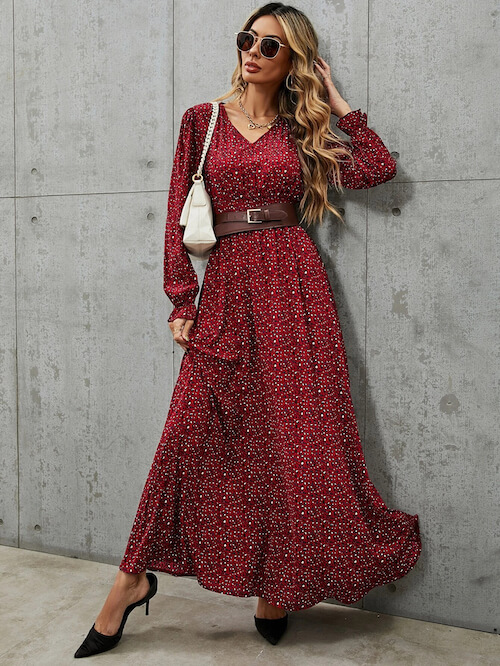 Kitten Heels
One type of shoe I would highly recommend is the kitten heel shoes.
Their great design of the force point can relieve the pressure on your feet, which is more comfortable to wear than ordinary high-heeled shoes, and with a bit of height, they still have the elegance and height you need for your long dress look.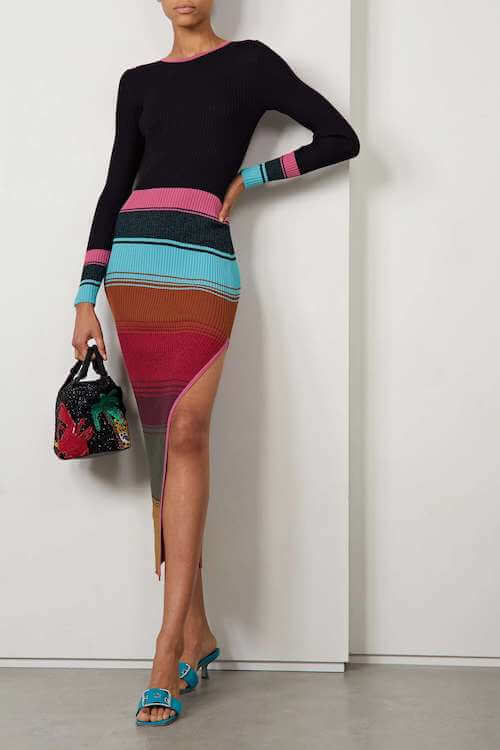 White High Heels
I also highly recommend that you have a pair of white heels. They are as versatile as black heels, and a perfect choice for many occasions.
And white shoes are especially trendy this year. When paired with fall and winter's heavier colors, the cute white shoes can help you brighten your entire look.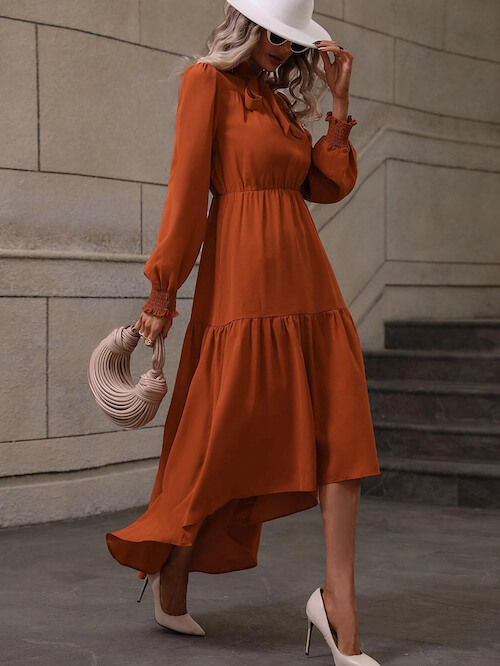 Bright Color Heels
Want to add a personal style to your look? Change into a pair of bright-colored heels. Orange, bright blue, and hot pink are all great choices.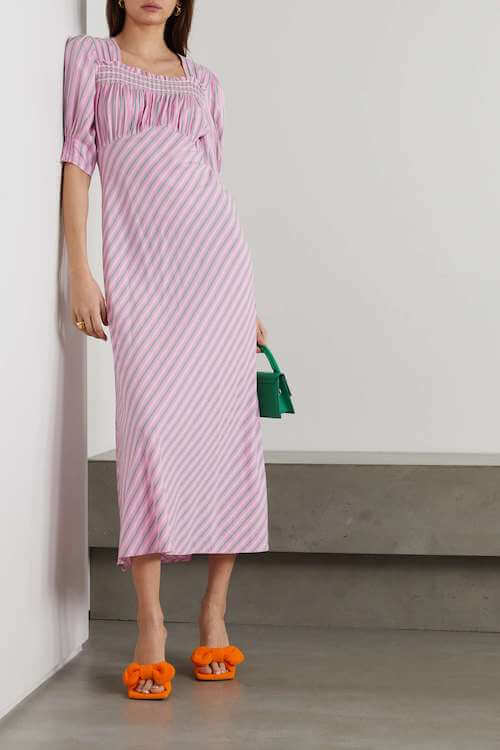 Chunky Heels
Chunky heels are also a very unique style of shoes. Especially in recent years, the retro fashion style is very popular, and wearing a pair of comfortable chunky high heels is a good choice and the easiest way to quickly make any of your clothes have the most fashionable retro style.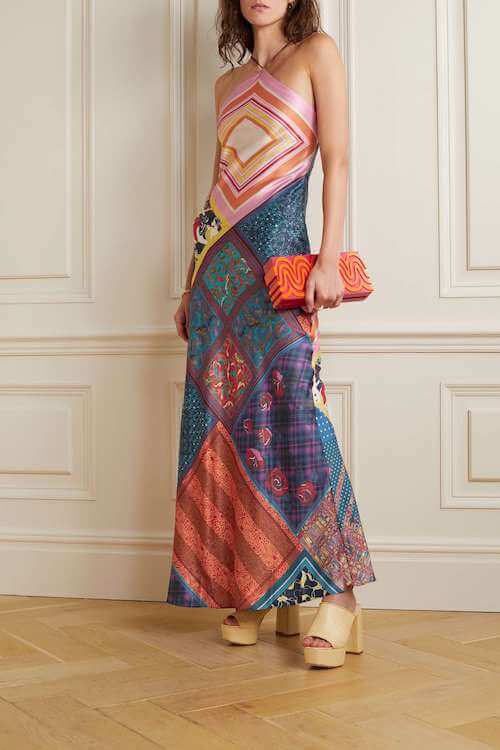 Open-Toe Wedges
Another shoe with a distinct style is the wedge heels, especially the straw wedge. Wearing a pair of wedges is a great way to perfectly add a summer style to your resort wear or a summer wedding dress.
Heels Mary Jane Shoes
Speaking of retro style, there is another retro style shoe that is very popular recently, the Mary Jane shoes. They look graceful and gentle, adding a little girlish cuteness to the feminine style.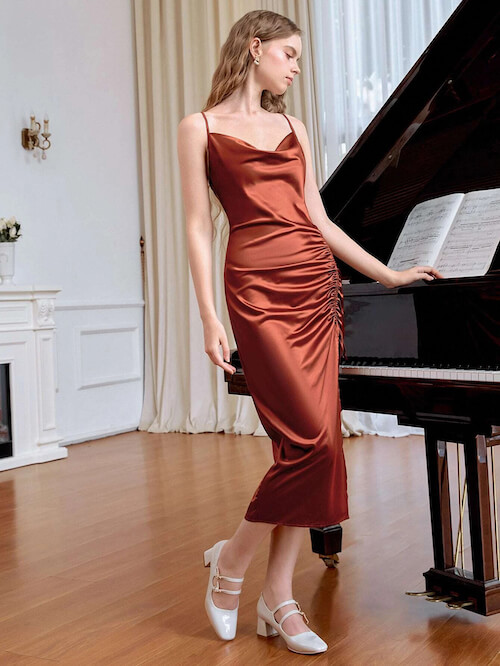 Heels Loafers
In addition, you can also boldly try some special shoes with heels, such as loafers with heels, which are more suitable for long dresses than ordinary loafers.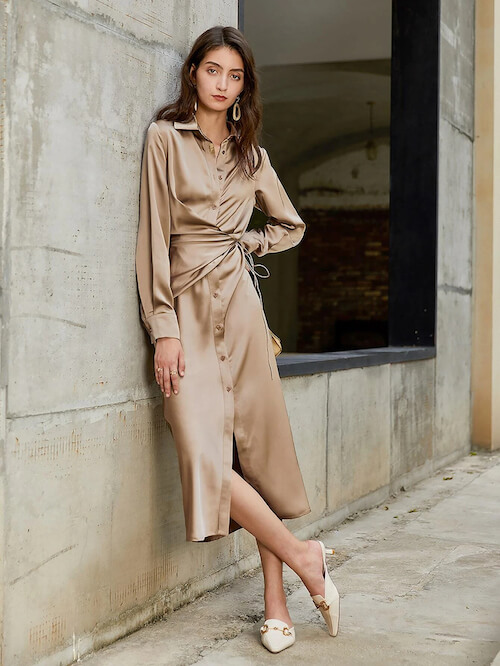 Shop Our Favorite Heels
Best Boots To Wear With Long Dress
A good pair of boots is a great friend for your maxi dresses all year round.
A pair of classic long boots hide in the hem, adding a bit of personality to your sexy tenderness. A pair of ankle length boots perfectly matches the length of the long maxi dress, which is convenient and fashionable to walk.
Cowboy boots are also very popular recently. I highly recommend getting a pair of knee-high cowboy boots, as well as a pair of ankle-length cowboy boots. They can be paired with any maxi dress in your wardrobe, and you don't need to add other accessories to make your maxi dress more stylish.
Besides that, don't forget to use combat boots to match your maxi dress. The unisex combat boots and the feminine sensuality of the maxi dress form a perfect balance. If you're worried about looking tacky in a maxi dress that's too sexy, try it with combat boots.
Ankle Boots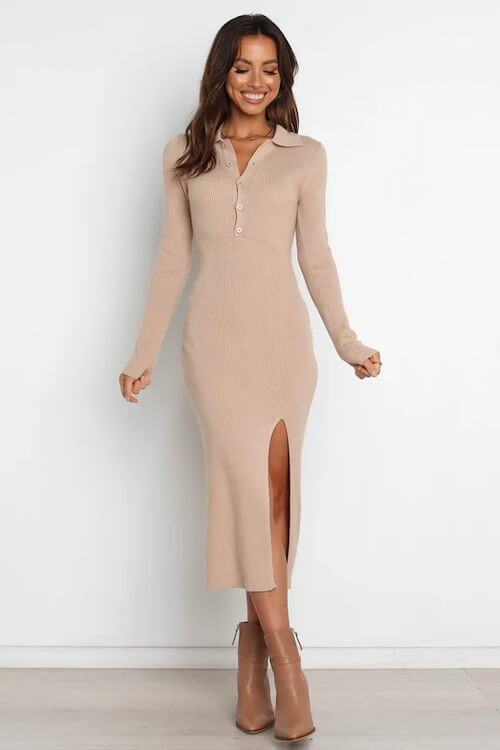 Neutral Color Boots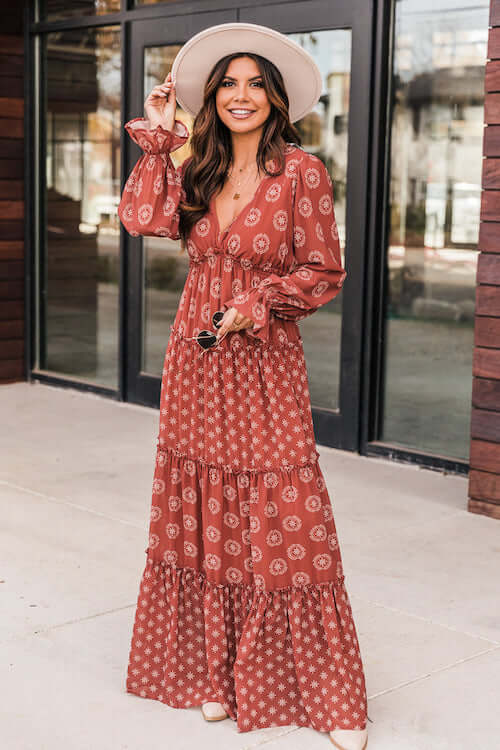 White Knee High Boots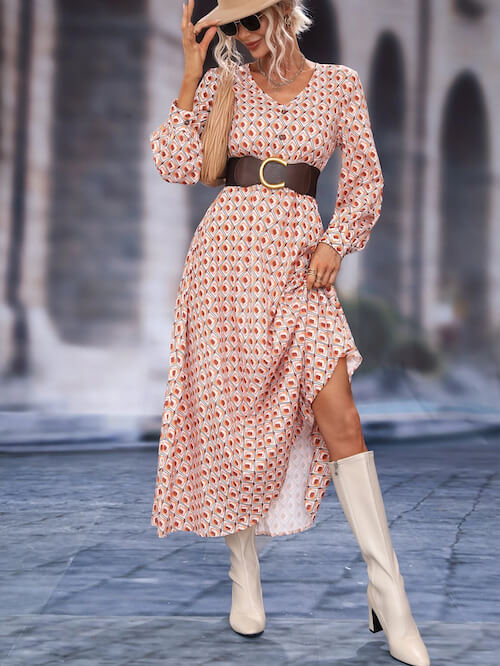 Peep Toes Ankle Boots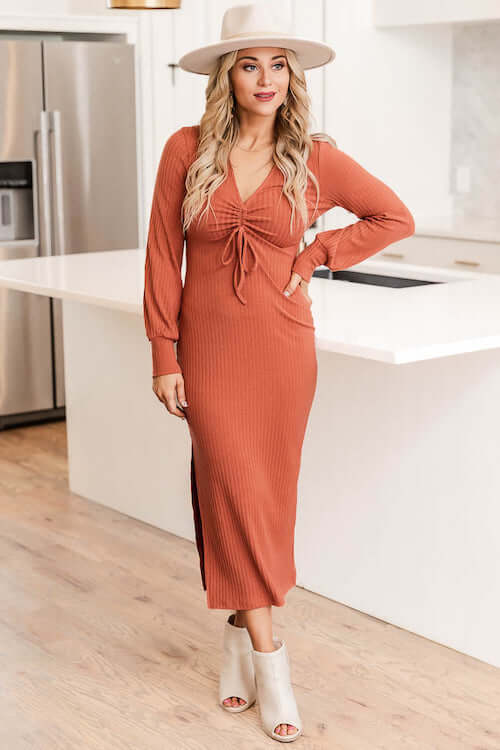 Black Knee Boots
Platform Boots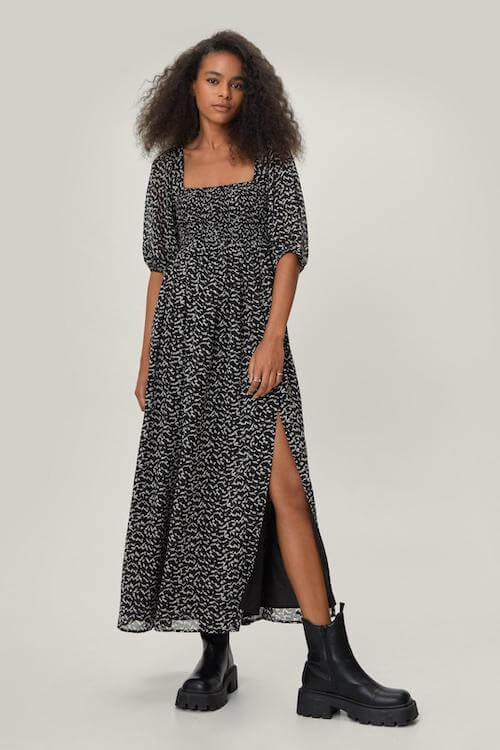 Cowboy Boots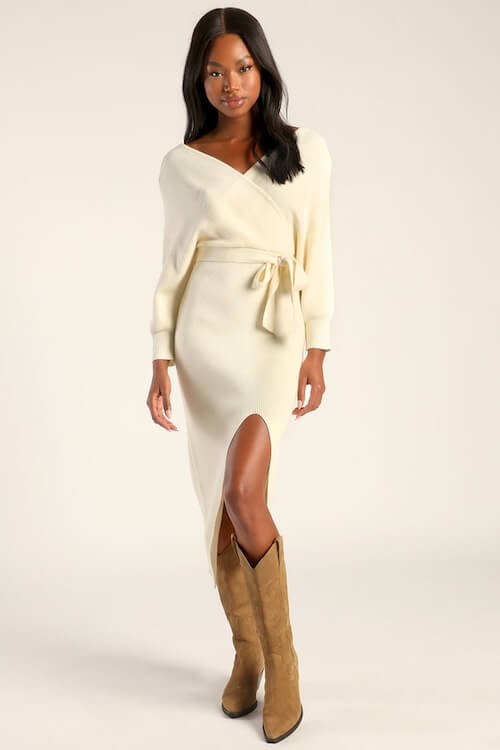 Short Suede Boots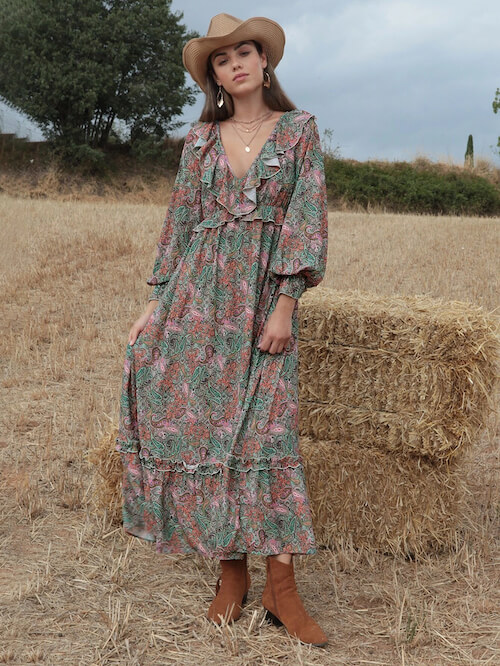 White Ankle Length Boots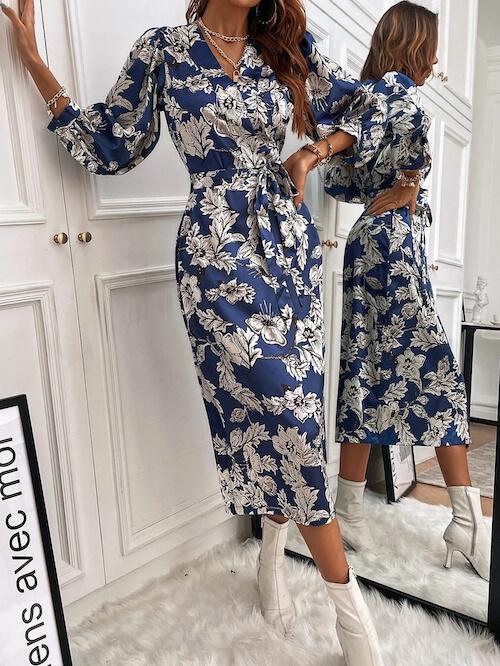 Black Point Toe Boots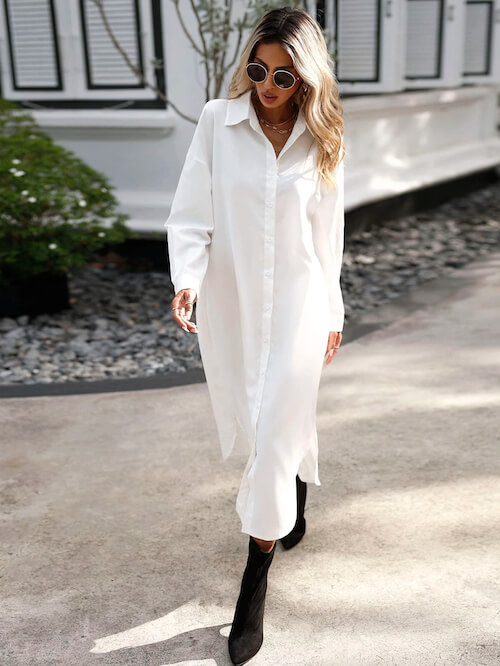 Black Leather Boots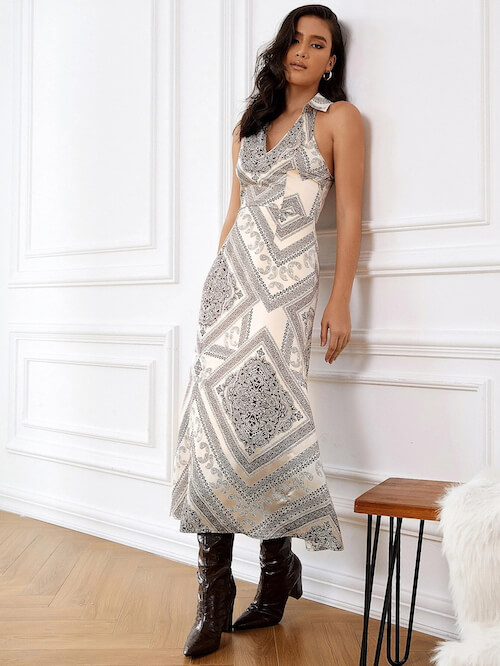 Combat Boots
Shop Our Favorite Boots
Best Flat Shoes To Wear With Long Dress
The comfort and natural feel of flats will bring a holiday evening breeze to your maxi dress.
White Sneakers
A pair of white sneakers and a dress is one of those classic fashion formulas.
When I go out on vacation, I especially like to use white sneakers to match the skirt, which looks gentle, cute, and energetic.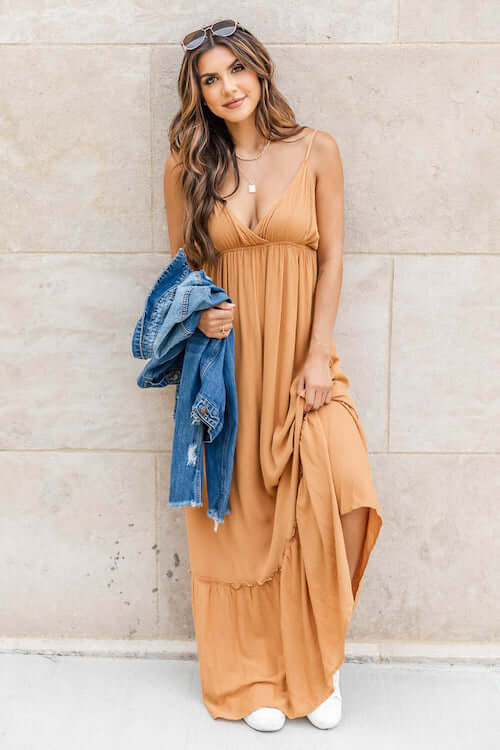 Canvas Shoes
The youthful canvas shoes are also a good partner for a long dress. This combination looks very trendy.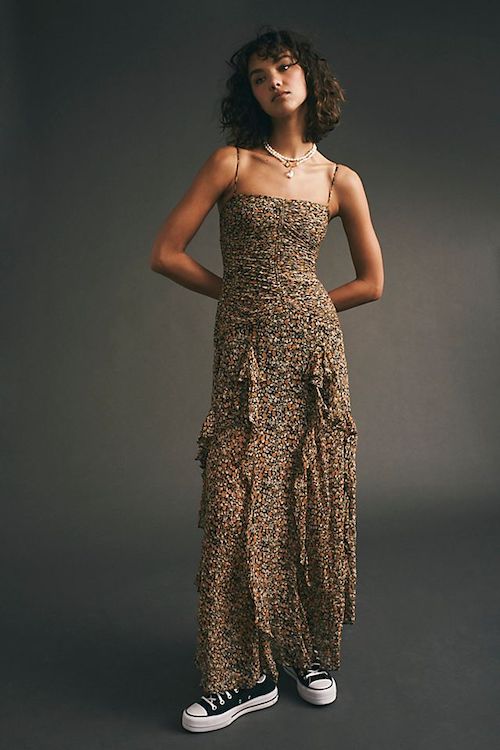 Chunky Sneakers
Want to take your long dress outfit style to the next level? Get a pair of chunky sneakers instead. You are the trendiest one in the crowd!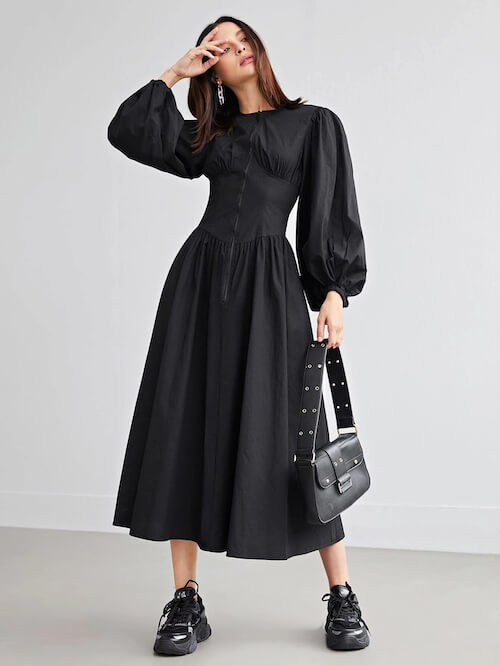 Flat Sandals
The loose long dress in summer is the best friend of a pair of flat slippers, which are cool and comfortable.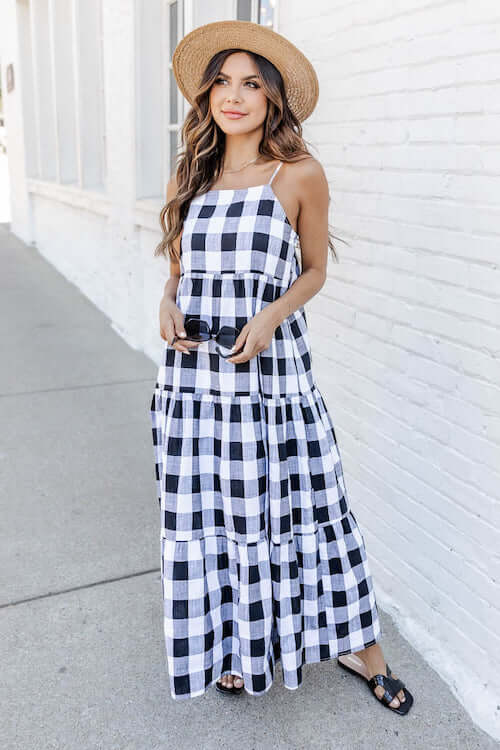 Platform Sandals
You must try these most fashionable shoes at present to make your long dress look more special and fashionable all at once.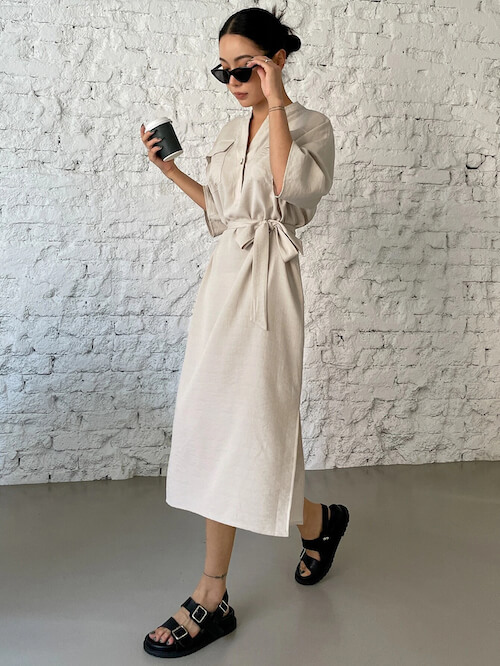 Flip Flops
How can you not try the most classic fashion combination of a maxi dress and flip-flops while on vacation? Complete the look with a straw bag and a straw hat, and you're the most fashionable woman on the beach.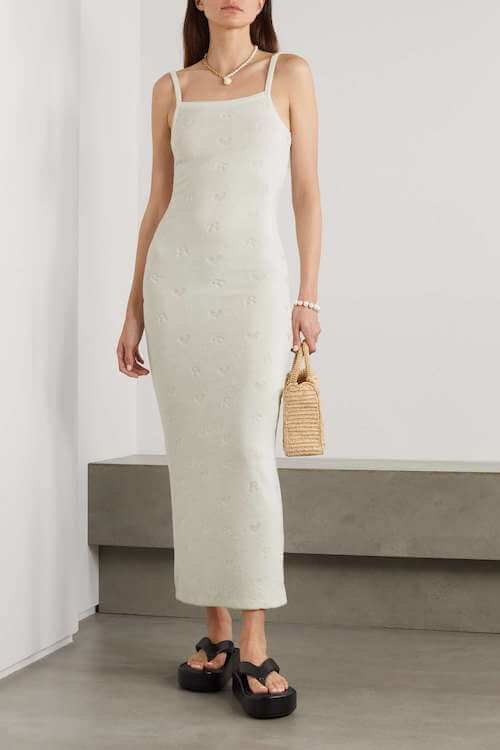 Shop Our Favorite Flat Shoes
Want more inspiration? Ahead check our favorite long dress outfits with different kinds of shoes, and style formulas for different occasions.
What Shoes To Wear With Long Dress In Spring & Summer Months
Chic Look: Floral Dress + Oversized Knit Top + Canvas Sneakers
This is a very cute outfit! The sexy high-slit dress is paired with a loose oversized knit top and youthful canvas shoes, adding a girl's innocence and cuteness to the sexiness.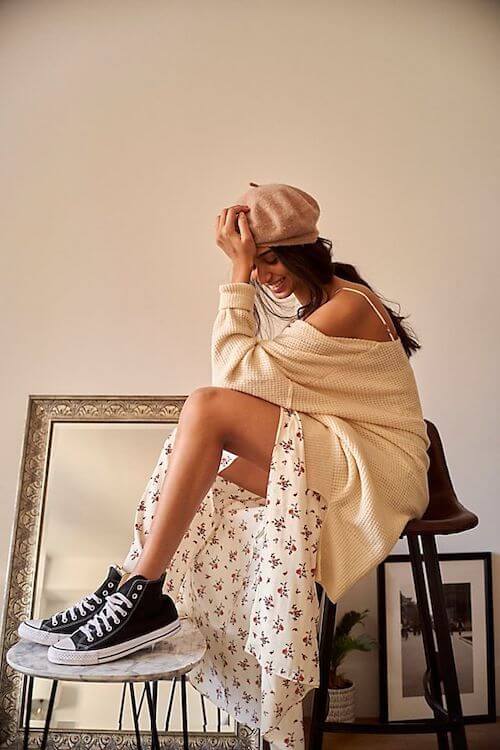 Cute Casual Wear: Long Cami Dress + Cardigan + Closed Toe Shoes
Soft knitted cardigans and romantic maxi dresses bring you the French chic style.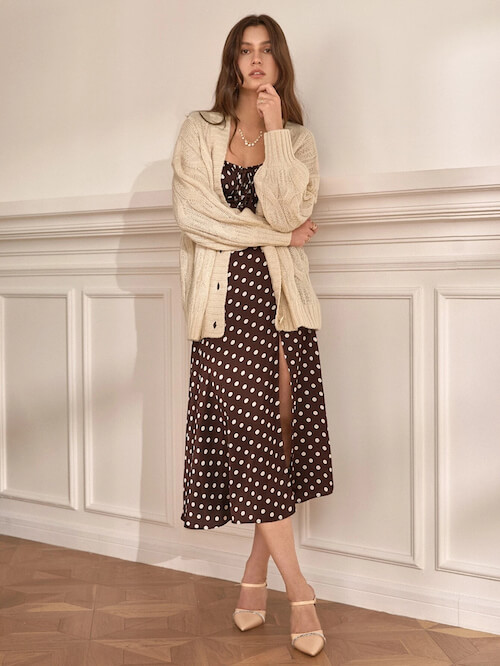 Bohemian Look: Long White Dress + Cowboy Boots + Hat
A flowing bohemian style dress and cool cowboy boots form the most fashionable look in spring and summer.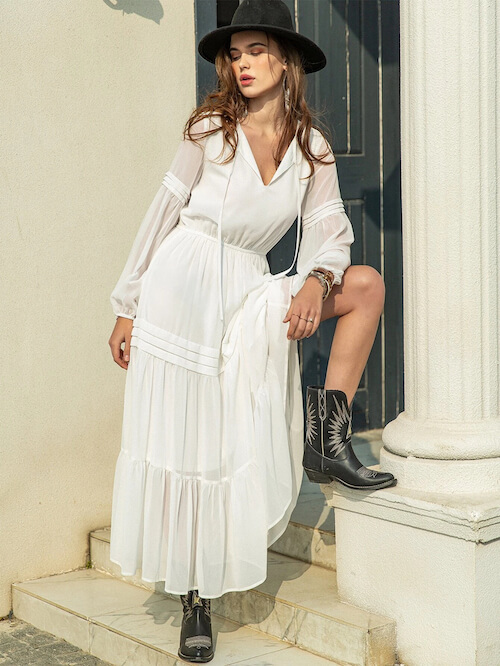 Sexy Long Dress + Sneakers
The casual white sneakers reduce the sexiness of the dress and look not tacky at all.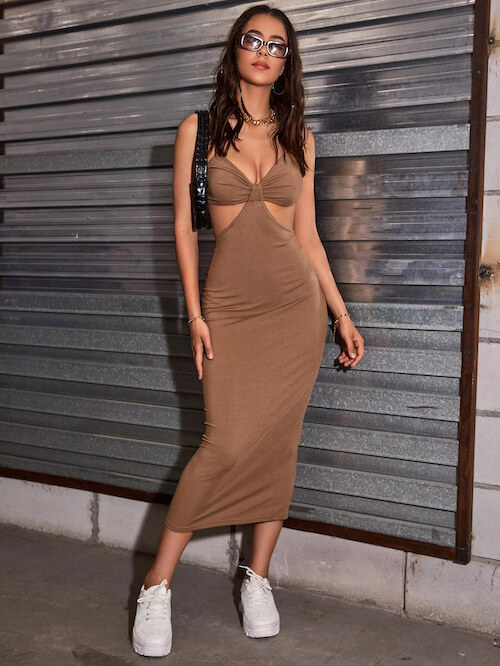 Long Summer Dress + Strappy Heels
Summer vacation? A pair of strappy sandals is your must-have travel item.
I suggest you try a pair of fresh white strappy sandals that will bring more cooling to your outfit.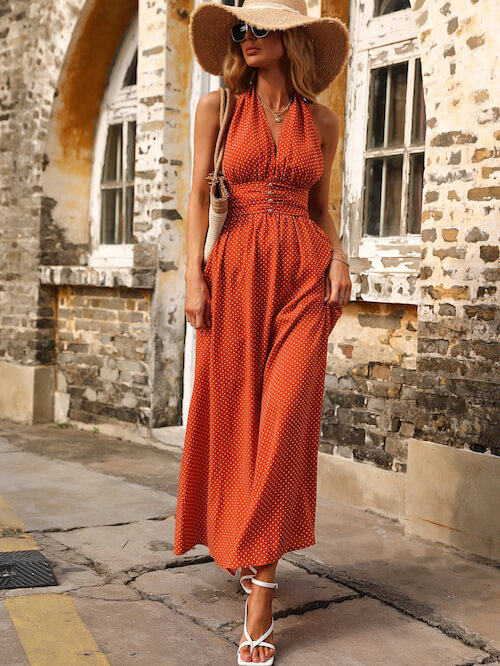 What Shoes To Wear With Long Dress In Fall & Winter Season
In the cold days of fall and winter, long skirts bring more fashionable and interesting possibilities to our layering ideas.
Long Side Slit Dress + Long Boots
A pair of long boots and a maxi dress will keep you fashionable through the transition seasons.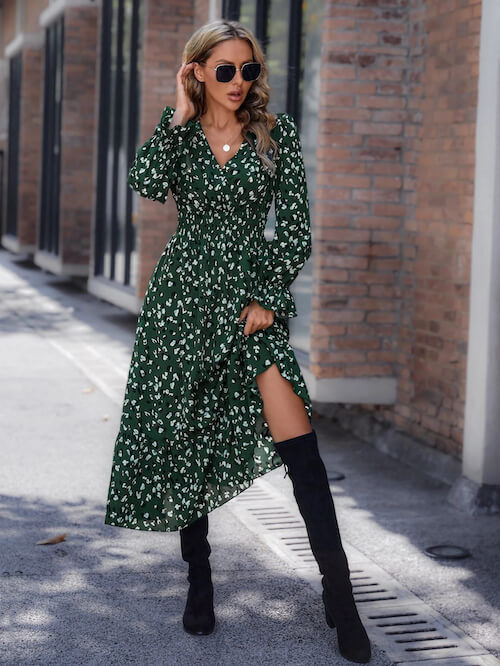 Long Sweater Dress + Boots
The combination of sweater dresses and a pair of leather boots, which is a must-have for fall and winter wardrobe, is also a great outfit idea that will never be out of style.
Long Floral Dress + Trench Coat + Black Boots
You can also wear a long skirt in your trench coat or long coat, and let the strong contrast of different materials bring more interesting visual highlights to your outfit.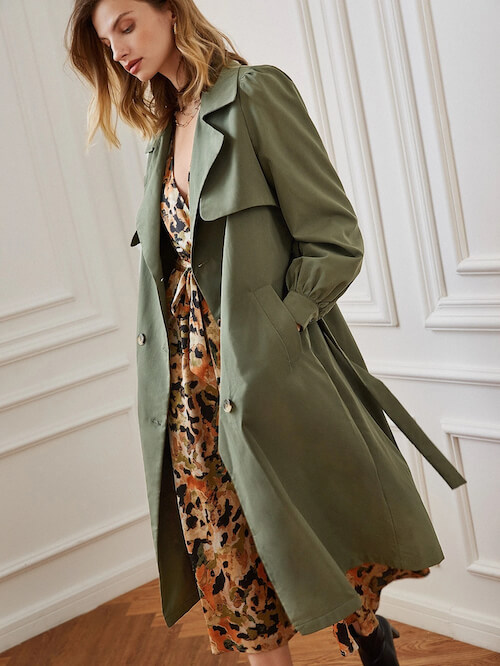 Long Dress + Combat Boots + Jacket
The cool combat boots also bring more fashionable styles to long dress outfits in winter.
You can try the special suede combat boots, which look more cozy and cute.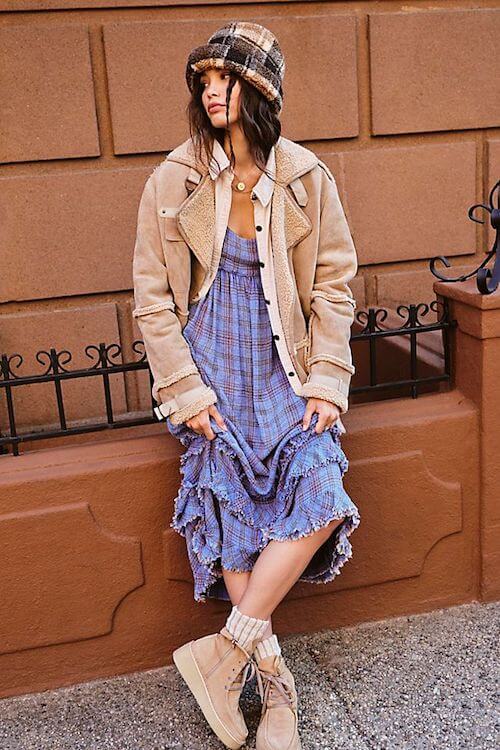 Long Animal Prints Dress + Black Boots + Black Leather Jacket
The combination of sexy animal print dresses and black leather products is always very fashionable.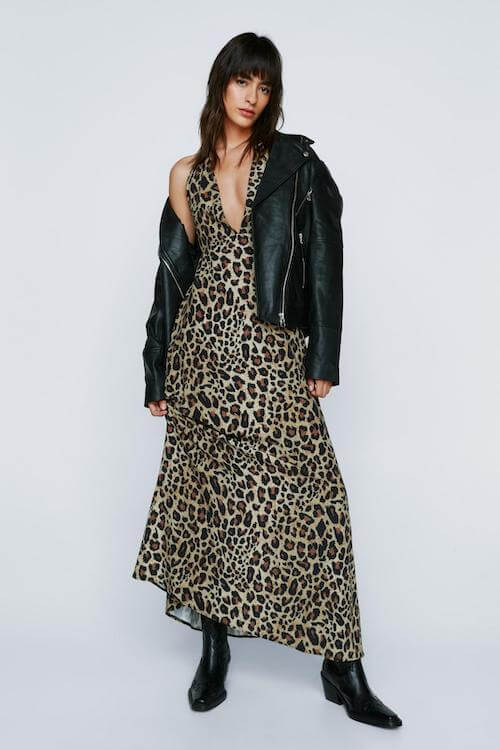 What Shoes To Wear With Long Dress For Wedding Or Formal Occasions
If you choose to wear a maxi dress to your wedding, a pair of elegant pointed-toe heels are a good match to your formal dresses.
Whether you're wearing a flowy printed maxi dress to a spring/summer wedding, or a flashy sweater dress to a fall/winter wedding, a pair of pointed-toe heels is one of the best options.
Another shoe I recommend is chunky heels if you go for a long velvet dress. Compared to ordinary stilettos, chunky heels have a heavier shape that strikes a perfect balance with the texture of velvet.
In addition, a pair of elegant long boots is also a very popular choice for wedding guests when pairing it with a long dress. At this time, I suggest you choose a long dress with a high slit to form the most perfect outfit with your boots.
Long Dress + Pointy Toe Shoes
Velvet Long Dress + Chunky Heels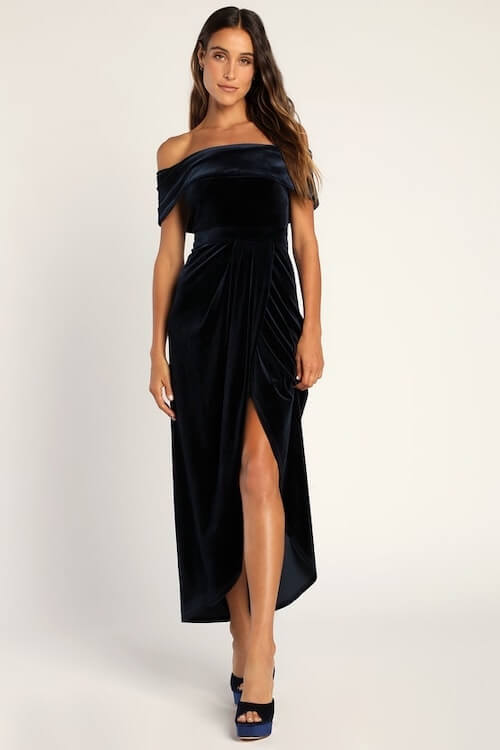 Long Dress + Knee Boots
What Shoes To Wear With Long Dress For Special Occasion
For special occasions, I highly recommend wearing high heels with sequins or feathers to bring more style and fun to your long dress outfits.
Long Formal Dress + Sequin Point Toe Heels
What Shoes To Wear With Long Dress For Casual Occasions
For casual occasions, in addition to flats, sneakers, etc., I especially recommend open-toe sandals and flat strappy sandals.
Compared with closed-toe shoes, they all have a stronger resort style without losing a sense of design, giving your casual outfits a sense of personality and style.
Casual Long Dress + Open Toe Sandals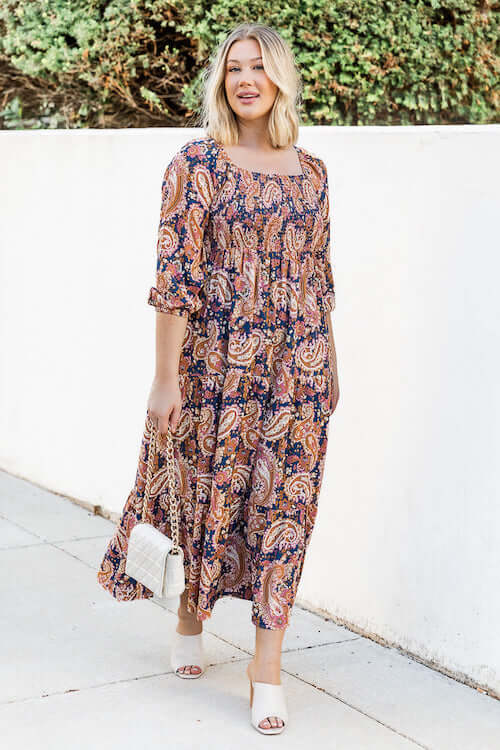 Long Casual Dress + Strappy Flat Sandals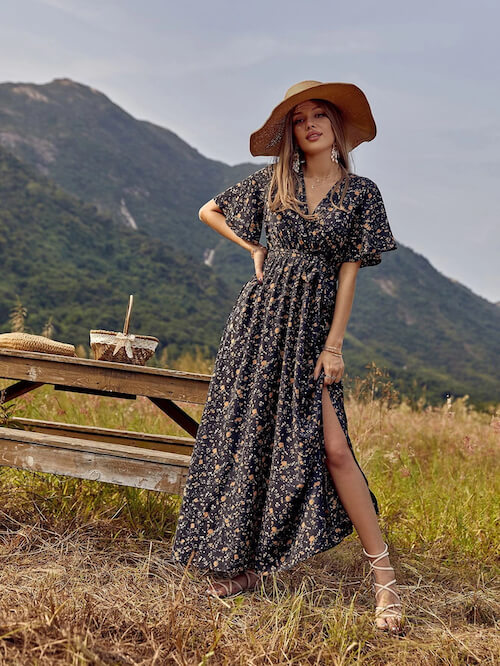 This post was all about what shoes to wear with long dress.
Related Posts: