Looking for the best family photoshoot outfits for summer? Check this post for expert tips on the best color scheme and outfit ideas for your family summer photoshoot.
Summer is a perfect time of year for family activities. Taking family photos in the summer is an essential activity in family life, not only to leave a precious record, but also to create good memories of the family spending time together.
Whether you want someone to take the picture for you, or you take the picture yourself for your family members, the outfits you wear when taking pictures are definitely the focus of family photos in summer.
If you are looking for the best family photoshoot outfits in the summer weather, you've come to the right place!
So in this post, I am sharing you top tips to get the best summer family photos, what are the best color schemes for your family summer photoshoot, and the best family photoshoot outfits for summer.
And at the end of the post, I am also sharing with you the answers to common questions including how to take photos at home for summer, and the best places to shop for perfect family summer photo outfits!
So scroll down to check these tips and outfit ideas, and don't hesitate to pin the outfit ideas you like!
This post may contain affiliate links, which means I'll receive a commission if you purchase through my link, at no extra cost to you. Please read the full disclosure here.
This post is all about family photoshoot outfits summer.
Top Tips To Get The Best Summer Family Photos
How To Choose The Professional Photographer For Your Family Summer Photoshoot?
When looking for a photographer, ask other people's opinions. Check whether they have experience in taking pictures with children or a large group. Check the photographers' previous works to see whether like their styles.
You do not necessarily look for the most expensive photographer, but remember that you will be shooting your lifelong memories, so it is worth investing a little more money.
Schedule in advance. A good photographer usually has a busy schedule, so you need to book the service in advance and pay attention to whether the weather is suitable.
Communicate deeply in advance with your photographer on how you want to be photographed, what kind of poses or outfits you like, etc.
Trust your photographer.
How To Choose The Best Places For Your Family Summer Photoshoot?
Walk around the neighborhood, pay close attention, and find beautiful and creative shooting scenes.
The location needs to fit the character of the family. For example, shoot in a park, because you often go there to have fun.
Browse the Internet and look at other people's locations.
How To Get Your Husband To Cooperate For A Family Photoshoot?
Sometimes it's a little difficult to get your man to cooperate and participate in a home shoot, here are some of my suggestions.
Tell him about your shooting plans so he can be prepared. Be honest about the budget for the shoot in advance.
Tell him the meaning of the photos, for example, that they are lifelong memories.
Also let him provide advice in the shooting process, such as which photographer to choose, where to shoot, etc. Compromise with each other, the photos should be taken to make you feel like, but also to meet his ideas.
If he really doesn't like to shoot, then choose the pose with him, or avoid the heavy and choose the style of shooting with children as the main character
Give him a reward, not ice cream of course, but express your happiness that he is willing to cooperate and so on.
How To Get Your Kids To Cooperate For A Family Photoshoot?
Explain to the children that they will be taking family photos with excitement so that they will feel happy to have their pictures taken.
Let the children participate in the whole process from the beginning, such as choosing outfits and props.
Do not be too hasty in taking pictures, or your patience in taking care of the children will also be reduced.
Make sure the photographer you invite can attract children and make them laugh during the shooting process.
When planning the time to shoot, choose a time when children are most happy and relaxed (for example, after exams)
During the shooting, let the children have a break, so they can go play on their own.
Let them have fun during the photoshooting and capture their most innocent and happy side.
Bring some water and snacks.
Use props to cheer them up, such as toys and balloons.
Promise them that they will be rewarded after the shooting is completed.
Don't deliberately pose, use the Pinterest Board to collect your favorite Poses as reference.
When taking pictures of your family, you should try to keep everyone in a happy mood to avoid any bad moods that may eventually affect the whole shoot.
For example, do not deliberately let everyone shoot poses, because in most cases, deliberate posing will make it difficult for some family members with less coordinated posture and body movements to cooperate. And if once a pose is maintained for too long, people may be tired.
Best Color Scheme Ideas For Family Photoshoot Outfits In Summer
Soft Pink + Light Blue + White
A perfect color scheme for the whole family in summer. Choose a soft pink flowy dress to embrace the breeze outside.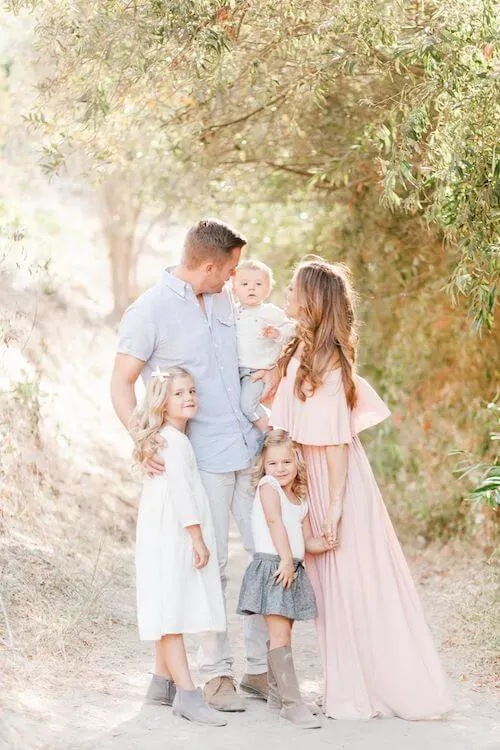 White + Light Gray
I love the cool summer vacation vibe expressed by the clear color scheme. Wear simple style clothing items and a few pieces of statement jewelry and you will look stunning!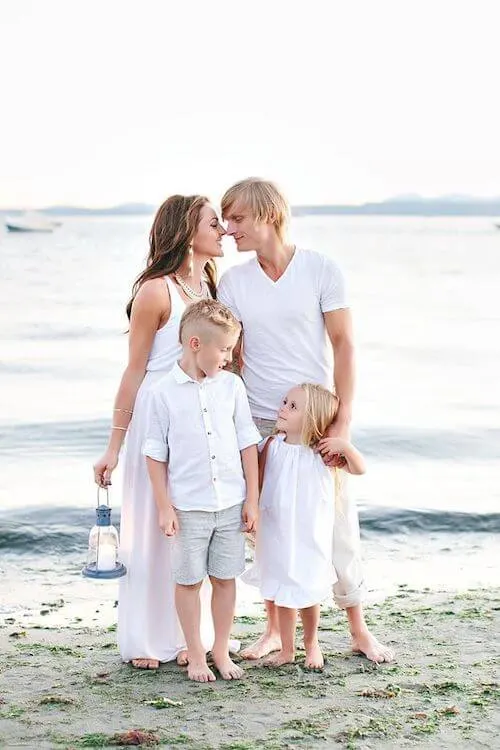 Olive Green + Navy Blue + White + Red
There is a saying that never uses dark colors. But sometimes it is not true.
Your little girl could wear much darker colors than you because they always occupy very small areas of the pictures. And the strong and interesting color contrast is quite cute.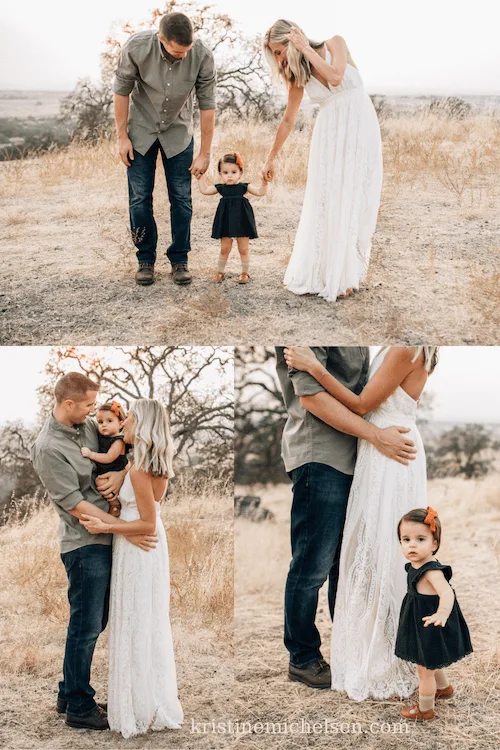 White + Pink + Denim Blue + Green + Brown
This color scheme is perfecting showing the nature's beauties in summer. All the colors remind you of trees, grasses, flowers, and beautiful sunshine that you can never forget when you are taking the family summer photos.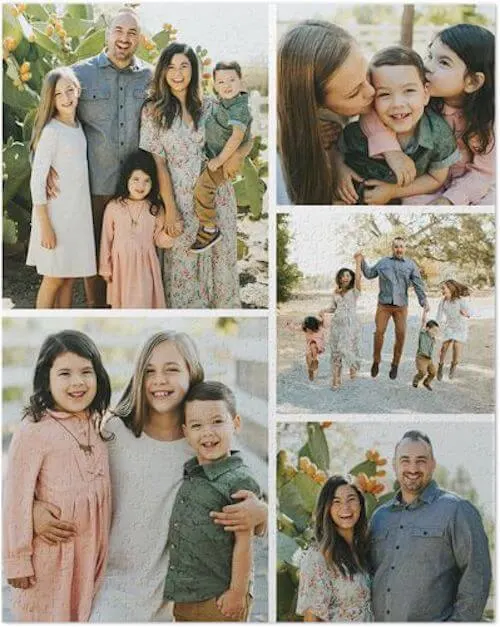 Green + Brown + Beige + White
A unique but perfect color scheme for the beach sunset.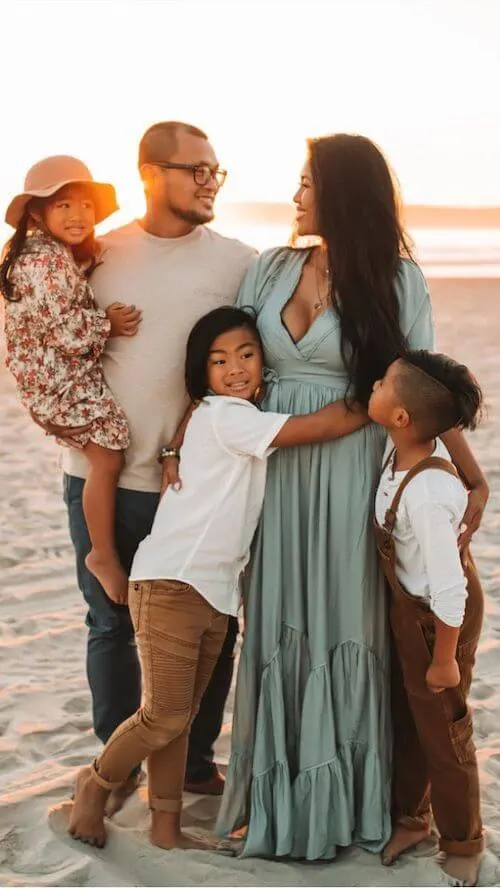 Shades Of Blue + White
Blue is always one of the best colors for summer family photos. Mix different shades of blue together for your entire family. And add some white in to brighten up the whole look.
If you don't have white pants, white accessories like a white hat, white shoes, and white bandanas are also great!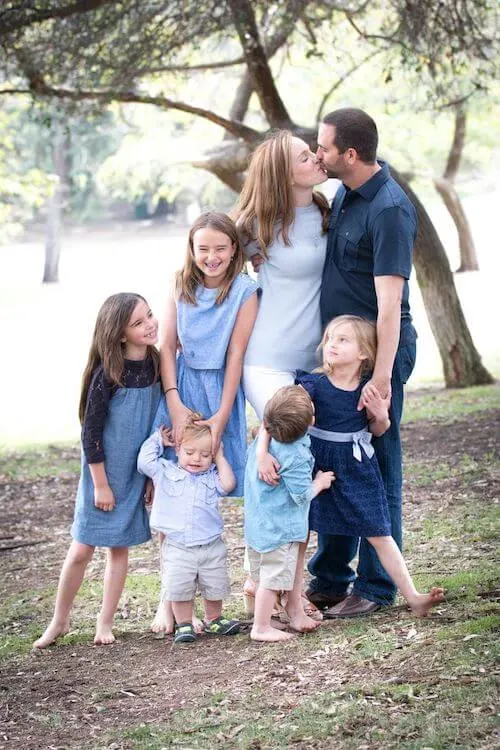 Red + Yellow + Navy Blue + Brown
This is a great example of color combinations. These colors look perfect on the grass.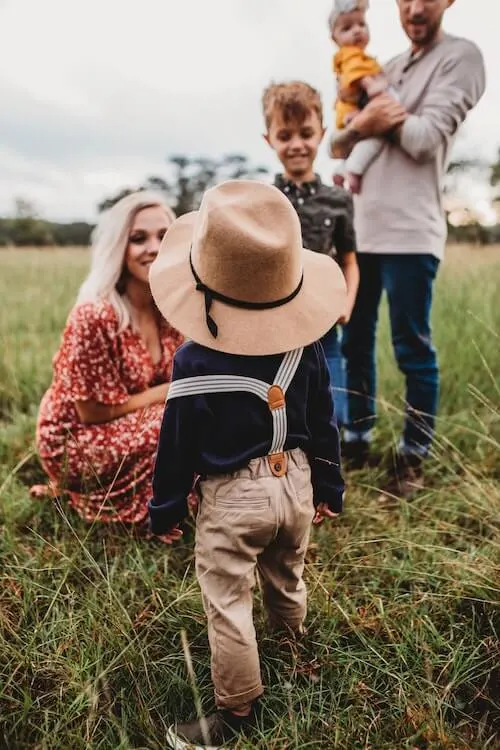 Brighter Colors: Mint + Salmon
Don't hesitate to try bold colors.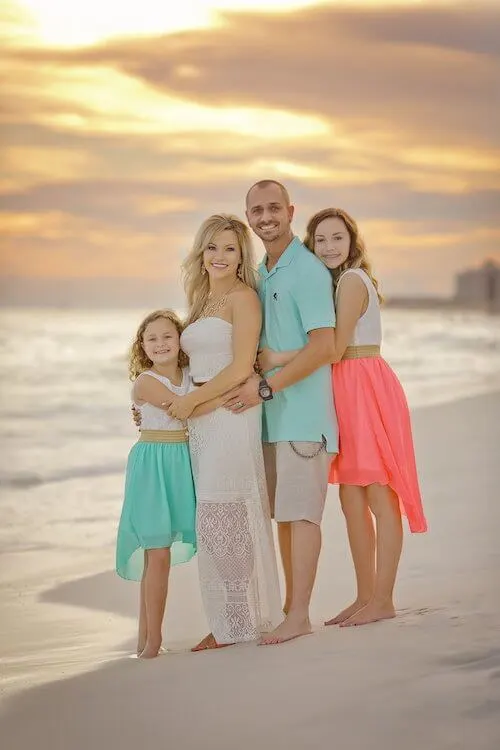 Olive Green + Black + Khaki
Olive green is not common for family photoshoot outfits in the summer months, but they actually great.
Consult with your family photographer for the outdoor environment where you are going to take photos, and check whether the olive green you choose can be amazingly blended with the outdoor setting.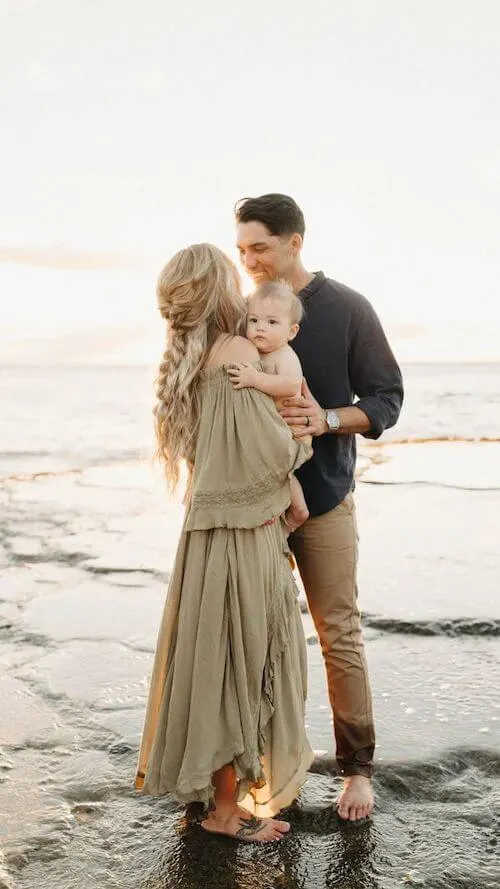 by Kate Laraine Photography
Red + Pink + Olive Green + White
I love how lively the colors look below.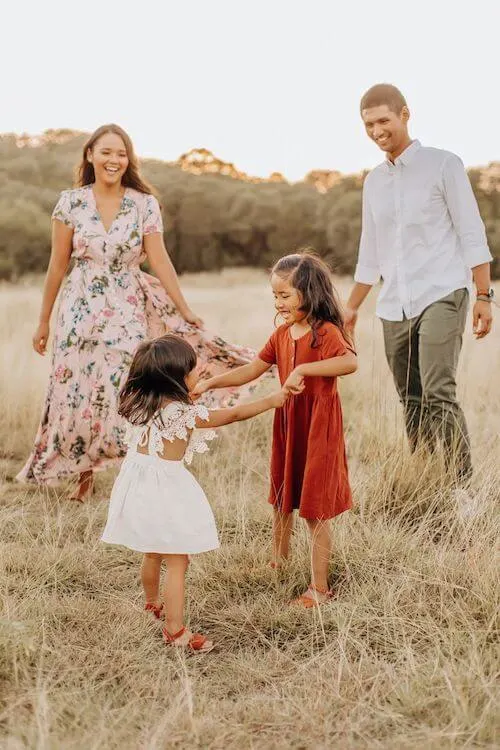 Pink + Yellow + Navy Blue + Denim Blue + White
Bright yellow is one of my favorite family outfits. Choose some of your members to wear the lovely bright yellow to spice up your family photos!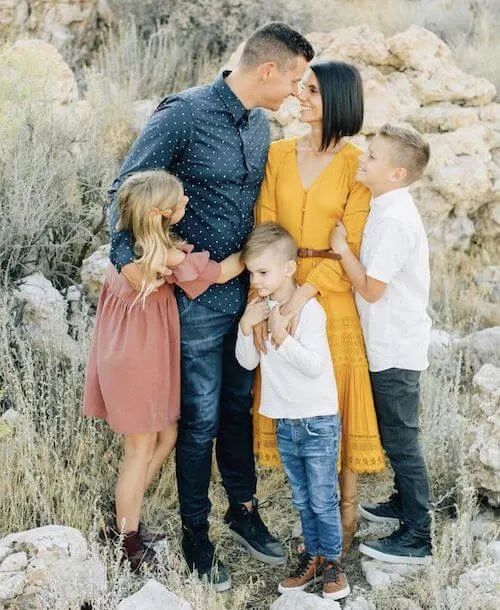 Shades Of Pink + White + Beige + Black
These pink shades are so stunning.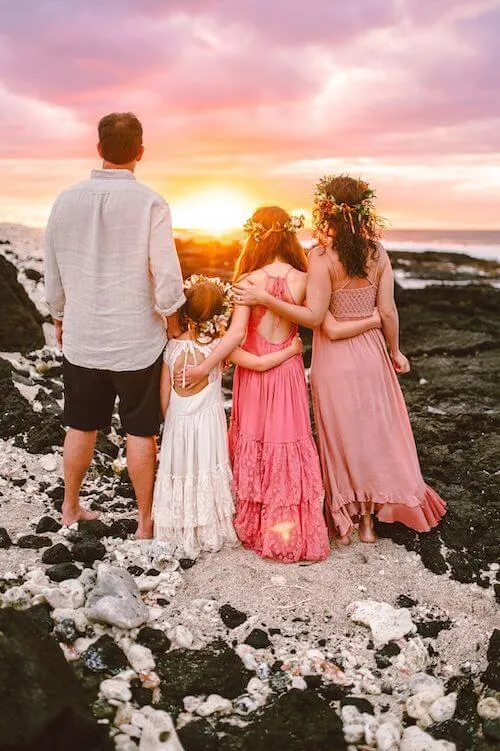 Orange + White + Khaki
I always suggest the family's mom try bold or unusual colors for the family photos, then let the rest of the family wear simple solid clothes. Then your family photos will be perfect.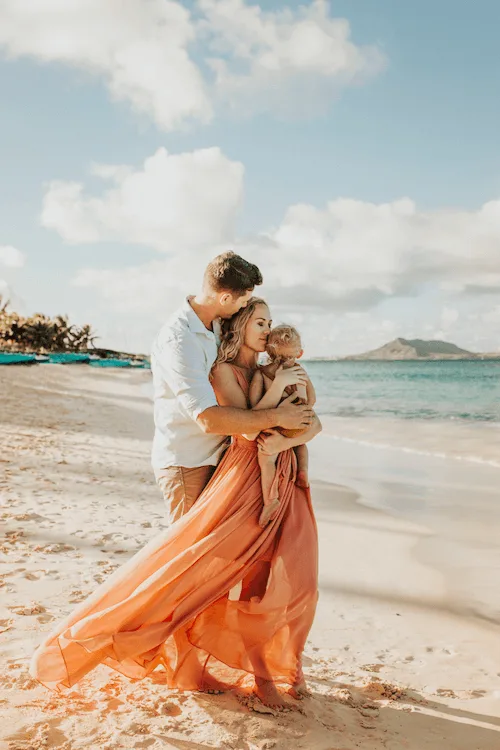 Shades Of Blue + Cream + White
Another great example of shades of blue and lighter colors.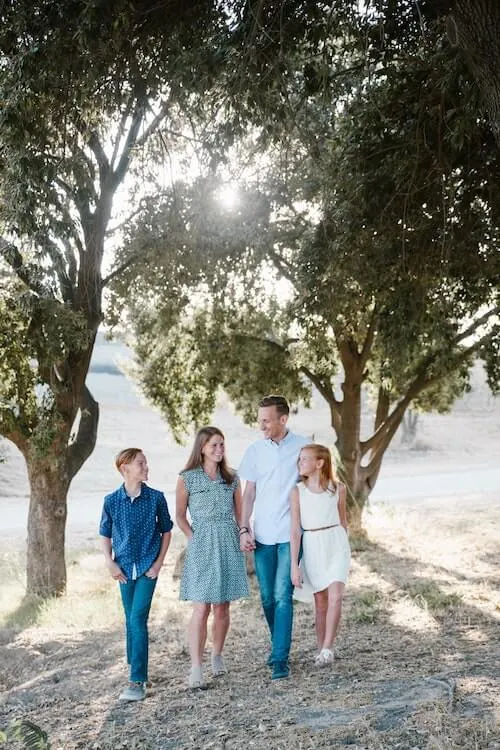 via unsplash
White + Beige + Light Green + Black
A perfect family summer picnic photo.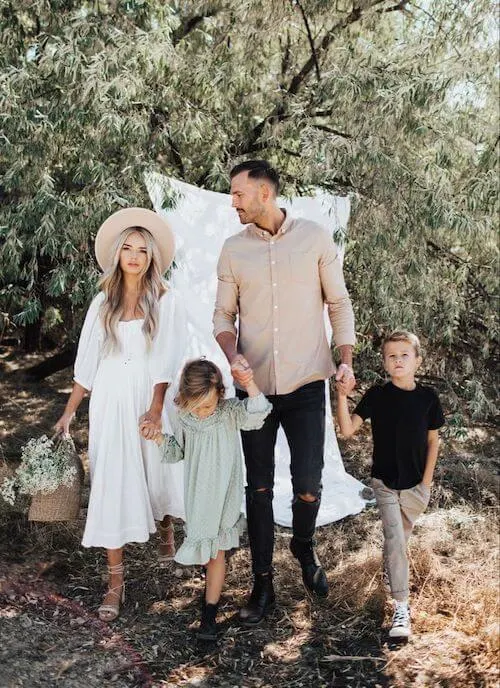 Summer Family Photoshoot Outfits Ideas
Light Color Palette: White Shirt And Beige Dress
Choosing light colors will never be wrong for a family summer photo.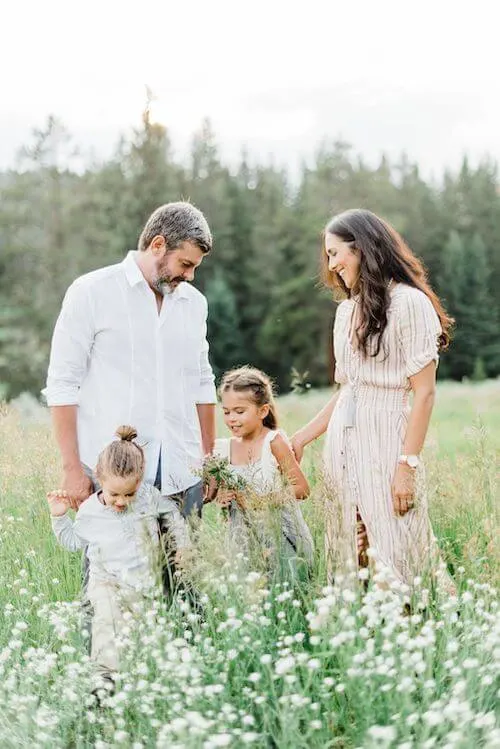 by Keeley McKay Photography
Stick To Neutral Colors As Main Colors
And the neutral colors. They are always in style.
Add some small areas of black or dark brown to make your portraits more stylish.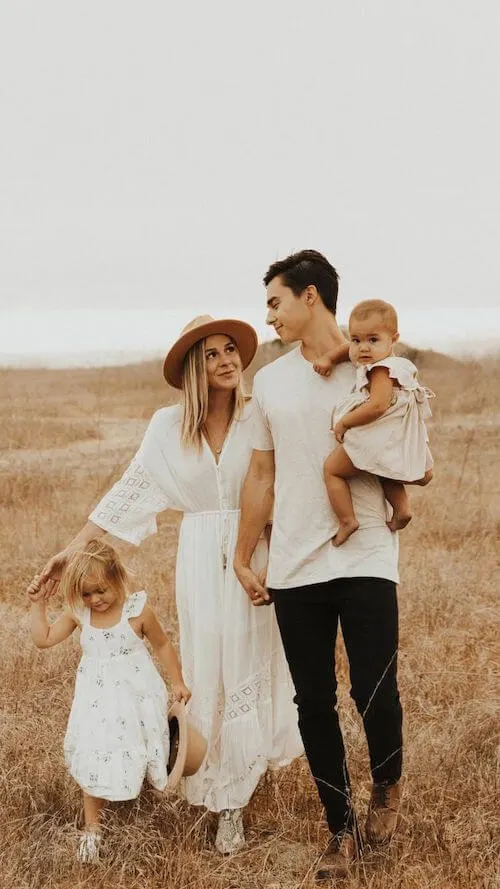 by Nicole Kirshner Photography
Add Floral Patterns To Balance Different Colors
These floral patterns make the simple styles look so amazing immediately. And they also help your different color combinations look great.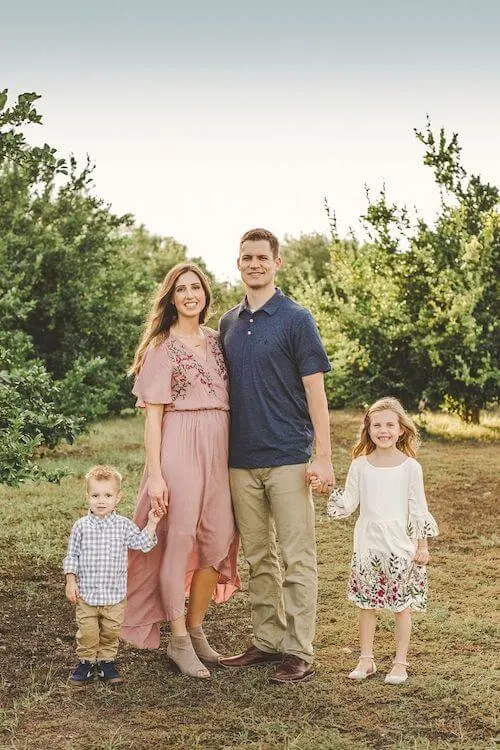 A Perfect Outfit Of Sand Colors For Each Family Member
Choose sand colors to record the sweet family outings in the summer time.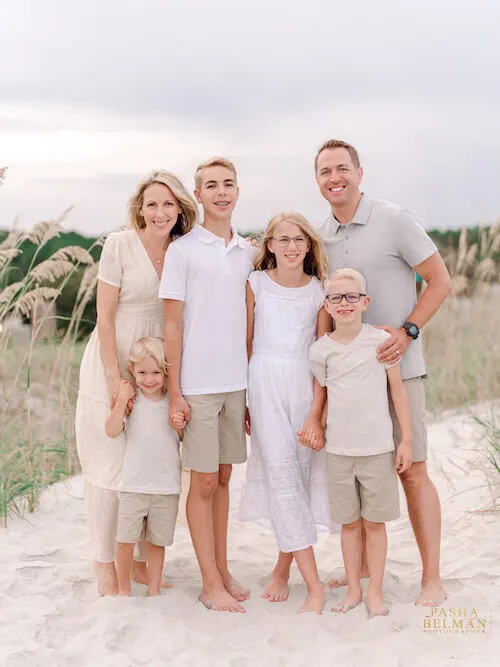 Flowy Dresses For Your Family Photo Session
Embrace the wind outside with your flowy dresses. The wind is your best friend for a gorgeous family summer photo.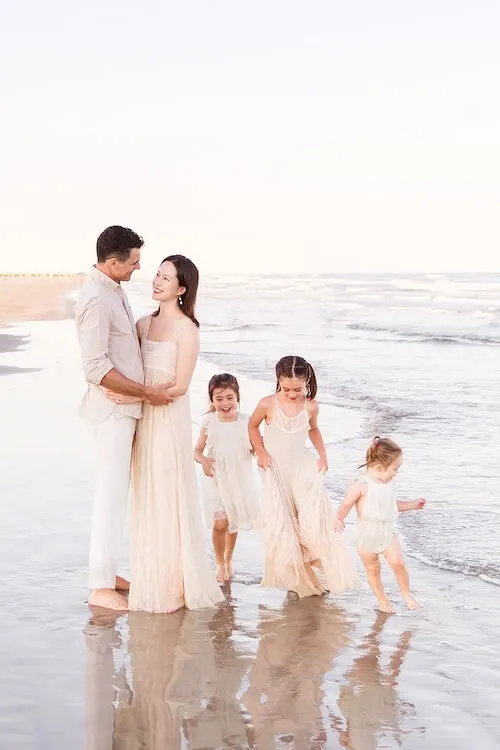 Wearing Linen Family Outfits Is A Great Idea
Linen clothes look amazingly on your family members. And they are breathable, so you will never be worried about the hot weather in summer.
@ericabrookephotography
Add A Pop Of Color And Stripes To Your Family Sessions
Besides solid color clothes, choose stripes to be more stylish.
The small areas of dark blue perfectly balance the warm vibe brought by the red, adding a cool feeling to the picture.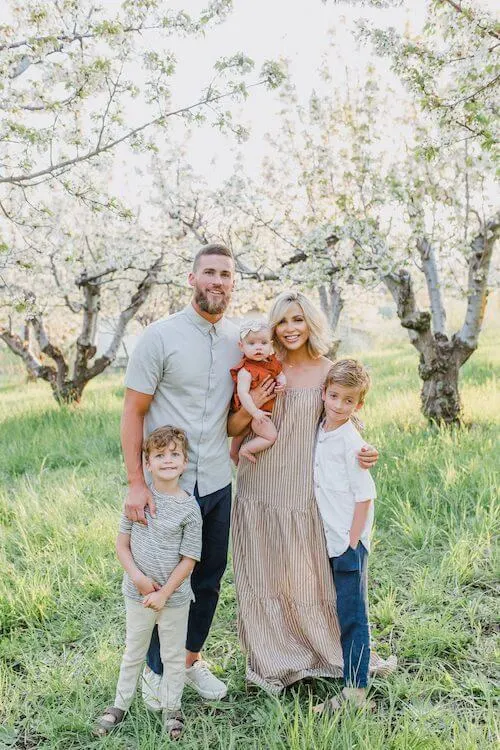 Perfect Plaids And Blue Jeans
And the plaids are also perfect for summer time. Make your family outfits rich by changing the solid colors to stripes or plaids.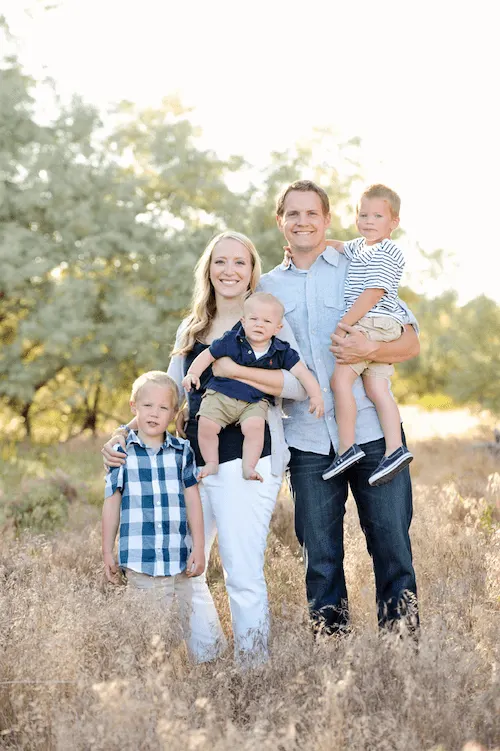 via Pinterest
And The Dots
Don't forget the cute dots to create a chic look. And I love the hat.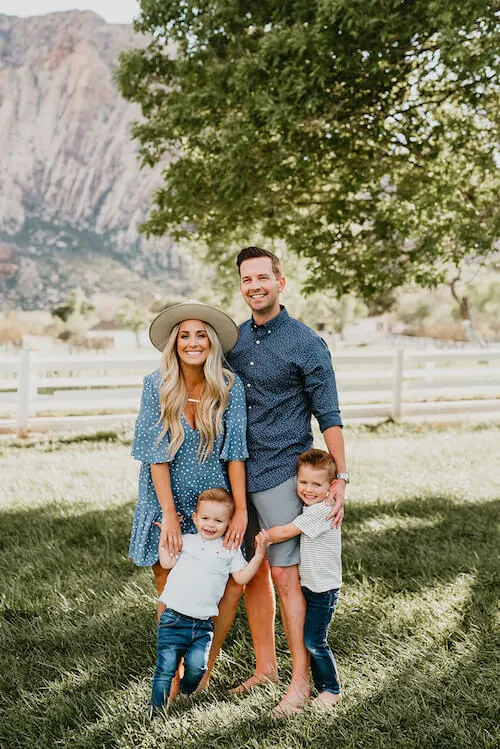 A Pair Of Casual Loose Pants Is Also A Great Choice
Want to be more unique? Try loose pants.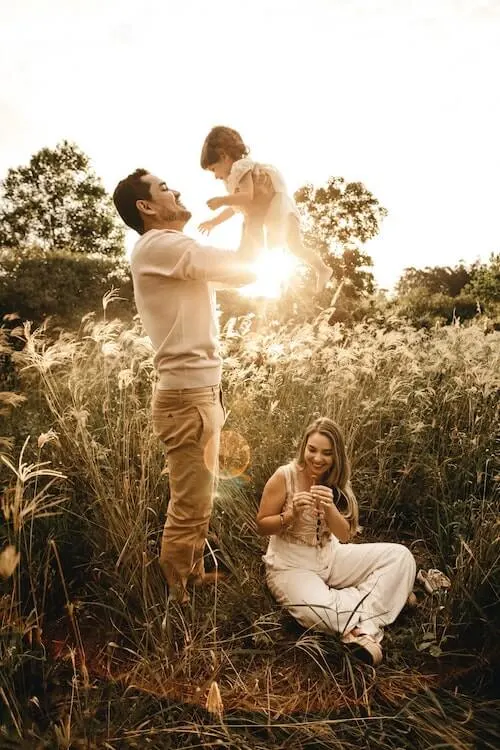 via unsplash
Same Color For The Dad And Son
Your man will love this idea.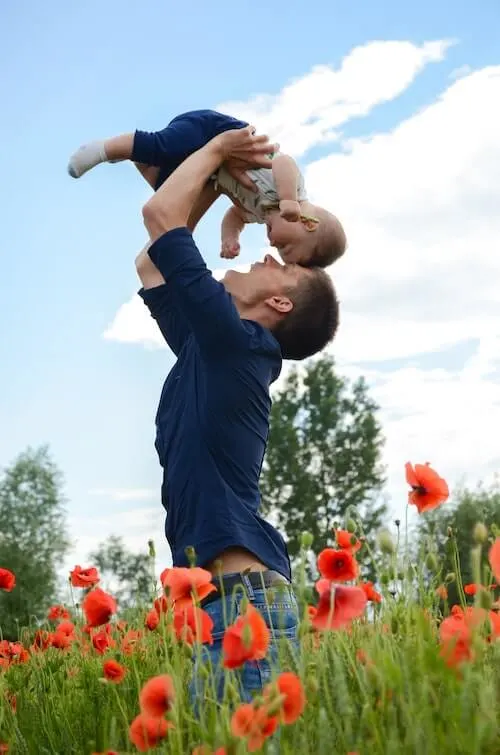 via unsplash
Beautiful Red Dress For The Mom
Try bright and warm colors to express how much you love the summer. Red and blue is a combo that will never be out of style among summer family photo outfit ideas.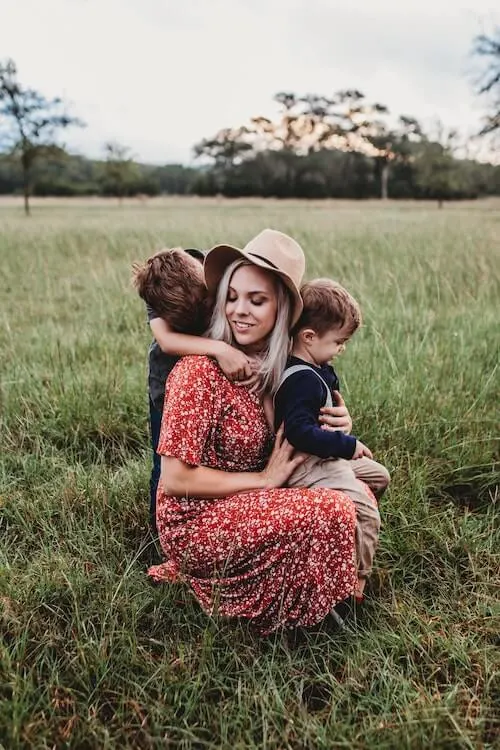 via unsplash
Simple Overall Look With Neutral Tones
If your outside scene has beautiful bright colors, let those colors be the focus of your family photo, then choose simple and neutral tones to make the color scheme perfect.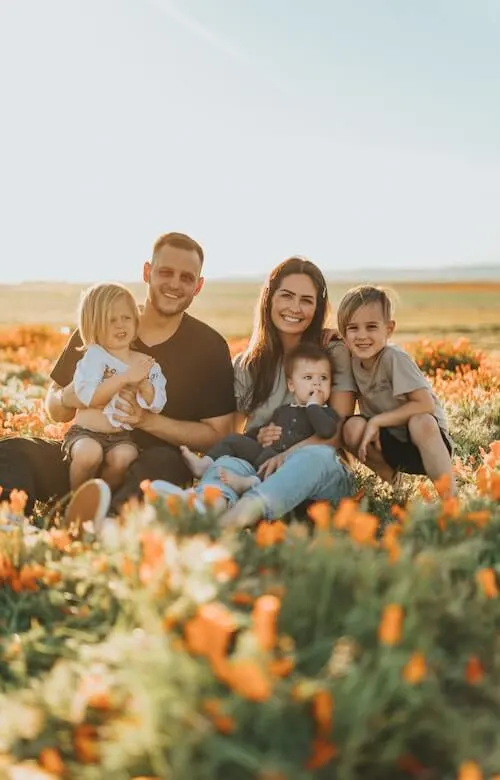 via unsplash
Have A Great Time With Cute Boots
I love the boots ideas.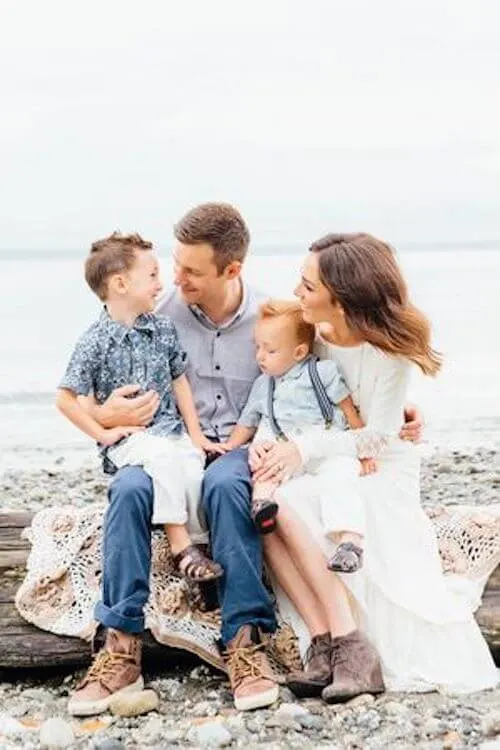 Choose The Mom's Outfit First
One easiest way to choose family photo outfits is to choose your favorite outfit first then let the others' outfits match yours.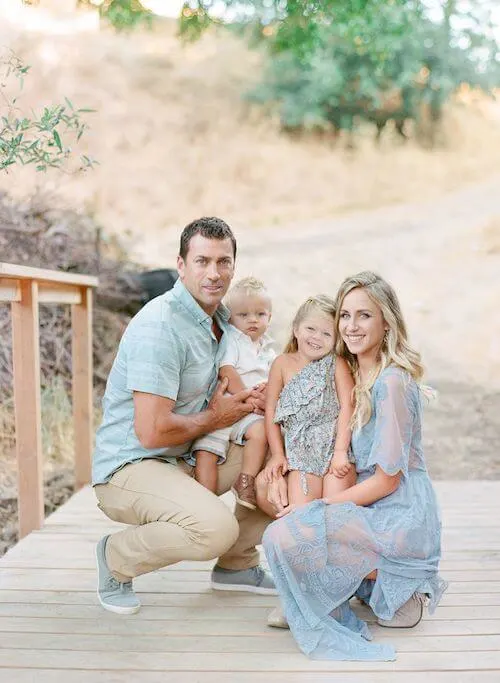 Choose Solid Colors For The Warmer Weather
Solid colors with stylish designs will never be wrong.
Wear big hoops to add chic details and a personal style.
Pretty Skirt And Blazer For A Classic Look
A classy look for your family.
This maxi skirt is perfect to pair the style of the man's suit.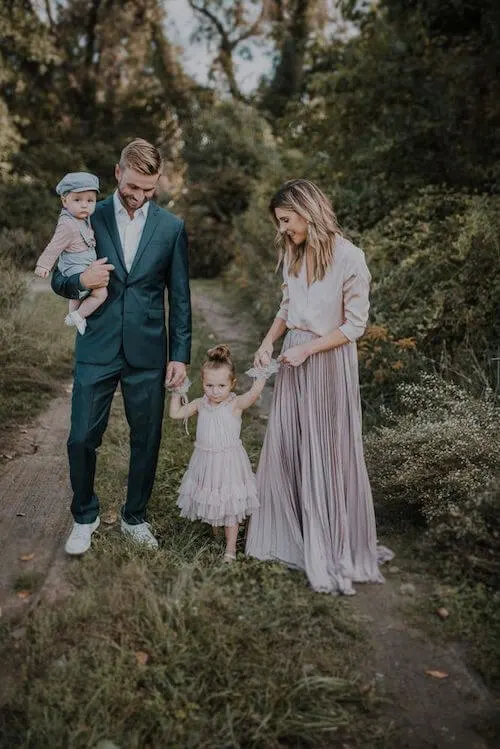 Cute Accessories And Lighter Colors
Bring your kids' favorite accessories to add so much fun. And don't forget to wear your favorite statement jewelry to pair with your cute white dresses.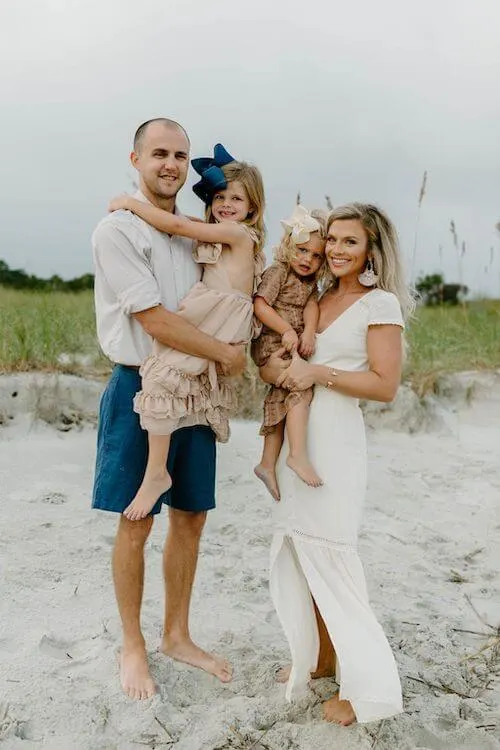 by ALICIA CAITLYN PHOTOGRAPHY
A Good Idea To Blend The Perfect Color Combo
Most of your family members can wear the same or similar colors to the environment, then add the contrast color in to make the whole look cute.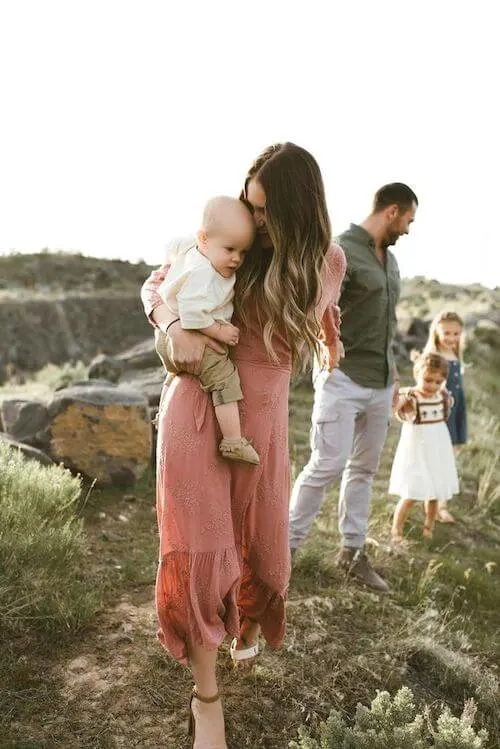 A Little Bit Blue For The Entire Family
A little bit of blue looks great with the whole white outfits.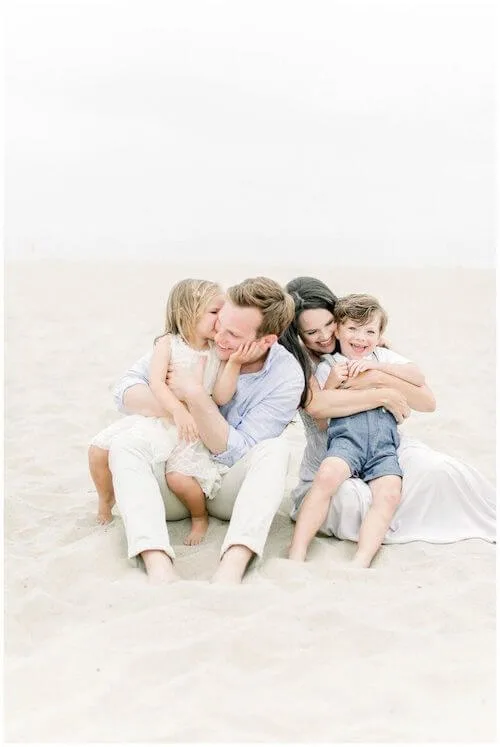 Match The Colors Of The Kids' Outfits
Don't want the whole family to wear matching outfits? You can only let your little boy and little girl wear matching outfits instead.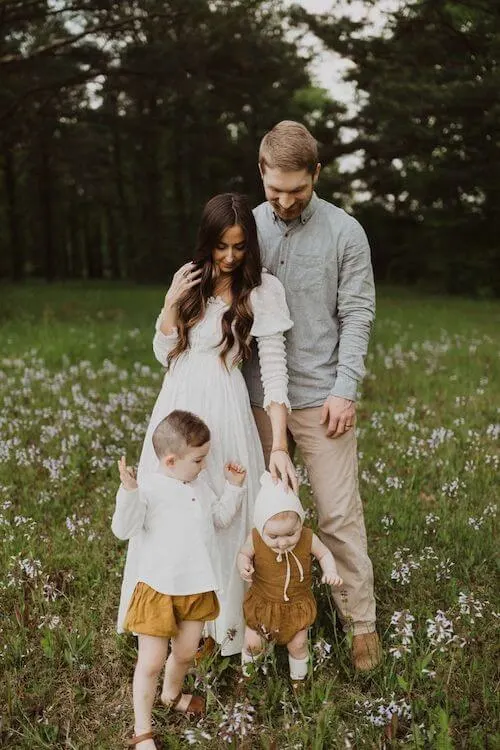 Let The Mom's Dress Be The Focus
Again, let the mom be the focus of the family photo. Choose your most beautiful outfit first!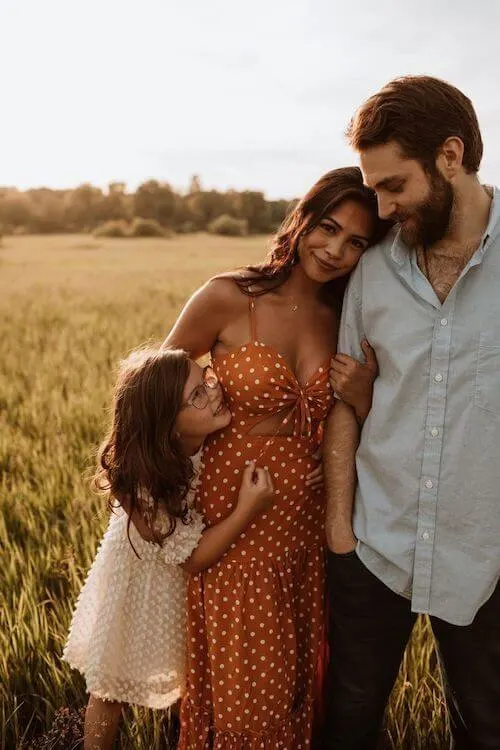 Beautiful Floral Patterns For Summer Family Portraits
A floral print top and shorts are also cute for summer photo shooting. And I love this casual natural feeling.
Go to your kids' favorite place to record the sweet summertime!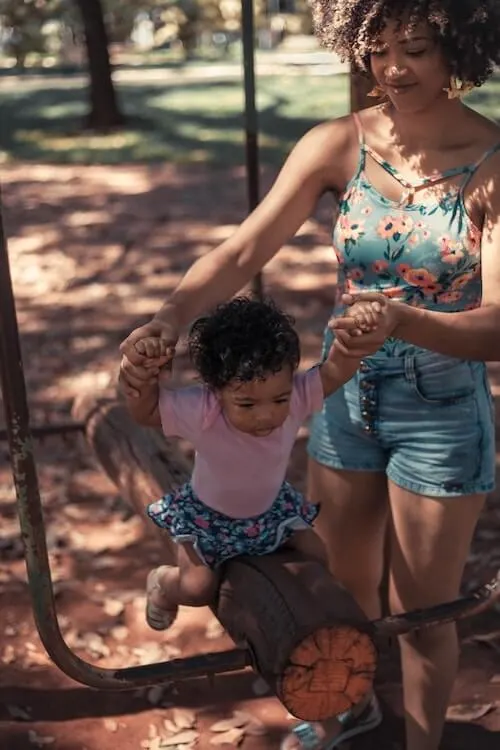 via unsplash
Perfect Swimwear For The Summer Months
A creative family summer photoshoot outfit idea.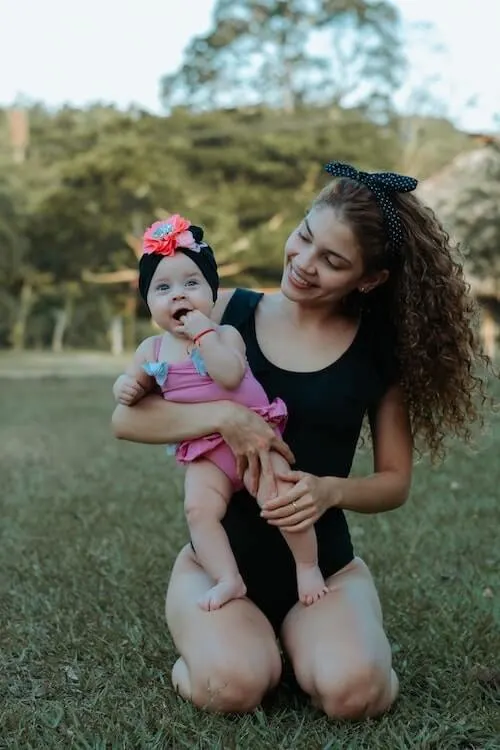 via unsplash
Match The Colors Of Outfits And Props
Add the prop to blend the family outfits' color scheme perfectly. What a great way to add visual interest!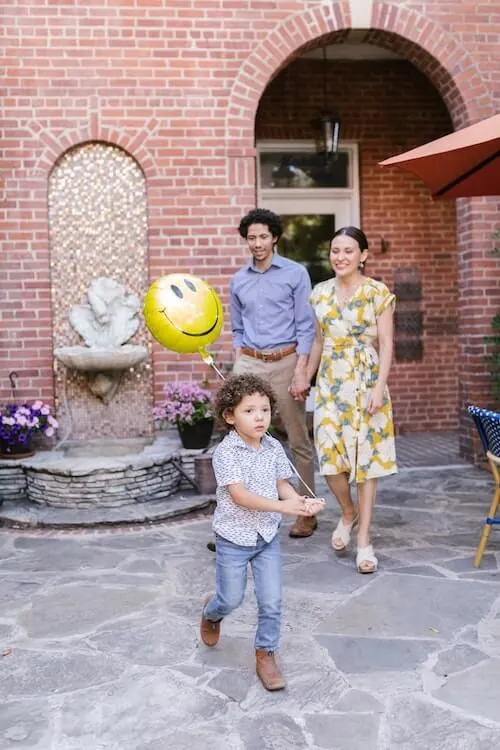 via unsplash
Similar Summer Dresses For The Mom And Girls
How sweet the idea is! A white look is perfect for girls and women.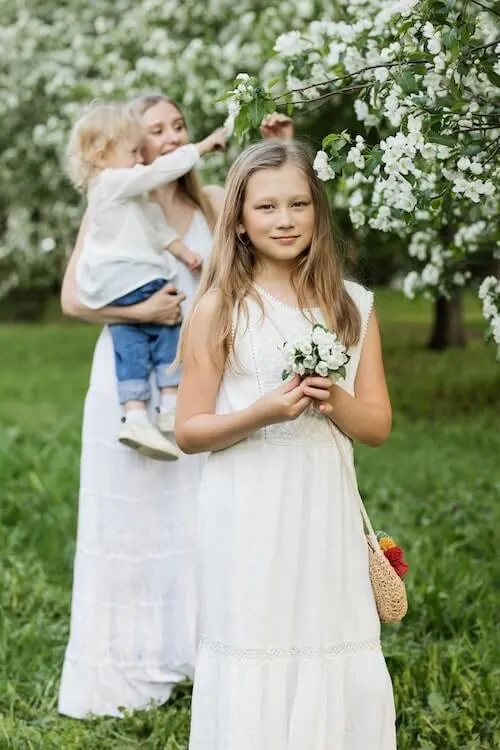 via Pexels
Casual Outfits For Sweet Family Moments
Communicate well with your professional photographer to capture the everyday moment of your sweet summer.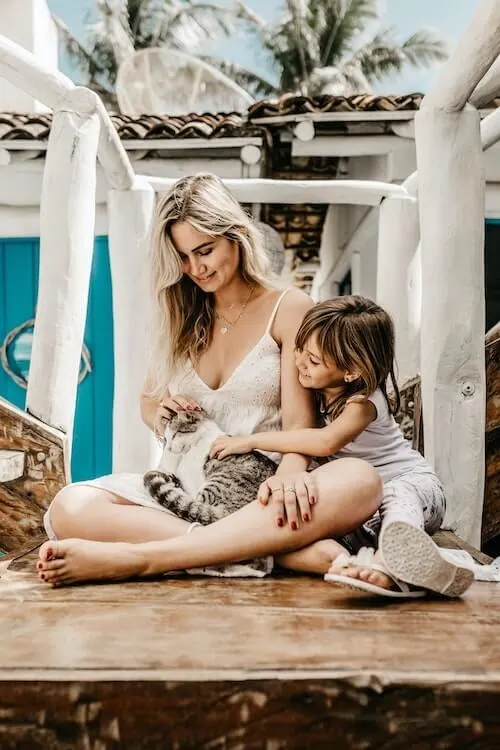 via Pinterest
Denim Blue As An Extra Layer
This a cute outfit idea for a stylish family.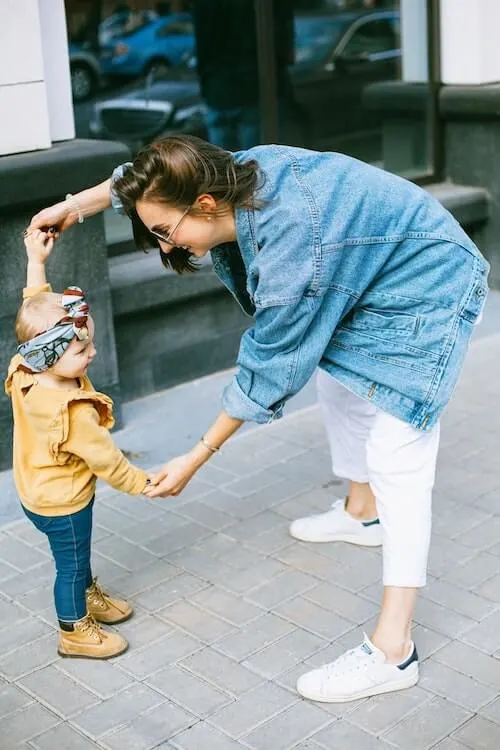 via Pinterest
The Color Of Fruits
Fruits are great props! This is a cute idea for summer photos.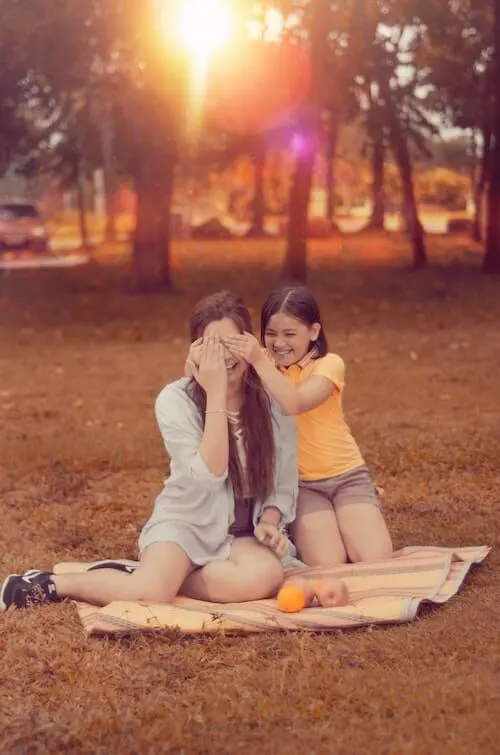 via Pinterest
Let The Man Wear Bright Colors For A Unique Look
Why not let the guy try some bright colors?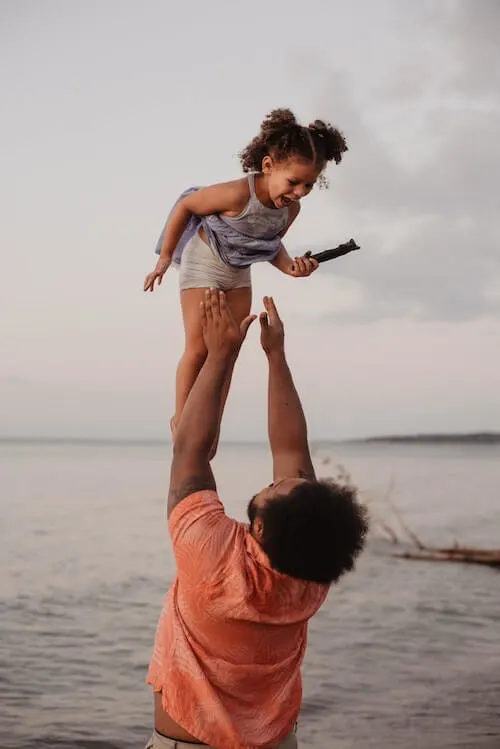 via Pexels
Trying a Bolder Color Is A Great Option For Kids
Or let the kids try more beautiful bold colors.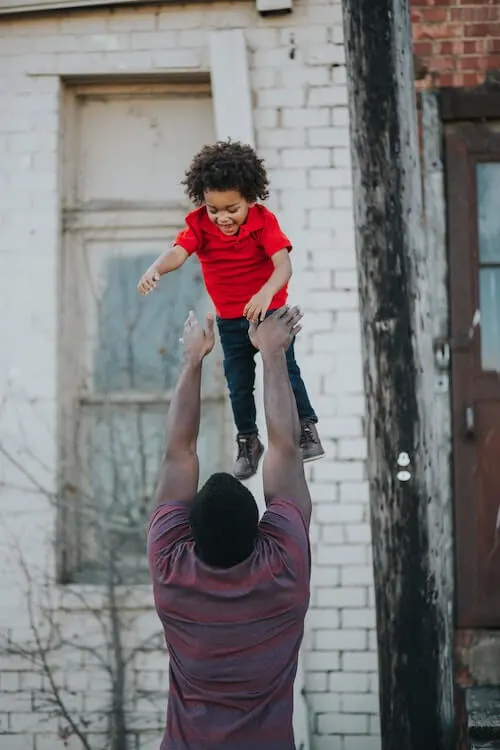 via Pexels
Bright Yellow Prop And Cool Colors For Family Members
If you stick to simple colors, a small bright yellow prop can make the photo so much cuter!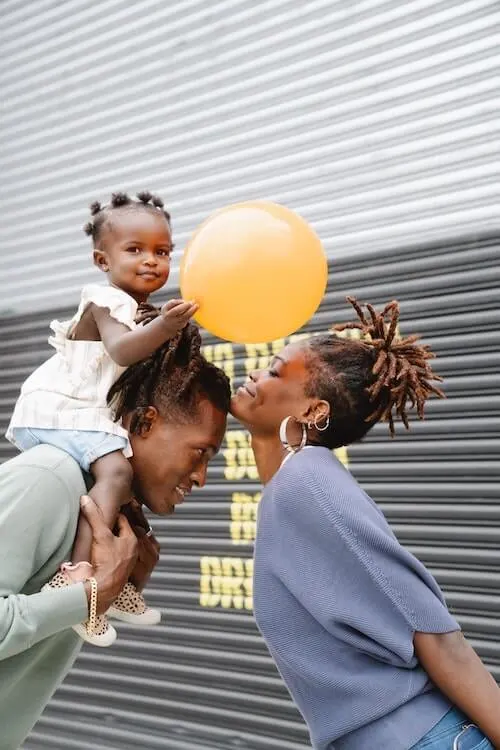 via Pexels
Mix Different Textures Is One Of My Favorite Tips
Mix different textures to make your family photos look stylish. But remember to choose natural and breathable fabrics to avoid the summer heat.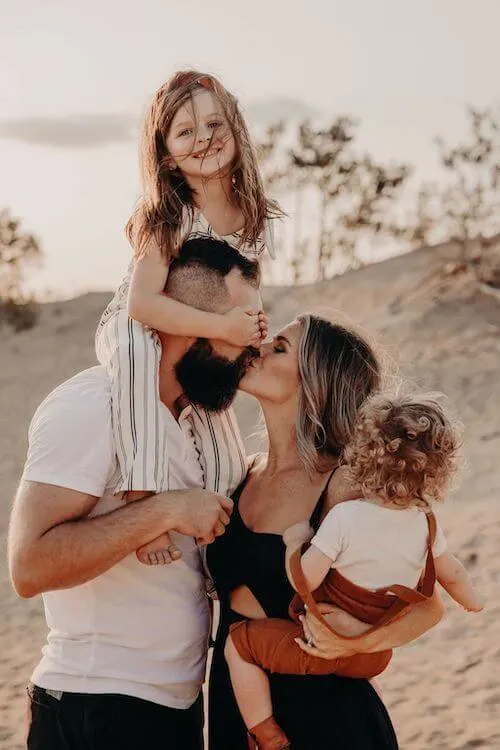 Muted Color Tones For A Timeless Feel
Muted colors and loose styles are perfect for a family picnic in summer.
Wear similar style hats with your girls.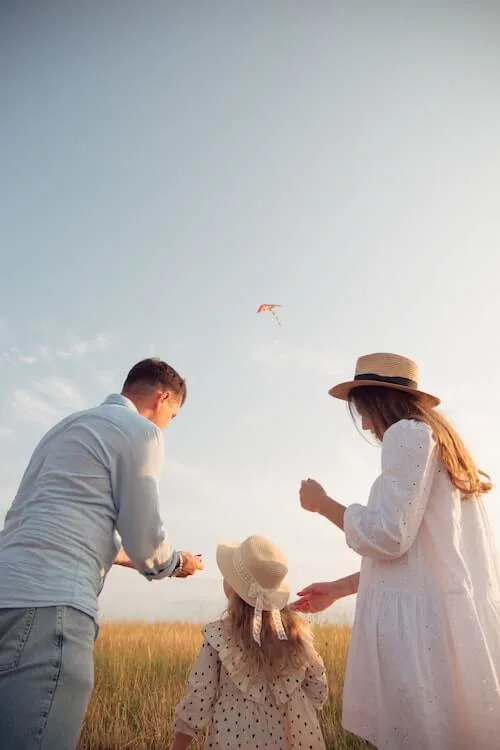 via Pexels
Bright Contrast Colors And Perfect Stripes
I love the colors and stripes. Blue and orange are great colors full of summer vibes.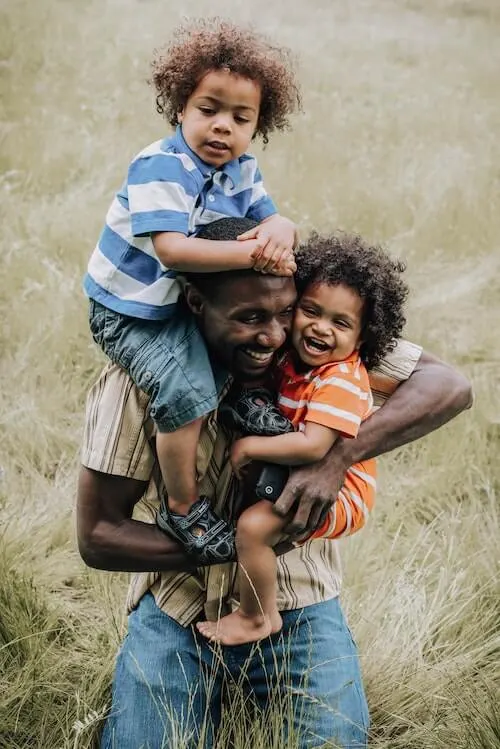 via Pexels
Same Color For The Extended Family For A Timeless Look
One tip: If you choose the same color for the entire family, make sure some of you wear unique and stylish designs to make you look more fashionable.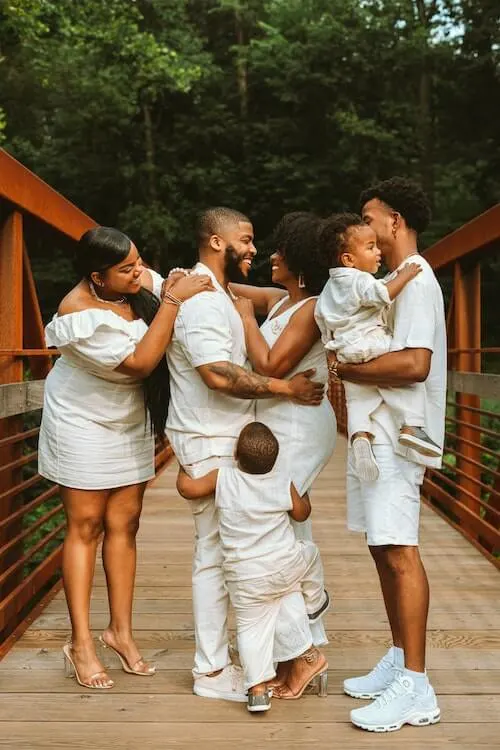 via unsplash
Common Questions And Answers To Have Professional Photos For Your Family
What Should A Family Wear For Summer Pictures?
You can't go wrong with light neutrals. soft pink, green and blue is also very popular colors, either monochromatic or in stripes or dots patterns, which are perfect for summer photos.
But you can also use dark or bright colors in small areas, such as dark blue, brown, bright yellow, red, etc., to give the picture a more layered look, while being more fashionable.
Another tip is to choose natural breathable and thin materials, silk, cotton, and linen, which are perfect for summer photos.
You don't have to choose the exact same fabrics for all different outfits for your family members, but make sure the clothing is similar in style. For example, the more conservative style of clothing is less suitable with other bohemian style clothing, and so on.
What Should You Not Wear For Summer Family Pictures?
Less black clothing. Black is more suitable for family photos in autumn and winter, and less suitable for the atmosphere of spring and summer.
Also, avoid choosing neon colors. Neon colors can make your skin tone look less natural, and it's harder for photographers to take great neon photos.
Likewise, try to avoid other unnatural colors, which is why I suggest you choose natural fabrics, which usually have very natural colors, especially when under natural light. Usually, natural colors and warm tones are more likely to help you take the best family photos.
Finally, avoid high heels. You may need to stand for a long time in the family photo shoot session, so free your feet by wearing comfortable low heels or flats to have a better time.
Can You Wear Black In Family Photos?
As I said above, wearing less black will be better for taking great family photos.
Can You Take Family Photos At Home?
Of course, you can. When taking summer family photos at home, try to set up the bright summer vibe, such as setting up greenery, cotton and linen home decor full of summer feeling, fruits, cold drinks, etc. to make the pictures rich and cute.
When taking family portraits at home, everyone in the photo should be relaxed and natural, from facial expressions to body posture should be in a very relaxed state.
So, whether you hire a professional photographer or do it yourself, you should try to adjust the atmosphere of the shooting while concentrating on it, for example, let kids move around and play games as a family, and then you record and capture the moments.
Or think outside of the box, and create some poses that we can interact with, such as running and jumping together, lying down together to put your heads together, and so on.
One important thing: If you shoot at home, you need to let the photographer understand the layout of the home in advance so that there is a prior plan to know approximately where to shoot better.
What Is The Best Time To Take Family Summer Photos?
In the morning or at dusk, that is, from 8:00 to 10:00, and from 4:00 to 7:00 in the afternoon is more suitable for taking pictures, because at this time there is no direct sunlight, and it will not form a strong shadow on the face.
And while the sun at this time is very gentle, it will make the faces look better. You will fall in love with the golden hour idea.
How To Prepare Perfect Props For Your Family Photos?
Don't use too many props, and use them wisely.
Add props that fit your family's characteristics, such as the family's daily interests or hobbies.
Some props can help the main character to pose differently, such as sitting on a chair in one pose and leaning on the back of the chair in another pose.
Bring your children's favorite toys as props, you can make them happier and more willing to cooperate.
Bring some props that can be used for family communication, such as a ball activity that can be played together, etc.
Pay attention to whether the color of the props does not match the clothes and background.
My Favorite Places To Shop For Family Photoshoot Outfits For Summer
My go-to place to shop for feminine dresses, casual tops or pants, and adorable clothes for kids. And they have cute designs for little boys too!
If you like matching styles, check out their Mommy & Me collection for matching outfits or family outfits inspiration!
A great place to find affordable and uniquely designed women's dresses and skirts for special occasions. And it has a small collection of kids' clothes, which are adorable!
This is a cute place to shop for gorgeous clothing items for you and your kids (little girls and little boys) and babies! I am obsessed with their floral patterns, dedicated laces, and beautiful cuts that make you confident for any special occasion, and for photoshooting, too!
What I love the most is that they have a large range of sizes for you and your kids.
I love Lulus' tons of in-style dresses for women. And you can always find trendy items with affordable prices and good quality there.
For free-spirit women's dresses, especially for summer vacations.
And don't forget to add some of their cute accessories to your collection, which will level up your style immediately.
Perfect place to shop for stylish outfits for the entire family. And you can find cute outfits for babies, boys and guys. You can find almost any colors for your family outfits there.
Trust worthy place for women, men, and kids. There are many color and pattern options to choose from for each design, so it's easier to find everything for your family photoshoot there.
A perfect place for men's and teens' outfits. And I also love their simple dresses perfect for summer vacation photos.
Great linen shirts for men, a wide range of colors to choose from for each design!
Affordable place for everyone in your family.
Morning Lavender is a feminine style clothing brand. We love their cottagecore Mommy & Me outfits which are so perfect to match with your littles in summer.
Ivy City Co. is a great option if you're looking to shop for mommy & me outfits for summer family photos, formal parties, or festive family looks.
Great place for you to choose your family outfits for the whole family. And you can easily find matchable different patterns or colors for your family members.
Banana Republic has very good quality babies' clothes! And their babies' clothing tends to use the same fabrics and patterns as adults' clothing, so you can search for your favorite kids' clothing first, and then find adult clothing made of similar fabrics.
One of our favorite affordable designer brands to shop for high quality items for women, men, and kids.
They have elegant and uniquely designed patterns for every season. Easy to match with all the other family members' outfits, but add a little more personality to the entire family's look.
Old Navy is a trust worthy brand for Mommy & Me outfits and family matching outfits. I love their comfortable and timeless designs, which are the perfect choices for your next cutest family photos!
You can shop for yourself and your kids, boys or girls, the most fashionable designer products from head to toe in Nordstrom!
In Nordstrom, you can also find high end new born and Mommy & Me outfits from brands like Posh Peanut.
I also strongly recommend Nordstrom's family matching collection where you can find cute and unique designs by Nordstrom for your whole family! That's one of the easiest ways to find your family's summer photoshoot outfits!
Want to click to shop the outfits directly? Check below our favs:
Shop For Women

Shop For Men

Shop For Little Girls

Shop For Little Boys

This post was all about family photoshoot outfits summer.
About The Author
Tracy is an experienced personal stylist, shopping expert, and fashion & lifestyle blogger. She has been featured on Time Magazine, Bustle, Best Life, Glam, The Zoe Report, Mic, and GOBankingRates, for her insights on fashion, beauty, home decor, and lifestyle. Read More
Related Posts: