Looking for the best Christmas photoshoot ideas for families? Check this post for the 70+ amazing Christmas family photos for indoor or outdoor sessions, and the best Christmas outfit ideas for family (casual, dressy, or neutral) to copy directly this year. Capture the magic of the season with these beautiful ideas that will make your Christmas cards stand out.
The holiday season is upon us, and what better way to celebrate than by capturing beautiful memories with your loved ones?
If you're looking for inspiration to take your annual family Christmas photoshoot up a notch, look no further.
We've searched high and low to bring you the 70+ best Christmas photoshoot ideas for families that are sure to make everyone's hearts melt.
From adorable matching outfits to creative poses that will have everyone laughing, we've got all the tips and tricks you need to create stunning pictures that will be cherished for years to come.
So grab your camera, gather your family together, and let's dive into this festive world of photography!
This post may contain affiliate links, which means I'll receive a commission if you purchase through my link, at no extra cost to you. Please read the full disclosure here.
This post is all about Christmas photoshoot ideas for families.
How to create the perfect family Christmas card photo?
1. Coordinate outfits in complementary colors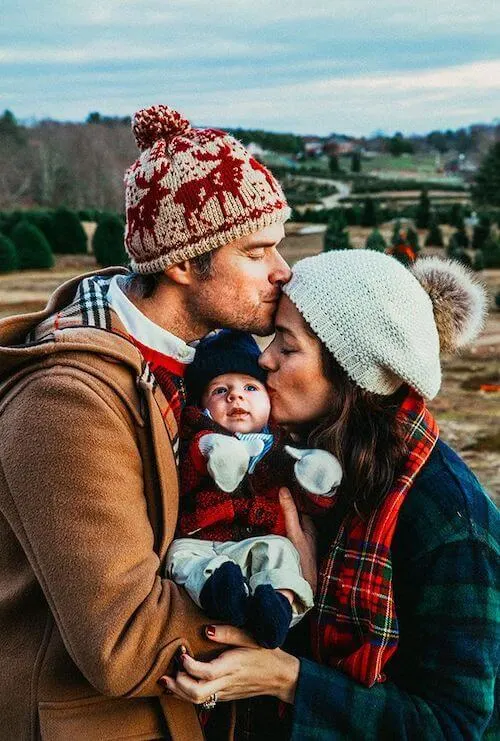 Pinterest@sarahkjp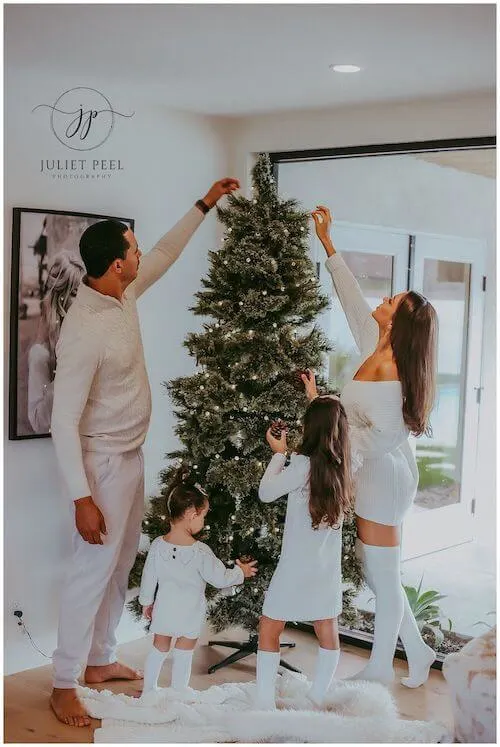 IG@julietpeelphotography
IG@ruffledblog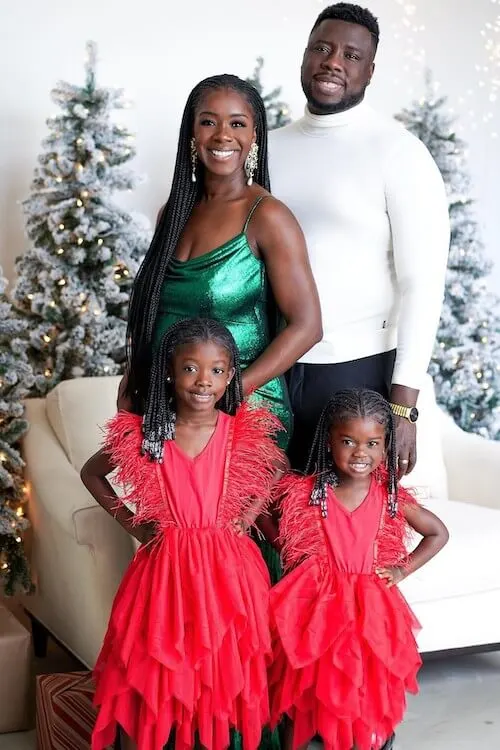 @rie_defined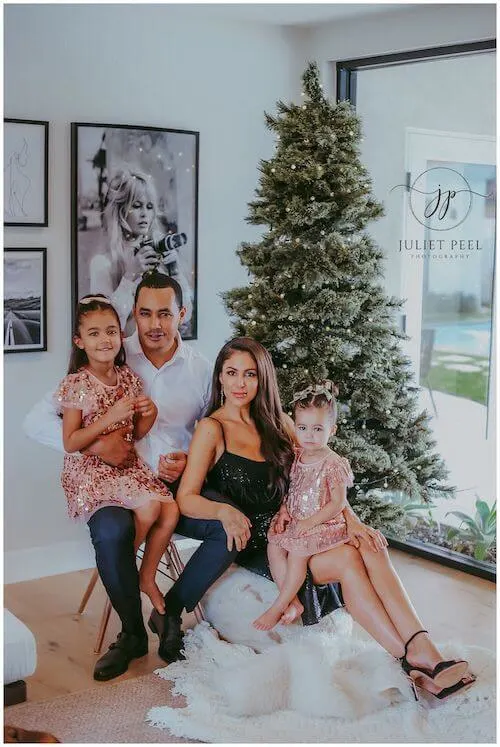 IG@julietpeelphotography
Coordinating outfits in complementary colors is a surefire way to make your Christmas photoshoot stand out.
Instead of choosing simply matching outfits, opt for colors that enhance each other and create a visually pleasing composition.
For example, if one family member chooses a deep navy blue outfit, another could wear a rich mustard yellow sweater or dress. These contrasting colors will create a beautiful balance within the frame.
Don't be afraid to experiment with different shades and tones of the same color family.
A monochromatic palette can be just as striking as contrasting hues.
For instance, imagine everyone in the family wearing different shades of green – from emerald to sage – against a wintery backdrop.
This will not only look stylish but also bring an element of harmony to your photos.
2. Choose a scenic location, such as a winter wonderland or a holiday market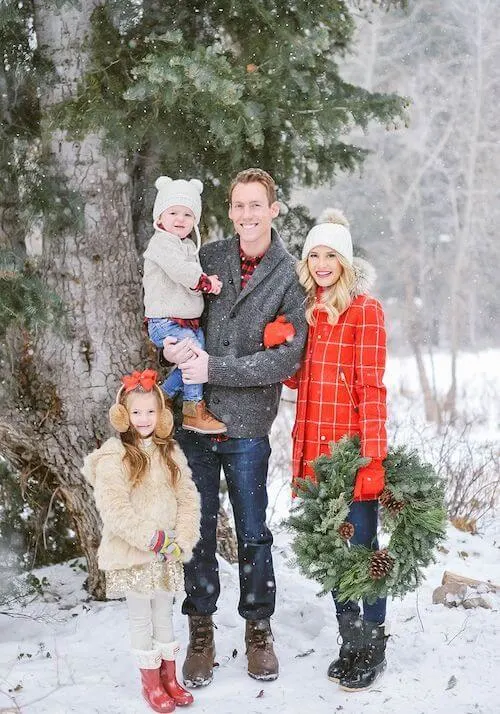 IG@emilyijackson
Choosing a scenic location for your Christmas photoshoot can take it to the next level and create a stunning backdrop for your family pictures.
One idea is to opt for a winter wonderland setting, complete with snow-covered trees, frozen lakes, and cozy cabins.
Not only will this provide a picturesque scene, but it will also add a touch of magic and whimsy to your photos.
Imagine capturing the joy on your children's faces as they play in the snow or the warmth radiating from the smiles of loved ones around a crackling fire.
Another option is to visit a holiday market for your Christmas photoshoot.
These vibrant and festive settings are filled with twinkling lights, colorful decorations, and an array of unique stalls selling everything from handmade crafts to delicious treats.
The bustling atmosphere of a holiday market can bring energy and liveliness to your images that perfectly capture the spirit of the season.
3. Incorporate fun and festive props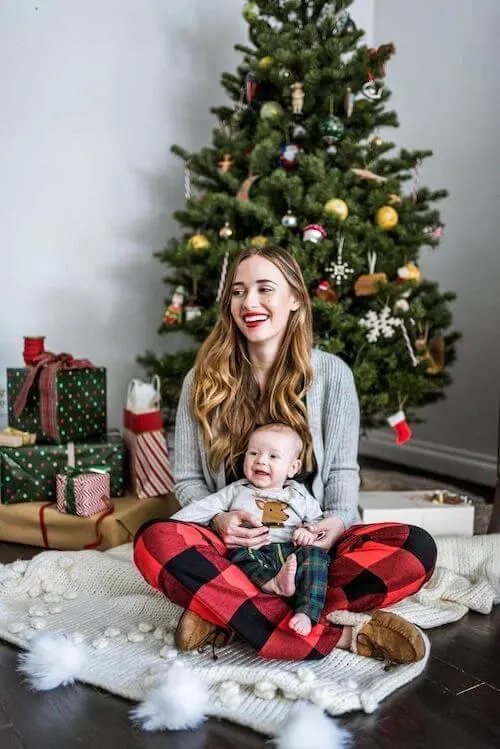 IG@maraferreira
Adding fun and festive props to a Christmas photoshoot can take the holiday spirit to the next level.
Imagine a family sitting on an oversized present, with their smiles radiating joy and excitement.
It instantly adds an element of whimsy and playfulness to the photos, creating memorable moments that capture the essence of Christmas.
The oversized presents can also act as stools or benches, allowing for different poses and compositions.
Another prop that can bring a touch of magic to a Christmas photoshoot is a sleigh.
Whether it's a vintage-style sleigh adorned with wreaths and ribbons or a mini-version for kids, it creates a whimsical backdrop that elevates the holiday ambiance.
4. Capture candid moments of laughter and joy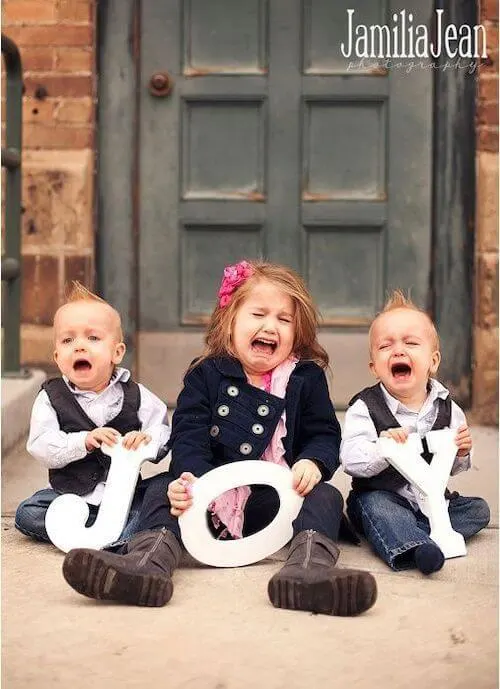 via Pinterest
Capturing candid moments of laughter and joy is an essential part of any successful Christmas photoshoot.
While posed pictures can be beautiful, there's something magical about the genuine expressions that come from pure happiness.
Whether it's kids giggling at a funny joke or family members sharing a heartfelt moment, these unscripted instances bring life and authenticity to your photographs.
To capture these candid moments, it's important to create an atmosphere where everyone feels comfortable and relaxed.
Encourage your subjects to let loose and have fun during the shoot.
Consider incorporating playful activities or games that naturally generate laughter, such as jumping in piles of leaves or playing with snowballs.
These spontaneous interactions will fill your frames with genuine smiles and contagious joy.
5. Use natural lighting for a warm and inviting atmosphere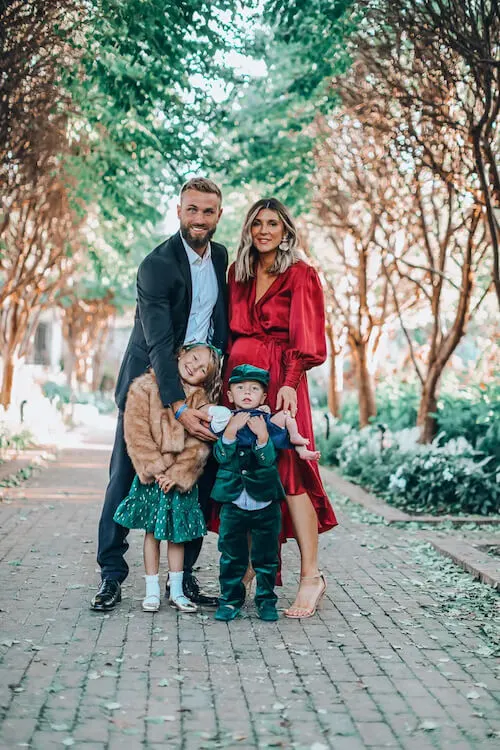 IG@cellajaneblog
Using natural lighting for a Christmas photoshoot can create a warm and inviting atmosphere that perfectly captures the holiday spirit.
Natural light has a magical quality to it that cannot be replicated by artificial sources.
It softens the scene, enhances colors, and adds a natural glow to the subjects, making them look more radiant and vibrant in the photographs.
When planning a family Christmas photoshoot, consider using natural light during golden hour – the hour before sunset or after sunrise – for stunning results.
The gentle, warm hues of this time of day will bathe your loved ones in beautiful light, creating an enchanting backdrop for your festive moments.
Whether you are taking pictures indoors by positioning your subjects near large windows or shooting outdoors in a scenic location, harnessing natural light will give your images an ethereal and timeless feel.
Creative Christmas Family Photos
1. Capturing the joyous moments in front of the Christmas tree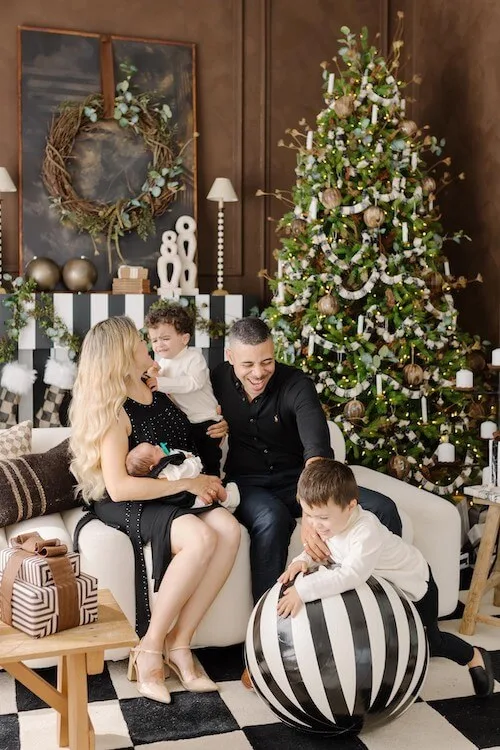 @mintroomstudios
IG@juliaberolzheimer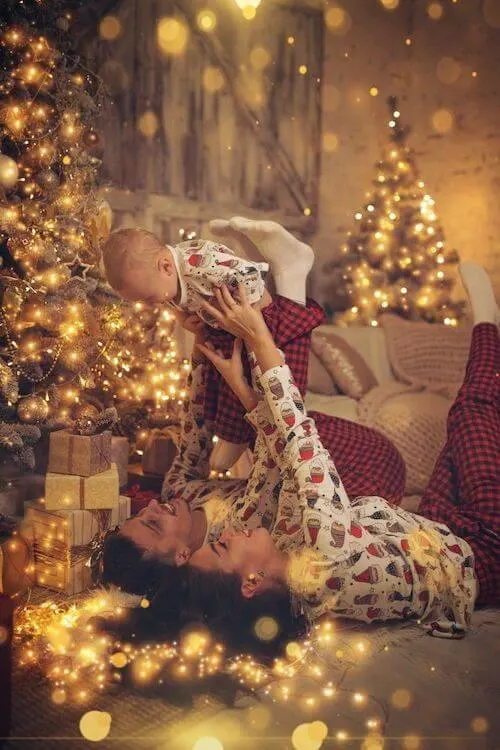 via Pinterest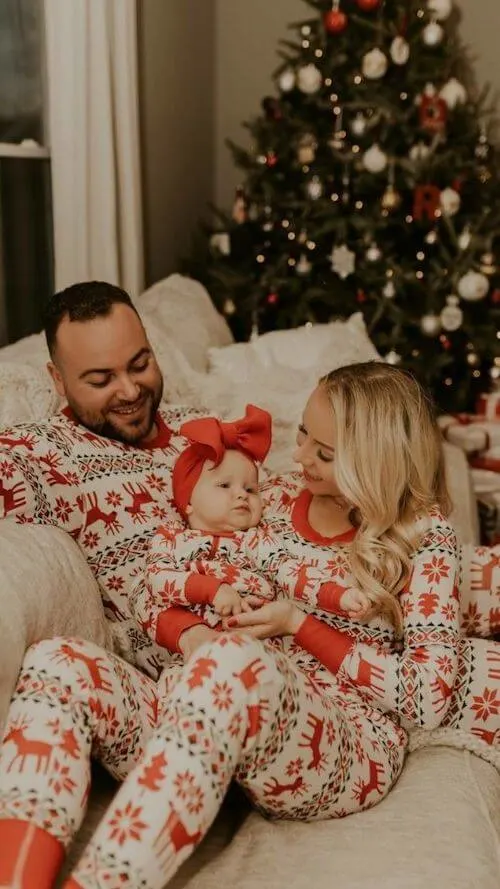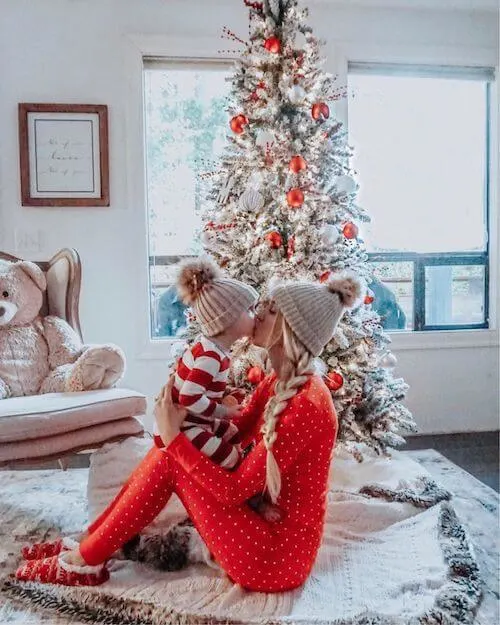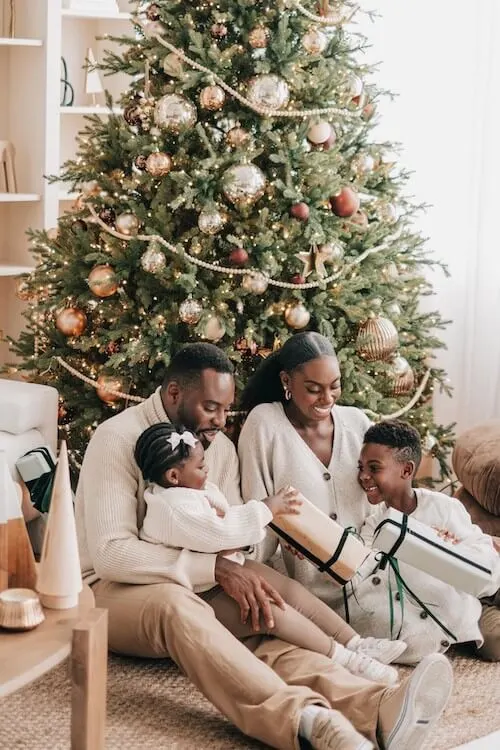 @mintroomstudios
As the twinkling lights illuminate the room and the scent of pine fills the air, there is a certain magic that comes alive in front of the Christmas tree.
It's a time when families gather, filled with excitement and joy, creating memories that will be cherished for years to come.
Capturing these moments through a photoshoot not only freezes time but also allows us to relive those precious emotions every year when we unpack our holiday decorations.
One key aspect to consider when planning your Christmas photoshoot is the lighting.
Natural light streaming in from nearby windows can create a soft, ethereal glow around your family as you pose in front of the tree.
Alternatively, you can experiment with different colored lights on or around the tree to add an extra touch of whimsy and playfulness to your photos.
Another creative way to capture joyous moments is by incorporating unique family traditions into your photoshoot.
Whether it's decorating gingerbread cookies together or wearing matching Christmas pajamas, these personalized touches bring out genuine smiles and laughter that reflect the true spirit of the holiday season.
2. Posing with festive props like Santa hats and reindeer ears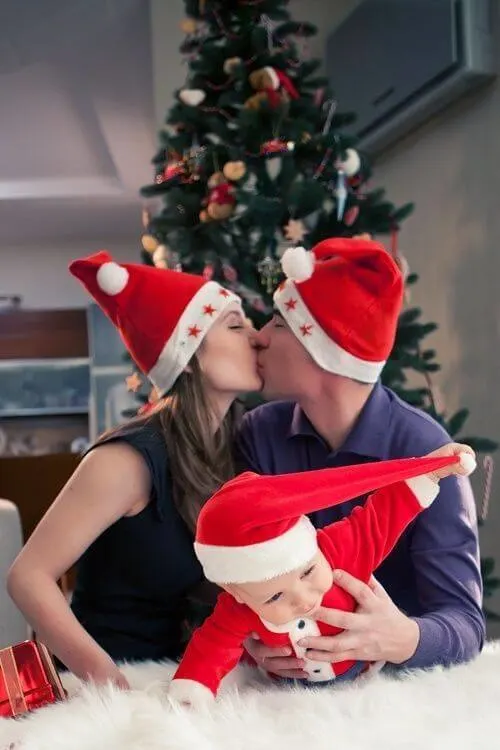 via Pinterest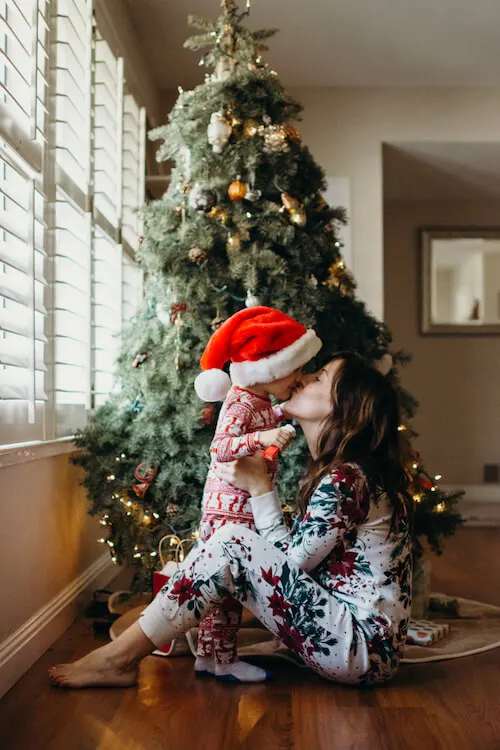 IG@ashleegadd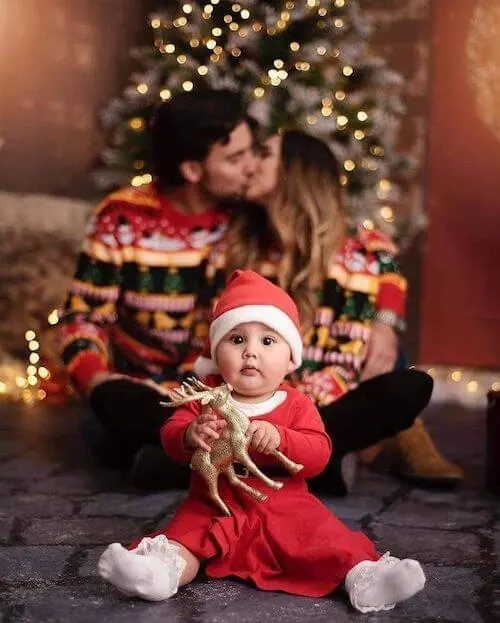 via Pinterest
Capturing the spirit of Christmas in photos is all about adding that extra touch of festive flair, and what better way to do it than by incorporating fun props like Santa hats and reindeer ears?
These classic accessories instantly bring a sense of joy and playfulness to any family photoshoot, creating a lighthearted atmosphere that everyone can enjoy.
Not only do these props add an element of whimsy to the pictures, but they also serve as a reminder of the holiday season's magical charm.
When it comes to posing with festive props, there are endless possibilities for creating unique and memorable shots.
For instance, try having each family member wear their own prop or mix it up by having everyone pose together with a variety of different props.
You could even create a silly scene where each person wears multiple props at once!
The key is to let your creativity soar and encourage everyone involved to have fun with the process.
4. Having a cozy indoor photoshoot by the fireplace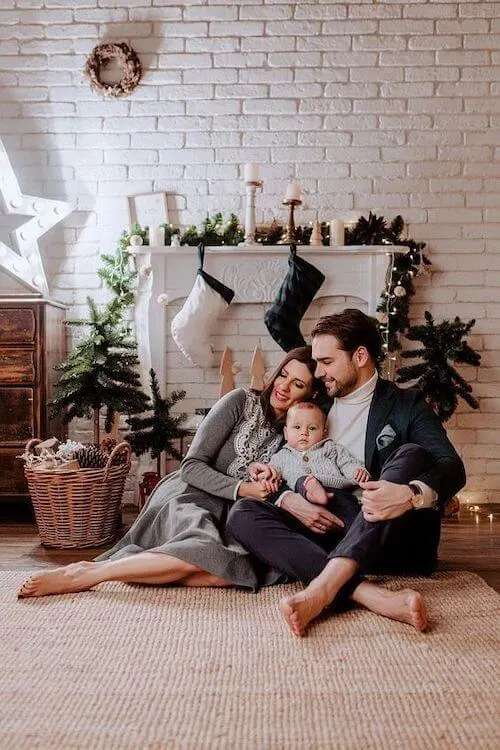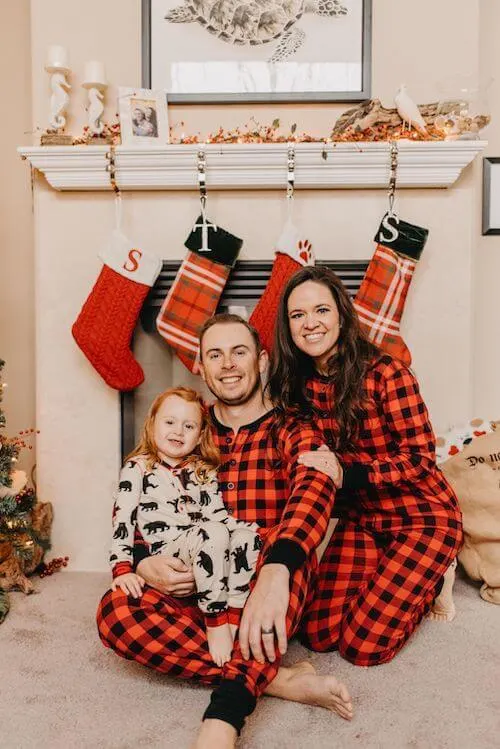 Pinterest@raquelkingphotography
There's something undeniably magical about capturing the essence of the holiday season in a cozy indoor photoshoot by the crackling fireplace.
As you gather your loved ones around the warmth and glow, you can capture genuine moments of joy and togetherness that will bring smiles to everyone's faces for years to come.
The soft flickering light from the fire creates a natural ambiance that adds a touch of intimacy and charm to your photographs.
You can experiment with different angles and poses as you huddle close together, exchanging laughter and stories.
The dancing flames provide a dynamic backdrop for your family portraits, making them feel even more alive and vibrant.
Don't be afraid to incorporate some classic Christmas props into your photoshoot.
Think fluffy blankets, oversized mugs filled with hot cocoa, or even personalized stockings hanging from the mantle above.
These small touches not only add visual interest but also help create a cohesive theme that celebrates all things festive.
5. Creating a Christmas-themed scene in your backyard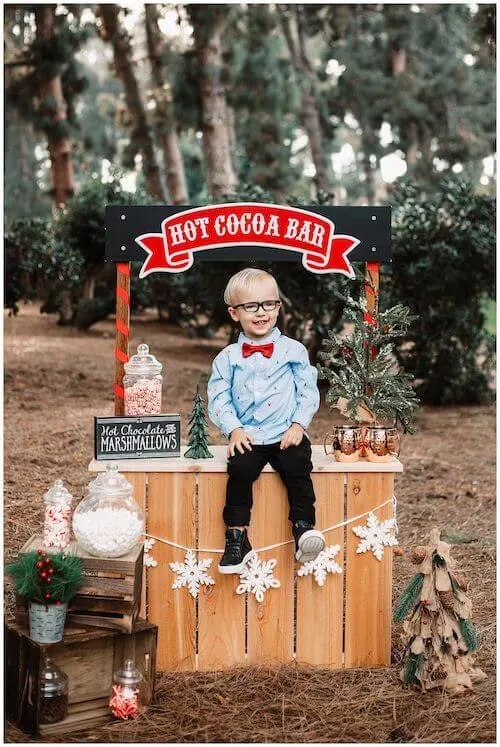 IG@chasingdaylightphoto
Creating a Christmas-themed scene in your backyard is a delightful way to bring the holiday spirit to your home.
Whether you have a small patio or a spacious garden, transforming it into a winter wonderland can be achieved with just a few simple touches.
Start by adorning your trees and shrubs with twinkling lights and hanging oversized ornaments for added drama.
Consider placing an artificial snow blanket on the ground and sprinkling fake snow to create a magical effect.
To top it off, set up an outdoor Christmas tree, complete with traditional decorations and colorful lights.
Don't forget about the little details that can make all the difference in creating an enchanting Christmas scene.
Hang festive garlands along fences or walls, intertwining them with fairy lights for extra sparkle.
Consider adding comfortable seating options like cozy blankets or outdoor cushions adorned with holiday-themed throw pillows – perfect for cuddling up while sipping hot cocoa next to the fire pit or chiminea as you enjoy watching the stars on crisp winter nights.
How to take Christmas family photos with dogs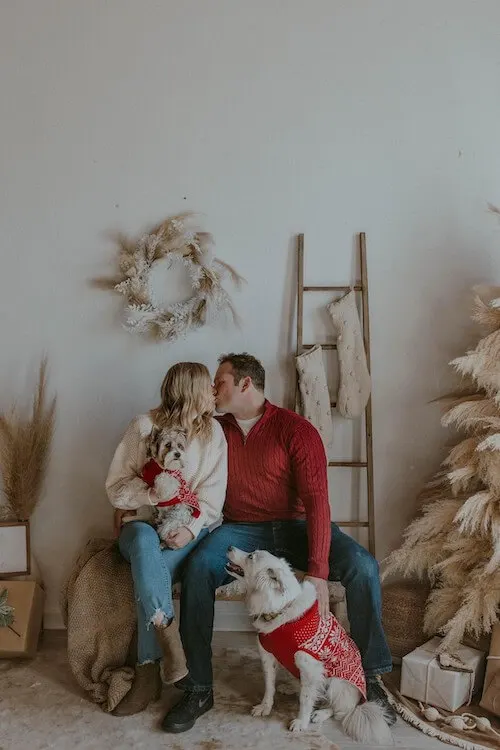 @codibaerphotography
IG@rachelparcell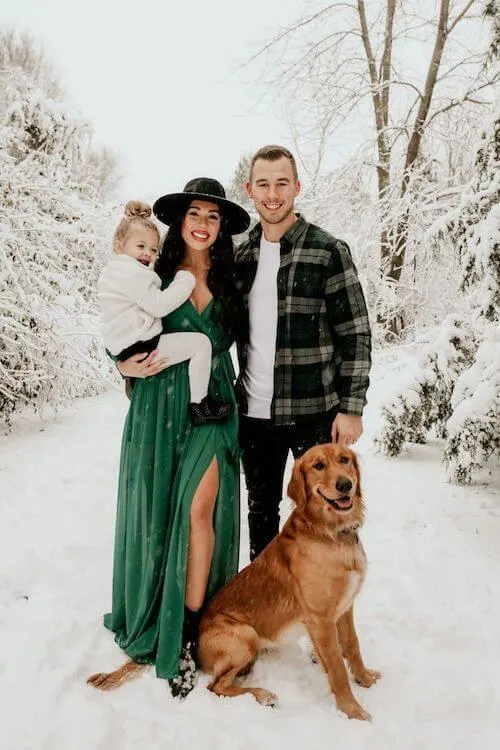 IG@nickyschmaderer_fit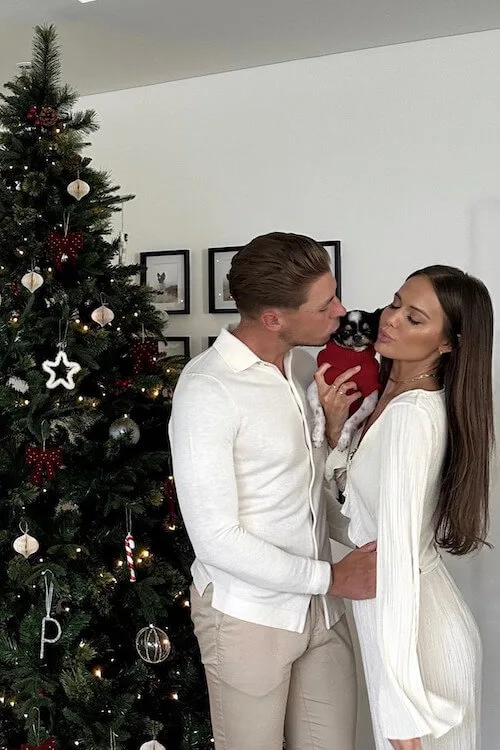 @zozoewitherspoon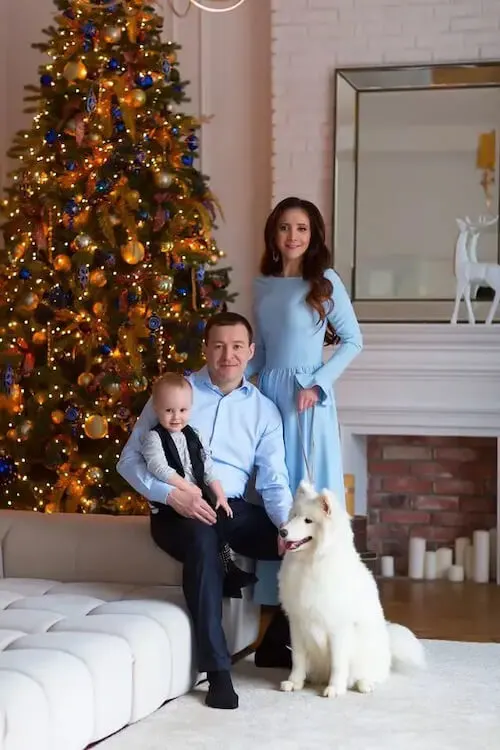 via Pinterest
When it comes to taking Christmas family photos with dogs, the key is to plan ahead and be patient.
Dogs can be unpredictable, so it's important to gradually introduce them to the idea of posing for photos before the big day.
Start by taking some practice shots in a familiar setting and reward good behavior with treats or praise.
Consider using props that your dog is comfortable with, such as their favorite toys or a cozy blanket, to help them feel more at ease during the photoshoot.
It's also essential to choose a location that suits both your family's style and your dog's temperament.
If you have an active and adventurous pup, opt for an outdoor setting like a scenic park or woodland area where they can run around and explore while being photographed.
On the other hand, if your fur baby prefers a calmer environment, setting up a cozy indoor backdrop decorated with festive lights and ornaments can make for some magical holiday memories.
How To Take Family Christmas Photos At Home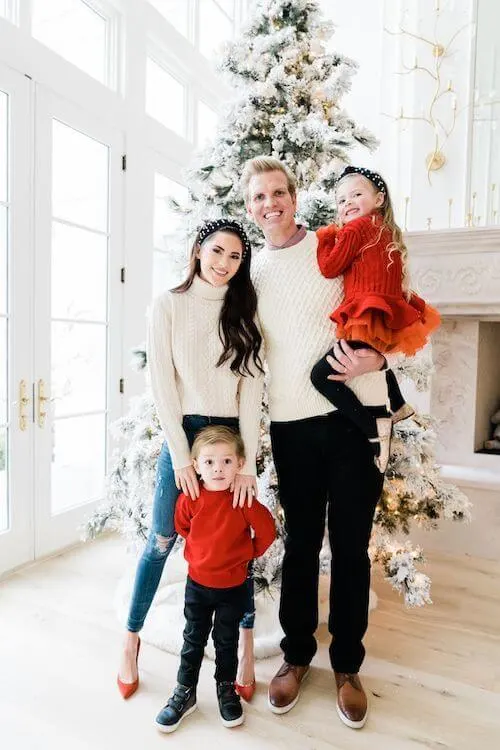 IG@rachelparcell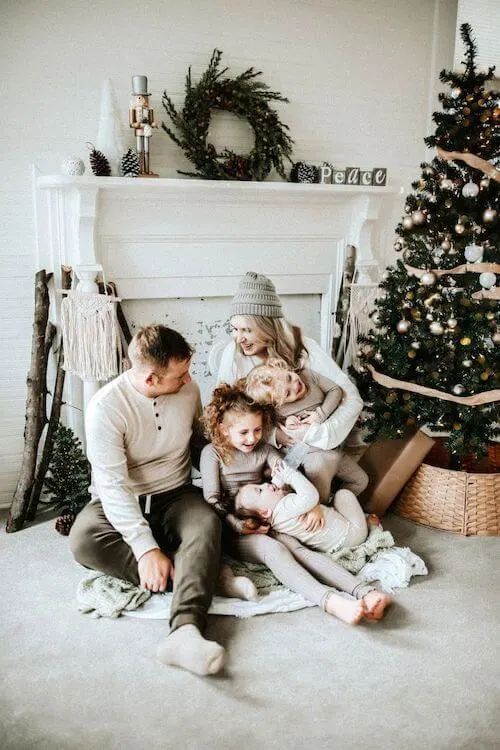 IG@briannamerrittphotography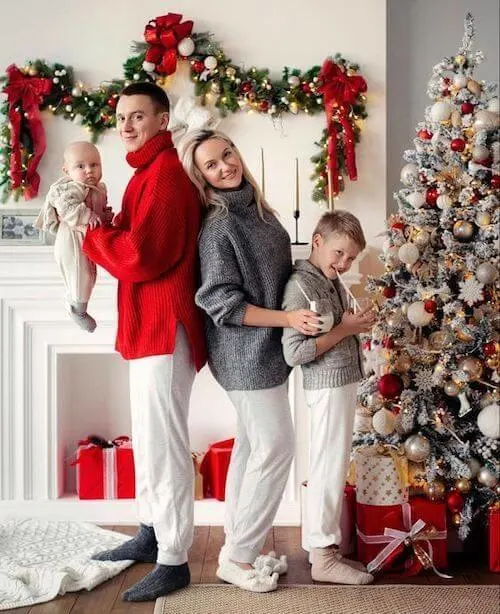 via Pinterest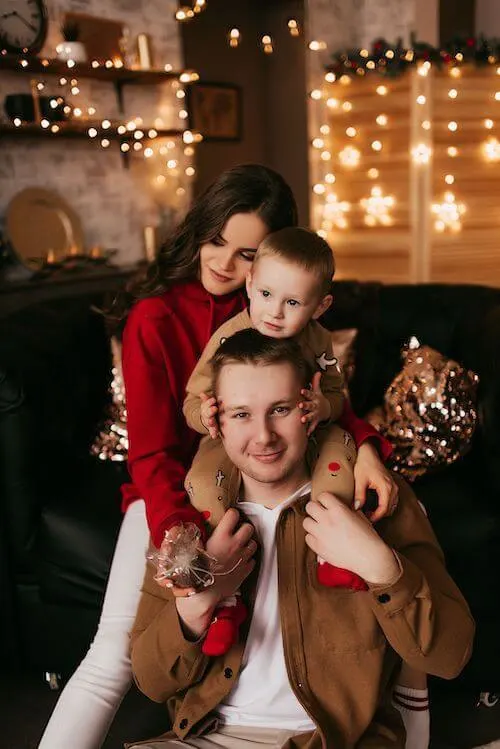 via Pinterest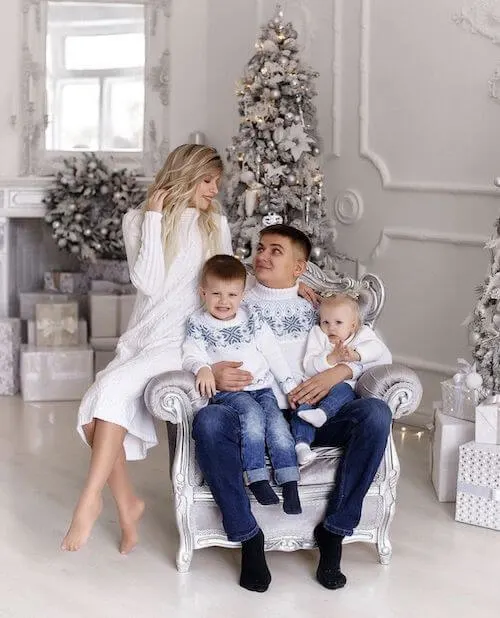 Capturing the essence of your family's joy and togetherness during the holiday season can be easily accomplished right in the comfort of your own home.
With a little planning and creativity, you can create beautiful and memorable Christmas photos that truly reflect your family's unique personality.
Consider using various props, such as wrapping paper, stockings, or holiday ornaments to add a festive touch to your photos. These simple additions can instantly transform any room into a winter wonderland backdrop.
In addition to props, don't underestimate the power of natural light.
Positioning your family near a window where soft light pours in can create flattering shadows and highlights on everyone's faces.
Another tip is to avoid using flash if possible, as it tends to wash out colors and make people look more artificial.
Opt for using ambient lighting or experiment with different types of indoor lighting to achieve that warm and cozy atmosphere.
Finally, it's essential to encourage genuine interactions between family members during the photo session.
Instead of forcing everyone to smile stiffly at the camera, try capturing candid moments of laughter or spontaneous gestures that show the love and happiness shared among all family members.
These authentic moments will ultimately make for more heartfelt Christmas photos that tell a story beyond just posing for formal portraits.
Holiday Family Outdoor Christmas Photoshoot Ideas
1. Visiting a Christmas tree farm and capturing moments while selecting the perfect tree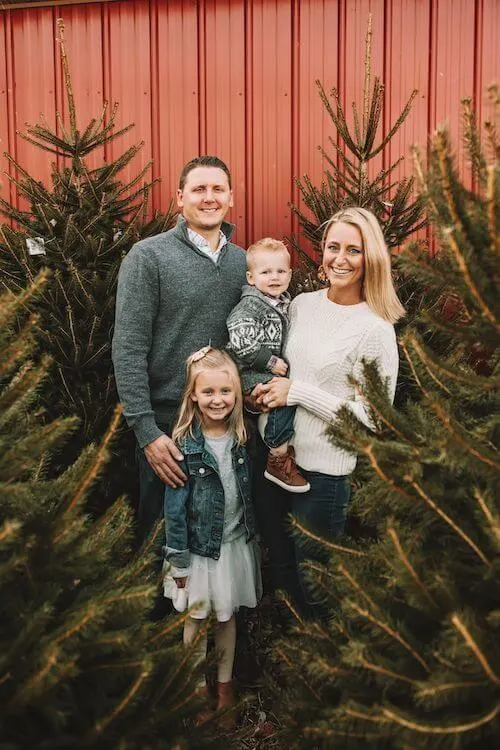 IG@kristinbrownphotography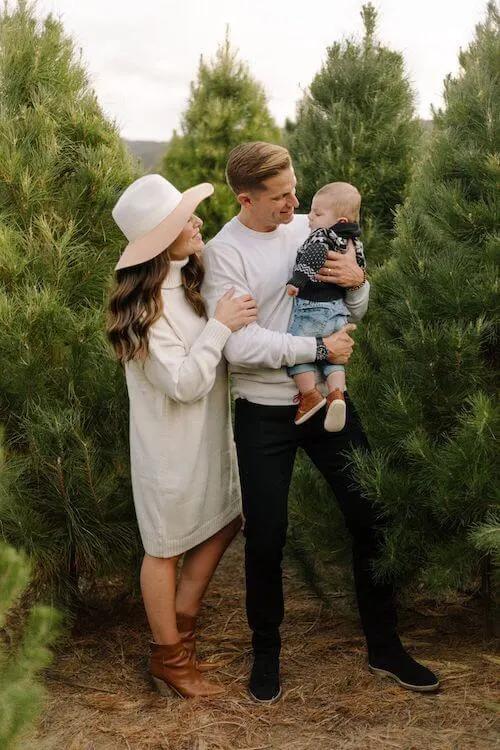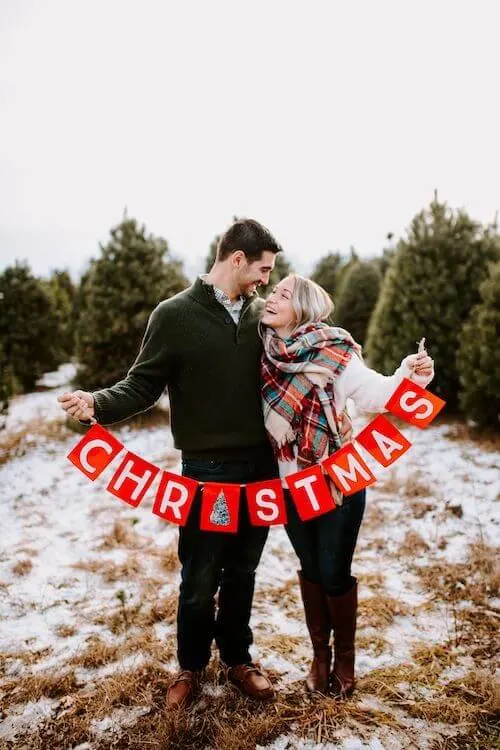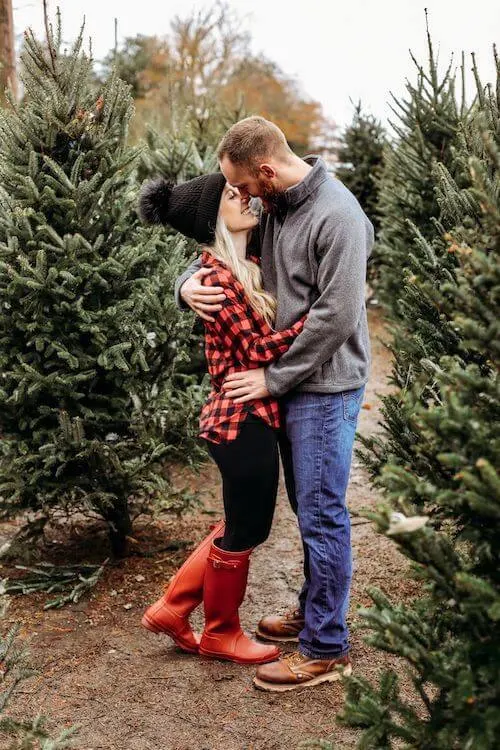 IG@stylebysay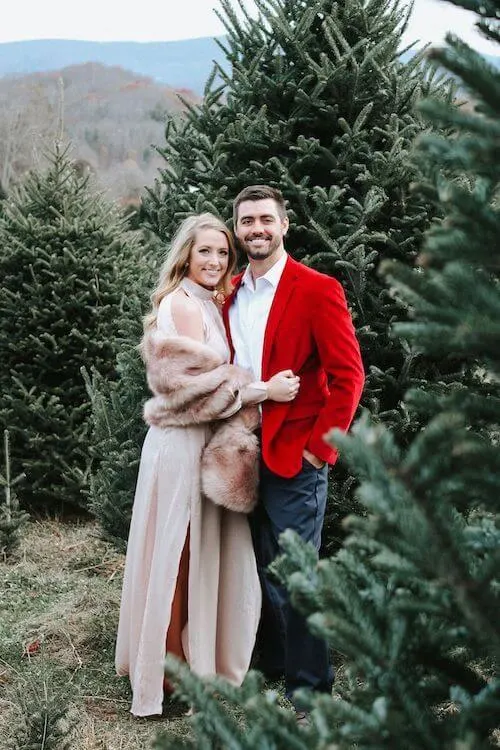 Nestled in the heart of a winter wonderland, a Christmas tree farm offers an enchanting escape from the hustle and bustle of city life.
As you step onto the crisp, snowy grounds, the scent of pine fills the air, carrying with it a sense of nostalgia and anticipation.
Rows upon rows of majestic trees stand tall, adorned with twinkling lights and ornaments just waiting to be discovered.
With each tree exuding its unique charm, capturing these moments while selecting the perfect one for your family becomes an unforgettable experience.
2. Having a photoshoot in a snowy park or forest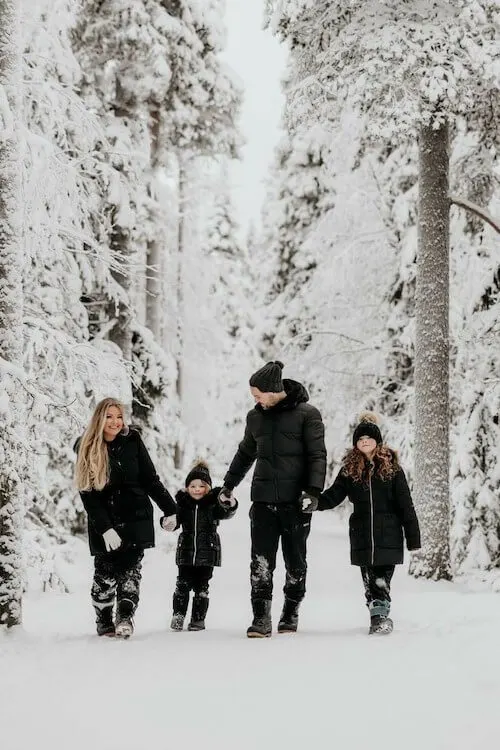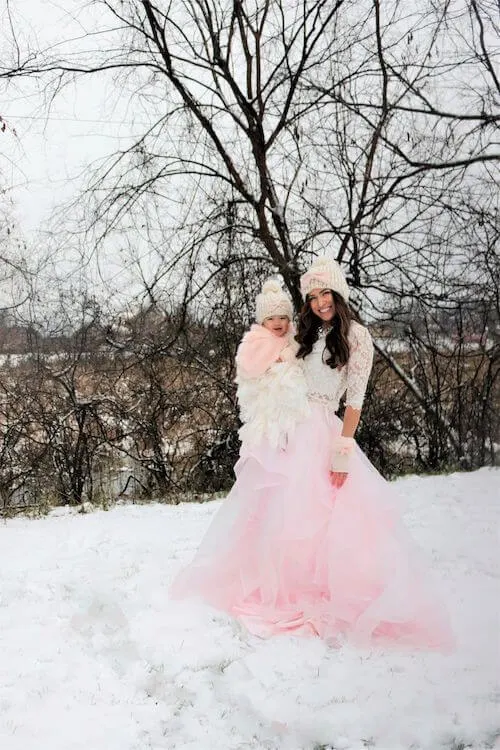 IG@tanyarng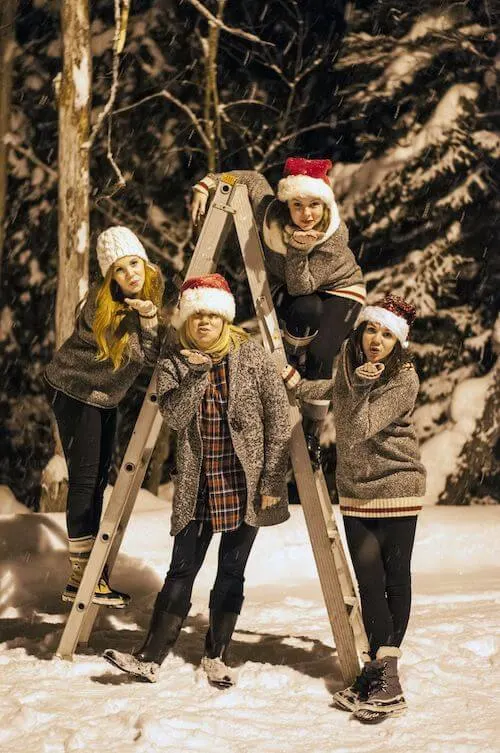 via Pinterest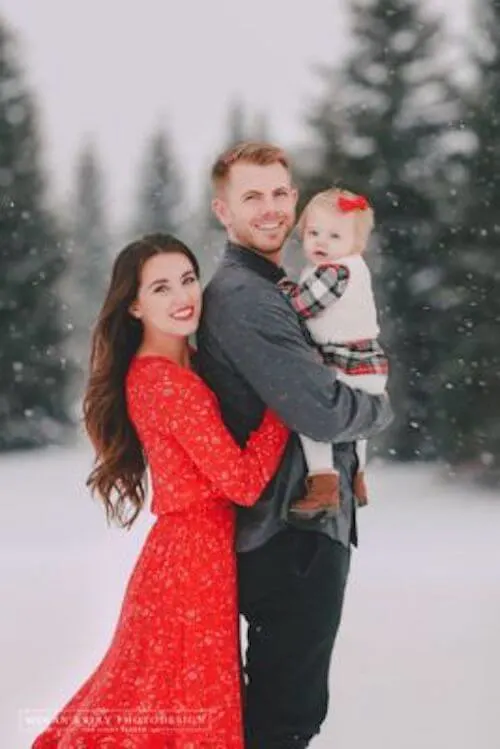 BY www.thelightseeker.photography
One of the most magical settings for a Christmas photoshoot is a snowy park or forest.
The pristine white landscape provides a stunning backdrop that can instantly transport your family into a winter wonderland.
Whether you're looking to capture playful moments or create a picturesque scene, the snow-covered surroundings offer endless possibilities for unique and enchanting photographs.
3. Decorating a festive outdoor scene with Christmas lights and ornaments
With Christmas just around the corner, it's time to take your festive spirit outdoors and create a breathtaking scene with Christmas lights and ornaments.
Decorating your outdoor spaces can add a magical touch to your holiday celebrations and create a warm and inviting atmosphere for all who pass by.
There are countless ways to get creative with your outdoor decorations, from traditional string lights to unique DIY ornament displays.
One idea that never fails to impress is creating an enchanting pathway of lights leading up to your front door.
To achieve this look, start by lining the pathway with solar-powered stake lights or lanterns in various shapes and sizes.
Then, string fairy lights along each side of the path, weaving them through nearby trees or bushes for an ethereal effect.
Finish off the scene with oversized ornaments nestled among hedges or lining the steps for added visual interest.
Another way to amp up the festive vibe is by adorning your porch or patio with charming Christmas light fixtures.
Consider hanging oversized glass globes filled with battery-operated string lights from the ceiling or beams above.
This will create a whimsical glow that instantly makes any outdoor space feel cozy and inviting.
Complete the look by adding wreaths adorned with twinkle lights on windows and doors, giving an extra pop of holiday cheer.
4. Posing in front of beautifully decorated houses in your neighborhood
via Pinterest
The holiday season is the perfect time to explore your neighborhood and discover the magic that lies within its beautifully decorated houses.
Posing in front of these enchanting backdrops not only adds a festive touch to your photoshoot but also captures the essence of the holiday spirit.
From shimmering lights and whimsical wreaths to towering Christmas trees and colorful ornaments, each house tells its own unique story, creating a picture-perfect setting for your family portraits.
5. Building a snow fort or having a snowball fight for some playful photos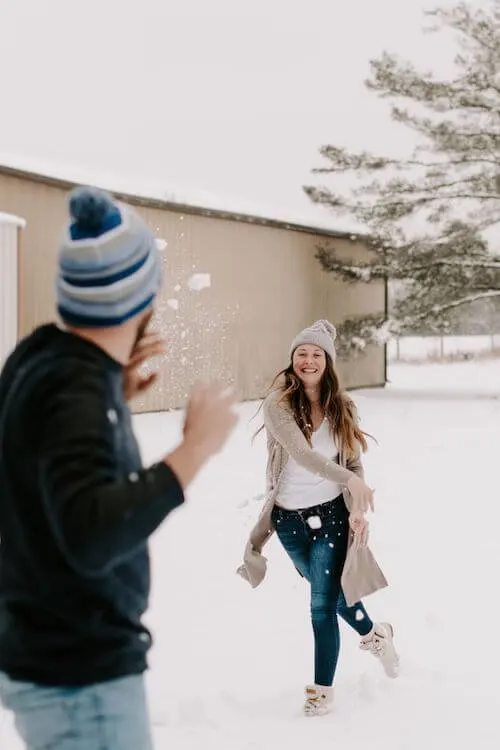 IG@jennybphotog
One of the best ways to capture the spirit of winter and have some fun while doing it is by building a snow fort or having a snowball fight.
Not only can these activities create playful and lively photos, but they also provide an opportunity for families to bond and embrace the snowy wonderland that surrounds them.
Another exciting option is staging a snowball fight for your Christmas photoshoot.
Bundle up in warm coats, hats, scarves, and gloves before gathering outside for an epic battle in the winter wonderland.
The expressions on everyone's faces as they duck, dodge, and throw those fluffy white balls will make for hilarious and memorable moments frozen in time through photography.
Whether it's capturing candid shots of mid-air throws or catching those cheeky grins after getting hit by an unexpected surprise attack – these action-packed photos are bound to be treasured for years to come.
Fun Christmas Photo Ideas For Family
IG@kweilz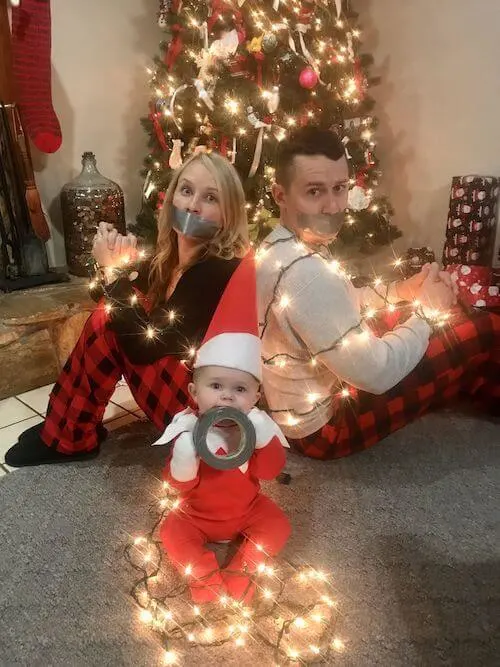 via Pinterest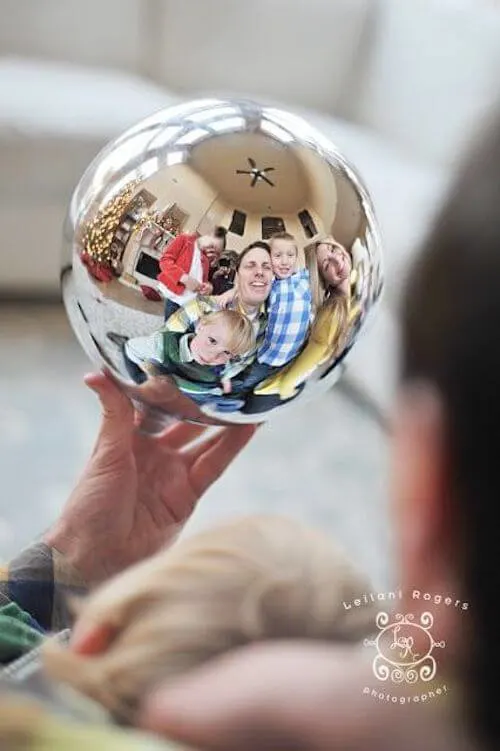 via Pinterest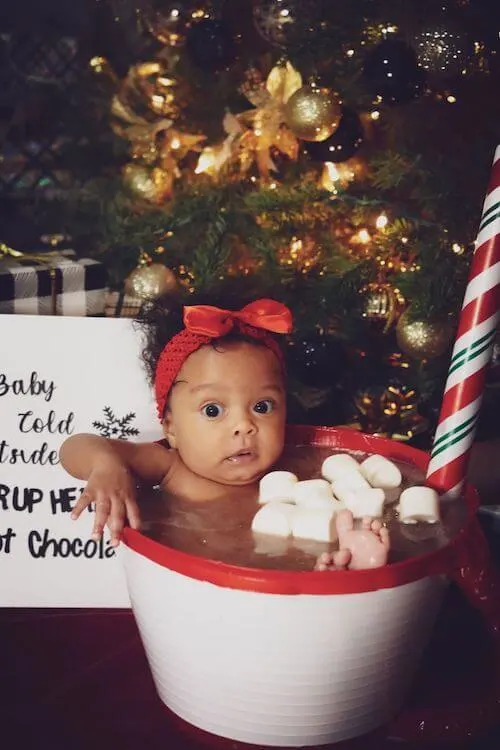 Pinterest@somalyagarrett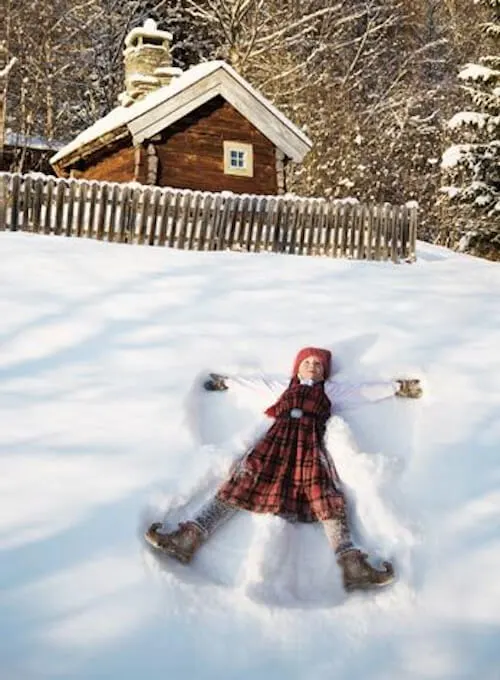 via Pinterest
Capturing the joy and togetherness of the holiday season is a must when it comes to family Christmas photoshoots.
While traditional poses and settings are always a safe bet, why not add some fun and creative elements to make your pictures truly stand out?
One idea is to have a snowball fight scene, where family members playfully throw cotton balls or fake snow at each other.
This action-packed moment will capture genuine laughter and create memories that will last a lifetime.
Another unique photo idea is to incorporate a colorful hot chocolate stand.
This can be set up outdoors with mugs filled with whipped cream and sprinkles for added visual appeal.
Have each family member hold their own mug and capture their expressions as they take that first delicious sip.
How to choose the best outfits for a family Christmas photoshoot?
IG@hunterpremo
When it comes to choosing the best outfits for a family Christmas photoshoot, there are a few key factors to consider.
First and foremost, consider the location and overall theme of your photoshoot.
If you're planning a whimsical outdoor shoot in the snow, choose outfits that incorporate cozy sweaters, scarves, and hats in festive colors like red, green, and white.
For a more formal indoor shoot, opt for elegant outfits in rich colors like burgundy or navy.
It's also important to coordinate but not match everyone's outfits.
While it may be tempting to dress the whole family in matching holiday-themed sweaters or pajamas, this can sometimes look forced or cheesy.
Instead, try coordinating everyone's looks by selecting a color scheme or pattern that complements each other.
For example, if one person is wearing bright red plaid, another family member can wear a solid red sweater while another wears a neutral color with small accents of red.
Lastly, don't forget about accessories!
Accessories can really elevate an outfit and add some personality to your family photos.
Consider adding statement earrings or necklaces for the adults and cute hair accessories or bowties for the kids.
The Best Christmas Family Photo Outfits
Maxi Dress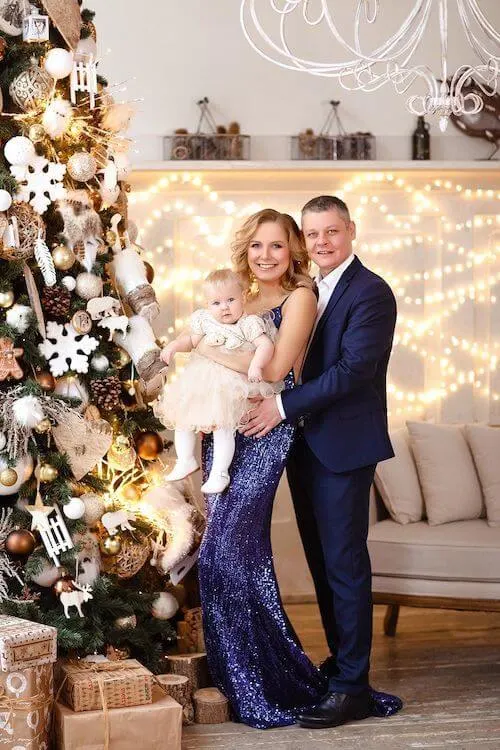 via Pinterest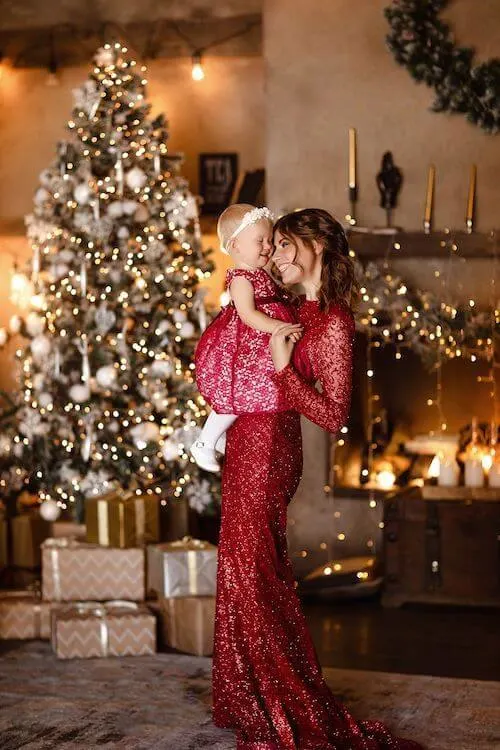 via Pinterest
Perfect for a Christmas photoshoot with the family, the maxi dress offers a versatile styling option that can suit any theme or setting.
Whether you opt for a floral print for a whimsical outdoor shoot or choose a solid color for a more formal indoor session, the maxi dress will instantly elevate your look and make you feel like a queen.
Sequin Pants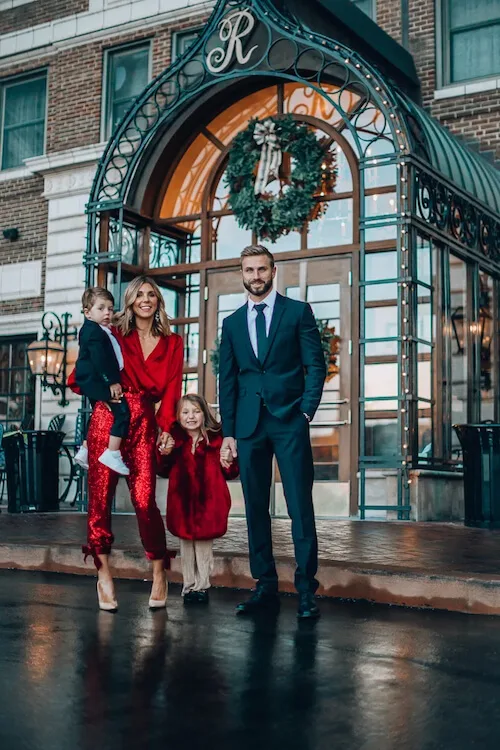 IG@cellajaneblog
Sequin pants, with their glittering allure and glamorous sheen, make for the perfect addition to a festive Christmas photoshoot.
Not only do they add a touch of sophistication and luxury to any family portrait, but they also bring an element of fun and playfulness to the scene.
The reflective nature of sequins creates interesting patterns of light that can enhance the overall composition of the photograph.
Tulle Skirts or Tulle Dresses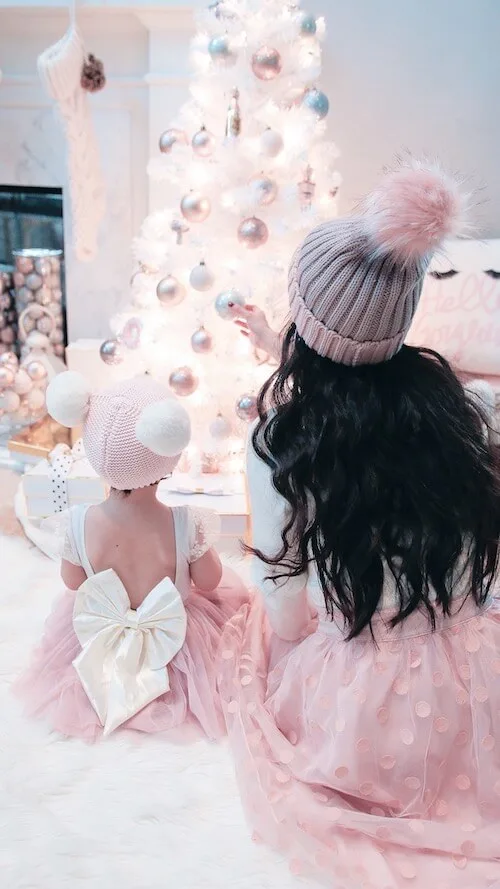 IG@anniemaithai
Tulle skirts and tulle dresses are the epitome of elegance and sophistication, making them a perfect choice for a Christmas photoshoot.
The soft, flowing layers of tulle create a dreamy and ethereal look, adding an enchanting touch to any family photo.
Whether you opt for a classic white tulle skirt or go bold with vibrant colors like red or green, these beautiful pieces instantly elevate the festive spirit of your photos.
Family Matching Outfits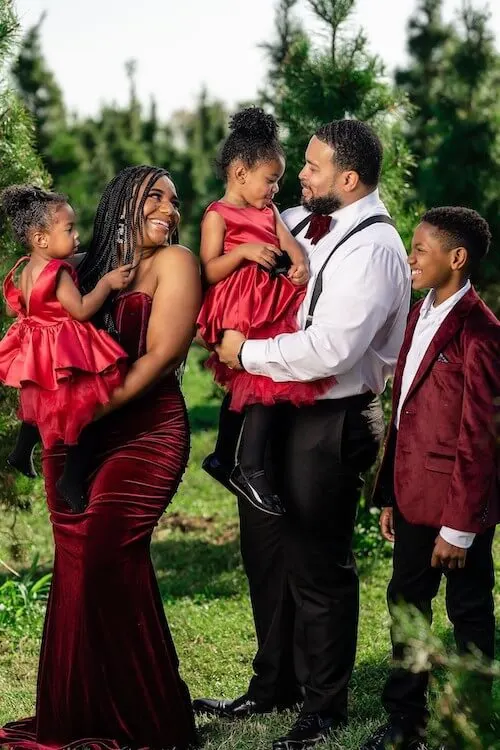 @oneflymama
via Pinterest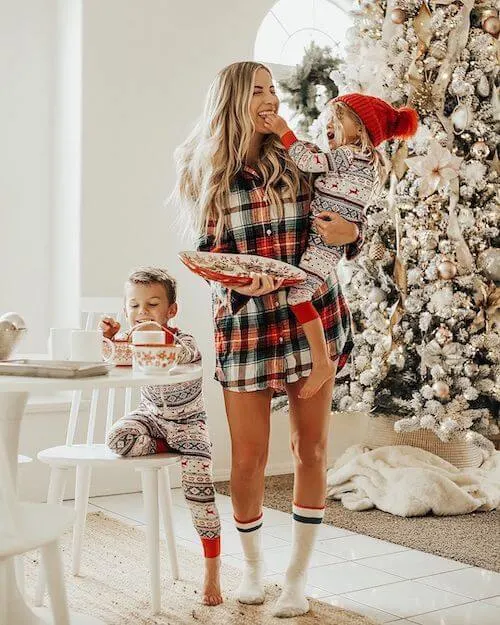 via Pinterest
One of the trendiest ideas for a Christmas photoshoot with your family is to embrace matching outfits.
Whether you go for classic matching pajamas or coordinated ensembles, this is a surefire way to create adorable and memorable photos.
Not only does it add a touch of unity and harmony to your pictures, but it also showcases the essence of family bonds and creates a sense of connection.
From cozy sweaters and flannel shirts to elegant dresses and formal suits, there are endless possibilities when it comes to creating a cohesive look for your family.
Neutral Colors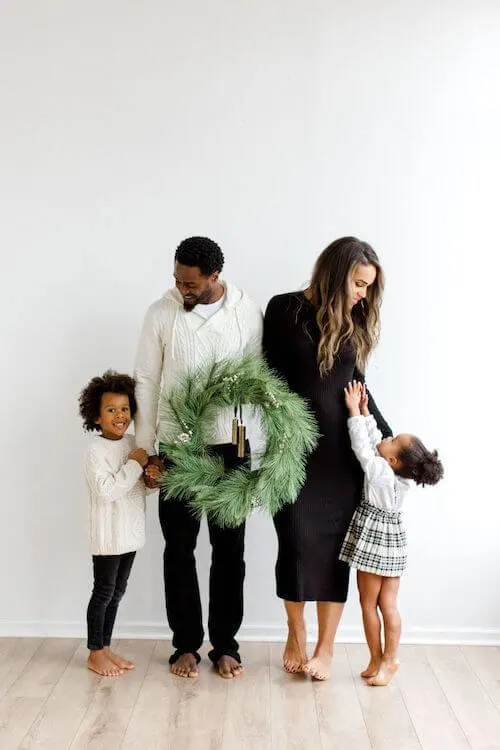 IG@jillatogwe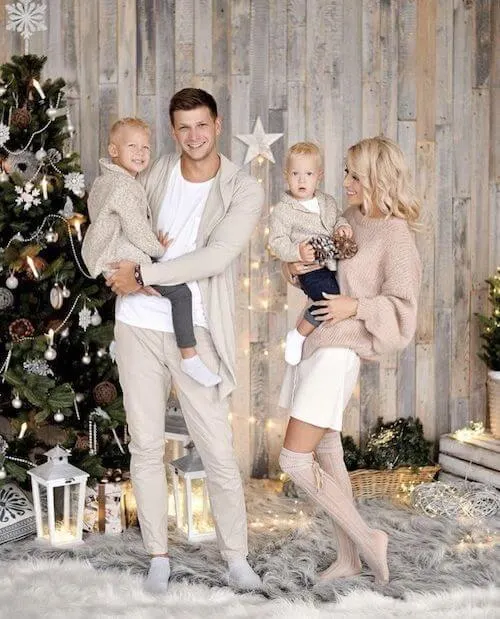 via Pinterest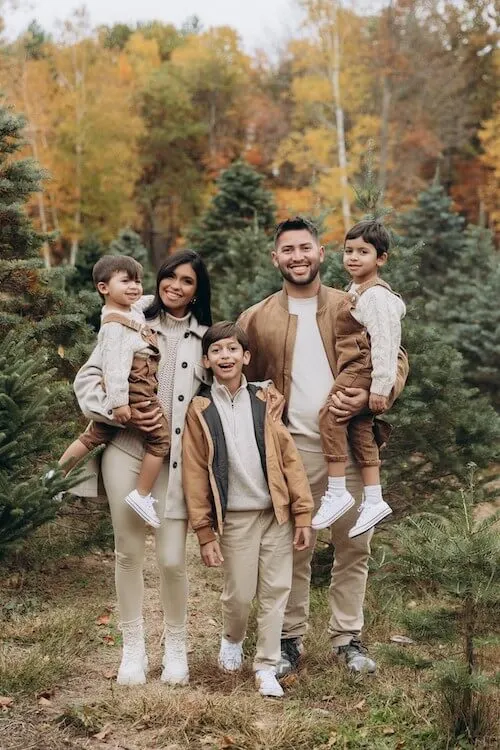 @adylainaciophoto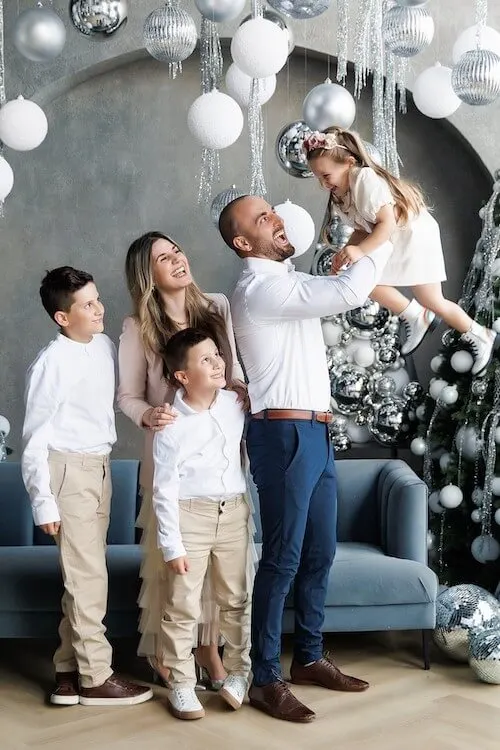 @anytgphotography
Neutral colors are not only versatile, but they also exude a sense of elegance and timelessness that is perfect for a Christmas photoshoot.
While bright and bold colors may steal the show, neutrals provide a subtle backdrop that can help to highlight the emotions and interactions of the family.
Whether it's soft beige tones or cool gray hues, neutral colors add an understated sophistication to your images.
Chic Skirt Outfit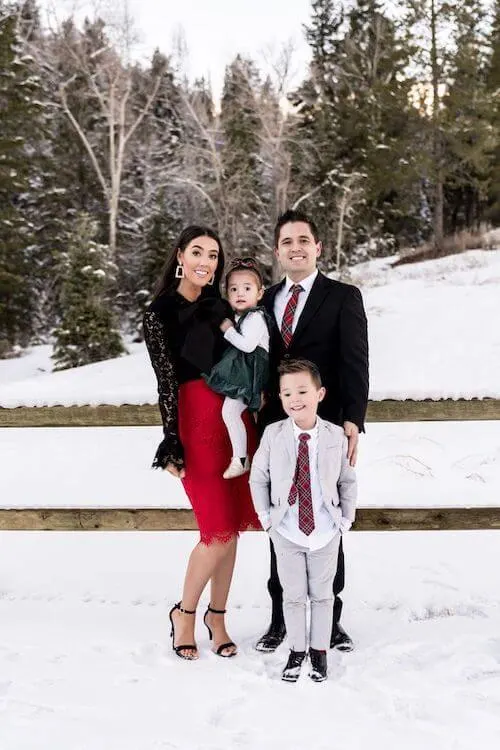 IG@brittanymaddux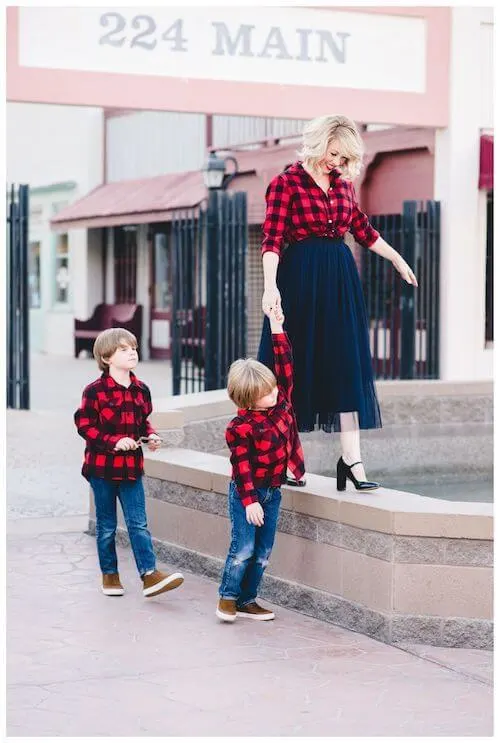 IG@andreahauckphotography
One of the most delightful wardrobe staples for women is a chic skirt outfit.
Whether it's a festive Christmas gathering or a cozy family photoshoot, a well-chosen skirt ensemble can elevate your style to new heights.
Opt for a shimmering sequined mini skirt paired with a sleek black turtleneck for an effortlessly glamorous look that screams holiday cheer.
Or go for an elegant high-waisted midi skirt, creating an instant classic and timeless ensemble.
For those looking to embrace their inner fashionista, consider opting for a bold and vibrant asymmetrical skirt in rich jewel tones like emerald green or royal blue.
Pair it with an embellished blouse or a structured blazer to create an edgy yet sophisticated outfit that will surely turn heads.
Ugly Sweaters
IG@styleherstrong
Ugly sweaters have become synonymous with the holiday season, bringing both laughter and warmth to family gatherings.
These peculiarly patterned knits have evolved from being embarrassing fashion choices to being highly sought-after items during Christmas.
What was once a symbol of unfashionable attire has now turned into a playful tradition that showcases individuality and embraces the spirit of festivities.
Black And White Christmas Photoshoot Family Outfits
via Pinterest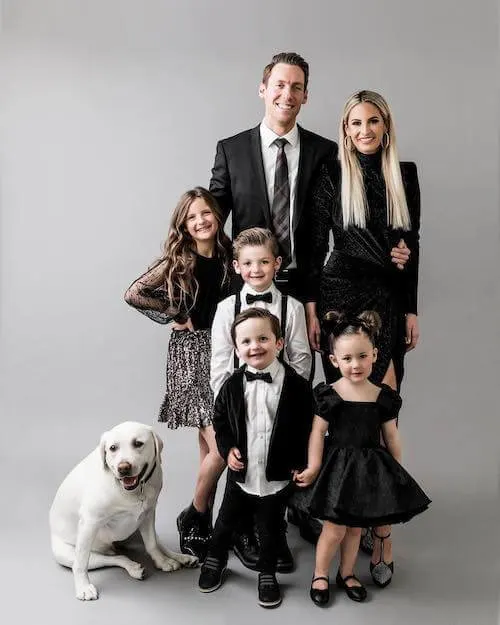 IG@emilyijackson
A black and white Christmas photoshoot is a classic choice that exudes timeless elegance and sophistication.
This color scheme creates a striking contrast against the backdrop of festive decorations and can make your family portraits truly stand out.
Opting for black outfits with touches of white or vice versa can create a visually interesting dynamic within the frame.
By eliminating color distractions, the focus shifts to the emotions captured in each photograph, allowing you to showcase genuine moments of joy and love.
When dressing your family in black and white for a Christmas photoshoot, consider incorporating different textures and patterns to add depth to the ensemble.
For example, mix cozy knits with sleek satin or velvet fabrics for an enticing visual contrast.
Playing with varying shades of black and white can also help create dimension within the image.
All White Outfits And A Pop Of Color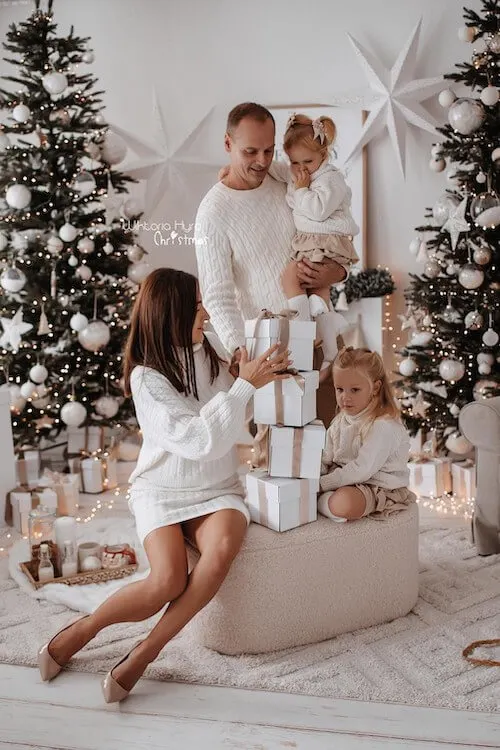 @wiktoria_hyra_fotografia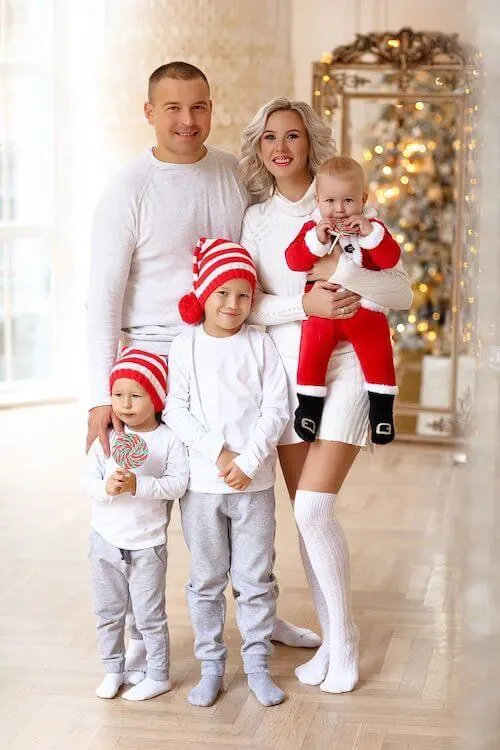 via Pinterest
All white outfits with a pop of color are a popular trend for Christmas photoshoots and can add a stunning visual effect to your family pictures.
By dressing everyone in white, you create an elegant and cohesive look that allows each individual's personality to shine.
To make your photos even more interesting, try adding a pop of color through accessories or props.
A brightly colored scarf, hat, or pair of shoes can make a bold statement against the all-white background.
Alternatively, you could incorporate colorful props like balloons or confetti to add vibrancy and excitement to the scene.
Where To Buy Cute Christmas Family Outfits
If you are shopping for cute Christmas outfits for your family photos, below are my favorite online fashion stores for affordable options:
What To Bring To Your Christmas Photoshoot
When planning a Christmas photoshoot, it's important to consider what props and clothing items will help create the perfect festive atmosphere.
Firstly, don't forget to bring holiday-themed props such as Santa hats, reindeer antlers, or sparkly ornaments.
These simple additions can instantly add a touch of holiday cheer to your photos.
Additionally, consider bringing some cozy blankets or scarves that match your family's outfits – not only will they keep you warm during outdoor shoots but they can also be used as creative props to add depth and texture to your photographs.
In addition to props, selecting the right clothing is crucial for a successful Christmas photoshoot.
Coordinate outfits with complementary colors or patterns that align with the holiday spirit – think reds, greens, and whites.
Traditional winter attire like chunky sweaters or plaid shirts can also add an extra touch of coziness.
Don't forget about footwear either; comfortable yet stylish boots or even festive socks can enhance the overall look of your family's outfits in the photos.
Remember, dressing for a Christmas-themed shoot doesn't mean sacrificing personal style – find ways to incorporate holiday elements into each person's individual wardrobe choices while still staying true to their unique personalities.
This post was all about Christmas photoshoot ideas for families.
About The Author
Tracy is an experienced personal stylist, shopping expert, and fashion & lifestyle blogger. She has been featured on Time Magazine, Bustle, Best Life, Glam, The Zoe Report, Mic, and GOBankingRates, for her insights on fashion, beauty, home decor, and lifestyle. Read More
Related Posts: