Get ready to host a fun Friendsgiving dinner with these best Friendsgiving ideas, from the perfect Friendsgiving menu to festive table decorations.
As Thanksgiving approaches, many of us are looking forward to gathering with family and friends to celebrate this special holiday.
However, there is another event that has gained popularity in recent years and has become a beloved tradition among friends – Friendsgiving!
This modern twist on the classic Thanksgiving feast allows us to embrace the spirit of gratitude while enjoying a fun-filled evening with our chosen family.
In this article, we will explore 40+ trendy Friendsgiving ideas that will make your gathering unforgettable, from unique menu options to creative decor and entertaining activities.
Whether you are hosting for the first time or want to add some fresh elements to your annual Friendsgiving tradition, these ideas are sure to inspire an unforgettable celebration.
This post is all about Friendsgiving ideas.
Friendsgiving Invitation Ideas
Creative digital invitations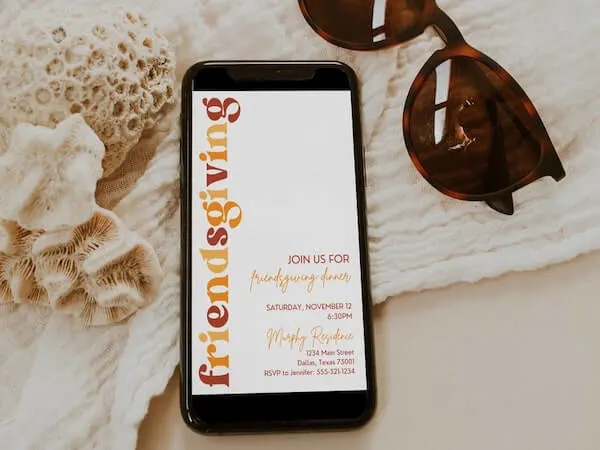 When it comes to hosting a Friendsgiving gathering, getting creative with digital invitations is a great way to set the tone for the event.
Forget about traditional paper invites and explore the endless possibilities that digital platforms have to offer.
From personalized video invitations to interactive e-cards, there are so many ways to make your invitation stand out in the digital realm.
One unique idea is creating a custom animated invitation that reflects the theme of your Friendsgiving celebration.
Whether you're going for a cozy autumn vibe or a modern twist on this holiday tradition, an animated invitation adds an element of fun and excitement for your guests.
You can easily find online tools or graphic designers who specialize in creating these captivating animations, allowing you to showcase your creativity and set high expectations for the event.
Friendsgiving paper invitations
Your Friendsgiving party is the perfect opportunity to let your creativity shine, starting with the invitations.
While digital invites are becoming increasingly popular, there's something magical about receiving a paper invitation in the mail.
When designing your Friendsgiving paper invitations, think beyond traditional autumn hues and consider incorporating trendy colors like blush pink or deep emerald green.
Add whimsical touches like watercolor illustrations of Thanksgiving staples such as pumpkins, cornucopias, and turkeys.
To make your invitations extra special, opt for embellishments like gold foil accents or embossed details that will catch your guests' attention and make them even more excited to attend.
Remember to include all essential details on your Friendsgiving party invitations—date, time, location—and don't forget to mention any specific themes or dress codes you have in mind.
Consider going the extra mile by including a handwritten note expressing how grateful you are to have each guest in your life.
This personal touch will show just how meaningful this celebration is to you and will surely make your friends feel honored to be invited.
Friendsgiving Potluck Tips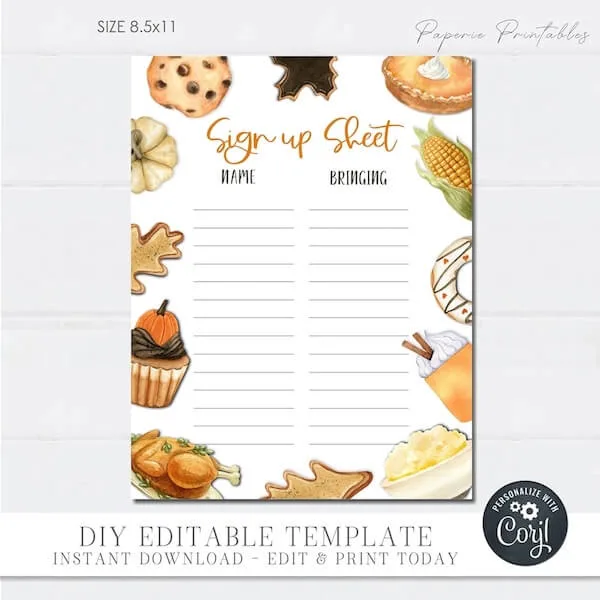 One of the most unique and interactive ways to plan a menu for a Friendsgiving celebration is by embracing the potluck style.
This approach not only allows everyone to contribute to the meal but also brings in an exciting element of surprise and variety.
It's an excellent opportunity for guests to showcase their culinary skills and share their favorite dishes with friends.
To make the potluck style menu planning a success, it's essential to assign different categories or courses to each guest.
For example, one person could be responsible for appetizers, another for main courses, and yet another for desserts.
By doing so, you ensure that there is a balance in terms of flavors and food groups on the table.
When planning a potluck-style menu, it's important to encourage communication among your friends beforehand.
Creating a shared document where people can list what they intend to bring can help coordinate dishes effectively.
Additionally, considering dietary restrictions or preferences when assigning dishes will ensure that everyone has something delicious to enjoy on Friendsgiving Day.
Friendsgiving Menu Ideas
Themed cookies or Cupcakes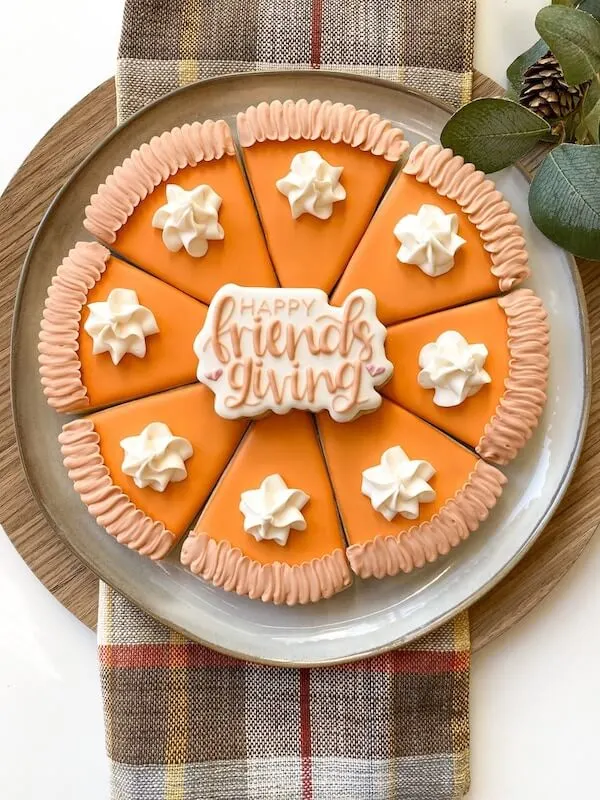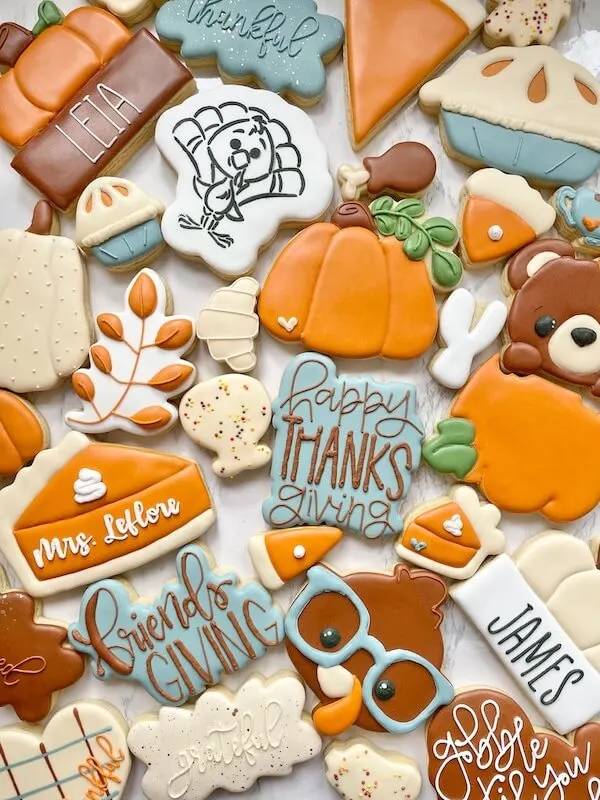 Themed cookies are a delightful addition to any Friendsgiving celebration.
Gone are the days of simple chocolate chip or sugar cookies – now, there's a whole world of cookie creativity waiting to be explored.
Think pumpkin-shaped cookies with creamy orange frosting, turkey-shaped cookies adorned with colorful icing feathers, or even maple leaf-shaped treats dusted with edible gold powder.
The possibilities are endless when it comes to themed cookies.
Not only do themed cookies look amazing on the dessert table, but they also add an extra touch of fun and whimsy to the gathering.
Guests will delight in discovering these little works of art and can even take them home as personalized party favors.
Plus, you don't have to be a professional baker to create masterpieces!
There are plenty of online tutorials and cookie decorating kits available that make it easy for anyone to try their hand at making themed cookies.
So let your imagination run wild and bring some edible excitement to your Friendsgiving festivities this year with these charming treats!
Friendsgiving pies
Traditional pumpkin pie, because Friendsgiving is the perfect excuse to get creative with your dessert offerings.
From classic flavors like apple and pecan to unique combinations like caramelized pear and bourbon chocolate pecan, there are endless possibilities when it comes to Friendsgiving pies.
This year, why not encourage your friends to bring their favorite pie recipes from different cultures?
Imagine indulging in a slice of creamy coconut pie or a tangy key lime creation alongside the more familiar flavors.
It's an opportunity not only to satisfy everyone's taste buds but also to learn about different culinary traditions.
While store-bought pies can be convenient, there's something extra special about homemade treats.
Encourage your friends to bake their own tasty creations by hosting a pre-Friendsgiving pie baking event.
Set up a few workstations with rolling pins, pastry cutters, and mixing bowls filled with an assortment of fillings and crusts.
Not only will this add a personal touch to your feast, but it will also create lasting memories as you all bond over the art of making pies together.
Friendsgiving buffet
Friendsgiving is all about coming together with friends and celebrating the spirit of gratitude in a relaxed and casual setting.
And what better way to do it than with a buffet-style feast?
The Friendsgiving buffet allows guests to mix and match their favorite dishes, creating a personalized plate that perfectly satisfies their taste buds.
One great advantage of the Friendsgiving buffet is that it offers something for everyone.
Whether your friends are traditionalists who can't go without turkey and stuffing or vegan enthusiasts who prefer plant-based alternatives, there's no need to worry about accommodating everyone's dietary preferences.
With a diverse spread of dishes like roasted vegetables, mashed potatoes, cranberry sauce, and even alternative protein options like tofu or seitan roast, everyone can find their happy place at the table.
The beauty of the Friendsgiving buffet is not only in its variety but also in its communal aspect.
As guests fill their plates with their chosen delicacies, they engage in conversation about what they're excited to try or admire others' selections.
It sparks dialogue about unique recipes, cultural traditions, and personal food choices—a joyful exchange that brings friends closer together during this season of gratitude.
Friendsgiving brunch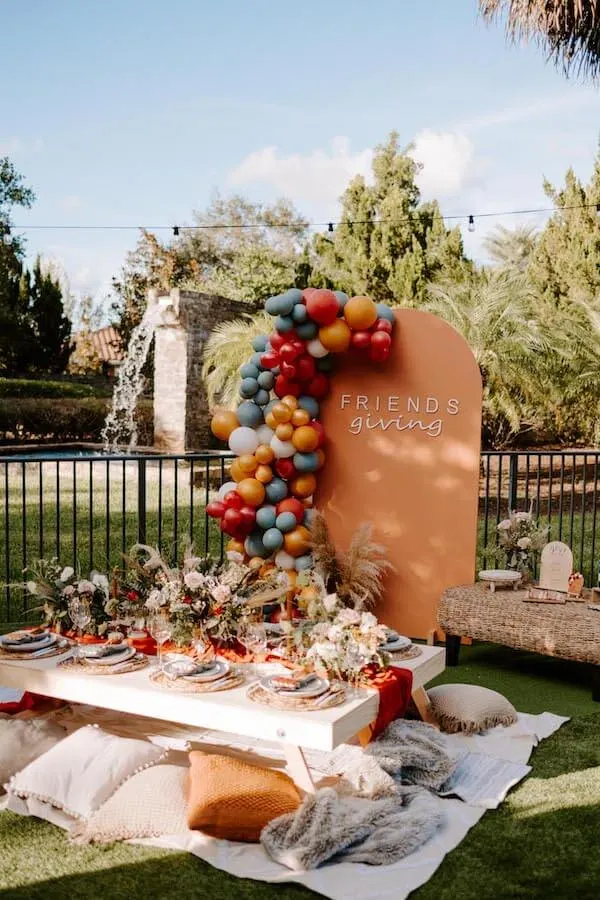 @karaspartyideas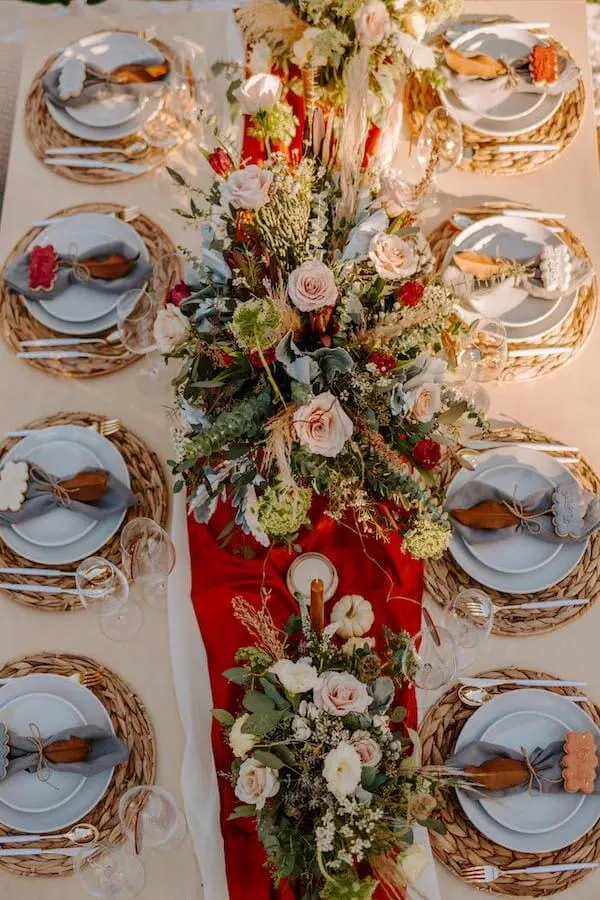 @karaspartyideas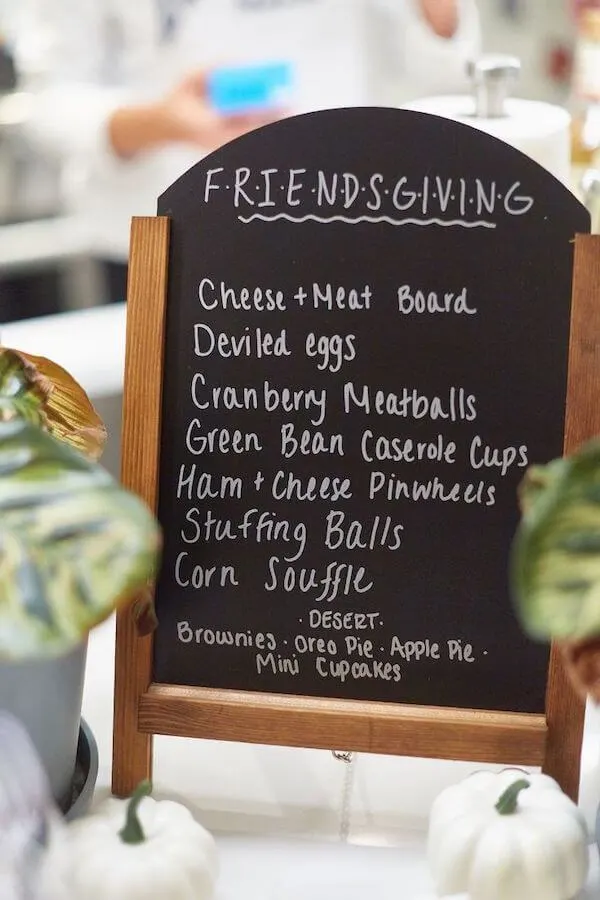 via Pinterest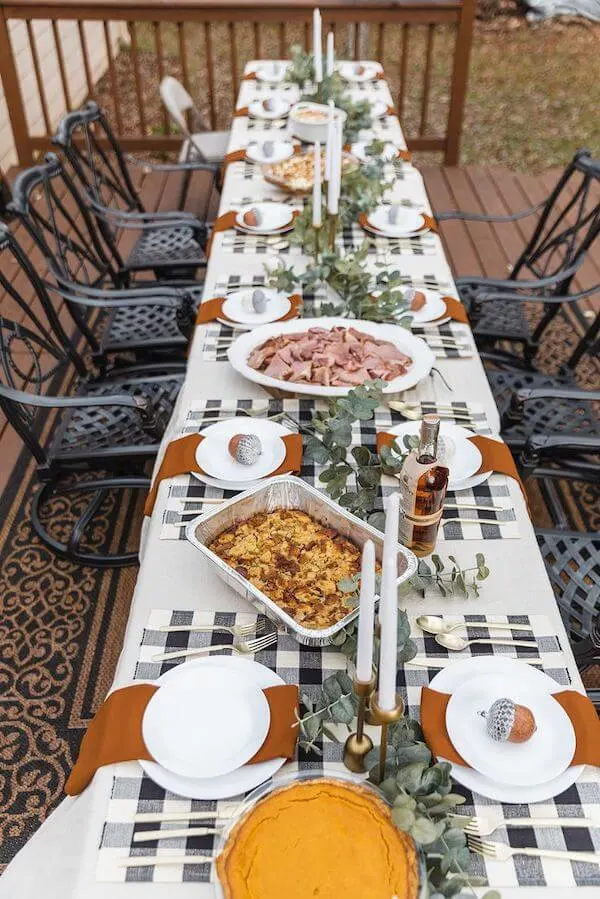 @darlinginthecity
Friendsgiving brunch is the perfect twist on the traditional Thanksgiving feast.
Instead of waiting until dinnertime to gather with friends, why not start the day off with a delicious and festive brunch?
Not only does this allow for more relaxed and casual vibes, but it also gives everyone a chance to showcase their culinary skills in unique breakfast dishes with a Thanksgiving twist.
Imagine gathering around a beautifully set table, adorned with fall-themed centerpieces and place settings.
The aroma of pumpkin spice pancakes fills the air as friends catch up over mimosas and cranberry-infused bellinis.
Instead of the usual turkey and stuffing, friends can indulge in savory eggs benedict topped with sage-infused hollandaise sauce or fluffy sweet potato waffles drizzled in maple syrup.
A Friendsgiving brunch also offers an opportunity to get creative with décor.
Incorporate rustic elements like burlap runners or mason jar centerpieces filled with autumn foliage.
Splashes of vibrant orange, gold, and copper accents can lend an elegant touch while still capturing that cozy Thanksgiving ambiance.
Remember to provide comfortable seating options such as floor cushions or oversized pillows to encourage guests to truly relax into the leisurely pace of a morning gathering.
More Friendsgiving food ideas
Swap out regular mashed potatoes for creamy garlic mashed cauliflower to add a healthier option that still satisfies those comfort food cravings.
Or how about spicing things up with chipotle cranberry sauce instead of the usual sweet version? The smoky heat from the chipotle peppers will add an unexpected kick to your Thanksgiving feast.
Looking for more unconventional options? Consider serving individual pot pies filled with seasonal vegetables and topped with flaky puff pastry. These personal-sized pies can be customized with different fillings like butternut squash or wild mushrooms, giving your guests variety while adding an element of elegance to your meal.
Don't forget about dessert! Instead of the usual pumpkin pie, surprise your friends with mini apple pie bites – perfectly portioned treats filled with tender apples, warm spices, and a buttery crust that is sure to be a hit among both kids and adults alike.
By incorporating these creative Friendsgiving food ideas into your menu, you'll elevate the dining experience for everyone involved and create lasting memories around delicious dishes.
Embrace new flavors, experiment with inventive recipes, and most importantly – enjoy good company as you celebrate this cherished gathering of friends.
Friendsgiving Decor Ideas
Friendsgiving decorations and party favors that are actually useful
Consider creating a DIY centerpiece using small potted herbs or succulents.
Not only will they add a touch of greenery to your table, but your guests can also take them home and enjoy fresh herbs or adorable plants for weeks to come.
Personalized Wine Glasses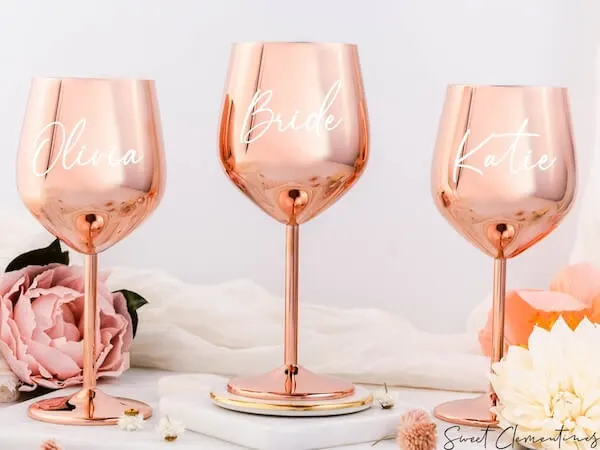 Another great idea is to personalize wine glasses as both a decoration and a practical favor.
Provide each guest with their own glass adorned with their initials or fun sayings like cheers or sip hooray.
Not only will this elevate the aesthetic appeal of your tablescape but it will also ensure that everyone knows which glass belongs to them throughout the evening.
Plus, these personalized wine glasses can easily double as party favors so your guests can bring them home and use them long after Friendsgiving is over.
Personalized drink coasters with guests' names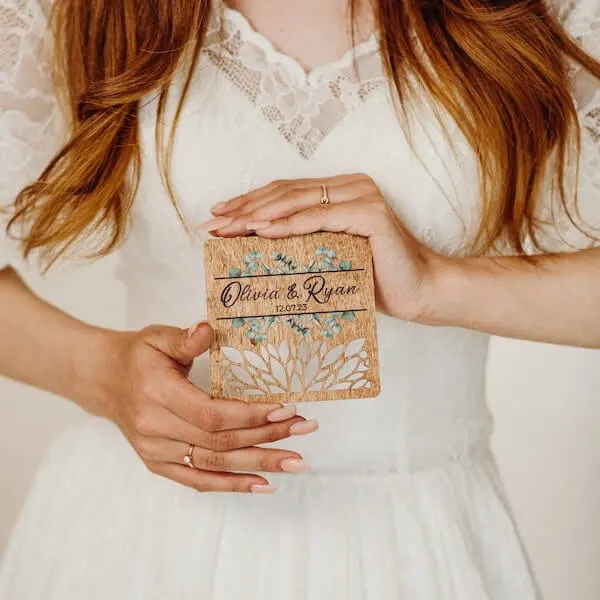 Consider incorporating elements like personalized drink coasters with guests' names, so everyone has a designated spot for their beverages.
Not only will these coasters serve as practical items during the celebration, but they also make thoughtful keepsakes that friends can take home and use long after the event.
Custom recipe cards
Another idea is to create custom recipe cards where guests can write down their favorite Thanksgiving recipes to share with one another.
These cards not only serve as fantastic party favors but also help build a sense of community as everyone gets to exchange their beloved holiday dishes.
Plus, they'll continue to be useful year after year whenever someone needs cooking inspiration or wants to recreate those delicious Friendsgiving memories.
DIY projects
@modernglamhome
One great idea for Friendsgiving decorations is to incorporate DIY projects that double as useful items.
For example, you can create personalized place cards that guests can take home as bookmarks or small photo frames.
This way, your decorations become meaningful keepsakes that your friends will cherish long after the meal is over.
Custom-made mugs or tumblers
A popular and practical choice could be custom-made mugs or tumblers with each guest's initials or a special message on them.
Not only do they serve as table decor during Friendsgiving, but they can also be used daily for enjoying warm beverages or bringing along homemade soups on chilly autumn days.
Use small wooden crates or baskets as centerpieces
For a rustic touch, consider using small wooden crates or baskets as centerpieces for your tables.
These versatile pieces can later be repurposed as storage solutions or plant holders.
Tie a Thanksgiving-themed bookmark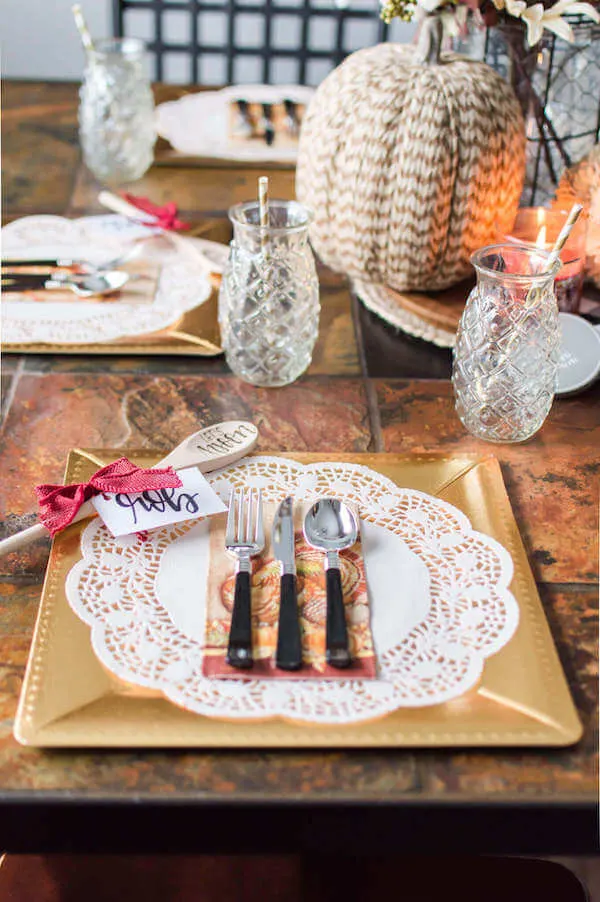 @ahostinghome
To add a personal touch to each place setting, tie a Thanksgiving-themed bookmark onto each napkin.
Not only will this act as a party favor, but it also encourages reading and serves as a reminder of gratitude.
Personalized Place Card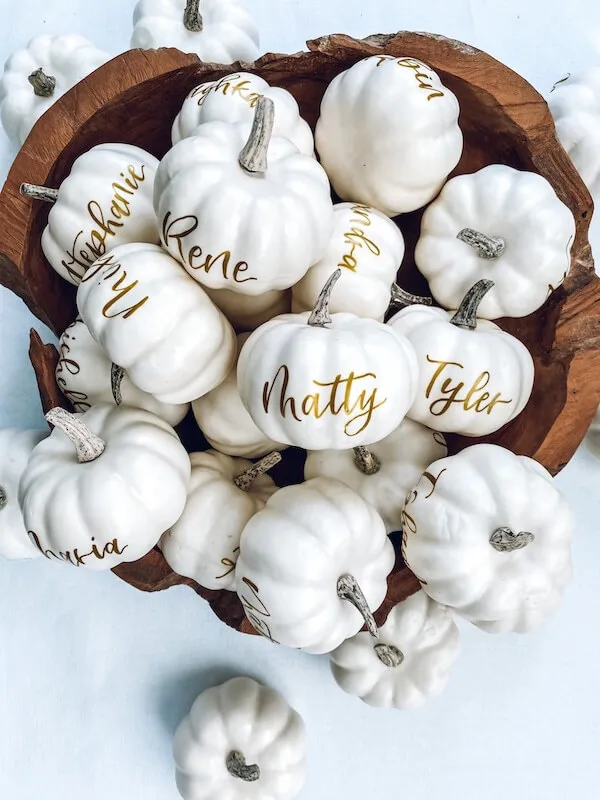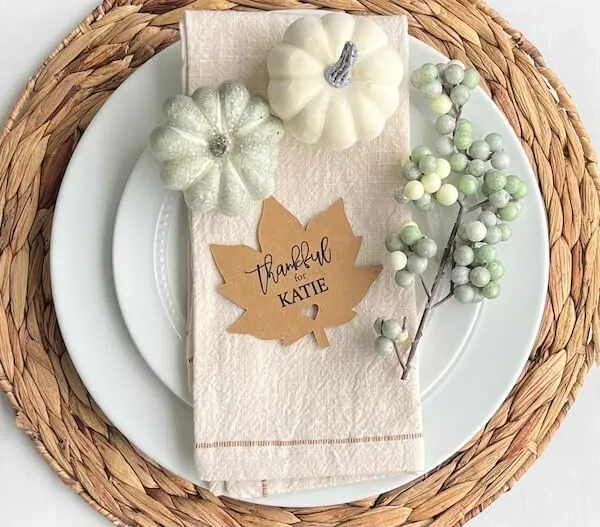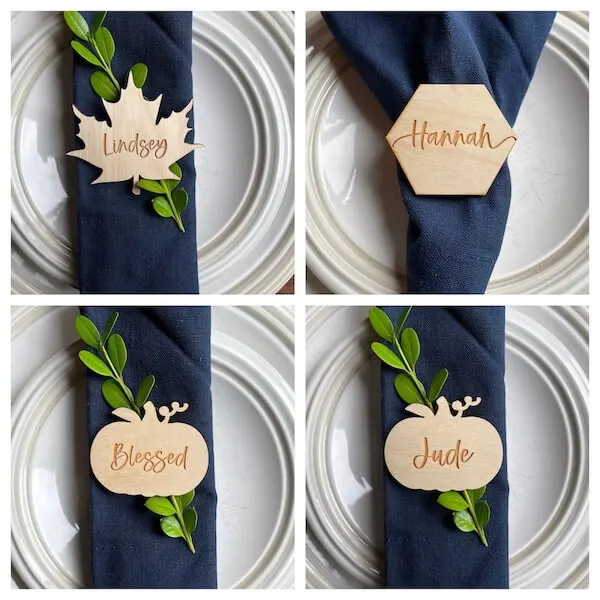 One trendy and stylish element to add to your Friendsgiving table is personalized place cards.
These small, thoughtful details not only help guests find their seats, but also add a personal touch to the overall setting.
Instead of opting for generic place cards, consider going the extra mile by personalizing them with each guest's name or initials.
You can choose from a wide range of materials like wood, acrylic, or even pressed flowers to create these unique place cards.
Whether you go for elegant calligraphy on delicate paper or hand-painted watercolor designs, personalized place cards are sure to elevate the ambiance of your Friendsgiving gathering.
They add an element of exclusivity and thoughtfulness that will make every guest feel valued and appreciated.
So get creative and let these little details become part of the warm and inviting atmosphere that sets the tone for a truly unforgettable celebration with friends.
Friendsgiving Banners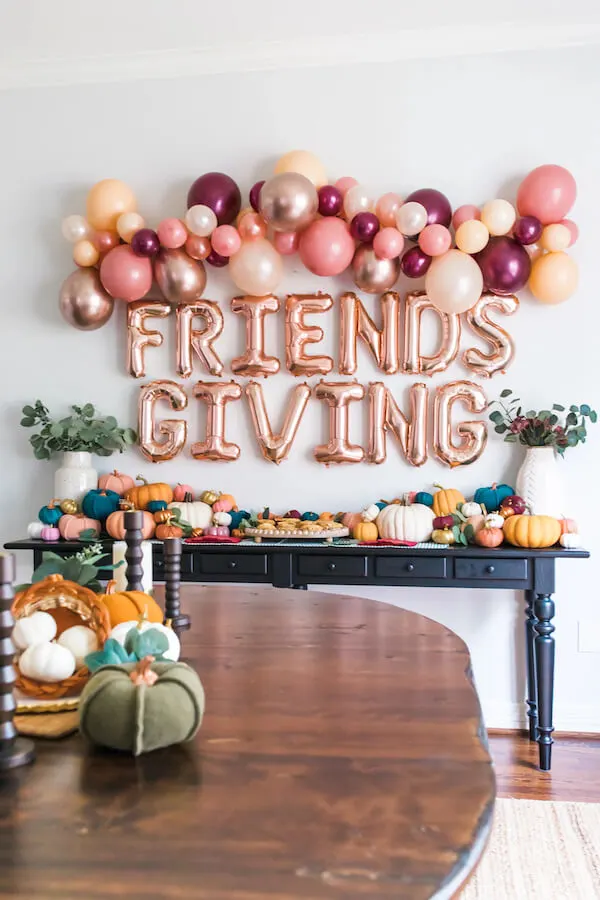 @easy_likesundaymorning
Friendsgiving banners are a simple yet effective way to enhance the festive atmosphere of your Friendsgiving celebration.
From rustic farmhouse styles to modern minimalist designs, there are endless options to suit any theme or personal taste.
Hang them above the dining table or fireplace to create an eye-catching focal point that adds warmth and charm to your gathering.
When selecting Friendsgiving banners, consider incorporating elements that reflect the spirit of gratitude and togetherness.
Opt for banners featuring heartfelt messages like Grateful for Friends or Count Your Blessings.
For a more whimsical touch, go for banners adorned with fall leaves, pumpkins, or turkeys.
Remember, these banners can be reused year after year, making them not only a stylish addition but also a cost-effective choice.
Moreover, don't limit yourself to traditional banner placements; think outside the box.
Hang smaller banners on chair backs or use them as inspiration for DIY place cards by attaching name tags onto each banner flag.
Additionally, you can get creative by combining different textured fabrics and materials such as burlap and lace for a unique look.
So let your creativity flow this Friendsgiving season with captivating Friendsgiving banners that embody the spirit of gratitude and bring joy to all who gather around your table.
Affordable table decors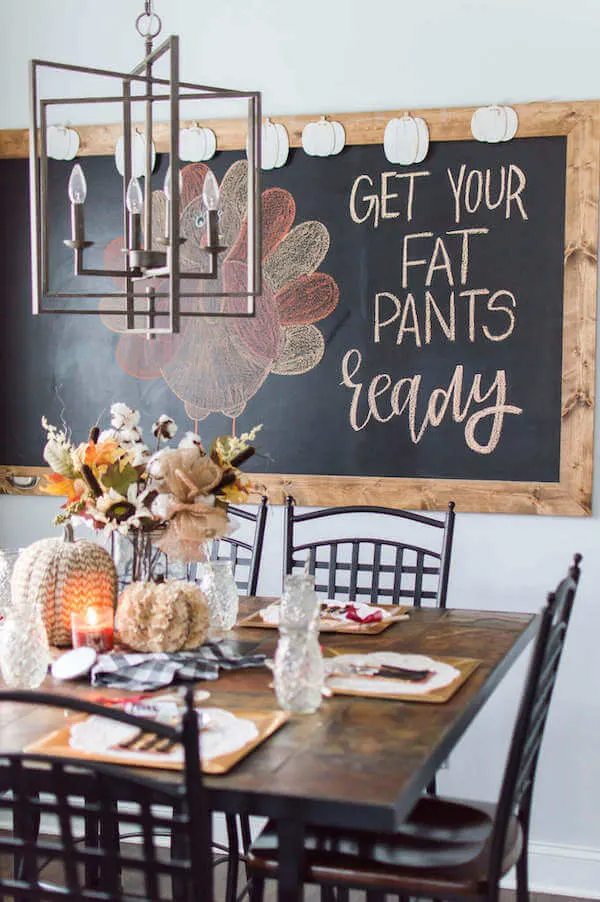 @ahostinghome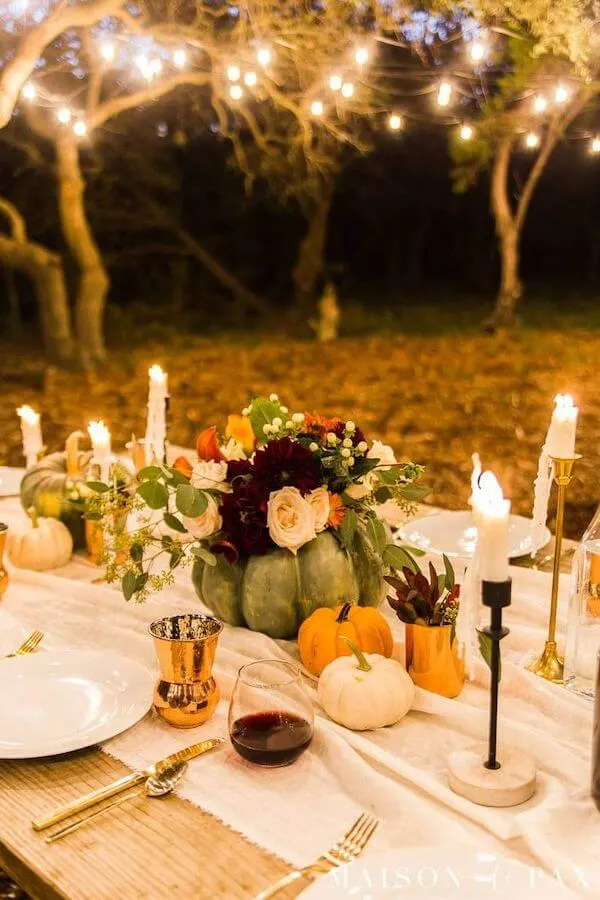 @maisondepax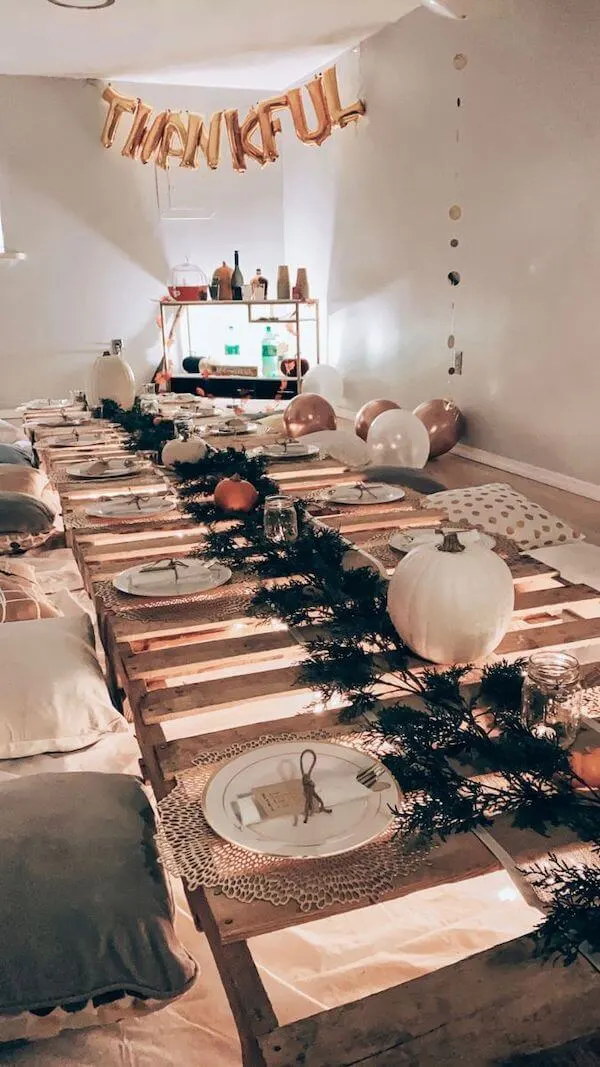 Table decors can often get expensive. The good news is that achieving a stylish table setting doesn't have to break the bank.
One popular trend this year is incorporating natural elements such as branches, leaves, and pinecones into your table decor.
Take a stroll in your neighborhood or local park to gather these items for free!
Arrange them elegantly down the center of your table or use them as place card holders by attaching name tags with twine – simple yet effective touches that add a touch of nature's beauty to your gathering.
Another budget-friendly option is repurposing items you already have at home.
Consider using mason jars as candle holders, filling them with small white candles for an intimate glow on the dining table.
Repurpose old wine bottles by removing the labels and adding decorative twine or ribbon around the necks – perfect rustic-themed vases for displaying colorful autumn flowers.
Friendsgiving Party Activities
Wine tasting
Gather an assortment of reds, whites, and rosés for a mini wine-tasting experience.
Each guest can bring a bottle from their favorite vineyard or region to share with others.
Not only will this activity offer an opportunity to expand your palate and discover new flavors, but it also provides a delightful way to relax and engage in conversation.
Thanksgiving trivia game
Test your guests' knowledge about the holiday with a Thanksgiving trivia game.
Create categories like historical facts, traditional recipes, iconic moments in pop culture related to Thanksgiving (such as famous movie scenes), or even Friendsgiving facts specific to your own group of friends gathered together on this special occasion.
Drinking Jenga
One creative and exciting activity to spice up your Friendsgiving gathering is Drinking Jenga.
This variation of the classic game adds a boozy twist that's sure to get everyone laughing and having a great time.
The rules of this game are simple: each block in the Jenga tower has a different instruction written on it, and when you pull out a block, you must follow whatever it says.
From taking shots to creating hilarious dares or simply sipping your drink, every move brings its own element of surprise.
Speak Out
One fun and interactive game that you can incorporate into your Friendsgiving celebration is the Speak Out Game.
This hilarious game will have everyone in stitches as they try to speak clearly with a mouthguard in place.
Players take turns wearing the mouthpiece and attempt to communicate phrases while their friends try to guess what they're saying.
It's guaranteed to bring laughter and entertainment to your gathering.
Watch movies
One of the best ways to create a cozy and entertaining atmosphere during Friendsgiving is by watching movies together.
Whether you opt for classic feel-good films or new releases, having a movie night can bring everyone together and provide a shared experience.
You can create a mini-cinema setup in your living room with comfy bean bags, blankets, and bowls of popcorn for everyone to enjoy.
Fun Friendsgiving ideas
A Game Night With Board Games And Card Games
One of the best ways to celebrate Friendsgiving is by hosting a game night filled with board games and card games.
This not only provides entertainment for the evening but also encourages everyone to interact and have fun together.
With a wide variety of games available, you can cater to different preferences and create an engaging atmosphere that keeps everyone on their toes.
Board games allow for strategic thinking and friendly competition, while card games bring out the element of surprise and quick decision-making.
Set up different game stations around your living room or dining area with an assortment of classic favorites like Monopoly or Scrabble, as well as newer options like Codenames or Catan.
The diverse range ensures there's something for everyone to enjoy, whether they prefer strategy-based challenges or simple luck-based fun.
To make the game night even more memorable, consider adding a twist by introducing themed versions of popular board games or customizing them specifically for Friendsgiving.
This could involve altering rules, incorporating holiday-themed items into gameplay, or even creating personalized trivia cards about each friend in your group.
Such creative touches can enhance camaraderie among friends and add an extra layer of excitement to the evening.
Create A Friendsgiving Playlist
When it comes to creating the perfect atmosphere for your Friendsgiving celebration, a carefully curated playlist can make all the difference.
Instead of resorting to the same old holiday classics, why not mix things up with some fresh and unexpected tunes?
Start off with some upbeat indie folk tracks like Ho Hey by The Lumineers or Stubborn Love by The Head and the Heart to set a festive mood.
As the evening progresses, transition into more laid-back tunes like Banana Pancakes by Jack Johnson or Put It All On Me by Ed Sheeran to create a cozy and intimate ambiance that encourages conversation and connection.
To keep things interesting, sprinkle in some nostalgic throwbacks from your childhood—think NSYNC's Bye Bye Bye or Destiny's Child's Independent Women—to fuel hilarious sing-along moments and spur dance-offs between courses.
For those who appreciate a touch of elegance, incorporate some jazz standards such as Frank Sinatra's Fly Me to the Moon or Ella Fitzgerald's rendition of Autumn in New York.
Don't forget about current hits either; add popular songs like Lizzo's empowering anthem Good as Hell or Harry Styles' infectious pop track Watermelon Sugar.
The key is to curate a playlist that blends different genres and eras, ensuring that there's something for everyone at your Friendsgiving gathering.
Plan A Themed Friendsgiving Party Like A 90s Throwback Party
Imagine stepping back in time to the era of scrunchies, boy bands, and grunge fashion.
This year, switch up your typical Friendsgiving party and transport your friends to a 90s throwback extravaganza.
Plan a themed Friendsgiving party that will have your guests reminiscing about their favorite childhood memories while stuffing themselves with delicious Thanksgiving food.
To set the mood for a 90s throwback Friendsgiving, you'll need to channel all things nostalgic.
Create invitations that mimic old mixtapes or VHS tapes with handwritten labels.
Encourage your guests to dress up as their favorite 90s icons like Britney Spears, Kurt Cobain, or Spice Girls.
And don't forget the music! Create a playlist filled with chart-topping hits from the decade that will have everyone spontaneously breaking out into dance moves.
Now let's talk decor – neon colors and metallic balloons are essential for transforming your space into a full-blown 90s-themed wonderland.
Hang up posters of popular movies like Clueless and Titanic or TV shows like Friends and Seinfeld for an added touch of nostalgia.
Set up stations inspired by popular trends of the decade, such as DIY friendship bracelet making or temporary tattoo stations featuring iconic designs from that era.
A Friendsgiving Piñata?!
Looking for a unique and exciting twist to add to your Friendsgiving celebration this year?
How about incorporating a Friendsgiving piñata into the mix? That's right, forget the traditional turkey-themed table decorations and bring some fun and surprises to the party.
A Friendsgiving piñata is not only visually stunning but also adds an element of anticipation and excitement for guests of all ages.
Thank you note station
One trendy idea to incorporate into your Friendsgiving celebration this year is setting up a thank you note station.
As we gather with loved ones to express our gratitude, it's the perfect opportunity to take a moment and appreciate the people who have made a difference in our lives.
A thank you note station creates a meaningful space for guests to craft personalized messages of appreciation.
Not only does this add a thoughtful touch to your Friendsgiving gathering, but it also encourages reflection and connection among your guests.
Provide an array of beautiful cards, pens, and colorful envelopes for them to choose from.
Consider including prompts or inspiration cards that can spark ideas if someone is unsure of what to write.
You can even go the extra mile by adding some decorative elements like stamps, stickers, or pressed flowers that guests can use to embellish their notes.
Friendsgiving Hosting Tips
Don't invite more than you can fit
When planning a Friendsgiving celebration, it's easy to get caught up in the excitement and send out invitations to everyone you know.
However, one important thing to keep in mind is the size of your space. Don't invite more guests than you can comfortably accommodate.
Hosting a Friendsgiving that is overcrowded can lead to a cramped and uncomfortable environment for everyone involved.
Your guests won't have enough room to move around or sit comfortably, which can take away from the enjoyment of the gathering.
Additionally, preparing food for a large number of people may become overwhelming, adding unnecessary stress to an otherwise joyous occasion.
Instead of trying to please everyone by inviting a huge crowd, focus on creating an intimate and cozy atmosphere with fewer guests.
This will allow you to engage in meaningful conversations and really connect with those present.
You'll also have more flexibility in terms of cooking and serving food, ensuring that everyone gets their fill without feeling rushed or overlooked.
Remember, it's not about the quantity of friends but rather the quality of time spent together that truly makes Friendsgiving special.
Invite friends to prep with you
Preparing for Friendsgiving can be a time-consuming and overwhelming task, but it doesn't have to be!
Why not invite your friends to join you in the prep process?
Not only will this help lighten the workload, but it also adds an extra layer of fun and camaraderie to the event.
By involving your friends in the preparation, you can turn what may have seemed like a daunting task into a memorable bonding experience.
Assign each person a specific dish or task based on their strengths or preferences – someone could be in charge of making cocktails, another might handle decorations, while others could contribute with different dishes.
This way, everyone gets to show off their skills and feel included in creating the perfect Friendsgiving celebration.
When you invite your friends to prep with you, it becomes more than just an event – it becomes a shared experience.
You'll create lasting memories together as you chop vegetables side by side, brainstorm creative decor ideas, and cheer each other on as you taste-test recipes.
Plus, having everyone participate means that no one person has to bear the burden of preparing everything alone.
Together, you'll not only create a delicious feast but also strengthen your bonds and deepen friendships through this collaborative effort.
Things to have ahead of your Friendsgiving party
When planning a Friendsgiving party, there are some essential things you'll want to have in place to ensure your event is a hit.
Enough seating
@hauteofftherack
First and foremost, make sure you have enough seating for all your guests.
A mix of comfortable chairs and floor cushions can create a cozy and welcoming atmosphere.
A well-stocked bar
@ohsoglamblog
One of the most essential things to have ahead of your Friendsgiving party is a well-stocked bar.
While Thanksgiving staples like turkey and pumpkin pie are important, it's equally vital to have a variety of beverages that cater to everyone's preferences.
Create a signature Friendsgiving cocktail that combines fall flavors like apple cider and cranberry juice with a hint of spice.
For those who prefer non-alcoholic options, offer a selection of mocktails using seasonal ingredients such as pomegranate or ginger.
Delicious appetizers
Another must-have for your Friendsgiving party is an assortment of delicious appetizers.
Instead of serving traditional Thanksgiving fare as the main course, consider having a variety of small bites that cater to different dietary preferences and restrictions.
From veggie skewers with creamy avocado dip to mini quesadillas with gooey cheese, these crowd-pleasing snacks will keep everyone satisfied while they mingle.
More Friendsgiving Party Ideas
Scroll on to check out below Friendsgiving party decoration ideas:
@ThePartyDarling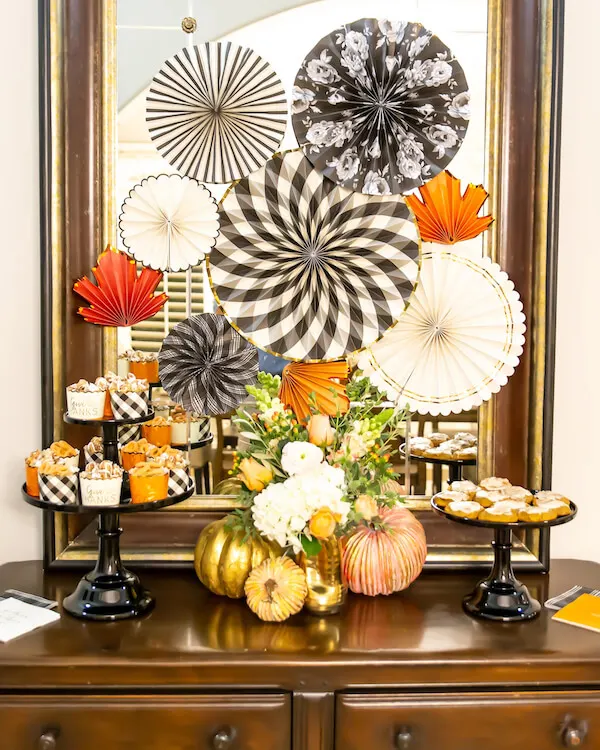 @ThePartyDarling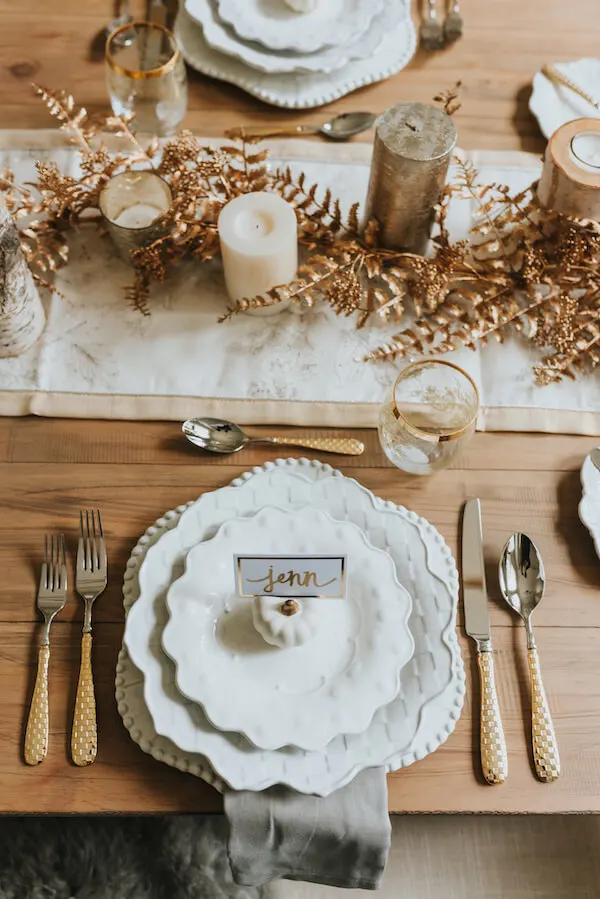 @hauteofftherack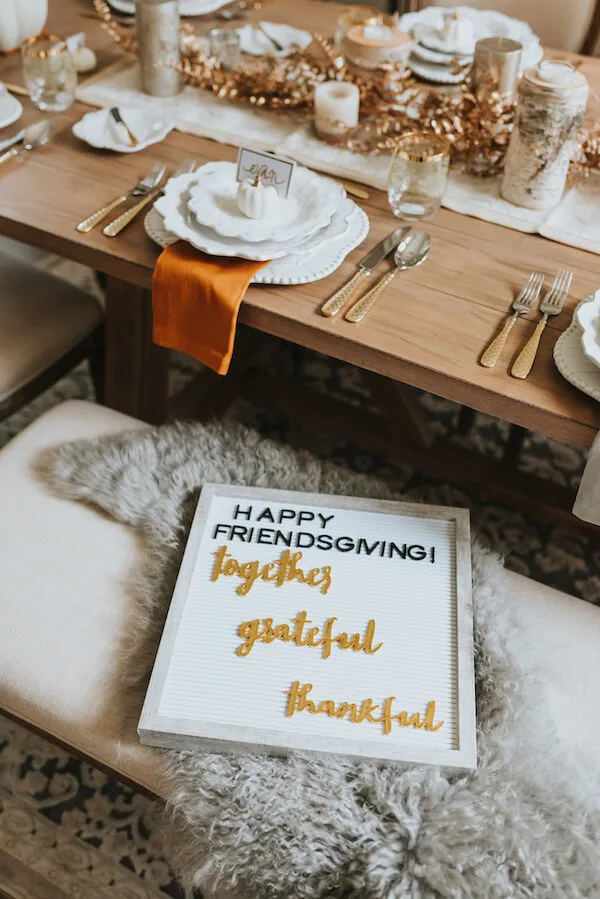 @hauteofftherack
FAQs
Q: What is Friendsgiving?
A: Friendsgiving is a celebration where friends gather together to enjoy a Thanksgiving-inspired meal.
It's a chance to come together and give thanks for friendship.
Q: Do you have any Friendsgiving table decoration ideas?
A: Yes, you can create a festive Friendsgiving table by using Thanksgiving-themed decorations like pumpkins, candles, and fall foliage.
You can also incorporate personalized place cards and a centerpiece that reflects the autumn season.
Q: Can you recommend some Thanksgiving recipes for Friendsgiving?
A: Absolutely!
Some popular Thanksgiving recipes for Friendsgiving include roasted turkey, mashed potatoes, cranberry sauce, green bean casserole, and pumpkin pie.
There are also many creative twists on traditional Thanksgiving dishes that you can try.
Q: Should I host a Friendsgiving potluck or provide all the food myself?
A: It is entirely up to you!
Hosting a potluck where everyone brings a dish can make the workload lighter and allow for a wider variety of food.
However, if you enjoy cooking and want to provide all the food yourself, that can be a great option too.
Q: What can be a fun Friendsgiving drinking game?
A: A fun Friendsgiving drinking game could be a Thanksgiving-themed trivia game or a game involving guessing the ingredients in festive cocktails.
Just make sure to drink responsibly and ensure that everyone is comfortable participating.
This post was all about Friendsgiving ideas.
About The Author
Tracy is an experienced personal stylist, shopping expert, and fashion & lifestyle blogger. She has been featured on Time Magazine, Bustle, Best Life, Glam, The Zoe Report, Mic, and GOBankingRates, for her insights on fashion, beauty, home decor, and lifestyle. Read More
Related Posts: