Looking for graduation balloon decoration ideas for your graduation party this year? Check this post for the 60+ trendiest and most creative balloon decoration ideas that you will love!
Graduation is an exciting and hopeful time. Graduation parties are a fun, festive, exciting way to celebrate achievement and send your grad out into the real world. If you are looking for the best graduation party decorations to make this graduation party cute and special, and create great memories for you and every guest, and if you're looking for an easy and inexpensive way and a surely fun way to decor your grad parties, you should definitely consider balloons!
I love DIYing all my parties, like a baby shower, birthday parties, or an event for a special occasion. Balloons are my favorite to add any personal or festive touch to my parties. Using balloons is also one easiest way to create amazing grad's party decorations!
Feel free to play around with latex balloons, Mylar balloons, clear balloons, staffing balloons, and so many more, for your high school graduation party or a creative party for your college grad. One more great thing is, making these decorations with your family can be so much fun!
Whether it's decorating columns, arches, dining tables, outdoor décor, gardens, or even swimming pools, you can always create a perfect décor with ordinary balloons. You can also combine balloons with any other trendy party decorations to create your own personal touch.
So do you want the most compliments and the best Instagram-friendly photos on that day? Balloon decoration can do it for you.
In this post, we are sharing the 60+ best graduation balloon decoration ideas and party favors that you can recreate yourself. And you can also shop the decors and party supplies directly from our favorite retailers via the links below the images.
Scroll down to check these fun ideas, and don't hesitate to pin the ideas you like.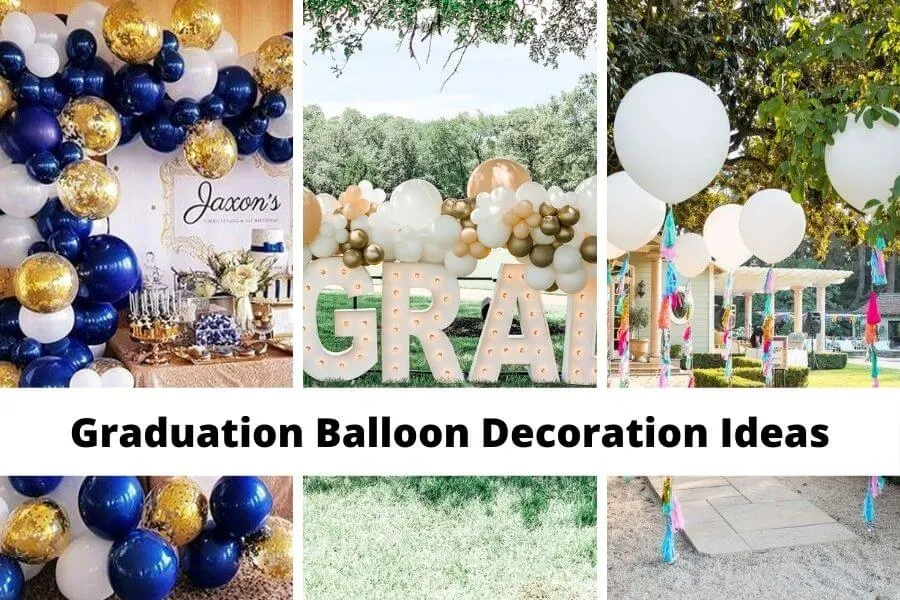 This post may contain affiliate links, which means I'll receive a commission if you purchase through my link, at no extra cost to you. Please read the full disclosure here.
This post is all about graduation balloon decoration ideas.
Best Grad Party Balloon Decorations
Cute Photo Booth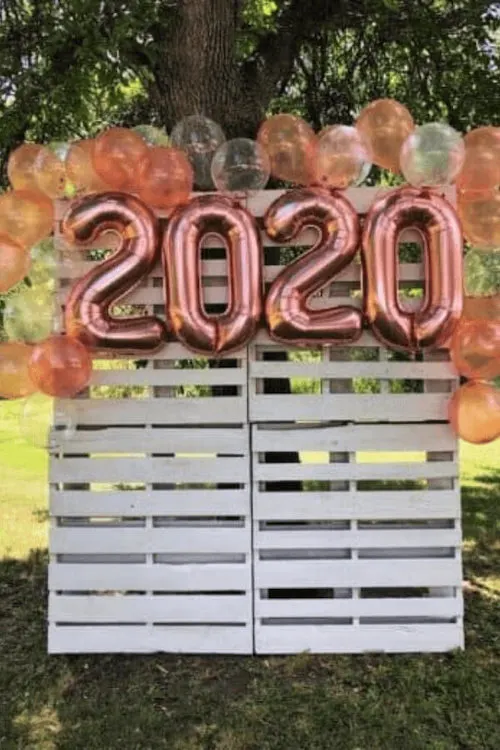 Beautiful balloons can make simple outdoor scenes a very party atmosphere. The transparent monochrome balloons look fantastic. This one can also make a great Photo Booth.
Photo source: Pinterest.
Balloons Of School Colors
This color combination is really charming, especially in the outdoor sunlight, it will look very good. This kind of decoration is actually not difficult to do. You can wrap a board in golden paper or cloth and decorate it with cute balloons.
Photo source: Pinterest.
Outdoor Balloon Bouquets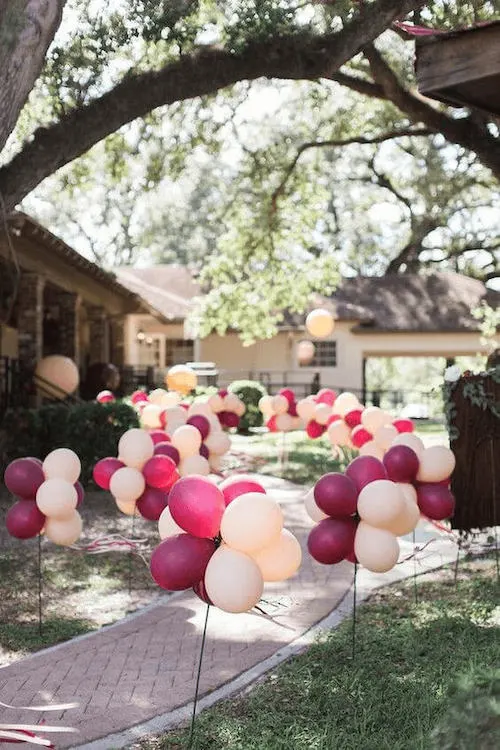 Many people will not know how to arrange outdoor venues. In fact, you don't need to buy any expensive decorations. Simply tying a bunch of balloons like this to add a little bit of creativity to your graduation party decoration!
Photo source: Tumblr.
Creative Balloon Centerpieces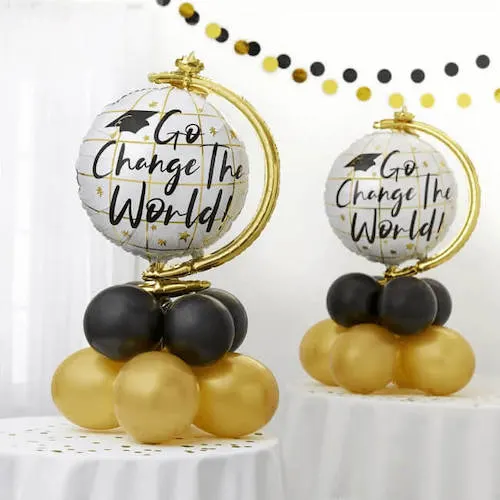 Don't you want to try such a unique way? Send your sincerest best wishes to your graduates via these creative globe graduation balloons!
Decor Your Welcome Sign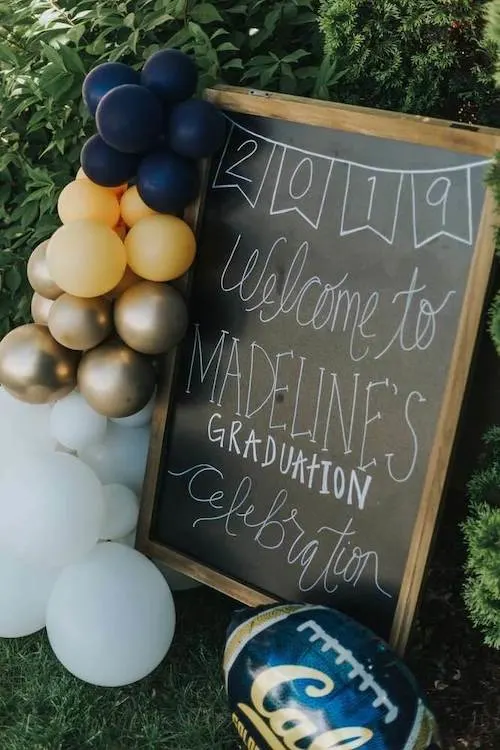 Many people now like to use a chalkboard to DIY a welcome board. Don't forget to place some balloons on the side to give your party a great vibe right from the start. It is such a cute idea!
Photo source: Pinterest.
Balloon And Mason Jars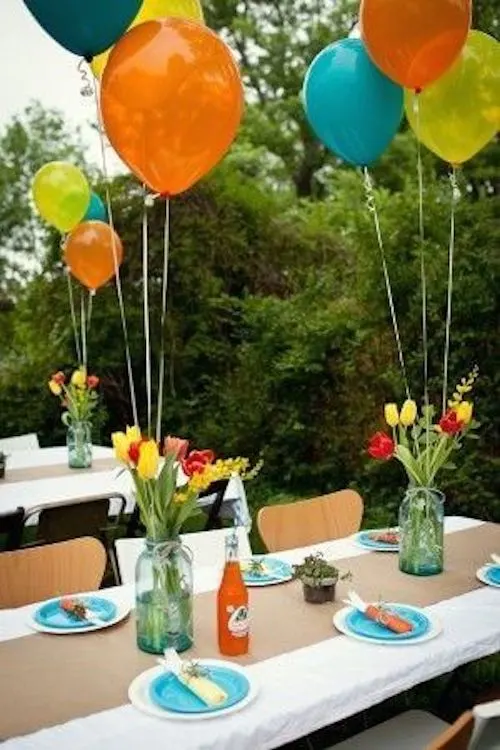 Not sure how to make party centerpieces? Using balloons and Mason Jars is our favorite way to make pretty centerpieces! And you can place your favorite decorations in the Mason Jars as you like, or write quotes on the outside.
Like the picture above, use the Mason Jars as vases at the same time, and place beautiful flowers in the Mason Jars. This idea is very suitable for graduation parties in spring and summer.
Photo source: Pinterest.
Cute Graduation Party Decorations With Balloons
A Pop Of Color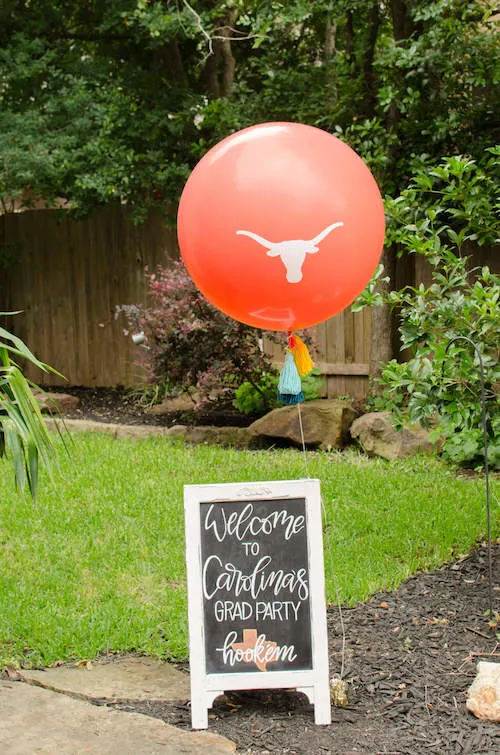 We have just introduced the use of balloons to decorate the welcome board. You can also customize a college balloon for your party. Your guests will definitely find this a great idea.
Photo source: Pinterest.
Balloons And Card Boxes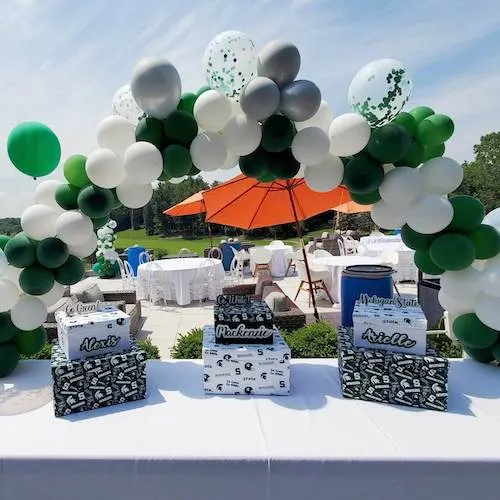 Aren't these balloons and card boxes a great addition to your graduation party celebration? Balloons of different sizes in the party's theme colors are mixed together to create a bright and happy atmosphere.
Tie your balloons to each card box to make them a great decoration and also a place to put graduation gifts for your guests.
Photo source: Tumblr.
Simple Balloon Table Centerpieces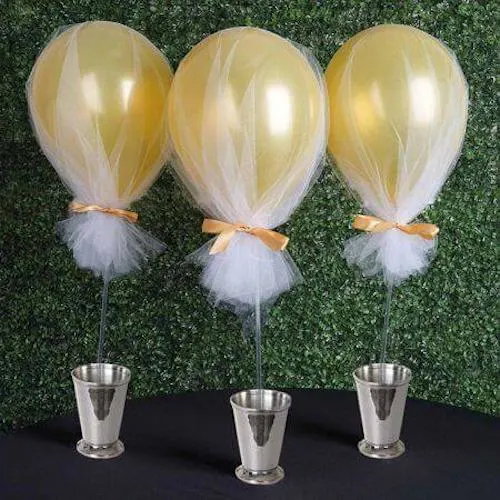 Add a dreamy vibe with tulle.
There are many different ways to create beautiful matching bases for your balloon bouquets, such as Mason Jars, flower pots, and more.
Photo source: Tumblr.
Large Balloons Of Graduation Year Number And Letter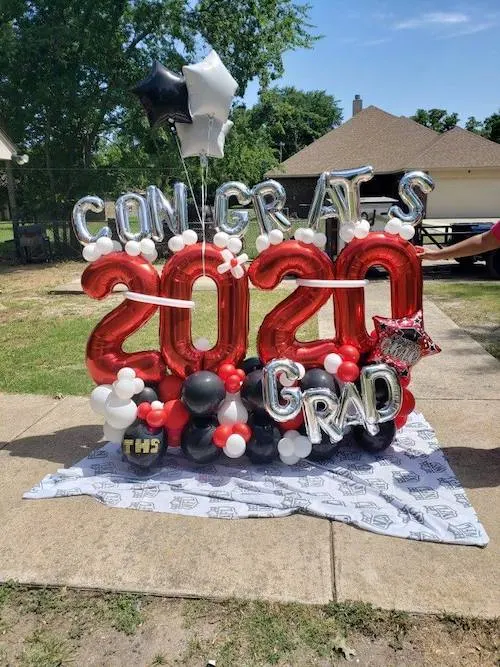 Outdoors are really suitable for large bright number balloons and silver or gold letter balloons. This idea above is a perfect way to make it amazing for your special day!
Photo source: Pinterest.
Giant Balloons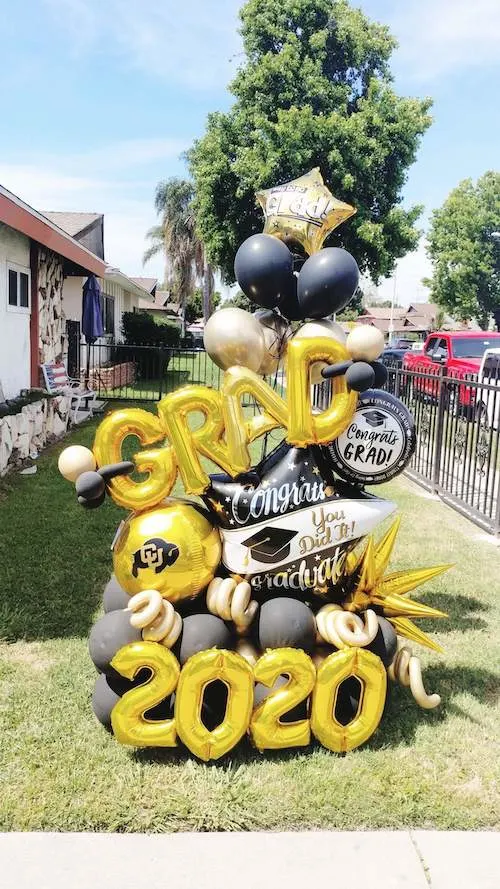 Photo source: Pinterest.
A Cute And Creative Graduation Party Column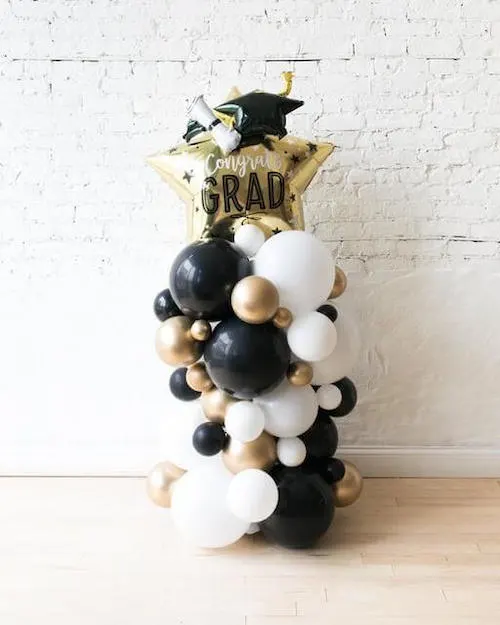 You can creatively choose different sizes of balloons to create unique and cute balloon columns. It is a simple idea but looks great on any photos with your best friends.
Photo source: Tumblr.
Best Balloons Graduation Party Decorations
Balloons And Letter Lights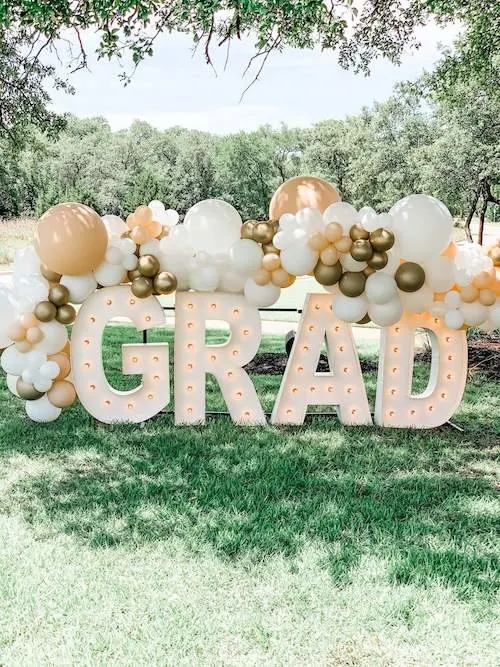 Balloons can take all the already-perfect decorations to the next level.
Photo source: Pinterest.
Party Entrance Sign Balloon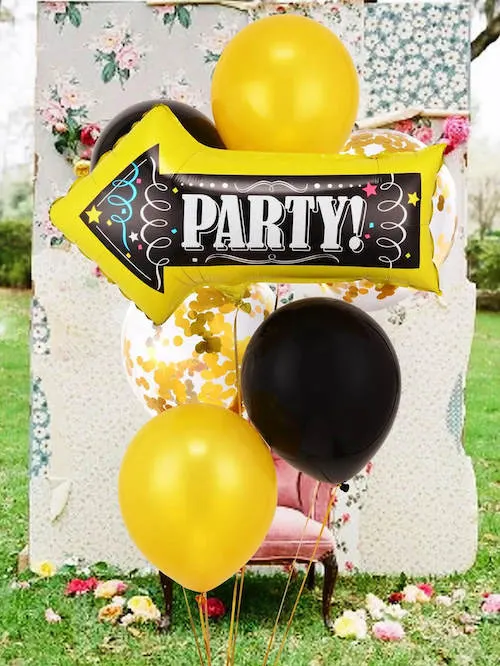 Want to make a unique and very simple party entrance sign for this graduation season? Buy this balloon directly!
Photo source: Pinterest.
Balloon Arches Of College Colors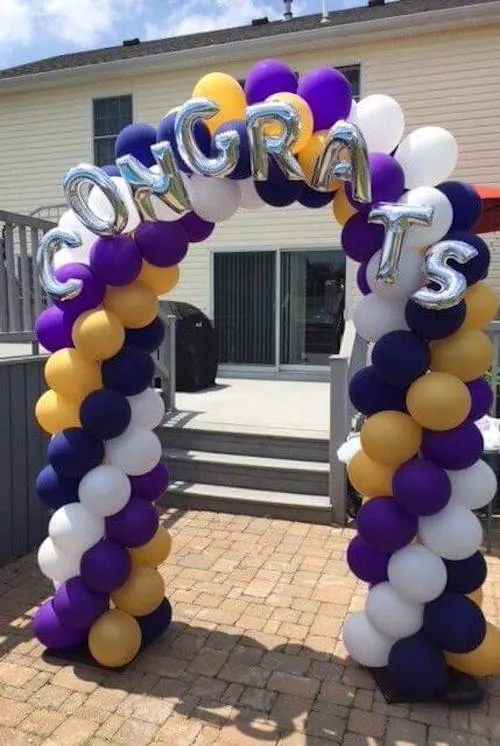 What a creative balloon arch! Look at those colored lines!
Photo source: Tumblr.
Balloon Decors For A Nurse Graduation Party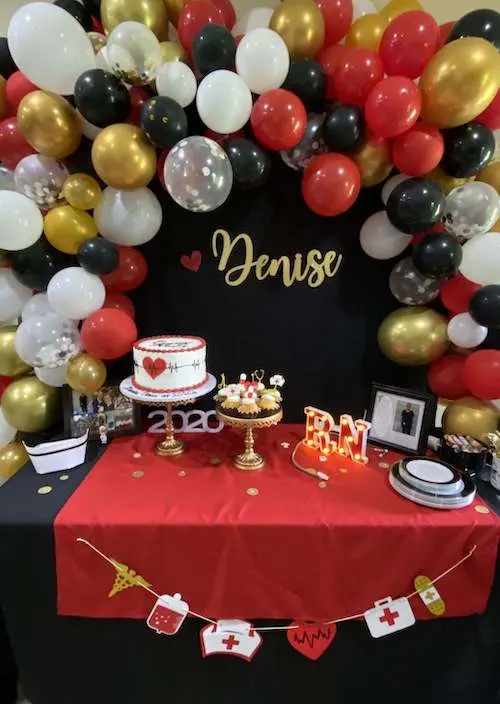 One of the easiest and most popular balloon decorations for graduation parties! Balloons can be a great backdrop and easily set the tone for a party.
In an instant, without spending a lot of money, your indoor environment can change drastically!
Photo source: Pinterest.
Decor The Dessert And Buffet Table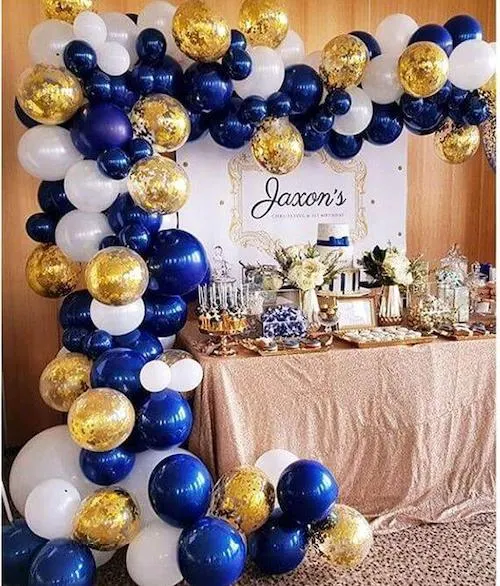 Another great example.
Photo source: Tumblr.
Creative Starbucks Balloon Decor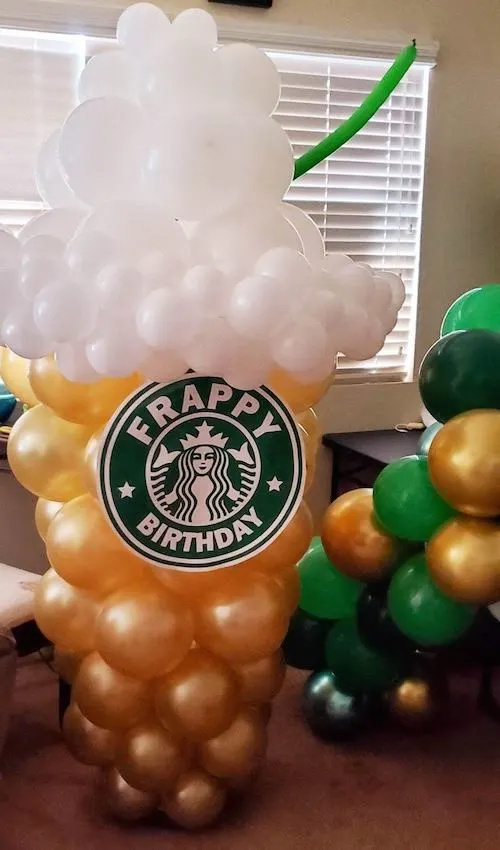 My heart seems to melt after seeing this picture! If only I could see this idea when I held my graduation party! It's so cute! Your guests will be madly in love with it too.
Photo source: Pinterest.
Creative Balloon Decorations For Graduation Parties
Balloons Tied To The Chairs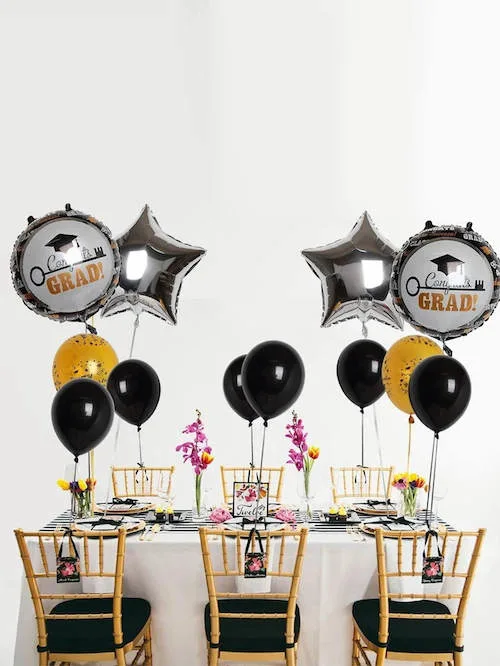 One way to make every detail of your graduation party perfect is to fill every detail with cute balloons.
Photo Frame Balloon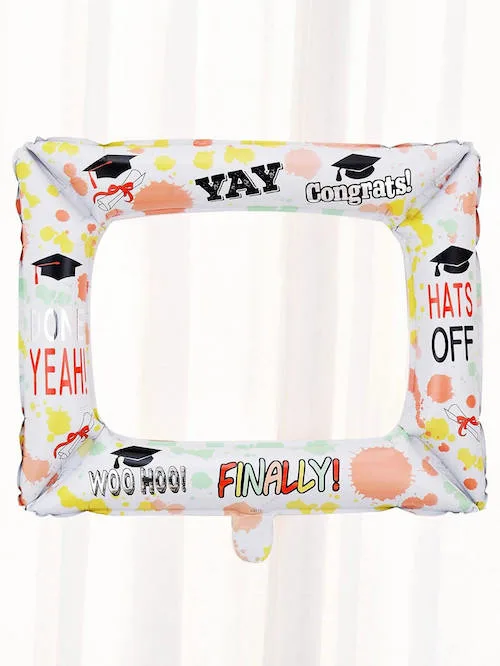 Your guests will love taking photos with it!
Balloon Garland For Outdoor Party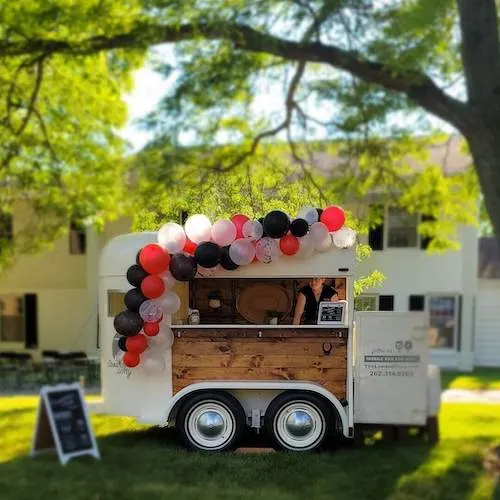 Use balloons to unify the colors of everything at your party.
Photo source: Tumblr.
Disco Party Balloon Decoration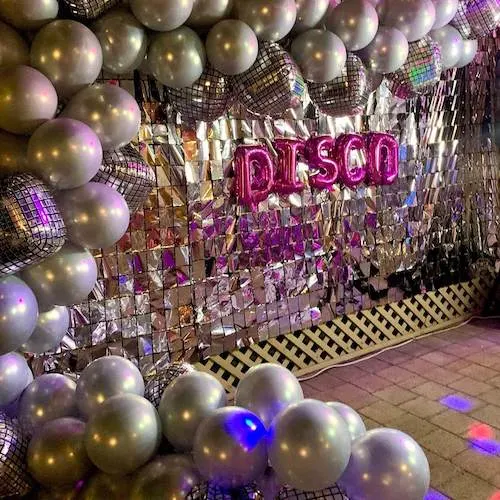 Disco is a popular theme of the party currently. Silver simple balloons with bright pink letter balloons make it easy to throw a retro disco graduation party!
Photo source: Pinterest.
Giant Letter Balloons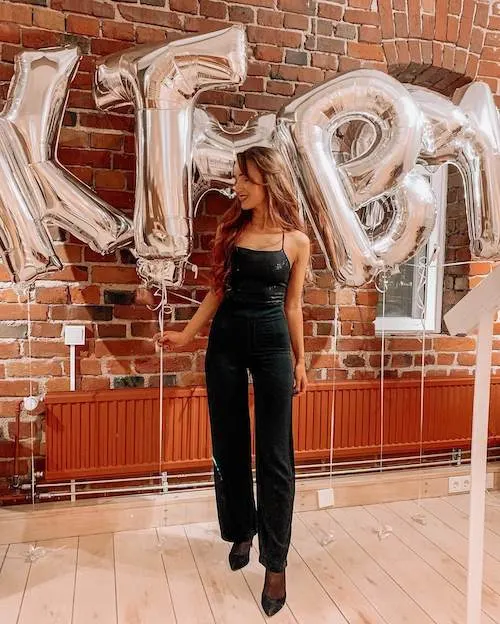 Jumbo letter balloons? These are so cool!
Photo source: Tumblr.
Party Color Scheme Balloon Ceiling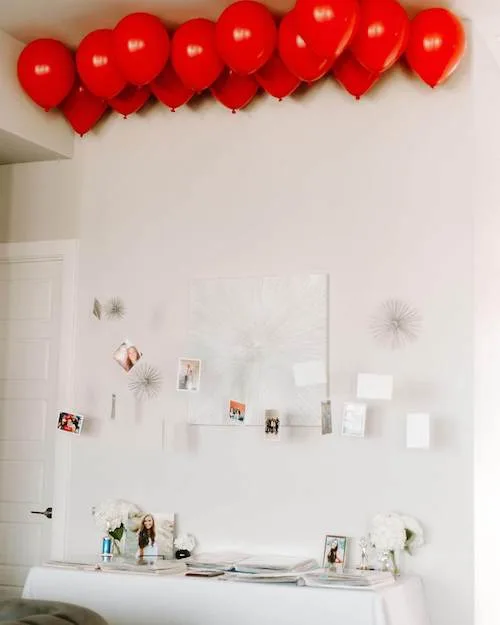 This idea is a great and fairly simple balloon decorating idea: a balloon ceiling. You can use helium balloons and float them to the ceiling, which can be more expensive. Or you can stick regular balloons to the ceiling.
Photo source: Pinterest.
Best Balloon Graduation Decorations For Outdoor Party
Balloons And Tassels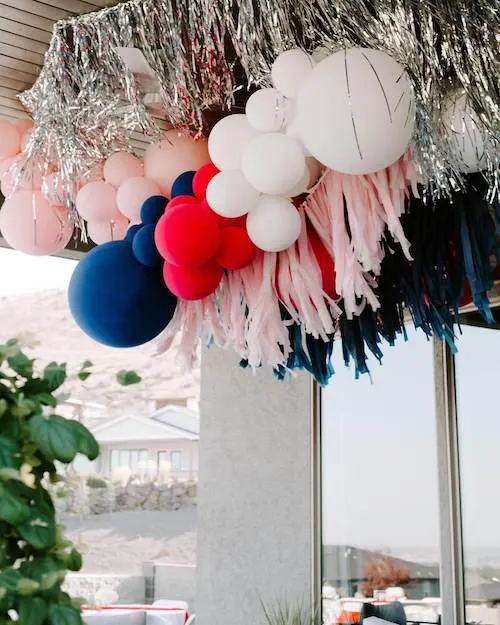 This balloon decoration will make you and your party guests very happy. You can take so many great photos against such a decorative backdrop!
Photo source: Pinterest.
Cute Graduation Figure Balloon
Another graduation party balloon decor that I really like and highly recommend!
Balloons And Inspirational Quote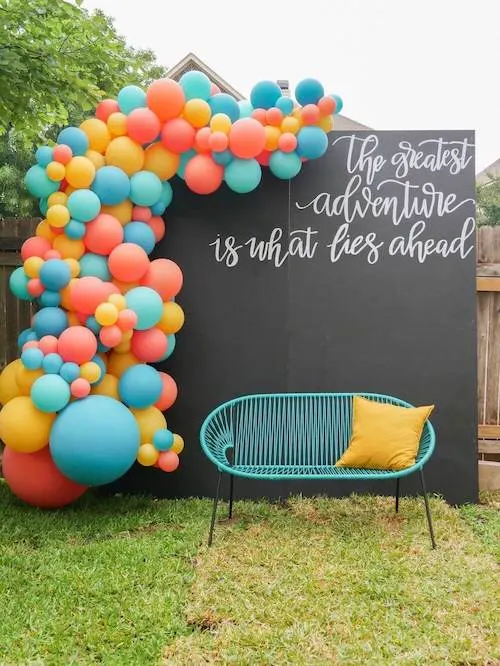 Really, you don't need to spend a fortune to create a dedicated inspirational quote wall for your graduation party. All you need is a wall or a chalkboard (you can easily make one using this Chalkboard Contact Paper), you can write your own inspirational quotes.
If you are worried that this wall is not so photogenic, use the versatile balloons to make it Instagram-worthy!
Photo source: Pinterest.
Outdoor Casual Balloon Decorations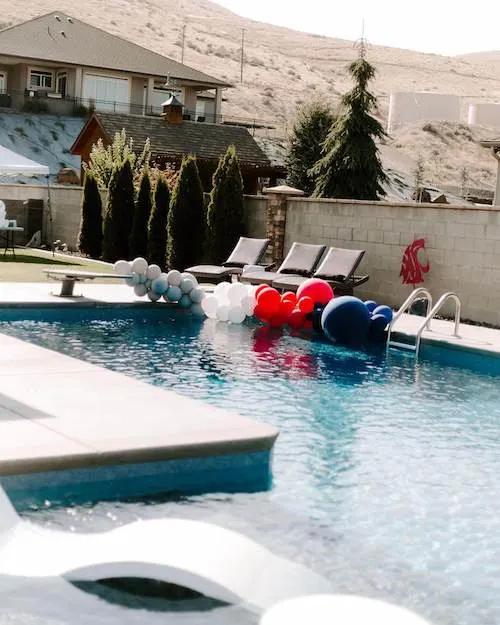 You have a pool for your party? That is fantastic! Let your balloon float in the pool.
Photo source: Pinterest.
Cute Balloon Graduation Decorations
Champagne Balloon Party Decors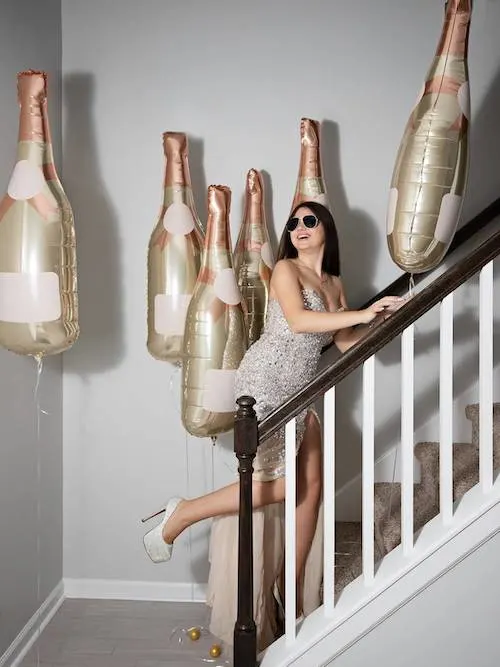 Yes, we need more champagnes to celebrate all the hard work your graduate completed to make the achievements and milestones possible!
Customized College Balloon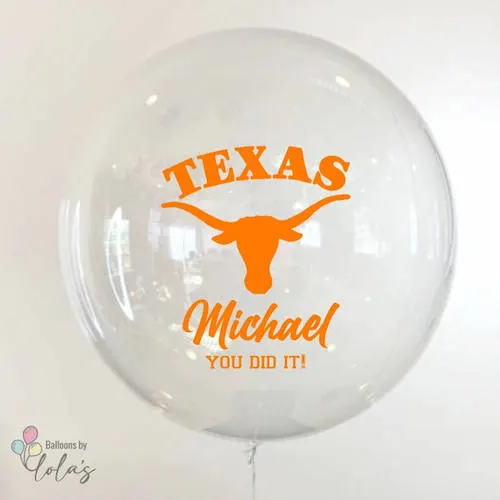 An insanely cute customized college balloon.
Girly Balloon Graduation Decorations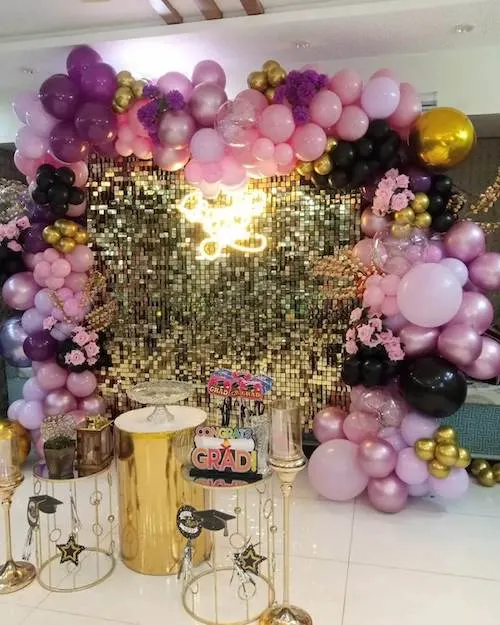 A great tip for making your balloon arches look great is to place them alongside other golden ornaments to complement each other. Your balloon decoration will look very high-end and expensive in an instant.
You can set up a gold Mosaic wall like the photo above using this gold Mosaic sticker.
Do you have signs that glow? Add it up! That looks even better!
Photo source: Tumblr.
Simple Balloon Party Decor
Balloons are the best party decoration for indoor or outdoor parties. They are eye-catching and inexpensive.
Photo source: Pinterest.
Funny Balloon Decors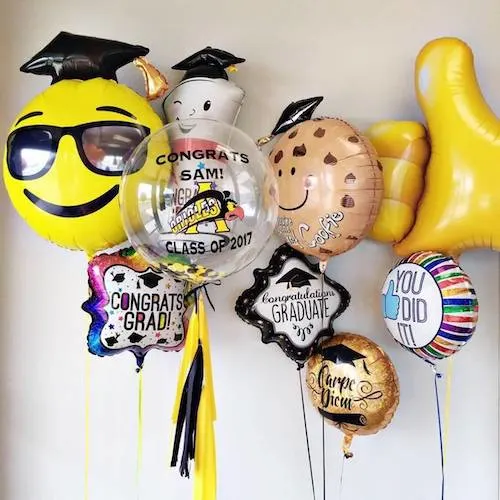 I love these playful balloons.
Star Balloons And Tassels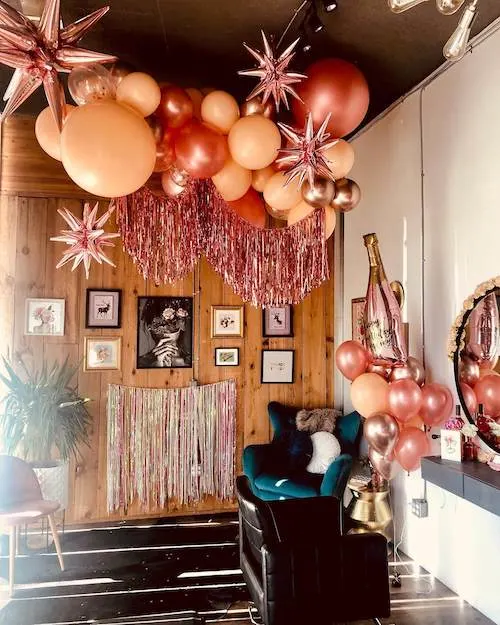 If you want to make a statement, go big or go home!
Check how awesome is this graduation party idea of covering the entire ceiling with giant balloons? Mix your favorite balloons, your favorite tassels, gold paper, and your favorite colors!
It's an easy way to quickly transform any party space and impress your guests.
Photo source: Pinterest.
Best Outdoor Graduation Party Ideas With Balloons
Blush And Macaron Orange Outdoor Balloon Garland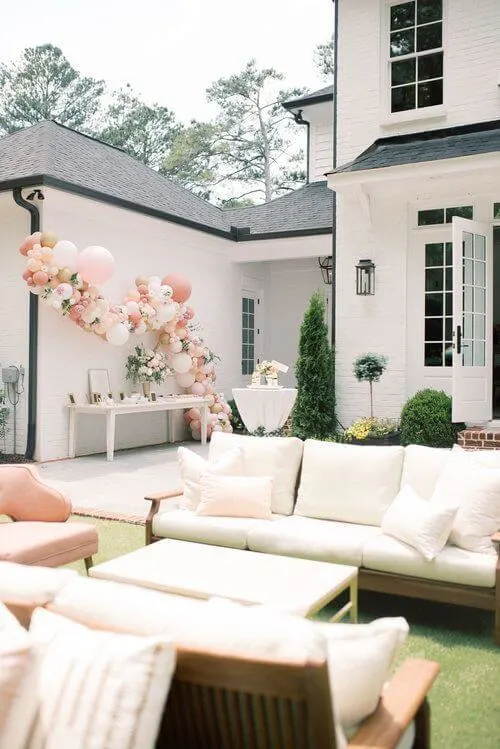 Want an elegant graduation party? Let the balloons help you.
Photo source: Pinterest.
Decor The Movie Screen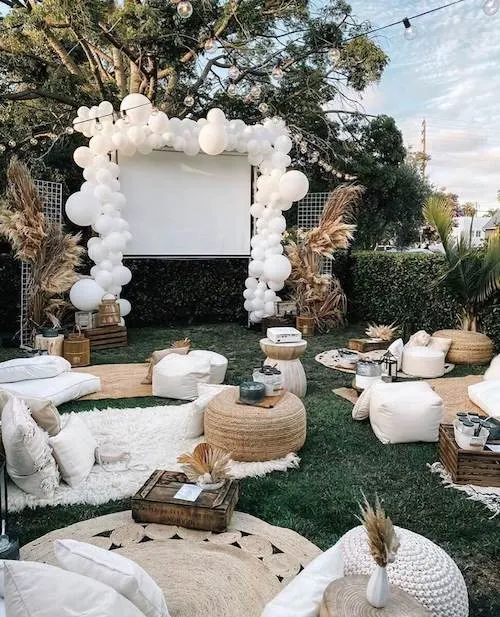 You can make these cute movie screen decorations easily. They look very classy.
Yes, just like that, you can make many creative balloon decorations for your next party.
Photo source: Tumblr.
Simple Outdoor Year Number Photo Booth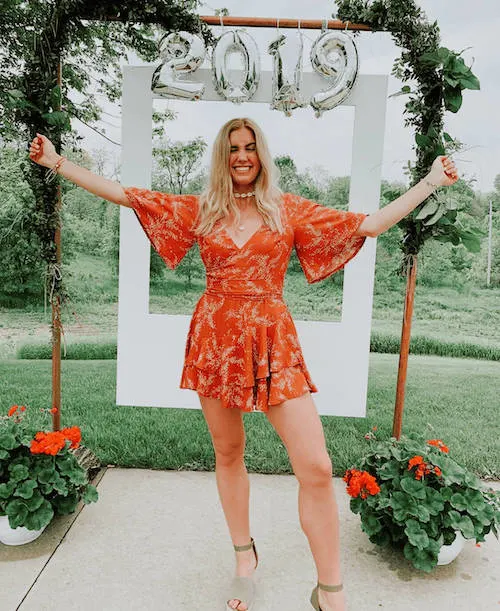 A simple but creative idea to make a photo booth that everyone likes!
Photo source: Tumblr.
Big Balloons And Color Tassels
If you're looking for a great way to turn ordinary balloons into fun and stylish, make some stylish balloon tassels like this one to place at your graduation party.
There are so many styles and colors to choose from. You can dress up your balloons without limit. They will look so gorgeous and chic!
Photo source: Tumblr.
With Fairy Lights
Seriously, with balloons and fairy lights, we have endless possibilities for party decorations.
Photo source: Pinterest.
Simple Balloons Graduation Party Decor Ideas
Gold Graduation Banners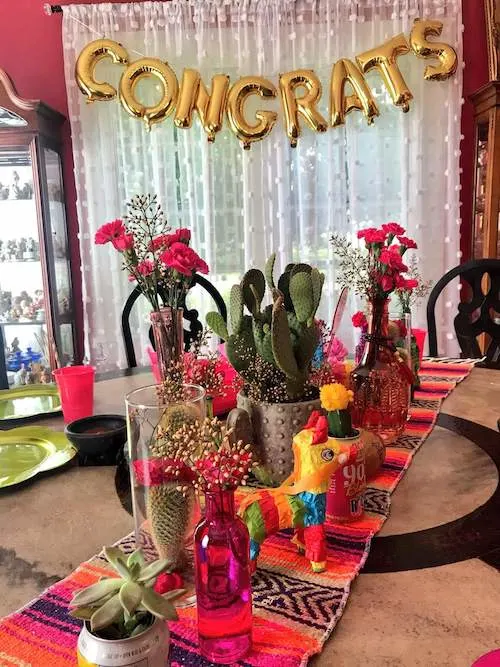 Photo source: Pinterest.
Cute Year Number Balloons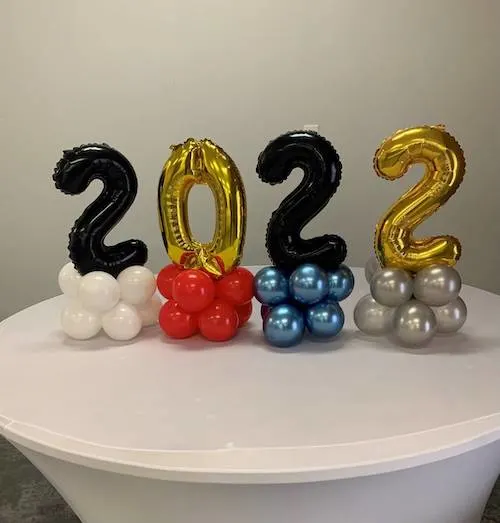 How cute is this! This idea would be the perfect idea for a graduation party.
Imagine your guests saying gosh this is so cute and they can't wait to take a photo!
Photo source: Tumblr.
Smiley Face Graduation Figure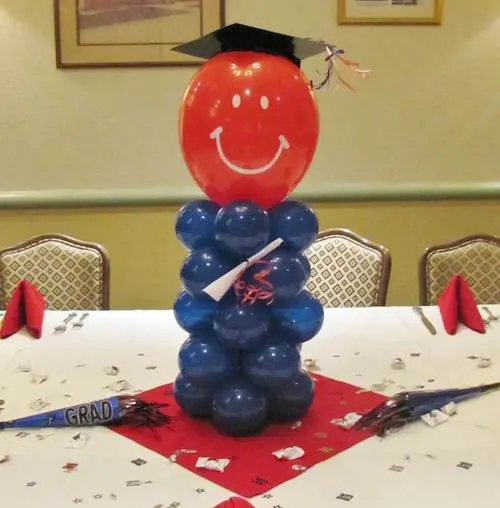 How incredible is this decoration? Make it into table centerpieces or place it on a welcome table. No matter how you use it, everyone will love your creativity!
Photo source: Tumblr.
Taco Bouta Future Graduation Party Decor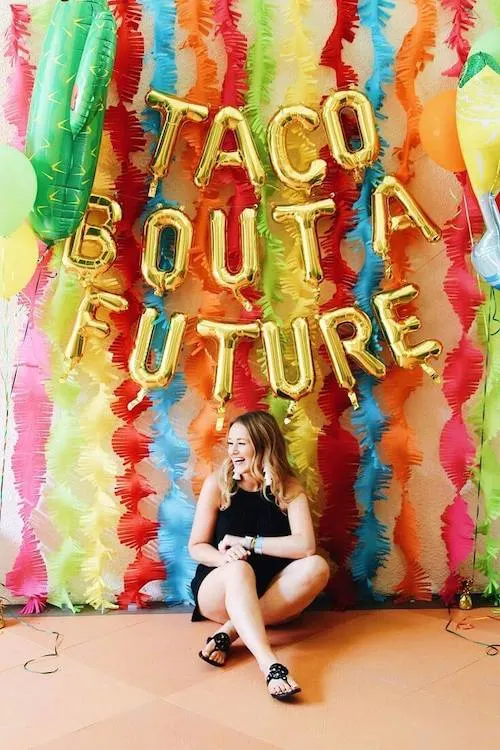 Host a graduation party with all of your favorite things: tacos, cacti and margaritas?
Photo source: Pinterest.
Perfect Balloon Decorations For Graduation Party
Spell Out Your Name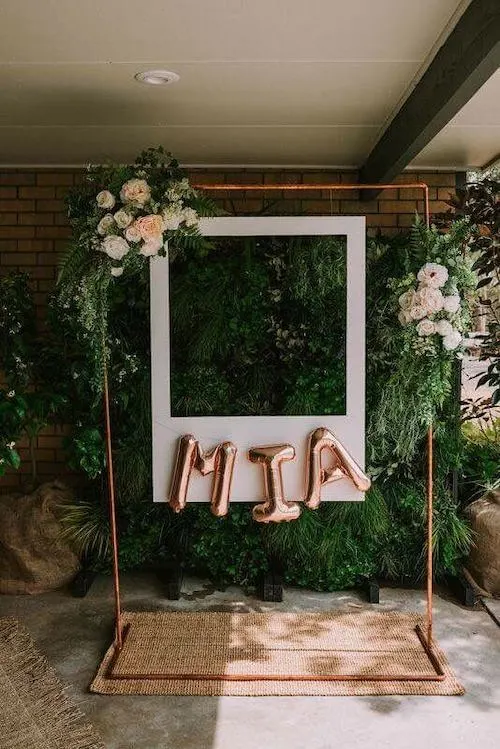 Shiny big numbers and letters, and by adding some other beautiful decorative elements, you will be able to completely transform the interior or exterior and turn it into a magical world!
Photo source: Pinterest.
Simple Graduation Balloon Figure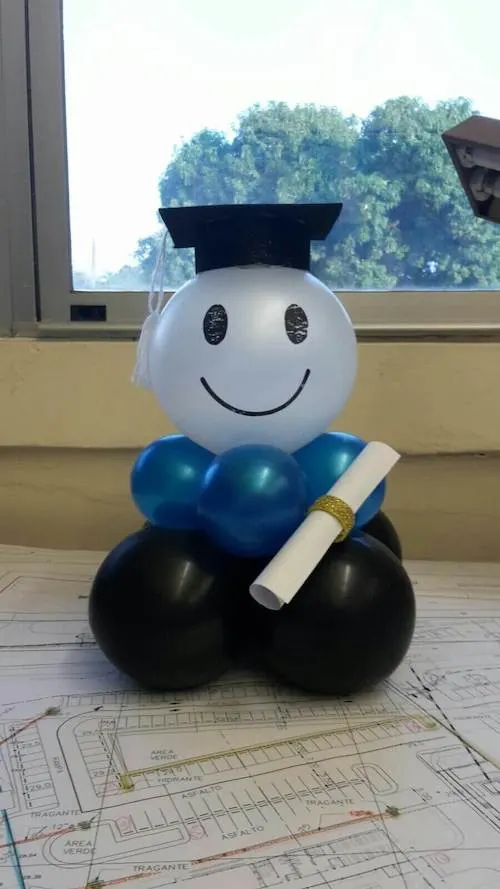 You can also draw the smiley face yourself.
Photo source: Tumblr.
DIY Balloon Decor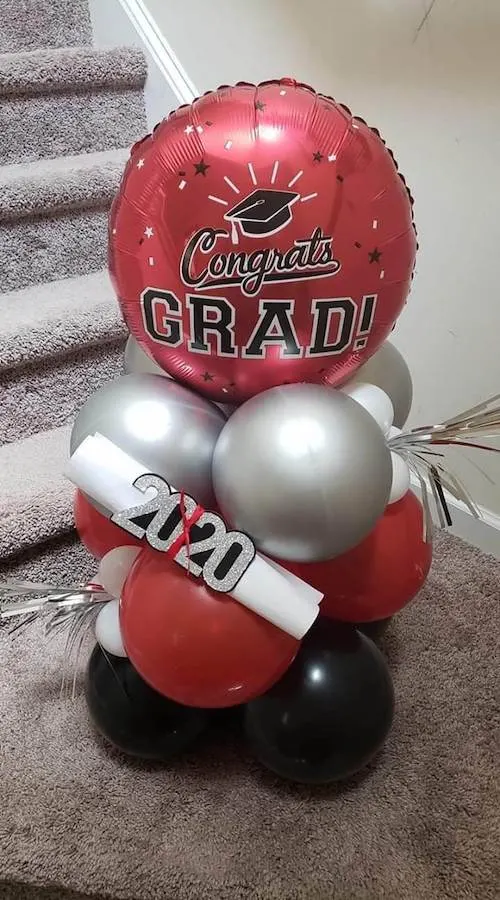 This balloon decoration is quick and easy to make. If you want to take your balloon decorations up a level, this is a great idea.
Photo source: Tumblr.
Creative Cookie Balloon Centerpiece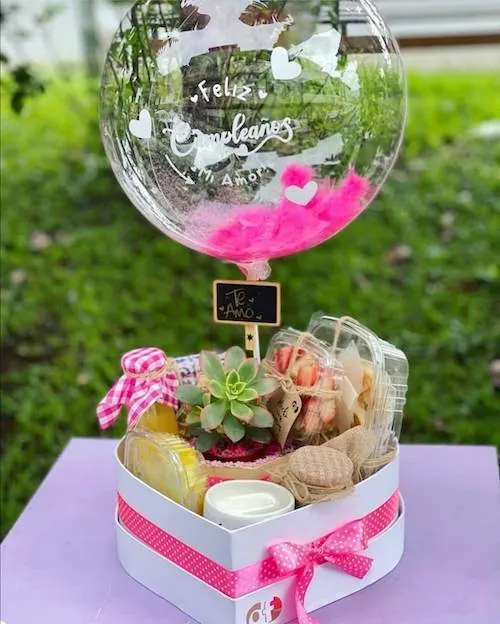 They can even be a cute cake topper. You can get clear balloons for staffing to make them creative for your party! You can also use these staffing balloons to make special gifts for your new graduates.
Photo source: Tumblr.
Open The Champagne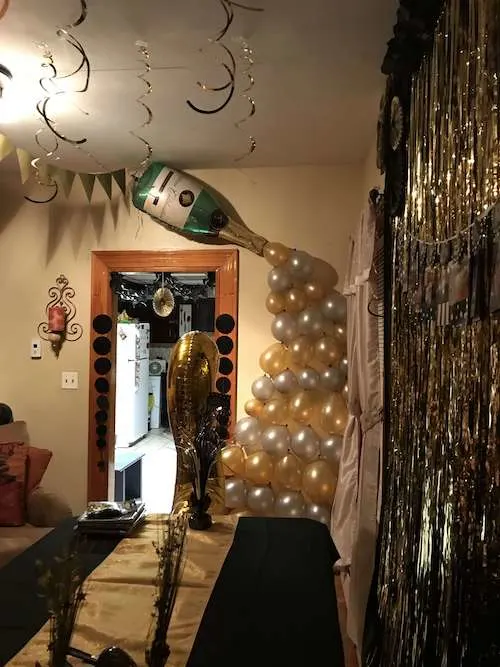 Order a giant foil balloon bottle and fix it most prominently on the wall, get some small clear balloons filled with confetti, use double sided tape to stick the clear balls to the wall near the neck of the bottle.
Finally decorate your setup with colorful ribbons and congratulatory banners and your perfect photo backdrop is ready!
Photo source: Tumblr.
Decor The Candy Bar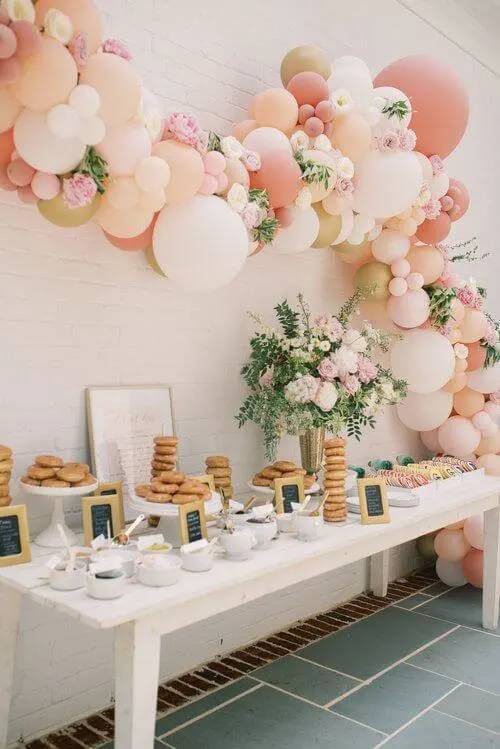 Feel free to decorate with versatile balloons to bring any creative idea to life!
Photo source: Tumblr.
Best Balloons For Grad Parties
Get The Party Started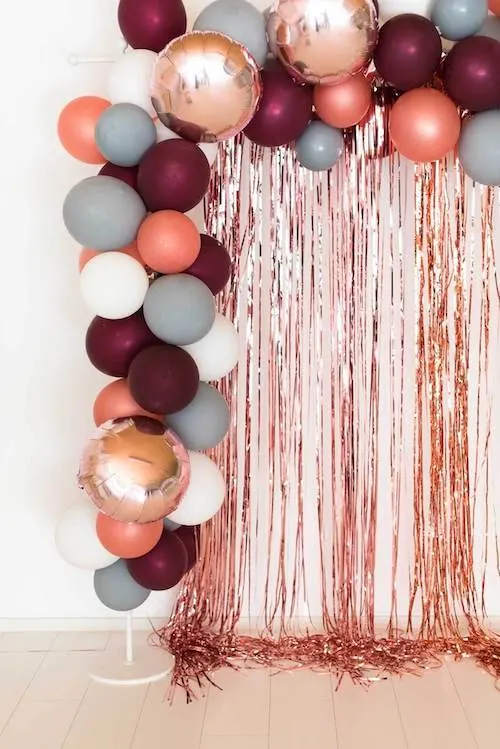 Rose gold is amazing. You can create an inflatable half-arch without a frame, just hold the balls together and tie them to a string, then attach the them to the wall.
Photo source: Tumblr.
Large Number Balloons And Balloon Garland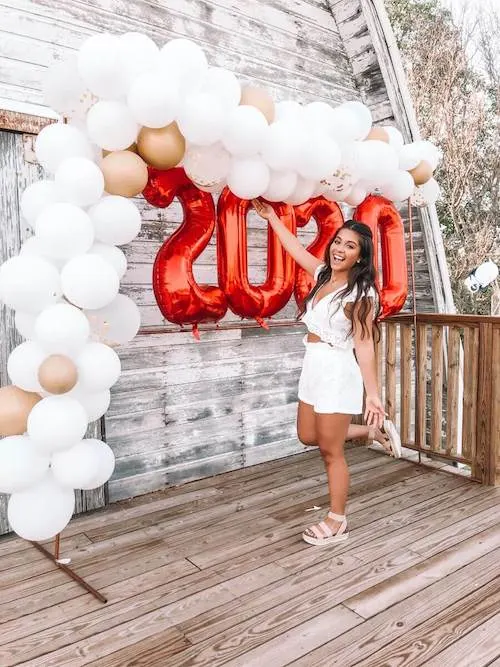 Strong contrasting colors add in the wonderful atmosphere of the party.
Photo source: Pinterest.
Bright Colors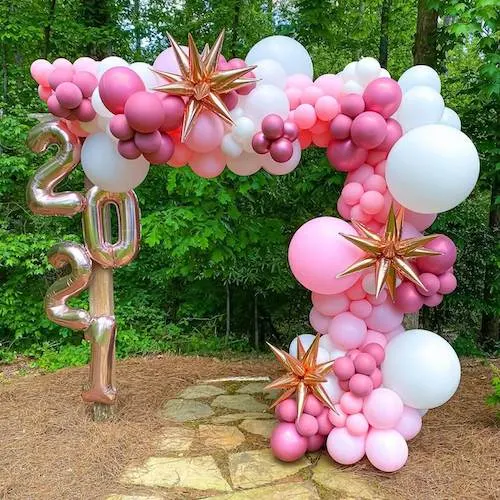 Number or letter balloons are another simple but stunning graduation balloon decoration. They will help create any message, or even a heartfelt congratulations, reminding those present why they are here.
Photo source: Tumblr.
DIY Dollar Store Balloon Photo Booth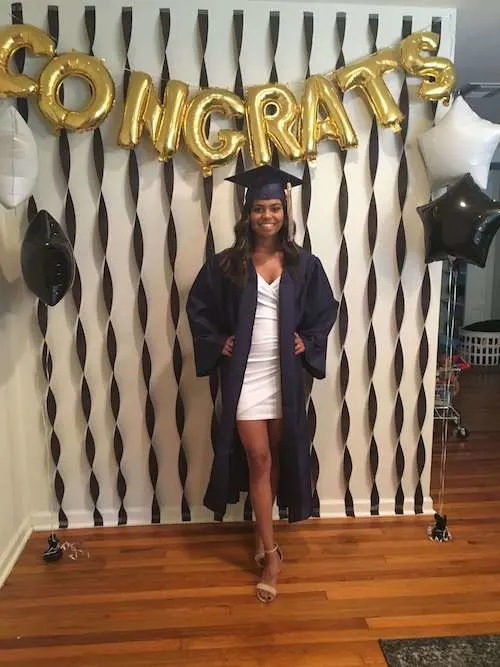 Don't waste your money in an expensive party store, you can easily recreate this idea for your coming graduation party with dollar store decorations or inexpensive decors from Amazon!
Photo source: Pinterest.
Cute Drink Bar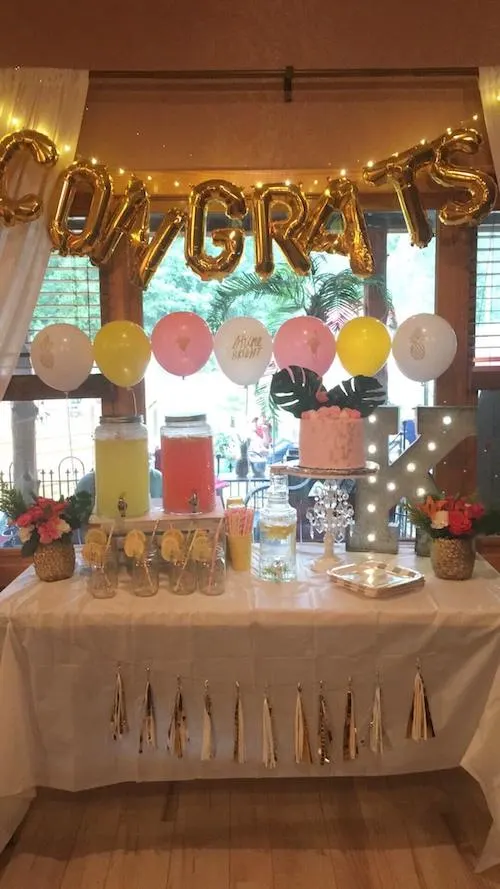 Are you looking for the easiest graduation balloon decoration ideas? Even a novice can use digital balloons to create a decent graduation party decoration.
Photo source: Pinterest.
Play With The Balloons
Arrange your favorite balloons together in a random pattern. They can look like a bunch of flowers or like a balloon post, so cute.
Photo source: Pinterest.
Put Smaller Balloons Into The Larger Ones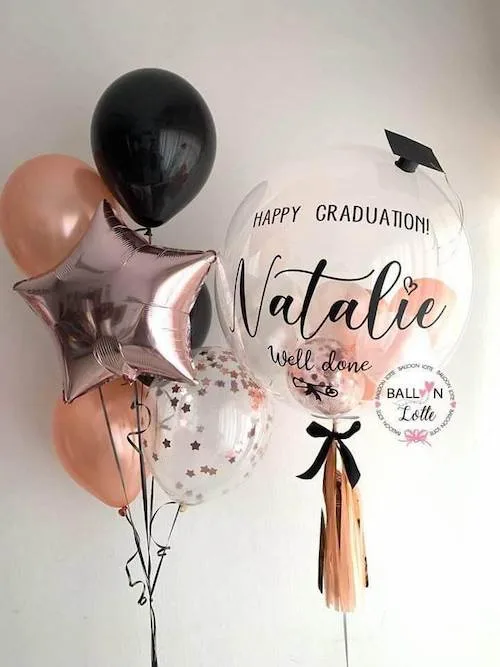 How fun is the idea of packing small balloons into larger ones? Colorful balloons, ribbons, and tassels add fun to ordinary balloons. What an easy and affordable idea you can make yourself.
Photo source: Tumblr.
Perfect Backdrop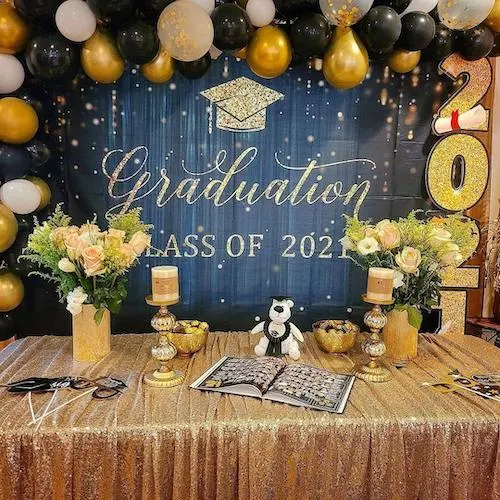 These balloons are perfect to hang above your dessert table or gift table.
Photo source: Pinterest.
Cute Little Outdoor Decor
If you love balloons so much that you want them to fill your graduation party, consider this chic balloon arch and photo wall combo.
Also, your graduation party photos will look great with this cute YAY balloon decoration idea.
Photo source: Tumblr.
Memory Lane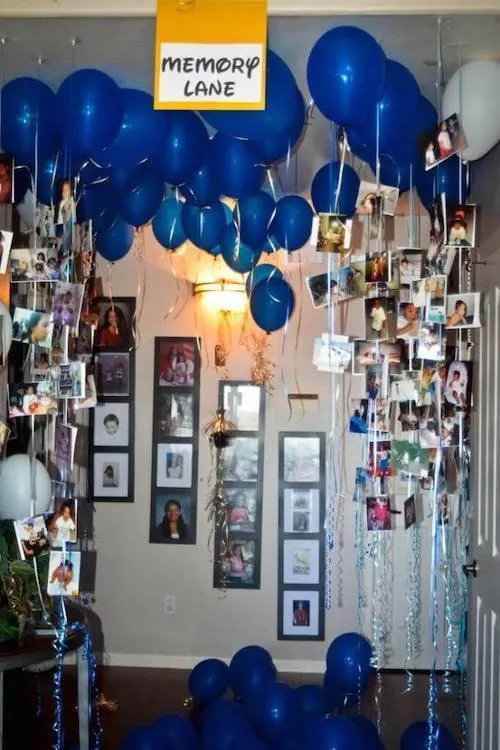 These dollar store fringes look so chic on these balloons. What an easy and affordable way to take your balloon creativity to the next level!
Photo source: Tumblr.
Display The Memories
Use the Macaron color balloons to create a chic memory display for your graduation party. Or you can choose other balloon colors based on your party's theme.
A Box Of Memories
Making a box full of memories and achievements is a perfect idea! Add beautiful balloons to make the box look even cuter!
You can use this pretty retro style suitcase directly or you can use any large used box you have.
This can also be a creative gift card box for your graduation party.
This post was all about graduation balloon decoration ideas.
About The Author
Tracy is an experienced personal stylist, shopping expert, and fashion & lifestyle blogger. She has been featured on Time Magazine, Bustle, Best Life, Glam, The Zoe Report, Mic, and GOBankingRates, for her insights on fashion, beauty, home decor, and lifestyle. Read More
Related Posts: