Looking for chic and cute mint green nail designs to copy? Check this post for the best mint nail designs and mint green nail art tips to try this year!
Mint green has always been a popular color choice for nail designs.
It's light, refreshing, and stylish – the perfect combination for an eye-catching manicure.
Whether you're looking to make a statement with bold designs or opt for something more subtle, mint green can be used in numerous ways to create unique looks.
From intricate patterns to simple polishes, there are plenty of ways to incorporate mint green into your nail design.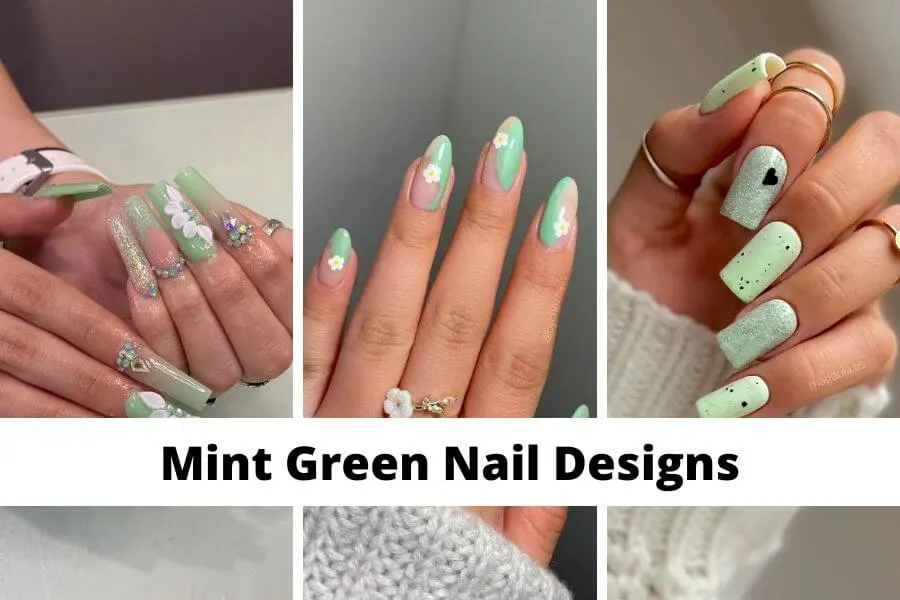 This post may contain affiliate links, which means I'll receive a commission if you purchase through my link, at no extra cost to you. Please read the full disclosure here.
This post is all about mint green nail designs.
Is mint green a good nail color?
The answer is Yes! Mint green is an incredibly versatile color when it comes to nail designs.
It's not too bold, but it still stands out enough to give your hands a great look.
Women of all ages are turning to mint green for their next manicure, and the results have been stunning.
Whether you're looking for something subtle or a bit more daring, there are plenty of ways that mint green can work with any style.
When done right, mint green nails can be very stylish and fashionable.
You can pair this color with other pastel shades like pink or lavender for a softer look, or choose darker hues like black or navy blue to make the shade really stand out.
Alternatively, you could go all-out by adding glittery accents on top of the base coat; this will instantly draw attention to your nails without going over the top.
Best Mint Green Nail Designs
Mint Green French Tips
Mint green is a beautiful color, but have you ever thought of wearing it on your nails?
This trending style can be achieved by adding mint green French tips to your nails.
French tips are traditionally white or off-white with a thin line of polish along the tip of the nail.
Now, you can make them unique and stylish by changing the traditional colors for something more creative like mint green.
This look can be achieved easily with just some basic supplies and knowledge of how to do a French manicure.
The key to an awesome mint green French tip look is having patience while applying the color; this will ensure that each nail looks even and professional.
It's important to use a light hand when applying the polish at the tips so that it doesn't over spread onto other parts of the nail bed.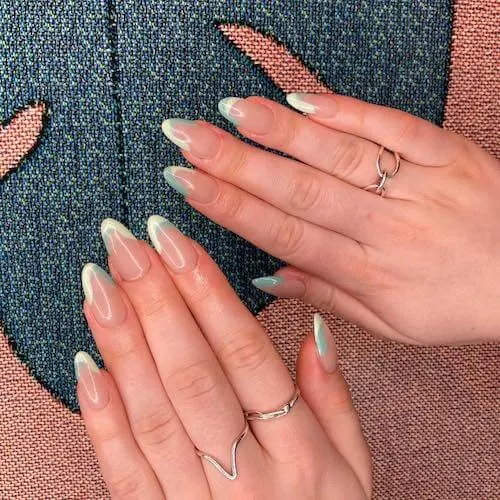 @akikonails_nyc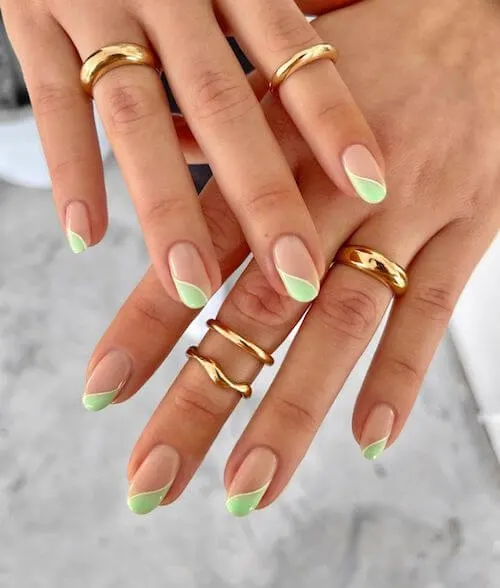 @peachinails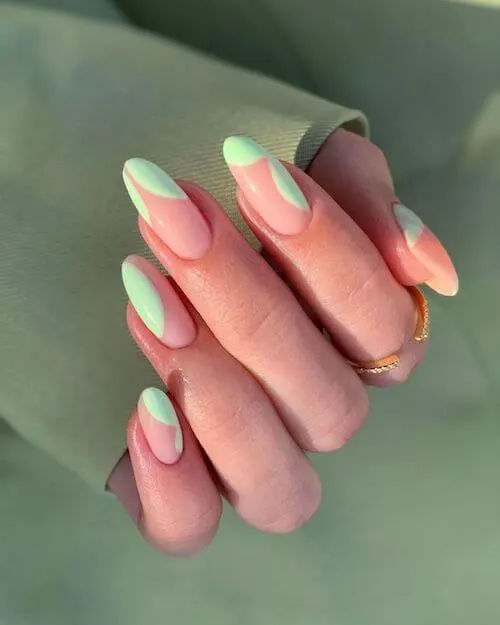 @amberjhnails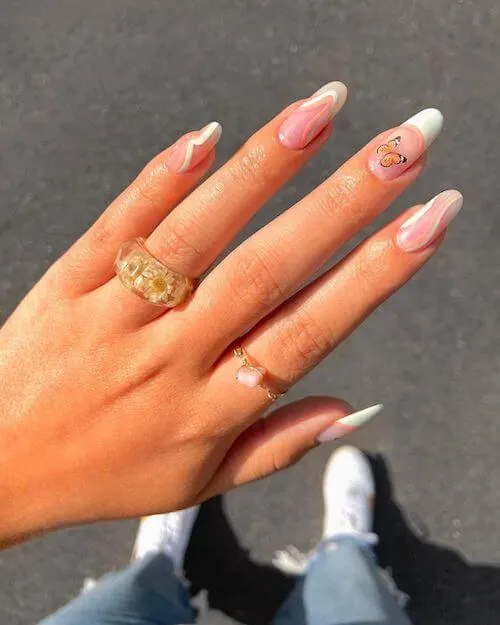 @jadeandpolished
Mint Green Swirl Nail Ideas
Mint green swirl nail ideas are perfect for when you want something fun and fresh.
These designs look great on all types of nails, from natural to acrylics.
Whether you're looking for a subtle design or something more dramatic, there's an option that will work for you.
With the right technique and supplies, anyone can recreate these looks at home.
The key to achieving this style is to use a combination of light and dark shades of mint green polish.
You can also add in some white or silver glitter for extra sparkle.
Start by painting your nails with one color then use a thin brush to create swirling patterns in the second shade.
Finish it off with a layer of clear top coat to give your nails a glossy finish.
If you want added dimension, try using rhinestones or studs around the swirl design as an accent piece!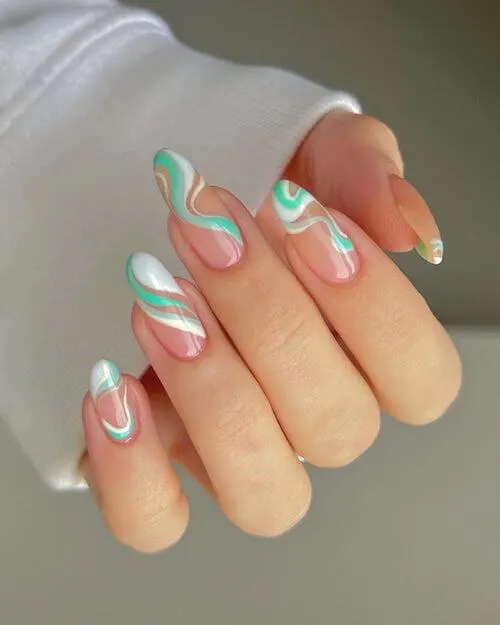 @amberjhnails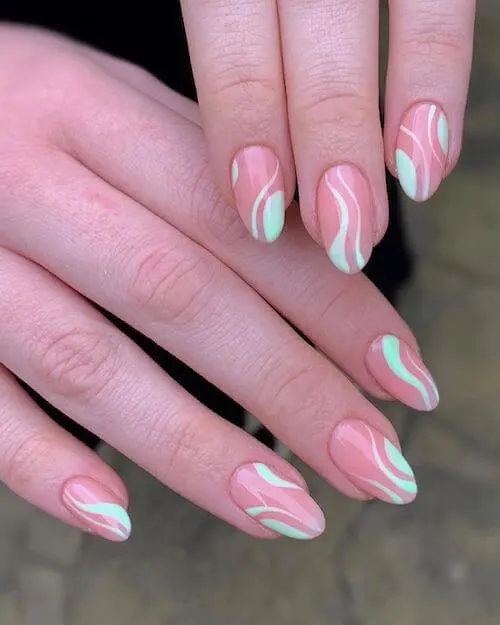 @amberjhnails
Mint Green Glitter Nails
Mint green glitter nails are one of the hottest nail trends right now!
The look is fresh and fun, perfect for any occasion.
Whether you're headed to brunch or a formal event, this color combination will give you just the right amount of sparkle.
If you're feeling adventurous, combine mint green glitter and gold glitter for an extra pop of shimmer.
To get the look, choose a light green base coat and then apply two layers of fine-grain glitter on top.
Finish off with a clear topcoat for added shine and longevity!
Not only is this style eye-catching, but it can also be surprisingly versatile: pair it with jeans and T-shirt for a more casual look or accessorize with jewelry for special occasions.
Whatever your style may be, mint green glitter nails are sure to make heads turn!
@bellafrancesinhaunhas
Pastel Mint Green Nail Ideas
Looking for a fun and elegant nail color? Consider pastel mint green!
This light, refreshing color is perfect for any occasion.
Whether you're going to the office or out with friends on the weekend, pastel mint green polish is sure to be an eye-catching addition to your look.
Adding unique designs or patterns can help make this classic shade stand out even more.
There are endless ways to style your nails in this delicate hue.
For a subtle yet stylish look, try simple one-colour manicures with a glossy finish; alternatively, layer glitter coats or add 3D art elements for a stunning effect that won't go unnoticed.
If you want something more adventurous, experiment with contrasting colors and textures – such as combining pastel pink and mint green polishes together – for a unique twist on traditional nail design.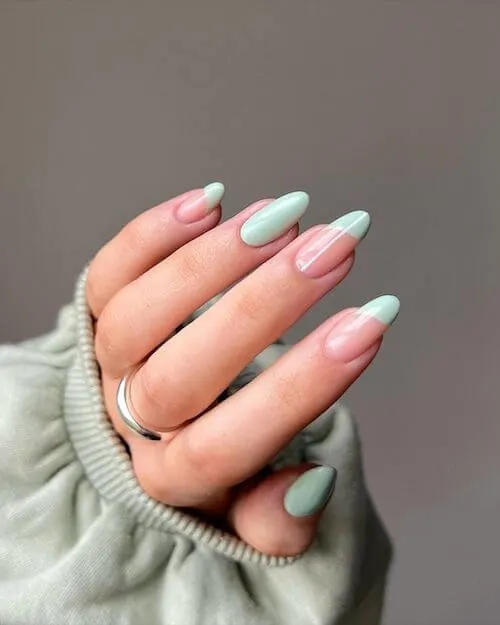 @amberjhnails
Mint Green And White Nail Art Design
Mint green and white is a classic color combination that can be used to create a beautiful nail art design.
Whether you're looking for something abstract and modern, or romantic and flower-filled, this look can be achieved with minimal effort.
For a simple but eye-catching look, try combining the two colors in an abstract design.
Start by painting your nails with a mint green base coat. Use white polish to draw thin swirls at different angles across the nail beds for an elegant effect.
If you're looking for something more floral, pick up some white acrylic paint and tiny flowers from the craft store.
Paint three of your nails white, then add small mint green flowers to the other two nails using acrylic paint.
via tumblr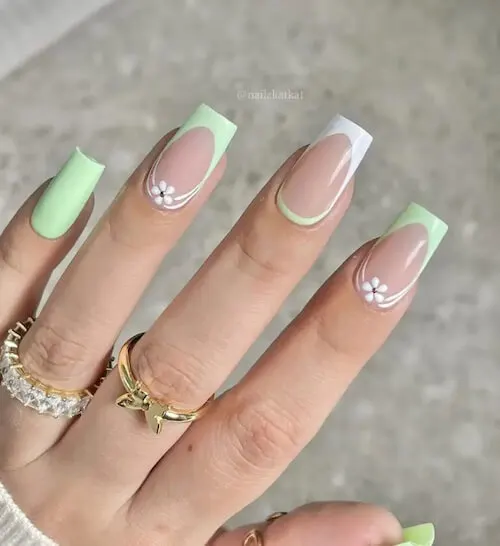 via tumblr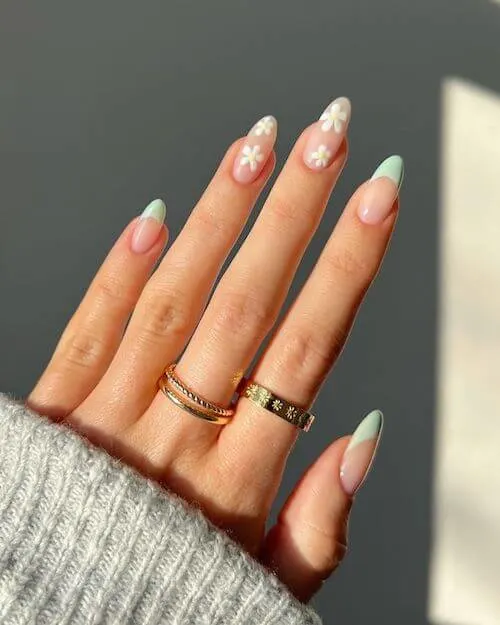 @amberjhnails
Mint Green Ombre Nail Designs
Mint green ombre nails are the perfect way to add a pop of color to your nails without being too overwhelming.
Not only do they look fabulous, but they also give off a modern and stylish vibe that will turn heads.
Ombre is a french term meaning "shaded" or "graduated," which is exactly what you are doing with your nails when you apply this design.
The great thing about mint green ombre nail designs is that there's a ton of variation you can try out to create the perfect look for you.
Whether it's an all-over light minty hue, an edgy half-moon shape with darker shades at the tips, or just two complementary colors blended together – there are endless possibilities!
With the right tools, supplies and some practice, anyone can achieve beautiful results with this trend easily.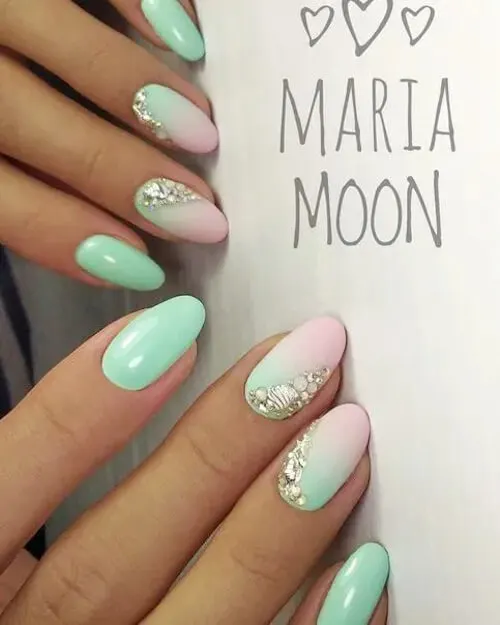 via Pinterest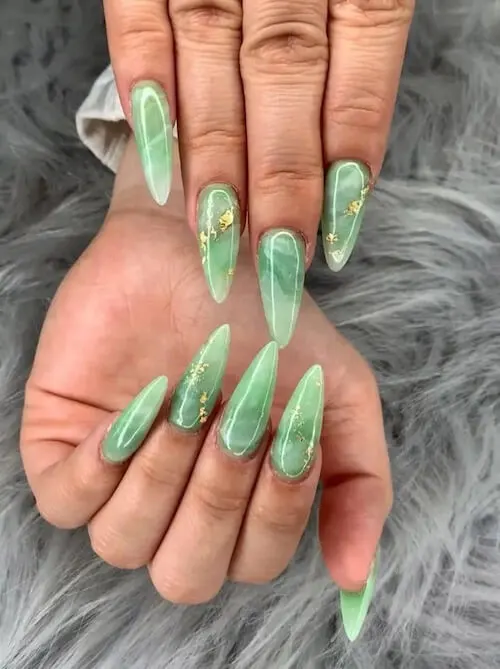 via tumblr
Leopard Print Mint Nail Designs
Leopard print mint nail designs are some of the most trending and fashionable looks for summer.
This fun and playful look is perfect for anyone who wants to stand out this season with a unique and stylish design.
Leopard print nail art is one of the hottest trends right now, but adding in a pop of color makes it even more special.
Mint green adds an extra element to make leopard print nails truly one-of-a-kind.
With endless possibilities for customization, you can make sure your nails turn heads all summer long!
This style of manicure is perfect for all levels of experience, from advanced painters to beginners; there are so many options available that everyone can find something that works perfectly for them.
For those looking to take on a more advanced project, try combining different colors within the leopard pattern or adding rhinestones or glitter accents into your design.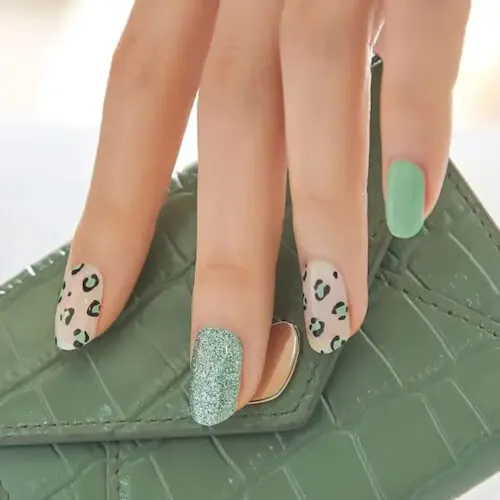 via Pinterest
Mint Green Acrylic Nails
Mint acrylic nails are the perfect way to add a touch of sophistication and elegance to any look.
Whether you're going for a subtle, sophisticated vibe or aiming for an eye-catching statement style, mint nails will definitely make your ensemble pop.
Not only is this shade incredibly versatile and easy to pair with any outfit, but it also adds a unique and modern twist to classic manicure ideas.
Creating an acrylic nail set in this beautiful mint hue is simple enough for anyone at home or in the salon.
You can create intricate designs by combining different shades of green or opt for something simpler like adding tiny gems or glitter around the edges.
The possibilities are endless when it comes to coming up with unique designs that will match your overall aesthetic perfectly!
For those who want long-lasting results, opting for professional gel polishes is always recommended.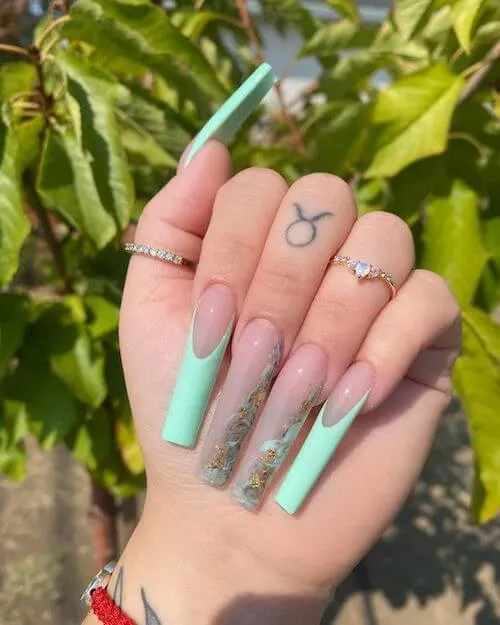 @nailedbybb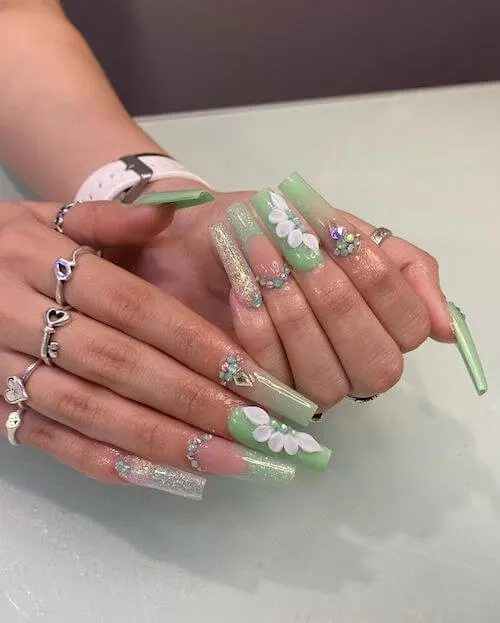 @nailsbybayleigh
Mint Matte Nails
Mint matte nails are the perfect way to express your individual style.
This beautiful, muted shade of green has been gaining popularity lately, and it's easy to see why!
In addition to being a fun new trend, mint matte nails are surprisingly versatile and can work in any season.
From office-friendly looks to weekend wear, this unique color is sure to attract compliments no matter where you go.
Mint matte nails have a special charm that appeals to fashionistas of all ages.
Best of all, they're super easy to do yourself without needing any special tools or skills – just grab some nail polish and get creative!
You can also customize the look with sparkles or designs for extra glamour.
Whether you're looking for something subtle or over-the-top fashionable, mint matte nails are definitely worth trying out this year!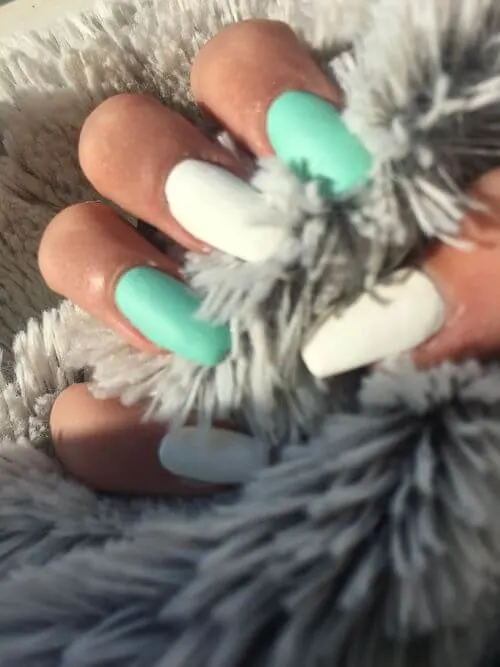 via Pinterest
Mint Almond Nails
Mint almond nails are the perfect way to bring a simple yet chic look to your fingertips.
These gorgeous nails provide an effortless way to spice up any look while also being low maintenance and reliable.
Perfect for spring or summer days, mint almond nails will always be a classic choice that stands out.
Achieving this simple yet stylish look is easy with a few supplies and some creativity.
All you need is nail polish in a pastel mint shade – adding white tips can create an even more eye-catching contrast!
Then, apply one or two layers of top coat and let the polish dry before showing off your fresh new look.
The combination of the light color and almond shape give off an elegant vibe that will draw attention no matter where you go.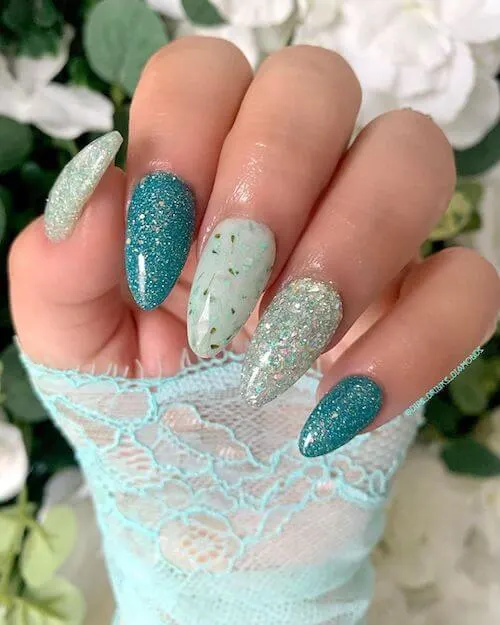 @dips_drinks_diamonds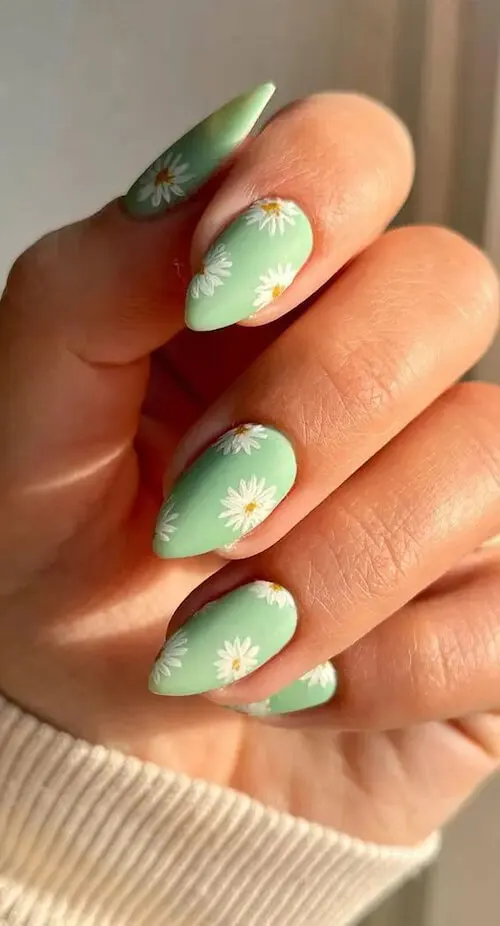 via Pinterest
Mint Gold Leaf Manicure
A mint gold leaf manicure is the perfect way to glam up any occasion.
Whether you're attending a wedding, planning a party or just looking for something extra special for date night, this look is sure to turn heads and make an impression!
Utilizing gold leafing paper and pastel green polish, this timeless mani gives off a fresh and elegant vibe that will never go out of style.
It's easy to recreate at home with your favorite nail polishes and materials; all you need are some basic supplies like top coat, tweezers, glitter polish and nail adhesive.
The process may seem complicated at first but once you get the hang of it, you can effortlessly achieve beautiful results in no time!
Get ready to show off your chic new look – it's sure to earn plenty of compliments wherever you go!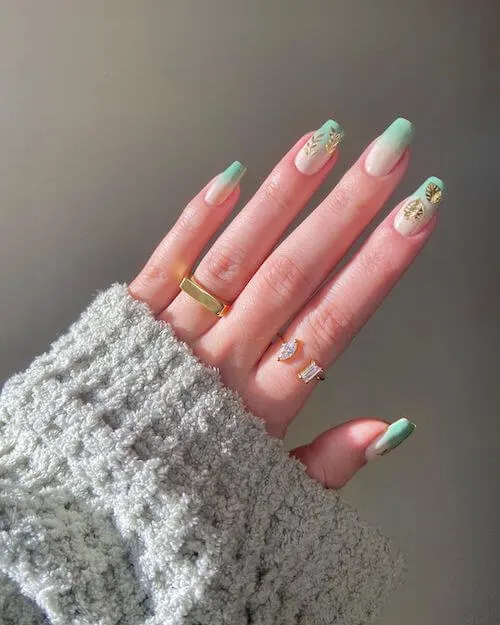 @jadeandpolished
Mint Nails With Glitter
Mint nails with glitter are the perfect way to make a subtle but powerful statement.
Whether you're looking for an understated manicure or something more dramatic, this look will have you feeling confident and beautiful in no time.
Not only is it eye-catching and chic, but there are endless ways to customize your design and make it unique to you.
To create this look at home, start by painting your nails with a light mint green polish and allow it to dry completely.
Once the base coat has dried, use a brush dipped in clear polish to paint on silver or gold glitter in small clusters around the nail bed.
If desired, add additional colors of glitter for an extra pop of color that's sure to turn heads!
To finish off your manicure, apply a glossy top coat for added shine and protection from chipping.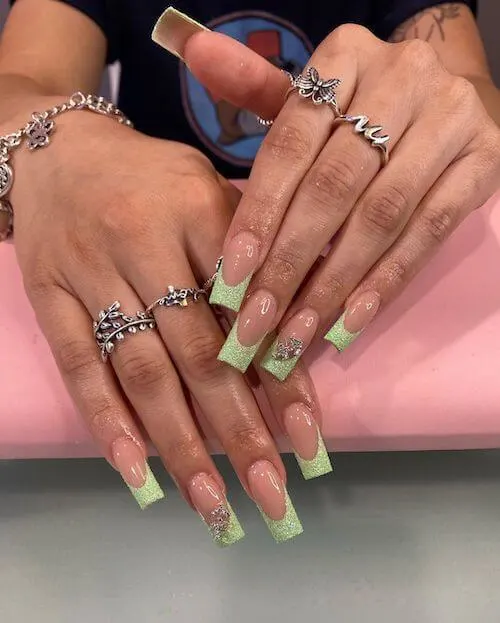 @nailsbybayleigh
Pink And Green Color Nail Art
Pink and mint green nails are the perfect combination for any occasion.
Whether you're having a fun night out with friends or attending a professional event, this duo of pastel colors is sure to make your fingertips stand out in all the right ways.
Not only do they look beautiful together, but pink and mint green have both been associated with feelings of optimism and tranquility that echo throughout your look!
For an easy way to get creative with this color combo, try creating an ombre effect by painting your nails pink at the base and fading it into a light mint shade towards the tips.
This look works great against any skin tone and can be dressed up or down depending on what type of accessories you choose to wear.
You can also add some sparkle by adding the glittery polish over top – perfect for making a statement on special occasions!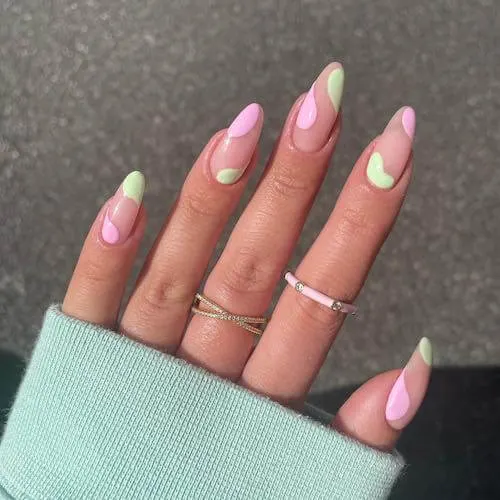 @naileditbeauty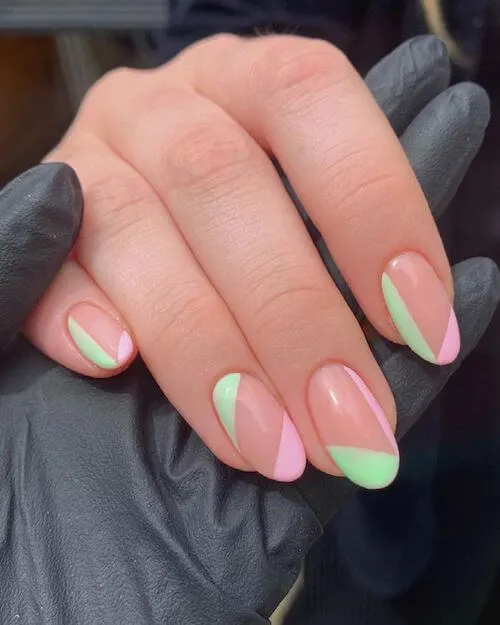 @amberjhnails
Mint And Purple Nail Ideas
Mint and purple are two colors that are often seen together in fashion, home decor, and more.
If you're looking for an eye-catching way to show off your style, why not try incorporating these two shades into your nail design?
Mint and purple nails offer endless possibilities of creative looks that can be adapted to any occasion or personal preference.
From subtle ombre designs to intricate geometric patterns, there is a mint and purple nail look for every level of expertise.
For beginners just getting started with nail art, a simple French tip with a touch of glitter is the perfect place to start.
The soft pastel shades will flatter all skin tones and look great with any outfit!
More experienced manicurists may want to opt for a more complex design like a chevron pattern or something inspired by the galaxy.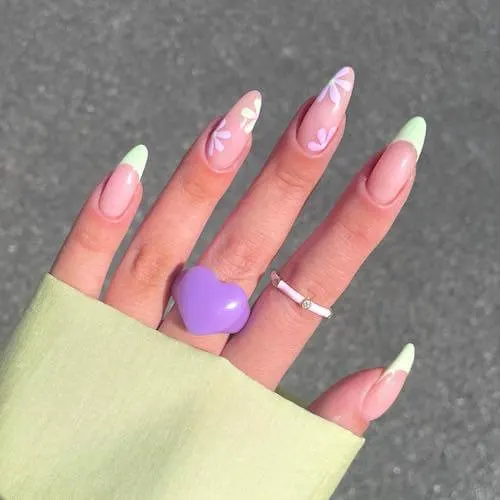 @naileditbeauty
Glitter Gold And Green Nail Polish Designs
Adding a touch of sparkle to your nails has never been easier with glitter gold and mint green nail polish designs.
This color combination provides a unique look that is sure to turn heads, whether you're attending a formal event or just running errands around town.
Create an eye-catching manicure by combining the two colors in any of these creative combinations for endless style possibilities.
To start, try adding small flecks of glitter gold along the tips of each mint green nail to give off a subtle yet dazzling effect.
You can also use the gold as an accent color on one or two nails while creating intricate patterns like swirls, hearts, or even your favorite animals with the mint green shade.
For something bold, paint all ten nails with alternating stripes of glittery gold and pastel mint green for a modern twist on classic French tip design.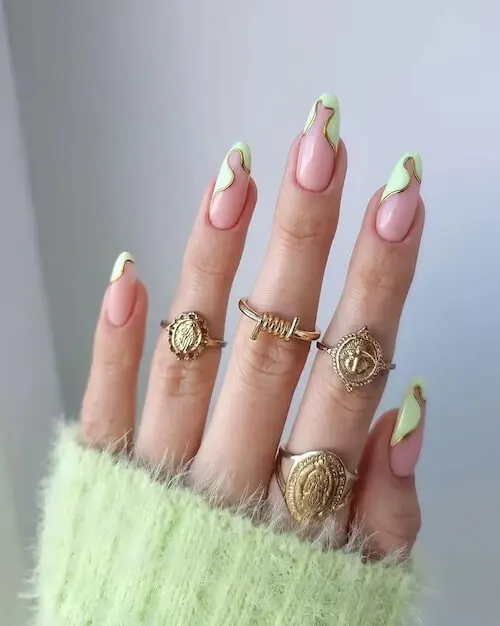 via Pinterest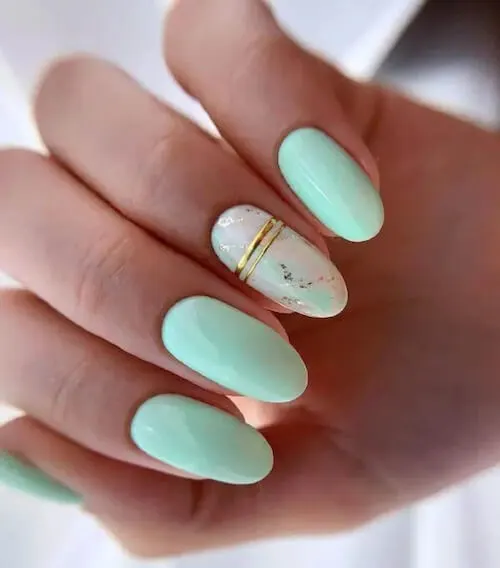 via Pinterest
Polka Dots Mint Green Nail Art
Polka dots and mint green make a perfect combination for nail art.
The combination of these two colors combines a classic design with an updated color palette, giving you the best of both worlds.
If you're looking to give your nails an update and still keep them subtle, this is the design for you!
This polka dot mint green nail art look is super simple but packs a punch.
All you need are some basic shape tools like dotting tools or bobby pins, plus two shades of green polish.
Use one shade of green to paint on your base coat, then go over with the other shade in small polka dots for added texture and dimension.
Finally, top it off with a glossy top coat for extra shine!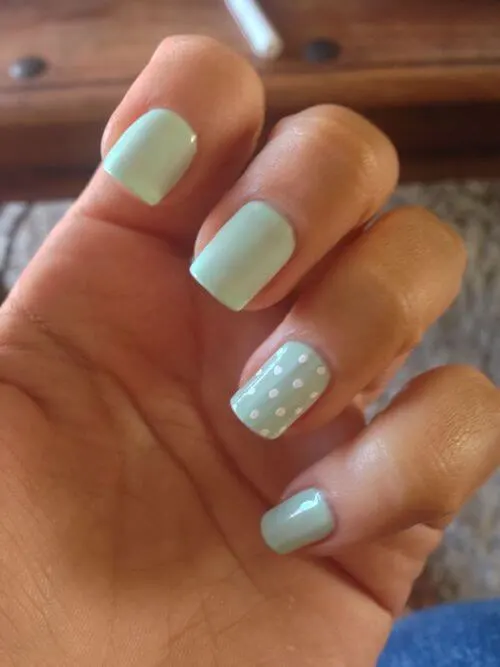 via tumblr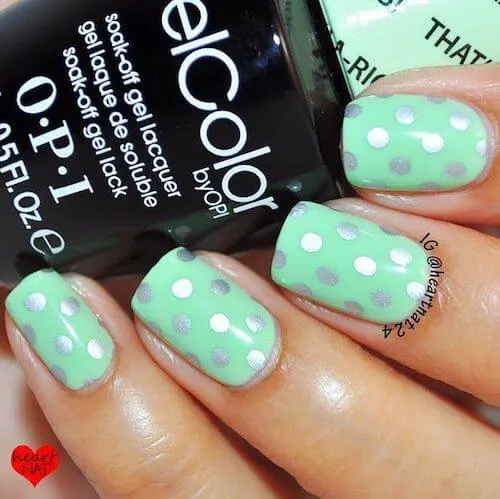 via Tumblr
Mint Green Base Rhinestone Nails
Mint green base rhinestone nails are the perfect accessory for any occasion.
From attending weddings to hitting the beach for spring break, this delicate nail art look is sure to complement any outfit you choose.
With an unobtrusive shade of mint green acting as a background, these nails are adorned with tiny rhinestones that will sparkle and glitter in the light.
Not only does it provide a subtle hint of elegance to your look, but also adds just enough glitz and glamour to get you noticed at parties or special occasions.
The intricate detailing on these nails takes time and effort but once complete they make an eye-catching statement that can't be ignored.
The small stones act almost like tiny gems which enhance their beauty even more, giving them a stylish yet sophisticated finish that complements both formalwear and casual outfits alike.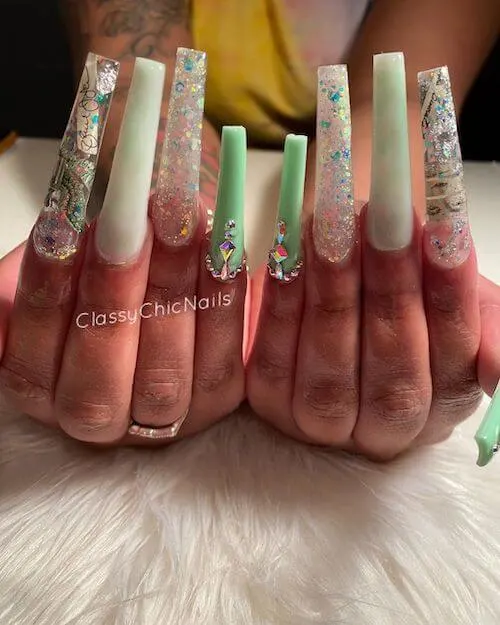 @classychicnails
Cute Mint Green Tips
With the start of the new season, it's time to switch up your manicure and try something fresh and fun.
One of the hottest trends for this season is cute nails with mint green tips.
Not only does this look refreshingly modern and chic, but it's also surprisingly easy to achieve at home!
The key to getting this look right is all in the nail polish.
Start off by selecting a soft pastel shade of mint green that will make your nails pop against any skin tone.
Apply two coats before adding a glossy topcoat to give them extra shine and sparkle.
Then go ahead and carefully paint just the tips of your nails with a thin brush or dotting tool for an easy ombre effect.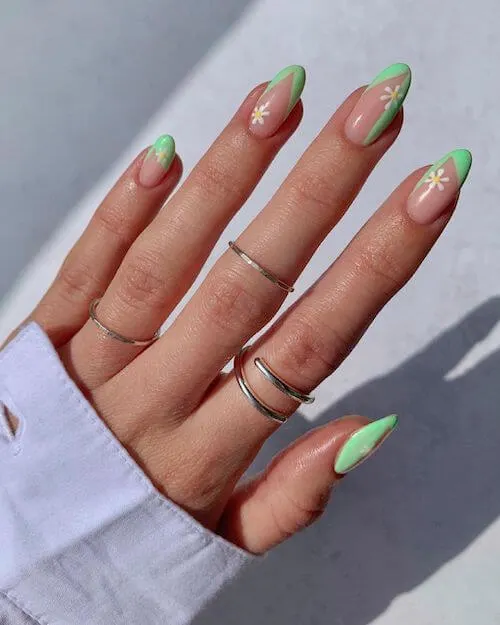 @amberjhnails
Floral Design With Mint Green Polish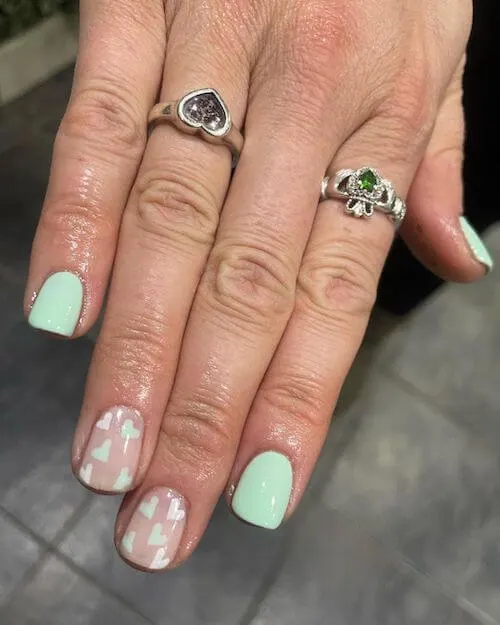 @rachellamey_hb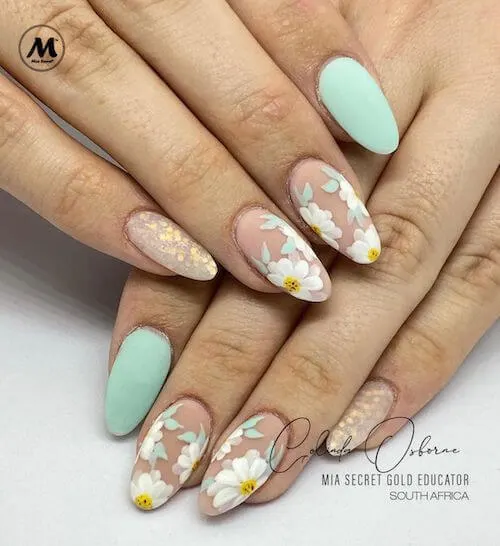 @osborne.colinda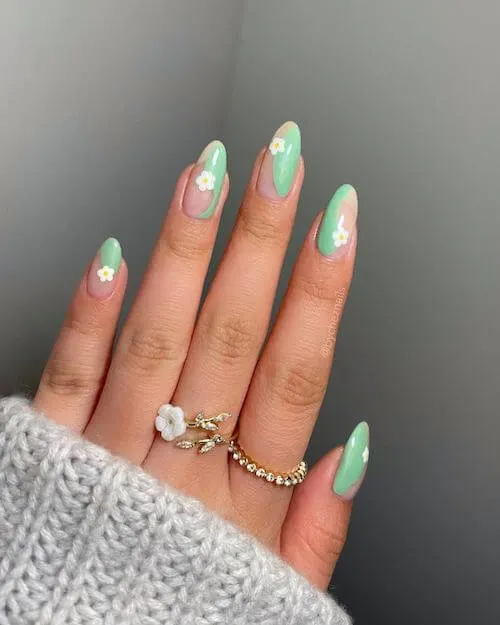 @amberjhnails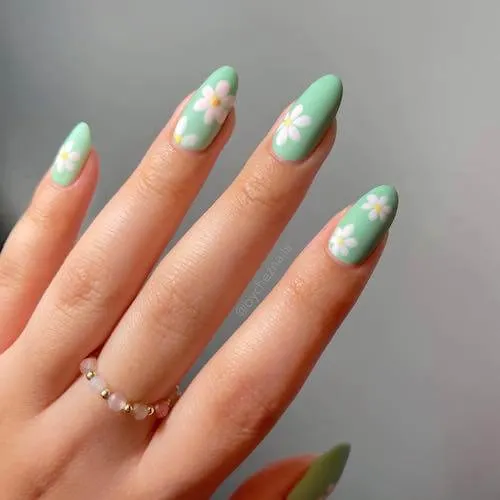 @bycheznails
Colorful Nail Design Ideas With A Shade of Green
As the weather begins to warm up, it's time to start thinking about the upcoming spring season and all it has to offer.
Nothing quite says "spring" like a beautiful set of colorful nails with a shade of mint green!
Not only is this color perfect for special occasions like weddings and parties, but it also adds a touch of freshness to any everyday look.
The unique blend of blue and green offers an array of possibilities when it comes to styling your nails.
Whether you want something simple or extravagant, the soft hue can provide the perfect accent for just about any occasion – from casual outings to winter holidays.
From full nail designs featuring flowers and other natural elements in shades of pink, purple and yellow to intricate details such as rhinestones or glitter, there are plenty of ways to express yourself with this versatile color.
@beautyworksbyamy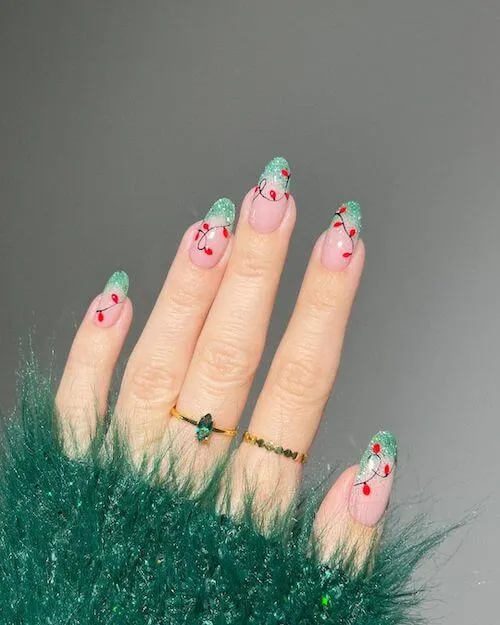 @heygreatnails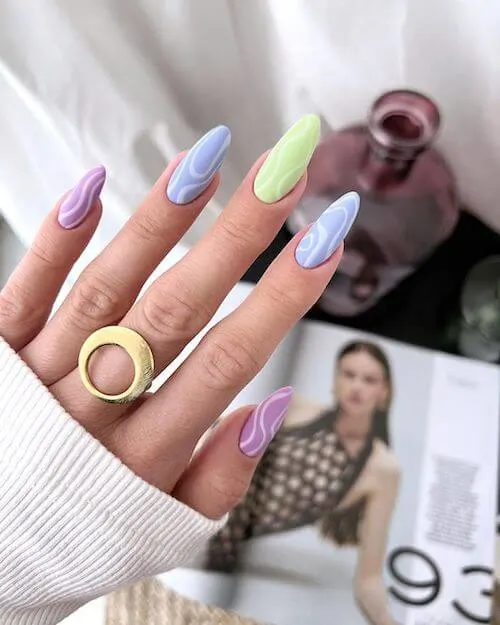 @majamarkowicz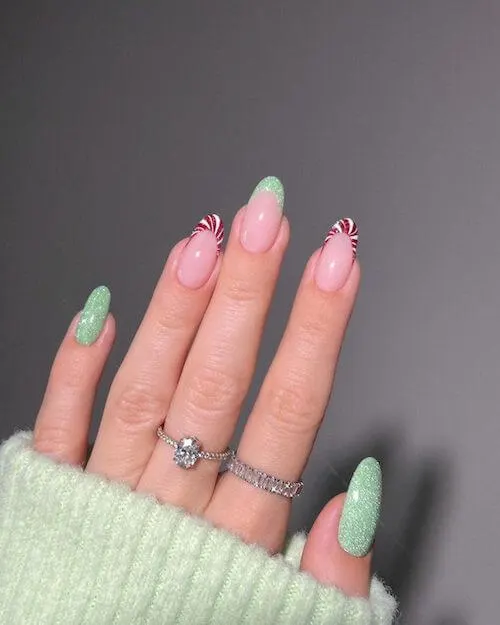 @heygreatnails
Mint And Dark Green Nails
Mint and dark green nails have become the latest trend in nail art.
From subtle, single-polish looks to elaborate and intricate designs, these two colors have taken over the manicure industry.
Not only are they fashionable, but they also make a bold statement that is sure to turn heads.
Achieve a classic look with an all-green manicure.
Choose from light shades for an understated elegance or go for darker options for a chic style.
Accents of darker greens can be added for more dimension and texture, making it easy to create unique pieces of art on your fingertips.
For something extra special, try pairing pastel pinks and yellows with vibrant blues to create a multi-colored masterpiece that will leave you with envy-inspiring nails!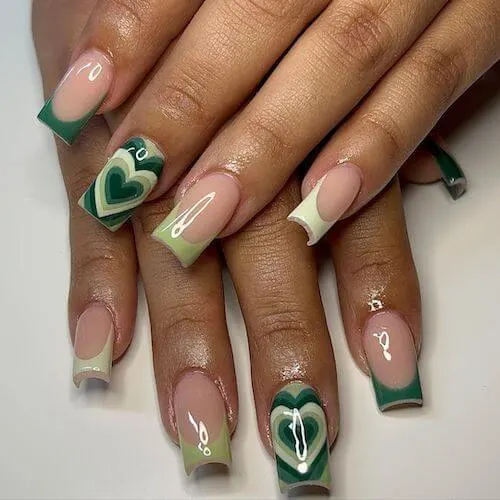 @nailsbymexyy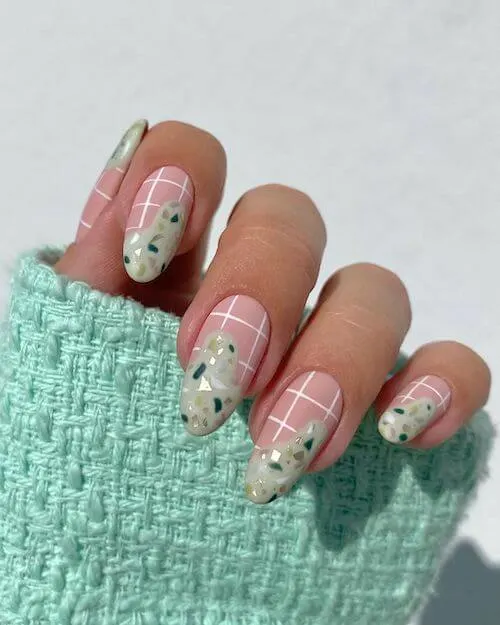 @heygreatnails
Simple Mint Nail Art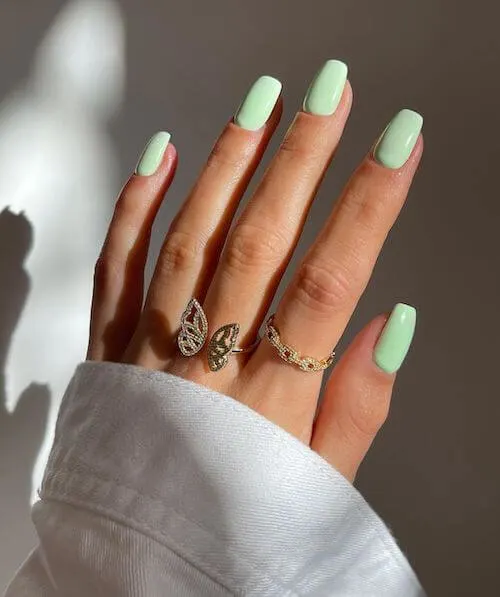 @gelsbybry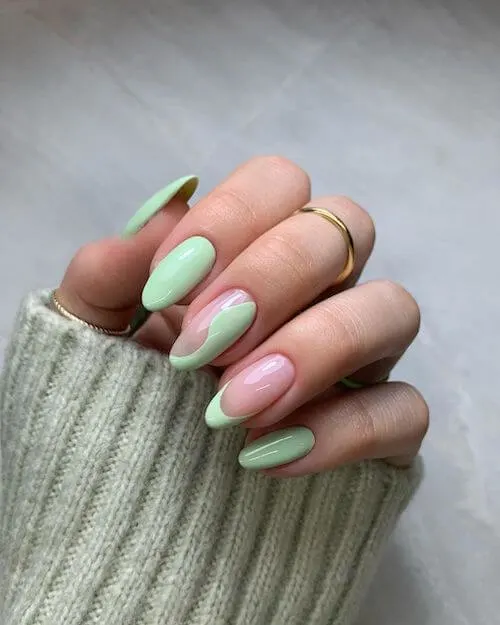 @isabelmaysurtees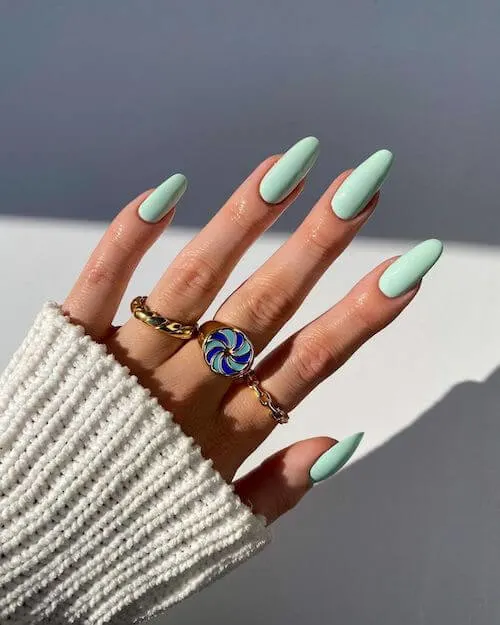 @pop_polished
Mint Accent Nails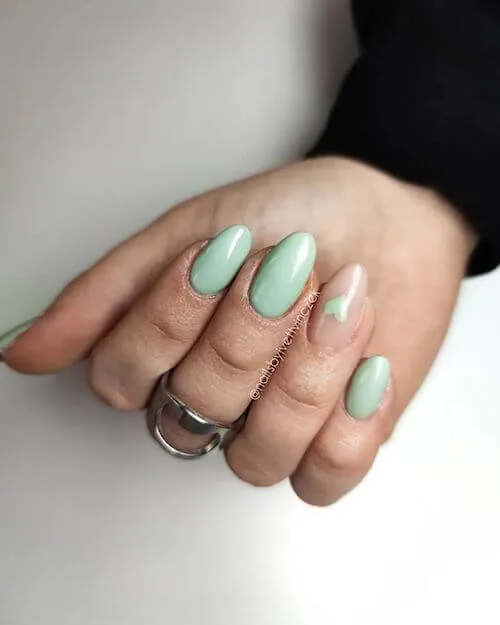 @nailsbyivettvinczek
This post was all about mint green nail designs.
About The Author
Tracy is an experienced personal stylist, shopping expert, and fashion & lifestyle blogger. She has been featured on Time Magazine, Bustle, Best Life, Glam, The Zoe Report, Mic, and GOBankingRates, for her insights on fashion, beauty, home decor, and lifestyle. Read More
Related Posts: