Looking for style tips on how to wear a poncho sweater? Check this post for the 30+ chic poncho sweater outfits for different types of ponchos to copy directly.
If you're looking for the easiest way to quickly upgrade your usual look with a little bit of personal touch on cold days, a poncho is the most convenient, stylish, never-out-of-style single piece to go.
They have unmistakable style, are very warm, and are very versatile. In addition, different brands have also launched more ponchos with novel designs, giving us more lovely choices this autumn and winter.
Want to know the trendiest way to style this outer garment this year? You've come to the right place.
In today's article, I am sharing with you our favorite ways and style tips on what to wear with a poncho sweater for different occasions and styles, and the best poncho sweater outfits for women from our favorite online fashion stores to shop for and copy directly.
So scroll down to check these chic poncho outfit ideas, and don't hesitate to pin them to your Pinterest board, and share them on social media sites.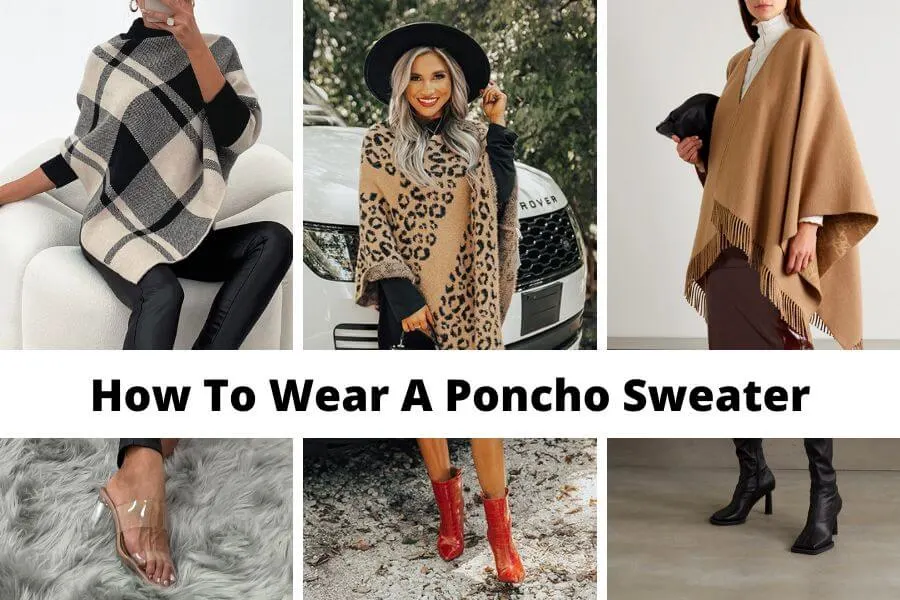 This post may contain affiliate links, which means I'll receive a commission if you purchase through my link, at no extra cost to you. Please read the full disclosure here.
This post is all about how to wear a poncho sweater.
Is A Poncho Sweater In Style?
Yes! With the growing popularity of country culture and casual style in the fashion world, ponchos are gradually becoming a wardrobe staple for more and more fashionistas.
A poncho, whether it's a poncho in unique colors and prints or a poncho in a classic neutral color, can instantly make your leather pants, skinny jeans, leggings, ankle pants, or flare pants trendier.
You can use this clothing item to instantly give a new look to almost any top in your wardrobe. With the right combination, they can create stylish looks from everyday casual, to romantic date nights, to work wear and more occasions.
How To Wear A Poncho Sweater Or Cape
Whether it's ponchos with rich and unique colors or ponchos with simple, classic shapes, these style tips will make it easy to create a trendy look.
Wear It Over A Knit Top or Long Sleeves Shirt
This is one of the easiest and most comfortable fashion looks for the cold weather of fall and winter. You can choose a tight knit top, or a looser knit top, and then wrap your favorite poncho on it to add extra warmth to your fall and winter days.
Wear It Over A Collared Top or High Neck Top
If your poncho has an open neck or low neck, you'd better choose a top with a higher neck or a collar.
Solid-colored tops are easier to match than other colored tops. Solid color tops in neutral colors such as black, white, beige, and gray are the best choice.
After you choose the color of your top, you can choose shoes or shoulder bags of the same color to make your whole outfit look more coordinated with an excellent fashion sense.
Wear It As A Dress
You can wear a longer poncho as a fashionable dress!
You can wear shorter bottoms, allowing your poncho to almost completely cover your bottoms. Then complete the look with stylish boots.
Wear It With A Belt
If you are wearing an open front poncho, or your poncho is very oversized, to create a more perfect body proportion, you can add a belt or use the coordinated belt to show your waistline.
You'd better choose a belt in the same color as your shoes or other pieces in your look, which will make it easier to create a great outfit with a good fashion taste.
How To Style A Poncho Sweater In Winter Season
Choose Different Colors or Patterns
To avoid adding a poncho to make your outfit look bloated in fall and winter, you can choose a poncho with a different color or pattern from your top or bottom to make your outfit more layered.
Wear Skinny Bottoms
Likewise, choosing skinny bottoms is a great way to make everything very easy for you. Skinny jeans, leather leggings, bodycon skirts or dresses, straight-line skirts or dresses are all great options.
You can also choose dress pants, leather pants, or pencil skirts for a more formal look.
Add More Fun With Bright Colors or Animal Prints
In fall and winter, you may wish to add some dazzling visual interests to your quiet wardrobe.
Wearing brightly colored ponchos or sexy animal print ponchos is an ideal way to elevate your style.
What To Wear Under A Poncho
Many clothing items can be worn under Ponchos, as long as it is not too loose.
A slightly tighter top, bottom, skirt, or coat makes it easier to create great body proportions.
Also, you need to pay attention to the color of the exposed part of the top, so a solid neutral color top will make it much easier for you to style the rest of the outfit.
Our favorite options are:
Best Poncho Sweater Outfits For Women
From classy style to free old west style, from relaxing getaways to romantic date nights, you'll find a poncho that brightens your simple look, bringing your style to the next level.
In addition to the common neutral colors ponchos such as black, white, beige, brown, tan, and gray ponchos, plaid, leopard, and purple ponchos are also very popular this year.
In addition, we also like all kinds of novel ponchos designs, adding an appropriate edgy vibe to your outfits, so that even the most common combinations are more fashionable.
So ahead, scroll on to check the trendiest poncho designs this year, and chic different ways to style a poncho sweater for women for different styles to copy directly.
Elegant Casual Outfit: Grey Turtleneck Ponchos + White Long Sleeves + White Jeans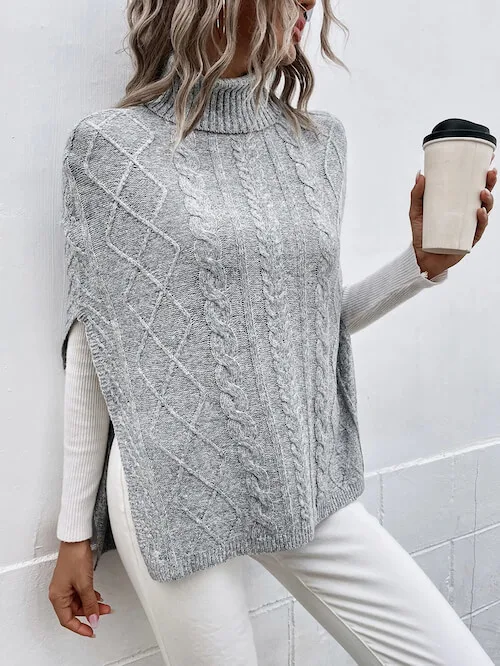 Elevated Casual Look: Turtleneck Fringe Poncho + White High Neck Top + Blue Skinny Bottoms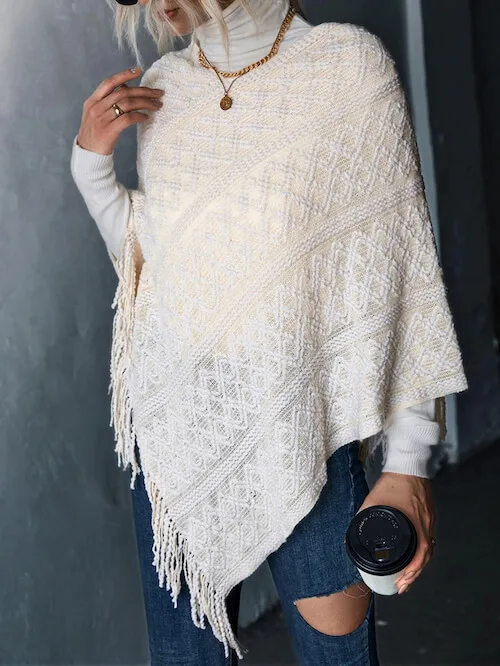 How To Style A Hooded Poncho: Black Leather Leggings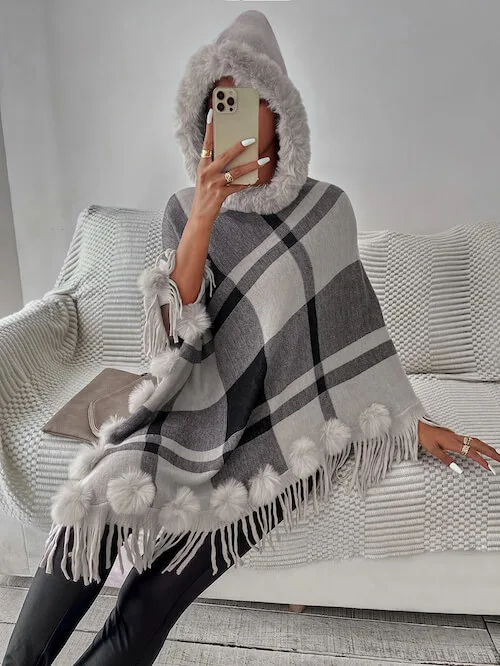 Chic Date Night Outfit For Cool Months: Knitted Poncho + Black Long Sleeve Shirt + Black Thigh-High Boots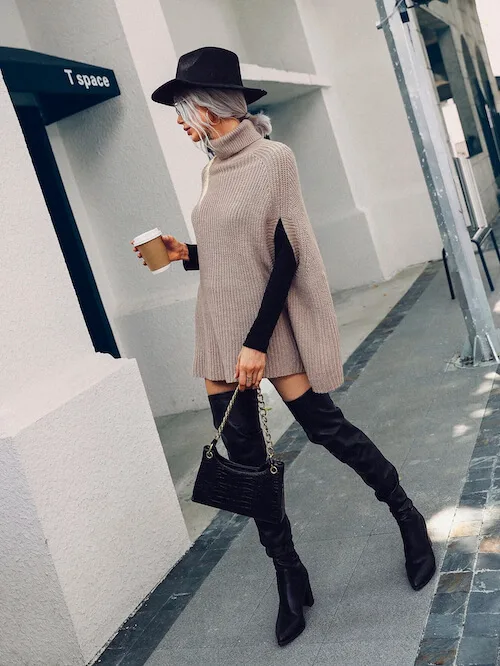 Cute Relax Outfit: Fringe Open Knit Poncho + White Tank Top + Blue Jeans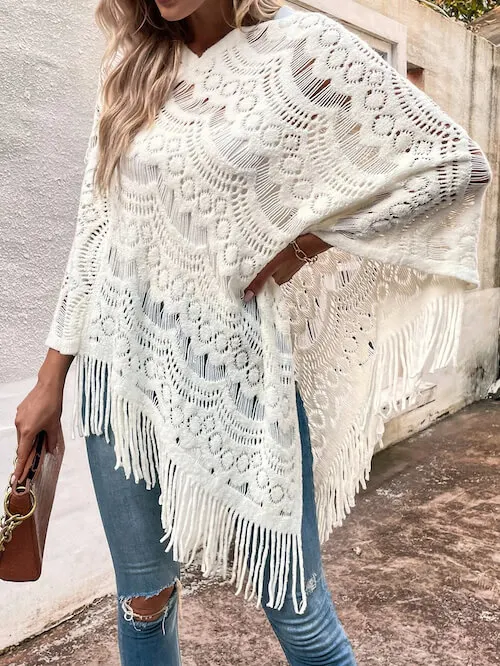 Perfect White Details For The Overall Look: Poncho + White Long Sleeve Top + Blue Skinny Jeans + White Leather Ankle Boots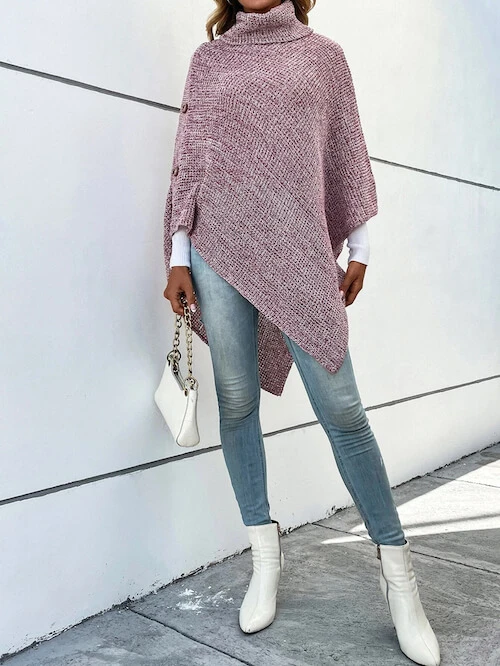 Classic Poncho With Unique Pattern: White Knit Top + Jeans + Black Suede Boots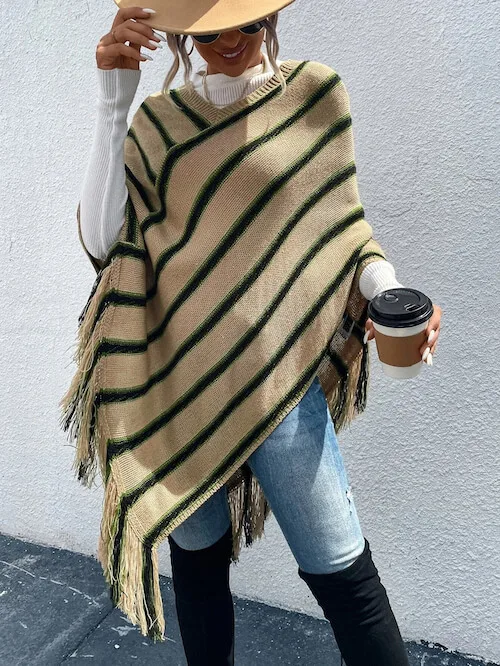 The Easiest Way To Bring Your Winter Style To The Next Level: Plaid Poncho + Black Leather Skinnies + Black Leather Boots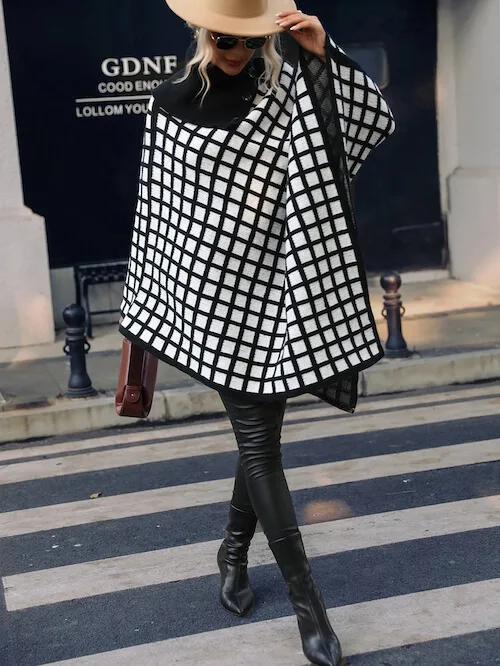 A Fresh Look: Neutral Colors Poncho + Boyfriend Jeans / Straight-Leg Jeans + Black Shoulder Bag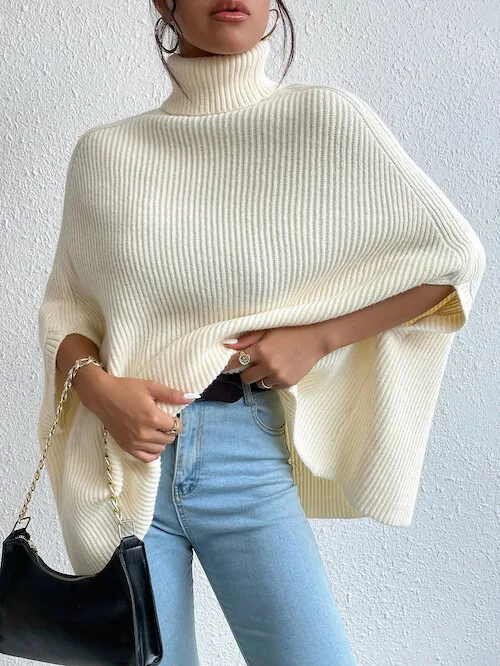 Cute Poncho Street Style: Crop Poncho + Grey Shirt + Black Joggers + Lug Boots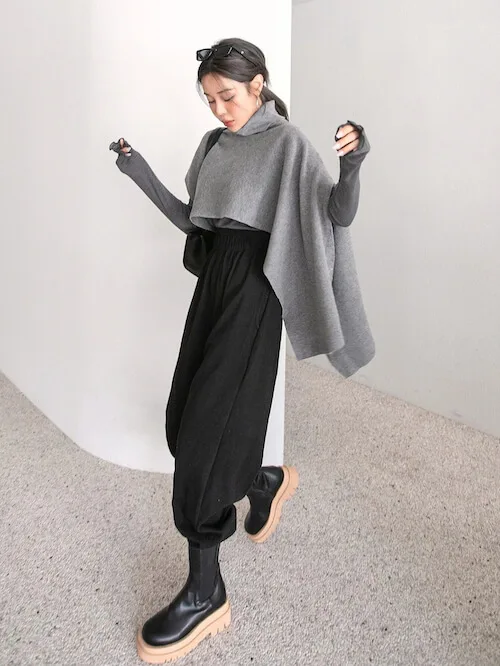 Neutral Shades For The Entire Outfit: Solid Color Knit Poncho + Black Shirt + Cropped Pants + Simple Sneakers / High Top Sneakers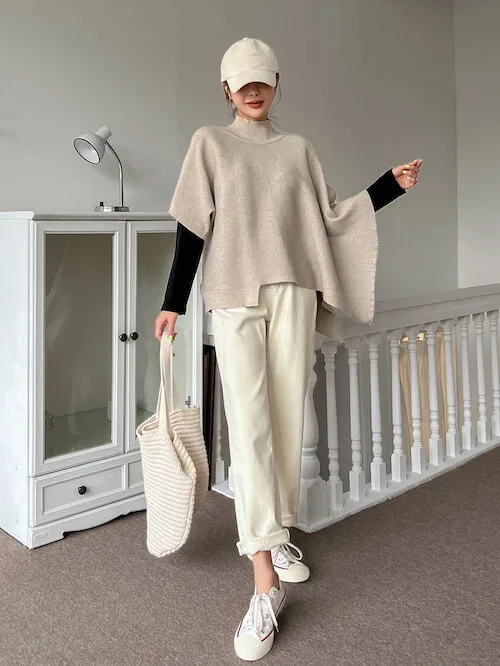 Simple Chic Accessories: High Neck Batwing Sleeve Knit Poncho + Layered Necklaces + Jeans + Clutch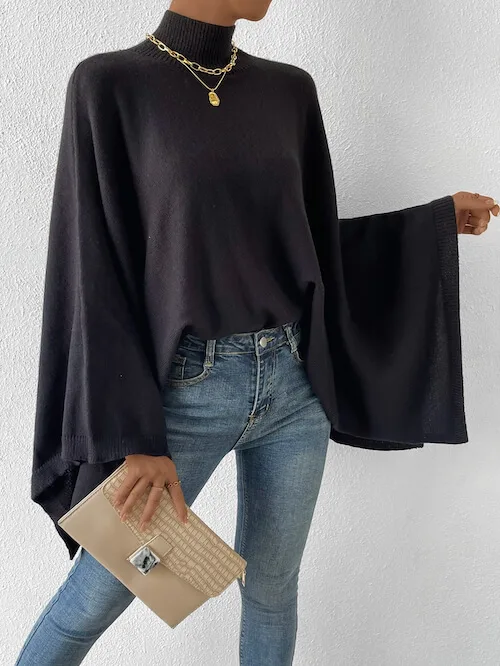 Modern Chic Charcoal Poncho Outfit: Collared Shirt + Jeans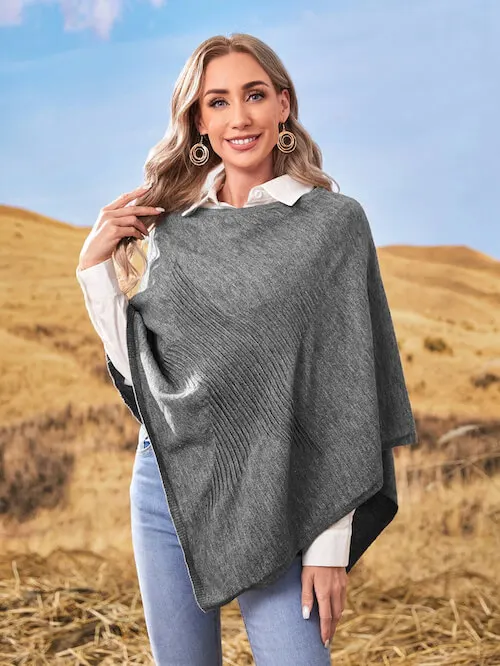 Classy Fall Style: Plaid Poncho + Black Shirt + Black Leggings / Black Skinny Jeans
A Fun Way To Style A Poncho: White Blouse + Scarf + Jeans + Brown Ankle Booties + Hat
Cute Cold Weather Look: Animal Print Poncho + Black Mini Dress + Black Hat + Red Boots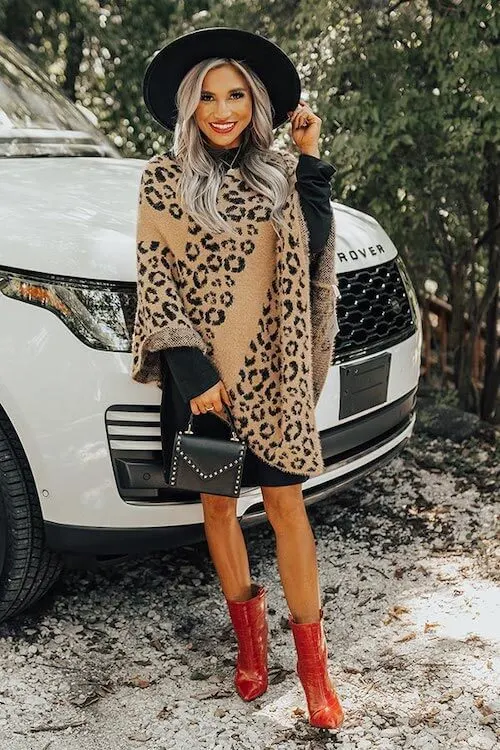 A Great Addition To Your Holiday Style: Khaki Poncho + Black Shirt + Leather Mini Skirt + Black Hat + Black Boots
Old West Style With Modern Ponchos: Fringe Poncho + Black Flare Jeans + Hat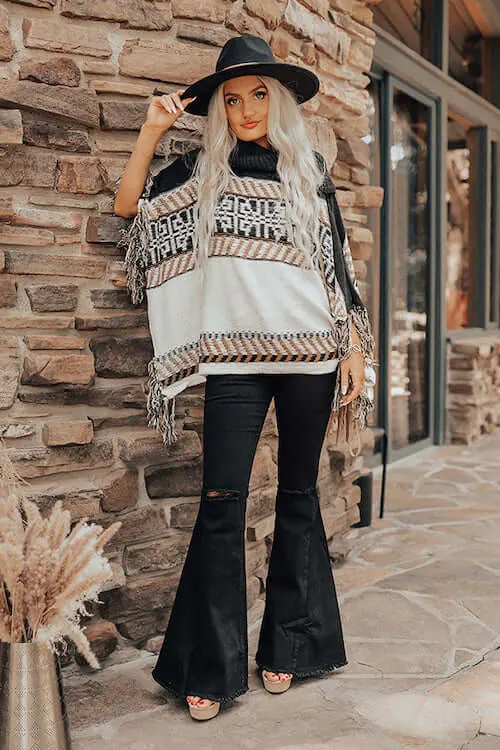 Easy Way To Layer On The Chilly Days: Grey Poncho + White Shirt + Jeans + Grey Boots + Hat + Grey Shoulder Bag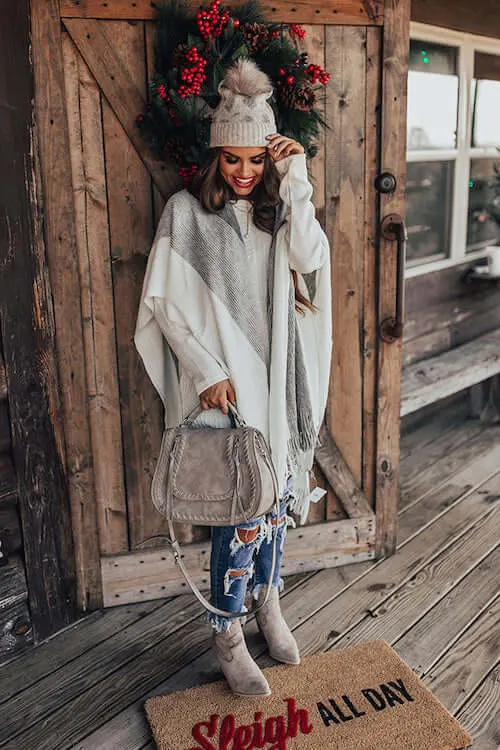 Bright Colors Contrast: Green Poncho + Burnt Orange Top + Brunt Orange Mini Skirt + White Boots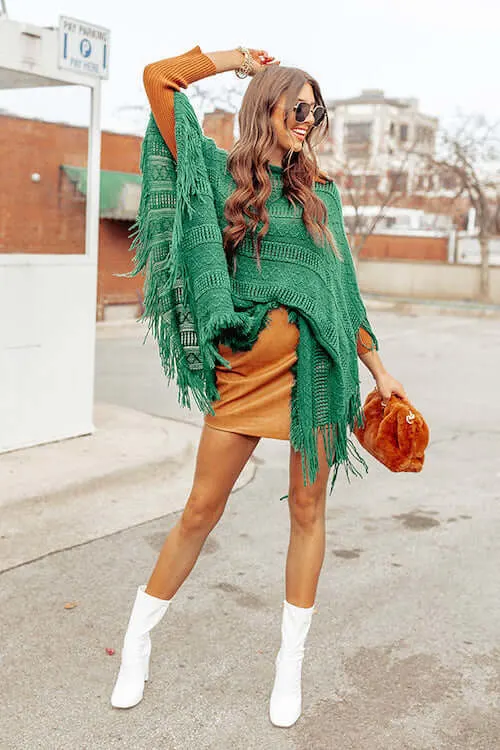 Office-Approved Look For Cooler Seasons: White Sweater Ponchos + Brown Leather Pants + Brown Boots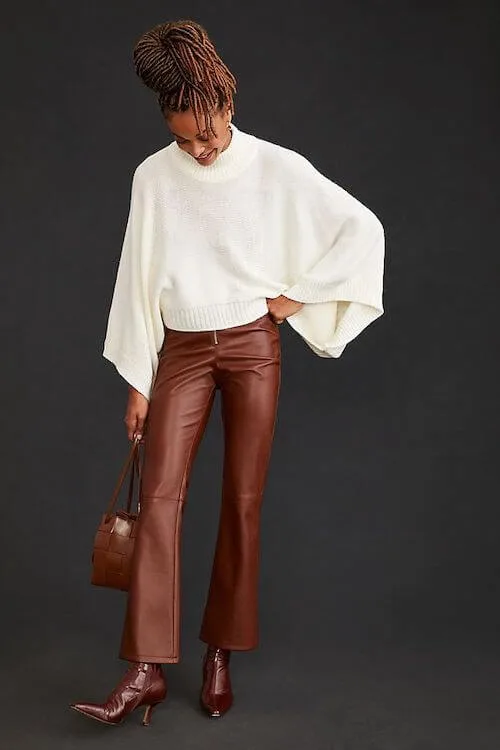 Western Style Relaxed Look: Poncho Sweater + Shorter Sleeves / Simple T-Shirt + Cargo Pants + Boots + Cowboy Hat + Belt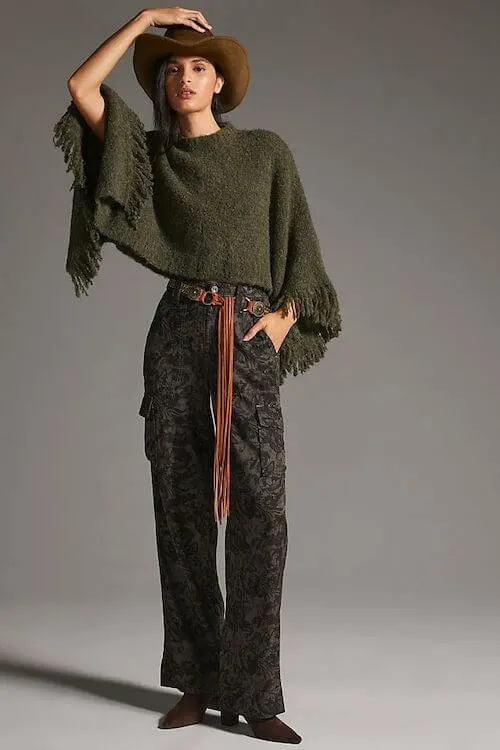 Cozy Dressier Look: Cropped Poncho Sweater + Maxi Knit Dress / Sweater Dress + Brown Knee-High Boots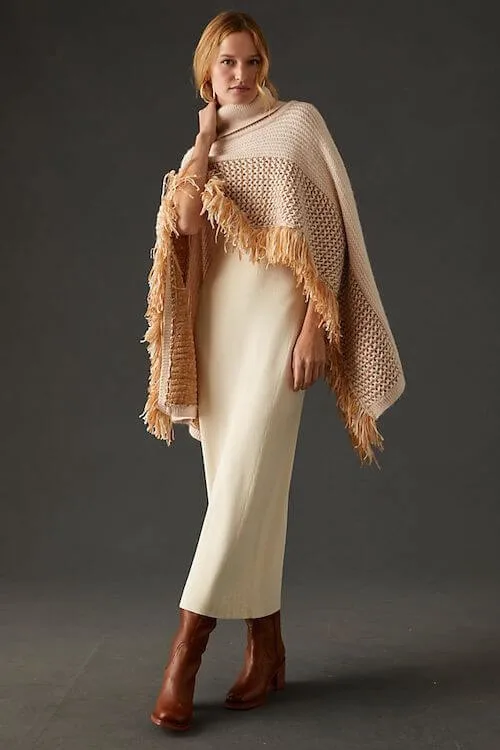 Classy Winter Outfit: Beige Belted Open Poncho + White High Neck Knit Sweaters + White Pants + Cream Shoes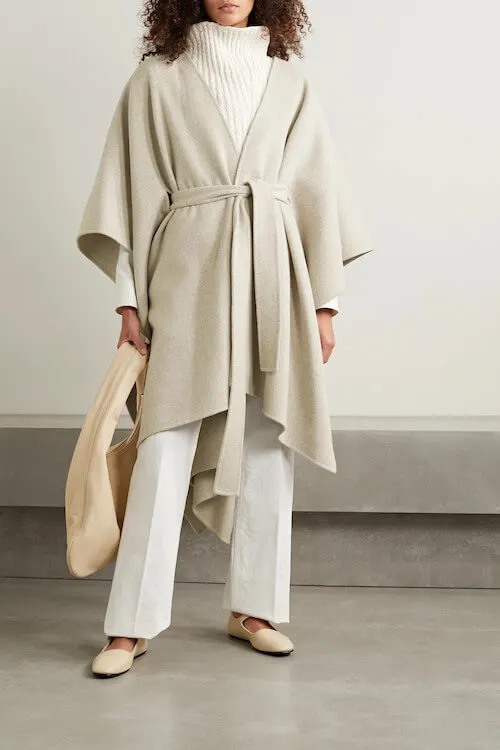 Elegant Resort Style: Fringed Printed Poncho + Wide Leg Pants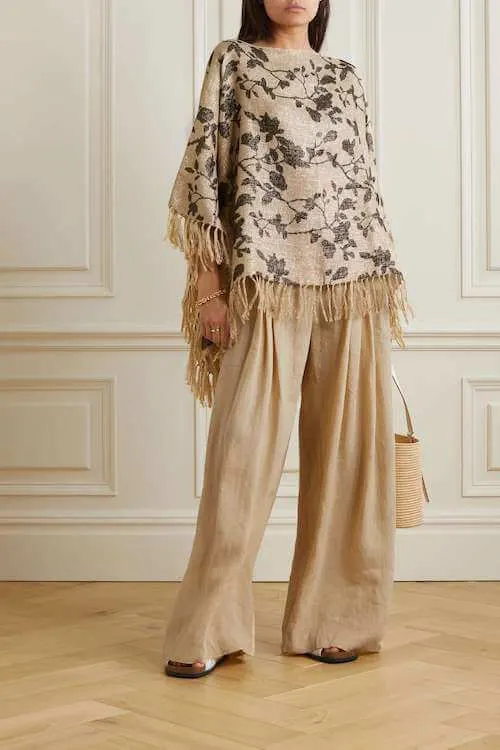 Chic Cooler Weather Look: Wool Poncho + High Neck Top + Leather Skirt + Tall Boots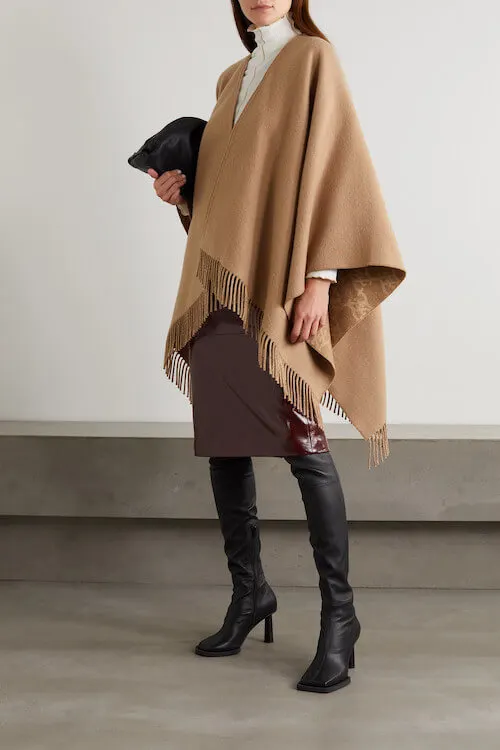 Early Fall Look: Chevron Fringe Chunky Knits Sweater + Knee Boots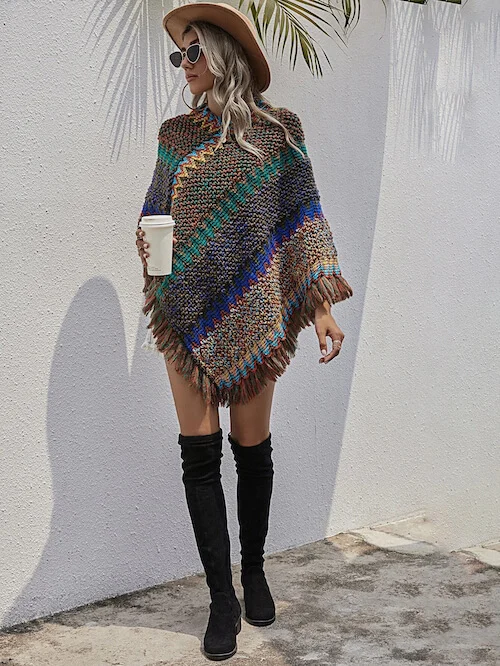 Perfect Edgy Vibe: Crop Solid-Colored Poncho + White Button Down Shirt + Leather Pants + Chunky Sneakers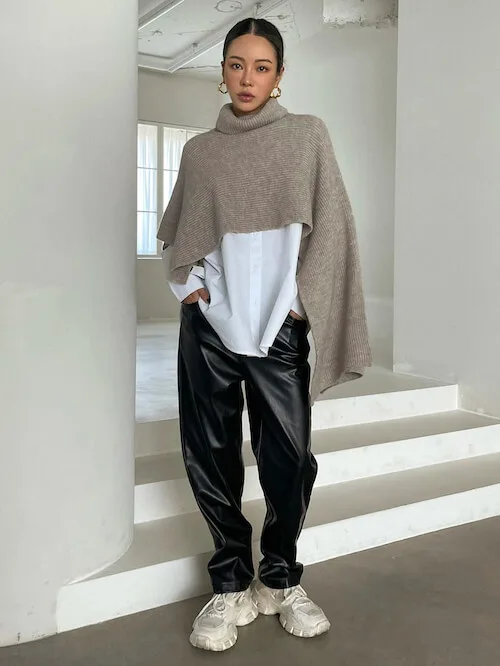 A Great Alternative of Jacket: Tan Poncho Sweater + Long Necklace + Black Flare Pants + Pointed Toe Shoes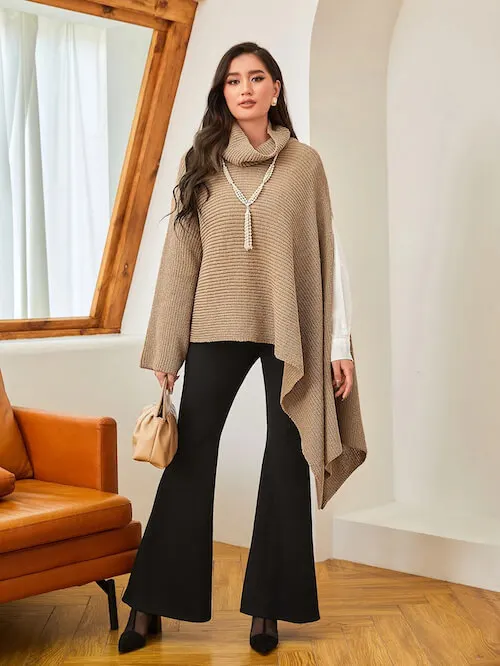 Sexy Relaxed Outfit For Summer Season: Geo Pattern Fringe Knit Poncho + Knee-High Boots / Cowboy Boots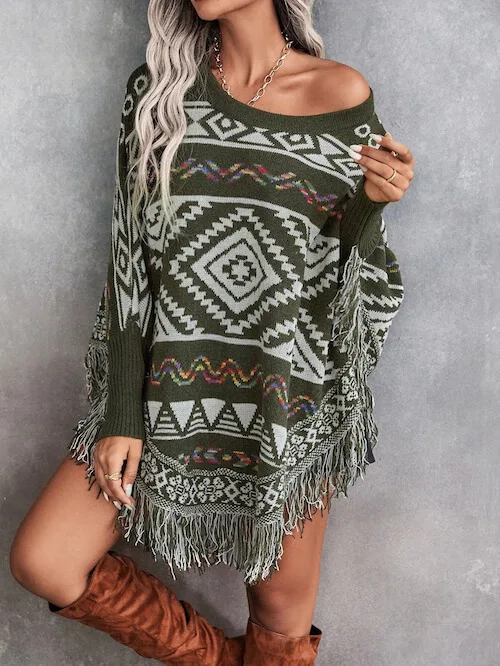 Cozy Winter Open Poncho Outfit: Poncho + Puffer Coat + Leggings + Socks + Ankle Boots
This post was all about how to wear a poncho sweater.
About The Author
Tracy is an experienced personal stylist, shopping expert, and fashion & lifestyle blogger. She has been featured on Time Magazine, Bustle, Best Life, Glam, The Zoe Report, Mic, and GOBankingRates, for her insights on fashion, beauty, home decor, and lifestyle. Read More
Related Posts: