Wondering what to wear in Nashville in January? Check this post for the best outfit ideas and the best Nashville packing list for your next trip to Nashville.
Are you planning a trip to Nashville in January?
Then you're in the right place!
With its beautiful holiday lights, honky-tonks and bustling city life, Nashville is the perfect place to get away during the winter months.
But what should you wear while exploring this vibrant city?
To make sure you stay warm and stylish during your visit, we've put together a helpful packing list of essential Nashville outfits for January.
So scroll down to check these outfits for travel and packing guide for Nashville in January, and don't hesitate to pin them to your Pinterest board, and share them on social media sites.
This post may contain affiliate links, which means I'll receive a commission if you purchase through my link, at no extra cost to you. Please read the full disclosure here.
This post is all about what to wear in Nashville In January.
What is the clothing style in Nashville?
Nashville, Tennessee is known for its vibrant music scene and lively culture.
But what about the city's clothing style?
Nashville has a unique fashion that blends Southern charm with modern trends.
The city has become a hub of style, inspiring trends among both locals and visitors alike.
The Nashville look centers around comfort while still recognizing fashion.
Denim is a popular choice and can be dressed up or down depending on the occasion – perfect for long days in Music City!
Layering pieces such as flannels or lightweight jackets are also essential to creating an effortless yet stylish look.
Other key items include classic t-shirts, cowboy boots, and cowboy hats – all of which help tie together the iconic Southern vibe of the city.
Accessories are also important when it comes to giving your outfit some extra flair!
Whether it be a scarf or statement necklace, you can never go wrong with accessorizing.
Nashville Dress Code
Is there a dress code in Nashville?
If you're planning a trip to Nashville, you might be wondering what to pack.
And while there's no official dress code in this Music City, there are definitely some style tips to keep in mind.
First and foremost, remember that Nashville is a city with four distinct seasons.
So if you're visiting in winter, be sure to pack accordingly. layered clothing and comfortable shoes are key.
And while you don't need to break out the cowboy boots and hats, it is worth noting that country western style attire is always welcome in Nashville.
So if you want to fit in with the Nashville locals, consider packing at least one item that nods to the city's musical roots.
What's The Weather Like In Nashville In January?
Before we talk about what to wear, let's take a look at what Nashville's weather looks like in January.
Is Nashville cold in January?
The answer is both yes and no. While the city does experience cooler temperatures than other months of the year, it's not typically unbearably cold.
The average temperature for Nashville during the month of January is about 40 degrees Fahrenheit.
Although this may seem chilly at first glance, keep in mind that humidity levels are usually low during this time of year so the air feels much warmer than what it actually is.
Plus there can be several sunny days which will help to make it feel pleasant and comfortable outside.
Additionally, temperatures rarely dip below freezing or get too hot – perfect for those who don't like extremes!
Y2023 Update:
Nashville is likely to experience above-average snowfall and precipitation levels this winter, so it's wise to pack extra warm clothing!
Is Nashville good to visit in January?
January is a great time to visit Nashville, Tennessee.
As the home of country music, it's an exciting city all year round with plenty to see and do, even in the colder months.
With its unique culture, music venues and attractions, visitors can enjoy a memorable experience during their trip in January.
The cooler temperatures provide some relief from the high heat of summer and visitors can take advantage of wonderful outdoor activities such as hiking trails at Radnor Lake State Park or relaxing by the riverfront in downtown Nashville.
Despite being cold outside, there are still many indoor activities for guests to enjoy like exploring The Parthenon or visiting the Country Music Hall of Fame.
Nashville is also known for its vibrant dining scene with options ranging from upscale restaurants to casual pubs – perfect for warming up after spending time outside.
Does it snow in Nashville Tennessee in January?
Yes, it does snow in Nashville Tennessee in January.
This is because of Nashville's location just south of the Great Lakes region where cold weather and snow comes from the north.
It has a humid subtropical climate which means that even though it does snow, the average temperature during winter months remains above freezing.
The average amount of snowfall in January is around 2 inches; however, there can be substantial amounts up to 10 inches.
Most years will have at least one or two days with some kind of wintry precipitation such as sleet or freezing rain mixed with light chance of flurries or light snow showers.
However, due to its geographic location and generally mild winters, heavy accumulations are rare.
On average, Nashville sees an inch or less each month from December through February so you can expect some accumulation but not too much.
What To Wear In Nashville In January
Whether you're visiting or living there, here are my favorite tips on what to wear in Nashville in January:
A good coat is key when braving cold temperatures, as well as other winter accessories like scarves and hats. The most popular choice for outerwear in Nashville is a long quilted jacket or a shearling jacket – something that looks stylish but will keep you warm at the same time.
For underneath your coat, layers of sweaters, denim shirts or flannels are great options for additional warmth without sacrificing style.
Layer your clothing. You can never go wrong with layers when the weather is unpredictable. Wear a light sweater or jacket or thick cardigan over a long-sleeved shirt or button-down shirt.
Jeans or leggings are a must.
For something more formal, try a dress or skirt with tights and a blazer.
Wear comfortable shoes. You will be doing a lot of walking in Nashville, so make sure you wear comfortable shoes. And you can never go wrong with boots. Heels or flats will work, depending on where you're going.
Bring a scarf or hat or gloves. It can get cold in Nashville, so be prepared with a scarf or hat, or gloves for extra warmth.
Accessorize. Add some personality to your outfit with accessories such as jewelry or a fun purse.
What To Wear To Downtown Nashville In January
Dress to impress when you're headed downtown Nashville in January!
With its vibrant culture and lively atmosphere, the heart of Music City is sure to warm up your winter.
Whether you're going for a night out or an afternoon of sightseeing, here are some style tips to make sure your outfit is both practical and fashionable.
When temperatures dip down below freezing, be sure to pack on the layers.
Start with a good base layer such as a long-sleeve thermal or a turtleneck sweater, then add on items like leggings and jeans for extra warmth.
If you want to keep it stylish while staying cozy, opt for an oversized coat like a puffer jacket or faux fur coat.
Don't forget accessories like wool scarves and knit hats that can keep you warm without compromising your look!
What To Wear During The Day In Nashville In January
As far as what to wear during the day, jeans or leggings paired with a long sleeve shirt or blouse are always a good choice.
Add a cardigan or jacket for extra warmth, and don't forget your scarf!
If you'll be doing any walking around, comfortable shoes are key.
Sneakers or flats are ideal.
What To Wear To Nashville Bars In January
If you're looking for the perfect attire to wear when visiting a Nashville bar in January, we've got you covered.
First and foremost, it is important to remember that Nashville weather in January can be quite chilly.
Therefore, layering your clothing is key!
Adding a statement coat with eye-catching details will draw attention while keeping you warm.
When it comes to bottoms, knee high boots are an absolute must as they help create a sleek figure and provide extra warmth.
Skinny jeans or leather pants are great choices for a night out on the town and could even be paired with an oversized sweater for extra coziness.
For those wanting to show off their feminine side, a long skirt is always an excellent option—especially if you opt for one made of thick material like wool or denim.
What NOT to Wear in Nashville In January
If you're planning to visit Nashville in January, you may be wondering what to wear in order to blend in with the locals.
Unless you plan on looking like a tourist, there are certain pieces of clothing and accessories that should be avoided.
To ensure that your style fits right in with the Music City culture, here's what not to wear if you're visiting Nashville in January.
When it comes to the winter months, leave all your too heavy coats and parkas at home.
Although wintertime can get chilly in Nashville, temperatures rarely drop below freezing so bulky outerwear is unnecessary.
Instead stick with something more fashionable such as a leather jacket or stylish wool coat for maximum warmth without sacrificing style points.
Also keep away from any neon colors or wild patterns which will definitely make you stand out from the crowd – and not in a good way!
Nashville Outfits for January Winter Season
Want more inspiration? Scroll on to check the on-trend travel outfits for Nashville for colder months below.
From chic style casual wear to edgy country music looks, we've got you covered.
Black Leather Jacket + Mini Skirt + Black Boots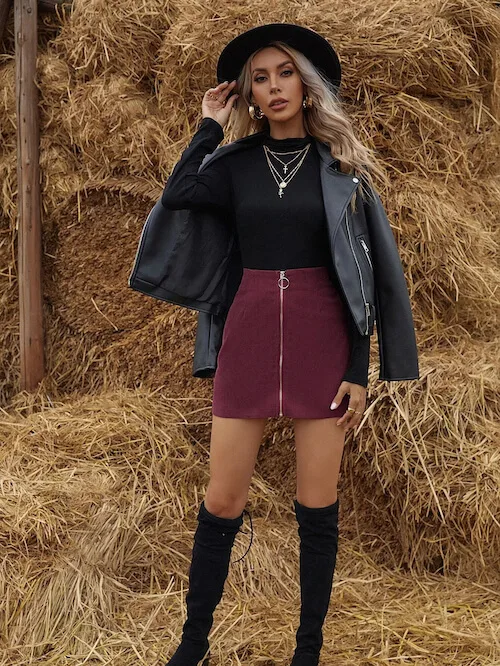 Tank Tops + Long Coat + Blue Jeans
Short Jacket + Skinny Jeans + Ankle Boots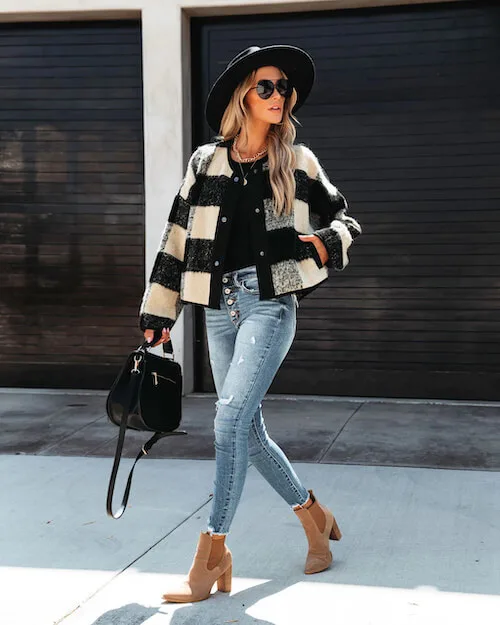 Mini Dress + Long Coat
Light Jacket or Sweater + Jeans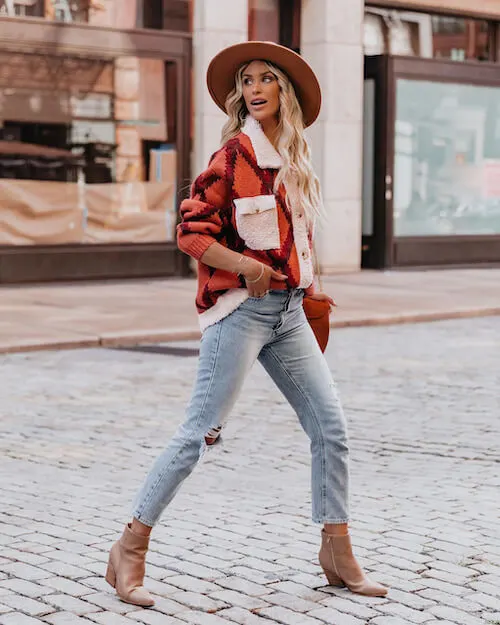 Poncho Sweater + Jeans
Leather Jacket + Denim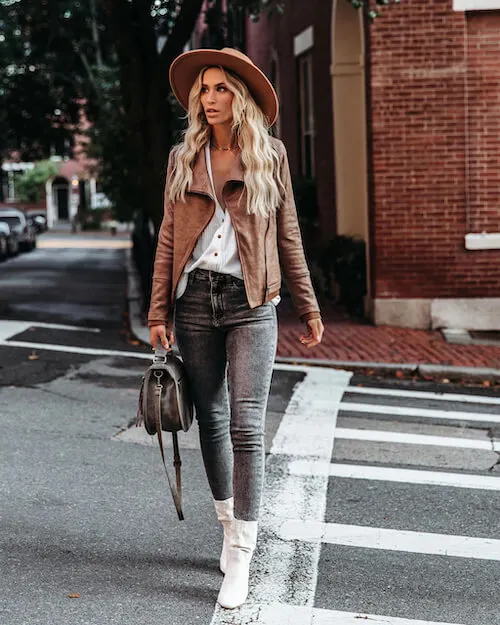 Long Pants / Jeans + Crop Top + Shacket
Short Coat + Graphic T-Shirt + Jeans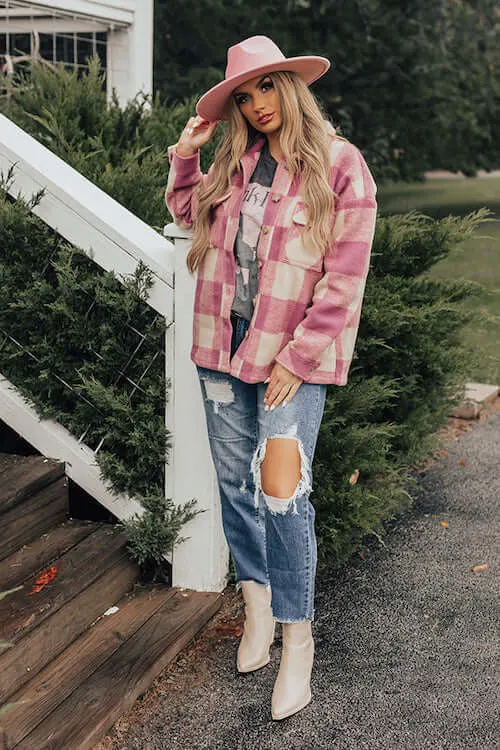 Add Cowboy Hat + Sweater Dress + Coat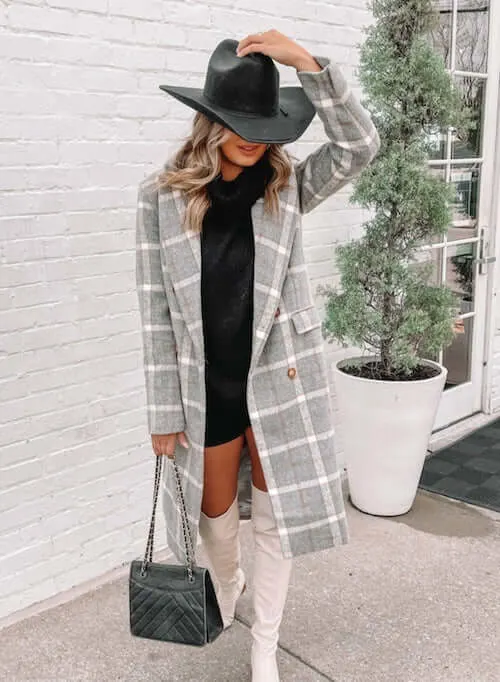 Teddy Coat + A Great Pair of Jeans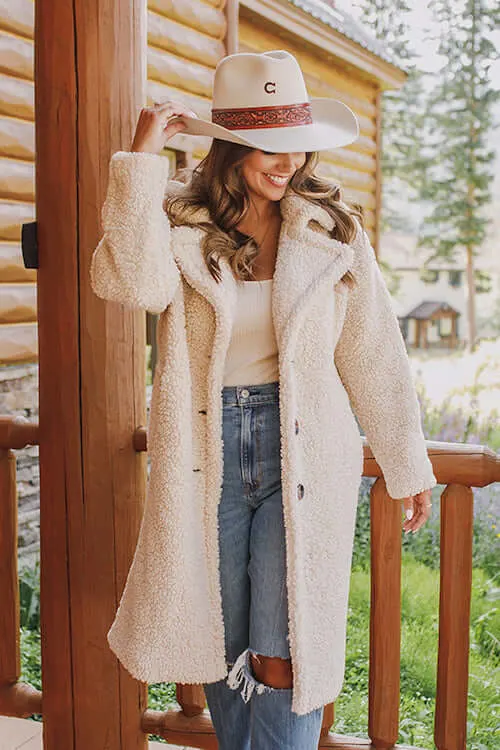 Casual Dress + Coat
Denim Jumpsuit + Long Cardigan
Sweater Dress + High Boots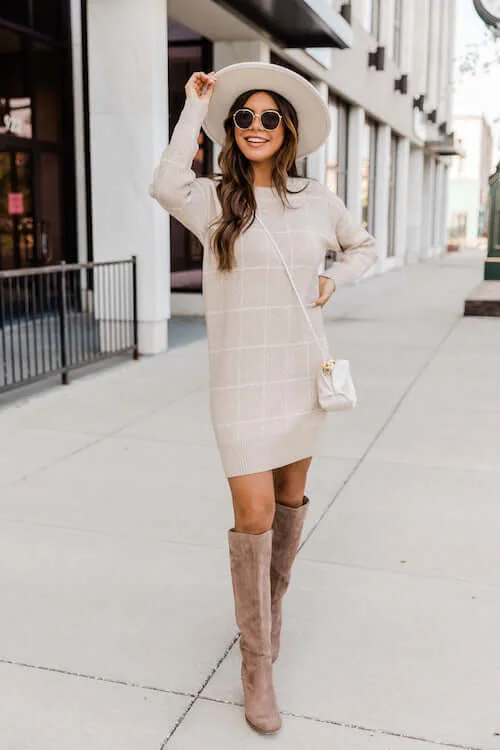 Wear Cowboy Hat + A Pair of Cowboy Boots
Black Coat + Blue Jeans + Black Boots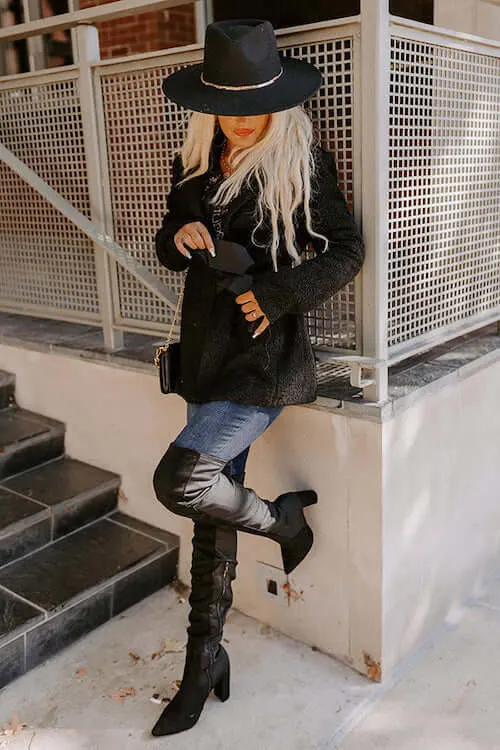 A Pair of Leather Pants / Dark Color Jeans + Plaid Shirt
Blazer Jacket + Jeans + Scarf
Teddy Coat + Button Down Shirt + Jeans
Long Coat + Black Sweater + Black Booties
Nashville Packing List For January
Nashville can be chilly in January, so make sure to pack some warm clothes.
When packing for a trip to Nashville in January, be sure to bring along plenty of layers.
The daytime temperatures hover around freezing, but the evenings can be quite chilly.
Below are what I suggest for your Nashville packing list:
Jeans or leggings
A sweater or shirt that can be layered under a jacket.
A cozy sweater or light jacket should suffice for daytime wear, while a heavier coat will be necessary for evening outings.
Comfortable shoes are a must, as you'll likely be doing a lot of walking around Music City. Boots are always a good choice for footwear in winter, and they'll also help keep your feet warm. But if you don't want to lug around a pair of extra shoes, make sure your sneakers are versatile enough to transition from day to night.
A cute scarf or hat to top off your wintertime look!
Bring gloves for extra warmth.
Finally, don't forget to pack your essentials like a toothbrush and sunscreen.
And if you're planning on doing any hiking or outdoor activities, be sure to bring insect repellent and plenty of water.
What to Wear in Nashville in January for Guys
Nashville in January can be brutally cold, but that doesn't mean you have to sacrifice style.
Layering is key to staying warm while still looking sharp.
A wool coat or pea coat is a great top layer, and underneath you can wear a sweater or button-down shirt.
For bottoms, go for dark-wash jeans or chinos.
And don't forget a scarf – it'll keep your neck warm and add a pop of color or pattern to your outfit.
Boots or dress shoes are a must in this weather, so choose a stylish pair that will also keep your feet warm and dry.
What to wear in Nashville over 50 in January?
Whether you're visiting Nashville, Tennessee in January or are a local looking to stay chic during the cold winter months, here are some great options for dressing over 50:
When it comes to outerwear, opt for an oversized wool coat or wrap coat with a pair of leather booties or ankle boots.
To keep warm underneath, try layering with a chunky sweater or cashmere cardigan along with slim-fit trousers and thick tights.
A scarf can also be added as an accessory that adds color and texture while providing extra warmth on cooler days.
For an even cozier feel, consider adding a fedora hat and fur stole for a truly luxurious look.
This post was all about what to wear in Nashville In January.
About The Author
Tracy is an experienced personal stylist, shopping expert, and fashion & lifestyle blogger. She has been featured on Time Magazine, Bustle, Best Life, Glam, The Zoe Report, Mic, and GOBankingRates, for her insights on fashion, beauty, home decor, and lifestyle. Read More
Related Posts: