What shoes to wear with leather pants? Check this post for the best shoe colors and styles to wear with different types of leather pants, and the 50+ best leather pants outfits to copy and shop for directly.
Leather pants, including faux leather pants, leather leggings, leather trousers, and leather leggings, are my favorite pieces.
If you are tired of wearing skinny jeans, wearing a pair of leather pants is a great way to create a chic look in different styles.
They are comfortable to wear and very beautiful. They can be dressed up or dressed down for a variety of occasions, formal or casual.
If you are looking for the best shoes to wear with leather pants, you've come to the right place.
In today's article, I am sharing with you the best style tips for choosing the right pair of shoes for your favorite leather pants or faux leather pants, and I also included the 50+ best leather pants outfit ideas from our favorite online fashion stores to shop for and copy directly.
So scroll down to check these leather pants outfit ideas and don't hesitate to pin your favorite outfits to your Pinterest board, and share them on social media sites.
This post may contain affiliate links, which means I'll receive a commission if you purchase through my link, at no extra cost to you. Please read the full disclosure here.
This post is all about what shoes to wear with leather pants.
Are Leather Pants In Style?
Leather pants are still very popular. And this year, in addition to the classic black leather leggings, more and more brands have introduced more innovative leather pants designs, adding more matching possibilities to our autumn and winter wardrobe.
This year's leather pants have more colors and designs. In addition to simple black, there are brown, red, green, and even blue, metallic, and other leather pants.
For the design of leather pants, in addition to tight pants, combined with the increasingly popular neutral style and sports style, leather joggers, leather straight pants, leather wide leg pants, and leather flare pants have also received more and more popularity with fashionistas.
How To Style Leather Pants In The Trendiest Way?
Tight Leather Pants / Leather Leggings
Classic leather leggings are a wardrobe staple. Both a pair of genuine leather leggings or a pair of faux leather leggings are great. The high waist design is the best choice.
You have many different ways to wear them. But one of the most popular ways this year is to pair it with an oversized top and then wear it with comfy short boots or sneakers.
Another way is to create a sexy look. Choose a pair of chic stilettos. Animal print or metal stilettos are a great option to add a great addition to your outfits.
Then choose an off-shoulder top or crop top to complete the great look.
Casual Leather Pants / Leather Joggers
Want to add more fashion and sexy elements to the popular sporty casual style? Wearing a pair of causal leather pants is a perfect way.
Choose a pair of edgy-designed sneakers and a retro-inspired top or a cute denim jacket to show off your excellent sense of fashion trends.
Straight-Leg Leather Pants
Sleek straight-leg leather pants are very versatile. It goes perfectly with boots, heels, sneakers, sandals, and almost any shoe.
This year I especially recommend trying them out with a chic blazer. You can choose a common black blazer, a hot pink blazer, or even a black leather blazer. They are all very trendy.
If you are going to work, then you can wear a pair of loafers or high heels or kitten heels. If you're preferring street style, then you can also wear a pair of sneakers to elevate your style.
What Shoes To Wear With Leather Pants: Best Shoes Ideas & Leather Pant Combinations
From simple black shoes to edgy metallic shoes, there are various perfect shoes to bring your leather pants style to the next level.
Now scroll on and check our favorite shoe styles for your leather pants outfits.
Black Leather Boots + Long Coat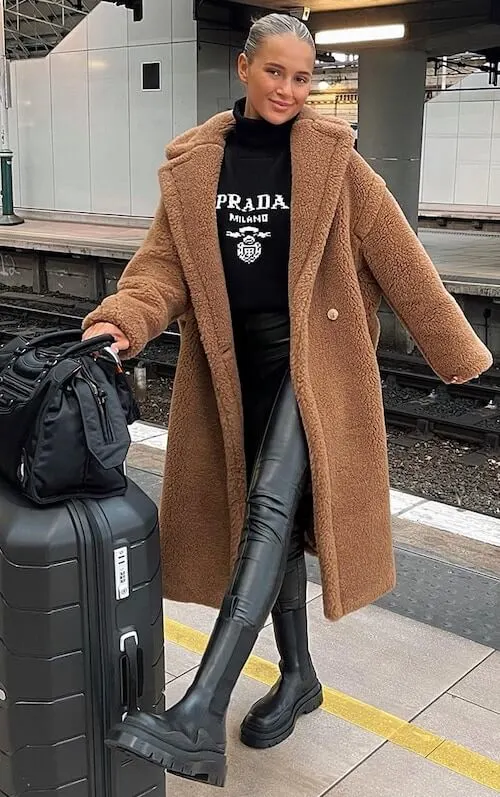 Flip Flops + Oversized Tee + Chain Necklace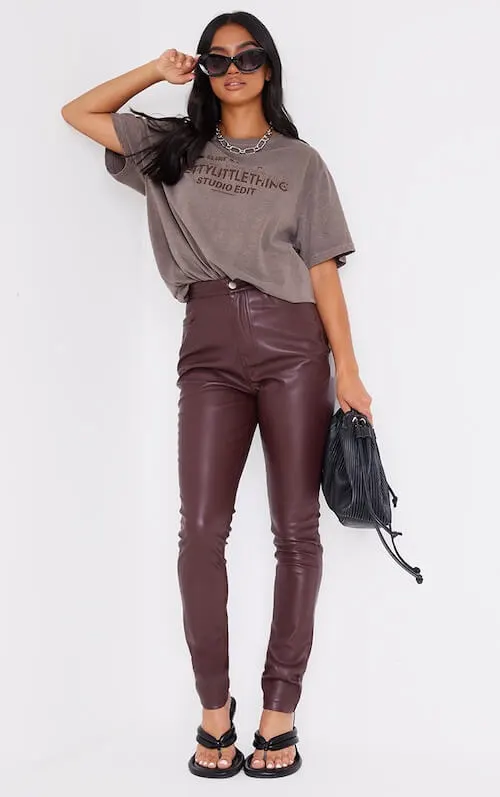 Edgy Casual Shoes For A Rebellious Look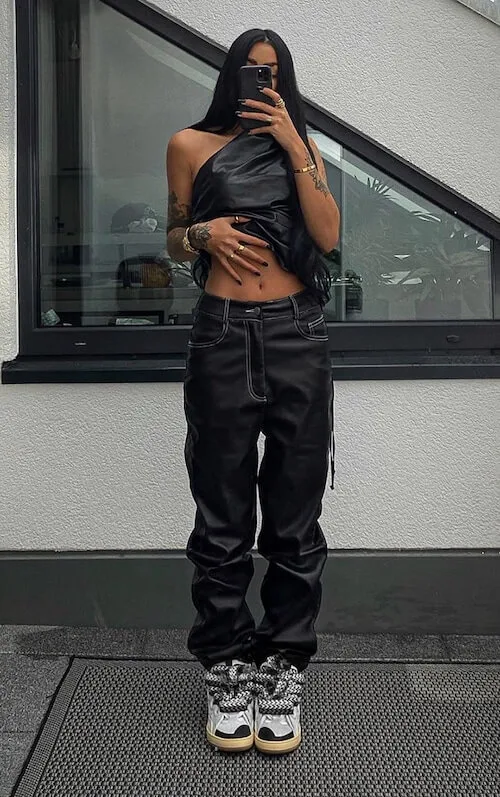 High Top Sneakers + Leather Coset Top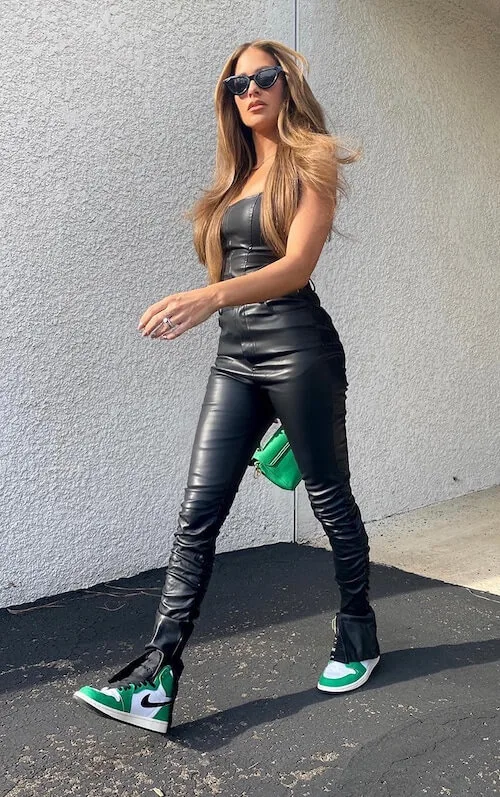 Black Flats + Black Blazer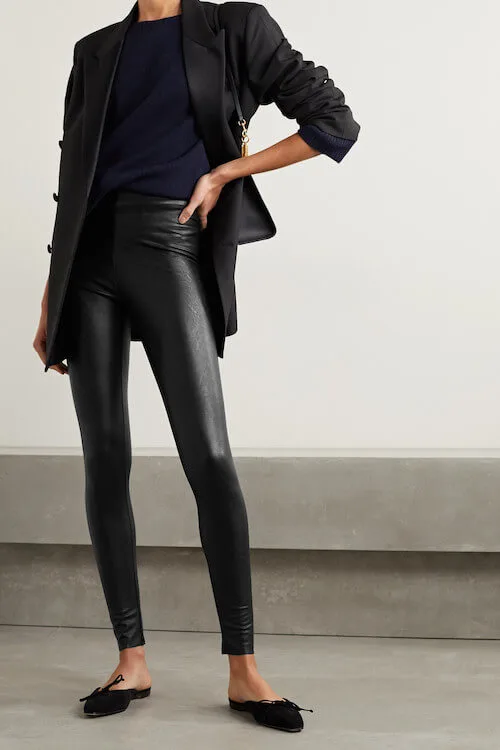 Kitten Heel Sandals + Black Tee For A Chic Everyday Wear
Animal Print Shoes To Add A Little Bit Personal Touch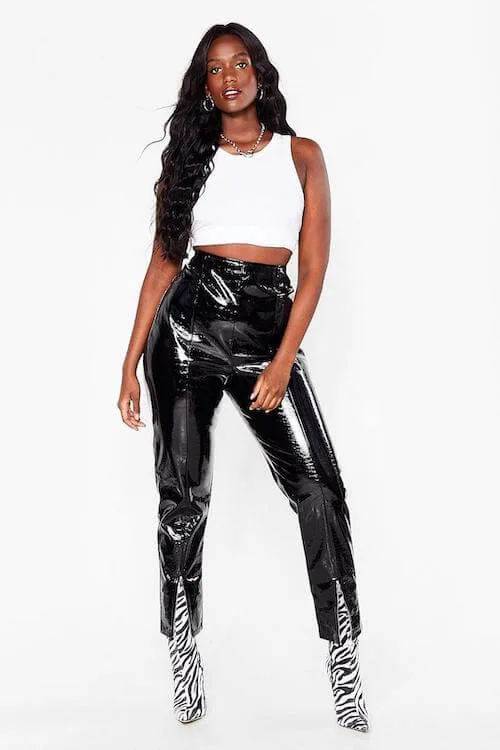 Chelsea Boots + Oversized Sweater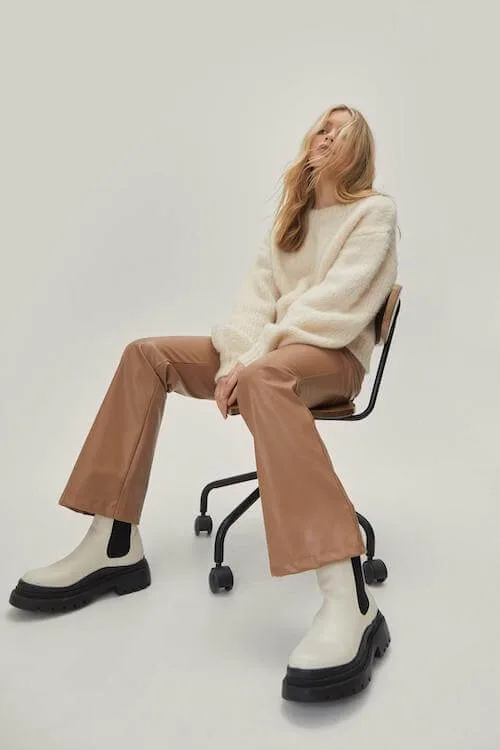 Chunky High Heel Sandals For An Edgy Look
Red Block Heels + Crop Top For A Creative Casual Wear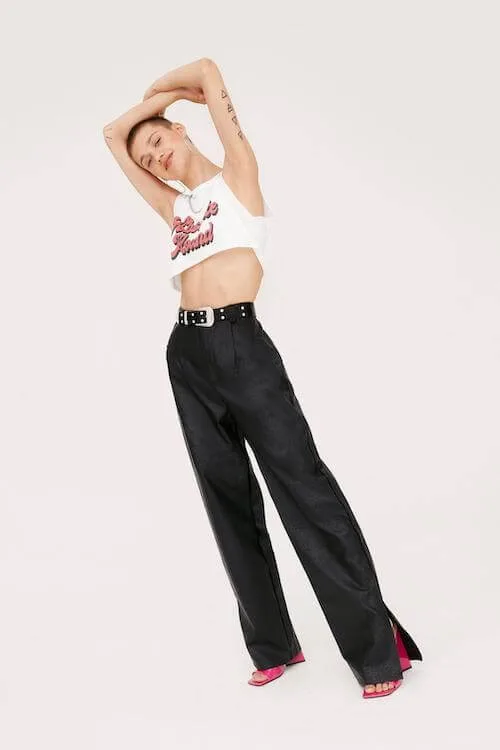 White Strappy Sandals + Trench Coat For A Chic Look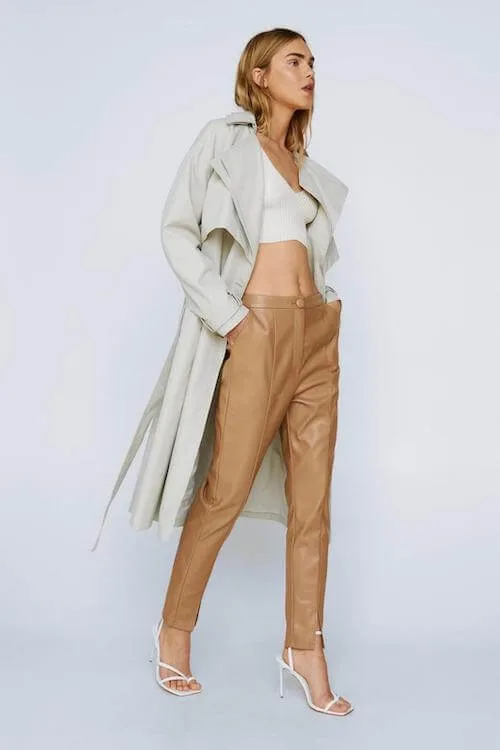 Black Trainers For A Relaxed Fit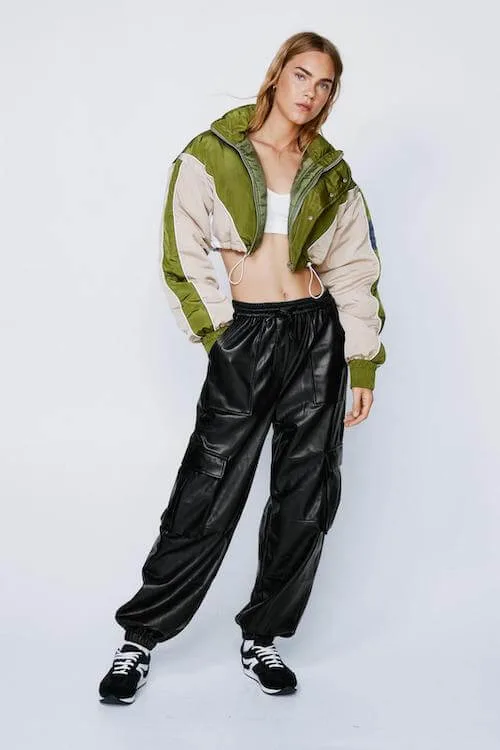 Beige Chunky Boots + Black Cut Out Top For An Edgy Casual Look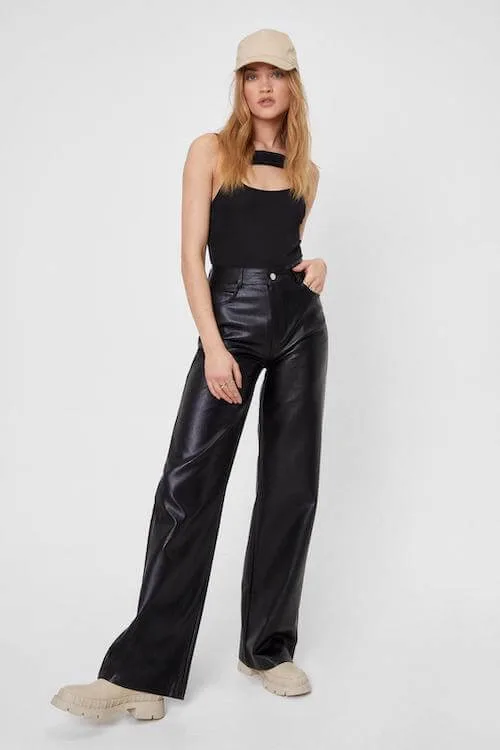 A Pair of Sneakers + Crop Leather Jacket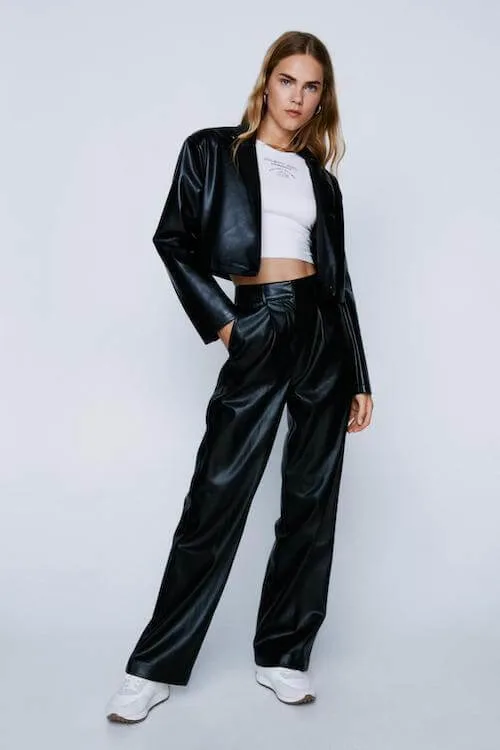 Cowboy Boots + Bra Top
Platform Square Toe Boots + Corset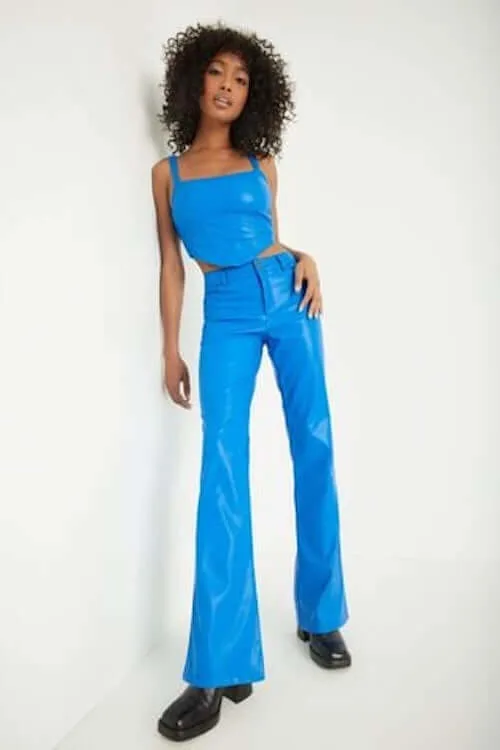 Black Chunky Boots + Crop Cami Top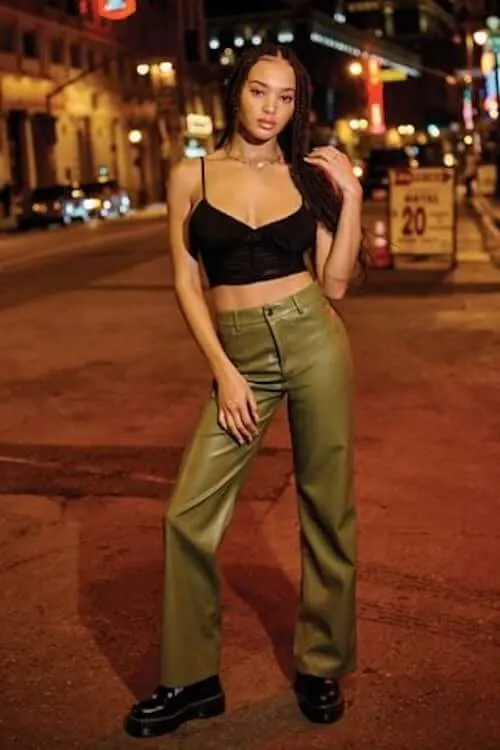 A Pair of Combat Boots + Plaid Shirt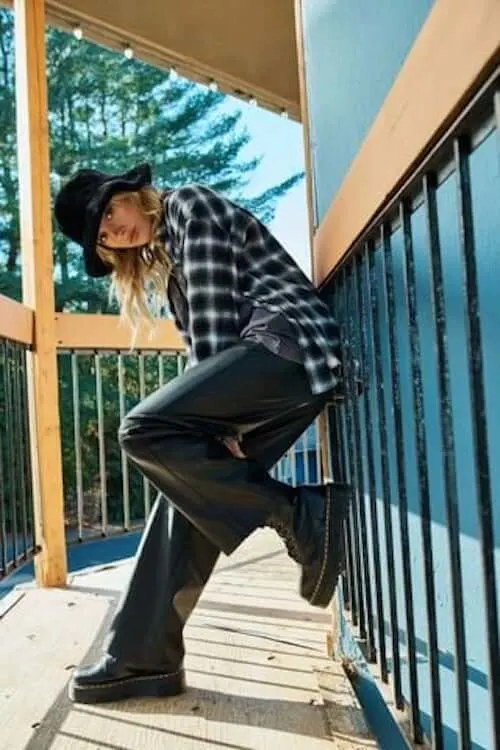 Fur Decor Boots + Off The Shoulder Top
Clear Shoes + Black Coat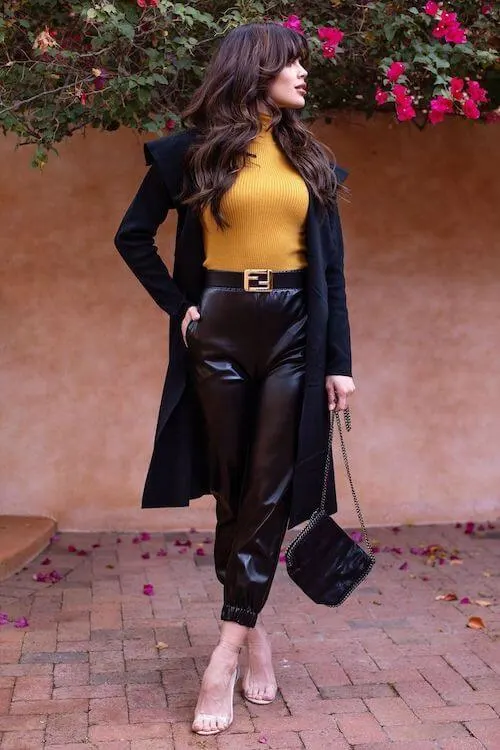 Suede Combat Boots / Suede Ankle Boots + Crop Sweater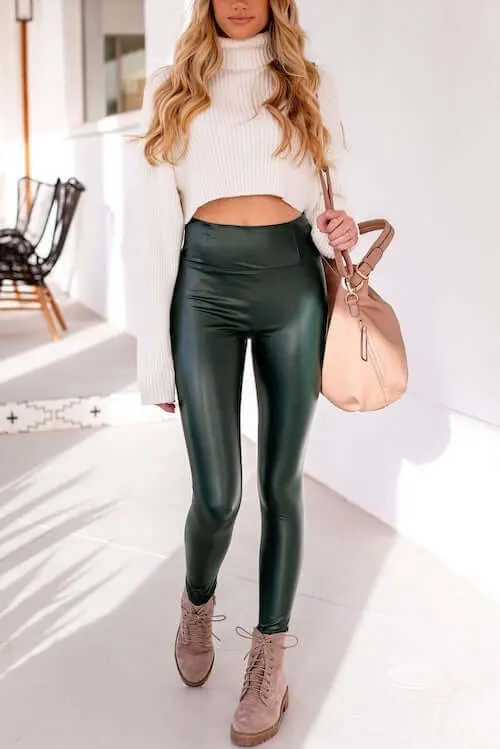 Black Sandals + Corset
Clear Heels + Black Jacket + Corset For A Sexy Evening Wear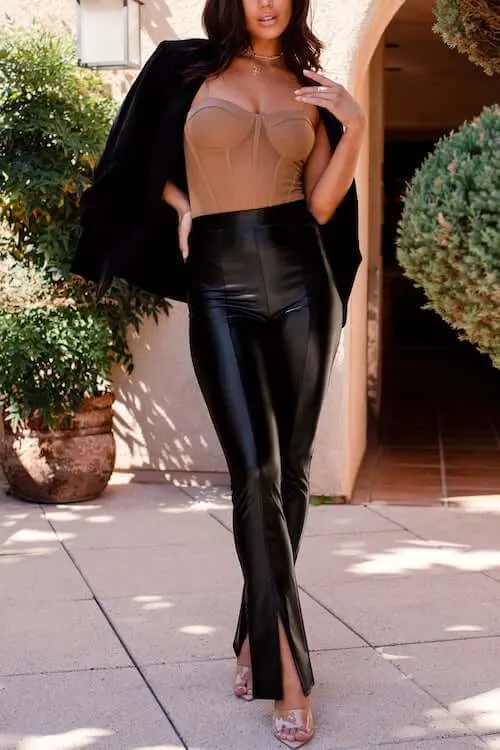 White Square Toe Shoes + Corset + Jacket For The Colder Months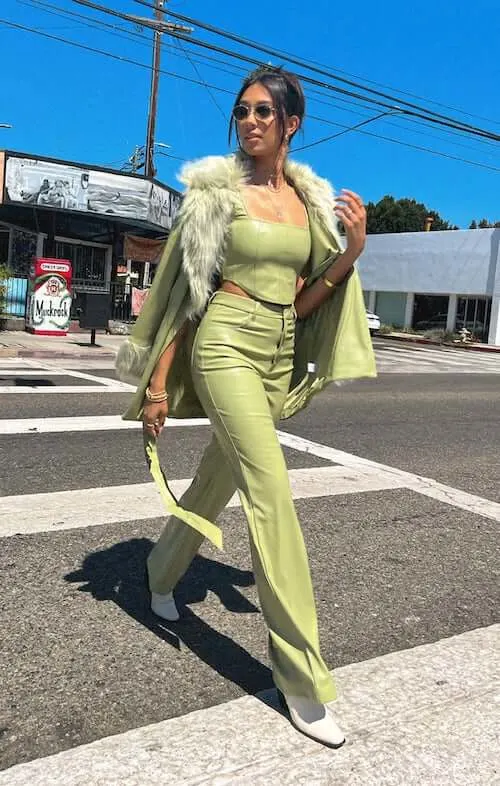 Casual All Black Look: Dark Color Canvas Shoes + Black Oversized Sweater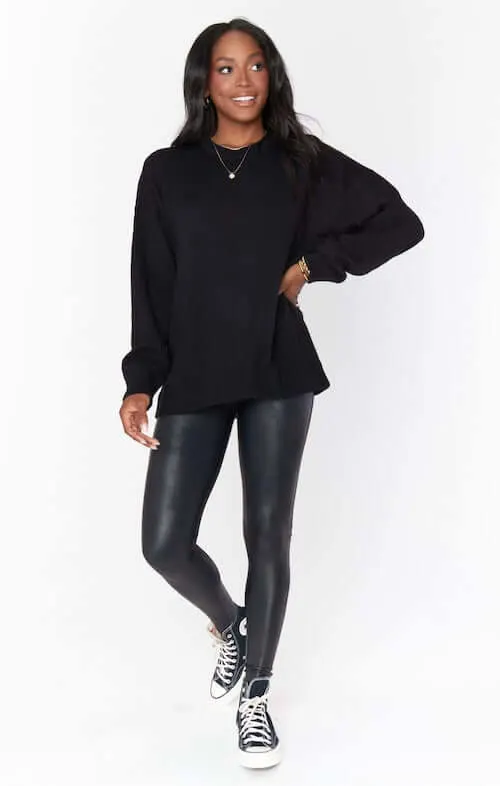 Backless Loafers + Striped Top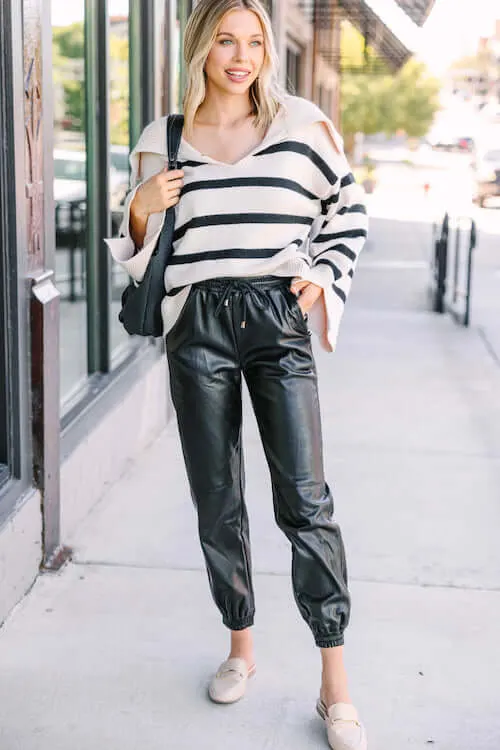 White Sandals + White Sleeveless Top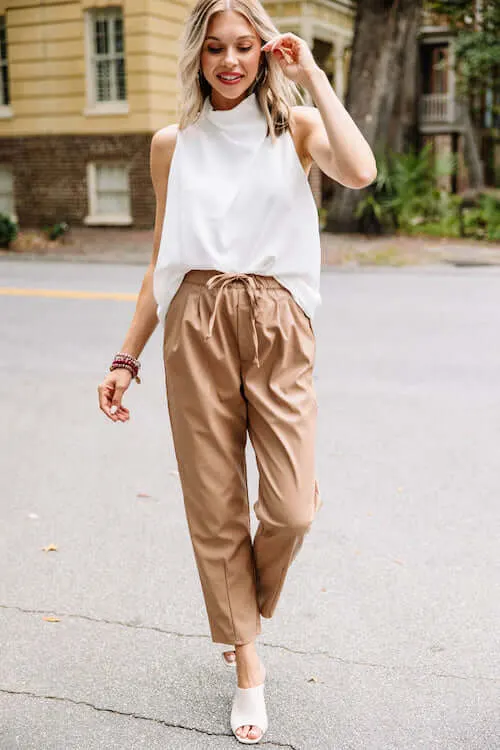 Brown Chunky Sandals + Printed Blouse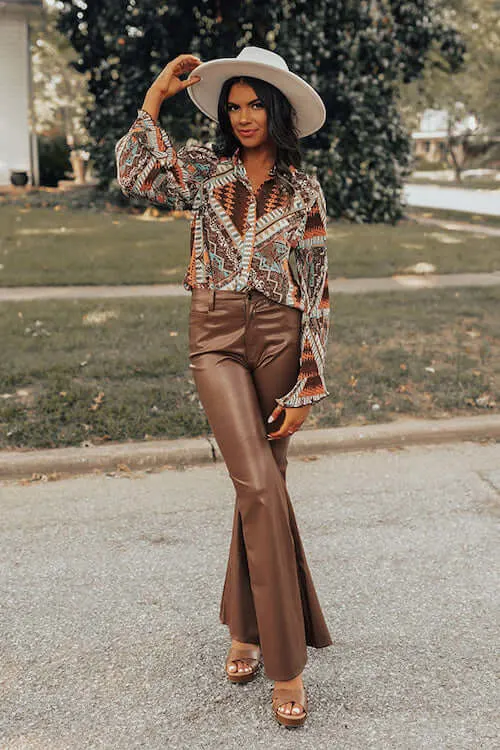 Gold Pointed-Toe Pumps For A Polished Look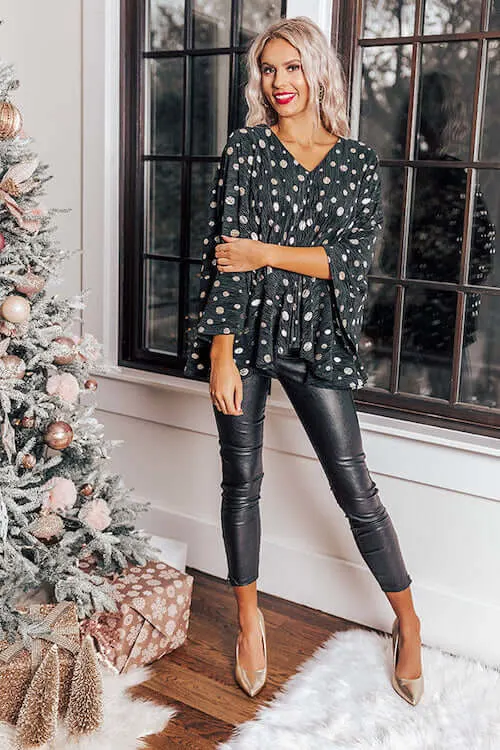 Chunky Sneakers + Oversized Top
Metallic Chunky Heels + Animal Print Top + Black Hat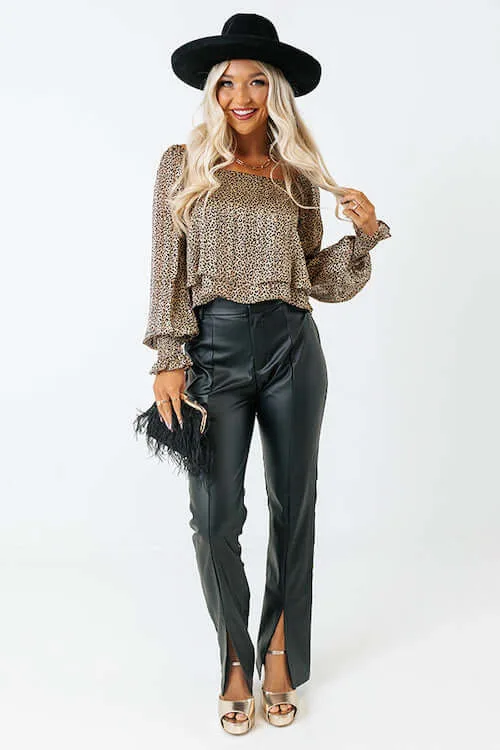 White Platform Boots + Retro Letter Tee / Graphic Tee + Plaid Shirt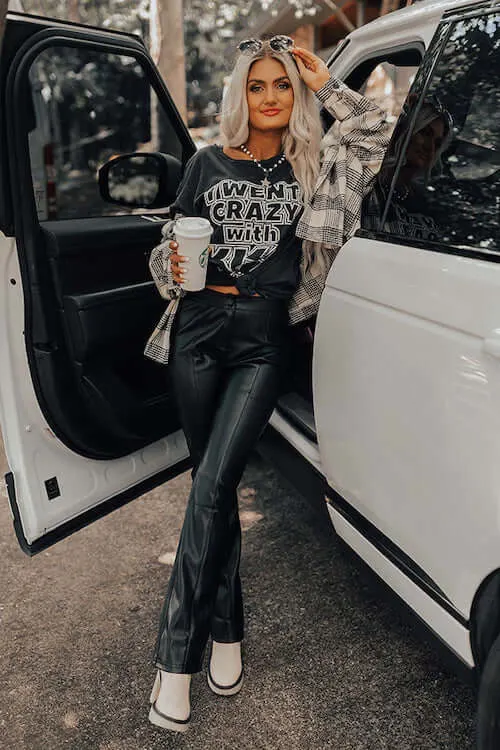 Basic White Sneakers + Polka Dot Blouse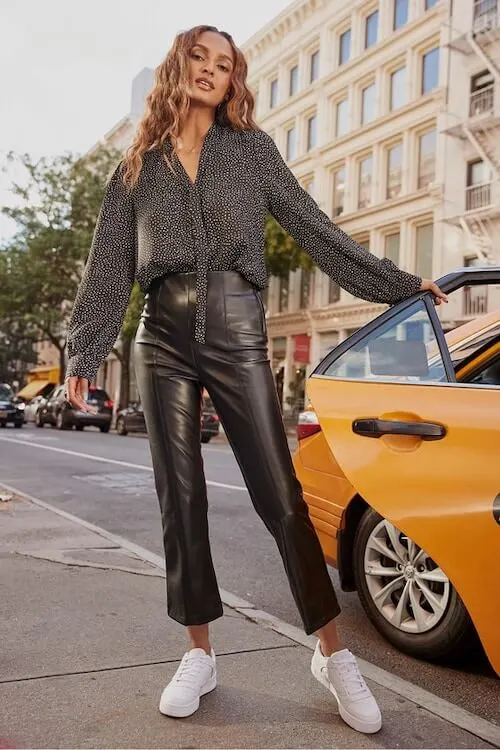 Oxford Shoes + Cardigan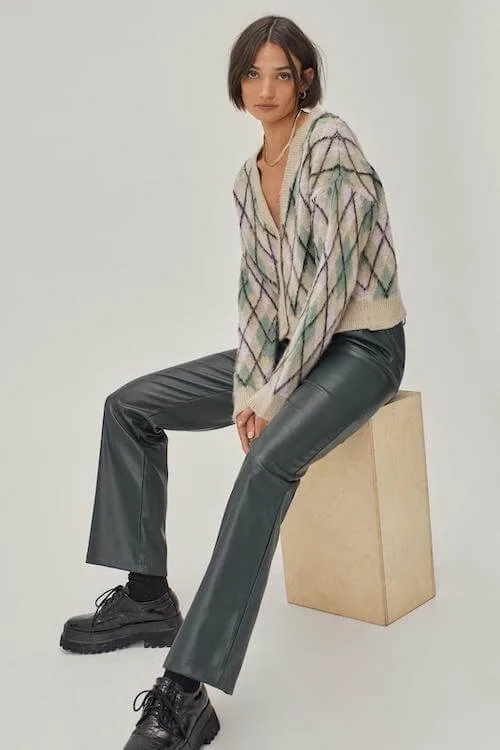 Black Block Heel Boots + Crop Cardigan
Red Block Heel Boots + Crop Tee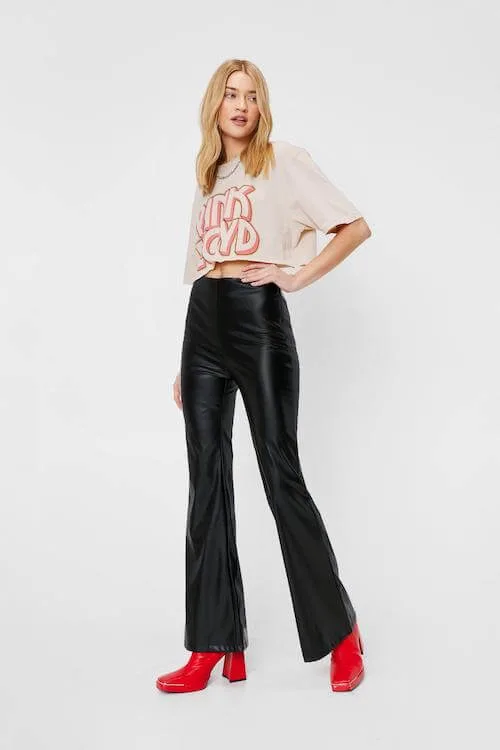 Black Strap Heels + Black Blazer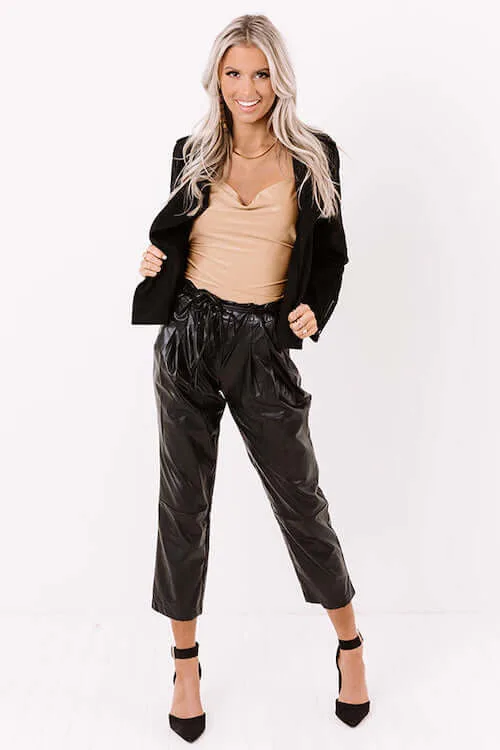 Black Strappy Sandals + Animal Print Cardigan
White Ankle Boots + White Bodysuit + Shacket For Brown Leather Pants
Brown Boots + White Sweater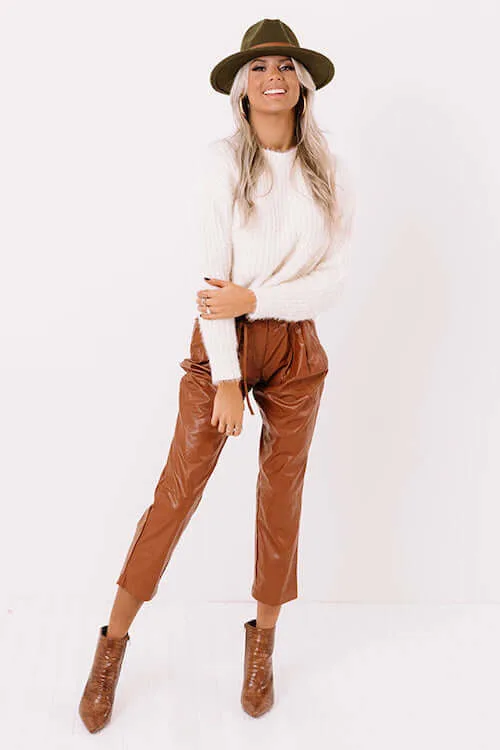 Red Pointy-Toe Kitten Heel Shoes + Black Oversized Cardigan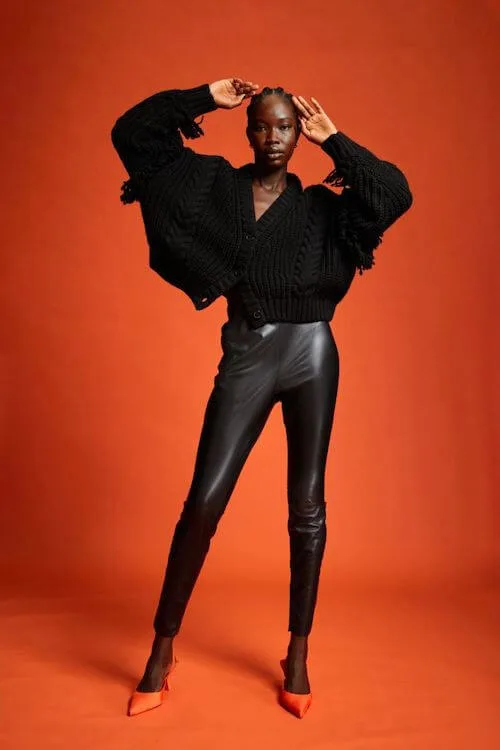 Silver Pointy Toe Heels + Turtleneck Sleeveless Top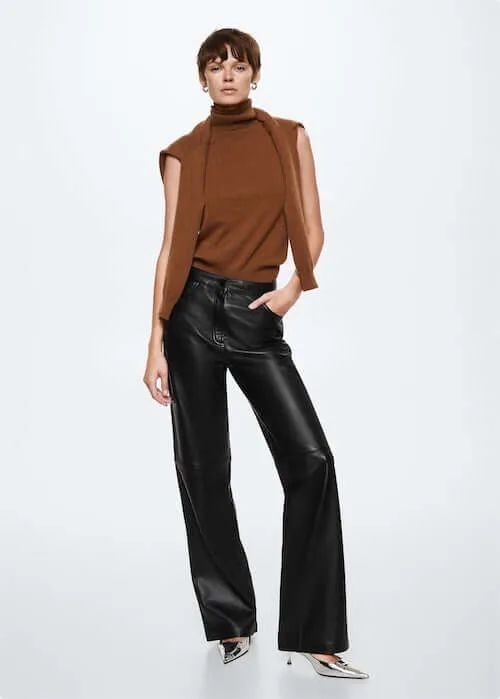 Black Silver Heels + Fit Knit Top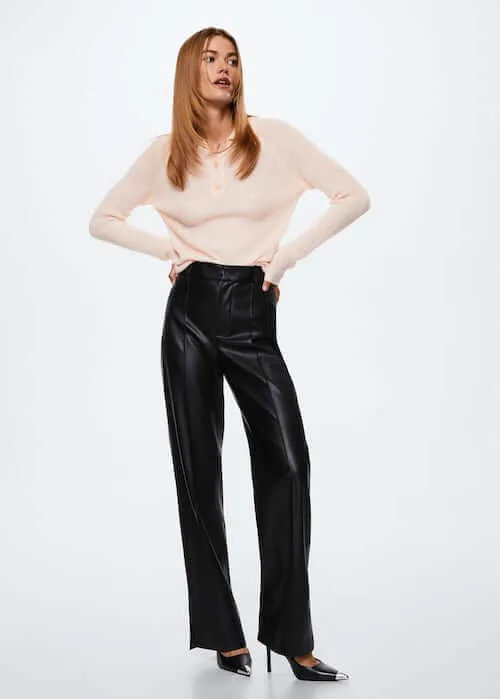 Strap Platform Sandals + Cut Out Top + Button Down Shirt
All Leather Look: Kitten Heel Pointed Toe Black Boots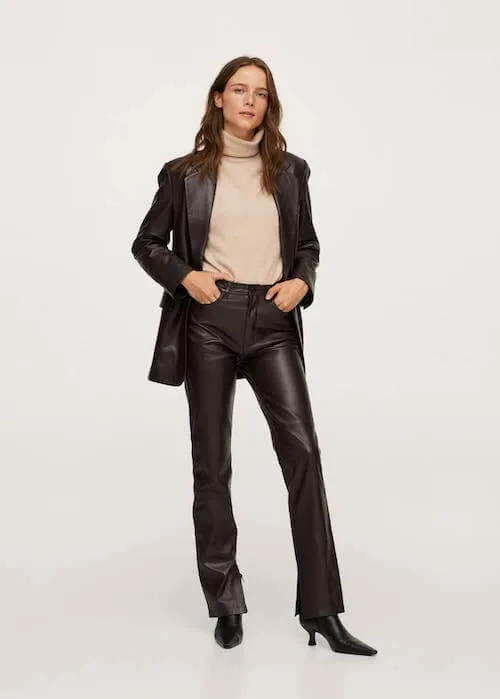 White Leather Trainers + Black Blazer
White Heels + Black Leather Blazer Jacket
Black Loafers + White Button Down Shirt + Knit Vest For Green Leather Pants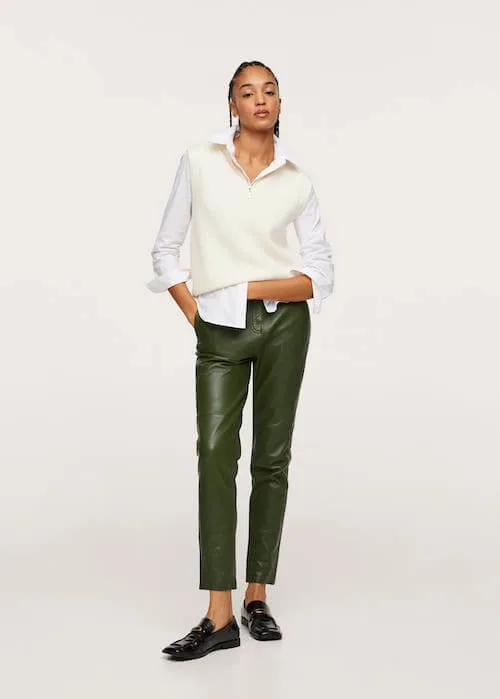 Kitten Heel Glitter Shoes + White Tee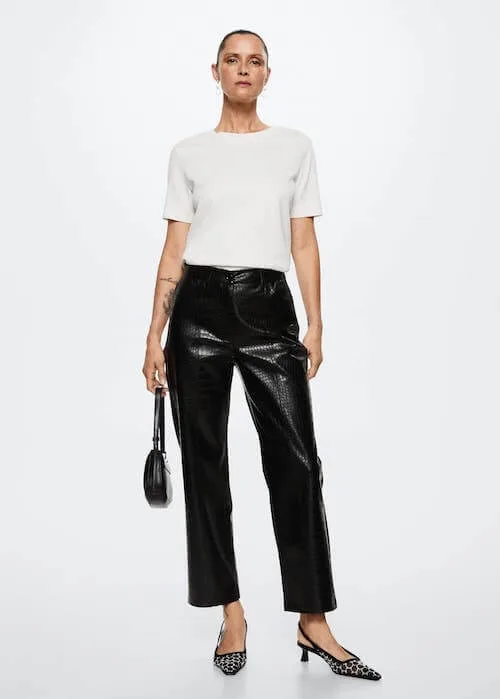 Common Questions
What Shoes To Wear With Leather Pants For Work
For work, opt for classic, minimalist neutral-colored heels or kitten heels to complement your leather pants.
If you want more convenience and comfort, an easy way is to wear a pair of ballet shoes or loafers.
In fall and winter, a pair of ankle boots are also a good choice.
What Shoes To Wear With Leather Pants For Date Night?
A pair of skinny leather pants are perfect for a sexy date look.
You can choose an elegant pair of pointed-toe heels to pair with your leather pants. If the weather is very cold, you can also keep warm with pointed-toe boots.
For tops, a cute chunky sweater for cold weather or a lovely crop top for spring and summer is a great choice.
Finally, wear gorgeous jewelry and a delicate bag to complete your look.
What Shoes To Wear With Black Leather Pants
There are a lot of shoes in different colors and styles to choose from with black leather pants. But if you want to be more fashionable, you can also try bright shoes and sexy animal print shoes to make you look more sexy and super chic.
What Shoes To Wear With Brown Leather Pants
Brown leather pants look very warm and are another good option for fall and winter.
In addition to black shoes, you can try animal print, red, and white shoes with brown leather pants.
Plus, retro looks are very trendy this year, and brown is so suitable for a retro look. Therefore, you can also try to use platform shoes to add retro details for a perfect retro-style leather pants outfit.
What Shoes To Wear With Flare Leather Pants
Flared leather pants are an excellent option to make your figure look taller and sexier.
You can choose shoes with high heels or thick soles to further lengthen your legs and make you look more stunning.
Plus, flared leather pants are perfect for a modern cowgirl look.
At this time, a perfect pair of pointed-toed shoes or short cowboy boots with a pointed toe is a great choice.
How To Style Leather Pants In Spring Summer
In the warm spring and summer, you can choose simple pointed high heels to match your leather pants.
You can also opt for sexy strappy sandals for a hot leather pants nightclub look.
You can also pair your leather pants with chunky sneakers for an energetic sporty look.
What To Wear With Leather Pants In Fall Winter
From comfy sneakers to warm knee high boots, you can try them with your beloved leather pants for fall and winter.
I especially recommend trying chunky combat boots and trendy cowboy boots with your leather pants. From casual holidays to festive parties, they make you look amazing.
This post was all about what shoes to wear with leather pants.
About The Author
Tracy is an experienced personal stylist, shopping expert, and fashion & lifestyle blogger. She has been featured on Time Magazine, Bustle, Best Life, Glam, The Zoe Report, Mic, and GOBankingRates, for her insights on fashion, beauty, home decor, and lifestyle. Read More
Related Posts: