Looking for the best tops to wear with leggings? Check this post for our picks and style tips on how to wear leggings in the trendiest ways.
A pair of leggings is our wardrobe staple for any age. The versatile leggings are our go-to for everyday wear, work outfits, or even some formal occasions.
This year, one wonderful thing is that we also find the legging outfits are still in style and more and more celebrities and fashion bloggers are wearing them.
Everyone likes simple and comfortable outfits. The workout leggings have become so fashionable, not only for a casual look, that we can't wait to wear them more in the coming season.
A right top is important for a stylish leggings outfit. So in this blog post, we are sharing 14 types of best tops to wear with leggings, with 80+ cute outfits and style tips to help you level up immediately this year.
Please scroll down to check the leggings outfits and don't forget to pin the ideas you like.
This post may contain affiliate links, which means I'll receive a commission if you purchase through my link, at no extra cost to you. Please read the full disclosure here.
This post is all about tops to wear with leggings.
Best Tops To Wear With Black Leggings (Classic Black Leggings, Black Leather Leggings, and Black Faux Leather Leggings)

Black leggings are a great option because they help us look slimmer!
They can be a great pair of casual leggings or a must-have for a casual work outfit.
But to be more stylish with one great legging? Here are the best tops to pair with black leggings.
Denim Jacket
As a fashion staple, the denim jacket can add a more refreshed overall look with the black leggings. While the denim trend is back right now and it is very worth trying denim jackets with your favorite black leggings.
To make the casual style stand out, try adding a baseball cap to the outfit.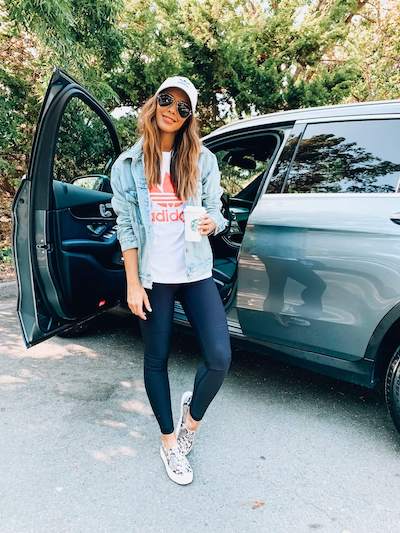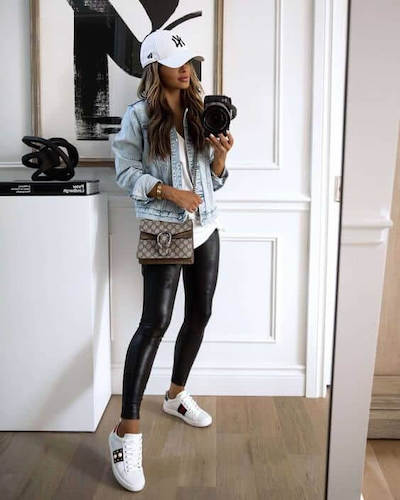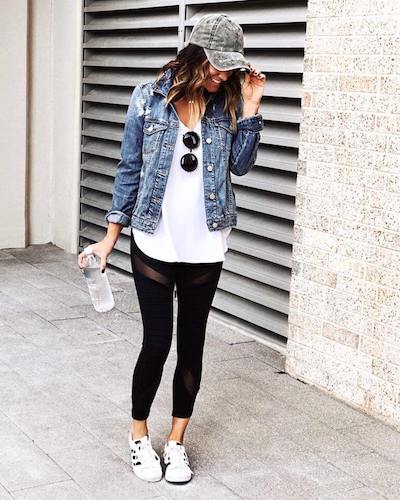 Plaid Shirts
Plaid shirts and plaid shackets are so trending that and they are your great options to style your fall outfits especially in the transition days.
This year, we are strongly recommending black and white plaid shirts. These colors go well with your black leggings and the outfits look so chic.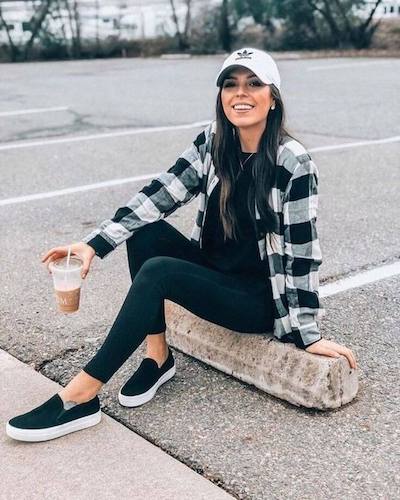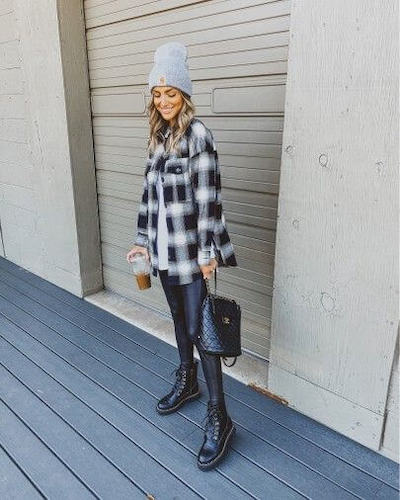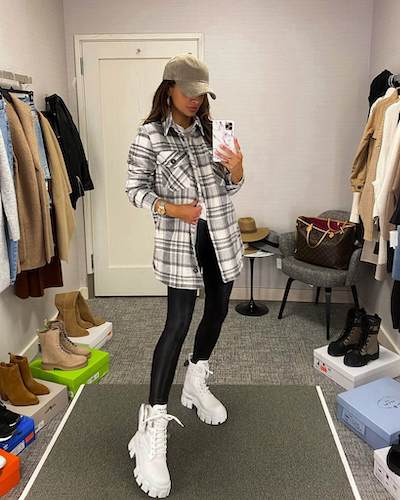 White Top
If you like the black and white style, you should definitely go with the white tops to pair with your black leggings.
Almost every white top in your closet should be great with black leggings and don't forget to use other right accessories to add more layers and details to avoid boredom.
Of course, you can totally choose white or black accessories to get a super cool look!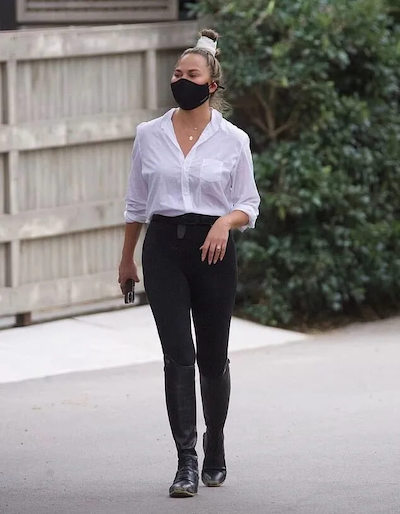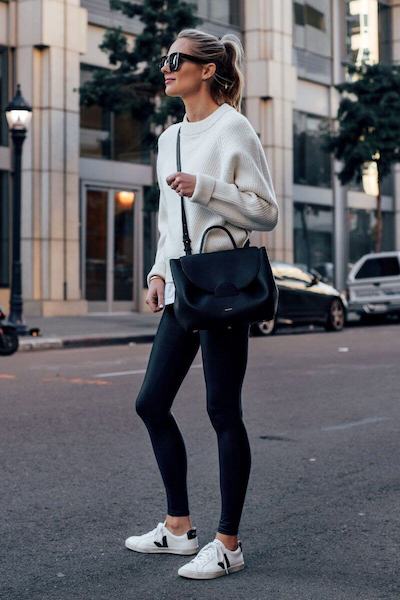 Black Top
A black outfit is never out of style and it is absolutely stylish to wear a simple black top with your favorite leggings.
Our favorite easy ways to add more detail that will make you look better include:
– Wear white accessories, such as white socks, white sneakers.
– Reveal more skin areas
– Wear black in different materials, such as a black leather jacket, black boots, etc. Or change to a pair of leather leggings.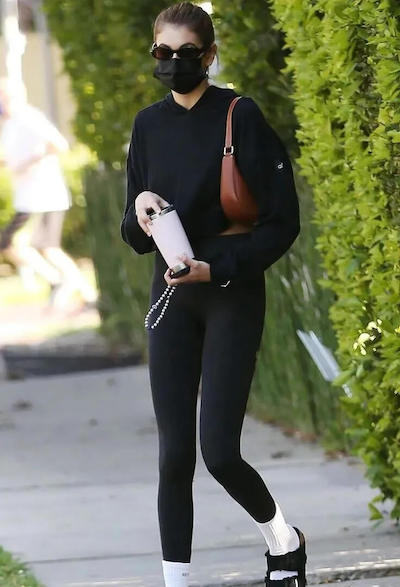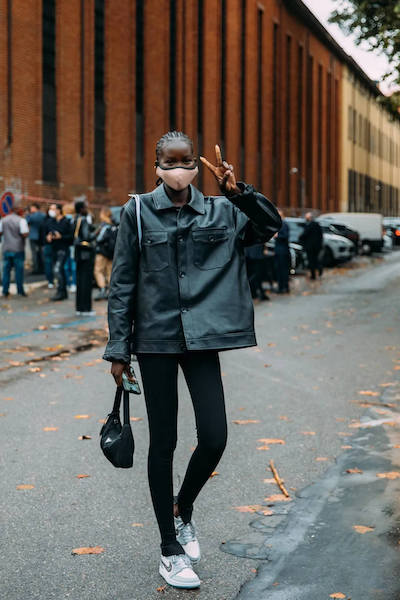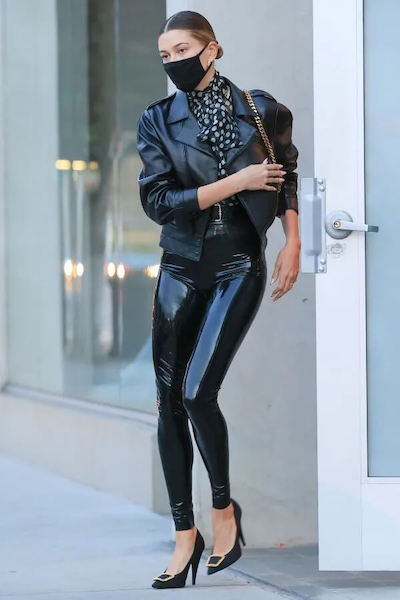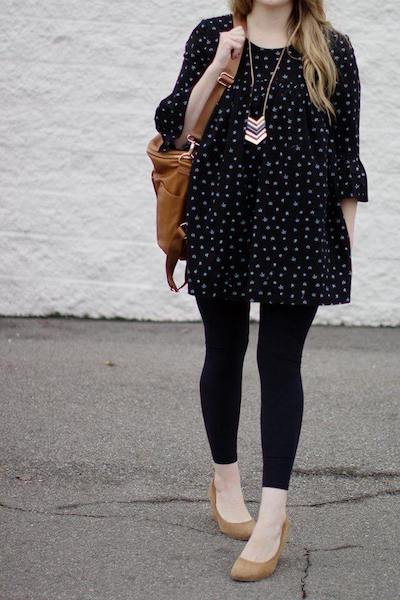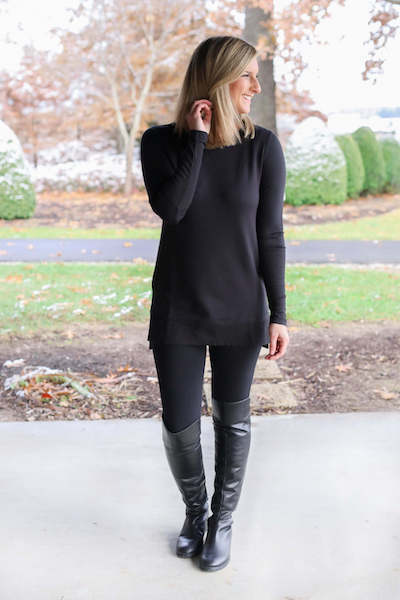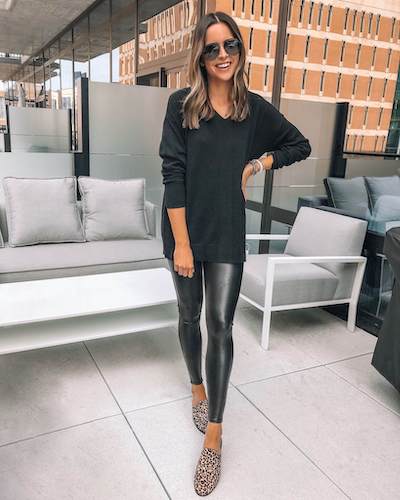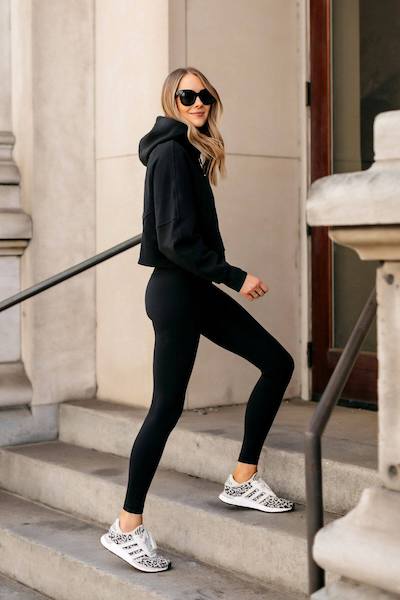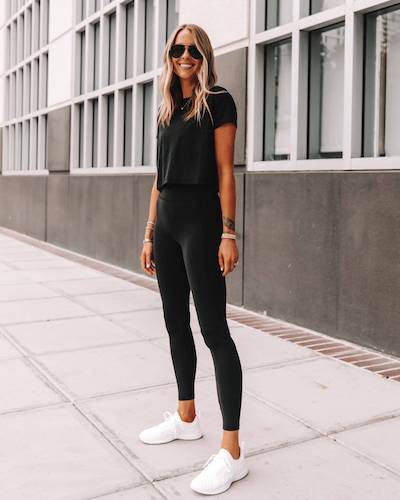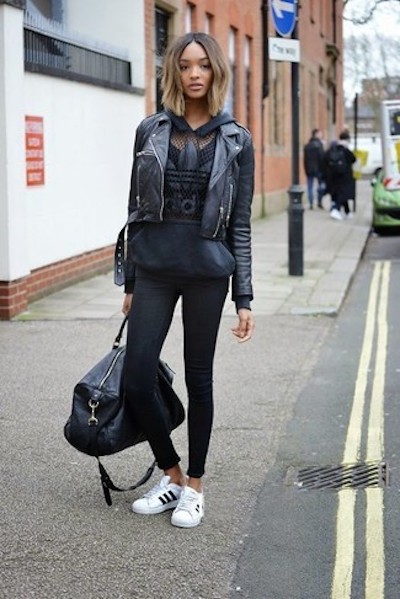 The better way to wear a black top is layering. One great outfit idea is to add an outerwear in a light solid color to make you look refreshed.
The combo of a white or gray hoodie is one of the best choices.
Or try a gray blazer or long tops such as a khaki coat.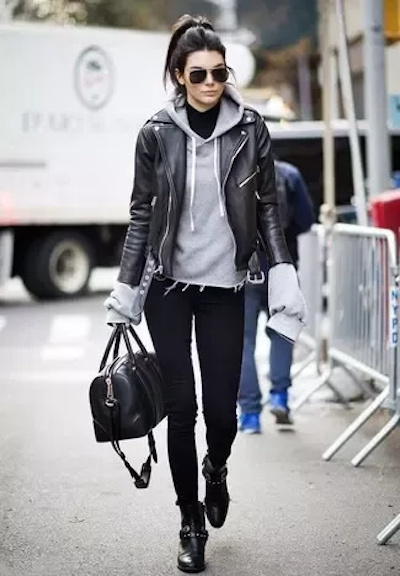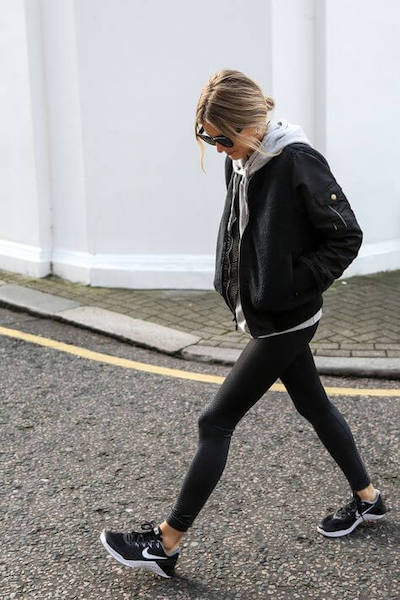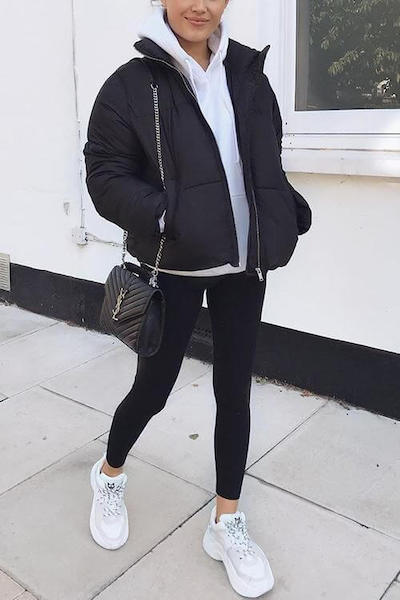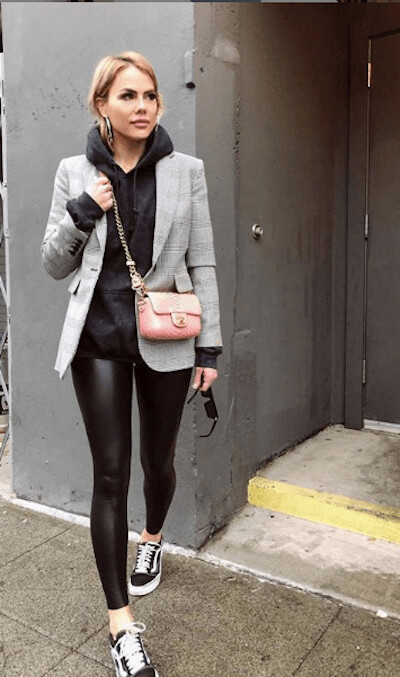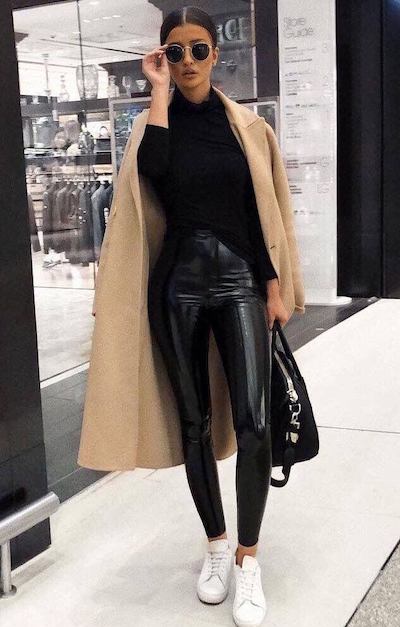 Tank Top
Tank tops are popular to wear with black leggings, especially in warmer climates. Try boldly tank tops in different colors.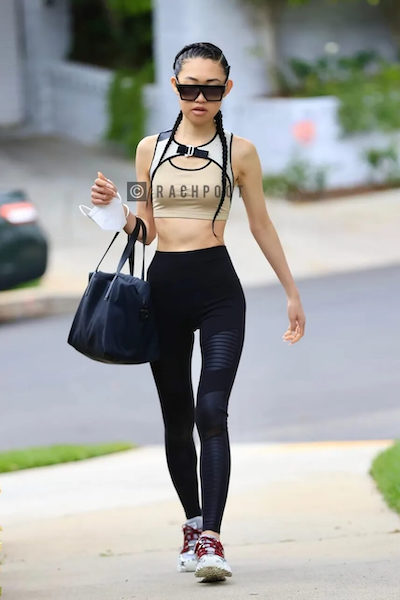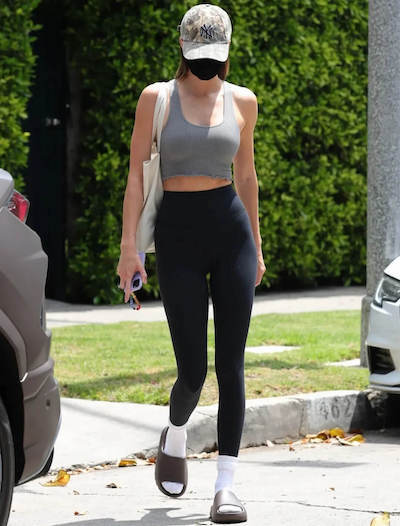 If you prefer a black tank top, you can wear a baseball cap to make it cuter, or you can wear a sweater over your shoulder.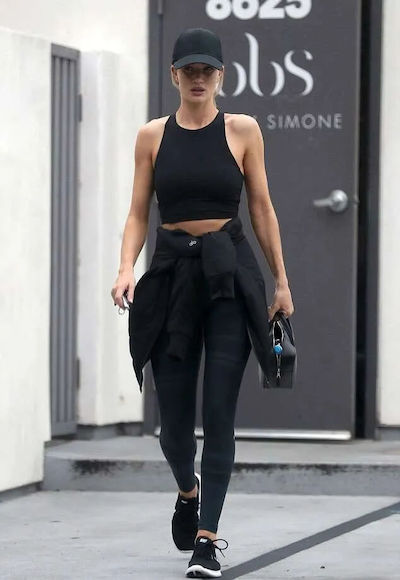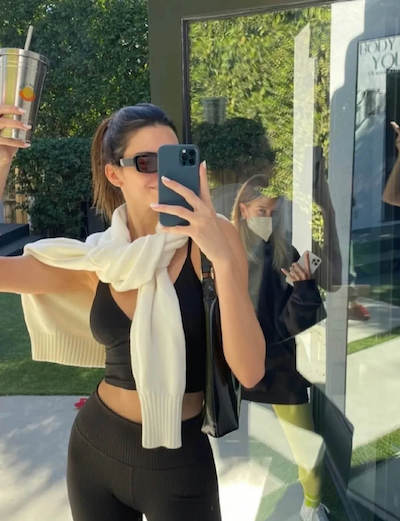 Shorter Tops
Almost all the shorter tops look so cute with black leggings for casual occasions, as they help to modify the body proportions and help make the legs look longer.
When wearing solid color short tops, remember wearing gold and white accessories to make the outfits less boring.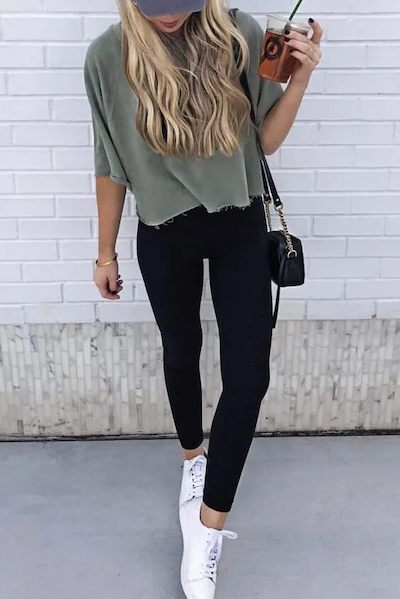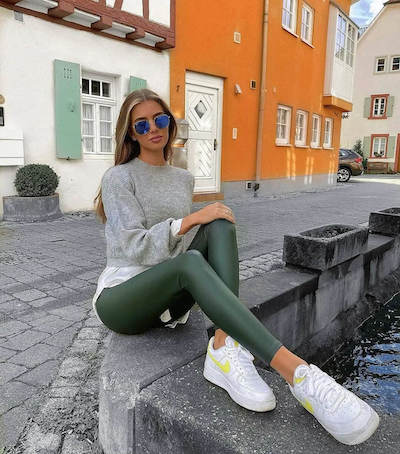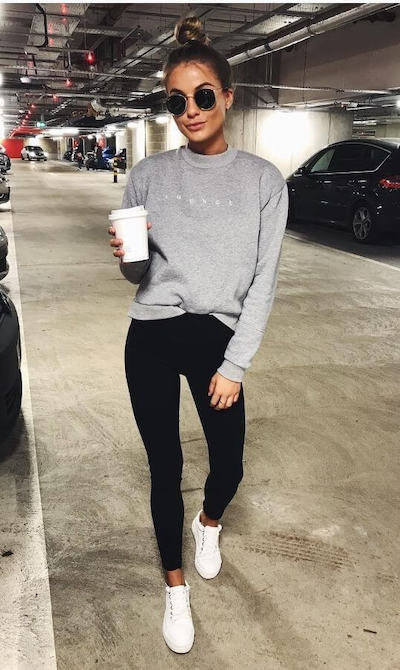 We recommend short tops with bright colors and exaggerated patterns to get a more fashionable street style.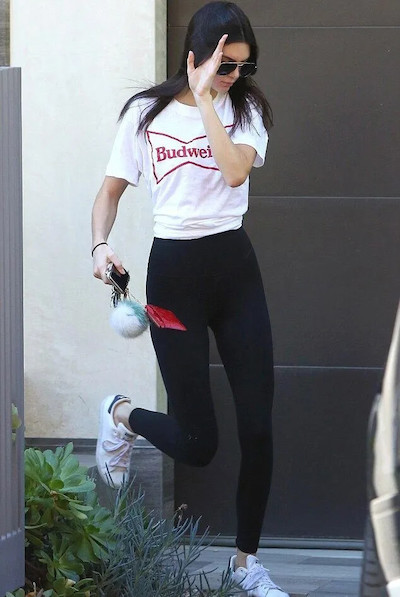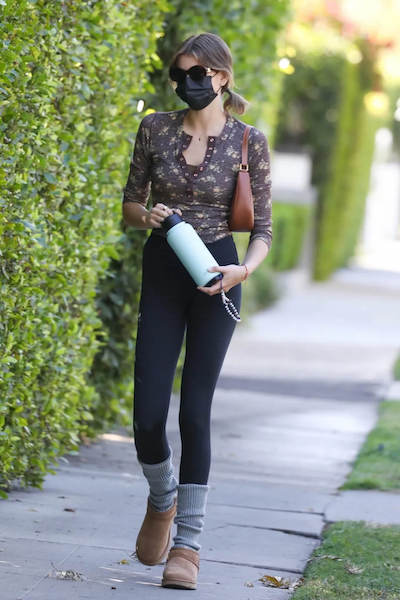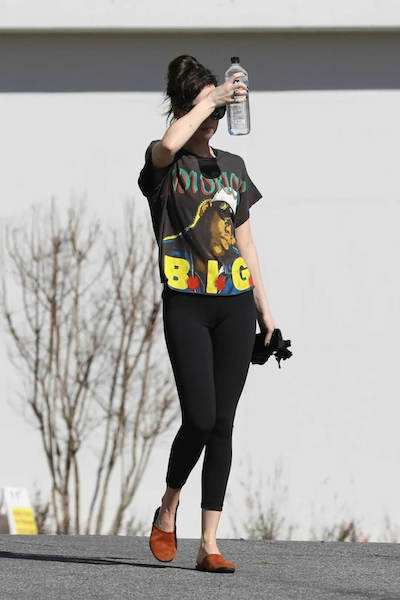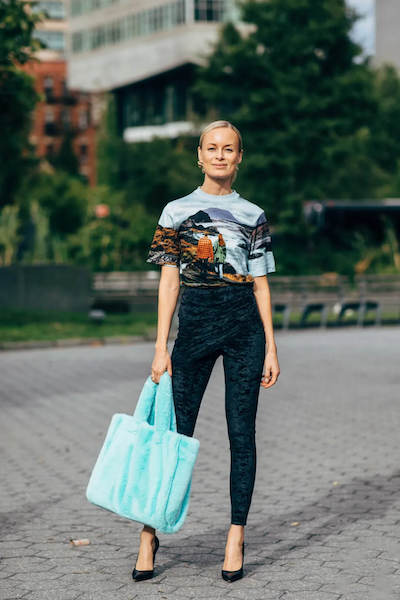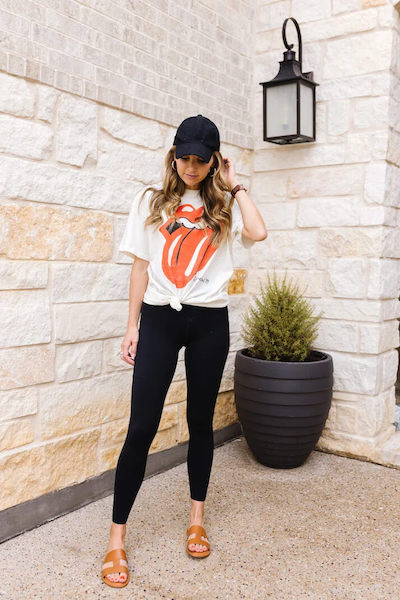 In winter, fluffy shorter tops become even cuter with black leggings.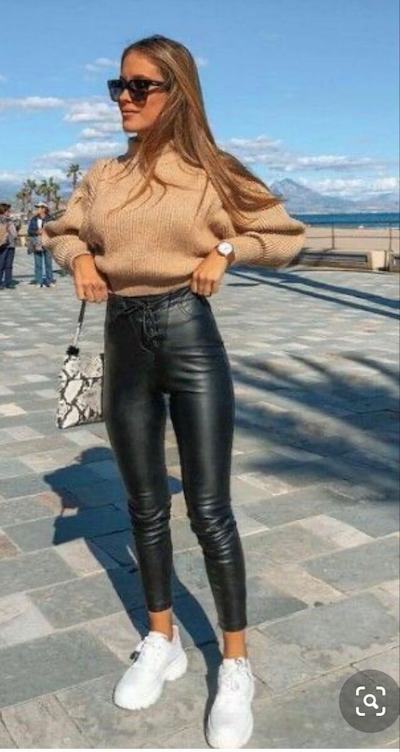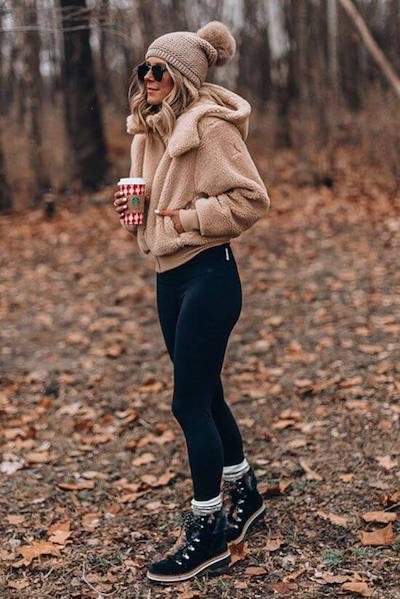 Long Cardigan
Long cardigan is an ideal option if you are still not confident to wear shorter tops. And they are perfect if you want to wear ballet flats to be more comfortable.
Long cardigans with solid colors help us hide big tights and they are also perfect to create casual work outfits.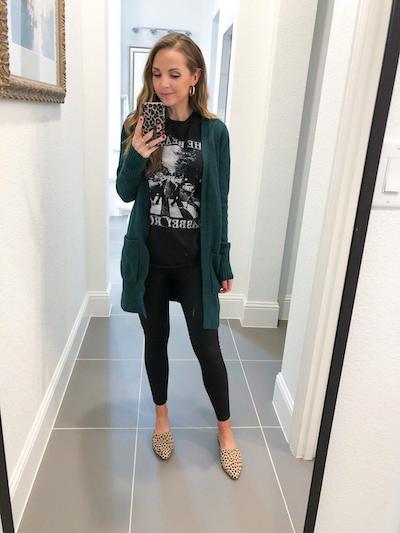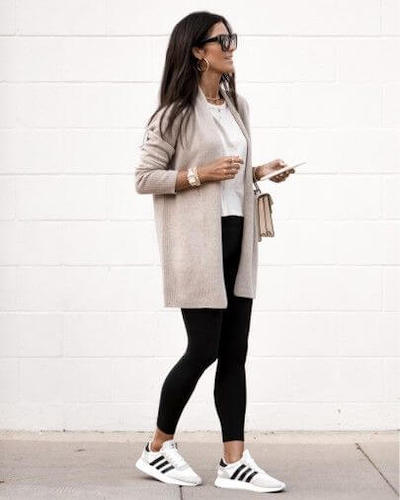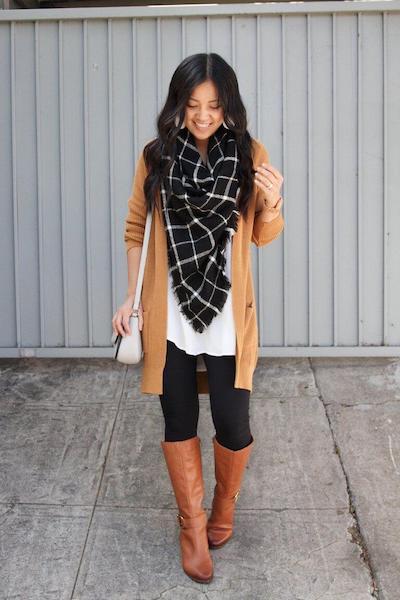 And the combination of a long cardigan and black leggings is a classic look for travel outfits! This combo is cute, comfortable, and so convenient.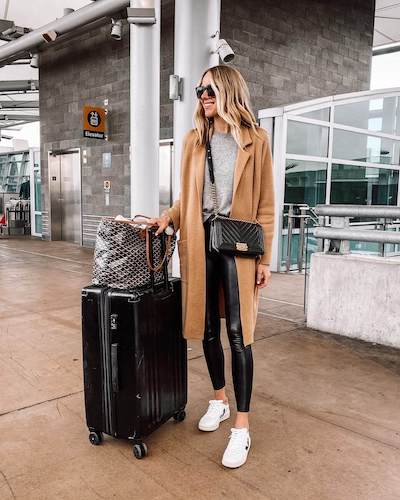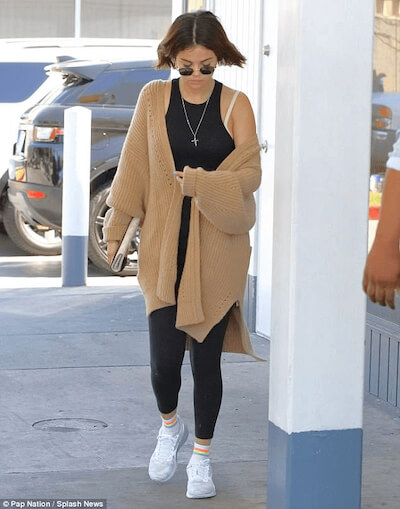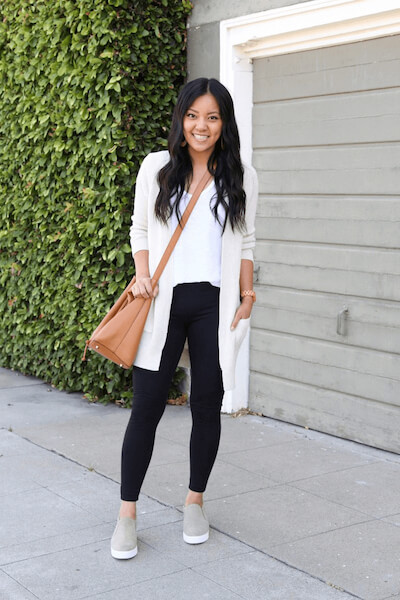 Oversize Sweater
If you like wearing an oversize sweater with black leggings, try a neutral color oversize sweater that will make you look chic in a minute.
An oversize sweater + black leggings combo is also suitable for work outfits. You only need to change the sneakers to a pair of point ankle boots with high heels and you will look stunning!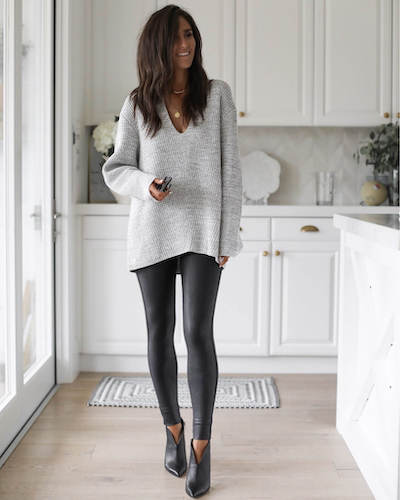 Chambray Shirt
Denim blue looks so amazing with the black color, so besides the denim jackets we have mentioned above, the chambray shirts are also black leggings' good friends.
The chambray shirts have a casual and free style and they are perfect to get a casual outfit, especially for a vacation.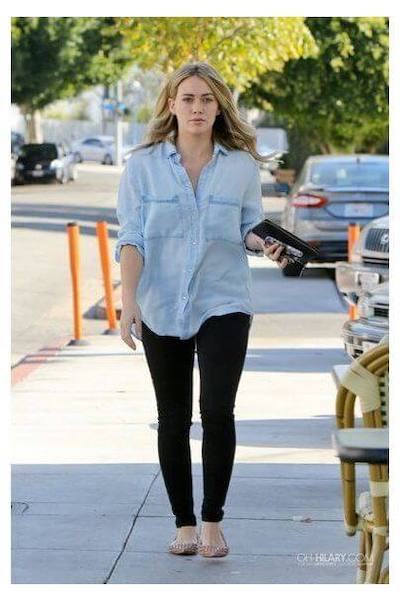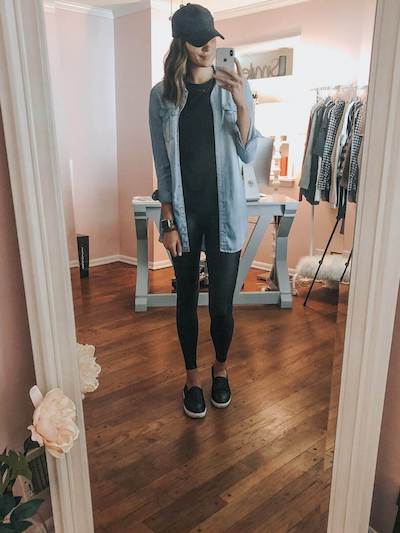 Want more vacation vibe? Add sunglasses, a straw hat, or tie a front knot or wear the chambray shirt around your waist. These look so cute!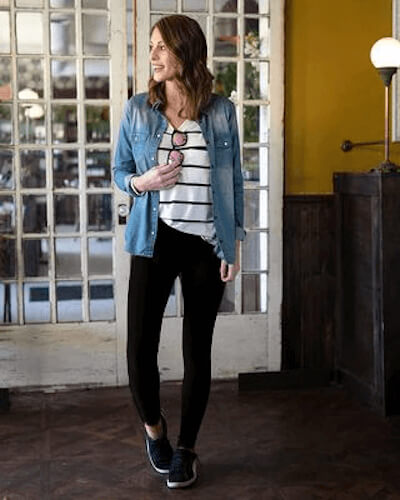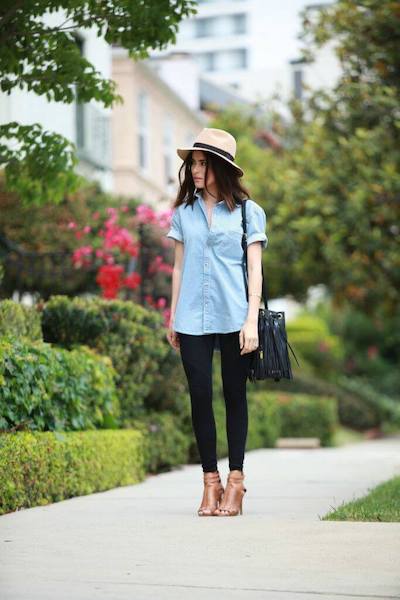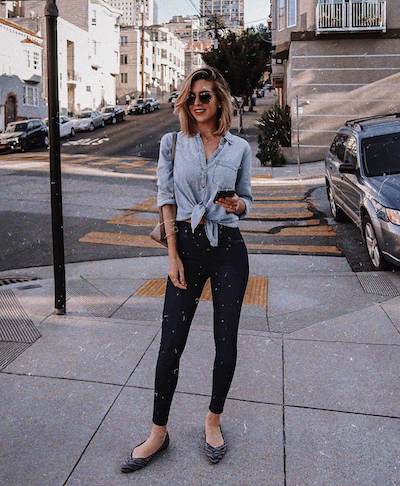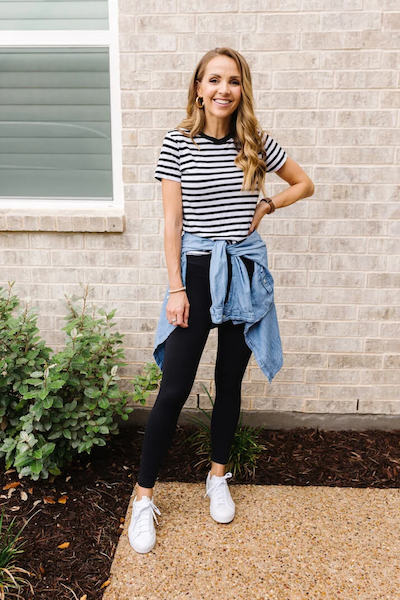 The perfect combinations of a chambray shirt and black leggings can be turned into a casual work outfit, too. Wear a neutral color long cardigan, and wear chic purses and boots. Such stylish work outfits are even perfect for business meetings.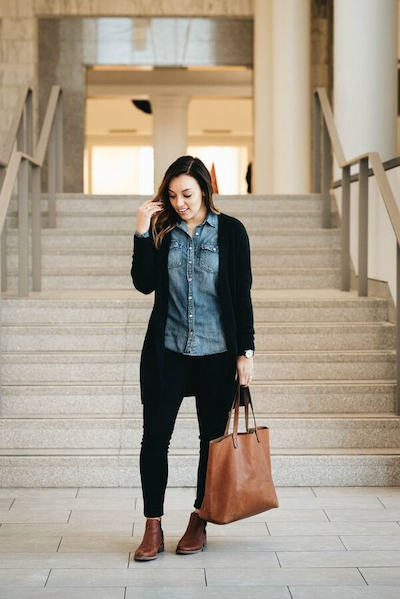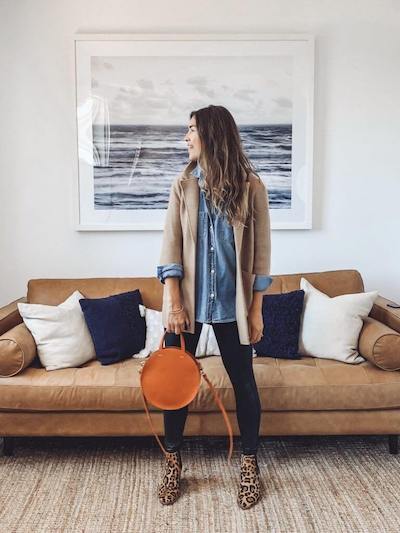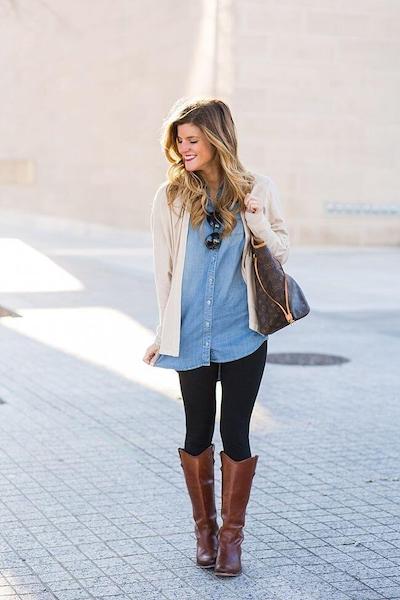 Long Shirt
A long shirt is a perfect match for black leggings. You can wear the long shirt alone as a top then pair them with your black leggings and a pair of black boots or white sneakers.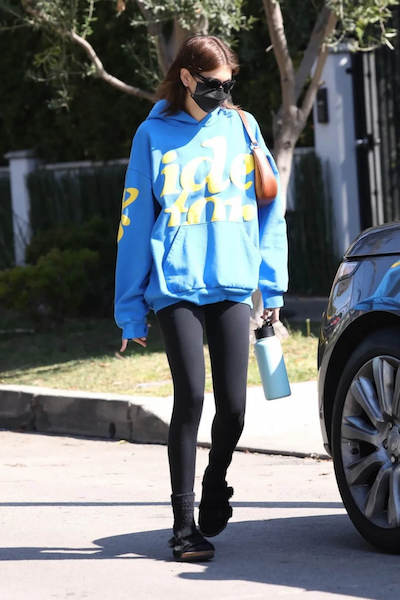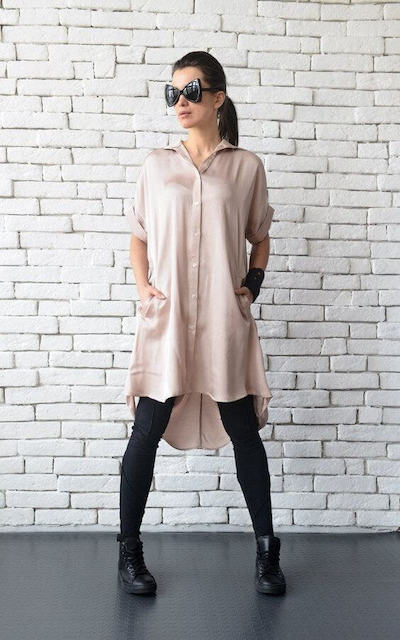 The other great way is to wear a long white shirt inside and wear an oversize sweater outside to create a layered look. You can wear a pair of knee-high boots or sneakers. They both look perfect.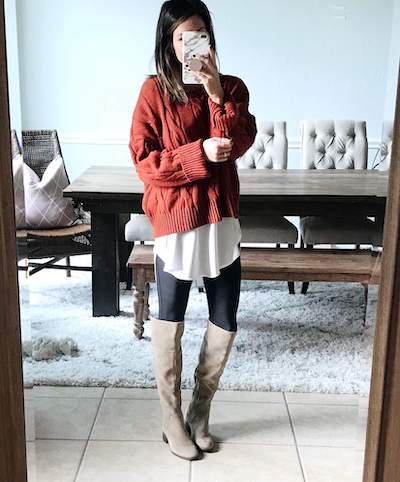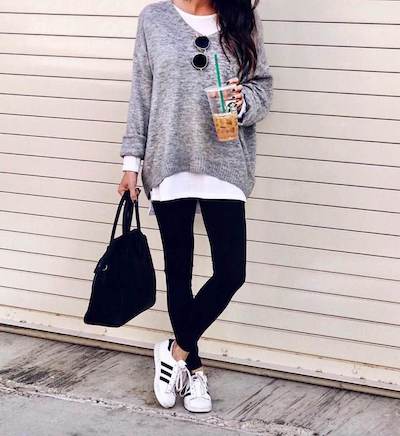 Cozy Sweater
In the cold weather, if you are looking for cozy sweaters to pair with the black leggings, try a chunky sweater or the sweaters with some unique and cute designs, such as batwing sleeves, high-low hem, a turtleneck, or wear a long shirt inside of the sweater.
These details help to highlight the tops and make your legs look slimmer!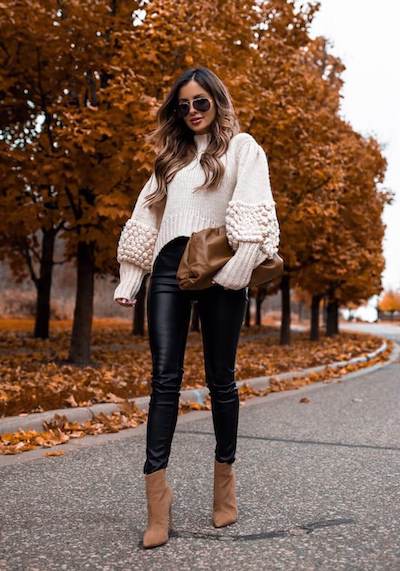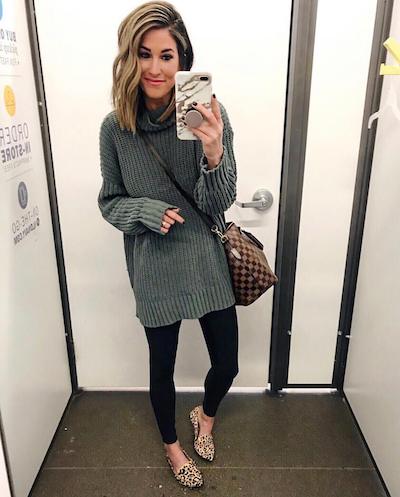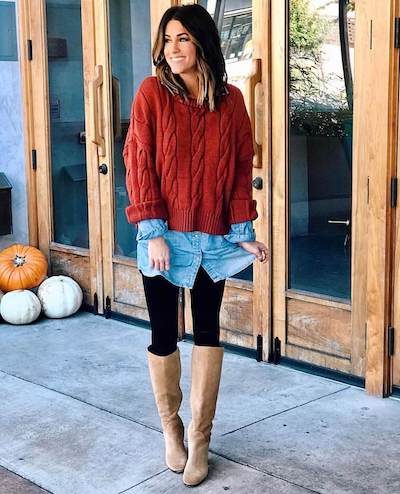 Tunic Top
Compared with short dresses, we highly recommend tunic tops because they look more expensive with a simple style.
To make your tunic-leggings casual wear more stylish, use accessories, and other long or oversized tops to add more layers and cozy touch.
Meanwhile, a longer tunic with a solid neutral color is way easier to get a chic look.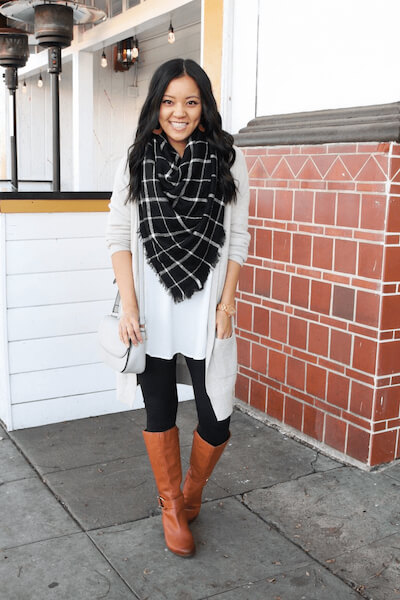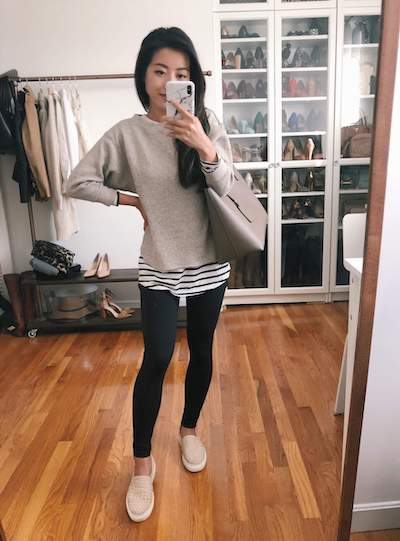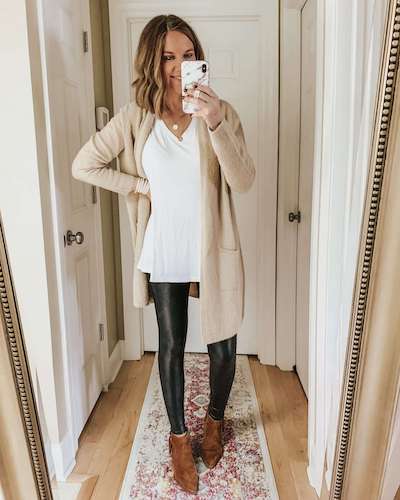 Crop Top
Be bold to try a unique color crop top to get a cute look. There are a variety of colors of crop tops to choose from, and actually, every color would go well with your classic leggings.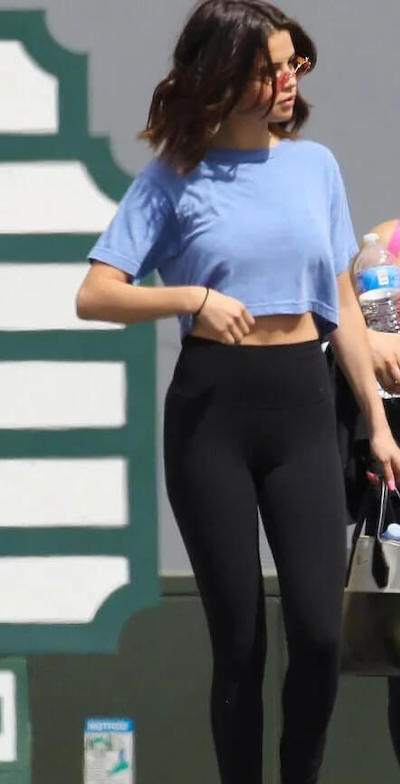 In addition, if you want to wear non-black tight leggings and you don't know what tops to wear with them, you will never be wrong with a cute crop top.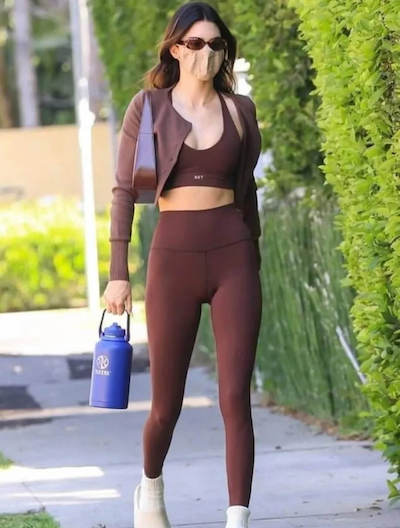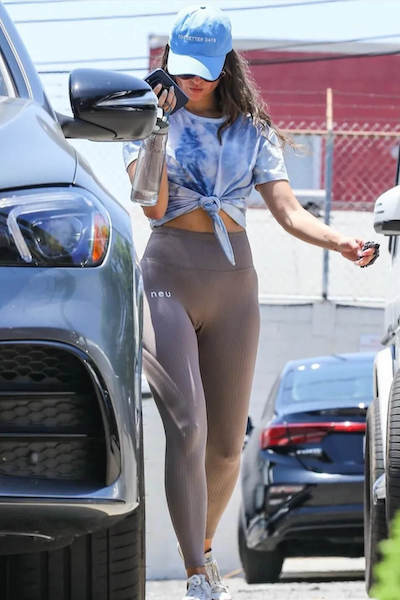 Longer Tops
Besides the long shirts, long sweaters, and tunic tops that we talked about above, we strongly recommend you to try a trendy oversized blazer this year to pair with your black leggings.
The simple and chic look of an oversized blazer makes it perfect to wear with the black leggings to get clean lines and a neat outfit.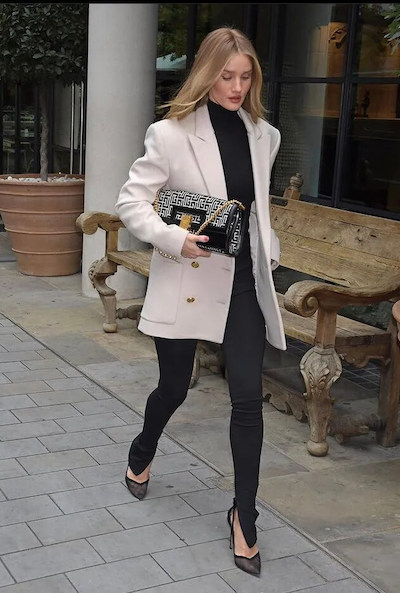 Even for some unique color cute leggings, the same color scheme blazer makes it so easy to style the leggings!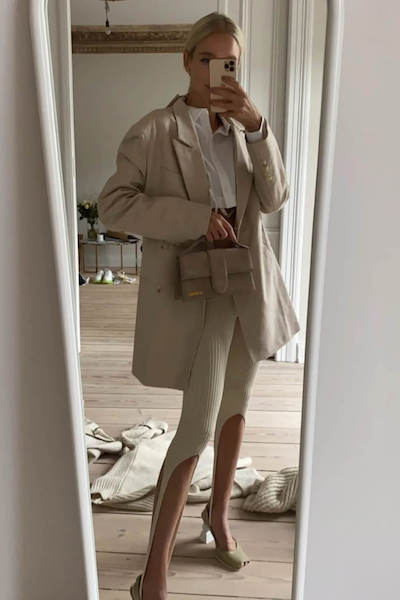 Best Tops To Wear With White Leggings And Gray Leggings

Besides the black leggings, white leggings and gray leggings are also trending now.
Don't know how to style them? Go with simple black or white tops! They look amazing with the white or gray colors.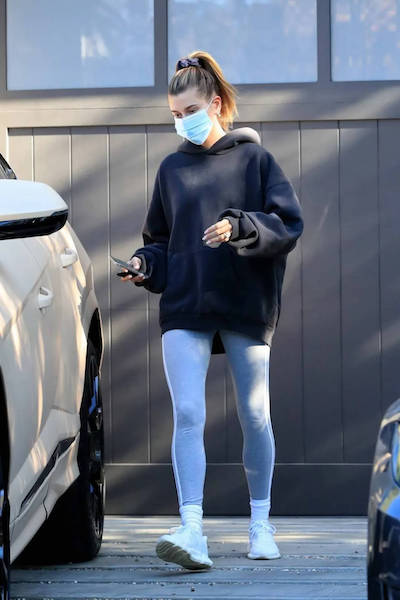 A simple white tee looks so energetic and cute with simple gray leggings!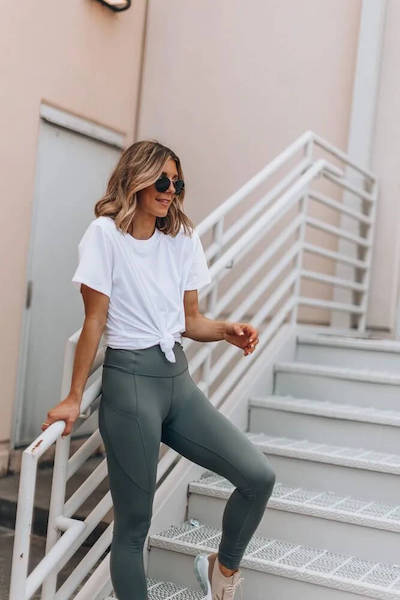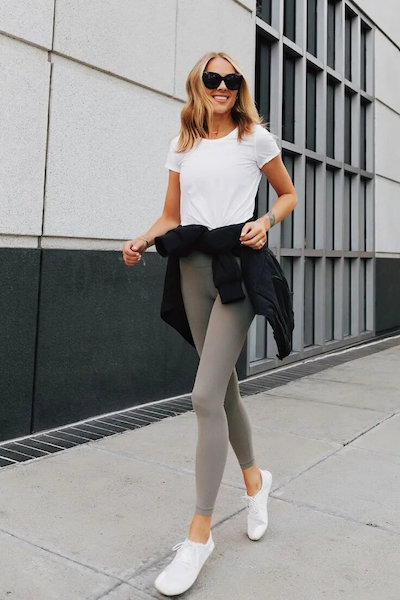 Or an oversize blazer or an oversize shirt? If you are tired of all-black style, these are perfect for you to get a minimalist but super stylish look!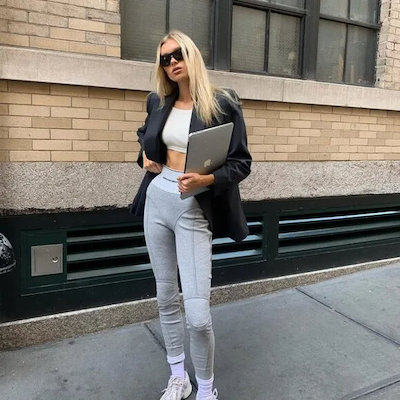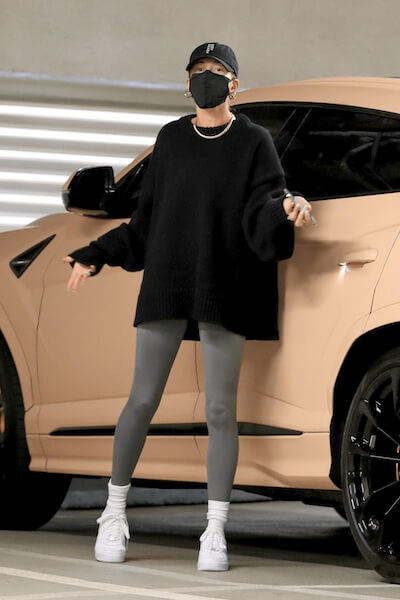 This post was all about tops to wear with leggings.
Related Posts: