Looking for the best tips and ideas on how to wear ankle pants in winter? Check this post for easy-to-follow fashion tips and the 30+ best ankle pants outfit ideas to copy directly for the winter season.
Ankle pants have become a wardrobe staple for fashionable ladies. Whether you like easy and comfortable simple wear, or you are a fan of layering style, ankle pants are always the right pants to choose.
The perfect personal style and fashion sense of pants with short legs will make you fall in love with them.
So, in the cold days of winter, how can we wear ankle pants to keep warm and stylish?
If you are looking for the best style tips and outfit ideas on how to wear ankle pants in the colder months, you've come to the right place.
In today's article, I am sharing with your our favorite tips on how to style ankle-length pants and cropped pants or jeans in the winter days for different styles, and I am also sharing with you the best ankle pants outfits for women for you to copy and shop for directly from our favorite online fashion stores.
So scroll down to check the outfit combinations and different ways to wear ankle pants in winter months, and don't hesitate to pin them to your Pinterest board, and share them on social media sites.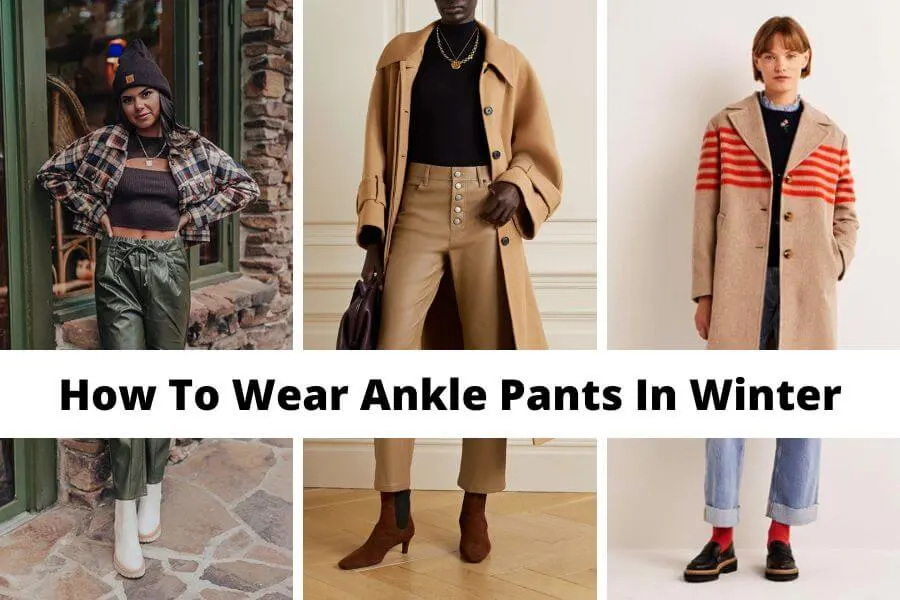 This post may contain affiliate links, which means I'll receive a commission if you purchase through my link, at no extra cost to you. Please read the full disclosure here.
This post is all about how to wear ankle pants in winter.
Is It Okay To Wear Ankle Pants In The Winter?
Yes. As a timeless item on the fashion stage, ankle pants can still give your style a great sense of fashion even in fall and winter.
With the right style tips, you can definitely wear ankle pants in fall and winter and still stay warm and stylish.
How To Wear Ankle Pants In Winter (Including Cropped Pants, Ankle Jeans, Cropped Jeans, Capri Pants)
There are so many designs of ankle-length pants or jeans that are launched year after year by many brands.
So when the weather is cold, how should we style these ankle pants? Which items are most suitable for pairing with ankle pants to create perfect winter fashion?
What Shoes To Wear With Ankle Pants In Winter?
In winter, you can choose ankle boots to match your ankle pants, so that the lines of your ankle pants and ankle boots are perfectly connected. This is a great option not only to keep you warm but also to make you look like you have very slender legs. Other shoes with a higher shaft also fit perfectly.
If the legs of your ankle pants are wider, you can also choose sock boots with narrower shafts, or even knee-high boots, so that your pants can wrap your shafts and give you more warmth.
In warmer climates, or if you're wearing a pair of warm socks or a pair of opaque tights, you can also choose low-top shoes to complement your ankle pants for a stylish and cute look.
What Socks To Wear With Ankle Pants In Winter?
I recommend socks that are merino wool or merino wool blends. These socks are warm and not too bulky.
For the color of the socks, you can choose the same color of your boots, or the same color of your pants, and your legs will look longer.
You can also choose a different sock color than your boots and pants for a very cute fall and winter look. For example, you can choose the same color from your the rest of your overall look as the color of your socks to add more visual fashion interest to your look.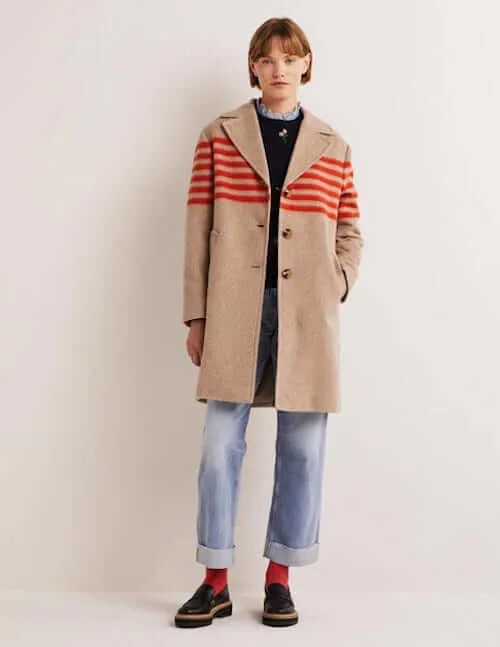 Can I wear ankle boots with ankle pants?
Yes, you can. Ankle boots are one of the best shoe choice ideas for ankle pants. You can wear this combination for almost any occasion, including everyday casual, romantic date nights, and office wear.
How To Wear Cropped Pants With Ankle Boots?
First, you should choose ankle boots with shafts that are closer to the ends of your pants, or pants that cover a little bit of the shafts, or boots with a little gap between the shafts and the trouser leg. Too long shafts or too short trouser legs are not good choices.
Secondly, for the choice of the color of the boots, you can choose the same or similar color as the pants, so that your legs will look longer, allowing you to still have great body proportion under heavy clothes in the winter season.
You can also choose the color of the boots in the same color as your top. Especially when your top is white, beige, and other bright colors in fall and winter fashion, choosing a pair of white boots will instantly bring your style to the next level.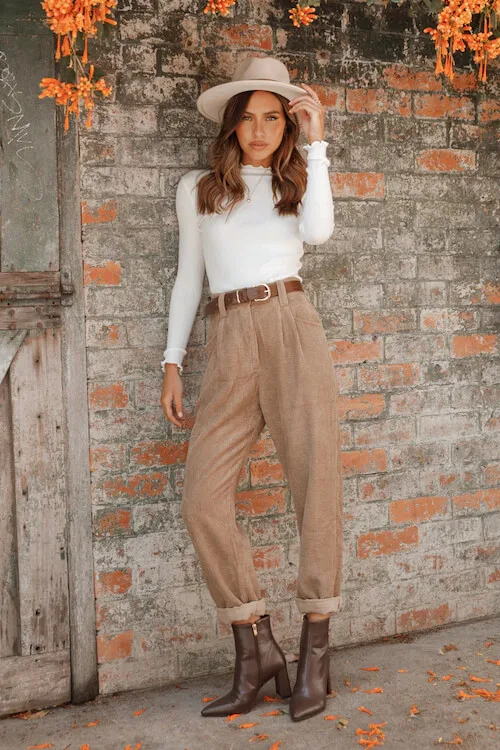 How To Wear Cropped Flare Jeans In Winter?
Flare jeans and flare pants have lovely lines, they can bring lightness to our winter outfits, and they are a great choice for winter pants.
The most suitable for cropped flare jeans or pants are sock booties or knee-high boots with narrow shafts. This is the easiest way and a chic idea to better showcase the flare pants' wider bottom.
Alternatively, you can choose lower-top shoes or pumps to reveal your slender ankles and make you look very stylish. You can add socks to keep warm in colder weather.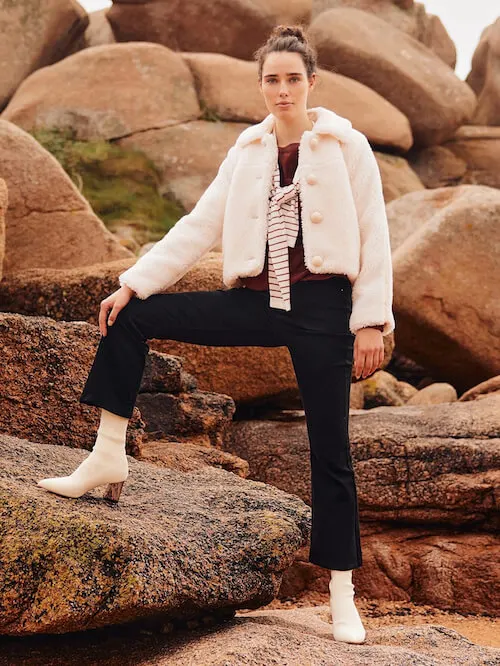 How To Wear Cropped Skinny Jeans or Skinny Pants In Winter
For skinny pants, you can choose ankle boots to match them. For extra warmth, you can also choose knee-high boots or other tall boots, wrap the boots outside the pants to give you more warmth.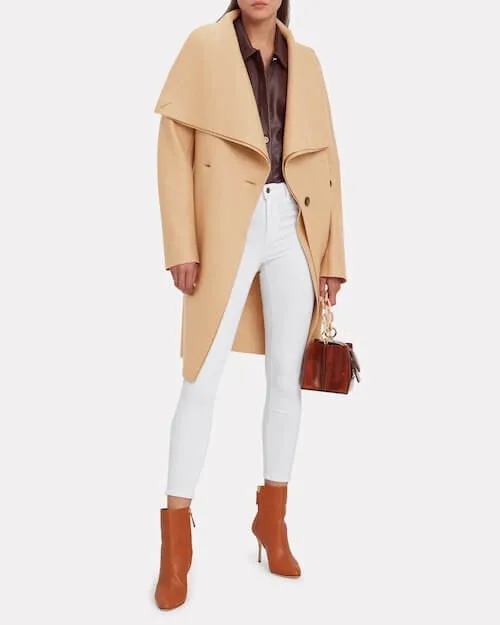 How To Wear Cropped Straight Leg Jeans In Winter
If your straight-leg jeans aren't too thick, you can wear them like skinny jeans by wrapping them in wide boots.
In warmer weather, you can also opt for low-top shoes that expose your ankles for a very cute look.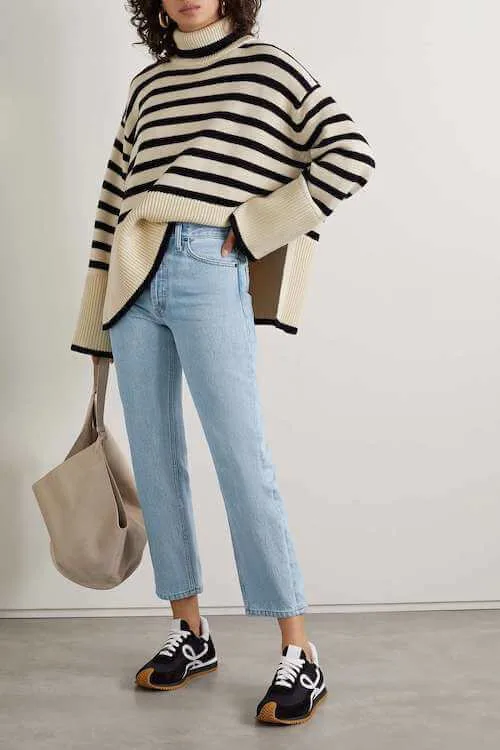 How To Wear Wide Leg Crop Pants In Winter
When wearing crop wide leg pants in winter, a pair of high boots with shafts that are narrower than the trousers' legs is a great choice. On the one hand, these boots can keep you warm, and on the other hand, they can help you create clean lines, making you look neat and fashionable.
Also, for wide-leg pants, I suggest you choose wide-leg pants with a high waist, and choose a shorter top to complete the look, This style tip will make you look taller and slimmer.
How To Keep My Ankles Warm In The Winter With Ankle Length Pants?
You can opt for cozy socks, or wear tights inside of your pants for extra warmth. You can even wear boots with higher boots.
GO MONOCHROME.
Monochromatic looks never go out of style. You can opt for a monochromatic look in trendy neutrals. You can also add a personal touch to your winter style by opting for warm shades of red, orange, dark green, and more.
When creating a monochromatic look, in order to avoid monotony, please choose a mix of different materials and different lengths.
For example, you can pair a leather jacket with a knitted top and corduroy pants. Or you can pair a velvet coat with leather pants. Or you can add a crop top to long underwear.
Each is a great way to show your fashion sense and add more layers and visual interest to your look in the colder days.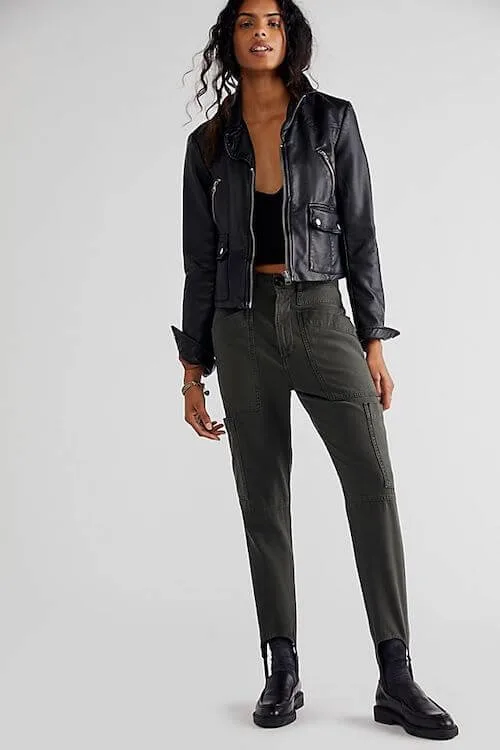 How To Look Good With Ankle Pants In Winter: Roll Em Up.
Sometimes, the pant length and the height of your boots may not be ideal, so you can roll up some pant legs to create your ideal look.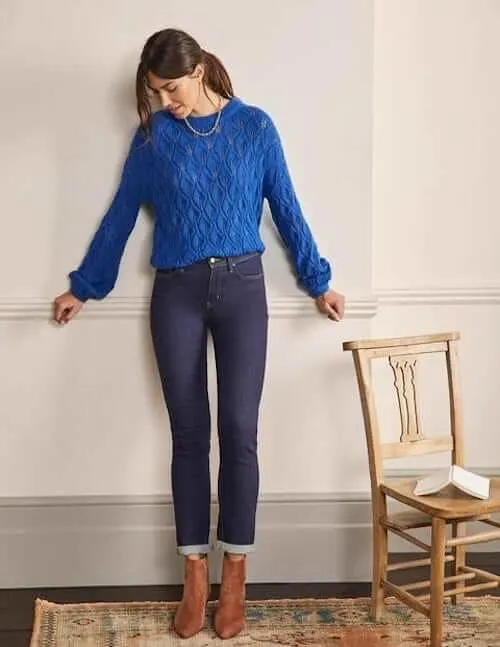 Wear A Pair of Flats With Tights
This is a fashion idea I really liked this year. You can try a variety of flats, including loafers, ballet flats, and pointy-toe flats.
I especially recommend platform flats, which are very popular this year.
In particular, if you're worried that wearing ankle pants will make you look shorter, a pair of platform flats can effectively lengthen your lower body and bring you better body proportions with the perfect trendy retro feel.
Short Tops are Better Than Long Tops To Pair With Ankle Pants
For visually longer legs and more perfect body proportions, it is a better way to choose a shorter top than a longer one. A shorter top can help you visually lift up your waistline and make your legs look longer.
If your top is long, then you can tuck the top into your pants or add a belt.
For a long coat in winter, you can wear a shorter top inside the coat, which will increase the layering details while lengthening the lower body visually, making your entire look more fashionable.
Chic Ankle Pants Outfits In Winter To Copy
Want more inspiration? Check the below chic and cute outfits with ankle pants for the cold weather to copy.
Ankle Length Cargo Pants + High Top Sneakers + White Top + Black Leather Jacket
Cozy Casual Look: Green Crop Cargo Pants + Winter Boots + Black Top + Long Coat + Beanie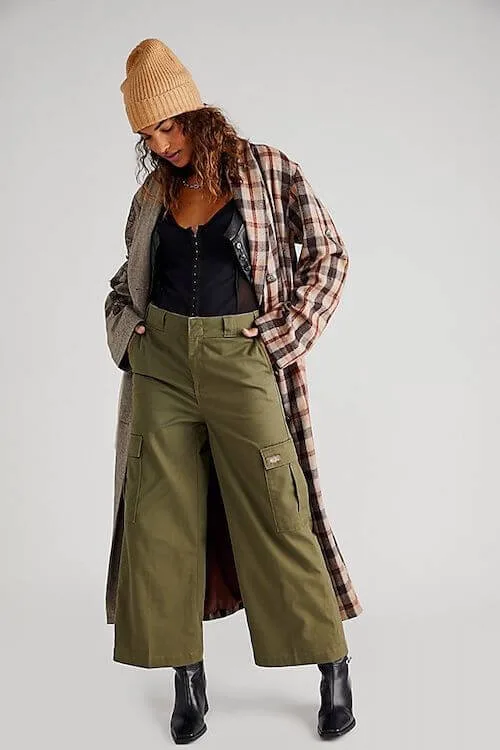 Winter Weather Street Style: Black Cropped Utility Trousers + Trench Coat + Platform Loafers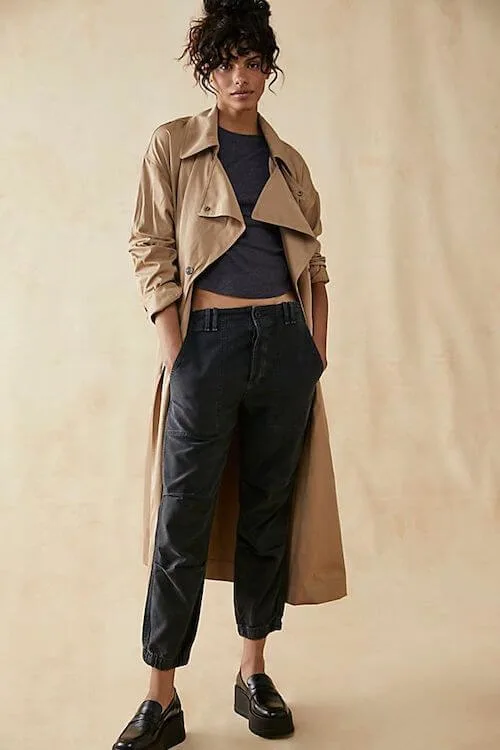 Army Green Cropped Leather Pants + White Ankle Boots + Short Plaid Shacket + Beanie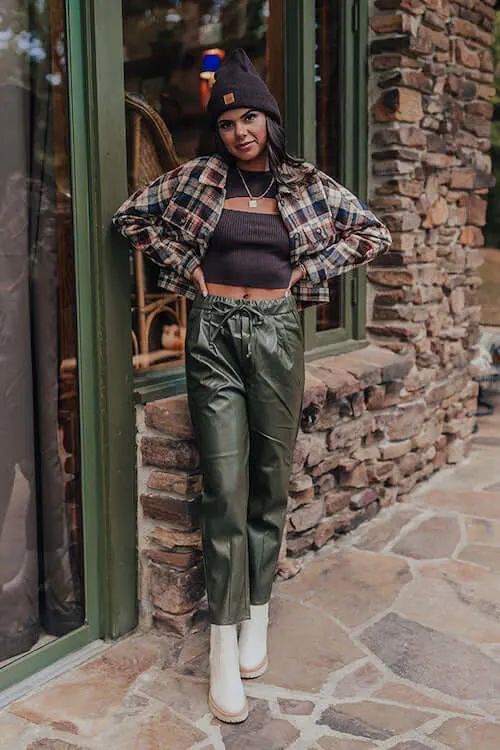 Brown Cropped Tapered Pants + Brown Ankle Boots + Tan Top + Brown Belt
Navy Blue Cropped Pants + Flats + Red Chunky Knit Sweater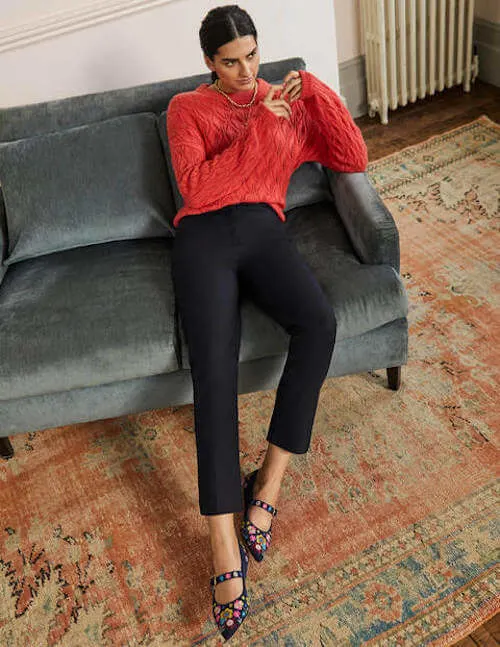 Red Cropped Pants + Black Loafers + Beige Knit Top + Printed Long Sleeves Blouse
Minimalist Winter Wear: Cropped Wide-Leg Trousers + Knee High Boots + Sweater +Belt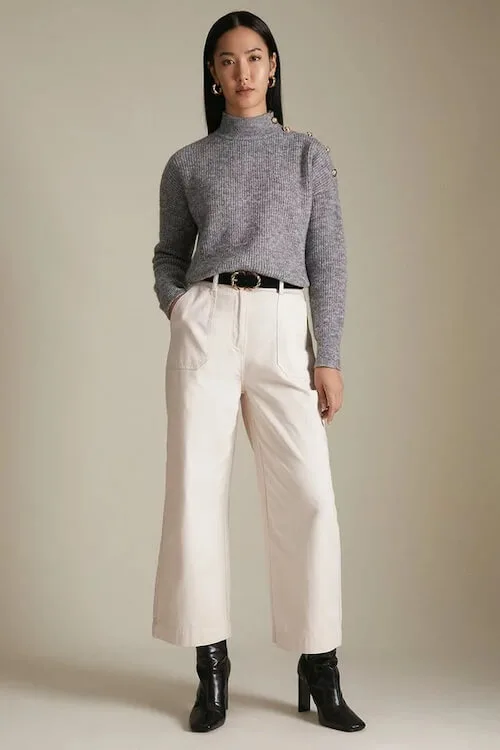 Crop Mini Boot Leather Pants + Lace Up Boots + Oversized Sweater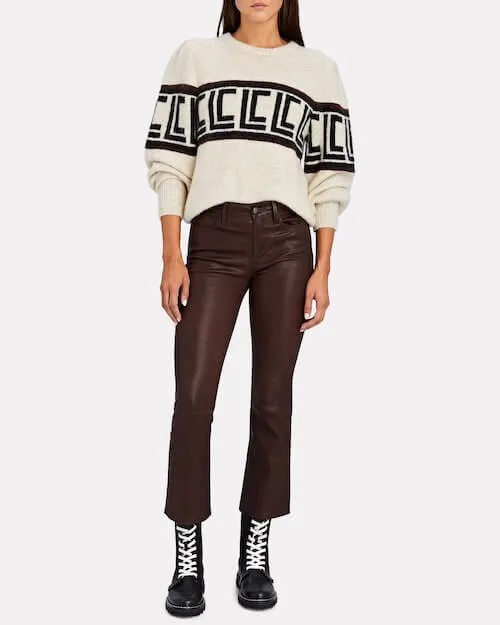 Ankle Crop Jeans + Ankle Boots + Short Jacket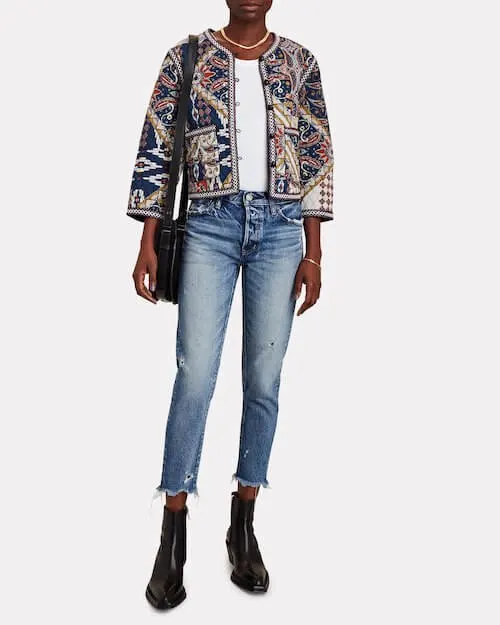 Ankle Slacks + Black Loafers + Black Socks + Knit Top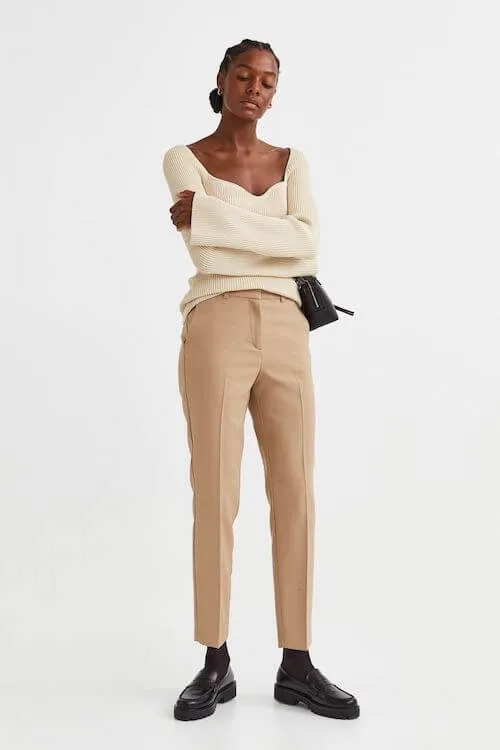 Ankle-length Pants + Cute Socks + Black Loafers + Beige Shacket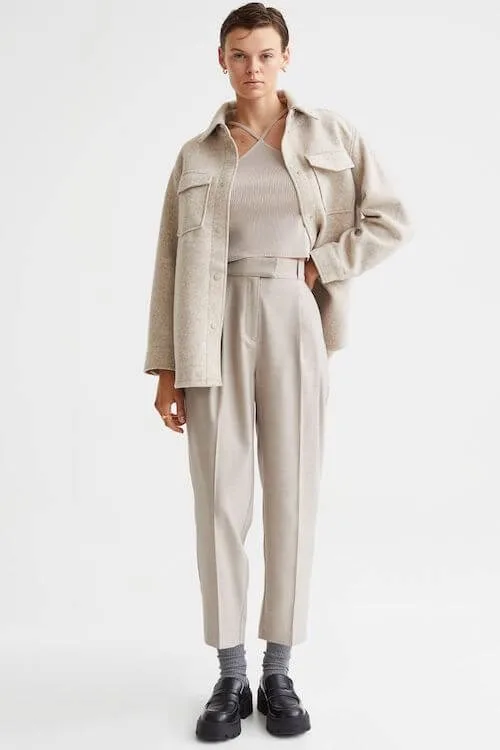 Cropped Mid Rise Jeans / Cropped Boyfriend Jeans + Black Combat Boots + Oversized Top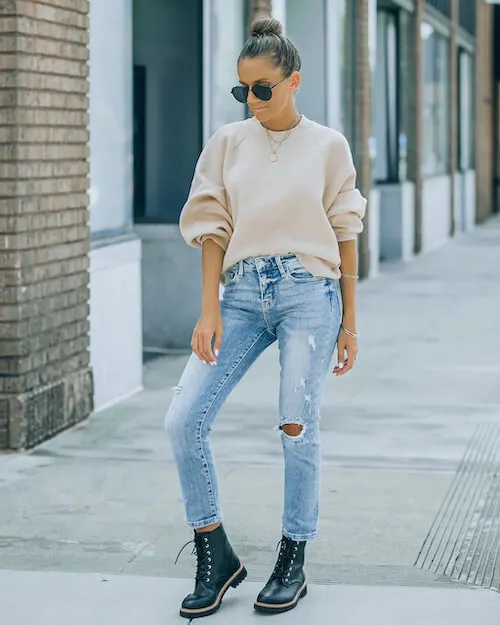 Cropped Pants + Lug Boots + Chunky Sweater
Different Shades of Tan: Cropped Straight-Leg Pants + Casual Shoes + Brown Top + Brown Teddy Coat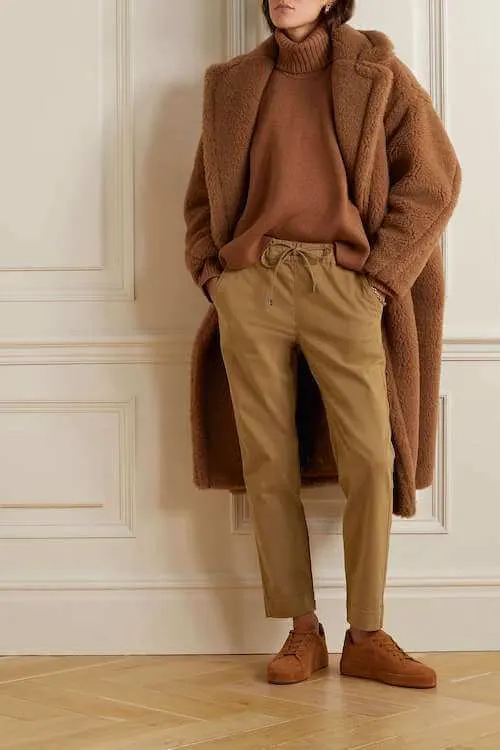 Old Money Style: Cropped Slim Fit Pants + Loafers + Sweater + Blazer + Brown Belt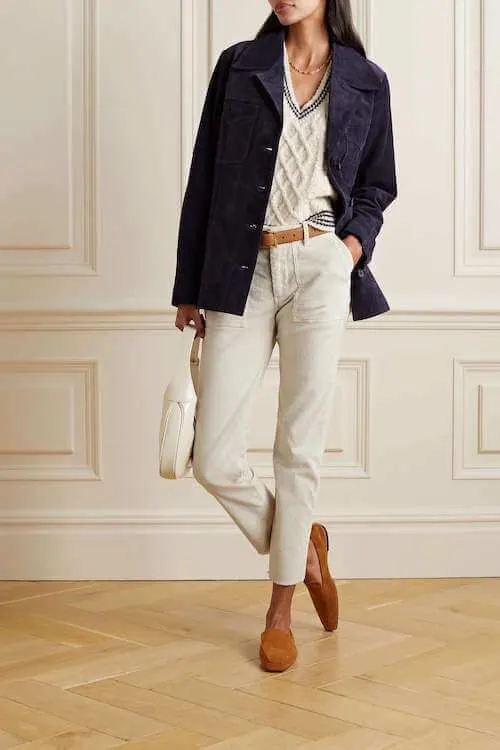 Easy Sleek Look: Cropped Flared Pants + Flat Shoes / Loafers + Tan Top + Trench Coat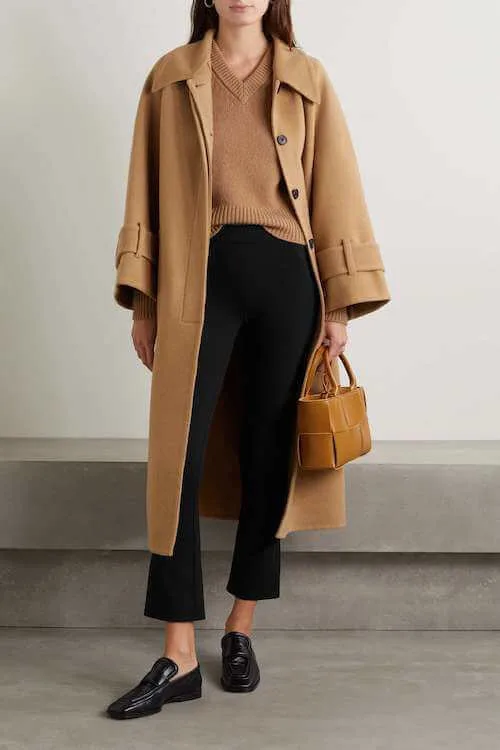 Cropped High Rise Wide-Leg Jeans + Black Flats + Sleeveless Knit Top + White Blouse
Cropped Wide-Leg Pants + Pointy Toe Shoes + Tights + Tank Top + Black Leather Blazer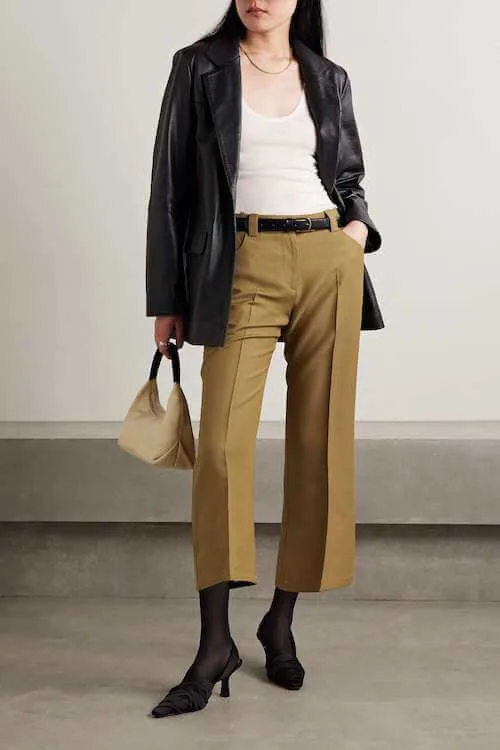 Chic Business Casual Look: Cropped Leather Straight-Leg Pants + Heeled Ankle Boots / Sock Booties + Long Coat
Cropped Wide Leg Pants + Sock Boots + Shacket
Cropped Jeans + A Pair of Ankle Boots + Knit Top + Down Coat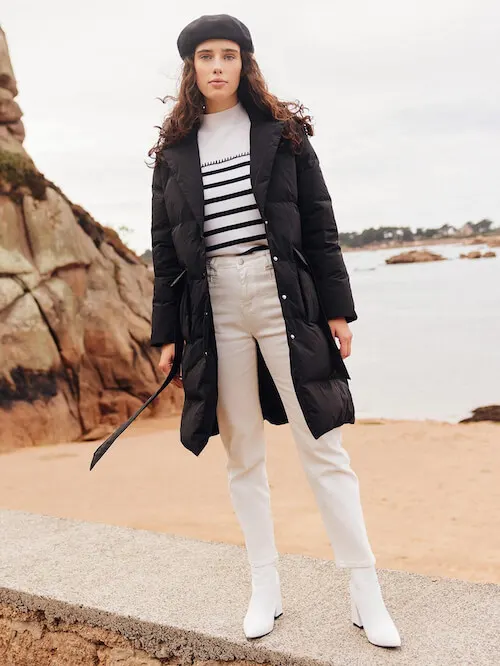 Cropped Jeans + Sock Boots + Belted Overcoat + Blet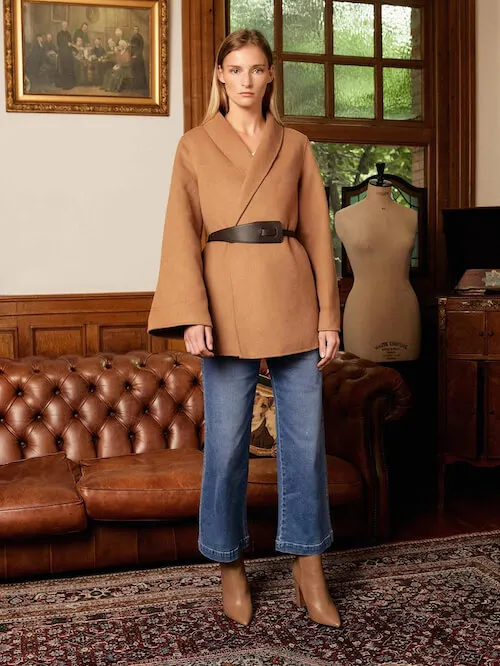 This post was all about how to wear ankle pants in winter.
About The Author
Tracy is an experienced personal stylist, shopping expert, and fashion & lifestyle blogger. She has been featured on Time Magazine, Bustle, Best Life, Glam, The Zoe Report, Mic, and GOBankingRates, for her insights on fashion, beauty, home decor, and lifestyle. Read More
Related Posts: