Looking for the best ideas on what to wear to a country concert when it's cold? Check this post for the best style tips and 30+ best country concert outfits in winter to copy directly.
While most country concerts are held in the warmer spring and summer, there are some very popular country concerts that continue to be played in the colder winter months.
Going to country music festivals or country concerts in the winter is also a great idea for fans of country music!
Whether you're attending a hot country concert with holiday cheer in December or January or starting a new spring with outdoor concerts in February at the end of winter, a winter country concert tour will bring you fond memories.
If you are looking for the best style tips on what to wear to a country concert when it's cold and different styles of winter country concert outfits, you've come to the right place.
In today's article, I am sharing with you the best style tips on how to dress for a winter country concert and the cutest winter country concert outfits from favorite online fashion stores for you to shop for and copy directly.
So scroll down to check these perfect outfit ideas for a country concert in the cold weather, and don't hesitate to pin your favorite fashion formulas to your Pinterest board, and share them on social media sites.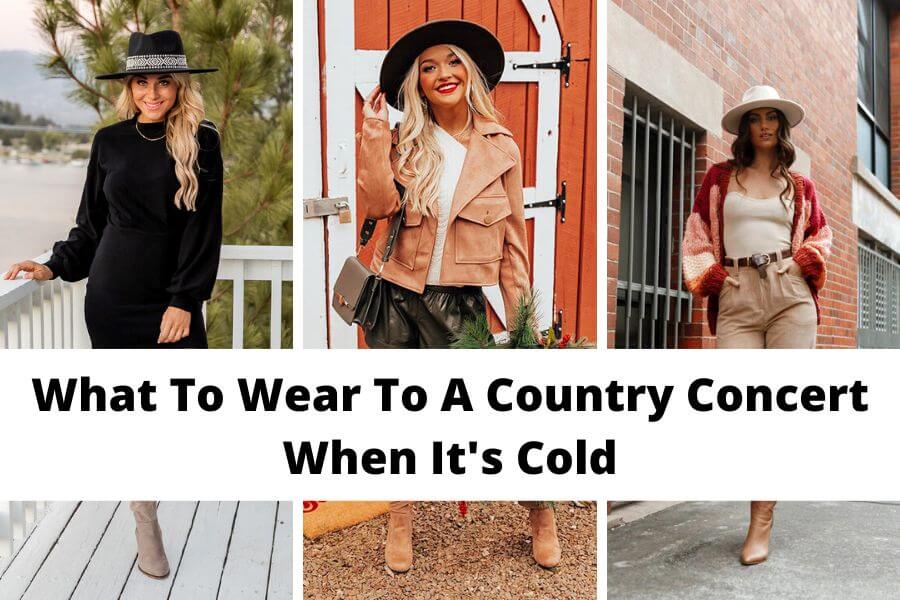 This post may contain affiliate links, which means I'll receive a commission if you purchase through my link, at no extra cost to you. Please read the full disclosure here.
This post is all about what to wear to a country concert when it's cold.
How Should I Dress For A Country Concert?
Embrace denim
Denim clothing pieces are the first option for western wear style.
So at country concerts, you can boldly mix denim pieces in different colors and trims to express your enthusiasm and uninhibited personality, such as a denim shirt, denim jacket, jeans, a pair of denim shorts, etc.
You can also choose denim with unique designs like fringe, rivets, embroidery, and more to bring your style to the next level.
Use earthy tone shades
Brown tones are perfect for a rustic look. Brown, beige, and cream colors look warm and charming, perfect for winter country live music concerts.
In addition to monochrome pieces, you can also choose plaid or floral print pieces to add more interesting visual details to your perfect look.
Choose comfortable shoes and boots
In order to have a good time at a concert, a pair of stylish and comfortable shoes is very important.
Cowboy boots are of course the best option. You can also choose suede boots or ankle boots, which are just as good.
For the choice of boot color, in addition to the popular black and brown, you can also choose the very popular white and red boots this year to make your look more modern and hot.
Add statement accessories
Beautiful accessories can add more fun and style to your country concert attire.
Cowboy hats are certainly a great option. We also really like the wide leather belts, chunky necklaces, fringed leather bags and other stylish accessories with a western and country feel.
Unlike other styles of concerts where the dress code is different, for country concerts, you can choose either simple or sophisticated styles.
Forget about minimalist fashion advice!
So you can wear your favorite accessories boldly and enjoy winter concerts to the fullest.
Dress sexier
Country concert dressing focuses on a mix of wild and sexy styles.
So elevate your casual wear, and don't forget to show off your attractive long legs, slender waist, perfect body proportions, and other good assets.
Add a belt, opt for high-waisted pants, and choose smartly designed pieces to embrace the perfect country concert looks.
Do You Have To Wear Cowboy Boots To A Country Music Concert?
Typically, a pair of cowboy boots is the country girl staple and is the best choice of clothing for a country style concert.
Even if you're wearing very simple casual outfits, wearing a pair of cowboy boots is a great way to instantly make your other pieces look perfect for a glamorous country concert.
However, if you don't have cowboy boots, you can also choose other genuine or faux leather boots. A variety of knee-high or over-the-knee boots is a good choice. Ankle boots are also nice.
Combat boots or lace-up boots may be a little less suitable for a country concert style, but if the color is suitable, it is also a good choice.
To make your boots look more suitable for a country vibe, I recommend choosing black, brown, beige, or edgy feel white, red, or pink boots. Gold and silver boots are also great for hot concerts.
Can you wear sneakers to a country concert? They are not a perfect alternative for cowboy boots, so I suggest you leave the sneakers for other occasions.
While it's possible to pair a pair of sneakers with a cute outfit, they're far less effective than a pair of leather boots. Therefore, it is recommended that you choose boots to complete your country outfits.
What To Wear To A Country Concert When It's Cold
Layers.
From leather jackets to denim jackets, from flannel button-down shirts to chunky cardigans, cozy layers are never bad ideas.
When layering, pay attention to matching items of different materials and different lengths, so that your great outfit looks more layered, and it also avoids being bloated due to wearing too many pieces.
Knitwear.
Warm knitwear for the upper body can keep us warm on cold days.
You can opt for tighter knitwear to wear under your jacket. You can also opt for chunky knitted shawls, which are windproof and add a stylish accent to your casual look.
Cozy stylish hats and shawls.
They are stylish and good-looking and help you keep warm with a cute western look.
You can choose a hat in the same color as your shoes, which is very convenient to style your look.
For scarves or shawls, you can choose bright and unique colors that will make you the center of attention in the crowd.
You may not be able to show off your beautiful layering necklaces with a scarf or shawl, so focus your fashion on this shawl!
What To Wear To Outdoor Country Concert In Winter
If you are going to an outdoor show, below are my top tips on how to keep warm and stylish.
Comfortable and warm shoes.
Wearing comfortable shoes is a great idea. Over-the-knee boots and tall country boots are usually my go-to for a very cold outdoor winter concert if my pants or jeans aren't thick enough.
If it is very cold, add a longer leather coat or add a puffer vest.
They're super stylish and won't reduce the fashion level of your modern look.
Add leggings or thick stockings if necessary.
They keep your legs still slender but make you feel so much warmer.
Cute Country Concert Outfit Ideas In Cold Weather
Want more inspiration? Ahead scroll on to check the best winter outfits for a country music concert to copy directly this year.
Fringe Knit Cardigan + Jeans + Brown Ankle Boots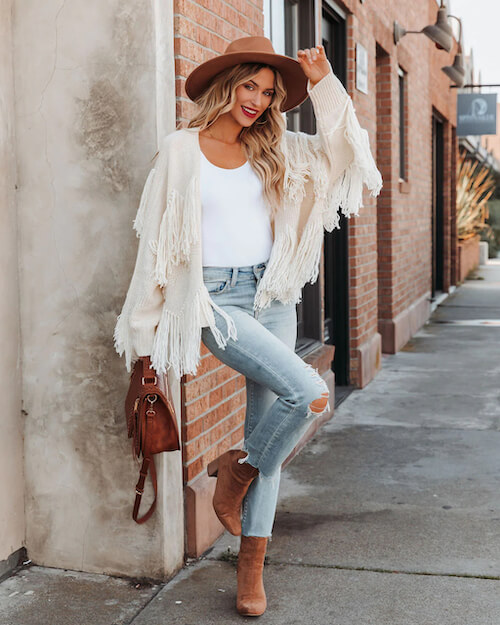 Suede Fringe Mini Skirt + Sweater + Grey Boots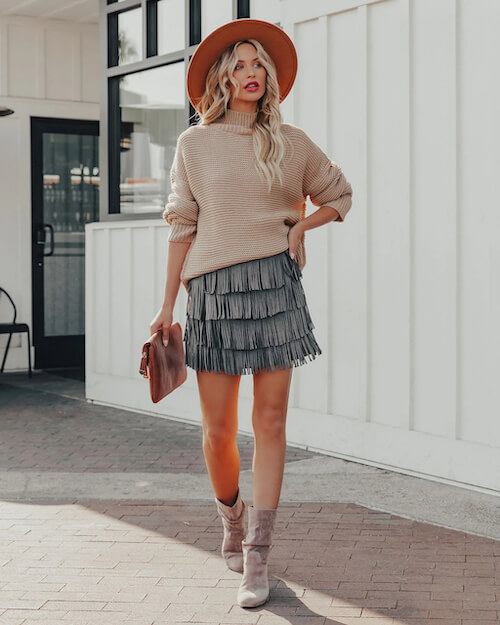 Knit Half Zip Pullover Sweater + Black Mini Skirt + Black Knee High Boots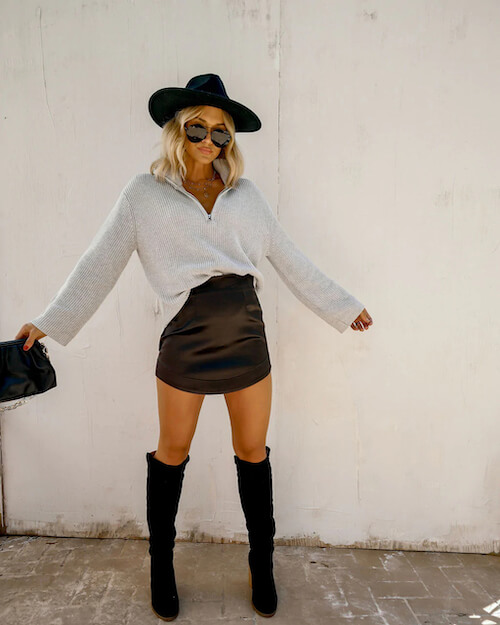 Trucker Jacket + Jeans + Cowboy Hat + Comfortable Shoes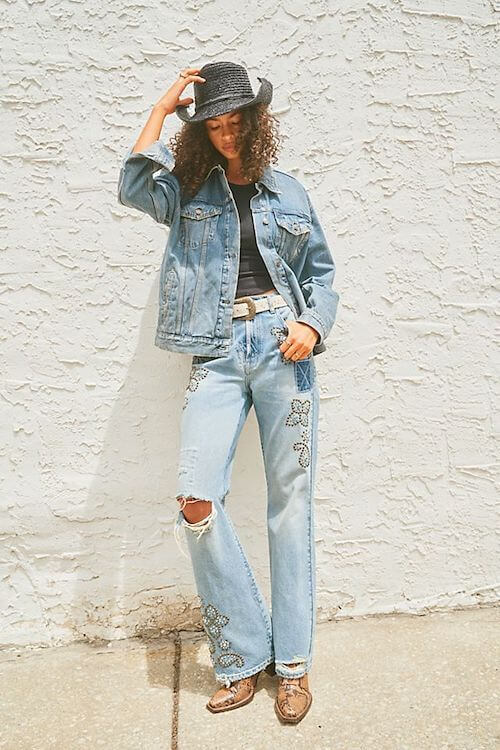 Quilted Knit Jacket + Cowboy Hat + Cargo Pants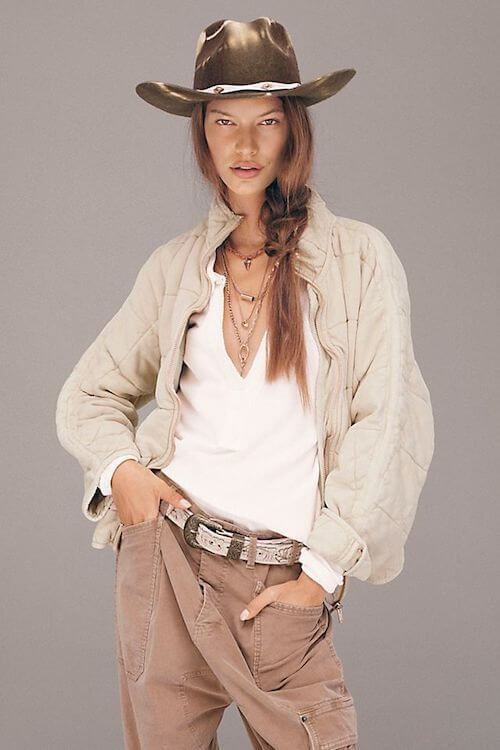 Leopard Jacket + Jean Shorts + Hat + Cowboy Boots
Faux Suede Jacket + Black Sweater + Jeans + Leather Boots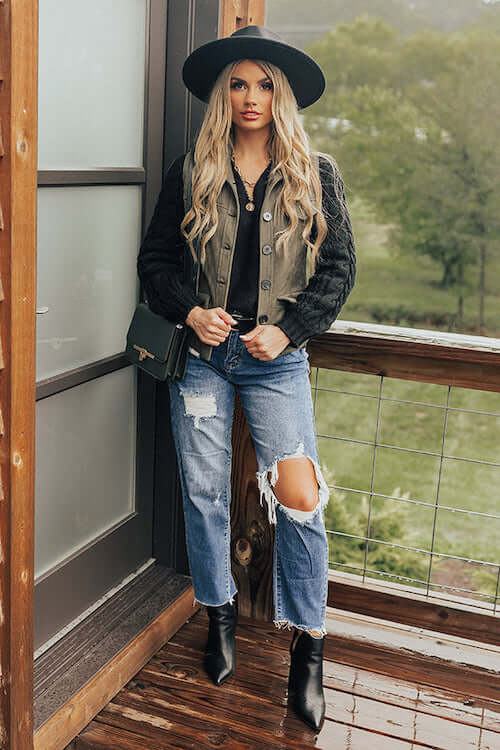 Faux Suede Jacket + Leather Shorts + Thigh High Boots
Brown Fringe Jacket + Brown Leather Skirt + Tank Top + Cowboy Hat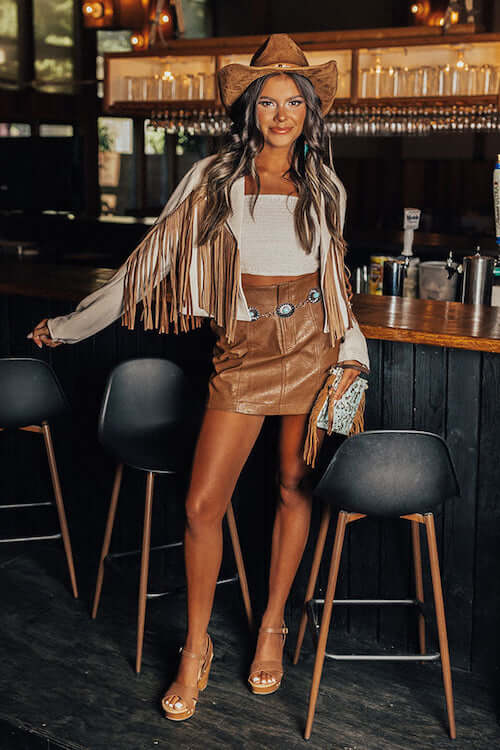 Plaid Blazer + Black Mini Dress + Black Tall Boots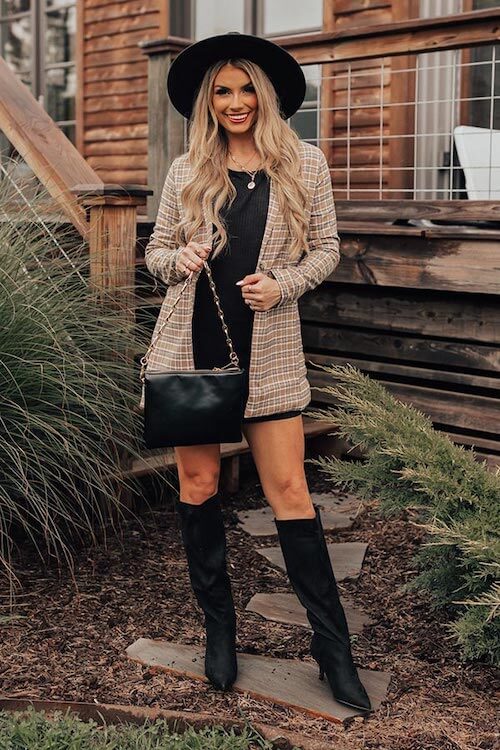 Wine Flare Pants + White Top + Long Cardigan / Fringed Kimono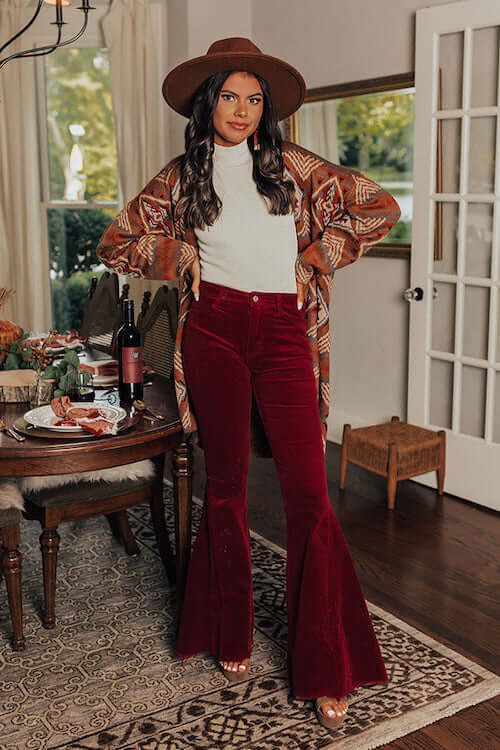 Brown Jacket + Blue Flare Jeans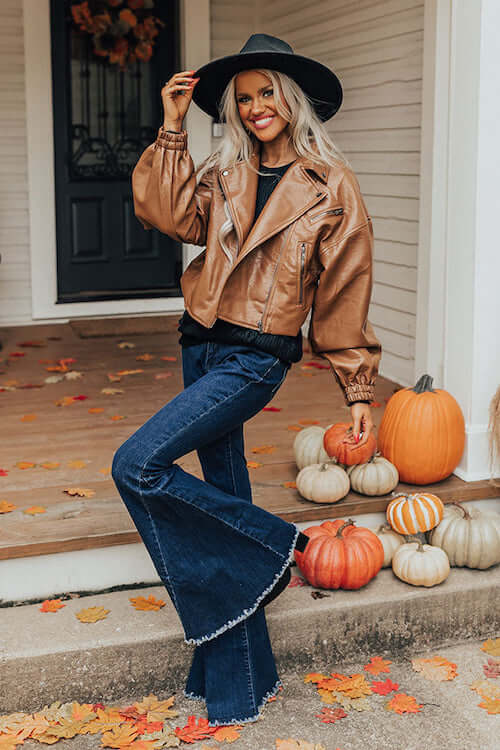 Plaid Poncho + Mini Skirt + Black Boots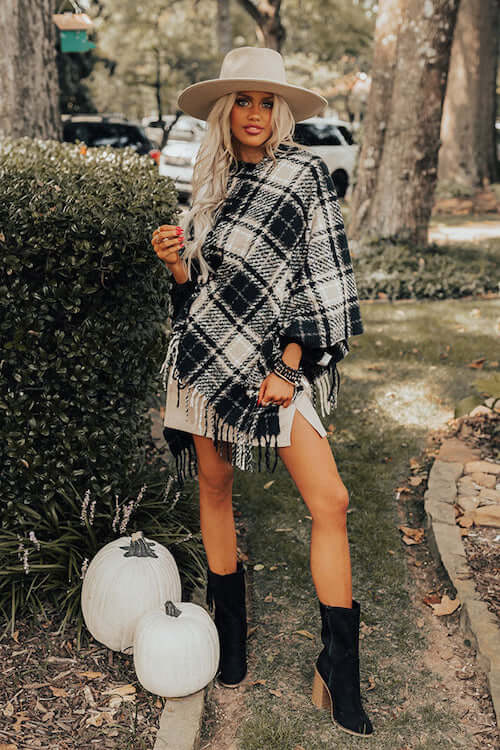 Fringed Denim Jacket + Grey Jeans + Hat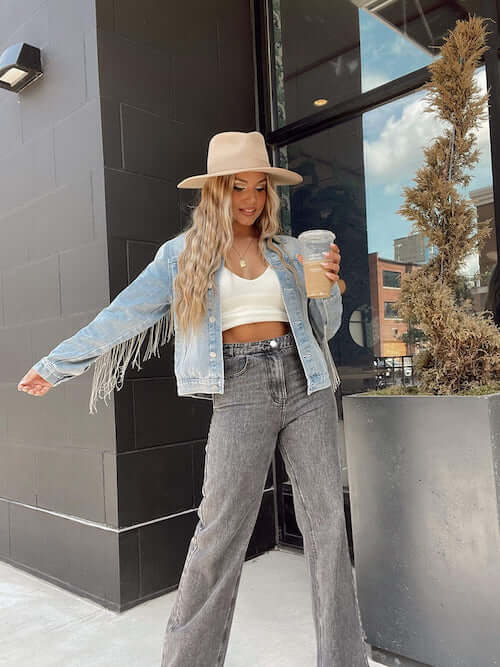 Olive Green Vegan Leather Mini Skirt + Graphic Tee + Jean Jacket + Brown Knee Boots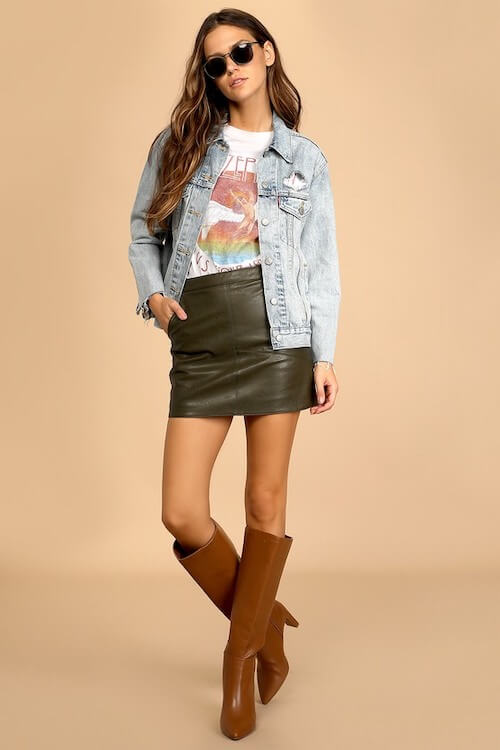 Fringe Fanny Pack + Fringe Cardigan + Jeans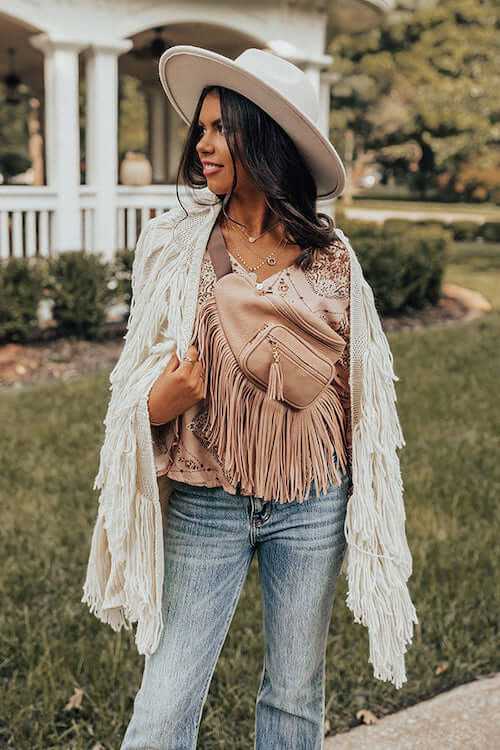 Denim Jacket + Red Flare Pants
Cute Floral Dress / Short Dresses + Long Coat + Cowboy Boots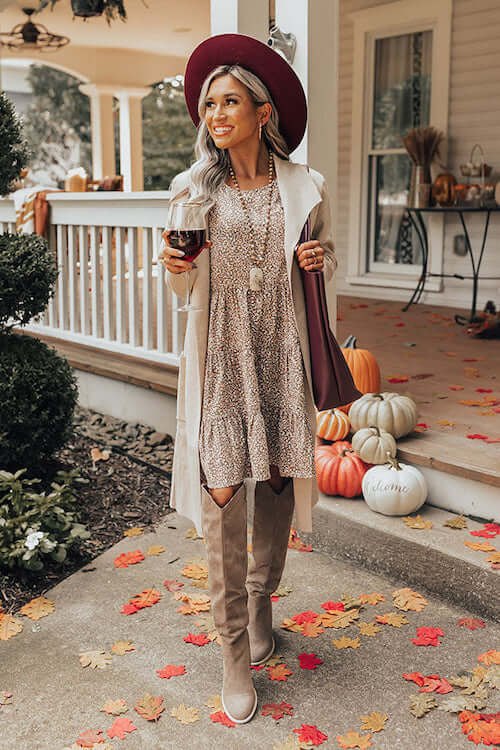 Plaid Shirts + Flare Jeans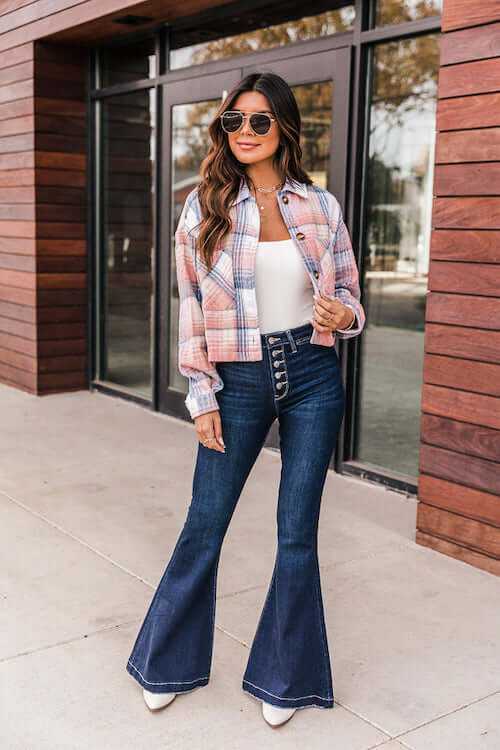 Black Corduroy Flared Overalls + White Long Sleeves Top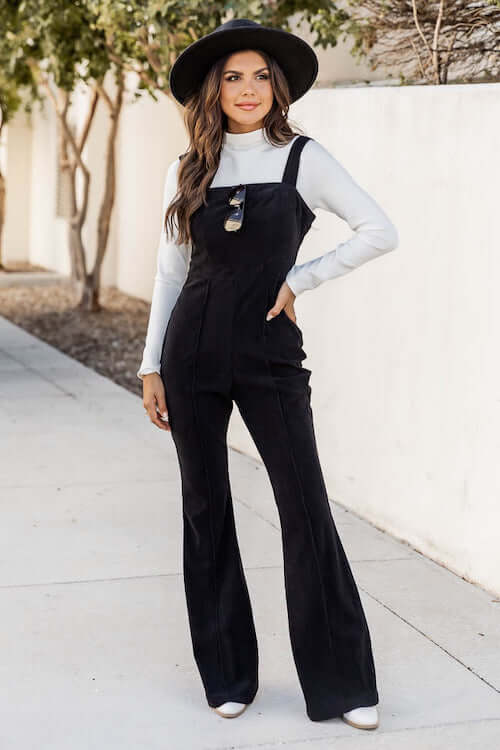 Light Wash Denim Jacket + Brown Leather Leggings + White Cowgirl Boots
Olive Satin Midi Skirt / Maxi Skirt + White Sweater + White Cowboy Boots
Beige Mini Skirt + Off The Shoulder Top + Knee Boots
Black Leather Jacket (Bomber Jacket or Moto Jacket) + Animal Print Skirt + Ankle Boots
Black Sweater Dress + Knee High Boots + Black Fedora Hat
Plaid Sherpa Jacket / Flannel Shirt + White Knit Top + Skinny Jeans + Brown Boots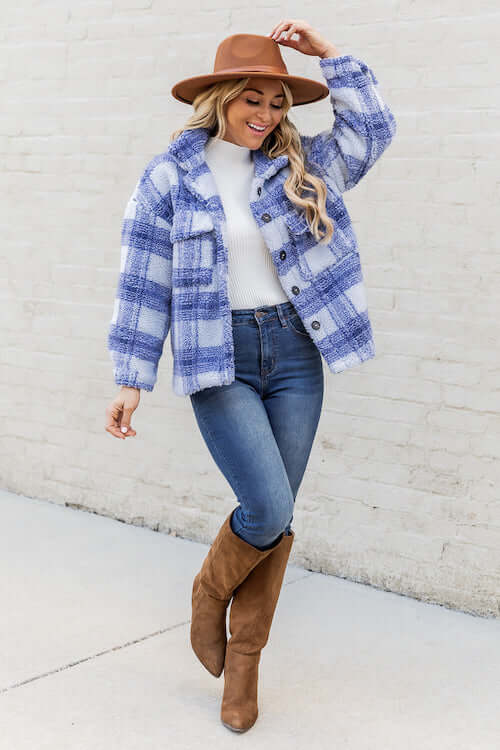 Black Long Cardigan + Blue Jeans + Ankle Boots / Lug-Sole Boots
Pink Knit Sweater + Cropped Pants + Ankle Boots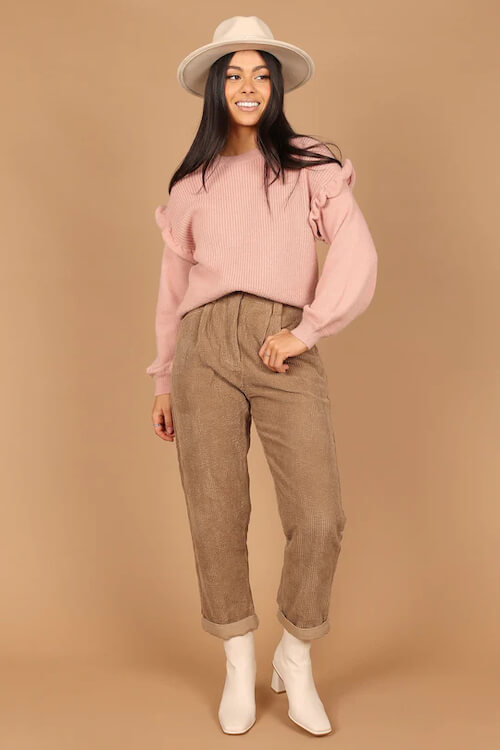 Plaid Mini Skirt + Sweater + White Cowboy Boots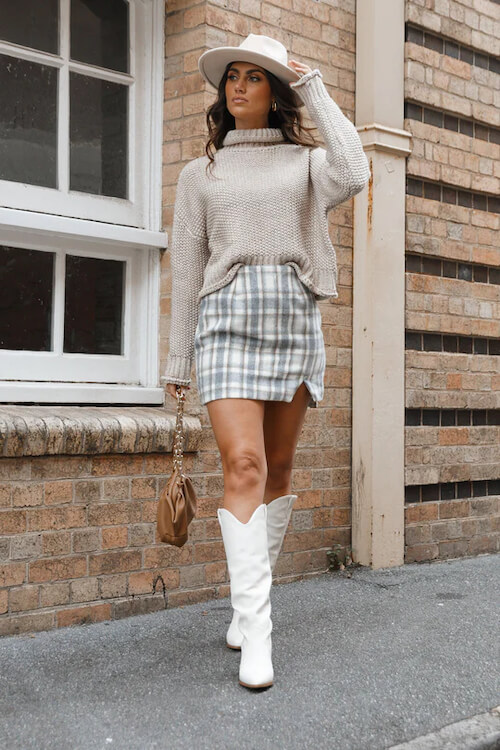 Ankle Pants + Cardigan + Corset Top + Hat + Short Boots
Paisley Print Maxi Dress + Black Boots + Belt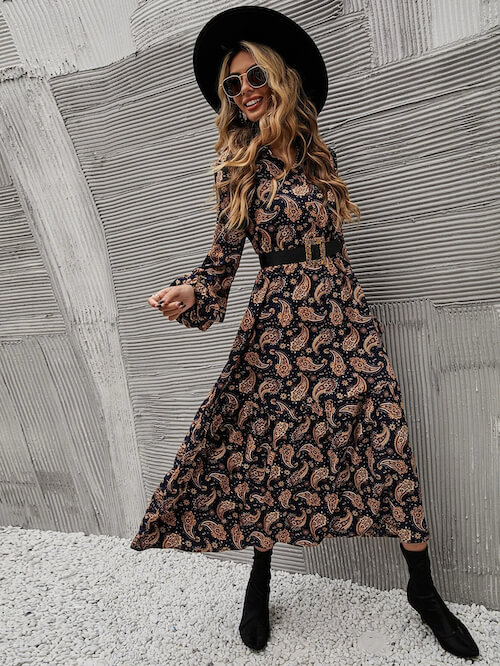 Fringe Knit Sweater + A Pair of Jeans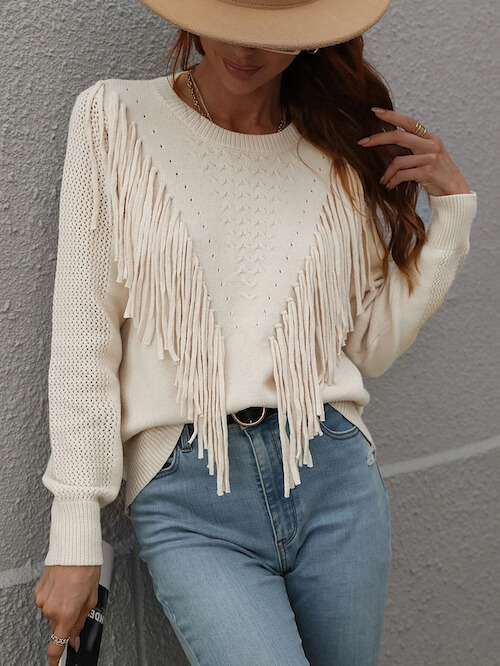 Fringe Jackets + Jeans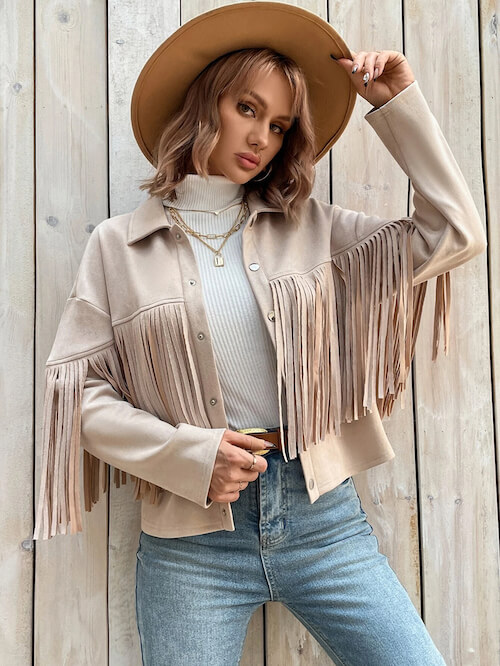 Khaki Crop Tops + Knit Shorts + Trench Coat + Knee-High Boots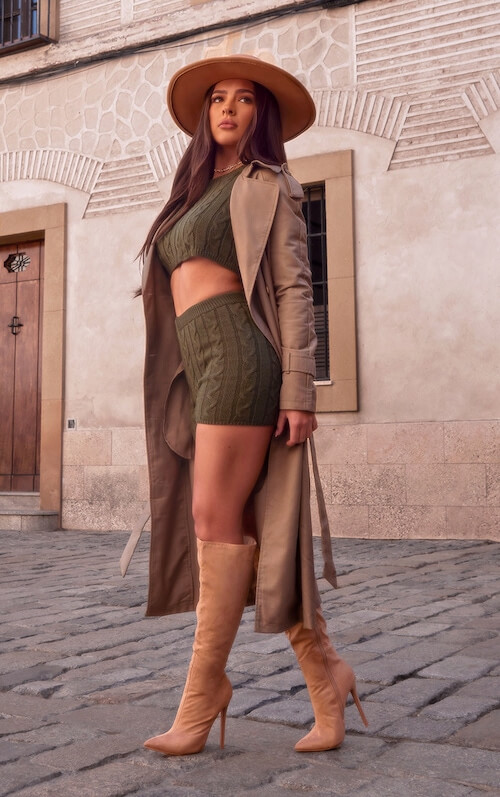 Black Long Sleeve Knitted Dress + White Thigh High Boots
Black Vintage Style Coat + Thigh High Boots
Green Flare Pants + Turtleneck Sweater + Black Boots
This post was all about what to wear to a country concert when it's cold.
Related Posts: