Looking for the best shoes to wear with ankle pants in the winter? Check this post for the best style tips and the best shoe style to pair with ankle pants to copy and shop for directly.
Ankle pants, which are a very fashionable and versatile type of pants all year round, can still become must-have staples in our wardrobe in winter.
They are naturally fashionable and can be combined with other clothing items to create a sense of hierarchy, giving our winter wear more colorful possibilities.
If you want to keep warm in winter, it is very important to choose a pair of suitable shoes to match your favorite pair of ankle pants.
Want to know which shoes to wear with ankle pants for stylish and warm winter outfits? You've come to the right place.
In today's article, I am sharing with you what shoes to wear with ankle pants in the winter, how to choose the right shoes for your ankle pants, and the best tips on how to style ankle pants with different styles of shoes in the cold season.
So scroll down to check the best shoe styles to pair with ankle pants on winter days, and different ways to style a pair of ankle pants, and don't hesitate to pin them to your Pinterest board, and share them on social media sites.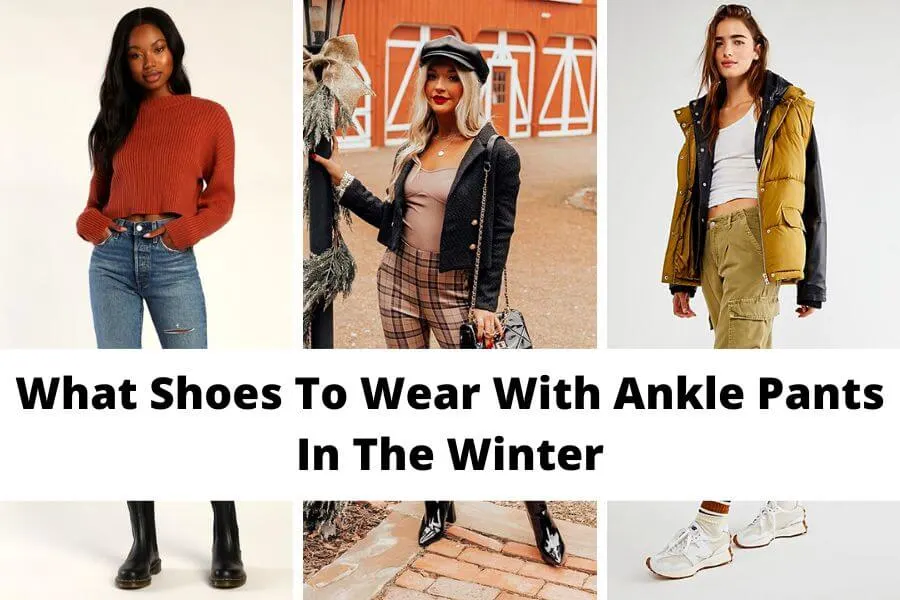 This post may contain affiliate links, which means I'll receive a commission if you purchase through my link, at no extra cost to you. Please read the full disclosure here.
This post is all about what shoes to wear with ankle pants in the winter.
What Shoes To Wear With Ankle Pants In The Winter: Best Shoe Styles For Cold Weather
From office outfits to everyday wear, from minimalist elegance to fashionable street style casual outfits, a pair of ankle pants can create almost countless possibilities with different shoes, making you the most fashionable one for the winter seasons.
So what are the best shoe styles to pair with different types of ankle pants in winter to avoid cold ankles?
Below are our favorite shoe ideas and favorite looks to style ankle pants. You can copy and shop for them directly from our favorite fashion online stores.
Combat Boots + Faux Leather Ankle Pants + Oversized Blazer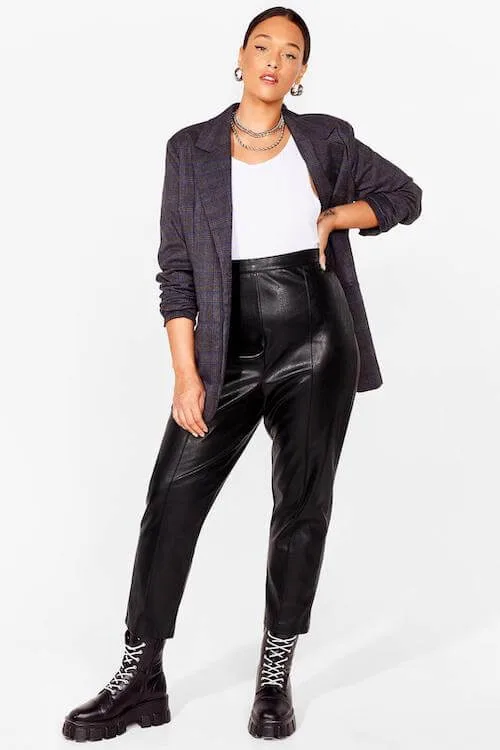 Platform Heel Boots / Platform Shoes + Ankle Work Pants + Leather Jacket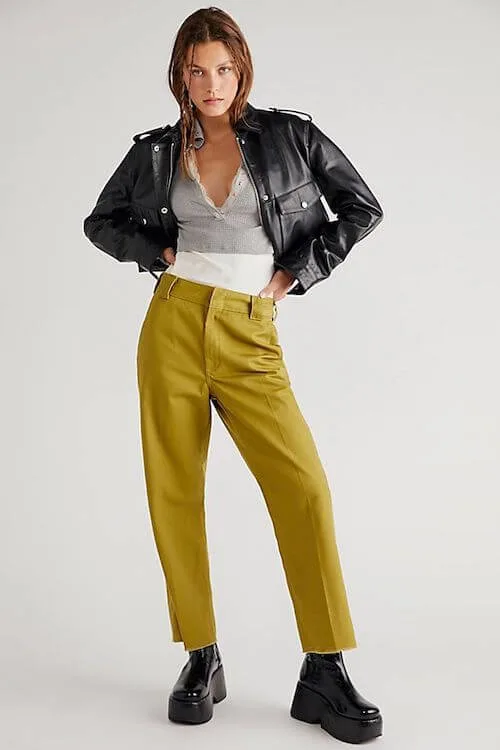 Higher Shaft Boots + White Ankle Pants + Shearling Jacket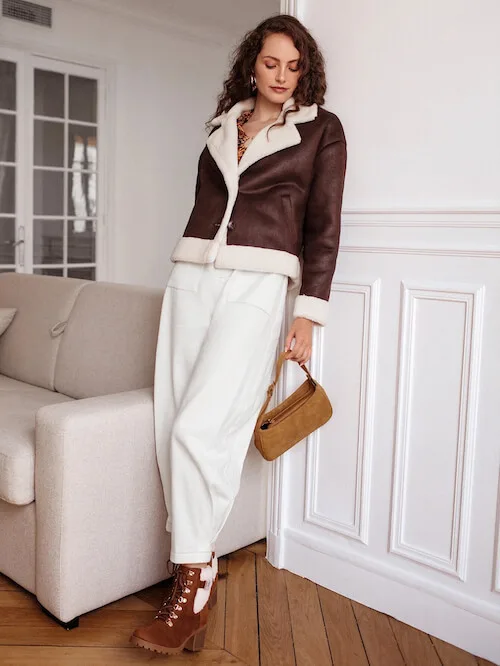 Knee-High Boots + Wide Leg Pants + Knit Top
White Ankle Boots / Sock Boots + Ankle-Length Pants + Chunky Sweater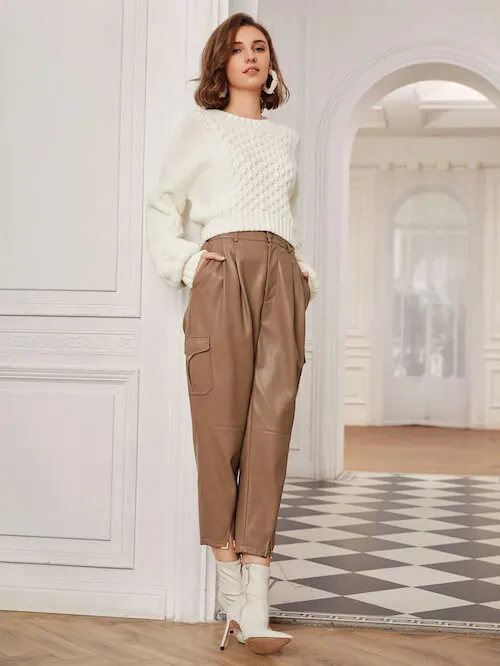 High Chelsea Boots + High-Rise Cropped Boyfriend Jeans / Wide Leg Jeans + Dark Colored Top
Cowboy Boots

High Heels or Kitten Heel Ankle Boots + Wide Leg Cropped Trousers + Black Sweater
Block Heel Boots + High Waist Plaid Skinny Pants + Short Blazer Jacket
High Heels / Pumps + High Waist Dress Pants + Leather Jacket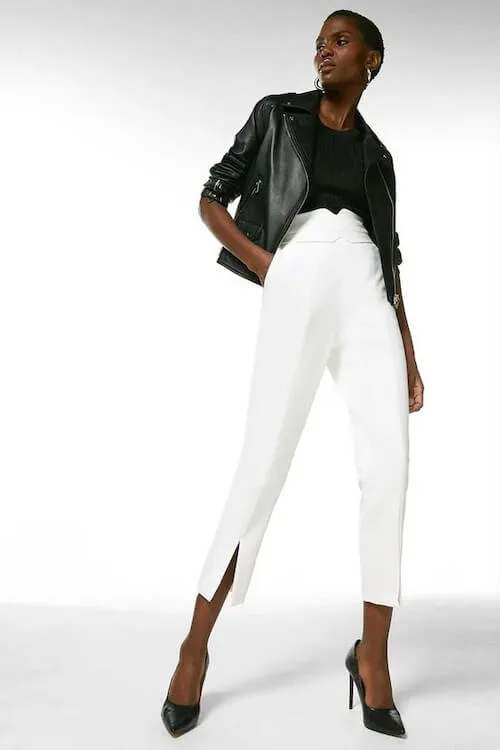 Ballet Flats + Slim Straight Leg Jeans / Straight Leg Pants + Blazer + Long Sleeves Shirt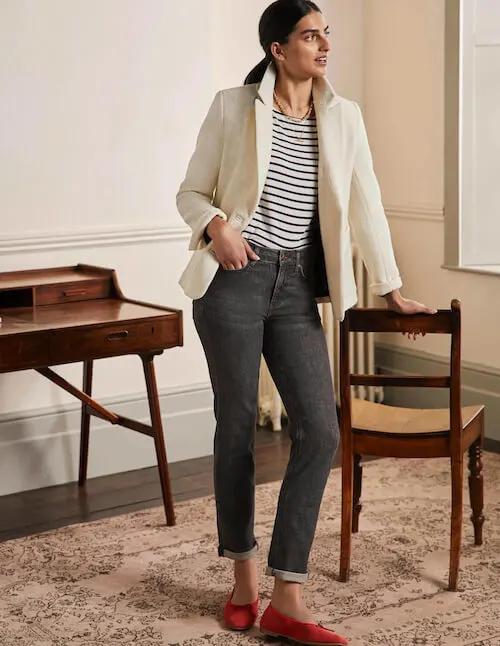 High Top Sneakers + High Waist Ankle Leggings / Skinny Jeans + Sweater + Shacket + Scarf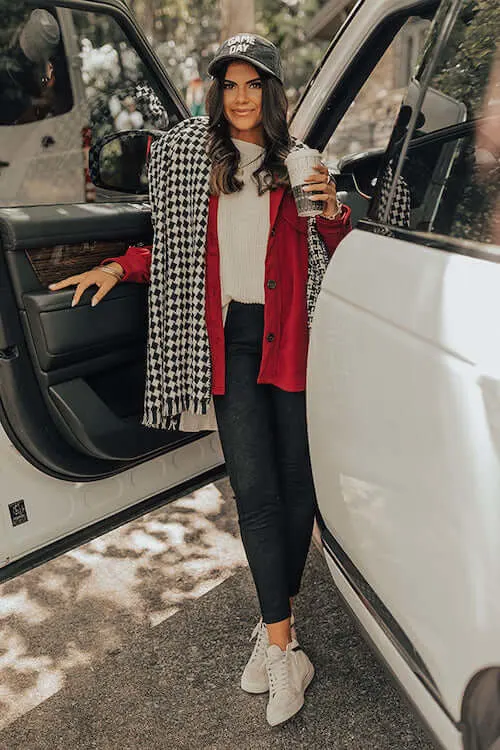 Loafers + Ankle Wide-Leg Pants + White Button Down Shirt + Half-Zip Pullover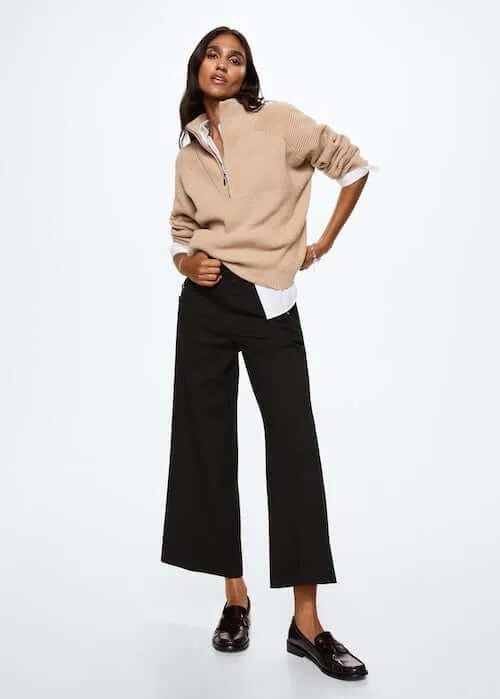 Platform Oxford + Leather Cropped Pant + Sweater + Trench Coat / Winter Coat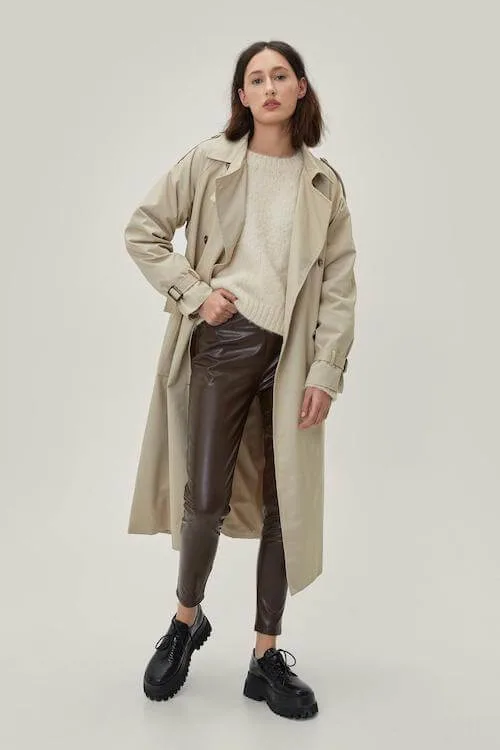 Flat Shoe + Cargo Ankle Length Pants + High Neck Sweater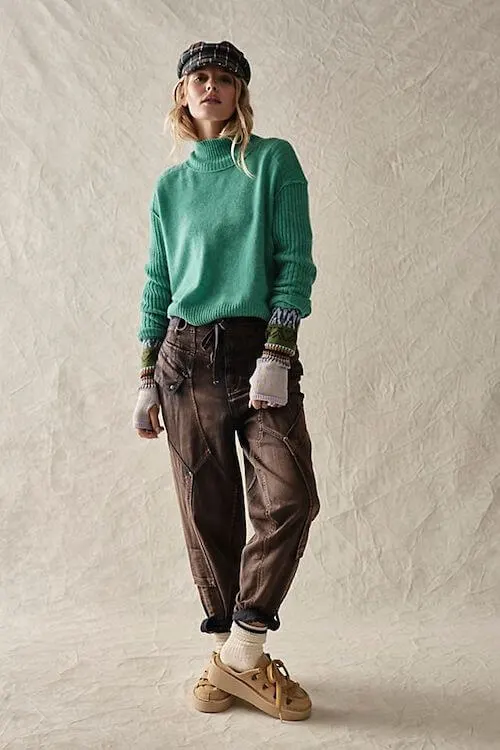 Classic White Sneakers / Chunky Sneakers + First Light Utility Pants + Jacket + Puffer Vest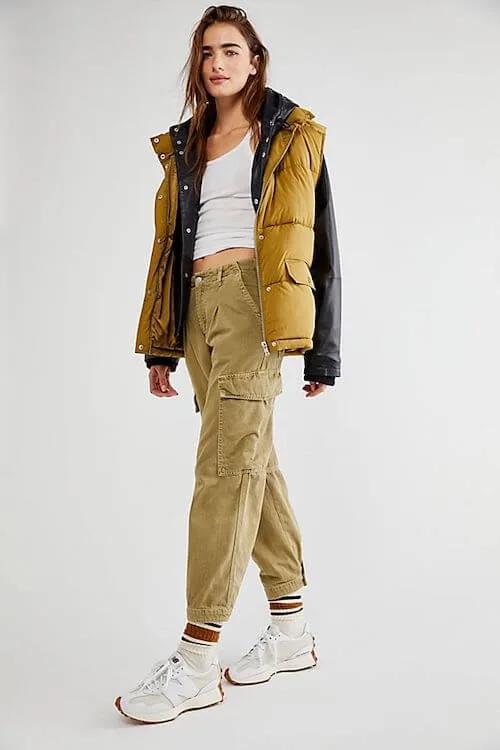 What type of shoes do you wear with ankle length pants in winter?
Ankle Pants + Ankle Boots
Because the length of the ankle pants reaches the ankle, if you want to build a warm effect in winter, a pair of ankle boots are the perfect shoes to meet your expectations.
The combination of short boots + ankle pants is a popular one in winter and will bring your cold weather style to the next level.
When choosing the boots, you can choose a pair of high-heeled boots or platform boots to make you look taller.
When wearing these short boots, add a short or long winter coat to complete the look, can you can be tall, stylish, and have perfect proportions.
Ankle Pants + Low Cut Upper Shoes
In winter, if you want to wear a delicate feeling, it is very important to expose the ankle. Such a combination of ankle pants and shoes with low-cut uppers can not only wear out highlights and outfit details but also effectively divert attention, so the effect of modifying the shape of the legs is more obvious.
You can choose pumps, high heels, loafers, or ballet flats.
But if you want to wear a warm effect on this combination, you can add a pair of cozy socks or a pair of opaque tights to add visual interest to the overall look.
For example, if you only use white pants with black shoes, the visual effect of the lower body will inevitably look boring. On this basis, adding a pair of socks of the same color as the inner layer will look eye-catching and natural, and will not destroy the overall great outfit.
Ankle Pants + Sneakers
The combination of cropped trousers + sneakers is one of the most comfortable and warm fashion formulas in the winter season.
This combination tends to have a more youthful and age-reducing effect, and it will be more comfortable than the previous two.
When matching with a pair of sneakers, it is recommended to choose a slightly loose version of ankle pants to have a more casual style.
How To Style Shoes With Ankle Pants In The Winter
Want to bring elevate your winter style? Below are my favorite tips on how to style shoes with ankle pants in the trendiest ways.
The thicker the nine-point pants, the heavier the shoes should feel.
Whether it is wide-leg pants, cigarette pants, or suit pants, when the fabric is thick and rough, the matching flat shoes should add weight to the overall look. This avoids being "top-heavy".
Generally speaking, the texture of denim wide-leg pants and cargo pants is not very delicate, and they do not look so smooth.
If the matching shoes do not feel heavy enough, the overall balance will be lost.
Choosing darker-colored shoes can weaken the lightness of the flat bottom and increase the weight that echoes the ankle pants.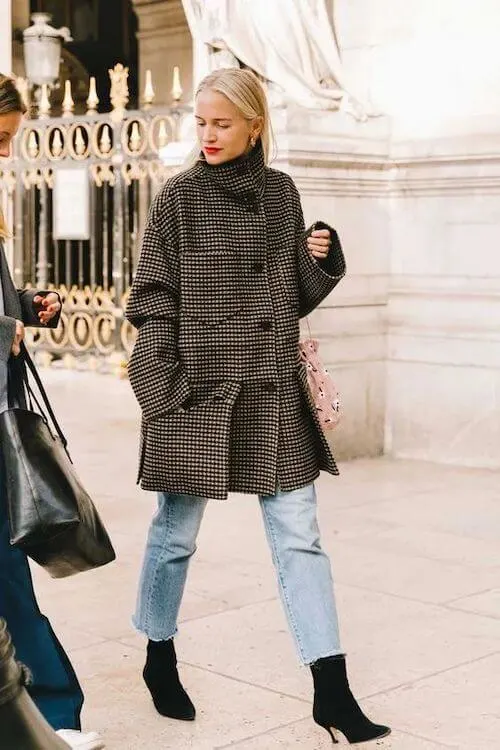 The darker the nine-point pants, the brighter the color of the shoes
Contrary to the tip above, when your whole body color tends to be thick and cloudy, choosing a fresh and bright color of shoes will make your overall shape look better.
The popular white ankle boots can be considered an alternative to black ankle boots, but are much lighter and have a more elegant look than black. You can use this combination more in winter looks.
The common plaid ankle pants and black ankle pants will look dull and old-fashioned if they are not matched carefully.
Bright white short boots, not only enhance the texture but also weaken the heavy feeling.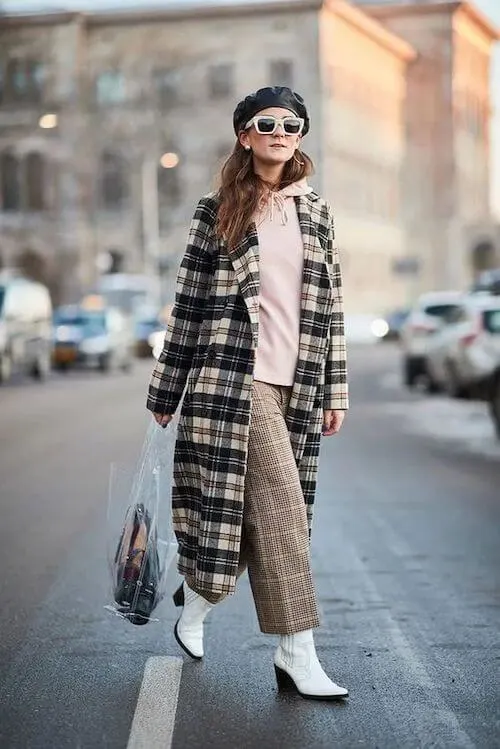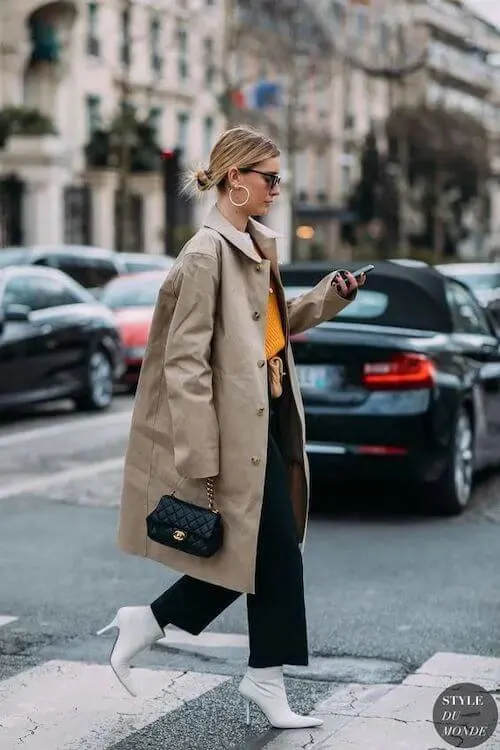 Choose delicate and gorgeous booties to add visual interest.
Simple ankle straight-leg jeans have no visual interests in themselves.
But if you change the shoes on your feet, swap the casual booties for a pair of booties with fine detailing, and plain jeans can make a statement.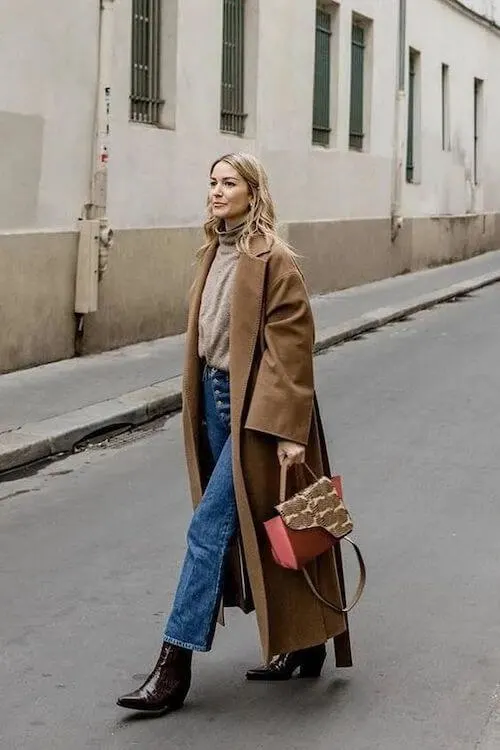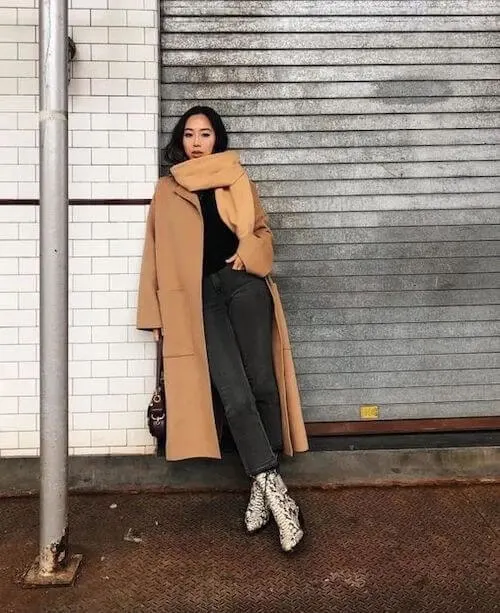 Add a touch of femininity and lightness with these slim, graceful pointed-toe booties
The most charming part of a woman's body is her dynamic grace.
But wearing trousers, especially in autumn and winter, is rarely smart and elegant. At this time, you need to create a sense of lightness in the shoes,
Pointed-toe shoes deserve to be the first choice.
The pointed-toe short boots have obvious lines, which can visually elongate the legs and can be used to match with nine-point pants to make you look taller.
More importantly, it is feminine and light, which weakens the heaviness of the short boots and increases the delicate and attentive beauty.
They also look professional and are the best choice to pair with ankle pants for an office environment or a business meeting.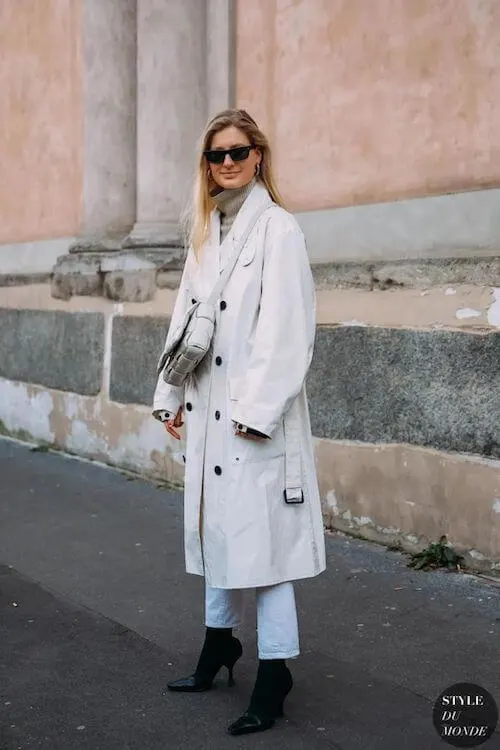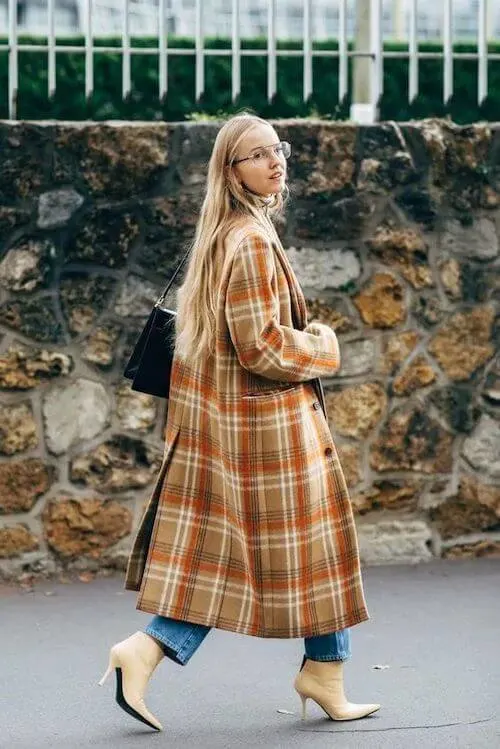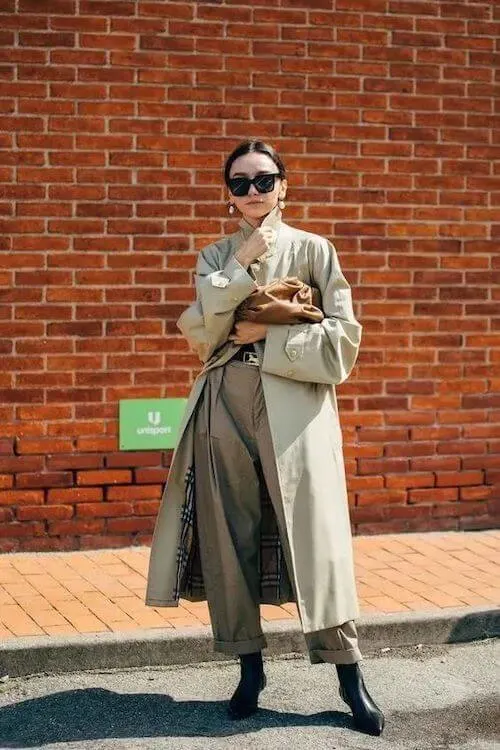 Add a personal touch with casual, comfortable block-heeled shoes
What's in vogue right now is a fashion attitude that's refined but not tight.
The block heel boots that are comfortable and easy to walk in are naturally the first shoe choice.
Choose block heel boots with ankle pants to give you more freedom and personal style.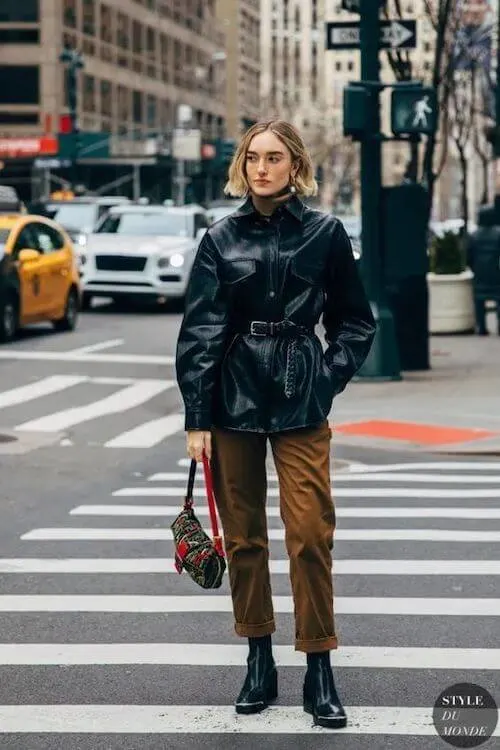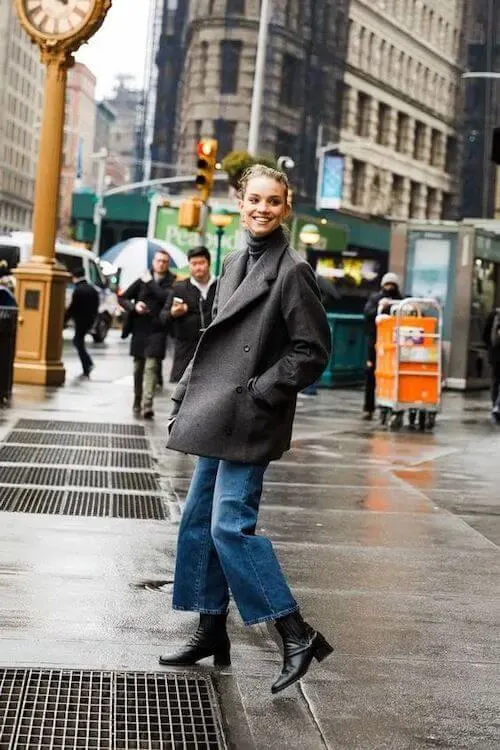 Choose shoes in the same color as your pants to make your legs look longer.
The slimming advantages of ankle pants have been mentioned above, but how to take it to the next level with longer legs?
The answer is to match the shoes of the same color to visually extend the line of the legs. So it looks like the legs and feet are connected together, lengthening the legs, and making them thinner and taller.
The collocation of the same color has always been one of the color rules for dressing.
If you want to be stylish, you can't have more than three colors in your entire outfit. Otherwise, it will look messy and tacky. And the perfect combination of the same color shoes and pants will never be wrong.
Common Questions:
Can you wear boots with ankle pants?
From supermodels to fashion bloggers, this combo of a pair of boots and a pair of ankle pants is the easiest way to create a timeless style in the colder months.
Whether it's a pair of ankle boots or tall boots, this fashion combination is both warm and stylish, and it elongates your legs so you can look tall under heavy winter clothes.
What kind of boots do you wear with ankle pants?
For straight or wide-leg ankle pants, you can choose ankle boots, sock boots, combat boots, or long boots with narrower shafts, so that your ankles still look slender and make your winter look light and cute.
For ankle pants or ankle leggings with narrow trouser legs, you can choose knee-high boots or cowboy boots with wider shafts, so that the boots are placed outside the pants for more warmth.
For boot colors, black and brown are the safest choices for the ankle pant style. If you want to have a more unique look you can choose bright white or red to add a pop of color.
For a sexier look, you can opt for animal print boots The very popular snakeskin boots are a great choice.
You can also find a color you like from the rest of your outfit and choose boots in the same color to keep your look trendy and not tacky at all.
What shoes do you wear with cropped jeans in the winter months?
There are many shoes that can be matched with cropped jeans.
You can pair them with combat boots. Combat boots are more casual shoes. When paired with cropped jeans, they are natural, energetic, simple, and stylish.
A pair of sneakers are also a great option for a more casual look. It is simple and fashionable to wear sneakers with cropped jeans.
We also like to wear cropped jeans with low-cut upper shoes. Low-cut upper shoes are popular shoes in recent years, especially low-cut upper pumps. This kind of shoes are simple in shape, and feminine and this combination is a great way to make your legs look much longer.
In the cold climate, add a pair of tights to keep warm with the low-cut upper shoes.
Another great shoe style that will make your legs look longer with cropped jeans is pointed-toe ankle boots. The pointed-toe design makes your legs look slender and attractive, and contrasts with wild and sexy jeans for a more stylish look.
You can also go a step further and choose high-heel design pointed-toe ankle boots. Whether it's a stiletto or a block heel, it's great.
This post was all about what shoes to wear with ankle pants in the winter.
About The Author
Tracy is an experienced personal stylist, shopping expert, and fashion & lifestyle blogger. She has been featured on Time Magazine, Bustle, Best Life, Glam, The Zoe Report, Mic, and GOBankingRates, for her insights on fashion, beauty, home decor, and lifestyle. Read More
Related Posts: