Looking for the best tips on what shoes to wear with pencil skirt? Check this post for the best shoe colors and styles to wear with a pencil skirt, and the 30+ best pencil skirt outfit ideas to copy directly.
A neat and timeless pencil skirt is our wardrobe staple.
Its simplicity allows it to be endowed with more and more fashion possibilities. It can be incorporated into almost all the latest fashion trends.
Whether it's for corporate settings, a date night, or leisure time, whether it's minimalist, gorgeous or grunge aesthetic trends, you can see pencil skirts.
If you are looking for the best tips on what shoes to wear with a pencil skirt, you've come to the right place.
In today's article, I am sharing with you how to choose the right pair of shoes for different lengths of pencil skirts for different occasions, and our favorite pencil skirt outfit ideas from our favorite fashion online stores to shop for and copy directly.
So scroll down to check these pencil skirt fashion ideas and don't hesitate to pin your favorite pencil skirt outfits to your Pinterest board, and share them on social media sites.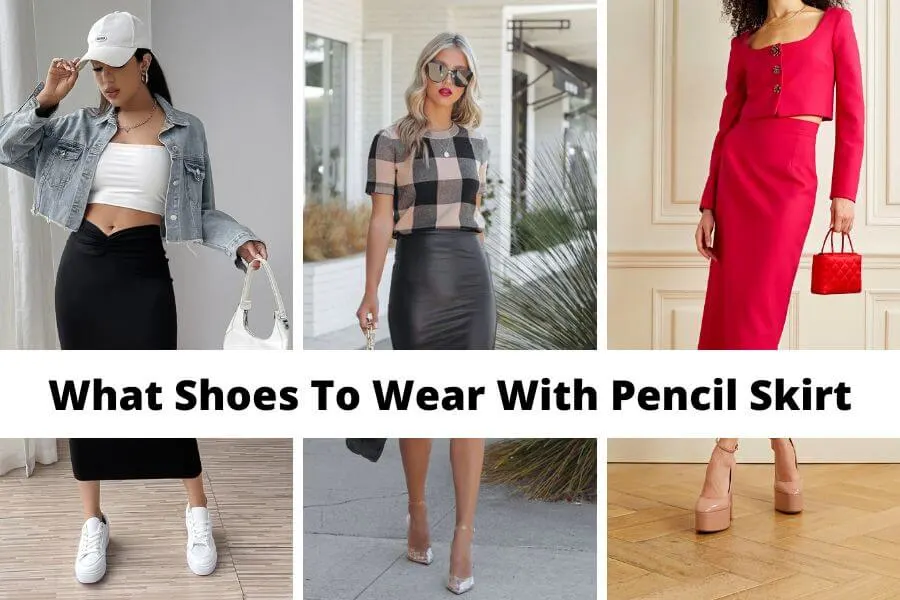 This post may contain affiliate links, which means I'll receive a commission if you purchase through my link, at no extra cost to you. Please read the full disclosure here.
This post is all about what shoes to wear with pencil skirt.
What Kind Of Shoes Should I Wear With A Pencil Skirt?
When it comes to choosing the right pair of shoes to match your favorite pencil skirt, first you need to consider the occasion you are wearing it.
If you're at work, especially for a business meeting, a pair of sharp pointed-toe shoes or loafers and mules are perfect to complement your pencil skirt. In autumn and winter, you can also wear pointed leather boots.
If it is a casual occasion, then flat shoes are very suitable for a great look. In hot weather, flat sandals or slippers are perfect for a casual pencil skirt look. When the weather is cold, platform boots or combat boots are the best choices.
Also, when it comes to colors, in addition to classic neutral colors like black, white, beige, and nudes, clear shoes and shoes in metallic colors including gold and silver are great options.
Can I Wear Flats With A Pencil Skirt?
Yes.
Traditional fashion theory holds that pencil skirts are not suitable for flat shoes. Especially, midi or maxi length pencil skirts, and a pair of high heels, at least kitten heels, are a perfect match.
But with the popularity of retro fashion and lazy style, more comfortable flat shoes have become everyone's favorite.
If you're worried about short legs, you can opt for pointed-toe flats to visually lengthen your legs.
You can also choose platform flats. This shoe style that combines edgy and retro vibes has attracted the entire fashion circle. They can help adjust the proportion of the body and also showcase your great fashion taste with a great outfit.
What Shoes To Wear With Pencil Skirt: Best Shoes & Pencil Skirt Outfits For Different Occasions
Now scroll on to check our favorite fashion ideas on choosing the matching pair of shoes for different pencil skirts, and our picks of cutest pencil skirt outfits to copy directly.
Cute Fall Date Night Look: White Pencil Skirt + Cowboy Boots + Tank Top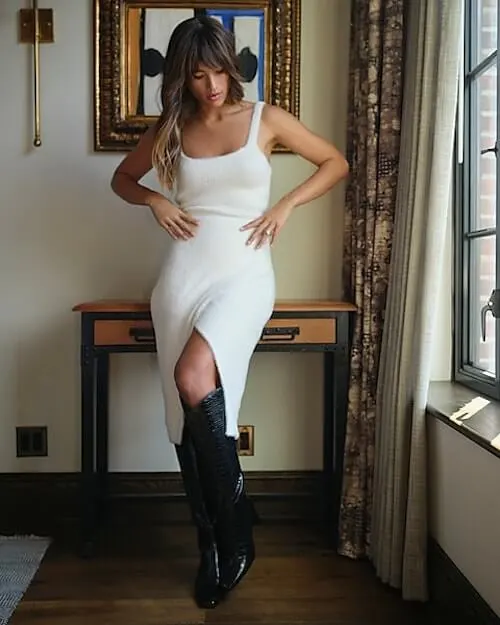 Elegant Look: Hollow Out Crochet Split Pencil Skirt + Pointed Toe Kitten Heel Slippers + White Button Down Shirt / Chambray Shirt
Pencil skirts generally go over the knees, and if you're worried about wearing flats that will make your legs look short, opt for kitten heels.
The kitten heels have a slightly refined heel height without being too serious, with a perfect way to help you get better proportions.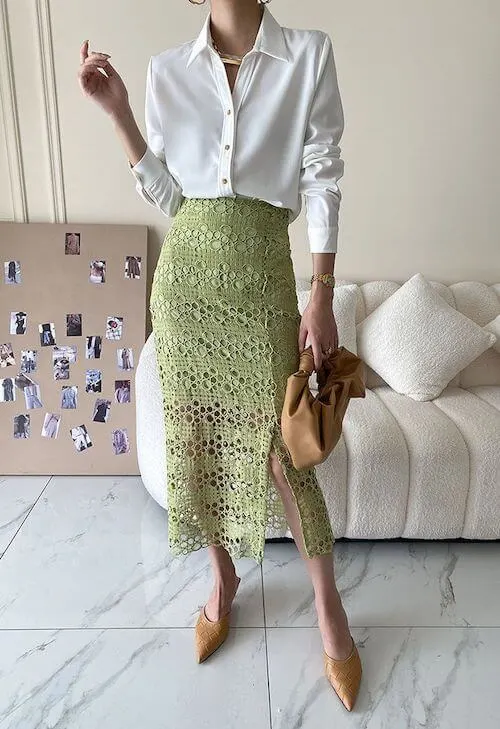 Power Outfit: Houndstooth Pencil Skirt + Metallic Shoes + Blazer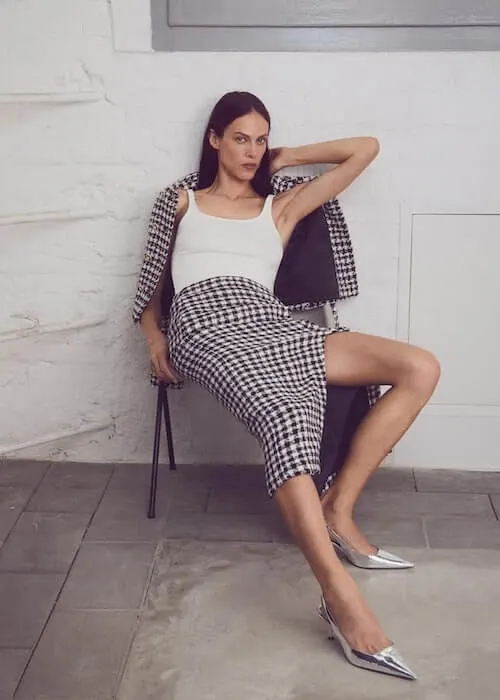 Easy Casual Wear: Midi Skirts + Strappy Flat Sandals + Black Tank Top
You may think that pencil skirts only belong to office girls, but to weaken this formal workplace style, wearing a pair of lace-up sandals is a great way.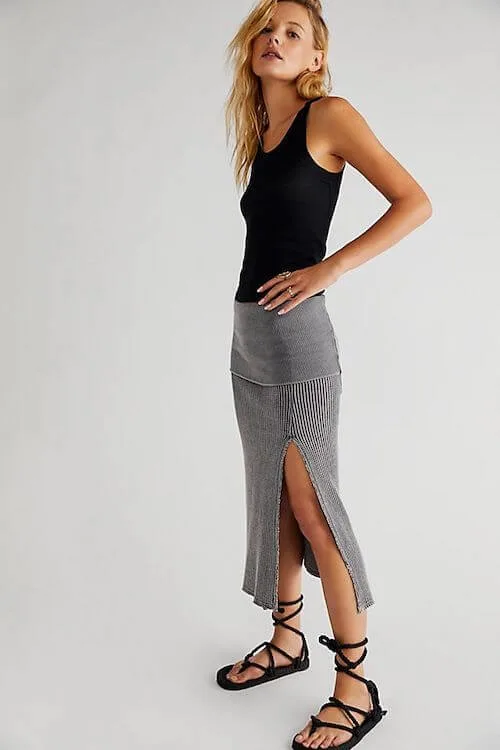 Cute Fall Look: Tan Suede Pencil Skirt + Block Heel Closed Toe Shoes + White Top
Edgy Casual Outfit: Denim Skirts + Platform Strap Sandals + Cardigan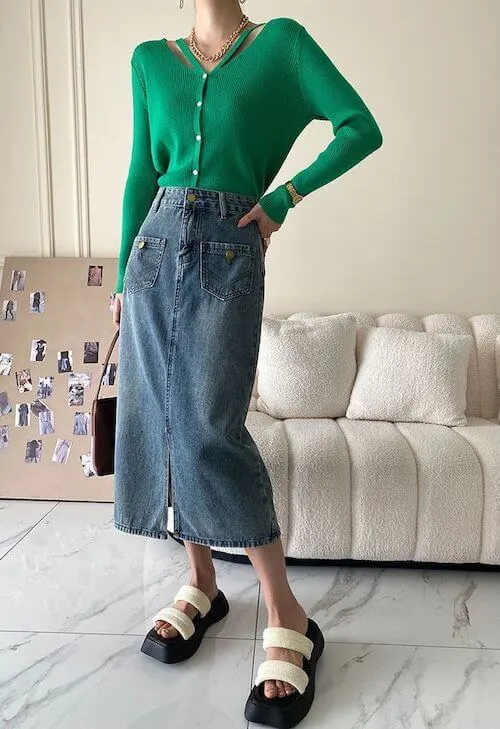 Pencil Skirt Outfits For Cooler Months: Knee-Length Pencil Skirt + Black Short Boots / Flat Ankle Boots + Fitted Top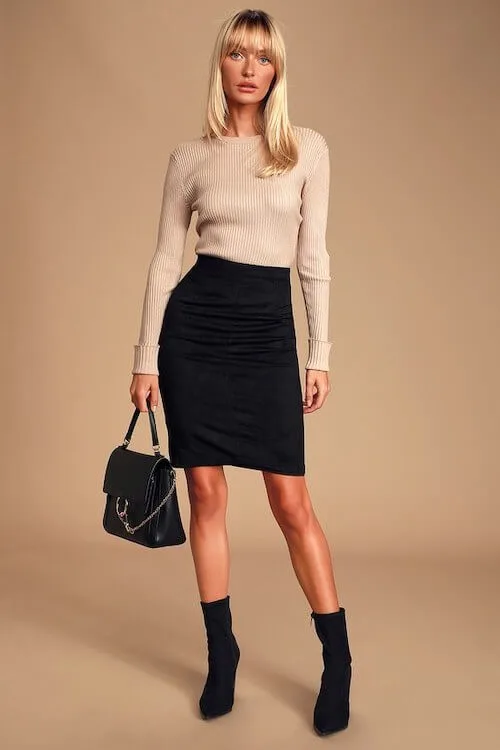 Stylish Look For Cold Weather: Black Leather Pencil Skirt + Knee-High Boots / Tall Boots + Turtleneck Top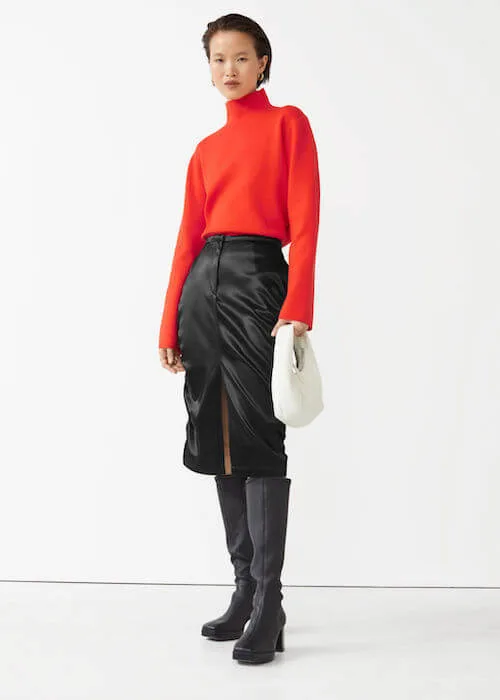 Chic Cozy Style: Knee-Length Skirt + Lug Sole Boots + Chunky Sweater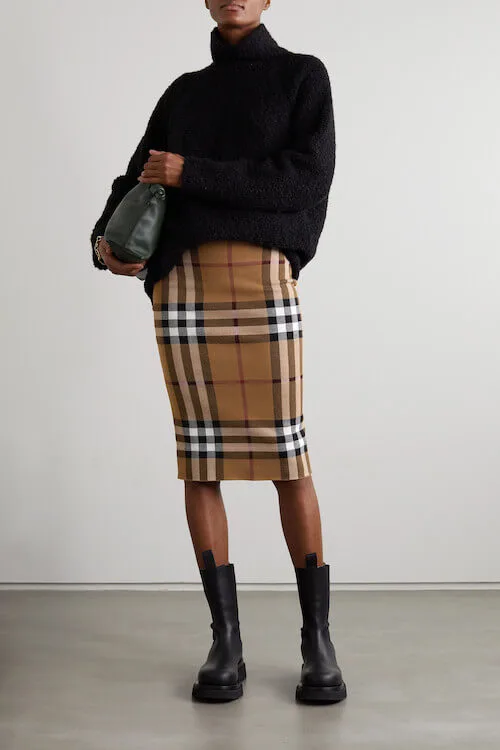 Casual Pencil Skirt Outfit: Long Pencil Skirt + Platform Wedge Sandals + Letter Tee / Graphic T-Shirt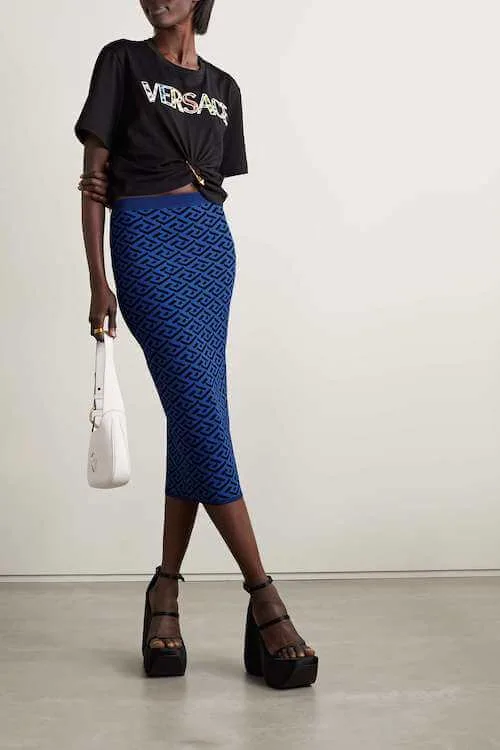 Edgy Formal Wear: Red Straight Skirt + Chunky Strap Ankle Pumps + Long Sleeve Button Up Top / Peplum Top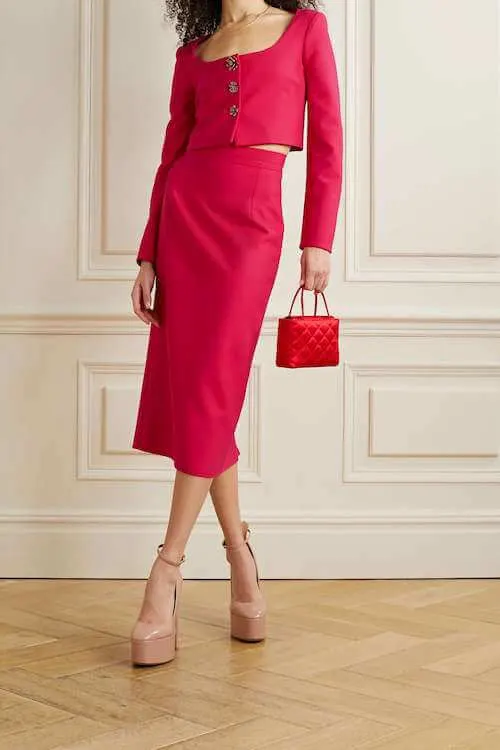 Elevated Daily Wear: Black Leather Skirts + Ankle Strap Closed-Toe Heels + Short Sleeves Top / Simple T-Shirt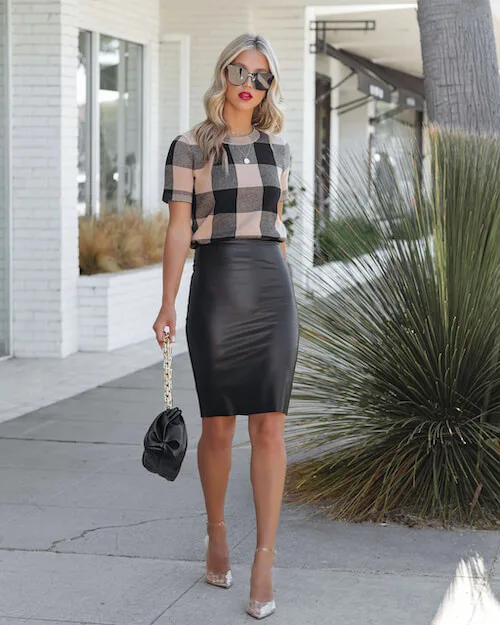 Monochrome Outfit: High Waist Skirt + Two Strap Sandals + Crop Top
Mid-length skirts have never withdrawn from the fashion stage, but in the past, they were usually matched with high heels, which always gave people a feminine feel.
But with the rise of unisex style and grunge fashion, it is better to use sandals with thick lines, which not only adds coolness to summer but also makes it more stylish.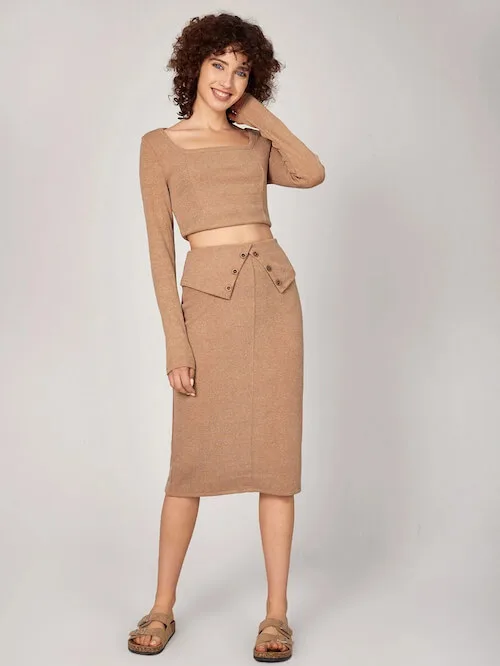 Chic Date Night Look: Knee Length Pencil Skirt + Strap Pointed Toe Kitten Heel Slippers + Crop Blazer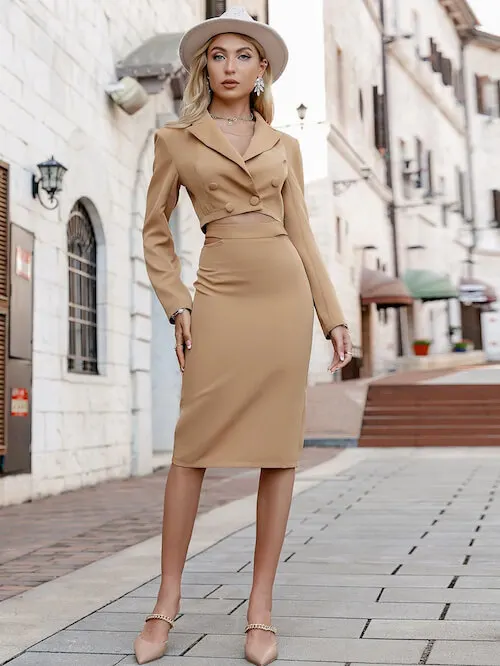 Sexy Party Look: White Pencil Mini Skirt + Clear High Heel Easy Slip-On + Corset Top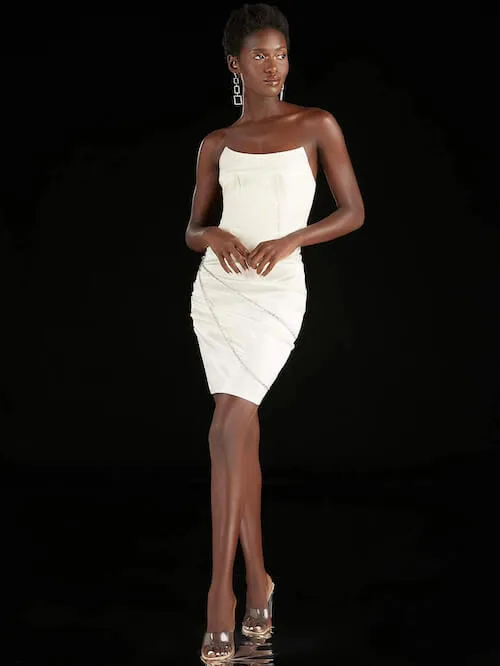 Chic Casual Outfits: Bold Patterns Skirt + Beige Cowboy Boots + White Blouse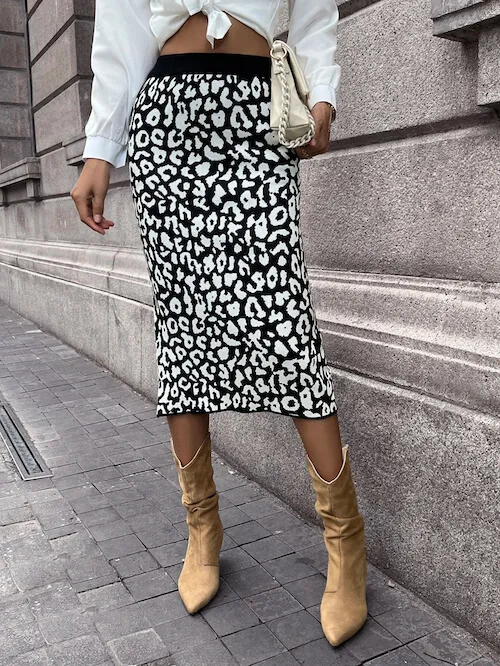 Split Back Pencil Knit Skirt + Platform One Piece Sliders + Crop Top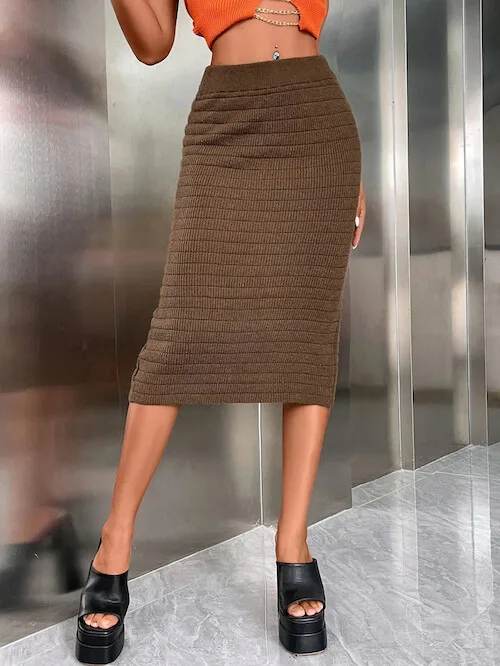 Smart Casual: Lace Pencil Skirt + Black Pumps + Slim Knit Top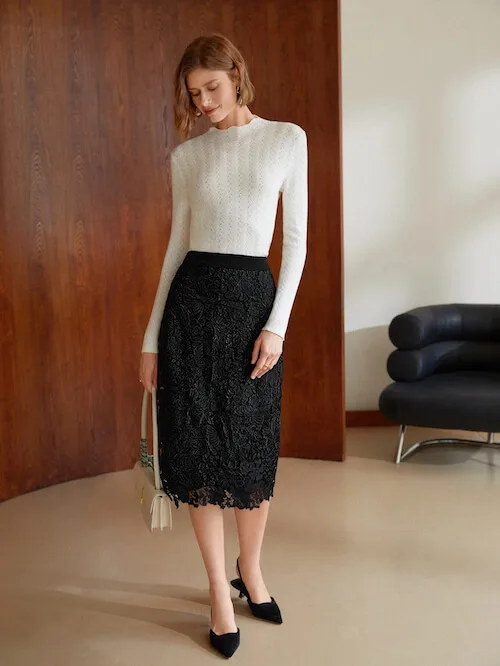 Athletic Style: Split Hem Button Up Pencil Skirt + Combat Boots + White Long Sleeved Top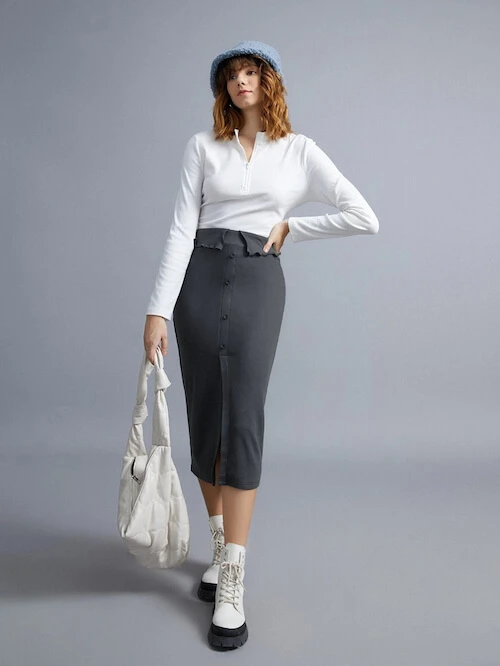 Grunge Style: Solid Color Maxi Skirt + Platform Flip Flops + Long Sleeved T-Shirt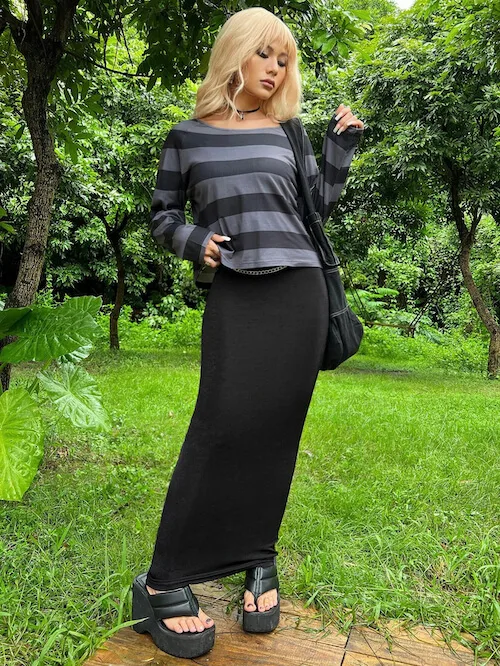 Cute Casual Black Pencil Skirt Outfit: Pencil Skirt + A Pair of Sneakers + Denim Jacket / Black Leather Jacket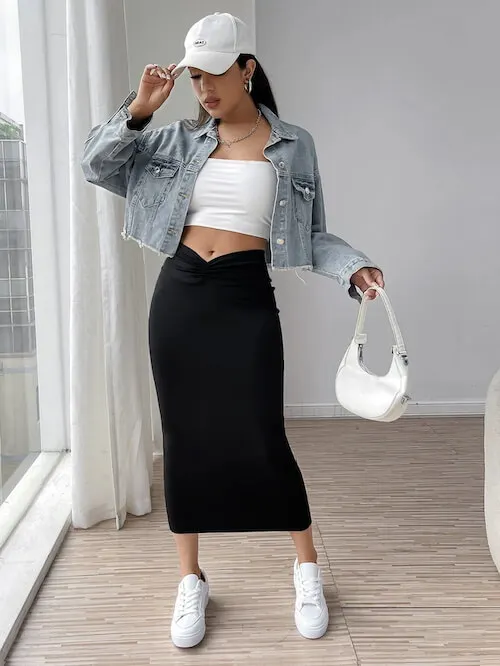 Classy Pencil Skirt Outfit: Houndstooth Print Skirt + Loafers
Pencil skirts and loafers are more casual and neutral, suitable for occasions such as vacations or going out to relax, and need to walk frequently.
The British-style loafers are paired with pencil skirts for a perfect mix of handsomeness and elegance.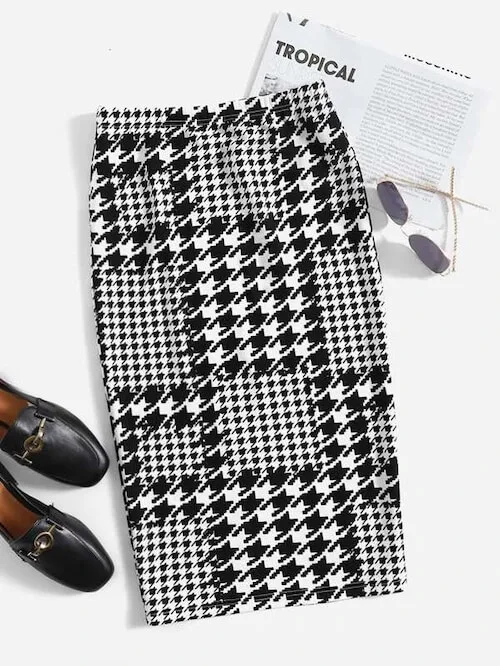 Sexy Edgy Outfit: High Waist Leopard Print Pencil Skirt + Combat Boots / Doc Martens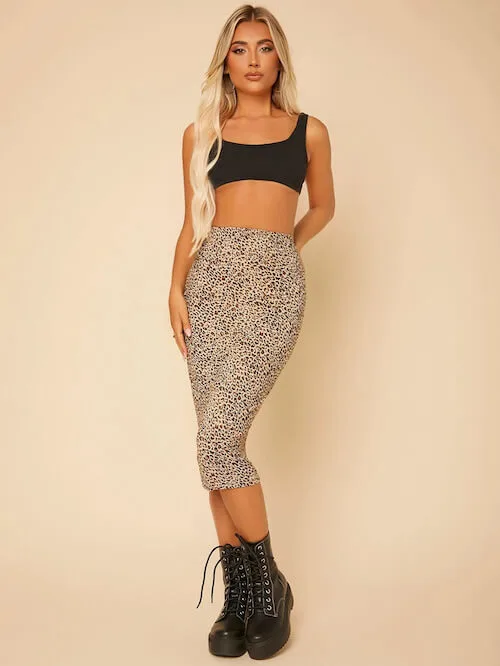 Classy Date Night Look: Midi Pencil Skirt + Ankle Strap High Heel Sandals + Fitted Top
Happy Hour Outfit: Snakeskin Pencil Skirt + Mules
Mules, as classic shoes, have always been active in the fashion arena. The most important thing is because it is fashionable and versatile.
Mules and pencil skirts are more mature, delicate, and unpretentious, and can easily wear a romantic style.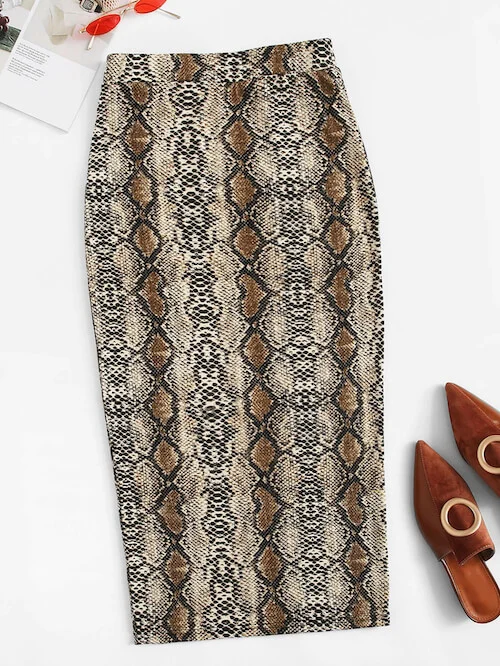 Sporty Style: Ribbed Knit Pencil Skirt + Chunky Sneakers + Fitted Shirt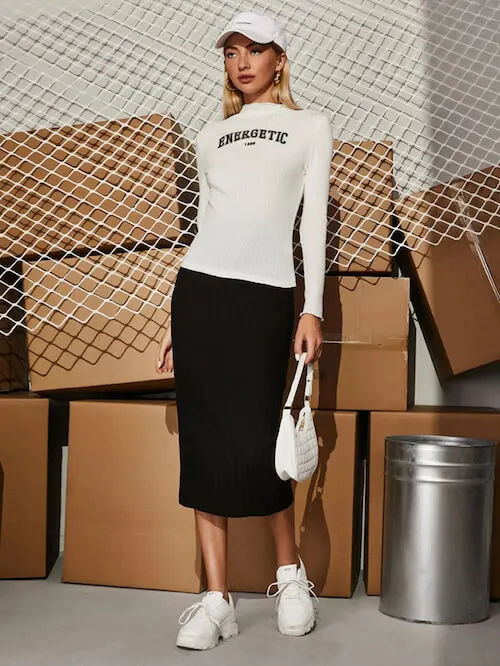 Summer Vacation Outfit: Classic Pencil Skirt + Strappy Heels Slippers + Crop Cami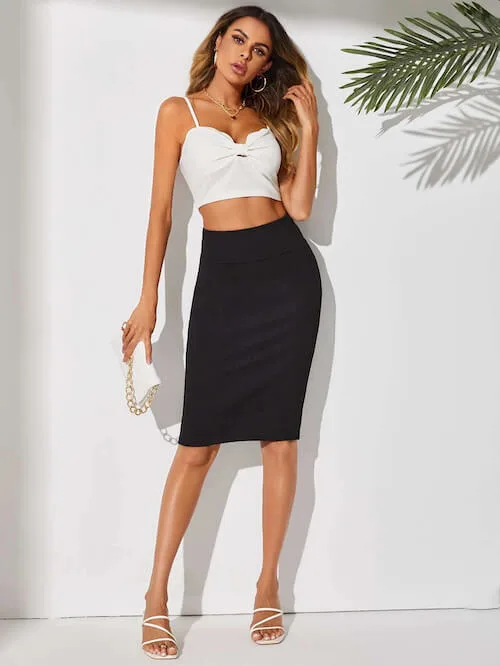 Cute Office Wear: Pleated Skirt + Strap Flat Shoes / Ballet Flats + Sleeveless Blouse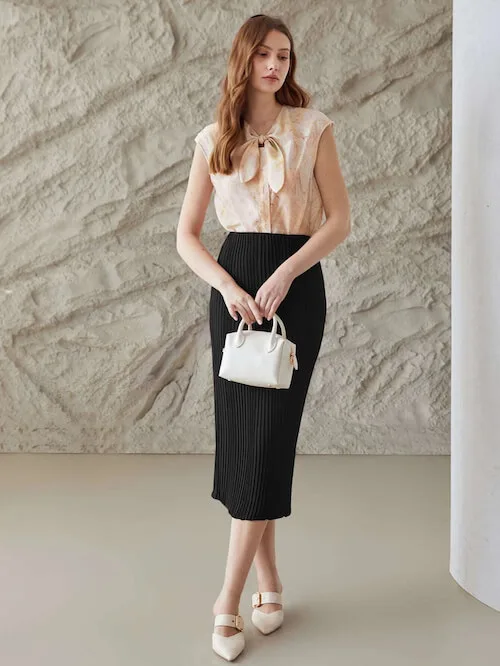 Cozy Office Attire: Knitted Pencil Skirt + A Pair of Heels + Cami + Cardigan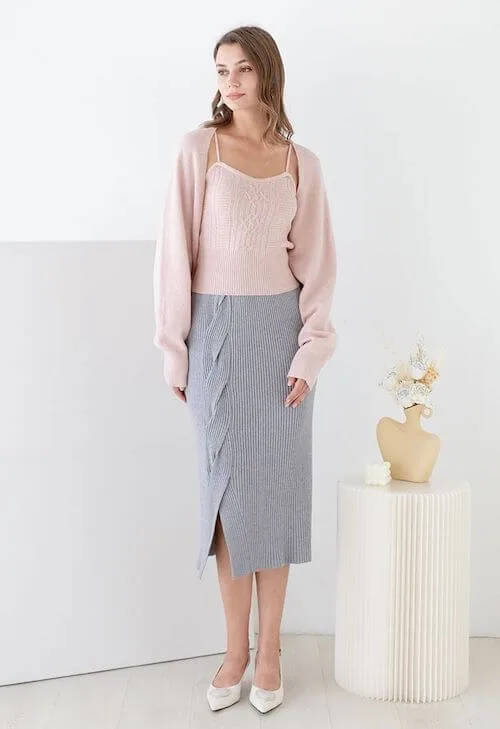 Spring Fall Pencil Skirt Outfit: Knitted Pencil Skirt + Strappy Kitten Heel Sandals + Knit Top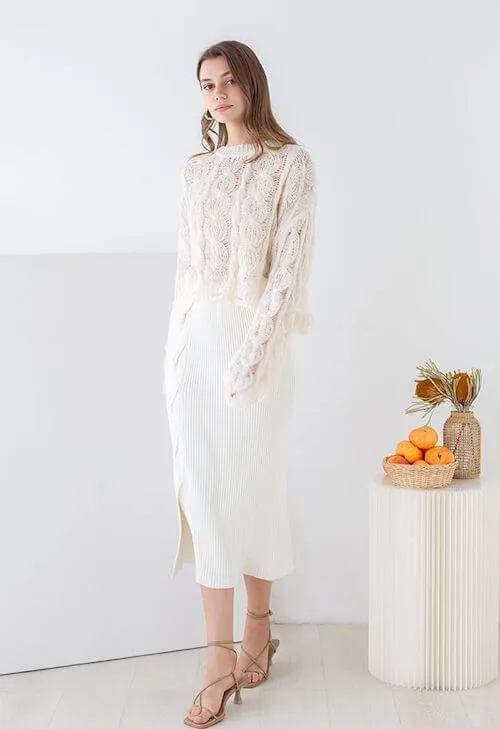 Common Questions:
What Body Shape Do Pencil Skirts Suit?
Pencil skirts are best for women with an hourglass figure. They show off your curves and make this body type look sexy, tall, and attractive.
What Are The Best Shoes To Wear With Pencil Skirt In Winter?
On colder days, a pair of warm boots are perfect for pairing with a pencil skirt. Pointed-toe boots are even good for work, making you look stylish and professional.
If you like to add more detail to your look, you can also opt for oxfords or sneakers and add a pair of warm stockings to complement your pencil skirt. Such a preppy style with a retro feel will make you look very cute.
What Shoes To Wear With Leather Pencil Skirt?
Leather pencil skirts are suitable for all occasions from work to dating to casual. Therefore, you can choose the right shoes according to your needs.
In general, you can wear ankle boots or knee-high boots with a leather pencil skirt.
If you prefer a more casual and relaxed style, sneakers are good choices.
In spring and summer, especially when going to a nightclub or a date night, you can also wear high heels or strappy sandals to match your leather skirt to create a sexy and charming look.
What Shoes To Wear With Black Pencil Skirt?
A knee-length black pencil skirt is one of the best pieces for work. You can choose pointed-toe shoes to go with it. Whether it's a pointed-toe heel or a pointed-toe flat, it's a neat, professional look for the workplace.
In addition, the maxi black pencil skirt is very popular this year, and a pair of unisex style chunky shoes are a good match for a maxi pencil skirt.
So, go bold and try adding some extra visual interest to your entire look with chunky boots, chunky high heels, or chunky flats.
For tops, you can choose either a sexy crop top or a comfortable oversized top, both of which are very fashionable.
What Shoes Can You Wear With A Pencil Skirt Casually?
If you want to downgrade the professional style of a classic pencil skirt for a more casual look, a pair of sandals is a great option. Or you can choose simple ballet-style flats for an elegantly casual look.
Want to bring your pencil skirt style to the next level? You can pair your pencil skirt with unisex chunky shoes or sporty shoes. This is not tacky at all but very fashionable.
Or you can opt for a casual denim pencil skirt or a knitted pencil skirt for a cute lazy look.
This post was all about what shoes to wear with pencil skirt.
About The Author
Tracy is an experienced personal stylist, shopping expert, and fashion & lifestyle blogger. She has been featured on Time Magazine, Bustle, Best Life, Glam, The Zoe Report, Mic, and GOBankingRates, for her insights on fashion, beauty, home decor, and lifestyle. Read More
Related Posts: