Wondering what shoes to wear with black tights? Check this post for the best shoes to wear with tights in black color and the trendiest black tights outfit ideas to copy directly.
When it comes to fashion, black tights have become a staple in many women's wardrobes.
They can be dressed up or down and matched with a variety of different shoes for the perfect look.
From heels to sandals and high tops, there are plenty of options for how to style your favorite pair of black tights.
If you are looking for the best shoes to wear with different types of black tights, you've come to the right place.
In today's article, I am sharing with you the best fashion tips on how to choose the right shoes for black tights, and the trendiest style tips on how to wear black tights.
So scroll down to check these shoe picks and outfit ideas with black tights, and don't hesitate to pin them to your Pinterest board, and share them on social media sites.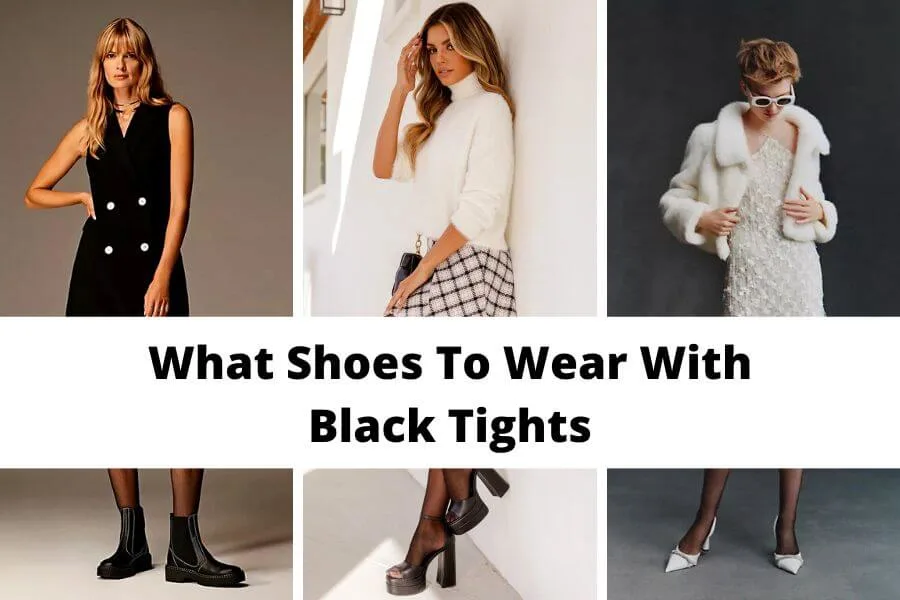 This post is all about what shoes to wear with black tights.
What do black tights look good with?
Black tights are a closet staple, and they can be easily dressed up or down.
They look great with virtually any style and even more amazing on any body type.
Whether you're looking to create an effortless casual look or an ultra-chic ensemble, black tights are the perfect accessory to complete your outfit.
From the classic little black dress to leather skirts, there is something so timelessly elegant about pairing black tights with a variety of outfits.
Wear them with a blouse and midi skirt for a sophisticated office look or pair them with ankle boots for an edgy street style vibe.
For those chilly days, opt for over-the-knee boots and a mini dress for maximum impact.
You can also wear them under shorts or denim culottes if you're willing to take fashion risks!
Which shoes go with black tights?
When deciding which shoes to pair with black tights, you have a variety of options.
Depending on the occasion, there are several stylish looks that can be achieved.
For a casual outing, such as running errands or meeting up with friends, opt for sneakers or loafers.
If you're looking to dress it up a bit more, consider pairing black tights with ankle boots or heels.
To create an edgy look, try wearing combat-style boots with your outfit.
For something more feminine and sophisticated, go for heeled mules or ballet flats.
Whichever route you take, black tights can provide the perfect base for any ensemble!
Best Shoes To Wear With Black Tights
Ankle Boots
Ankle boots and black tights are the perfect combination to complete any look.
Whether you're planning a night out or just running errands, ankle boots with black tights make a great choice.
The best thing about this combination is that it can be dressed up or down depending on your event.
To complete the look, choose an outfit in neutral colors like white, grey or beige and add some accessories for a subtle hint of color and texture.
Knee-High Boots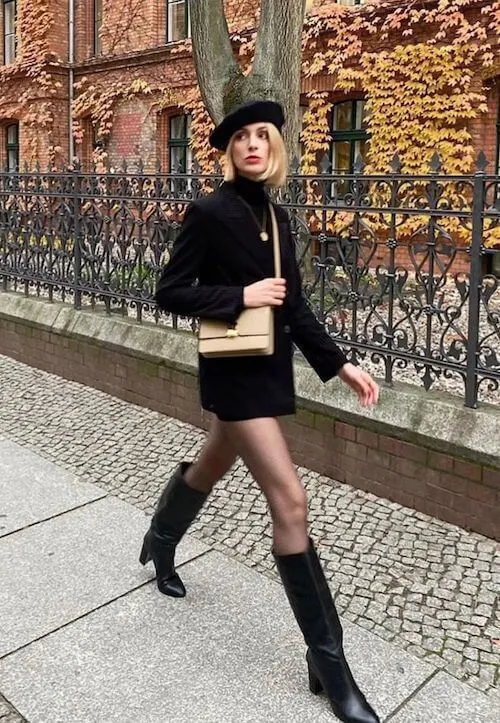 IG@minelli
Knee-high boots are the perfect way to stay on trend and fashionable this season.
Whether you choose a classic black, brown, or suede style of boot, they look great paired with a pair of black tights.
Not only are they stylish, but knee-high boots offer superior comfort and support while keeping your feet warm in colder weather.
High Heels
via Camille Charriere
When paired with high heels, black tights create a classy, sophisticated look that is both comfortable and chic.
Slingbacks
Black tights offer an effortless way to dress up your slingback looks without sacrificing comfort.
For a classic monochromatic look, go for glossy black leather slingbacks paired with sheer black tights – this is sure to turn heads!
Combat Boots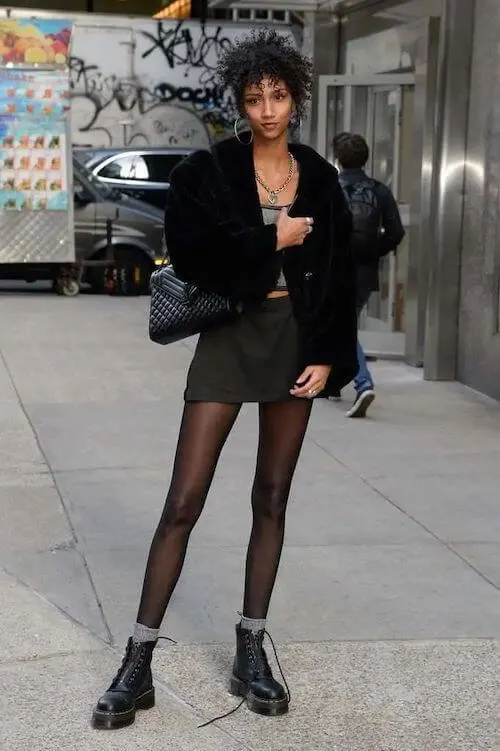 via Pinterest
Combat boots are a timeless wardrobe staple that can be dressed up or down to create a range of looks.
They're edgy shoes that adds instant attitude and boldness to any outfit, but they don't have to be reserved for casual occasions.
One easy way to stylishly elevate the look is by pairing combat boots with black tights.
This unexpected combination will help you stand out in the crowd and make a fashion statement that's both daring and cool.
Sneakers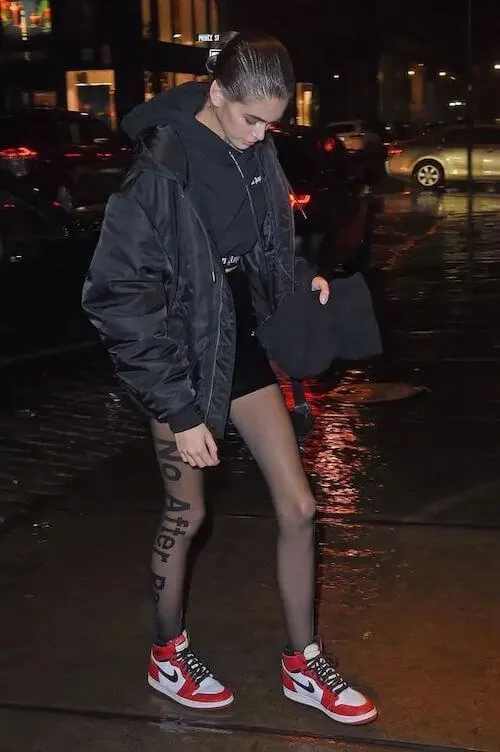 via Pinterest
This versatile look pairs well with almost anything—from miniskirts to casual dresses.
For a more relaxed feel, try pairing your sneakers with chunky sweaters or oversized tees in neutral colors like grey or navy blue.
To add some edge to the ensemble, layer on an edgy leather jacket over top.
If you want to keep it casual yet polished, opt for low-top sneakers and high waisted midi skirts—the perfect way to show off those toned legs!
Ballet Flats
via Pinterest
Ballet flats also pair perfectly with black tights, creating a sleek and polished outfit that can be worn year round.
When styling your look with ballet flats and black tights, it's important to keep the rest of your ensemble simple yet chic.
A white dress shirt tucked into a mid-length skirt is always a timeless combination, perfect for any occasion.
Or try pairing a patterned blouse with simple shorts for an effortlessly stylish look that will have heads turning in admiration.
Mary Janes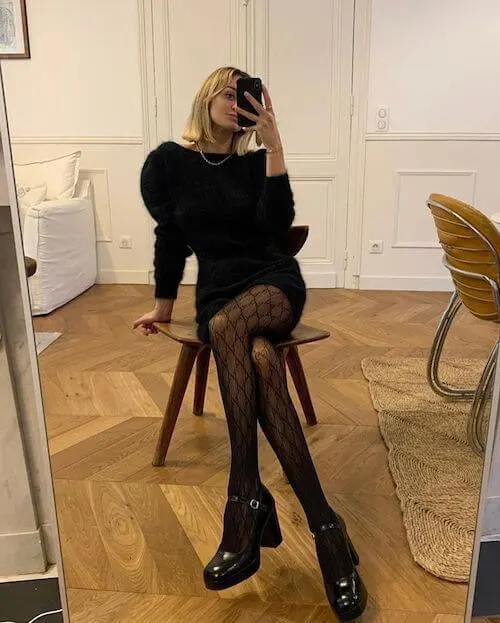 IG@annelauremais
Thanks to this easy-to-wear combination, you can easily take your everyday look up a notch.
Whether you're going on a night out or heading to work, pairing Mary Janes with black tights will elevate any ensemble in an instant.
It's also a great way to transition between seasons – wear them during winter with skirts or dresses to keep warm; then switch up the fabric of your top half for warmer months and stay stylishly comfortable all year round!
Platform Sandals
Platform sandals are a great way to add a stylish touch to your look.
For those cooler days when bare legs just won't do, why not try pairing platform sandals with black tights?
This unique combination is both eye-catching and comfortable.
Choosing the right kind of tights for this look is key; opt for textured fabrics such as fishnet or lace in order to really make an impact.
Black opaque tights can also work well, particularly if they have ribbed details or patterned designs.
You can then finish off your ensemble with some statement jewelry or bold accessories to create a truly stylish outfit.
Strappy Sandals
IG@styleheroine
Pairing strappy sandals with black tights is a trend that many fashion-forward individuals are embracing this season.
The combination of strappy sandals and black tights offers an edgy yet elegant look that is perfect for any occasion.
Loafers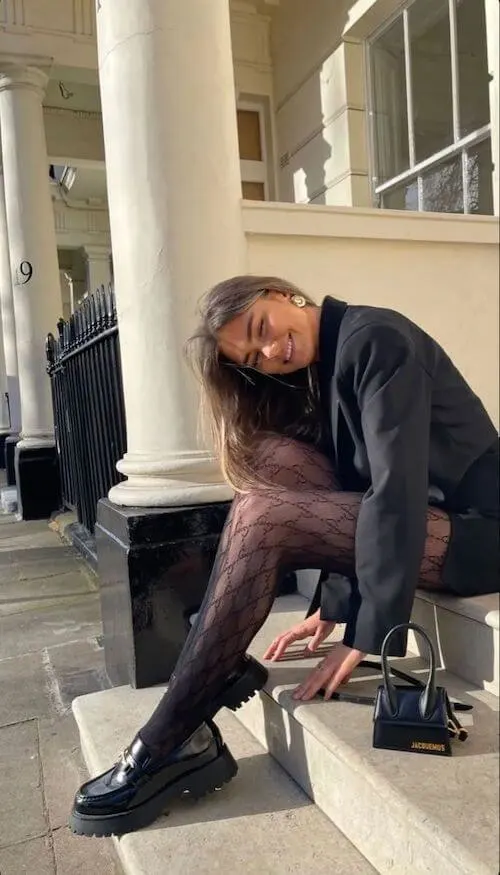 via Pinterest
A classic look that never goes out of style, loafers with black tights are the perfect combination for a semi-formal or casual occasion.
Loafers come in a variety of styles and colors and can be dressed up or down depending on the occasion.
They offer comfort and versatility, while black tights provide warmth and sophistication.
Together they create an effortless fashionable look that can be worn day or night.
Wedge Booties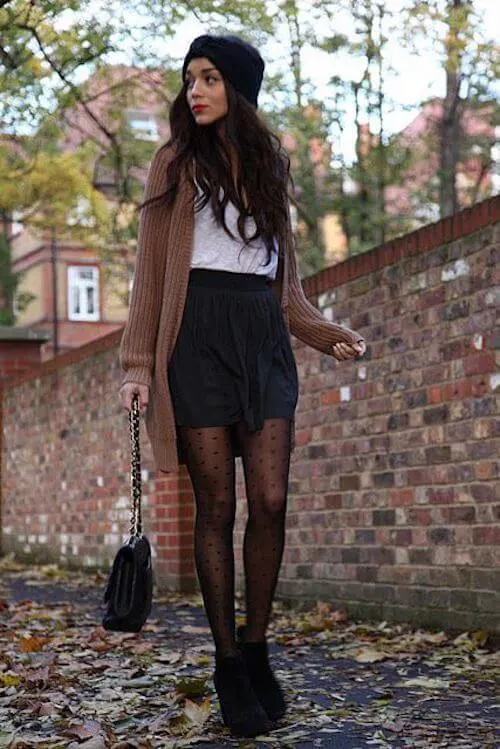 via Pinterest
Wedge booties and black tights are an unbeatable combination when it comes to bold and edgy styles.
The wedge heel also adds an extra bit of height, making it easier to take on the day without having to sacrifice comfort for fashion.
Lug Boots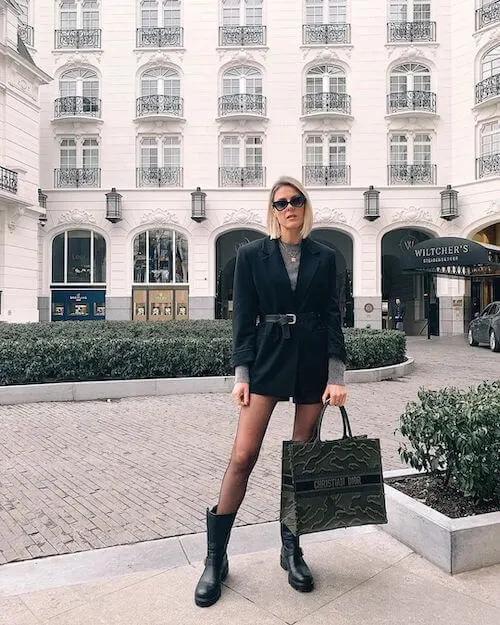 IG@sofievalkiers
Black tights help to draw attention to the detail in the lugs shoes that range from buckle straps, chunky treads and multiple colors.
To complete the ensemble, pair your lug boots and black tights with a cropped sweater or coat depending on the weather conditions at hand.
Not only will you stay warm but you'll look stylish too!

Oxfords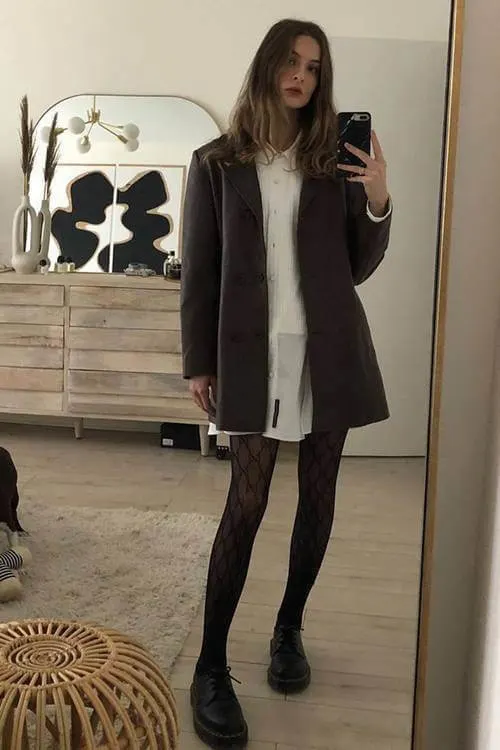 IG@NYCBAMBI
Oxfords with black tights is a classic look that never fails to impress.
For a classic office outfit, pair your favorite oxfords with opaque black tights for maximum coverage.
To complete your look, add a blouse or dress in neutral colors and let your shoes do the talking!
For a more casual day out look, opt for sheer black tights paired with low heeled oxford shoes for maximum comfort without sacrificing style.
High Tops
Black tights will bring an unexpected edge when paired with your favorite pair of high tops.
Not only are they comfortable, but they also add a modern twist to any outfit.
Opt for opaque styles or sheer mesh designs when styling your look for maximum impact.
Team them with oversized tees, mini dresses or play-suits for an on-trend street style that is sure to turn heads wherever you go!
What shoes to wear with black tights and dress?
For a timeless look, opt for black closed-toe pumps or loafers.
These shoes provide an elegant foundation for your dress and tights combo and can be worn for any type of formal event.
However, if you want something more playful, consider going for ankle boots in an interesting texture such as velvet or leather.
You can also add some contrast by wearing heeled sandals in metallic hues like bronze or silver.
These will bring out the best of your ensemble while still keeping it refined enough for work functions or family gatherings.
What shoes to wear with black sheer tights?
While stiletto heels may seem like an obvious choice for wearing with black sheer tights, flats can also look stunning when paired with them.
Ballet flats in particular enhance the femininity of black sheer tights without overpowering them.
If you prefer a more edgy look, opt for combat boots or Doc Martens—these offer a great contrast against these delicate garments while still looking cool and modern.
What shoes to wear with transparent black tights?
A pair of ankle boots or loafers would work well, as would chunky heeled sandals or pointed toe flats for a more casual style.
If you're feeling daring then why not opt for leather knee high boots?
What shoes to wear with thick black tights?
Dressy ankle boots are an excellent choice when paired with thick black tights, creating a chic winter ensemble.
For more formal occasions, opt for sleek pumps or heeled booties to complete the look.
If you want something a bit more relaxed, try pairing your tights with pointy-toe flats or classic loafers, perfect for running errands around town or even just curling up on the couch!
What shoes to wear with black opaque tights?
For a casual outfit, consider pairing your black opaque tights with sneakers or ankle boots.
Sneakers provide comfort while maintaining a fashionable aesthetic.
Ankle boots are great too; they bring an edge to the outfit while elongating the legs.
For something dressier, ballet flats and pumps make perfect accompaniments to black opaque tights since they add elegance and femininity without comprising comfortability.
You could also opt for pointed-toe heels if you're looking to channel a classic vintage vibe or embrace bold fashion statements with chunky platforms.
What color shoes to wear with black tights?
The color of your shoes is an important factor that can make or break your look.
Black tights provide a great base for any ensemble and are perfect for dressing up or down, depending on what type of shoe you choose to wear with them.
Neutral colors such as brown, black, beige, and white are always safe choices since they will match almost anything in your closet and create a timeless aesthetic.
For those looking for something more eye-catching, try pairing your black tights with brightly colored heels or boots in shades of red, blue or yellow – just make sure they don't clash too much with the rest of your outfit!
Do I have to wear black shoes with black tights?
The answer is: no, not necessarily!
Although wearing black tights and black shoes together can create an elegant look, there are other options available if you want something a little different.
Can you wear black tights with white shoes?
Wearing black tights with white shoes can be a tricky combination to pull off, but if done correctly, it can add a stylish and modern vibe to your look.
The key is finding the right balance between the two pieces so that they complement each other instead of clashing.
As a general rule of thumb, you'll want to opt for an opaque black fabric when choosing your tights or stockings; this will ensure that your legs don't appear too sheer or see-through while still allowing the white shoes to pop against the black tights.
You can also experiment by pairing different types of materials together like velvet or leather — both of which look great against white sneakers or heels.
Additionally, consider adding a bright statement bag and fun accessories like earrings and necklaces in order to make sure all elements blend together nicely.
Can you wear black tights with white heels?
Absolutely! It is a great way to add contrast and style to any outfit.
Whether you are wearing a floral dress for an afternoon in the park, or dressing up for a special occasion, pairing black tights with white shoes can take your look to the next level.
Can I wear brown shoes with black tights?
The answer is yes, it's possible to pull off the look, as long as you find the right balance of color and texture.
When wearing brown shoes with black tights, keep your outfit simple and accessorize sparingly.
Choose a neutral-colored dress or skirt in shades of gray or white for example, so that the colors of your outfit don't overpower each other.
Texture also plays a key role in making the look work – opt for suede ankle boots or loafers to give the ensemble some depth without clashing colors.
Finish off your outfit by adding a few delicate accessories like small earrings or a thin bracelet to complete the look.
Can you wear black tights with silver shoes?
As the debate between silver and black shoes continues, wearing black tights with silver shoes has become an increasingly popular trend.
But can you really wear this combination without looking like a fashion faux pas?
The answer is yes! With the right outfit, black tights and silver shoes can actually make a bold statement that will turn heads.
When it comes to wearing black tights with silver shoes, there are no hard and fast rules to follow—it all depends on your personal style.
However, here are some tips for creating a stylish look: choose a dress or skirt in a bright color like yellow or red; opt for shinier fabrics such as silk or chiffon; and finish off the ensemble with some eye-catching jewelry.
This combination of colors will instantly draw attention to your feet, making them the focal point of your outfit.
Black Tight Outfit Ideas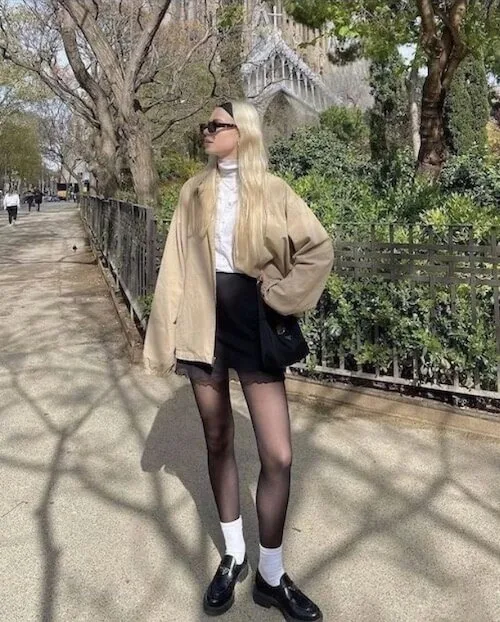 via Pinterest
Which tights to wear with open-toe shoes?
Open-toed shoes are a popular choice for summer, but styling them can be tricky.
One common issue is how to choose the right tights with open-toe shoes.
It's important to pick the correct type of tights in order to ensure your look is appropriate and fashionable.
When deciding which tights to wear with open-toe shoes, consider the color of your outfit and the occasion for which you are dressing.
For everyday wear, opaque tights that match your skin tone will provide coverage without looking too formal.
If you're attending an evening event such as a wedding or cocktail party, opt for sheer or patterned stockings in complementary colors or muted shades such as black or navy blue.
Final Thoughts on Shoes to Wear with Black Tights
In conclusion, black tights can be a great way to easily elevate any look.
They are versatile and can be paired with a variety of different shoe styles, from flats to heels.
When choosing a style of shoe to wear with black tights, it is important to consider the occasion and how formal or casual you want the overall look to be.
Ultimately, the choice of shoes will depend on your individual taste and preferences.
This post was all about what shoes to wear with black tights.
Related Posts: