Looking for the best formal winter skirt outfits? Check this post for the best style tips on how to style a skirt for formal events in winter, and the 40+ best formal winter skirt outfit ideas to copy and shop for directly.
Although formal occasions in the cold winter, dresses are still the first choice. But we are more and more attracted to cute skirts for a date night, winter weddings, and other formal occasions in the cold season.
The unique combination of different skirts and different tops brings a lot of surprises to our fall and winter styles.
Why not try formal skirt outfits this winter to add the right personal style and show your excellent sense of fashion trends?
If you are looking for the best formal skirts for winter and the best style tips on how to wear a skirt for winter formal events, you've come to the right place.
In today's article, I am sharing with you our favorite fashion tips on what to wear with a formal skirt in the winter season, and the best winter formal skirt outfits from our favorite online fashion stores for you to shop for and copy directly.
So scroll down to check these tips and formal winter skirt styles to help you create your next outfit, and don't hesitate to pin them to your Pinterest board, and share them on social media sites.
This post may contain affiliate links, which means I'll receive a commission if you purchase through my link, at no extra cost to you. Please read the full disclosure here.
This post is all about formal winter skirt outfits.
How To Style A Skirt For Formal Events In Winter Season
When you need to wear a skirt to a formal winter occasion, here are our favorite tips to get you the most stylish winter formal attire with a skirt.
Check the dress code of the event.
Dress codes may vary for different formal occasions. Checking the dress code in advance can help you choose the most suitable look and make you more confident.
Choose the right skirt type.
A proper skirt lays the style foundation for the entire outfit. For formal occasions, pencil skirts, bodycon skirts, and A-Line skirts are all good choices.
You should avoid skirts that are too short or too exaggerated, as it is not easy to dress fashionably, and it is easy to become tacky.
Choose thick material.
While it's important to dress stylishly, it's important to keep warm during the cold winter months. So, for winter formal skirt outfits, you need to choose a warm material to keep warm.
I highly recommend woolen, tweed, thick satin, and velvet. Plus, the finely knit pieces are also fantastic.
These materials are not only thick but also gorgeous and have a good drape, which can also allow us to show a very good formal style while keeping warm.
However, you should never wear denim pieces like denim skirts for a formal event.
Avoid casual style pieces like a fleece jacket, denim jacket, chunky sweater, cable-knit sweater, chunky scarf, etc.
For the rest of your overall look, you need to avoid casual or sporty designs. For example, casual jackets, sweatshirts, and nightclub-style tops that are too sexy should be avoided.
Knits can help keep you warm, but you need to avoid chunky knits, which have a very casual feel. Slim-fitting knitted tops without excessive patterns are a good choice.
Choose leather closed toe shoes.
Leather shoes, especially leather boots, not only keep you warm in colder temperatures but also are the best option to make your look more formal and prestigious.
We especially recommend pointed boots, preferably with a high heel, kitten heel, or block heel. This is a stylish outfit idea and a fantastic way to dress up a skirt outfit.
Whether it is an ankle-length design or a knee-high design or a simple cowboy boots design, it is a great choice.
If you like to wear flats, then you can also choose flat leather boots. But please avoid chunky boots or combat boots. Those boots are more suitable for casual occasions, not for formal occasions.
Add black tights, opaque tights, or fleece-lined tights to add extra warmth.
If you're still cold with your boots on, you can add thicker tights to keep you warm in the cooler months.
Best Formal Winter Skirt Outfits In Cold Weather
Want more inspiration? Ahead, please scroll on to check our favorite formal skirt combinations for winter days for you to copy directly.
From monochrome outfits to beautiful print pieces, we cover different formal skirt outfits for winter in different styles.
Checked Pleated Skirt + Black Top + Brown Boots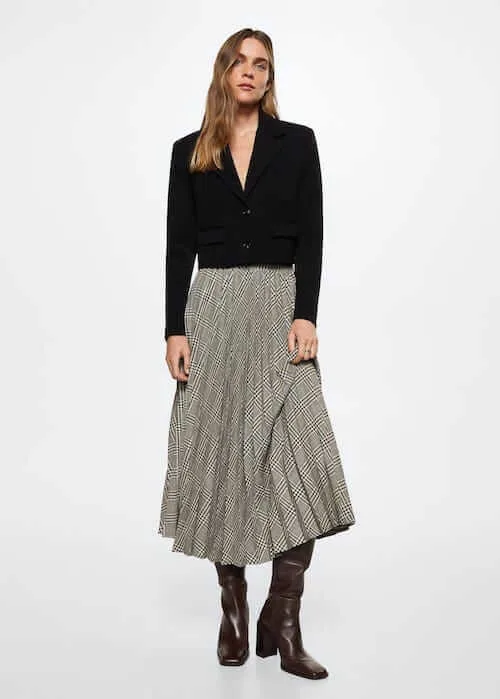 Tweed Skirt + Tweed Jacket + White Button Down + Knee Boots
Houndstooth Pencil Skirt Set + Pointed Toe Shoes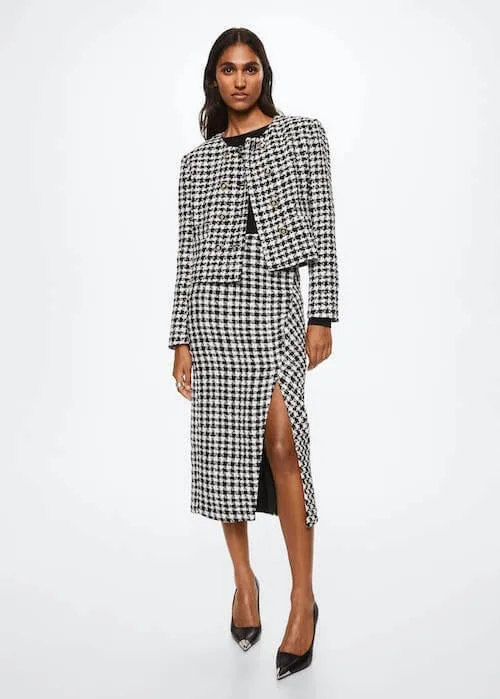 Layered Mesh Maxi Skirt + Black Tight Top + Pointed Toe High Heel Boots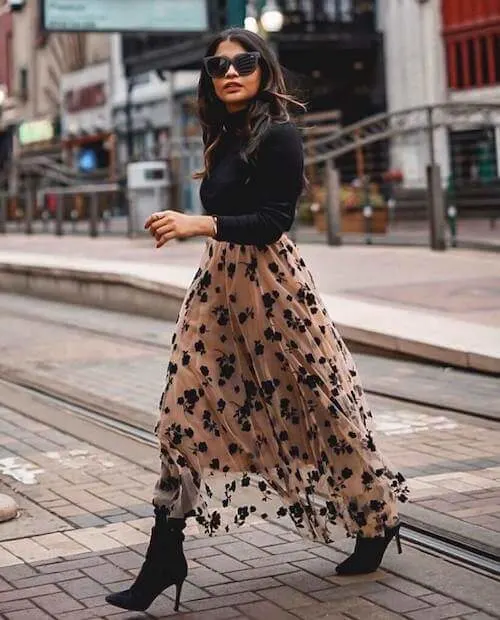 Short Skirts + Black Blazer + Black Cami + Ankle Boots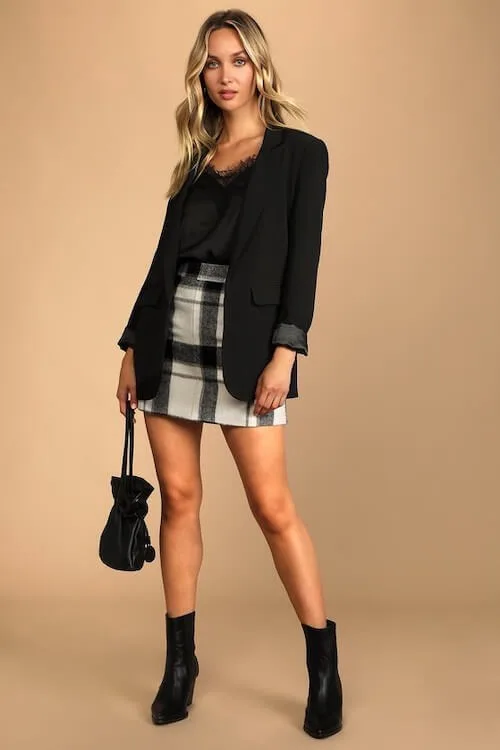 Mini Skirt + Silk Button Down Shirt + Long Coat + Closed-Toe Shoes
High Waist Velvet Bodycon Skirt + Long Sleeves White Top
Leather Midi Skirt + Cream Long Sleeves + Ankle Boots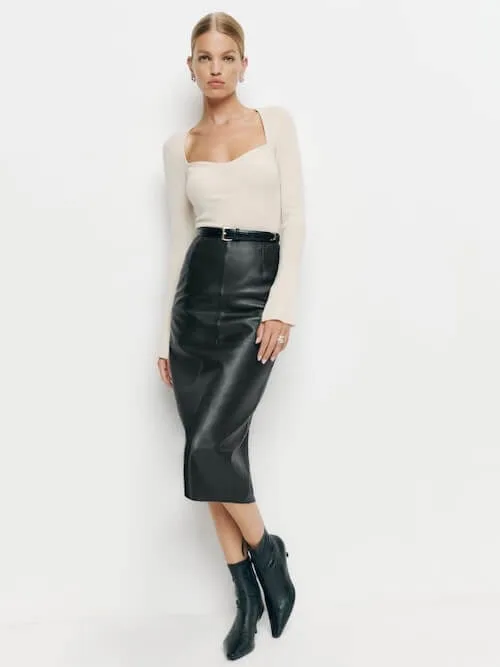 Printed Midi A-Line Skirt + Black Shirt + Black Long Leather Coat + Black Leather Boots + Big Hoops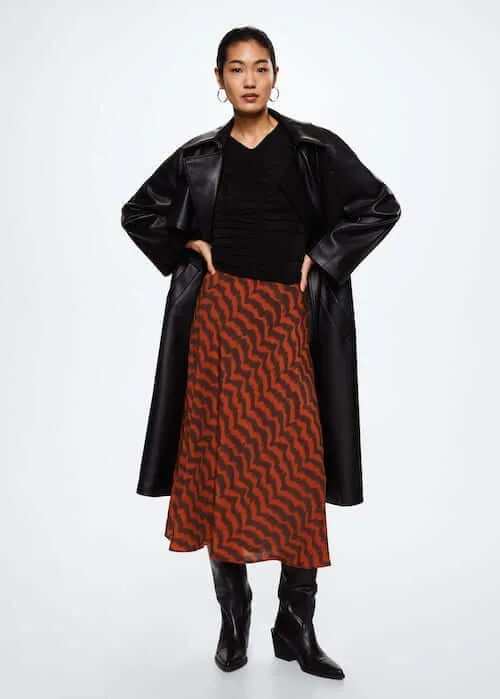 Check Knitted Miniskirt Set + Cowboy Boots + Dangly Earrings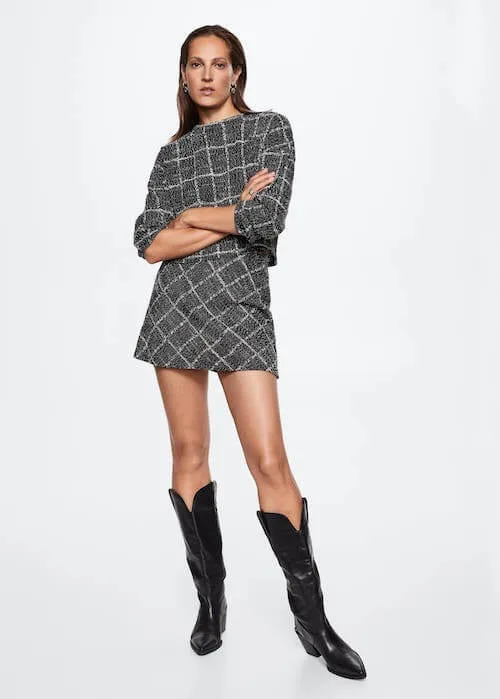 Printed Longer Skirts + Slim Black Short Cardigan + Black Boots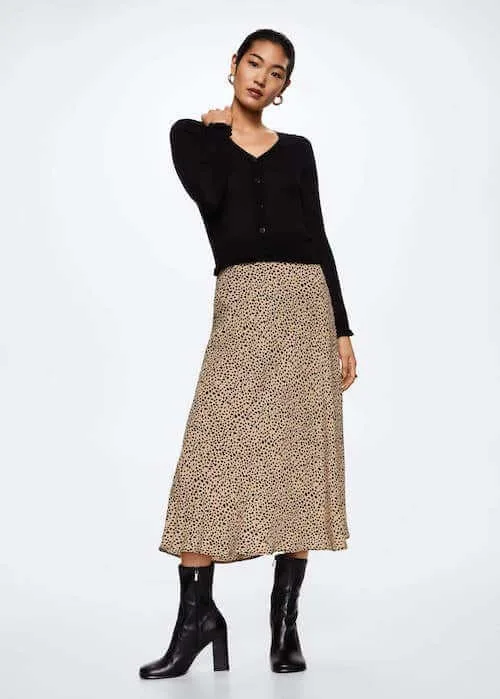 Satin Midi Skirt With Side Slit + Black Long Sleeves + Snakeskin Print Boots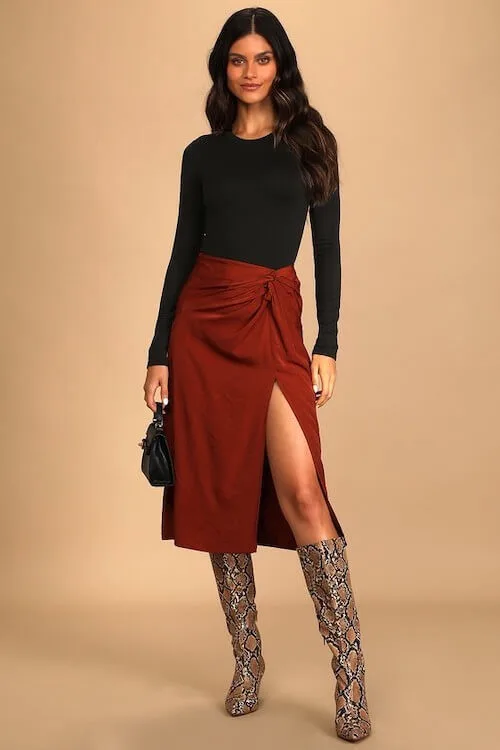 Blue Formal Skirt + Black Knit Top + Black Trench Coat + Black Boots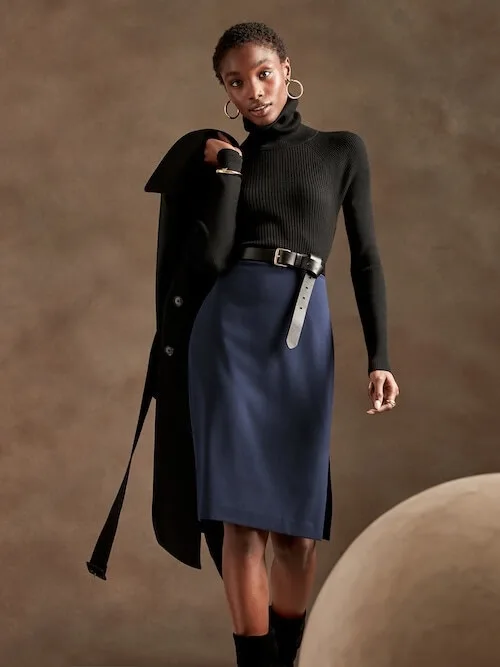 Crinkled Pencil Midi Skirt + Bright Colors High Neck Long Sleeves Top + Knee High Boots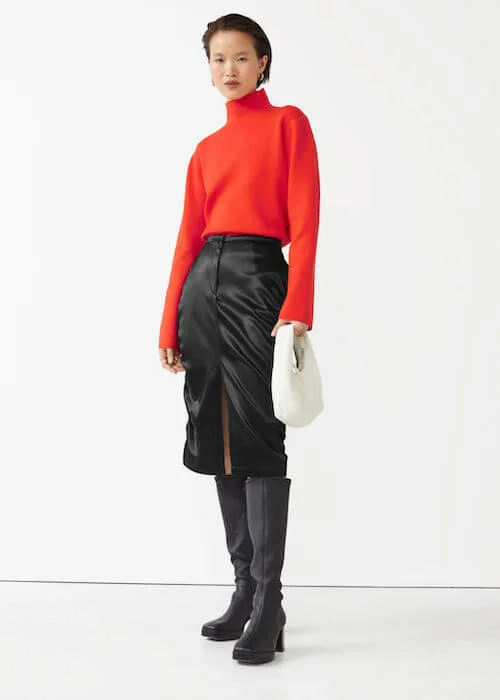 Black Pencil Skirt + White Blouse + Trench Coat + High Heels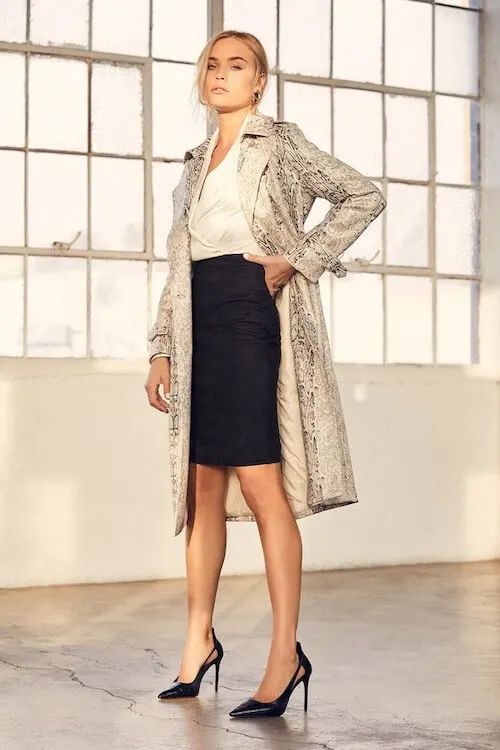 Black Skirt + Fitted Knit Top + Black Boots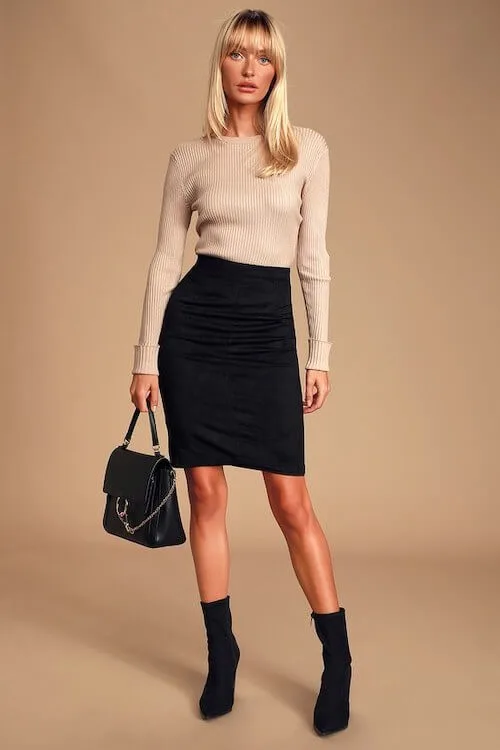 Floral Print Pleated Full Skirt + Black Turtleneck Knit Top + Black Ankle Boots
Printed Midi Skirt + Fitted Knit Top + Knee-High Boots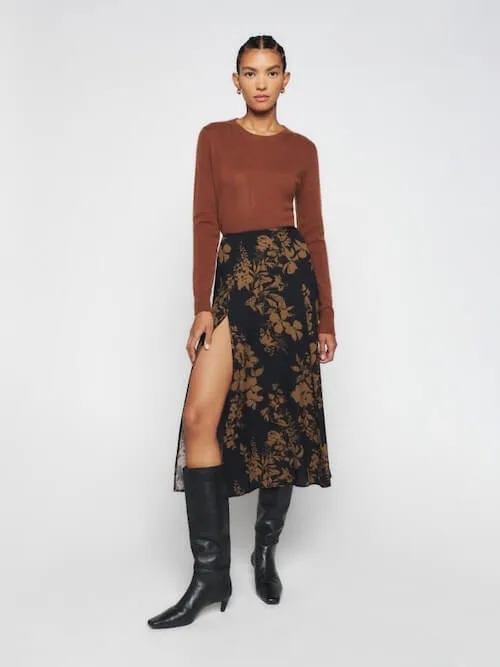 Fur Jacket + White Top + Leather Mini Skirt + Ankle Boots + Statement Earrings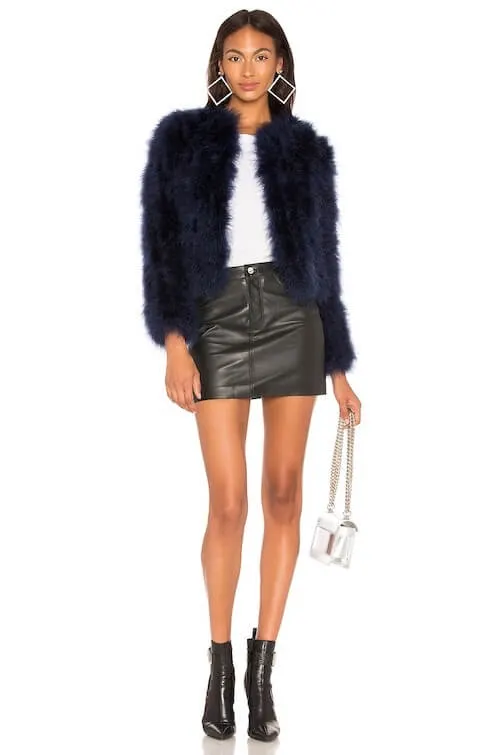 Velvet Midi Skirt + Velvet Blouse + Kitten Heel Pointy Toe Shoes
Black Midi Skirt + Cream Knit Top + A Pair of Boots
Faux Leather Formal Style Skirt + Tan Fitted Knit Top + Black Ankle Boots
High Waist Plaid Tweed Skirt + White Long Sleeves Top + White Tall Boots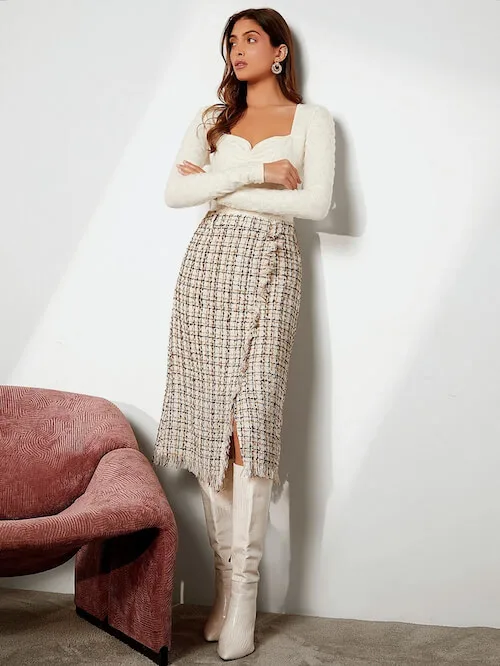 Fur Jacket + Cami + Leather Skirt + Dangle Earrings
Houndstooth Print Drop Shoulder Blouse & Skirt
Houndstooth Bishop Sleeve Jacket & Skirt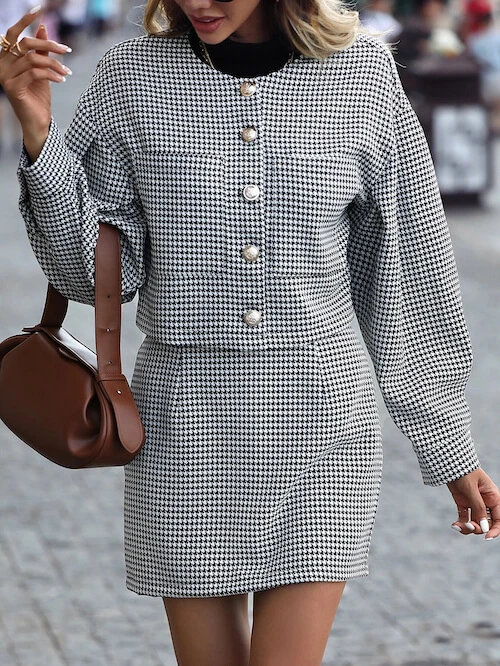 Plaid Button Front Crop Jacket & Skirt + Knee-High Boots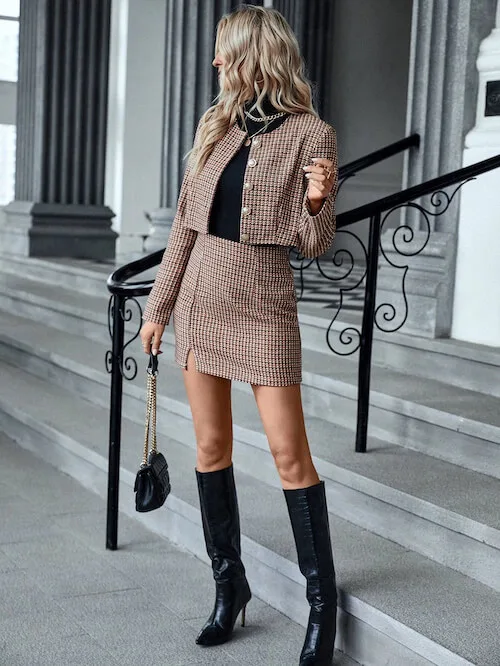 High Waist Plaid Tweed Slit Skirt Set + Black Knee Boots
Dalmatian Print Knot Front Skirt + Black Turtleneck Fitted Top + Black Boots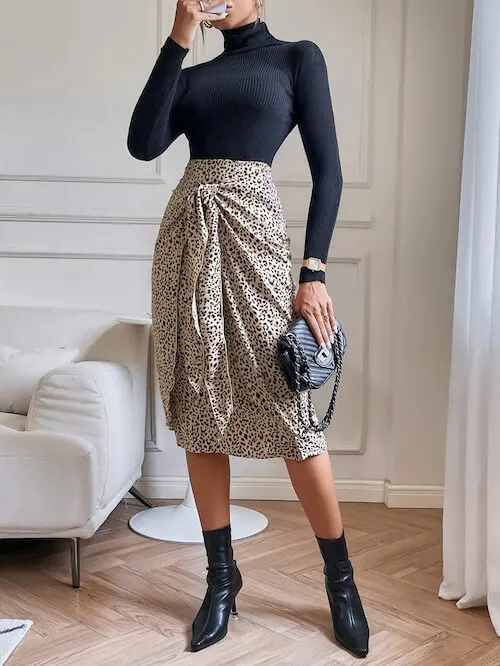 Wrap Split Plaid Skirt + Black Shirt + Black Boots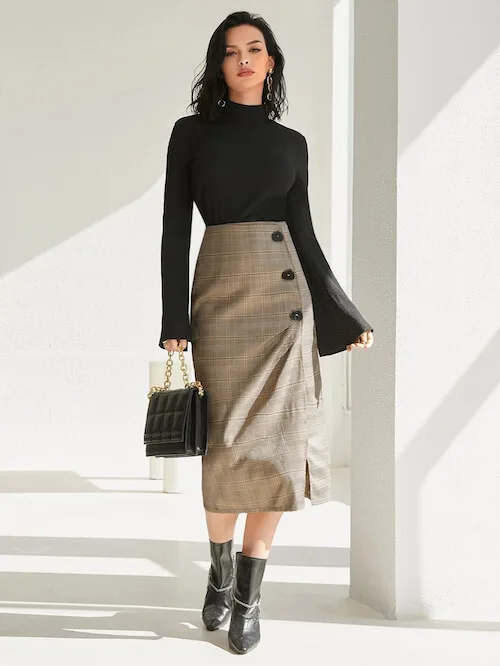 High Waist Plaid Zipper Wool-Mix Skirt Set
Plaid Mini Bodycon Skirt + Fitted Top
Leopard Print Pleated Skirt + Black Leather Jacket + Black Boots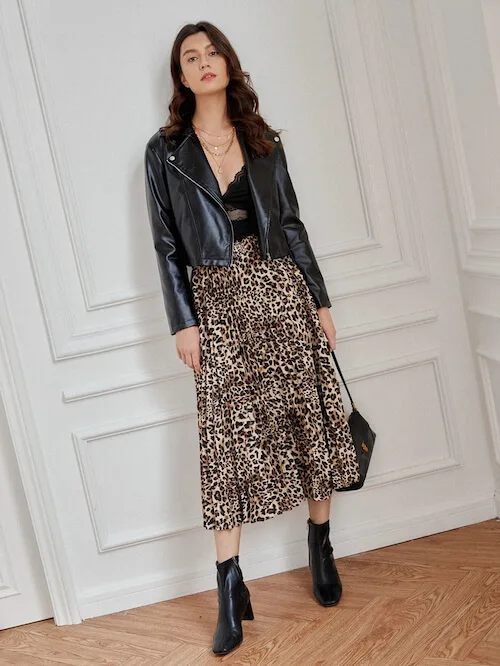 Turtleneck Drop Shoulder Sweater & Ribbed Knit Skirt
Two Tone Lantern Sleeve Sweater & Split Hem Knit Skirt
Midi Knit Skirt + Knit Top + Black Boots
Brown Midi Knit Skirt + Fitted Black Collared Shirt + Black Boots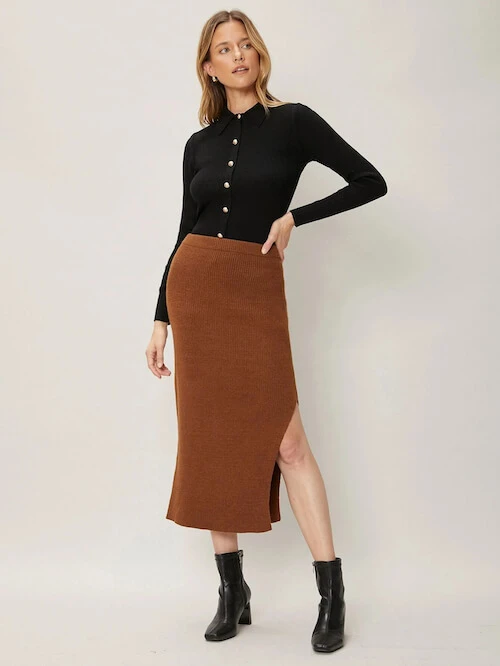 Black Leather Mini Skirt + Black Long Sleeves + Black Boots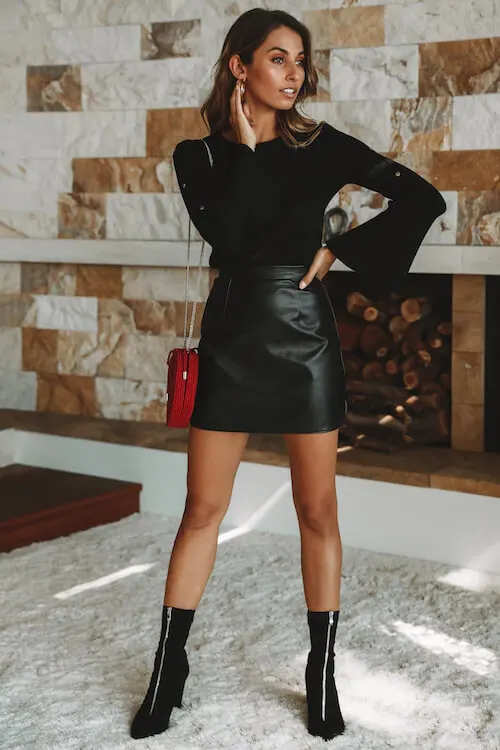 Super High Waisted Mini Sweater Skirt Set + Long Coat + Suede Boots + Statement Jewelry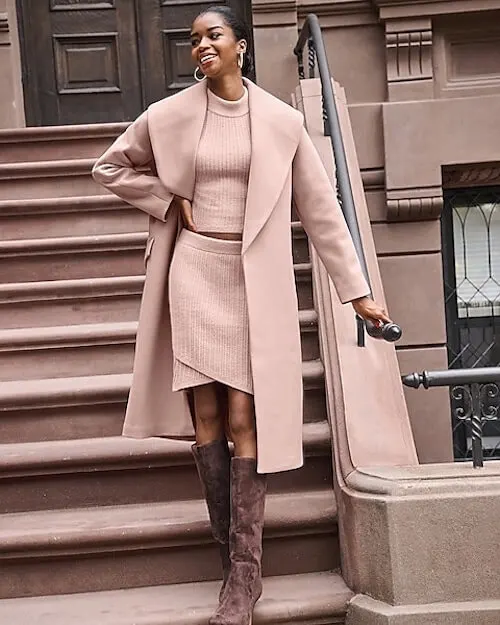 Satin Pleated Skirt + Fitted Long Sleeves Top + Belt + Black Tall Boots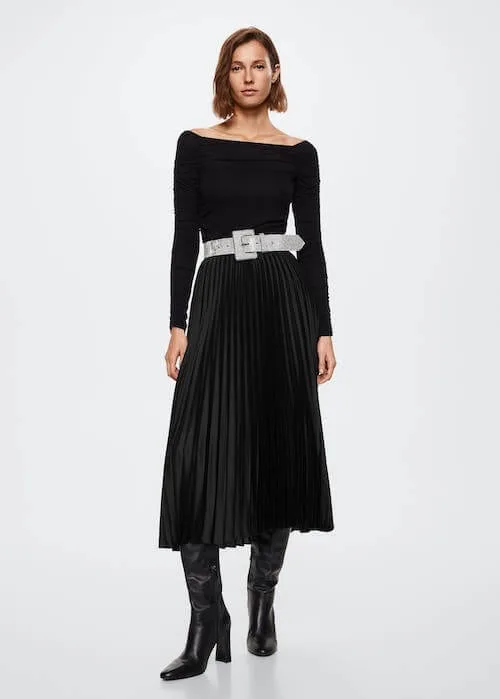 What To Wear With A Skirt For Winter Weddings
The beautiful skirts are also very suitable for a winter wedding outfit.
Choose a beautiful maxi or midi skirt. Red or orange colors are both warm and stylish options. All you need is a white or black long-sleeve top and a pair of minimal timeless shoes for a great winter wedding guest look.
In addition to red and orange skirts, navy blue, gold or silver are also good choices. Their nobility and elegance make you very stylish and charming.
Red Printed Long Skirt + White Turtleneck Sweater + Knee Boots
The gentle white top and the beautiful red printed long skirt seem to bloom gorgeous flowers in the winter snow, making people feel gentle and warm.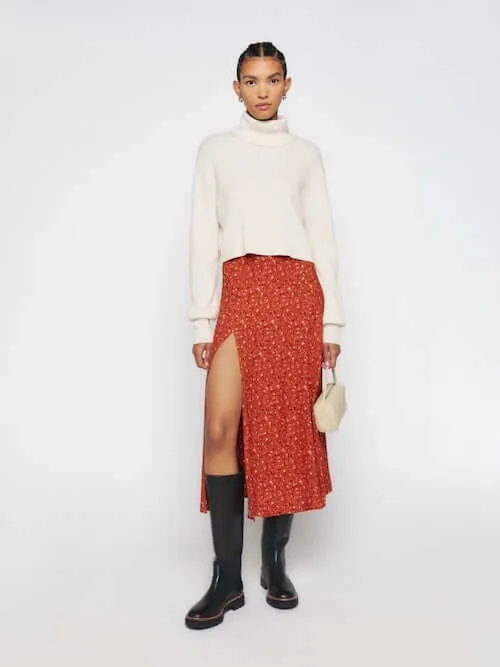 Wine Red A-Line Midi Pleated Skirt + Black V-Neck Top + Black Pumps
Gorgeous wine red and black colors are perfect for winter formal occasions or parties.
The classic A-line and pleated skirt design, combined with a stylish skirt hem design, help you create the most perfect body proportions and make you look refined and stylish.
All you need are simple black heels and chic jewelry to complete the entire awesome winter wedding guest look.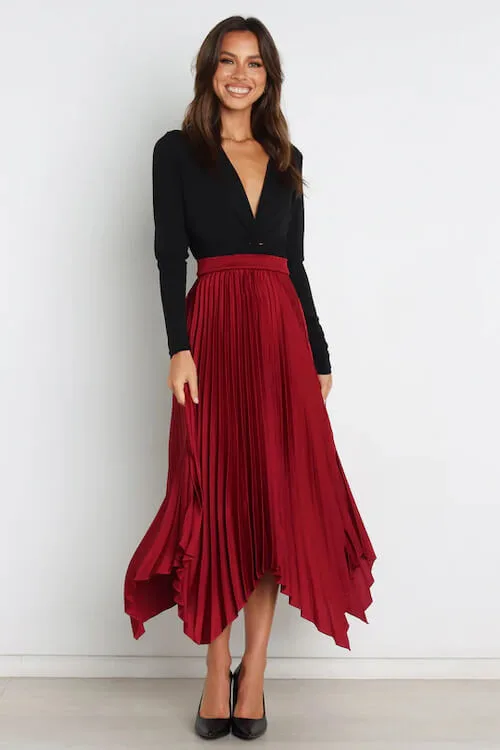 Navy Blue Turtleneck Drop Shoulder Sweater & Split Thigh Ribbed Knit Skirt
The fine and delicate knit set of the same color makes you look very gentle, and the classic navy blue color and high neck design add formal style to your overall look.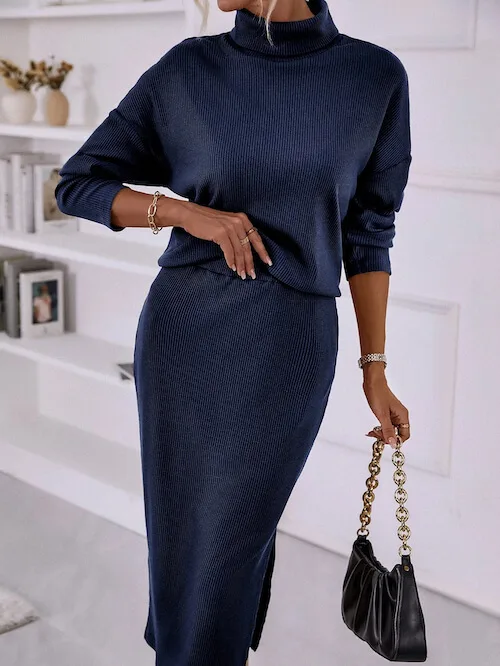 High Waisted Metallic Midi Sweater Skirt Set
Gorgeous metallic shades make you look very stylish and classy without any effort.
How Do You Wear A Formal Skirt In The Winter
Formal looks in winter can become too boring. So if you want to keep your winter formal skirt look still stunning, here are the best tips we love so much to create stylish outfits. They are easy to learn and style.
Choose neutral colors, dark shades, or metallic hues.
This is a great way to style a skirt for a formal event.
If you want colors other than a neutral color, choose dark red and purple.
These colors are more formal and easier to combine with each other, making it easier to create a great formal winter skirt look.
You need to avoid neon or too edgy colors and patterns.
Wear no more than three colors for the whole outfit.
This is the easiest but most effective way to make you look stylish and elegant, and make your outfit look more expensive.
Add statement jewelry.
Beautiful statement jewelry help elevate your casual look or everyday wear for a special occasion. Choose stylish accessories with good quality to give your skirt outfits a more formal look with eye-catching details.
Use fur stoles or faux fur stoles to keep body heat in the colder months.
Fur or faux fur stoles add an extra layer to your outfit, keep your upper body warm, and make you great look gorgeous and elegant.
They are style statement pieces for the winter weather, perfect for formal occasions, and immediately bring your style to the next level.
Shop The Stoles

This post was all about formal winter skirt outfits.
About The Author
Tracy is an experienced personal stylist, shopping expert, and fashion & lifestyle blogger. She has been featured on Time Magazine, Bustle, Best Life, Glam, The Zoe Report, Mic, and GOBankingRates, for her insights on fashion, beauty, home decor, and lifestyle. Read More
Related Posts: