Wondering what jacket or what coat to wear with a long dress? Check this post for classy and stylish long dress and maxi dress outfit ideas for different occasions to elevate your style to the next level! From spring and summer casual time to fall and winter formal events, we've got you covered.
When it comes to finding the perfect coat to go with your long dress, the options can seem overwhelming.
Fortunately, there are a few easy tips you can use to narrow down your choices and make sure you have the perfect outer layer for any occasion.
Whether you're looking for something fancy or more casual, this article will help you find the right coat to complement your outfit.
So scroll down to check these long dress outfit ideas with a coat, and don't hesitate to pin them to your Pinterest board, and share them on social media sites.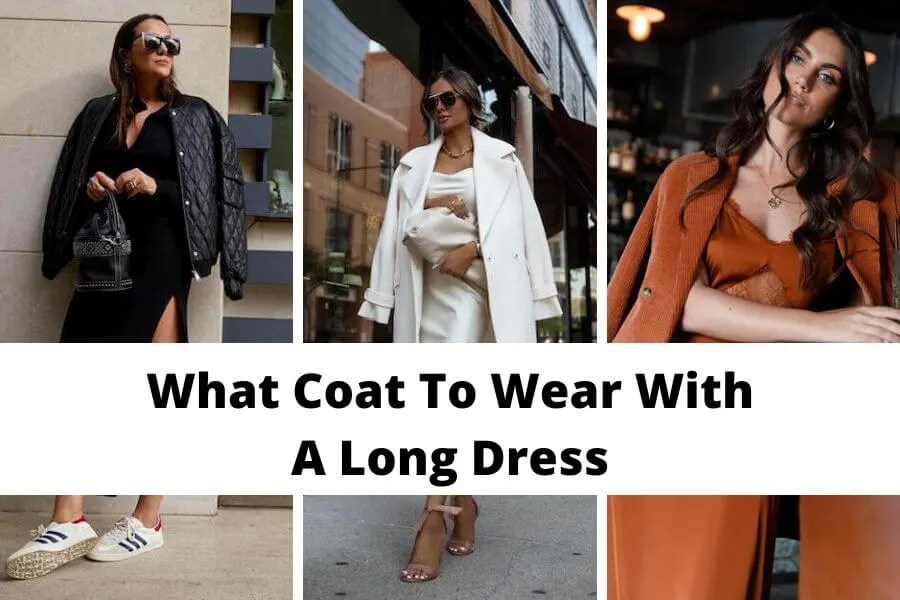 This post may contain affiliate links, which means I'll receive a commission if you purchase through my link, at no extra cost to you. Please read the full disclosure here.
This post is all about what coat to wear with a long dress.
Best Coats To Wear With A Long Dress
If you're looking for the best coat to wear with a long dress, there are a few different styles you can choose from.
A classic wool peacoat is a timeless option that never goes out of style.
For something more modern, try an oversized bomber jacket or a leather jacket over a dress and belt it at the waist for added shape.
If you want to stay warm without compromising on style, look for a faux fur or shearling coat in a neutral hue like black or beige.
A trench coat is another great option to pair with dresses; opt for one in a light color like camel or cream for an elegant look.
No matter which type of coat you choose, make sure it complements your dress and adds the perfect finishing touch to your outfit.
Now scroll on to check more of our favorite coats to wear with a long dress.
Leather Jacket / Moto Jacket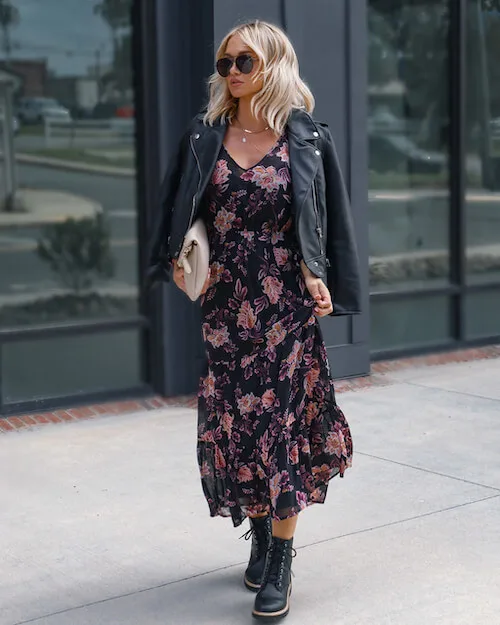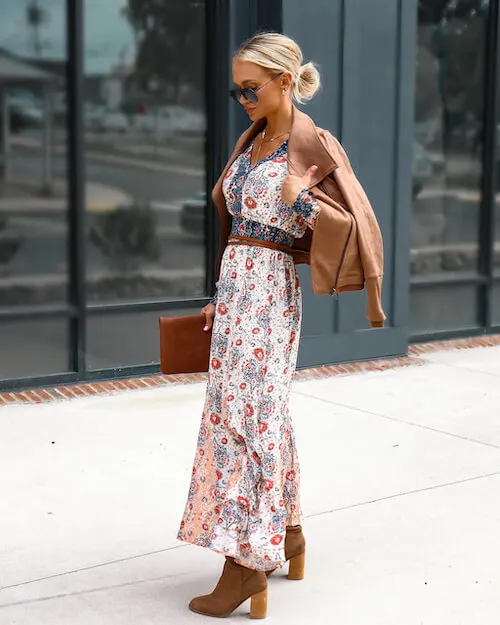 Leather jackets can add a cool and edgy vibe to any outfit.
They are a timeless classic that will never go out of style.
The perfect way to complete your long dress look is by incorporating a leather jacket into your ensemble.
The combination of these two styles creates the perfect balance between sophistication and edge, making it one of the most stylish trends for this season.
Leather jackets come in all shapes, sizes, colors and textures so you're sure to find one that fits perfectly with your long dress look.
Try pairing an oversized leather jacket with a maxi dress for an effortless boho-chic look, or opt for something more structured like a cropped moto jacket over your midi dress for an edgy yet sophisticated aesthetic.
Whatever type of leather jacket you choose, make sure it complements the color and silhouette of your dress for maximum impact.
Short Jacket / Cropped Jacket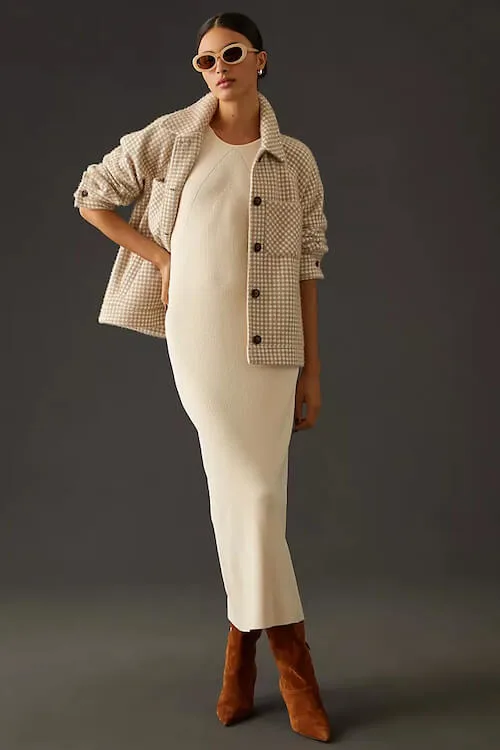 A classic combination that always looks chic is wearing a long dress with a short jacket.
Short jackets are an excellent choice for giving your look a fashion-forward twist.
A short or cropped jacket helps to show off the shape of your dress and create an interesting contrast between the two pieces.
When choosing the perfect cropped piece, consider what kind of fabric you want as well as how it fits in with your overall style.
For example, if you're going for a more romantic vibe, opt for something made from chiffon or organza with delicate details like lace trims or bows.
If you'd prefer something more structured and tailored then choose one made from wool or tweed with sleek lines and clean cuts instead.
Black Maxi Coat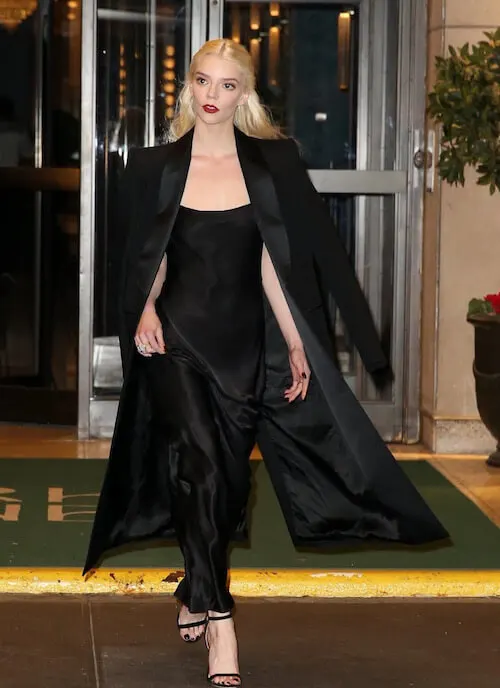 Anya Taylor-Joy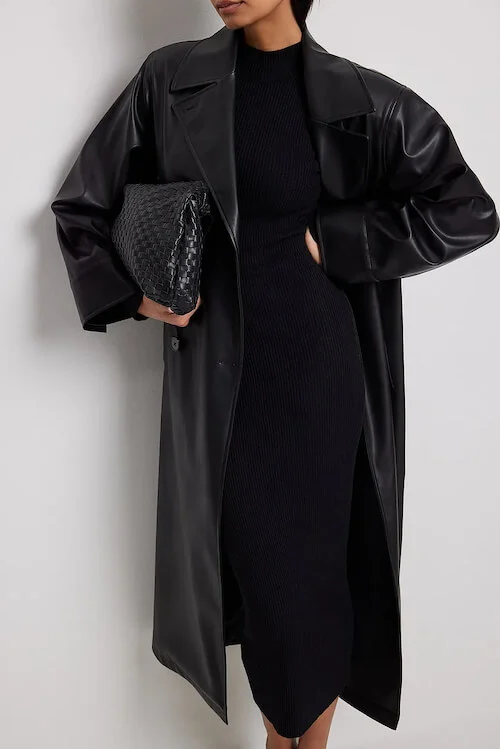 A black maxi coat is never out of style.
Not only does this classic piece of outerwear keep you warm and stylish during the colder months, but it also pairs perfectly with a long dress for an elegant and timeless look.
From lightweight wool blends to heavier woolens to leather pieces, there are plenty of options to choose from that will help complete any outfit.
Maxi coats are not just practical – they can instantly add drama and sophistication to any ensemble.
Whether you're looking for something simple or more statement-making, there's something out there to suit your style and budget.
To stay warm in winter temperatures, look for one made with high quality materials such as cashmere or Merino wool which will provide extra insulation against the cold.
Oversized Coat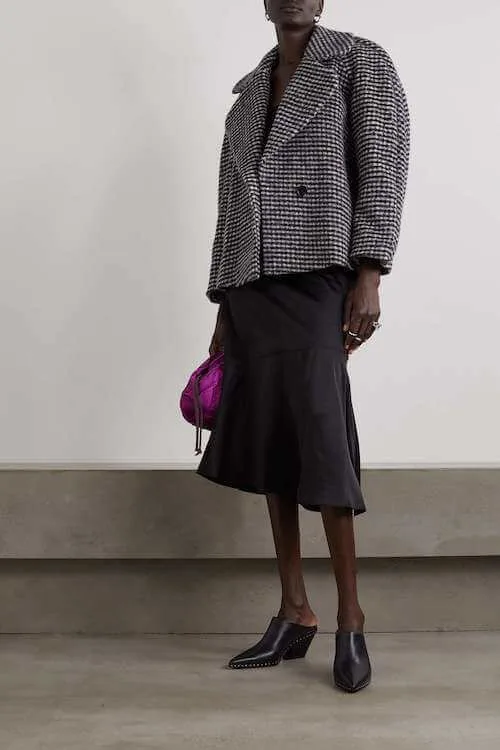 A structured shape, double-breasted cut and wide lapels – oversized coats are a must-have fashion item this season.
Perfect for pairing with long dresses, oversized coats create an effortless yet chic look.
Whether you're looking for something to keep you warm on a cold day or just want to add some drama to your outfit, an oversized coat is the perfect piece of outerwear.
Mid-Length Coat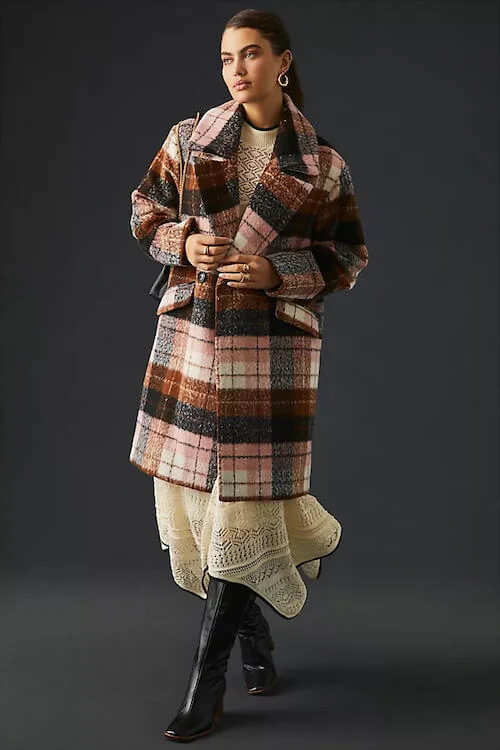 Mid-length coats are a great way to add an extra layer of style and warmth when wearing a long dress during cooler months.
Whether you prefer the classic look of wool, the luxury feel of cashmere, or the edgy appeal of leather, there's something for everyone in this versatile outerwear option.
Not only does it create a fashionable silhouette, but it's also perfect for protecting yourself from chilly weather.
From winter weddings to everyday office wear, mid-length coats offer plenty of fashion versatility and practicality!
For a chic look, try pairing your long dress with a structured single-breasted coat in black or navy blue.
If you're looking for something more daring and trendy, go for a double-breasted coat with bright colors or statement prints.
Light Jacket
A light jacket is a perfect accessory to complete your look when wearing a long dress.
Whether you are looking for a fashionable outfit for vacation or everyday wear, you can never go wrong with layering a long dress with a lightweight piece of outerwear.
From bright colors and bold prints to neutral shades and timeless designs, these jackets will become staples in your wardrobe that you can enjoy all year round!
Pea Coat
Pea coats are classic and timeless pieces of outerwear that can be worn with just about anything!
A long dress is no exception – pairing the two together creates an elegant, yet bold look.
For a more relaxed look, try pairing your favorite pea coat with an ankle-length dress and some knee-high boots.
If you want to make more of a statement, go for an overcoat styled pea coat paired with a maxi dress and some stilettos or heels.
You can even add accessories like scarves and hats to complete the look!
Shorter Coat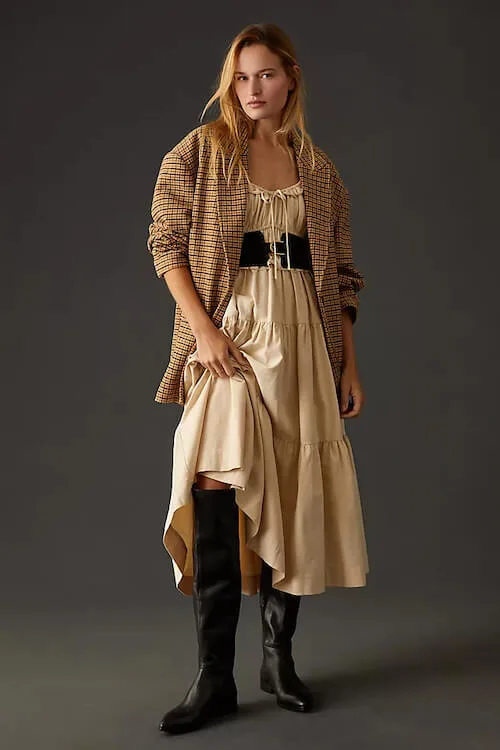 For those looking to add a modern twist to that timeless long dress look, why not opt for pairing it with a shorter coat?
A short jacket or blazer can be the perfect way to update your ensemble and give you an edgy elegance.
Whether you're attending a wedding, cocktail party, prom, or any other formal event, wearing a shorter coat is an ideal option for dressing up any floor-length frock.
Consider choosing materials like velvet or leather for a luxe feel that's sure to turn heads.
Shearling Coat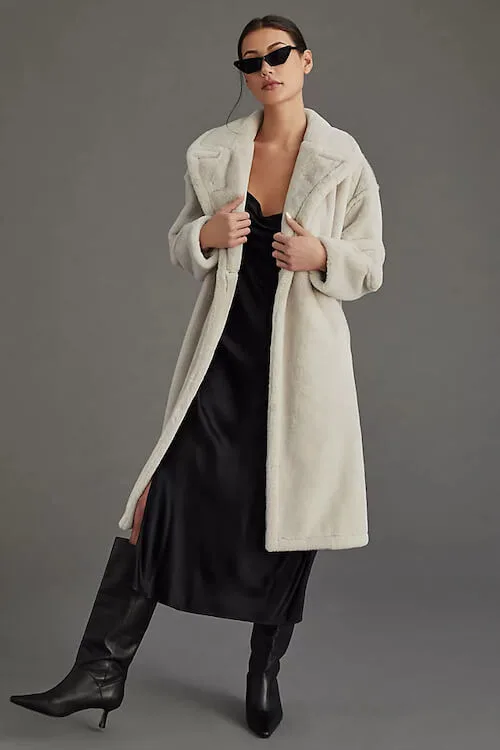 For those who want to wear their shearling with something more than just jeans and a tee, try pairing it with a long dress.
The combination of the two pieces in one outfit can lend itself to an eye-catching contrast of textures and shapes.
There are several ways to incorporate this trend into your wardrobe; some tips include opting for neutral shades like camel, black and ivory, wearing contrasting colors together such as black cropped shearling over an ivory dress, or going full-on glam by choosing bright hues paired together like pink shearling over an orange maxi dress.
Puffer Coat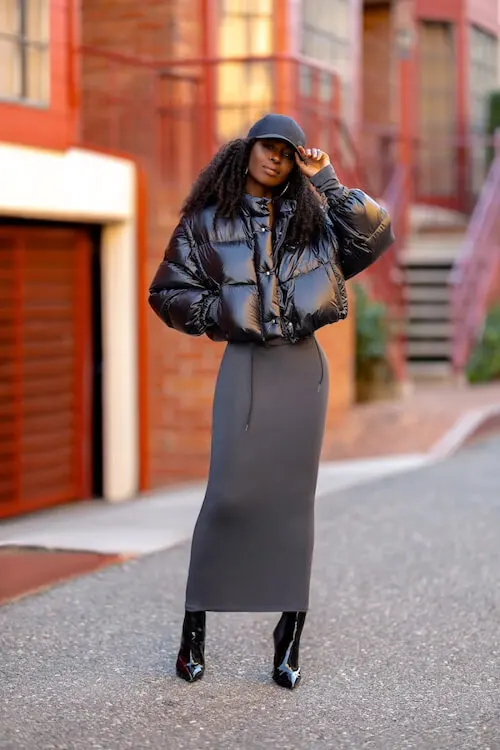 IG@stylepantry
The modern fashionista knows that a cropped puffer coat is the perfect piece to top off any outfit.
With its sleek design, this piece of outerwear can take your look from basic to bold, giving an unexpected edge when paired with a timeless maxi dress.
Choose one in a bright color or a classic black color for the ultimate modern look.
Whether you're attending a casual date or rocking out at a concert, you'll be sure to make heads turn in this show-stopping ensemble!
For added drama, try accessorizing with statement earrings and trendy platform boots.
Blazer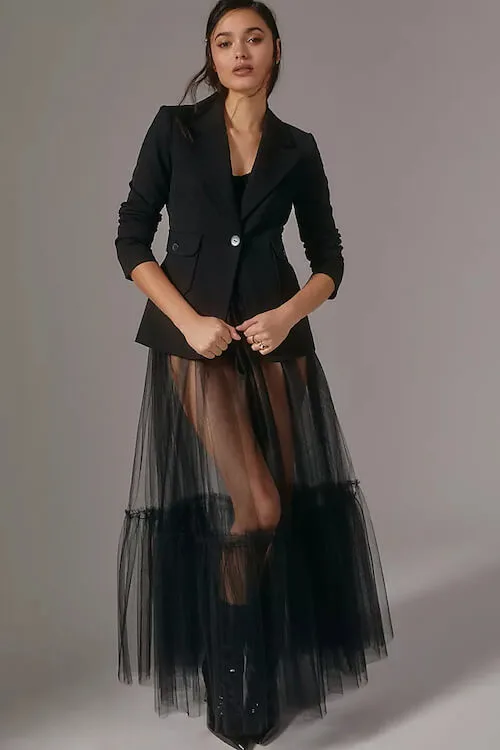 Spring and Summer is the season of long dresses, but what do you wear on top?
Blazers are a great way to add structure and sophistication to any look.
Pairing a blazer with a long dress can be an ideal way to create an outfit that looks modern yet timeless.
The key to figuring out which blazer will work best with your dress is choosing one that complements its shape and length.
A fitted or tailored blazer works best for sleeker silhouettes, while looser styles suit billowy maxi dresses.
You can also choose between longer cropped fits or shorter cropped fits depending on the style of dress you're wearing.
Opt for neutral colors like black, navy blue, or gray—they'll pull together any ensemble without competing too much with the pattern of your dress.
Trench Coat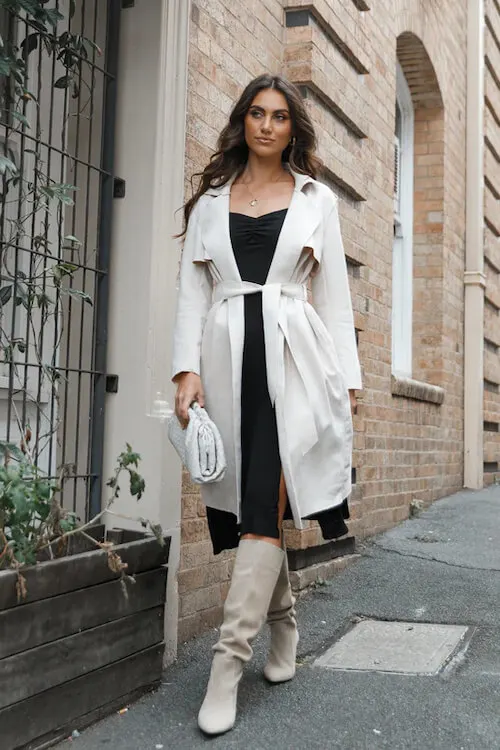 Trench coats are a timeless wardrobe staple.
They instantly add sophistication to any outfit and can be dressed up or down depending on the occasion.
When paired with a long dress, a trench coat is a perfect way to add an extra layer of warmth and style.
For daytime outings, opt for a light-colored cotton trench coat for added breathability.
Make sure it hits past your hips for maximum coverage and look for details like a belt cinching at the waist to create a shape.
Balance out the volume of your dress by belting your trench at the waist.
Finish off this classic look by pairing it with boots or loafers depending on your comfort level.
Looking for something more formal?
Opt for a black or dark gray trench coat and pair it with a fitted dress. Add a pair of heels to complete the look.
Faux Fur Coat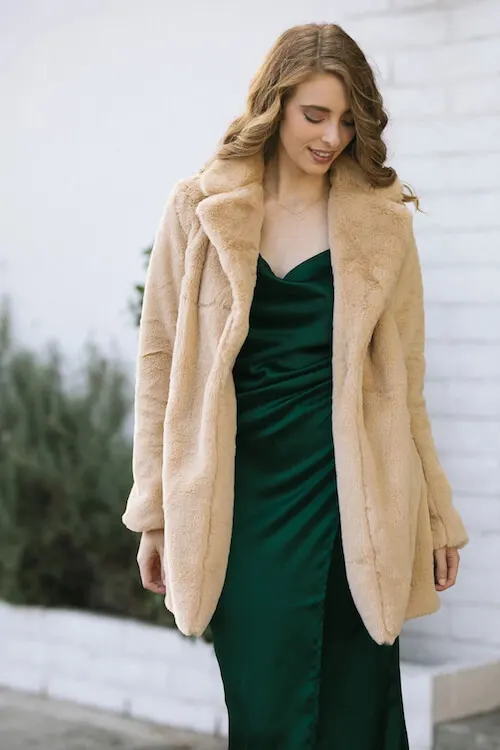 This luxurious statement piece has always been a staple for winter wardrobes and continues to remain popular today.
Faux fur coats have the added benefit of being incredibly warm while also managing to look incredibly chic at the same time – meaning you won't have to sacrifice comfort for style this season!
Pair your new coat with a beautiful long dress and embrace your inner glamour queen this winter!
Denim Jacket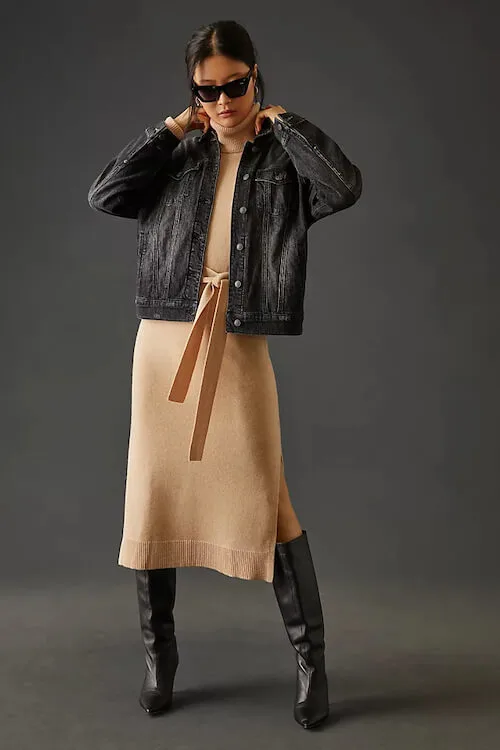 A denim jacket adds an instant edge and personality to your look without stealing the show from your dress.
It looks especially good paired with floral or patterned dresses as well as simple neutral color midi dresses for an easy yet chic approach to dressing up for any occasion.
Whether you opt for a form-fitting jean jacket or an oversized boyfriend style, adding this classic staple will give your attire some extra flair that is sure to turn heads!
Camel Coat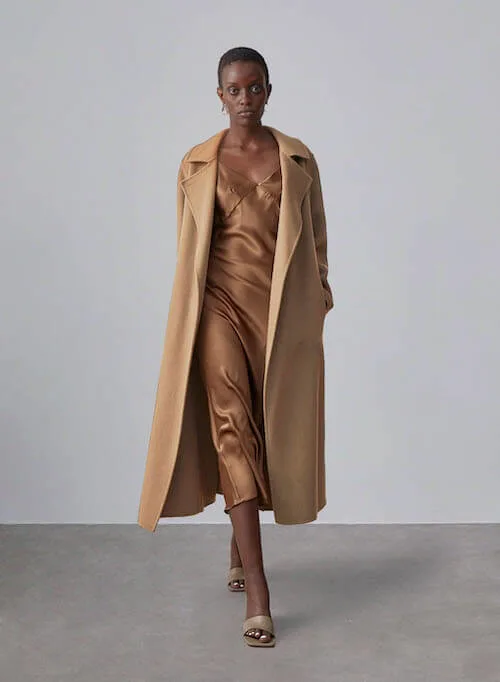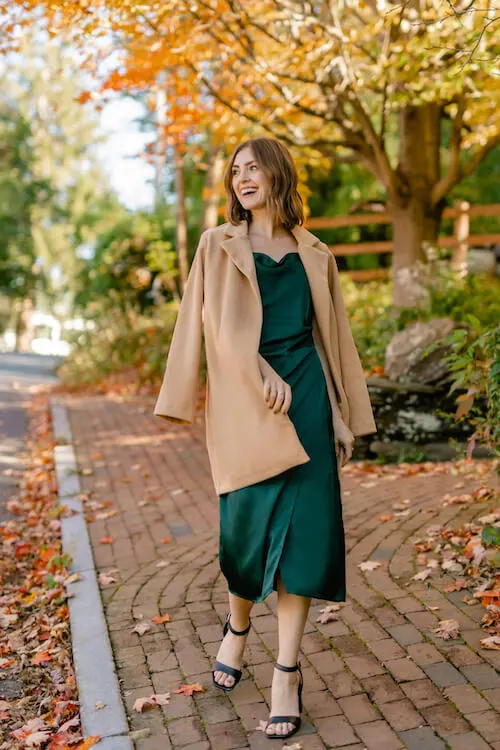 A camel coat or camel jacket is the perfect addition to any long dress for a timeless and elegant look.
Whether you're going for a casual lunch or an evening out on the town, this sophisticated combination will have you feeling glamorous all day long.
The best part about wearing a camel coat with a maxi dress is that the color complements almost every hue and print, so styling your outfit can be stress-free.
To get this super stylish look, choose a classic cut of camel coat in either wool or cashmere that hits at mid-thigh or slightly below the knee.
This length is ideal as it won't overwhelm your ensemble but still adds some necessary warmth if needed in cooler climates.
Long Wool Coat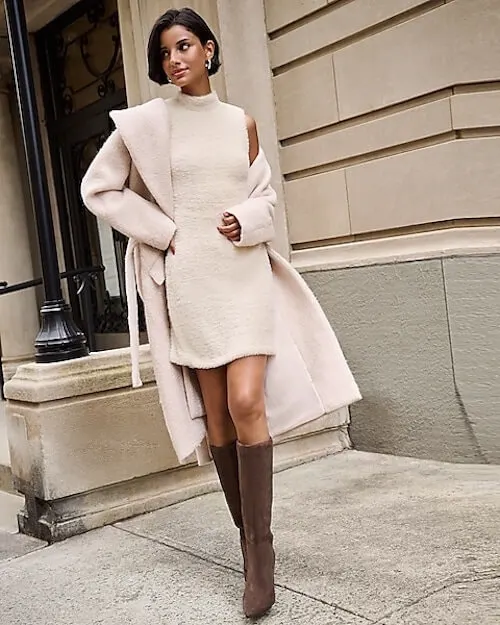 A long wool coat can be paired with a variety of ensembles, but when worn with a long dress it creates an unforgettable look that will have heads turning.
The best way to wear this classic combination is by opting for neutral tones.
Try pairing your favorite cream, black or grey or any other neutral color wool coat with a white, navy or pastel dress in order to create an eye-catching ensemble.
To ensure you stay warm on colder nights, layer up with chunky scarves and other accessories to complete the look.
If you're feeling daring, why not opt for bright colors? A pastel pink wool coat will certainly have people talking!
What winter coat to wear with long dress?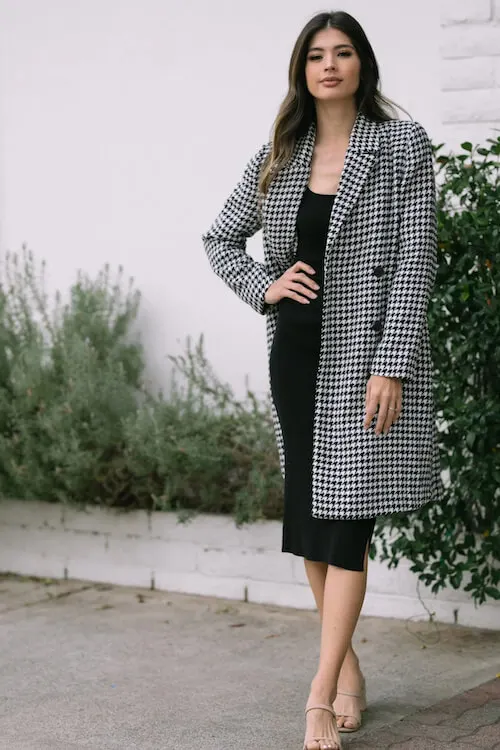 When the cold weather arrives, it's important to keep cozy with the right winter coat.
But if you're donning a long dress, which style of coat should you wear?
The answer depends on what kind of occasion you are attending and the overall look you are trying to achieve.
If your style is more formal, then a classic peacoat with its double-breasted front and structured shape will be your best bet.
Keep warm while still looking chic by pairing this timeless option with a long dress.
If you want something more casual, an oversized wool coat is perfect for adding extra warmth without sacrificing your fashionable ensemble.
Layer it over leggings and complete the look with boots for a stylish outfit that keeps out the chill of winter.
Can You Wear A Short Coat With A Long Dress?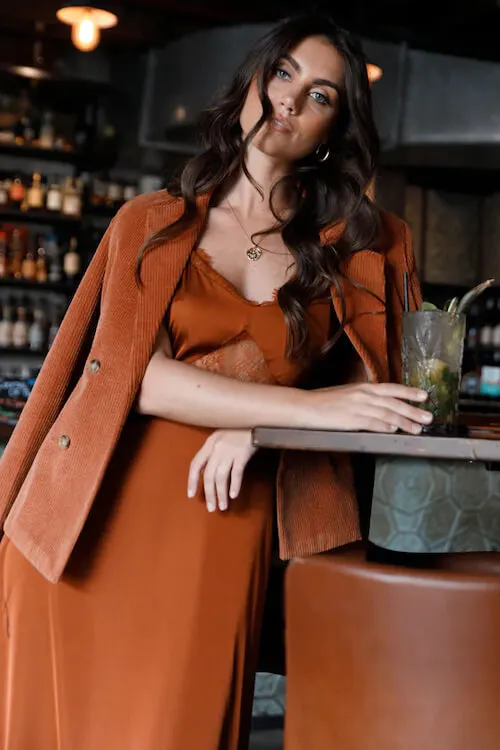 Yes, you can wear a short coat with a long dress! It's an easy way to add some extra style and sophistication to your look.
A short coat works best with a dress that falls just below the knee or longer.
For example, if you are wearing a floor-length evening gown or maxi dress, pairing it with a cropped peacoat will create an elegant ensemble.
Plus, this combination is perfect for transitioning from day to night – just swap out your ballet flats for stilettos and switch up your bag.
The trick is to choose the right type of outerwear for the occasion.
Opting for something lightweight like a chic blazer, denim jacket or leather moto jacket will keep you looking cool while still providing enough warmth against the elements.
For a more formal occasion, choose a faux fur piece to add luxury vibe to your whole look.
Best Coats To Wear Over Formal Dresses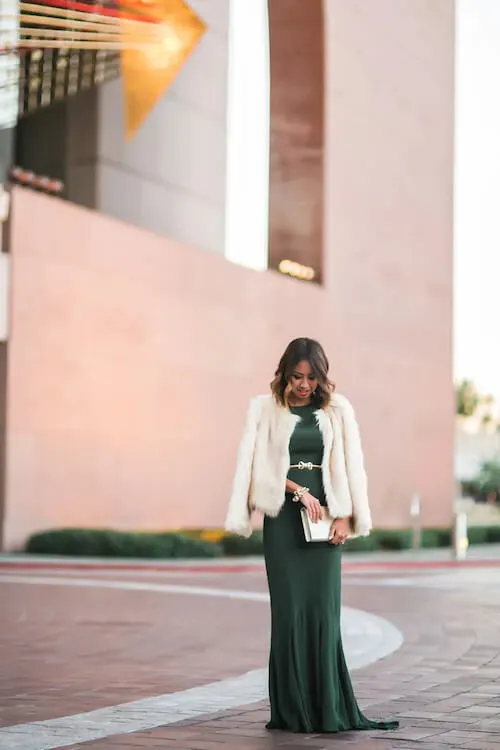 IG@laceandlocks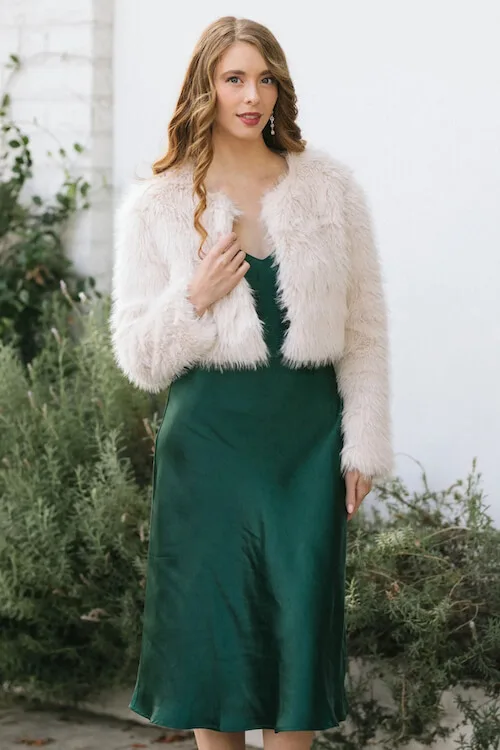 Formal dresses can be stylish, sophisticated and the perfect choice for special occasions. But what do you wear when the weather turns cold?
To ensure you look your best, there are a few options for coats to wear over formal dresses that will keep you warm and stylish throughout any event.
When it comes to finding the right coat for an occasion, consider features such as color, fabric, length and fit.
A long wool coat is a classic option that's both timeless and polished.
Look for neutral colors like black or gray so it will match any dress style or color combo.
If you want something a bit more fashion-forward, try a faux fur coat with faux leather trimming or go all out with an embellished jacket featuring lace detailing or sequins. These pieces are sure to make a statement while still keeping your look elegant and classy.
What Do You Wear Over A Long Formal Dress In The Winter?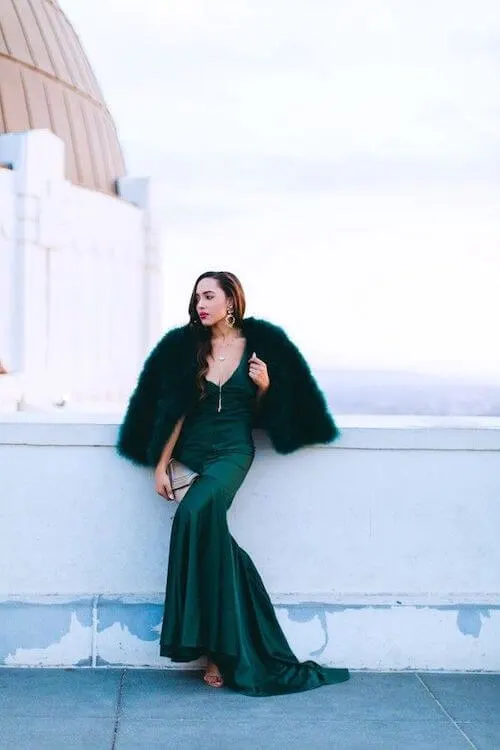 via Pinterest
To complete your ensemble and keep warm in cooler temperatures, consider adding one of these four classic pieces: a long coat, cape, poncho or fur shrug.
A timeless long coat adds just the right amount of sophistication to your outfit. Look for styles that complement the length and color of your dress for an elegant touch.
Capes are another fashionable option that not only add warmth but also give you an extra layer to show off the details on your gown.
For something more unique and cozy go with a poncho—its oversize silhouette will help protect from chillier temperatures without sacrificing style points!
Finally, a faux fur or fur shrug offers an extra touch of luxury, especially when paired with fur boots or gloves.
How To Style Coats With Dresses: Chic Outfit Ideas
Want more inspiration? Scroll on to check more long dress and coat combination ideas to copy.
Pink Maxi Dress + Black Leather Jacket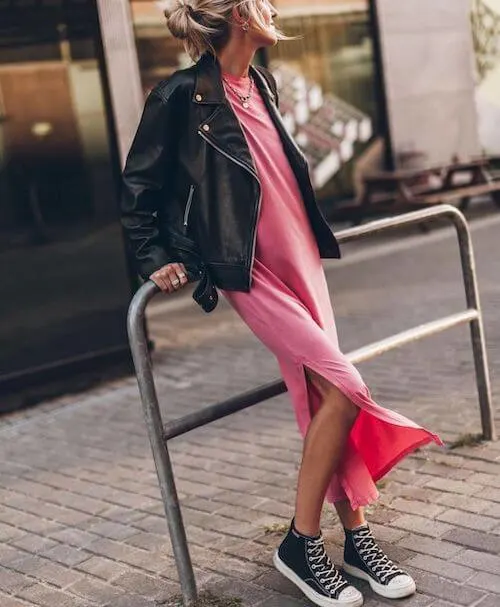 IG@mikutas
Laid Back Casual Style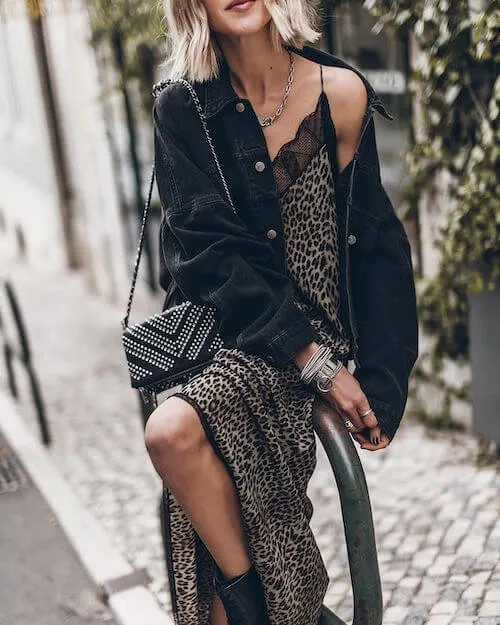 IG@mikutas
Long Camel Coat + White Slip Dress
IG@sarahchristine
Simple Midi Dress + Denim Jacket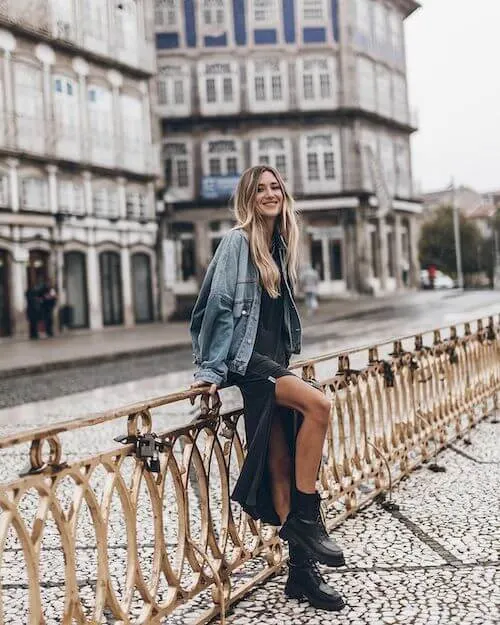 IG@mikutas
Beige Long Sweater Dress + Trench Coat + Tan Ankle Boots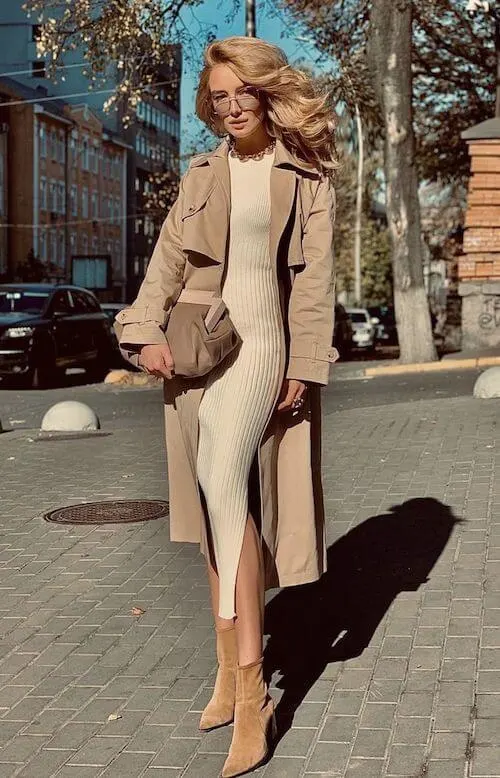 via Pinterest
Long Dress Outfit With Sneakers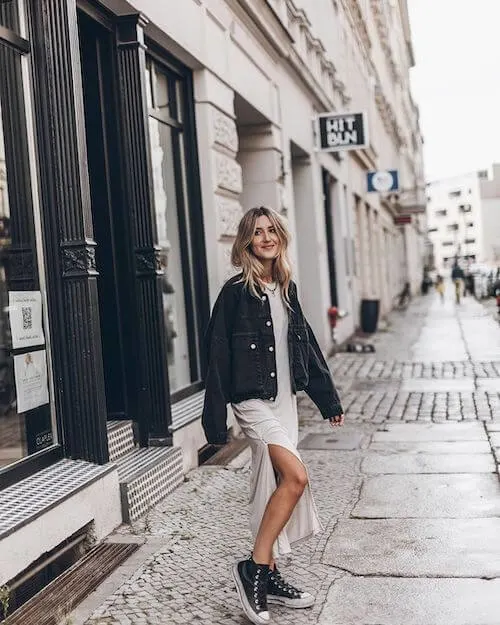 IG@mikutas
A Cute Casual Look For Warm Months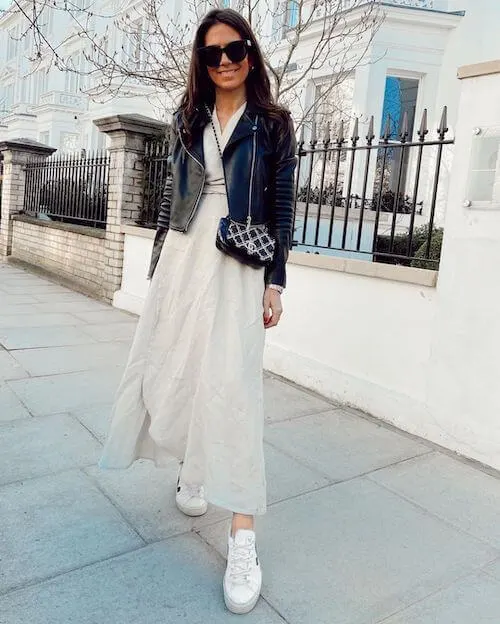 IG@beatriz84
Beige Long Coat + White Turtleneck Long Knit Dress + Chunky White Boots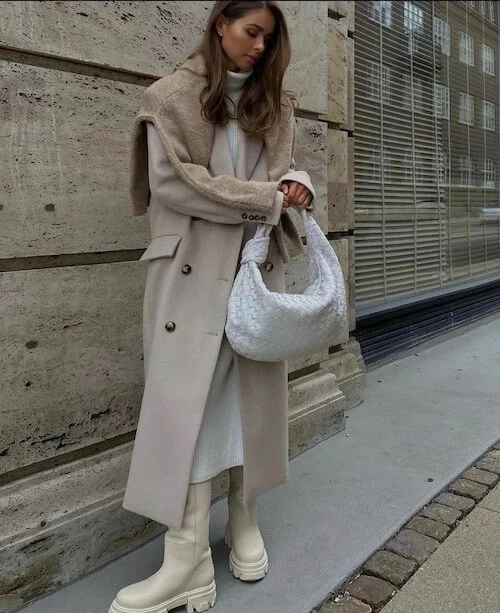 via Tumblr
Elevated Casual Style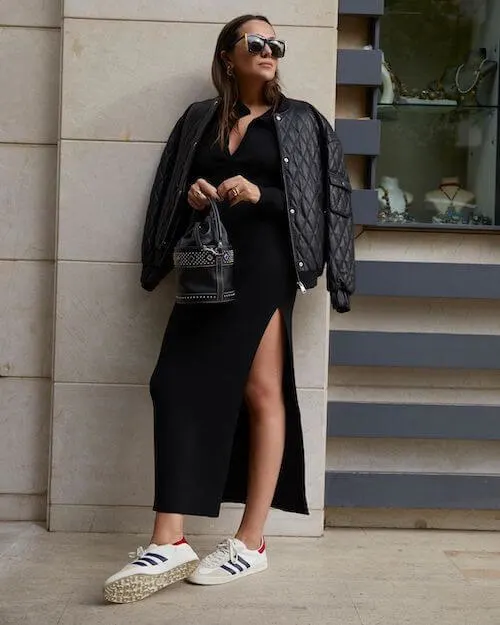 IG@modatutkusu
Summer Midi Length Dress + Short Coat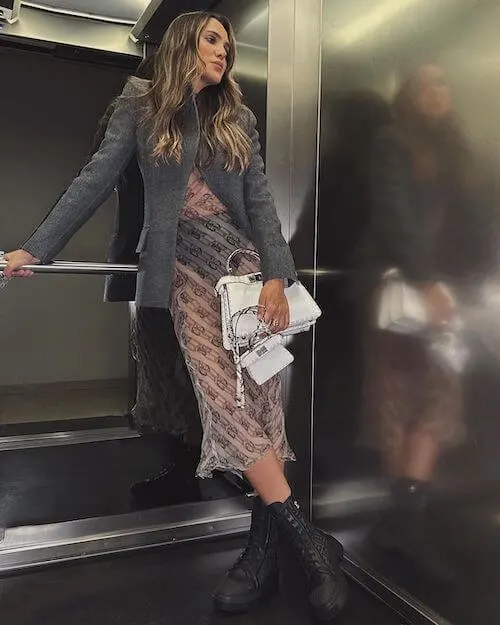 IG@modatutkusu
Long Black Dress + Oversized Blazer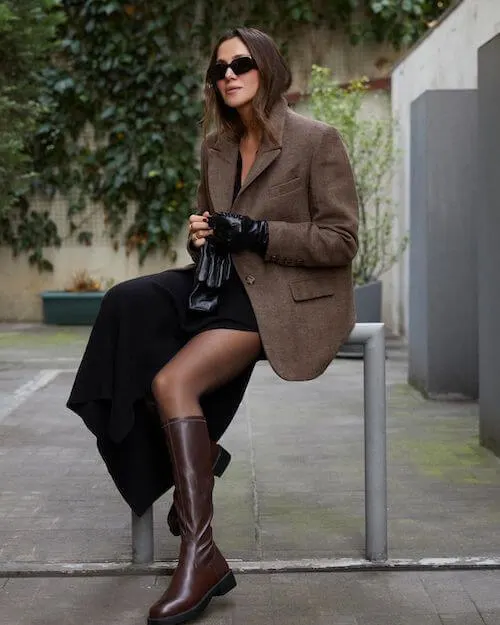 IG@modatutkusu
Cocktail Dress + Blazer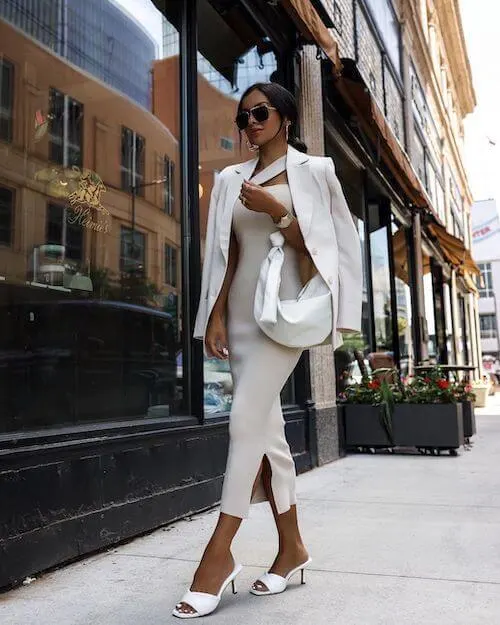 IG@miamiamine
Stylish Long Dress Outfit For Fall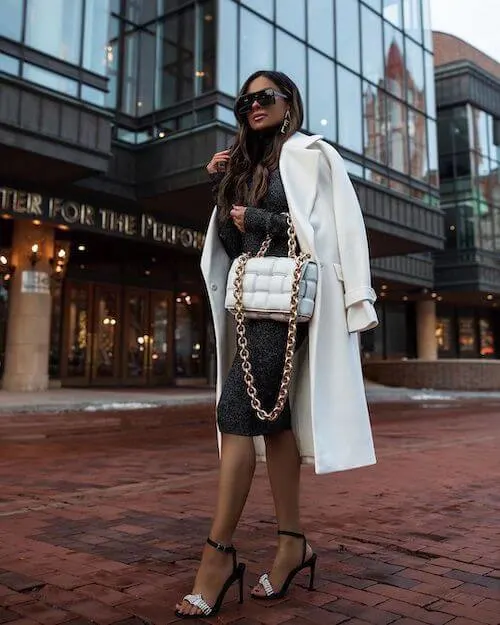 IG@miamiamine
Classy Winter Wedding Outfit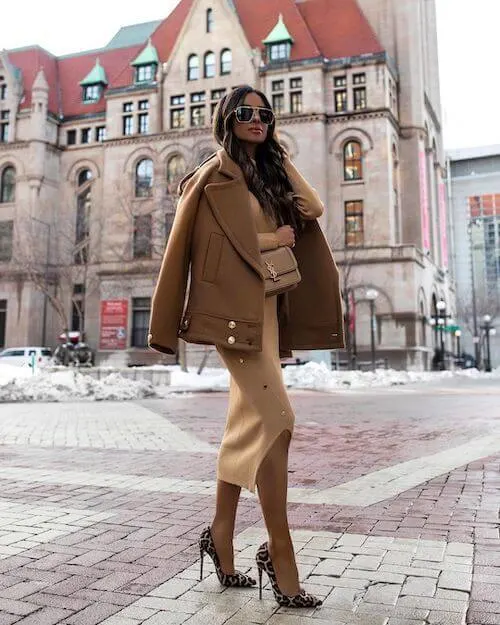 IG@miamiamine
White Sweater Dress + Teddy Coat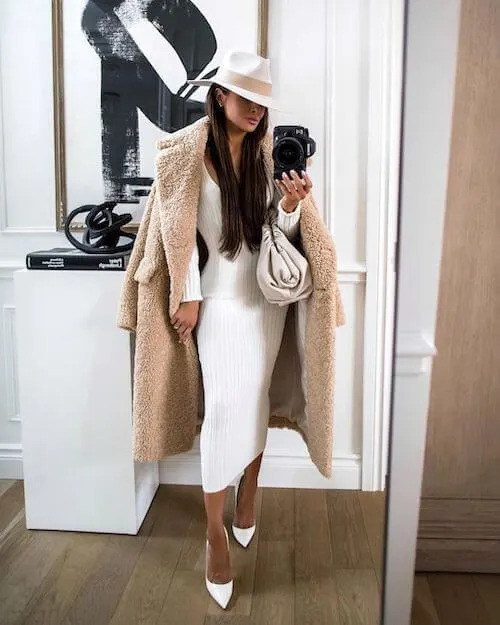 IG@miamiamine
Chic Sexy Date Night Look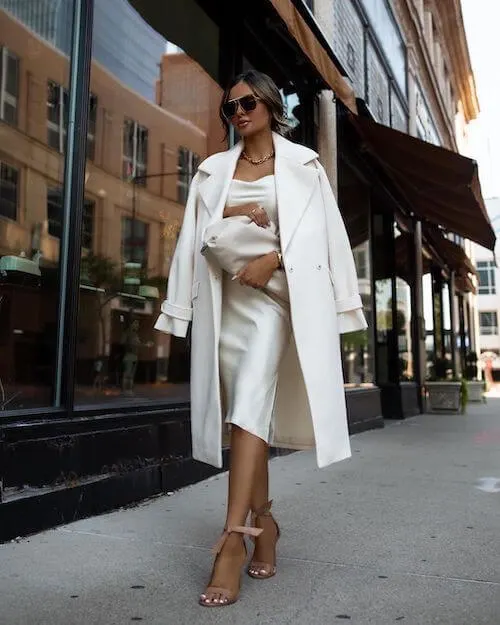 IG@miamiamine
Floral Summer Dress + Black Coat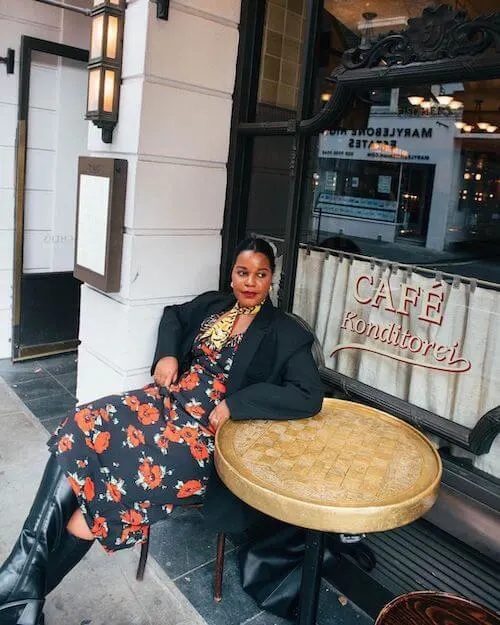 IG@styleidealist
Shorter Dress + Blazer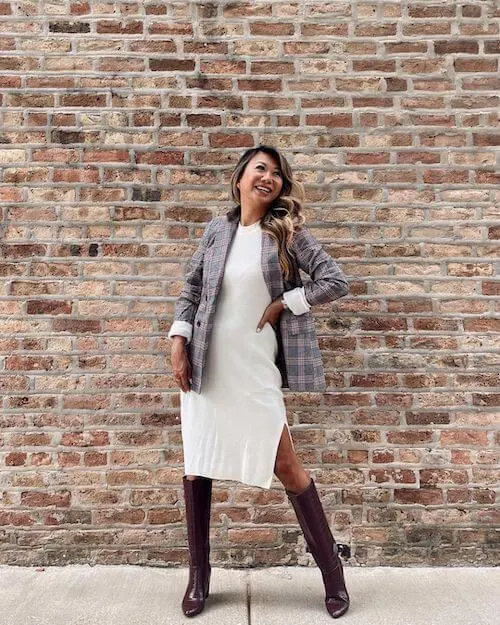 IG@redsolesandredwine
Mini Dress + Long Wool Coat + White Boots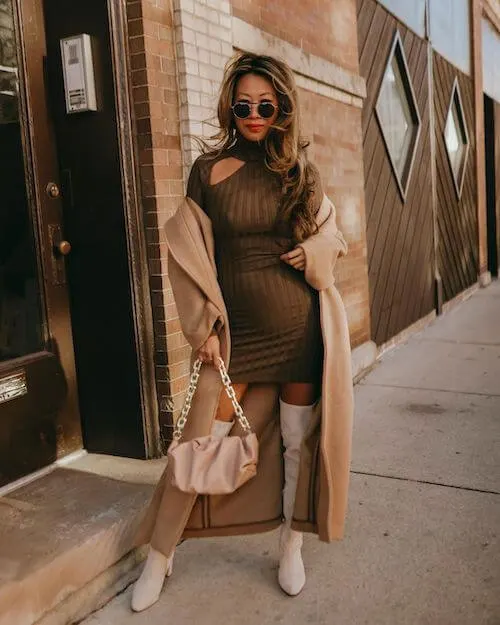 IG@redsolesandredwine
Chic Neutral Colors
IG@lovisabarkman
Formal Gown Slip Dress + Black Blazer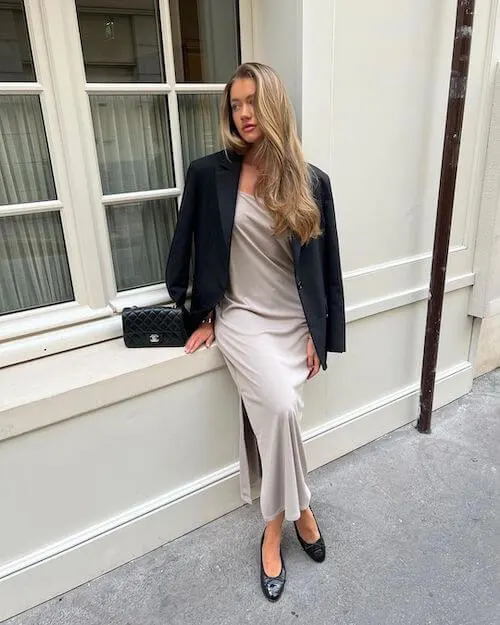 IG@lovisabarkman
An Elegant Outfit With Floral Dress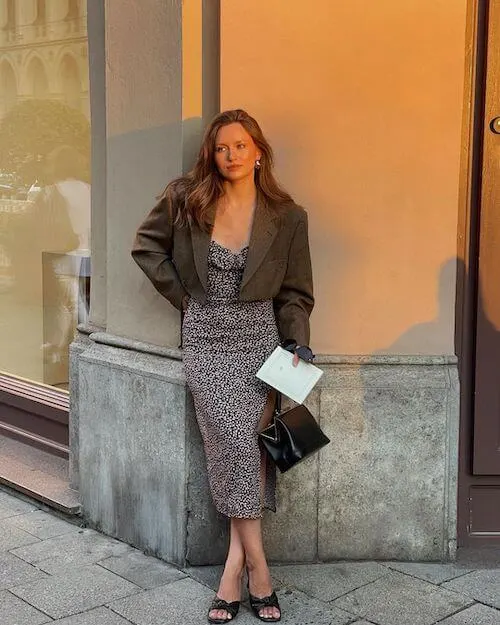 IG@livia_auer
Red Slip Dress + White Trench Coat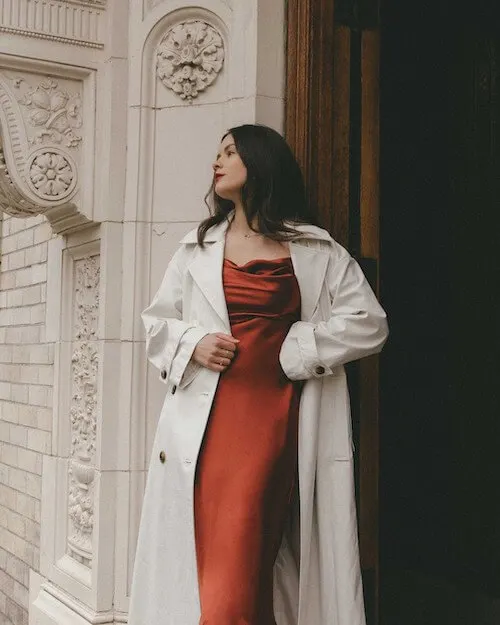 IG@sarahchristine
What do you wear with a long dress in the winter?
Dressing for cold weather can be a tricky task, especially when you're looking to wear a long dress.
To help with this dilemma, below are my favorite options to wear with a long dress in the cold months.
One great option is to layer with a cardigan or wrap. A long line cardigan or an embellished wrap are both great ways to add warmth while still keeping the look of your dress intact.
For an evening out, try choosing something in velvet or cashmere for added luxury and texture.
Another idea is to switch up your undergarment game. Investing in quality tights made from wool blends will keep you warm without sacrificing style.
If you're looking for something more casual yet fashionable, pair your long dress with knee-high boots and chunky knit sweaters. This relaxed style is perfect for any weekend outing or lunch date with friends!
Finally, add a cozy coat to keep you warm enough all day long.
What To Wear Over A Dress To A Wedding
Wearing a dress for a wedding is a great idea.
Here are some stylish options for what to wear over a dress to a wedding:
A blazer is always an elegant choice when it comes to dressing up.
Choose one with subtle details like contrast stitching or intricate buttons – this will add interest and personality to your ensemble.
A fitted blazer in a neutral color will pair especially well with any dress you've chosen.
If you want something more delicate, try pairing your look with a light cardigan or cropped jacket made of lace or tulle fabric.
This option adds femininity while still looking polished and put-together.
This post was all about what coat to wear with a long dress.
About The Author
Tracy is an experienced personal stylist, shopping expert, and fashion & lifestyle blogger. She has been featured on Time Magazine, Bustle, Best Life, Glam, The Zoe Report, Mic, and GOBankingRates, for her insights on fashion, beauty, home decor, and lifestyle. Read More
Related Posts: