Looking for the best denim jacket outfit ideas for women? Check this post for chic and cute ways to style a jean jacket for women to copy directly. From oversized denim jacket outfit ideas to cropped denim jacket outfit ideas, we've got you covered.
When it comes to fashion, denim jackets are a timeless classic.
They are the perfect way to complete an outfit, adding a touch of modern style with a hint of vintage flair.
Denim jackets can be styled in countless ways to create edgy, funky or sophisticated looks for any occasion.
This article will provide helpful ideas for how to wear a denim jacket and make any outfit stand out.
This post may contain affiliate links, which means I'll receive a commission if you purchase through my link, at no extra cost to you. Please read the full disclosure here.
This post is all about Denim Jacket Outfit Ideas For Women.
Are Denim Jackets In Style?
The answer is a resounding yes! Denim jackets continue to remain popular amongst female fashionistas, seen all over the street style scene.
They can be worn with everything from jeans and tees to dresses and skirts, making them the perfect layering piece for any wardrobe.
Not only do they add an extra layer of warmth when needed, but they also instantly elevate your outfit while giving it that effortlessly cool vibe.
With so many colors, washes, and styles available on the market today, there's sure to be one out there that fits your personal aesthetic.
What Can You Wear with a Denim Jacket?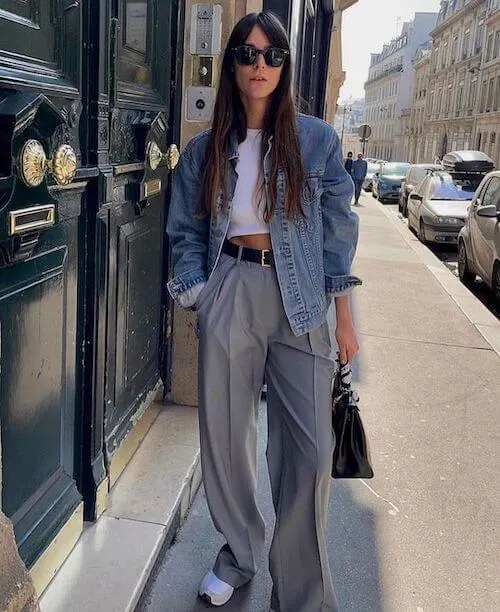 @leiasfez
This timeless piece of clothing also looks great with almost any outfit.
Layer it over dresses, jeans,pants, shorts—anything goes!
And don't forget about the accessories: scarves, hats, boots and jewelry can all be used to add your own personal touch to your look.
In this post, we are sharing our favorite ways to style a denim jacket for different occasions.
How to Style Denim Jacket: Best Denim Jacket Outfit Ideas For Women
Denim Jacket + Mini Dress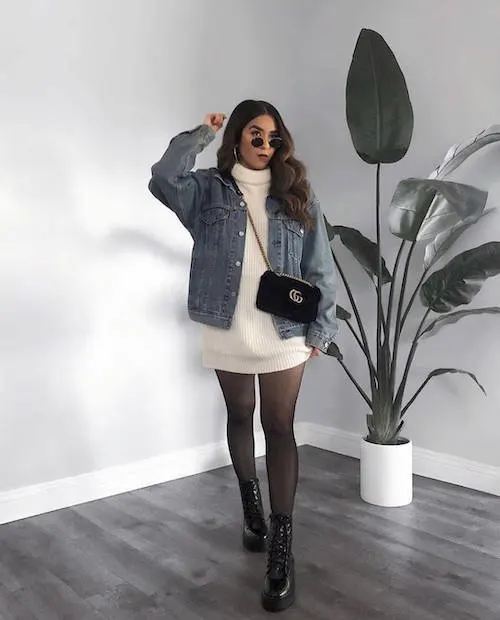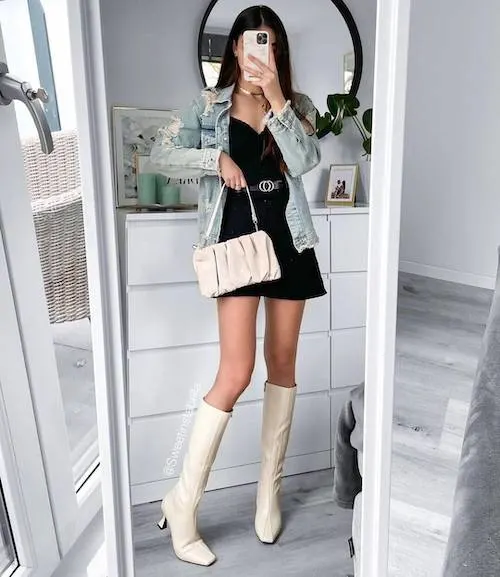 Denim Jacket + Mini Skirt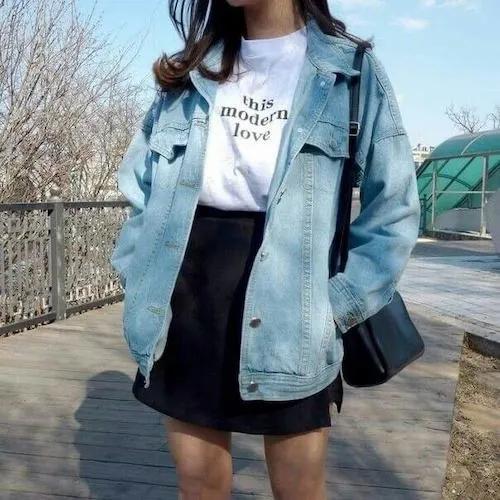 @weheartit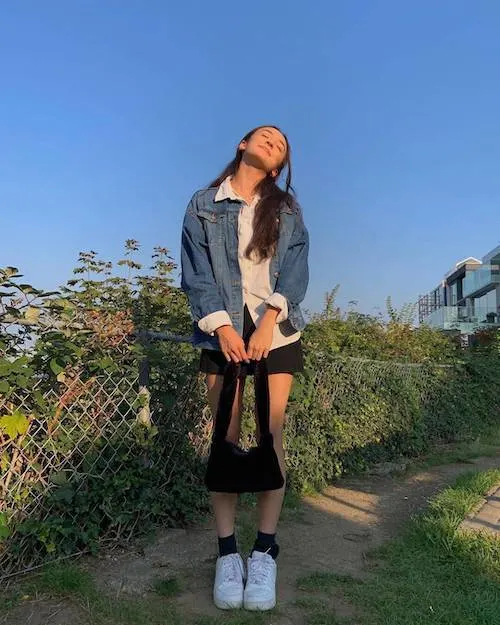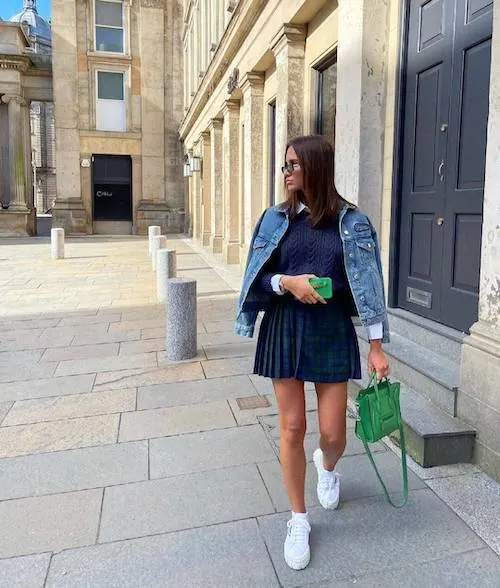 @weheartit
Denim Jacket + Leggings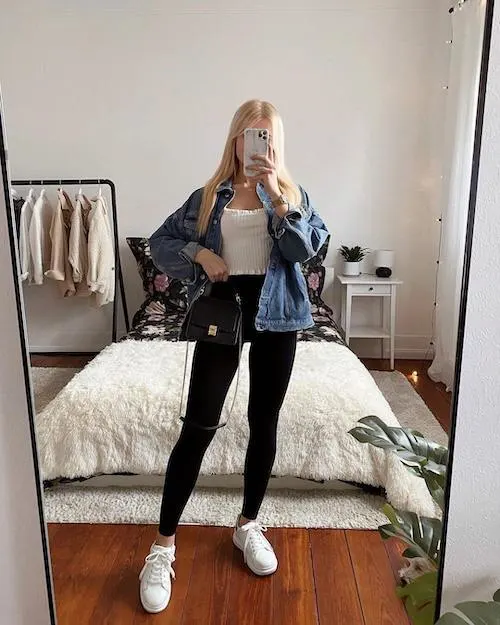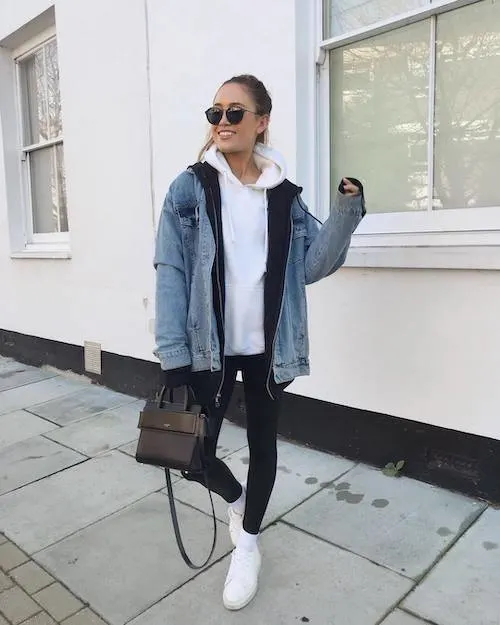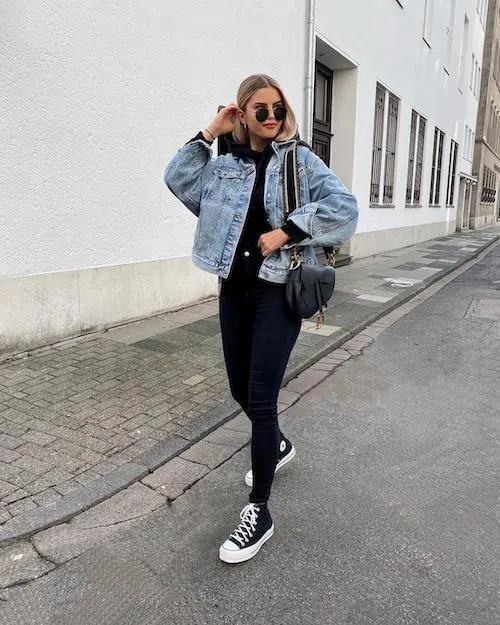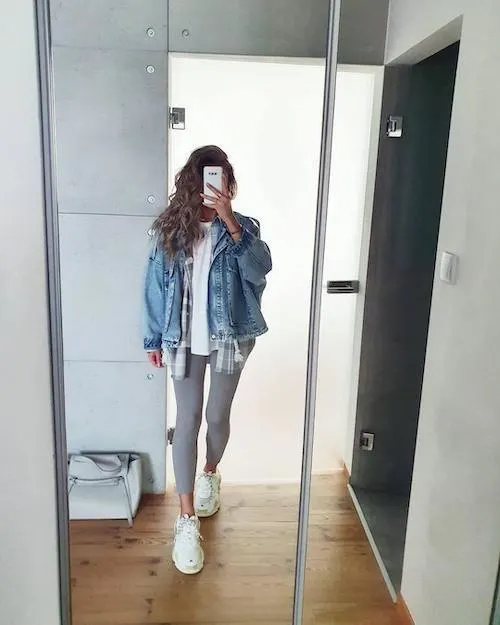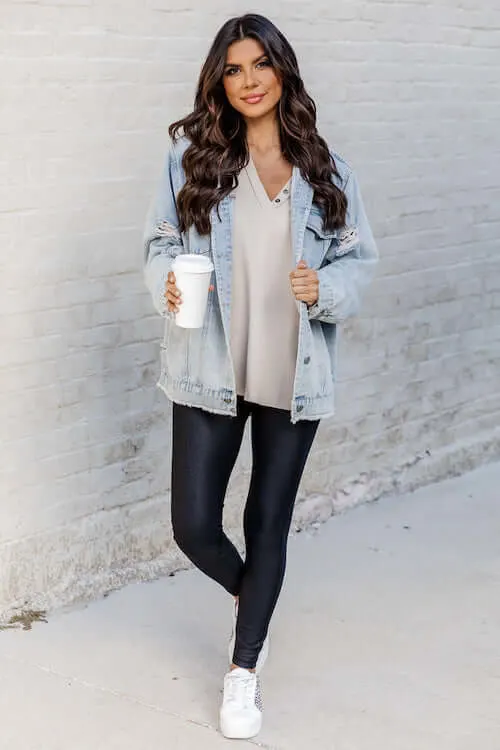 Denim Jacket + Maxi Skirt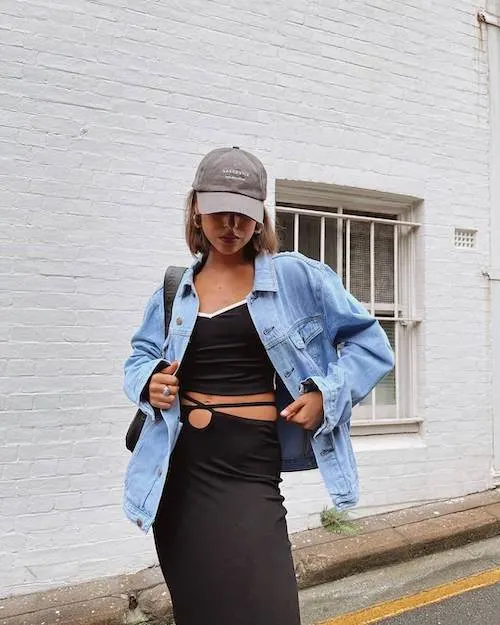 Denim Jacket + Biker Shorts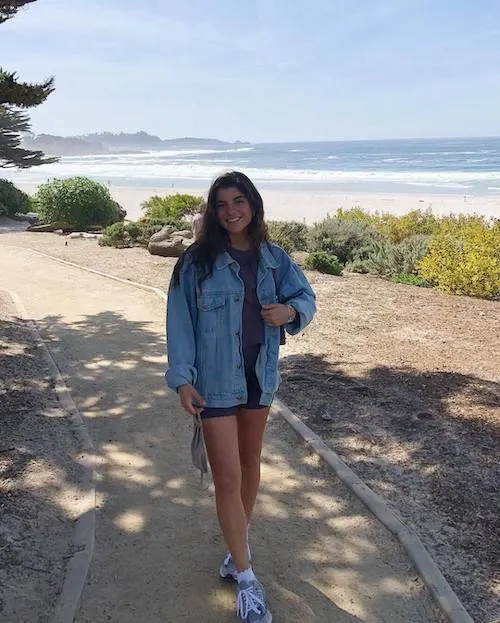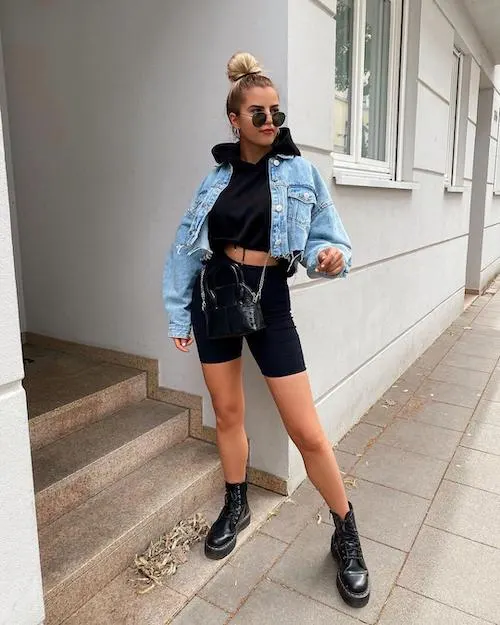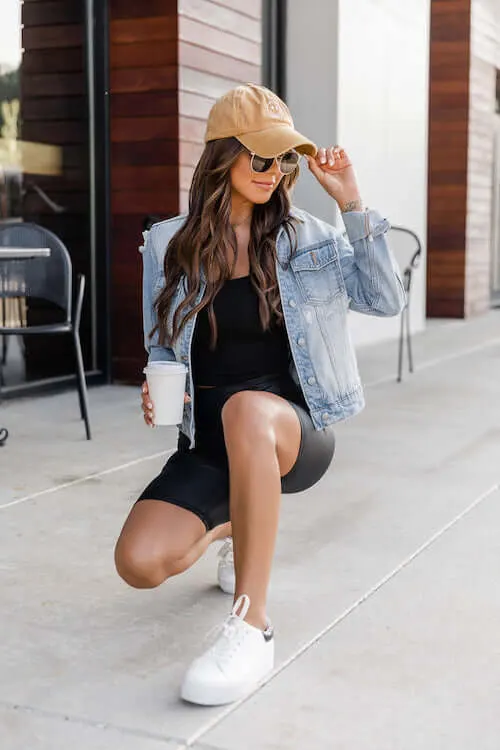 Denim On Denim (Double Denim)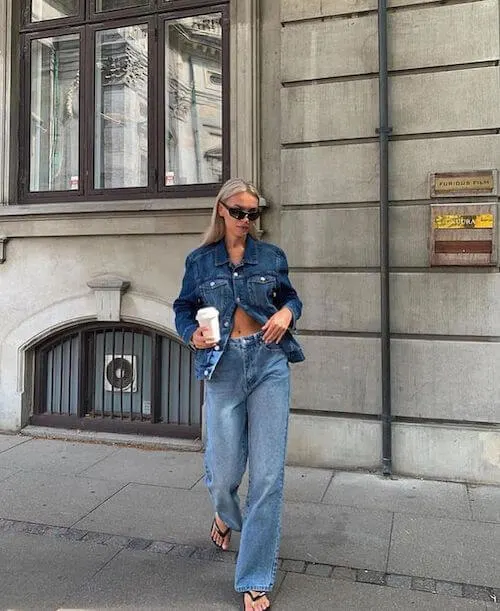 @mariellelindahl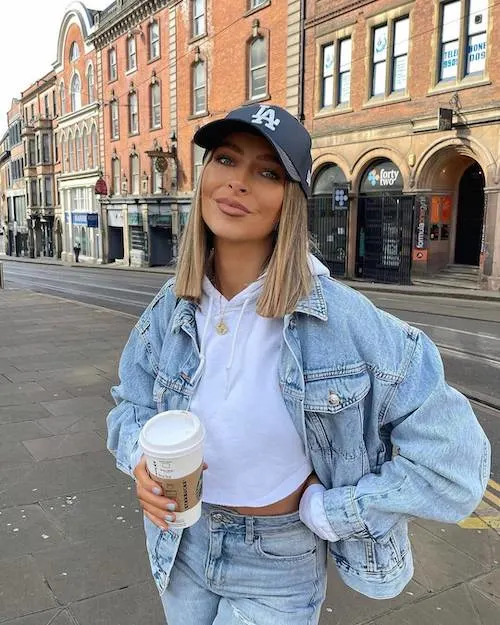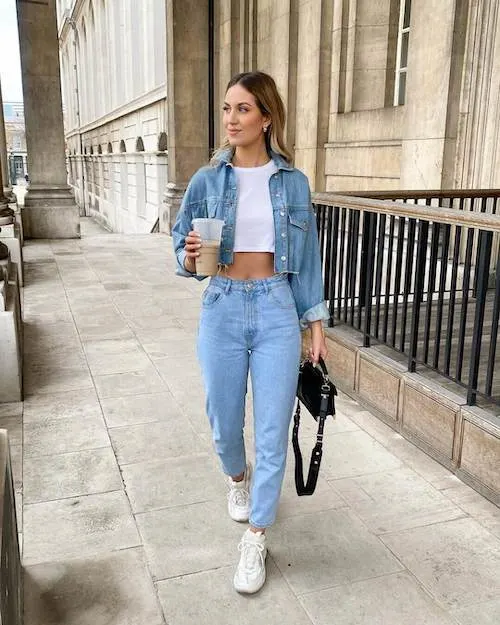 @weheartit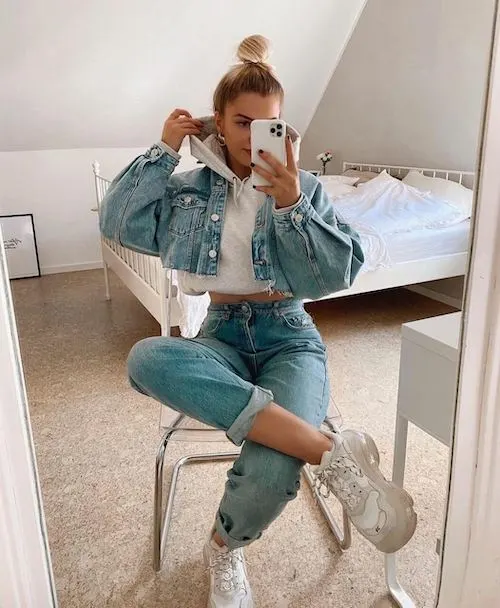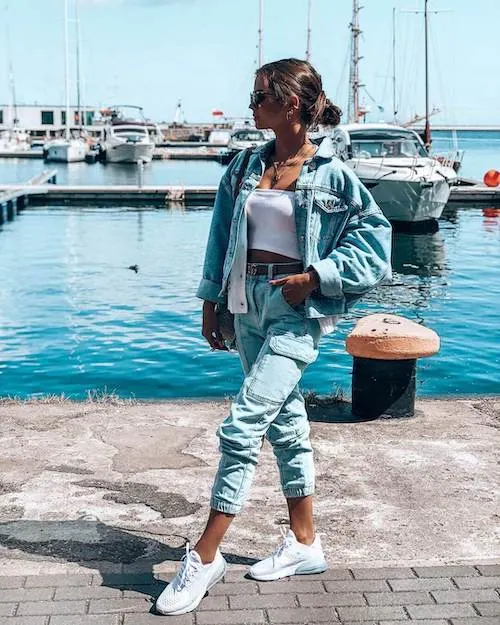 @weheartit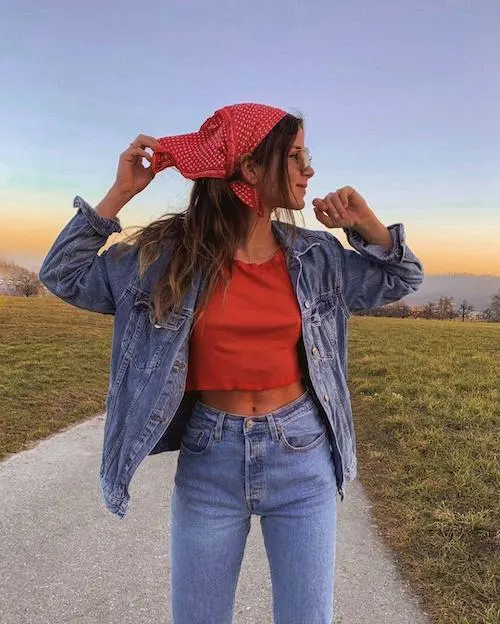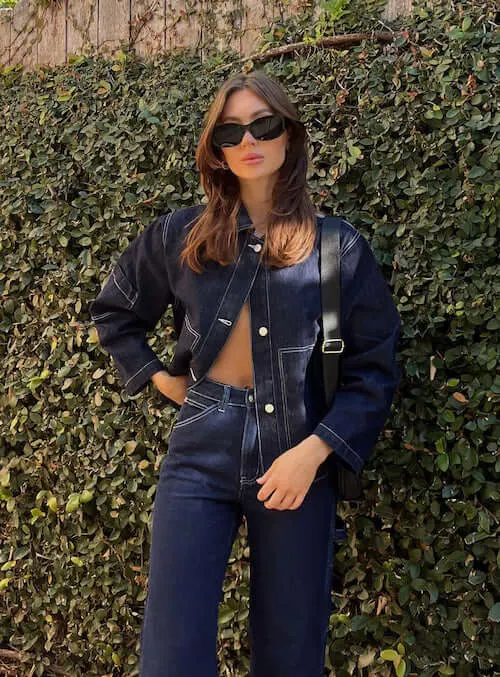 Denim Jacket + Leather Pants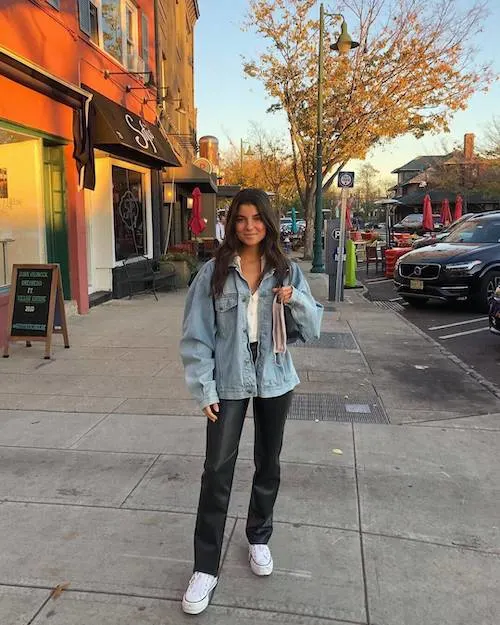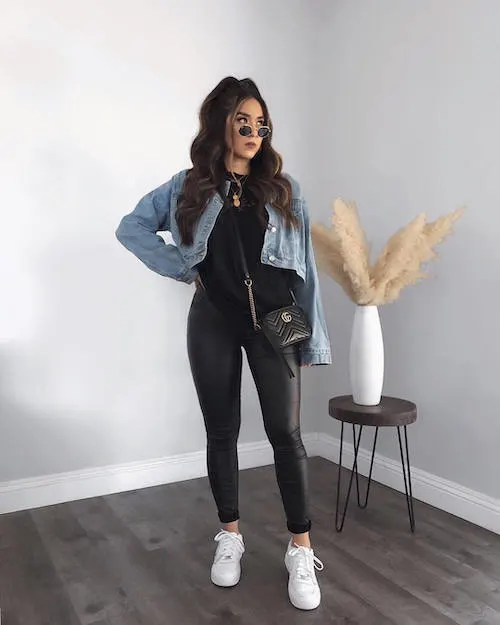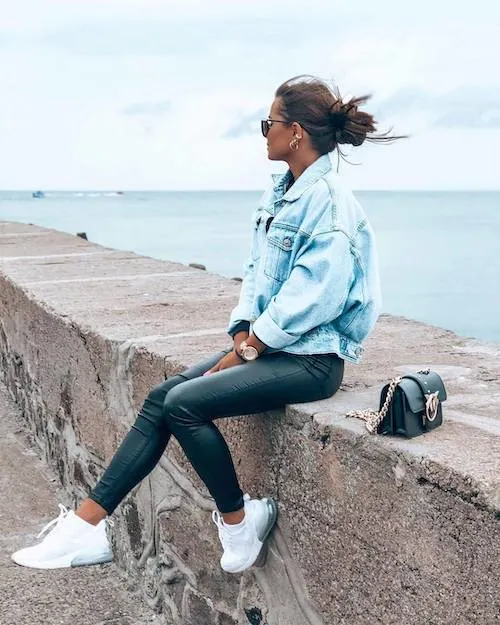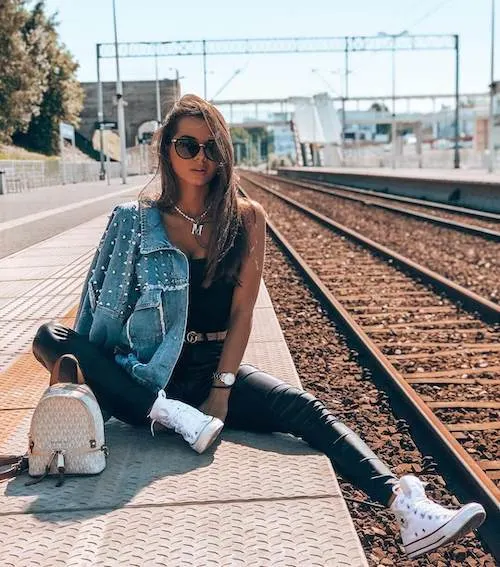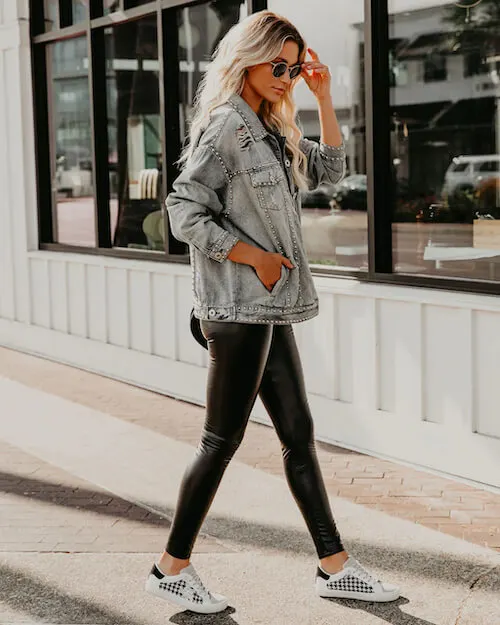 Blue Color Denim Jacket Outfit With Black Jeans / Black Pants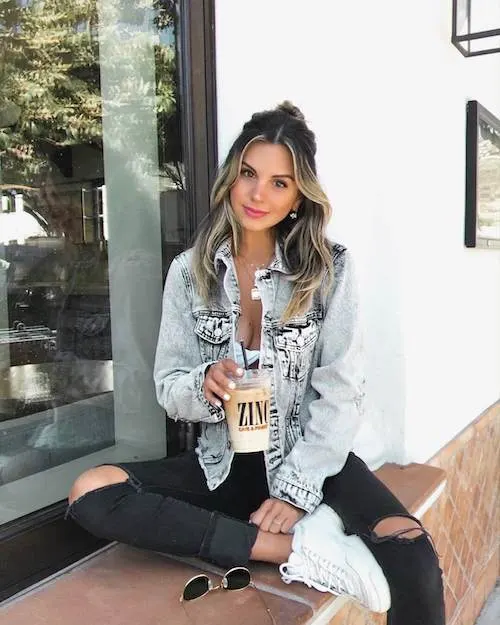 via Pinterest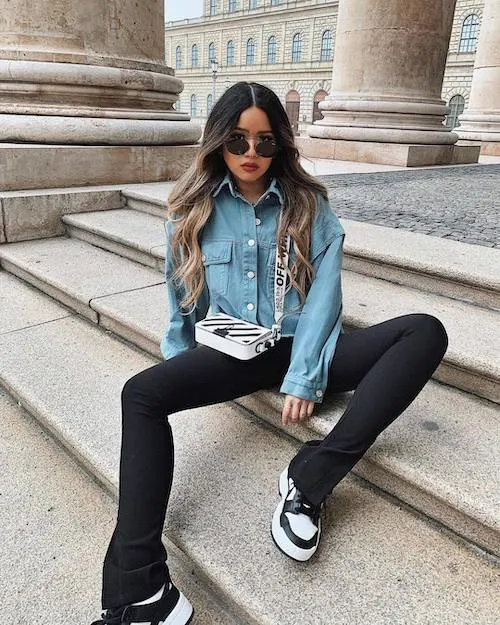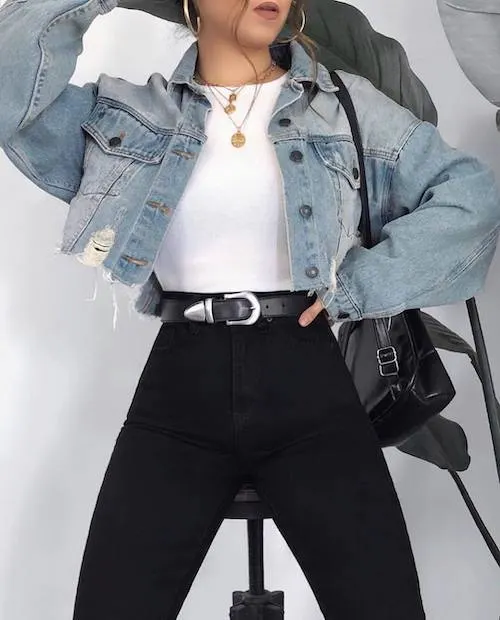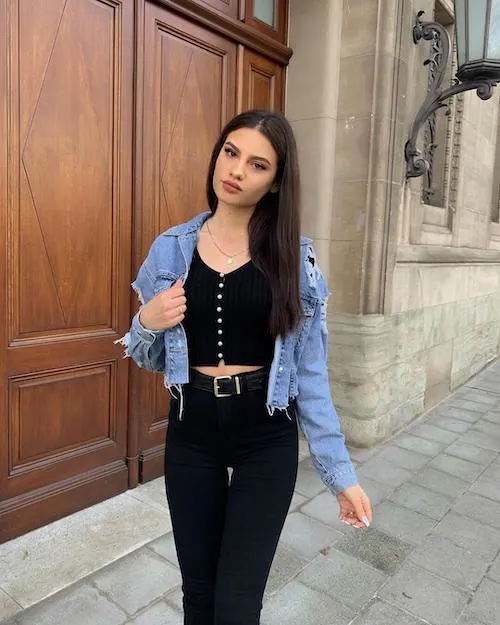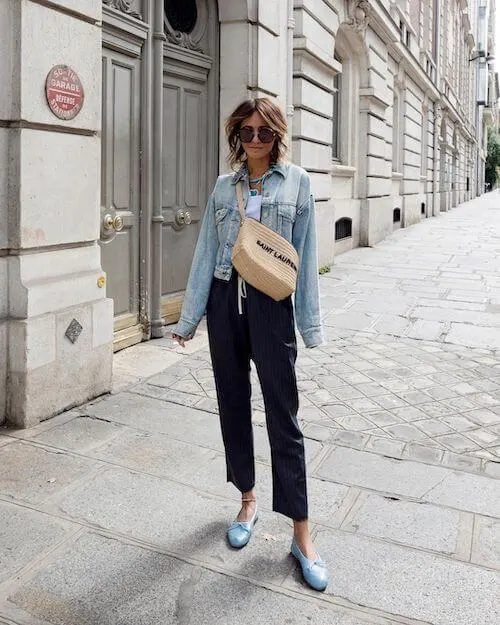 @babiolesdezoe
Jean Jacket With White Pants / White Jeans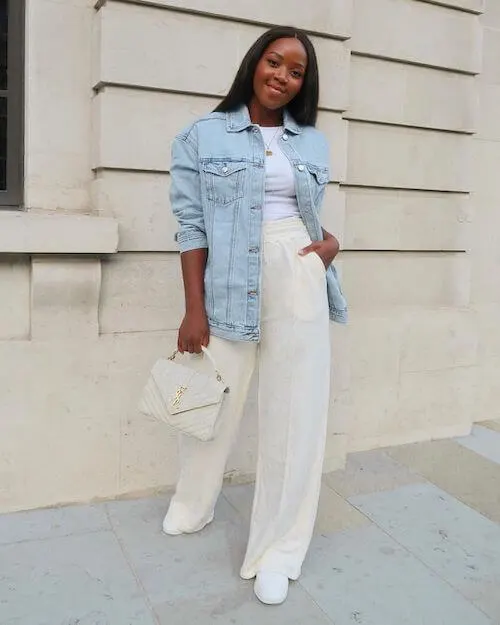 @josephineslooks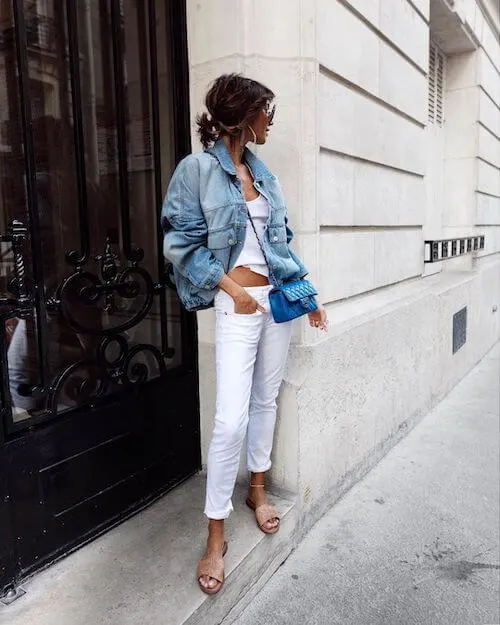 @babiolesdezoe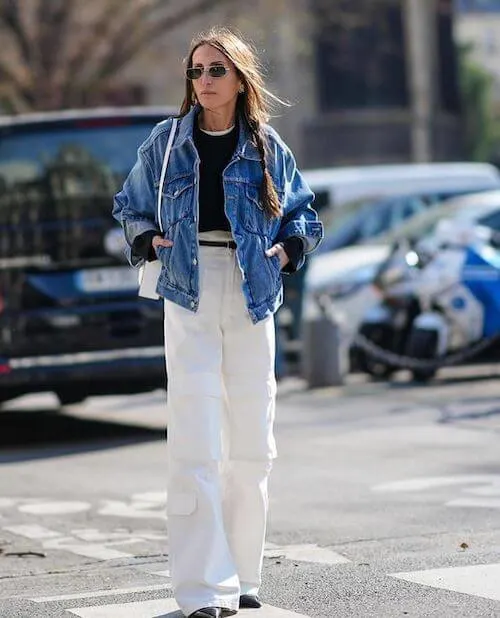 via Pinterest
Simple Tee + Denim Jacket + White Sneakers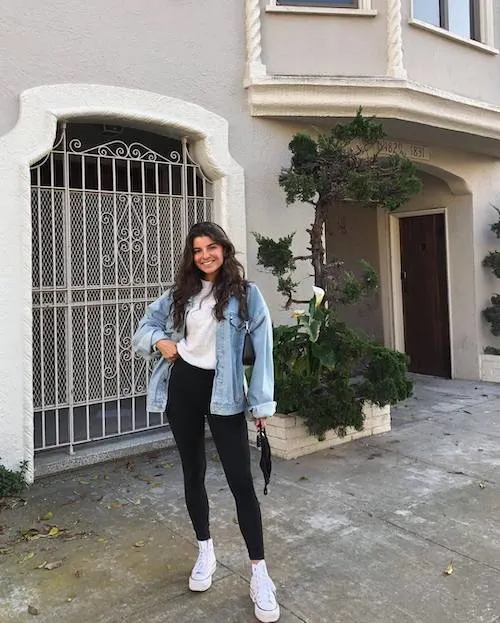 Denim Blazer Outfit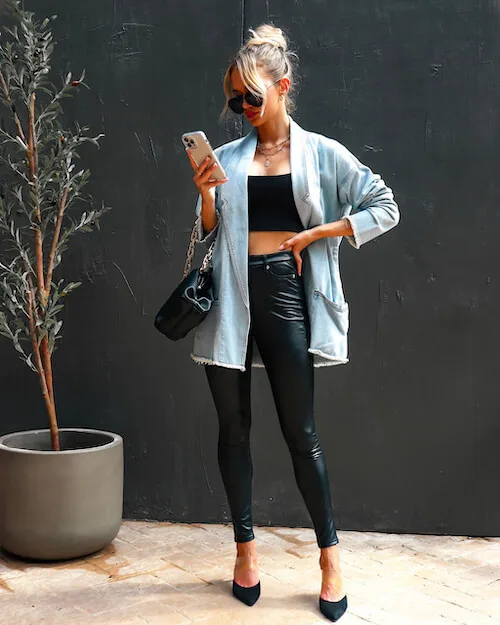 Blue Denim Jacket + Black Bodycon Dress / Bodycon Skirt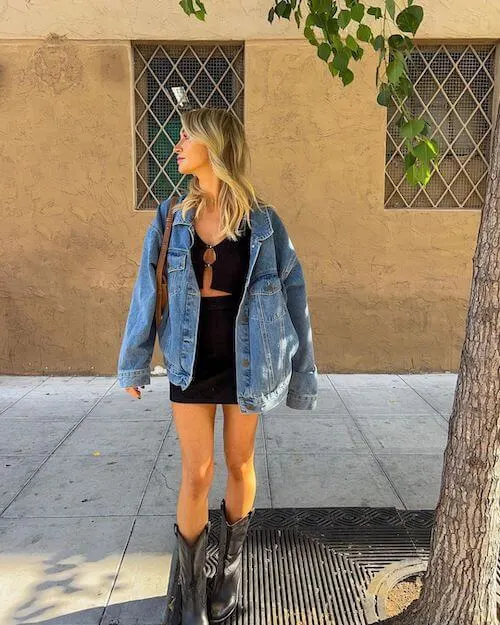 @jamielynkane
via Pinterest
Trendy Jean Jacket Outfit Ideas With Wide Leg Pants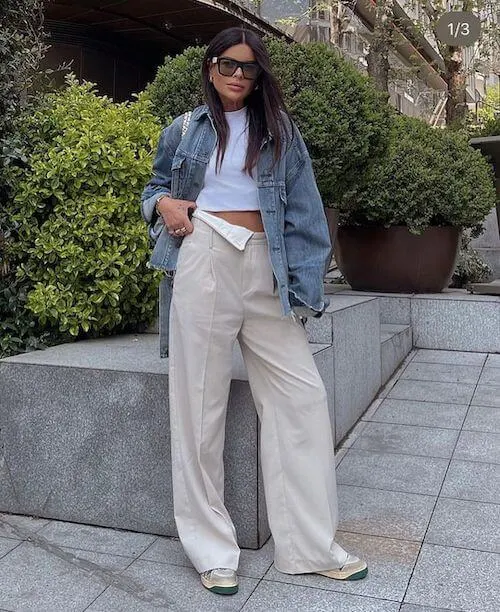 @nazifeeozcan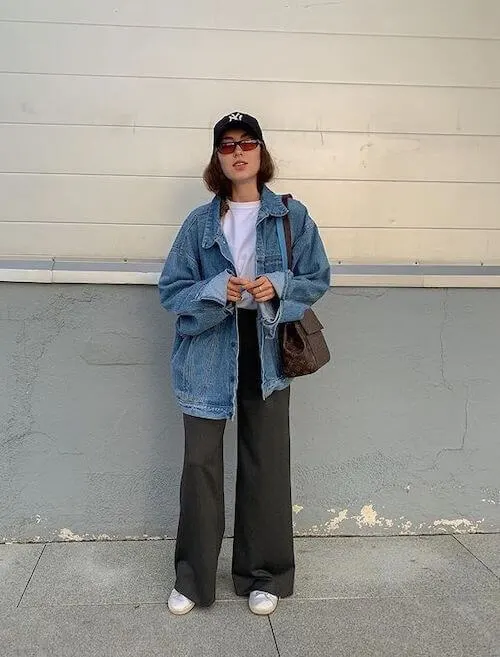 via Pinterest
Is it ok to wear a denim jacket with jeans?
Wearing a denim jacket with jeans is a classic fashion statement.
It's both stylish and comfortable, making it the perfect choice for any casual outing.
However, there are a few things to keep in mind when deciding whether or not it's appropriate for a woman to wear this look.
For starters, women should consider the fit of their jeans and jacket.
If they are too tight or baggy, the outfit can look sloppy and unkempt.
Additionally, selecting complementary colors is important; avoid two shades that are too similar or those that don't match at all.
Consider lighter washes on both items if you are going for an edgier look.
With the right fabrics and fits, wearing denim on denim can be an easy way to step up your style game in no time!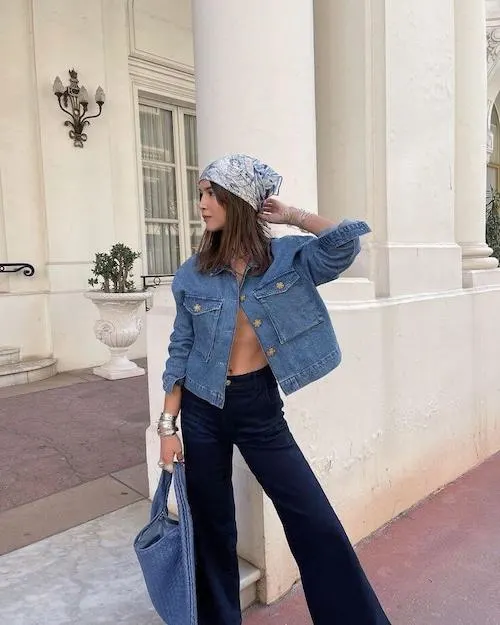 @weheartit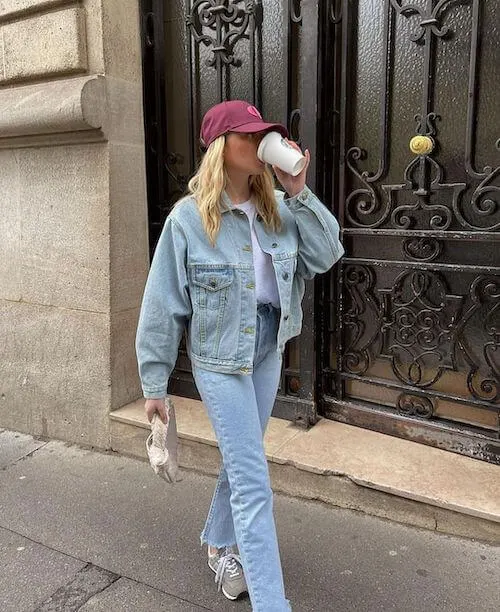 @frenchtipsandnudenails
Stylish Denim Jacket Outfit Inspiration
Modern Cropped Denim jacket Outfit
The modern cropped denim jacket is a must-have for any woman's closet.
Easily transitioning from day to night, this wardrobe staple is perfect for adding a touch of edge to any outfit.
Whether you're looking for something casual or formal, there's a style to fit your needs.
With an array of colors and washes available, the possibilities are endless!
A simple white top and jeans or skinny pants can be instantly elevated with the addition of this timeless piece.
Accessorize with statement earrings and bold heels for an edgy look that will turn heads wherever you go.
For those cooler days, layer up with an oversized sweater or blazer – sophisticated yet still on-trend.
Alternatively, pair it with a midi dress or skirt to create a more feminine ensemble that will take you from the office to happy hour in no time.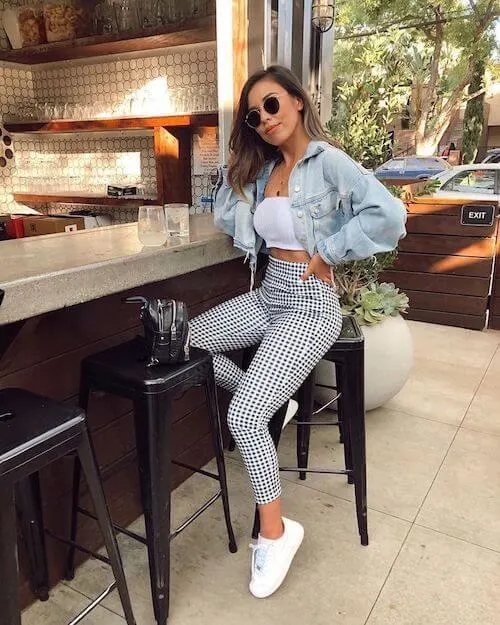 via Pinterest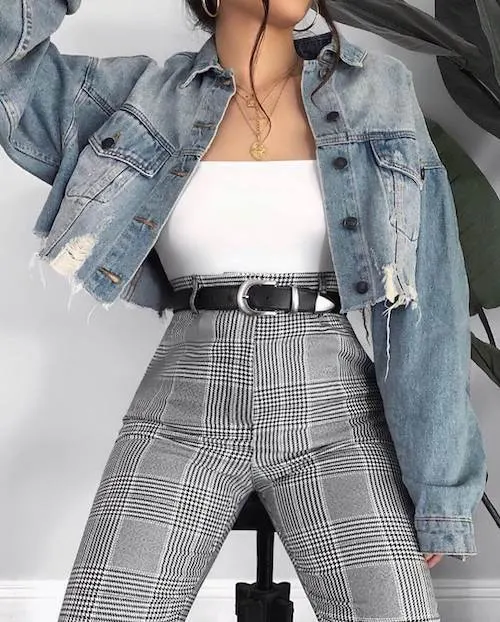 How To Style Oversized Denim Jacket Female
These days, oversized denim jackets are a must-have in any woman's wardrobe.
They can take an outfit from basic to stylish in an instant and add a cool, vintage vibe to any look.
If you're wondering how to style your oversized denim jacket like a pro, here are some tips to help you out!
Start off by pairing it with either skinny jeans or mom jeans for a casual yet timeless look.
You can also layer it over dresses or skirts if you want something more feminine and playful.
To keep the focus on the jacket itself, pick pieces that have muted colors and prints – simple whites and beiges will do the trick!
Accessorize your outfit with chunky earrings or bold necklaces for extra glamour.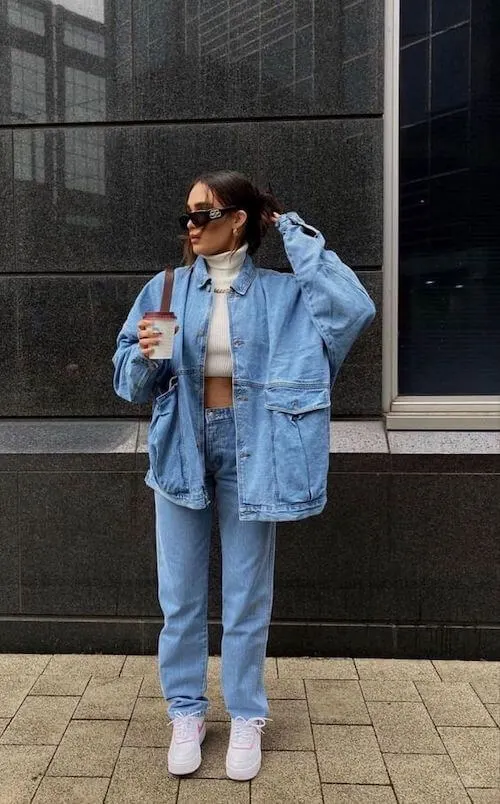 via Pinterest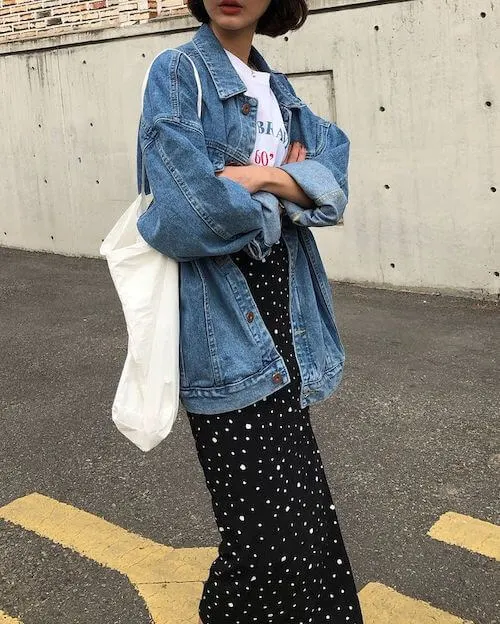 via Tumblr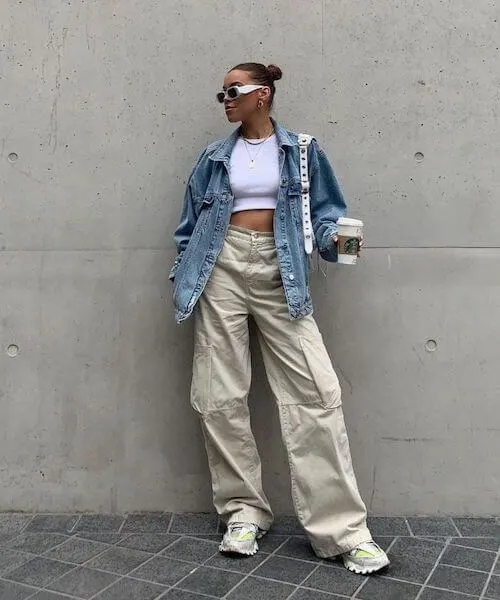 via Tumblr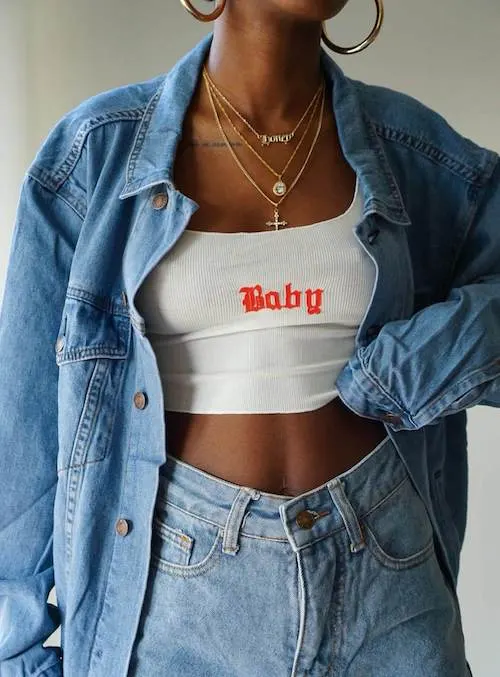 How To Style Black Denim Jacket Female
Nothing screams timeless style like a classic black denim jacket.
Here are some tips on how to make your look unique and stylish with just a few simple additions.
First, start with the basics: a simple pair of jeans and t-shirt will do the trick!
Once you have your basic outfit together, add the statement piece: your black denim jacket!
To dress it up, layer it over a patterned midi dress or skirt.
This will give your look an effortless cool vibe while still keeping things polished and sophisticated.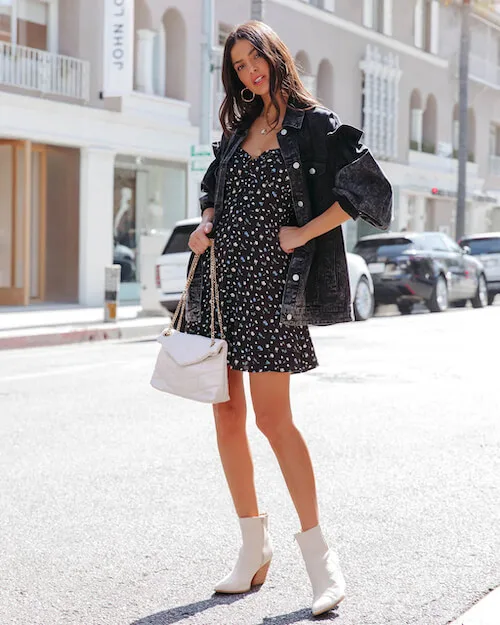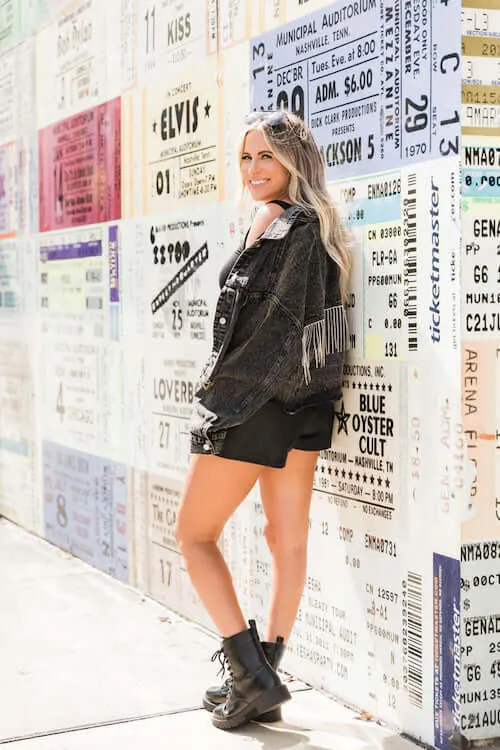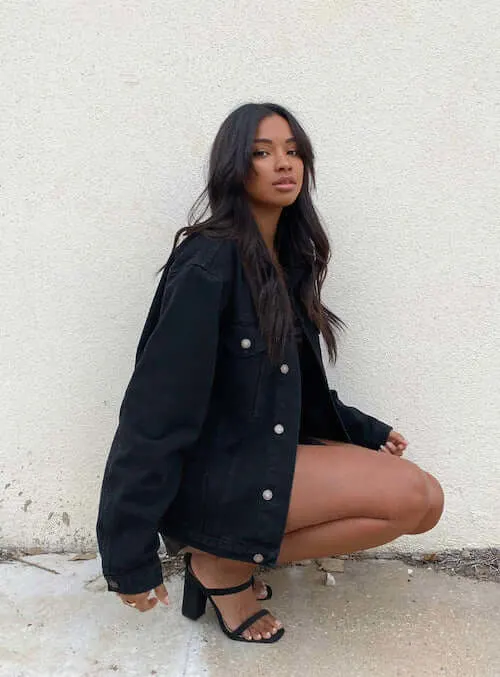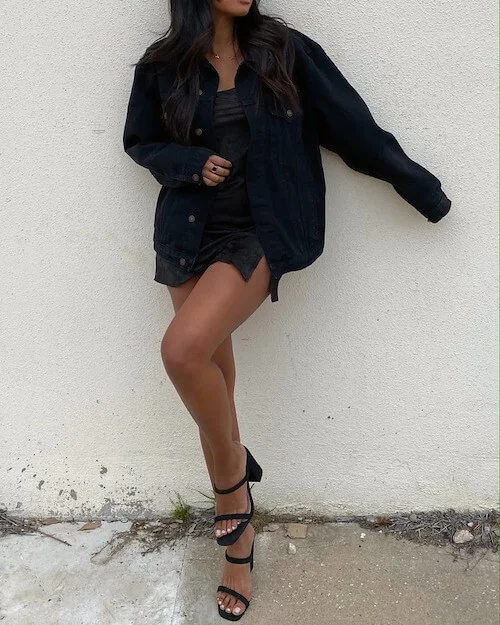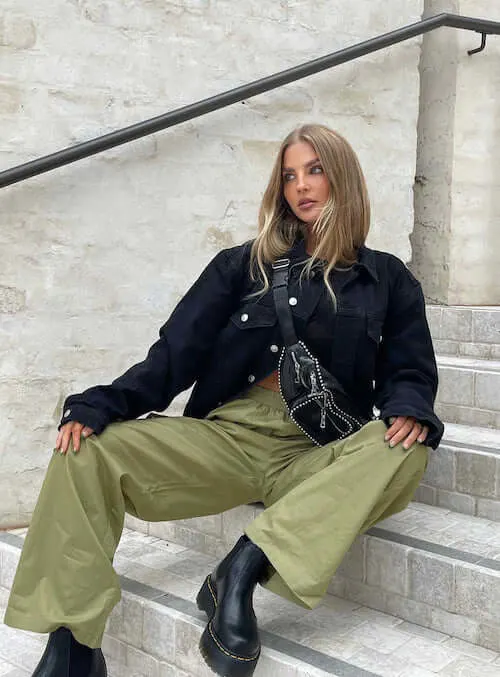 Chic White Denim Jacket Outfit For Women
A chic white denim jacket is a timeless piece of clothing that never goes out of style.
It's perfect for transitioning from summer to fall and can be worn in a variety of stylish ways.
This article will show you how to create the perfect look with a white denim jacket for women.
Start with a cute sundress or jeans as your base.
Choose something classic and neutral like an off-white or light grey – these colors pair perfectly with your white denim jacket.
Accessorize with nude shoes and jewelry to complete the sophisticated look and add interest without overwhelming it.
For chilly days, layer on a cardigan or sweater vest in an autumnal hue such as mustard yellow, burnt orange, or navy blue to keep warm while still looking chic.
Finish off the outfit by adding small accessories like sunglasses, earrings, and necklaces for extra flair.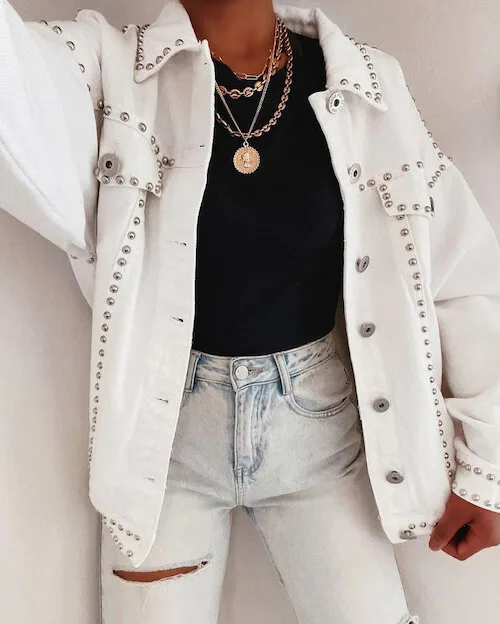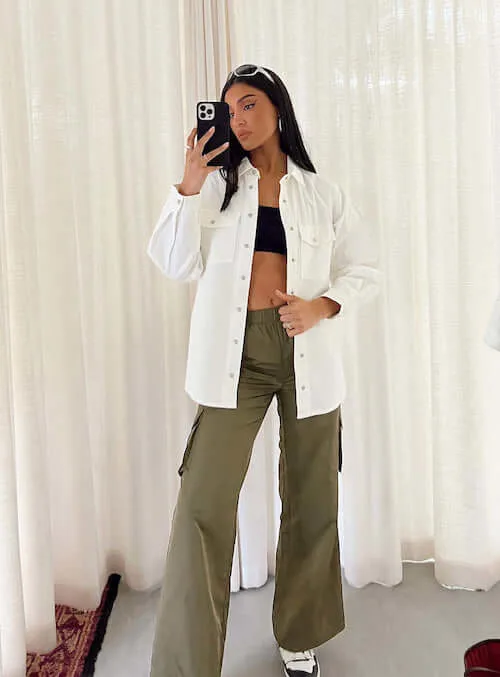 More Fresh Ways to Style This Classic Denim Closet Staple
What To Wear With A Jean Jacket For Spring Summer?
A jean jacket is a perfect accompaniment to a stylish spring and summer wardrobe.
Whether you're shopping for a new one or already own an old favorite, there are plenty of ways to wear it this season.
Women can easily transition from day to night with just a few quick changes, making the jean jacket an indispensable part of their closet.
To help you get started on your fashion journey, here's what to wear with a jean jacket for spring and summer.
For daytime outfits, pair your jean jacket with a simple sundress or skirt and top combo.
Ballet flats and sandals work great for completing the look without sacrificing comfort in warmer climates.
If the weather calls for cooler temperatures, try layering up with distressed jeans and ankle boots or sneakers for added warmth.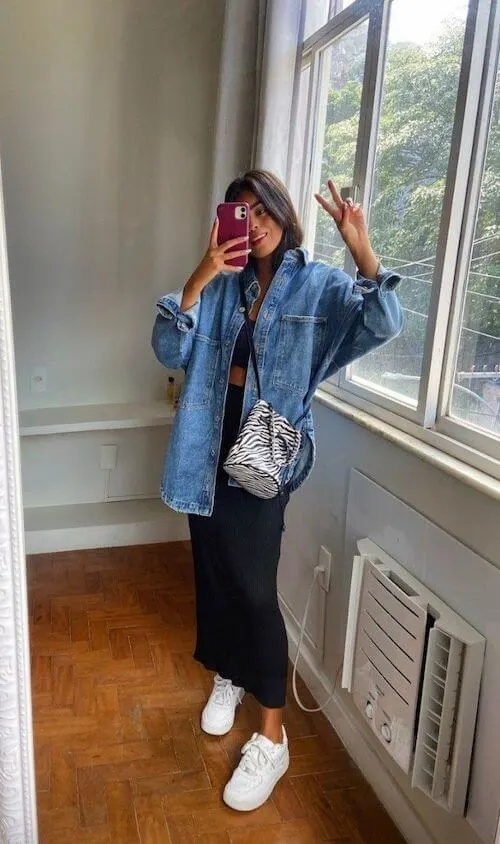 via Tumblr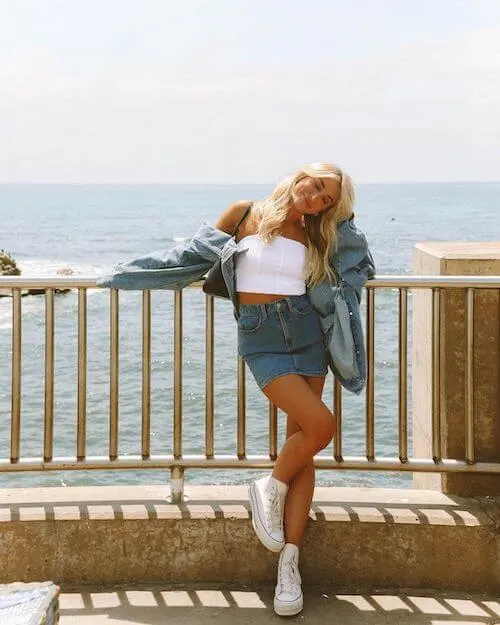 @jamielynkane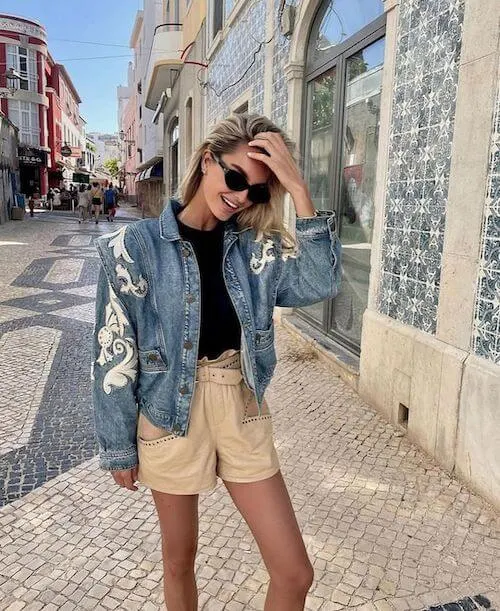 @robinhamersteen
How To Wear Denim Jackets For Fall Winter?
Denim jackets are a timeless classic for any season, but especially for the cooler months of fall and winter.
Whether you're going for a casual look or want to dress up your outfit, denim jackets can be easily adapted to fit any style.
Here are some tips on how best to wear them in the colder months.
When it comes to selecting your denim jacket, pick one that fits well and flatters your body shape.
For those chillier days, opt for a heavier fabric with more insulation such as a wool-blend denim jacket or faux shearling lining.
Team this with skinny jeans or straight leg jeans and ankle boots for an effortless look that's both comfortable and on trend.
Alternatively layer over statement pieces like an animal print midi dress or leather trousers – just add some chunky jewelry too!
@babiolesdezoe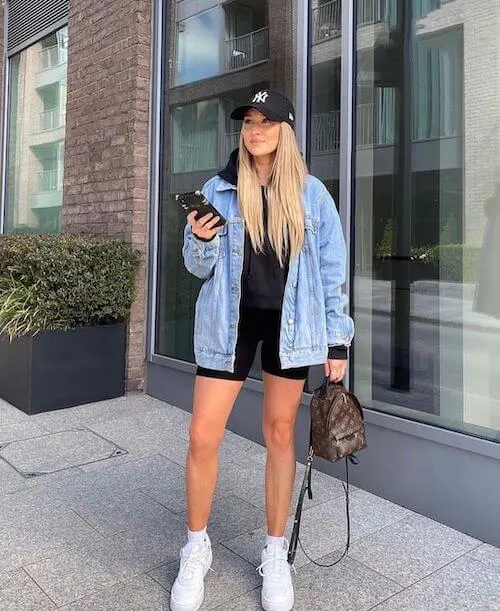 @freyakillin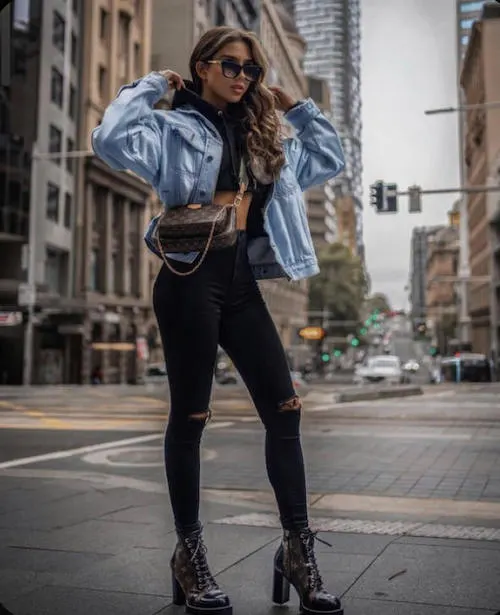 Cute Vacation Denim Jacket Looks
When it comes to summer vacation style, the denim jacket is a must-have piece for women.
Whether you're hitting the beach or heading out on a road trip, having a classic denim jacket in your wardrobe will ensure you look and feel great while taking on your adventures.
To help you make the most of this versatile item of clothing, here are some tips for how to wear a denim jacket for summer vacation.
A lightweight, cropped version of the classic denim jacket is perfect for layering over sundresses or camisoles during those cooler evenings and can also be easily thrown over something like shorts and sandals when temperatures soar.
Alternatively, if you want to dress up your look slightly more add an oversized jean jacket with statement buttons over a maxi skirt or jumpsuit for stylish evening coverage.
More Elevated Street Style Jean Jacket Outfit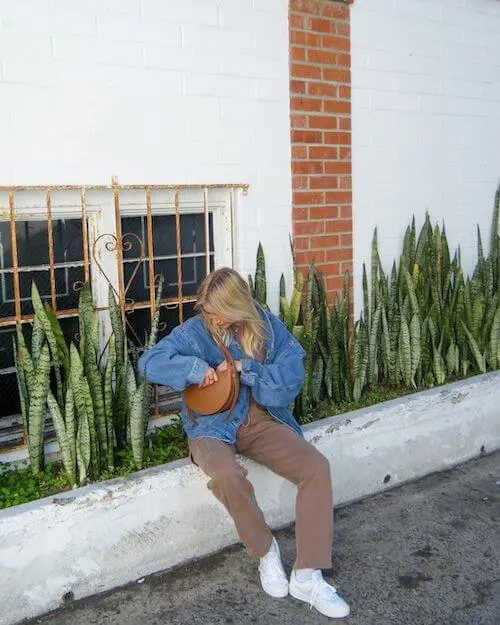 @jamielynkane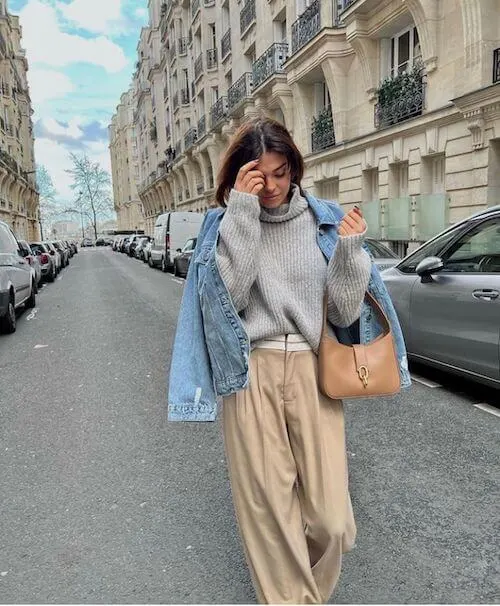 via Pinterest
How do you style a denim jacket when you're over 50?
For women over 50, styling a denim jacket can be a great way to update your look and add some fun to your wardrobe.
With the right pieces, you can create an eye-catching outfit that will fit any occasion.
To help you get started, here are some tips for styling a denim jacket when you're over 50.
Look for jackets with classic details like collars and buttons.
These will help keep the look polished while still being easy to accessorize and layer with other pieces.
Choose colors like black or dark blue that will better match your existing wardrobe instead of more trendy colors like light wash or acid wash.
Additionally, consider investing in a longer length jacket as this will hug curves more flattering than a cropped style would.
What clothes go with a denim jacket?
In conclusion, a denim jacket can be a versatile wardrobe staple, perfectly suited for almost any occasion.
For an edgy look, try pairing it with a pleated midi skirt and chunky combat boots.
To dress it up, wear a satin cami top, skinny jeans, or leather pants, with a pair of strappy heels.
For a casual look, opt for a white T-shirt, distressed boyfriend jeans, wide-leg pants, and sneakers.
This post was all about denim jacket outfits for women.
About The Author
Tracy is an experienced personal stylist, shopping expert, and fashion & lifestyle blogger. She has been featured on Bustle, Best Life, Glam, The Zoe Report, Mic, and GoBankingRates, for her insights on fashion, beauty, home decor, and lifestyle. Read More
Related Posts: