What to wear on a night out clubbing? You have come to the right place Check this post for the 60+ best club outfit ideas to copy and shop directly.
Going out for a drink or a dance with friends on a hot summer evening or Saturday night is such a good idea. But sometimes you are about to go out, and you realize that you don't know what to wear. Or maybe you remember the outfit you're going to wear has been seen multiple times. Or maybe you're really tired of your usual casual vibe and want to try something different. So, look for your inspiration in this post today!
Whether you need sexy club outfits, casual club outfits, or even if you need a first date at the club or sexy dresses for your first dance club, you'll find these great ideas for your style.
You may not need to buy a whole new wardrobe, just a single item or two, or even an accessory or two, can refresh your club look immediately on a budget.
So scroll down to check these ideas in this post and have a good time!
This post may contain affiliate links, which means I'll receive a commission if you purchase through my link, at no extra cost to you. Please read the full disclosure here.
This post is all about what to wear on a night out clubbing.
Casual Club Outfits
If you are going to a club for the first time, if the club does not have a specific dress code, a casual look is a great option.
Your best bet when coming to the club is to wear a pair of jeans or pants. One of the most convenient combos is a pair of jeans you wear most confidently with a sexy top, and then add attractive statement accessories to gain your sexy look.
When the weather is cold, leather jackets are the best ways to make you look sexy and chic.
The outfit that shows the waistline looks very sexy from the front, so it is very suitable for night activities such as nightclubs, and shorts are also very suitable for dancing, so it is recommended to wear it in nightclubs. If you don't have confidence in wearing it in a bright place, be sure to challenge this style in a nightclub.
Rhinestone Sheer Crop Top + Jeans
Satin Blouse + Denim Shorts
Off Shoulder Top + Skinny Jeans + Big Hoop Earrings
Solid Colors Crop Halter Top + Skinny Jeans + Classic Pumps
Tube Top + Nice Pair Of Pants
Leather Mini Skirt + Nice Top
Sequin Cami Top + Crop Jeans
Leather Moto Jacket + Black Leather Shorts + Chelsea Boots
Slip Dress + Black Leather Blazer + High Boots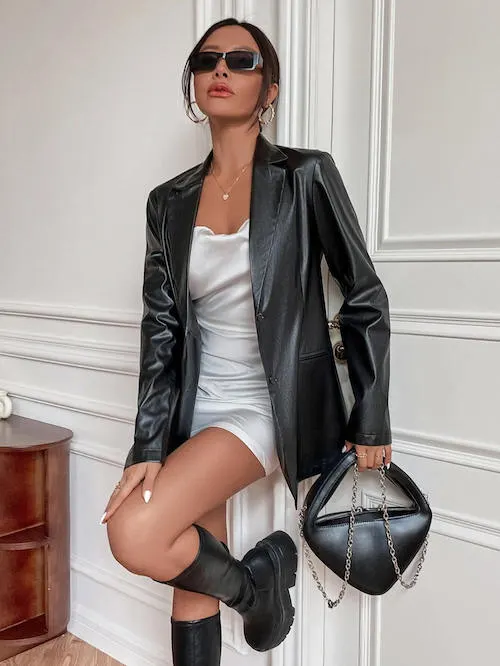 Two-Piece Sexy Club Dress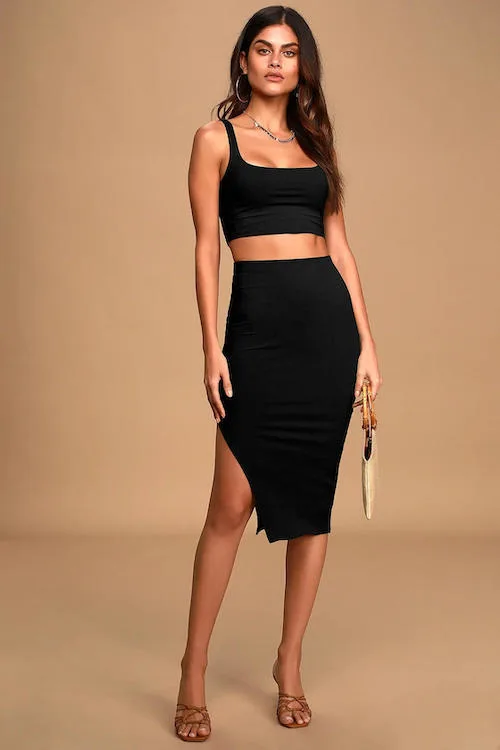 Cute Outfits For Casual Clubs
Boldly add the latest fashion trends, some bright hue, and brilliant ideas to your night club wear.
Temporarily decide to have a night out at night? Don't worry, some ordinary items can also be good alternatives, and be very sexy and matched with the club dress code with a few small changes! For example, a casual T-shirt can be turned into a crop top, and a button up with good texture can be turned into an off shoulder top.
You can collect some clothes with special patterns or special colors to complete your stylish look. They can be matched with ordinary items in your wardrobe, and make you immediately become the focus that night.
With these ideas, your focus can be on smoky eye makeup and delicate accessories, and enjoy your hot night out!
Black Sexy Top + Black Leather Skirt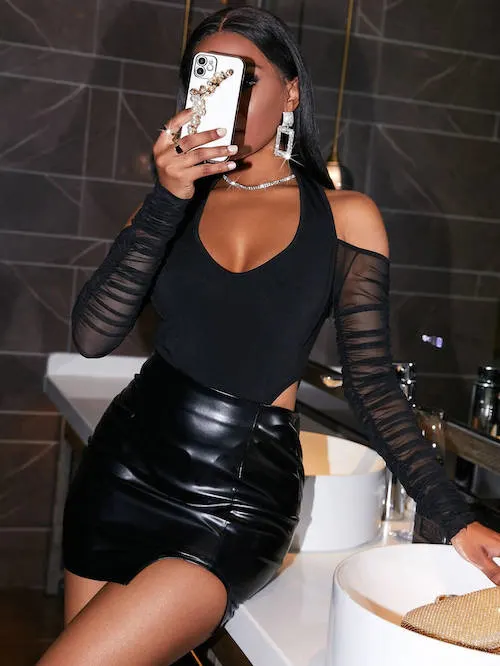 V-neck Crop Top + Black Pants
Tie Front Crop Top + Animal Print Skirt
Marble Print Bodycon Skirt + Black Blazer + Leather Shoes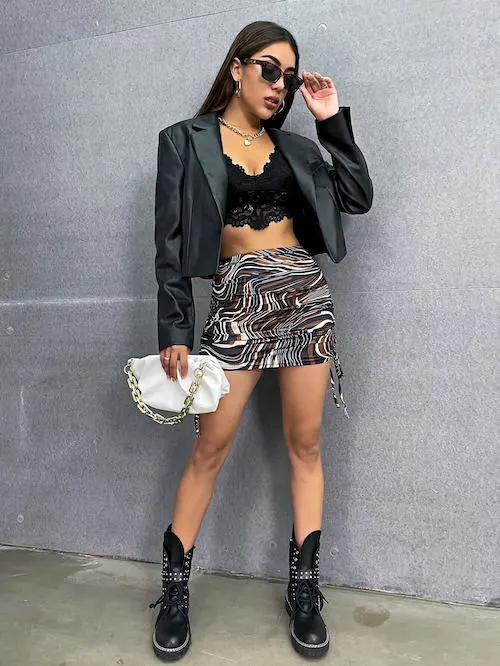 Button Ups + Dress Pants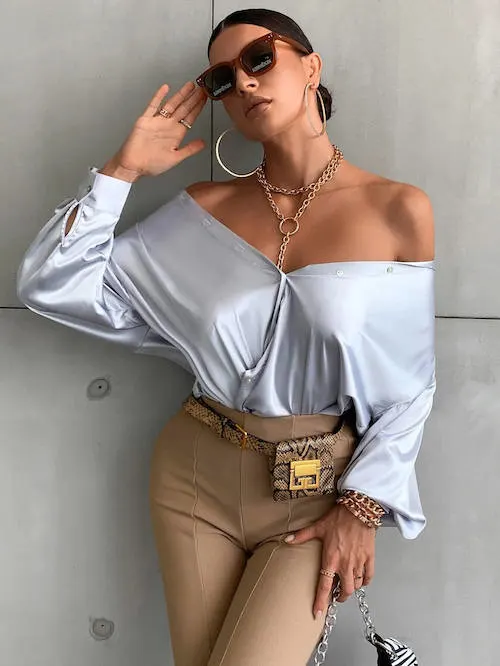 High Waist Pleated Skirt + T-shirt + Leather Jacket
High Waist Skirt + T-shirt
Slit Hem PU Skirt + White Blouse
Black Bodycon Skirt + Mesh Top
Zebra Stripe Halter Tank Top + Leather Pants
Red Deep V Neck Top + Mini Skirt
Glam Club Dresses
Of course, in most cases, a good-quality dress is one best choice. Black club attire is not easy to go wrong, if you think black is too boring, you can choose a unique design.
You can also try more special colors. For example, a blush pink dress or an orange dress is also a stylish alternative. But if you choose a sexy color, the simpler the style, the better, which can make your outfit look expensive and highlight your fashion taste.
Those who want to sway in the nightclub can also wear patterned clothing to create a gorgeous style that is not wrong for nightclub wear.
Among them, the leopard print style is the most popular.
In addition to tops and skirts, you can also choose a little bit of leopard print for your shoes or purses.
In addition, the one-piece dress with patterns all over the body is also very beautiful.
Use necklaces, bracelets and other jewelry to make yourself more dazzling in nightclubs.
Sequin Cowl Neck Mini Dress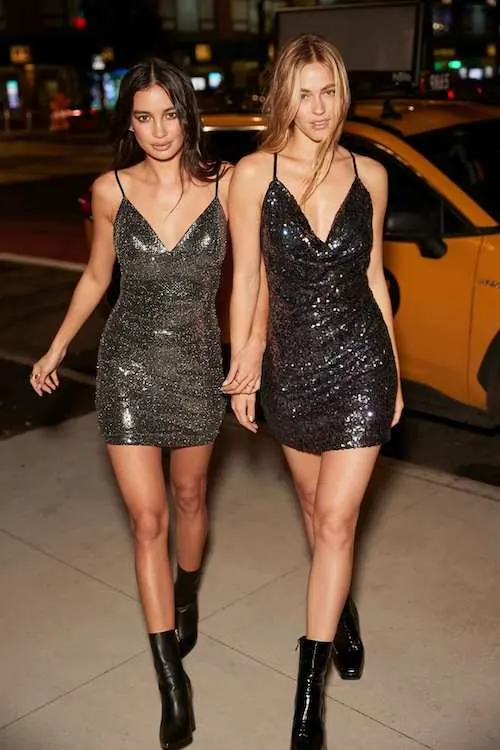 Green Backless Sequin Mini Dress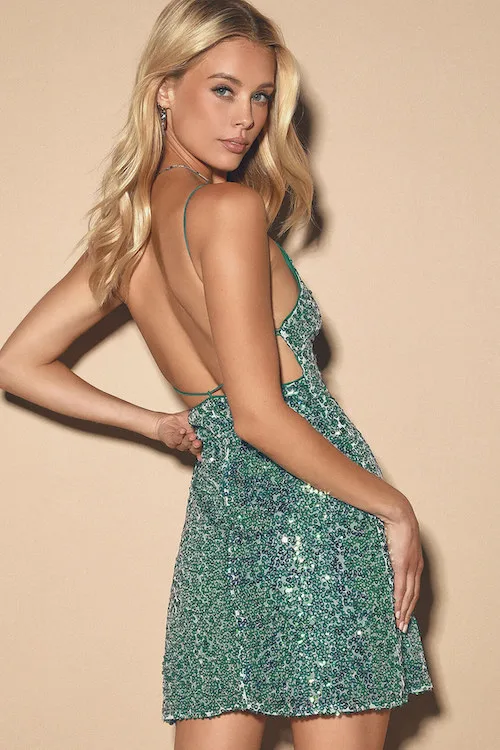 Halter Neck Bodycon Dresses
Neon Orange Bodycon Short Dresses
Pretty Romper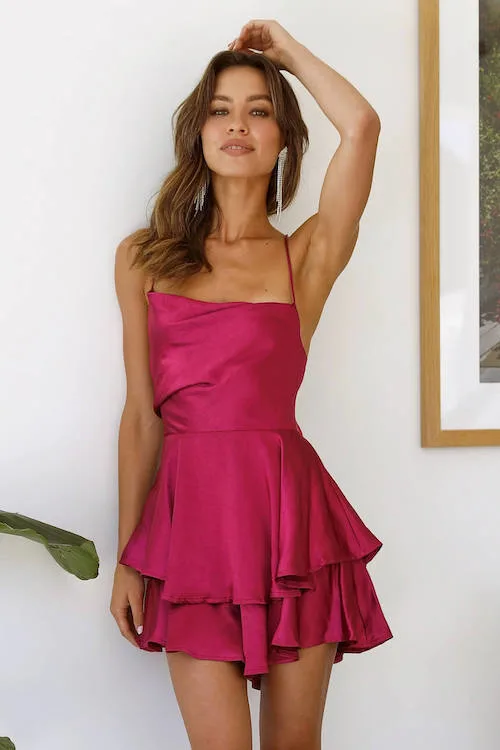 Blush Pink Fringe Lace-Up Mini Dress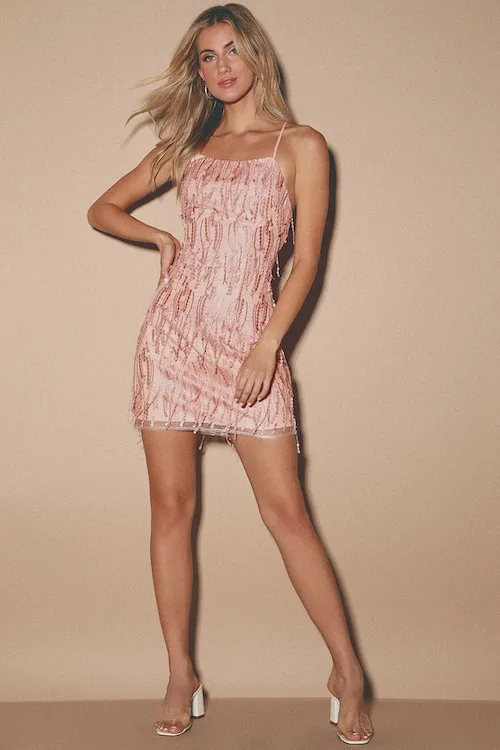 Retro Print Halter Mini Dress
Chain Detail Satin Ruched Mini Dress
Dance Club Outfit Ideas
For dance clubs, tight dresses or tight skirts are suitable for most situations. Of course, we also highly recommend the combination of a cami top and a pair of dress pants to modify your body shape making you look tall and attractive.
But remember to choose comfortable items. Wear comfortable clothes as things heat the dance floor and you'd want to be in breathable garments.
Glitter Green Top + Dress Pants + High Heels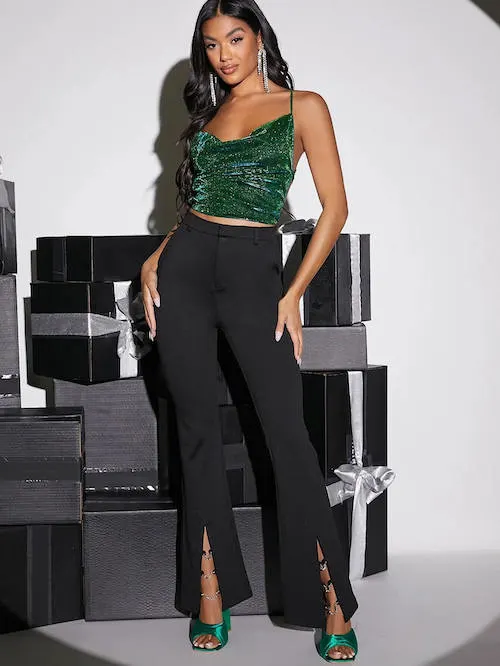 Navy Blue Split Hem Sequin Bodycon Dress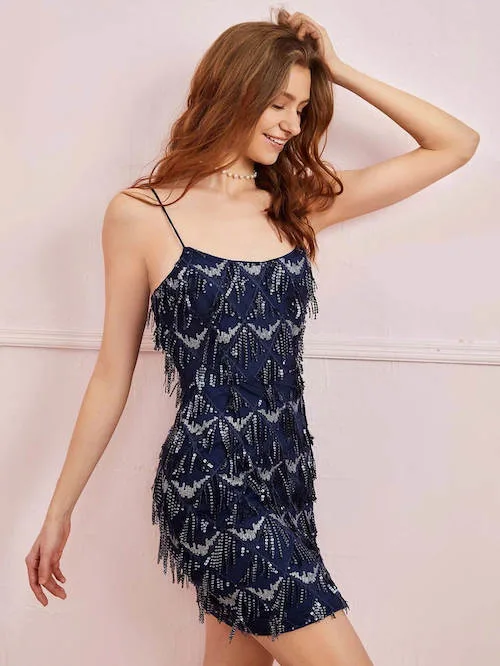 Seam Detail Sheer Mesh Blouse + Mini Skirt
Backless Halter Neck Bodycon Dress
Sequin Cami Top + White Wide Leg Pants
Club Outfits For First Date
If you need to attend your first date, the only thing you need to keep in mind is to find a balance between sexy and chic. Avoid overly naked outfits, choose wisely to expose the proudest part of your body, and confidently wear your most comfortable dark stylish jeans or top to complete the look.
Trust me, your date will find you quite mysterious and sexy, full of temptations to learn more!
Blue Satin Halter Crop Top + Dark Wash Jeans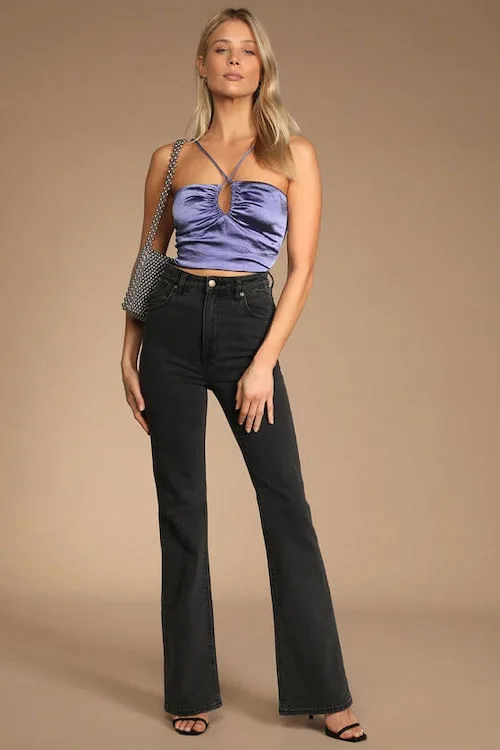 Allover Print Flounce Sleeve Blouse + Black Leather Skirt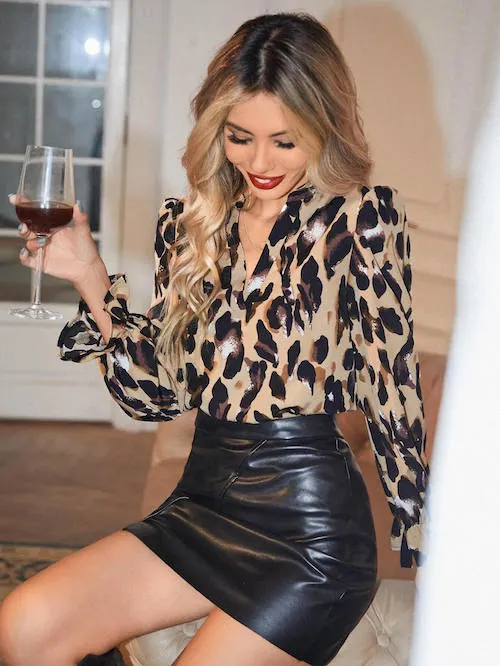 Solid Cold Shoulder Tee + Denim Jeans
Twist Front Flounce Sleeve Bodycon Dress
Club Outfits For Formal Clubs
For formal clubs or semi-formal clubs, the smart casual dress code is not easy to go wrong. Simply cut and well-textured pieces are good options to make you stand out and show off your proudest asset!
Don't forget to try some gorgeous colors that will make you stand out from the basics. For example, some leopard prints, sexy wine red and so on.
Accessories that are stylish and not tacky are also key to getting your upscale attire! We recommend chunky chain necklaces, small clutches, and shoes in low-key colors for your clubwear outfits next time.
Mauve Satin Bodycon Dress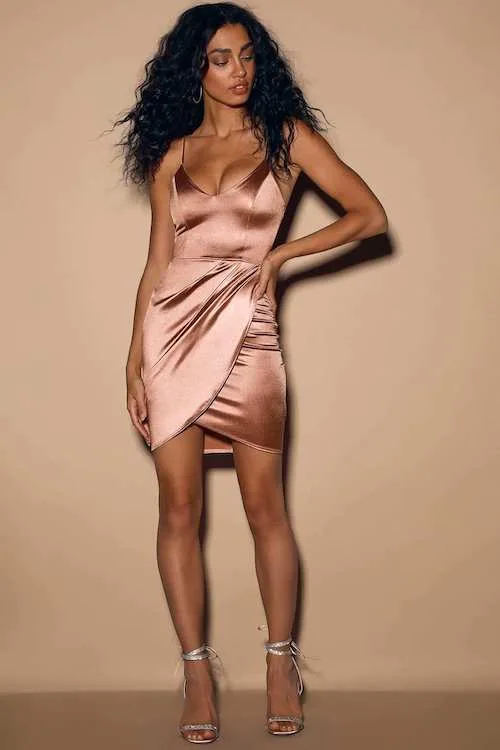 Solid Lapel Neck Split Cuff Blazer + Animal Print Slip Dress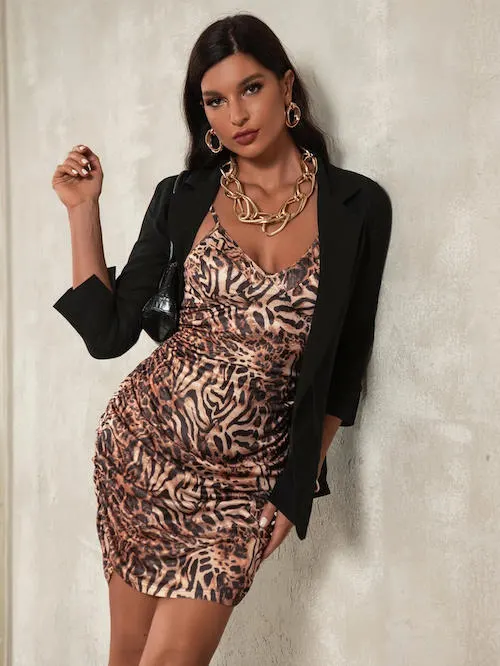 Animal Print Button Up + Cross Wrap Bodycon Skirt
High Waist Bodycon Skirt + White Long Sleeve Top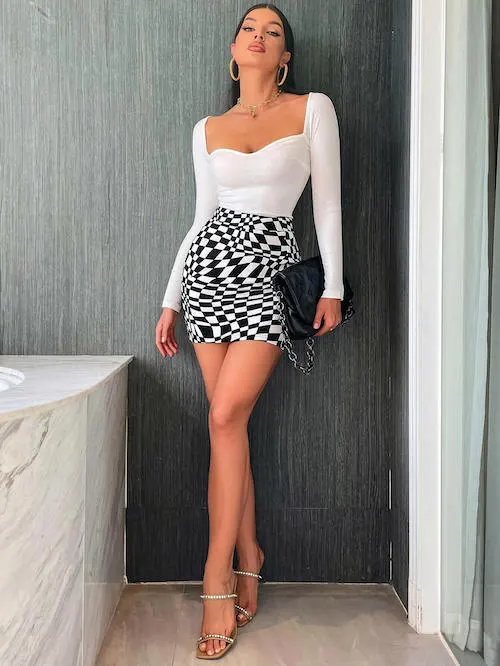 Split Hem Tube Dress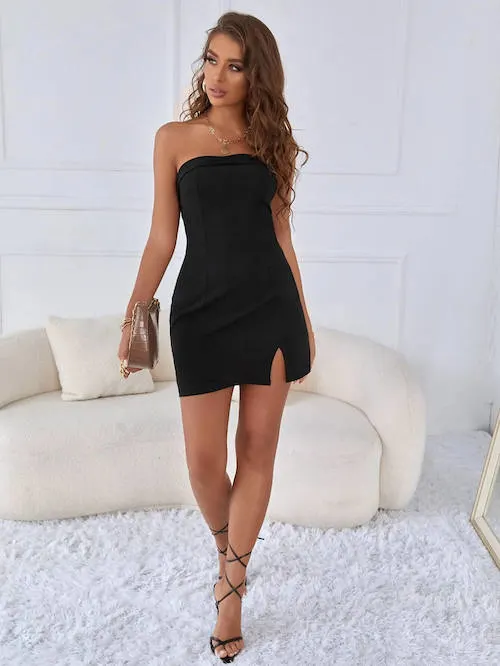 All Over Print Button Up Blouse + Brown Mini Skirt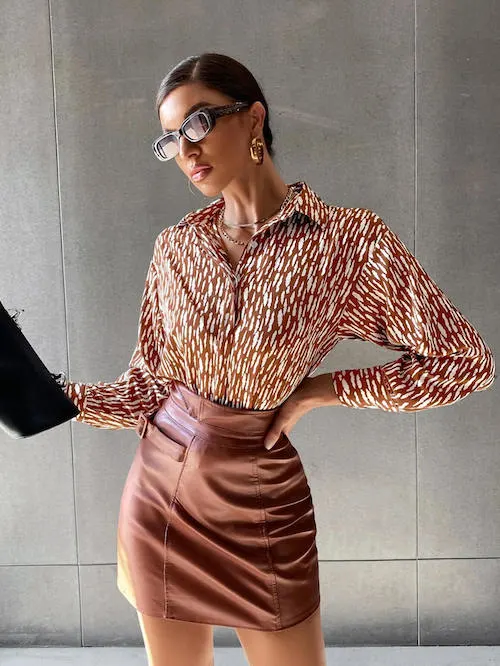 Asymmetrical Hem Wrap Knot Side Dress
Mock Neck Ruched Sequin Dress
Drape Neck Solid Blouse + Black Leather Pants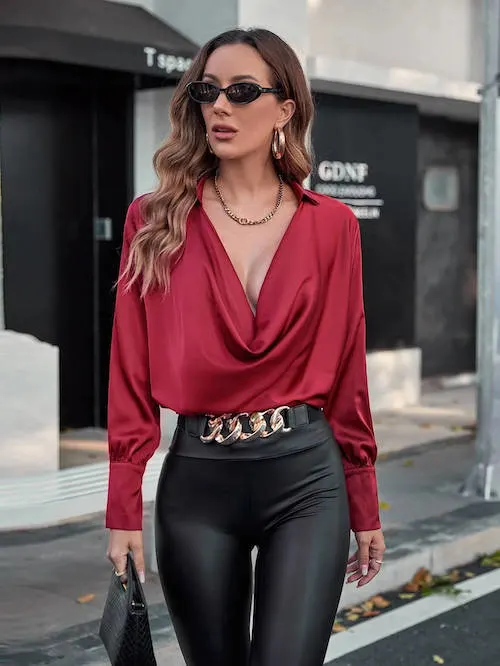 Leather Midi Skirt + Button Up
Copper Sequin Mini Dress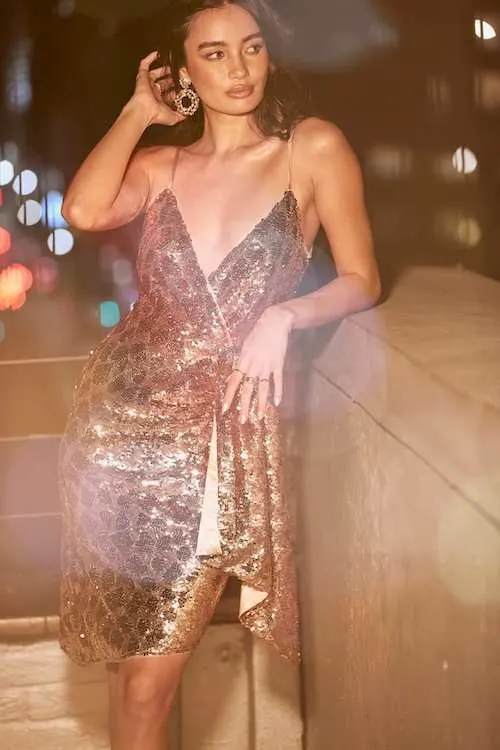 Sexy Club Outfits
When it comes to nightclub outfits, you can't go wrong with tight dresses.
A tight-fitting dress is a great way to make the body curve obvious, even if you don't dance, as long as you stand in the space of a nightclub, it is a hot costume that is enough to attract attention.
However, even if the style of each nightclub is different, mature outfits are a great choice for nightclubs.
If you are worried that the overall outfit is too simple, you can also add a bit of mature and feminine items! In addition to makeup, try jewelry. Add eye-catching earrings, necklaces, bracelets, etc., to make the nightclub wear more impressive!
Change your high heels to knee-high tall boots in cold weather.
Black Midi Skirt + Black Cami Top
Cowl Neck Backless Metallic Chain Halter Top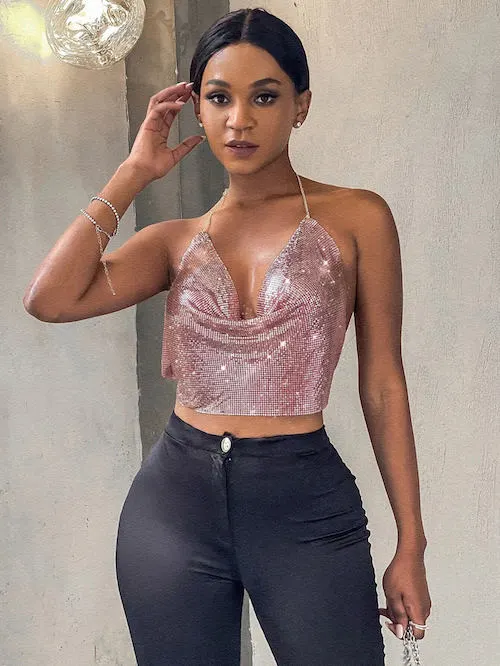 Off Shoulder Mesh Panel Ruched Bodycon Dress
Backless Knot Satin Cami Dress
Backless Halter Crop Top + Black Skirt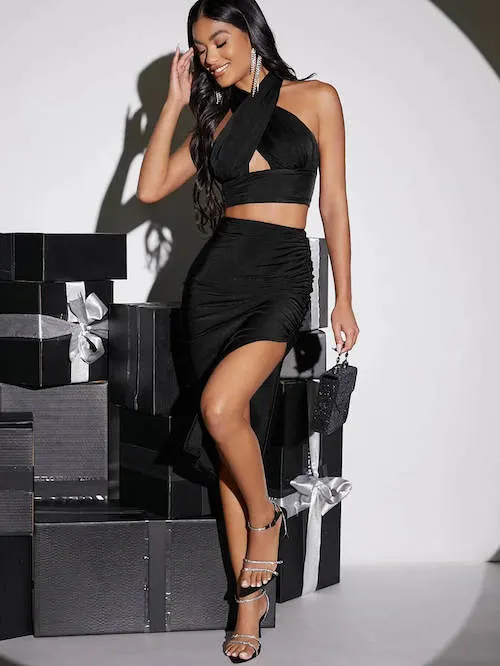 Off Shoulder Crop Top + Jeans
Satin Bandana Halter Top + Jeans
Twist Front Cut Out Ruched Bodycon Dress
Twist Front Cut-out Bodycon Dress
Bronze Party Dress
Club Outfits For Summer Night
For summer club outfits, if you don't like wearing dresses or skirts, it's OK to choose a T-shirt or hat as a nightclub outfit for a hot summer night.
However, if you choose a normal outfit, it will become casual, so please pay attention to the key points of the outfit!
If you choose a T-shirt, choose the size that fits your body! For shorts, please choose black denim shorts, or slim denim shorts, leather shorts. Tuck the T-shirt into the pants and looks high waisted, which is very suitable for the vibe of nightclubs!
In addition, pay attention to makeup to create a sense of fashion.
Crop Top + Mini Skirt
Ruched Crop Cami Top + Bodycon Skirt
Cute Lace Crop Top + Casual Jeans
Solid Off The Shoulder Tops + Blue Jeans
Lace Up Backless Sequin Tight Dresses
Crop Top + Shorts + White Sneakers
Bodycon Little Black Dress + Small Purse
Black Pencil Skirt + White T-Shirt
Rhinestone Cutout Front Tie Dye Tube Bodycon Dress
Black Sequin Mini Skirt + Black Top
This post was all about what to wear on a night out clubbing.
About The Author
Tracy is an experienced personal stylist, shopping expert, and fashion & lifestyle blogger. She has been featured on Time Magazine, Bustle, Best Life, Glam, The Zoe Report, Mic, and GOBankingRates, for her insights on fashion, beauty, home decor, and lifestyle. Read More
Related Posts: