Looking for the best classy club outfits for winter? Check this post for the best style tips on how to dress for a club in winter, and the best classy club outfit ideas on cold days to copy directly.
Winter nightlife and club life are still very attractive. Whether it's going to a club with good friends during the holiday season or around the holiday season, it can make our lives more colorful.
So, how do you still wear stunning and stay warm on a winter club night?
If you are looking for classy club outfits for winter, you've come to the right place.
In today's article, I am sharing with you our favorite style tips on how to wear classy to a club in the winter season, and the perfect clubbing outfits for winter for you to copy and have a good time.
So scroll down to check the ultimate women's guide on what to wear to a club when it's cold, and the best club outfit ideas for winter, and don't hesitate to pin them to your Pinterest board, and share them on social media sites.
This post may contain affiliate links, which means I'll receive a commission if you purchase through my link, at no extra cost to you. Please read the full disclosure here.
This post is all about classy club outfits for winter.
What Do You Wear Clubbing In Winter
The club dress in winter should not only look suitable for the club dress code but also need to keep warm.
Although the specific dress code of each club may be different, most of them require elevated casual or smart casual, or cocktail attire.
So, the easiest way to do this is to add a cocktail dress to a long, warm coat and put on high heels. This is the best clubbing attire that will never be wrong for women for the dress code of any nightclub.
If it's colder, a pair of nice pointed-toe boots are an excellent choice. You can also change out the dress to a fitted top and a nice pair of pants.
Black leather leggings or black faux leather leggings are also great options for winter club outfits.
What Not To Wear To Club In Winter
If you don't want to be shut out of the club in the cold weather, you should avoid wearing these items. While some people might think it's okay to wear the items below, I would suggest that you don't risk being in a long queue when it's this cold and you still can't get in.
White Sneakers
I understand that many women like to wear comfortable white sneakers in winter. But maybe some men are allowed to enter the club wearing dressy sneakers, for women, almost all clubs will think that a pair of white sneakers is not a suitable club-style item.
High heels are the best club footwear for women all year round.
Denim Jacket
Some denim jackets can also create hot outfits, but for a recent club, denim jackets are not suitable.
At least you should be wearing a short black denim jacket.
But I highly recommend that you keep your favorite denim jacket for daytime events.
Chunky Knit
In winter, a lot of women like to wear chunky knit tops that keep them warm, but if you're in a club, wearing a chunky knit top is not a good idea. Chunky knit tops look too casual.
Cargo Pants
Cargo pants are very popular this year and I really like wearing them myself. But for nightclubs, many nightclubs still think that cargo pants are not the choice for nightclub dressing. So please don't take this risk.
Athletic Wear
All kinds of sports-style clothing should be avoided in the club, including baggy sports tops, warm sweatpants, and cute sweatshirts. No matter how much you like them, please don't wear them to nightclubs.
How Do You Look Classy At A Club?
If you want to look classy in the club, you need to choose sexy but elegant clothes.
We especially recommend tight tops, bodysuits, or bodycon dresses. But please avoid wearing too revealing pieces.
You can also choose clothing pieces like a lace top, mesh top, and corset, which have just the right sense of elegance and help you look very classy.
In addition, pay attention to the color coordination of your entire outfit. Choosing neutral-colored monochrome outfits, dark color pieces, or pieces with small prints is the best way to help you have a chic look.
You should avoid neon colors, bright colors, or large prints, which are more likely to look tacky.
How Do You Dress Classy In The Winter
For winter looks, you can opt for warmer pieces so you can avoid wearing too many clothes. Wearing too many clothing pieces would make you look bloated and tacky.
Also, choose simple colors and neat clothes and shoes to make you look smart and elegant with the right outfit.
At the same time, choose simple, high-quality jewelry and bags that can add highlights to your look and make you look more stylish.
You don't need to only wear high-end accessories, but please make sure your accessories are well-made.
Finally, pay attention to the material of the clothing. You should try to choose good quality pieces within your budget, which will bring your overall style to the next level.
Classy Club Outfits For Winter
Want more inspiration? Check the below fashion formulas and club outfit ideas for the winter days to copy directly.
Classy Winter Night Club Look: Zebra Fuzzy Coat + Corset Top + Black Leather Leggings + Black Booties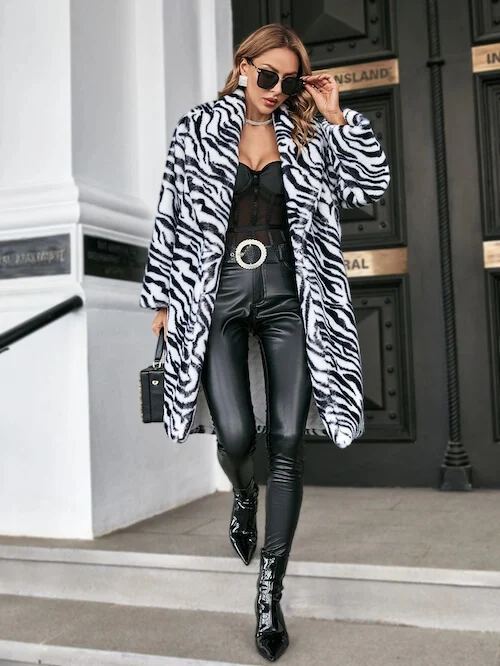 Fancy Night Club Style: White Fuzzy Coat + Sequin Bra Top + A Pair of Liquid Leggings + High Heels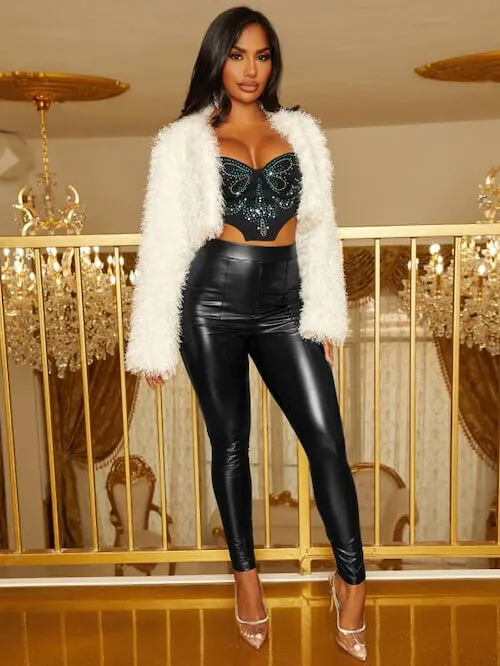 All Black Look In Winter Months: Black Fuzzy Coat + Little Black Dress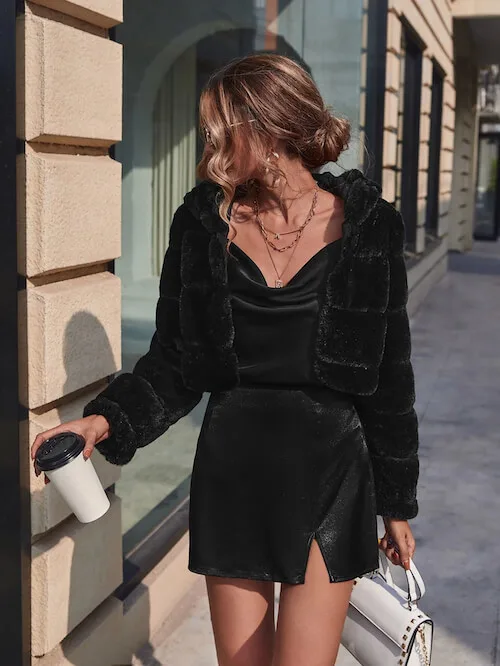 Luxury Saturday Night Club Style: Beige Fuzzy Coat + Pink Satin Slip Dress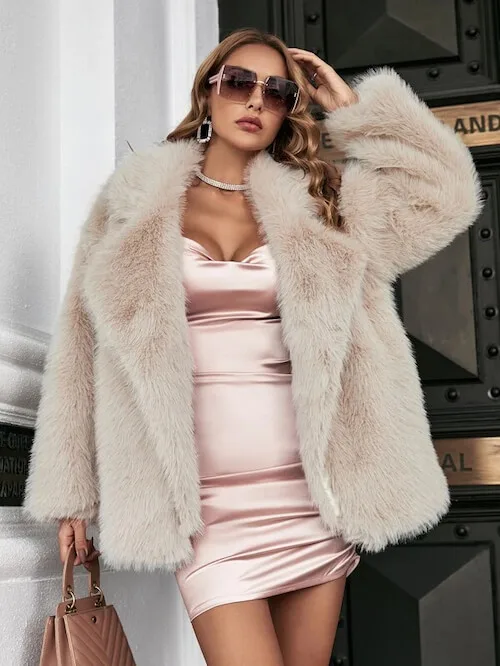 Black Is A Sexy Color: Black Fuzzy Coat + Black High Neck Top + Black Leather Leggings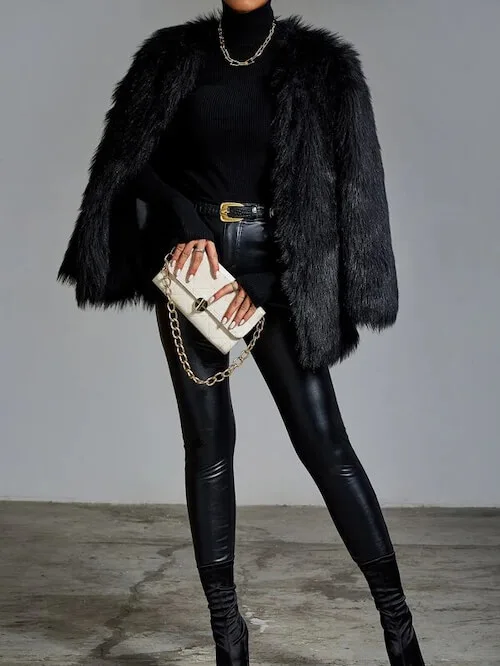 Elevated Sexy Look: Grey Fuzzy Coat + Black Corset Top + Black Leather Pants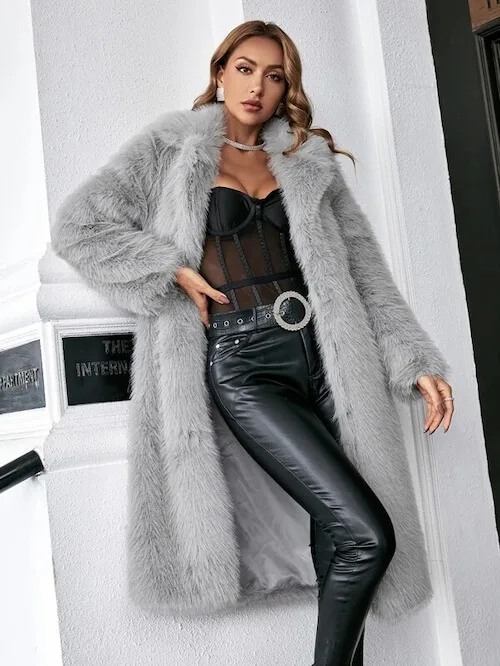 Cute Winter Outfit: Beige Long Coat + Black Mini Dress + Black Tall Boots + Hoop Earrings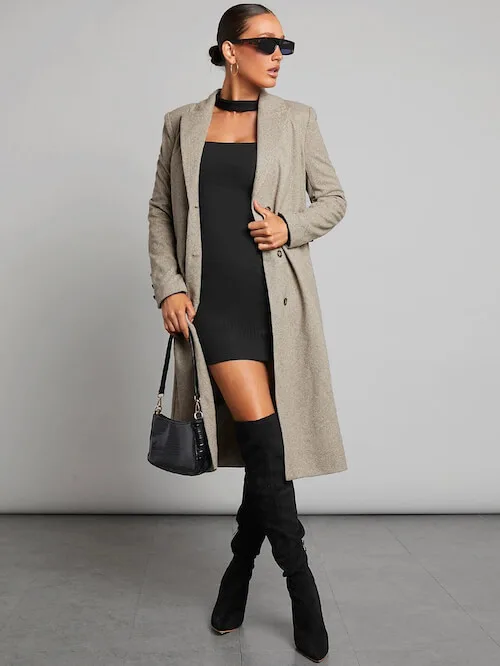 Easy Winter Season Club Look: Black Teddy Coat + White Shirts + Black Shorts + Black Boots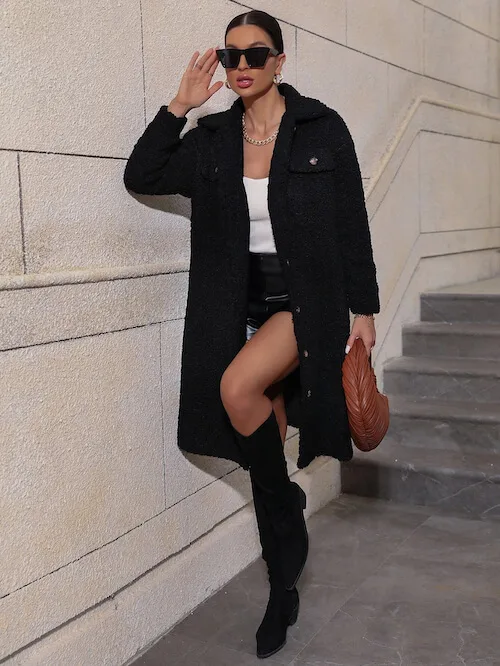 Cold Weather Club Outfit: Brown Teddy Coat + Black Top + Black Leather Skirt + Black Boots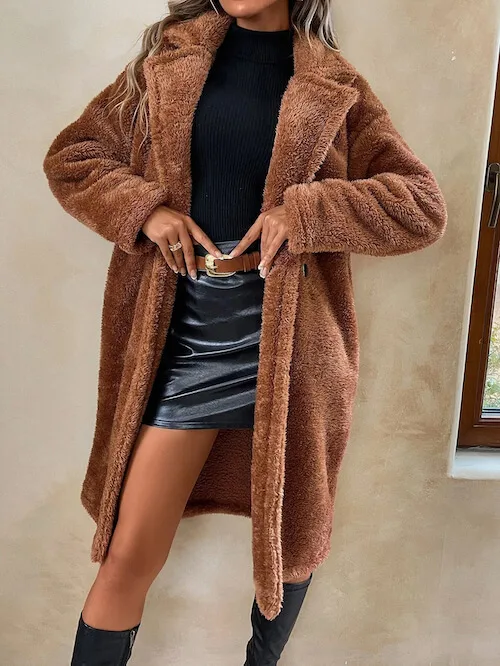 Elevated Casual Look: Buffalo Plaid Flannel Coat + Black Crop Top + Mini Skirt + Knee High Boots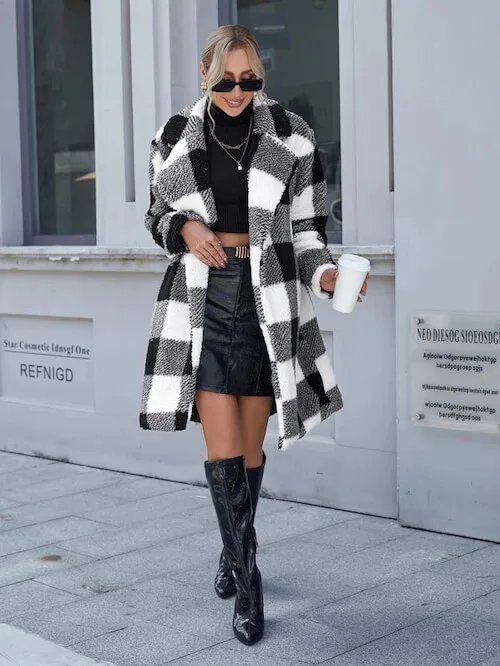 Sexy Bar Outfits: Black Fitted Jumpsuit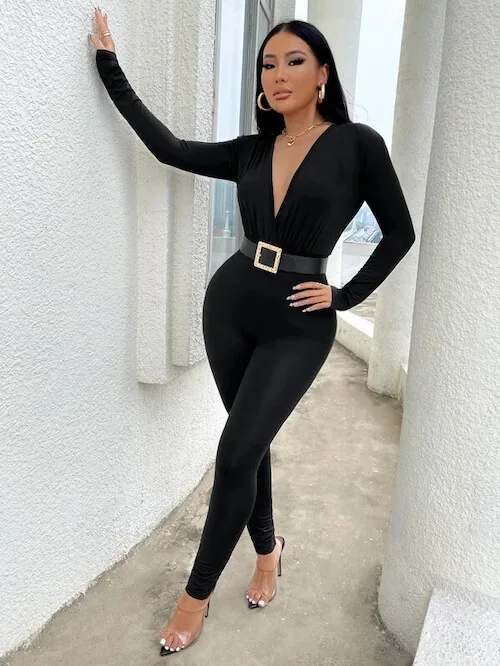 Perfect Club Dresses: Royal Blue Velvet Dress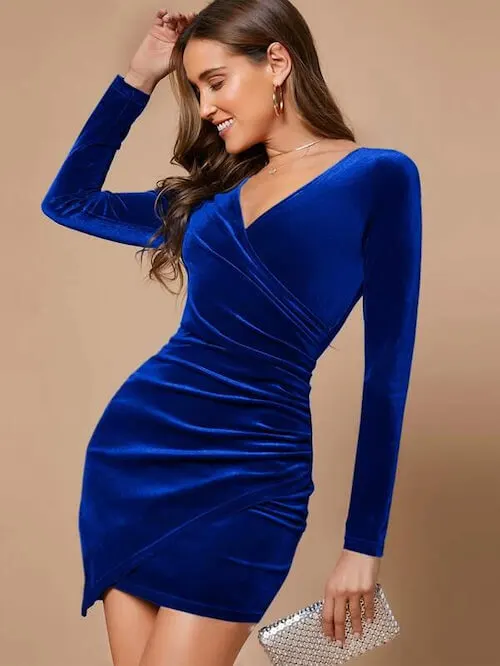 Winter Club Stylish Look: Black Mesh Bodycon Dresses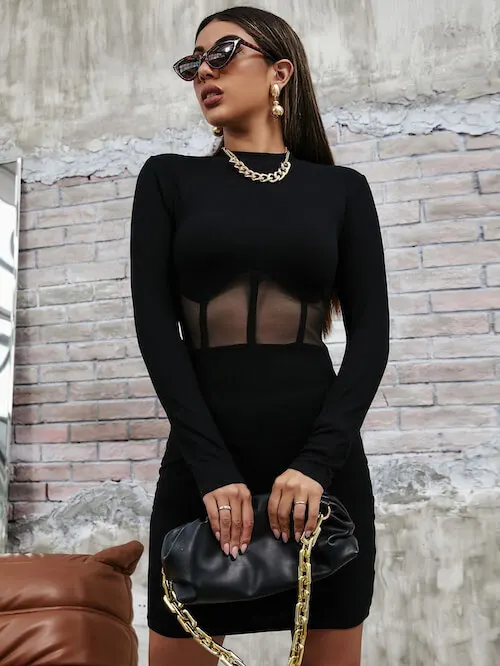 Cozy Club Attire: Chocolate Leather Blazer + Brown Dress + Brown Boots
Blazer Club Outfit For Cold Climate: Black Faux Leather Blazer + Black Mini Dress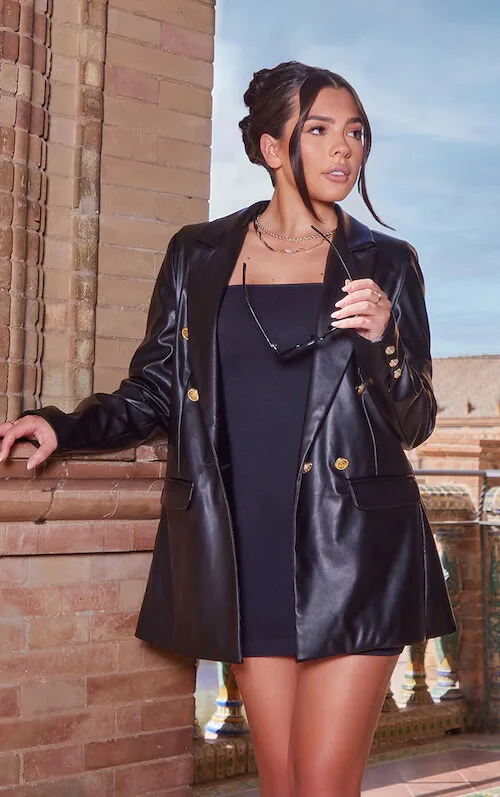 Winter Party Look: Sequin Jacket + Black Dress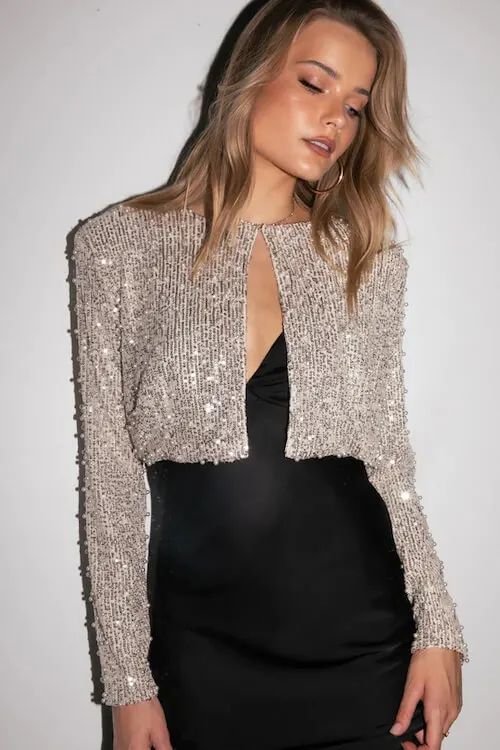 Cheetah Faux Fur Long Coat + Black Dress
Black Long Sleeves Mesh Corset + Beige Leather Pants + Black High Heels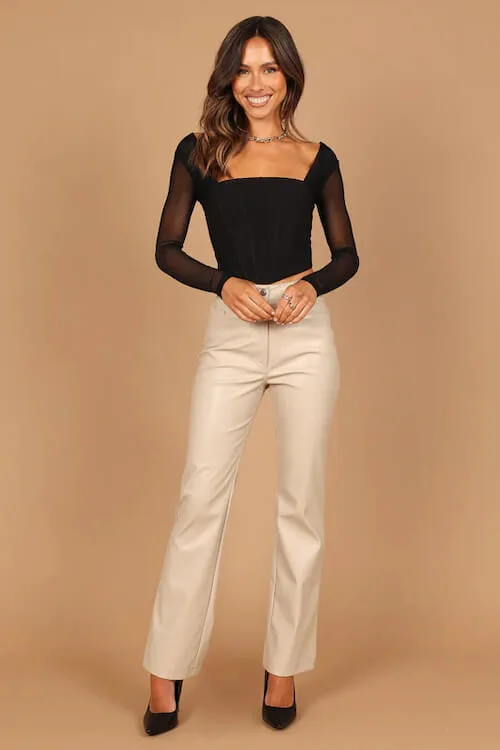 Black Faux Leather Shorts + White Top + Beige Cardigan + Black Knee-High Boots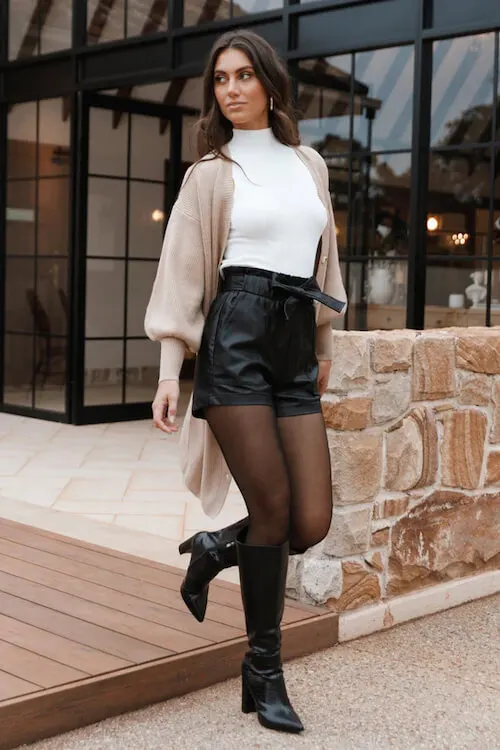 Cute Crop Top + Black Leather Pants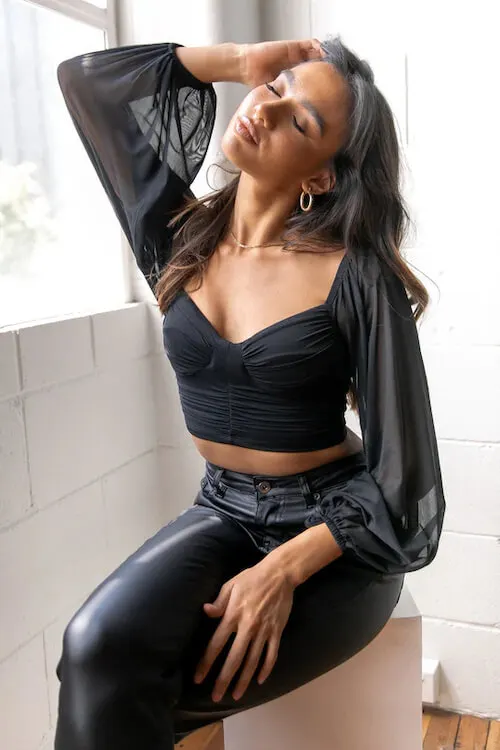 Black Corset Tank Top + Black Leather Pants + Oversized Blazer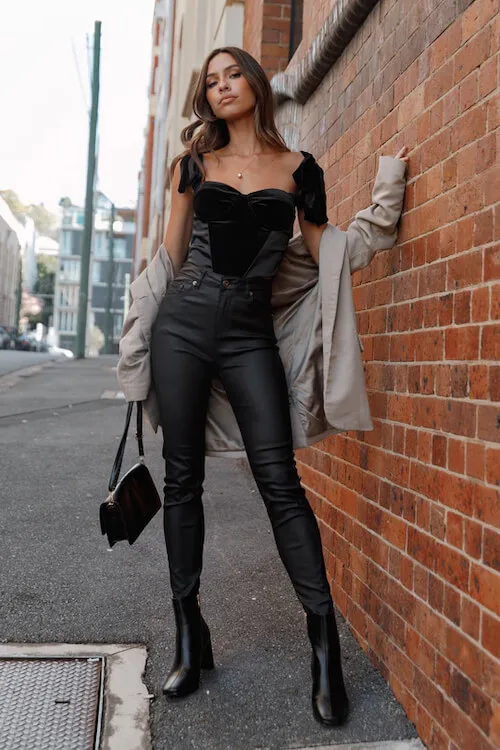 Black Cut Out Mini Dress + Black Leather Boots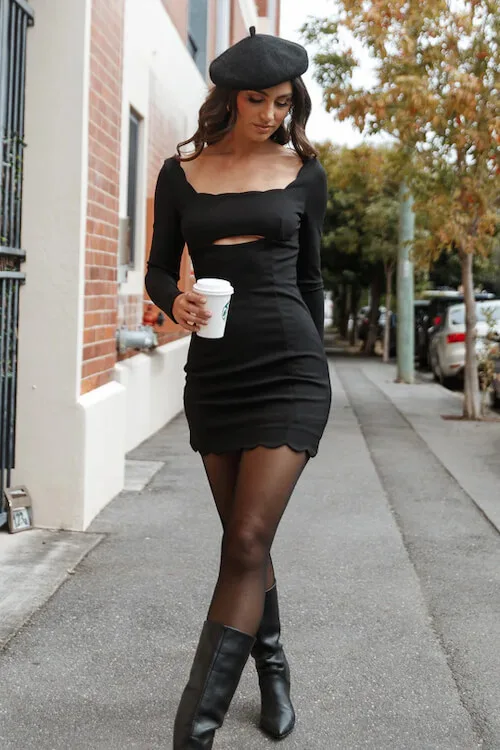 Black Satin Feather Sleeve Crop Jacket + Black Mini Skirt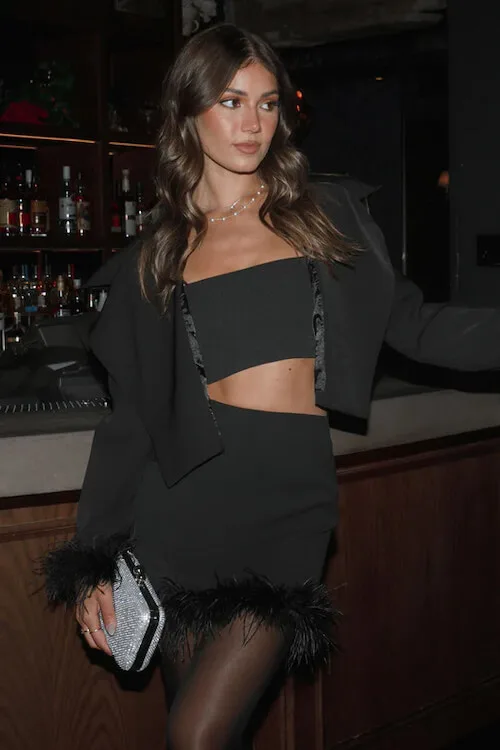 White Mini Dress + Grey Lightweight Trench Coat + Black Thigh High Boots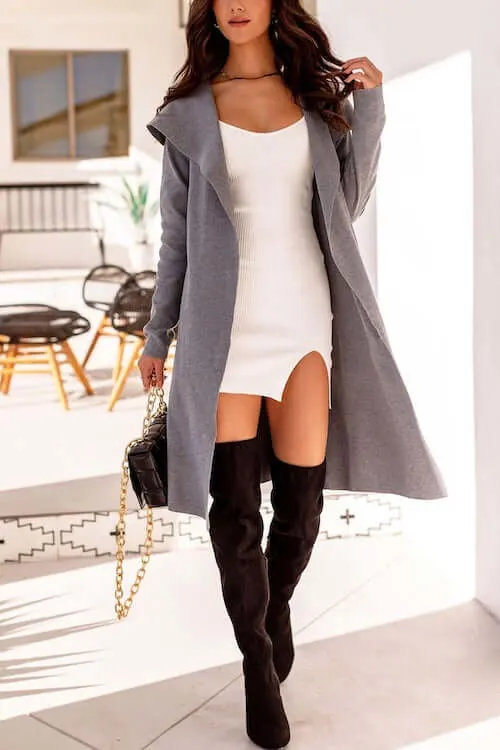 Dark Red Printed Denim Skirt + Black Leather Jacket + Black Crop Tank Top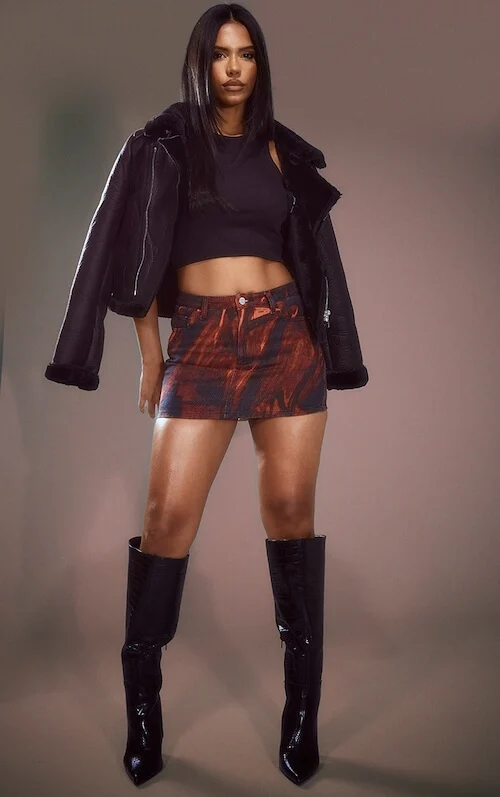 Faux Fur Coat + Lace Top + Black Mini Dress + Black Ankle Boots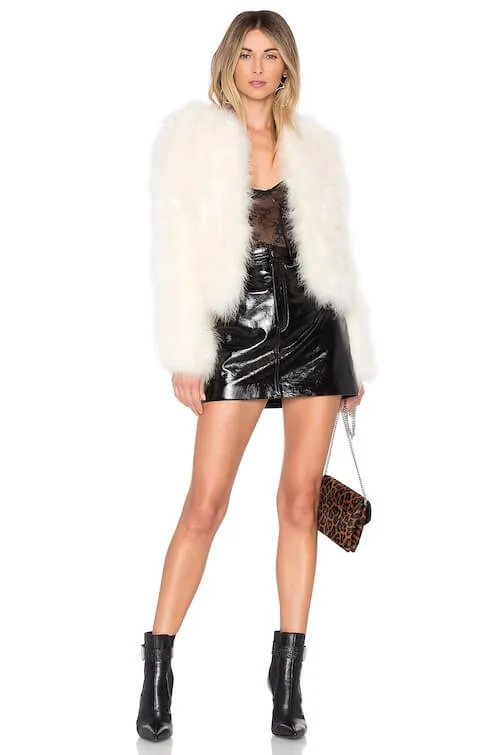 Black Leather Blazer Rag + Black Tube Top + Black Wide Leg Pants + Black Heels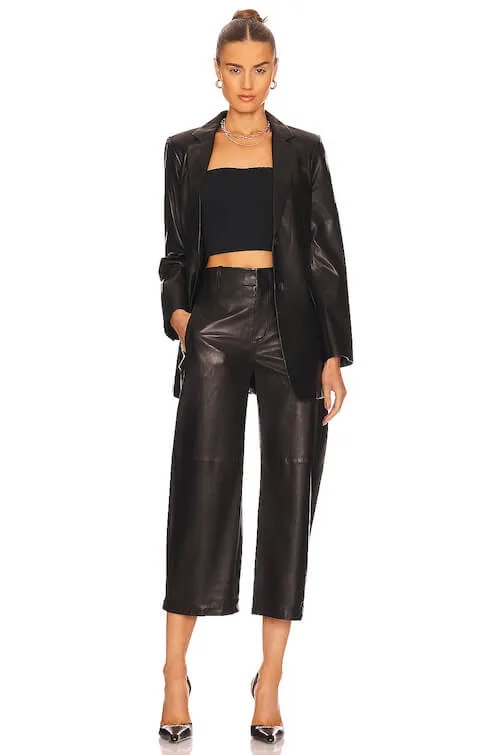 Green Crop Fitted Top + Black Leather Pants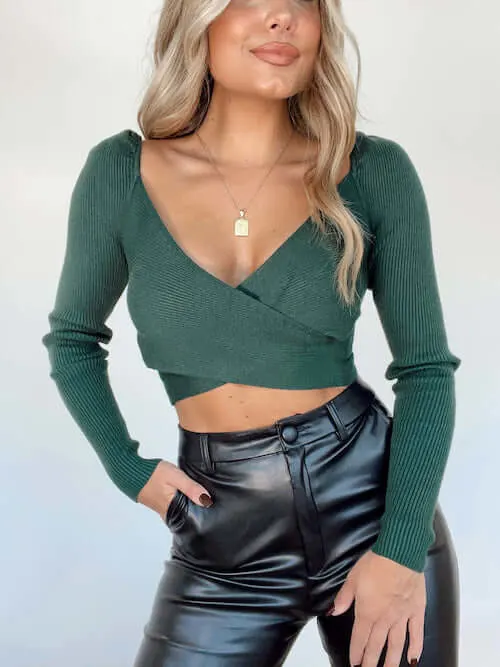 Stone Dress Coat + Cream Mini Dress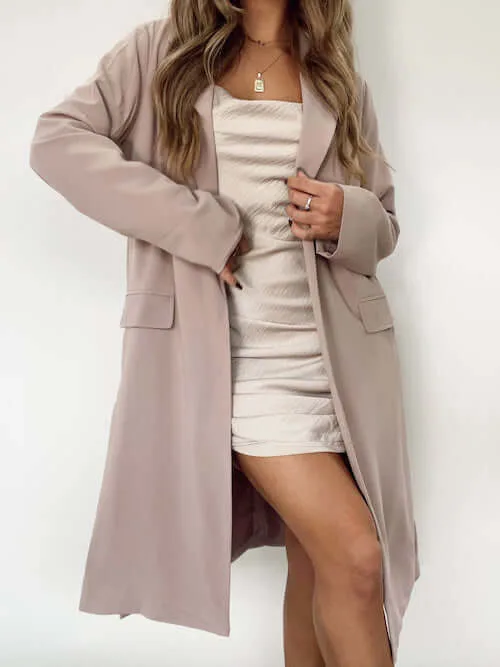 Tan Faux Leather Skirt + Black Slim Top + Black Thigh High Boots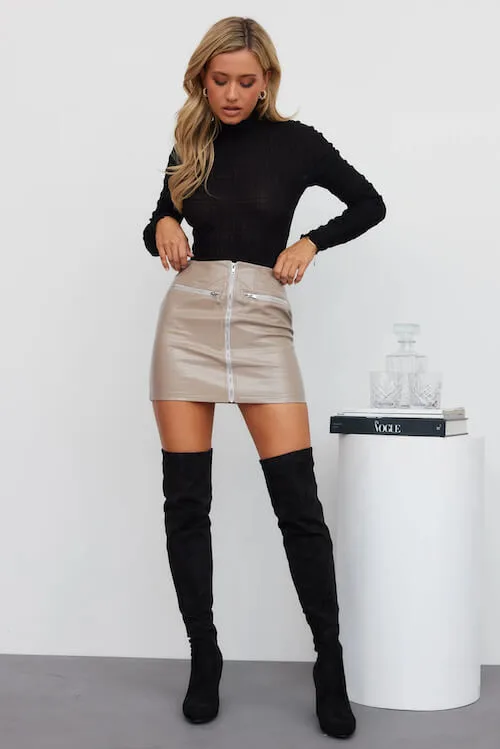 Black Blazer + White Mini Dress + Black Knee Boots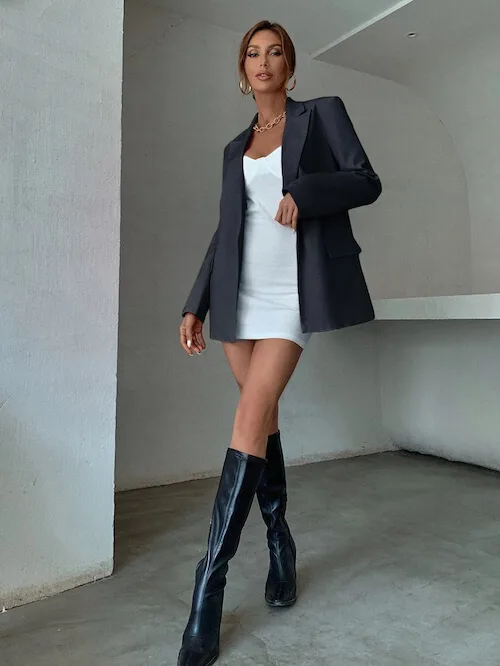 Lace Top + Brown Faux Leather Pants + White Strappy Heels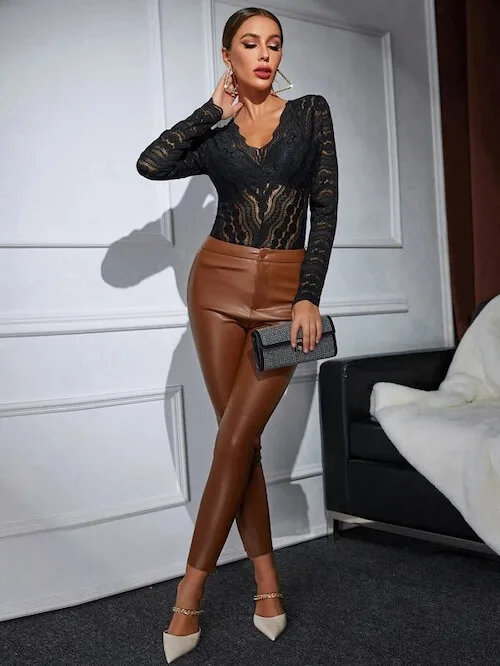 Lace Insert Cold Shoulder Tee + Black Leather Pants + Black Belt
Deep V Neck Lace Button Front Blouse + Black Leather Pants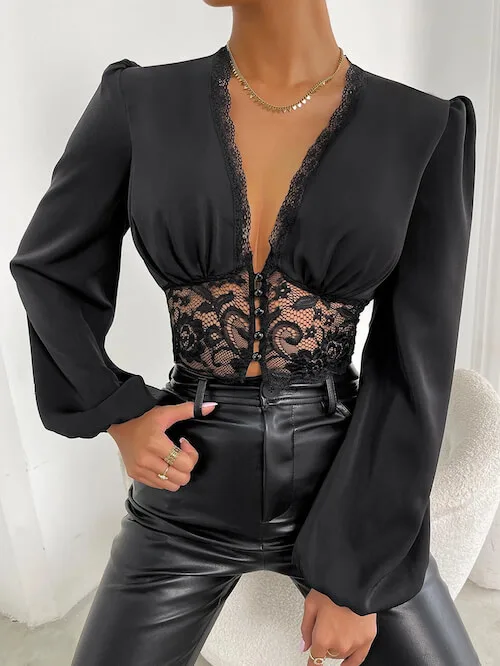 Houndstooth Print Lace Blouse + Black Leather Skirt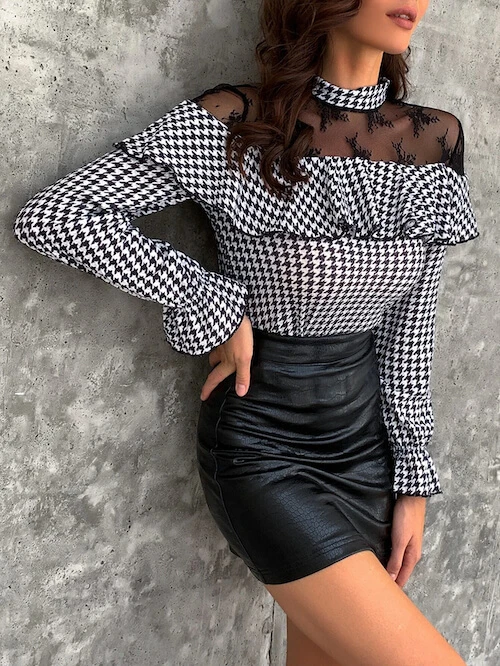 High-Waisted Skirt + White Off The Shoulder Top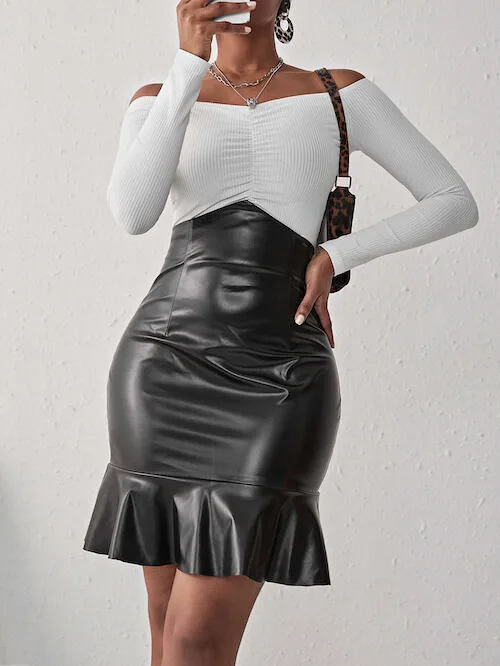 Mock Neck Split Sleeve Bodycon Mini Dress + Black Boots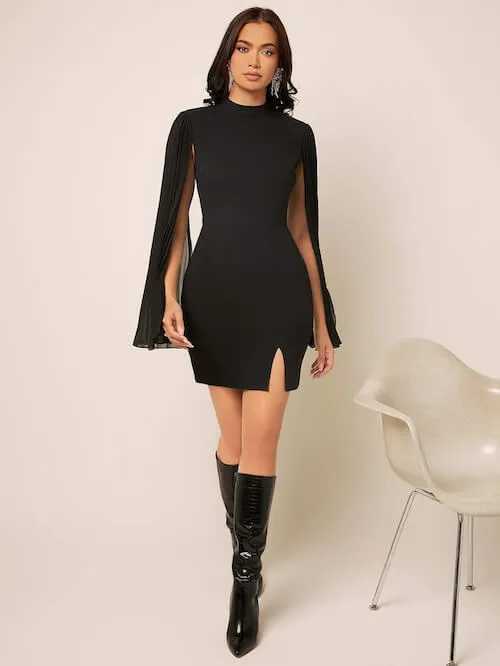 Dalmatian Print Belted Blouse + Black Skinny Pants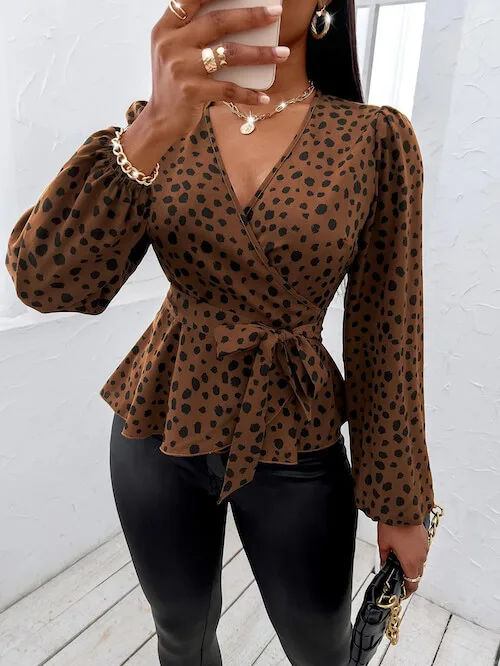 Asymmetrical Wine Red Blouse + Leather Mini Skirt + Black Belt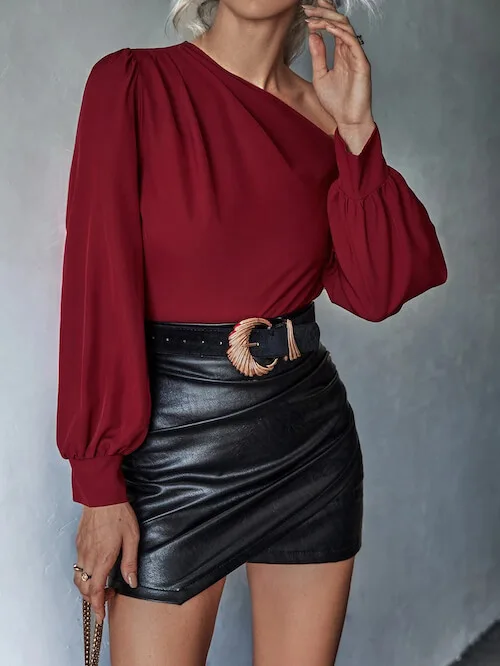 Black Sweetheart Top + Black High-Waisted Jeans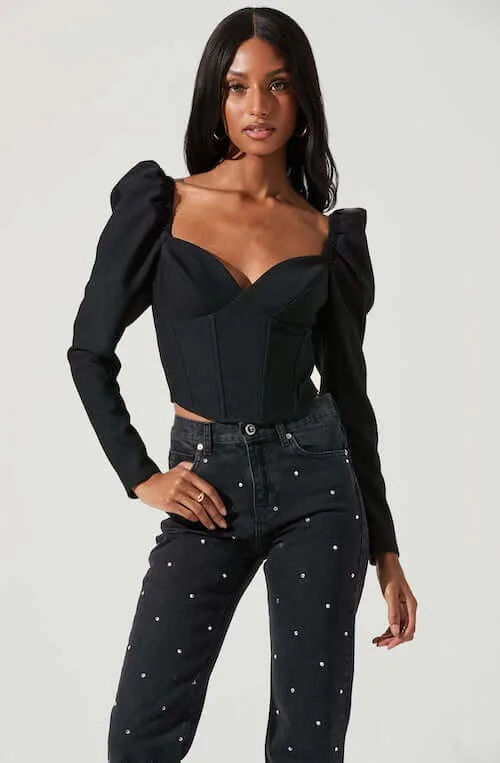 Cold Shoulder Sweater Dresses + Black Short Boots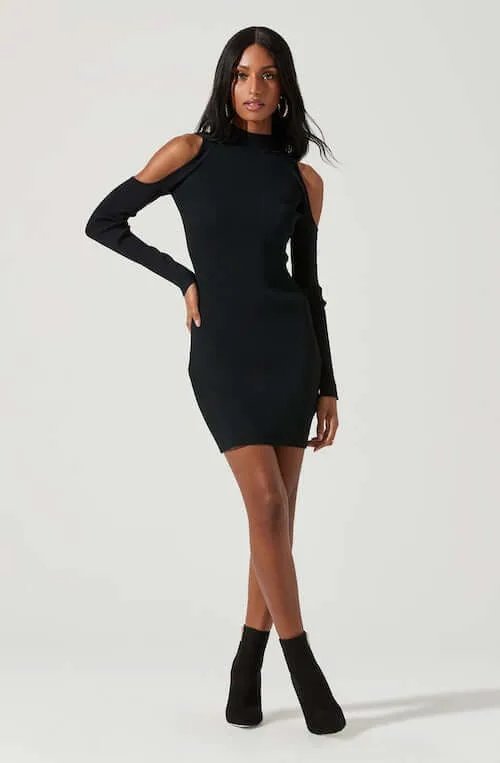 Long Sleeve Cropped Knit Top + Black Pants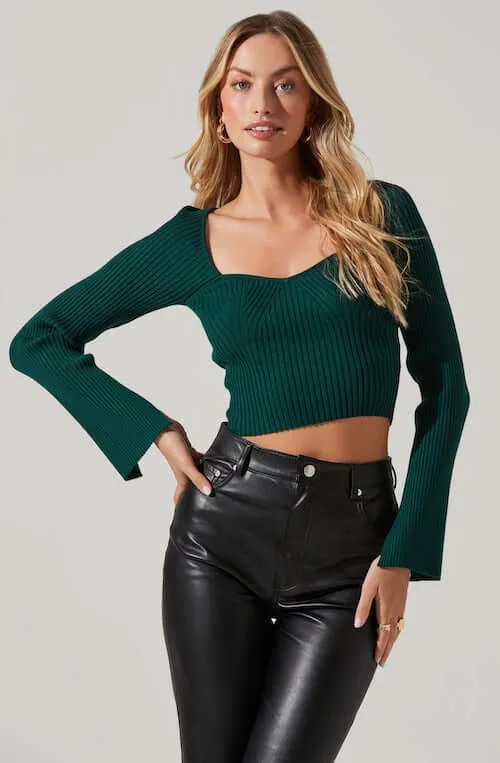 Red Satin Chain Link Top + Leather Mini Skirt
Beige Twist Front Slim-Fitting Bodysuit + Black Jeans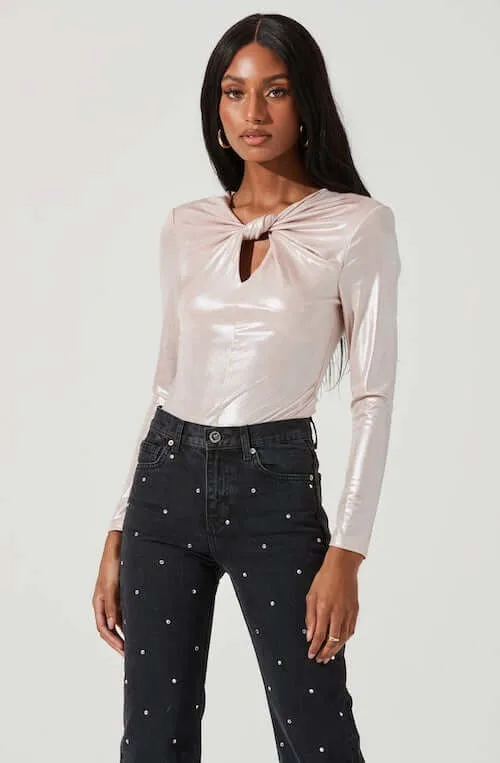 Black Teddy Jacket + Pink Mini Dress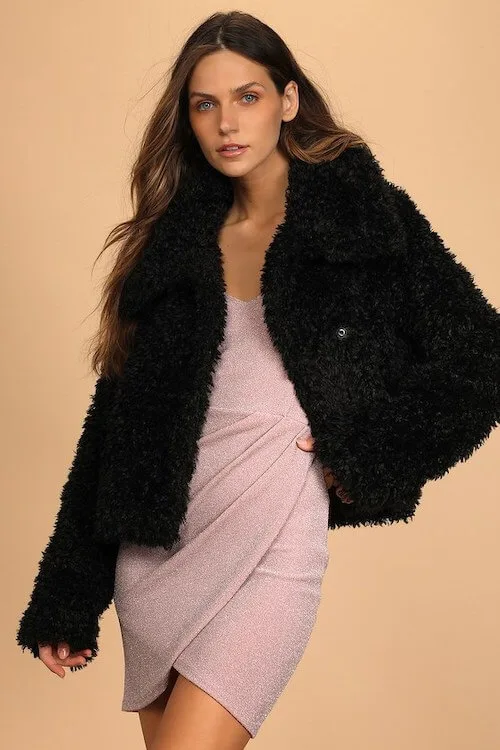 Trench Coat + Black Mini Dress + Booties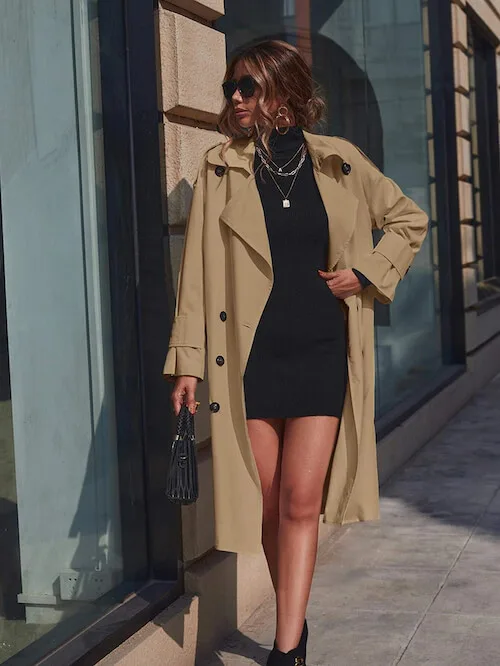 Faux Leather Trench Coat + Black Top + Black Boots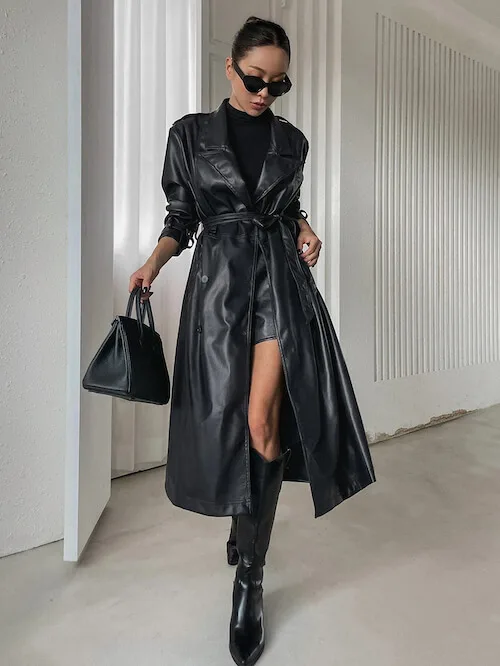 Metallic Turtleneck Mini Dress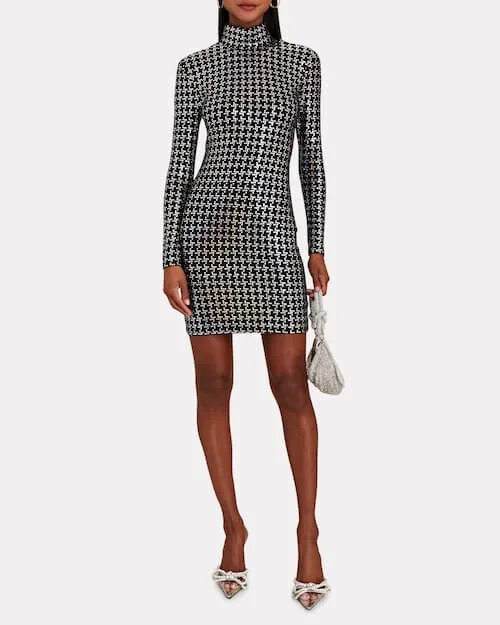 Brown Faux Leather Jacket + Black Dress + Black Boots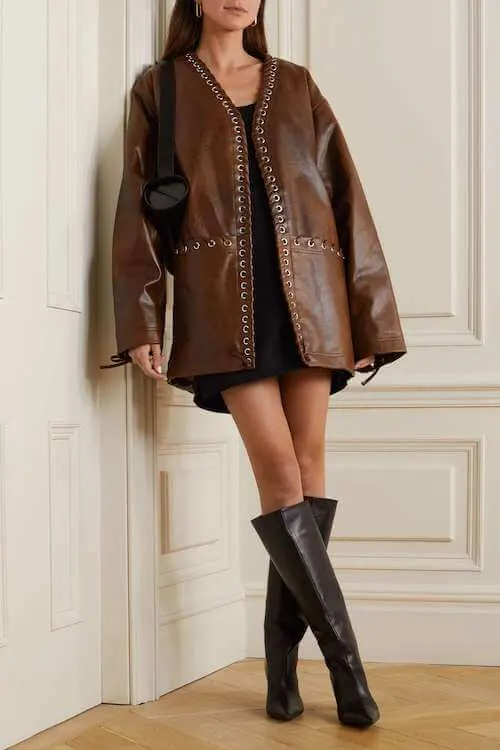 Black Fitted Blazer + Black Bootcut Pant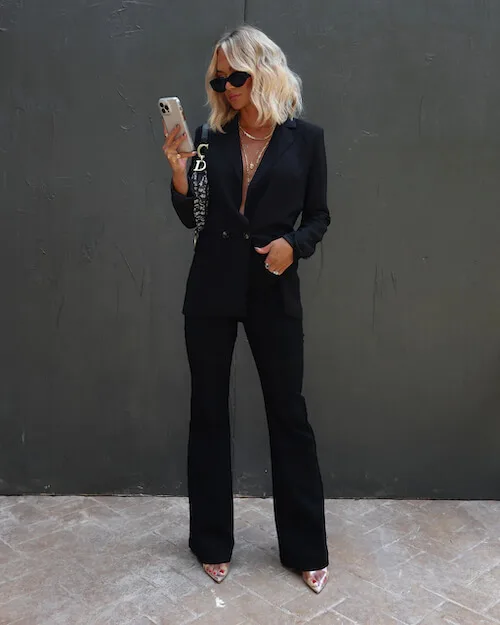 Off The Shoulder Bodysuit + Brown Leather Pants + Comfortable Nude Heels / Clear Heels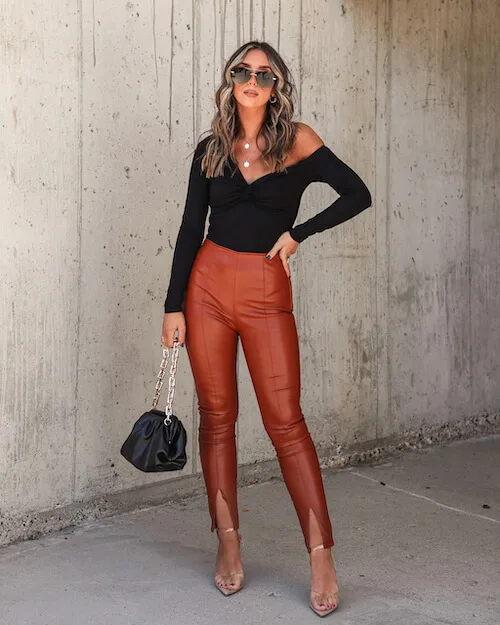 Black Sequin Blazer + Dark Blue Skinny Jeans + Black Sock Boots
Satin White Button-Up Shirt + White Pants + Black Jacket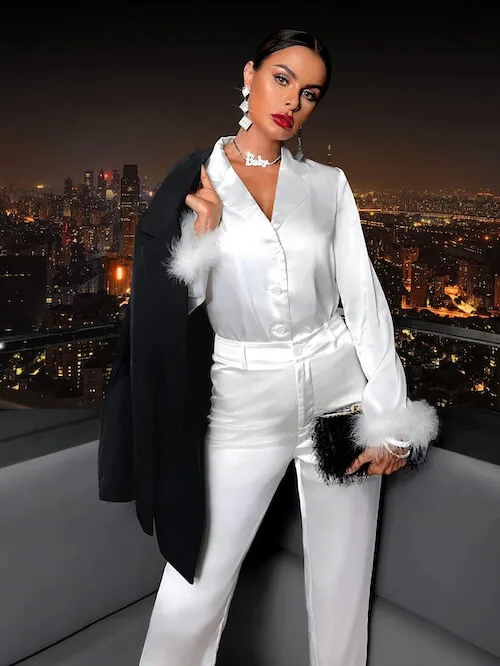 Common Questions:
Can I Wear Jeans To A Club?
For the average club, you can wear jeans for a casual vibe, but you need to avoid ripped jeans, baggy jeans, or jeans with weird prints. Dark jeans or black jeans are the best choices.
But for high-end clubs, jeans are considered an inappropriate choice of club clothing. So if you're going to a high-end bar which requires high-end evening wear, don't wear a pair of jeans.
Can I Wear Shorts To A Club?
More and more people are choosing a pair of leather shorts to go to nightclubs, so if you want to wear shorts to a club, you can wear a pair of leather shorts.
But at this time, please choose a dressy top to match your leather shorts to make you look more dressed up.
As for other shorts, including denim shorts, I don't recommend them if you don't want to risk any rejection.
Can I Wear Sneakers To A Club?
While there are ladies who choose to wear sneakers to nightclubs, and they are lucky enough to be included, I still don't recommend women wearing sneakers as one of the nightclub attire. You should wear high heels, or boots, to the nightclub.
What To Wear To A Country Club In Winter?
At country clubs in the winter, you can wear a tight-fitting sweater or a chunky knit sweater that isn't too oversized. Skirts or fitted trousers are great options. You can also wear a long-sleeved dress or a slim knit sweater dress.
Also, I recommend opting for lighter neutrals, such as white, beige, cream, silver, brown, and blue, which will look more comfortable than black for a country club.
You can refer to Ralph Lauren's winter fashion pictures to know the most appropriate winter country club dress style.
What To Wear To Dance Clubs In Winter?
In winter dance clubs, you should ask about the dress code of the specific club. It is a great way to help you choose the most suitable clothing and avoid embarrassment, as different types of clubs have different requirements for costumes.
Usually, a fitted dress that is not too long is a very good choice. I also recommend wearing well-fitting trousers, including fitted jeans, to complement a cami top or dressy blouse.
In winter festivals, a pair of sequin pants will also make you stand out and win a lot of compliments.
Finally, you should choose a pair of comfortable shoes to help you move freely and confidently on the dance floor.
This post was all about classy club outfits for winter.
About The Author
Tracy is an experienced personal stylist, shopping expert, and fashion & lifestyle blogger. She has been featured on Time Magazine, Bustle, Best Life, Glam, The Zoe Report, Mic, and GOBankingRates, for her insights on fashion, beauty, home decor, and lifestyle. Read More
Related Posts: