Looking for cute and sexy country concert outfits for women? Check this post for the ultimate style tips on what to wear to a country concert for women, and trendy & sexy country concert outfit ideas to copy directly. Whether you are looking for sexy country concert outfit ideas for spring & summer, or stylish country concert looks for fall & winter, we've got you covered!
No matter what season, ladies can always express their inner country girl when attending a country concert.
As the leaves start to fall in the autumn, to the sun warming up the spring and summer, and even during colder winter months, there's something special about getting dressed up for a country concert.
Whether you prefer something cute and flirty or sexy and edgy, there are plenty of outfit ideas that will help you stand out from the crowd.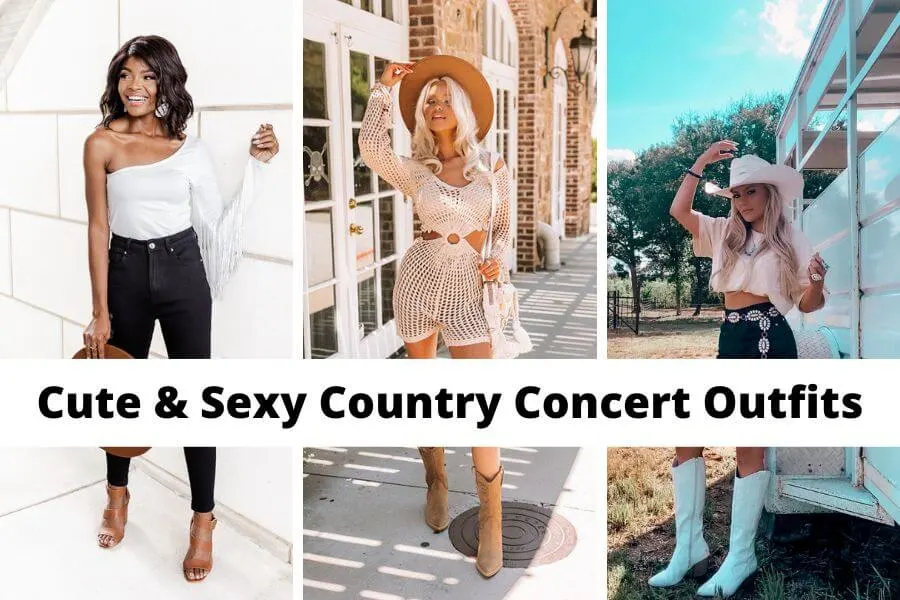 This post may contain affiliate links, which means I'll receive a commission if you purchase through my link, at no extra cost to you. Please read the full disclosure here.
This post is all about cute and sexy country concert outfits for women.
What to Wear to a Country Concert for Women?
Attending a country concert can be exciting and it's important to know what to wear that is both stylish and comfortable.
Women have a variety of outfits they can choose from, depending on their personal tastes.
Whether you prefer jeans or dresses, there are options for everyone.
For starters, women attending a country concert should opt for casual items like distressed jeans with a simple top or dress shirt.
Denim overalls are also popular because they look cool and provide comfort when dancing the night away.
Other go-to pieces include floral print sundresses, leather jackets, cowboy boots, classic t-shirts and skirts paired with cowboy boots or sandals.
To make your outfit extra special add some accessories like chokers, bandanas and statement jewelry pieces like large earrings or necklaces.
Finish off the amazing concert look with some beachy waves in your hair to give it more dimension.
Scroll on to check more style tips for your perfect country concert look!
How do you look hot at a country concert?
If you're attending a country music concert, you want to look your best.
To make sure you look hot at the concert, there are certain fashion tips that you can use to make sure that all eyes will be on you in the crowd.
Your outfit should be comfortable and stylish enough to turn heads.
A great option for women is short shorts with a tank top or crop top in an eye-catching color along with some fun jewelry pieces like cowgirl boots, necklaces and bracelets.
You could also opt for bright-colored shorts paired with an off-the-shoulder blouse, cowboy hat, and booties or sneakers.
If it gets chilly, throw on a denim or leather jacket to complete your trendy country look while still looking stylishly cute!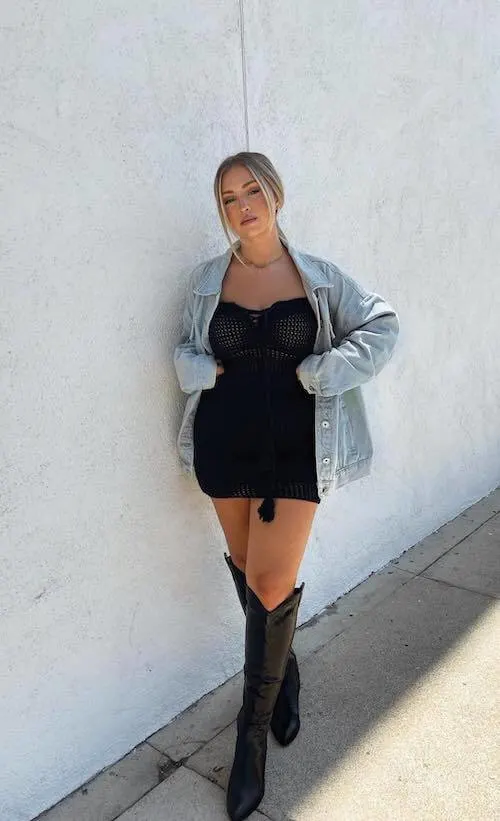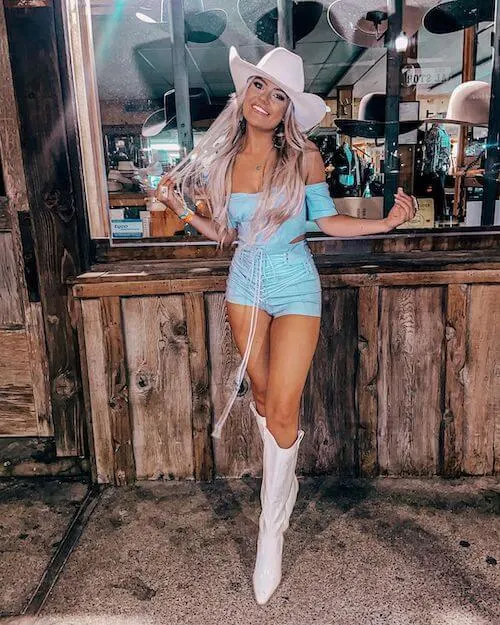 @itstaylorrousseau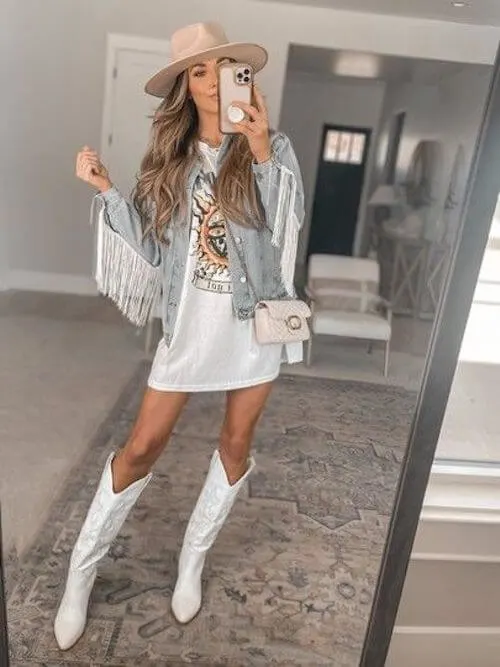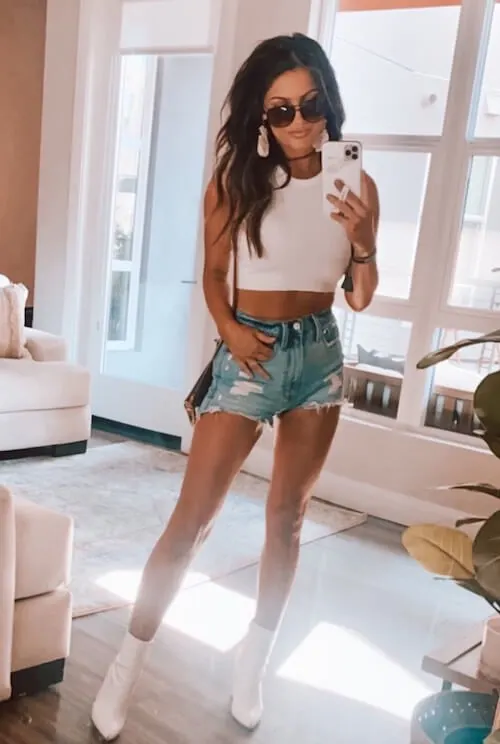 @sskertich
What shoes to wear to a country concert?
When choosing the perfect kicks for a country concert, it's essential to find a pair that can keep you comfortable throughout the night while also looking fashionable.
For women, there are a few key styles to consider when deciding what shoes to wear.
Look for boots that have an edgy flair and embody modern trends.
For example, pair a western-style boot with frayed jeans and a flirty fringe top or choose combat boots with embroidered details to add some attitude.
If you want something more casual yet still stylish, try pairing mid-calf boots with jean shorts and an off-the-shoulder blouse or even opt for chunky platform sneakers with flared jeans and a crop top.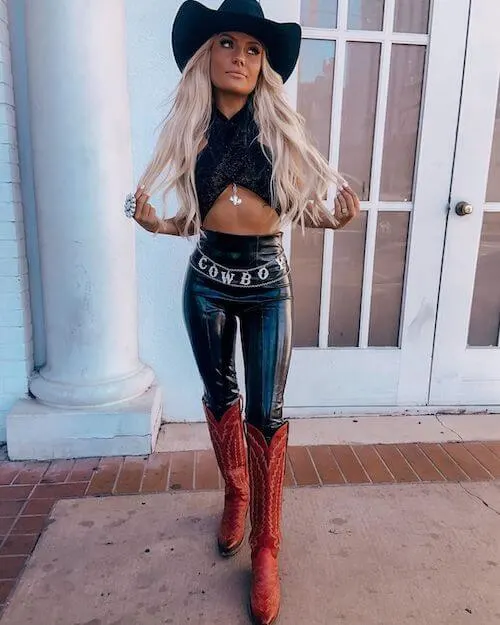 @itstaylorrousseau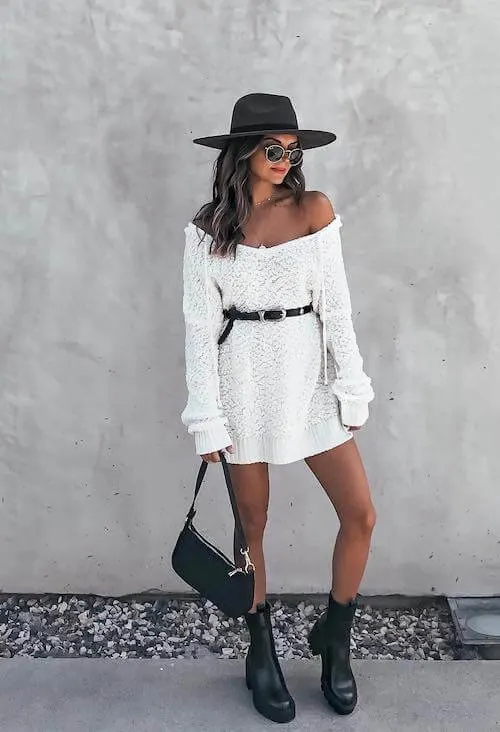 @jilldeconti
Sexy Country Concert Outfits For Women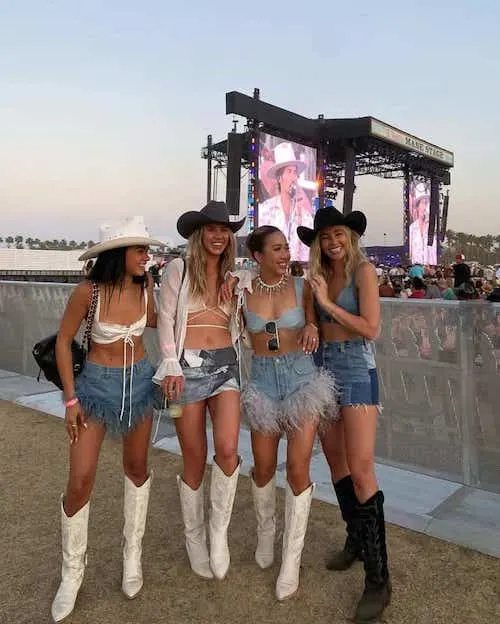 @JESSTHROWITON_
Putting together an outfit that is both cute and sexy can be tricky but it doesn't have to be.
To help get the ideas flowing, here are some great tips on how to put together a fun, flirty country concert outfit that will turn all heads in your direction.
Start by picking out one main piece of clothing; whether it's a pair of jeans or shorts, pick something that flatters your figure and makes you feel confident.
Then choose a cute top such as a tank top with fringe or lace details.
For extra style points, pick up an edgy western-style vest and add cowboy boots, booties, or cute sandals.
Want more inspiration? Scroll on to check more best country concert outfit ideas.
Oversized Blazer + Leather Leggings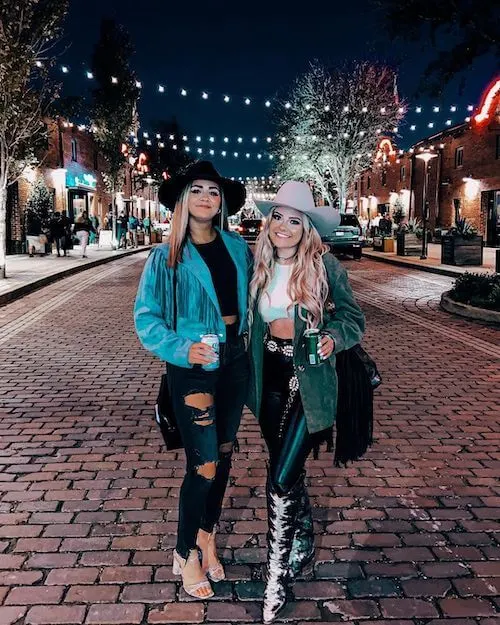 @itstaylorrousseau
If you're heading to your favorite country music concert and want to look stylish and unique, consider pairing an oversized blazer with leather leggings.
Not only will you turn heads with a bold fashion statement, but you'll also stay cool in the summer heat.
The best part is that this look is easy to put together without breaking the bank.
An oversized blazer can make any outfit look chic and polished.
Choose a classic cut or one with an interesting pattern for added flair.
When it comes to leather leggings, fitted styles are most flattering if you want to show off your curves while keeping everything covered up.
Try adding a belt at the waist for an extra definition or contrast fabric detailing down the side of the legs for added interest.
Finish off your ensemble with some cowboy boots for maximum country vibes!
Denim Jacket + Wide Leg Denim Jeans + Cowboy Hat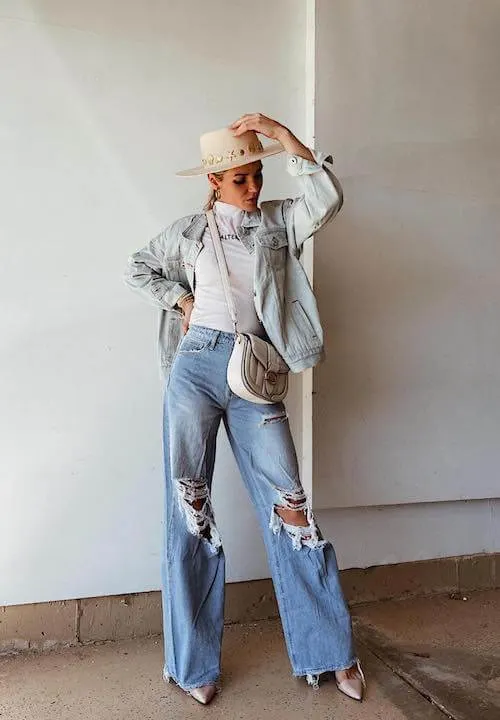 For the woman who loves a laid-back look, nothing says country concert like a denim jacket and wide-leg denim jeans.
Perfectly suited for any outdoor event, this classic country music look is sure to turn heads.
With the added flair of a cowboy hat, there's no better way to show off your personal style.
Adding a denim jacket over your favorite t-shirt or tank top is all it takes to complete this look.
Choose one in a light wash with subtle fraying at the edges for an effortless vibe that's perfect for casual events like country concerts.
Wide leg jeans are also essential; opt for vintage styles that hit just above your ankles and team them with low-heeled sandals or ankle boots for an easy yet chic aesthetic.
Sexy Top + Denim Shorts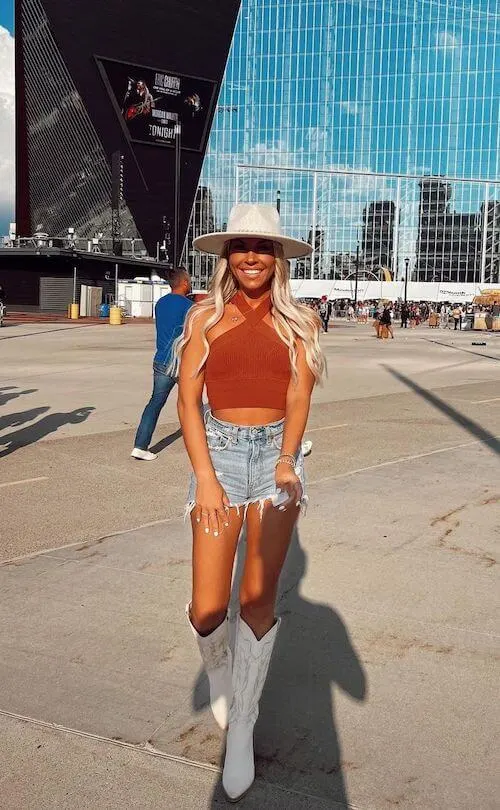 @hollymarievanselow
To really stand out, opt for a sexy top and denim shorts combination.
Start with a statement top that expresses your individual style.
Look for something flowy or fitted in bright colors or printed patterns like florals and stripes.
A ruffled detail at the neckline can also add feminine flair.
Balance out the structured denim shorts with this eye-catching piece for maximum impact.
For bottoms, go for classic high-waisted denim shorts in light washes that hit just above the knee—the perfect length for hot summer days spent outdoors!
Crop Top + Midi Skirt + Chunky Belt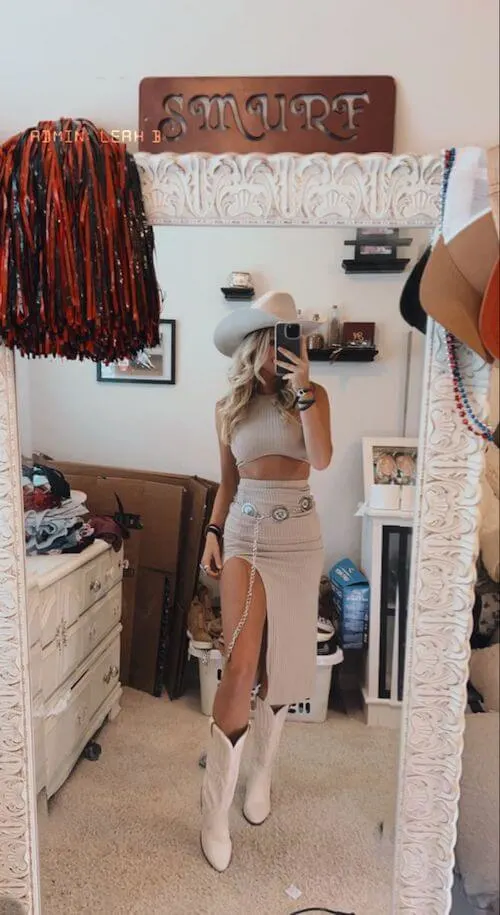 @leahgrace224
It can be difficult to find an outfit that is both stylish and comfortable but with this look, you don't have to sacrifice either.
The key to nailing this look is sticking to all neutral colors, allowing the accessories to stand out without going overboard.
Start with a beige cotton crop top for an effortlessly cool look.
Then add a light-wash denim midi skirt or a beige one that hits just below the knee and shows off your curves.
This combination of pieces will give you enough coverage while still making a statement on its own.
Finish off your outfit with a chunky belt in tan or black leather, depending on your personal preference, that adds texture and depth while tying everything together nicely.
Oversized Tee + Cowgirl Boots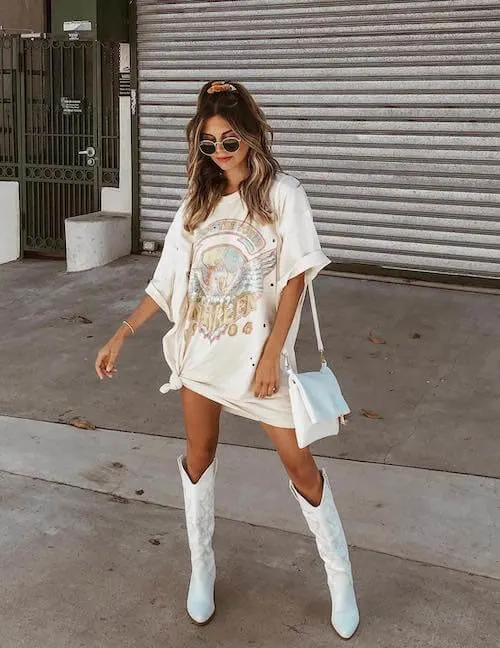 @jilldeconti
The combo of an oversized tee and a pair of cowgirl boots is the perfect look for any country music concert.
The trick here is to accessorize with statement jewelry such as chunky necklaces, layered bracelets, or hoop earrings to really amp up the whole look.
Denim Jacket + Mini Dress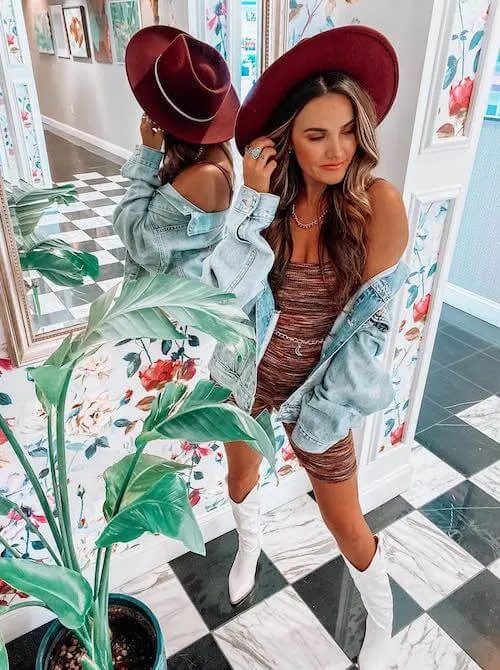 If you're looking for an effortless, yet stylish outfit to wear to a country concert, look no further than the classic denim jacket and mini dress combo.
The denim jacket is a timeless wardrobe staple that can be worn in any season and will always look great.
The mini dress is a perfect choice for summer music festivals or concerts as it keeps you cool while still looking fashionable.
This ensemble is sure to turn heads while you enjoy your favorite artists play their best tunes!
When properly styled with the right accessories, this ensemble offers an effortless way to make your country music experience extra special.
For added style, opt for an oversized denim jacket with rolled-up sleeves and bright buttons on the front pockets.
To complete the look, pair it with a mini dress in a bold solid color or fun print like gingham or floral patterns.
Black Mini Party Dress + Chunky Belt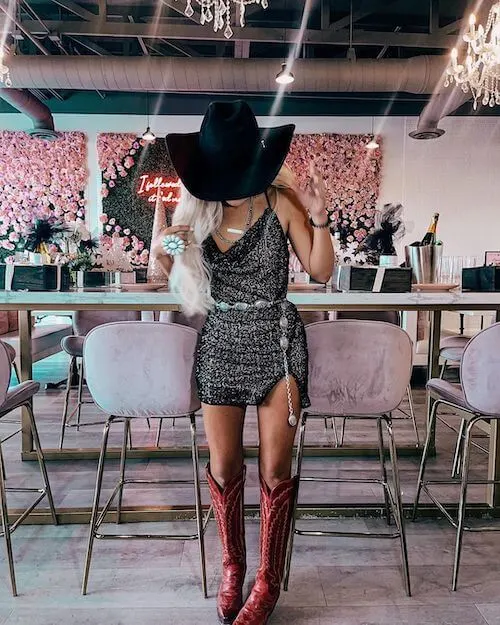 @itstaylorrousseau
With a black mini party dress and a western-style chunky belt, women can look fashionable yet comfortable all night long.
The black color makes it timeless and chic, while the chunky belt adds just the right amount of sass to make it perfect for country music concerts.
Plus, its loose fit will keep you cool on hot summer days or in crowded venues.
Corset + Kimono + Jeans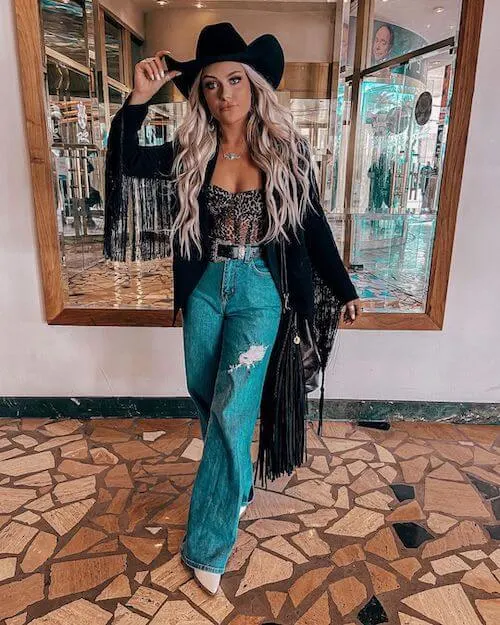 @itstaylorrousseau
This outfit provides comfort, style, and flexibility all in one package.
The corset gives the wearer an hourglass figure while still allowing them to move freely throughout the event.
The kimono adds an element of sophistication to the look, while also providing a loose fit that won't feel restricted when they're dancing and singing along with their favorite artist.
Jeans are a perfect addition to this ensemble as they provide breathability and texture that will allow you to experiment with different styles.
This is a great outfit for any fan regardless of body type; it allows them to show off their curves or keep it casual with a more relaxed cut depending on their preference.
Brown Leather Fringe Jacket + Black Skinny Jeans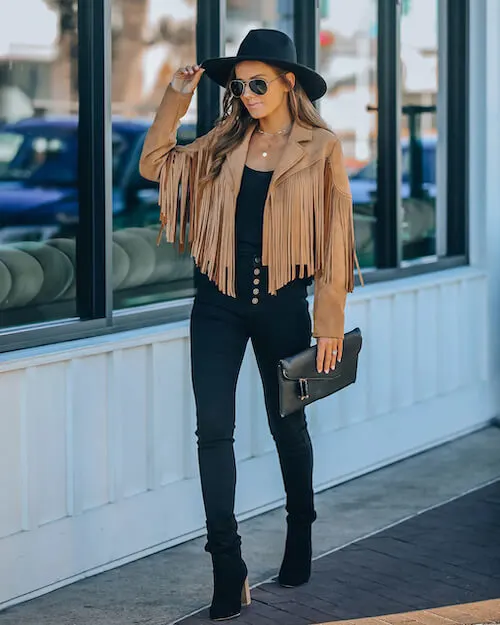 One of the season's hottest looks is the brown leather fringe jacket combined with leather leggings.
This look is both stylish and comfortable, allowing you to dance the night away while still looking your best.
This trend-setting combination of statement pieces will have everyone turning their heads as you strut into the venue.
The soft, supple brown leather adds an edgy boho vibe that will captivate onlookers, while the fringe detail gives you that extra bit of movement when you dance.
Paired with black or brown leather leggings, this ensemble ensures maximum comfort without compromising on style.
Plaid Shirts + Denim Shorts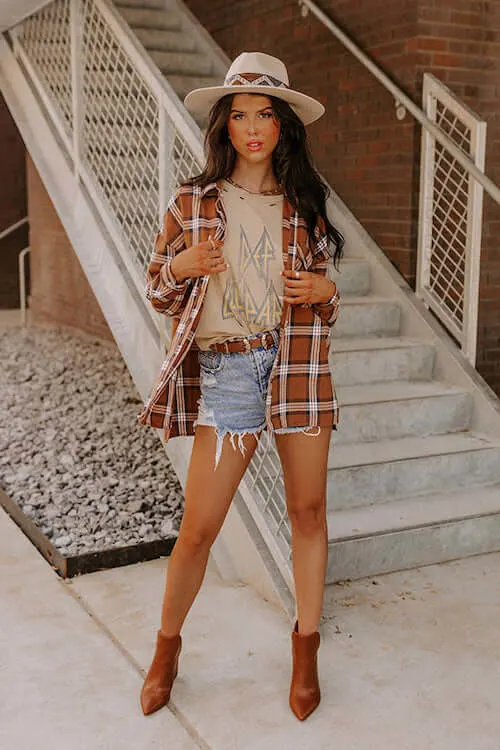 With many different plaid patterns and denim styles to choose from, there's truly something for everyone.
Plaid shirts are available in long or short sleeves and can be found in lightweight fabrics ideal for warm-weather concerts.
Denim shorts come in various washes and lengths, so finding just the right pair is easy.
Whether you prefer wearing cowboy boots or sandals, this timeless combo of a plaid shirt and denim shorts will have you looking your best when attending that upcoming country concert!
Cute A-Line Sundress / Lace Dress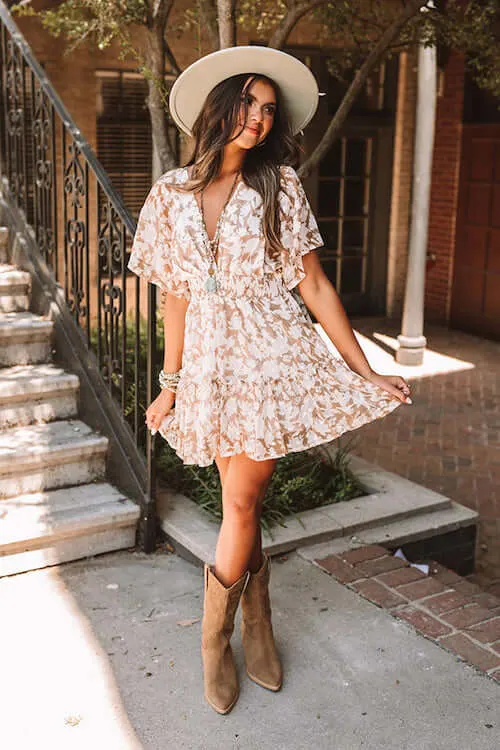 Looking for an easy outfit to hit the country music scene in?
An A-line sundress is a great option for any country concert.
This classic silhouette emphasizes your waist and flows outward, giving you a look that's both feminine and flattering.
Whether you want to dress up or keep it casual, there are plenty of ways to style an A-line sundress so you can find the perfect look for your next country music show.
Start by selecting the right material.
Choose cotton or linen fabrics that breathe easily in warmer weather; these materials also make movement easy when you're getting down on the dance floor.
Once you have your dress selected, accessorize with classic cowboy boots or strappy sandals depending on how dressy your look should be.
Boho Vibe Romper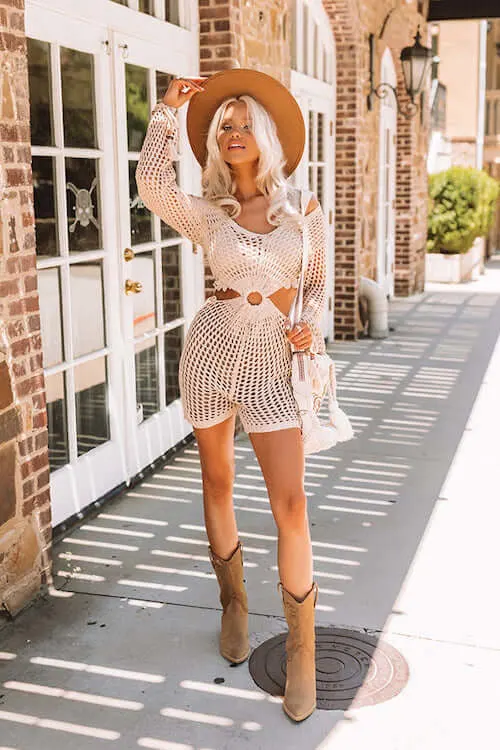 The great thing about rompers is that they are easy to style for any occasion.
To create a cool, casual look for a country music concert choose one in an earthy tone like brown or cream.
Accessorize with some statement jewelry, such as chunky earrings and necklaces made of natural materials like wood and stone beads.
A pair of ankle boots will provide extra comfort during long days spent standing in the crowd.
Add an oversized hat or bandana tied around your head for bohemian flair and you have an effortless look perfect for singing along with your favorite artist!
Stylish & Sexy Jumpsuit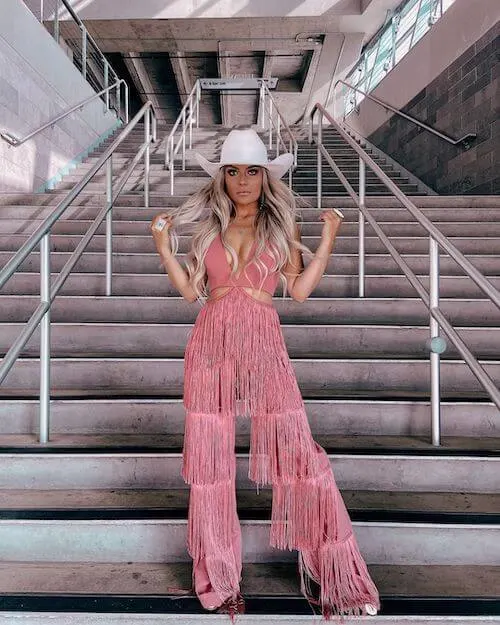 @itstaylorrousseau
Jumpsuits have become a popular fashion trend for women and can be extremely stylish and sexy.
They are perfect for any occasion, including country concerts.
Wearing a jumpsuit to a country concert can give you the perfect combination of comfort and country style while still showing your love for the music.
When choosing the right jumpsuit for a country concert, pick one with small details that will make it stand out from the crowd.
Look for subtle western-inspired details such as fringe or studs on pockets or collars, cowboy boots, or even embroidered flowers along the seams.
Choose colors that reflect your personal style; bright reds and blues look great at these events too!
Complete your look with some statement jewelry like oversized hoop earrings or chunky bracelets to add a touch of a country vibe.
What do you wear to a summer country concert?
Attending a summer country concert can be an exciting experience, but deciding what to wear can be a challenge.
What's the best outfit for a woman looking to make an entrance? Here are some tips and trends that will help you make the right decision.
The key is to strike a balance between comfort and style.
A denim skirt or shorts paired with comfortable sandals or boots allow you to move around as much as you please while also looking stylish.
If it's chilly outside, layer up with a light sweater and throw on your favorite knee-high boots for extra warmth.
Accessorize your look with statement earrings, necklaces, hats, or scarves for added flair.
For those who prefer more feminine looks, pretty sundresses in fun prints are always a great option for summer concerts.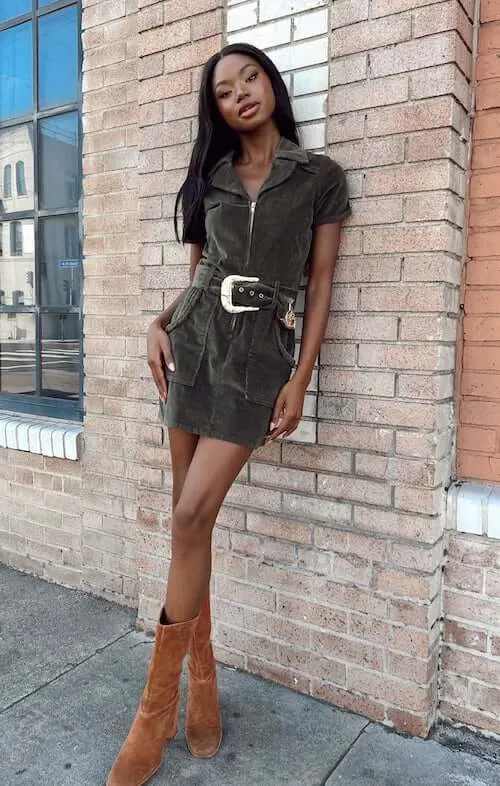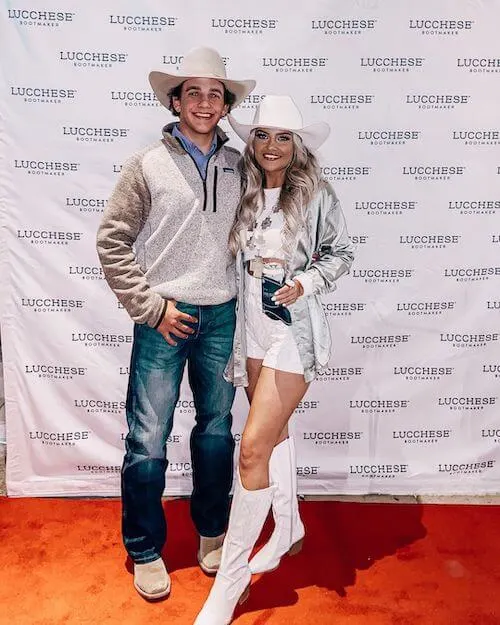 @itstaylorrousseau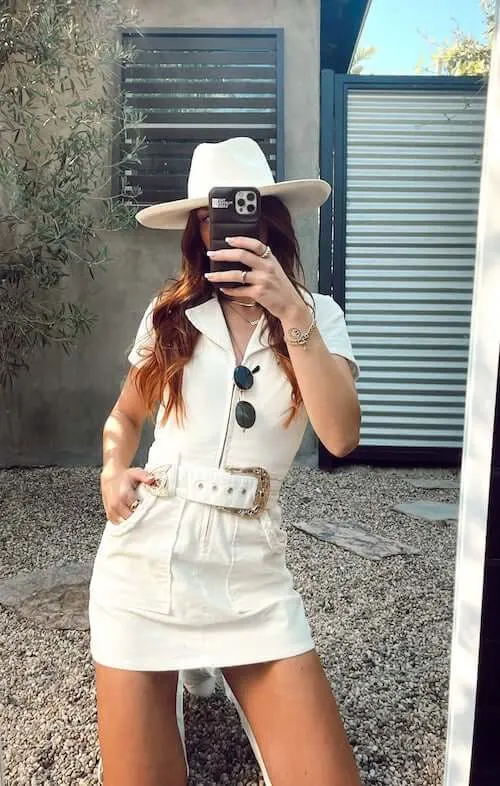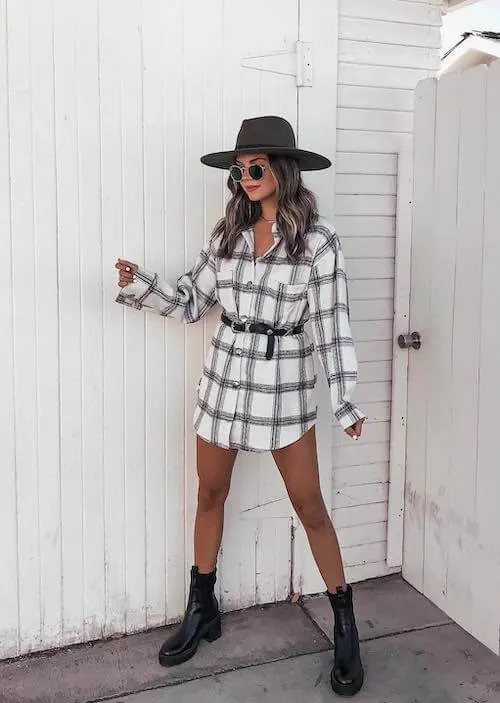 @jilldeconti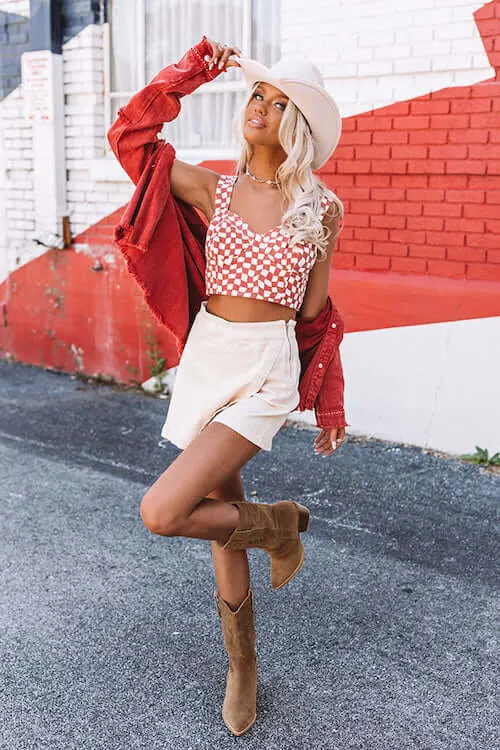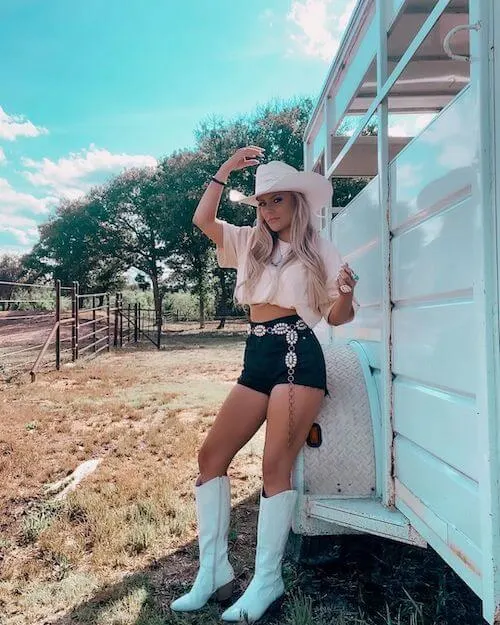 @itstaylorrousseau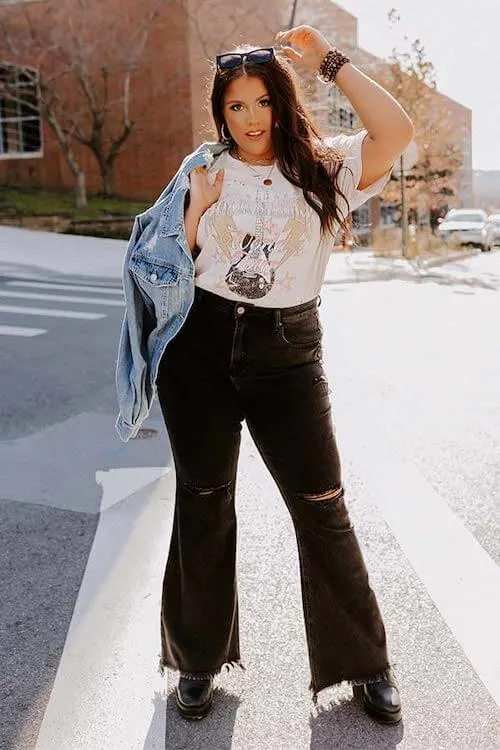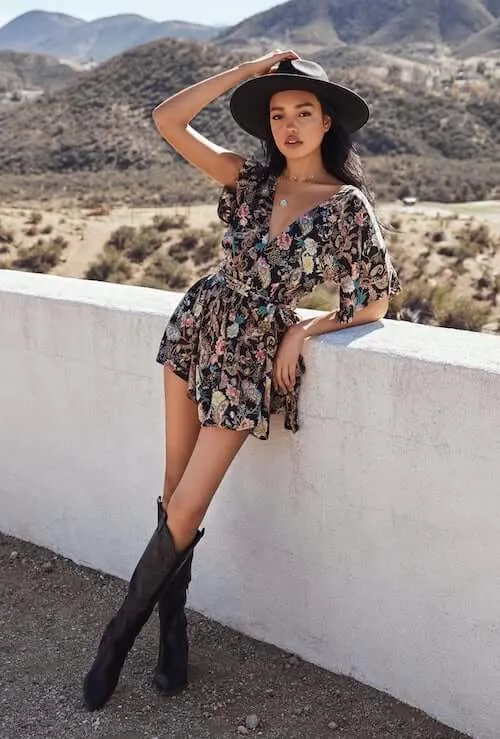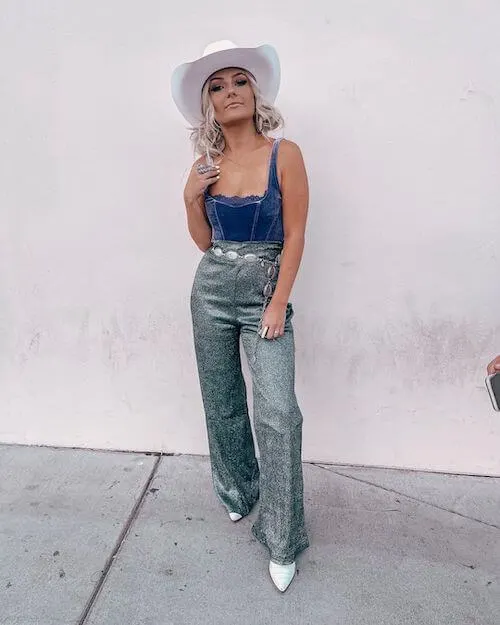 @itstaylorrousseau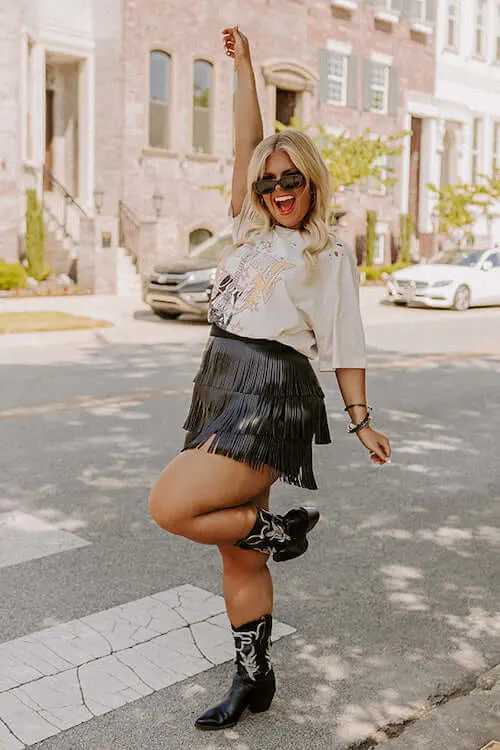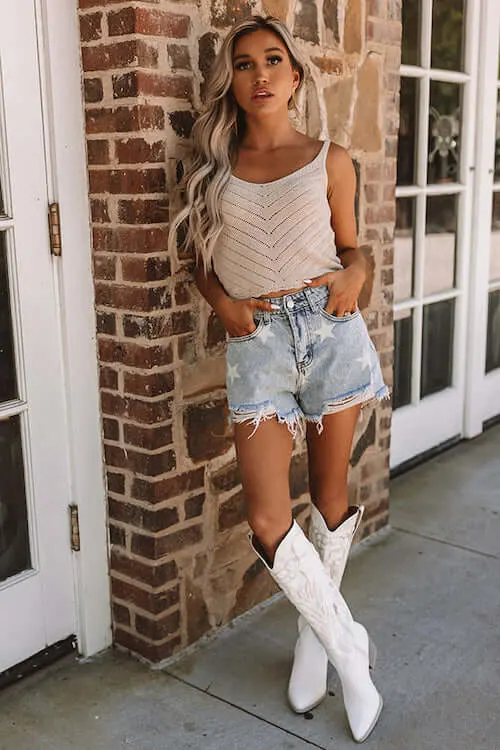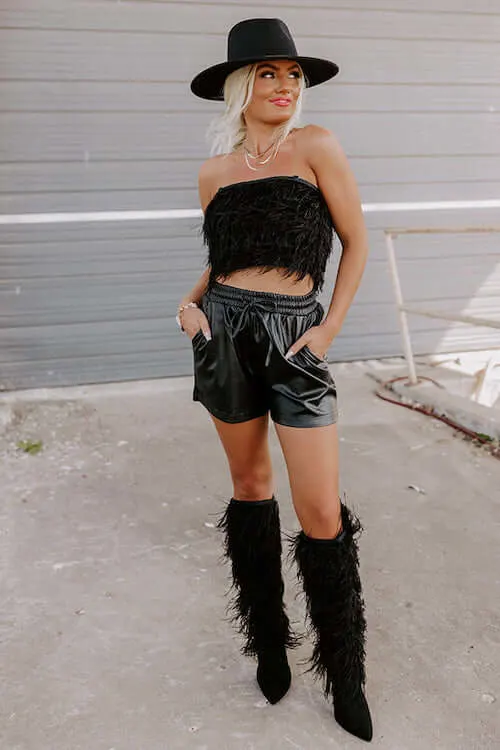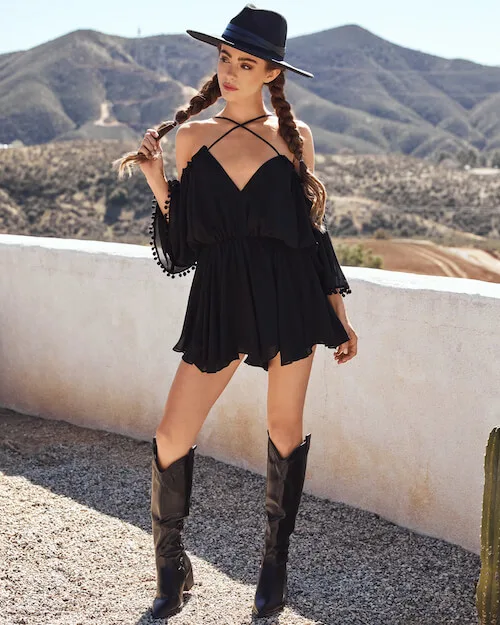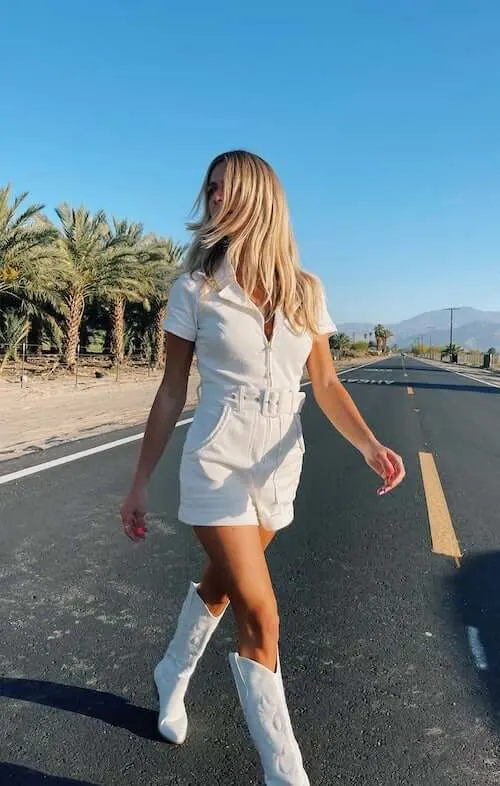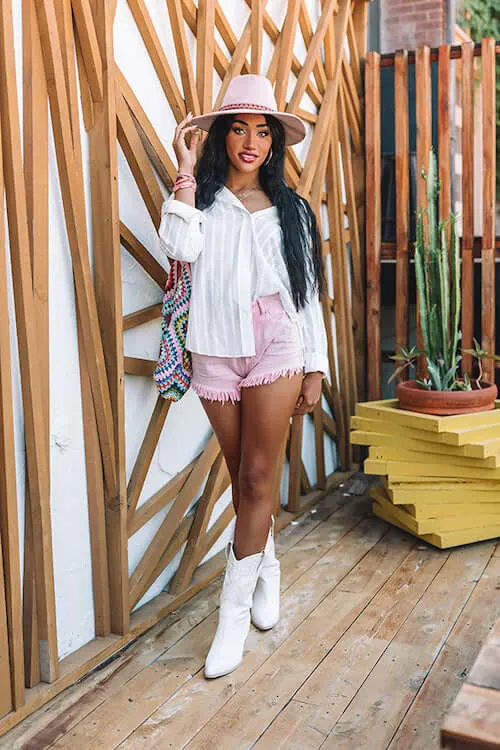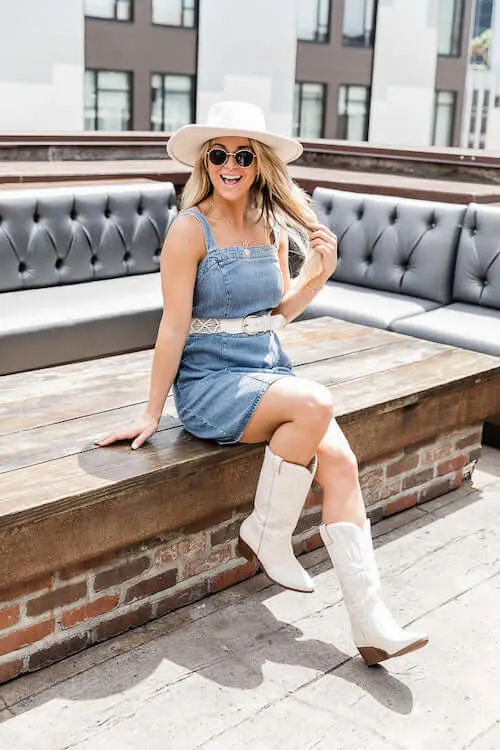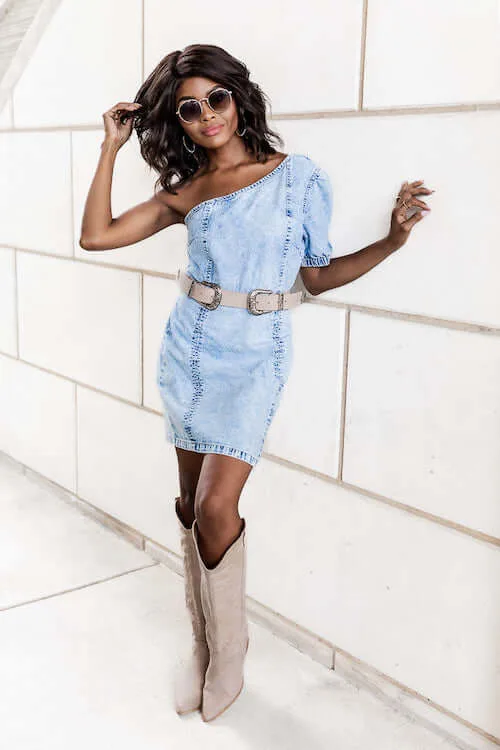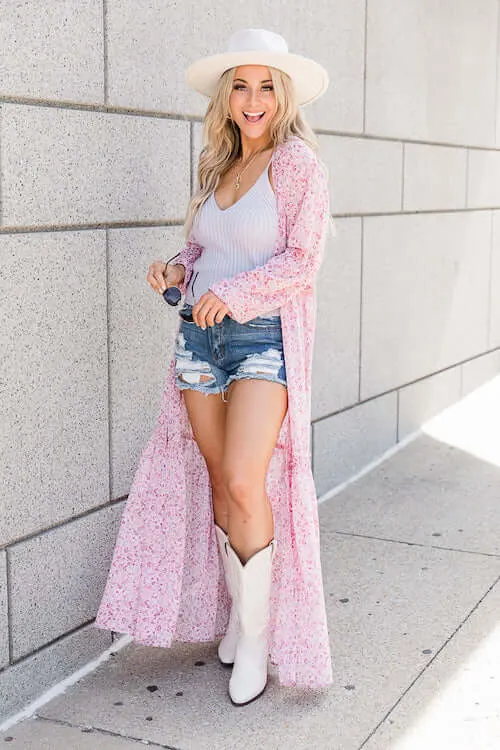 What To Wear To A Country Music Concert In Winter
If you're heading to a winter country concert and don't know what to wear, fear not.
A great look for a winter country concert is something fashionable, warm and comfortable.
For women, the key is to channel your inner cowgirl with classic denim pieces paired with cozy knits and warm outerwear.
A distressed denim skirt or jeans are ideal for the bottom half of an outfit – pair them with an oversized chunky knit sweater in neutral colors such as grey or oatmeal.
To keep you warm, layer on an oversized faux fur coat which will give you major style points while still keeping you snug.
Add some cowboy boots – either knee-high or ankle-length – and finish off the look with some statement earrings or a bold scarf.
Accessorizing can also include hats such as fedoras or straw hats (weather dependent!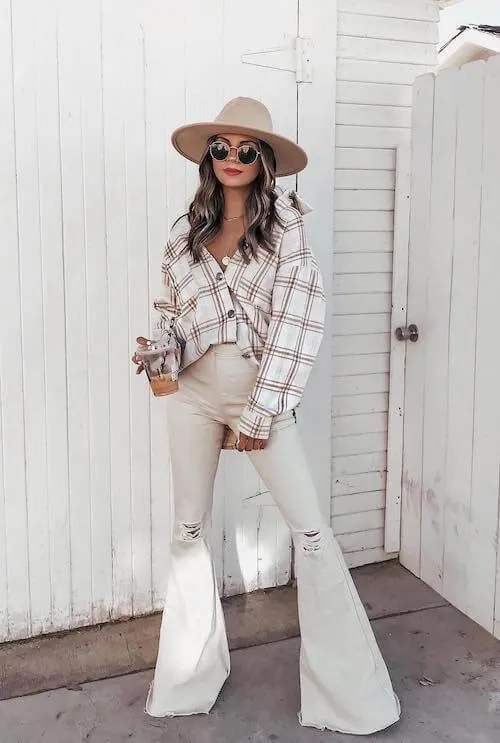 @jilldeconti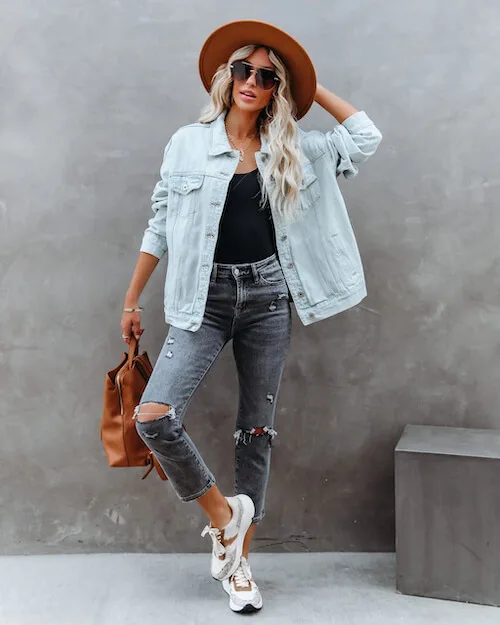 @jilldeconti
What To Wear To A Indoor Country Concert
Attending a country concert indoors is a great way to experience live music with some of your favorite artists!
Wearing the perfect outfit is key to having an enjoyable time and looking stylish.
If you're wondering what to wear for your upcoming indoor country concert, here are a few tips on the best style choices for women.
Look for something comfortable yet fashionable that will have you rocking out in style.
Denim shorts or jeans are always popular and can be dressed up with a cute off-the-shoulder top, plaid shirt, or graphic tee.
For cooler weather, go for more casual looks like leggings and sweaters paired with boots or booties.
To complete the look accessorize with jewelry like necklaces and earrings along with adding fun hats and bags if desired.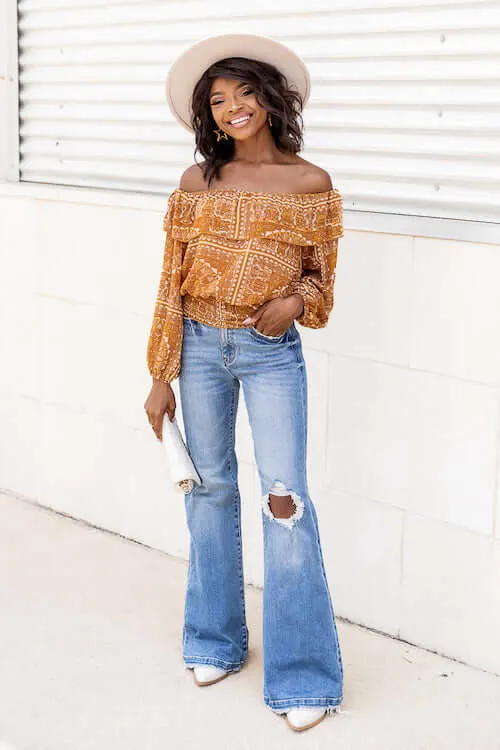 Cute country concert outfit ideas without boots
While boots are a staple item in any country wardrobe, there are plenty of ways to create an adorable look without sacrificing comfort.
Whether you're dressing up or keeping it casual, these cute country concert outfit ideas will have you looking great all night long!
For an effortless but chic look, try pairing classic jeans with a bright floral blouse.
Accessorize with statement earrings and a simple clutch bag for the perfect balance between dressy and casual.
Or if skirts are more your thing, opt for a denim skirt with lace trim detail paired with a flowy tank top or camisole.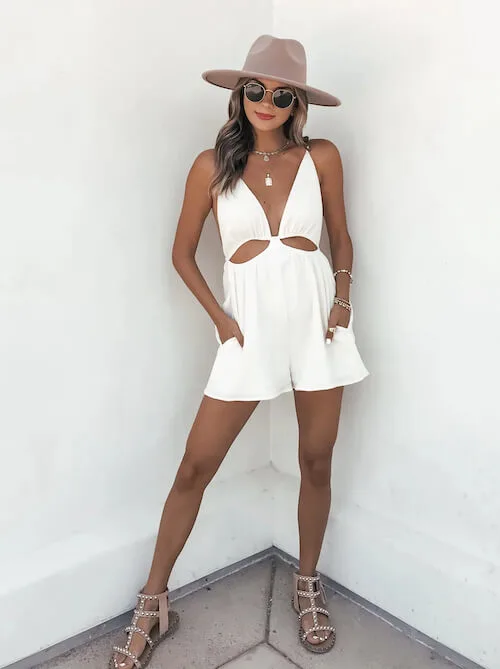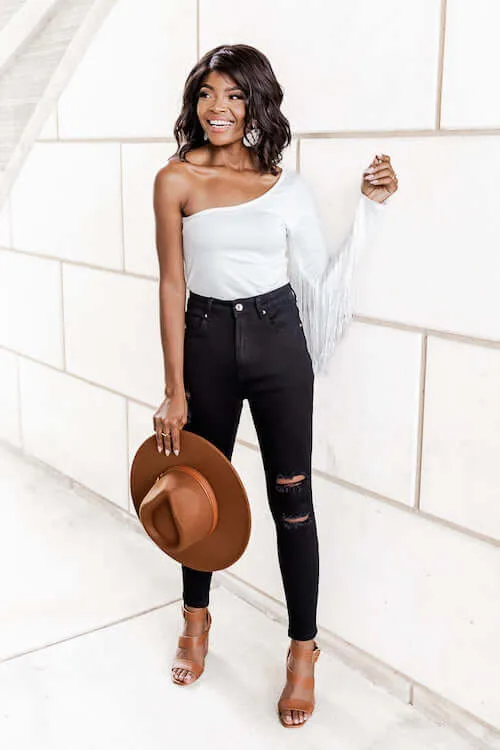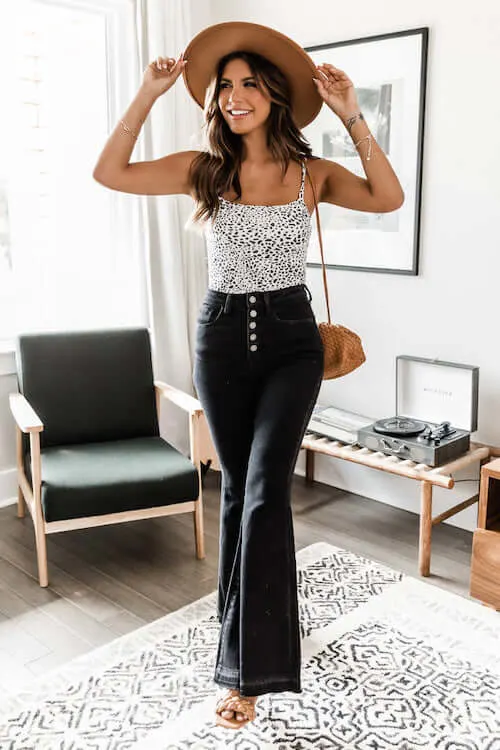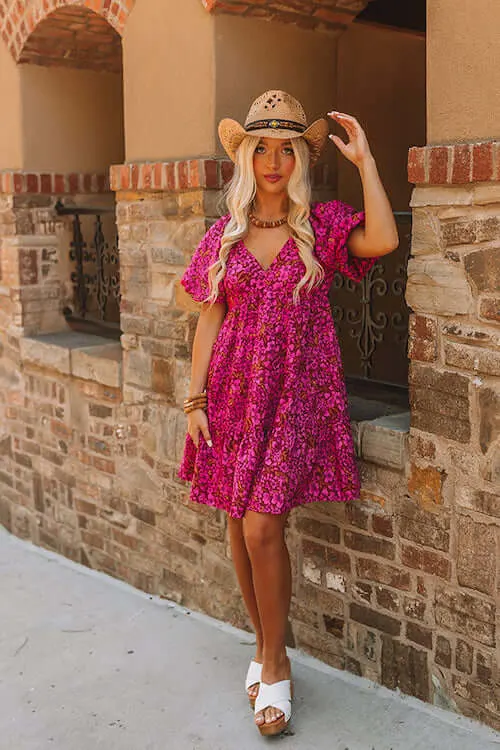 Should I tuck my jeans into my cowboy boots to a country concert?
The answer? It depends.
First and foremost, consider the type of boots you have.
If they are classic cowboy boots with pointed toes and high heels, it might look more polished if you tuck in your jeans.
On the other hand, if your cowboy boots are more modern with round toes and low heels, it's probably better to leave your jeans as-is.
In general, styling decisions like this often boil down to personal preference; for example some people prefer their jeans loose while others prefer them snugger around the ankles.
This post was all about cute and sexy country concert outfits for women.
About The Author
Tracy is an experienced personal stylist, shopping expert, and fashion & lifestyle blogger. She has been featured on Time Magazine, Bustle, Best Life, Glam, The Zoe Report, Mic, and GOBankingRates, for her insights on fashion, beauty, home decor, and lifestyle. Read More
Related Posts: