Discover stylish ways to wear ballet flats and elevate your outfit with this roundup of ballet-flat outfit ideas. Stay on-trend with the timeless ballet flats styles.
Picture this: you're strolling down the streets, turning heads left and right with your impeccable sense of fashion, all while feeling as comfy as if you were wearing slippers.
Sounds like a dream come true? Well, it's time to turn this fantasy into reality with the help of ballet flats!
In this article, we bring you 40+ stunning outfit ideas that will show you how to rock these chic shoes on every occasion imaginable.
From office attire to weekend brunches and everything in between, get ready to revolutionize your wardrobe and discover the endless possibilities offered by ballet flats
This post may contain affiliate links, which means I'll receive a commission if you purchase through my link, at no extra cost to you. Please read the full disclosure here.
This post is all about ballet flats outfit ideas.
What To Wear With Ballet Flats
Ballet Flats with Jeans (including straight-leg jeans, skinny jeans, and baggy jeans)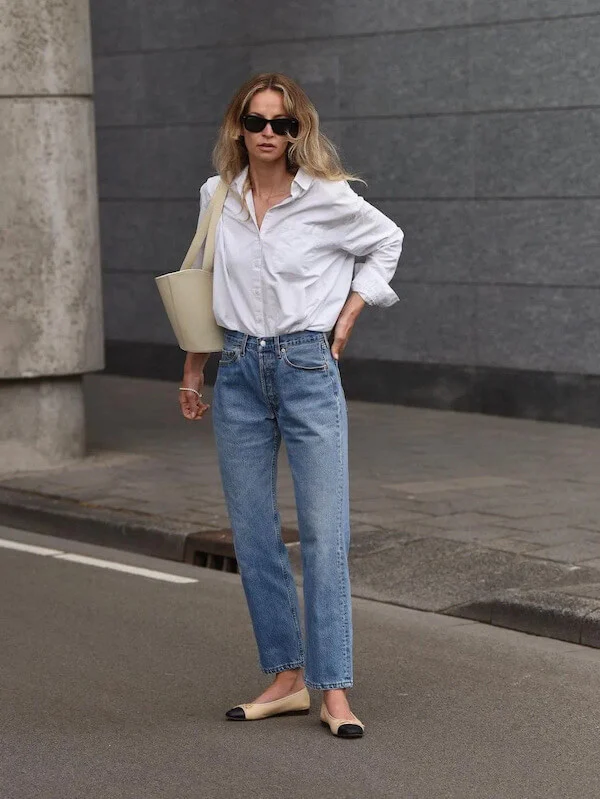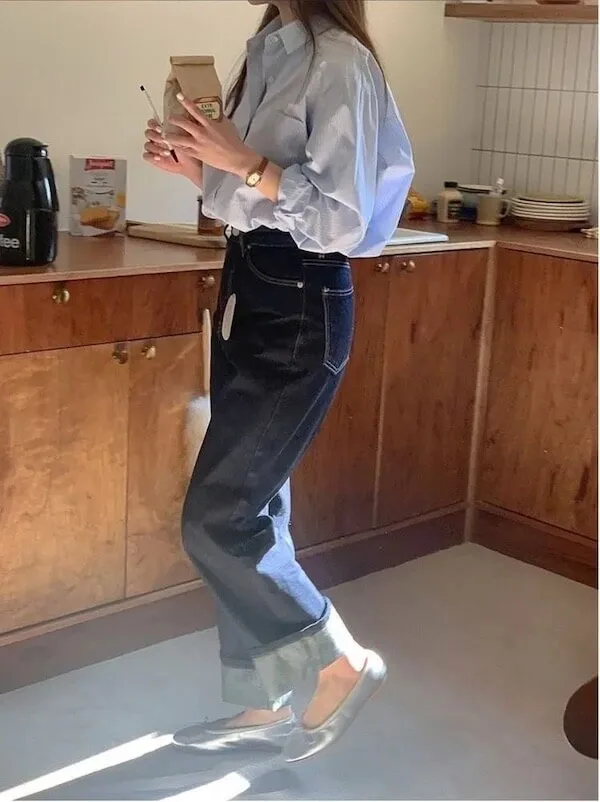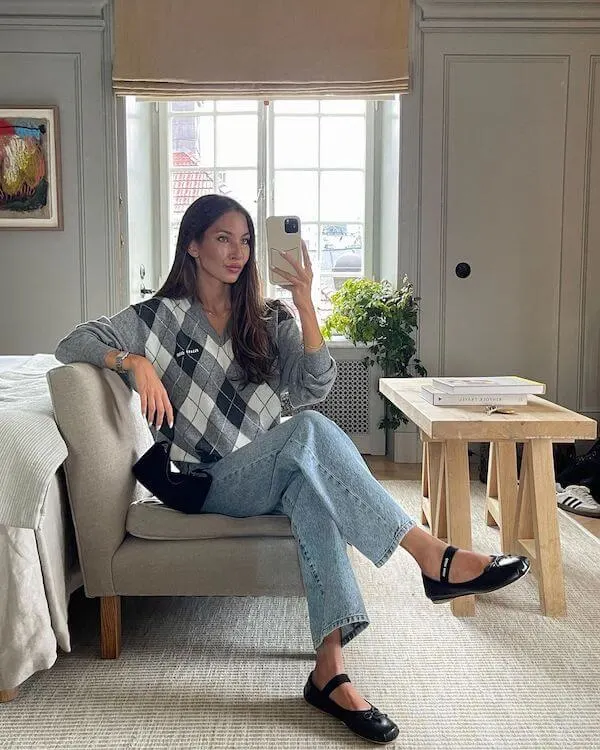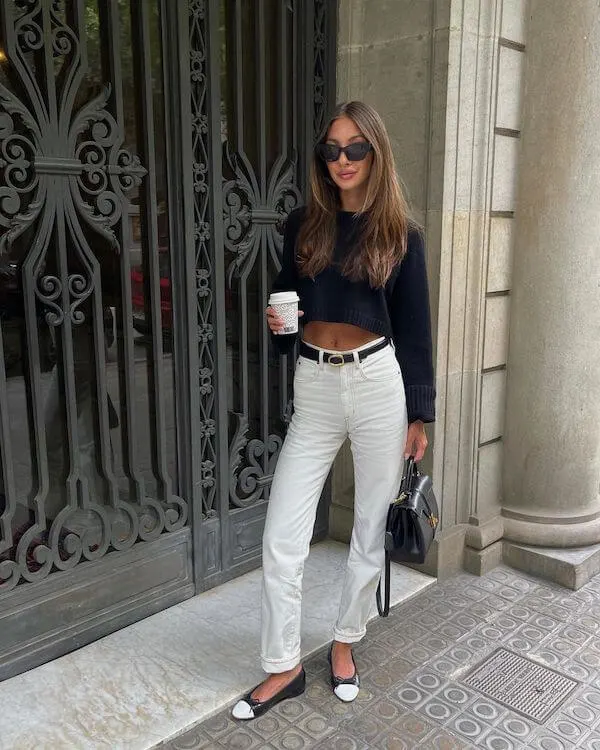 @fakerstrom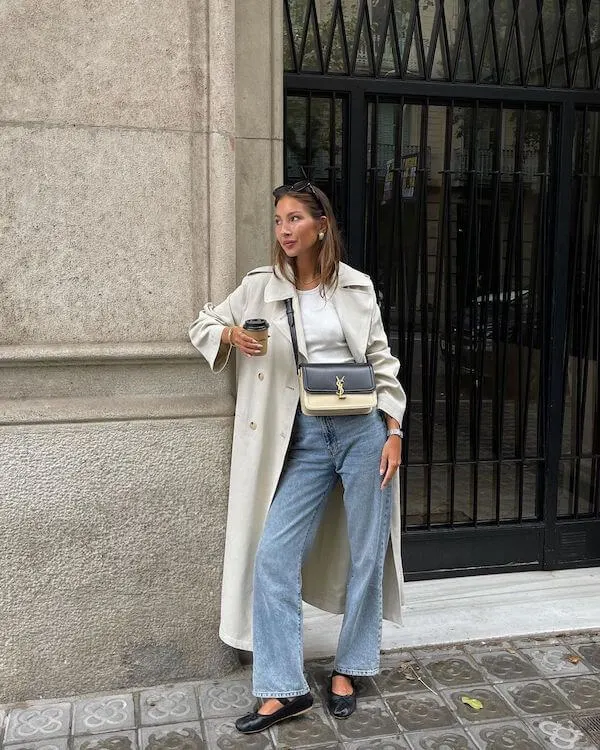 @fakerstrom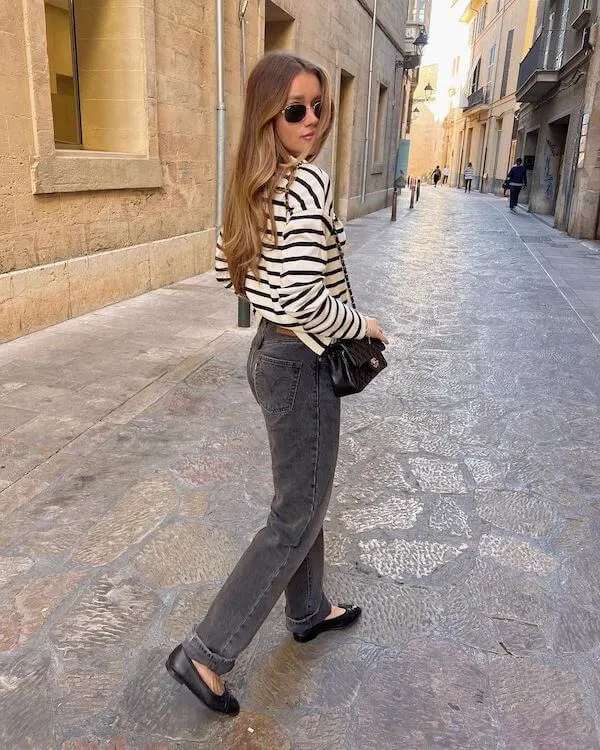 @lovisabarkman
Ballet flats are the perfect footwear option to pair with jeans, regardless of the style.
For straight-leg jeans, opt for a tailored ballet flat in a contrasting color to create an effortlessly chic and polished look.
The clean and streamlined silhouette of the flats complements the simplicity of straight-leg jeans, adding a touch of elegance to your overall outfit.
When it comes to skinny jeans, ballet flats provide balance by creating a delicate and feminine contrast.
Consider opting for pointed-toe ballet flats in bold colors or patterns to inject a pop of personality into your ensemble.
This combination not only elongates your legs but also adds a playful twist to an otherwise casual outfit.
If you're feeling adventurous, try pairing baggy jeans with ballet flats for an unexpected and edgy look.
The contrast between the relaxed fit of baggy jeans and the dainty nature of ballet flats creates an interesting juxtaposition that is sure to turn heads.
Opt for metallic or embellished ballet flats to add some extra flair and elevate this unconventional combination.
Ballet Shoes Outfit Inspiration With Wide Leg Pants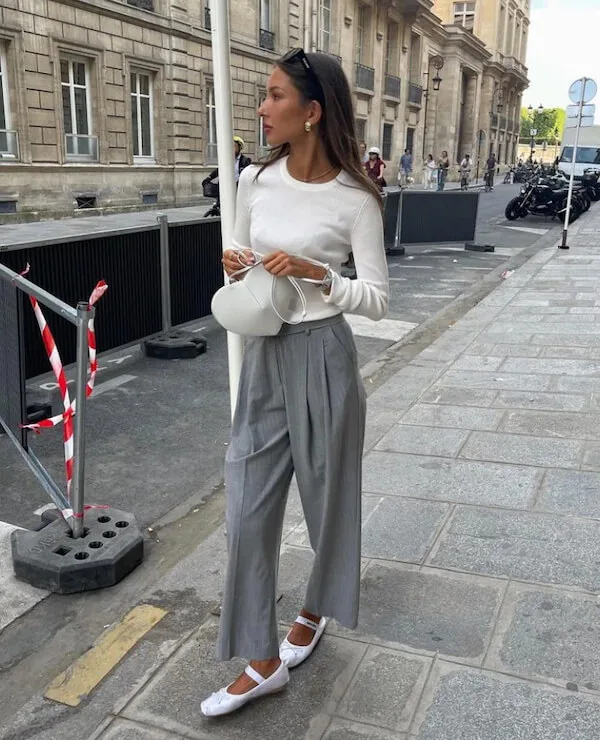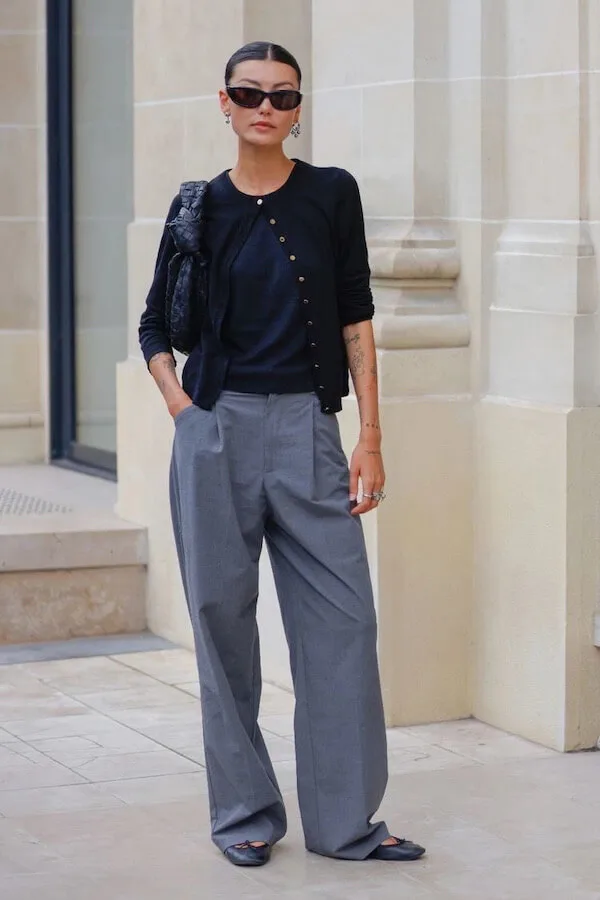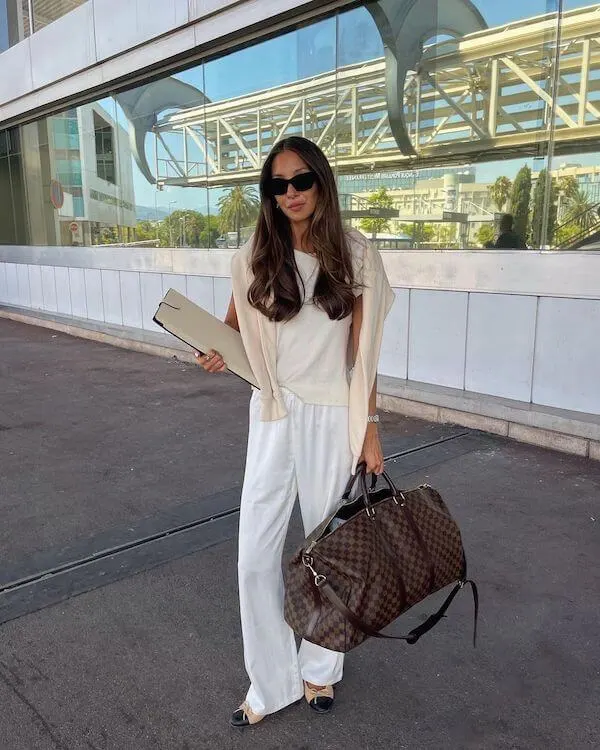 @fakerstrom
One of the most versatile combinations in the realm of fashion is pairing ballet flats with wide leg pants.
This unique blend of elegance and comfort creates a chic and sophisticated look that can be worn for various occasions.
Whether you're heading to the office, going for a casual brunch, or attending a special event, this ensemble is guaranteed to make a statement.
The beauty of this combination lies in its ability to balance out proportions.
The wide leg pants create an elongated silhouette while the ballet flats add a touch of femininity and grace.
Opt for high-waisted wide leg pants to accentuate your waistline and enhance your overall figure.
Pair them with classic black ballet flats for a timeless look or experiment with colorful options to add some flair.
With this stylish duo, you'll effortlessly achieve that perfect blend of comfort and style.
Ballet Flats with Denim Jacket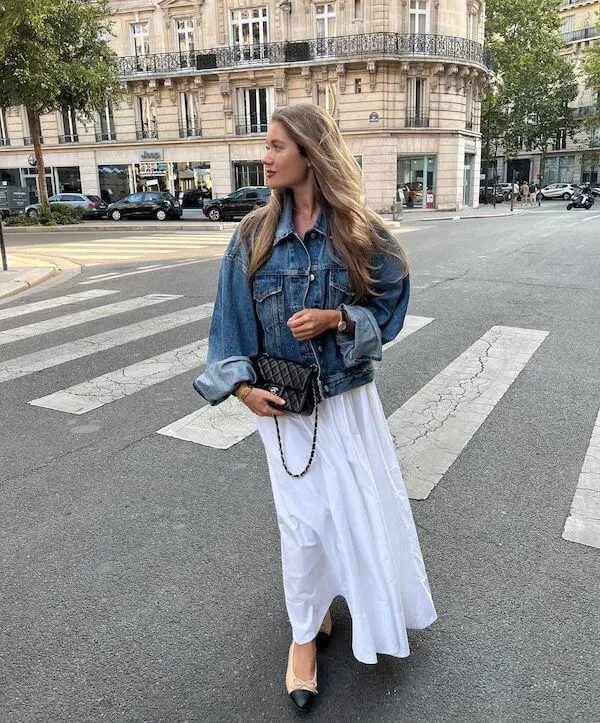 @lovisabarkman
Pairing ballet flats with a denim jacket is an effortlessly chic combination that screams casual-cool.
The delicate silhouette of the ballet flats contrasts perfectly with the laid-back vibe of the denim jacket, creating a harmonious balance between femininity and edginess.
Whether you're going for a brunch date or running errands on a lazy weekend, this outfit combination will have you looking stylish without trying too hard.
One way to rock this look is by opting for a classic blue denim jacket and pairing it with black ballet flats or the iconic Chanel ballet flats for a touch of sophistication.
Complete the outfit with high-waisted jeans or a flowy midi skirt for an ensemble that exudes both comfort and style.
Another option is to experiment with different washes of denim jackets, such as acid-washed or distressed versions, to add some visual interest to your overall look.
Accessorize with dainty jewelry pieces and a crossbody bag, and you're ready to take on whatever the day brings.
Add Personal Style With Leather Jacket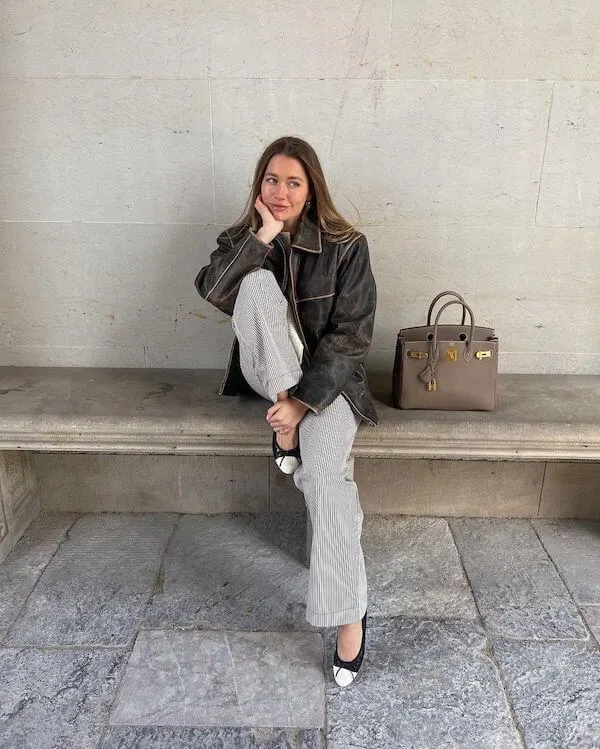 @lovisabarkman
Adding a leather jacket to your outfit is an effortless way to inject some personal style into your look.
Whether you prefer a classic black moto jacket or a trendy colored option, the versatility of leather jackets allows for endless possibilities.
Pairing a leather jacket with ballet flats can create a chic and edgy contrast, balancing the femininity of the flats with the toughness of the jacket.
One way to elevate your ballet flat outfit is by opting for a cropped leather jacket.
This shorter length showcases your waistline and creates a more streamlined silhouette.
Pair it with distressed jeans and pointed-toe ballet flats for an edgy yet polished look.
For those who love experimenting with colors, try adding a brightly colored leather jacket to your ensemble.
This unexpected pop of color adds excitement to any outfit, especially when paired with neutral-toned ballet flats.
Ballet Flats with a Blazer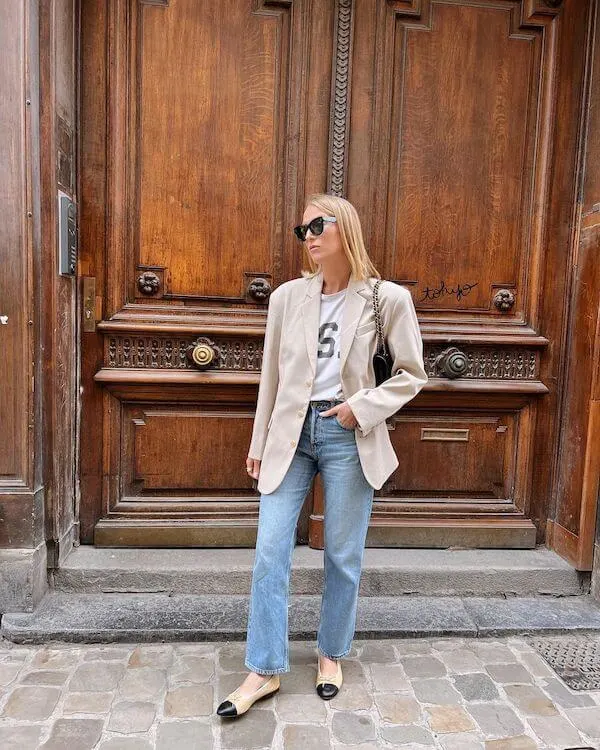 @mmequeenb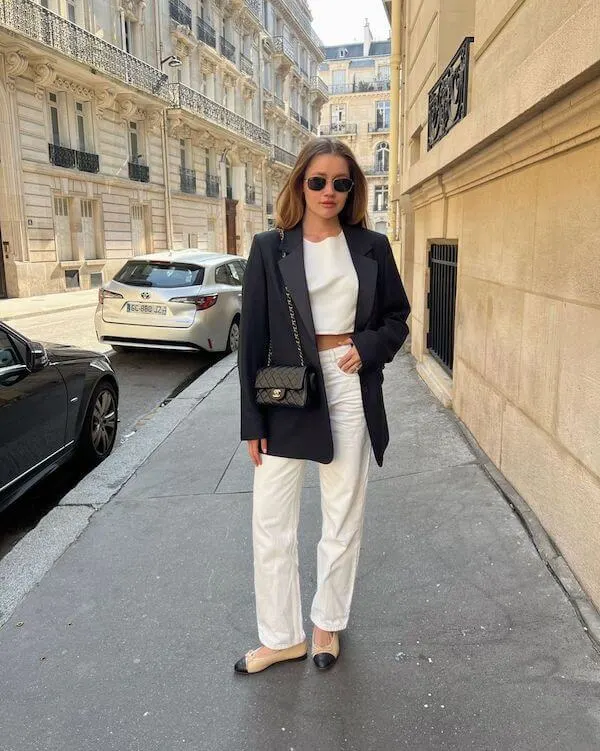 @lovisabarkman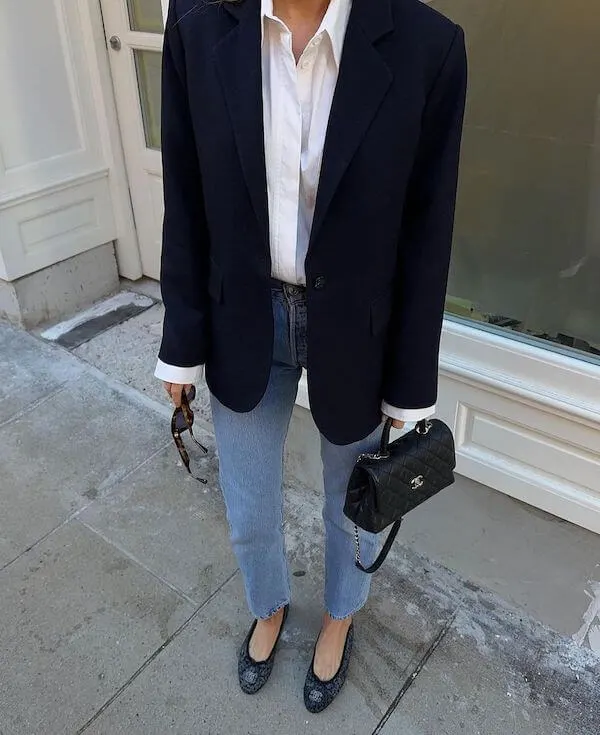 @clairerose
When it comes to pairing ballet flats with a blazer, the possibilities are endless.
This combination effortlessly combines comfort and elegance, creating a polished yet relaxed look.
The juxtaposition of the structured blazer with the softness of ballet flats adds a touch of femininity to any outfit.
One way to style this duo is by opting for a monochromatic look.
Pairing black ballet flats with a matching black blazer creates an elongating effect and gives off a chic and sophisticated vibe.
For an added twist, choose a blazer with interesting details such as embellishments or contrasting lapels.
Ballerina Flats with a Cardigan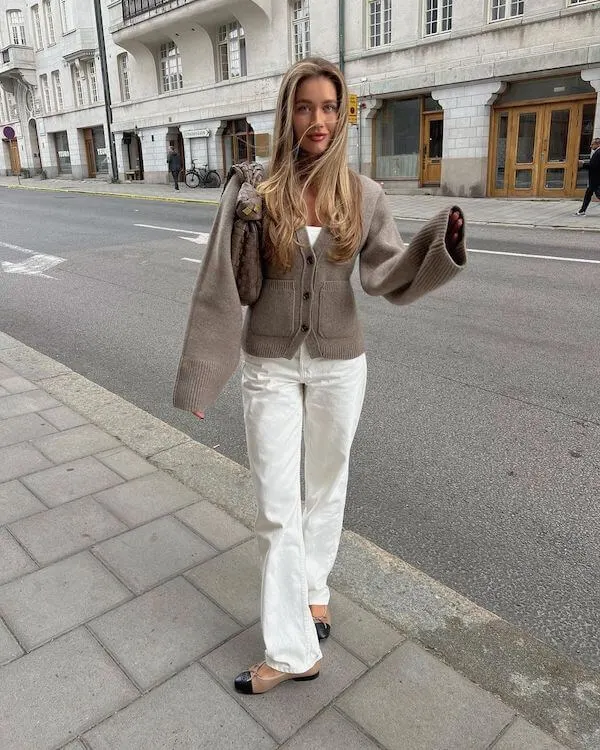 @lovisabarkman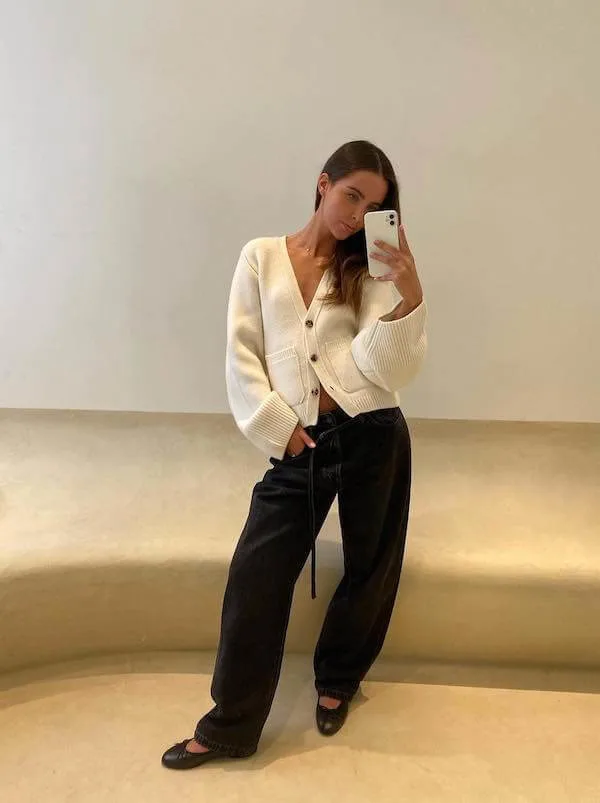 @CHLOEMAYMCGINLEY
One of the most timeless and versatile pieces in a fashionista's wardrobe is the classic ballerina flat.
With its graceful design and comfortable fit, it's no wonder why this shoe style has remained a go-to for women all over the world.
But when you pair these elegant flats with a cozy cardigan, magic happens.
The combination of the feminine ballet aesthetic with the warmth and comfort of a cardigan creates an effortlessly chic outfit option that will keep you looking stylish no matter what the occasion.
When it comes to styling ballerina flats with a cardigan, there are endless possibilities.
For a casual yet put-together look, throw on your favorite pair of distressed jeans, slip into some comfy ballet flats, and layer on a cozy oversized cardigan.
This ensemble exudes an air of relaxed sophistication that is perfect for running errands or meeting up with friends for brunch.
If you're looking to dress up your ballerinas for a more formal event or evening out, opt for a fitted black midi skirt paired with a longline cardigan in contrasting color hues.
Add some statement accessories like chunky gold jewelry or a leopard print clutch to elevate your ensemble even further.
Ballet Flats With Oversized Sweater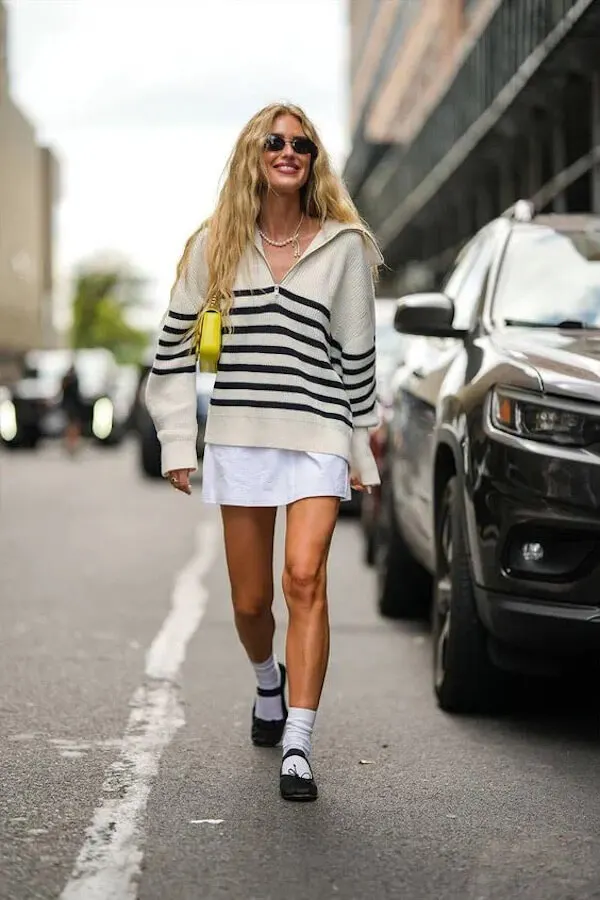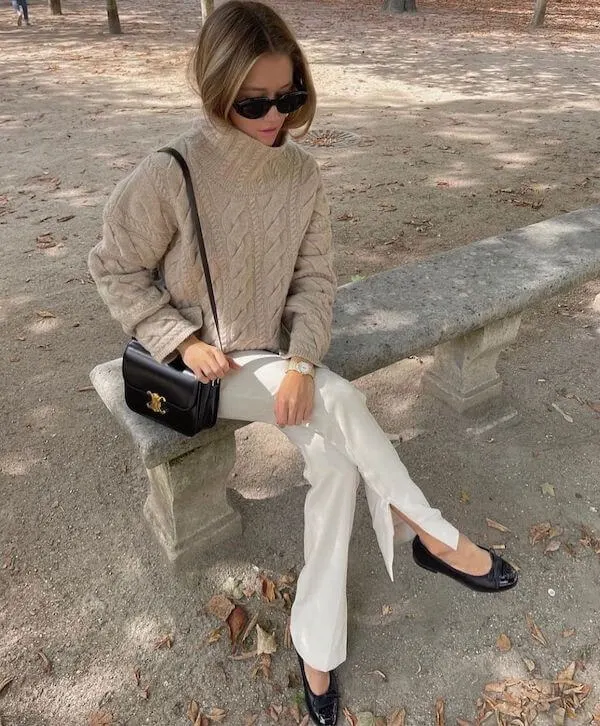 @lovisabarkman
One of the best things about ballet flats is their versatility, and they can easily be paired with an oversized sweater for a chic and cozy look.
The contrast between the delicate and feminine ballet flat and the relaxed and slouchy sweater creates an effortlessly stylish ensemble.
Opt for a pair of pointed-toe ballet flats in a neutral color like black or nude to add some sophistication to your outfit.
To pull off this look, balance out the proportions by choosing an oversized sweater that falls just below your hips.
This will create a flattering silhouette while still maintaining a cozy vibe.
Pair it with skinny jeans or leggings to slim down your lower half and elongate your legs.
Add some accessories like a chunky scarf or statement earrings to complete the look.
Ballet Flats with a Midi Dress or Maxi Dress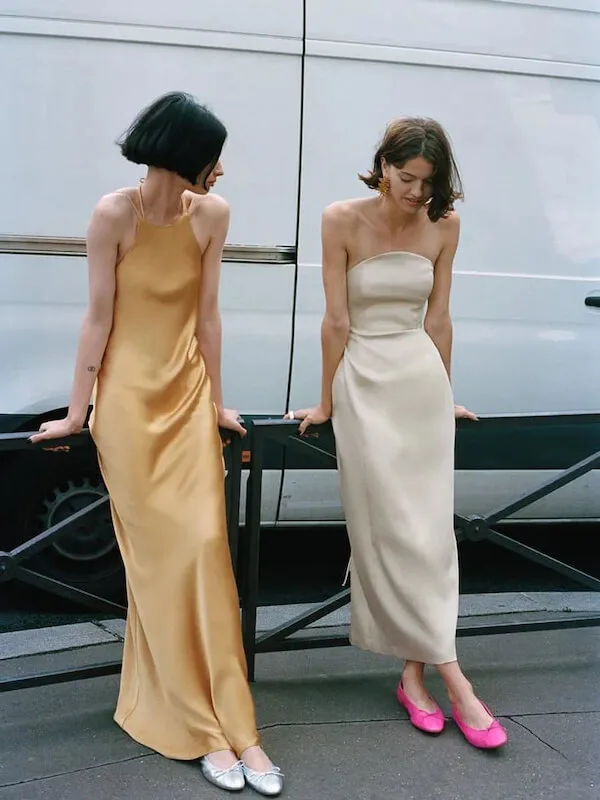 There's nothing quite like the elegance and grace of a ballet flat to complement the flowy silhouette of a midi or maxi dress.
The combination of these two timeless pieces creates a look that is effortlessly chic and feminine.
Whether you're aiming for a casual daytime outfit or dressing up for a special evening event, ballet flats are the perfect choice to make your dress feel stylishly comfortable.
One of the great things about pairing ballet flats with a midi or maxi dress is that it allows for easy movement and comfort without sacrificing style.
The flat sole of ballet flats provides excellent support, making them ideal for long walks or dancing the night away.
Additionally, they add an unexpected twist to an otherwise formal attire, creating a look that is both polished and playful.
Ballet Flats with a Maxi Skirt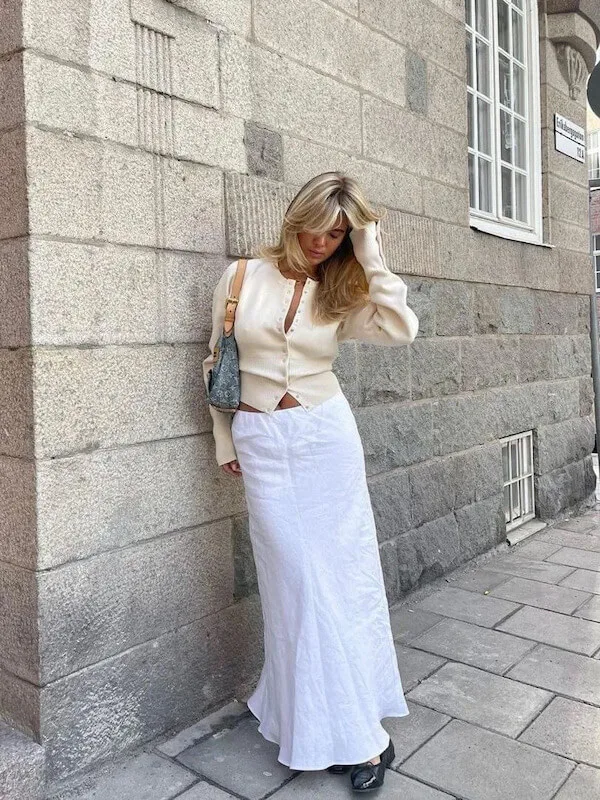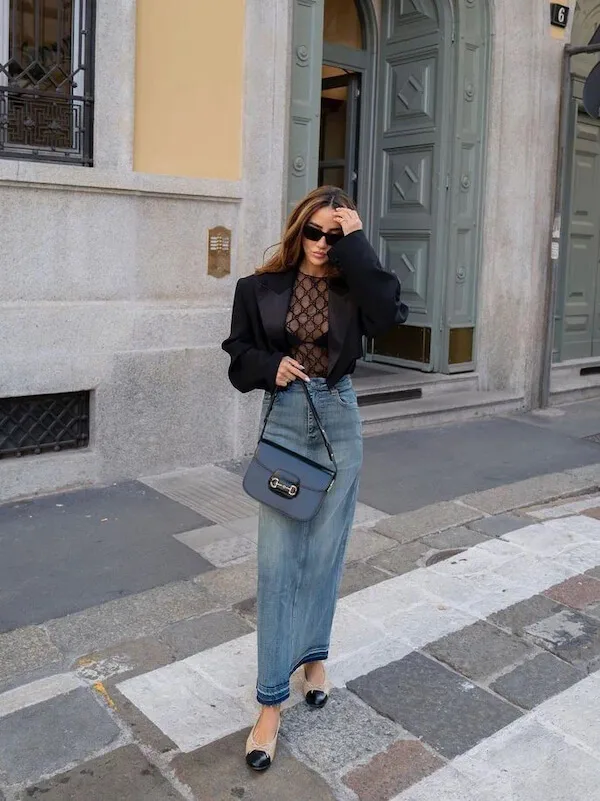 @emilisindlev
One of the most chic and timeless combinations in the fashion world is pairing ballet flats with a maxi skirt.
This effortlessly elegant look is perfect for both casual outings and more formal events.
The juxtaposition of the relaxed maxi skirt with the delicate ballet flats creates a stunning balance between comfort and style.
When choosing ballet flats to wear with your maxi skirt, consider colors that complement each other.
Neutral-hued flats like black, nude, or white are versatile options that easily match any color of maxi skirt.
For a more playful and vibrant look, you can opt for bold-colored or patterned ballet flats, which add an unexpected twist to your outfit.
To elevate your ensemble even further, experiment with different textures and materials for both your maxi skirt and ballet flats.
Soft chiffon or flowy silk skirts pair beautifully with classic leather ballet flats, creating an interesting contrast between elegance and simplicity.
On the other hand, if you prefer a bohemian vibe, try pairing a crochet or lace maxi skirt with espadrille-style ballet flats made from braided jute or canvas.
This combination exudes effortless summer style while still maintaining comfort throughout the day.
Ballet Flats With Mini Skirt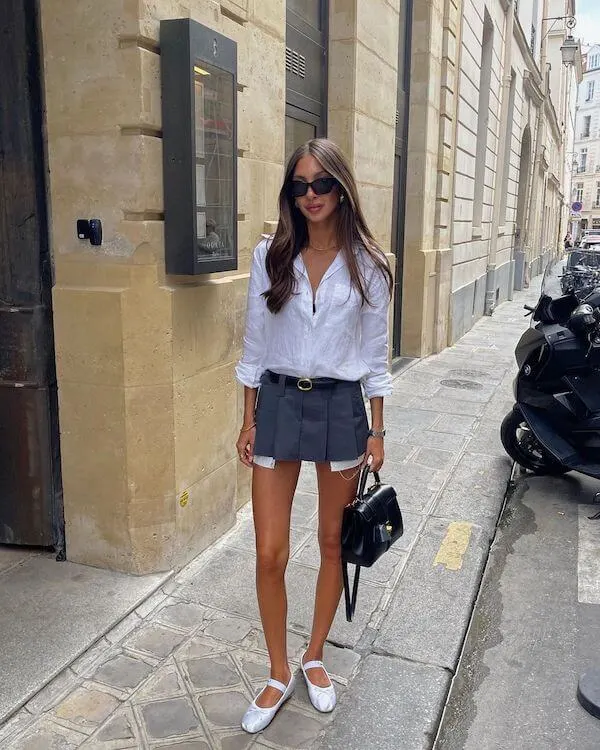 @fakerstrom
Ballet flats have the incredible ability to effortlessly elevate any outfit, and when paired with a mini skirt, they create a look that is both chic and polished.
The combination of the feminine silhouette of the mini skirt with the dainty charm of ballet flats creates a harmonious balance that is perfect for spring and summer.
One way to style ballet flats with a mini skirt is to opt for a monochromatic look.
Choose ballet flats in a similar color as your skirt to create an elongated leg line.
This combination not only looks elegant but also gives an illusion of a taller stature.
Additionally, by choosing ballet flats in nude or blush tones, you can create an understated yet sophisticated look that complements any outfit.
Ballet Flats With Shorts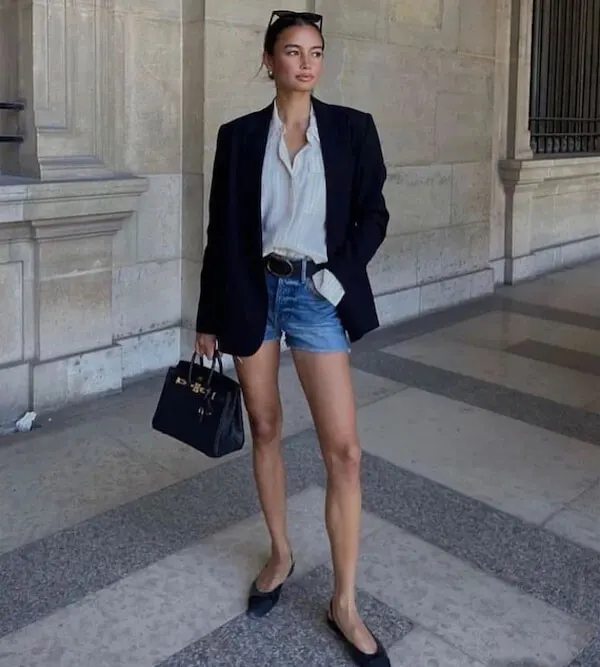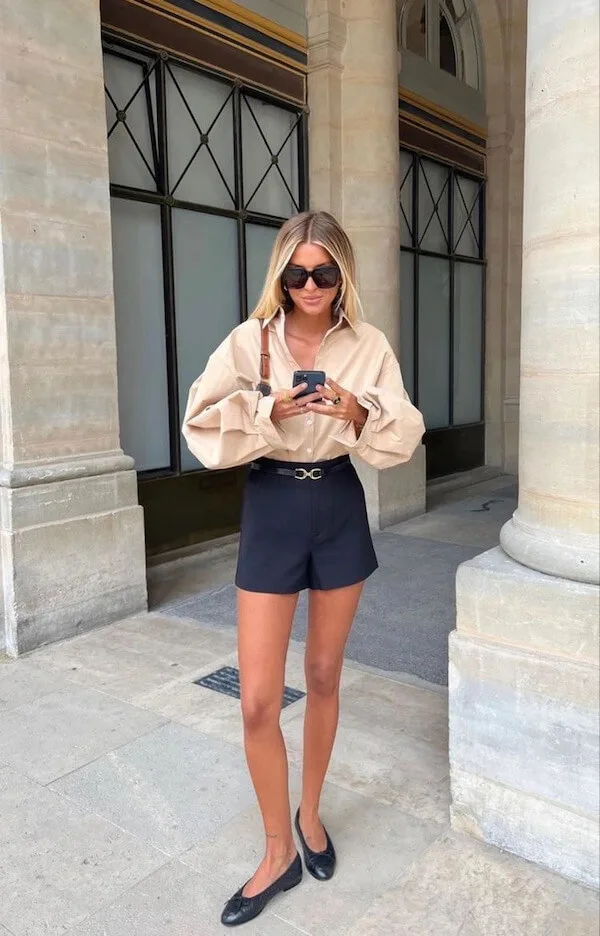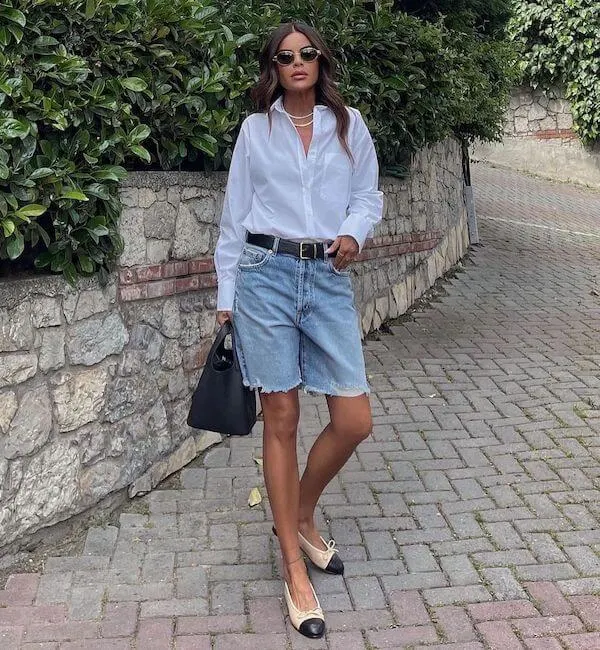 @nazifeeozcan
Ballet flats are a versatile shoe option that can effortlessly take your shorts outfit to the next level.
While they may not be the first shoe choice that comes to mind when pairing with shorts, ballet flats can add a touch of femininity and elegance to your look.
Opt for a neutral-colored flat in black or nude to create a sleek and polished ensemble.
Alternatively, embrace the playful side of ballet flats by choosing a pair in a vibrant color or with intricate embellishments.
One of the advantages of wearing ballet flats with shorts is the balance they provide for your overall silhouette.
Shorts can sometimes create an imbalance between casualness and formality, but by adding ballet flats, you instantly achieve an effortlessly chic style that is suitable for various occasions.
Additionally, if you're someone who's not comfortable showing too much leg or simply wants to elongate their figure, opt for high-waisted shorts paired with ballet flats as this combination creates an illusion of longer legs.
Chanel Ballet Flats Outfit Ideas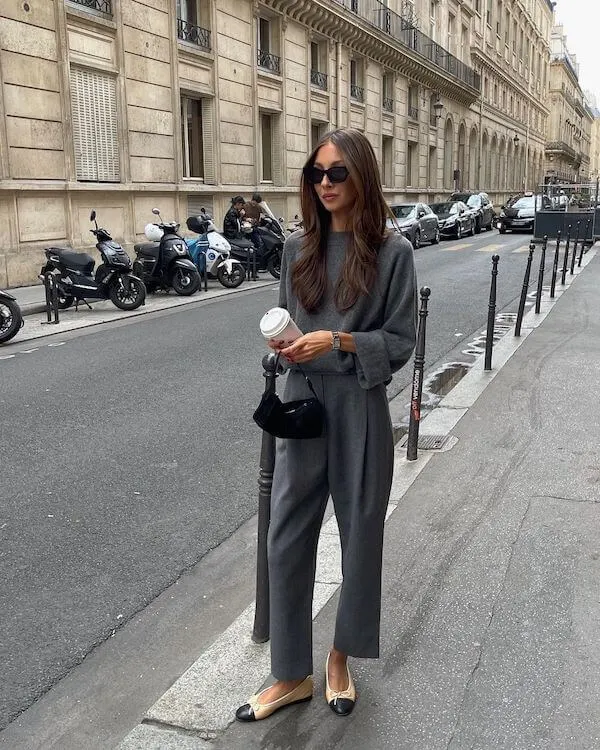 @fakerstrom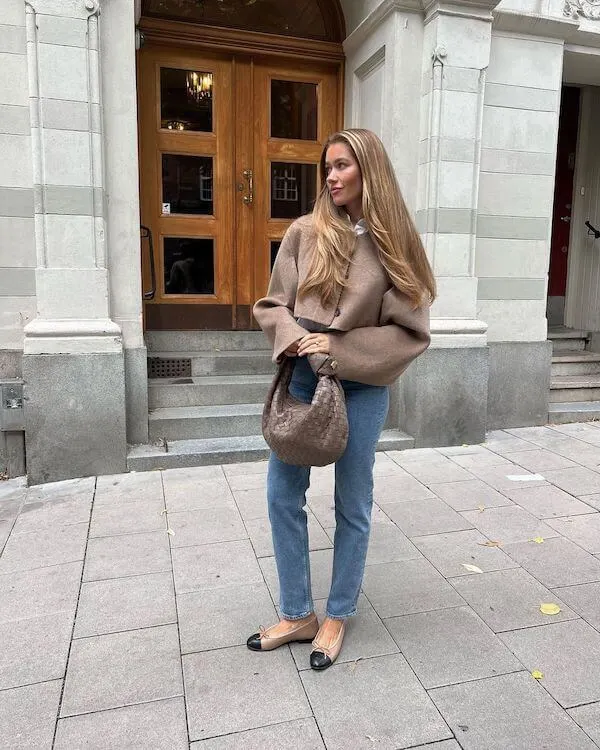 @lovisabarkman
Pairing Chanel ballet flats with your favorite outfit is a surefire way to elevate your style game.
These iconic shoes are the epitome of elegance and sophistication, making them a versatile choice for any occasion.
For a casual yet chic look, try pairing your Chanel ballet flats with high-waisted jeans and a classic white button-down shirt.
This outfit combination exudes effortless style and can be easily dressed up or down depending on the accessories you choose.
If you're attending a more formal event or dinner party, opt for a little black dress paired with Chanel ballet flats.
This timeless combination allows the shoes to take center stage while adding an element of comfort to your ensemble.
To add some extra flair, accessorize with statement jewelry or a colorful clutch.
For those looking to add a touch of playfulness to their outfit, consider pairing Chanel ballet flats with a feminine floral dress.
The juxtaposition between the delicate print and the sleek design of these shoes creates an interesting contrast that is both eye-catching and unique.
Add some simple gold earrings and you'll be ready to turn heads wherever you go.
Chanel ballet flats are not just footwear; they are an investment in style that will never go out of fashion.
Whether dressed up or down, these versatile shoes have the power to transform any outfit into something truly stylish and sophisticated.
So go ahead, step into luxury with Chanel ballet flats!
Outfit Ideas with Ballet Flats
Stylish Work Outfit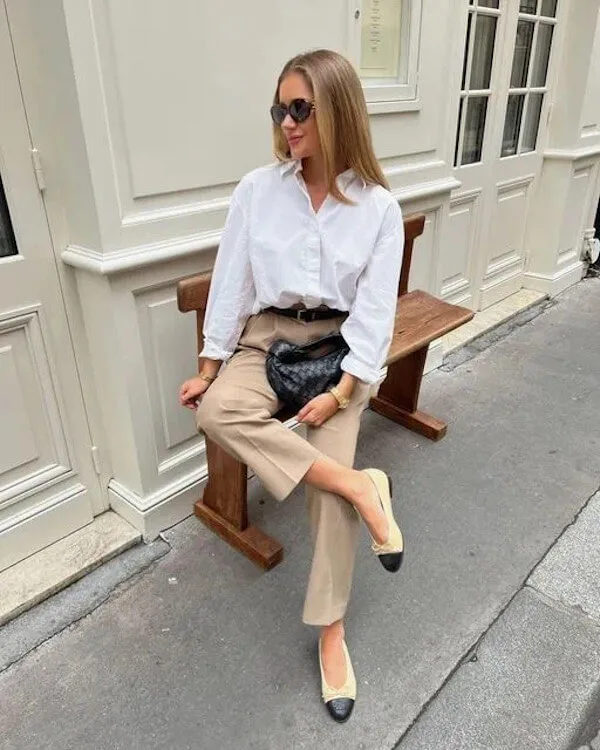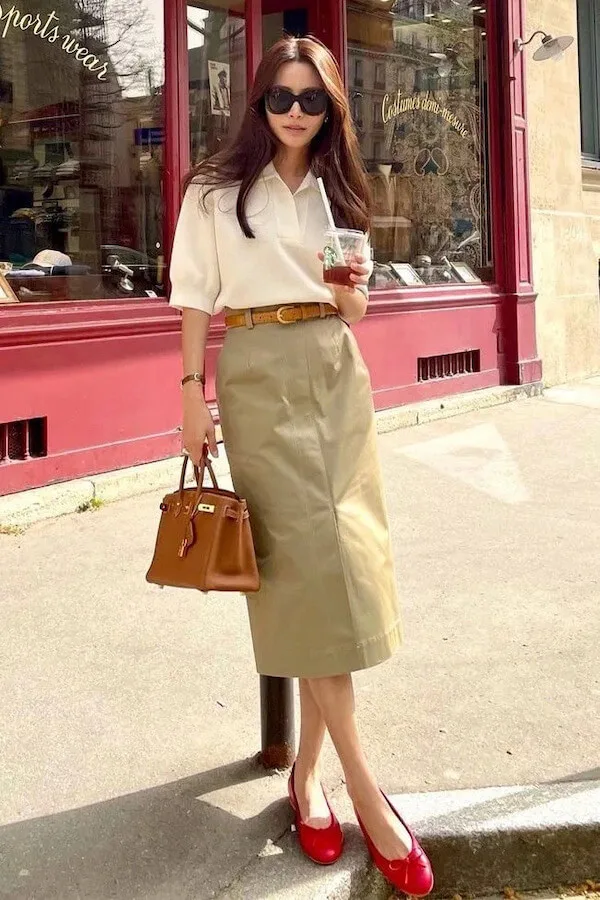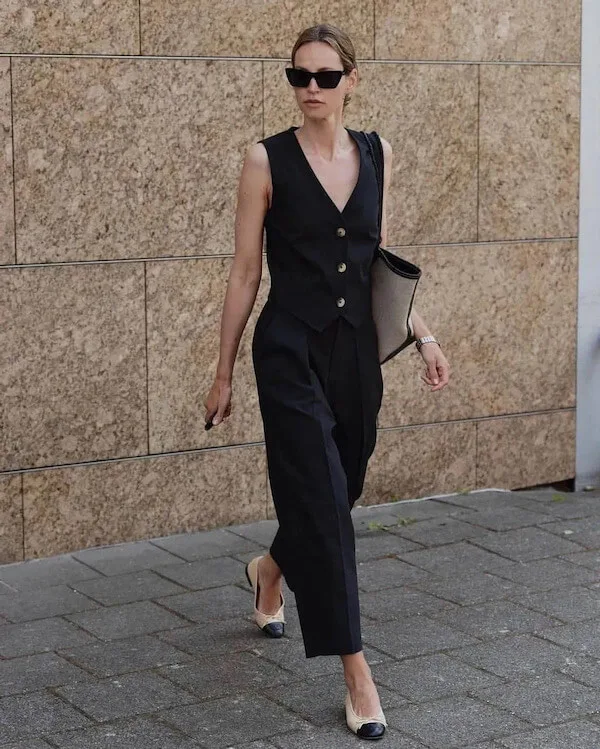 When it comes to putting together a stylish work outfit, comfort and professionalism are key.
One versatile option that adds an effortlessly chic touch to any look is the ballet flats.
These timeless and feminine shoes can easily elevate your work ensemble while ensuring all-day comfort.
Pair them with tailored trousers or a sleek pencil skirt for a polished office look that exudes confidence and sophistication.
To give your work outfit a trendy twist, consider opting for ballet flats in bold prints or vibrant colors.
Incorporating these eye-catching details will instantly add personality to even the most classic pieces in your wardrobe.
Plus, they can be a great conversation starter during those after-work events or networking opportunities.
Casual Everyday Outfit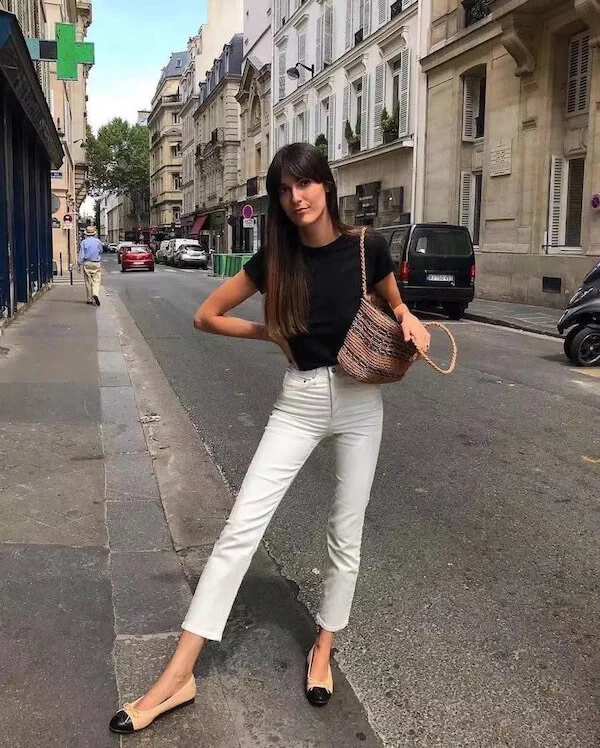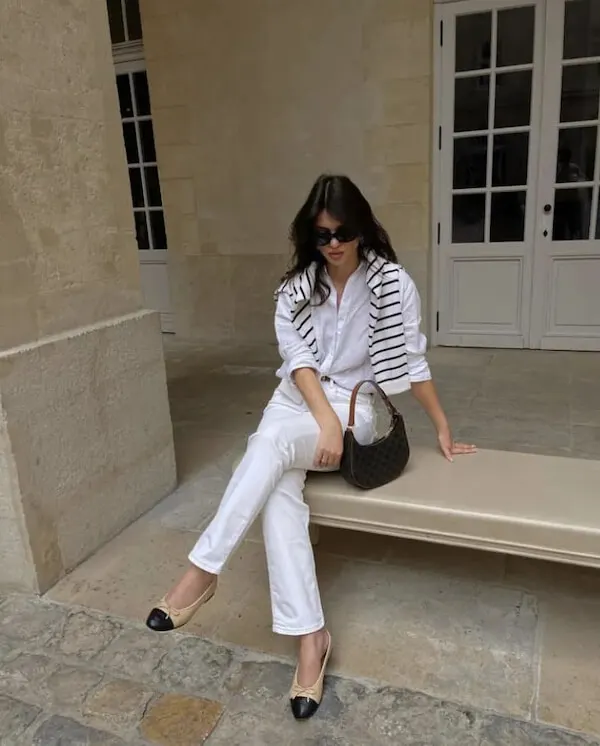 @cristinahudacov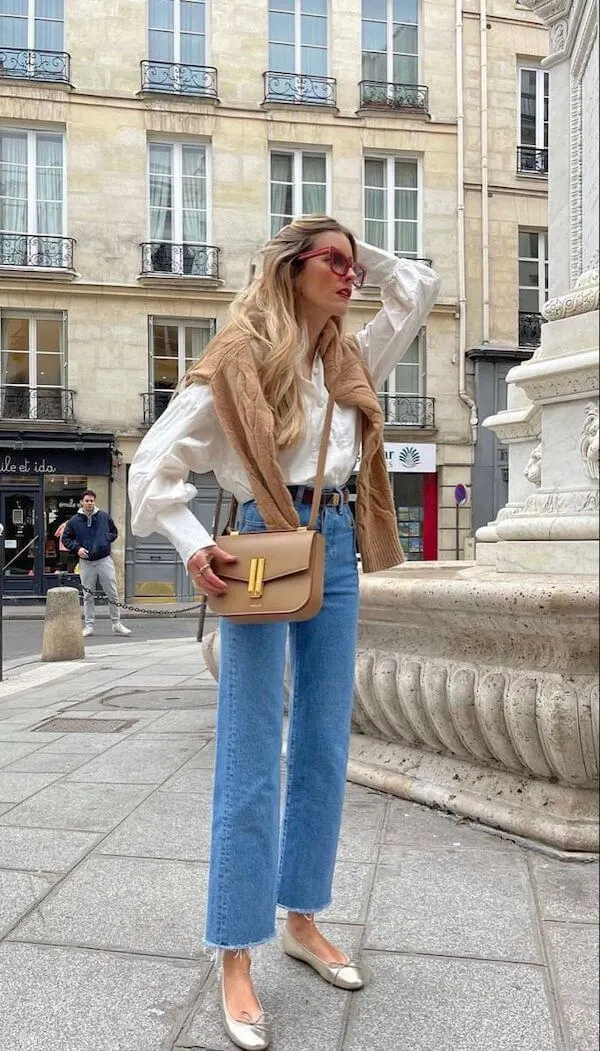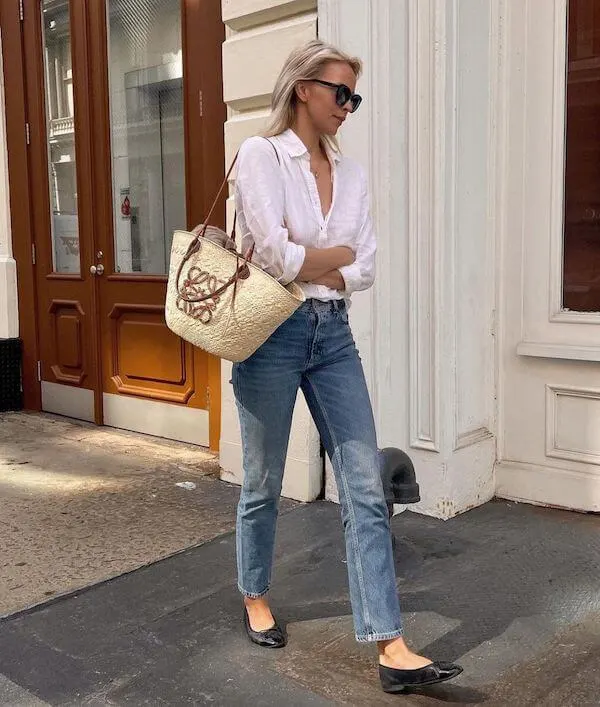 @isolinafedel
For a stylish and comfortable look, pairing your ballet flats with a classic pair of jeans is always a winning combination.
Opt for skinny or straight-leg jeans in a dark wash for a sleek and versatile look.
Add a fitted t-shirt or blouse in a neutral color, such as white or black, to keep the focus on your footwear.
To elevate this casual ensemble, layer on a structured blazer or leather jacket for an effortlessly chic vibe.
Another great option for creating a casually stylish outfit with ballet flats is to opt for a denim skirt or shorts.
Choose denim that hits at mid-thigh or just above the knee for a flirty and fun look.
Pair it with your favorite graphic tee or button-down shirt and complete the outfit with your ballet flats.
This combination strikes the perfect balance between comfort and style, making it suitable for running errands during the day or going out for drinks with friends in the evening.
Elegant Evening Outfit
@fakerstrom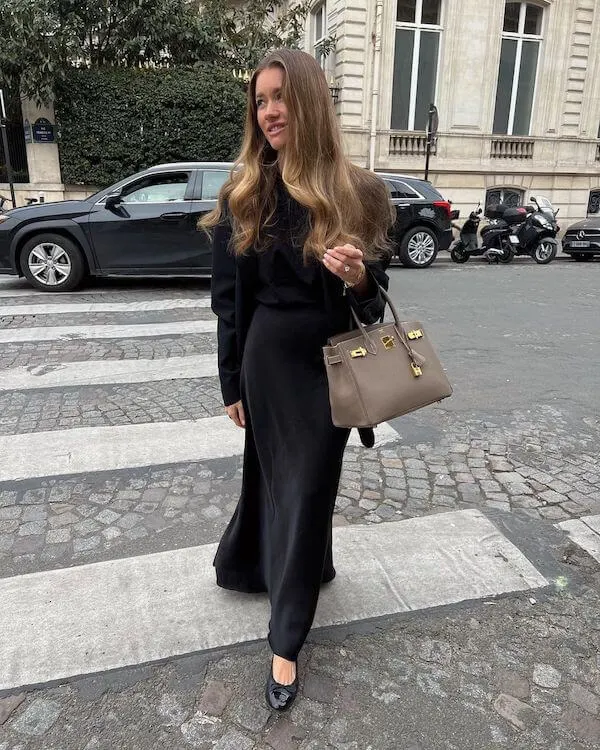 @lovisabarkman
When it comes to creating an elegant evening outfit, many of us automatically reach for heels.
However, ballet flats can be just as stylish and sophisticated while offering a level of comfort that heels often lack.
Pairing ballet flats with a dressy ensemble creates a look that is effortlessly chic and modern.
To achieve an elegant evening outfit with ballet flats, opt for a dress, a long skirt, or a jumpsuit in a luxurious fabric such as silk or velvet.
Choose tailored silhouettes that flatter your figure and add an extra touch of sophistication.
A wrap-style dress or a structured jumpsuit with wide-leg pants can create a stunning and balanced look when paired with ballet flats.
Chic and Feminine Outfit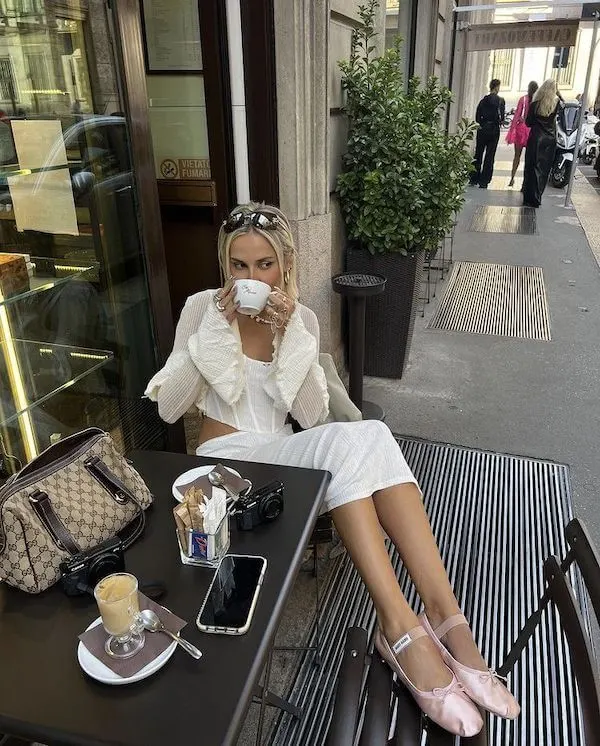 One of the most timeless and versatile shoe styles is undoubtedly the ballet flat.
With their graceful silhouette and comfortable design, ballet flats have become a staple in every stylish woman's wardrobe.
When it comes to creating a chic and feminine outfit with these dainty shoes, there are endless possibilities.
A classic way to style ballet flats is by pairing them with a flirty summer dress.
Opt for a flowy floral print dress in pastel hues for a delicate and romantic look.
This combination effortlessly exudes femininity and charm, perfect for brunch dates or garden parties.
Complete the outfit with some dainty accessories like a thin belt to cinch in your waist or a delicate necklace to add an extra touch of elegance.
Edgy and Trendy Outfit With Ballet Flats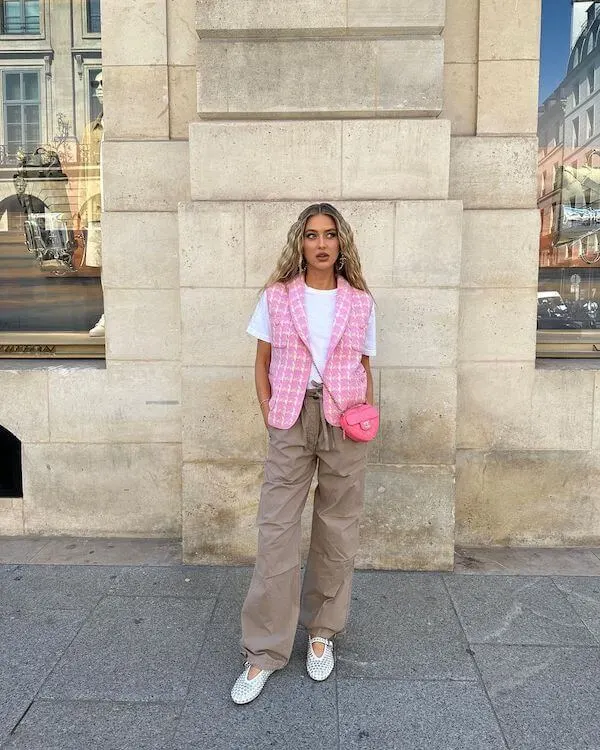 @emilisindlev
Pairing ballet flats with an edgy and trendy outfit may seem like an unlikely combination, but it can actually create a unique and eye-catching look.
To achieve this style, opt for a pair of black leather ballet flats with metallic studs or chains embellishments.
These details add a touch of rock 'n' roll to your ensemble and instantly elevate the overall look.
When it comes to the rest of your outfit, go for bold pieces that reflect your personal style.
A black leather jacket or a trendy vest layered over a graphic tee and paired with cargo pants creates a rebellious vibe that perfectly complements the edginess of the ballet flats.
Accessorize with statement jewelry or sleek sunglasses to further enhance the trendy aesthetic.
Chic Ways to Style Ballet Flats
Wearing Ballet Flats in Different Seasons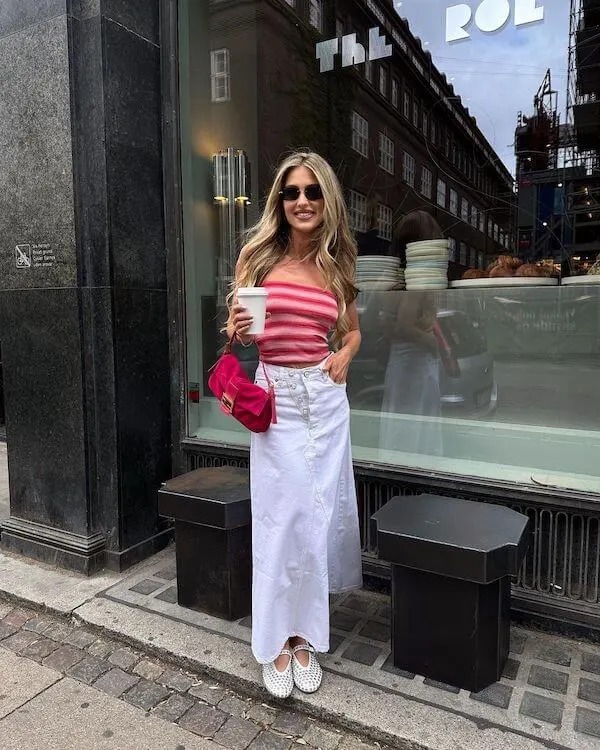 @emilisindlev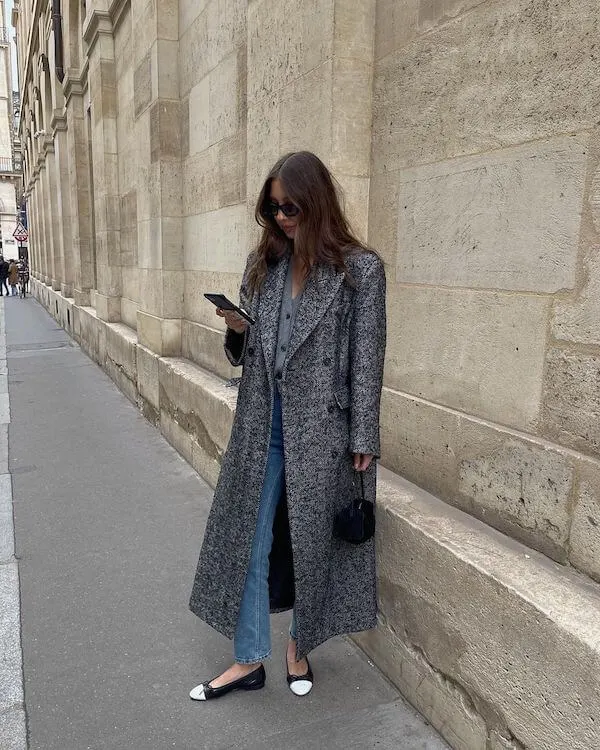 @fakerstrom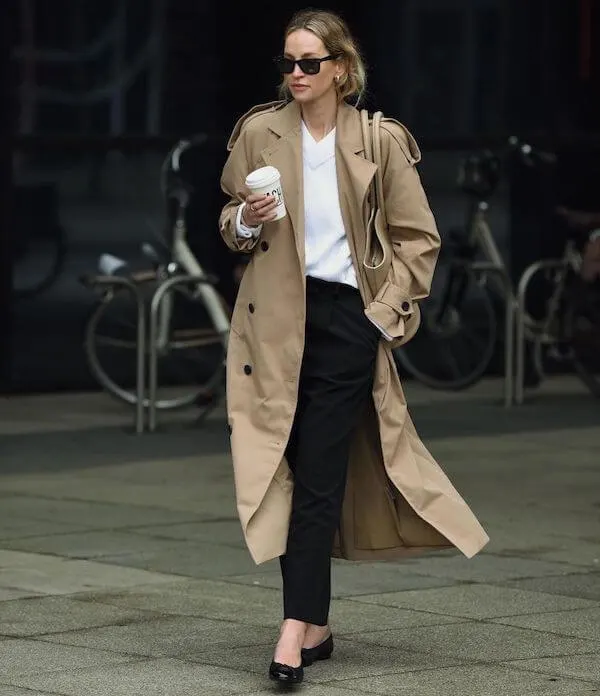 @anoukyve
Wearing ballet flats in different seasons adds versatility to your shoe collection and elevates your style.
In spring, pair your ballet flats with pastel-colored dresses or skirts for a feminine and fresh look.
The softness of the ballet flats complements the delicate shades, creating an elegant ensemble that is perfect for garden parties or brunch dates.
During summer, opt for vibrant hues and bold patterns with your ballet flats.
Whether you're wearing denim shorts or a flowy sundress, these versatile shoes add a touch of sophistication to any outfit.
Choose bright colors like coral or yellow to make a statement, or go for floral prints to embrace the season's cheerful vibe.
When fall arrives, transition into warmer tones like burgundy or mustard yellow with your ballet flats.
They effortlessly complement outfits such as high-waisted jeans paired with cozy sweaters or trench coats layered over midi skirts.
The understated elegance of these shoes adds a polished touch to casual autumn looks.
In winter, don't be afraid to wear your ballet flats by adding warm socks and tights for extra insulation.
This unexpected combination creates an interesting contrast while keeping you cozy during chilly days.
Pair them with oversized sweaters and wool skirts to achieve a chic winter aesthetic.
Tips for Choosing the Right Pair
When it comes to choosing the right pair of ballet flats, there are a few key factors to consider.
Firstly, opt for a pair that offers good arch support and cushioning to ensure maximum comfort throughout the day.
Look for flats with memory foam or gel inserts, as they can provide added support and alleviate any potential foot pain.
Secondly, pay close attention to the materials used in the construction of the flats.
Genuine leather is often regarded as the best option due to its durability and breathability.
However, if you're looking for a more affordable alternative, high-quality synthetic materials can also offer a great combination of comfort and style.
Lastly, consider your personal style and preferences when selecting ballet flats.
Think about whether you prefer classic solid colors or want to experiment with bold patterns and textures.
Additionally, assess how versatile the flats are in terms of pairing them with different outfits – opt for neutrals or metallics that can effortlessly complement various looks.
This post was all about ballet flats outfit ideas.
About The Author
Tracy is an experienced personal stylist, shopping expert, and fashion & lifestyle blogger. She has been featured on Time Magazine, Bustle, Best Life, Glam, The Zoe Report, Mic, and GOBankingRates, for her insights on fashion, beauty, home decor, and lifestyle. Read More
Related Posts: