Looking for trendy casual work outfit ideas for women? Check this post for the most stylish ideas to level up your look right now.
Every time I am asked how to wear casual work outfits, I always think of the casual and fashionable work outfits that often appear in street-style photos.
These outfits are casual and formal, professional and stylish.
They can make you look great in the office and make your commute to and from get off work more fun, and more importantly, they are comfortable to wear so you won't feel dull.
How to wear these chic casual work outfits?
Because of the dress code of the office work environment, these items still need to be professional.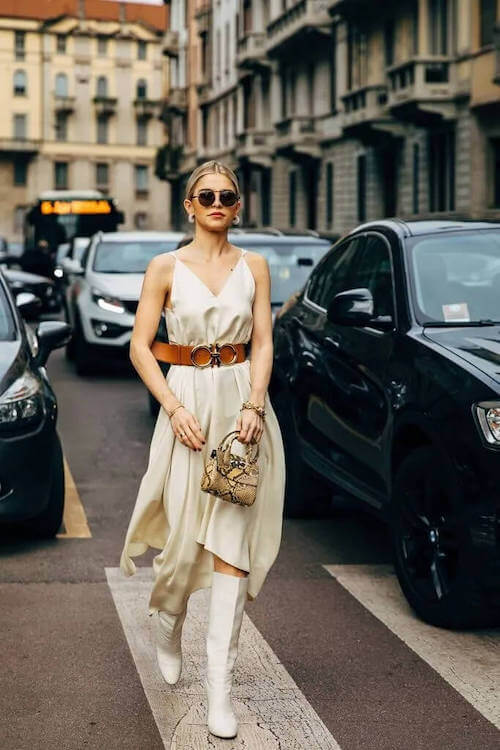 Therefore, in today's post, we will introduce you to the most practical items for creating casual work outfits and share with you the most fashionable formulas for these items to help you quickly create a casual work capsule wardrobe.
This post may contain affiliate links, which means I'll receive a commission if you purchase through my link, at no extra cost to you. Please read the full disclosure here.
This post is all about casual work outfit ideas.
Best Casual Work Outfit Ideas For Women
1. Button-Down Shirt + Jeans
With a button-down shirt and jeans, you can easily create casual work outfits.
However, do you sometimes think that others are very fashionable, but you look a little mediocre when you wear them yourself?
The secret lies in the following styling tips.
First of all, the shirt's neckline should be opened wider to make people feel more relaxed and breathable.
Secondly, you can try different shoes to match this outfit.
For example, if you are tired of black shoes, you can switch to burgundy shoes.
In addition, if the work environment permits, you can also change into fashionable and good-quality shoes.
Finally, keep one or two neat points up and down the whole body.
For example, if the shoes are of a more casual style, you can pull the hair up to make the overall look cleaner.
In addition, it is also an excellent choice to replace the shirt with a sleeveless shirt with good texture and close-fitting.
2. Suit Pants + Thin Sweater
Suit pants + thin sweater combos can quickly enhance your aura and temperament.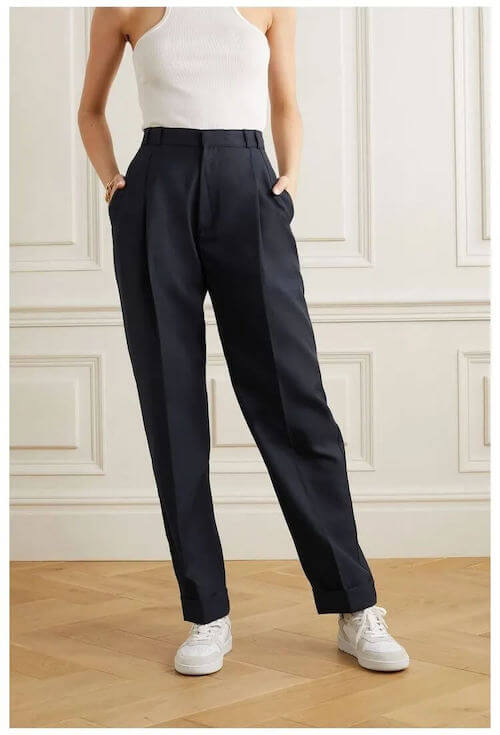 When matching this outfit, choose items with good fabric texture, exquisite details, and a simple version.
Such items can be worn for many years and are not quickly obsolete.
Many women think that the style of suit pants is too severe.
If you choose the right style of suit pants, they will become very practical and make your legs look long and slender.
We especially recommend crop suit pants, because the ankles are very slim and the whole person looks very chic.
In addition, thin turtleneck sweaters can make your overall look simple but very expensive.
Simple short hair or long hair pulled up are very beautiful.
3. Simple Cut Dresses
A dress that is simply cut and not too ordinary is a very practical item.
Matching the dress with the right accessories will make you stand out.
As long as the cutting is simple, the dresses can be printed.
You can choose smaller flowers, which are also very suitable for workwear.
When you have a date after getting off work, you only need to change to brighter makeup or a pair of shoes.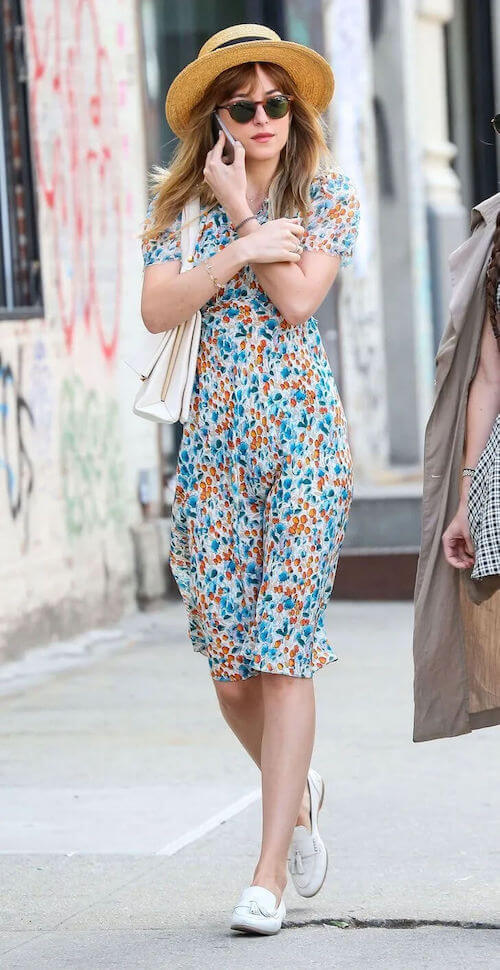 4. Casual Suit
Casual suits are not only suitable for workplaces, but also very fashionable to wear on casual occasions.
When wearing a casual suit, we recommend that you do not wear it with a white button-down shirt to reduce the sense of formality.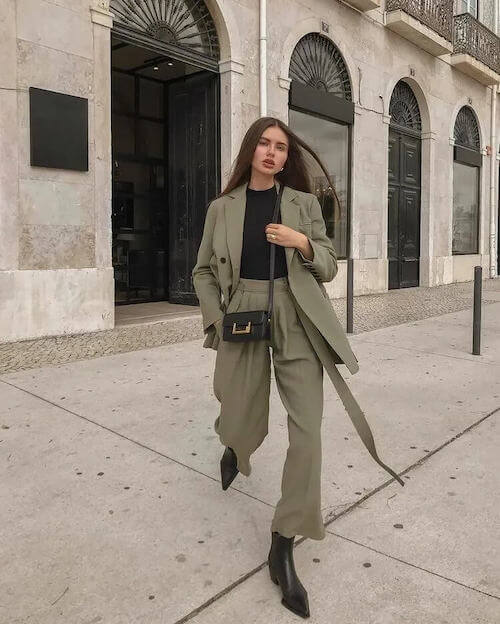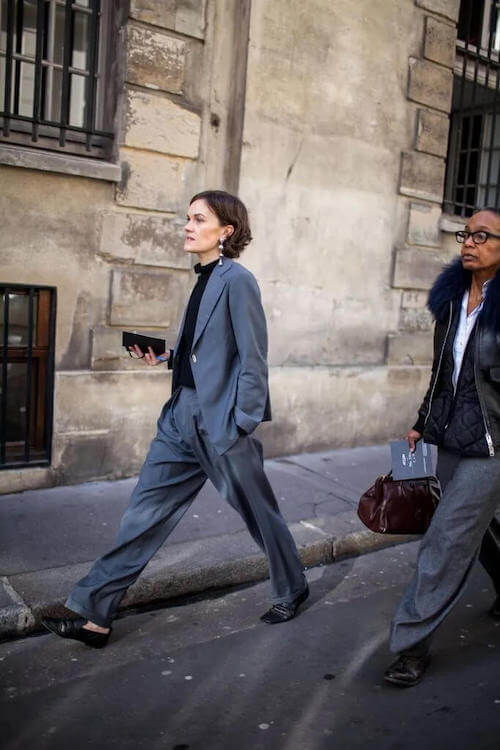 If you want to wear a white button-down shirt, we suggest you wear a pair of sneakers instead of leather shoes.
Generally, to highlight the fashion sense of the overall look, you can choose more oversized and loose styles in the silhouette selection of casual suits or wear more fashionable clothes in the suit.
5. Jacket + Jeans
Choose a jacket with excellent texture and pair it with casual jeans.
You can even boldly choose a jacket with many decorations and metal buttons because your casual jeans can neutralize the jacket's grandness.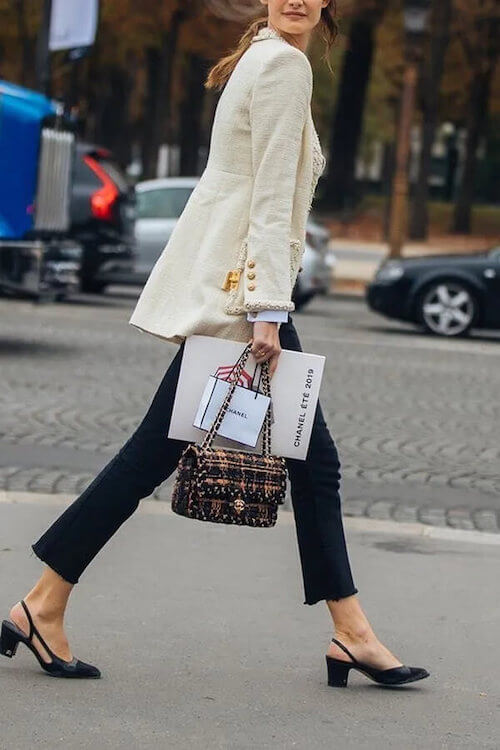 In addition, choosing a simple blazer and a simple white Tee to pair with fashionable jeans and short boots is a very classic casual work outfit idea.
6. Simple White Pants
The comfort and sense of luxury required by fashionable casual work outfits can also be reflected in white pants.
This year, we especially recommend white wide-leg suit pants.
The combo of wearing white suit pants and a solid color top is exquisite.
Just like the combo of a turtleneck sweater with suit pants, when using white suit pants to pair with a button-down shirt or Tee, choose a minimalist style so that the overall outfit can have an effortless and fashionable feeling.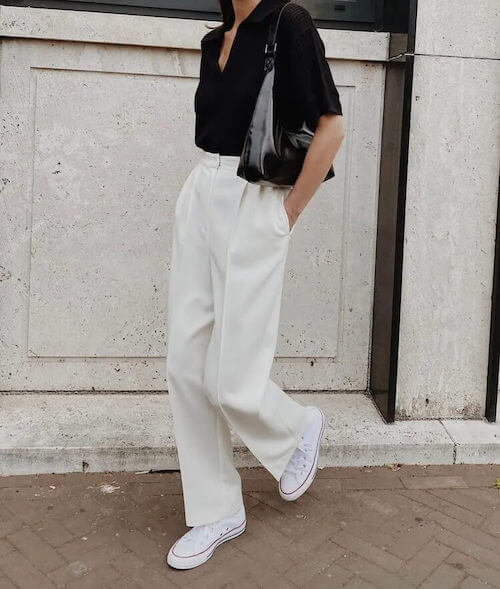 With the changes in modern working methods and lifestyles, dressing that is too formal and a collocation that is too grand has become more and more lacking in the fashionable style that is popular today.
With the increase in work experience, we are no longer materially deficient, but we are becoming increasingly hurried.
We have many products to choose from, but time is becoming more and more precious for us.
Therefore, work outfits that look more relaxed and more comfortable have become more fashionable and full of yearning.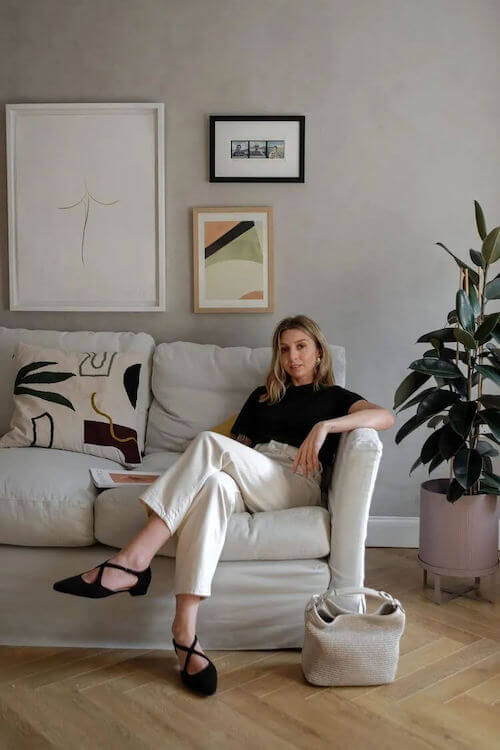 This post is all about casual work outfit ideas.
Related Posts: