Looking for classy bodysuit outfits? Check this post for the best bodysuit outfit ideas and the best tips on how to wear a bodysuit in a chic way.
Fashion is constantly changing and evolving, and every season brings new trends.
This season, it's all about the bodysuit! Bodysuits are a great option for women who want to look chic and stay on trend.
Not only are they flattering, but they can also be dressed up or down depending on the occasion.
With so many styles to choose from, you're sure to find something that suits your taste.
If you're looking for inspiration on how to style your bodysuit, look no further!
In today's article, I am sharing with you the best classy bodysuit outfit ideas for women that are perfect for work, weekend wear and even special occasions.
Whether you're attending a formal event or just popping out for lunch with friends, these bodysuit outfit ideas provide an effortless way to upgrade any outfit. From dressy looks to casual ensembles, this article has it all.
So scroll on to check these style tips and bodysuit outfit ideas, and don't hesitate to pin them to your Pinterest board, and share them on social media.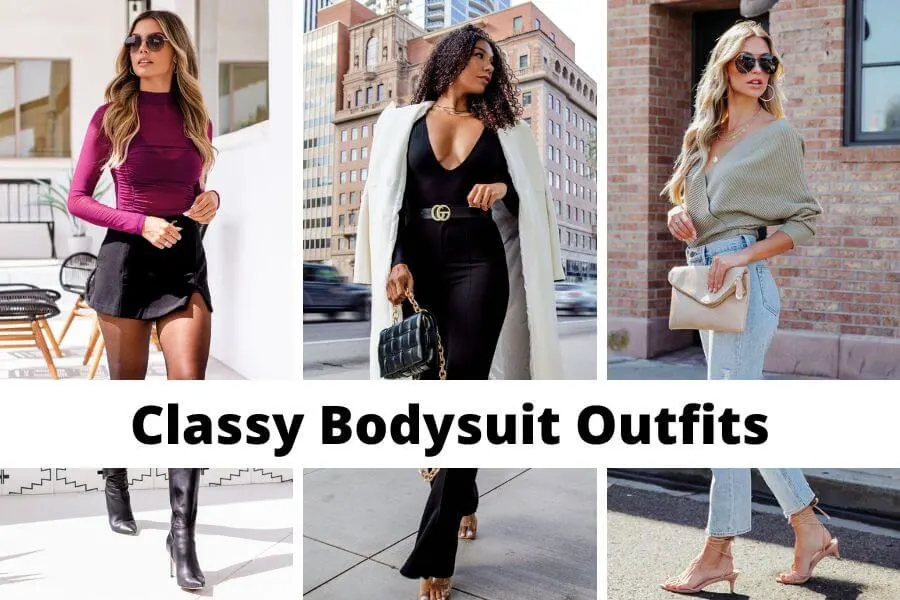 This post may contain affiliate links, which means I'll receive a commission if you purchase through my link, at no extra cost to you. Please read the full disclosure here.
This post is all about classy bodysuit outfits.
Are bodysuits still in style 2023?
Are bodysuits still in style?
Bodysuits have been a fashion staple for more than a decade, and they are here to stay since they offer so many different ways to style an outfit.
Whether you love the look of classic white or prefer something more daring like bright colors or bold prints, you can easily find something for your wardrobe.
The versatility of bodysuits is part of why they remain popular.
You can dress them up with a skirt or trousers and accessories for a night out, or keep it casual with jeans and sneakers during the day.
With so many options to choose from, you can easily find one that fits your own personal style.
Can I wear a bodysuit with jeans?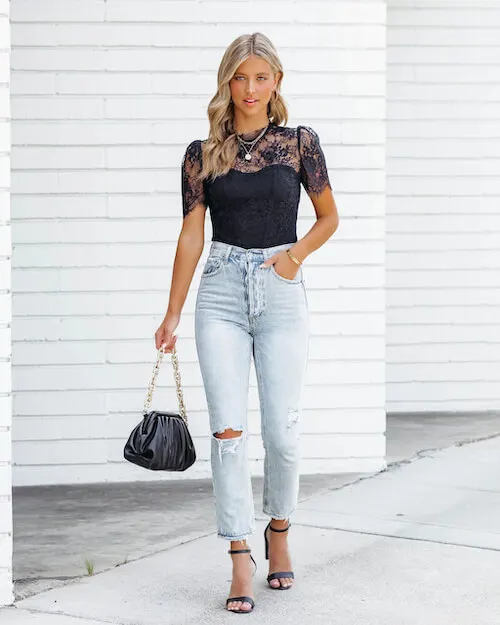 If you're wondering if you can pull off wearing a bodysuit with jeans, the answer is yes!
With just a few styling tips, you can create an effortless yet stylish look that will turn heads everywhere you go.
The key to successfully wearing a bodysuit with jeans is to find the right fit for your body.
Bodysuits are typically form-fitting and provide structure where other blouses or t-shirts may not.
To get the most out of this look, opt for jeans that are fitted but still comfortable enough for everyday wear.
A great tip when creating this outfit is to layer it with different pieces such as denim jackets or kimonos – this gives your outfit dimension while also adding some extra warmth if needed.
What bodysuit should I pair with jeans?
Bodysuits are an excellent option for any occasion since they are comfortable and provide a clean silhouette.
Whether you want to dress up or down, there is an endless supply of bodysuit options that can be paired with jeans for any event.
For a more casual look, try pairing an off-the-shoulder bodysuit with distressed jeans for a laid back vibe.
For something dressier, opt for a velvet or lace bodysuit to add some sparkle and shine to your outfit.
How Do I Wear a Bodysuit in a classy way?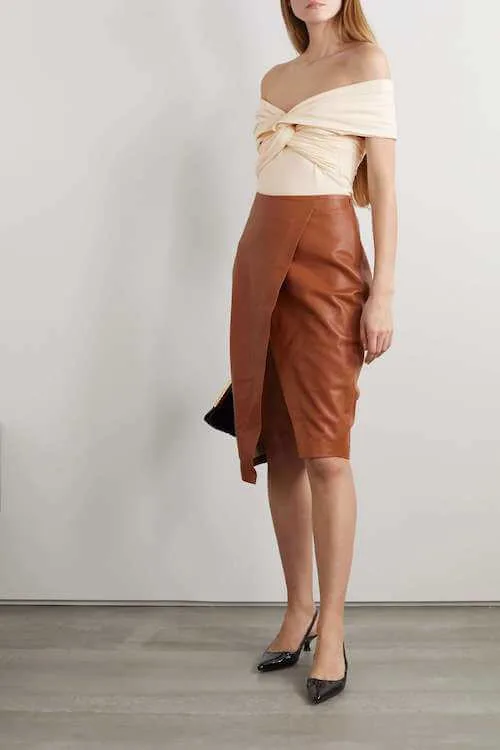 Bodysuits are versatile pieces that can be worn in many different ways and offer a range of style options for casual or formal occasions.
But how exactly do you wear a bodysuit in a classy way?
Here are some tips to help you achieve that effortless look:
First, select one that fits your body shape properly.
A bodysuit should fit snugly against your body without being too tight or uncomfortable.
If it's too big or doesn't sit right on your figure, it won't look as flattering as it should.
Choose something made from good quality materials in neutral colors such as black or white so that it will match almost any outfit combination.
Pair your bodysuit with a skirt, pants, or formal shorts.
You can also layer other garments such as blazers or cardigans over your bodysuit for additional warmth as well as an extra touch of classiness.
Accessorize in a way that complements the outfit without making it too flashy.
Choose items like scarves, statement necklaces, belts, hats and shoes that add subtle elegance.
Opt for neutral colors like black, white, or gray to keep your ensemble looking chic and sophisticated.
What looks good with a bodysuit?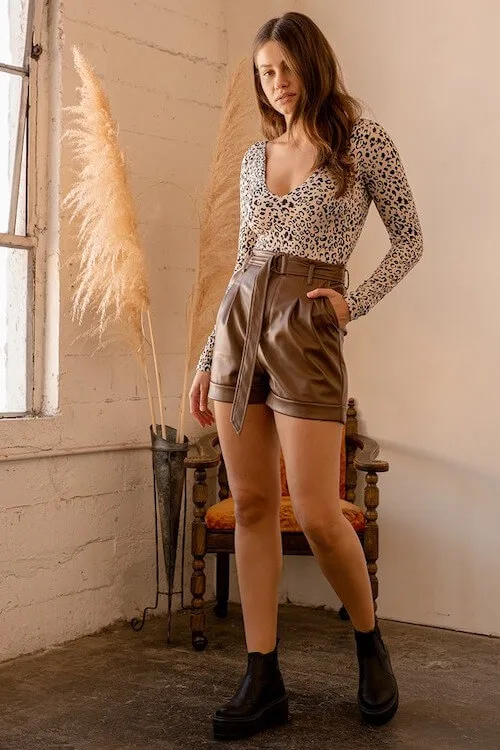 A bodysuit can be a great fashion statement, and it's no surprise that they have become a popular item in many peoples' wardrobes.
But what looks good with a bodysuit? To get the perfect look, you need to consider both your body shape and the occasion.
For an everyday look, try pairing your bodysuit with high waist jeans or shorts.
This is incredibly flattering for all body types as it emphasizes your waistline while still providing some coverage.
For more formal occasions, consider wearing a skirt or dress over your bodysuit to create an elegant silhouette.
You could also add some tights for extra warmth – this is especially useful during colder months!
Finish off the look with some stylish accessories such as earrings, necklaces or hats for an extra special touch.
How do you wear a bodysuit with a big belly?
If you're expecting or just have a bit of extra fluff around the midsection, don't worry!
Wearing a bodysuit with a big belly is totally doable.
The trick is to choose styles that help you hide the extra weight and make you feel your best.
One great way to wear a bodysuit with a big belly is by pairing it with loose bottoms.
A-line skirts are especially flattering because they draw eyes away from your middle section while still creating an overall polished look.
If you prefer pants, opt for something slightly looser than usual and add some shape with an adjustable belt.
You can also layer over the bodysuit with pieces like long kimonos or cardigans for added coverage and texture.
With prints and colors that suit your unique style, these looks will be sure to turn heads!
How Do You Wear A Bodysuit Outside?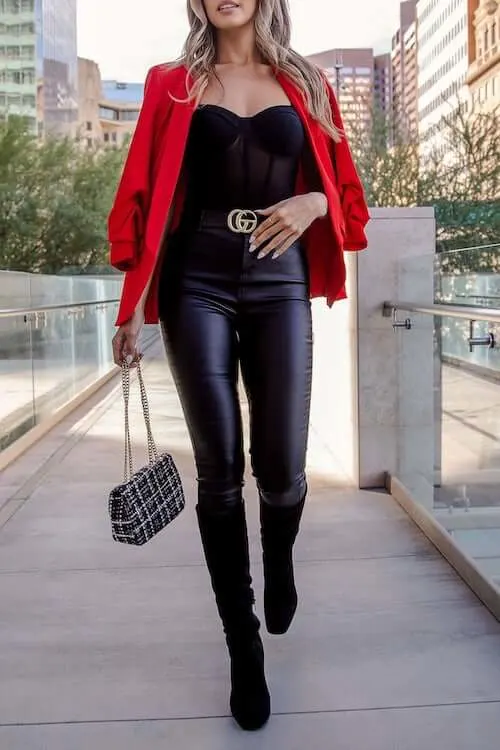 To start, try pairing your bodysuit with high-waisted jeans or leggings for a classic outfit.
Top your look off with an open cardigan or denim jacket to stay warm while still looking chic.
If you want more of a dressier look, you could opt for a blazer or tailored coat instead.
You can also add some height with heeled ankle boots or sandals – just make sure they don't cut off the bottom of the bodysuit so it doesn't come untucked!
How To wear a bodysuit to work?
If you're looking to incorporate some trendier items into your work wardrobe, a bodysuit is a perfect piece.
Not only are they versatile and comfortable, but they can also be dressed up or down to fit almost any occasion.
Whether you want to show off some skin with a plunging neckline or keep it modest with something that covers more of your body, there are plenty of ways to make a bodysuit appropriate for the office.
To start, find a bodysuit in material and color that's suitable for work.
Stick to professional fabrics like cotton or polyester and avoid overly bright hues like neon pink or acid green (no matter how cute).
A bodycon bodysuit with a matte finish in black or navy is both classic and elegant.
Make sure that the fabric is not too thin so that it is not revealing or inappropriate for the workplace; instead, opt for higher-quality materials that will last longer.
When shopping for your look, opt for pieces that have long sleeves and higher necklines – think turtlenecks and mock-necks – over those with plunging necklines.
Additionally, pair your bodysuit with an appropriate bottom – high-waisted trousers or skirt add polish while still showing off your curves.
Classy Bodysuit Outfits For Women
How To Wear Bodysuits On Summer Vacation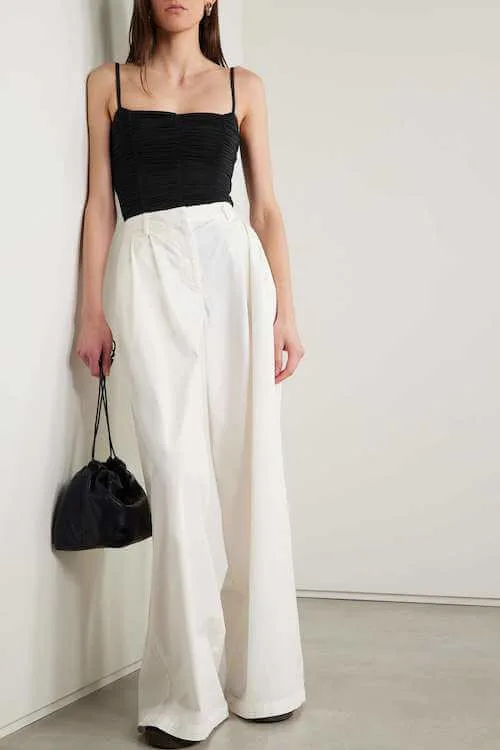 For summer vacations, they're easy go-tos when it comes to creating stylish yet comfortable looks.
With lightweight fabrics like linen or cotton blends and bright colors like neons and pastels, you can easily put together a chic ensemble that will become one of your favorite vacation looks!
How To Wear Bodysuits in Winter Cold Months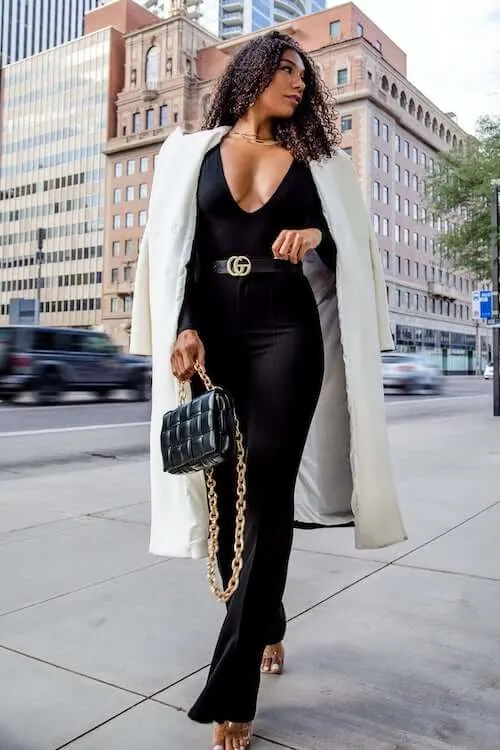 Wintertime can be a tricky season for fashionistas trying to look stylish and stay warm.
An often overlooked option is the bodysuit, which is perfect for wearing in cold weather months while still looking trendy.
Opting for thicker materials like wool or velvet can help keep you extra cozy during the colder days.
Bodysuit Outfits With Jeans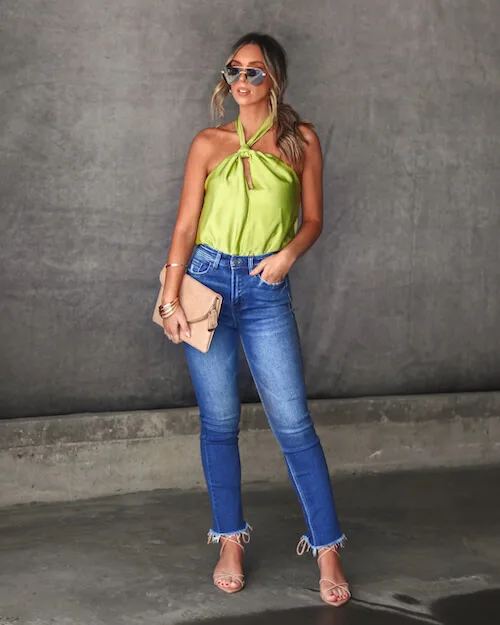 Wearing a bodysuit with jeans is one of the easiest ways to put together an outfit that looks polished and put-together.
Skinny, slim-fit, or straight leg jeans look best when worn with a bodysuit since they hug your figure tightly and create an hourglass shape.
For extra comfort, consider buying stretchy denim jeans like jeggings or jeggings with spandex in them.
How To Wear a bodysuit with pants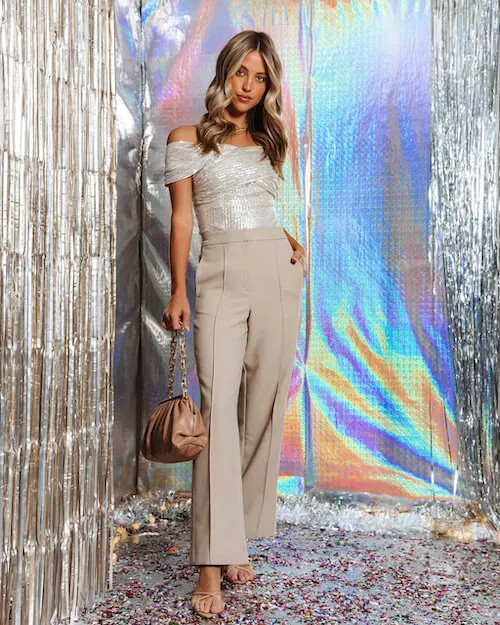 The great thing about wearing a bodysuit with pants is that there are no hard-and-fast rules; rather, there are several combinations that can work depending on the occasion and your personal style.
For a casual look, try pairing your favorite bodysuit with boyfriend jeans or high-waisted trousers.
Cuffing the ankles of your jeans or trousers will help create a more relaxed and effortless aesthetic while still keeping everything tucked in nicely underneath.
For a more formal look, try pairing your bodysuit with a blazer and tailored trousers.
You can also pair your bodysuit with leather pants for an elevated chic look.
Black bodysuit with jeans outfit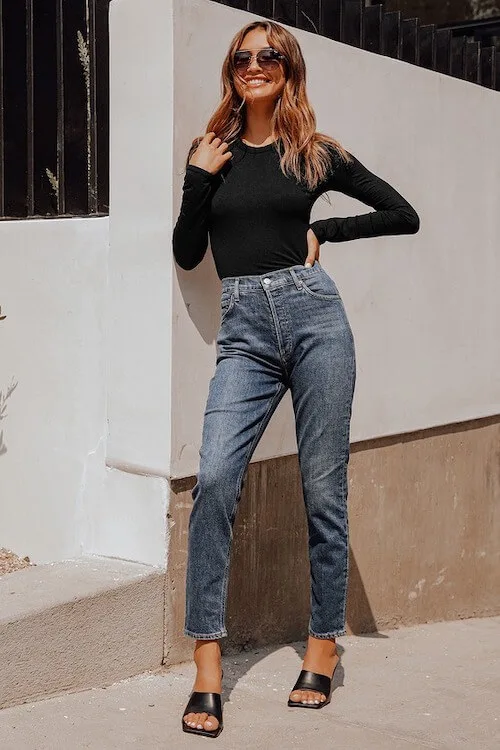 The beauty of wearing a black bodysuit with jeans lies in its versatility; it's easy to customize depending on the occasion and your personal taste.
For example, if you prefer to go for something more casual, teaming distressed jeans with a simple black bodysuit will create an effortless but stylish look.
To add a bit of edge and glamour to the ensemble, choose some chunky jewelry pieces or cool boots to complete the outfit.
Bodysuit with skirt outfit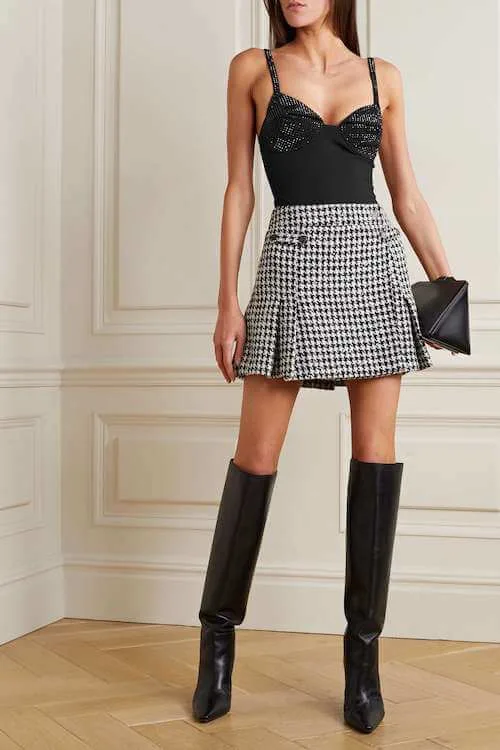 When it comes to making a statement, nothing does it quite like a bodysuit and skirt outfit.
The combo is flattering, stylish and versatile enough for any occasion.
Whether you're heading to the office, out for drinks with friends or even just running errands on the weekend, a bodysuit with skirt look is always sure to impress.
For the classic office-chic look, try pairing an elegant black bodysuit with a sleek pencil skirt in either bright red or navy blue shades.
Finish off your ensemble with some simple accessories like gold hoop earrings and your favorite pair of heels for that sophisticated yet sexy vibe.
If you want a more casual vibe, try a bodycon skirt or a mini skirt with a bodysuit.
This is one of the best combinations for warmer months because it s fresh and cool, but also has an underlying sense of sexiness.
Add a pair of tights if you want to try this outfit in the cold months.
Chic Bodysuit outfit ideas
Want more inspiration? Scroll on and check more bodysuit fashion combination ideas to copy.
Off The Shoulder Bodysuit + Mini Skirt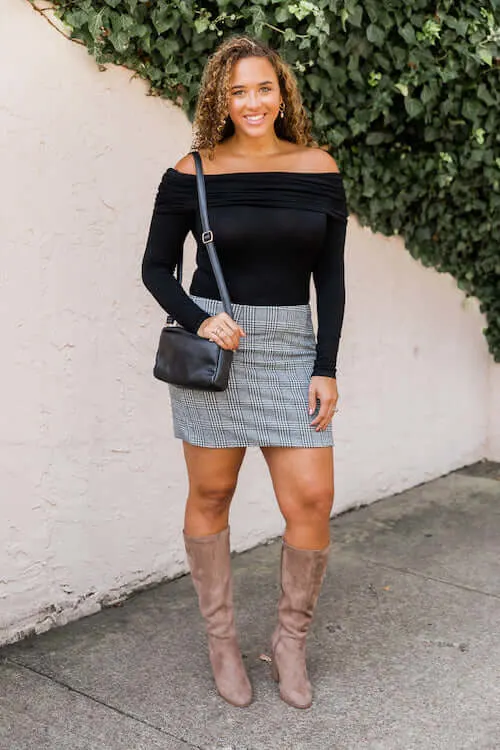 Chic Look of Bodysuits For Plus Size Women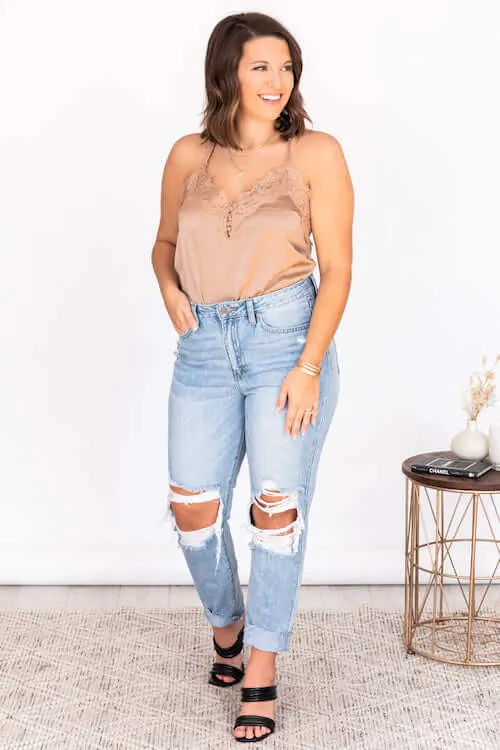 Black Long-Sleeve Bodysuit + Beige Pants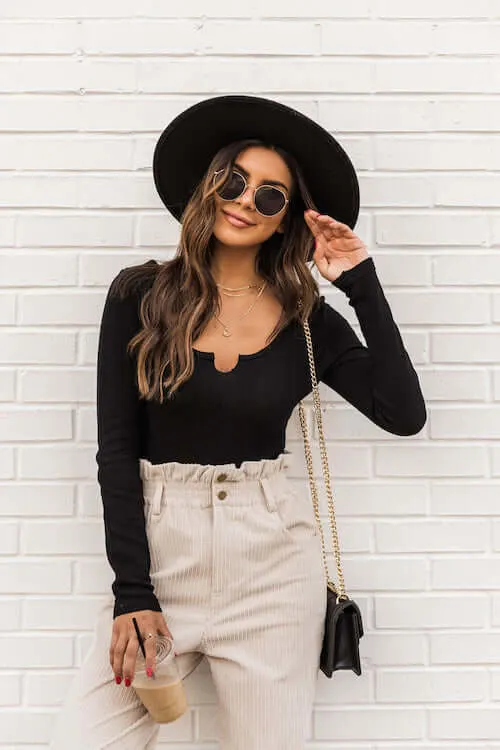 Cute Bodysuit Outfits For Spring Summer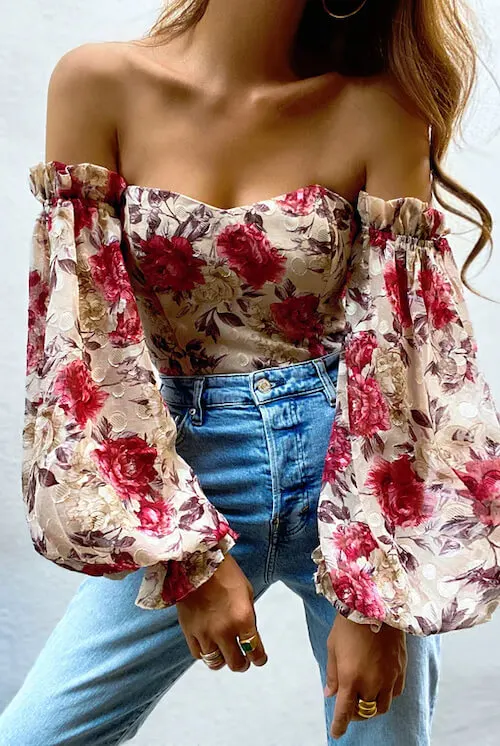 Simple Yet Stylish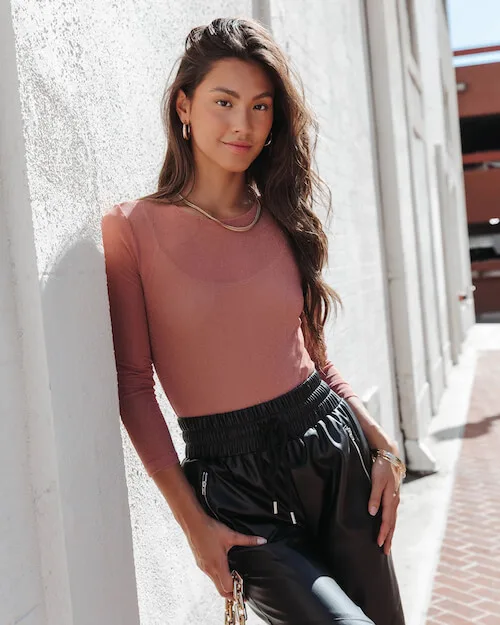 Sexy Lace Bodysuit + Flare Pants
Ruffled Bodysuit + Long Skirt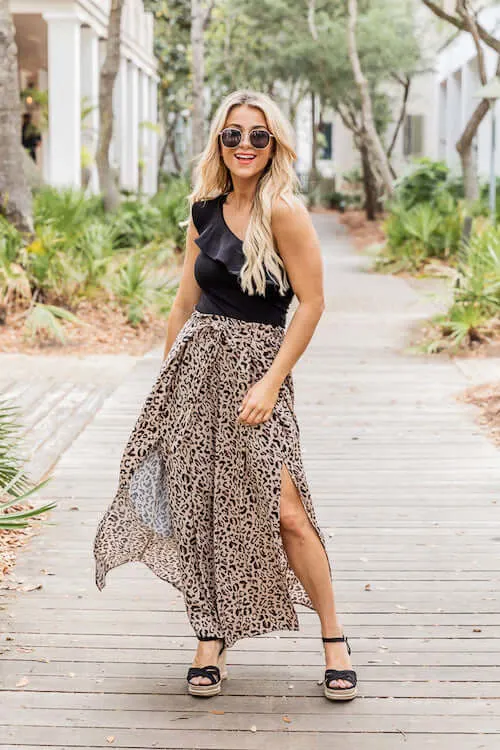 Mesh Bodysuit + Maxi Skirt + Strappy Sandals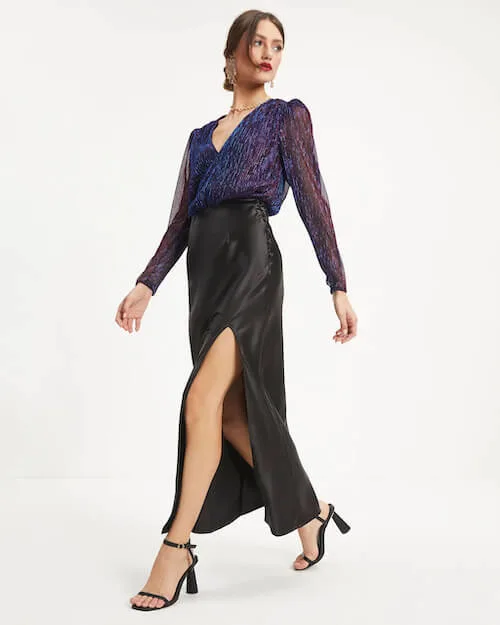 Plunge Neckline Bodysuit + Pencil Skirt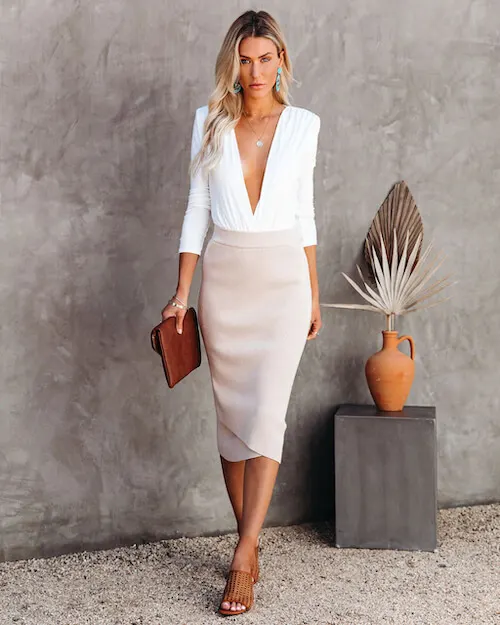 White Bodysuit + Hot Pink Skirt
Blue Long Sleeve Bodysuit + Dressy Pants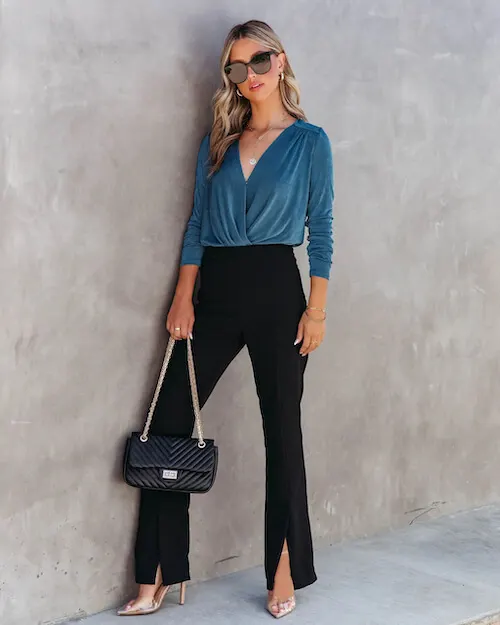 Wrap Bodysuit + High-waisted jeans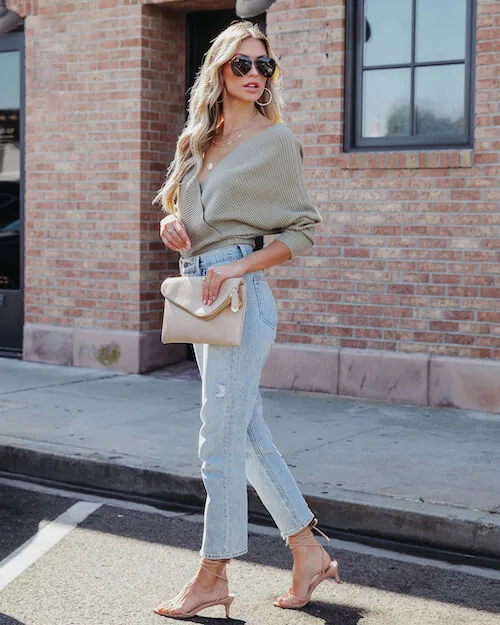 Black Bodysuit + Flare Jeans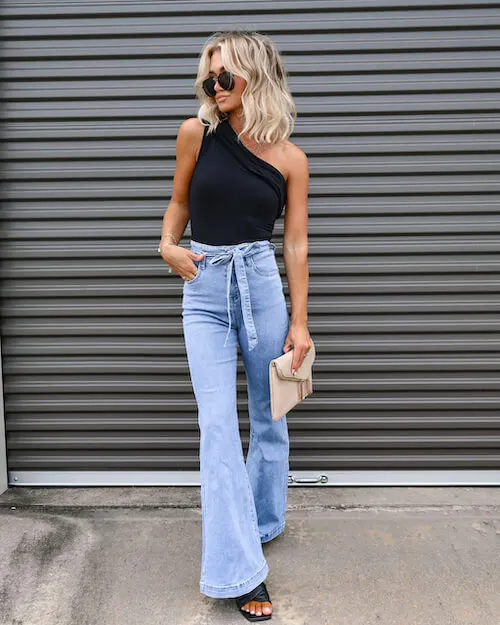 Perfect Neutral Tones
Black Bodysuit Tank + White Shorts + Black Boots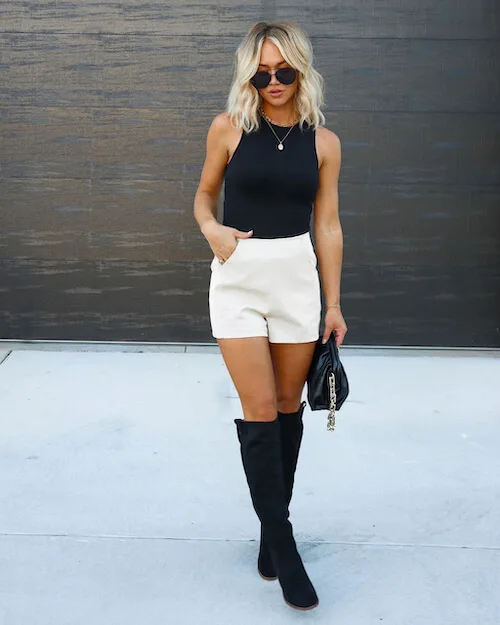 Super Sexy Bodysuits Look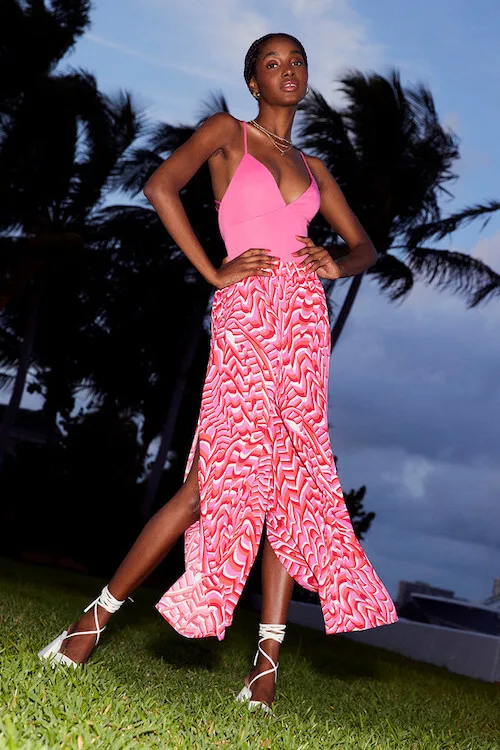 Green Bodysuit + Beige Skirt + Heels
Blush Bodysuit + Jeans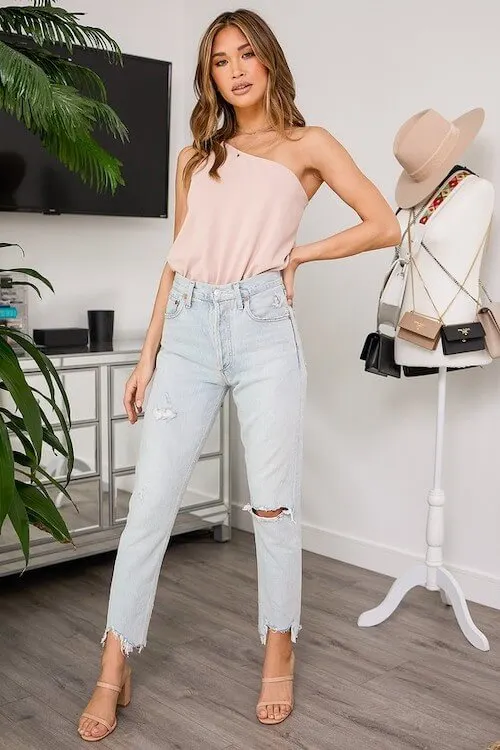 Keep It Classy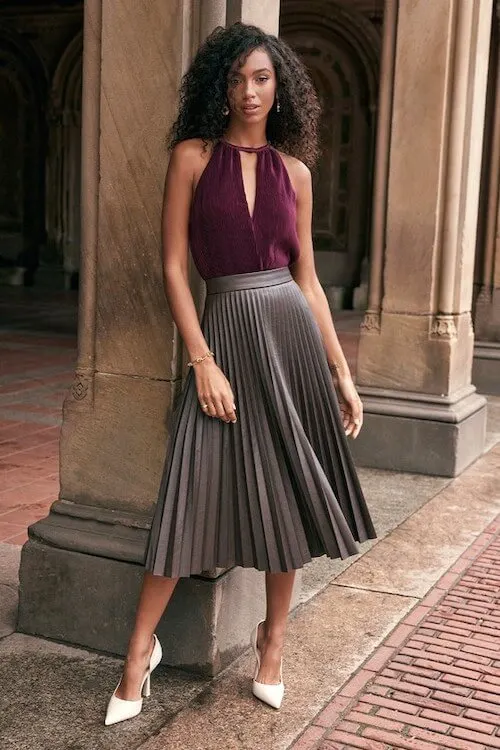 Black Bodysuit + Animal Print Midi Skirt + Loafers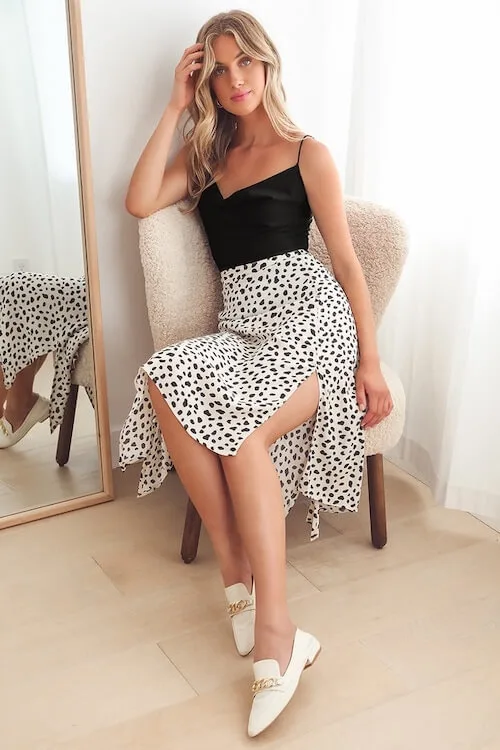 Mesh Black Color Bodysuit Outfits To Try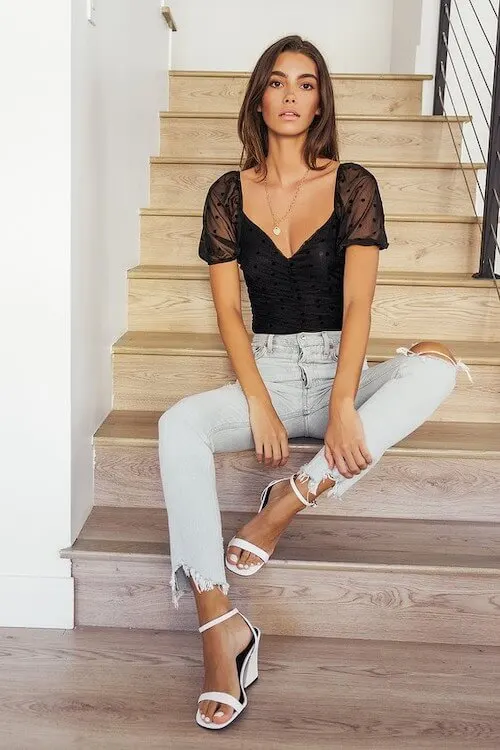 Black Long Sleeve Bodysuit + Ankle Jeans
Burgundy Bodysuit + Ankle Jeans + Booties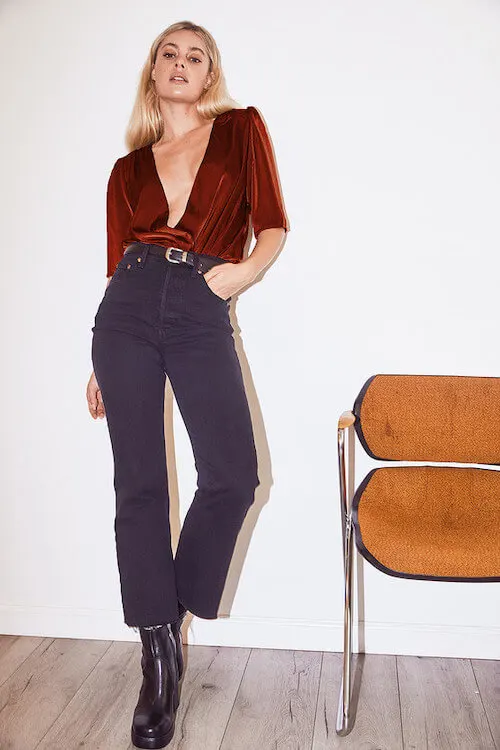 Black Bodysuit + Midi Skirt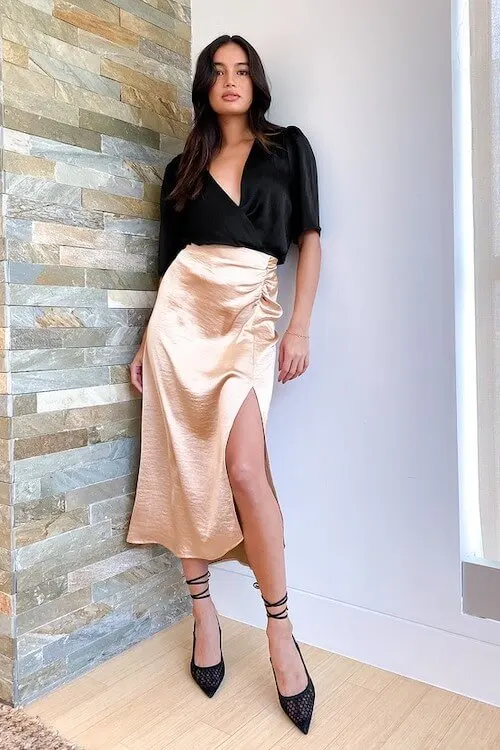 Black Bodysuit + Flare Pants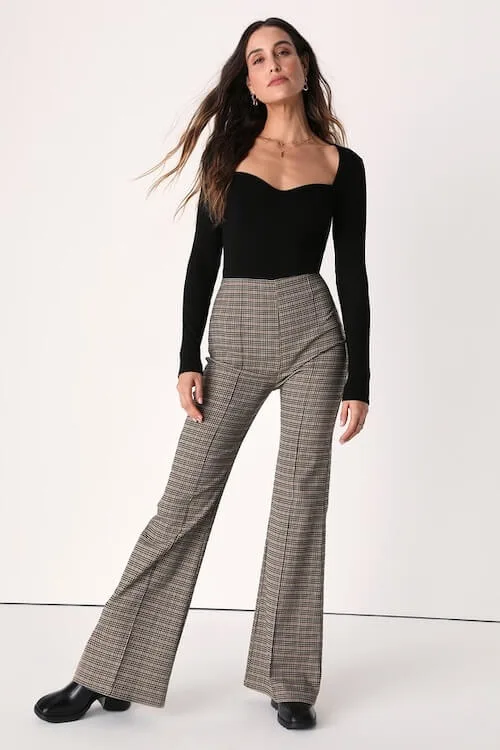 Bodysuit + Jean Shorts
Black High Neck Bodysuit + High Rise Jeans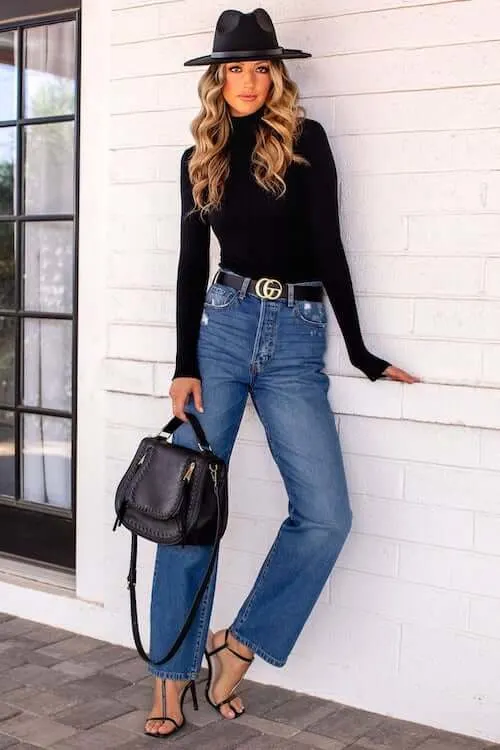 Black Blazer + Black Leather Pants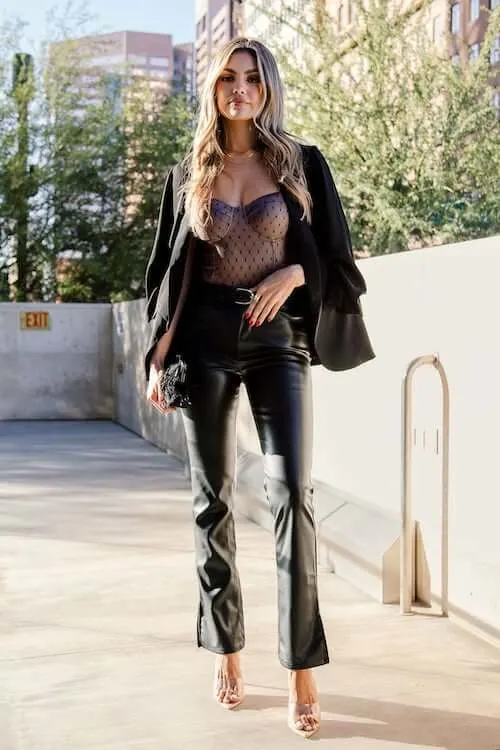 Turtleneck Bodysuit + Wide Leg Jeans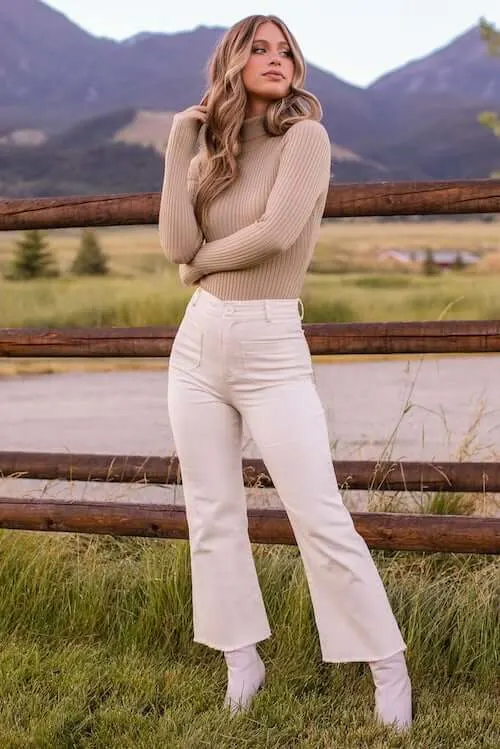 Bodysuit Outfits Baddie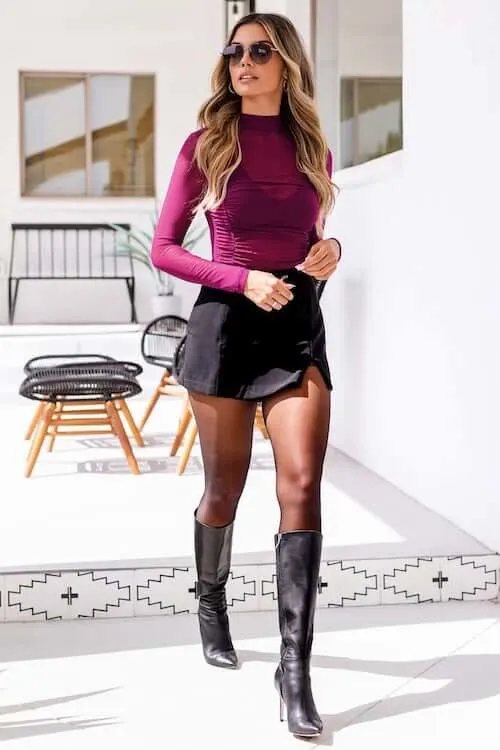 Sheer Bodysuit + Sequin Skirt + Black Leather Jacket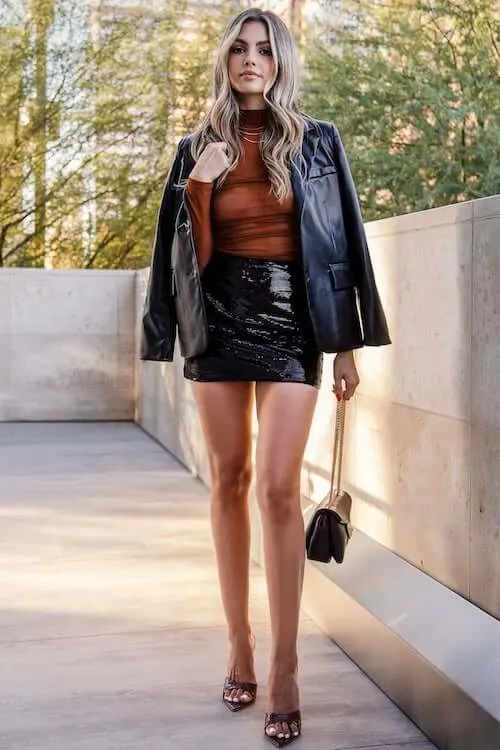 White Bodysuit Tank + White Denim Pants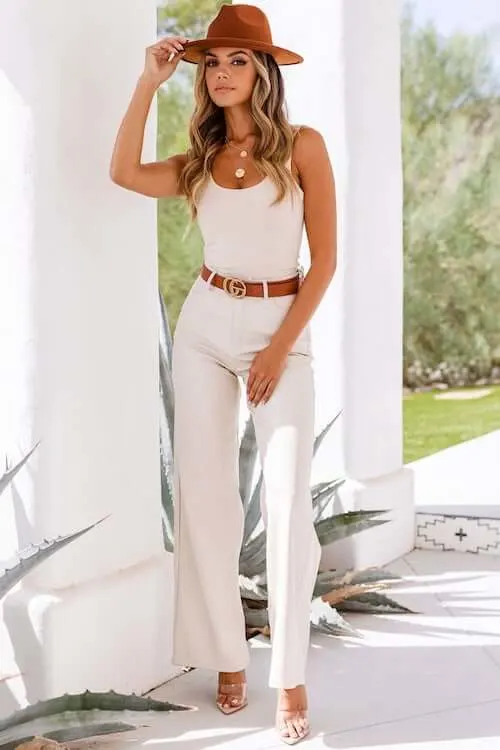 Black Bodysuit + Cargo Pants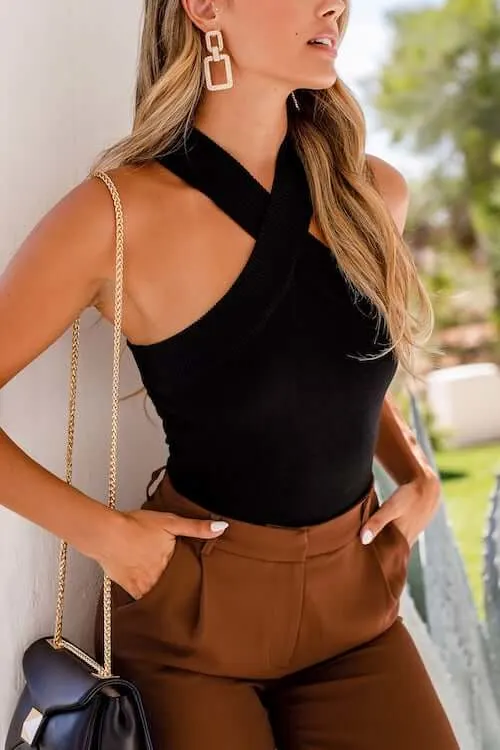 Gray Bodysuit + Black Jeans + Sneakers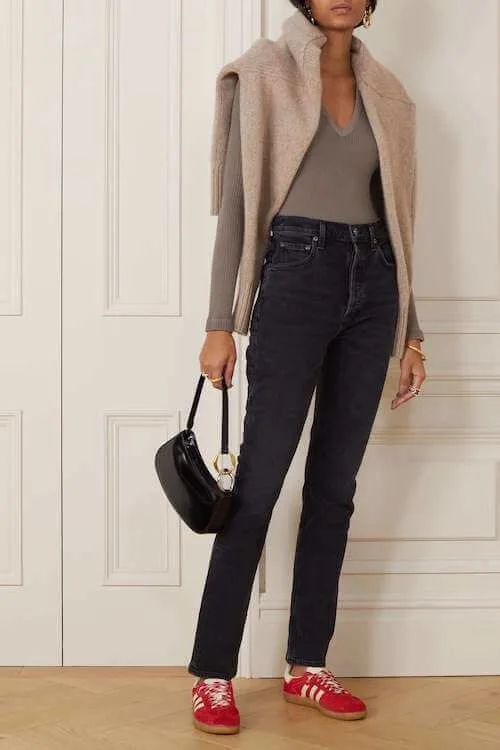 Bodysuit Tank + Maxi Skirt + Silver Heels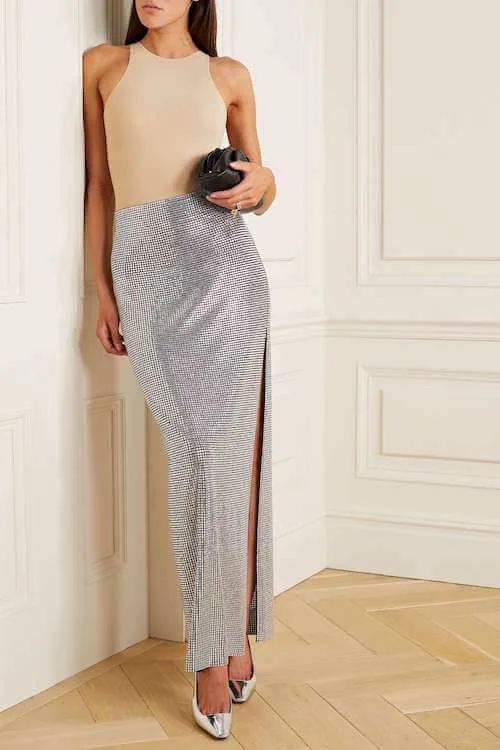 Green Bodysuit + Brown Pants
Floral Print Bodysuit + Beige Shorts + Sandals
Conclusion: How to wear bodysuits for women
In conclusion,wearing a bodysuit can make you feel powerful, chic, and confident.
It allows you to create multiple looks in one piece of clothing.
With the right accessories and styling tips, your bodysuit will be the perfect addition to any outfit.
Whether for going out or running errands, wearing a bodysuit in a chic way is easy and stylish.
So don't be afraid to show off your curves with this versatile piece of clothing!
This post was all about classy bodysuit outfits.
About The Author
Tracy is an experienced personal stylist, shopping expert, and fashion & lifestyle blogger. She has been featured on Time Magazine, Bustle, Best Life, Glam, The Zoe Report, Mic, and GOBankingRates, for her insights on fashion, beauty, home decor, and lifestyle. Read More
Related Posts: