Looking for the best Miami chic outfits? Check this post for expert tips on what to wear in Miami for different occasions, and the best 30+ Miami chic outfits to copy this year!
Warm Miami with year-round sunshine is always so attractive. A vacation to Miami will fill your body and mind with joy.
You will enjoy the endless fun of the combination of nature and the bustling city of Miami.
You'll enjoy a wide variety of activities from day to night in Miami.
You will experience the infinite style combining fashion and art in Miami.
You will have a great vacation in Miami.
If you are going to Miami soon and are looking forward to the perfect looks to copy, you've come to the right place.
In today's article, I am sharing with you the best style tips on what to wear in Miami for different occasions.
And I am also sharing with you the best 30+ Miami outfits for a chic woman for you to copy directly.
So scroll down to check these outfit ideas for the Miami trip and don't hesitate to pin them to your Pinterest board, and share them on social media sites.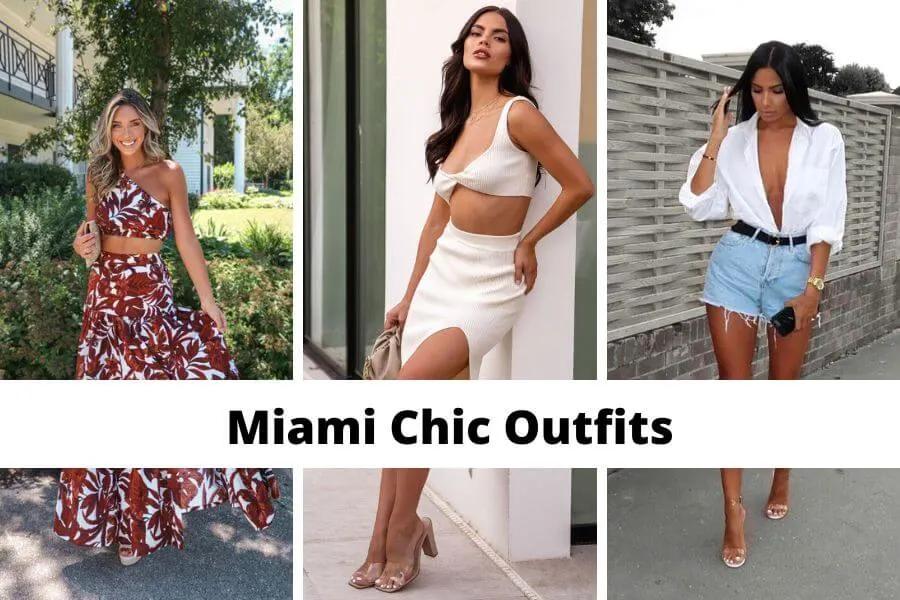 This post may contain affiliate links, which means I'll receive a commission if you purchase through my link, at no extra cost to you. Please read the full disclosure here.
This post is all about Miami chic outfits.
What Is Miami Chic?
Miami Chic is a unique blend of glamour, sophistication and style.
It is the epitome of coolness in sartorial flair inspired by the city's sunny beaches and vibrant culture.
Miami chic fashion is all about looking effortless and fashionable with an air of tropical ease.
From bright colors to beachy prints, Miami chic makes sure you stand out from the crowd while still looking polished.
This style combines traditional cuts and silhouettes with modern details like metallic accents or bold patterns for a style that is truly one-of-a-kind.
Whether it's a statement dress that turns heads or a pair of statement earrings, there are endless possibilities when it comes to embracing your own personal Miami chic look.
Layers, textures and pops of color can help create an outfit that will make you feel like you belong on South Beach!
What To Wear In Miami As A Chic Woman

What Kind of Clothes Do You Wear In Miami?
If you want to look stylish here, you need to choose the right clothes with the right fabrics, prints, and styles.
The airy, non-heavy fabric will get you through the Miami hot weather.
At the same time, solid-color fabrics or fabrics with beautiful prints are very fashionable.
What Not To Wear In Miami
Please should avoid overly complicated styles.
The simpler the style, the more expensive it will look.
What To Wear To Miami Beach
Embrace white. Adding a white piece or two to your Miami packing list can give you a beachy chic look.
I recommend a white dress, a white cami top, or a pair of white pants.
I also particularly like the white button-down.
It can be a cute cover-up and make your other casual Miami outfits very fashionable.
Sexy denim shorts are also very popular with women on the Miami beach.
They can be combined with a variety of light and lovely tops to form very fashionable beach outfits.
What To Wear In Downtown Miami
In downtown Miami, you can fully experience trendy street fashion and innovative artistry.
I really like the art museums and exhibits in downtown Miami.
In order to match the artistic sense there, you can wear more fashionable clothes, such as trying the recently popular baggy pants, crop tops, and retro sunglasses.
Make sure you wear comfortable shoes as you tend to be walking around for a long time.
Even though you may need to wear high heels to go to fancy restaurants, I still recommend that you pack a pair of flat slippers in your bag.
They will keep your feet more comfortable and help you have a great trip.
How To Style For Miami Nights: Miami Clubs and Date Night Outfit
Clubs in Miami don't have a very strict dress code. But for both men and women, please avoid sportswear, baggy pieces, ripped pieces, and whatever you wear to the beach.
Dress to impress! For women, you can never go wrong with a mini dress or a sexy cami top with nice pants.
Complete your look with statement earrings and high heels.
What To Wear To A Miami Pool Party
Almost every Miami pool party requires you to wear a cute swimsuit.
You can add a cute cover-up, loose shirt, flowy dress, or cute shorts to your swimsuit.
What To Wear To A Miami Wedding
If you are going to a romantic Miami wedding as a wedding guest, then for women, a sheer gown in vibrant colors is a perfect choice.
For beach weddings, you don't have to wear high heels, and comfortable sandals are also very suitable.
The key is to choose shoes that will allow you to walk on the beach.
What To Wear To Miami In Winter Months
Winters in Miami are still very warm.
You just need to add one or two long-sleeved tops, light jackets, or blazers to your luggage.
During the day, a long-sleeved top and long pants will be enough. You can still wear short sleeves or shorts most of the time.
If you go out in the cooler evenings, especially at late night, it's a good idea to add a light jacket or blazer, or you can also prepare a thin sweater to keep warm.
Best Miami Chic Outfits
How Should I Dress Stylish In Miami
Miami is known for its vibrant nightlife and fashion scene.
So, when you visit this sunny city, it's important to dress stylishly to make a great impression.
Whether you're going out with friends or exploring the beaches, there is a certain level of style expected in Miami that can be achieved with some key wardrobe pieces.
When putting together your look for Miami, keep it light and airy.
Floral prints are perfect for the summer months and can be incorporated into tops or dresses.
Colorful statement accessories like scarves, handbags and jewelry will also help inject a bit of personality into any outfit while still keeping it put-together and chic.
Additionally, lightweight fabrics such as chiffon or cotton blend well in the hot weather as they won't stick to your skin when you're out on the town or beachside.
Below, we have selected the best Miami outfits for your reference.
We've also included chic clothing pieces that you can buy directly from our favorite online fashion stores.
So scroll down to check our favorite outfits.
Miami Chic Wedding Attire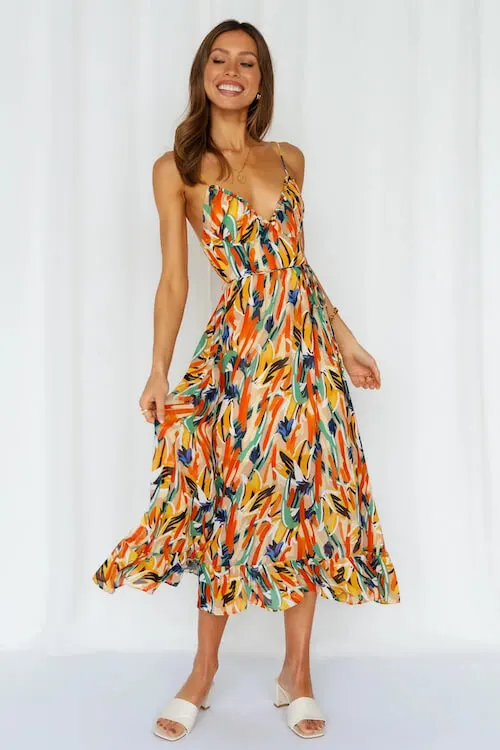 Long Sleeves Shirt + Shorts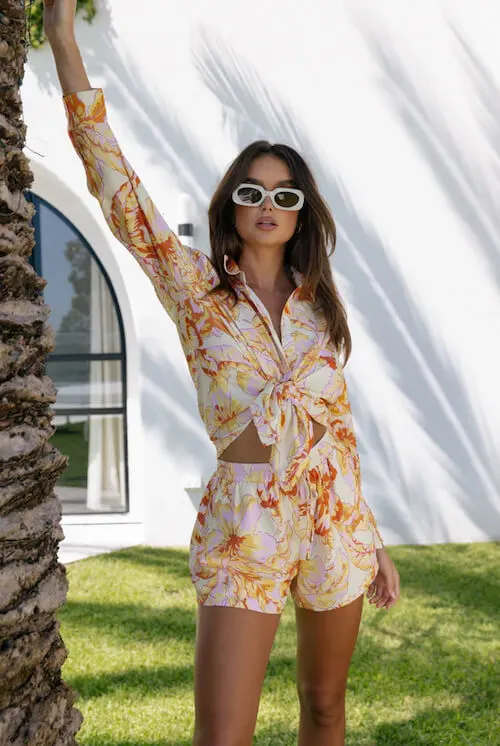 Tube Top + Long Pants + A Pair of Sunnies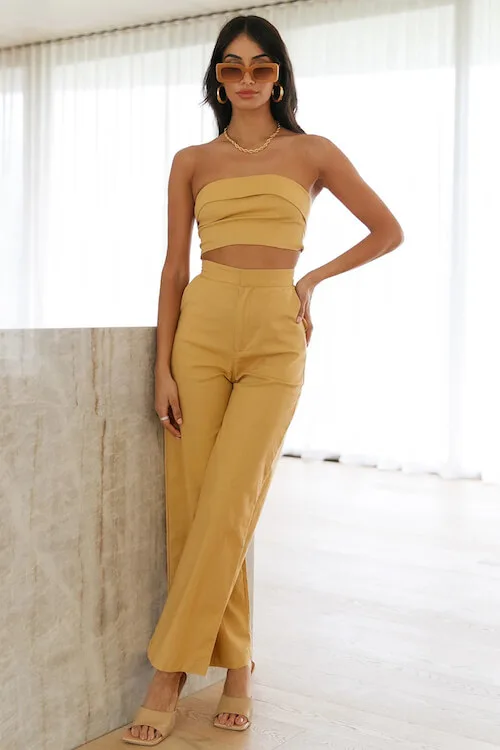 Floral Dress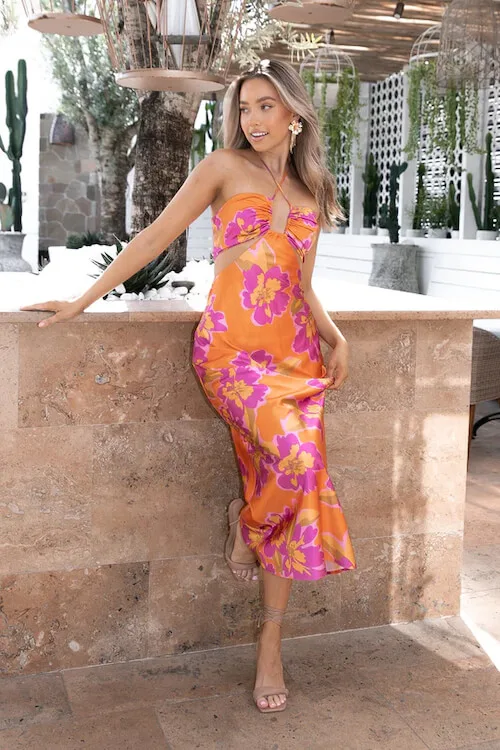 Miami Chic Dresses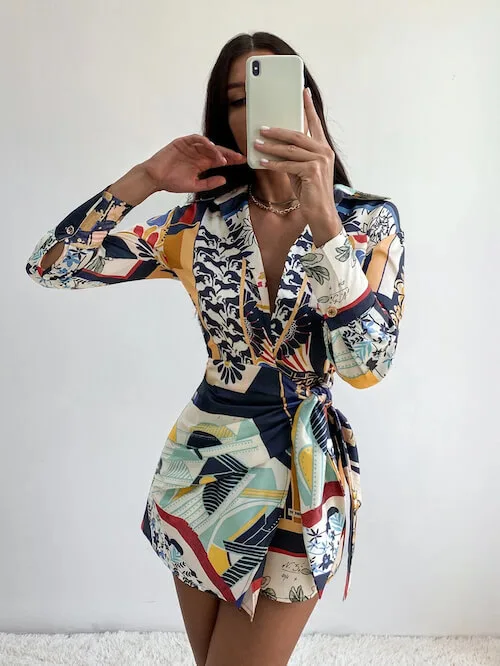 Stylish Swimsuit + Beach Pants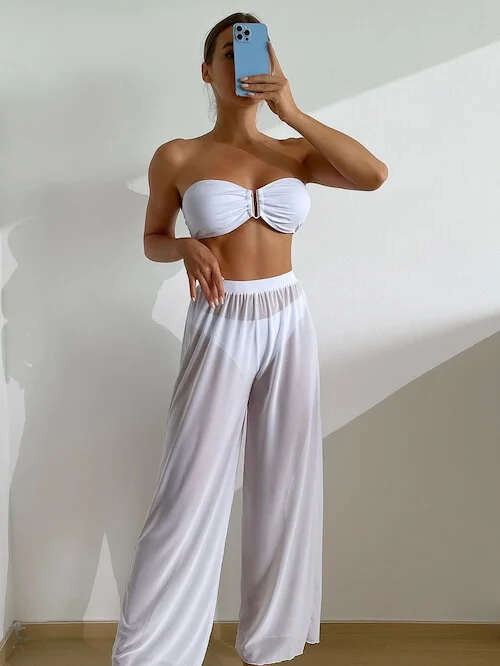 Bikini Swimsuit & Cover Up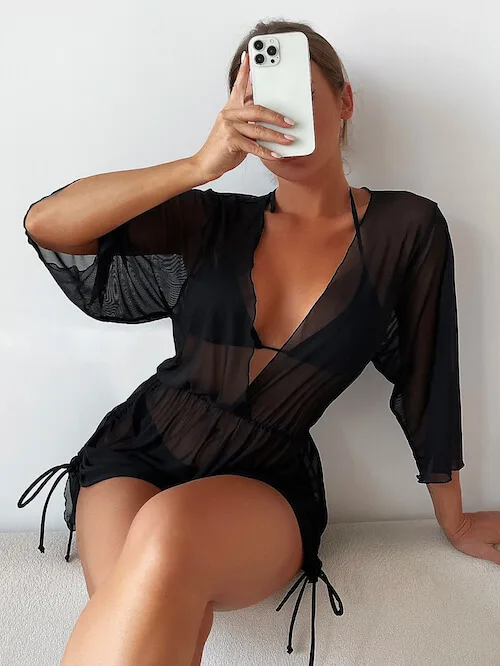 Flare Leg Jumpsuit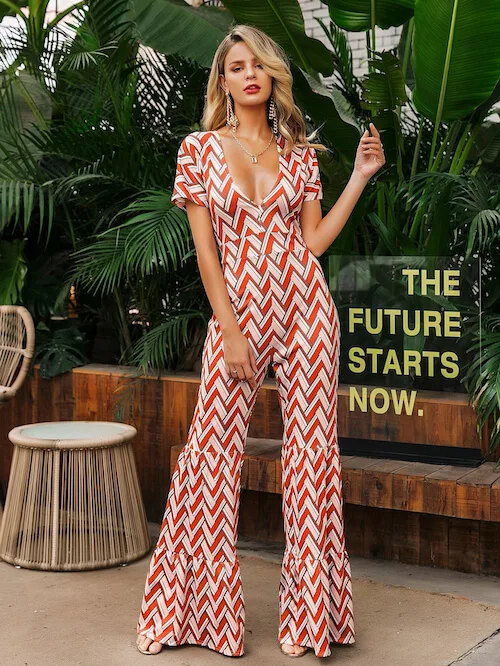 Plant Print Swimsuit & Tropical Print Beach Skirt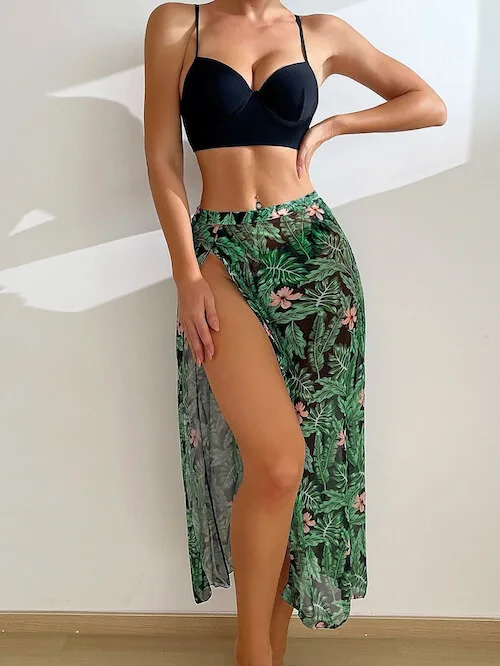 A Pair of White Jeans + Flat Sandals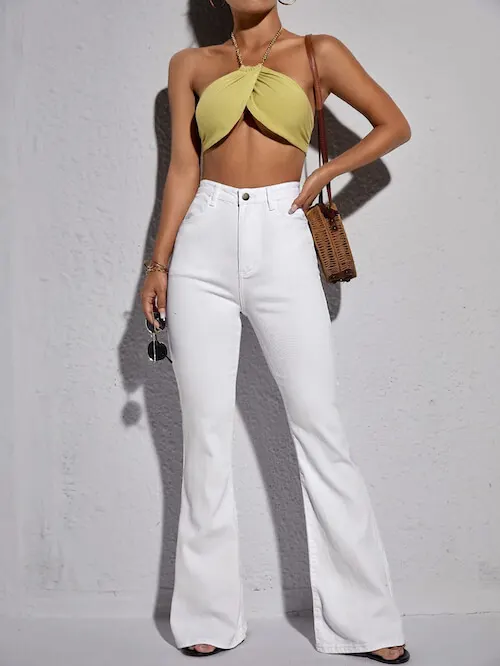 White Crop Top + Skirt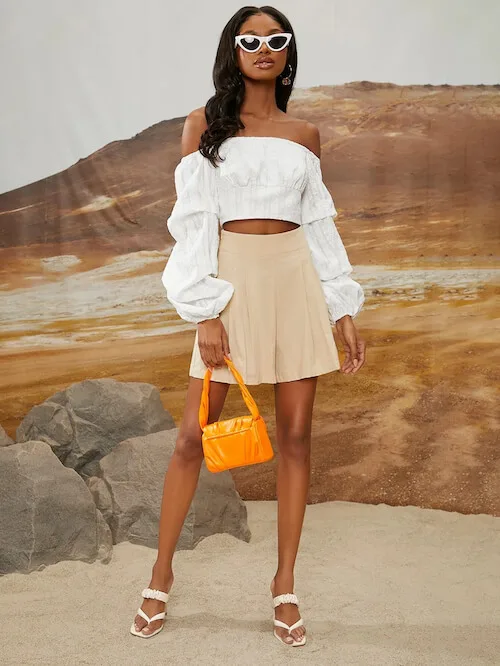 Perfect Resort Wear: Maxi Skirt + Crop Top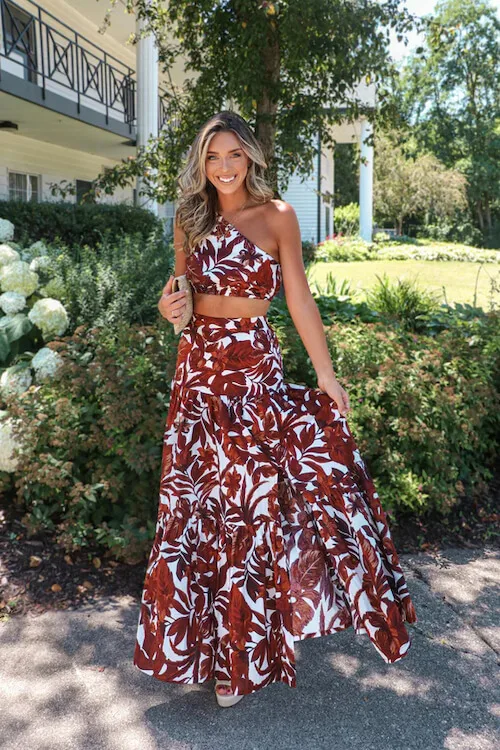 Crop Top + Midi Skirt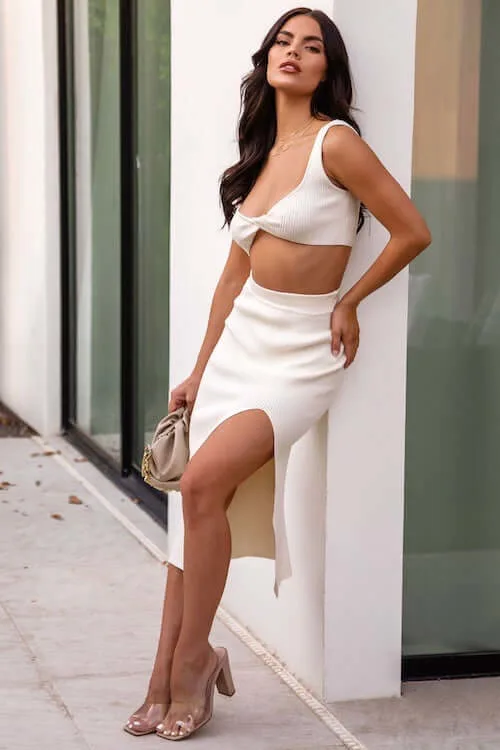 Light Summer Dresses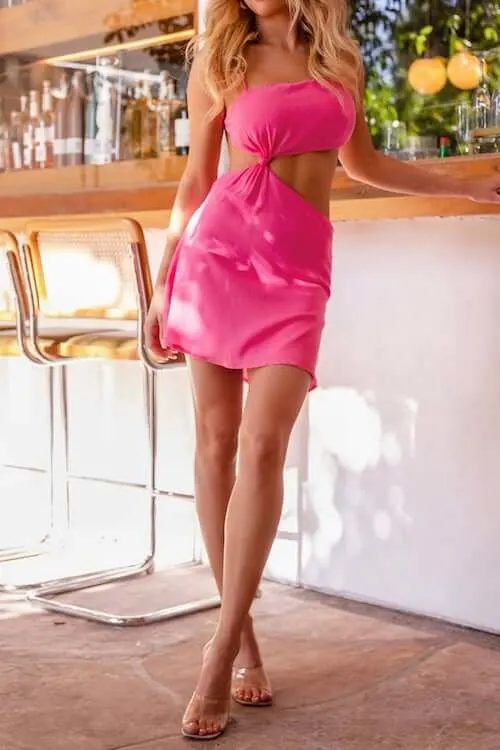 Tank Tops + White Pants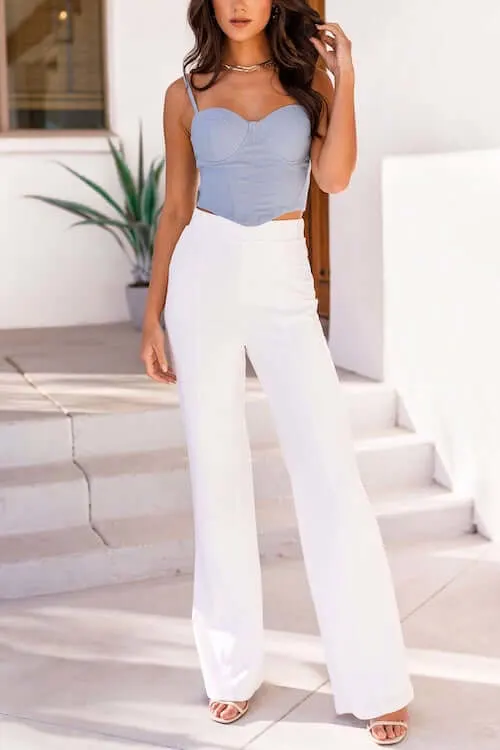 Halter Top + Bold Colors Blazer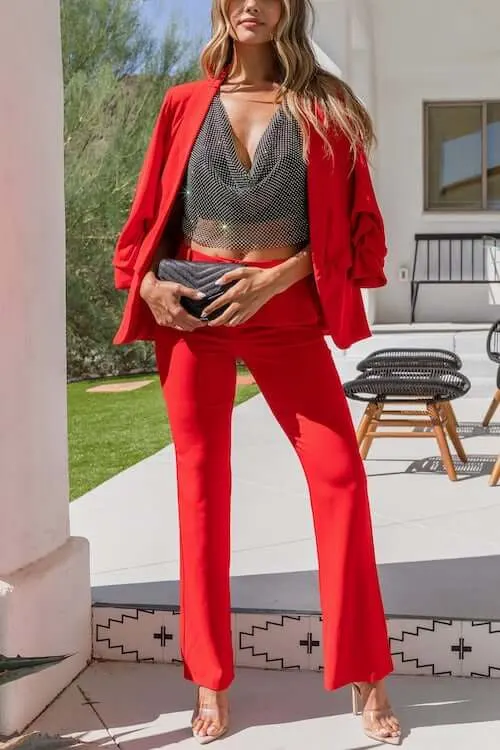 Cute Swimsuit + Chic Cover-Up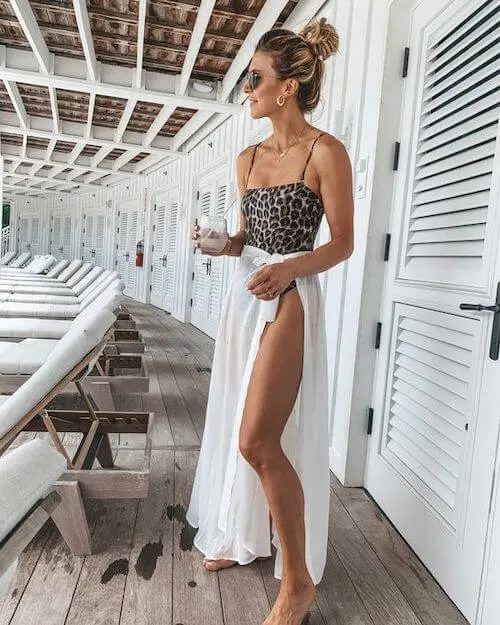 via Pinterest
White Mini Dress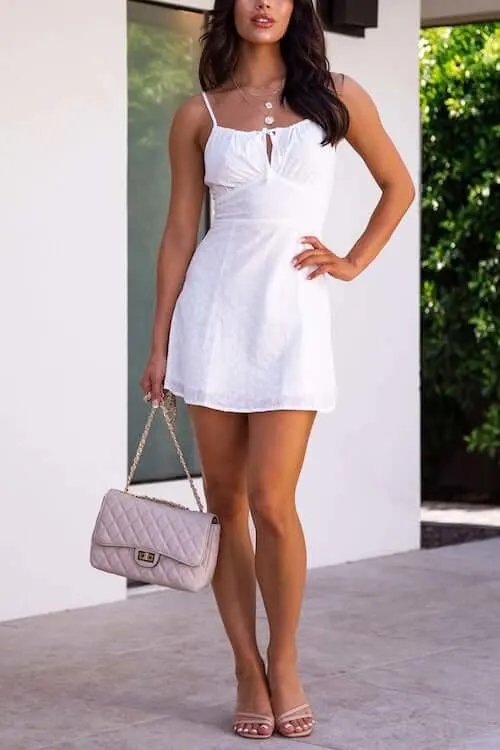 Bodysuit + Denim Shorts + Blazer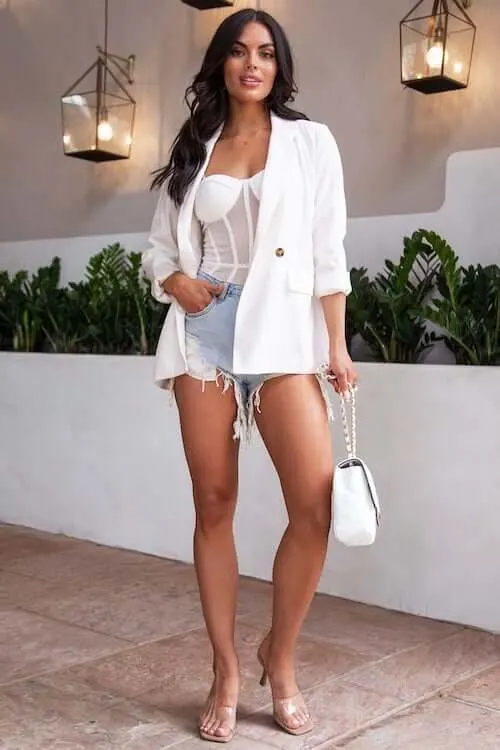 Little Black Dress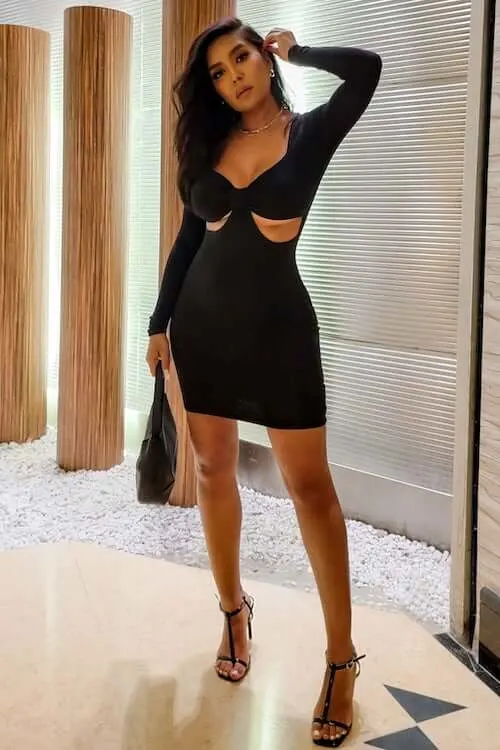 Long-Sleeved Shirts + Mini Skirt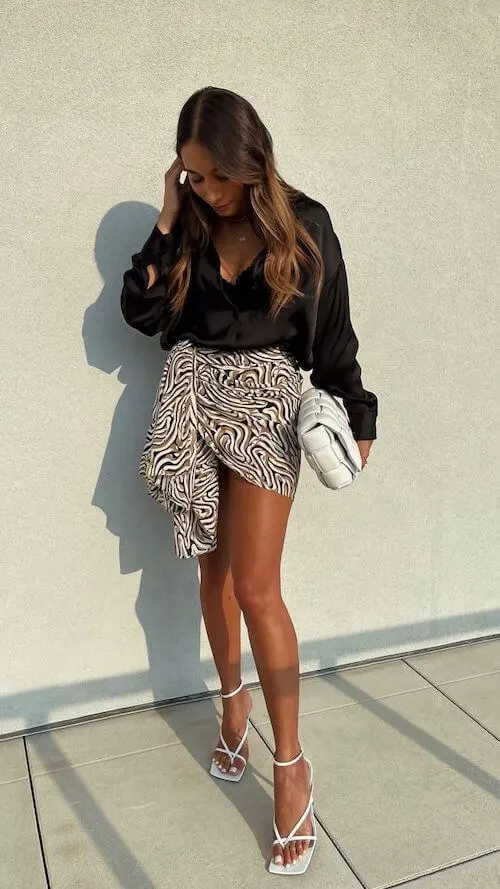 via Pinterest
Midi Dress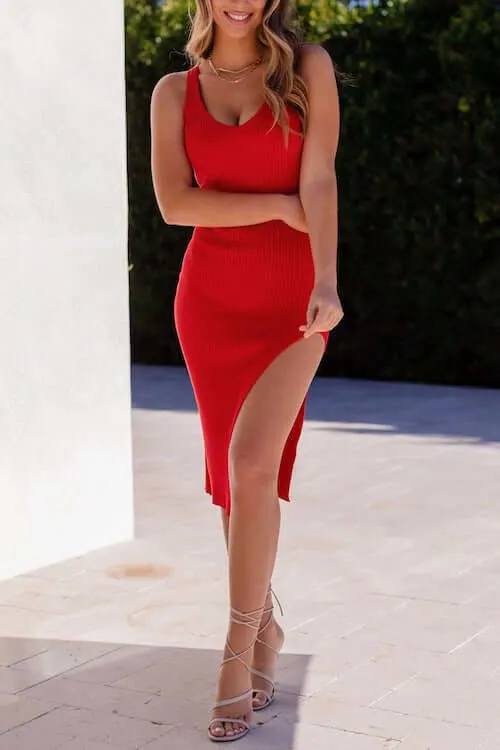 Elevated Casual Wear: White Short Sleeves + White Pants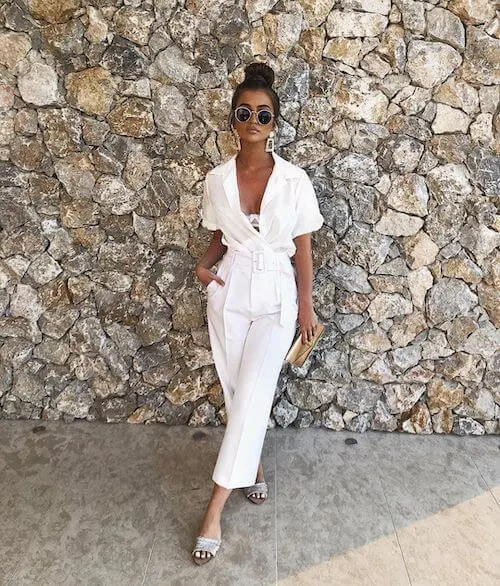 via Pinterest
White Shirt + Denim Shorts + Belt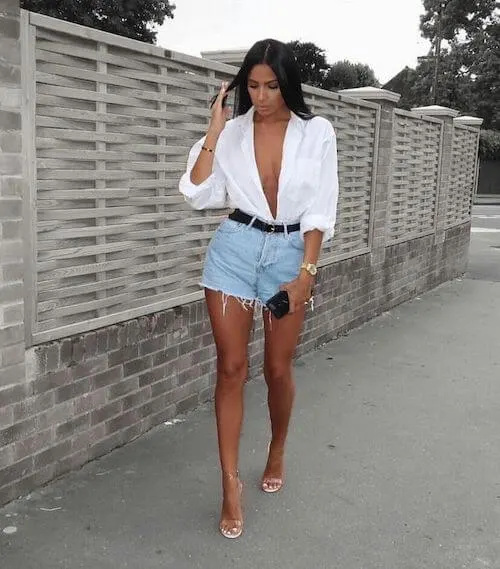 via Pinterest
Crop Tops + Light Colors Wide Leg Pants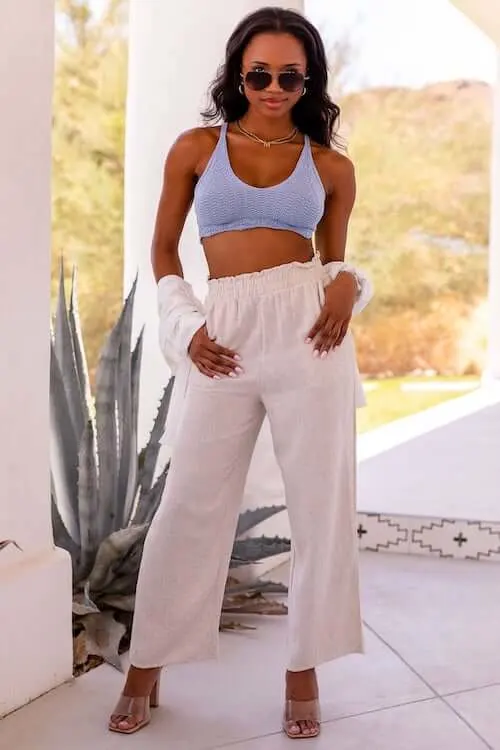 Bustier Crop Top + Blazer Suit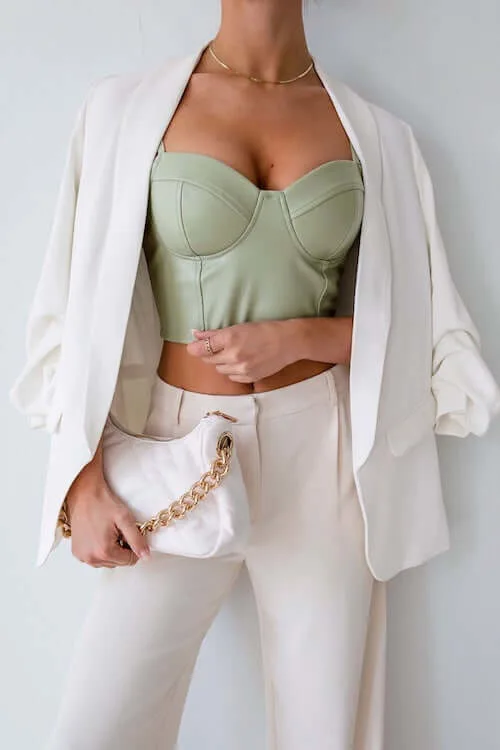 Cut Out Beach Dress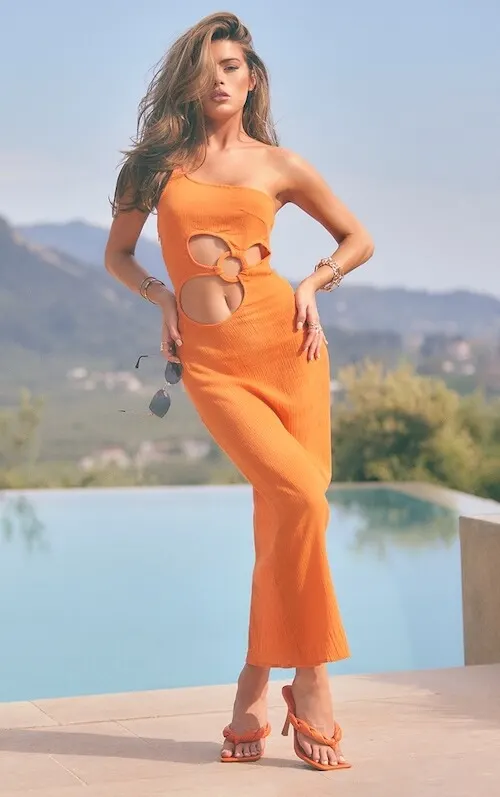 Miami Chic Cocktail Attire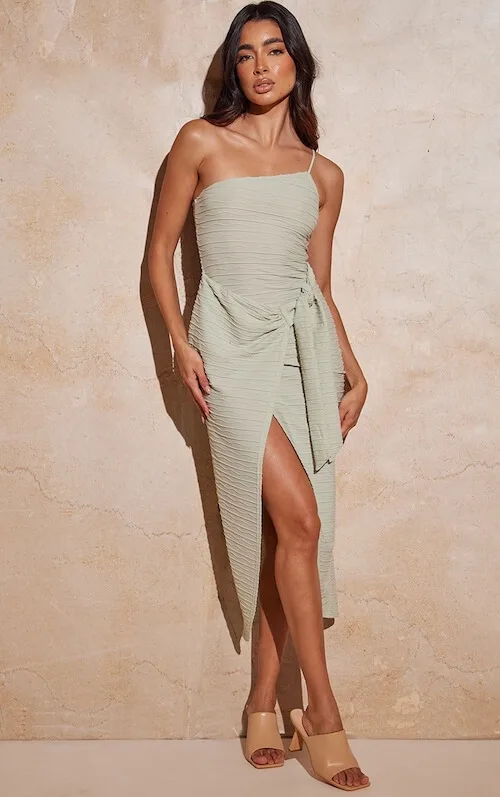 Bright Colors Blazer Dress + Long Boots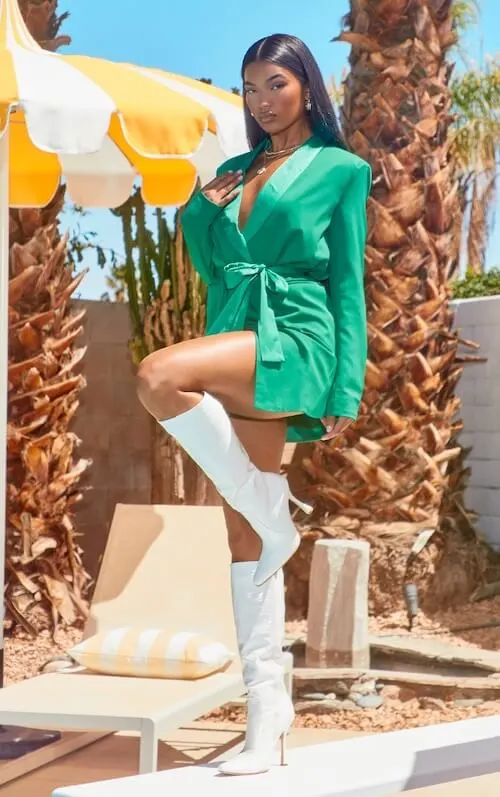 Cute Miami Outfits: Printed Romper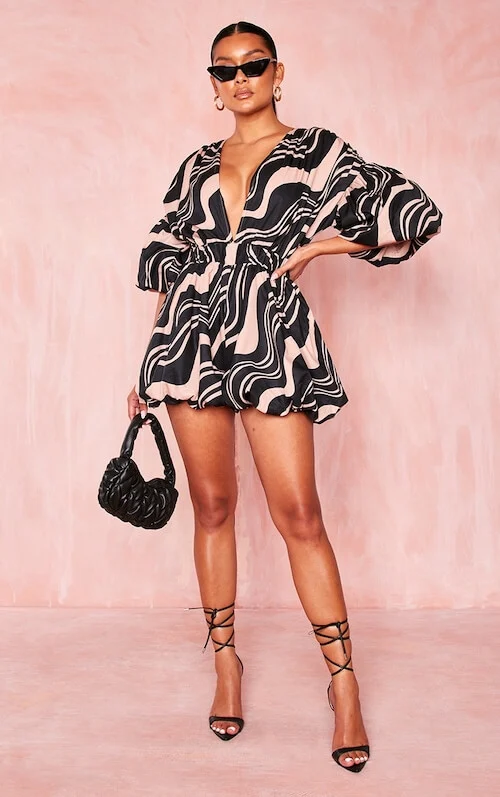 Best Places To Buy Miami Chic Outfits
If you are looking for great places to buy Miami chic outfits, below are my favorite fashion stores.
Revolve

: From cute swimsuits to stylish date night looks, you'll get perfect pieces there. And if you are looking for the best accessories for your Miami vacation style, don't miss their Vacation collection.
Priceless: A lovely boutique for sexy and chic clothing pieces.
Pretty Little Thing: My favorite place for stylish baddie outfits.
Hello Molly: You will love their chic feminine designs.
Petal & Pup: I love their vacation collection.
SHEIN: Endless new designs at affordable prices
Amazon: Surprisingly Amazon has a good collection of Miami dresses. If you are looking for a cute dress for Miami, check them out.
This post was all about Miami chic outfits.
About The Author
Tracy is an experienced personal stylist, shopping expert, and fashion & lifestyle blogger. She has been featured on Time Magazine, Bustle, Best Life, Glam, The Zoe Report, Mic, and GOBankingRates, for her insights on fashion, beauty, home decor, and lifestyle. Read More
Related Posts: