Want to copy the trendiest blazer outfit ideas for women? Check this post for 50+ best blazer outfits to level up your look immediately this year!
Since the "retro-style" has been blowing up in the fashion circle, the blazer has become one of the best items for fashion and taste. Especially in this spring and early summer season, when the temperature is getting warmer, it can help us unlock infinite combos possibilities and make them look beautiful throughout the season.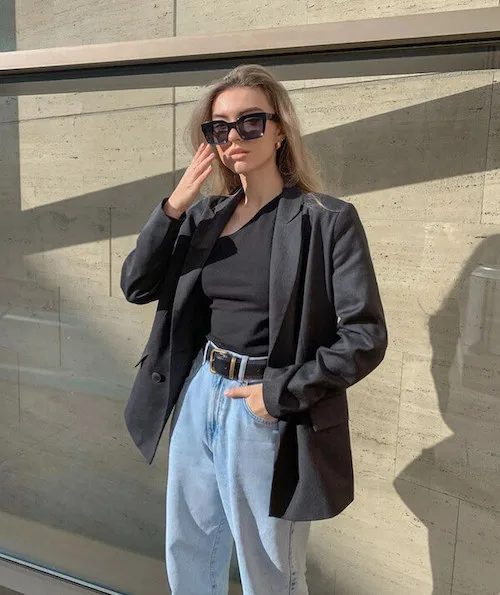 via Pinterest
There are many good-looking blazers, so how do we wear them to stand out truly? Today I have rounded up 50+ outfits for you. So scroll down and have a look, and don't forget to pin the looks you like.
This post may contain affiliate links, which means I'll receive a commission if you purchase through my link, at no extra cost to you. Please read the full disclosure here.
This post is all about blazer outfit ideas for women.
Blazer Outfit For Women: Suits
Wearing the whole set is an important fashion trend this year. These kinds of outfits are simple and look expensive.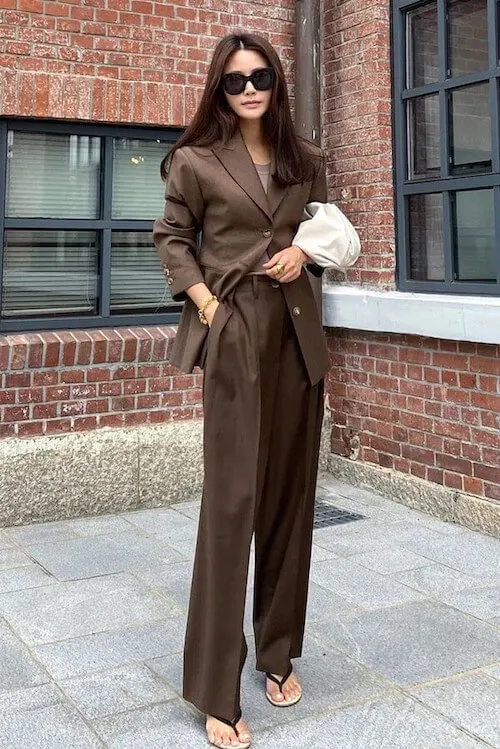 Don't worry that this way of dressing is only suitable for work outfits. We only need to choose the oversized blazer, which can add a bit of chic style and let you get out of the street easily and fashionable.
elle.be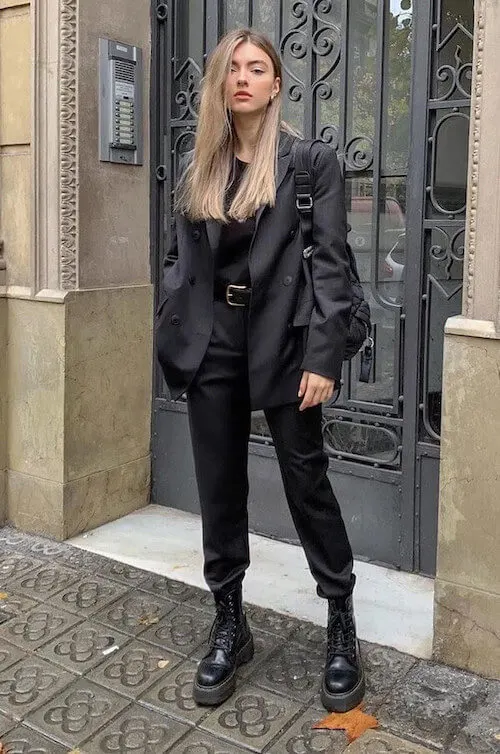 via Pinterest
In addition, you can also mix and match casual style items such as sweaters, T-shirts, and sports shoes to increase the street style.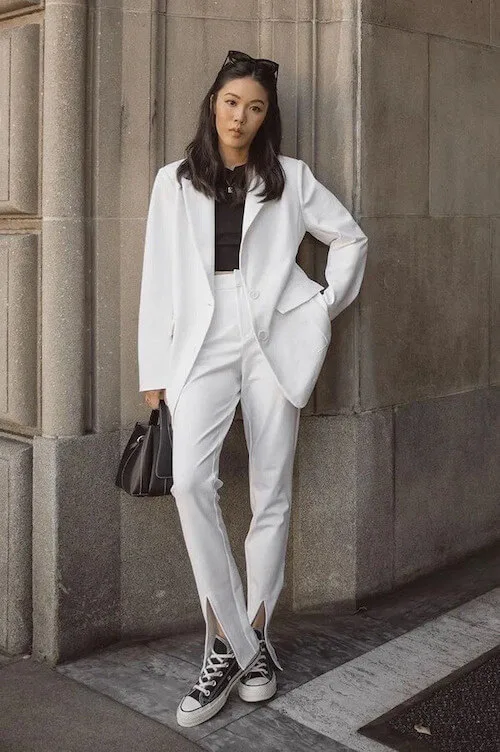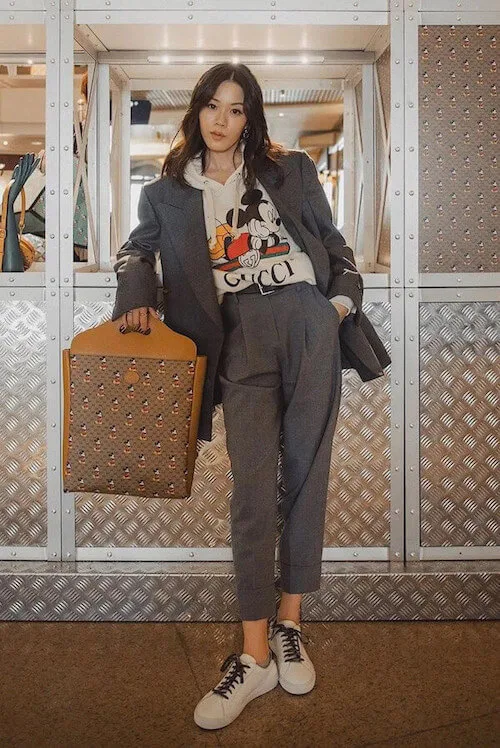 If you want to make the suits more colorful, you can also work hard on the color patterns.Colors with relatively low saturation are completely stress-free when used on a large area of ​​suits.
via WeHeartIt
This plaid blazer is also a favorite of fashionable women and has a more retro and modern literary accent.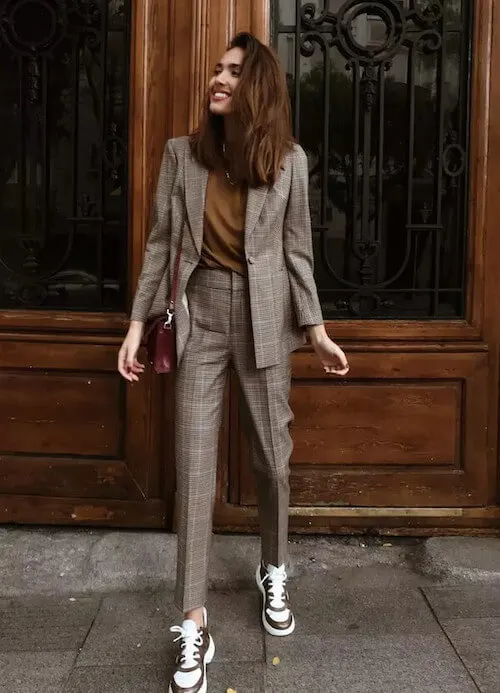 via Pinterest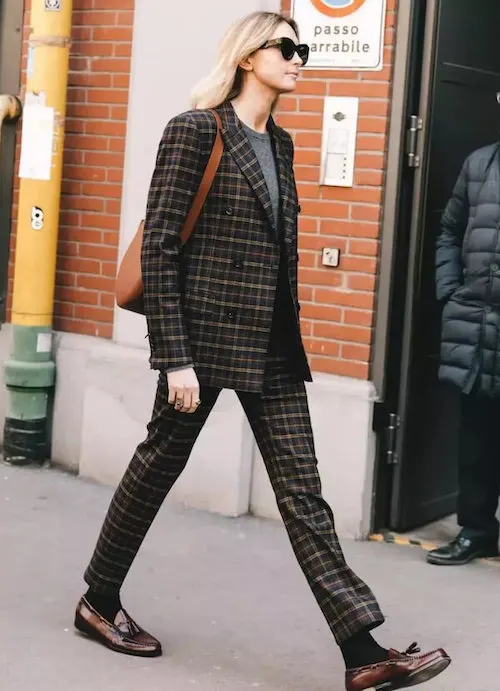 via WeHeartIt
Compared with the pants combos, the blazer + skirt combo is more beautiful and very practical.
via WeHeartIt
It's an effortless outfit to make you easily stand out in the crowd.
via Pinterest
via Pinterest
Blazer Outfit For Women: Blazer + Jeans
Blazer + jeans are the most trendy spring and summer combo.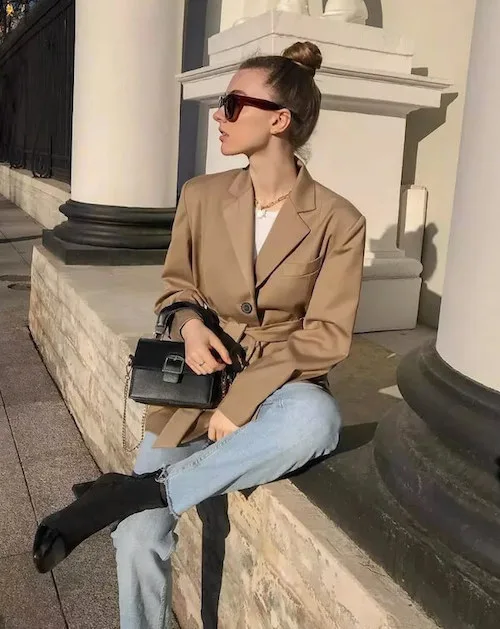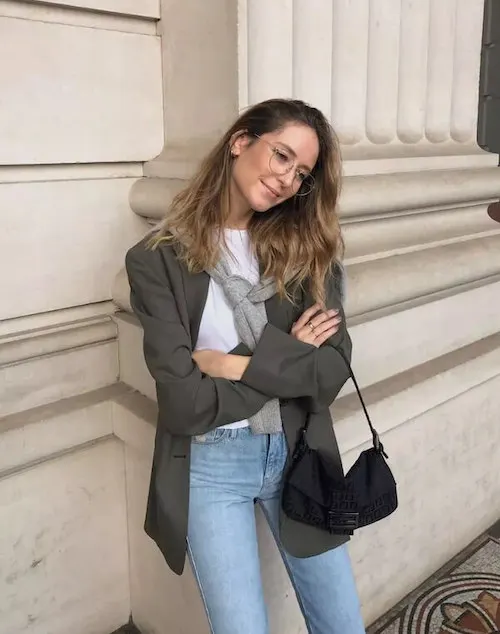 via WeHeartIt
These two completely different styles can complement each other perfectly, making you look fashionable and elegant and very stylish.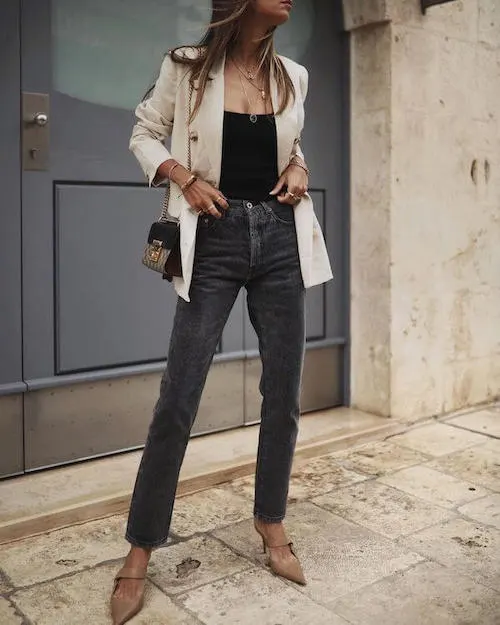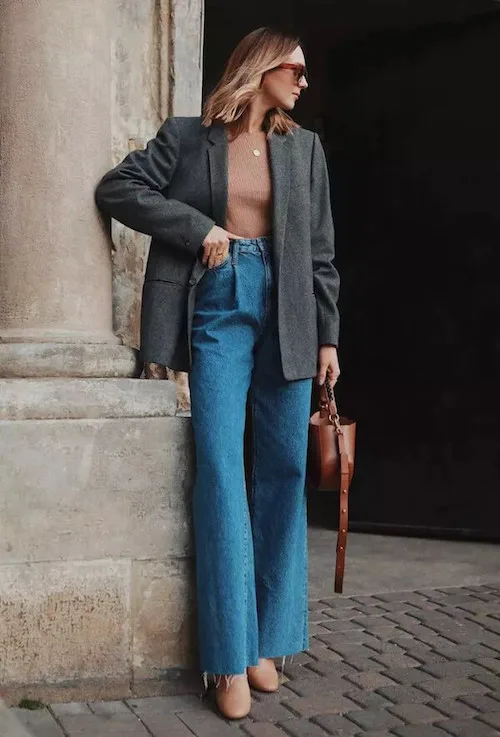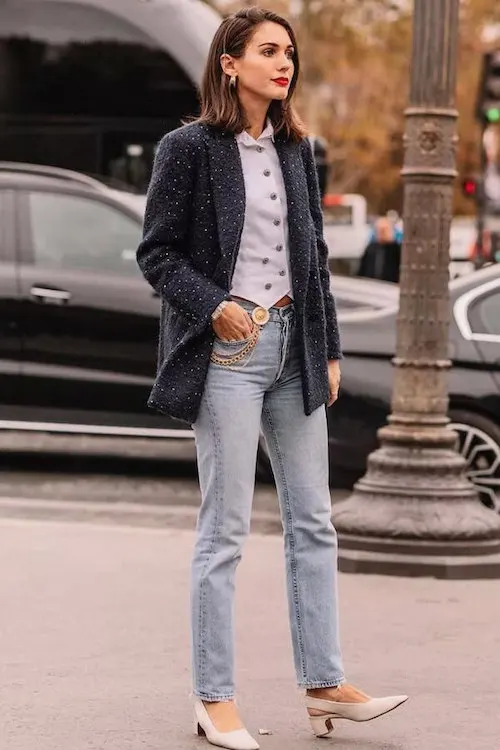 via Pinterest
When you don't know what to wear, you can put on a simple black blazer and jeans, which are very fashionable and beautiful.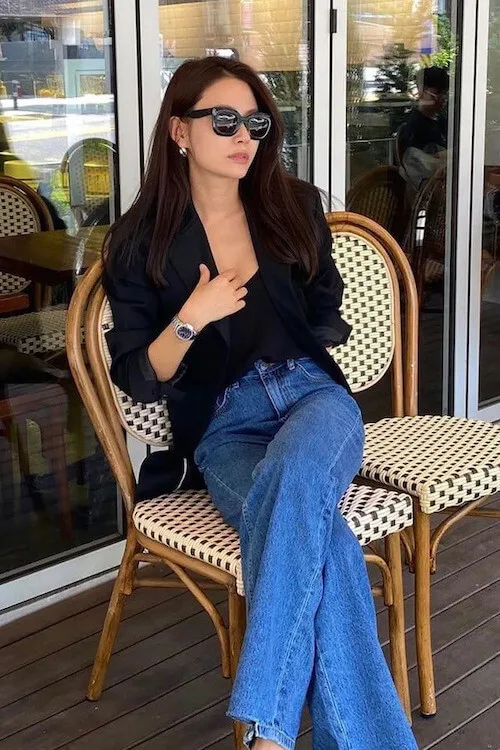 Of course, jeans themselves are a convenient staple, so you might also try some more unique styles and colors of blazers, which can give people a brighter feeling.
The prevalence of retro style makes wide jeans and straight-leg jeans become the most powerful styling tools.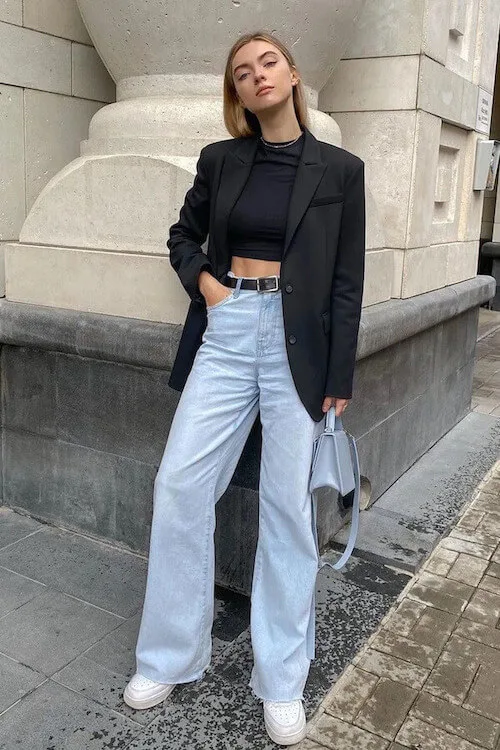 via Pinterest
Put them together with a blazer, suitable for almost any body shape, and bring the trendies retro street style.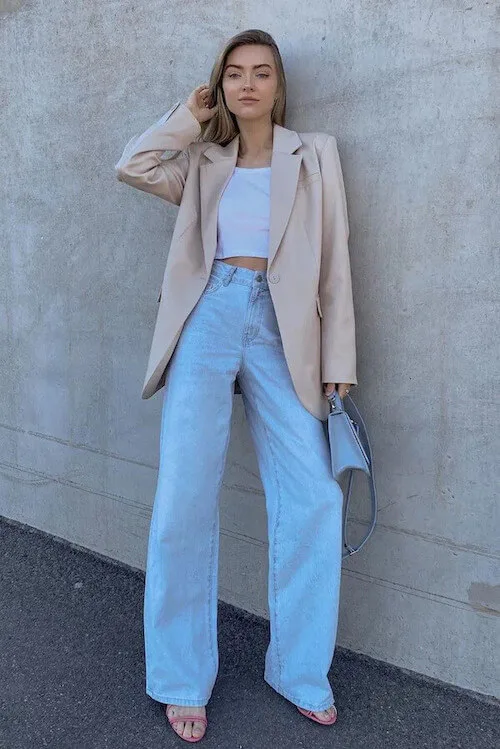 Pair your blazer with ripped jeans and sneakers to have a casual and stylish look immediately. Don't forget to add more street-style jewelry such as layered necklaces to complete the whole look.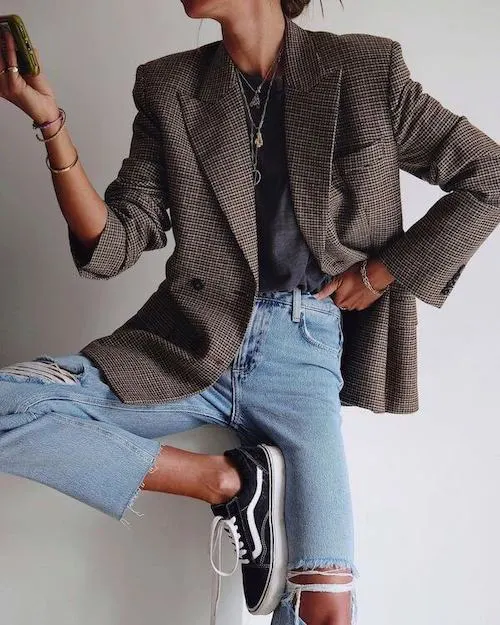 Blazer Outfit For Women: Blazer + Wide Leg Pants
The blazer and wide-leg pants are also matched so well, making your style stylish and classy.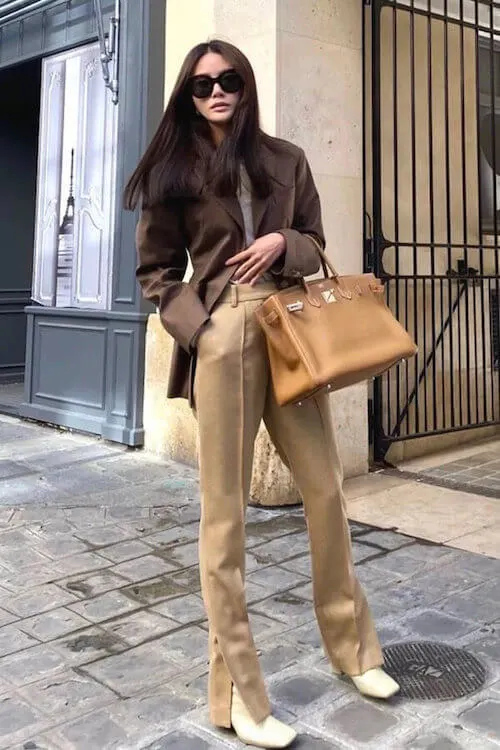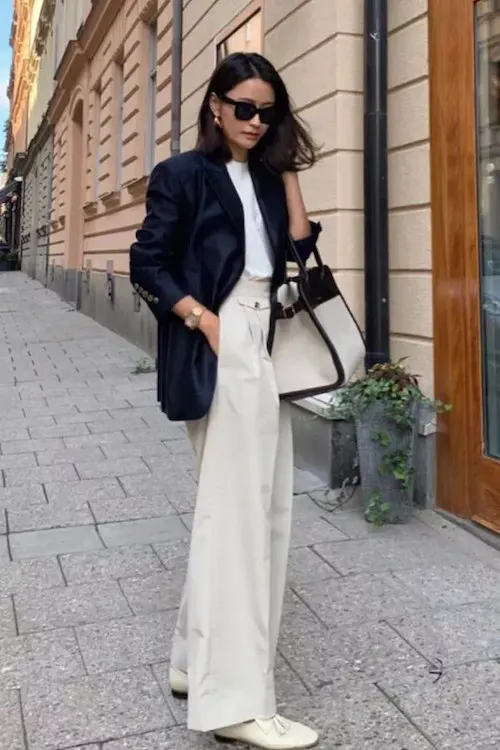 via Pinterest
It is perfect for work and daily wear.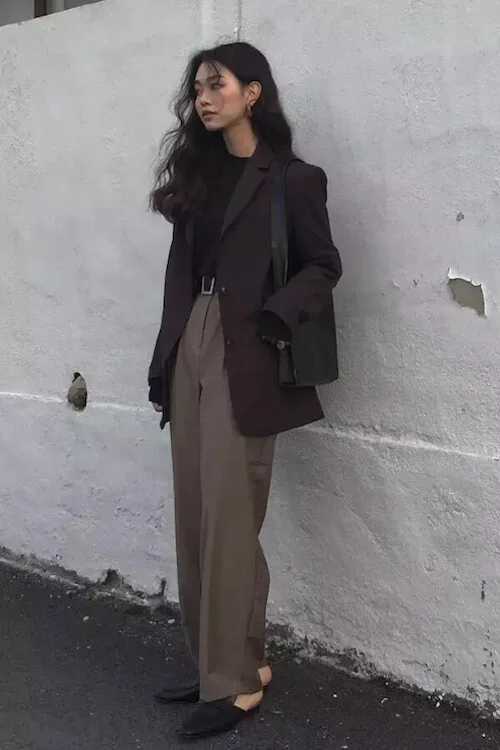 via WeHeartIt
Blazer + wide-leg pants and high-heeled shoes make a perfect combo, making you look professional and stylish.
elle.fr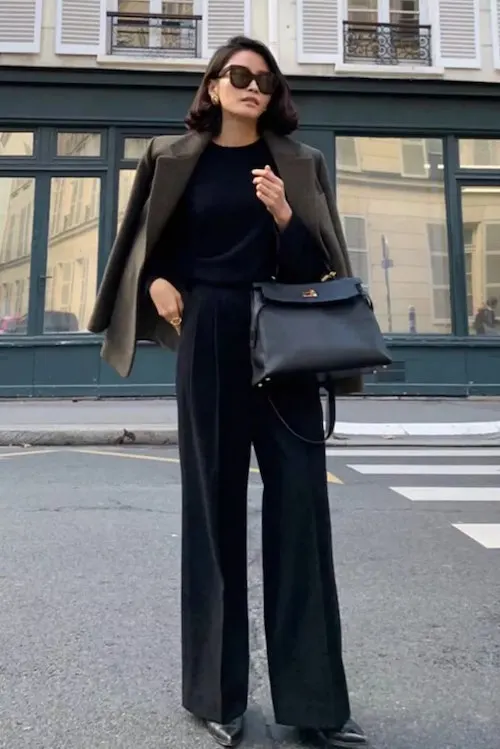 And the combo with casual flat shoes is also unique, and it feels cool and casual.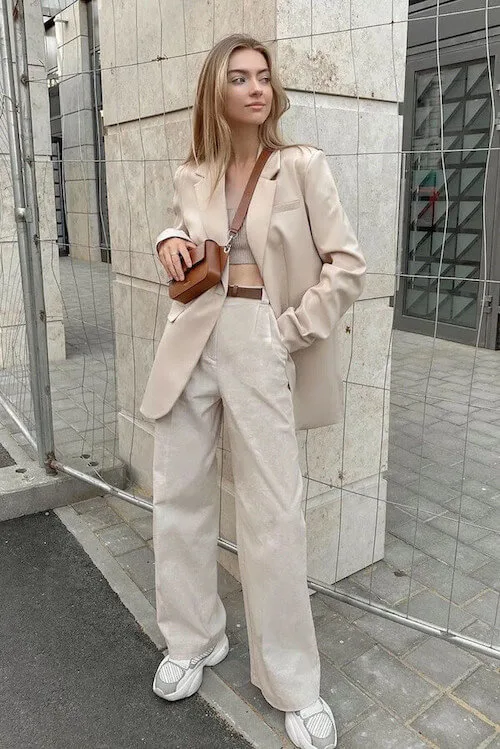 www.styledumonde.com
Blazer Outfit For Women: Blazer + Dress or Skirt
Blazer + skirt are definitely the most beautiful way to embrace the warm weather, adding a feminine feeling to the fashionable looks.
via Syltedumonde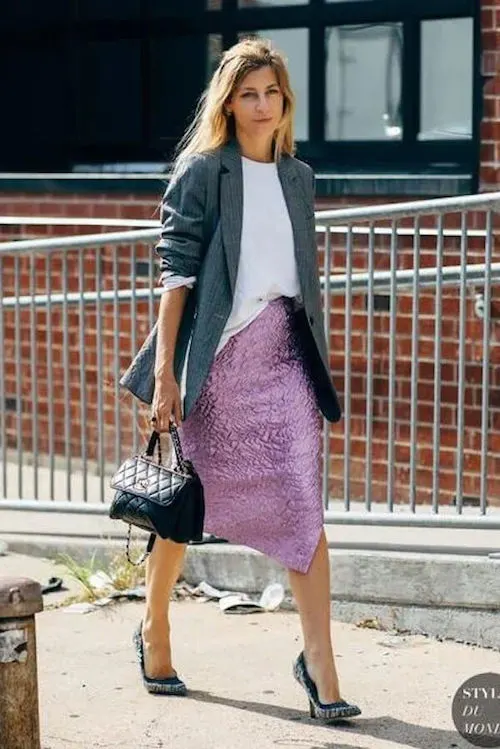 via Syltedumonde
When the floral dress or skirt meets the sturdy and stylish blazer, it can convey a romantic vibe.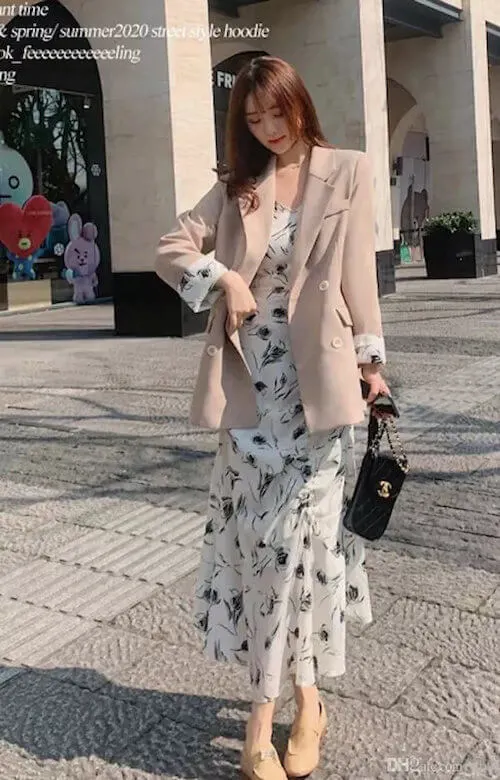 via WeHeartIt
via WeHeartIt
With pleated skirts, you can make your blazer look lighter and more beautiful, showing a perfect style.
via Pinterest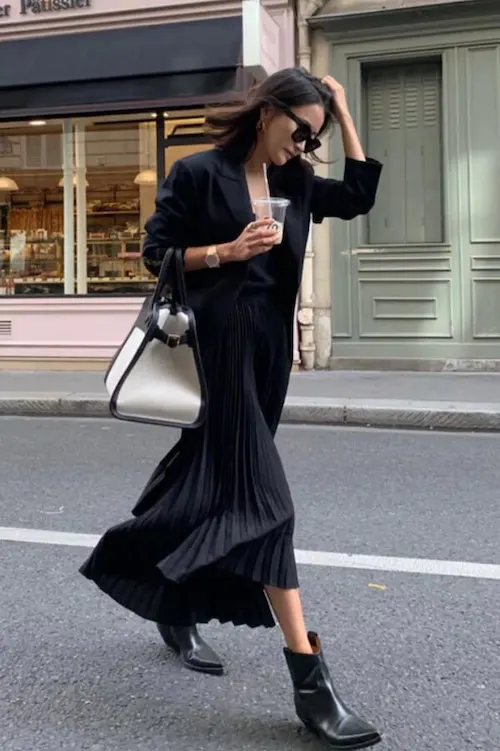 If you want to wear this classic combo with a different feeling, I recommend you to start with this irregularly designed pleated skirt.
us.wconcept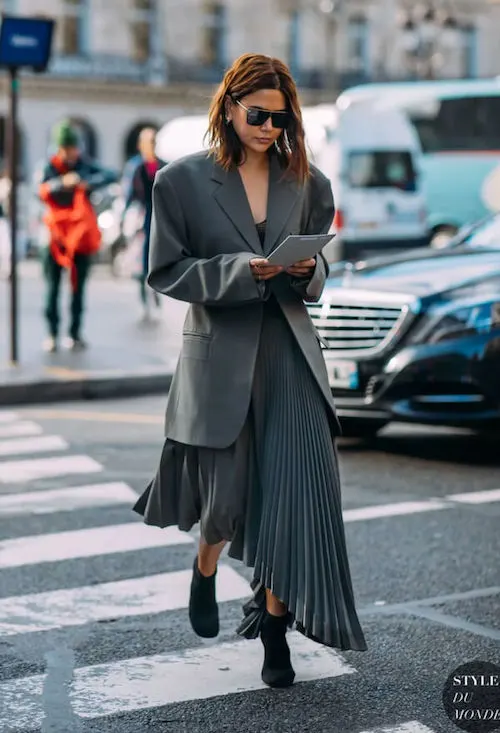 via syltedumonde
The print dresses are popular in the summer, and you can start to wear them with your lovely blazers in the spring. The blazers can balance the sweetness of the dresses, creating an elegant style.
glamour.ru
via Pinterest
The combos of blazers, plaid, and polka dot skirts are also gorgeous, adding a touch of literary romance.
via Pinterest
via zara.com
The combo of blazer + satin skirt looks elegant and expensive. It shows the trending 90s styles and makes you always chic.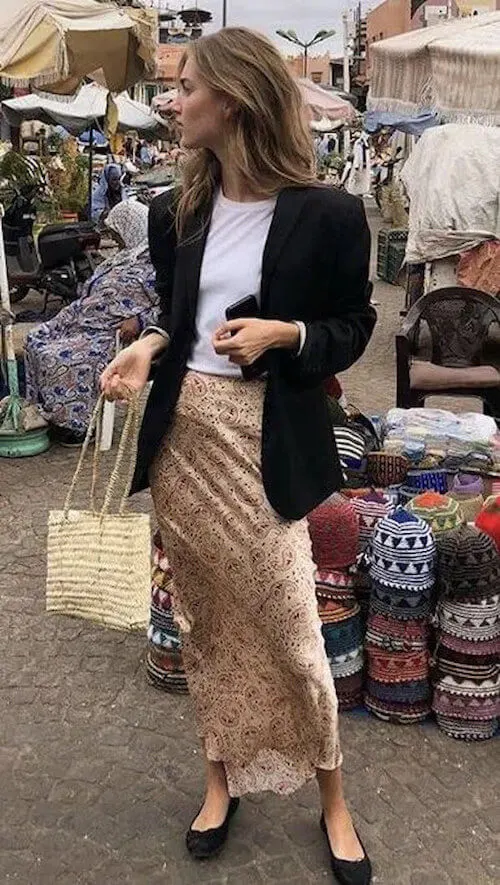 via Bloglovin

Blazer Outfit For Women: Blazer + Shorts
The combo of Blazer and shorts is also a very classic way to wear. Whether it is denim shorts, biker shorts, or suit shorts, you can create a fashionable style.A black blazer with denim shorts is a fashionable way that will never go out of fashion.
The matching of the same color is also a trendy way to match blazers with shorts. You can choose suit shorts of the same color or choose the trending biker shorts.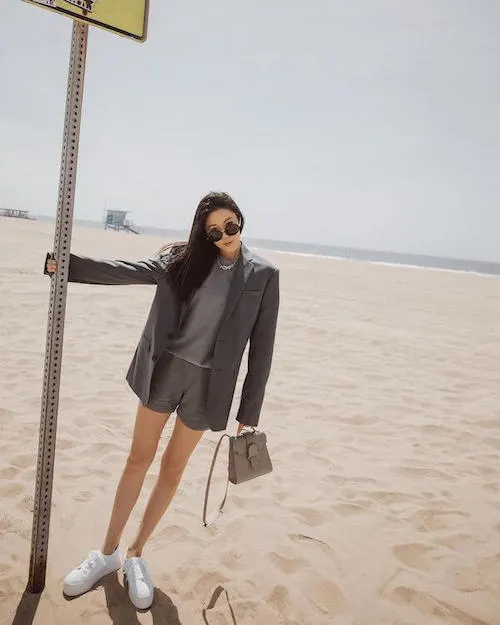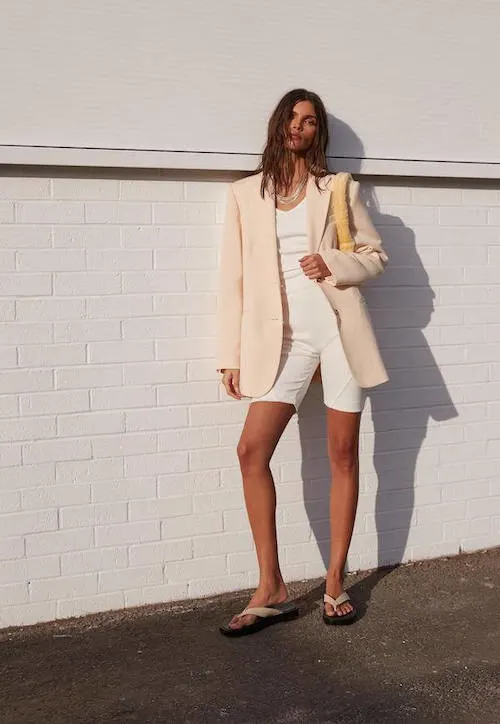 This year, I especially recommend you to buy a beige or khaki blazer to pair with fashionable denim shorts. It looks refreshing and neat.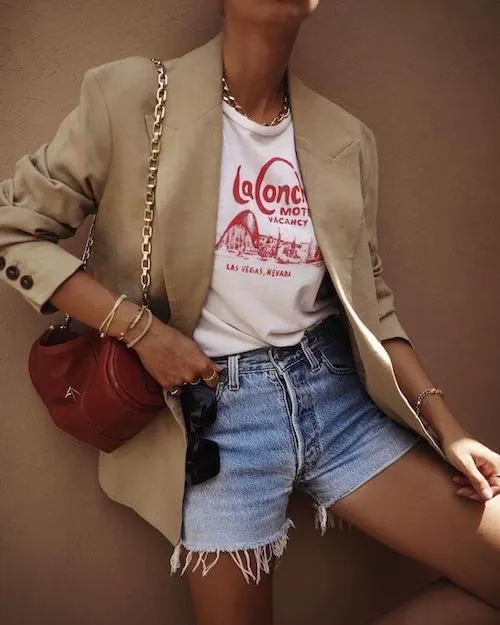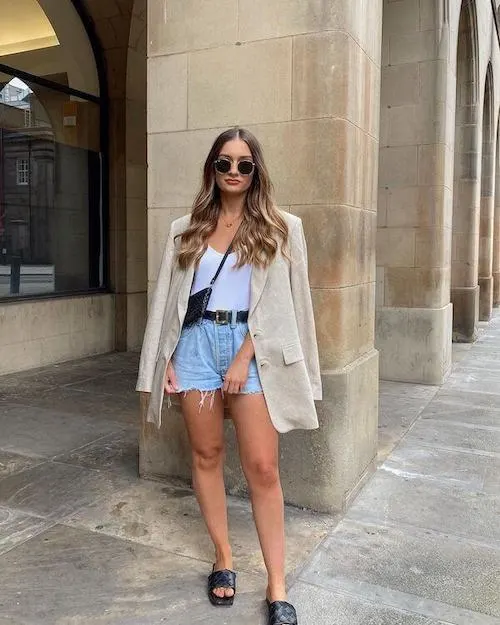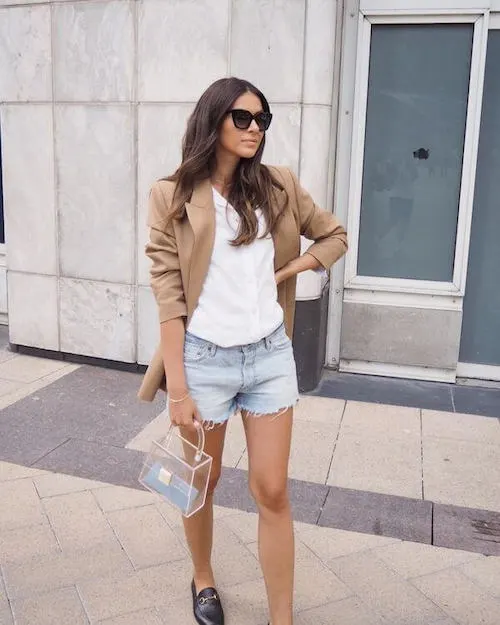 Best Blazers For Women
Below are the 13 best blazers for any budget we love this year. So scroll down and click the links below to shop.
Solid Lapel Neck Ticket Pocket Blazer
Lapel Neck Dual Pocket Blazer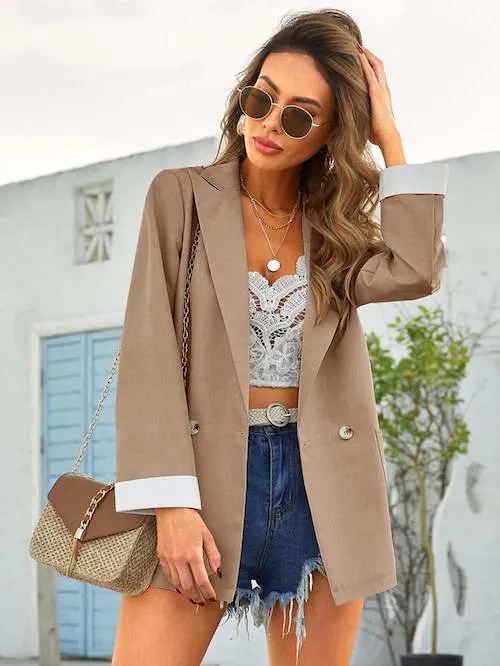 Notch Collar Pocket Side PU Leather Blazer
Plaid Single Button Blazer
Solid Single Button Blazer
perfect blazer in camel
Reclaimed Vintage Inspired leather dad blazer
Miss Selfridge Ponte blazer in gray
Wool-mix Plaid Double Breasted Blazer
Faux Leather Longline Blazer
Light Grey Blazer
Stone Oversized Longline Blazer
This post was all about blazer outfit ideas for women.
About The Author
Tracy is an experienced personal stylist, shopping expert, and fashion & lifestyle blogger. She has been featured on Time Magazine, Bustle, Best Life, Glam, The Zoe Report, Mic, and GOBankingRates, for her insights on fashion, beauty, home decor, and lifestyle. Read More
Related Posts