Looking for easy and cute graduation hairstyles for long hair? Check this post for the best style tips for your hair on your graduation day, and the cutest graduation hairstyle ideas for long hair to pair with your cap and gown!
Graduation day is a special occasion, and you want to look your best!
If you have long hair, you may be wondering what hairstyle will look good and still stay in place all day.
Not to worry – there are plenty of easy and cute options for graduation hairstyles that you can wear with your cap!
From braids to buns, here are some ideas for the perfect graduation hairstyle for girls with long hair.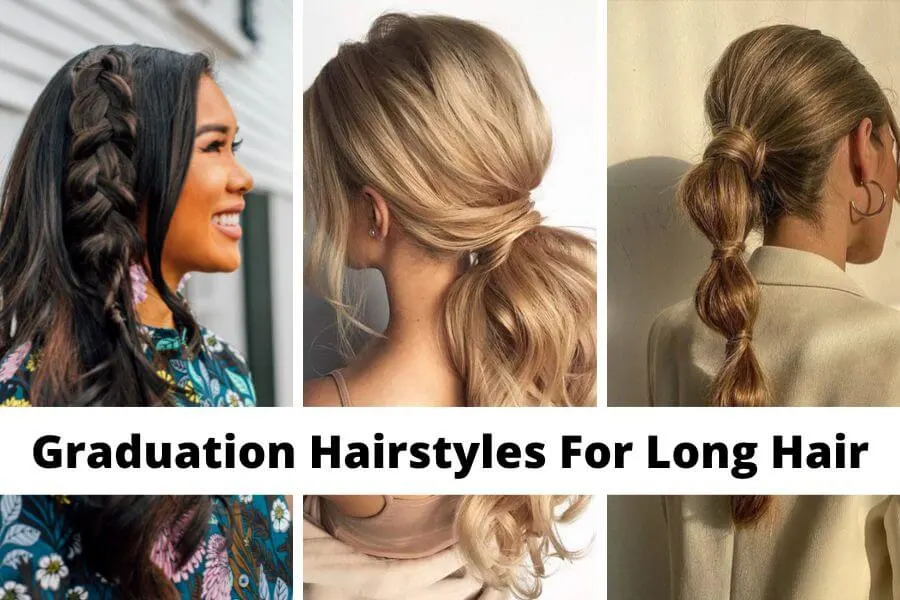 This post may contain affiliate links, which means I'll receive a commission if you purchase through my link, at no extra cost to you. Please read the full disclosure here.
This post is all about graduation hairstyles for long hair.
What is the best long hairstyle for graduation?
From relaxed waves to intricate braids and updos, these are some of the best long hairstyles for your graduation day.
For those who want a classic look that is sure to bring out their natural beauty, try loose curls or wavy half-up styles.
Utilize curling wands and styling products to create soft beachy waves that will perfectly frame your face.
For an even more glamorous look on your big day, consider adding sparkly clips or flowers as accessories.
Scroll on to check more hairstyle ideas.
How do you wear a graduation cap with long hair?
To ensure your cap sits securely on your head while keeping your hair in place, there are some styling tips to follow.
When it comes to putting on the graduation cap, start by making sure your hair is secured away from your face.
If you have long bangs or fringes that could get in the way of the hat's fitment, use bobby pins to secure them up and out of sight.
Pull any remaining loose strands back into a low bun or ponytail at the nape of your neck before starting with the cap itself.
This should provide a snug fit without having any excess bulk getting in between you and the mortarboard design.
Best Graduation Hairstyles for Long Hair
Half-up Half-down Style
For long-haired grads, a half-up half-down hairstyle can be an ideal way to show off your length while still ensuring that strands don't get in the way as you accept your diploma.
This style is great for those looking for an easy way to make a statement without needing any extra styling tools or products.
To create this look, start by gathering the top layer of hair from just above the ears up to the crown and secure it with a ponytail holder.
Next, curl individual sections of the bottom portion of hair using a curling iron.
Finish with hairspray and add some sparkly accessories like barrettes or headbands to complete your look!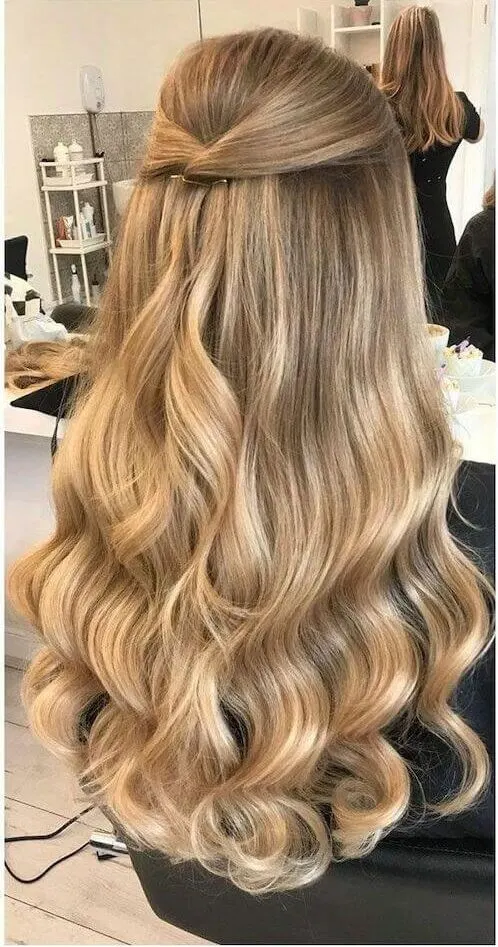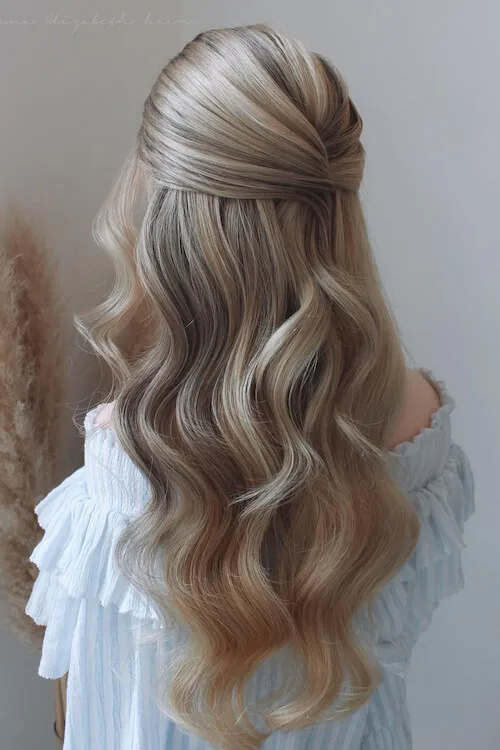 @shaunaelizabethhair
Loose Curls For Your Special Day
This popular look involves curling the hair into natural-looking waves that frame the face softly.
To achieve this style, start by applying a heat protectant spray to damp hair before using a curling wand or iron to curl sections of the hair away from your face.
After allowing the curls to cool down, run your fingers or a brush through them to loosen them up.
Finish off by spraying hairspray onto your finished look for lasting hold throughout your entire graduation ceremony.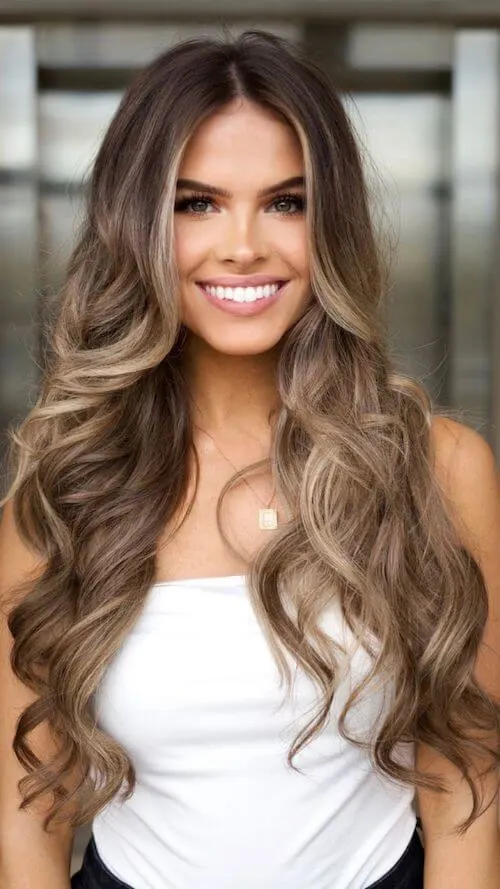 @Hairology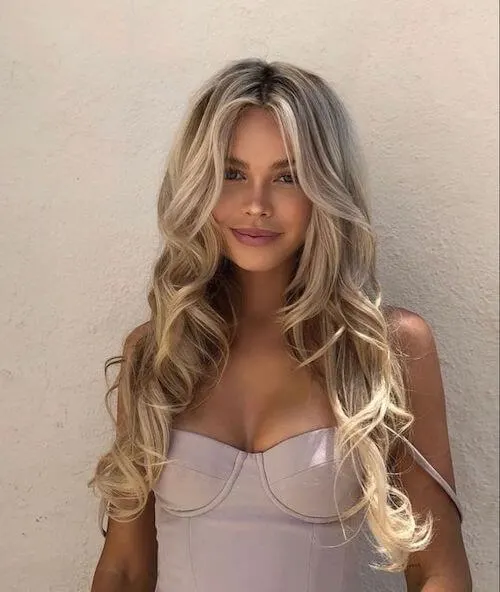 @Safia Malik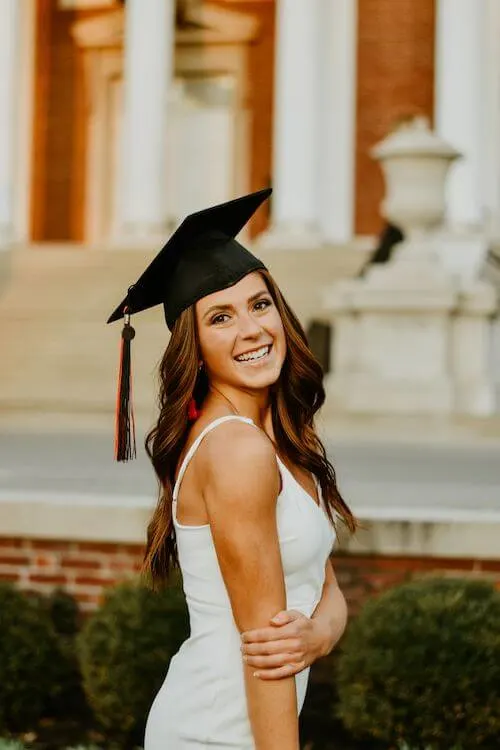 @photosbykaelajean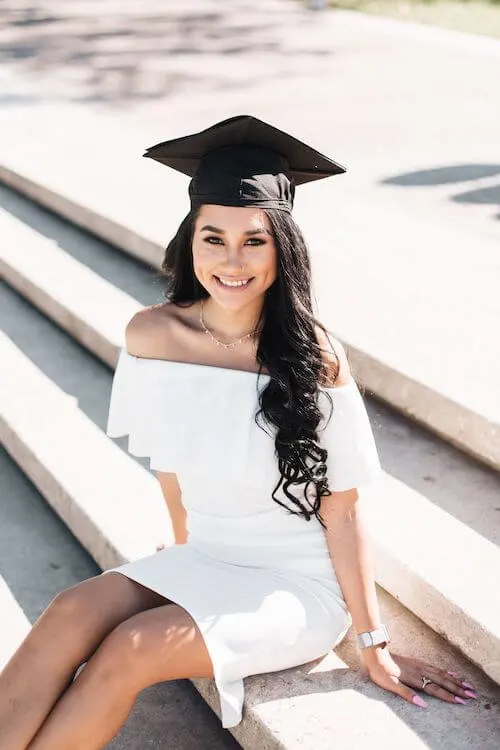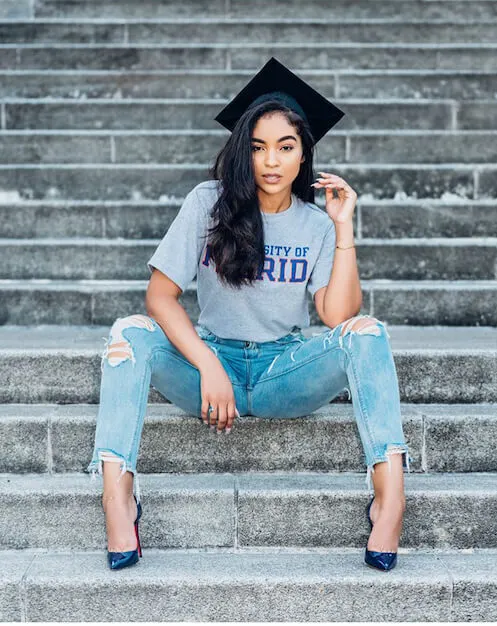 @rtwphotography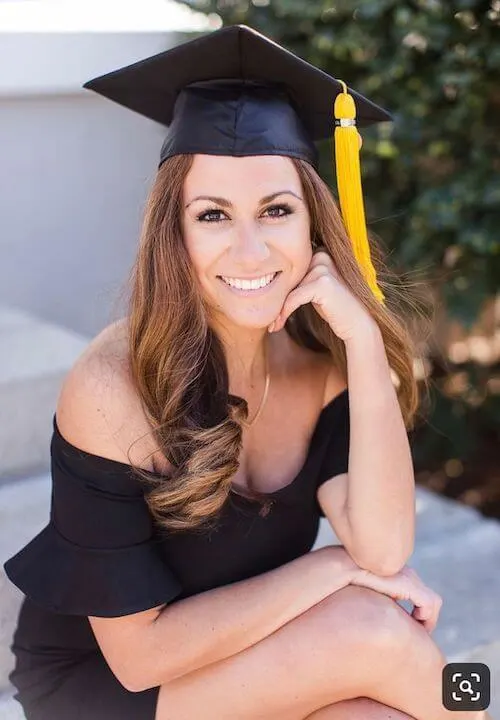 Sleek Ponytail For Graduation
When it comes to graduation hairstyles, the classic ponytail can be a great choice!
Whether you're going for a sophisticated look or something more casual, a sleek ponytail is always an easy and stylish option.
With long hair especially, this style offers lots of possibilities for getting creative and achieving something unique.
To create this stunning look, start by brushing your hair back into a tight and low ponytail at the nape of your neck.
Secure with an elastic band and then use bobby pins to make sure everything stays in place.
For some extra polish, use a tail comb to smooth out any bumps along the scalp line before wrapping a section of hair around the base of the ponytail to hide the elastic band.
Finish off with some hairspray for hold and you're all set!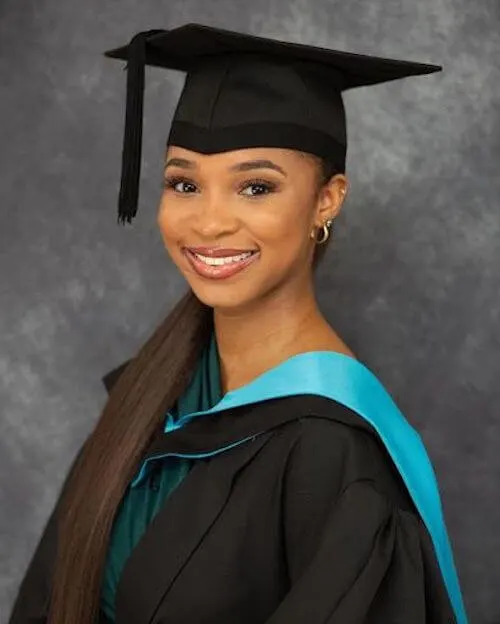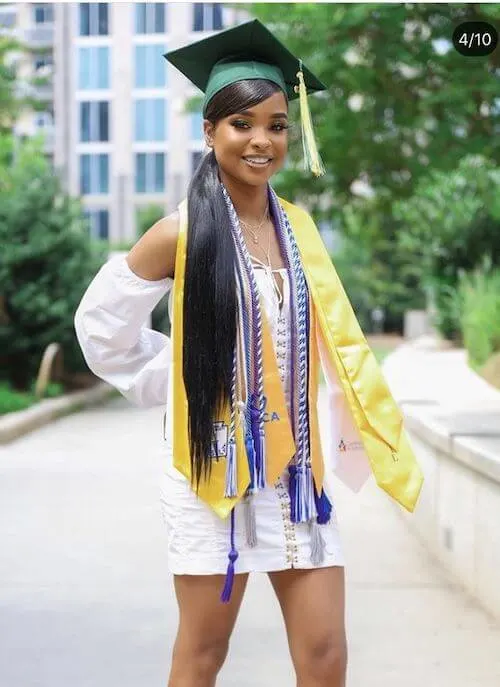 Fishtail Braid
For those with long hair, a fishtail braid is an easy-to-achieve look that will have you looking your best on the big day.
This beautiful hairstyle has the ability to add a touch of elegance and flair to any outfit and can be dressed up or down depending on the occasion.
Creating a fishtail braid can be done in just four simple steps.
Begin by brushing through your hair until it's free of tangles then divide it into two sections and secure one side out of the way.
Take one section in each hand then take small pieces from the outside of each section and cross them over, adding them to the other side as you go along.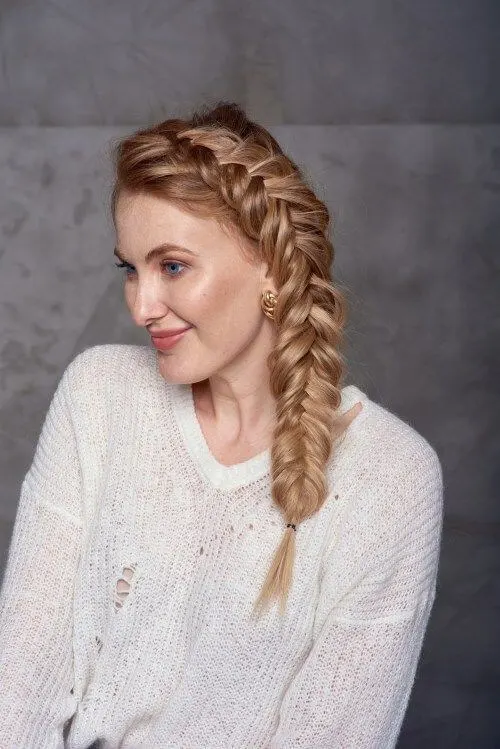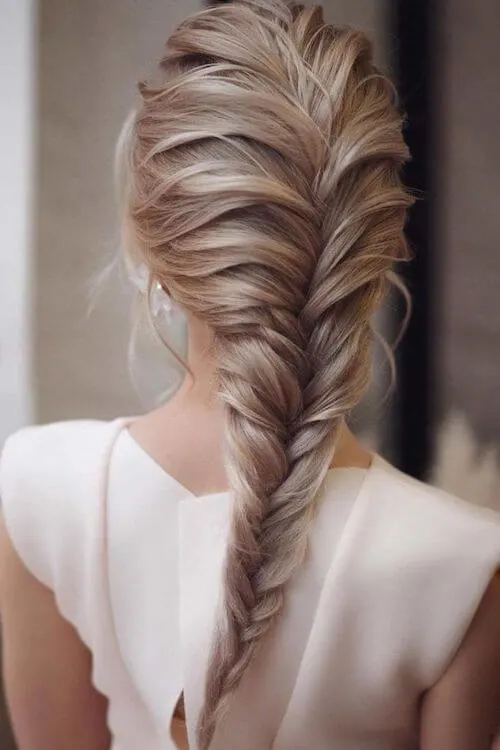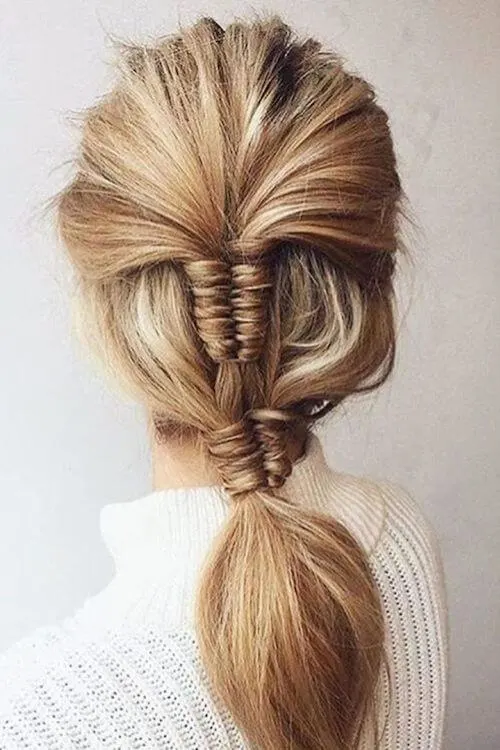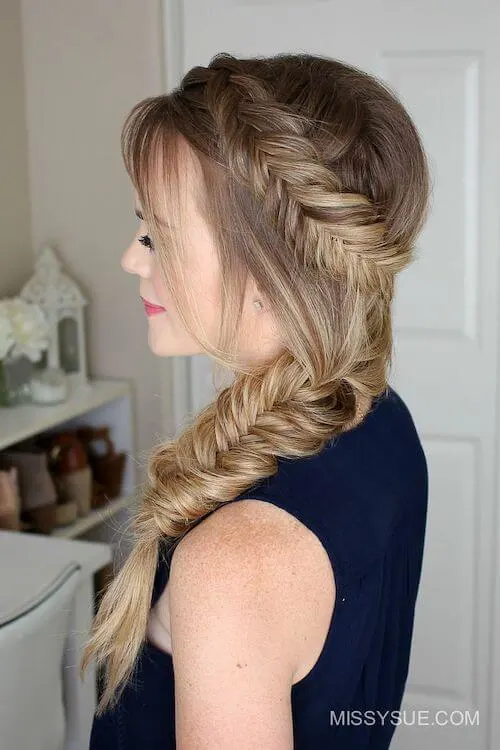 @missysueblog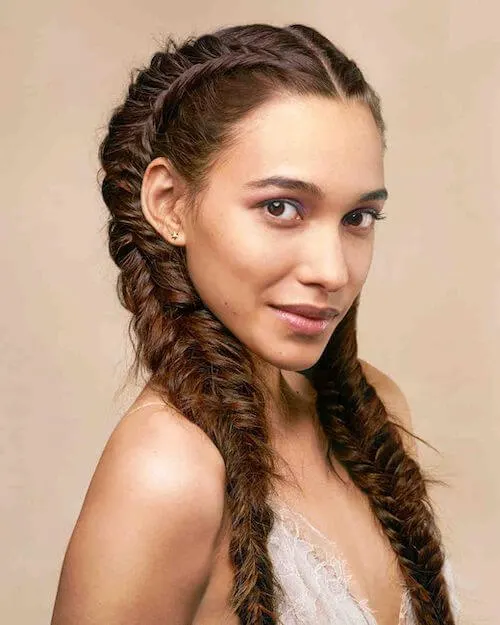 French Twist
For a classic and elegant look on graduation day, try the French twist hairstyle.
This style is perfect for those with long hair who want to keep their hair out of their way while still looking stylish.
The French twist is a timeless look that can be dressed up or down, making it an ideal choice for any special event.
To start the French twist hairstyle, part your hair from ear to ear then gather the top section in a ponytail at the back of your head.
From there you will begin twisting your hair until it looks like a rope-like shape.
Once twisted, secure with bobby pins starting from the bottom and working your way up to make sure all sections are secured tightly in place.
To give it extra hold and shine, use some hairspray or texture spray before styling it with accessories or flowers if desired.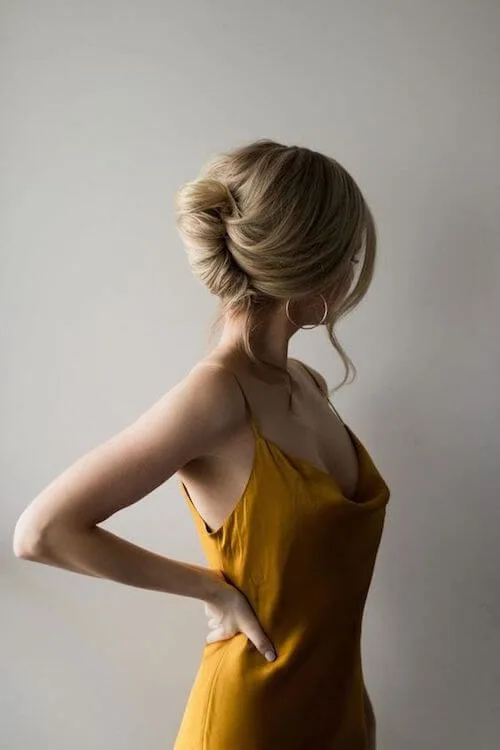 @alexgaboury
Messy Low Bun
For high school and college graduates, a messy low bun is a perfect hairstyle for long hair.
This simple yet elegant style is suitable to wear under a cap and gown while still looking stylish and chic.
The messy low bun is an easy hairstyle to master that won't take up too much time before your graduation ceremony.
To create this look start by gathering all of your hair into one hand at the nape of your neck and secure it with an elastic band.
Take your second hand to wrap some sections of hair around the elastic band while leaving some pieces loose.
Secure with bobby pins as needed and if desired add small sections of ribbon or flowers to make it extra special for graduation day.
Finish off this effortless hairdo with hairspray for hold and shine all day long!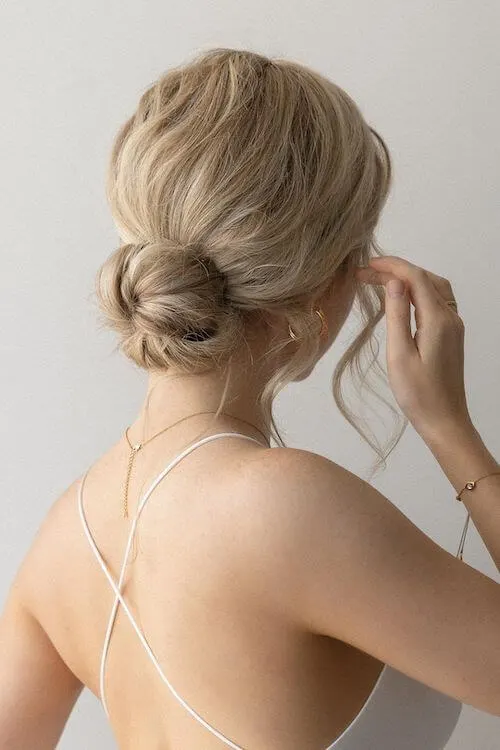 @alexgaboury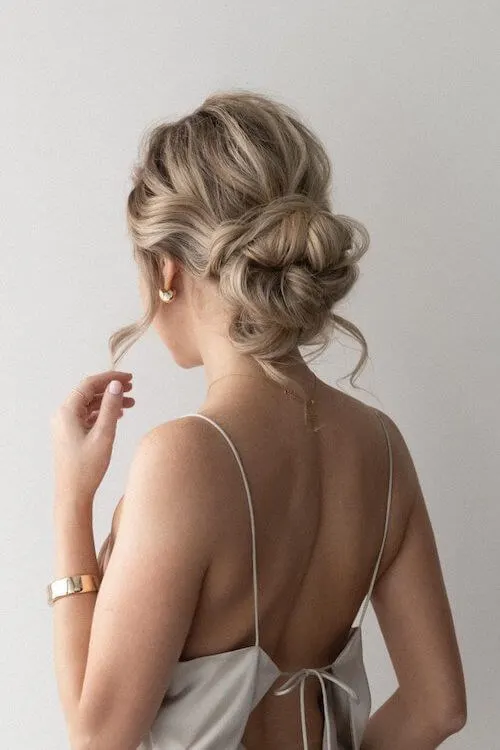 @alexgaboury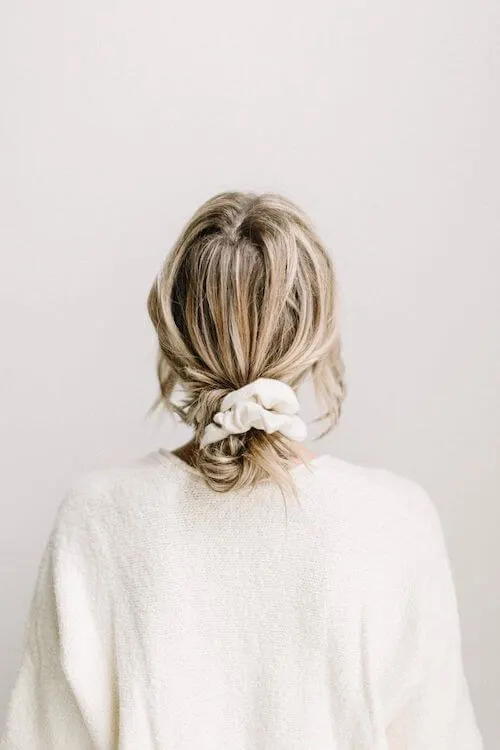 @chelseaking_shop
Wavy Graduation Hairstyle For Long Hair
This glamorous style consists of cascading waves that frame your face and add a touch of romance while still looking chic and elegant.
To get this look, you'll need some styling products like mousse or hairspray as well as curling tongs or heated rollers depending on your preference.
Starting at the front of your hair, create waves in sections before proceeding to the back and sides until all of your hair is styled into voluminous waves.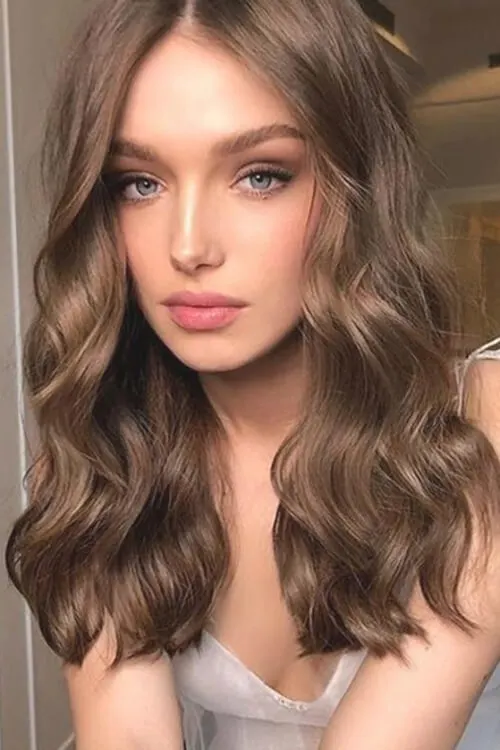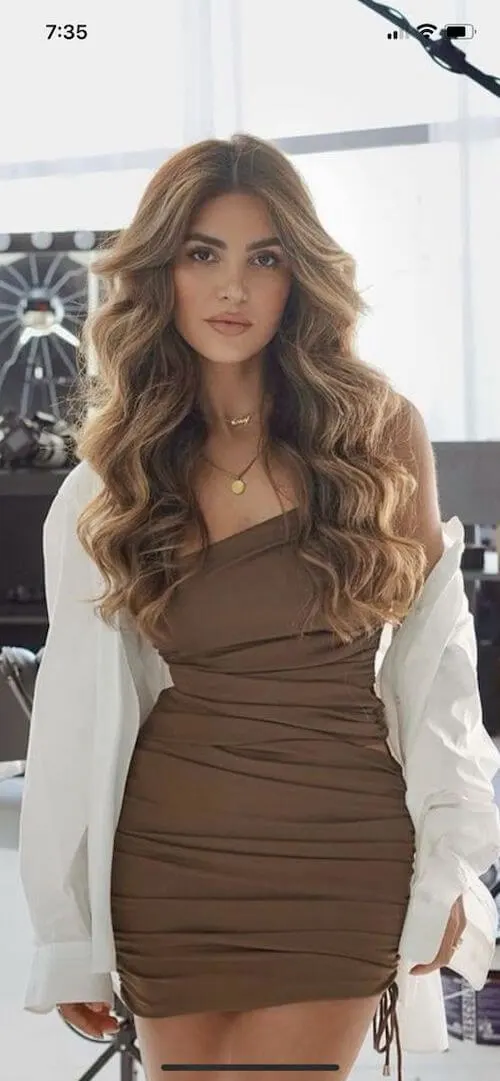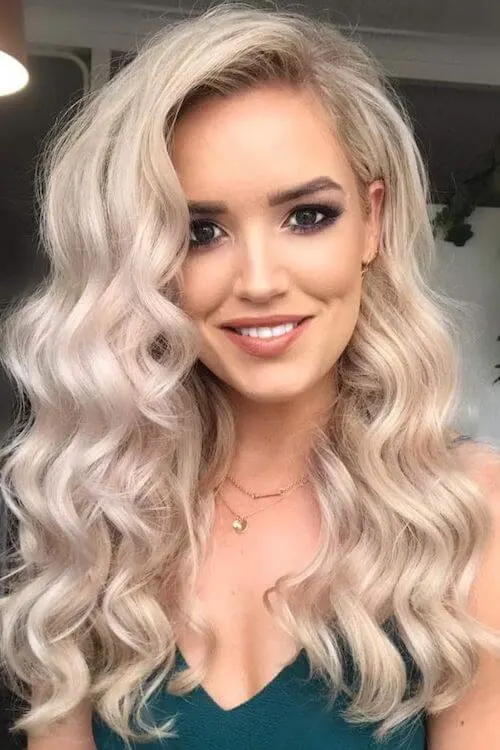 Textured Low Ponytails
The textured low ponytail can take center stage at the ceremony with its elegant and classy look.
This style is perfect for long hair, as it showcases the length of your locks while keeping them out of your face when you accept your diploma.
This chic style is easy to create, making it ideal for busy grads who don't have time to fuss with complicated up-dos.
Start by using a curling iron or wand to curl sections of your hair before gathering it into a low ponytail at the nape of your neck.
To give this style some volume, backcomb each section before tying off the ponytail with an elastic band.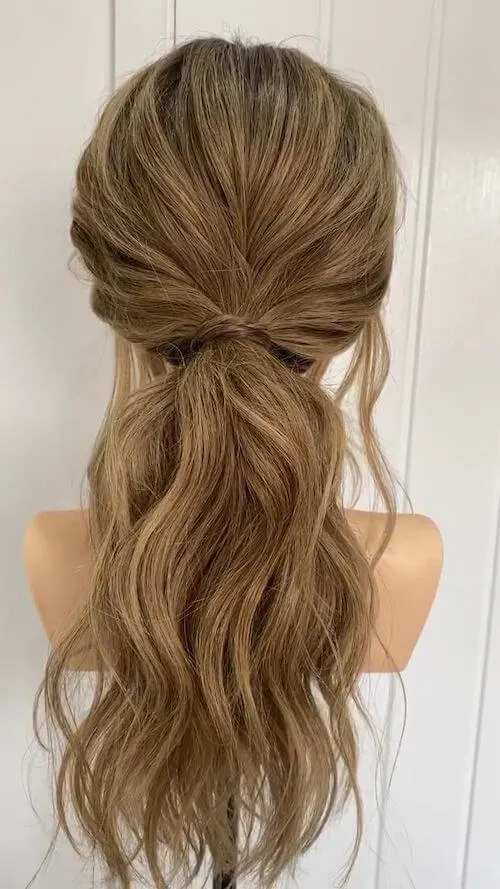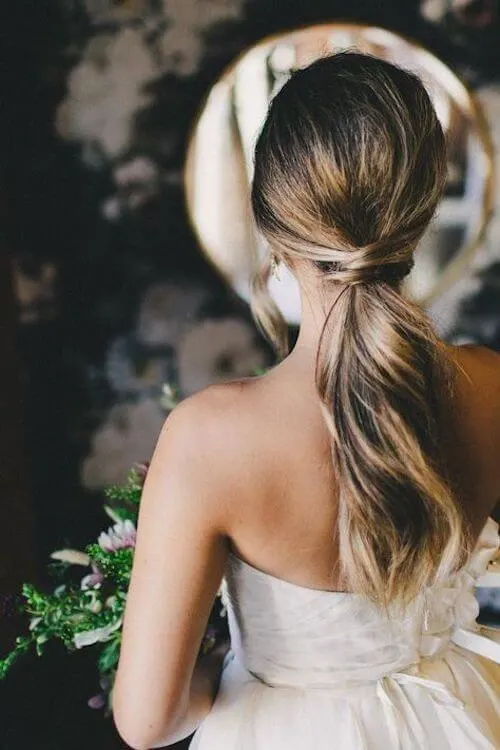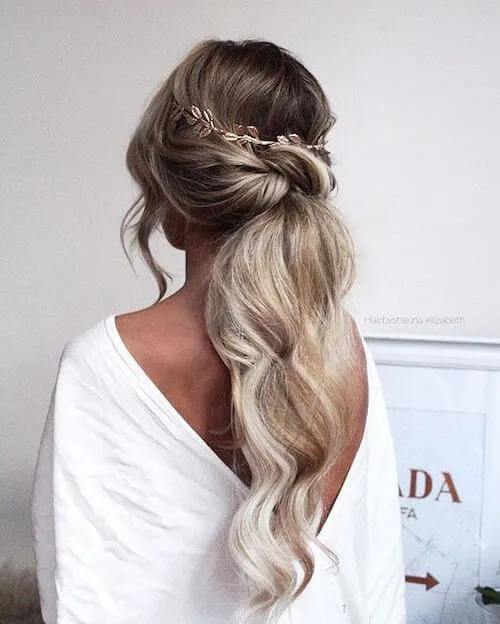 @Shauna Elizabeth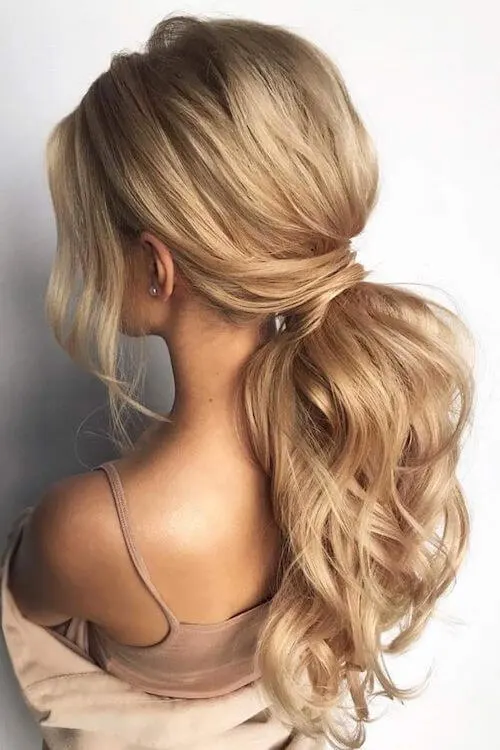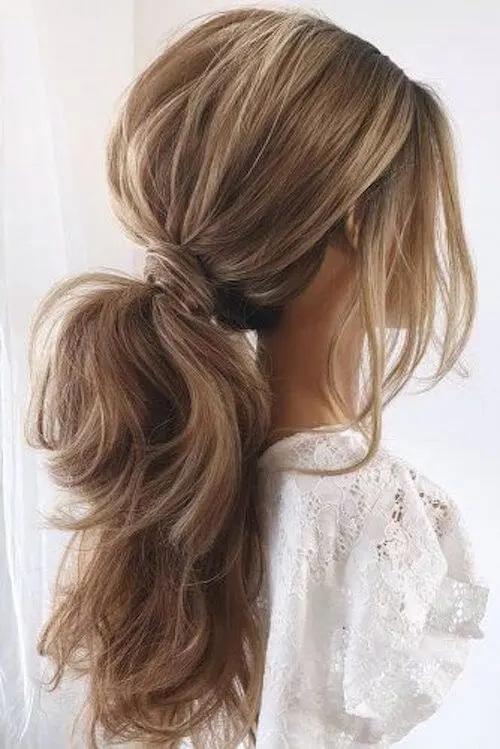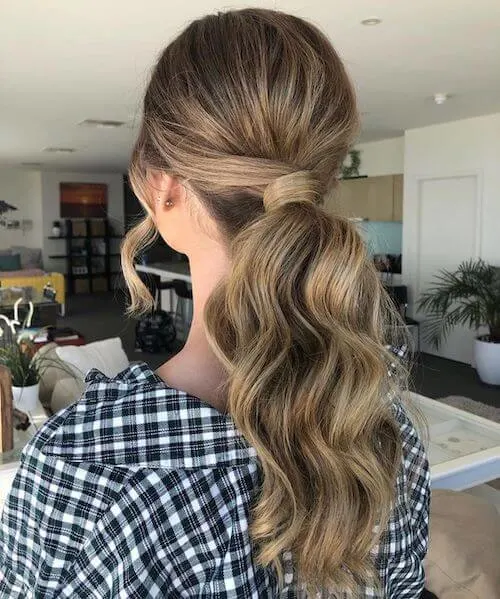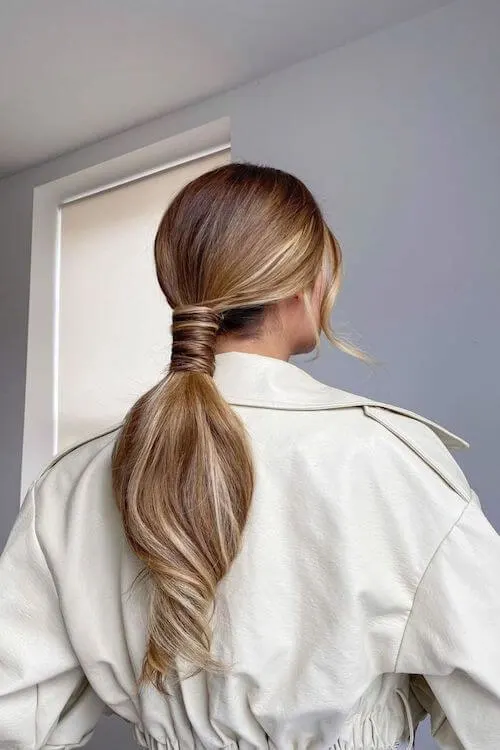 Trendy Bubble Ponytail
The bubble ponytail is the perfect hairstyle for any upcoming graduation, whether it's a middle school, high school, or college ceremony.
This trendy look is great for those with long hair who want to stand out from the crowd and show off their individual style.
Not only does the bubble ponytail give you an edgy yet polished look, but it is also easy to do in the comfort of your own home without needing a professional stylist.
To create this trendsetting style, first, brush your hair back into a high ponytail and secure it with an elastic band.
Then take random sections of your ponytail and twist them around your finger until they coil up like springs.
Secure each mini-pony at the base with bobby pins or small elastics so that they do not unravel while you are styling the rest of your hair.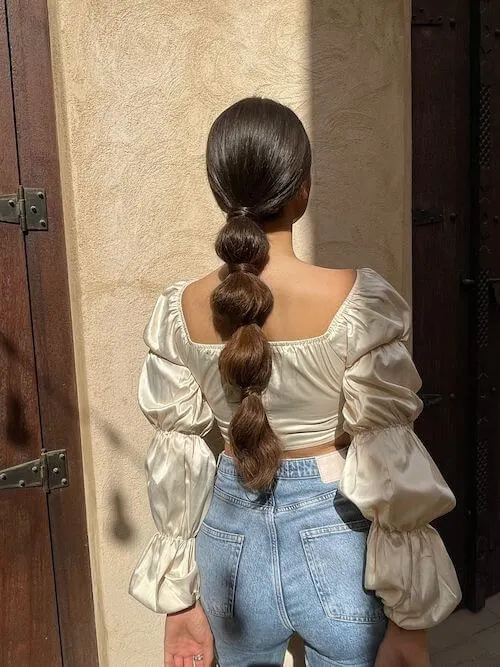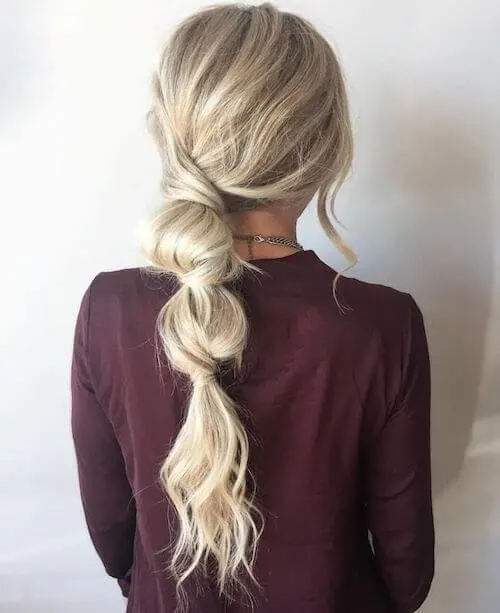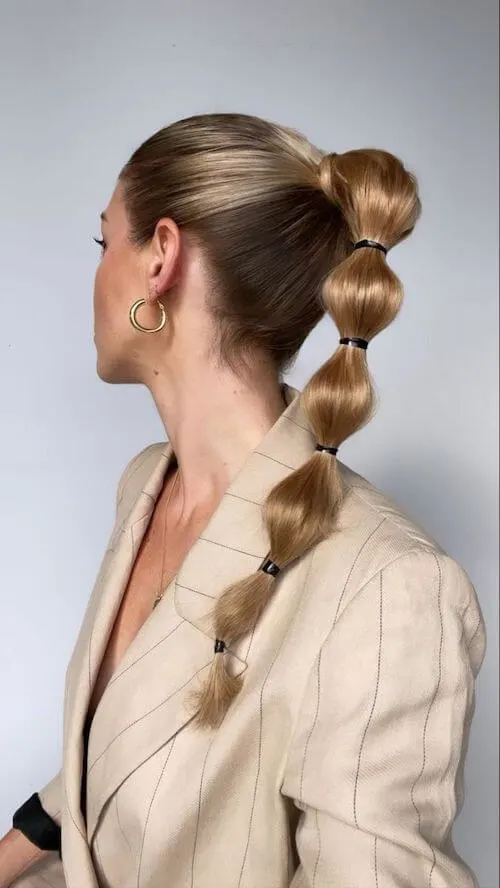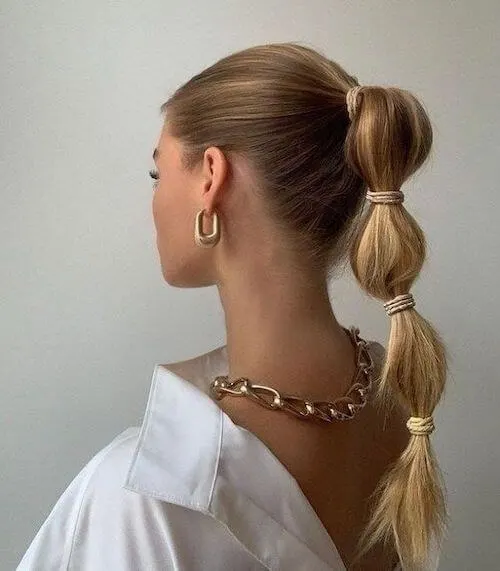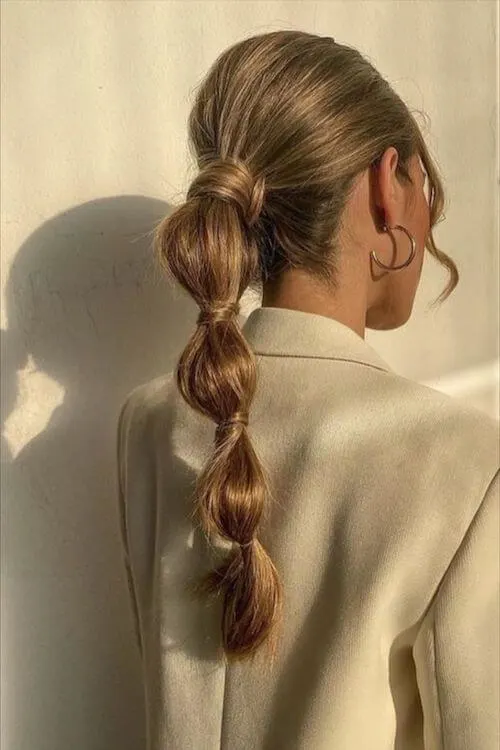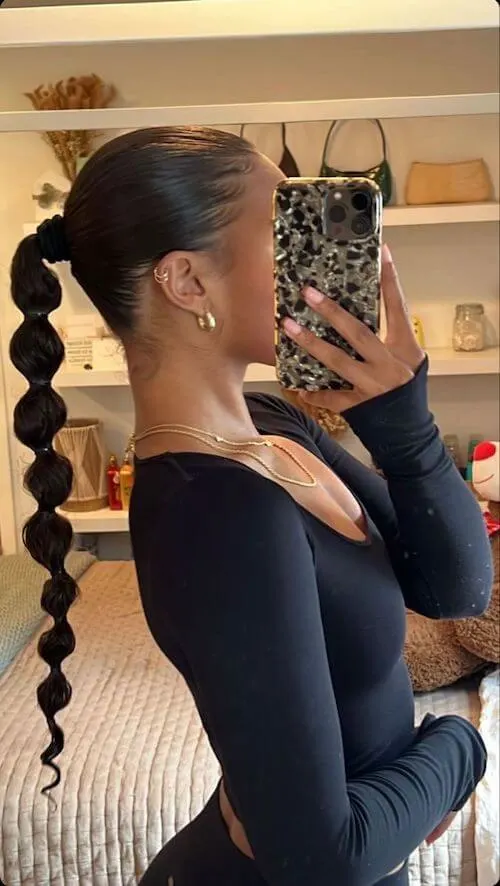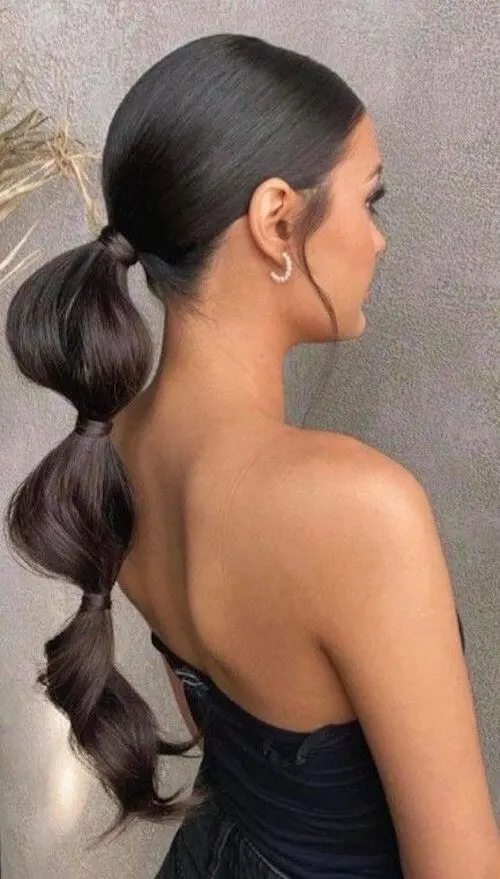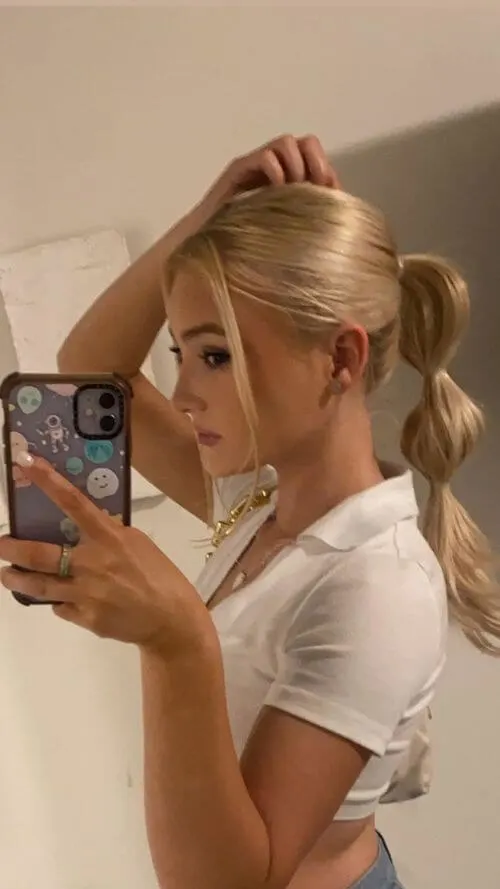 Side Braided Graduation Hairstyle For Long Hair
The classic graduation hairstyle for long hair has been given a modern twist with the side braided look.
This look is perfect for any graduate looking to switch up their style for the big day.
The side braid looks effortlessly chic and adds personality to any graduation outfit.
Hair styling experts recommend using a good quality hairspray before starting the braid, as this will help hold the hair in place throughout the ceremony.
Start by sectioning off part of your hair on one side of your face, then begin French braiding on that same side, gathering more hair each time you cross over with your fingers or comb.
When you reach the nape of your neck secure the braid with an elastic band and use bobby pins to tuck in any stray hairs or pieces that may have come loose during the braiding process.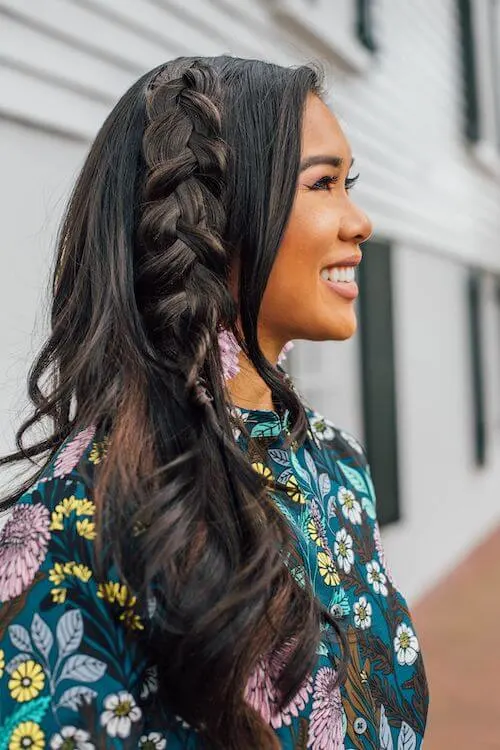 @hkcung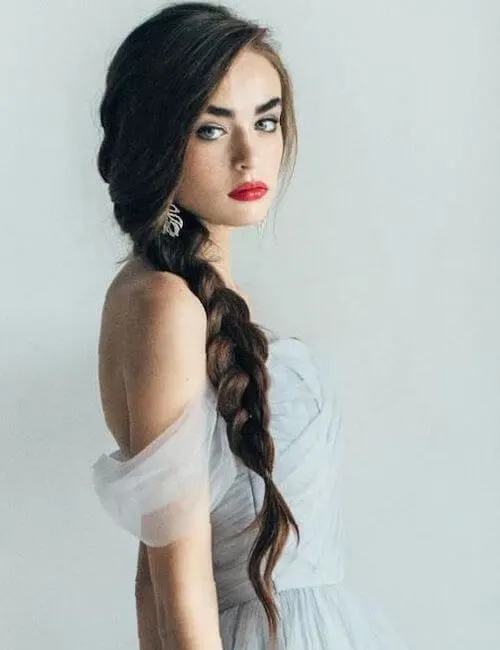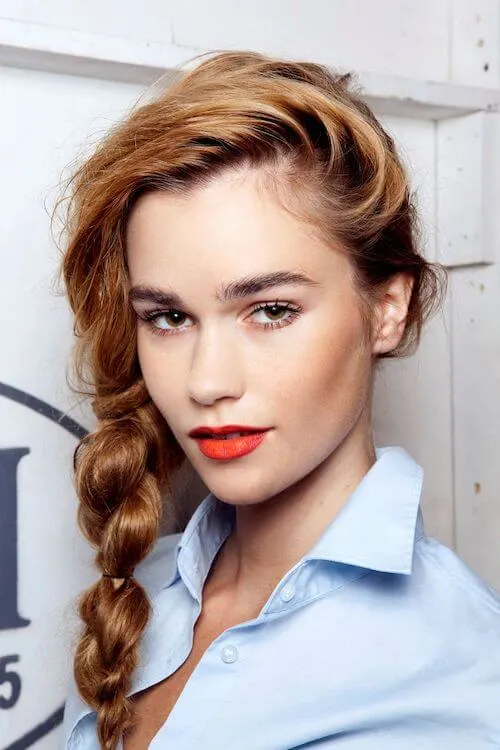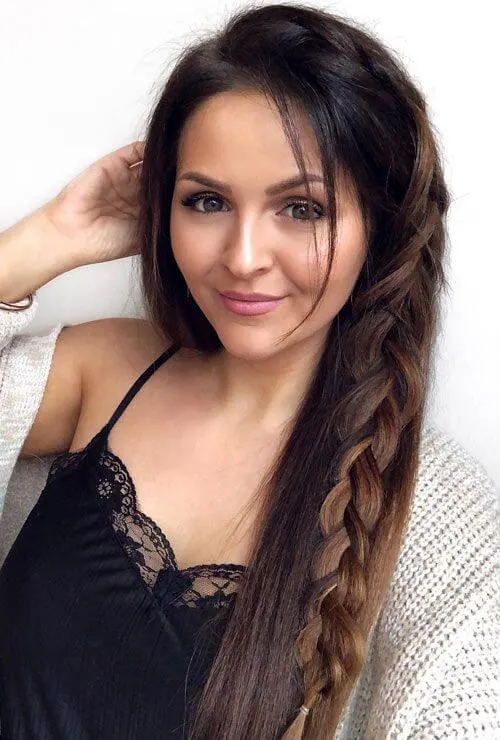 Voluminous Loose Curls
When it comes to graduation hairstyles, voluminous loose curls are the perfect way to show off long locks.
This look is easy to create and can instantly give you that special occasion glow.
Whether you're graduating from high school or college, this soft and romantic style will make you look and feel beautiful on your big day.
To create voluminous loose curls, start by washing your hair with a moisturizing shampoo and conditioner.
Make sure to use a heat protectant before blow-drying your hair in sections with a large round brush.
When all of your tresses are dry, use a curling wand or iron to curl wide sections of hair away from the face for an effortless wave-like effect.
Finish off the look with a flexible hold hairspray for extra volume and shine throughout the night.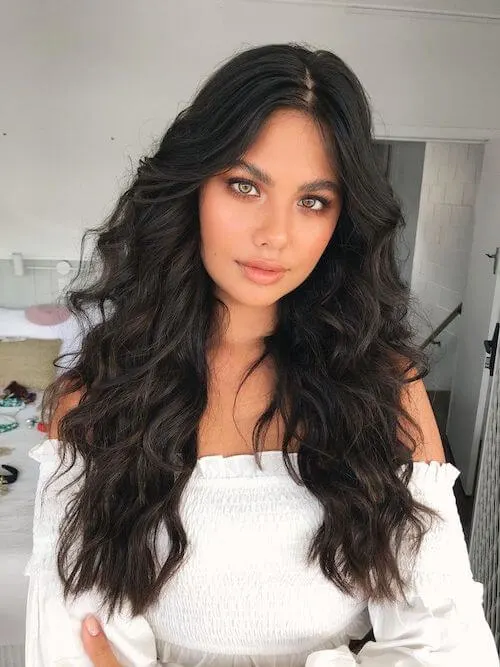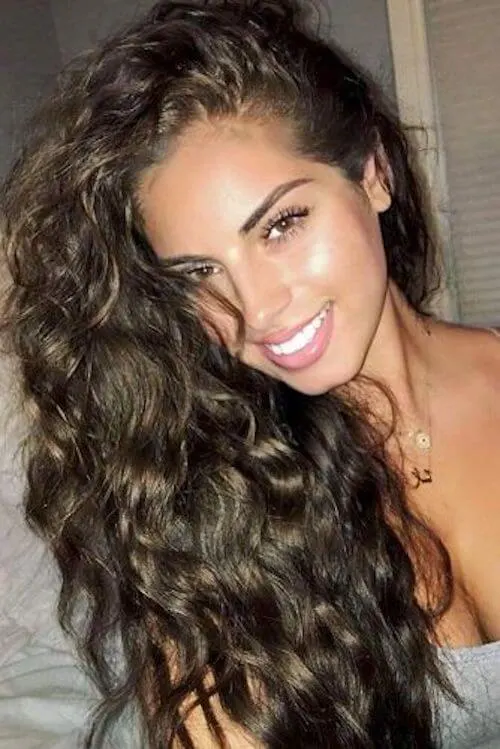 Low Ponytail With Bobby Pins
The key to mastering this look is to start by ensuring that your hair is clean and tangle-free.
Then use two or three bobby pins to create a secure foundation for the ponytail at the nape of your neck.
After tying your hair in a neat ponytail, think about using accessories such as headbands or decorative clips for added flair.
Once you've secured the base of your low ponytail, you can begin styling!
Use small sections of hair from around each side of your face and tuck them behind one ear for an elegant finish.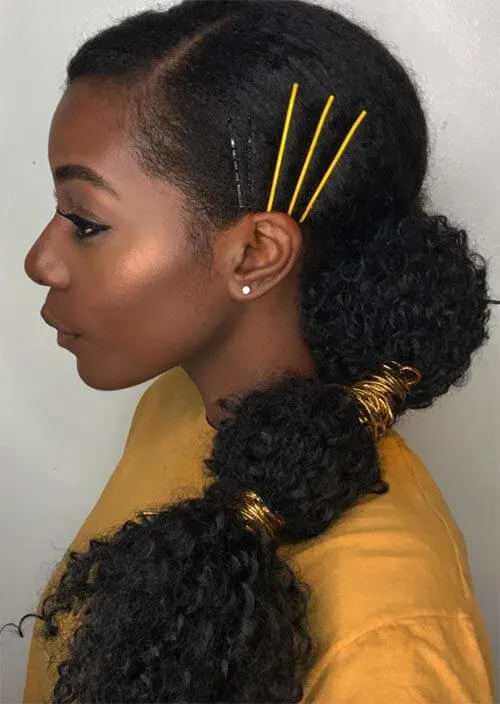 Messy Updo To Wear With A Graduation Cap
For the upcoming graduation season, why not look for a hairstyle that's both glamorous and practical?
A messy updo is a perfect way to keep your hair off your face while looking chic and modern.
Whether you have long or short hair, this hairstyle can be tailored to match any face shape or style preference.
To achieve a messy updo, start by brushing out knots from damp hair with a wide-tooth comb.
Then spray with texturizing spray for an added boost of volume.
Choose one side of the head to begin creating a low bun, adding sections of hair as you go until it's all been wrapped up around itself in an effortless-looking twist.
Secure with bobby pins and finish by tucking in stray hairs and smoothing flyaways down with finishing cream or wax.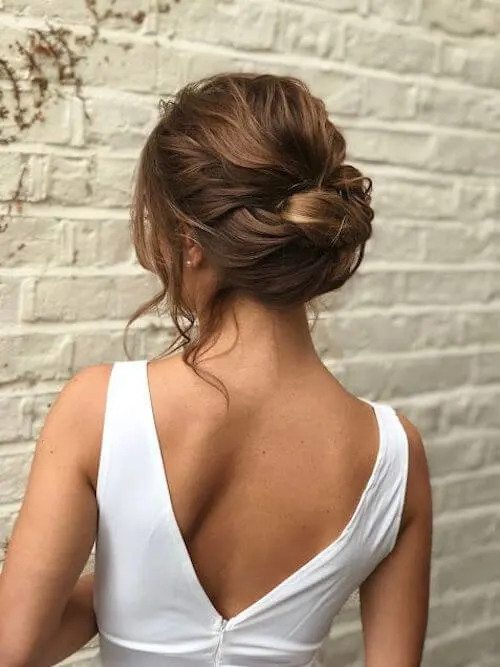 Best Hairstyles For Black Hair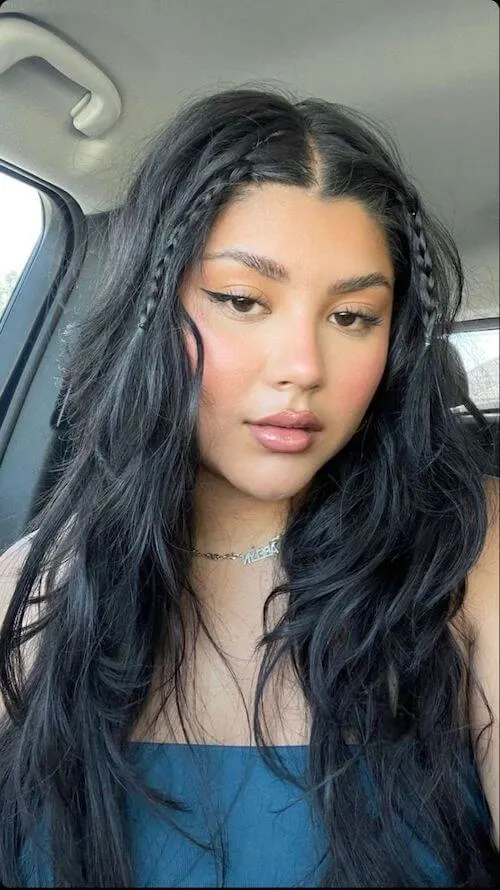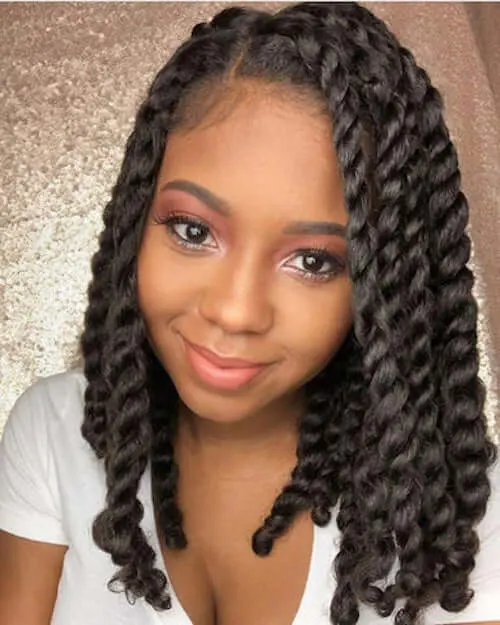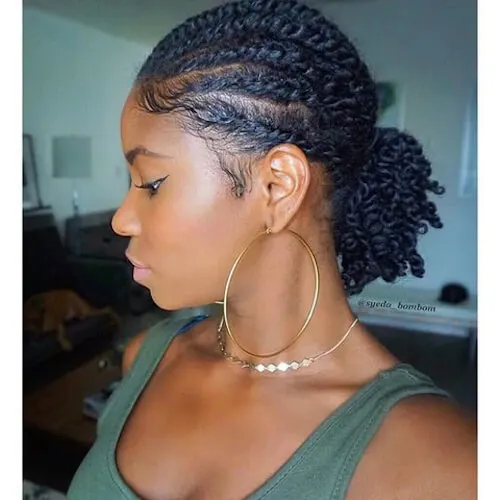 Dutch Braid Half-Up Hair Look
Featuring a classic three-strand braid with an intertwined pattern element, this hairstyle has endless possibilities.
Whether you decide to incorporate flowers or ribbons into the look, there are several ways to make it unique.
Start by brushing through your hair before sectioning out two parts: one on each side of the head from ear to ear and secure both sections at the back with elastic bands.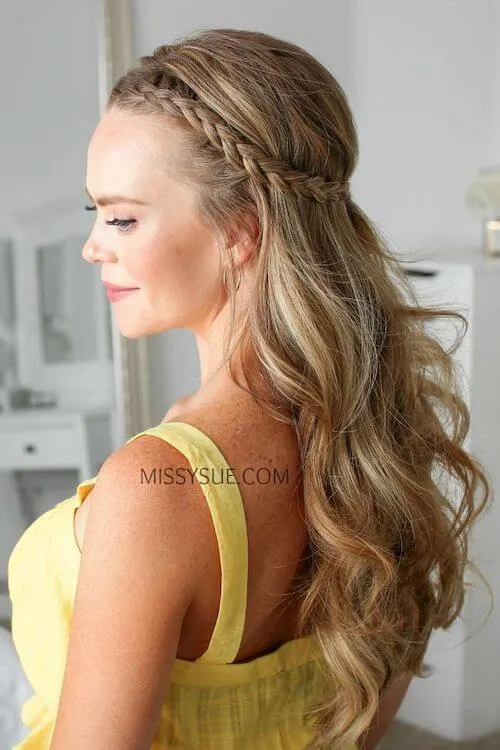 @missysueblog
Cascading French Braid
There's no better style to show off your mane than a cascading French braid!
This easy-yet-elegant look works best with long, straight, or wavy locks.
To create this stunning style, start by gathering your hair at the top of your head and dividing it into three equal sections.
Begin a classic French braid down one side of the back of your head and continue until you reach just above the nape of your neck.
Then, begin a second French braid on the other side, loosely connecting and combining it with the first as you go along.
@missysueblog
Natural Curls Hairstyle For Graduation
Nothing is more beautiful than natural curls, and when it comes to graduation hairstyles, they can be a great way to show off your long hair.
For those looking for something special for the big day, consider these stunning natural curl styles.
These amazing hairstyles are sure to turn heads at any graduation ceremony.
Whether you have tight ringlets or loose beachy waves, there is a style that will perfectly frame your face and make you feel like a true star as you walk across the stage for graduation.
Try a half-up half-down style if you want to keep some of your lengths while showing off your curls without being too over the top.
A high bun or messy top knot can also look very stylish while keeping all of those gorgeous curls out of the way during ceremonies and pictures.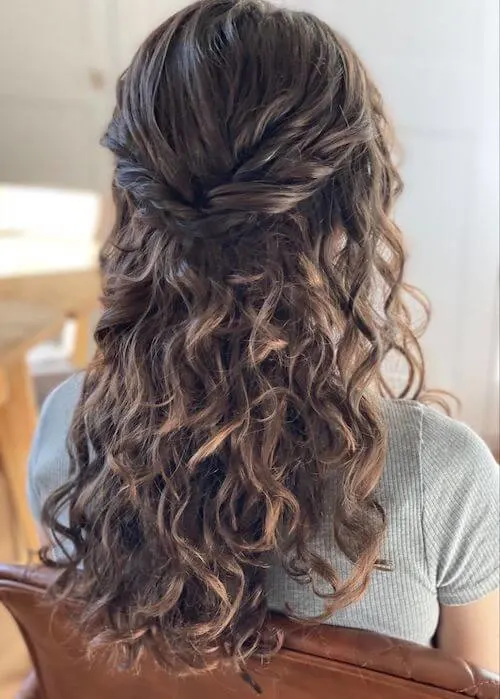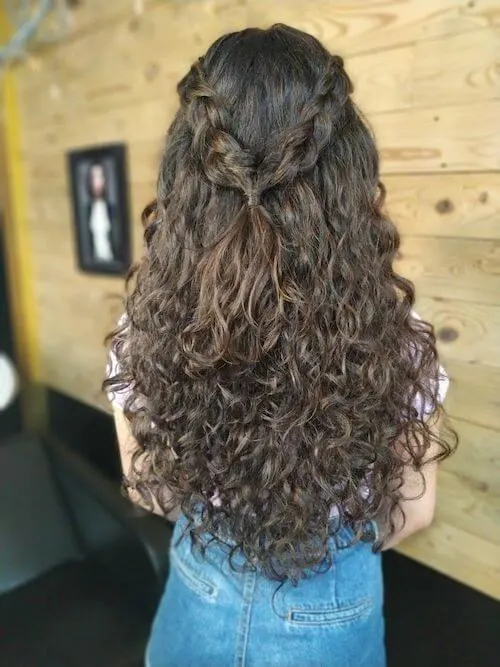 Tips & Tricks for Styling Long Hair for Graduation
A. Use a volumizing product to add texture and body to hair
Getting ready for graduation is an exciting time and having the perfect hair to match your cap and gown is essential.
A volumizing product can be a great way to add texture, body, and style to long hair.
Utilizing volumizing products can give you the perfect boost of confidence going into this special milestone in your life.
Volumizing products range from sprays, mousses, foams, gels, and even dry shampoos that are specially formulated to lift up the roots of the hair while leaving strands feeling soft and touchable.
Depending on the look you're going for, use sparingly or layer more product throughout sections of damp hair before blow drying or styling with hot tools.
For an all-over volume, boost apply a light misting of product all over once styled at the root area first then work your way down towards the ends.
B. Try using a curling iron or hot rollers to help create curls and waves in your hair
With the help of a curling iron or hot rollers, you can create beautiful curls and waves for your big day.
Using a curling iron will allow you to create tight ringlets or loose, beachy waves.
You should always make sure to start with dry, detangled hair before using your curling iron.
Start at the mid-lengths of your hair and curl 2-3 inch sections from roots to ends in alternating directions until you reach the top layer of hair closest to your scalp.
This will result in more natural-looking curls that won't look flat on top.
C. Use hairspray and pins to secure updos and braids into place
Your graduation is the perfect time to show off your long locks in a stylish updo or braid.
However, you want to make sure it stays in place throughout the ceremony and all of the photos taken.
To get the perfect hairstyle for your big day, use hairspray and pins to secure it into place.
Hairspray is an excellent tool for holding any long hairstyle together because its stronghold will keep strands from slipping out of place.
It's best to choose a lightweight hairspray that won't weigh down your hair as some aerosol sprays can do.
Spray your entire head after styling and then go back over with additional spray if needed at any flyaways or bangs you have incorporated into your look.
Pins are also key when trying to secure longer hairstyles in such as braids or updos.
The trick to using them is to choose the right length of the pin for your hair.
You may don't want the pins sticking out too much, or they will be seen in pictures.
This is also true when choosing a hairstyle that incorporates a flower or some other decoration.
D. Consider adding decorative elements such as flowers or jewelry to add a unique touch to your look
One way to make the occasion unique is to add some decorative elements such as flowers or jewelry to your long hair.
A little bit of sparkle can go a long way when it comes to elevating an outfit, and this idea will ensure that you stand out on your special occasion.
Flowers are a fresh and fun way to spruce up your hairstyle without having to commit to any permanent changes.
If you opt for a floral accessory like a crown or headband, you'll get instant volume while still keeping curls or waves in place throughout the day.
If you're set on wearing hair down, then consider using smaller flowers placed strategically around braided sections of hair or accessorized with pins instead.
E. Take the time to practice styling your hair before the big day so you can feel confident with your look
It takes some extra effort to style long hair for this special occasion, but taking the time to practice can make all the difference.
Experiment with different looks like curls or updos until you find one that suits you best; then practice styling it before the big day so it looks perfect.
This post was all about graduation hairstyles for long hair.
About The Author
Tracy is an experienced personal stylist, shopping expert, and fashion & lifestyle blogger. She has been featured on Time Magazine, Bustle, Best Life, Glam, The Zoe Report, Mic, and GOBankingRates, for her insights on fashion, beauty, home decor, and lifestyle. Read More
Related Posts: