Looking for the best winter couple photoshoot ideas? Check this post for the best photoshoot tips on how to take perfect winter couple photos including photoshoot outfits, poses and ideas to copy directly. And you also can find cute winter couple goals to add to your list.
Winter is one of the best seasons for couples to take pictures.
Because in winter, everything is so romantic and charming. Flying snowflakes, beautiful holiday lights, warm clothes, they are all so perfect.
If you are looking for the best ideas for couple's photoshoots in winter, you've come to the right place.
In today's article, I am sharing with you expert tips on how to take perfect winter couple photos, and creative simple ideas of winter couple photoshoot.
And I am also sharing with you what to wear to a winter couple photo session to help you create the perfect photos next time.
Whether you're taking a winter engagement shoot, a winter wedding photoshoot, or a casual couple photoshoot in the holiday season to capture your sweet romance, or a cute photo for the Christmas card, you'll find the best ideas to add sparks to your love story.
So scroll on to check these tips and simple ideas for your couple photoshoot in the winter season, and don't hesitate to pin them to your Pinterest board, and share them on social media sites.
This post may contain affiliate links, which means I'll receive a commission if you purchase through my link, at no extra cost to you. Please read the full disclosure here.
This post is all about winter couple photoshoot ideas.
How To Take Perfect Winter Couple Photos
Shooting a warm and beautiful love in the world of ice and snow is a very romantic experience.
If you can use the camera to capture those real and casual interactions that naturally reveal the deep affection and love, and look back after a few years, this will definitely be an unforgettable memory.
If you are taking the couple photos for the first time, below are my favorite tips.
Relax in front of the camera
In the first few minutes of taking pictures, everyone is generally more restrained, doesn't know how to control their expressions, and doesn't know where to put their hands and feet.
I generally recommend that you take a few steps back and forth in front of the camera, and then the photographer can photoshoot your walking. After all, who can't walk?
When you walk a few more times, you will gradually relax and feel more confident.
Choose the right outfits
Outfits are important for a couple photo shoot.
A great way to find perfect photoshoot outfits is to choose the woman's outfits first.
Because after all, women have a wider range of clothing choices, which can usually become the highlight in the picture.
When you've chosen the lady's outfit, it's easier when it comes to choosing her partner's outfit.
At the end of the article, I am also sharing with you our favorite winter couple photoshoot outfit ideas for you to copy directly.
Capture the moment when the emotion is naturally revealed
If you are photographed walking, you can either hold hands side by side, hold arms, and hold the other half in the arms, or you can walk and trot.
That kind of natural romance seems to overflow the photos. It will make others, can't help but sigh, it's nice to meet the right person!
Use props creatively
In order to enhance the atmosphere or add some creativity, we often use some props when taking photos.
My own definition of props is very broad, as long as it is not on the body, when it is used for photography, I will treat it as a prop.
So, be creative!
With the help of props, it is not only easier to highlight the mood and focus that the photo wants to convey, but also often creates an unexpected dramatic effect.
Creative Winter Couple Photoshoot Ideas
Be creative when taking winter couple photos.
If you are looking for the best place to take photos of couples in winter, your favorite city streets, places you used to date, beautiful parks in the snow, fun playgrounds during festivals, and your warm home are all great places for taking beautiful couple photos in the cold weather.
If you hire a professional photographer to take pictures, remember to communicate fully with the photographer before shooting, discussing in advance where to take pictures, what clothes to wear, and what props to use.
You should share your own ideas with the photographer so they can help you take the ideal photos.
Looking for creative winter photoshoot ideas for your couple session? Scroll on to check.
A Cute Photo Pose
Sit By The Large Window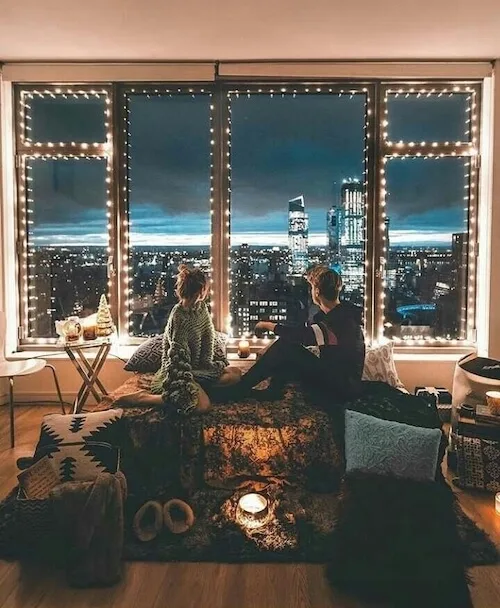 Stylish Couple Matching Outfits For Winter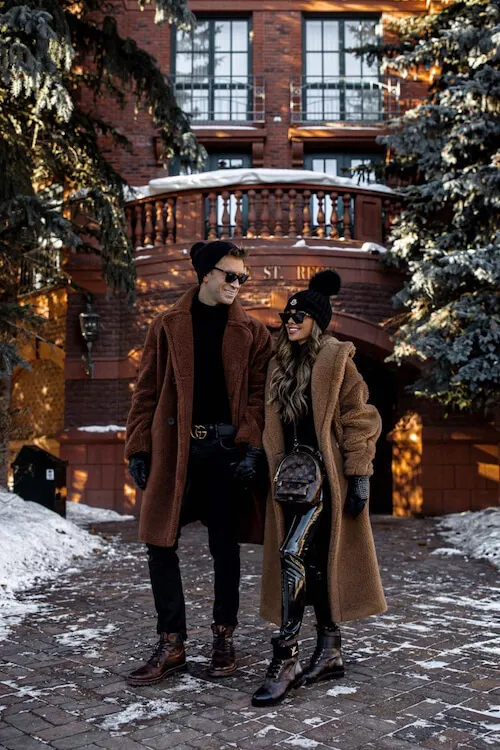 Cute Black Couple and Christmas Tree
Skiing Kiss
Stroll On The Street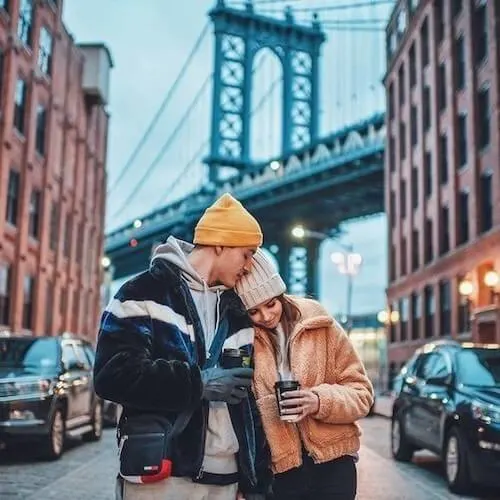 Beautiful Snow Fall Kiss
Winter Engagement Photos At Home
A warm and cozy home is also a great place to take photos during the cold winter months.
Don't forget to create a beautiful photo backdrop with festive decorations.
If you want to make your photos look classy, one pro tip is to choose decorations with simple color combinations.
At the same time, you should wear clothing in contrasting or similar colors to your background decorations, so that your photos will look more stylish without being tacky.
Red Sequin Dress and Christmas Decorations
Cute Christmas Couple Photoshoot Ideas
Quiet Moment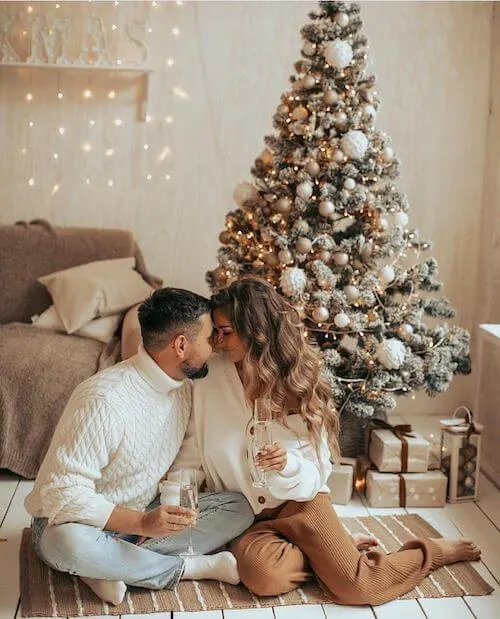 Romantic Pose In Cozy Home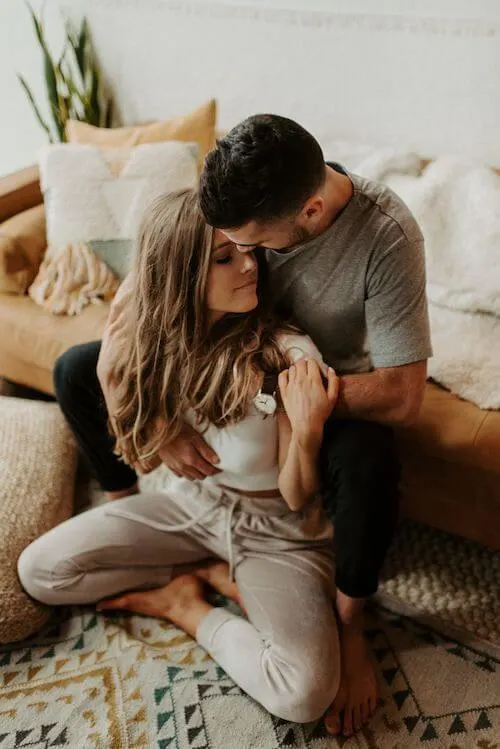 Winter Engagement Outdoor Photo Session Ideas
How can you miss the wonders of the winter outdoors? Put on warm clothes and go to a romantic winter date in the fantasy world of winter.
Whether you're running for the embrace of nature or finding a festive mood in the heart of the city, Winter's Fairy Tale provides the perfect photo opportunity for your romance.
Make the most of what winter offers.
You can take very romantic photos and let the snowflakes set off the two of you as prince and princess.
You can also play in the snow, laugh, play, and have a good time like children.
As for shooting props, there are so many photo props for you two to choose from in winter.
I's a good idea to use your accessories like scarves, gloves, hats as lovely props.
And of course there are holiday season candies, lights, and hot drinks that will add so much fun to your photos!
So scroll on to check the best couple poses and ideas to copy this winter.
Playful Couple
Cute Couple Pose In The Cabin
Romantic Couple Hot Tub Photo
Sparklers and Christmas lights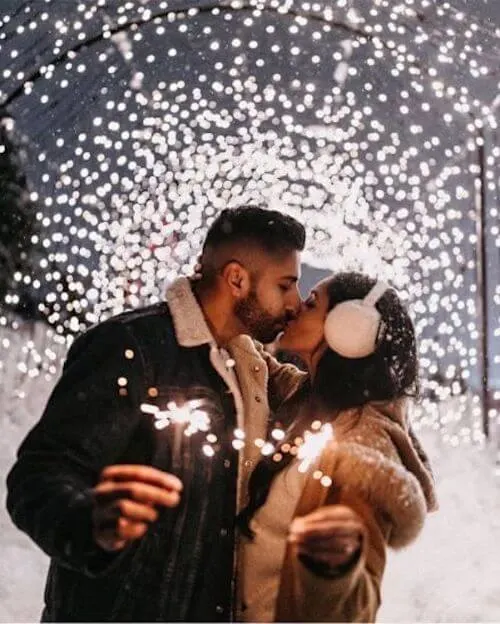 Romantic Photoshoot at Amusement Park
Kiss On The Fresh Snow
via Pinterest
Warm Blanket Is A Perfect Winter Photo Prop
Laugh In The Snowy Scene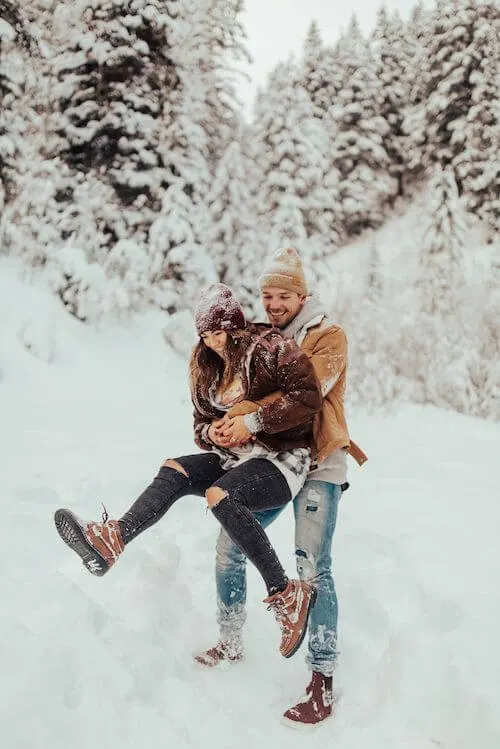 Kiss In Front of A Beautiful Building
via Pinterest
Holiday Cheer In City Centers
via Pinterest
Snowy Landscape & Big Heart
Candy Canes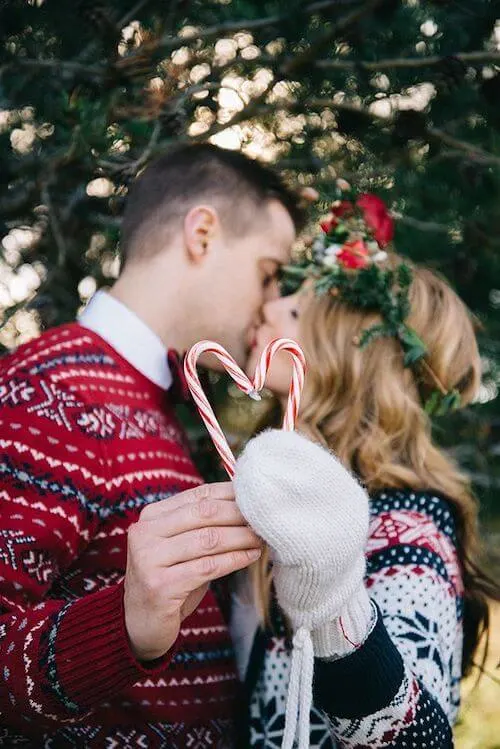 Romantic Kiss In Christmas Season
Cute Pose and Winter Wonderland
The Engagement Ring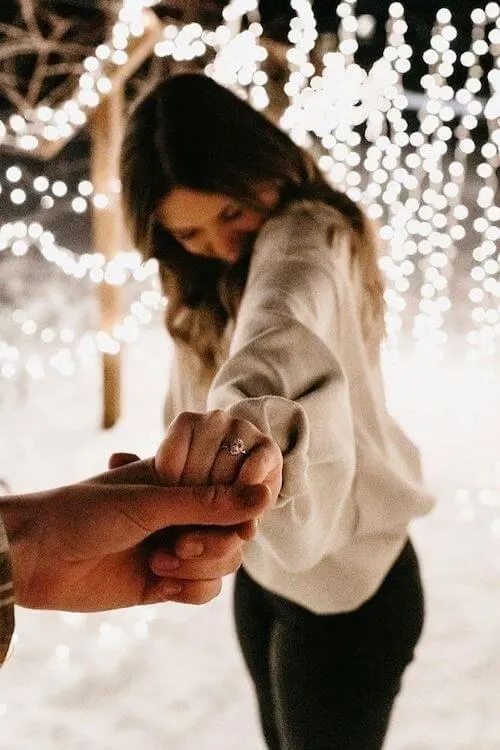 Hot Drinks
via Pinterest
Brown Coats and Snow Fall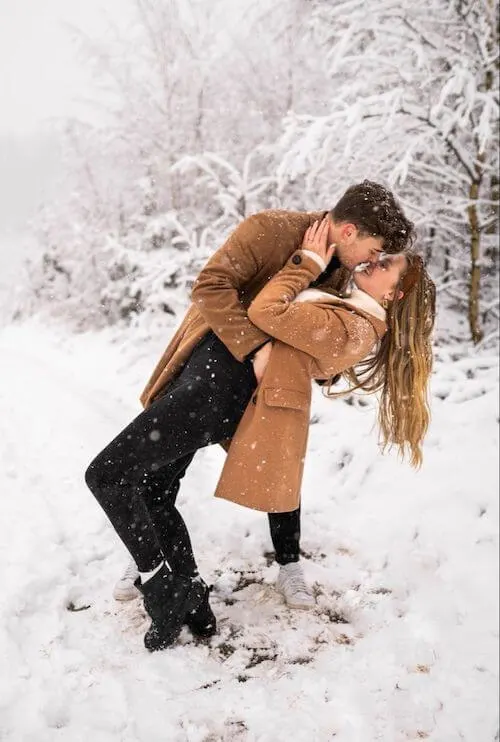 via Pinterest
Hot Chocolate, Cute Mugs, and Lovely Road Trips
Magical Snow Photos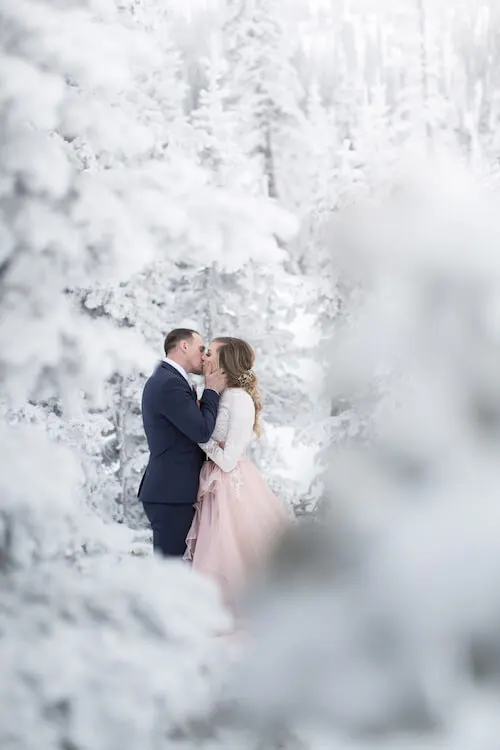 Ice Skating Date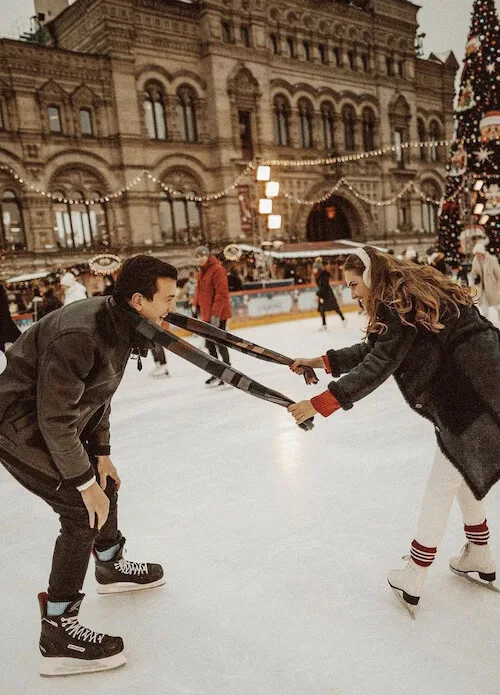 via Pinterest
Winter Wedding Photoshoot Ideas
Winter is a perfect time for wedding! The snowflakes between heaven and earth offer you the most romantic and sincere blessings.
Enjoy a unique wedding in winter.
It can be cold while shooting, so it's important to discuss the locations, poses, props, etc. with your photographer in advance, so that you can complete the shoot smoothly.
At the same time, I recommend ladies to prepare a fur coat or faux fur coat to keep warm and they look stylish.
Usually, standing in the center of the photo is a great idea. But you can also be a little more creative and stand in one corner of the picture to complete a beautiful and unique wedding photo.
What if it snows heavily on the Big Day? Don't worry, bring an umbrella.
I recommend choosing a black or clear umbrella to make the photo chic.
Perfect Winter Wedding Kiss
Amazing Kiss & Evergreen Trees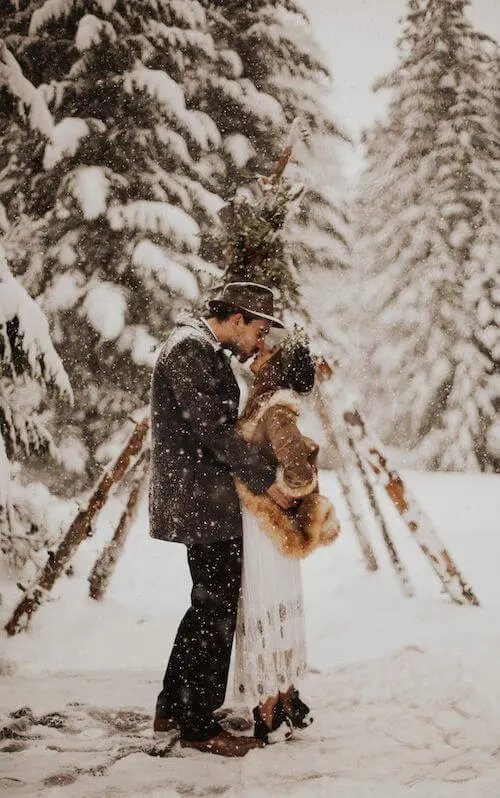 IG@rosemaryandpine
White Lace Dress & Red
Amazing Couple Celebrating The Big Day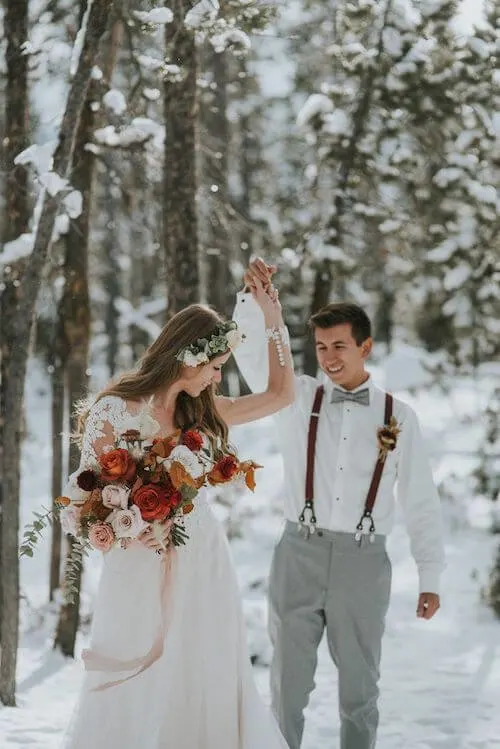 Perfect Photo Composition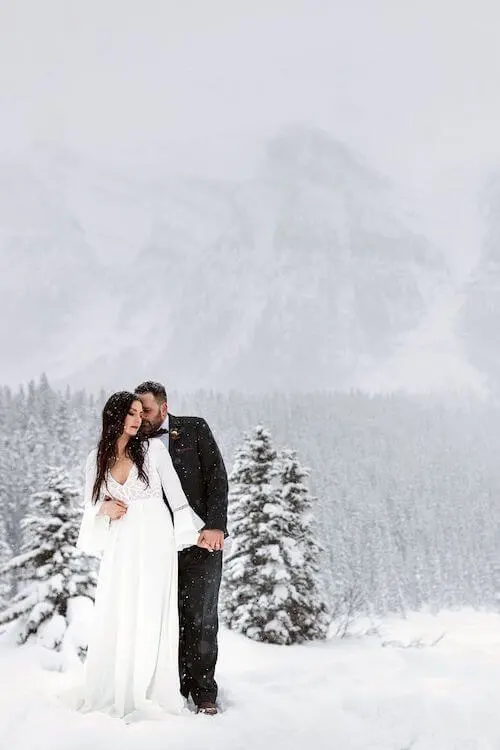 Add An Umbrella
What To Wear To Winter Couple Photoshoot
As we said earlier, choosing the right outfit can help you take better winter couple photos.
So, what should you wear for a couple photo shoot in winter?
Below are the outfit ideas that we love so much.
Whether you're shooting winter indoor couple photos, or winter outdoor couple photos, whether you're shooting engagement photos, or wedding photos, you'll find perfect options.
Lace Tank And White Button Down Shirt
Indoors, you can choose casual clothes that will bring out the comfort and sweetness.
This outfit idea below is a great example. She looked stylish and sexy in an oversized button down.
White Sweater Dress And Stockings
Or, you can dress up a bit with a festive dress.
White sweater dresses, or white, green or red sequin dresses, are all great winter photoshoot outfits for women that have a lovely festive vibe.
Want to be a little cuter? Add a pair of stockings.
Denim And Plaids
When outside, warm-looking clothing is a great option.
You can choose a cozy denim or plaid printed jacket to make the picture look warm and moving.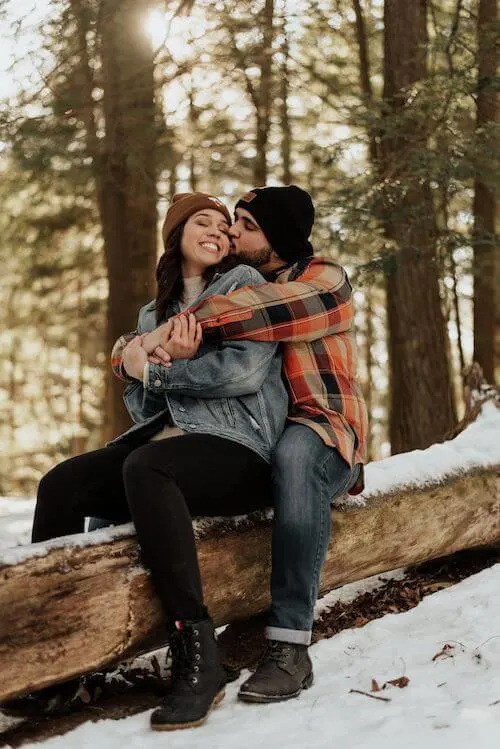 via Pinterest
Red Blanket
A thick blanket is one of the great shooting props for winter photo session.
Opting for a thick blanket in a bright color can make you feel like you're in a fairy tale scene.
Moreover, it's a fun way to give you a quick change of shooting clothes! This is awesome.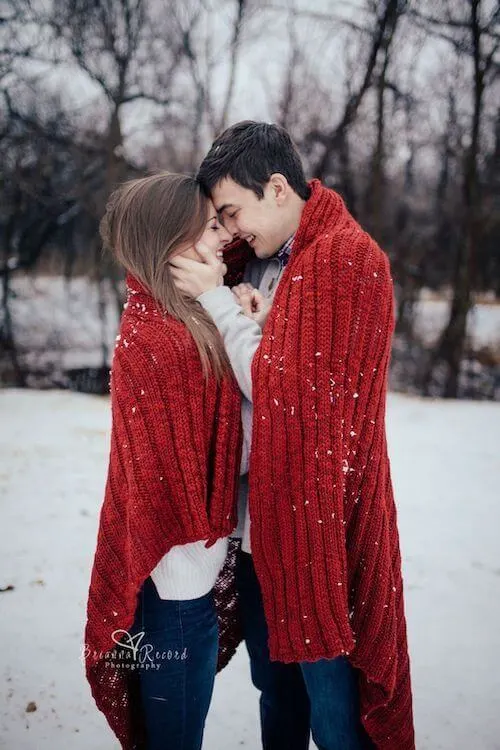 Teddy Coat, Denim Coat And Knit Hats
A teddy coat is also one of my favorite winter shoot outfits.
Both men and women can wear teddy coats. They are very stylish and cute.
A Pop of Color
Want to have a strong festive vibe? Wear a traditional holiday color, such as red or green, for a cute visual detail.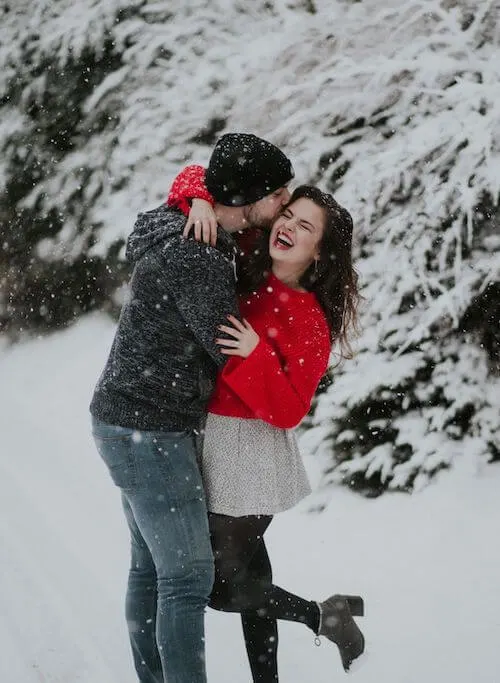 Matching Black Outfits
You can wear trendy matching black outfits. This is a cute and unique outfit idea.
Matching All White Outfits
All white outfits are also great.
via Weheartit
Perfect Neutral Colors
Alternatively, you can choose a neutral-colored outfit combination that you can never go wrong with.
I recommend having both dark and light colors in your neutral color selection, so you can add more layers of color and bring your photo style to the next level.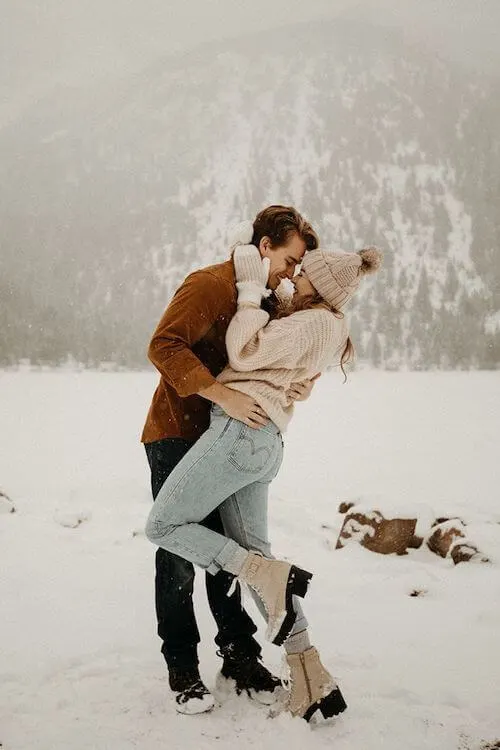 Brown Top And Denim
It's also nice to change to a brown top for the lady.
IG@mirandajeanphoto
Warm Hats and Gloves
Don't forget the winter warm and cute accessories.
They can help you quickly create the perfect couple matching outfits in the cold days.
Grey and Jewel Tones
The jewel tones make the ladies look very classy.
via Tumblr
Fur Top & Tulle Dress For A Boho Winter Wedding
For winter wedding photos, I recommend wearing a fur coat or a faux fur coat to help keep the body heat. Either is perfect for a photoshoot in the cold weather and is stylish.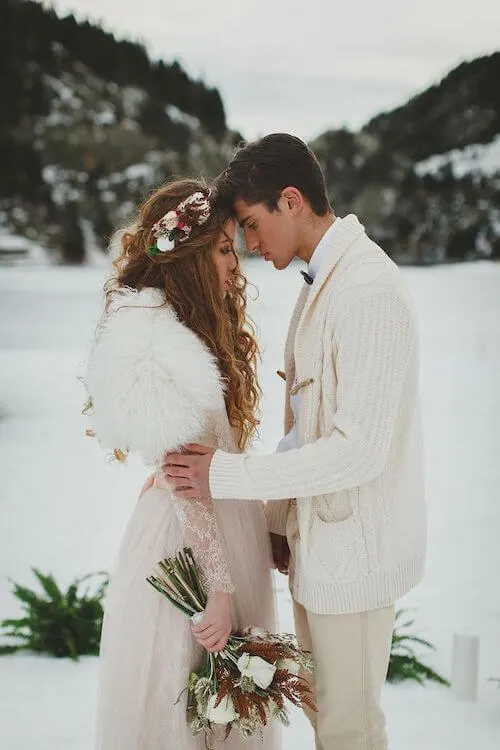 This post was all about winter couple photoshoot ideas.
About The Author
Tracy is an experienced personal stylist, shopping expert, and fashion & lifestyle blogger. She has been featured on Time Magazine, Bustle, Best Life, Glam, The Zoe Report, Mic, and GOBankingRates, for her insights on fashion, beauty, home decor, and lifestyle. Read More
Related Posts: