Looking for casual summer outfits to copy this year? Check this post for our picks and expert styling tips for summer fashion to level up your look!
To be honest, do you have such troubles:
You buy a lot of summer clothes, but you always feel that they are not fashionable enough to look good enough;
Although you bought a lot of new clothes, you quickly got tired of wearing them;
Fashion trends are dazzling; you don't know which items are the most worthy of investment;
…
So today, we will share more than 50 casual summer outfits, and we will share the 7 most practical tips that will level up your looks at once!
These tips will help you make the essential clothes that everyone has more fashionable and more expensive.
At the same time, we will also share the cute items worth buying this summer to show your different charms than usual!
Don't forget to pin these outfits. At the same time, if you like it, click on the "Shop The Look" link at the bottom of the photo, and you can buy it directly!
This post may contain affiliate links, which means I'll receive a commission if you purchase through my link, at no extra cost to you. Please read the full disclosure here.
This post is all about casual summer outfits.
50+ Best Casual Summer Outfits
Casual Summer Outfits Tip 1: Change Shoes
Different shoes can show different styles of the same clothes!
Look at the following two outfits. They are the same clothes, but they show different styles when they wear different shoes.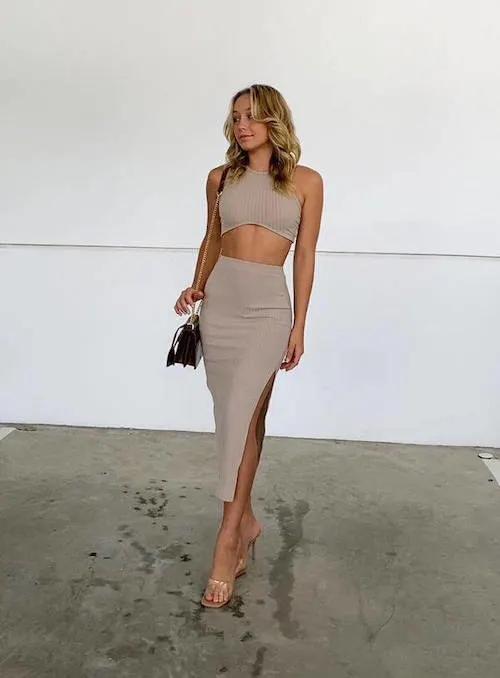 Shoes are the key to positioning your style! You can try more shoes that you don't wear often; maybe they will suit your clothes very well!
We also introduced some of the most popular shoes this year in other posts, come and take a look!
• Sandals
• Sneakers
Casual Summer Outfits Tip 2

: Change The Way Of Wearing
Even basic clothes can be worn in many ways!
For example, oversized button-down shirts, which are particularly popular this year, have tried various ways to wear them in the following photos!
Tuck the hem of the shirt into the skirt to show playfulness, or don't tuck the hem of the shirt into the skirt or pants to reveal a casual feeling, or add a belt to show your charming figure, or turn the shirt into a crop top; you can go to date night directly!
Which one do you like the most?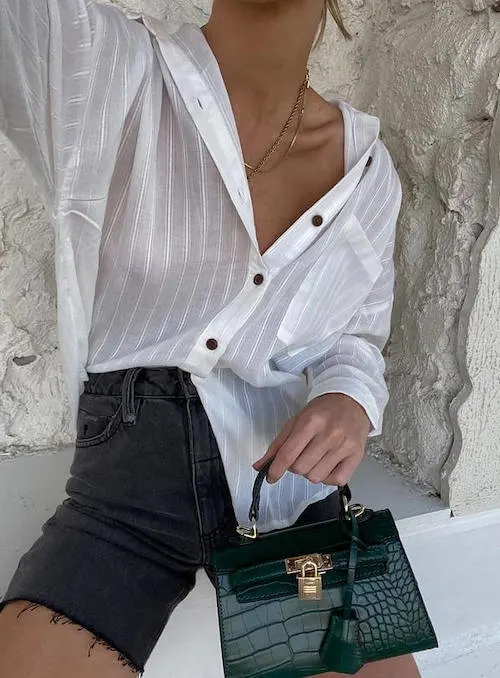 Tip 3: Try A Belt
As mentioned earlier, a belt can change the style of an outfit!
Whether it is a simple style or a unique style, a simple belt can enhance the style of the overall outfit.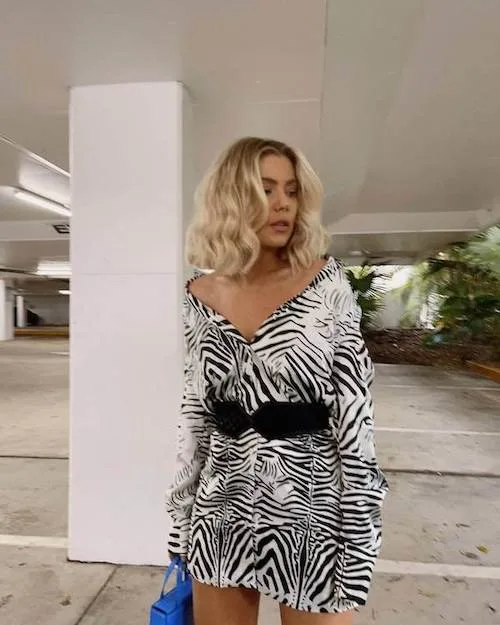 Casual Summer Outfits

Tip 4: Add Accessaries
Don't forget to add your accessories! Sometimes the difference between celebrities or fashion bloggers and ordinary people is that they know how to use accessories to look fashionable!
Below we summarize the most fashionable and practical accessories for summer.
Canvas Tote + Canvas Shoes
Don't know what to wear when you are on vacation or going to the beach? A pair of canvas shoes and a canvas bag can make your daily wear become vacation outfits in seconds!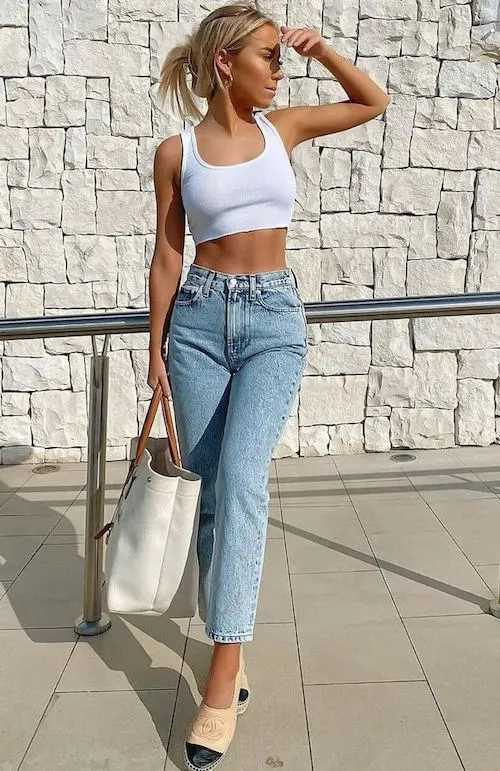 Check our favorite beach outfits this year!
Retro Sunglasses + Gold Necklaces
Retro style is trendy this year! You can try all kinds of retro sunglasses. Basic clothes are best used to match exaggerated accessories.
You can pair almost all clothes with the most fashionable gold chain necklaces or coin necklaces.
Golden accessories will make your clothes look expensive!
Hats
Don't forget sun hats!
Adding a hat can add a lot of points to your outfits. Choosing different hats allows you to show different styles that are casual, cute, or elegant! We have introduced some of the most popular straw hats this year.
Don't know what hat to buy? Check this ultimate shopping guide for straw hats!
Tip 5: Change Your Hairstyles
Summer is best for trying all kinds of romantic or cute hairstyles.
We have also written a guide to the most fashionable hairstyles for summer, don't forget to check it.
In addition, adding a hair accessory will have a different feeling.
Hair Clips
Hair Bun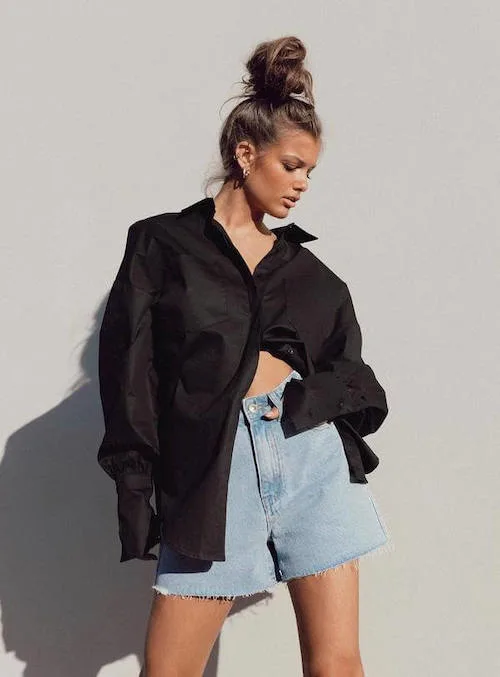 Bandana
In particular, this year, we highly recommend that you try bandana—especially the following retro and cottagecore of hairstyles.
We have also written 100+ cute bandana hairstyles; please click on the link to have a look.
Take a little thought, and it will make you look more fashionable!
Tip 6: Steal Your Boyfriend's Wardrobe
Have you discovered recently that unisex, oversized, and tomboy styles are quite popular recently!
So, boldly explore the boys' wardrobes! You will have a lot of discoveries!
Of course, you can also try the following styles that we love very much:
Oversized Button-Down Shirt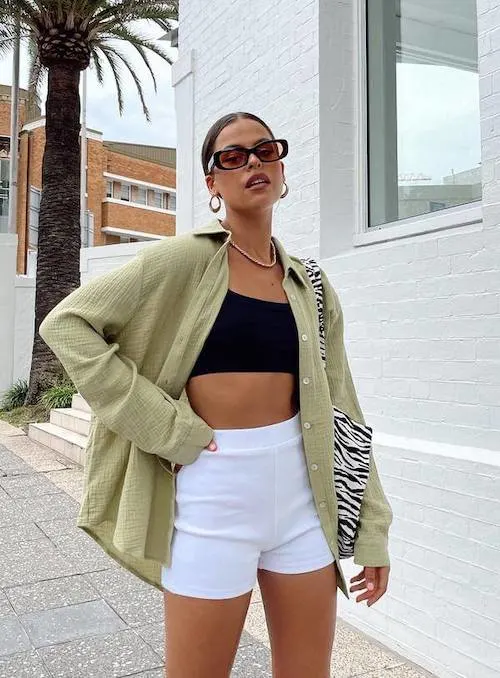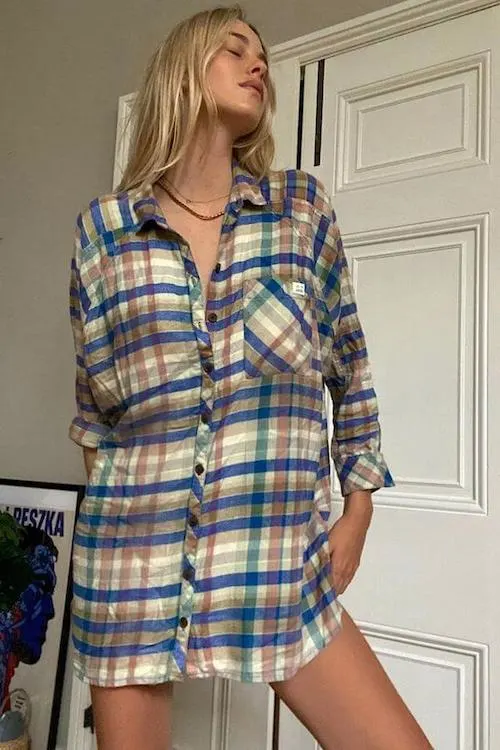 Oversized Tee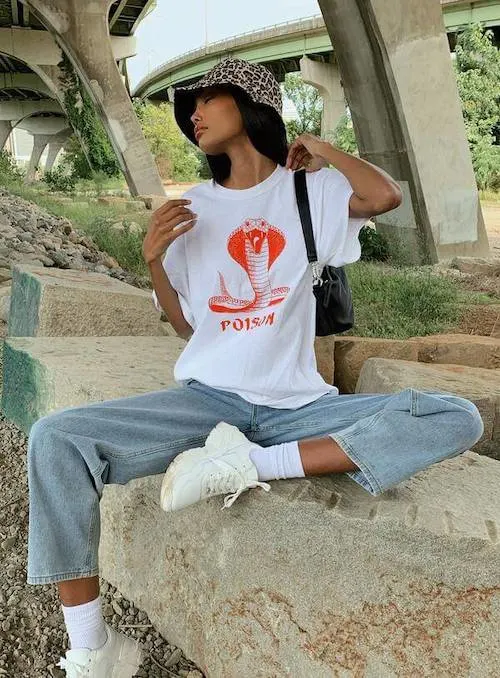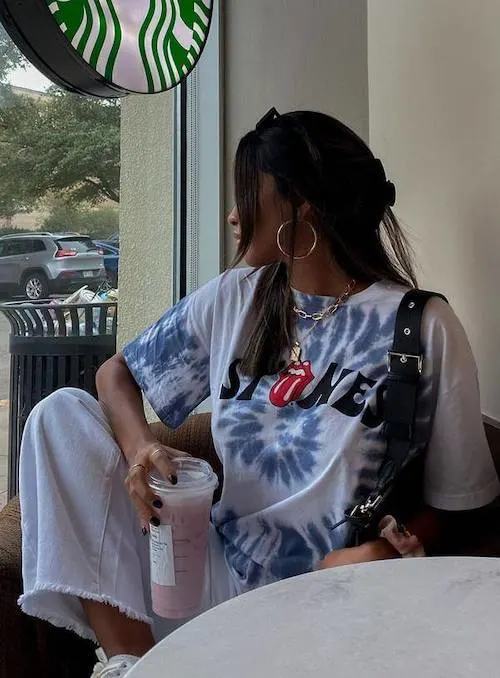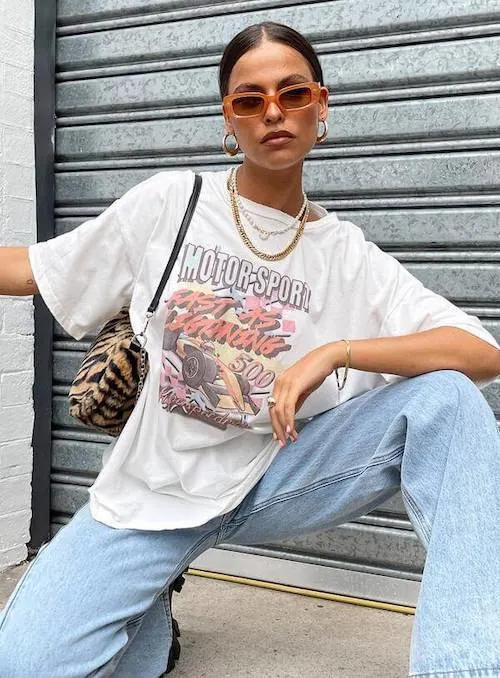 Oversized Blazer
Baseball Cap
Tip 7: Try Out Items That You Rarely Wear
Why not try a style you have never tried before?
Why not try the items that you rarely wear?
We carefully selected the following items that are very fashionable this year. They all have cute and distinctive styles!
Especially suitable for hot summer parties and date nights!
Take a look at what ones you like, although you have never tried them? Don't hesitate to try the one you want!
Vintage Inspired Lace Tie Front
Off-Shoulder Top
Split Front Pants
Gorgeous Tie-Die Dress
Open Back Top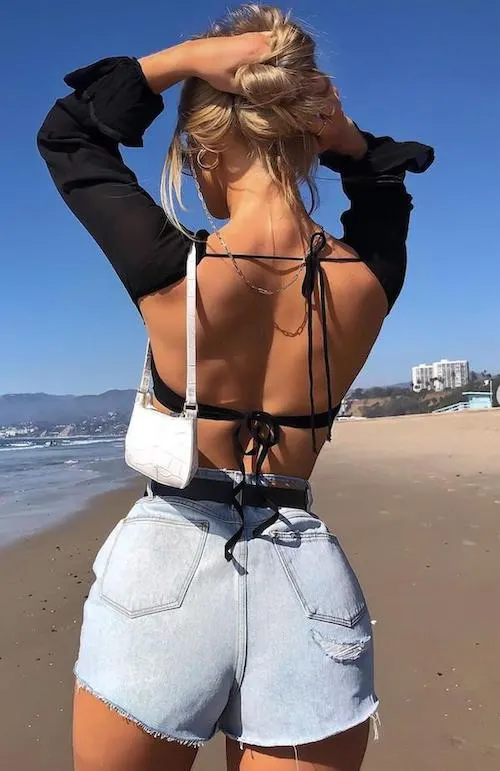 Sexy Cut Out Dress
Lace Bustier
Cami Bodycon Dress
Casual Playsuit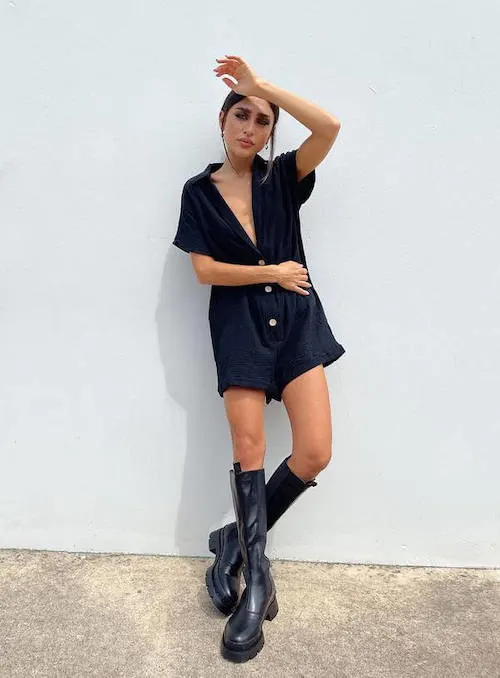 Zebra Print
Milkmaid Top
Tie-Dye Jeans & Sexy Crop Top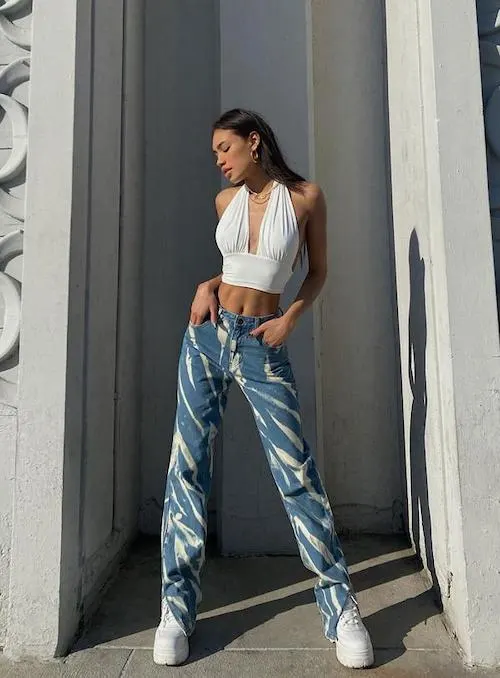 Graphic Singlet
Slim Maxi Skirt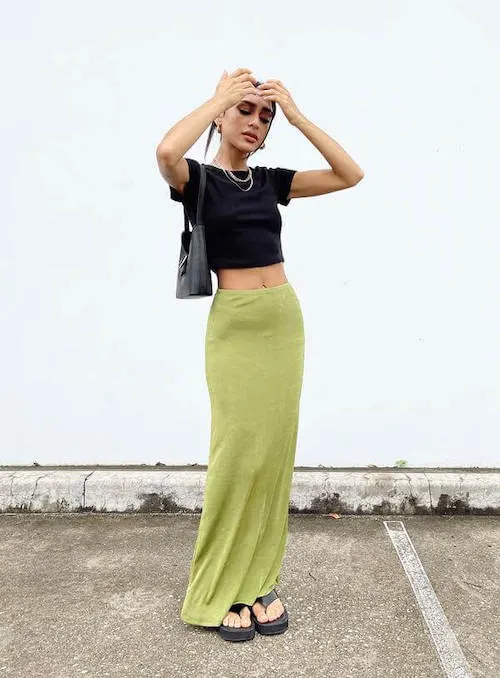 Plaid Pants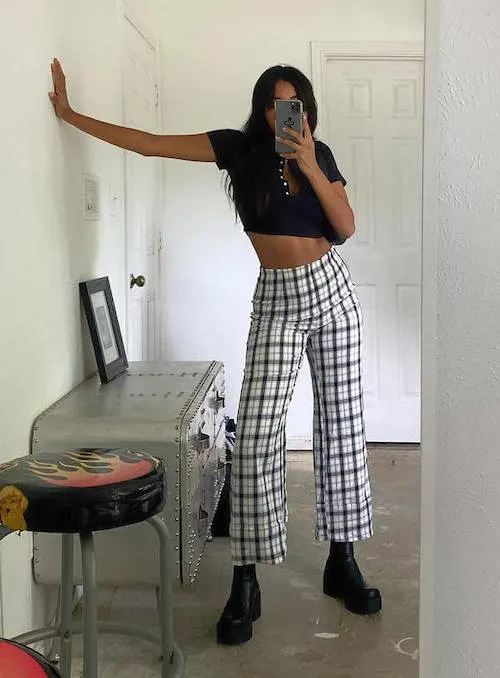 Silky Top
Floral Smock Top
Retro Button Down
Bandana Top
This post was all about casual summer outfits.
About The Author
Tracy is an experienced personal stylist, shopping expert, and fashion & lifestyle blogger. She has been featured on Time Magazine, Bustle, Best Life, Glam, The Zoe Report, Mic, and GOBankingRates, for her insights on fashion, beauty, home decor, and lifestyle. Read More
Related Posts: